This 6 mile circular walk, takes you along the rocky Bamford Edge, with fantastic far reaching views across the Peak District.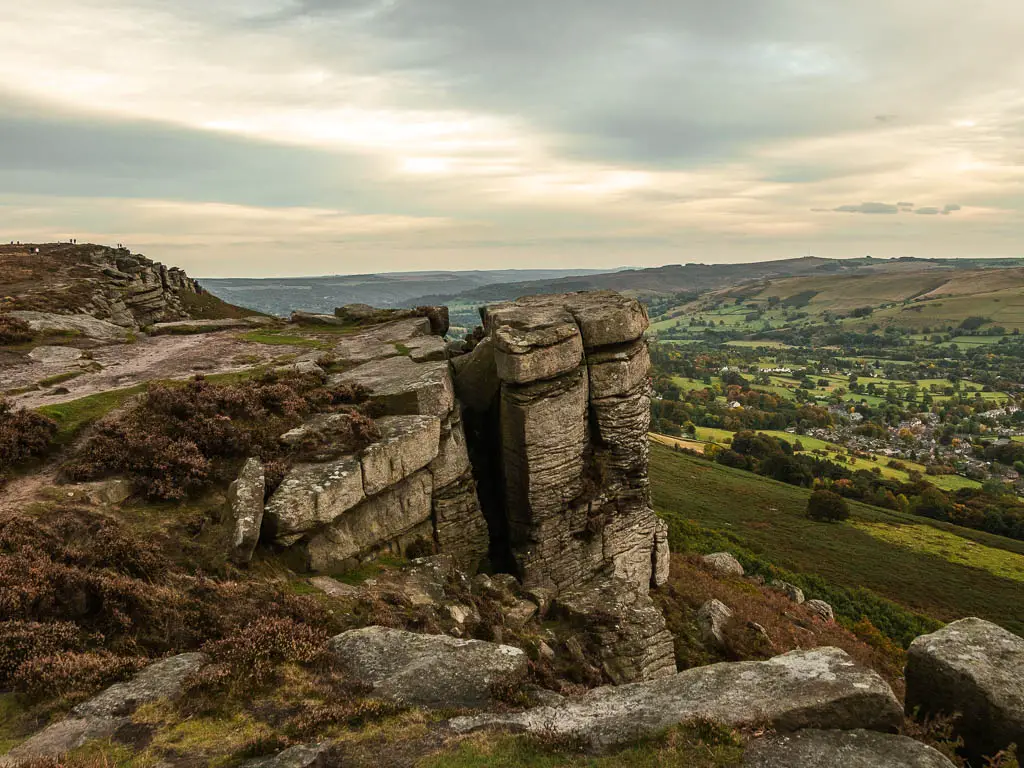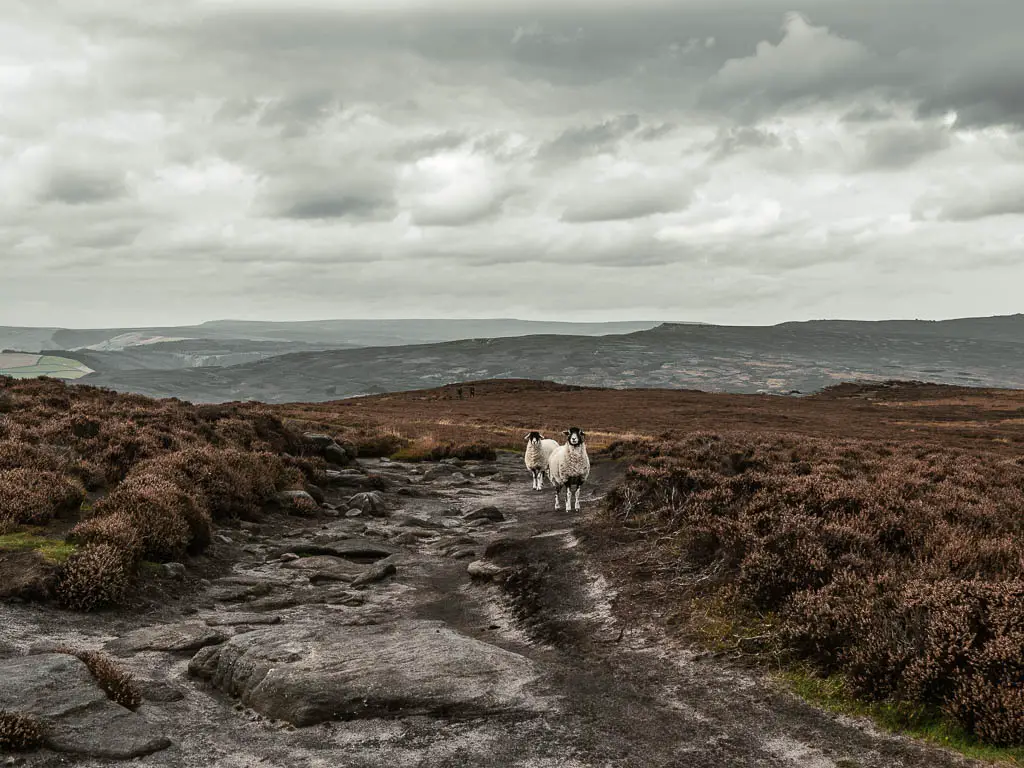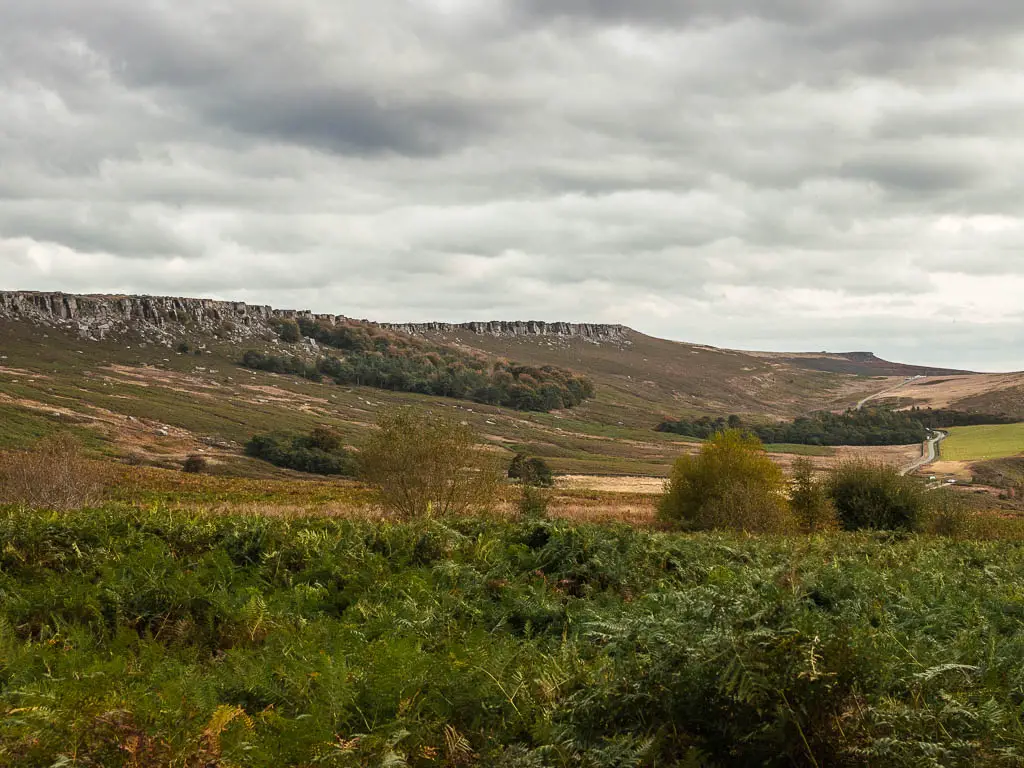 In this guide I will give you an overview of what to expect in the walk along Bamford Edge, with full logistics, a map, and tips. Then I will give a detailed route description with photos. At the end, I will provide ideas for similar walks, or walks nearby you could try.
What to expect on the Bamford Edge walk
The circular walk to Bamford Edge actually starts over on Stanage Edge, with a big rocky hill climb to reach the top. This is optional though. There is a trail running underneath, if you want to keep the walk easy. Other than this, it's pretty easygoing, with a few small hills.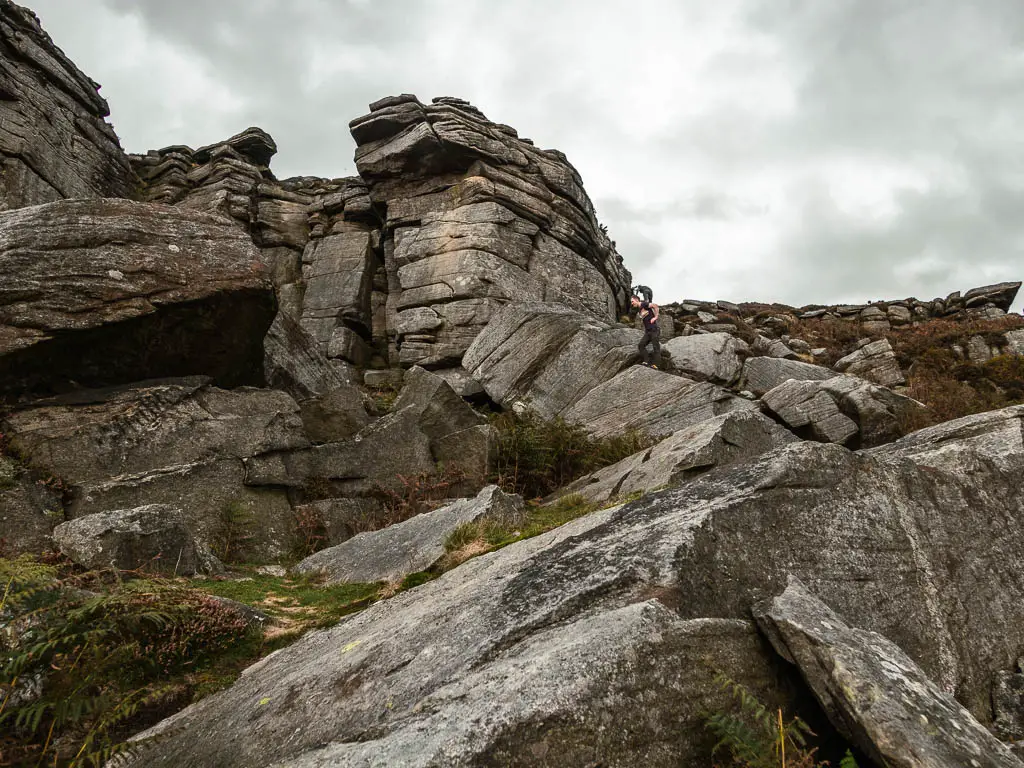 You will walk along open moorland, with lots of heather and fern, some lookout bunkers, and sheep. You will have fantastic views throughout the walk, including the Ladybower Reservoir, and across it to Derwent Edge.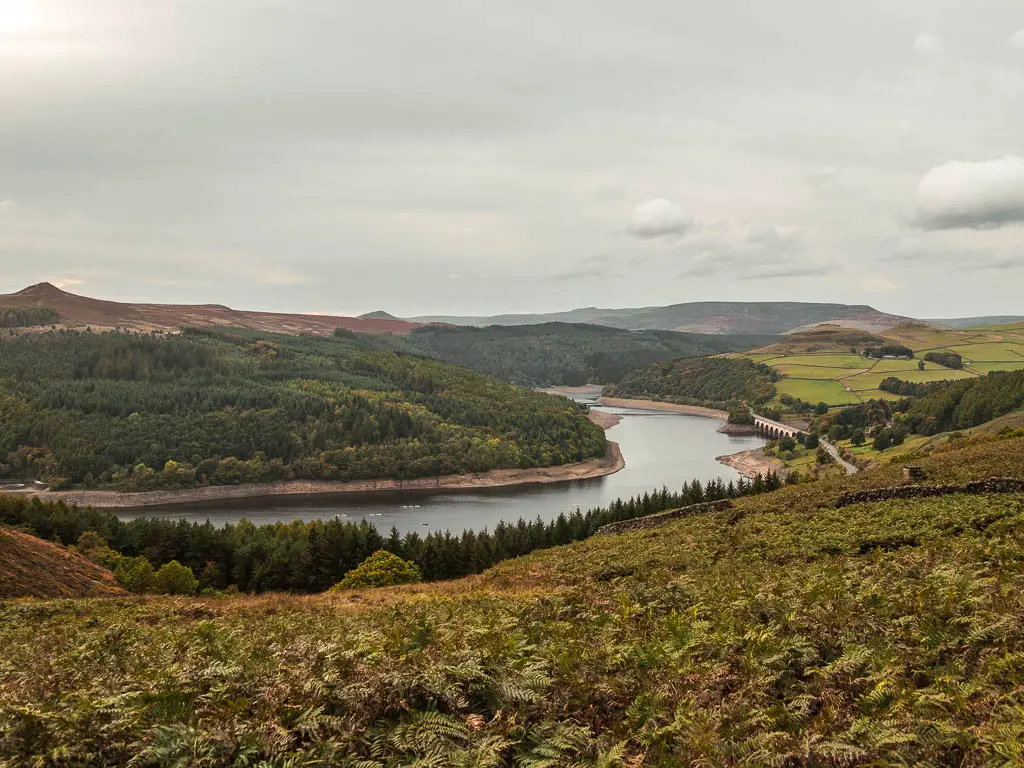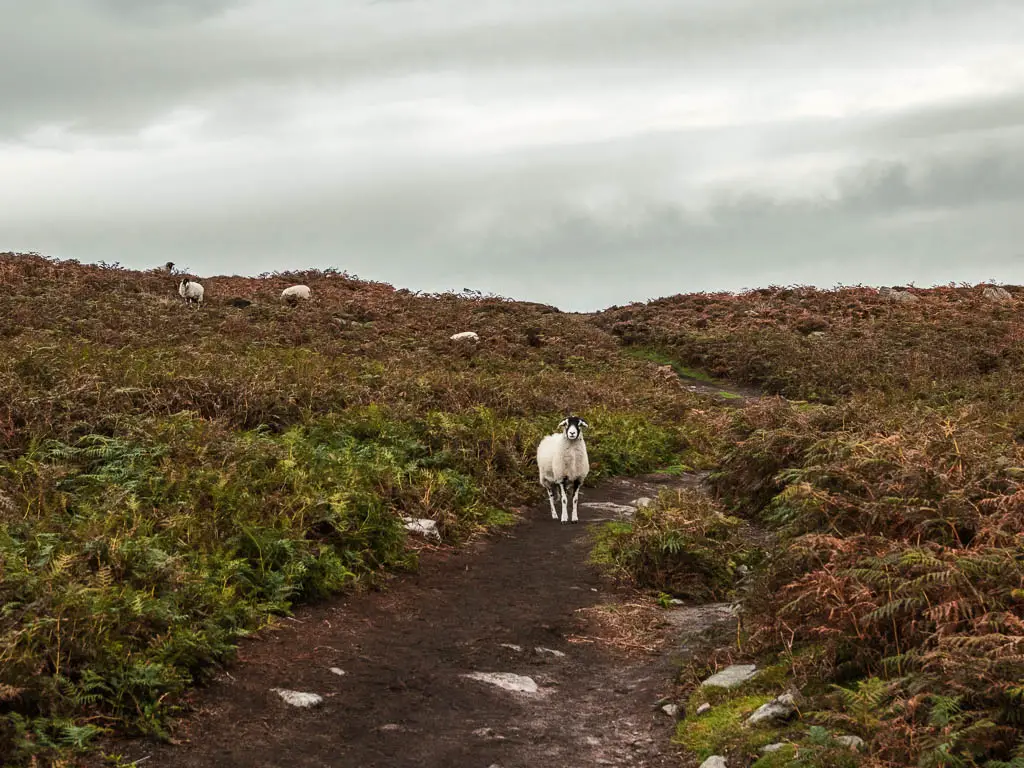 The trail is a mix of dirt, rocks, and a little bit of marsh. There is one section towards the end of the Bamford Edge walk which has some serious overgrowth, where you will be engulfed in fern. If you aren't keen on being engulfed, then you have another option to finish the walk, which I will show you when I describe the Bamford Edge walking route below.
Oh, and if you keep an eye out, you may find some magic mushrooms 😉
What is Bamford Edge?
It is a gritstone escarpment (rock wall), sticking up over Bamford Village. Bamford Edge is a popular place for climbers, but also walkers, with its numerous trails and views of most of the Hope Valley.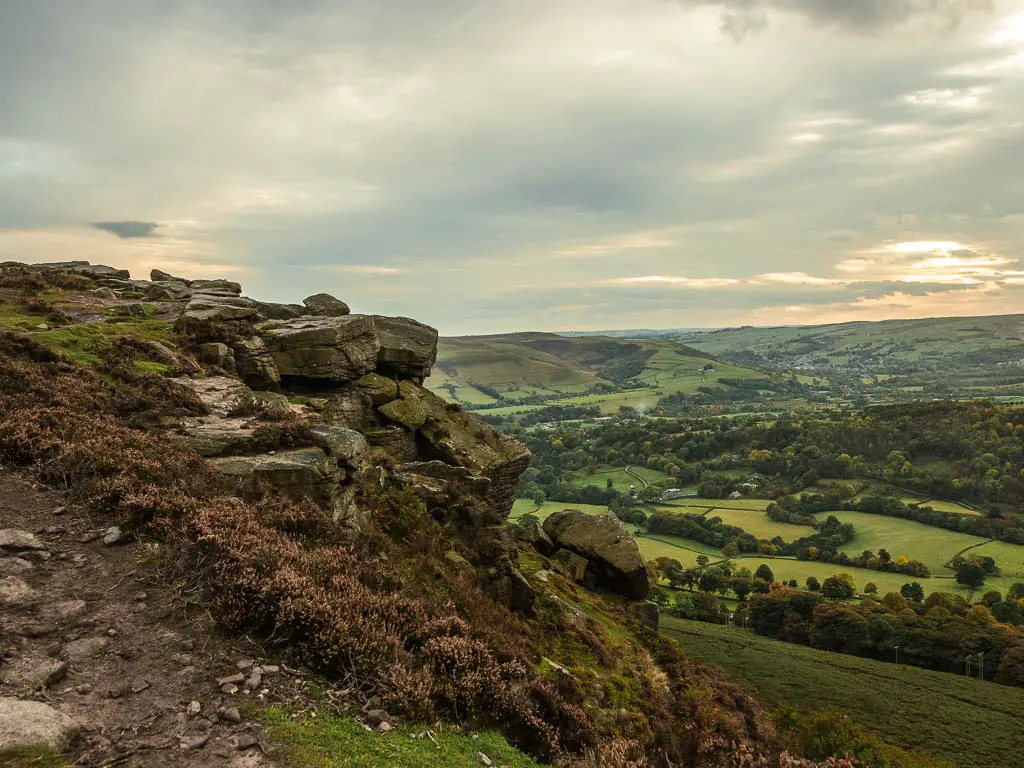 Bamford Edge Parking
There are a number of places to park if you want to walk along Bamford Edge. For this walk, we started at Dennis Knoll car park, post code S10 4QZ. It's free and is in a perfect position to walk both Stanage and Bamford Edge.
If you would like another option for parking, or if you want to make the route shorter and just walk along Bamford Edge, then you could try one of the lay-bys along the road between Bamford village and the Dennis Knoll car park. Down by the Laydbower Reservoir, there is the Heatherdene Car Park, where there will be trails to get you up to the edge.
Logistics
Start/Finish: Dennis Knoll car park, Peak District National Park. Post code: S10 4QZ.  
Public Transport options: The 257 bus goes to Bamford Village, which is a short way from this walk. If you get off near the Ladybower Reservoir, there will be a trail to get you up to the edge. You will be starting at a different point in this route though.
Distance: 6.5 miles circular
Time: 2h 45min
Difficulty: A small challenging bit to start, then easy the rest of the way.
Terrain: Rocks, dirt and grass trail, bog, marshy bits. 
Time of year: We did this in Autumn
Amenities: Other than the car park, none along the walking route. The nearest village is Bamford which has a pub and public toilets. There are public toilets next to Heatherdene car park. On Ashopton Road, which is the main road below Bamford Edge, there is the Yorkshire Bridge Inn, which has fantastic reviews.
Dog friendly: Walking along the top of Bamford Edge and Stanage Edge looked pretty dog friendly. There were a few roaming around. In between, there is livestock. There is a stile without a doggy hole near the start, and at the end of the walk, however, you have optional alternate routes which I describe below in the guide.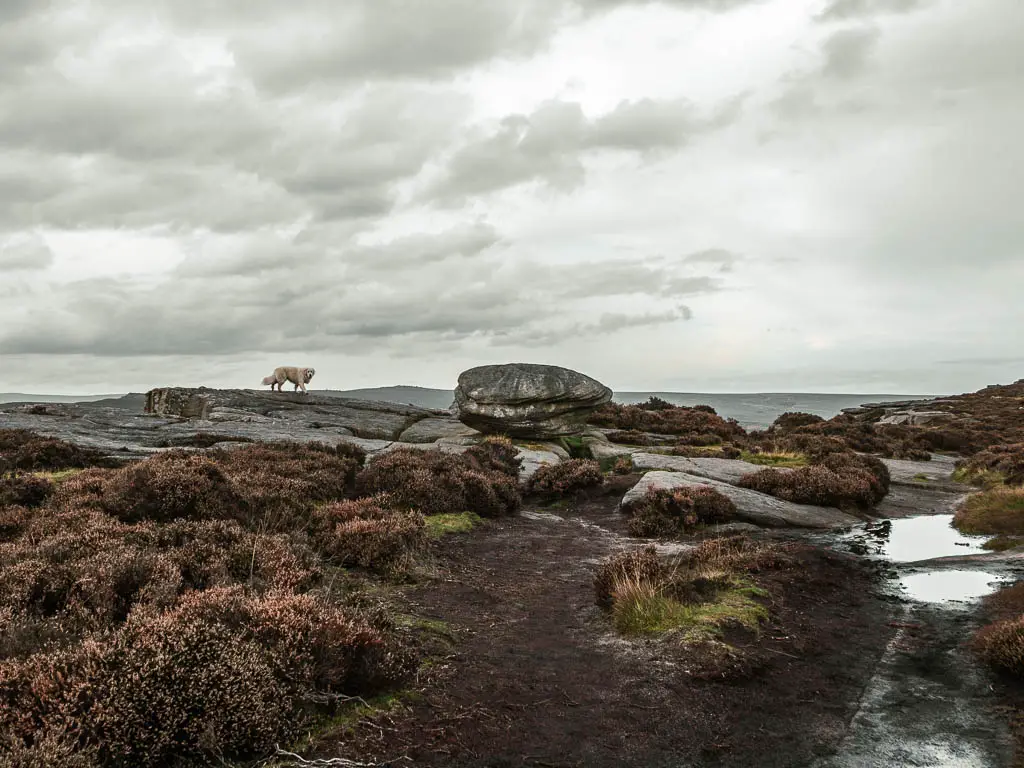 Tips for the Bamford Edge walk
Take a windproof jacket. When walking along the top of Bamford Edge and Stanage Edge, it can get quite windy.
Waterproof hiking boots. Firstly for the rocky hill climb to start, then for the boggy marshland later on.
If you want to avoid the marshy bit and fern attack, then there is an alternate route which will involve a little bit of road walking (that's why we didn't do it). I will show you when I describe the walk below.
The best time to walk the Bamford Edge circular, is in August. As you may get to see the heather in all its purple and pink glory. 
Bamford Edge circular walk map
You can find my more detailed Bamford Edge walking route map on AllTrails.
Read more: Best Hikes around the Peak District
---
Route Description for the Bamford Edge Circular Walk
Starting from Dennis Knoll car park, there is a trail which leads you straight towards Stanage Edge. It will be the big rock face. You can't miss it.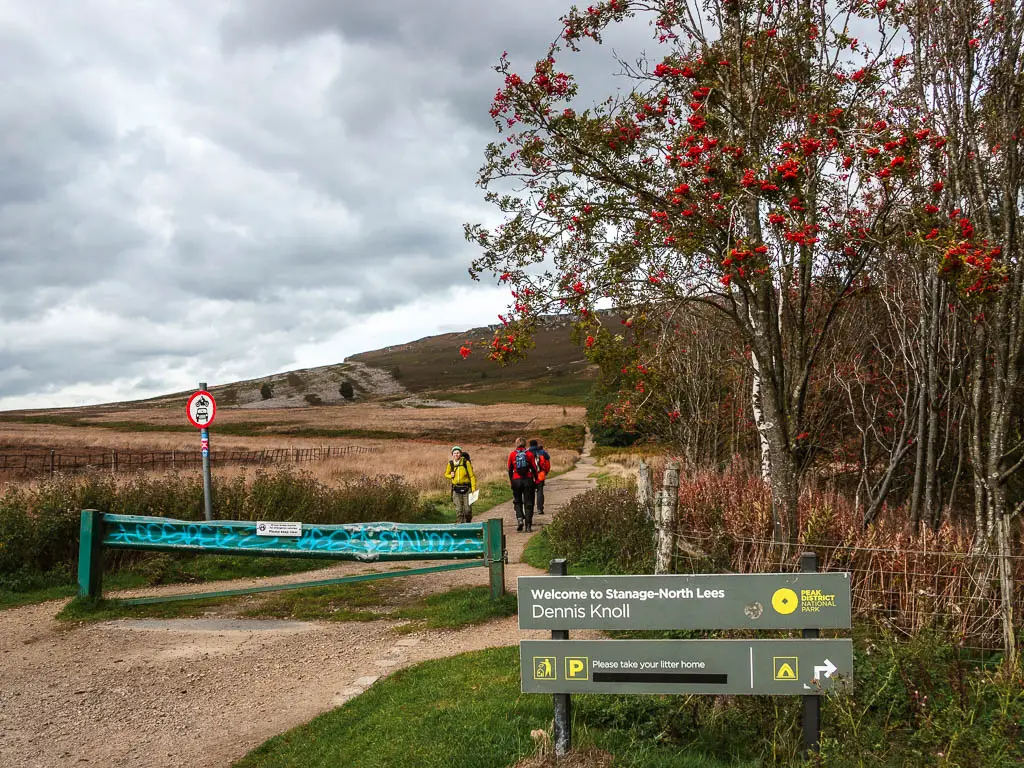 Start off walking along this trail. A bit further along, there will be some wooden stiles on the left. Take the second one. If you are with a dog, then if you stay on this main trail, you will be able to walk up to the top a bit further along in the other direction.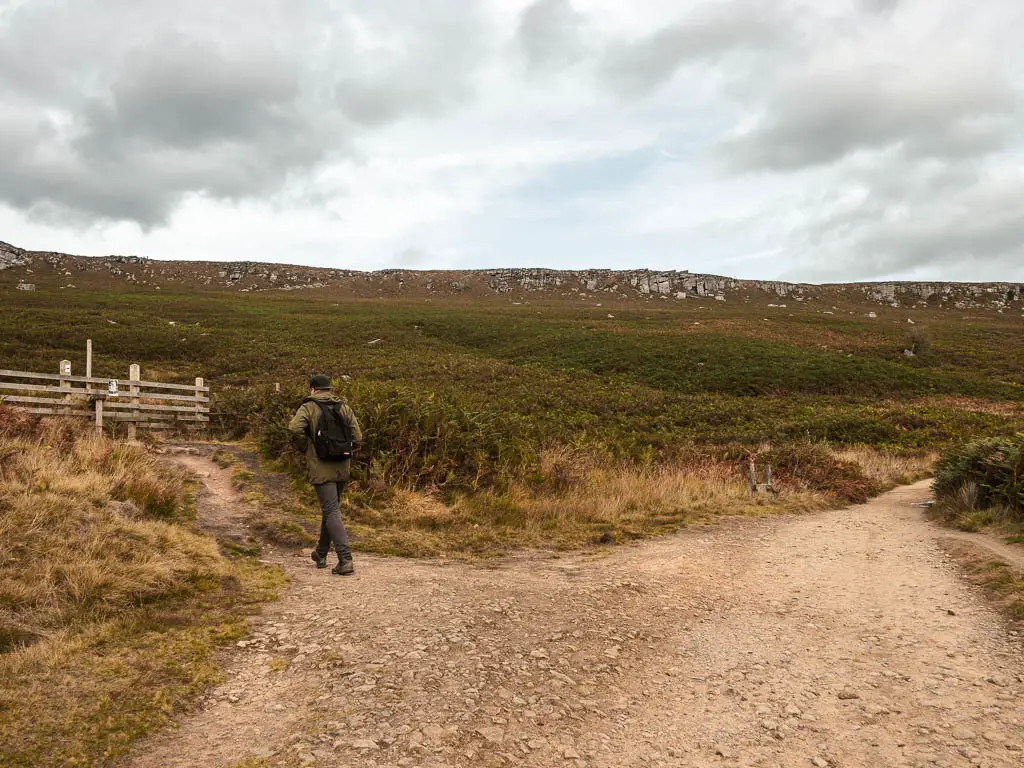 Following this side trail, keep going in the direction of Stanage Edge. It's a fair way uphill. Much more than the walk we did yesterday to get up onto the edge.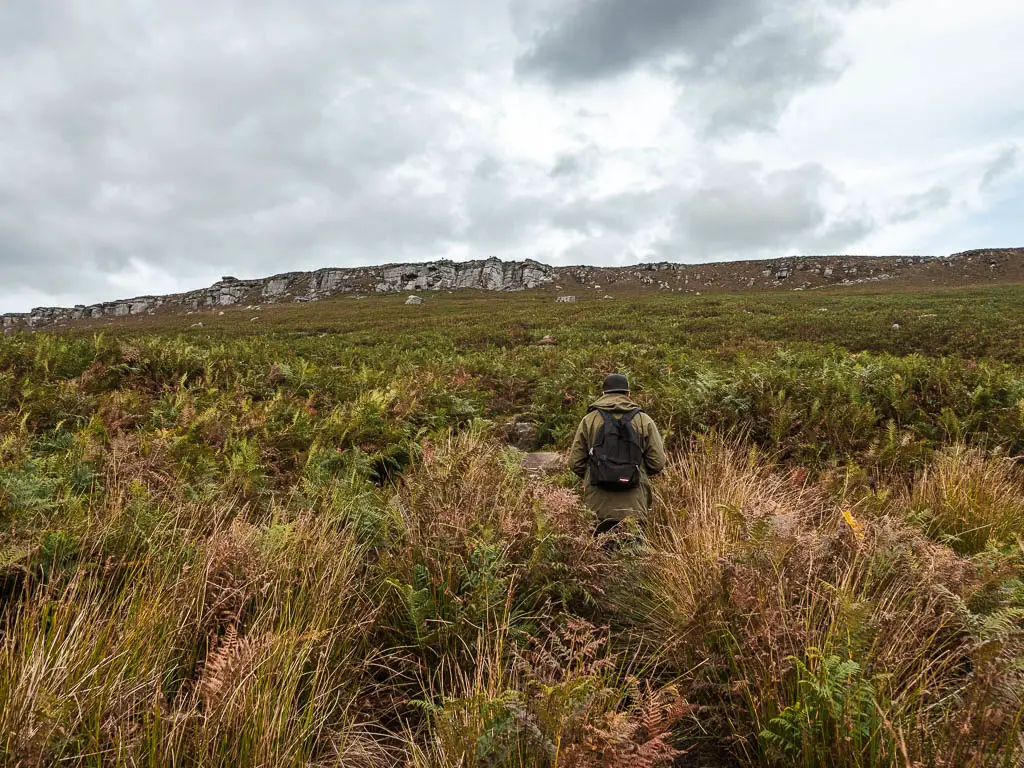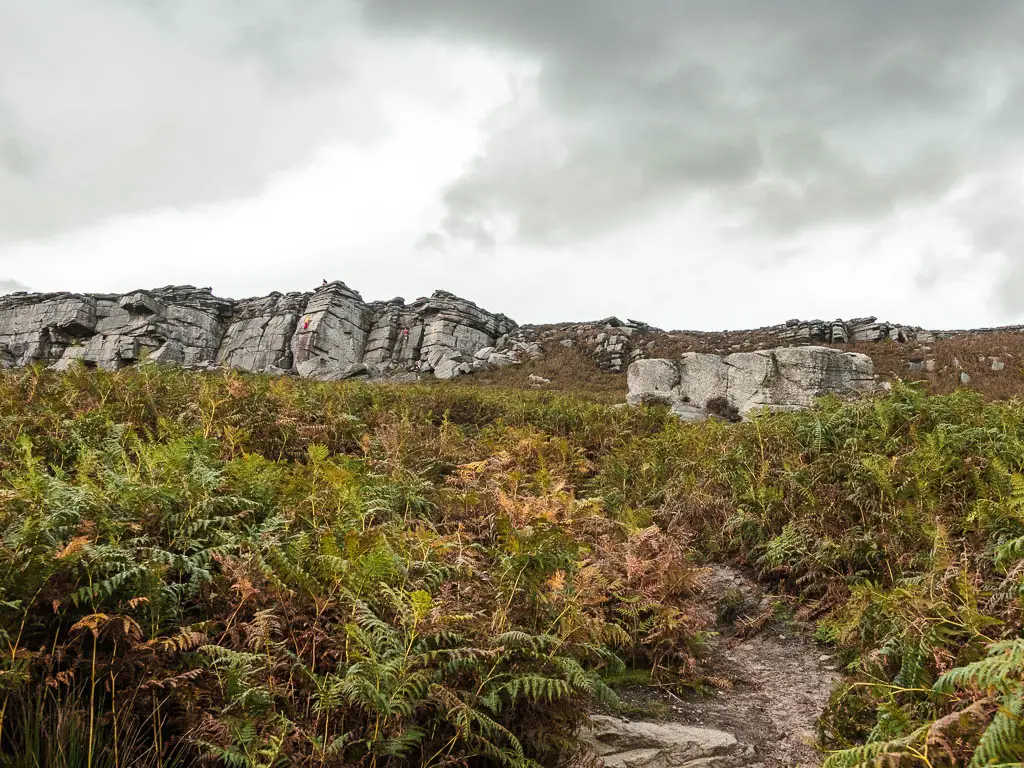 I had told Ollie before hand that this walk would be easy. So far he wasn't convinced. 
Find a way to get up to the top
There will be a few trail splits. I'd like to be able to tell you which one, but we evidently went wrong, as when we reached the bottom of the edge, we were amongst some climbers and not a trail up. If you find this happens to you, then just walk along the bottom of the edge to find a way.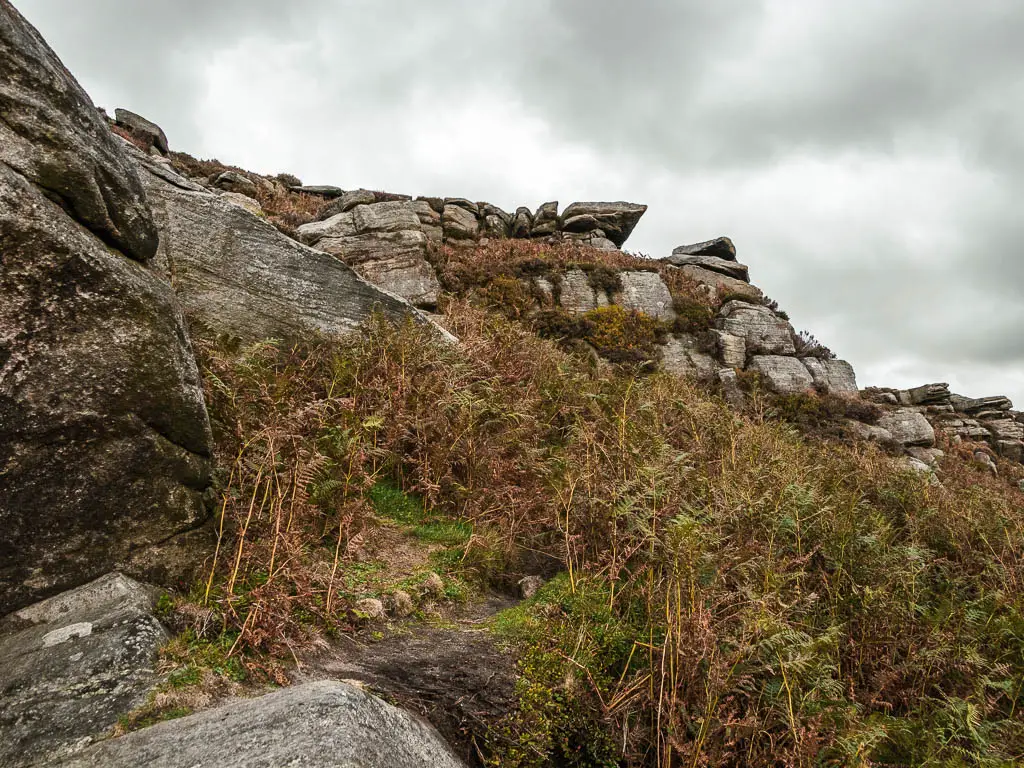 You aren't looking for an easy trail up, but rather some rocks that you can scramble up. See photo below.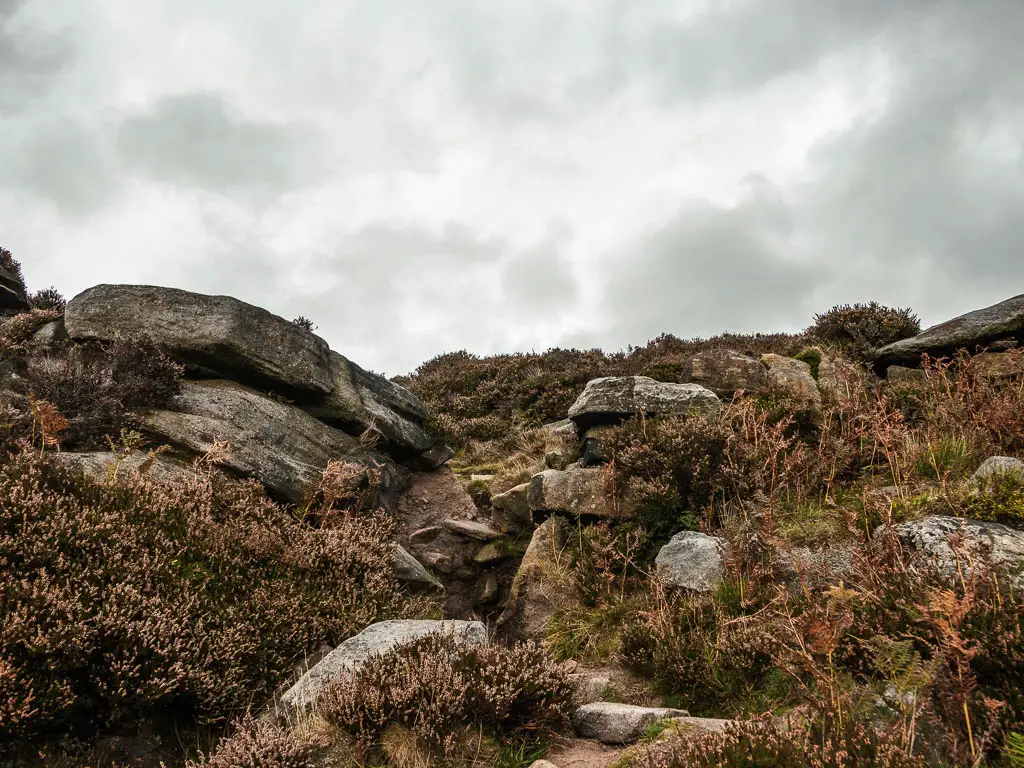 If you want to skip this part, and just walk straight to Bamford Edge, look out for a trail that turns left to take you along the bottom of the edge.
Walk along the top
Once you reach the top, you will be rewarded with a fantastic view across the valley and hills of the Peak District, as well as all the way along Stanage Edge.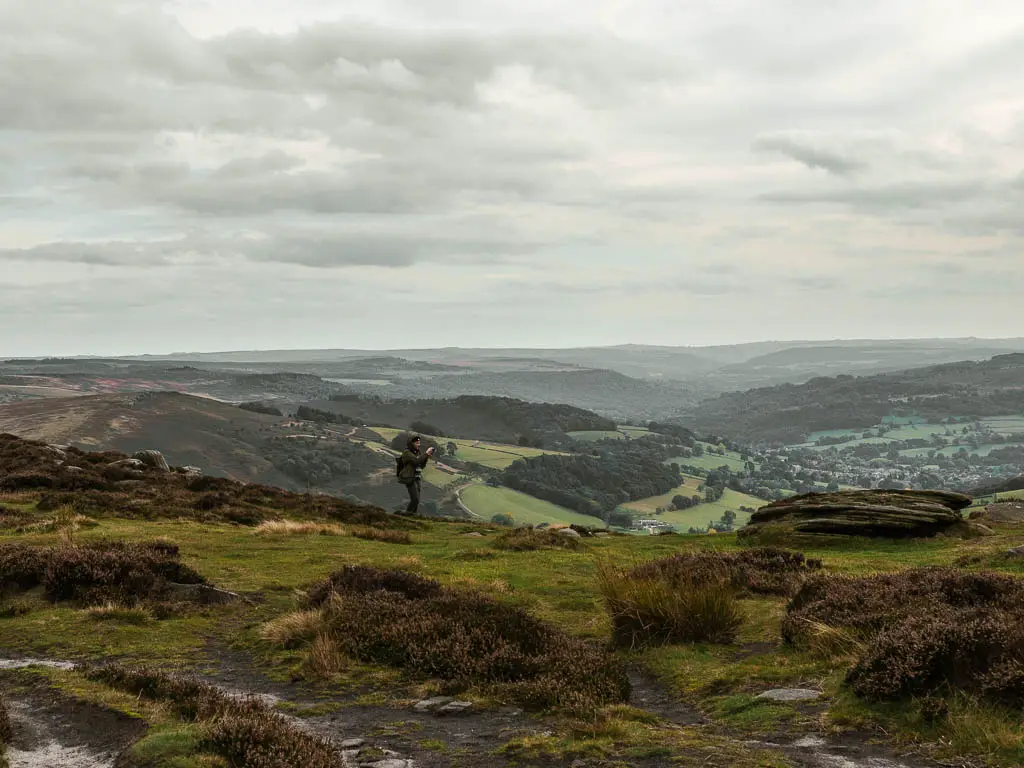 I have to say, that having walked along a different bit of the edge yesterday, the view of it is better from this part. Its also much less crowded.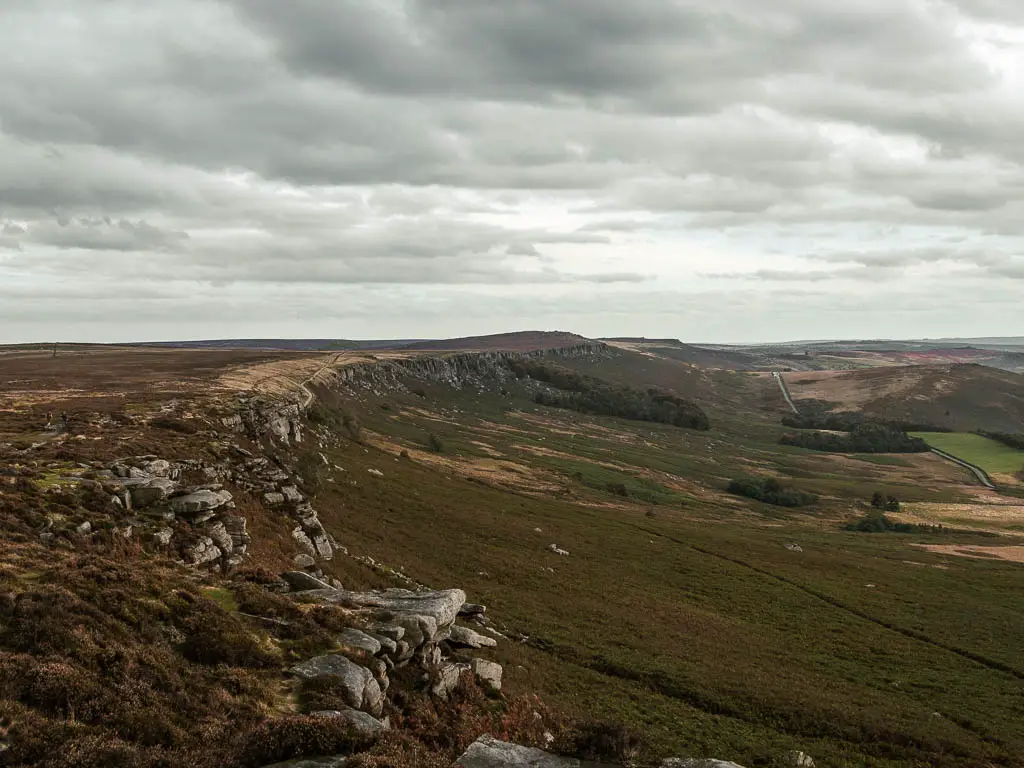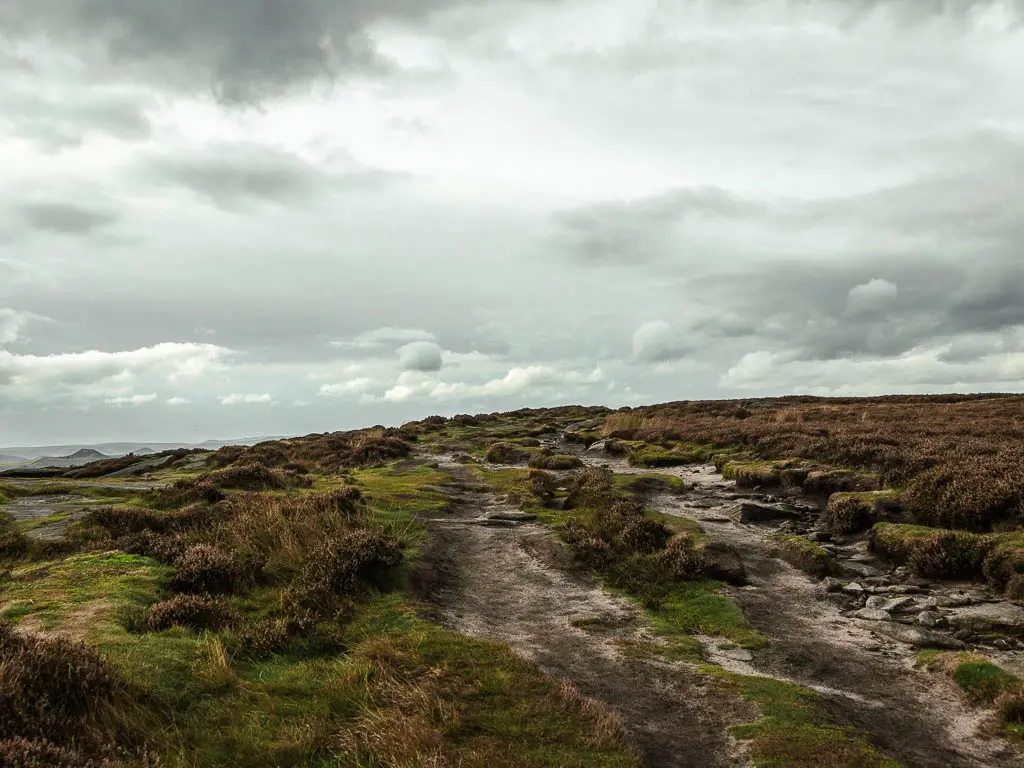 Anyway, once up the top, turn left and keep going. You will walk a fair bit along here, and although it's all a mix of flat rocks and boulders, it seemed to change quite a lot. Everything a little bit different, to keep things interesting.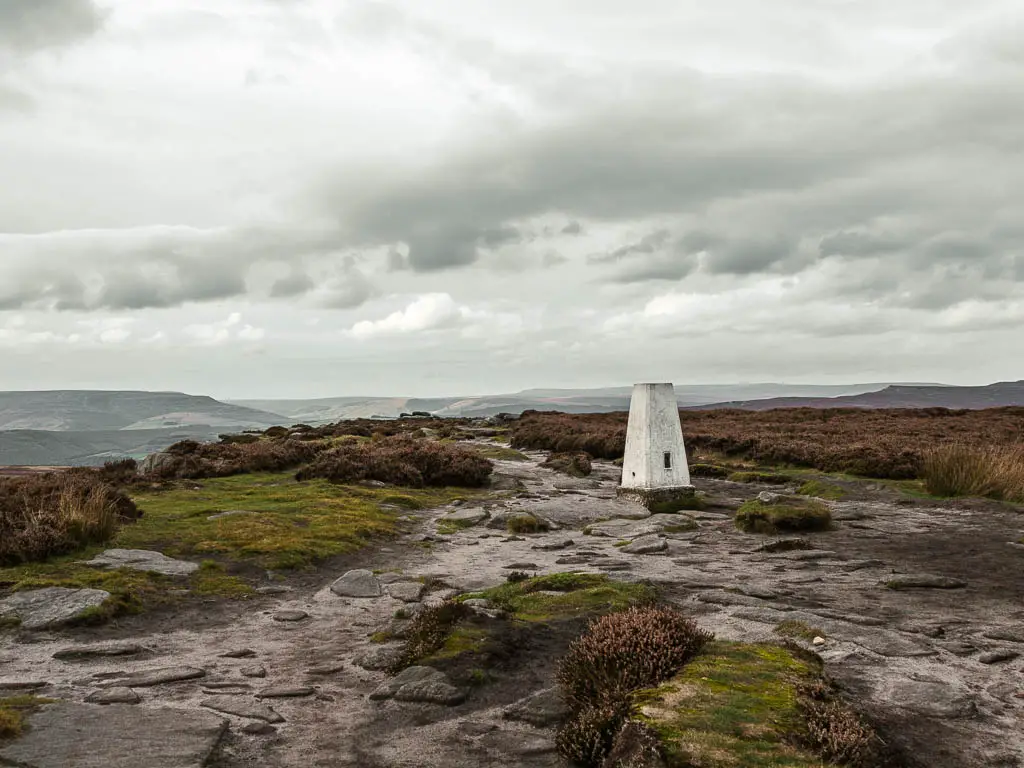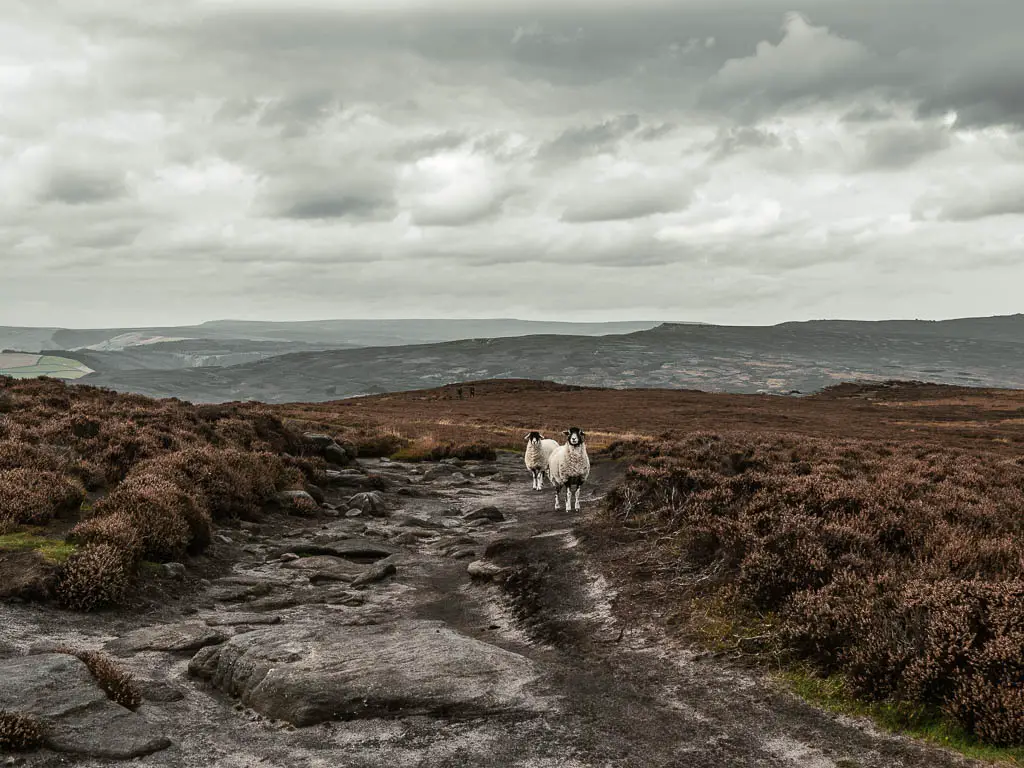 Walk down of Stanage Edge to head towards Bamford Edge
Now, the tricky part is figuring out when and where to walk back down. There is a good landmark to help you with this one. 
The trail down is directly opposite the lookout ruins. Which from afar looks like some cool big building ruins, however, up close is more like a shed. Once you are there, you really need to look for the trail down, and will need to go right to the edge, and maybe squint a little to see it.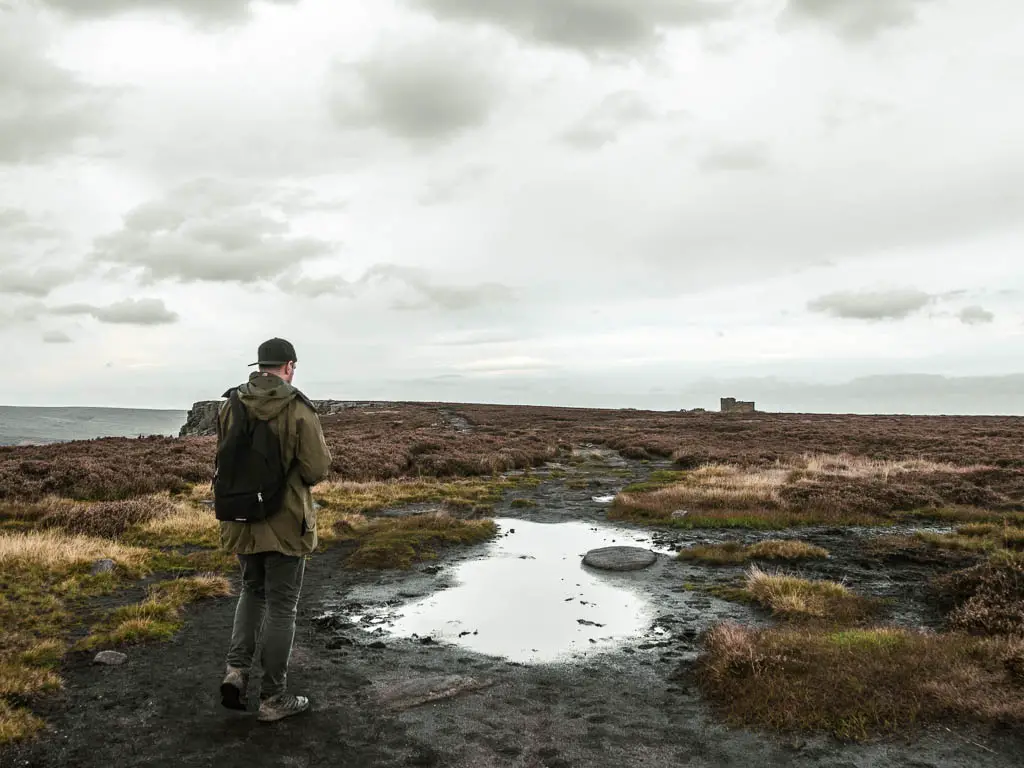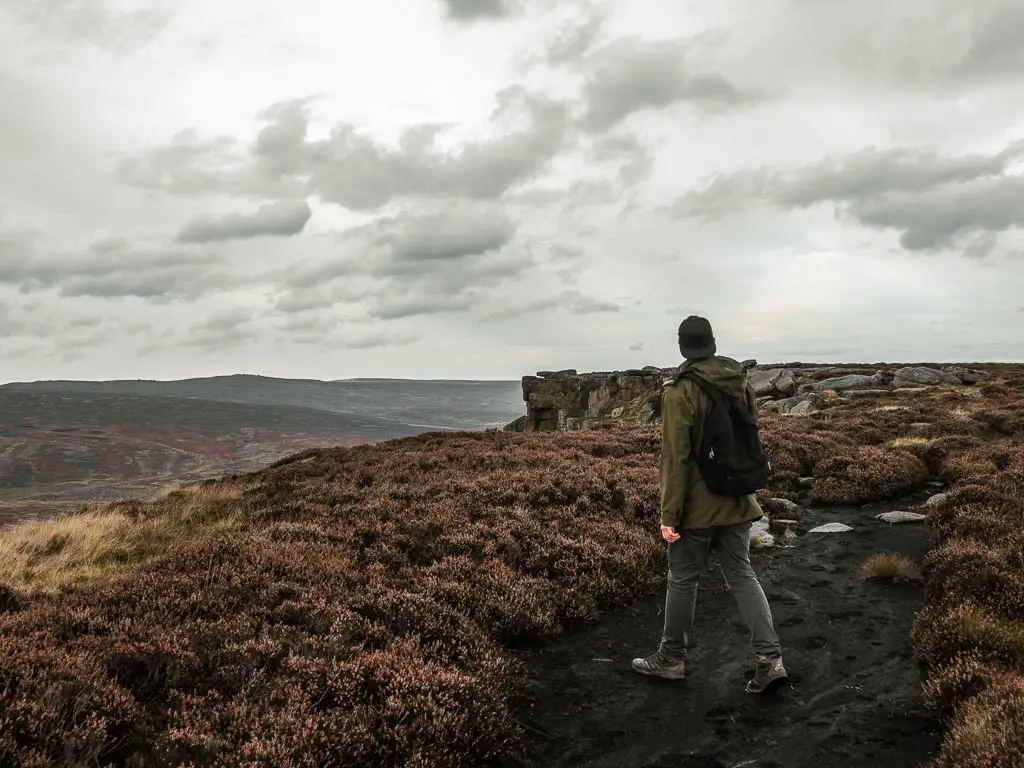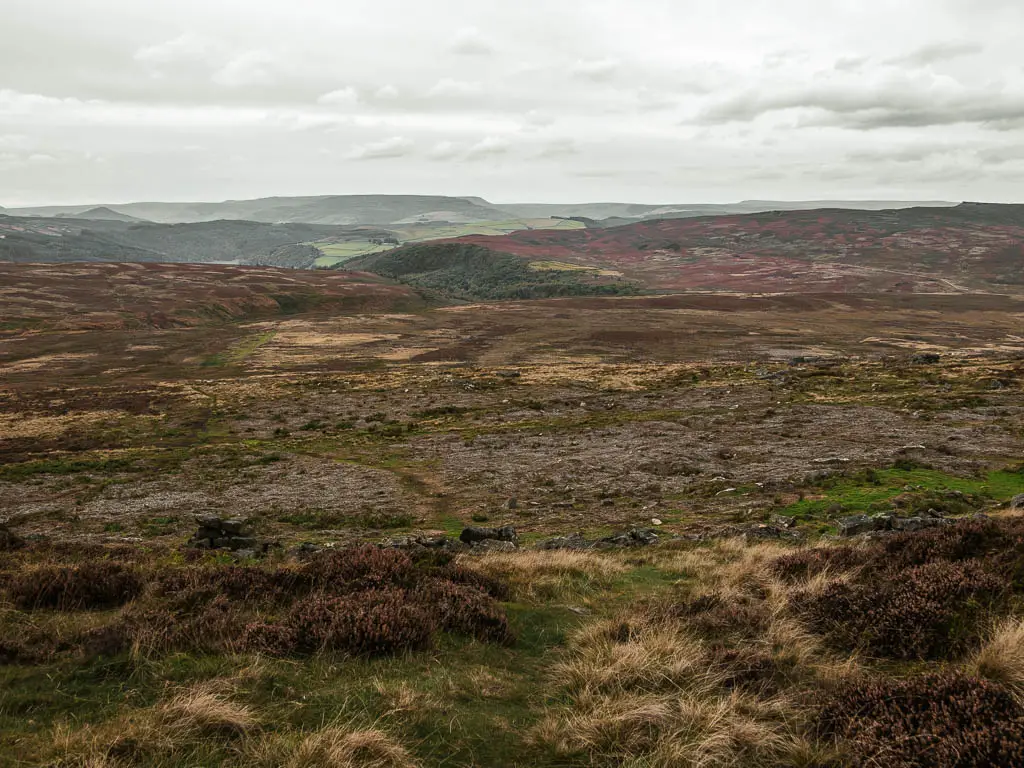 Walk through the moors
Walking down off the edge, the landscape ahead of you will be almost bleak and desolate looking. I actually quite liked it. The peacefulness of being away of everyone and everything (except my boyfriend).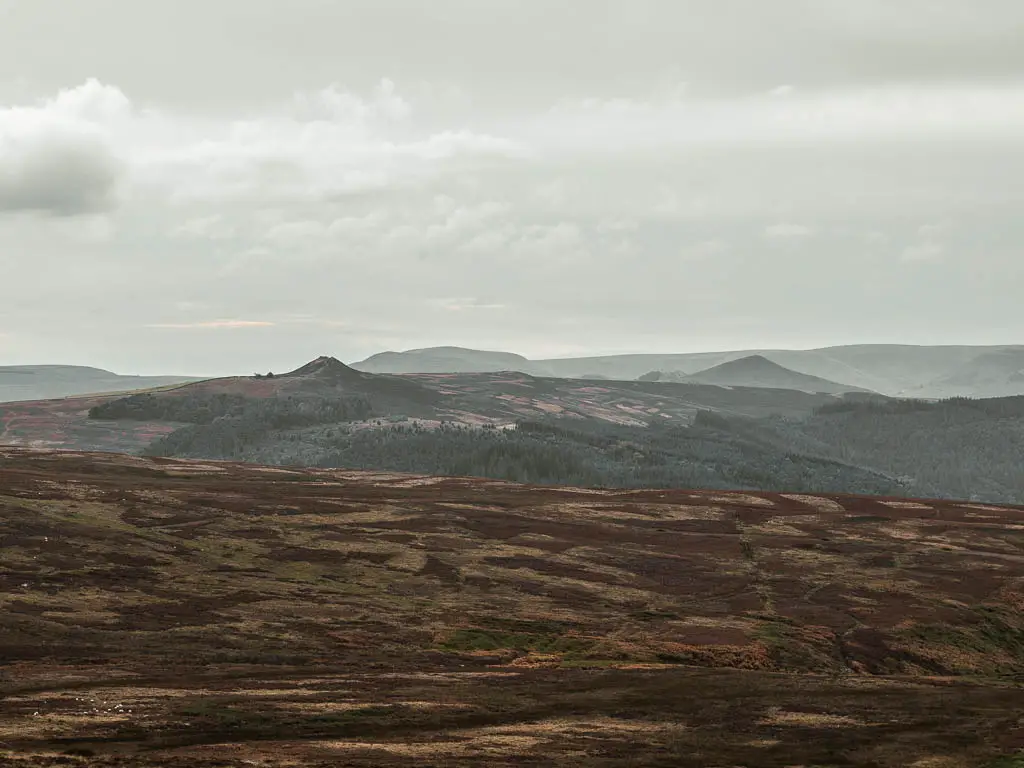 The trail down here should be somewhat easy to follow. It's basically the flatter bit of ground, which at times is wide and grassy, making it super easy to see. 
You will pass by some interesting lookout bunker things. The first one is quite obvious and sticking out. The others are a bit more stealth.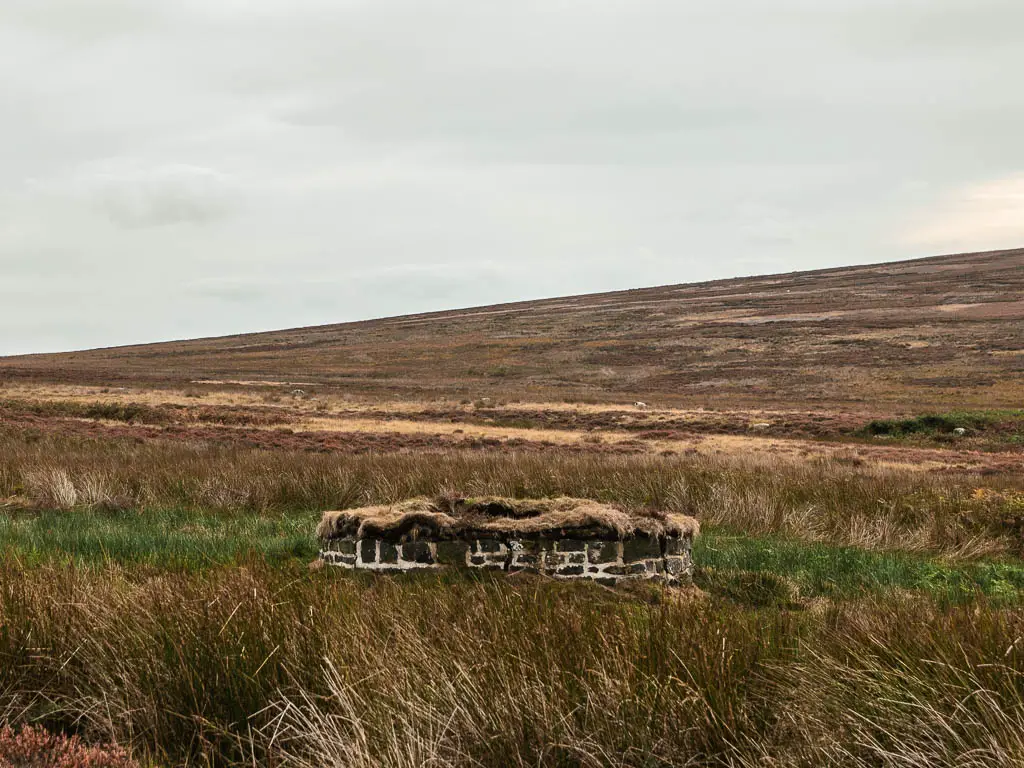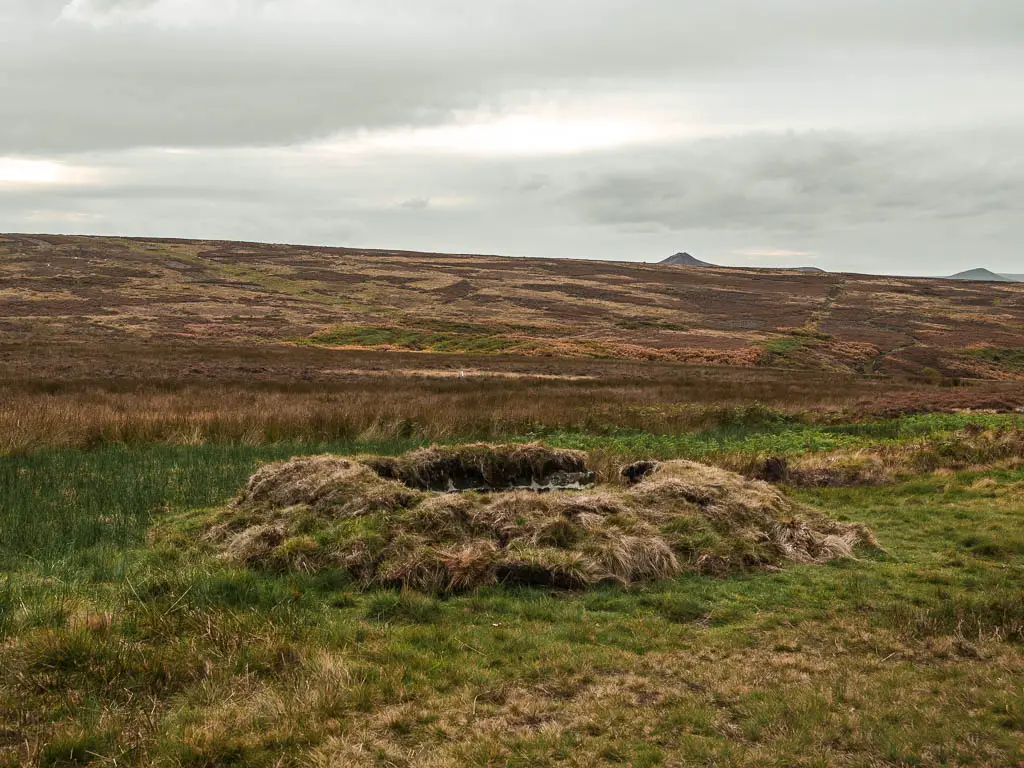 Mushrooms
I mentioned yesterday, Ollie's new found interest in mushrooms. What I learnt today, is what he was really looking for is the magic kind. And he might just have found them. It's not something I know much about, but he called me over whilst inspecting his find. They do look like what google says they should look like. 
To be safe I did forbid him from eating them. You never know. Will he listen to me? I'm not sure. If he annoys me, I will let him try them. 
We did come across another patch of what might be the magic stuff. There weren't many here and there was a cigarette butt next to them. Someone else probably got to them first.
Walk over the hill towards Bamford Edge
When walking through the moor, if you look ahead to the left, you should be able to see a squiggly trail going up the hill. That's were you are heading.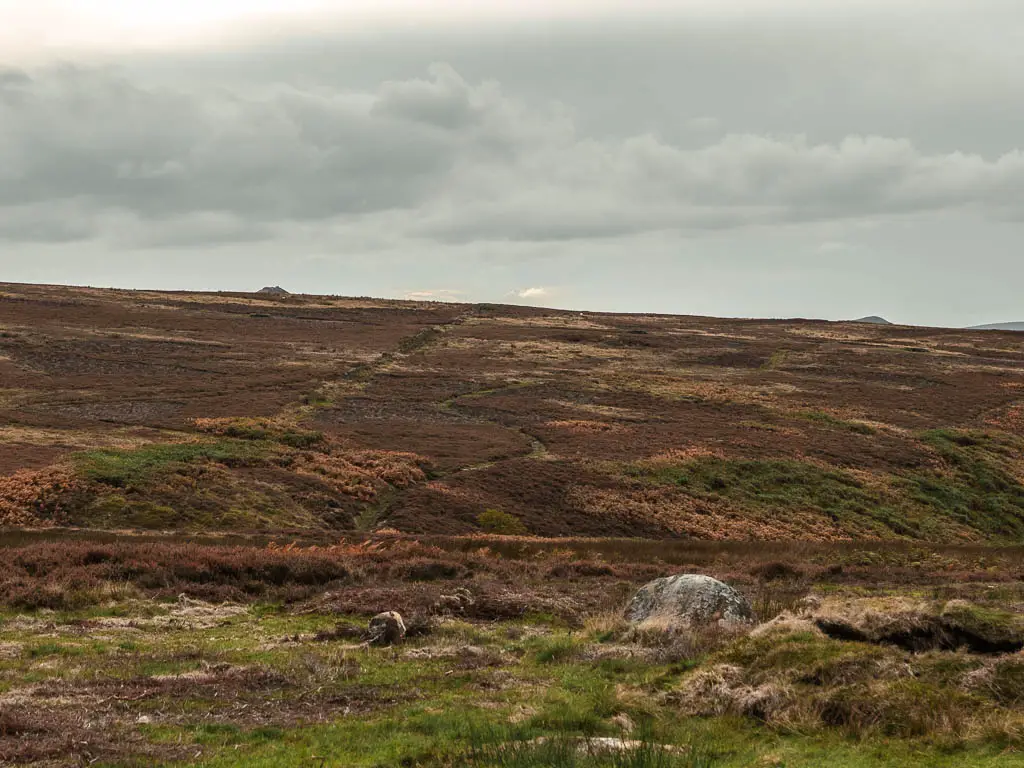 When you reach the trail split (photo below), turn left, and this will take you up the squiggly trail.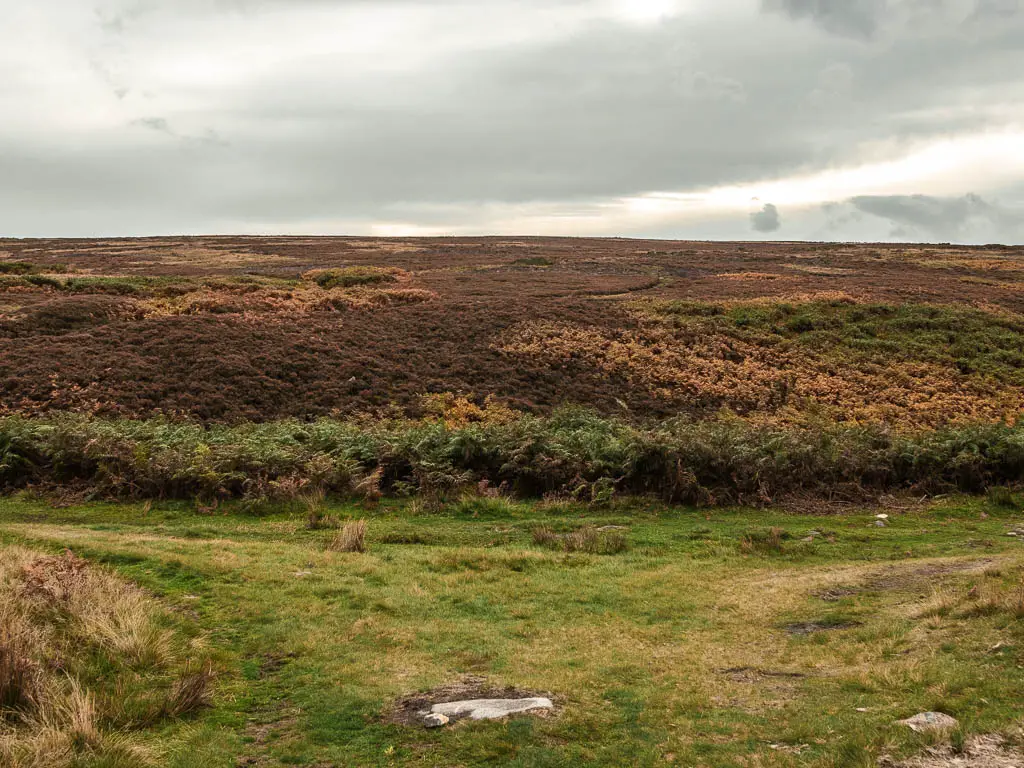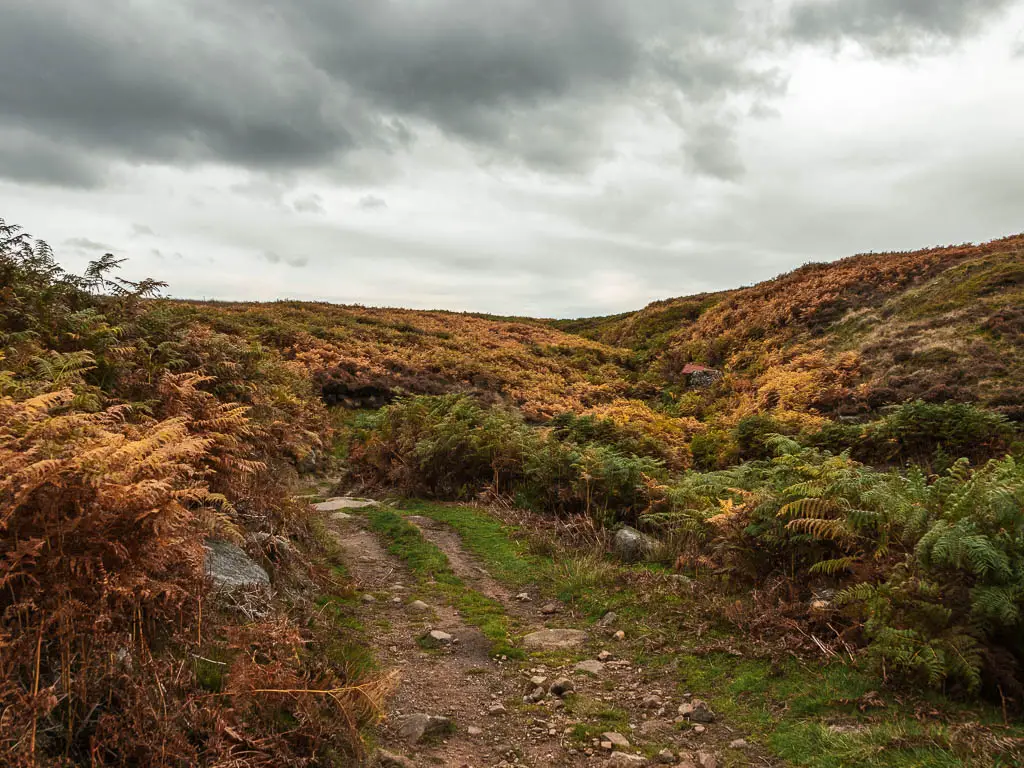 There will be some trail splits as you make your way up. Keep right, until you find the wider grass trail. For landmarks, you should be walking with some more lookout things to your left when you are on the wider grass trail.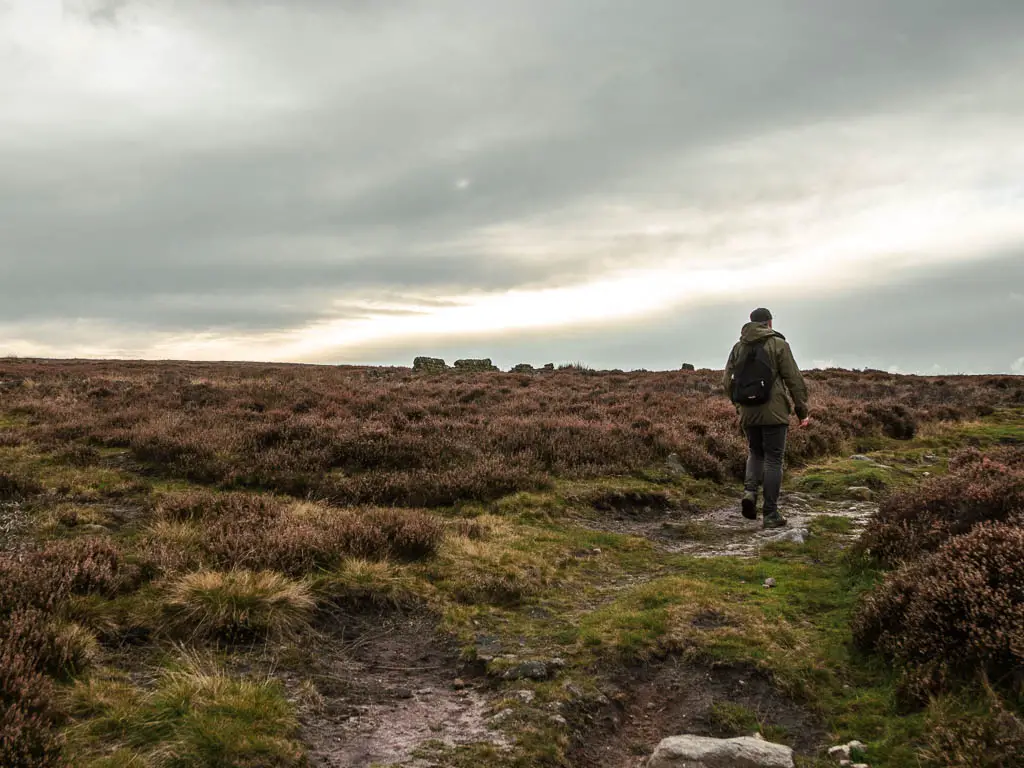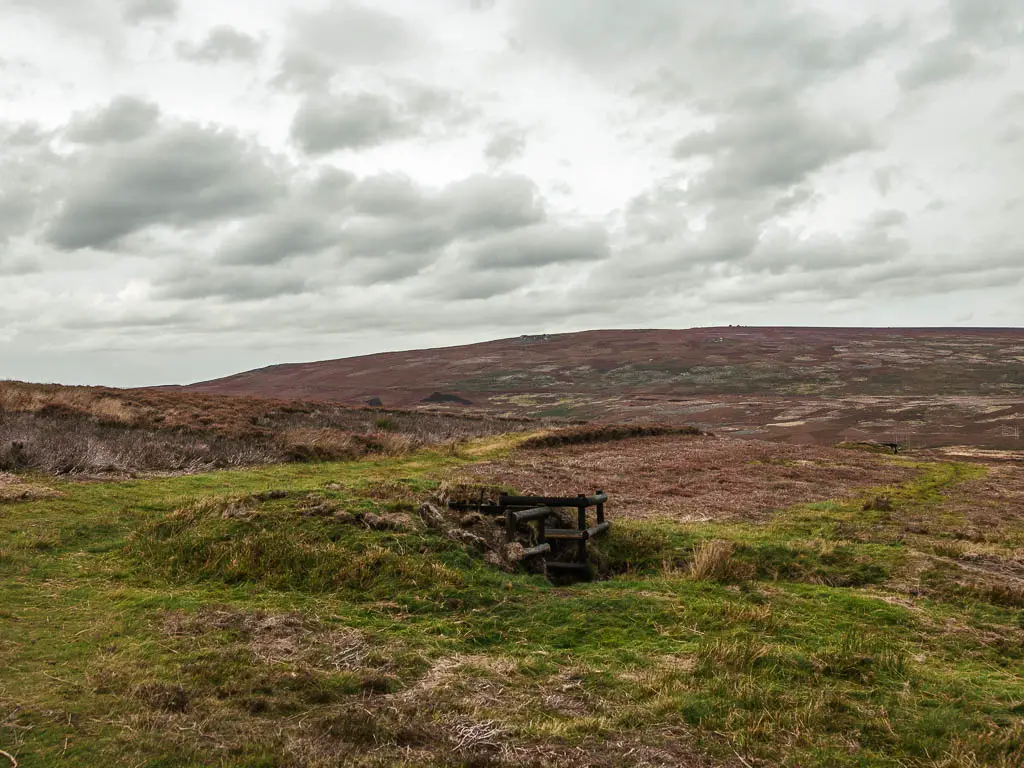 Keep going along this trail, and when you reach the stone wall, turn left. You will have a great view to some pointy peaks from here, and a little further along, a cool view down to the road through the trees.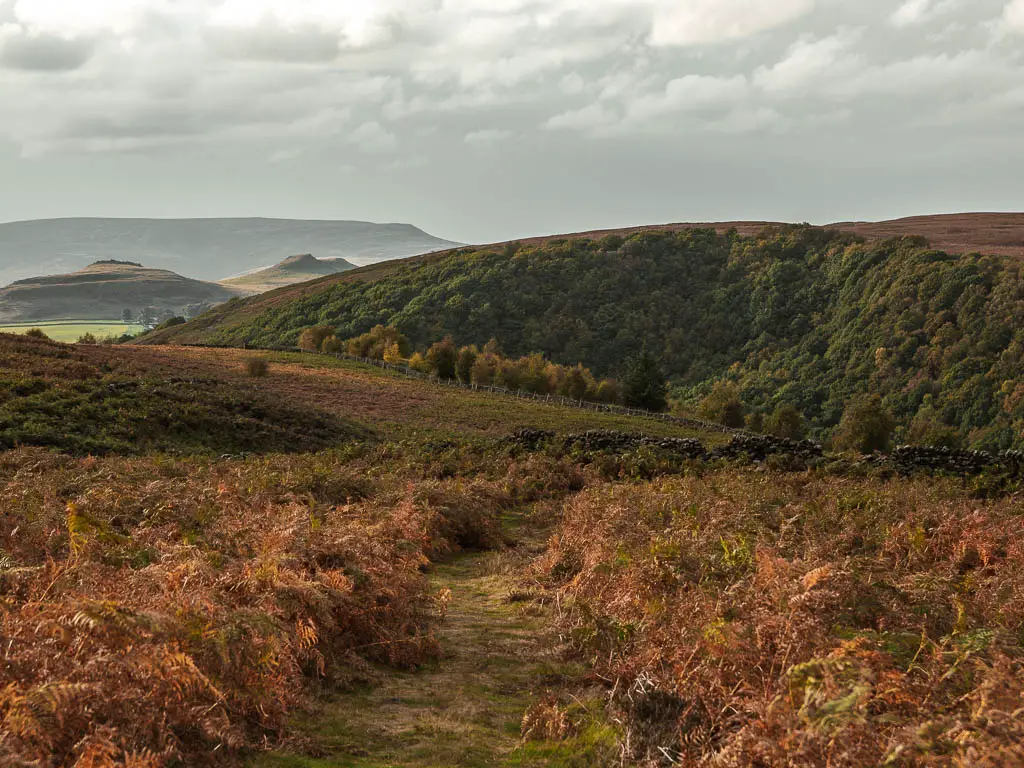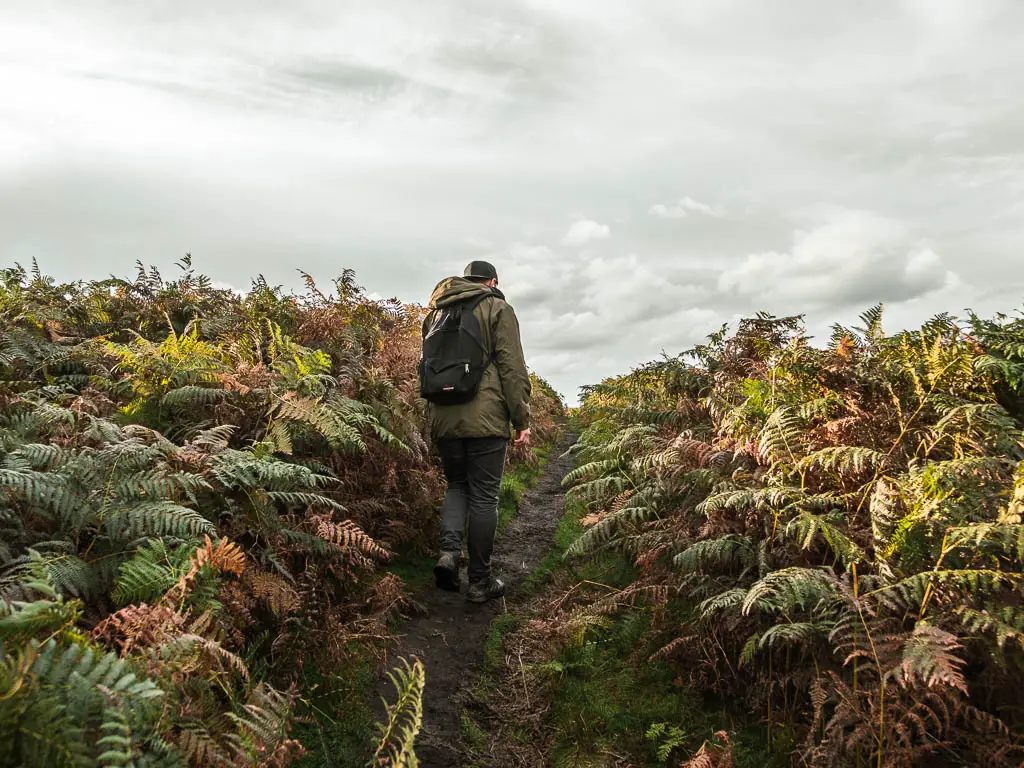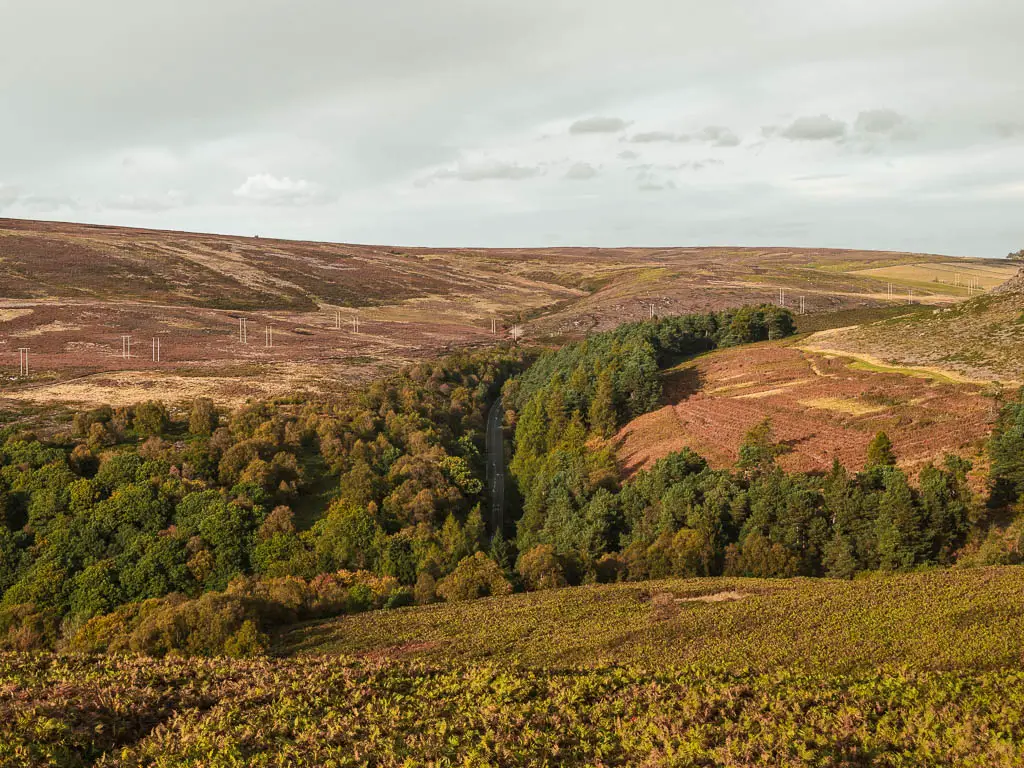 Reservoir views
Soon you will get a view down to the impressive Ladybower reservoir below. It was a little empty. I think we might still be in a drought. They did declare it in summer, I can't recall them un-declaring it.  
A few months later, I came back and walked around the reservoir, which you can read about here.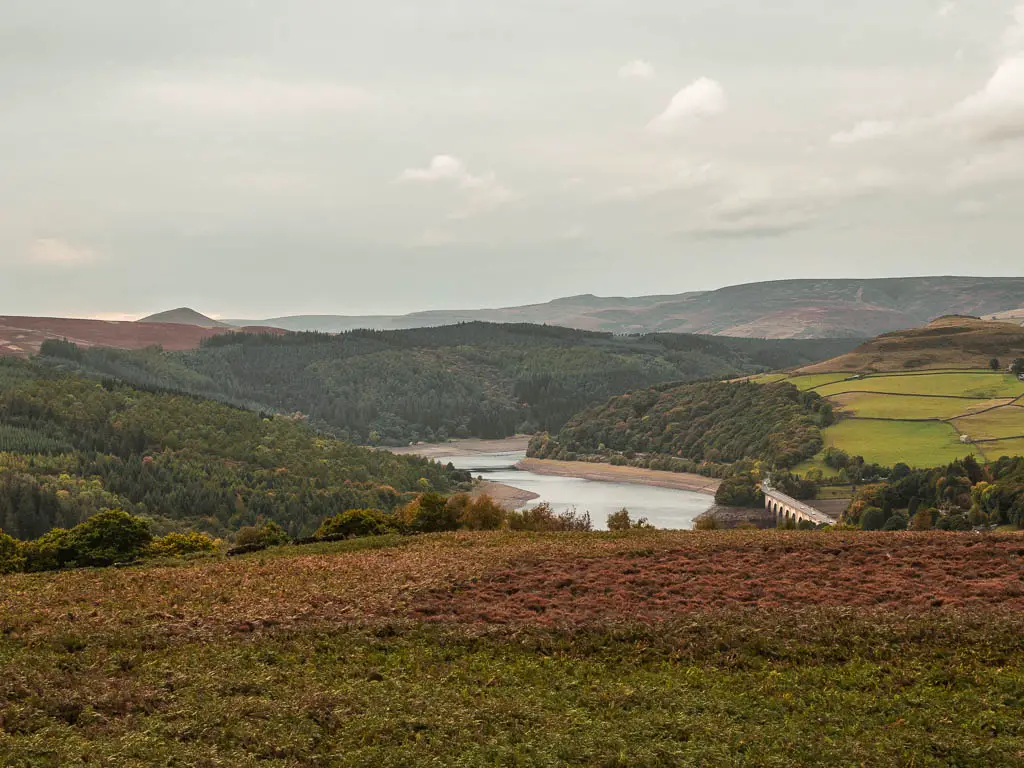 The trail splits
A little further along past the wall ruins, you will reach a trail split. Take the right one. You should see a chimney looking thing to your left a bit past the split. I imagined a house underground.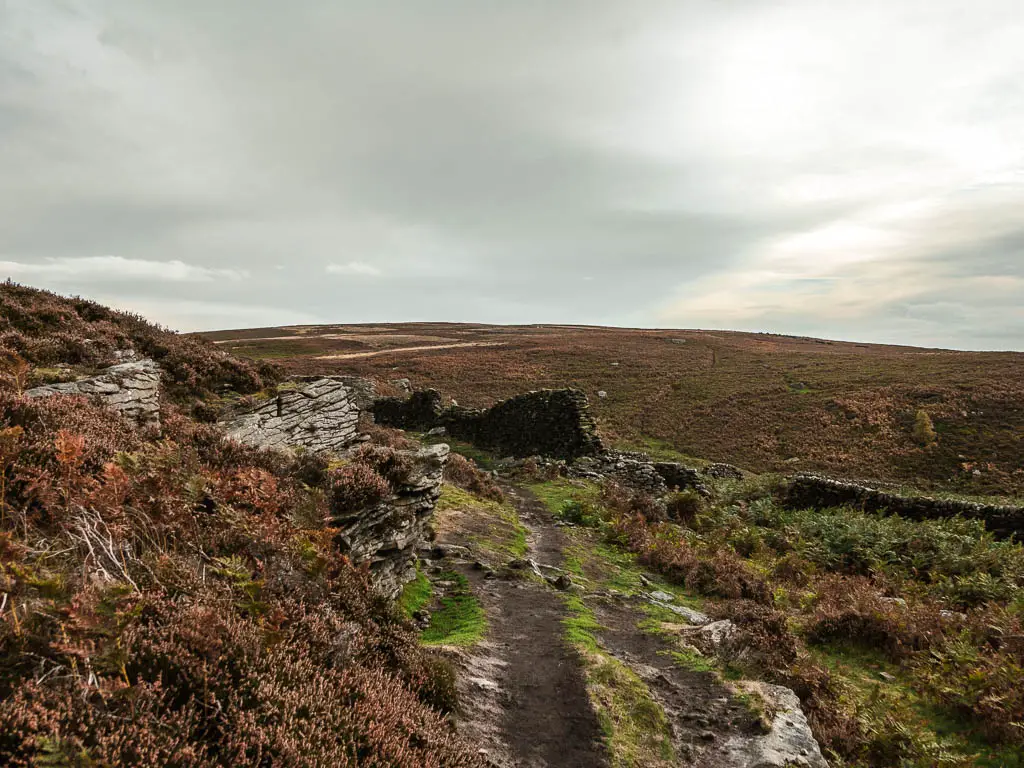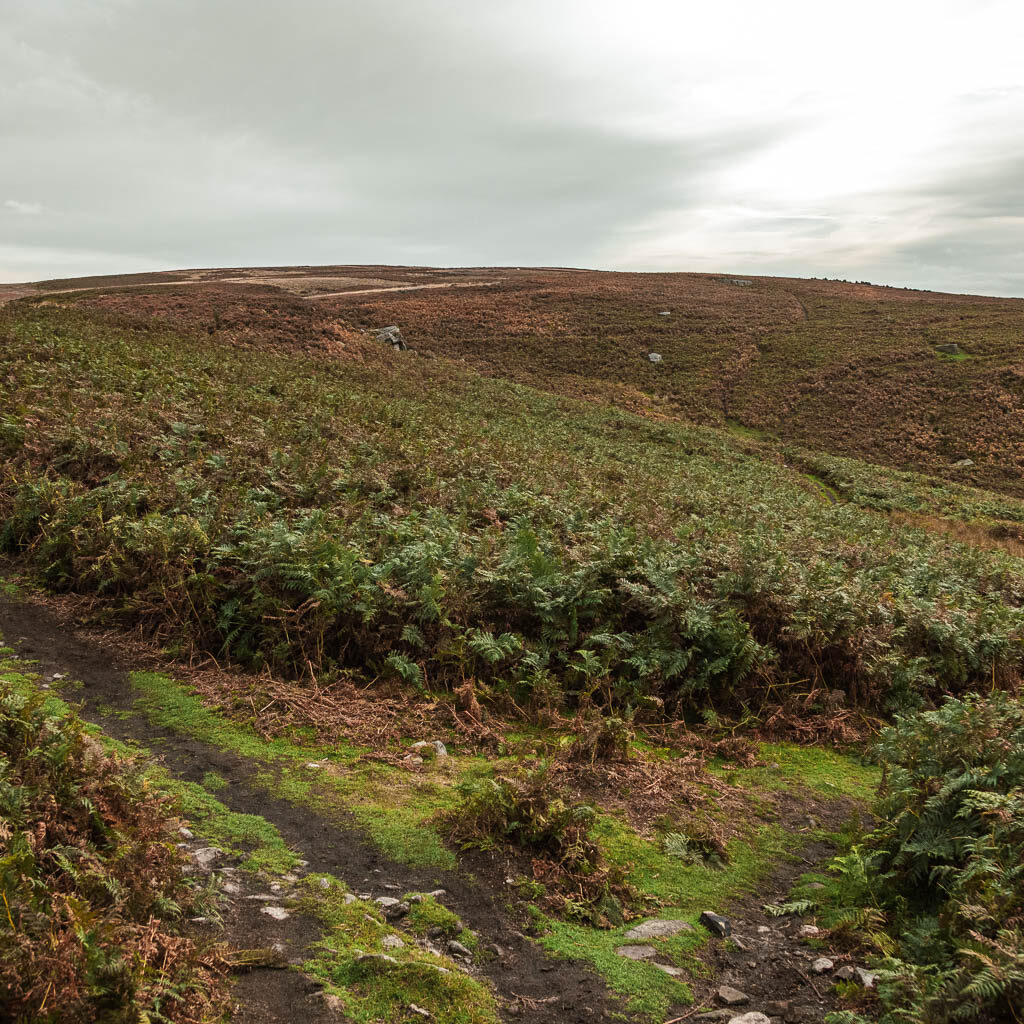 At the next trail split take the right, then at the next one go straight. It is all a little confusing, with all the splits. For reference, incase I missed some, see photos below. I'm not sure how helpful this is though, as it all looks the same.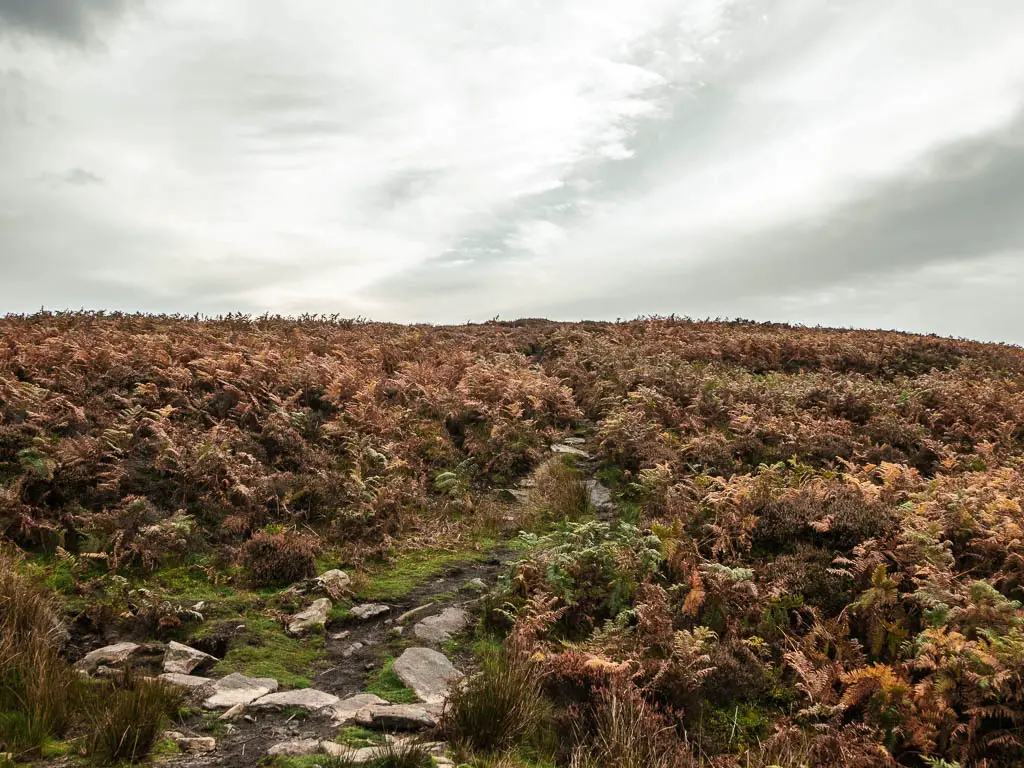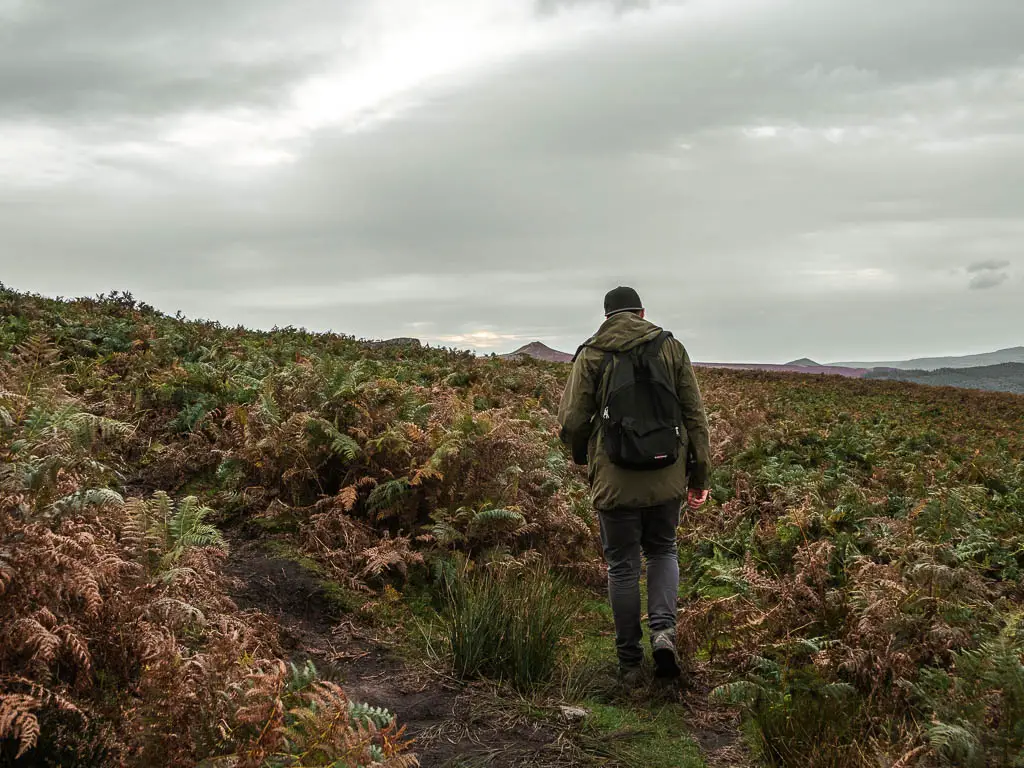 There is another split coming up. This one is the important on. Make sure you turn left. If you continue straight, this will take you down off the hill. Basically, with all these splits, just make sure you are following the perimeter of the hill you are on.
Walk along the top of Bamford Edge
After turning left along the edge of the hill top, you will get even better views of the Ladybower Reservoir, and start to walk along the rocky bit of Bamford Edge.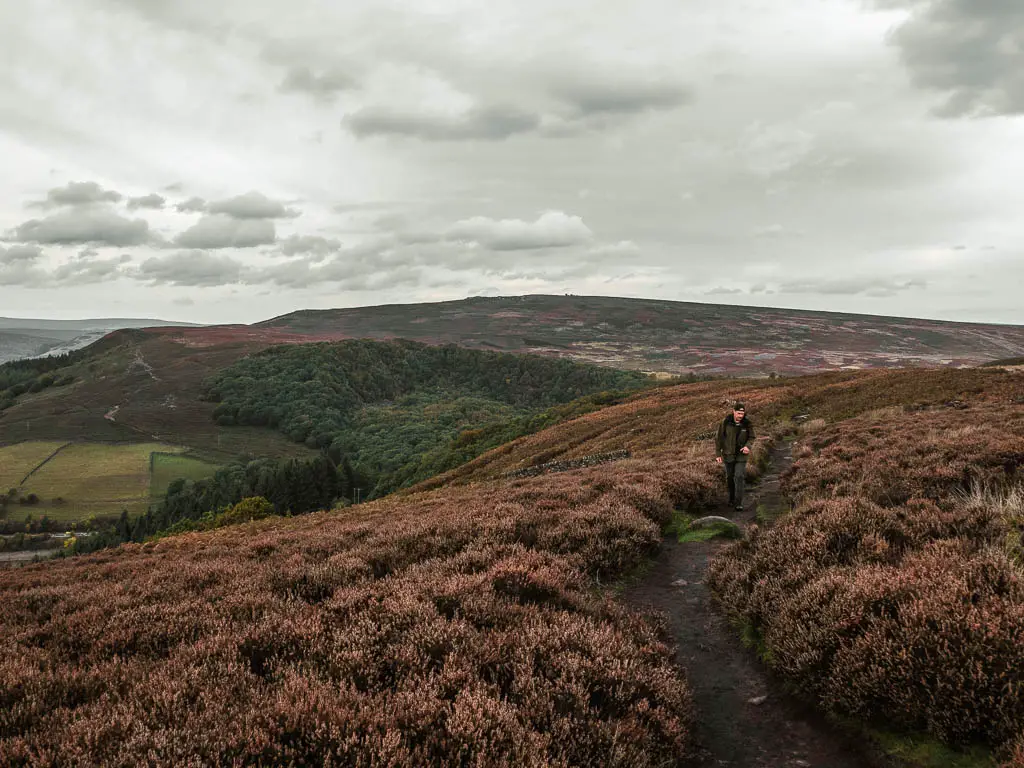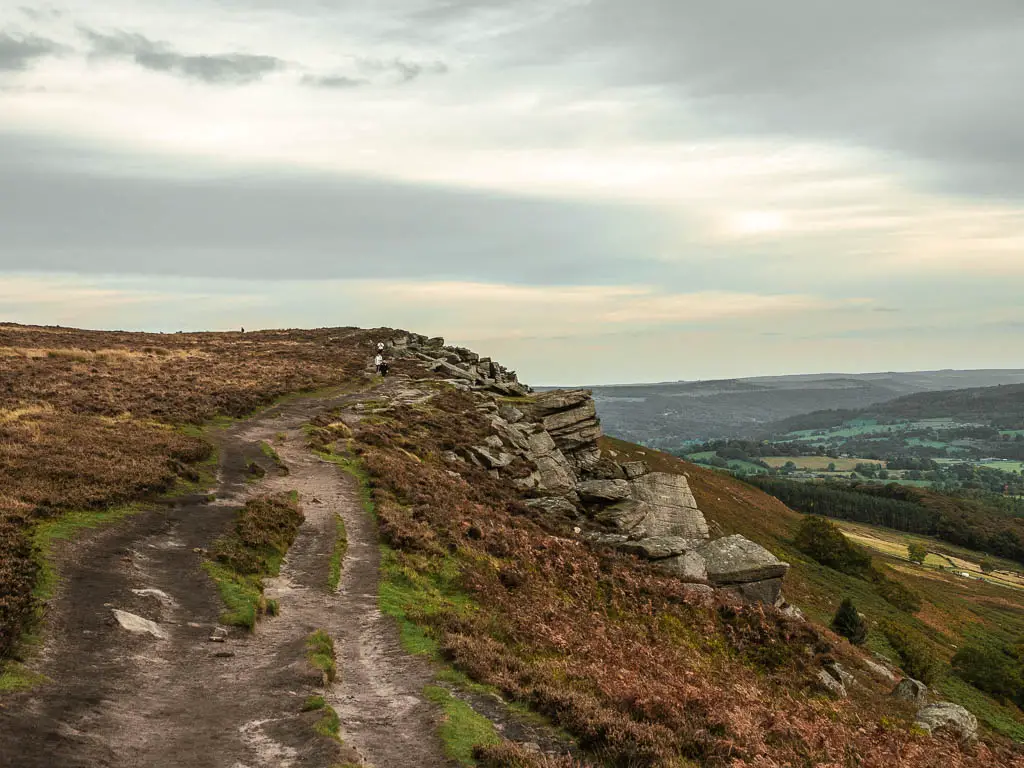 Walk away from Bamford Edge one of two ways
You now need to decide which way you want to go. Option 1 is to continue to walk straight along Bamford Edge until you reach the road. At the road, turn left and some way further along, you will reach the Dennis Knoll car park. This is the alternate route to finish. Option 2 is to circle back around towards Stanage Edge. It's the left trail in the photo below. This way avoids the road….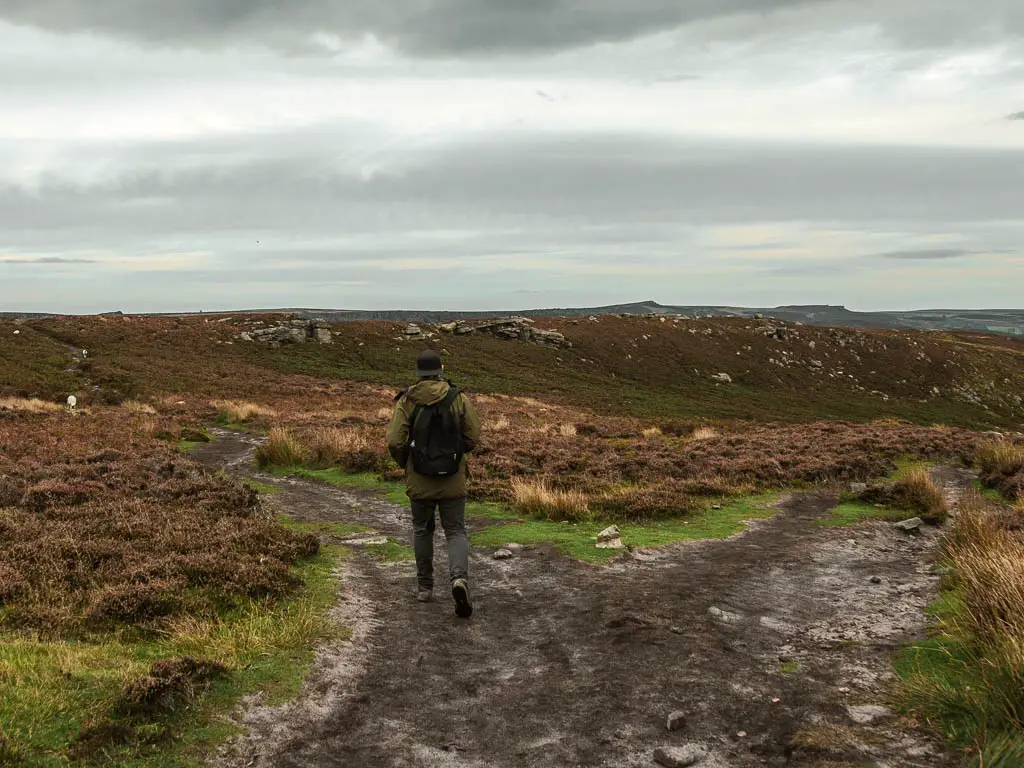 Walk from Bamford Edge to Stanage Edge across the moor
This part of the walk starts off nice and easy, along a well laid out dirt trail. A short way along, you will reach a junction where you turn right. Then an even shorter way along, there is a trail to the left. This is almost invisible, so you need to pay attention for it. See photos below.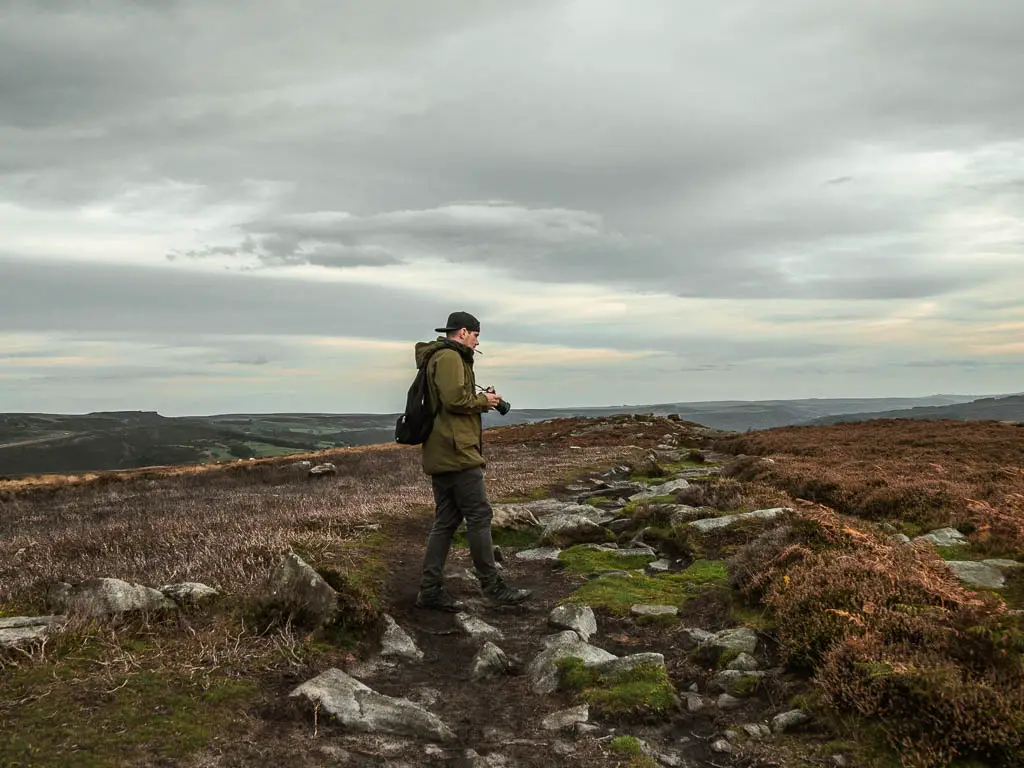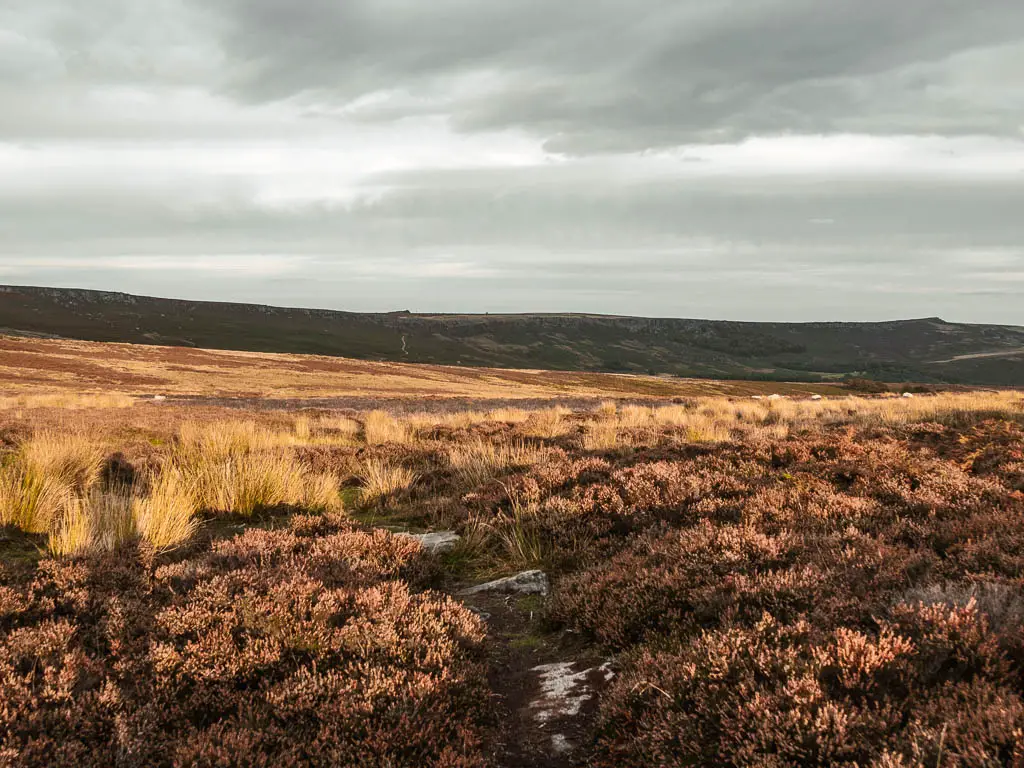 Now things start to get a little tricky. For the next while, the trail sort of comes and goes. Sometimes it's obvious, sometimes not so much.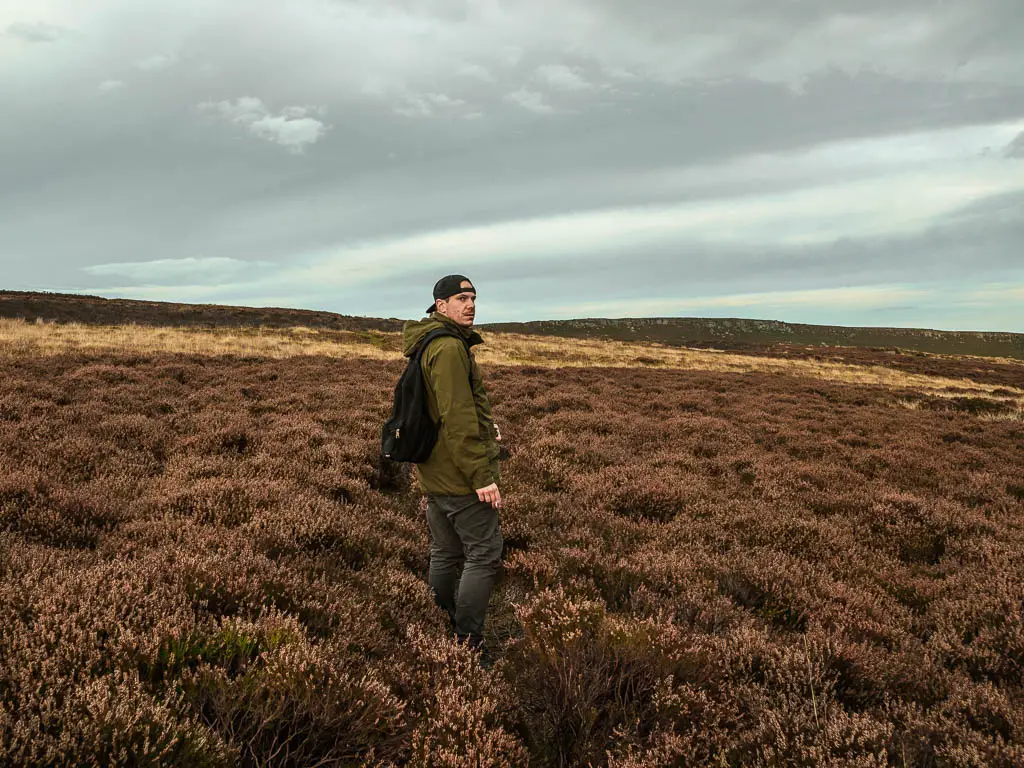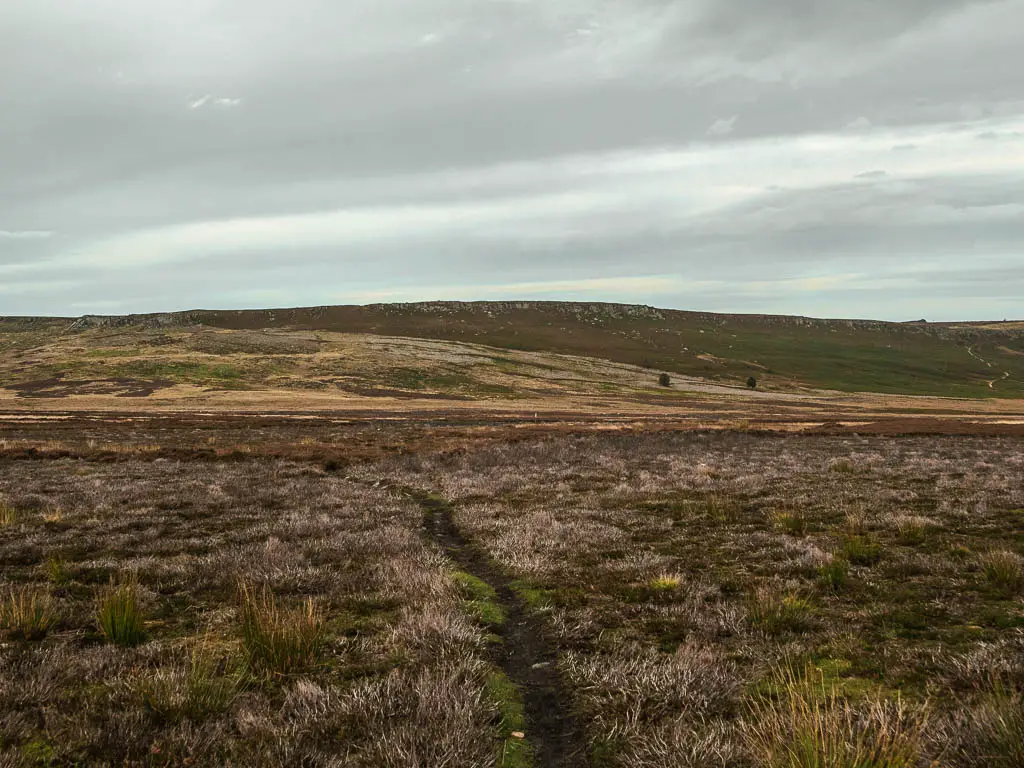 You will be walking through lots of heather and scratchy stuff. There is a trail split where we took the right, but this lead us to lots and lots of bog. So much so that we turned back to find another way.
This is where you probably need to get creative and explore. Ollie and I went our separate ways at this point. As long as you keep heading towards Stanage Edge, which should be in front of you, you will make it.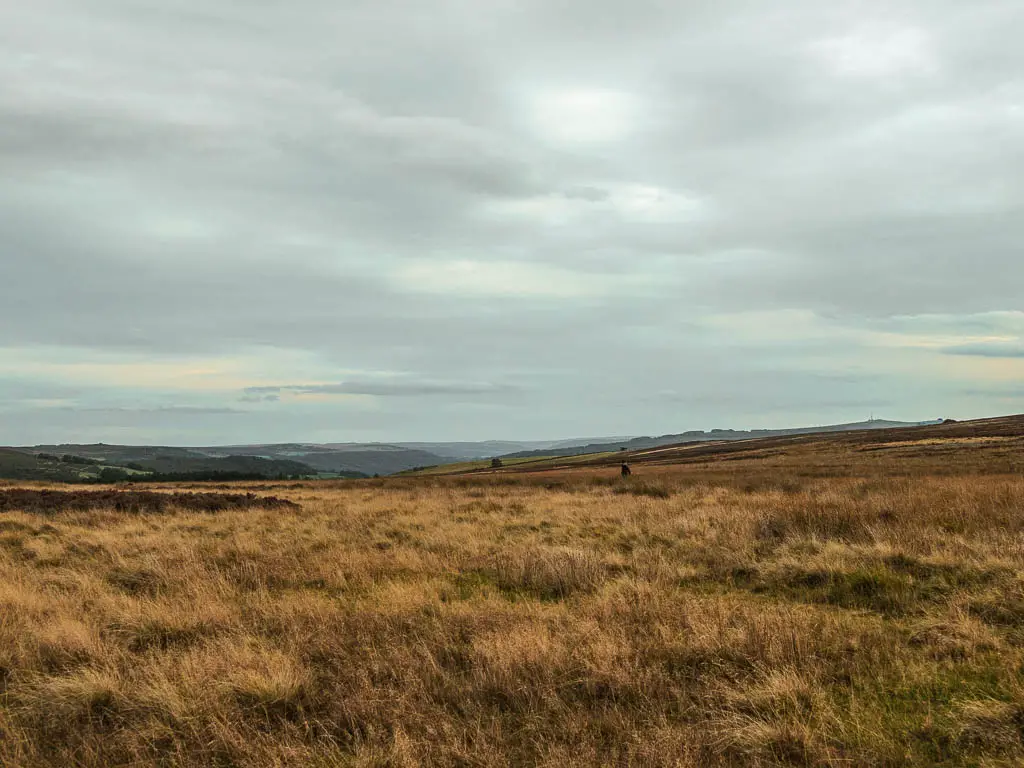 Under Stanage Edge 
The trail you are looking for to turn right onto, is a small grassy one (see photo below). You should be fairly close to Stanage Edge. Then you just follow this all the way, with the edge looming above to your left, to reach the end.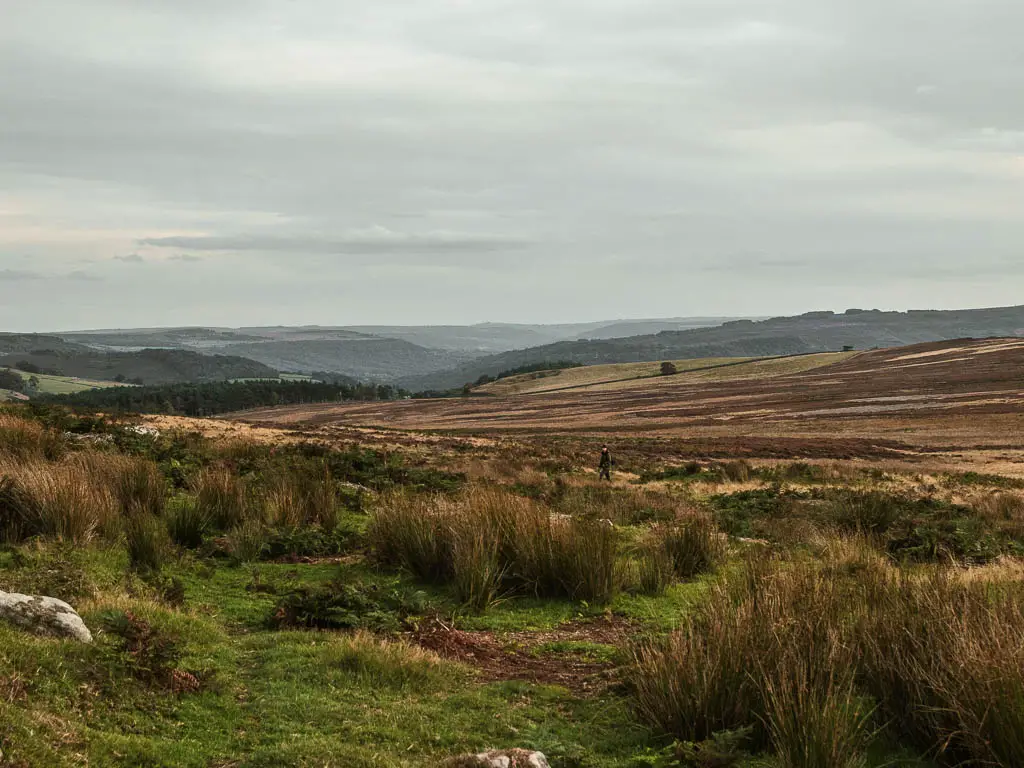 The fern attack
I didn't say the walk to the end from this point would be easy though. It starts off easy, and I can tell you, I was very excited when I found this trail. The home stretch trail after the bog extravaganza. However, it starts to lead you through some fern, which gets taller and more overgrown as you make your way along. To the point of not being able to see the trail under your feet. Where you might wonder wether you have gone the correct way. If it seems impossible and wrong, then it's right.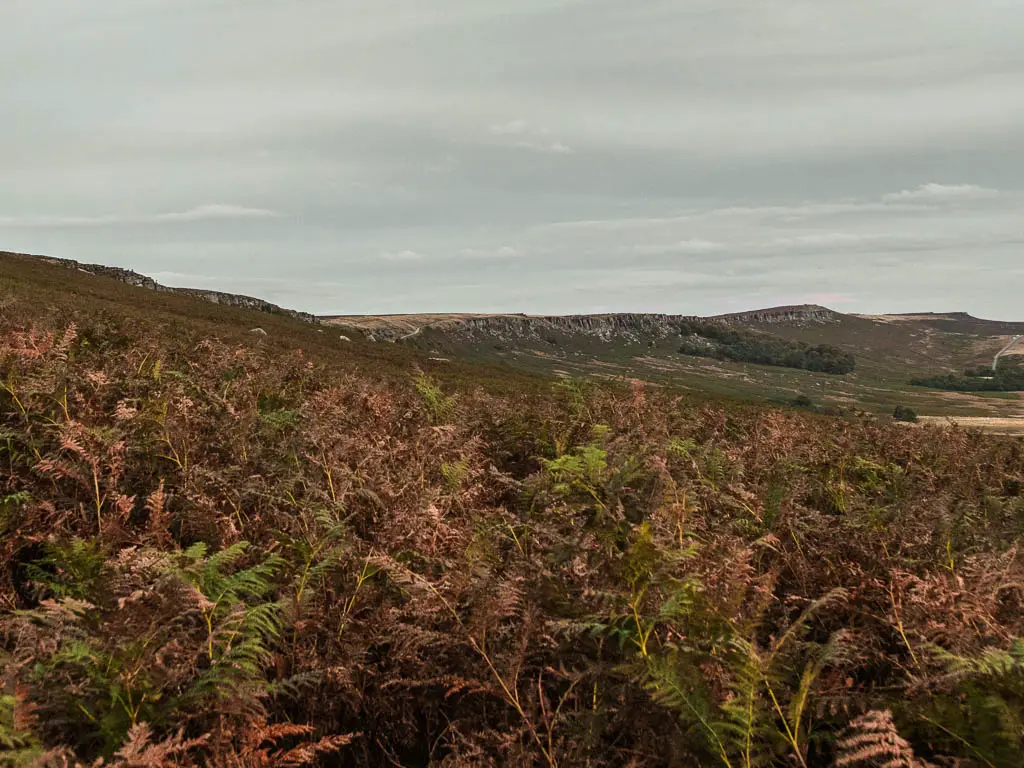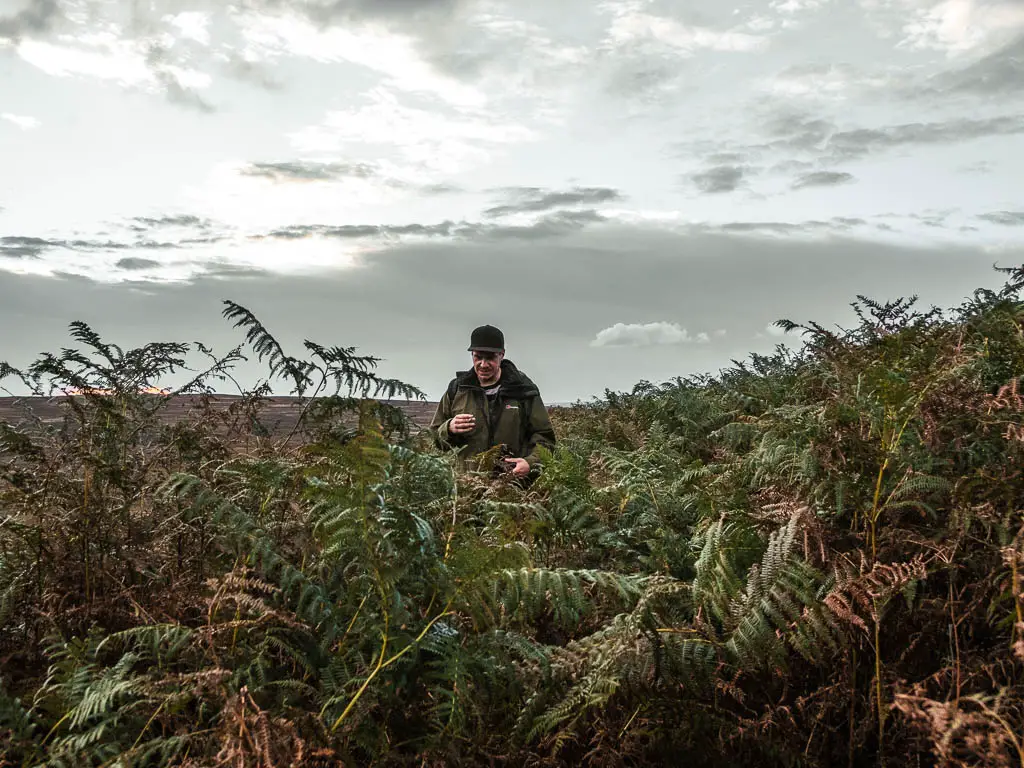 We could see the car park and our van from here, but it didn't seem to be getting any closer as we fought our way through the fern.
The end of the Bamford Edge circular walk
After a lot of fight, you will reach a nice and very obvious dirt trail. Turn right onto it, and it will lead you to a wooden stile, and onto the trail you started on.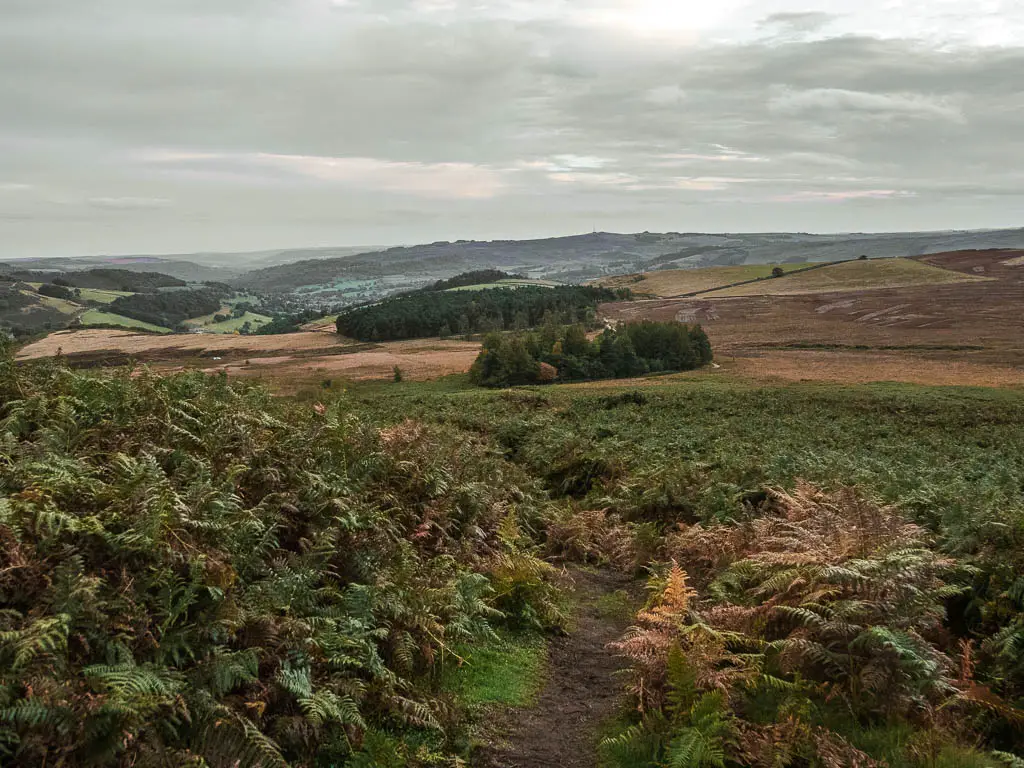 Over the stile, turn right and you will reach the car park.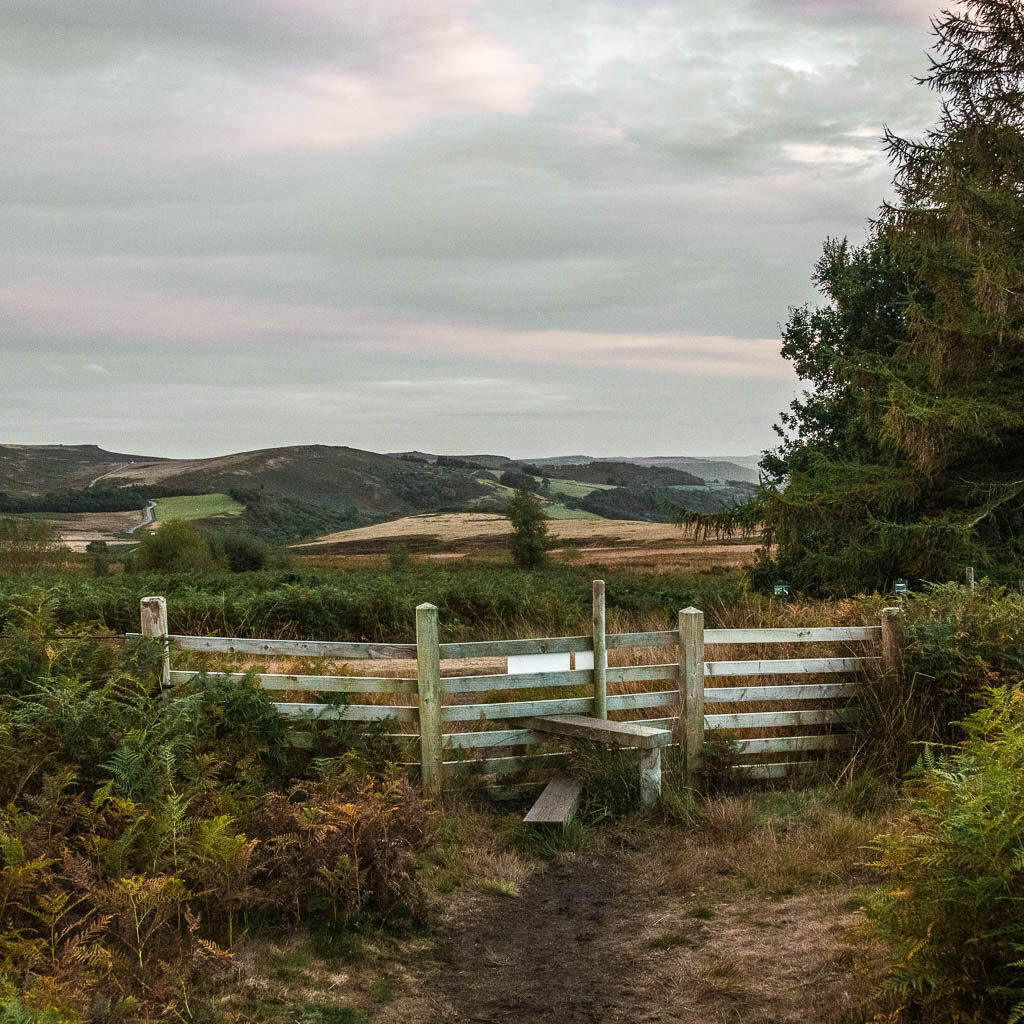 ---
More walks similar to Bamford Edge
If you would like to see more of Stanage Edge, this walk takes you in a big circular, so you get to see it from all angles. It does take you along a slightly busier section of the edge, but once you get down into the valley, it gets a lot more peaceful.
The other rocky edge, which you get a view of from Bamford Edge, is Derwent Edge. It's just on the other side of the Ladybower Reservoir. The route takes you along the top of it and then down alongside the reservoir. If you are feeling spicy, you could add it onto this Bamford Edge walk, for a mega long hike.
Another cool rock face you can walk along is The Roaches. That guide also takes you to Lud's Church, however, you can also do Lud's Church on it's own, if you don't want to do a big hike. I would suggest doing them together as one though. It makes for a fantastic and varied route.
The most unique rock I have seen out here is the Trinnacle. There is a trail that takes you on a bit of a scramble, up a river with waterfalls and dipping pools. When you reach the cool rock, you will have an impressive view down to the reservoirs in the valley below. You can find out more about that one here.
If you like views, then the Mam Tor walk along the Great Ridge is a must. This walk can easily be adapted to suit your preference. It's one of my favourite routes in the area, and includes a visit to the enchanting Cave Dale. Alternatively, you can see Mam Tor alongside Winnats Pass, as they are right next to each other.
Pin it for later: Bamford Edge circular walk guide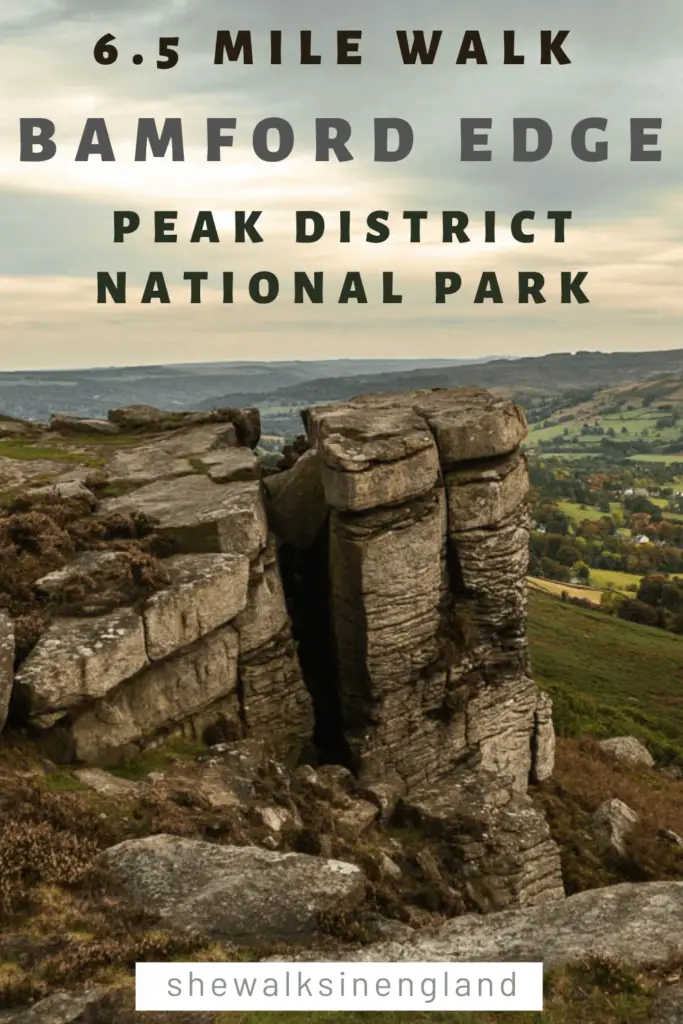 For more info about things to do in the area, you can check out the Visit Peak District website.