This circular walk in the Peak District takes you up and along the mighty Stanage Edge, down and through the valley, and up Higger Tor before finishing back at Stanage Edge.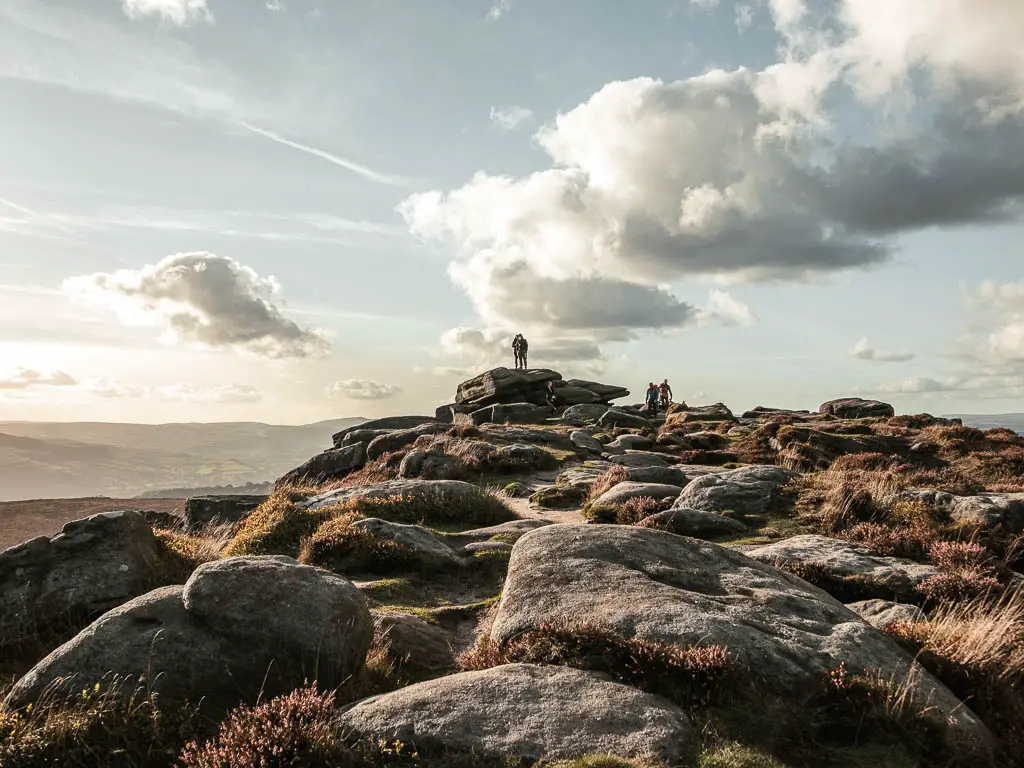 Although you will only walk along Stanage Edge for part of the walk, you get fantastic views to it throughout, looming in the distance. This is one thing I loved about this walk. Getting to see it from all different angles. From up top, just down below, way in the distance, then looking across from Higger Tor at the end. 
You can also get a view to Stanage Edge on this walk, which takes you through Padley Gorge.
What is Stanage Edge?
Stanage Edge is a gritstone escarpment. Basically a long stone cliff. It runs about 4 miles in length. This walk route takes you along the southern end of Stanage Edge, which we found to be a lot busier than further north, when we did the Bamford Edge walk route.
It's also very popular for rock climbers, which you will most likely see dangling off the cliff face.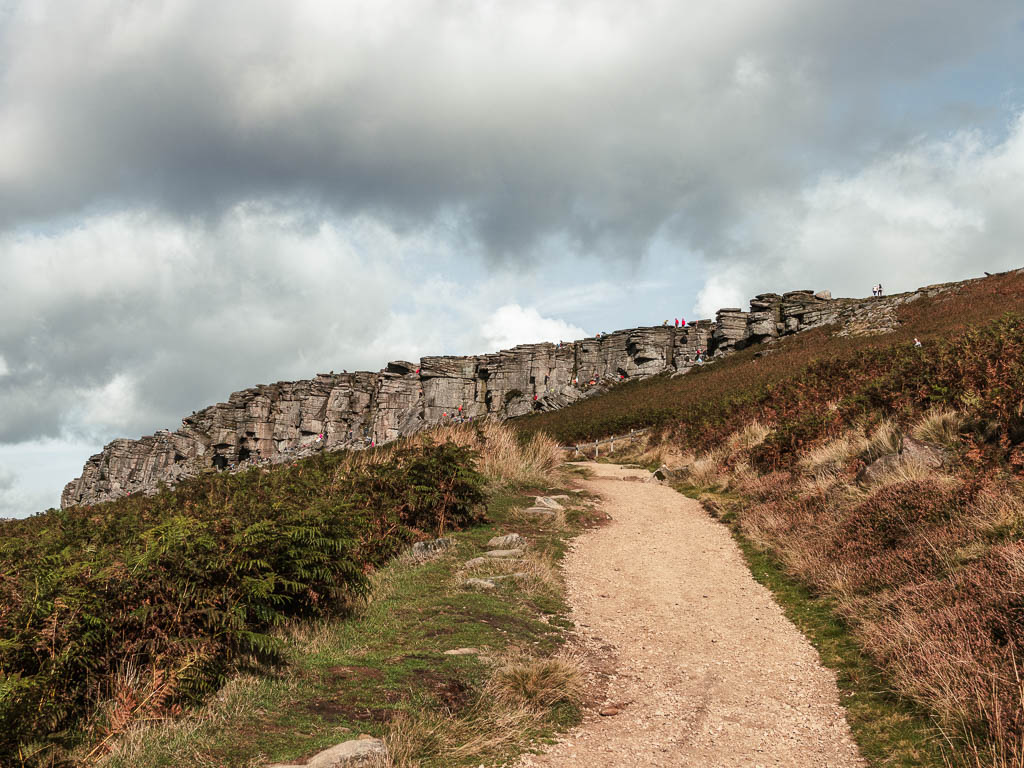 Fun Fact: Stanage Edge was featured in the film Pride and Prejudice. 
What to expect on the Stanage Edge circular walk
Most of the walk I wouldn't say is too challenging. Not until the end that is, where you will have a long uphill to reach Higger Tor.
Walking along the top of Stanage Edge is very interesting and quite unique. Lots of flat rocks, mixed with bigger boulders. Fantastic views down and across the valley, with hills and peaks in varying forms in the distance.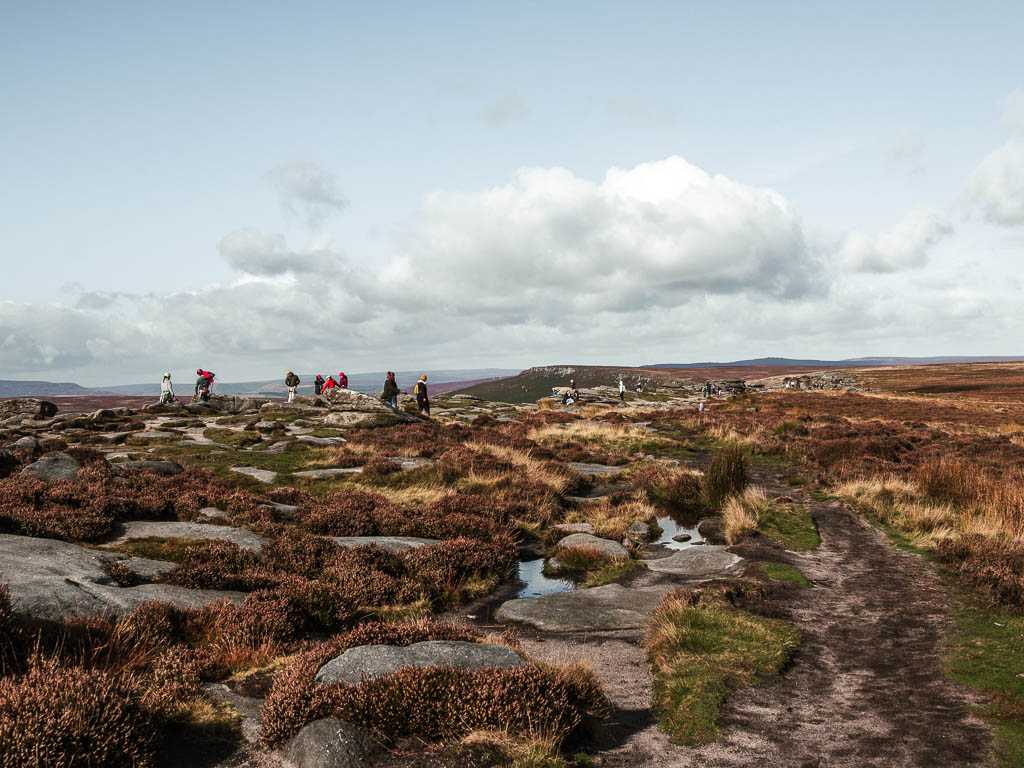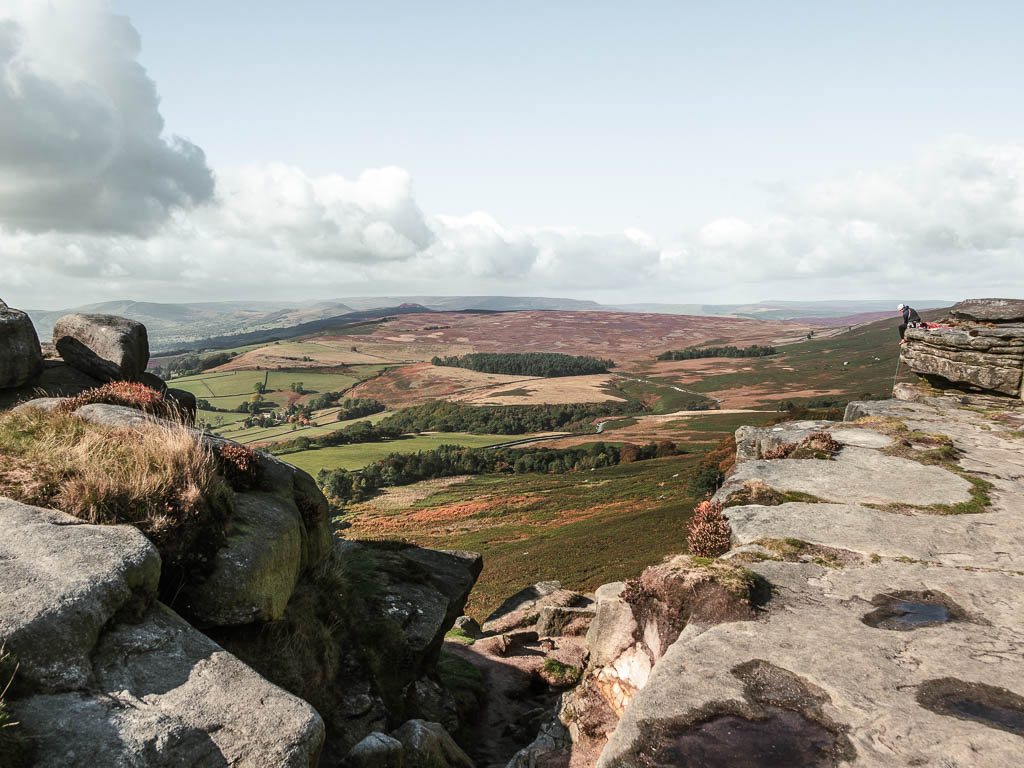 Walking down off Stanage edge was equally interesting, as first you need to find the route down, which can be easily missable. It's not as simple as having a nice laid out path. It's basically rocks. I will show the route down from Stanage Edge in photos, and the landmarks to look out for, when I describe the walk below.
Then you will walk along the bottom of Stanage Edge, surrounded by fern, as you head through the woodland.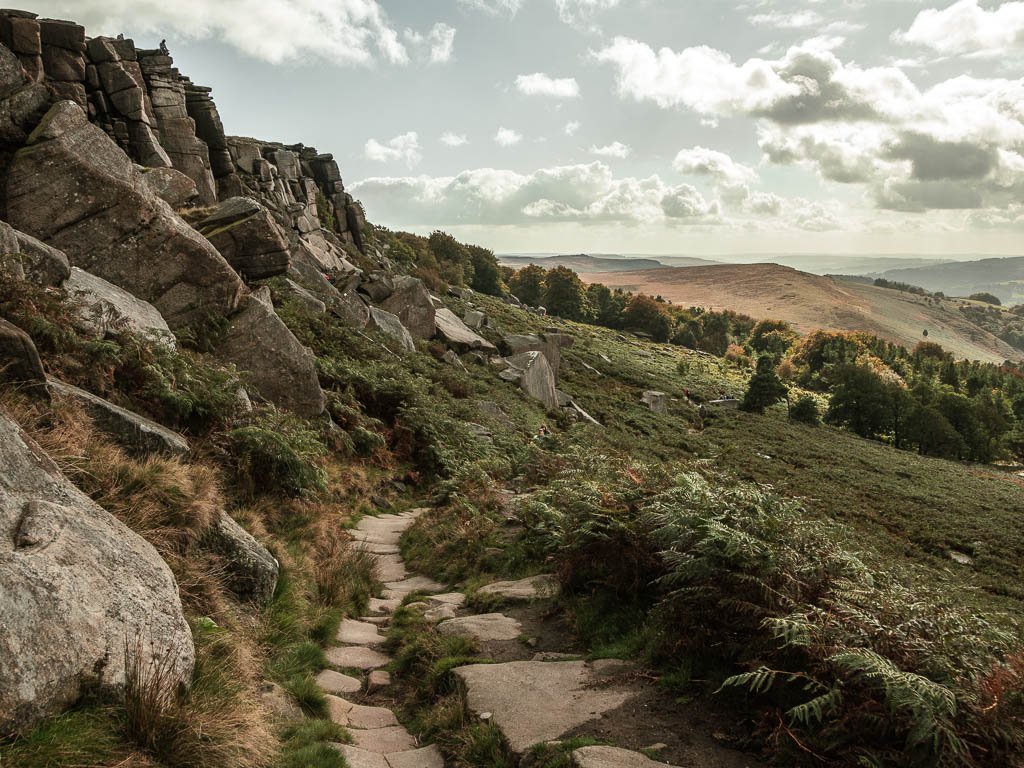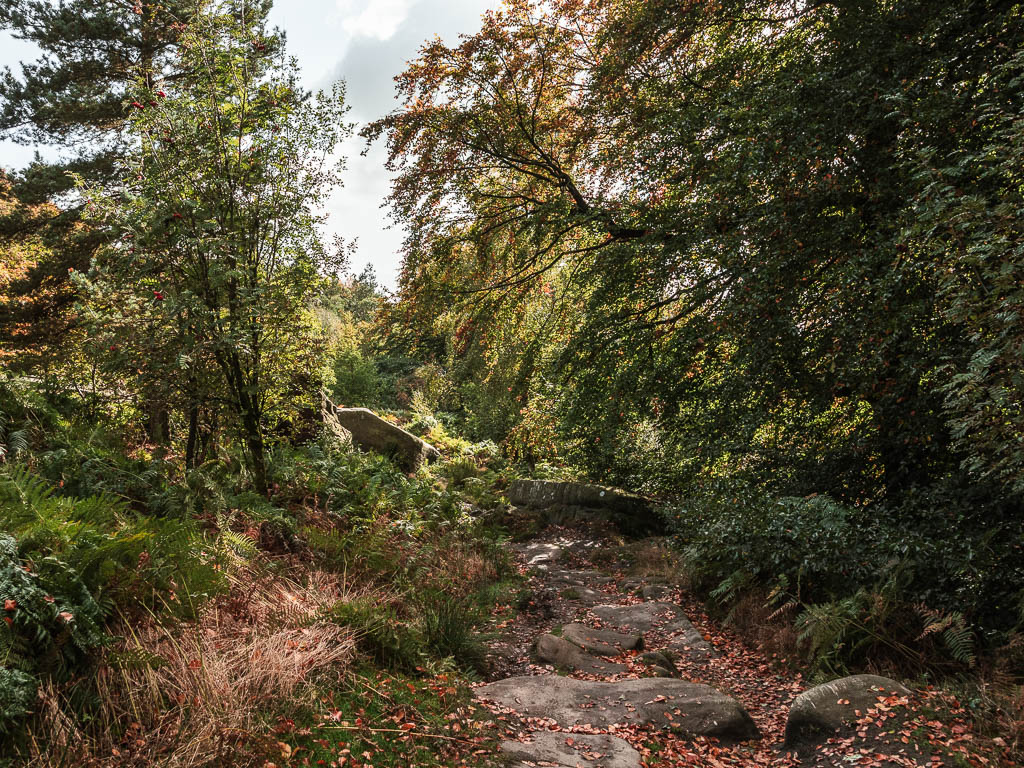 For the next chunk of the walk through the valley, the route is a mix of woods and open fields, with occasional views back to Stanage Edge in the distance. The trail along this section ranges from dirt, to gravel, to easy path, with a little bit of quiet country road.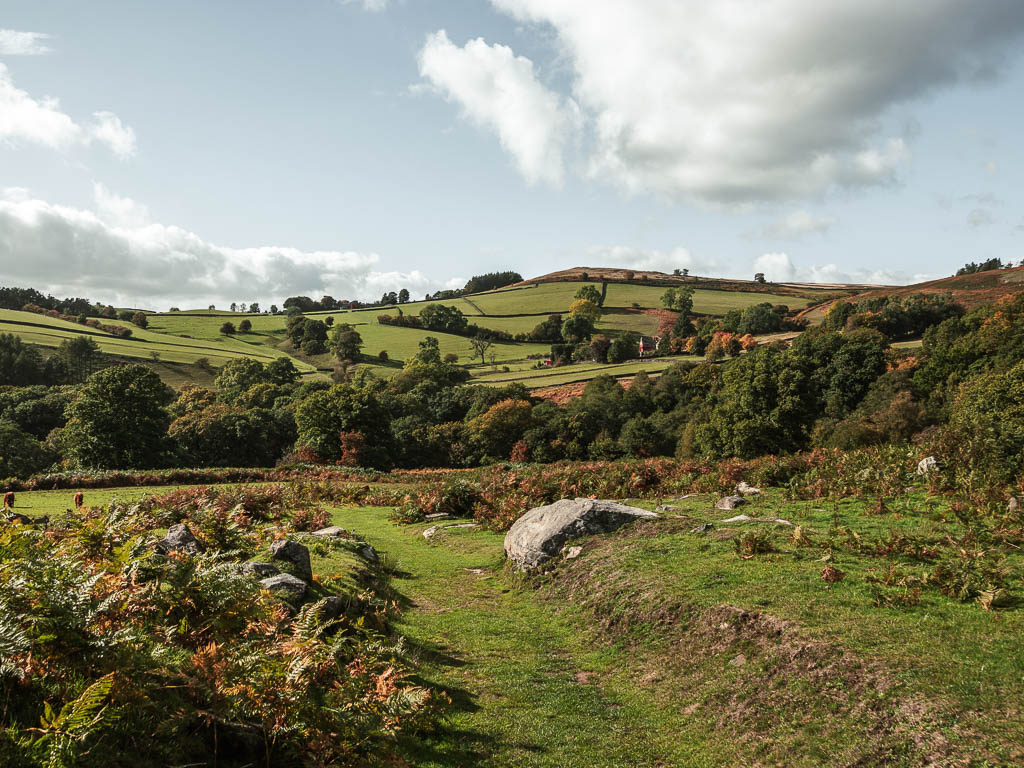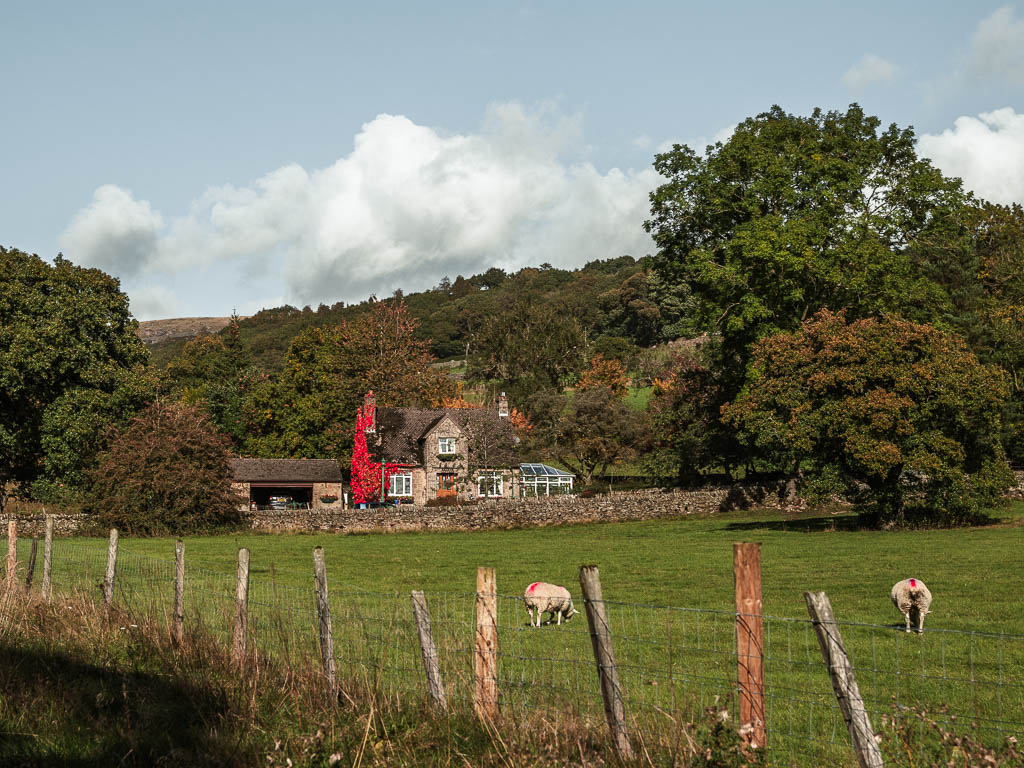 Then finally, it's the big uphill to reach Higger Tor, with a few very steep bits and overgrowth. The view as you walk up is fantastic through, across the fields, down and across the valley, and over to Stanage Edge.
Can the walk be shortened?
Absolutely. In fact, you can just walk along Stanage Edge and back and call it a day. Stanage Edge is very long, and this walk route only takes you along part of it. 
Near the end of the walk, after coming down off Higger Tor, we decided to go up Stanage Edge one more time, but if you want you can just head back to the car park.
Parking for Stanage Edge
There are a few options for parking which all give you good access to walk along Stanage Edge. Dennis Knoll Car Park (free), Hollins Bank Car Park (pay and display), Hooks Carr Car Park (free) and Upper Burbage Car Park (not sure). 
NB: Free vs not free at the time of writing.
We parked at Hooks Carr Car park because it's free. The route I will describe starts from here. Upper Burbage Car Park would also work for this route. 
Logistics
Start/Finish: Hooks Carr Car Park, Peak District National Park
Public transport options: Hathersage has a train station, which is a short walk from this trail. If you look at my route map below, follow the roads to reach the route. You will be starting at a different place.
Distance: 7.3miles
Time: 3h 23min (not including lunch stop)
Elevation gain: With the ups and downs, you will walk uphill about 437m.
Difficulty: Most of it is easy, with a challenging end
Time of year: We did this in Autumn
Dog Friendly: There is livestock at various points along this walk. One stile with a doggy sized hole. A couple of points with a 'dog on lead' sign.
Amenities: Past the Stanage Plantation, at the road, there is public toilets. Turn right when you reach the road and you should find it. This walk takes you near Hathersage, which is a small village with places to eat, food shops, and outdoor clothing stores.
Map for the Stanage Edge circular walk route
You will find my more detailed map route for Stanage Edge on AllTrails.
---
Tips for the Stanage Edge walk
---
Hiking boots/shoes. This is for grip, as there is a bit of walking up and down rocks. Make them waterproof, as there is a bit of muddy track along the route.
Take a windproof jacket. When walking along Stanage Edge and Higger Tor, it can be quite windy.
If doing the walk on the weekend, get there early. We arrived around midday and the car parks were pretty busy. We were lucky to find a space. Once we arrived back at the end of the walk, the roads were lined with overflow parking.
Due to the busyness, if you can do this one on a weekday, even better.
If you can do this walk in August, you will be blessed with the purple and pink heather.
More walks and route suggestions near or similar to Stanage Edge will be at the end. For a quick look comparison, you can read about all the walks I recommend in the Peak District here.
---
A Guide To The Stanage Edge Circular Walk
---
Starting the walk from Hooks Carr car park, you will have a view straight to Stanage Edge. From the car park, there is a gap in the stone wall, with a trail that leads right to Stanage Edge. It may be hidden behind the parked cars, so you may have to search for it. Then off you go.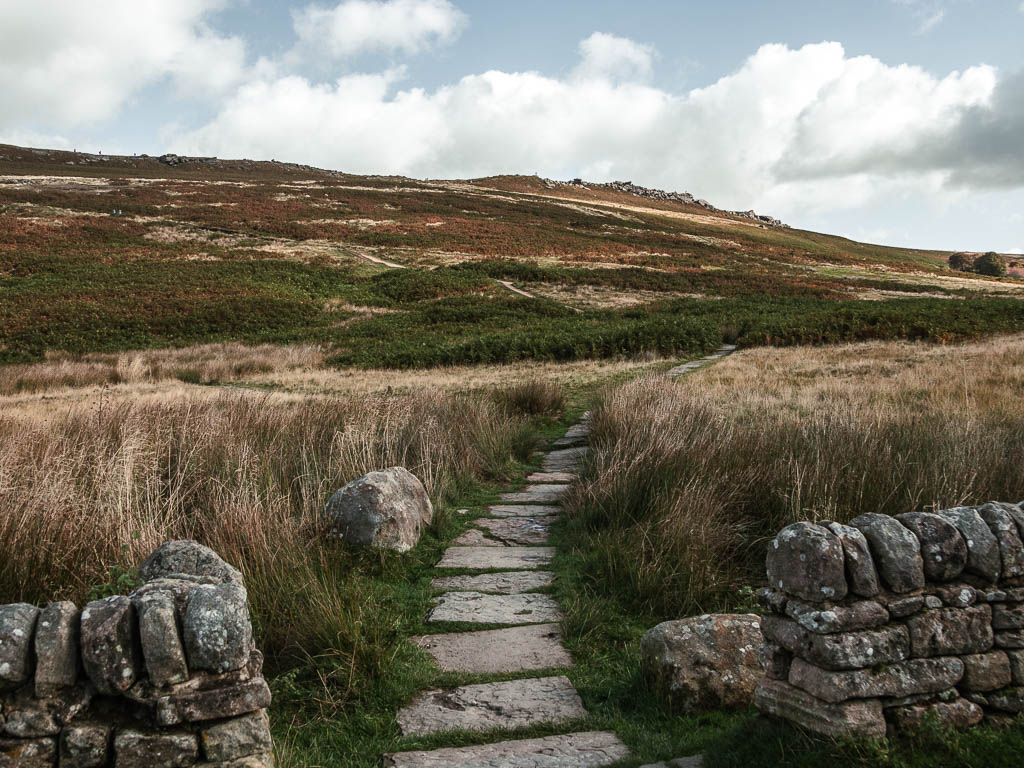 The trail starts off along paved stone, then becomes a bit more dirt and gravelly. Part way up, there will be some trail splits. I think you can take any really, as long as you keep going in the direction of up. Then for the final bit, you need to walk up some big rocks to get to the top.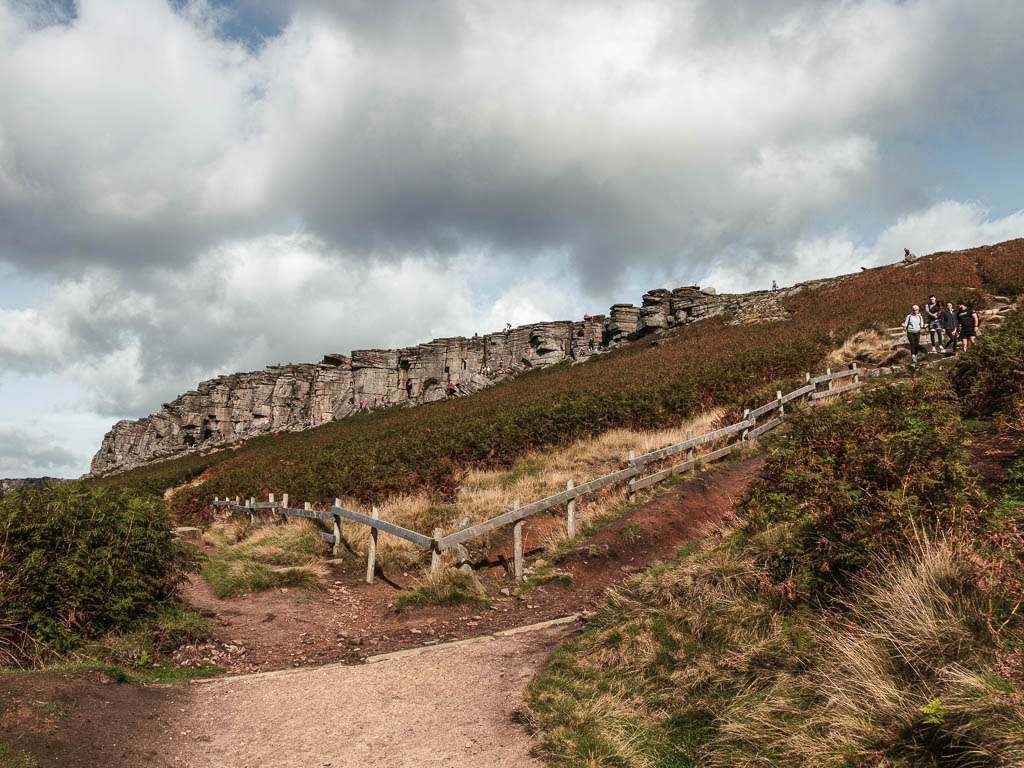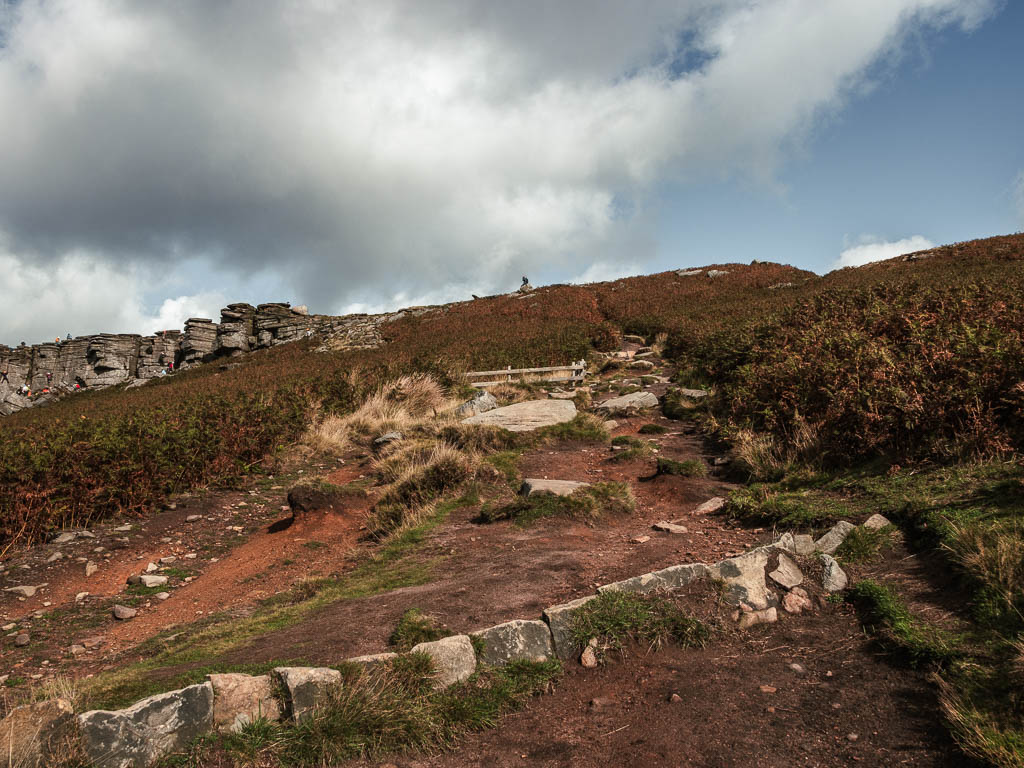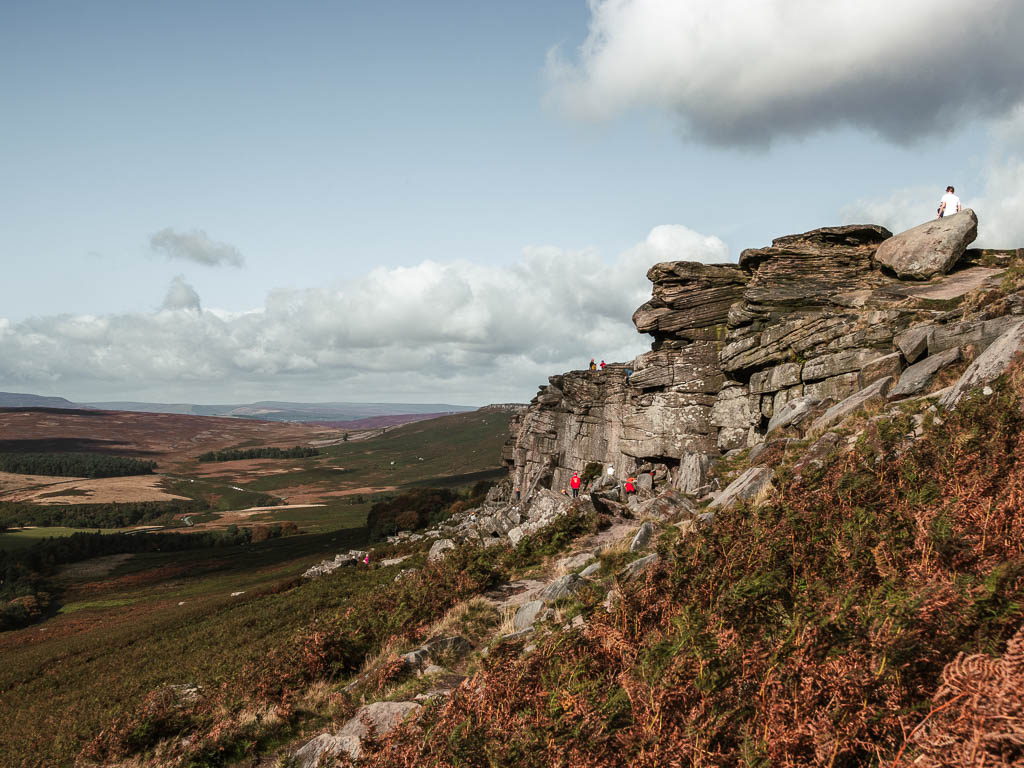 Walk along Stanage Edge
From the top of Stanage Edge, turn left and keep walking for a while. It was quite busy up there, but most people were concentrated along the edge. Doing their climbing thing. The landscape up here is quite interesting. Lots of flat rocks, with tufts of grass, heather, and little puddles.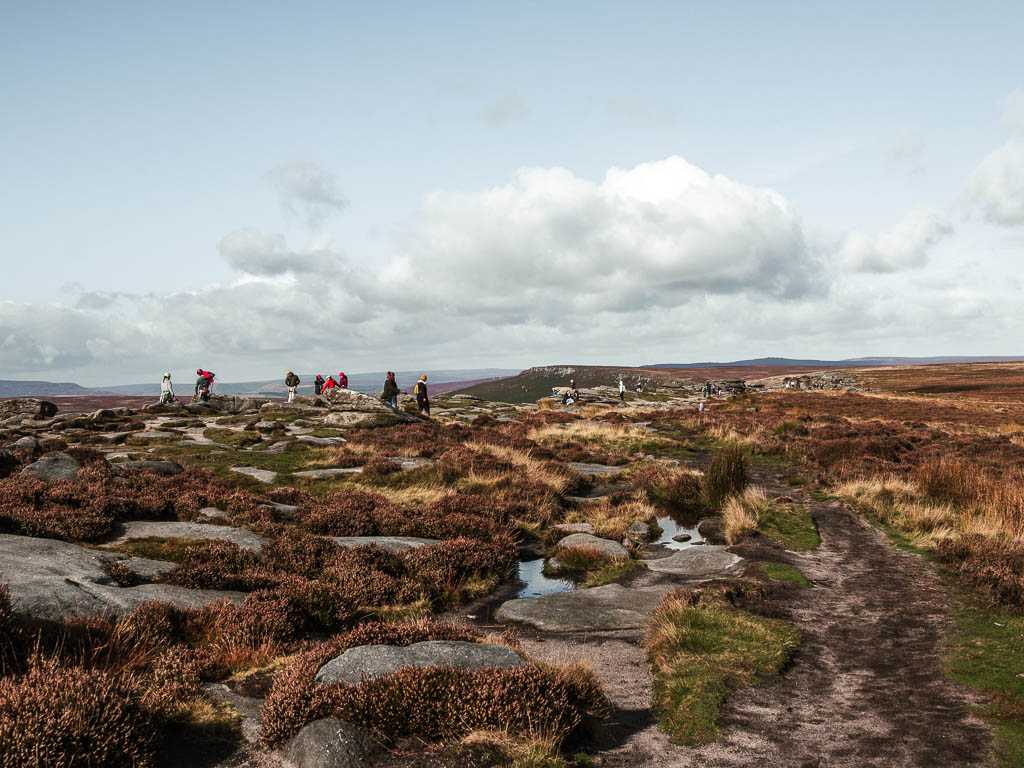 The view was also pretty spectacular. Down and across the valley, with undulating hills and peaks in the distance.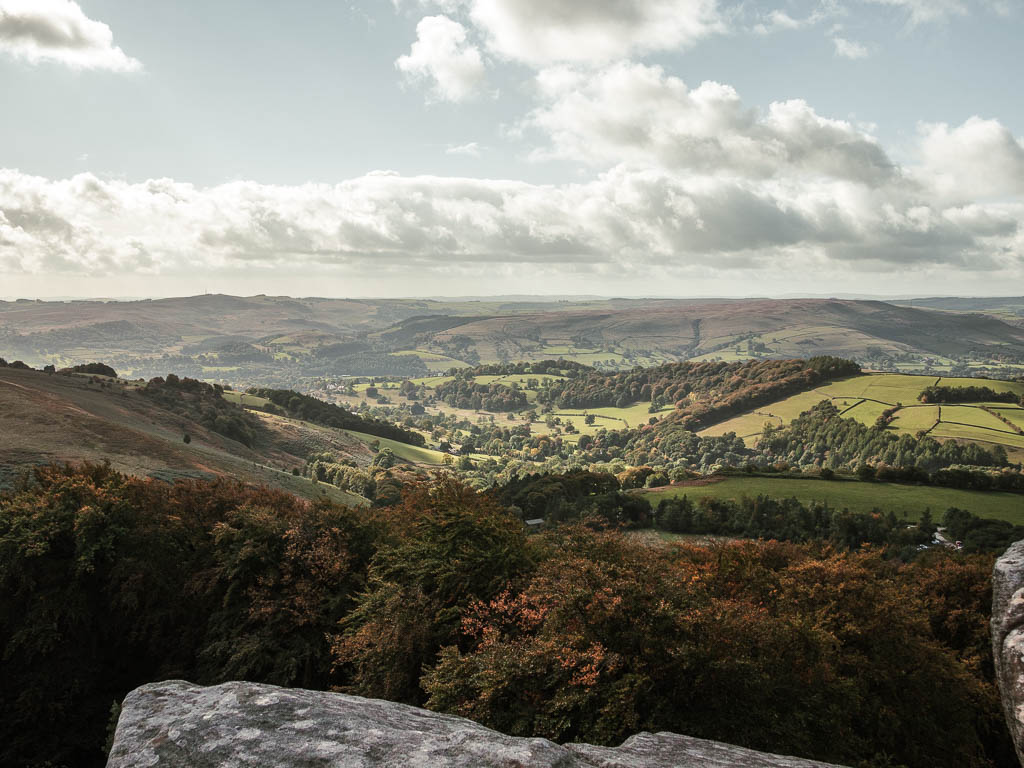 Ollie wanted to stop for lunch up here, but I protested due to the wind. Plus we had only just started the hike. It was too early for lunch. 
As you walk further along, you should start to see the Stanage Plantation, which is a small woodland area below Stanage edge. The way down is a little further past here.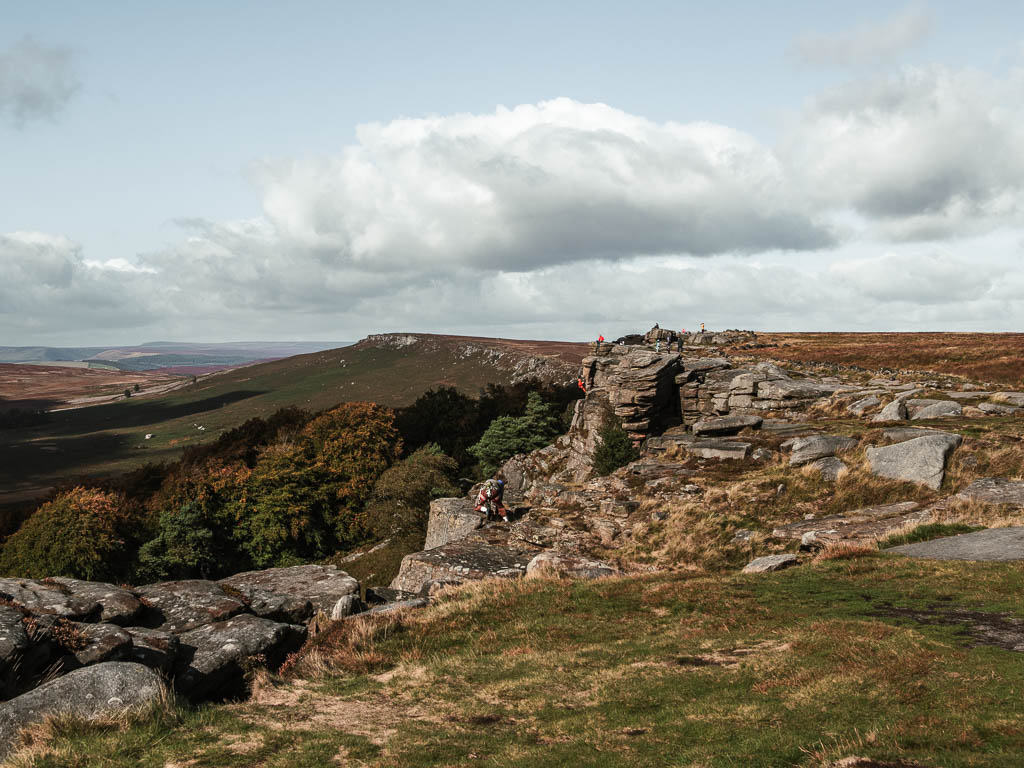 Walk down off Stanage Edge
Just past the rock in the photo below, keep an eye out on the left for a way to walk down off Stanage Edge. There will be a path of stone. This will lead you along the bottom of the edge.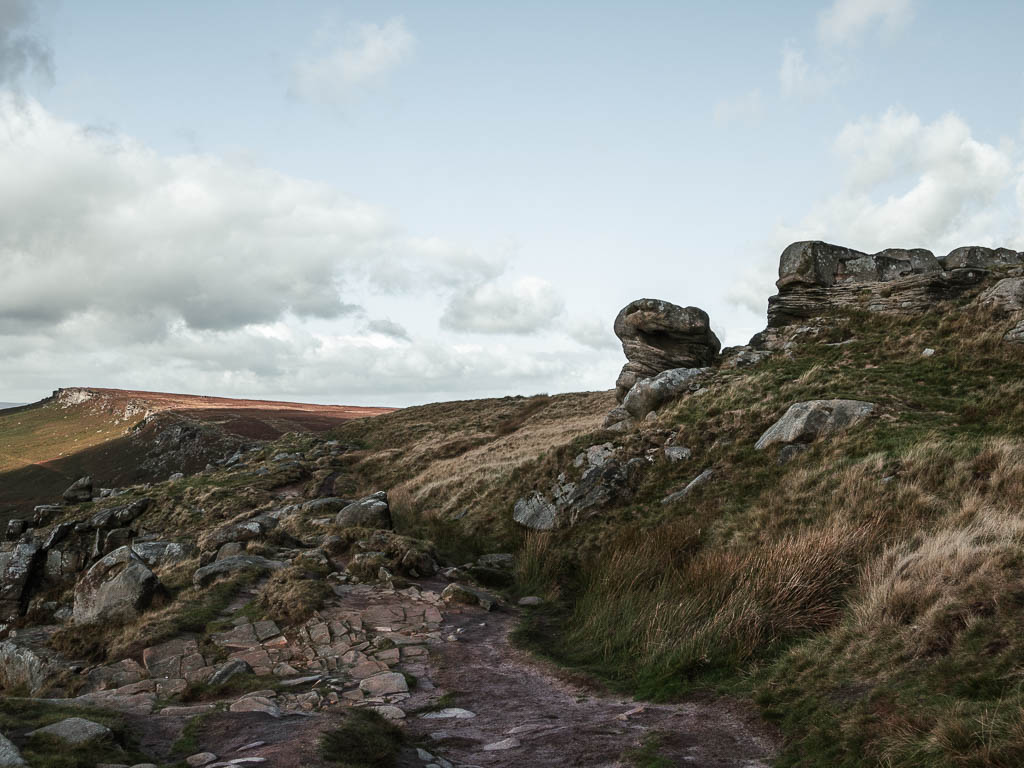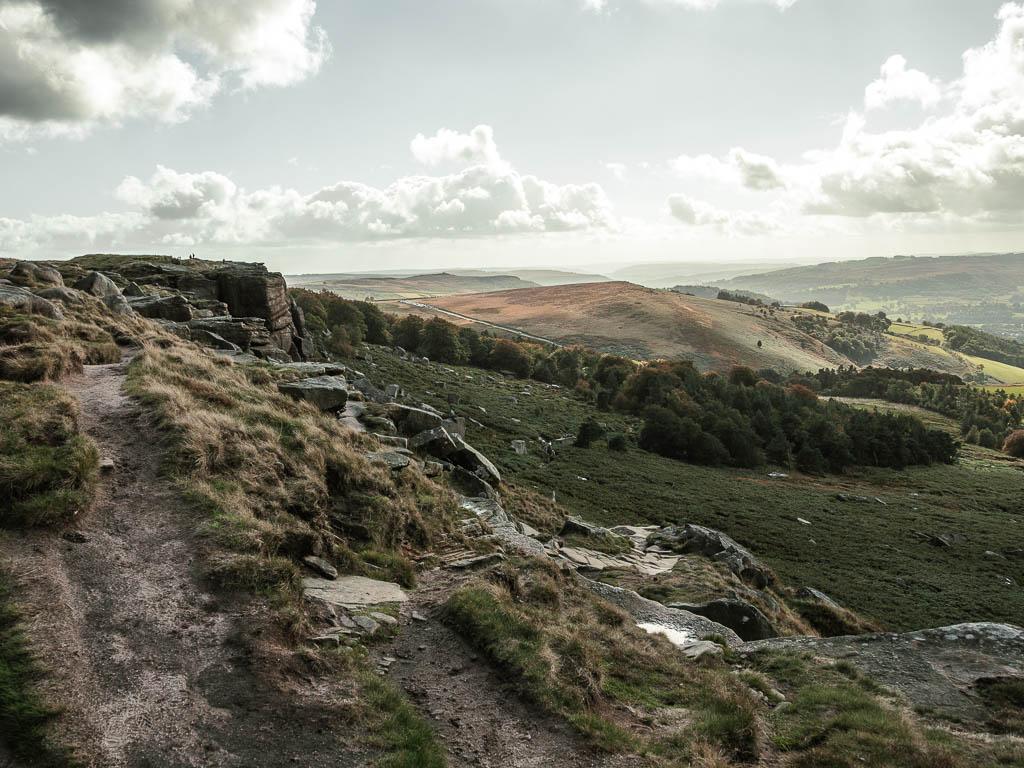 I have to say, I almost preferred walking down along the bottom, as you got a really good view up the rocks of Stanage Edge, and all the climbers. The path is also quite pretty, with the rock slabs, wild grass, and fern.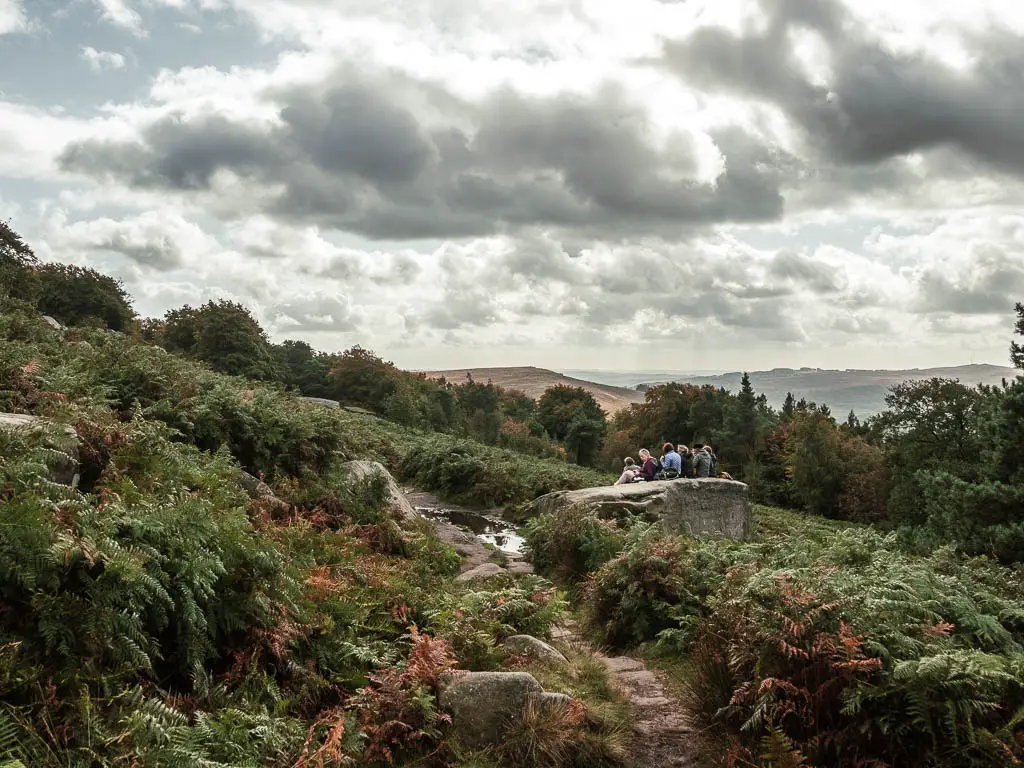 There are a couple of big rocks down here which are perfect for sitting. Ollie and I took our lunch break on one of these rocks, with a nice view to the valley below. It was still a little early in the walk to eat, but the big flat rocks were just calling to be eaton on. 
Walk though the woods
The trail will then lead you through a gate and a small bit of woods, before coming out into a field. In this field, you will see some trail splits. We took the left, but it doesn't matter which one you take, as they all lead to the road. Then at the road, turn left.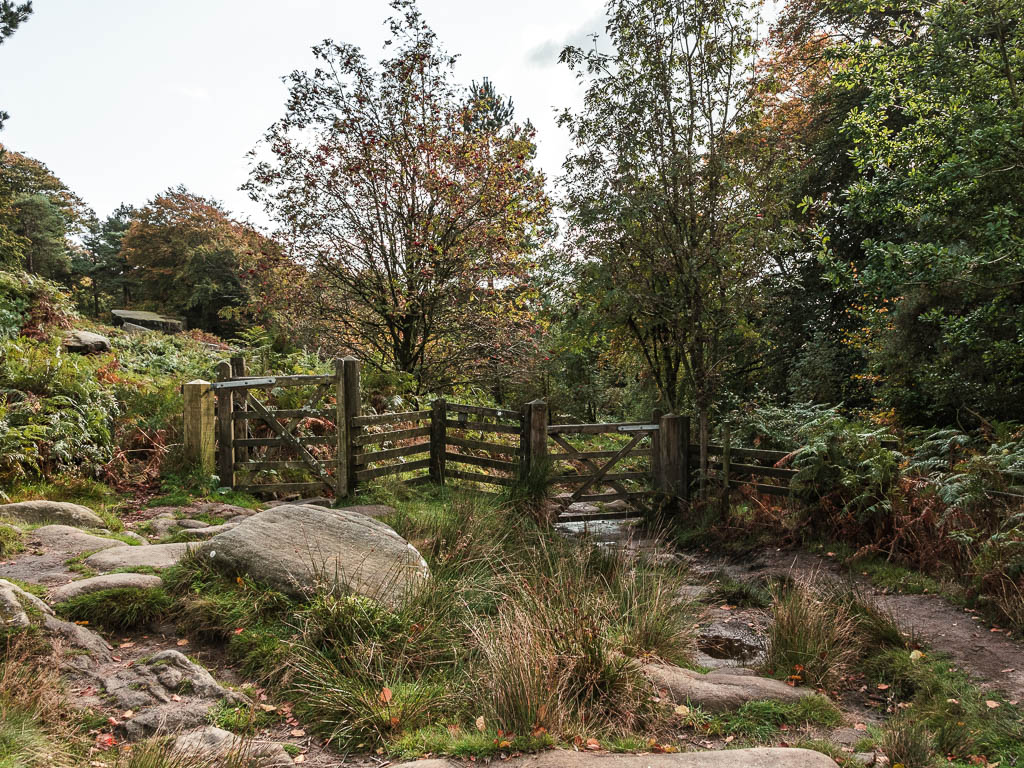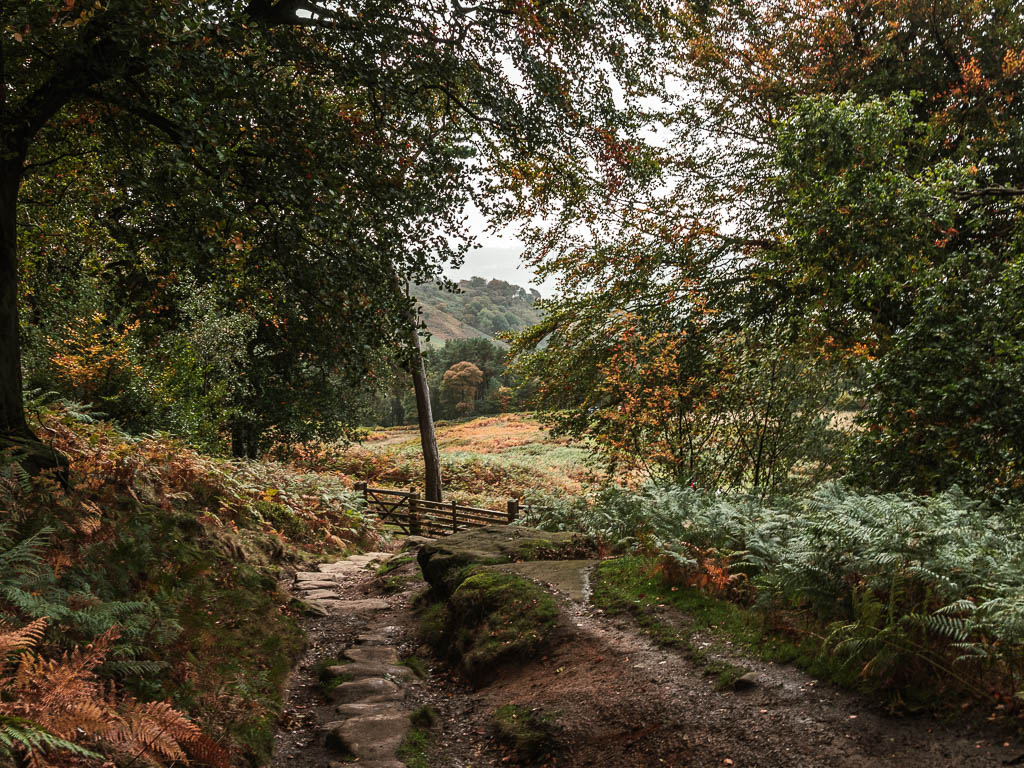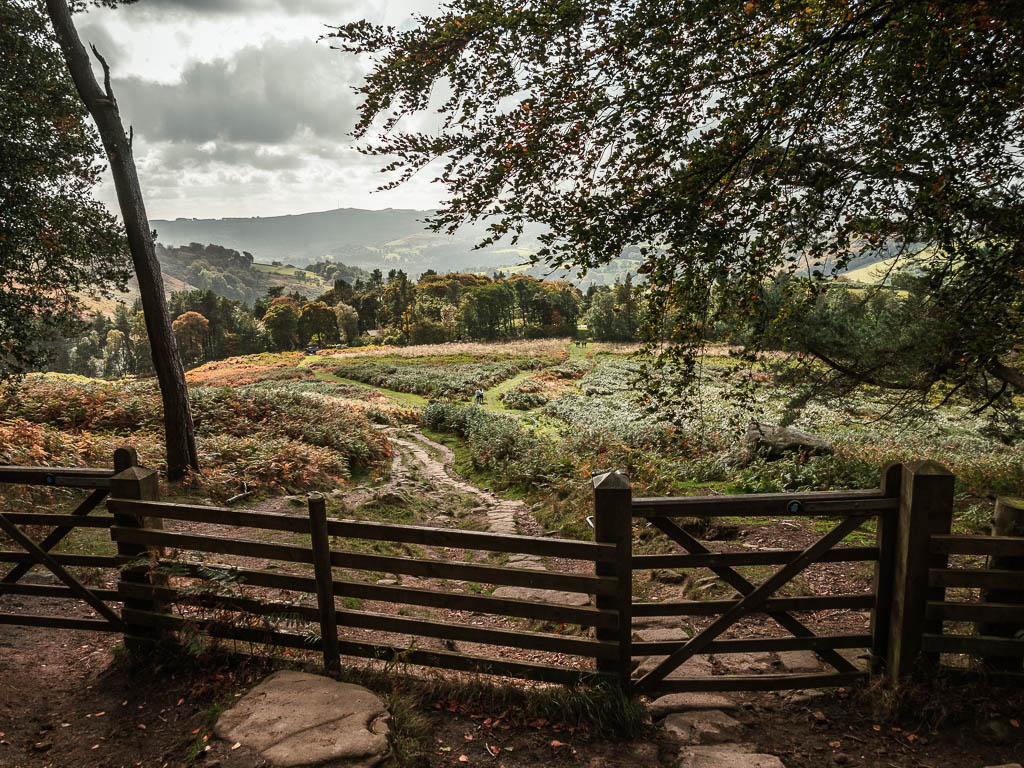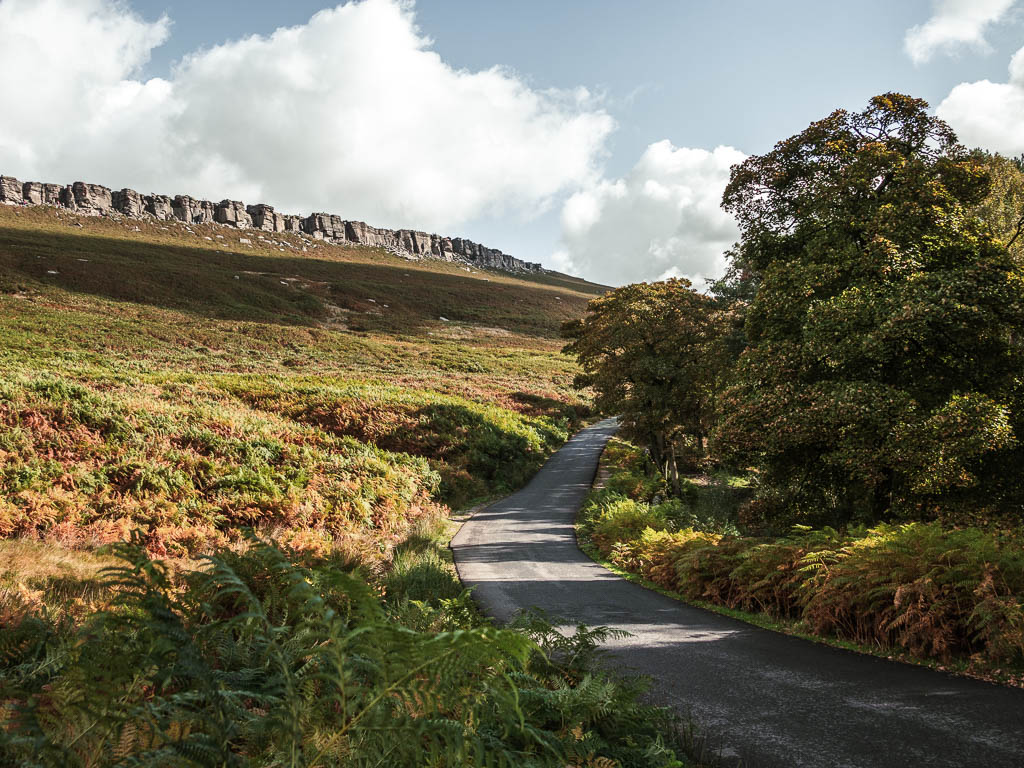 A very short way along the road, you want to make a sharp right along a dirt trail into the next bit of woods. This is where we encountered the main mud of the walk. Ollie cursed me a little for getting his feet wet. Waterproof boots is all I can say. I was doing just fine.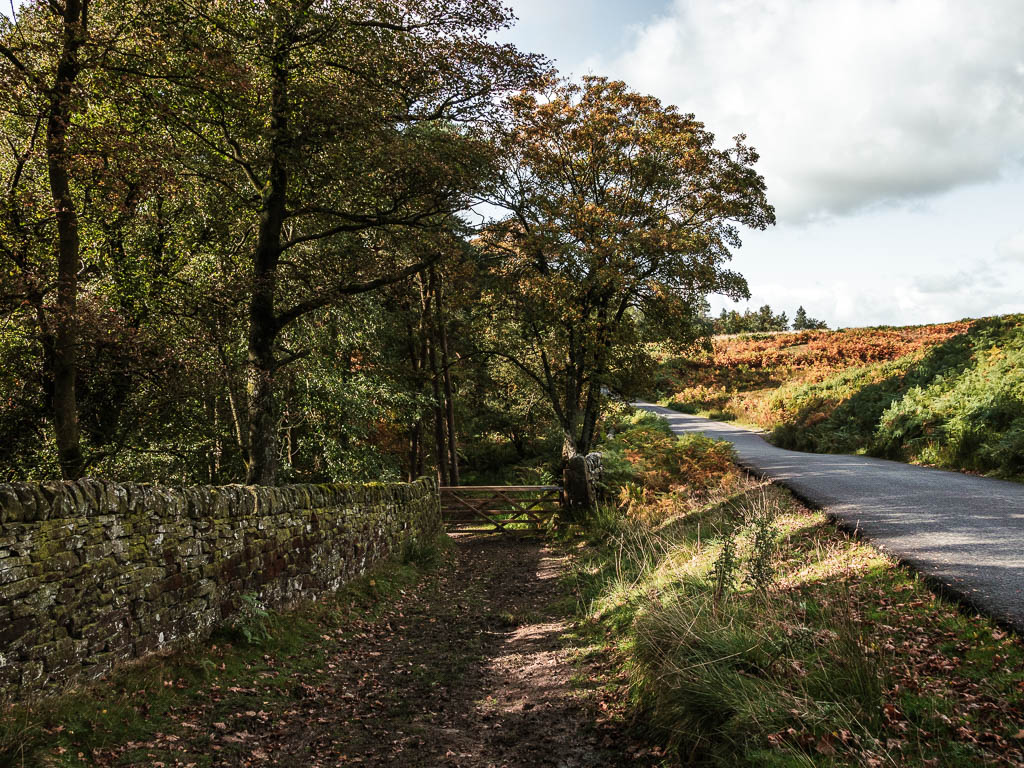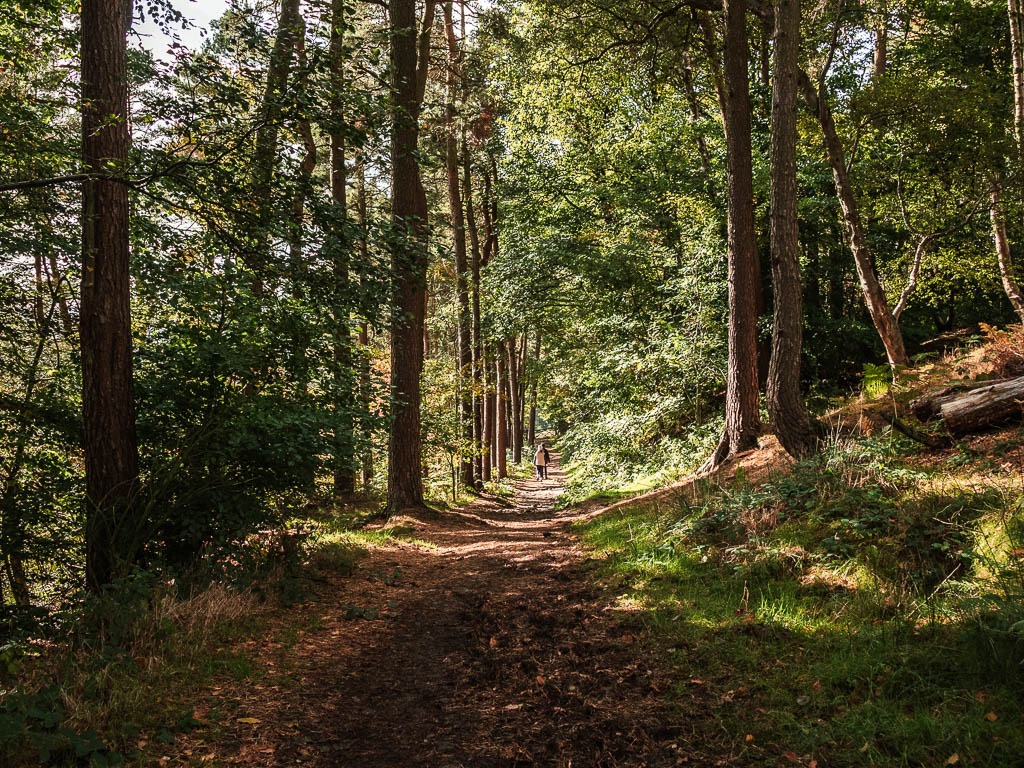 The trail leads down hill, where you will get some peaks through the trees back to Stanage Edge as you walk down.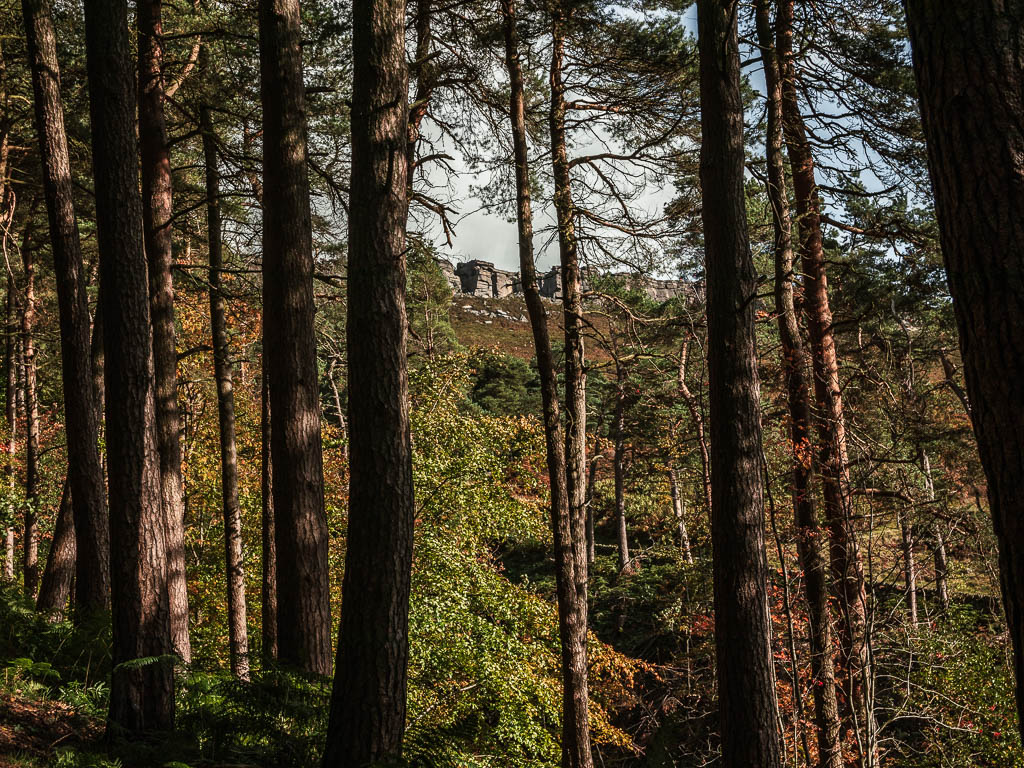 The big field and gorgeous views
Through the gate at the bottom, it would seem like you continue straight, but you don't. Instead take the grassy trail on the right, along the side of the hill. Follow this trail as it takes you through a gate or two, and down along a grassy trail, with a view to some enviable houses in the distance.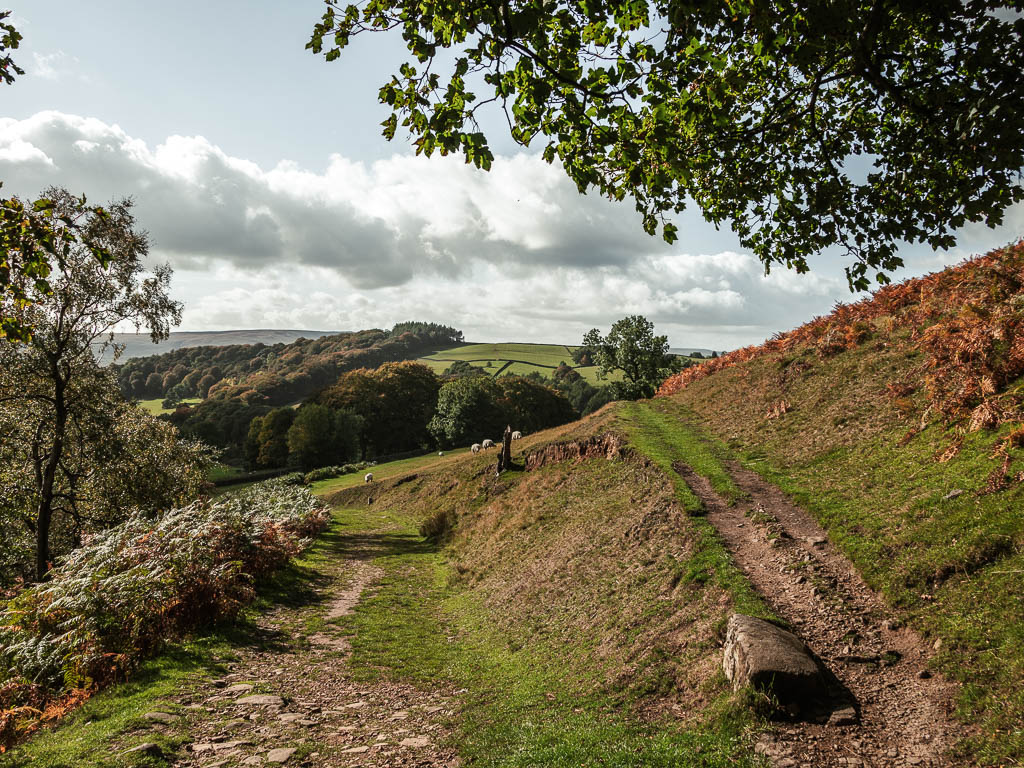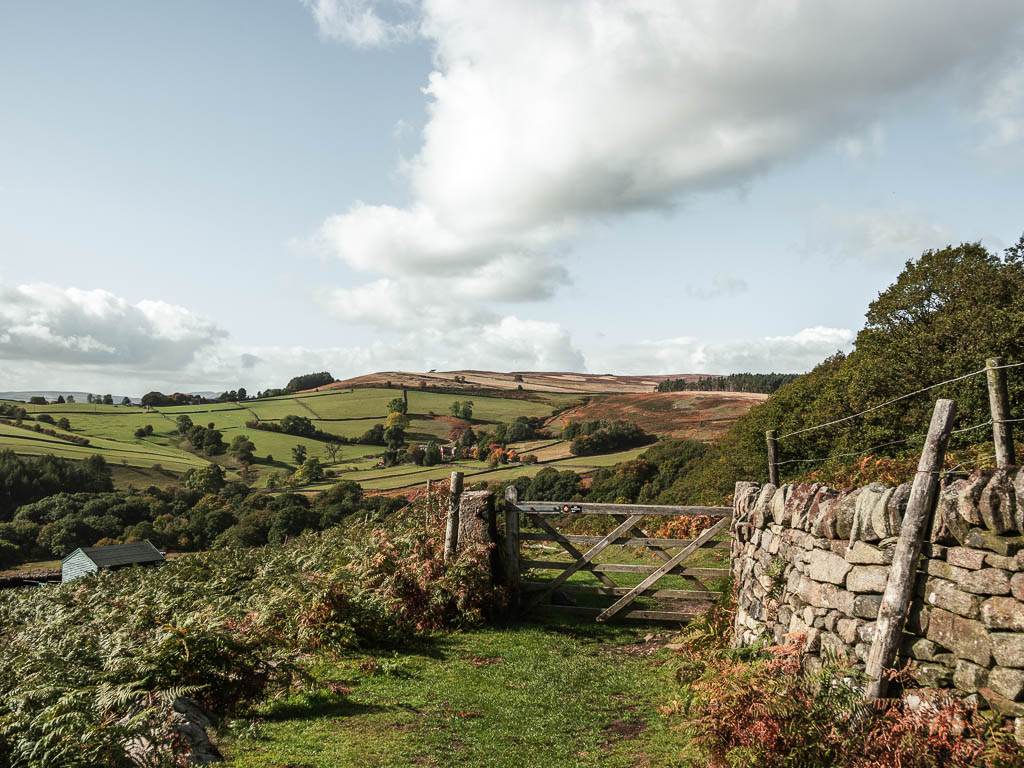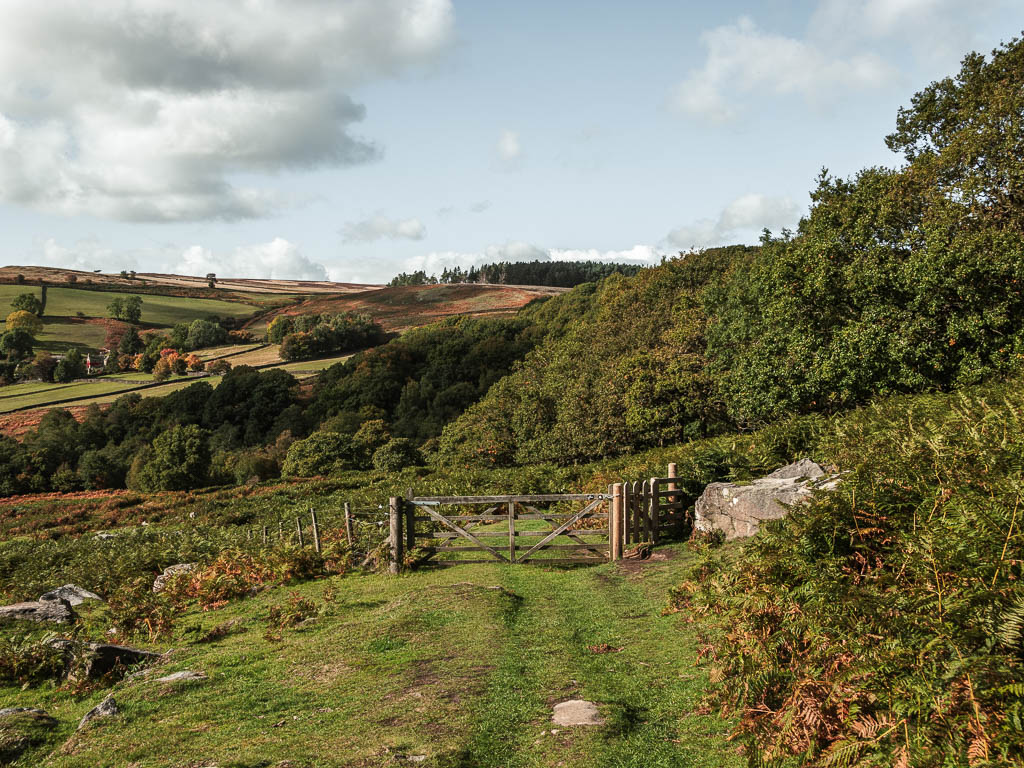 Along here, there is a grassy trail split coming up. Take the left one. This will take you down and past a field with some chaple ruins. We didn't go right to the ruins, but feel free to have an explore, just make sure to come back to the trail.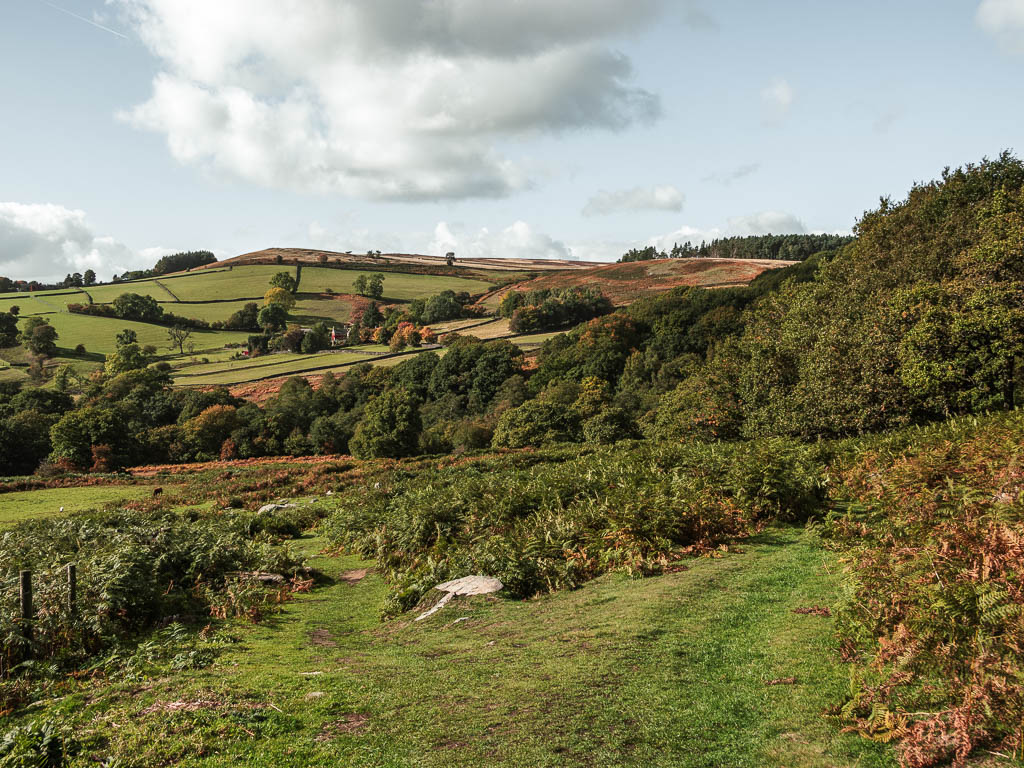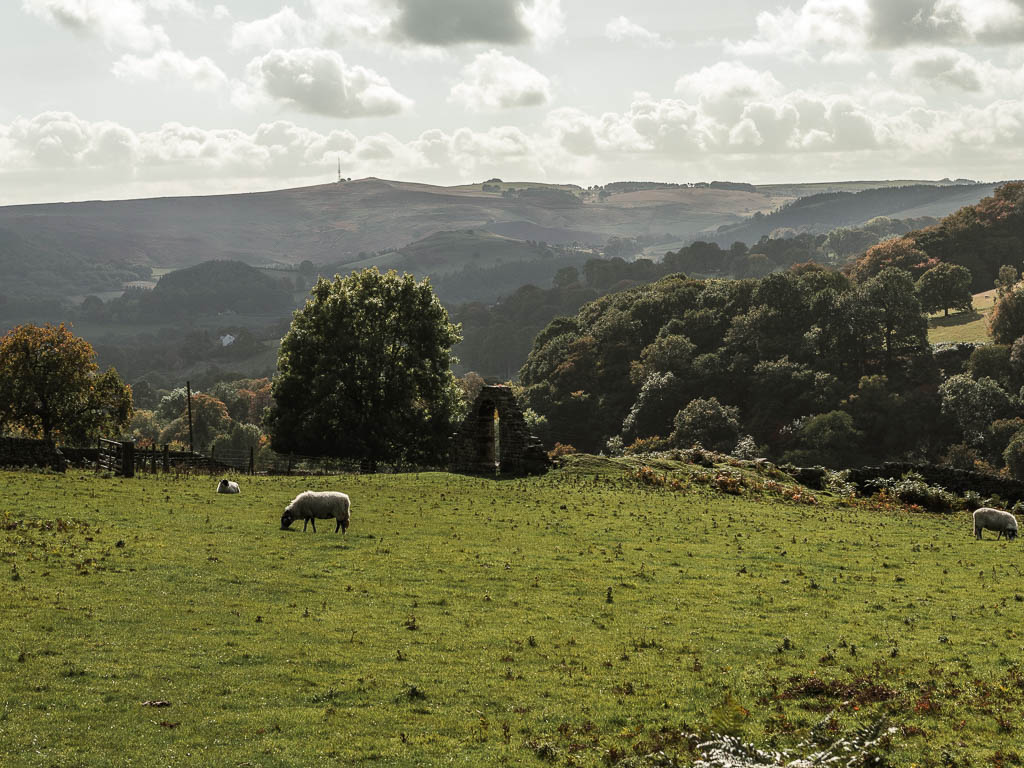 Walk to the woods with more Stanage Edge Views
At the bottom, you will go into some woodland again, with a river or stream straight in front. Don't cross it, but instead, turn left, and a short way along you should see some steps to take you up.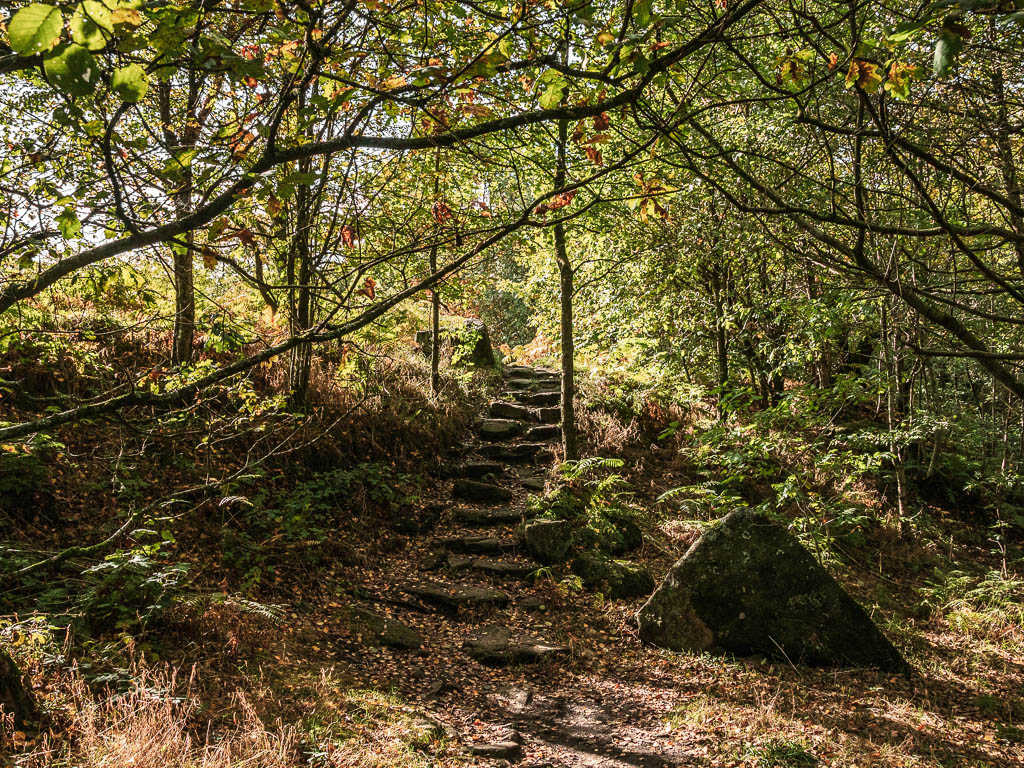 You will then be on a trail on the edge of the woods, walking surrounded by orange fern, with a view to the mighty Stanage edge looking tiny in the distance. You can think about how not so long ago you were right up there.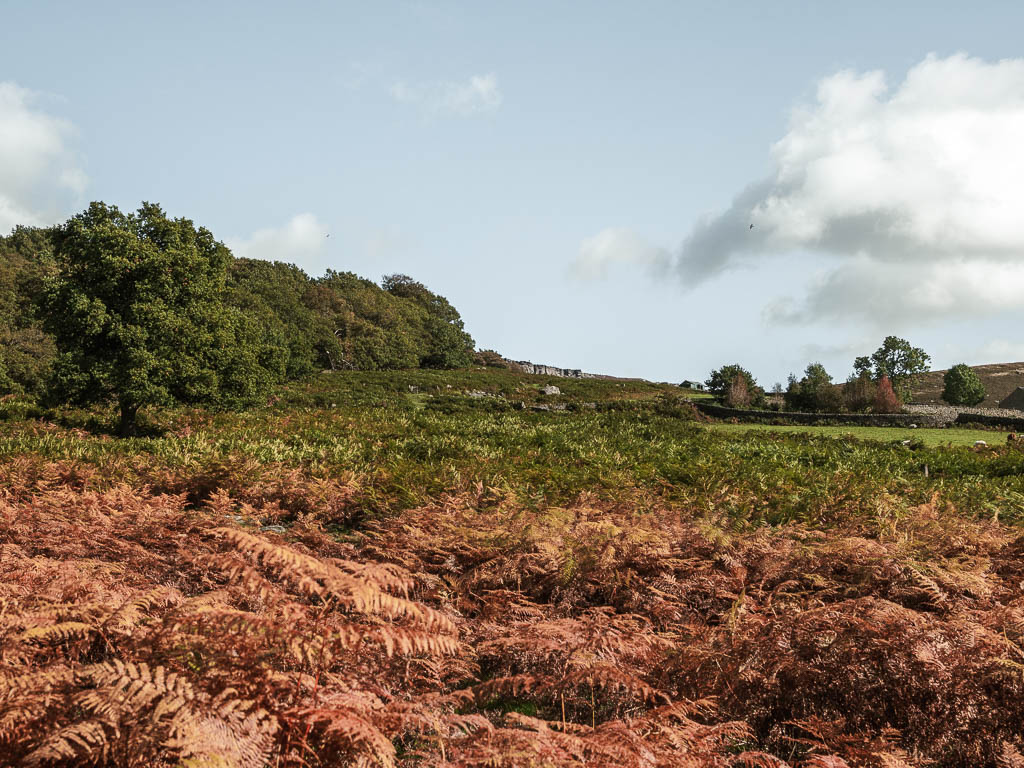 The trail will then take you back under the trees, where you keep going with the river to your right. When you reach a bridge, don't cross it, but stay straight, keeping the river on your right. 
When you reach the tiny gate, go through it and into the big grassy field, with a view ahead to a cottage covered in red ivy, on the other side. Ollie an I imagined that being our home.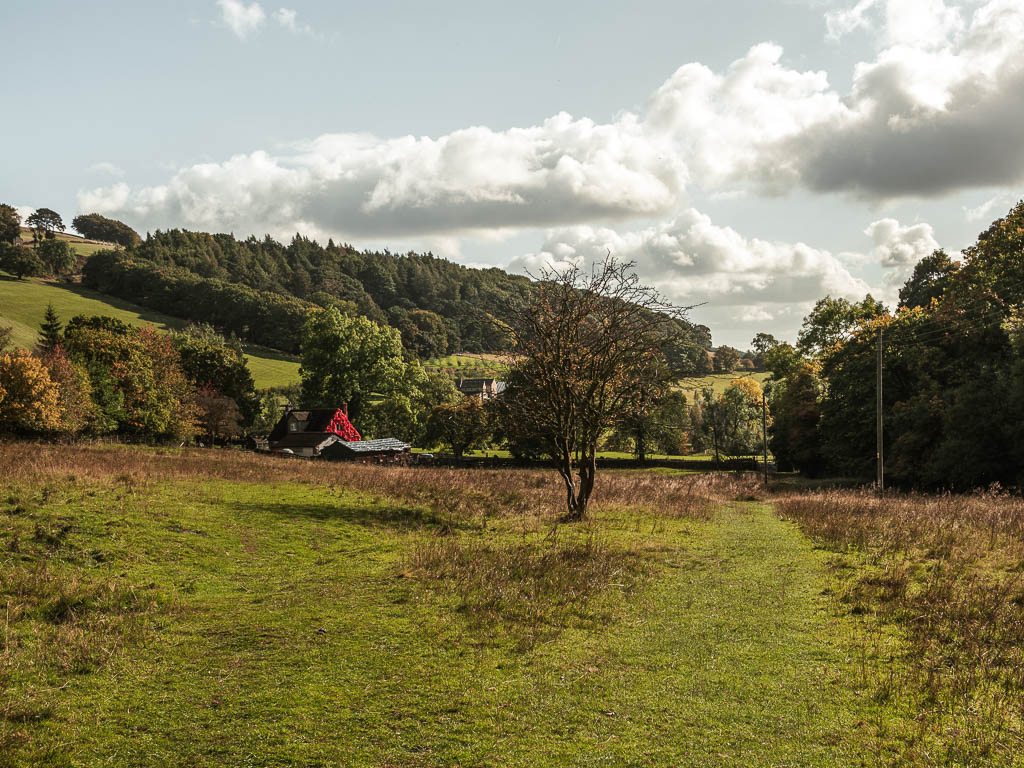 The fields and easy path
On the other side of this field, go through the gate, across the road, and through the next gate onto a civilised path.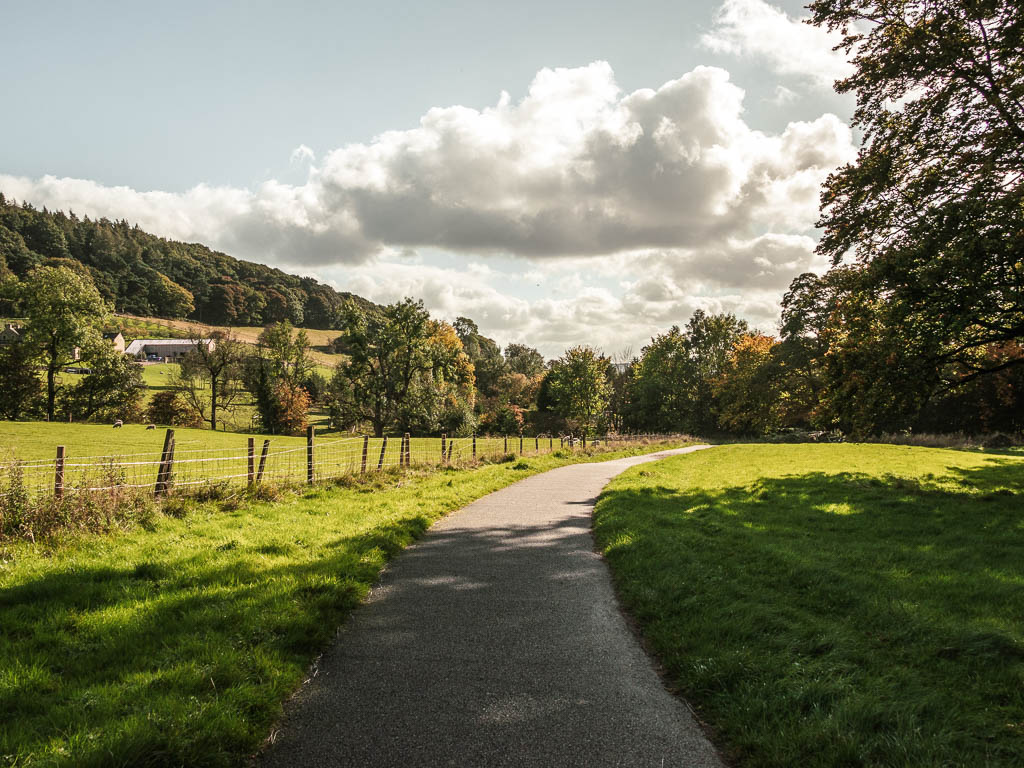 If you look back from this path, towards the red ivy house, you should be able to see what I'm guessing is a castle nestled in the trees in the distance. I don't know if it is a castle, but I'm going to pretend it is.
You will then have a small bit of gravel trail, as it leads you through another tiny gate and into a big grassy field. You should be able to make out the grass trail continuing straight across. If you follow it, it will lead you to the gravel trail.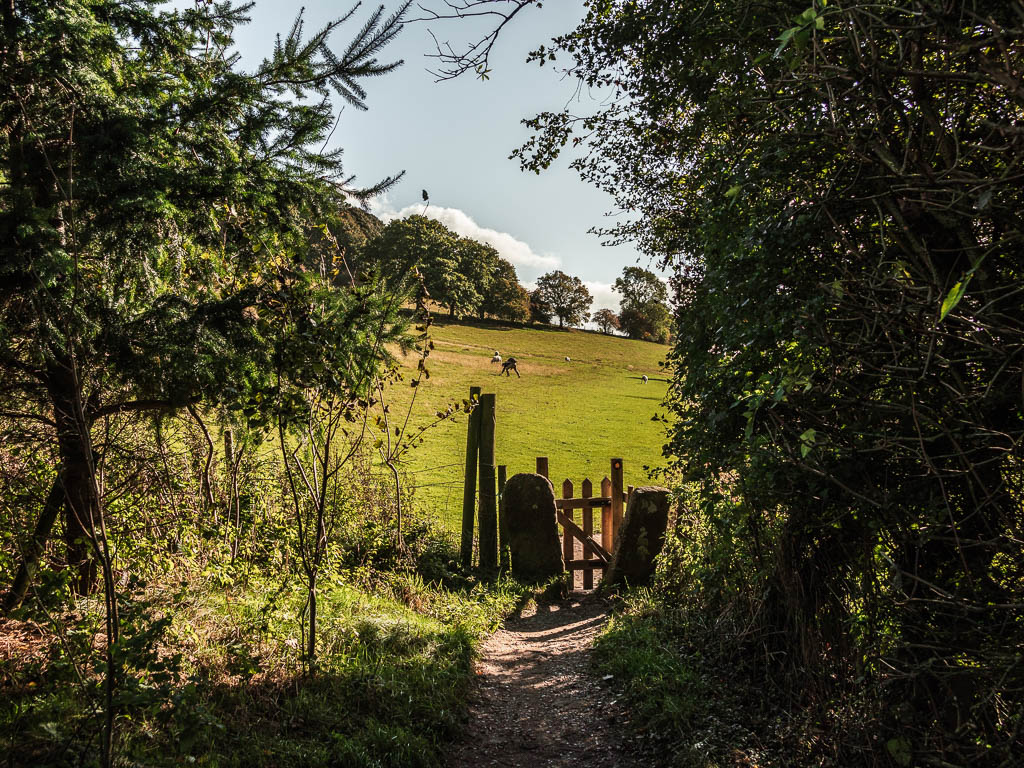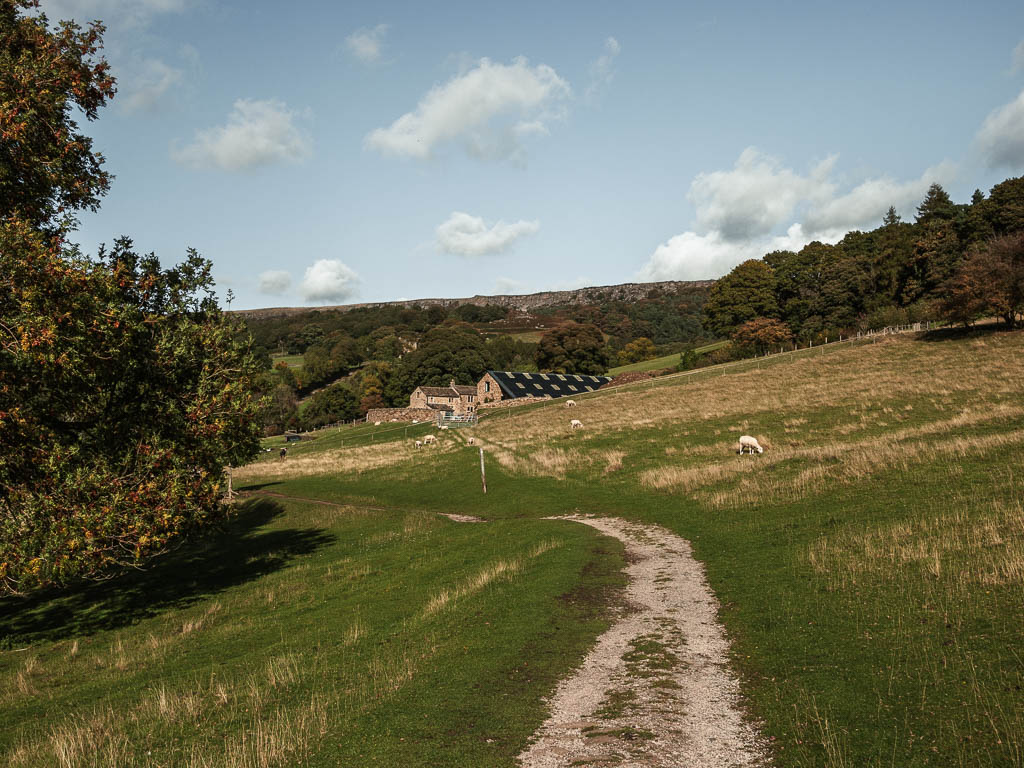 Once you reach the gravel trail, keep following it for a while, along the side of the hill. 
If the trees aren't too leafy, you should be able to see a church spire ahead to the left. Ollie was a little taunted by it. Wanting to photograph it, but not sure how to get there.
The trail will then lead you alongside some houses, with immaculately cut hedges. Then a little past here, look out for the trail signpost, where you need to take a left to take you gradually uphill.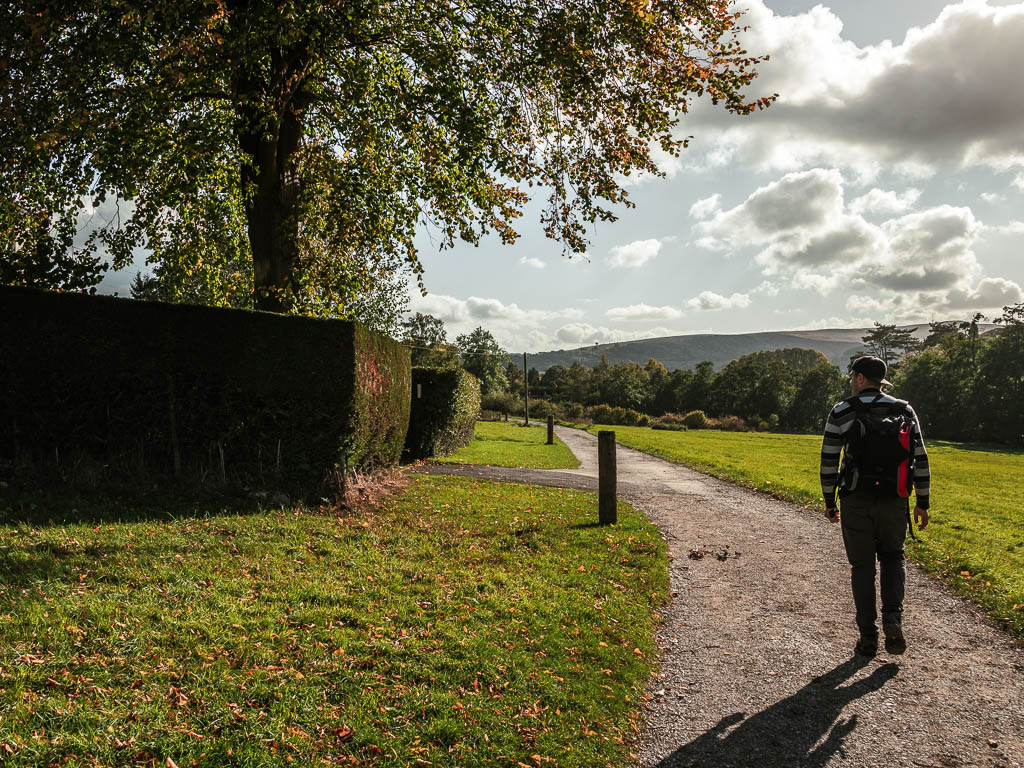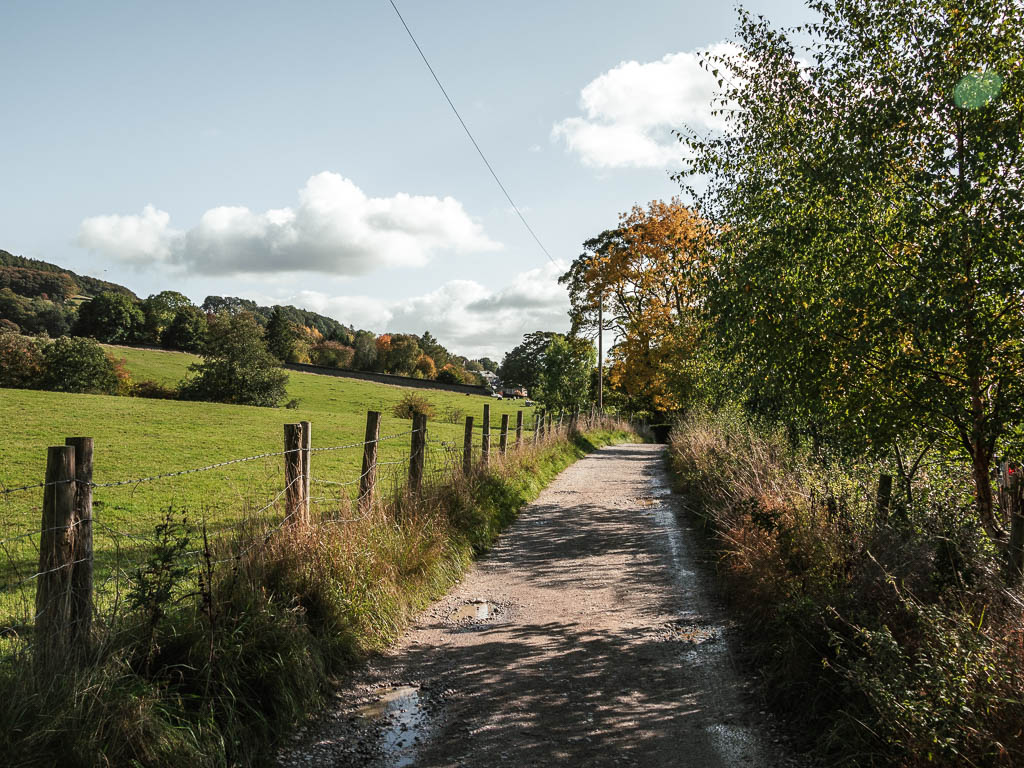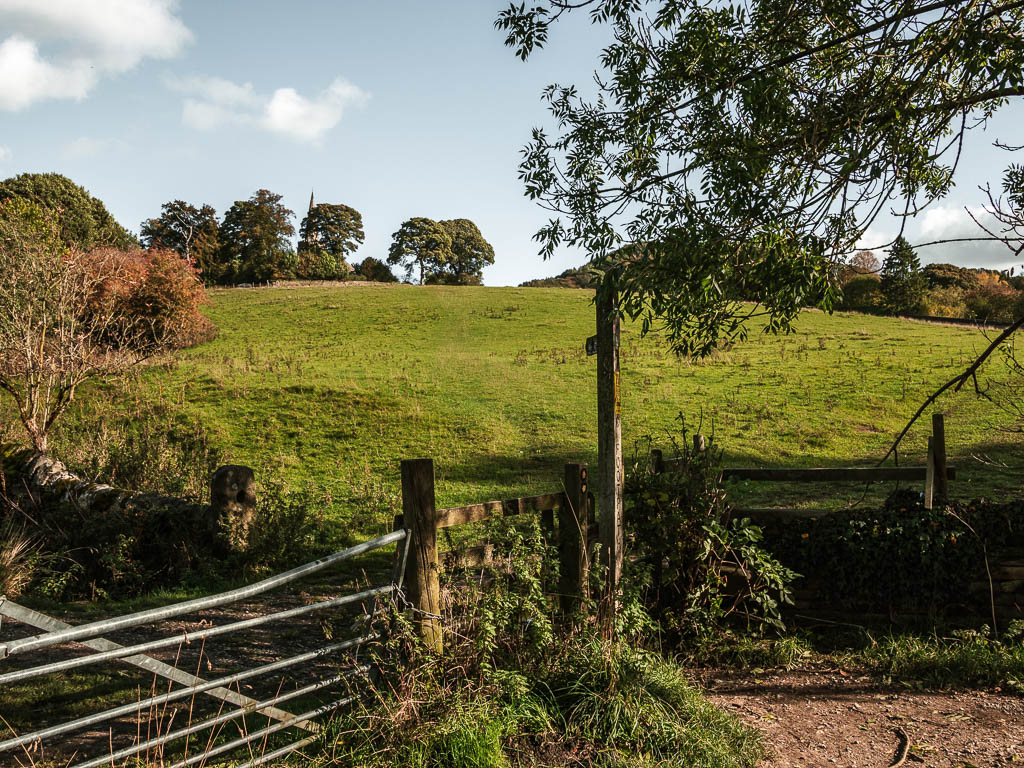 Cows with calfs
The trail will first have a wire fence to the left, then you will continue straight along a grassy field. Once you reach the next field, with a trail sign pointing right or left, take the right. Ollie was ahead of me and asked if we were turning right, then suggested we shouldn't…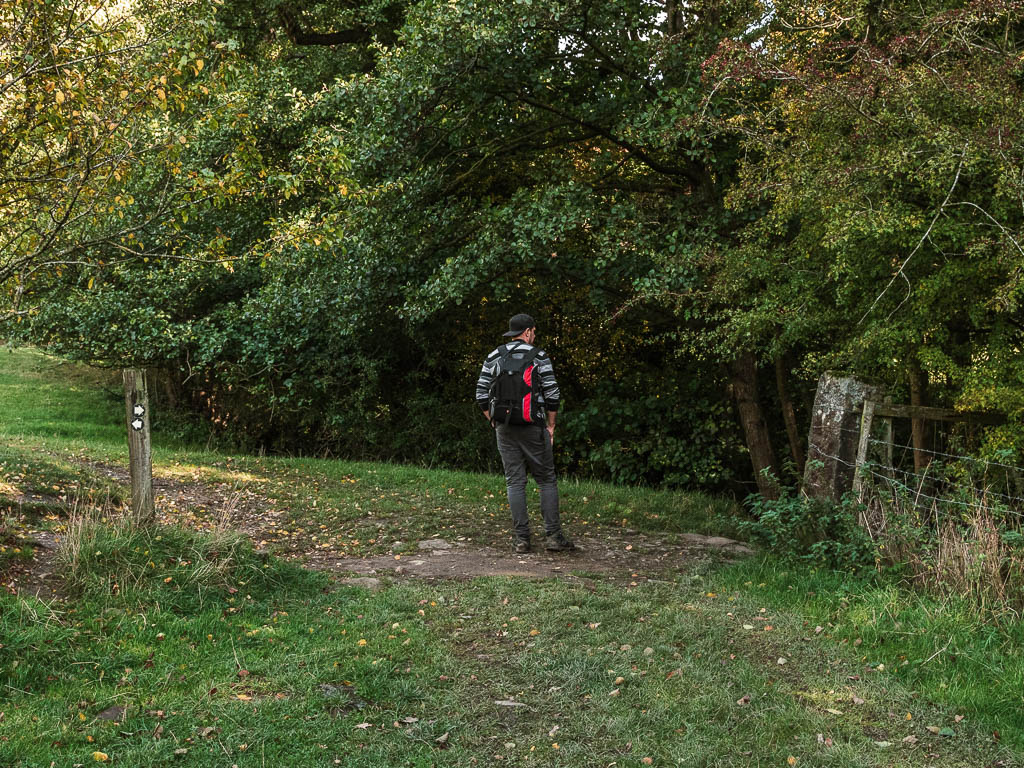 There was a sign saying 'cows with calfs'. The worst kind of cows. I had a check on my map to see if there was a suitable alternative, but alas there wasn't. 
So we took a moment to catch our breath, to make sure we could run if we had to, and very quickly followed the small dirt trail up to the top. 
No cows were sighted…this time. 
At the top at the big tree, turn left and follow the trail up to the metal gate, and onto the road.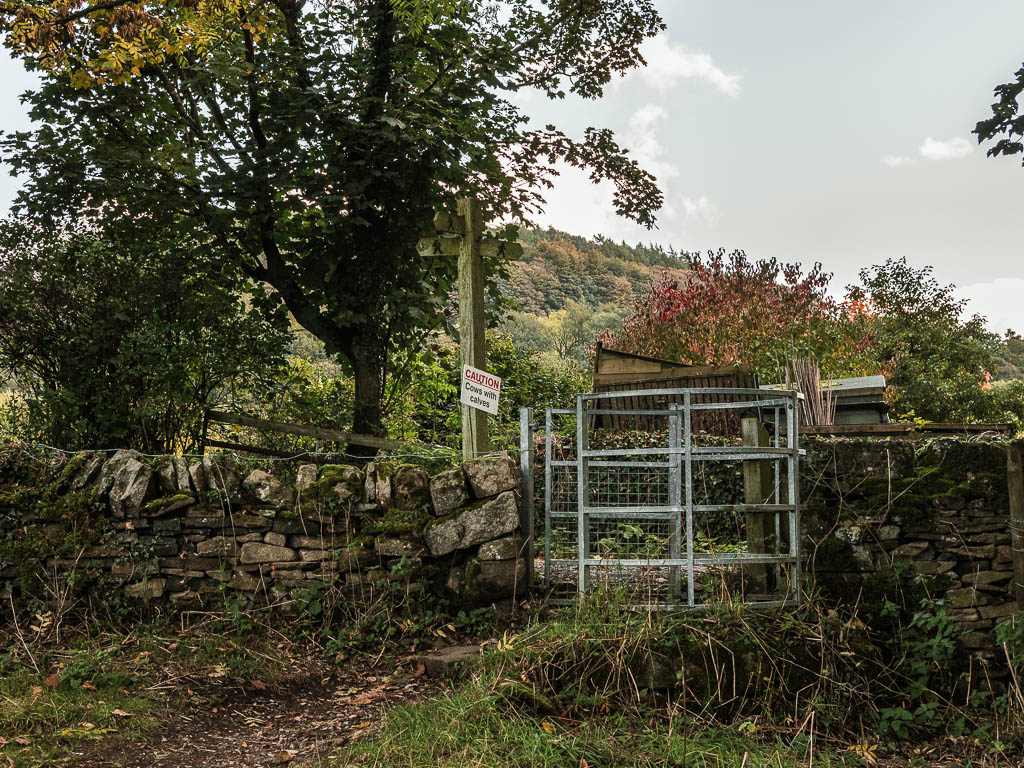 The road and the big trees
At the road turn left. We weren't looking forward to this road section of the walk, but to our delight, it was a very small country type road that looked like it doesn't see very many cars. It is uphill though. A warm up for the later hill.
You are given some big trees and tree roots to look at. The kind where you take the obligatory tourist type photo in front of. We snapped some on our phones. You know, for the parents.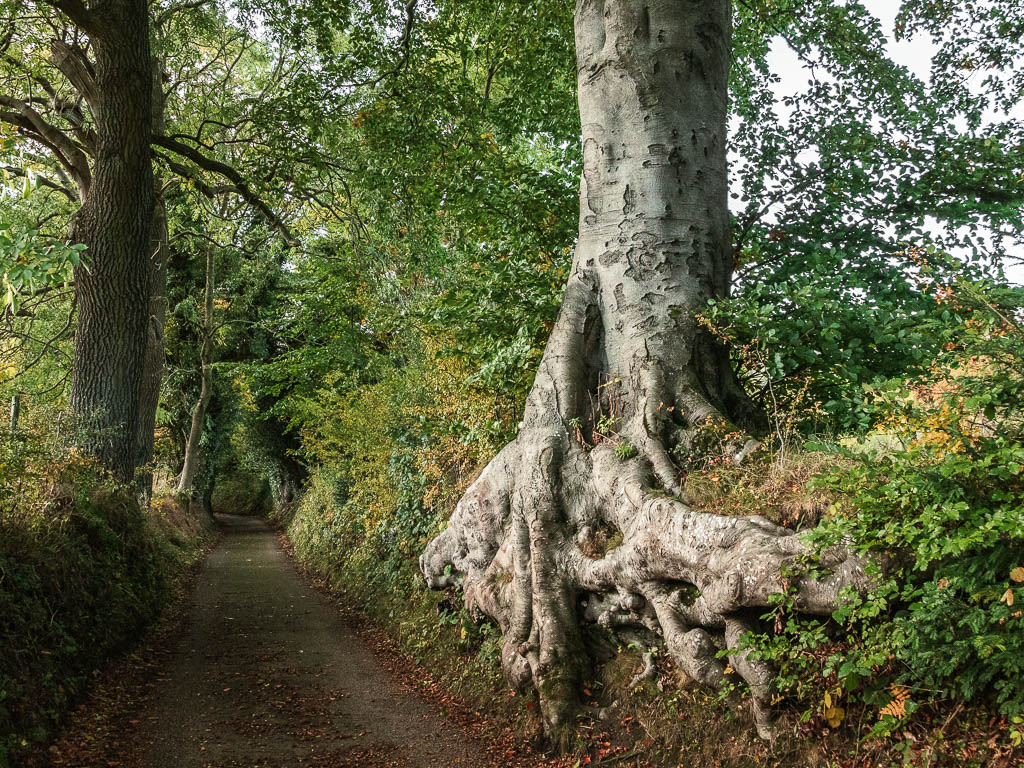 Further up the road, there will be a dirt trail leading off it to the right. Go along there, under some more trees, and through a gate into a field.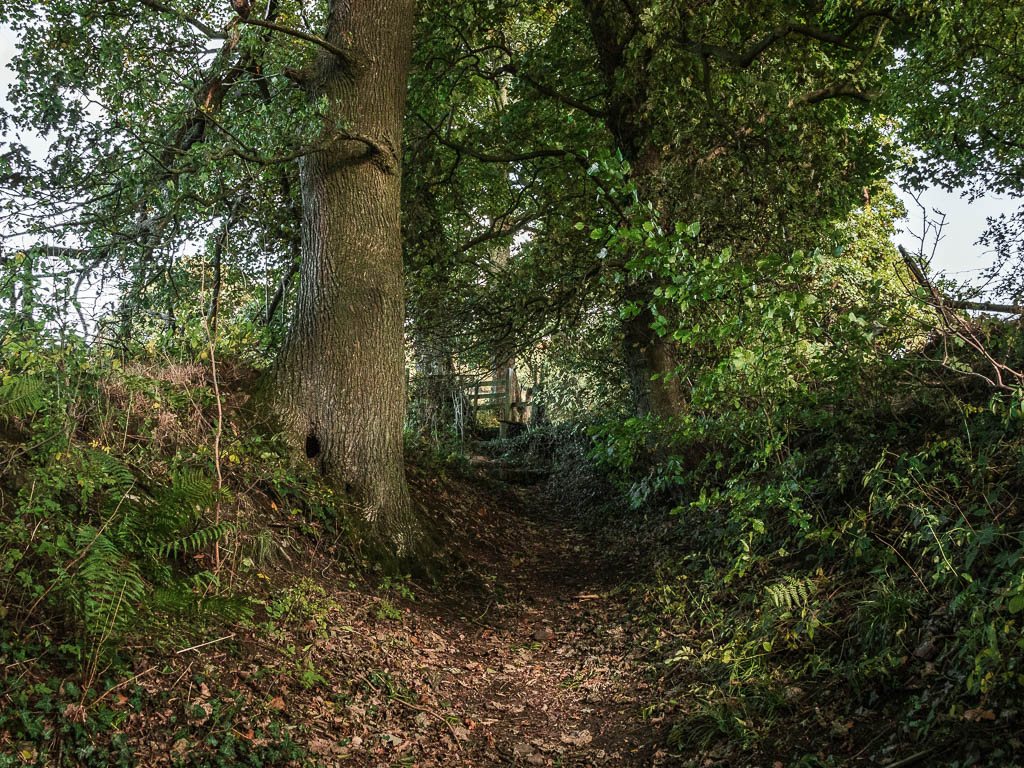 Out of the trees, the hill is now a little steeper, as you continue in the direction of straight, to reach the metal shed at the top. At the shed, turn right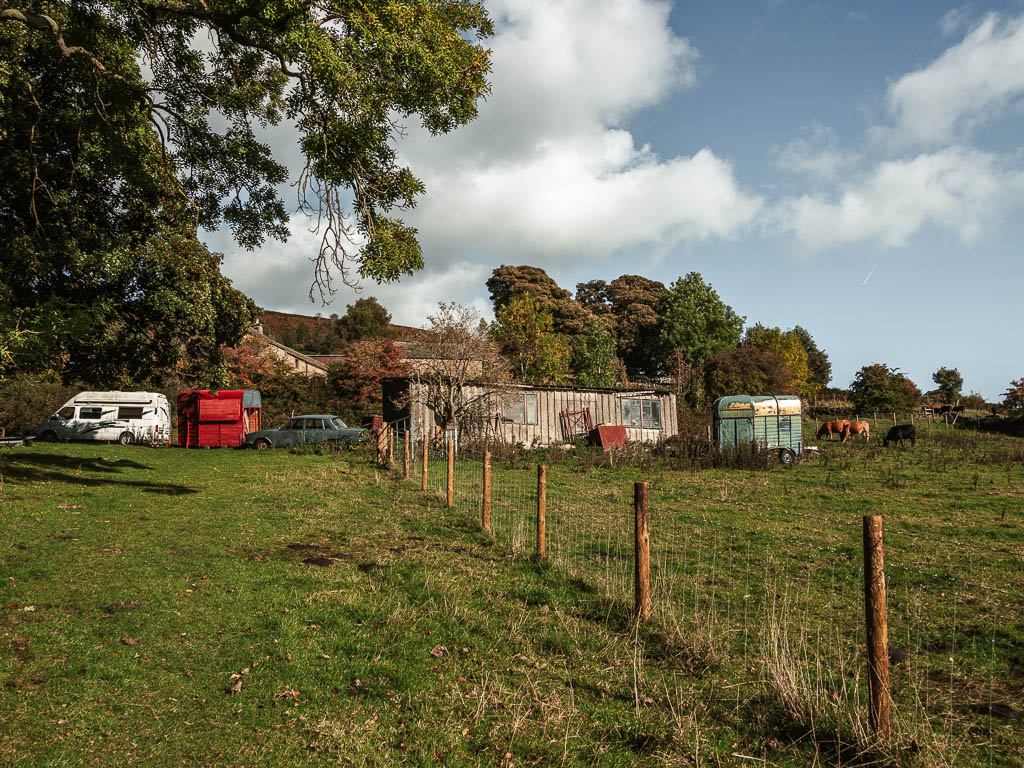 The next cows with calfs
We found ourselves amongst a few cows up here. I'm never a fan of cows in fields, but there weren't too many, and they didn't look like the aggressive kind. So at this point, I wasn't too bothered.
At the end of this trail, at the stone wall, the trail continues to the right and up the field on the other side of the wall, to reach the road. This is where we ran into trouble…
The threat of cows with calfs had materialised. Having a look on my map, there was no alternative without either taking a big loop detour, or walking through the private farm house area. 
We did try to tentatively make our way through the field, but when one of the baby cows looked up at us, we ran back. The mother cows can be quite aggressive and unpredictable. After some toing and froing I said f* it, we are trespassing. I mean, we can't get in trouble if cows with calfs were put in a field with the walking trail right? With the road we needed to get to within sight, some meters away, I was not about to make a massive detour.
So we quickly and stealthily hopped over the fences through the private area to get onto the other side of the field, where we stayed separated from the beasts by fence.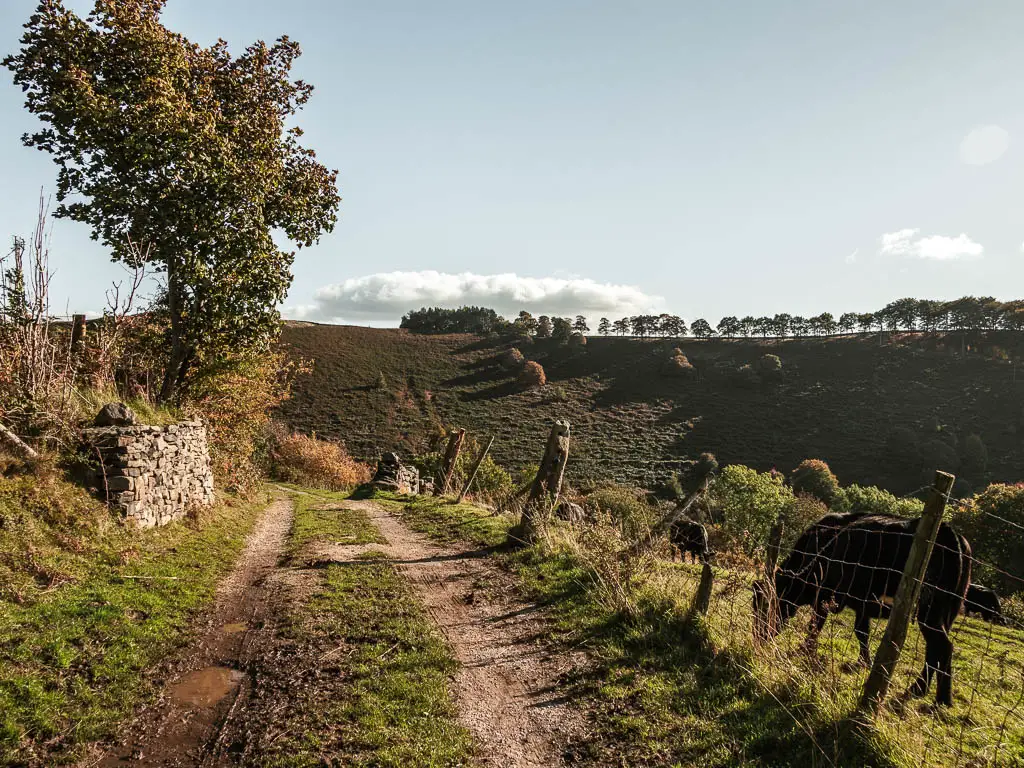 The other couple
From here, we could see back to where we had been standing for too long trying to figure out what to do, and we noticed another couple in that spot. They too seemed to be trying to figure out a way around it. We decided to wait and watch. It was a little entertaining, seeing what they would decided to do. Is that mean of us?
Up they walked to the farm gate, then back down to the cow field. They decided not to risk it (trespassing or the cows with calfs) and turned back. 
Hopefully when you do this walk, the cows with calfs will not be there, and you can just walk up the field to the road path.
The hills
From here, you first walk downhill along the road path to reach a metal gate. Ollie had been on the lookout for mushrooms on this walk. He had gone down a YouTube rabbit hole and found himself watching videos on mushrooms in England. He knew they would be around, and this is where he first found them.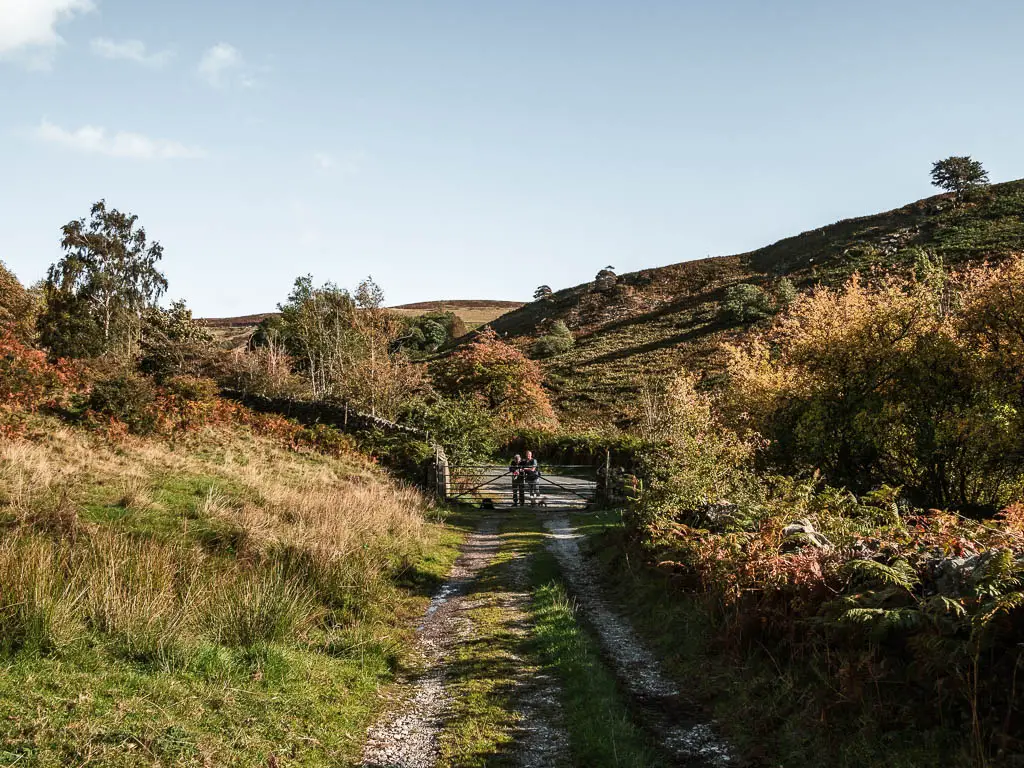 We ran into a couple of people at the gate, heading to where we had just been. I warned them about the cows with calfs field. They weren't really sure where to go next then, as one of them said 'like hell I'm going back up that hill', or something to that effect. The hill we had waiting for us.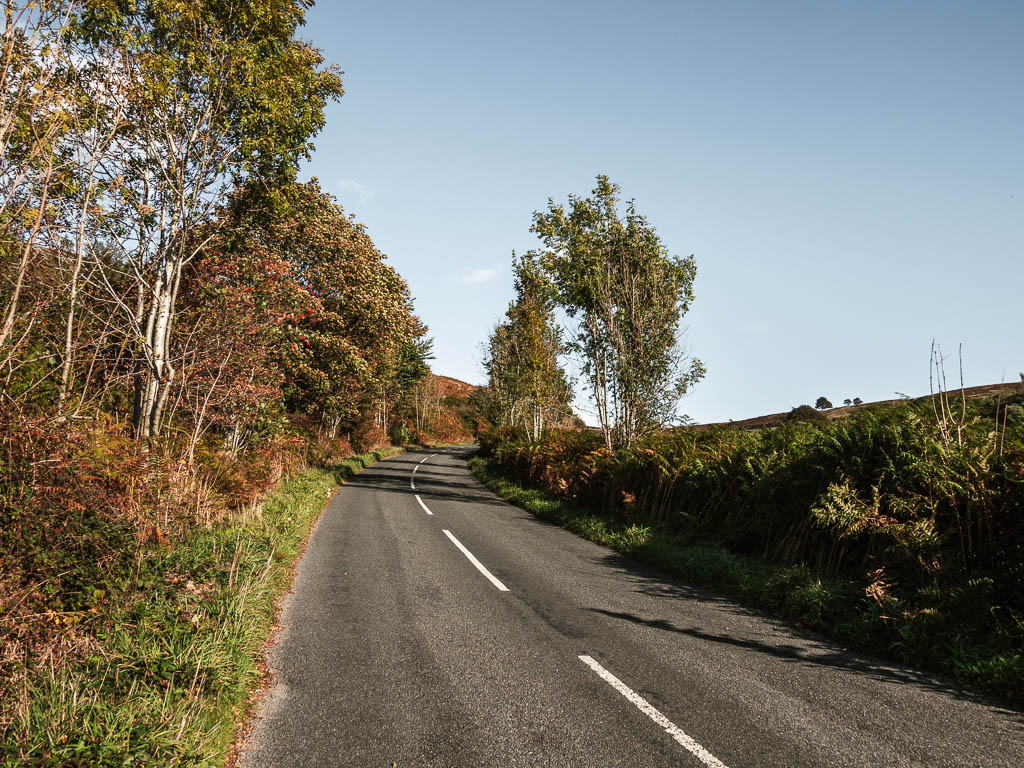 The first part of the hill is left through the gate and up the road.  Somewhere further up the steep road hill, you should see a gate to the right. Go through it. From here you will get a nice view to Higger Tor. The next stop in the walk.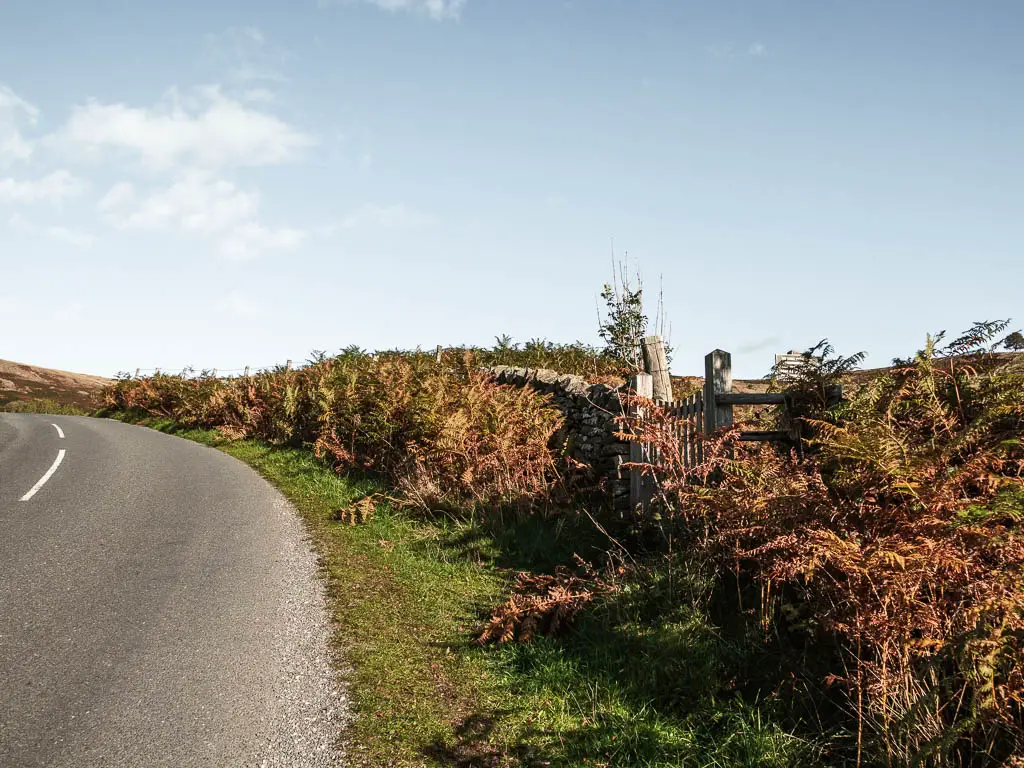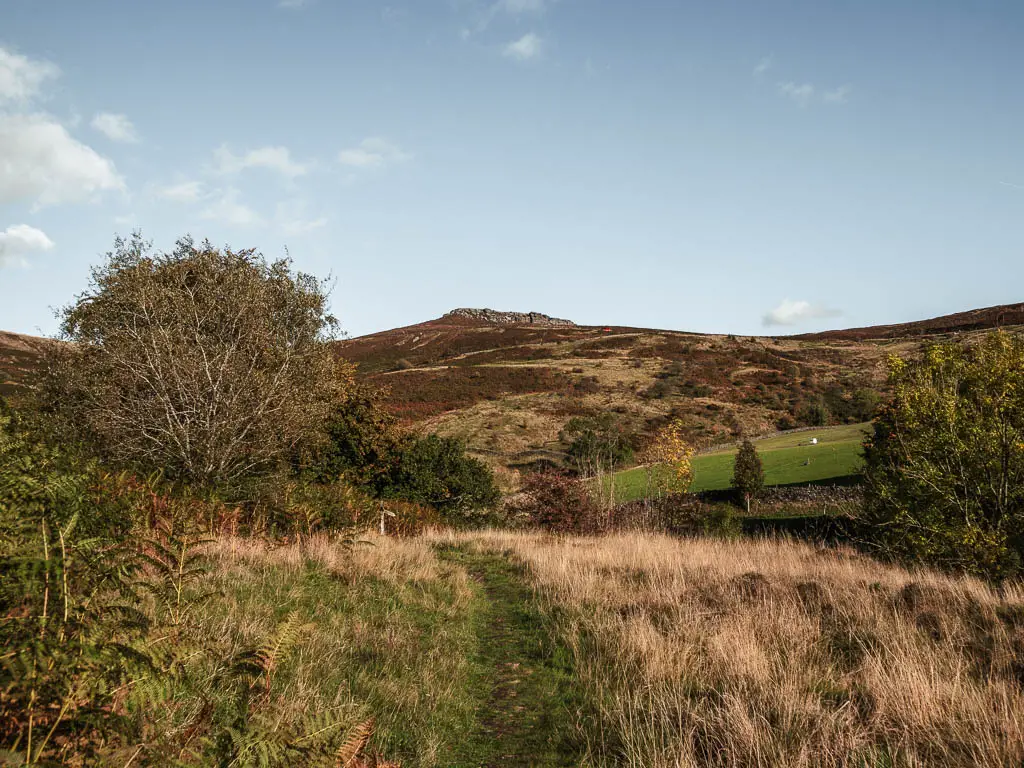 Unfortunately, the trail will take you all the way back downhill before you get there. 
Walk down then up, with more views of Stanage Edge
The trail will now be grassy with overgrowth, and you will start off going gentle downhill, before it gets quite steep and rugged to lead you under some trees. There will be a little plank of wood bridge, and then some steps up, to reach a road and signpost. 
Take a right at the signpost, to go past the house, then at the trail fork go left.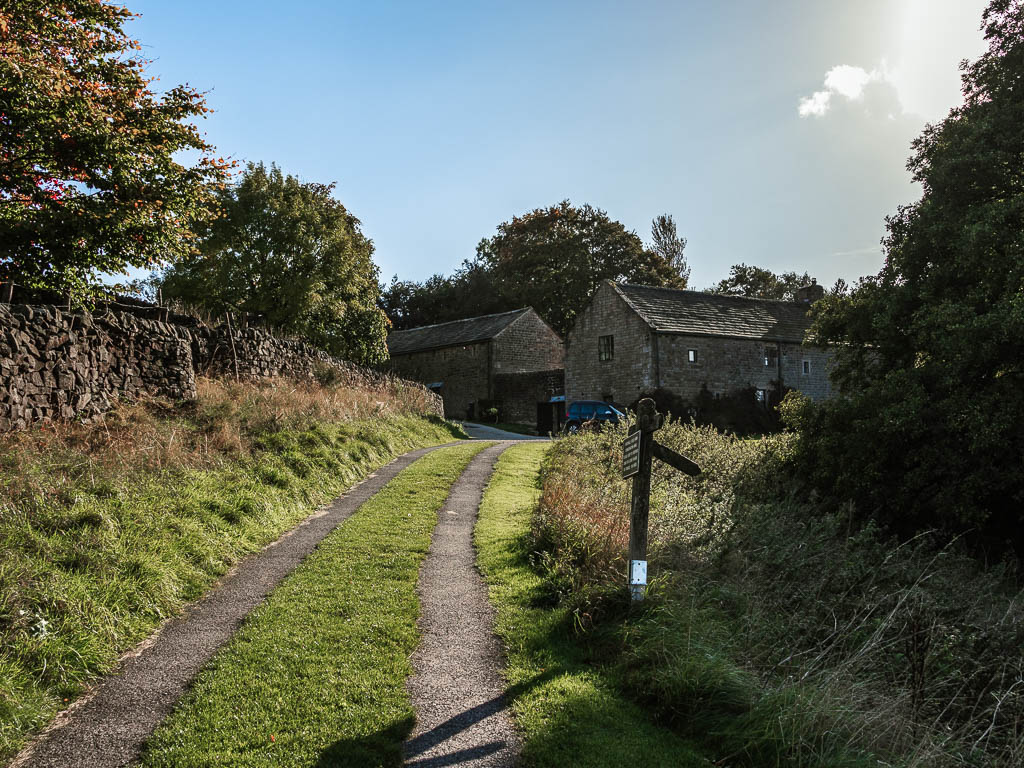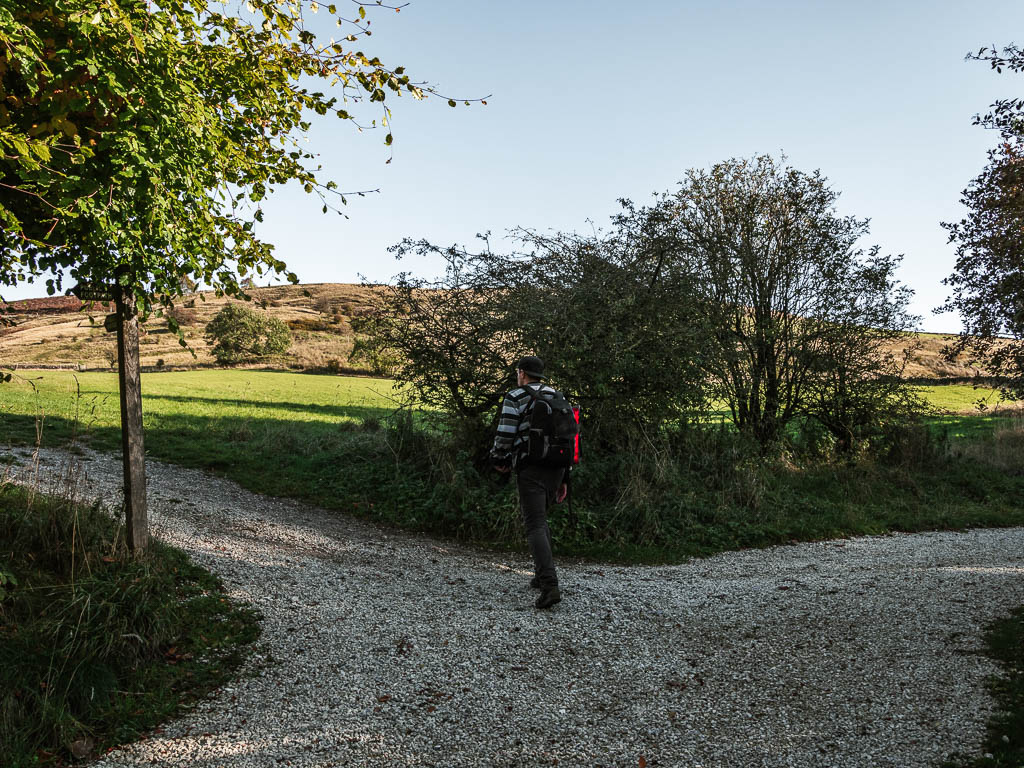 You will next walk uphill across a big grass field, with a great view to Stanage Edge, Higger Tor and the valley below.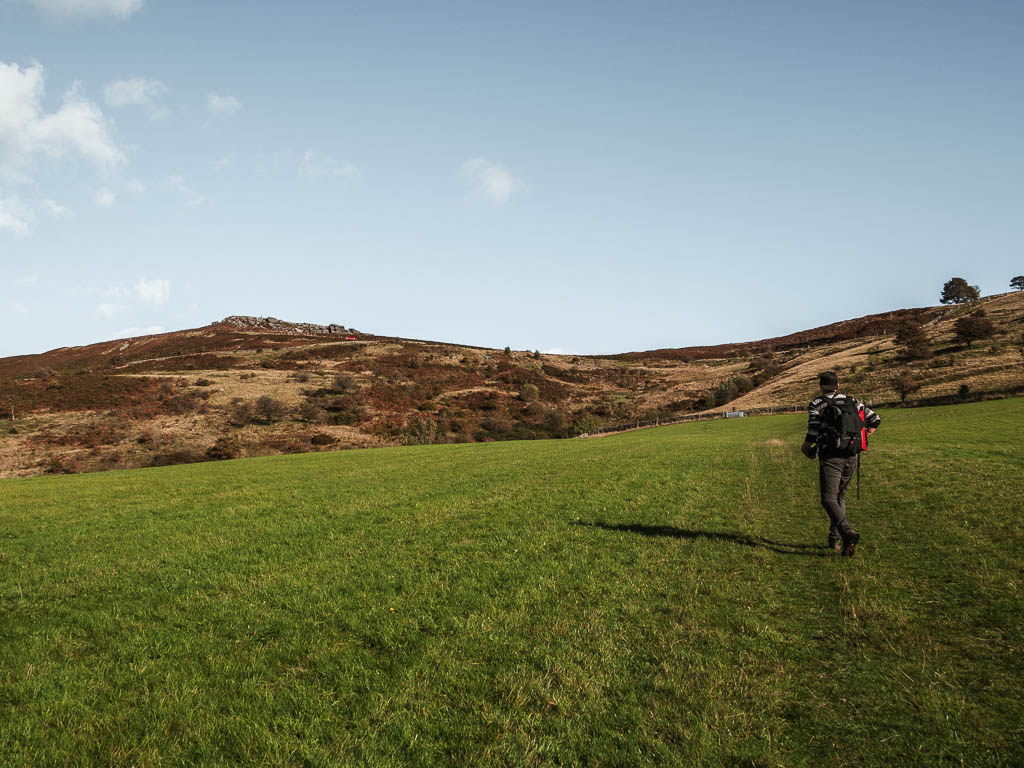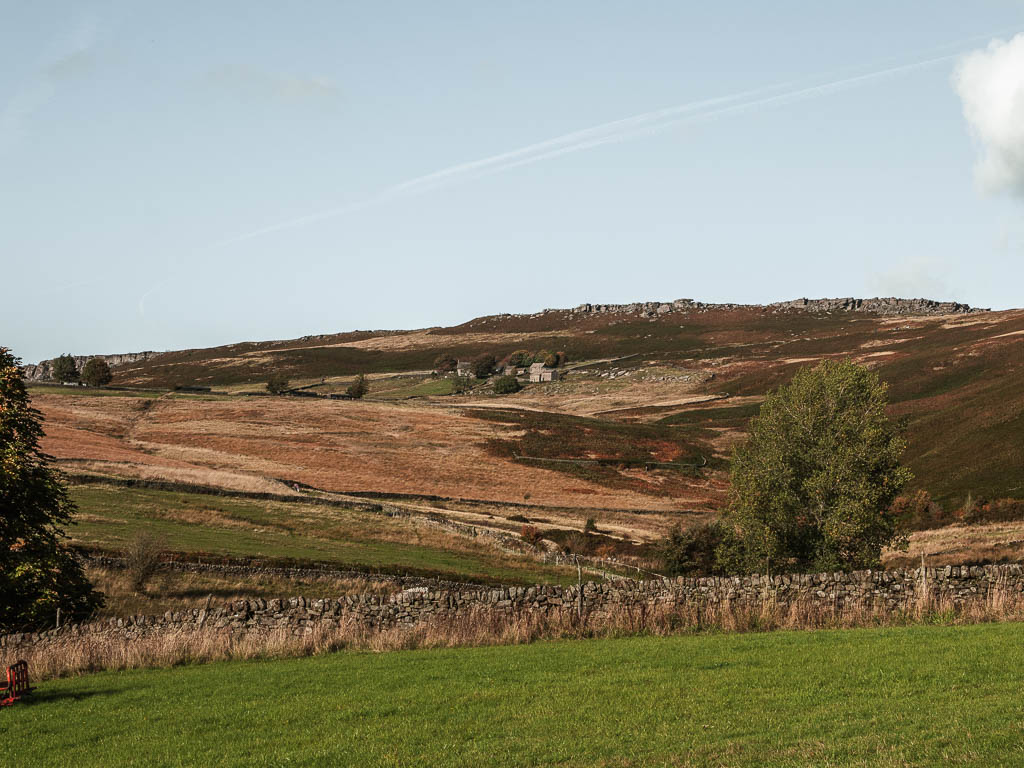 Then once at the end of the field, cross the road, and go up a short steep rocky bit of uphill.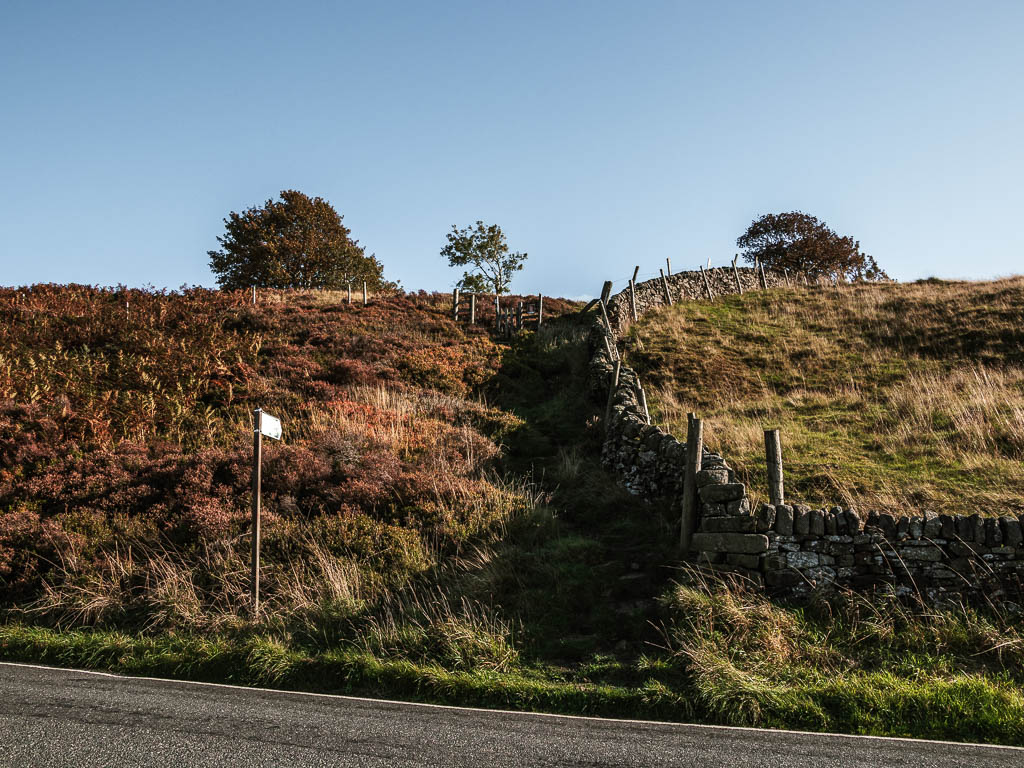 Walk to Higger Tor
After the short steep rocky uphill, things will level off for a bit. You now need to head in the direction of Higger Tor (the big rocks). 
For guidance, if you continue along the grass path, you will start to see a stone wall ahead. Keep going towards it, then turn left, so the wall is on your right. There is a trail here which will lead you to Higger Tor.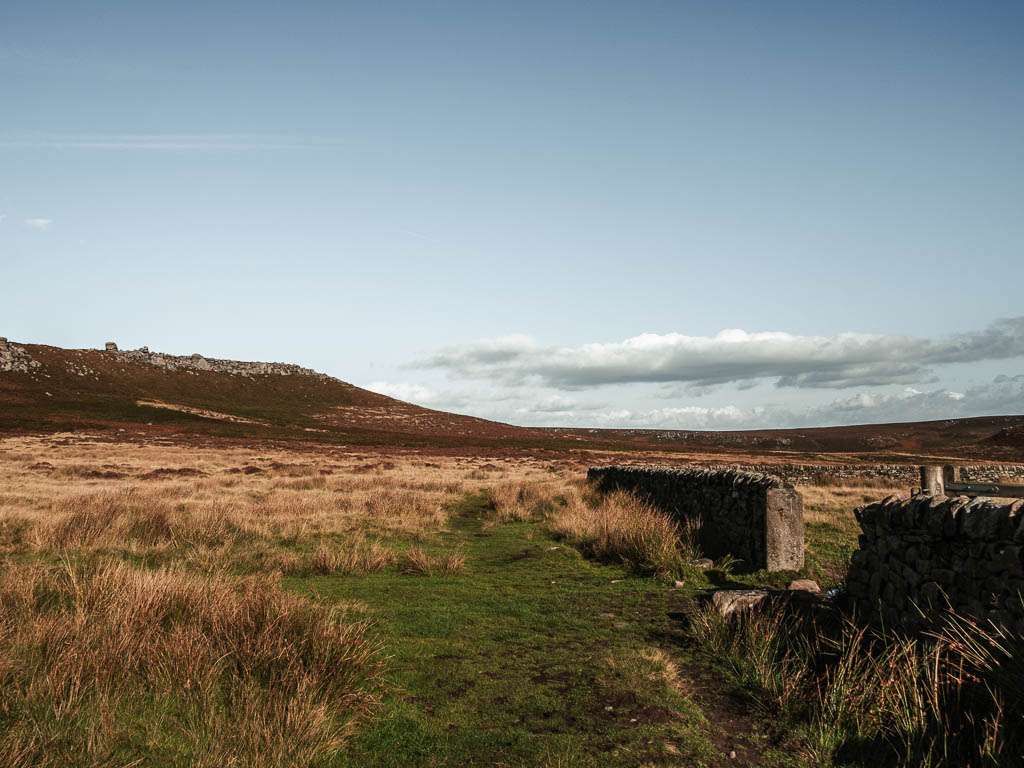 As you get closer, it will become a little more rocky, then very rocky and overgrown for the final ascent up.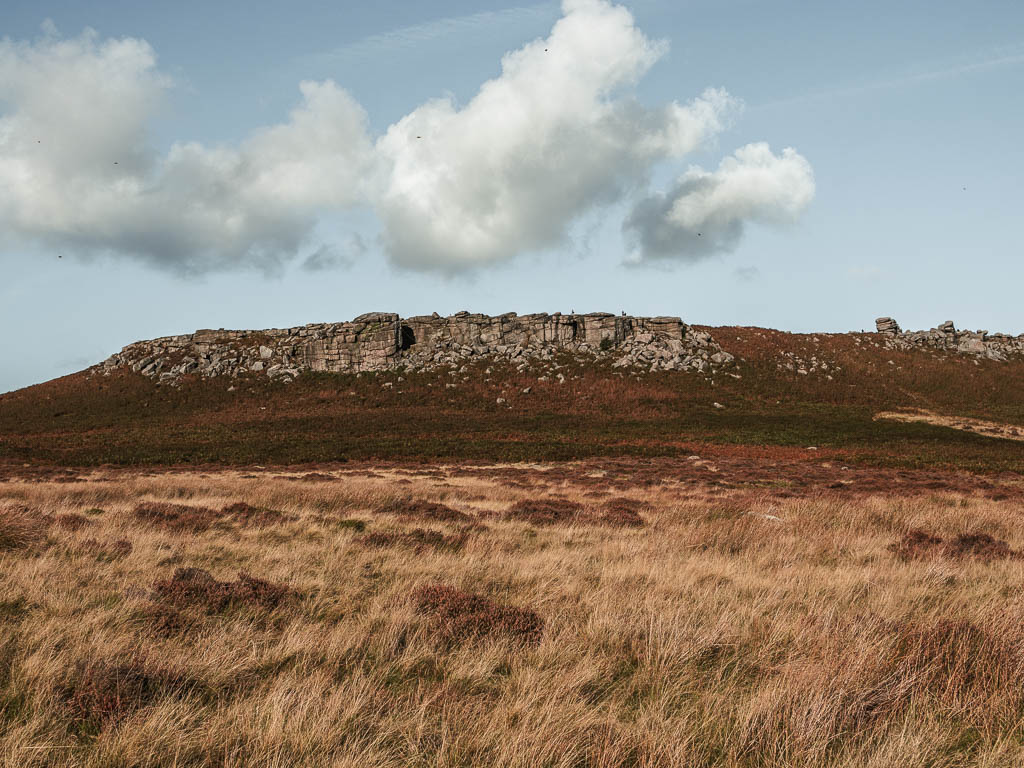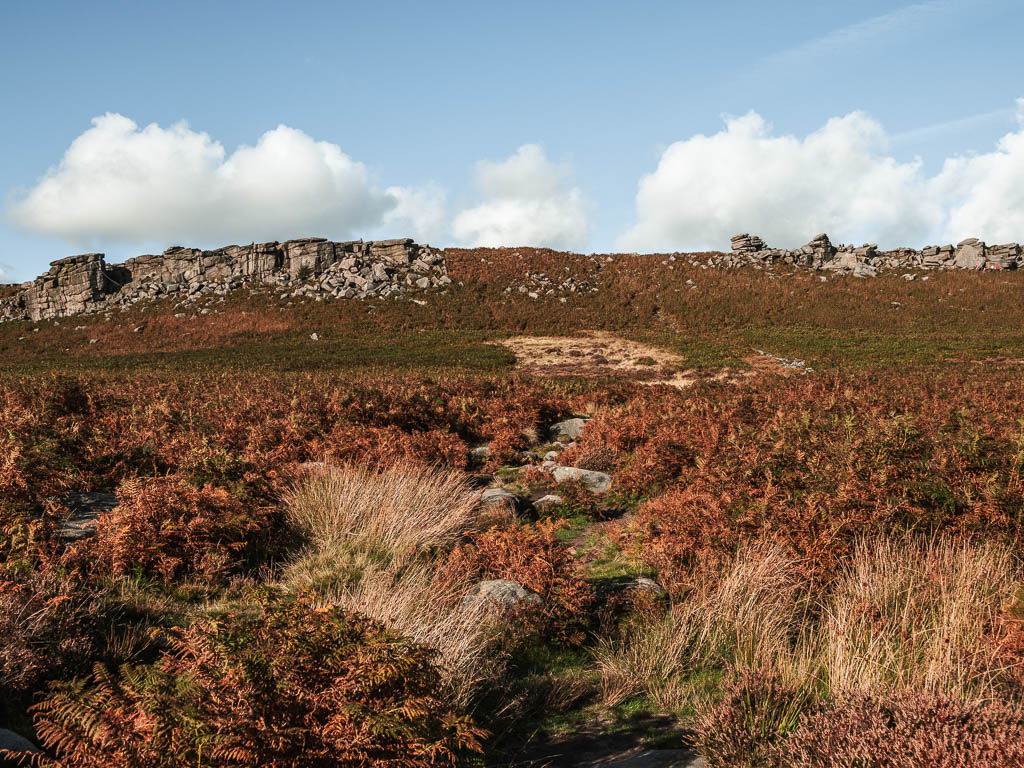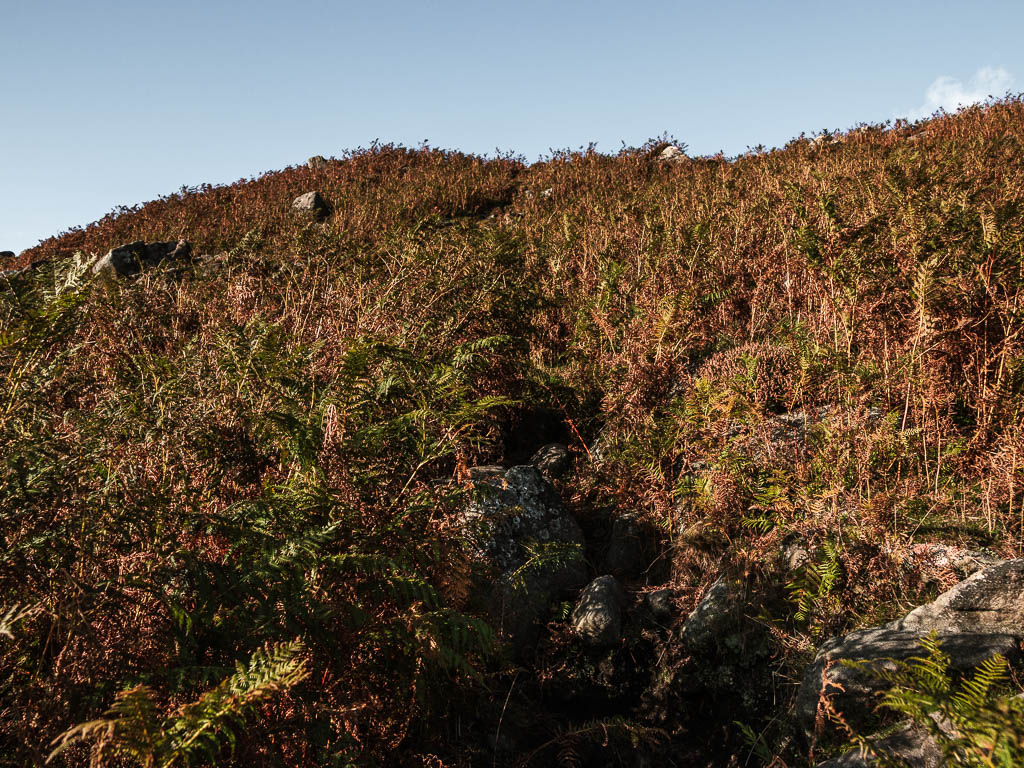 Walk across Higger Tor
Up the top, you can have a wander around. You have great views all around from up here, all along Stanage Edge ahead, and of the surrounding valley and hills. The trail you want to take off the tor, is straight across from where you arrived on top. If it's busy, you will see lines of cars park on the road below. These are where you want to walk towards.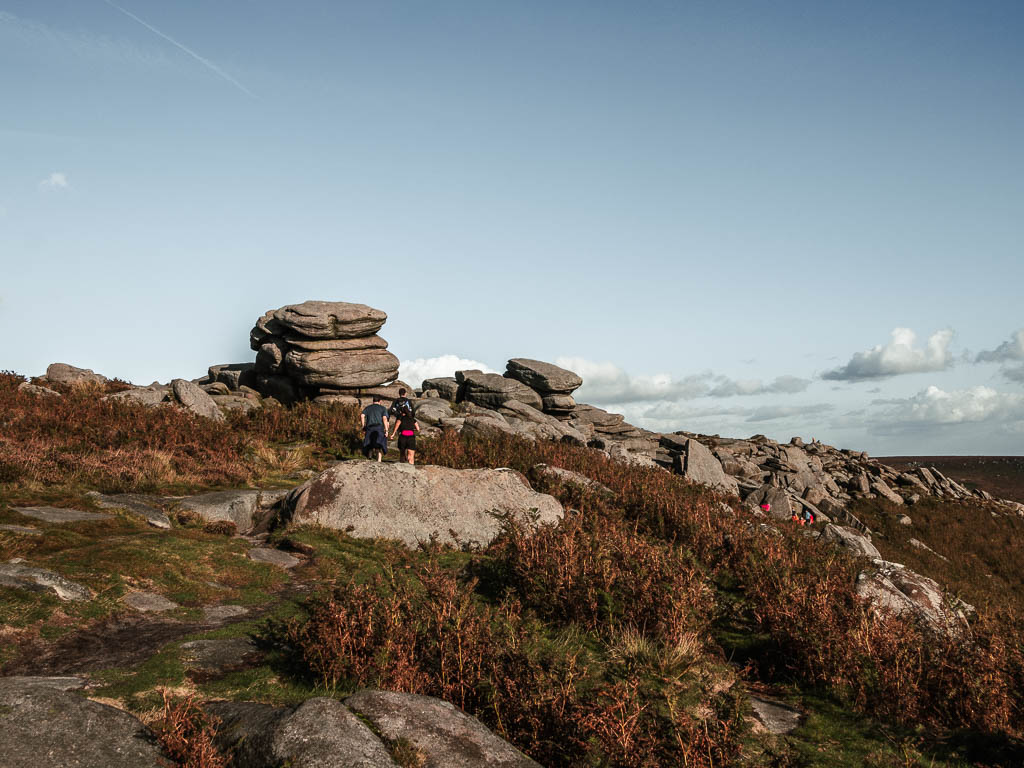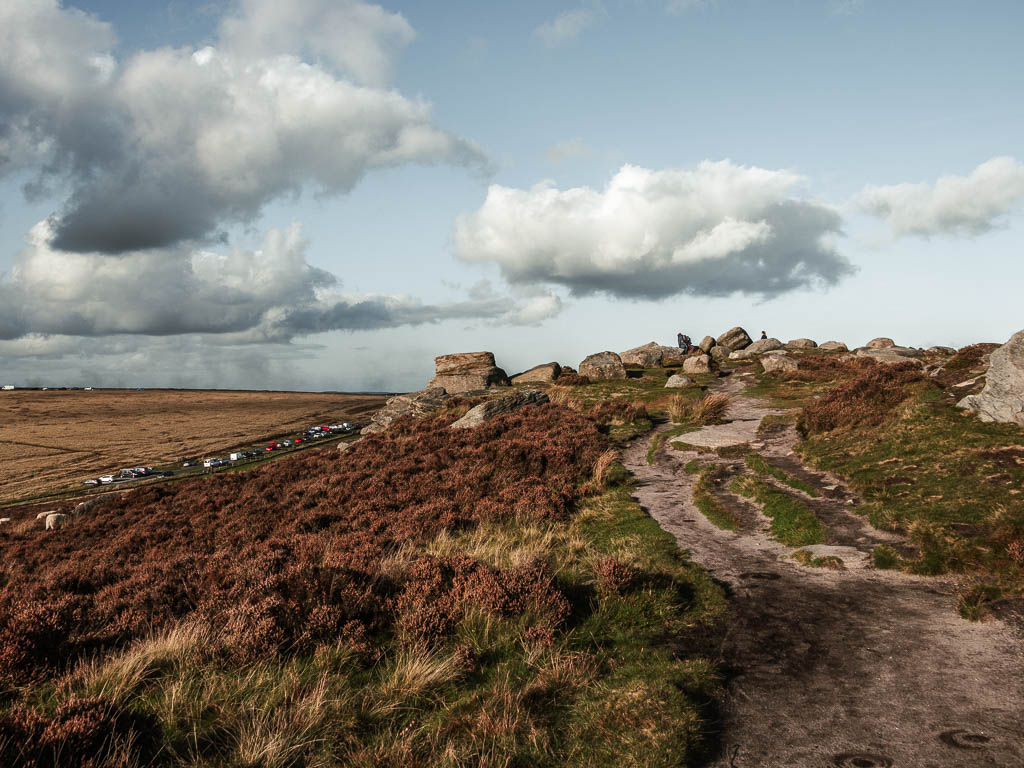 Walk down Higger Tor towards Stanage Edge
In the photo below, you can see the trail down, to the car lined road, then a trail in the field opposite. That's where you need to head next.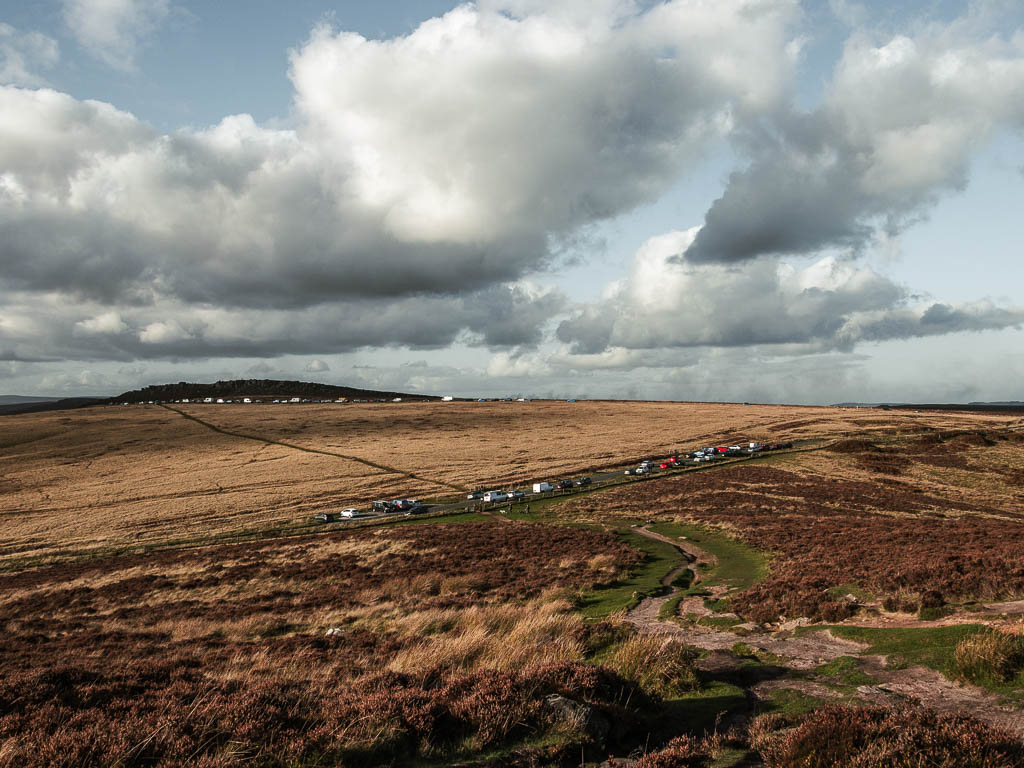 After that field, and across another road into the next field, you should see a trail. If you walk along it, it will take you back to Stanage Edge.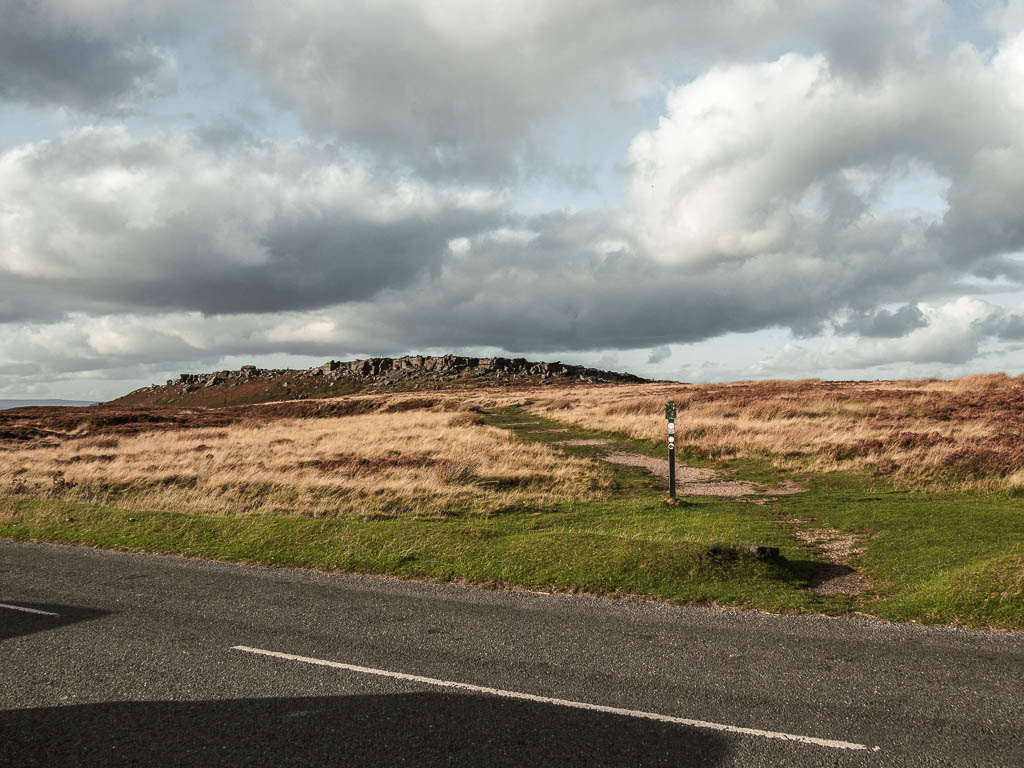 Walk up Stanage Edge or back to the car park
Just before you reach Stanage Edge, there will be a sort of trail split. If you take the left route, this will take you along the bottom of Stanage Edge, towards the car park, which you can see from here. Alternatively, stay on the main trail to walk back up to the top of Stanage Edge.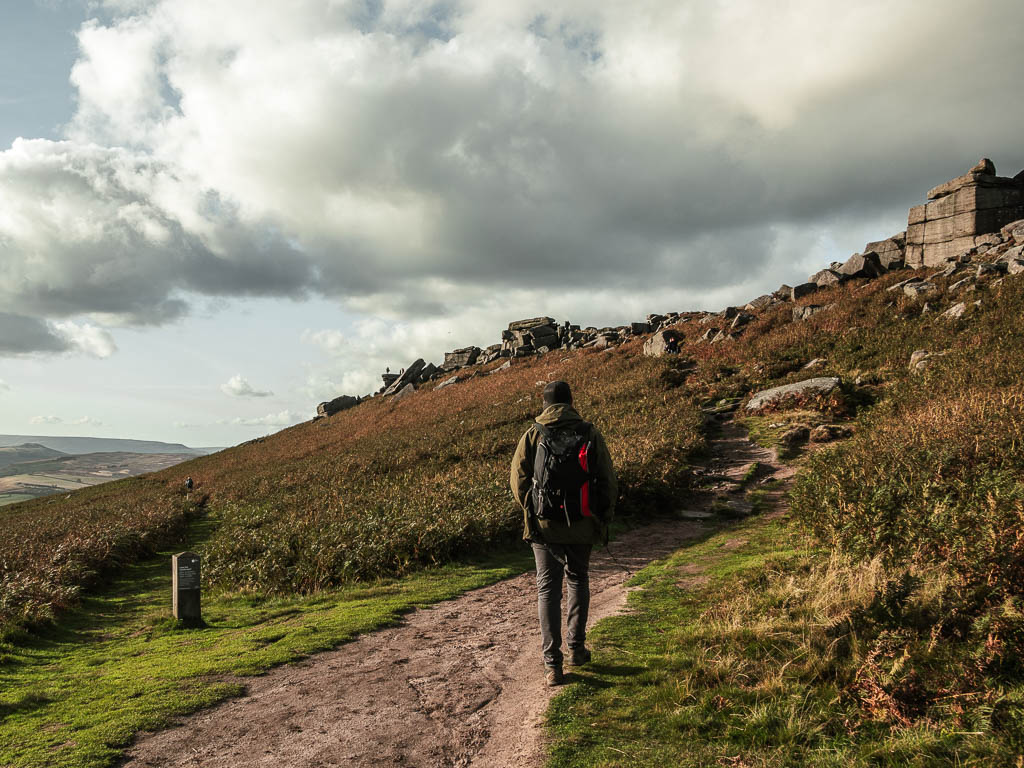 I would recommend going back up, as I found this part of Stanage Edge different from the part we walked earlier. The rocks are a bit bigger, and you walk across more boulders, which was quite fun.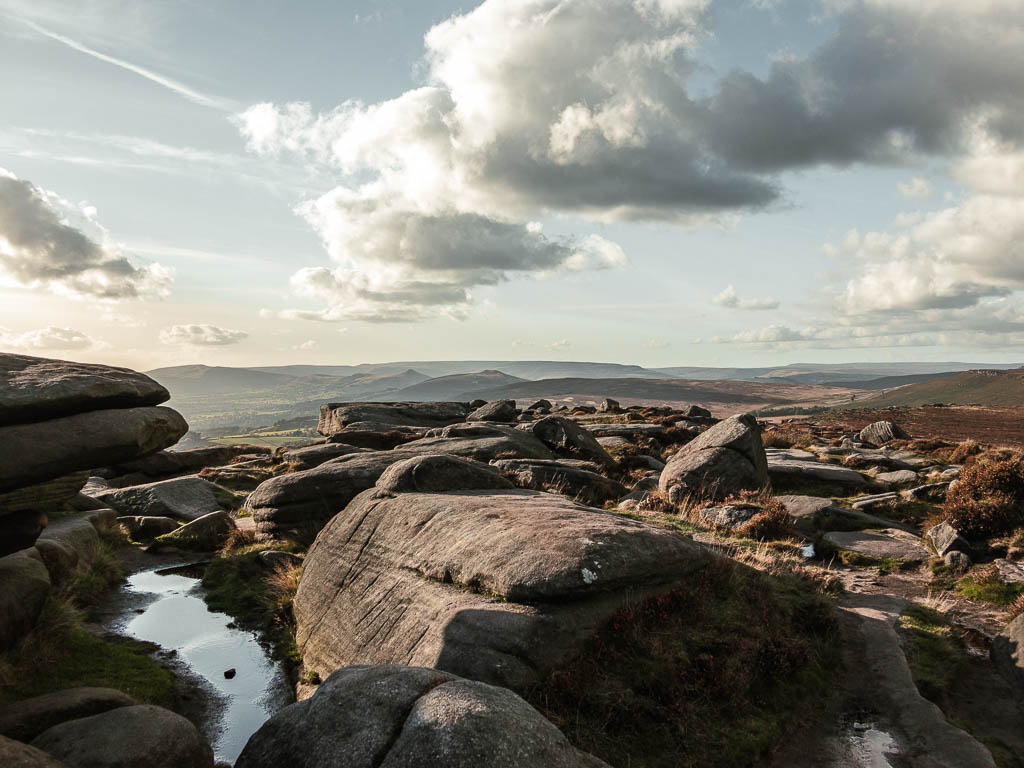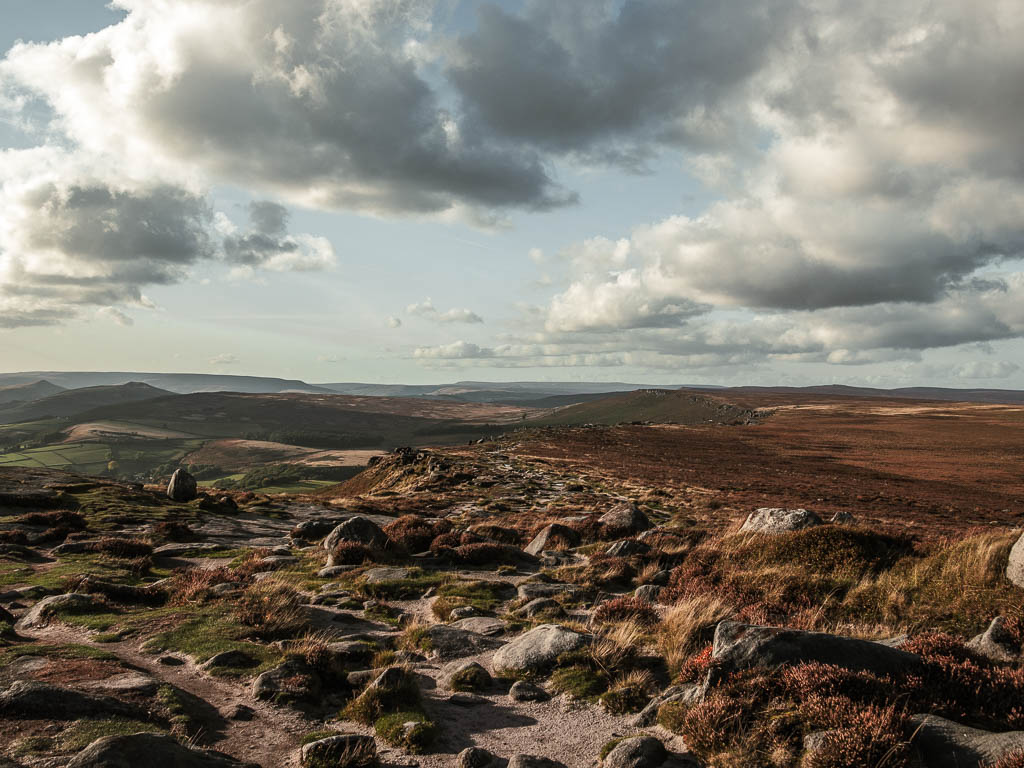 At the top of Stanage Edge, turn left. You can see the car park up here, so you can use that for guidance of roughly where you need to head down. Just make sure to keep an eye out for the trail down, which again, is easy to miss. See photo below for the trail.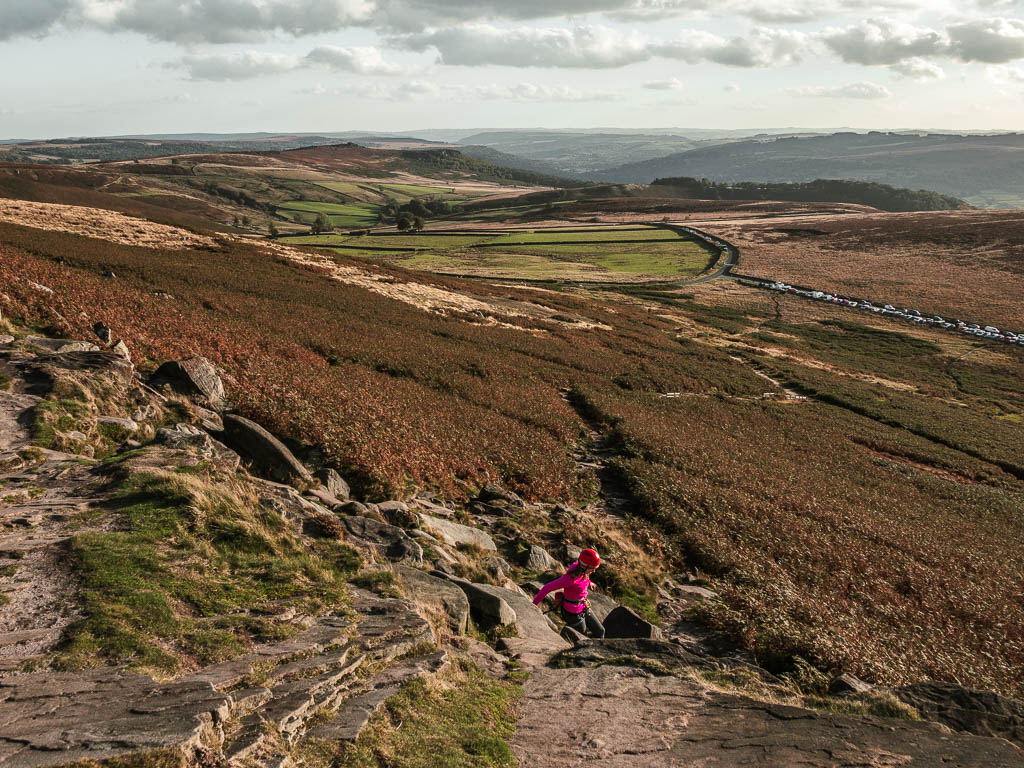 More from the Peak District
The next day we walked along a different part of Stanage Edge, and followed a route over to Bamford Edge. I preferred that part of the edge. There were much less people about.
Just across the reservoir from Bamford Edge, you could try Derwent Edge. There are a lot of edges out here. One you might enjoy, has a very unique rock called the Trinnacle. It sits high above the Dovestone Reservoir. This route takes you on a really adventurous trail up to the Trinnacle, which involves scrambling up a river with waterfalls.
One of the great views you get from both Derwent and Bamford Edges is the Ladybower Reservoir. It has a walking trail all the way around which is quite nice. It's a family friendly easy one.
Have you heard of Mam Tor? It's one of the most famous places in the Peak District, and you can do a great walk from Mam Tor along the Great Ridge. This walk also takes you to Cave Dale which is a wonderful hidden away limestone gorge.
A stones throw away from Mam Tor is Winnats Pass, another famous place. You could try this short walk which takes you to both of them.
If you like secret gorge vibes, then you might like this route to Lud's Church. It's a mystical moss covered chasm deep within the woodland. That is a short walk, but you can make it longer by including The Roaches. This is another big rock face type area.
Another gorge type walk I recommend is Chee Dale. This one involves some fun stepping stones. It's quite a family friendly walk.
These are just a few of many walks that I recommend out here. To see more, you can check out my best walks guide here.
Pin it for later: Stanage Edge Walk Guide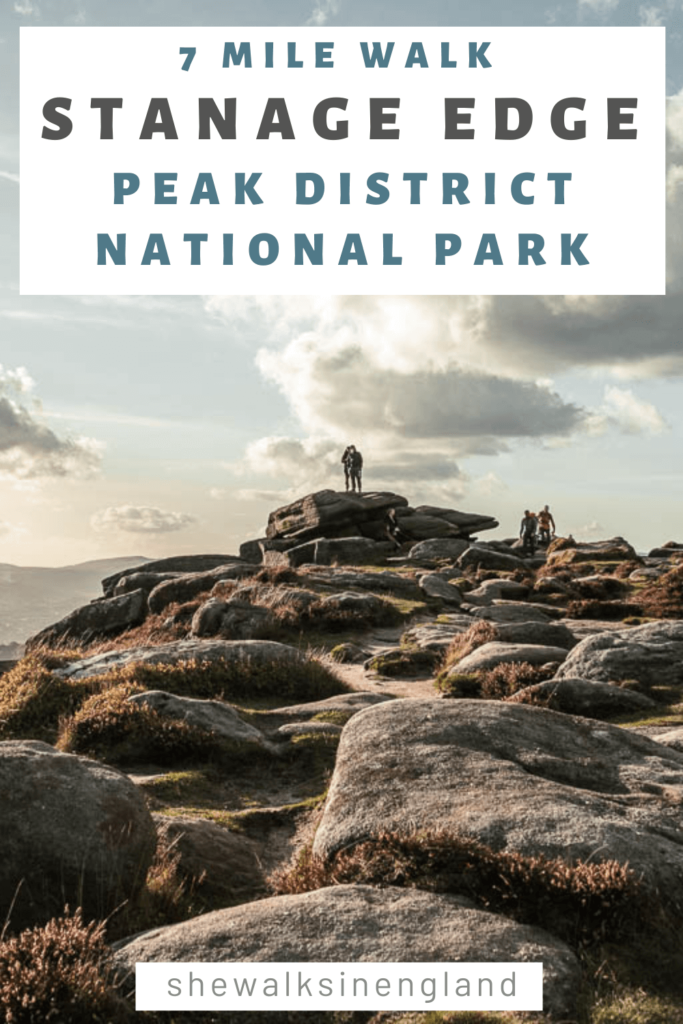 You can find more info on things to do in the area, on the Peak District website here.