The walk from Mousehole to Lamorna takes you along a great bit of coast path. Quite different to other bits of coast path I have walked on actually. I walked it after walking from Penzance to Mousehole, (which if you read, you will know I wasn't fond of) and it really made my day so much better. 
Top Tip: Mousehole is pronounced Mowzel. I was one of those that said it wrong and got funny looks. Giving away that I'm not from around here.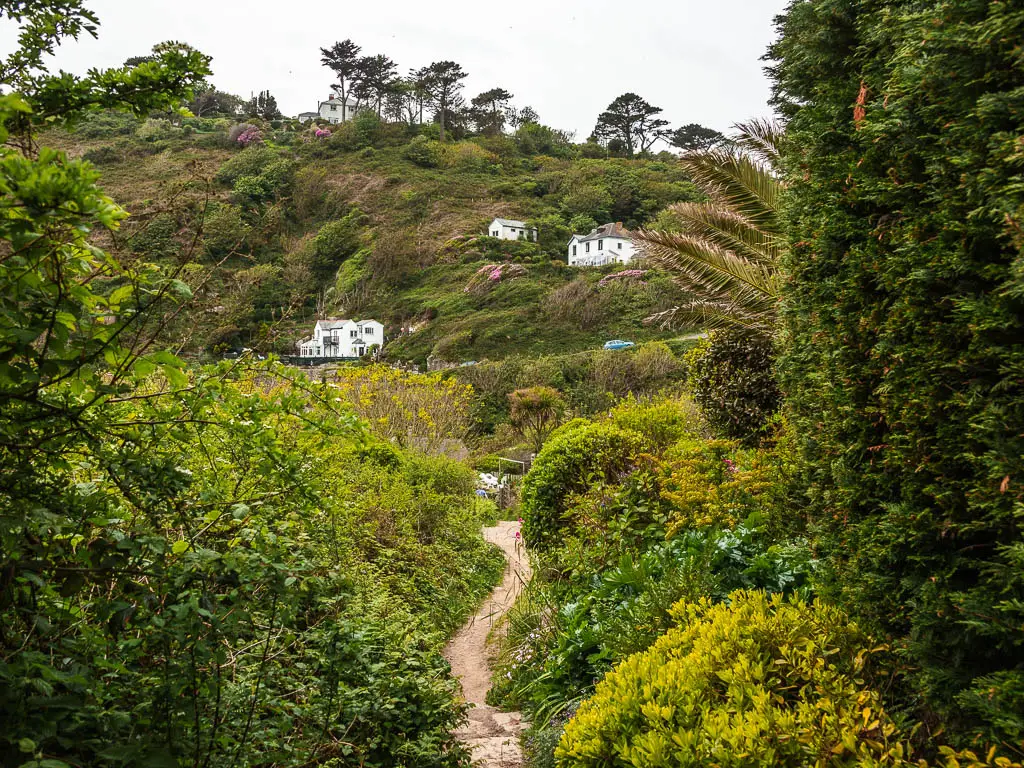 What was the walk from Mousehole to Lamorna like?
Very very rocky and overgrown. This might just be the rockiest bit of the South West Coast Path I have walked, and your hands will definitely need to get involved.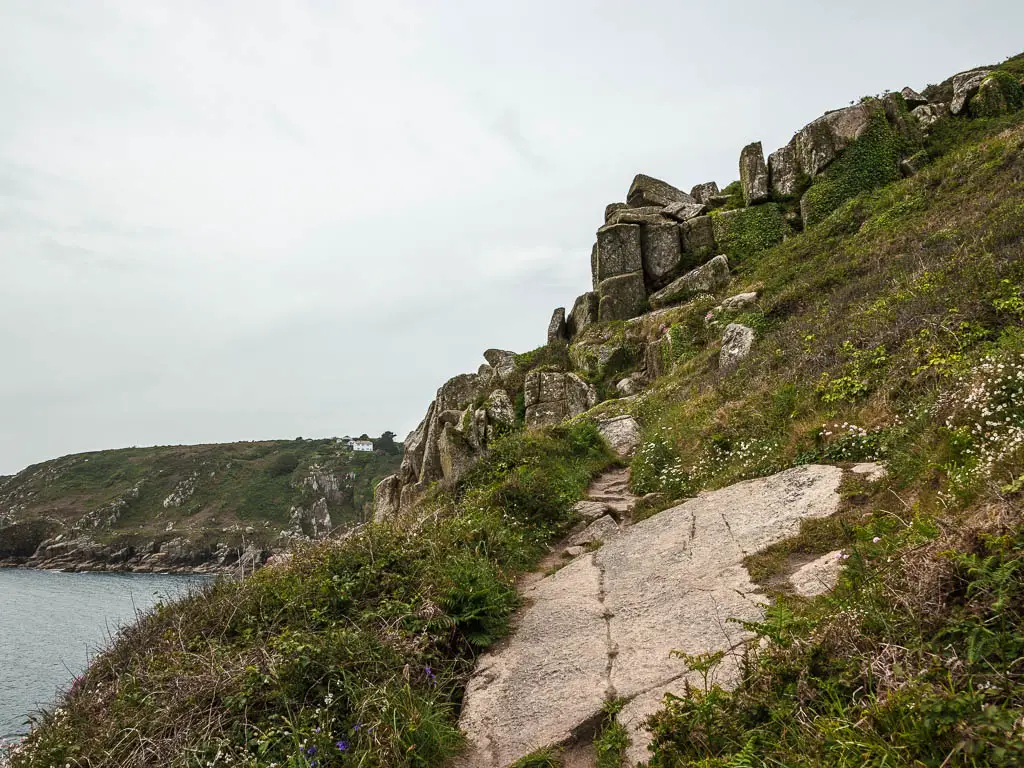 Parts of the trail are also seriously engulfed with the bushes, which adds to the adventurousness of it. It is a little hilly, but that's to be expected. Not crazy hilly though.
I did this walk in a circular, and the walk back to Mousehole from Lamorna was wildy different. Easy level walking through field after field. You don't have much in the way of views for the walk back, until the end that is. If you want something scenic and adventures, you should walk back the way you came. I did quite enjoy the walk back though, it was more chill…apart from the cows, but I will get to that later.
Logistics for the circular walk from Mousehole to Lamorna
Start/Finish: Mousehole
How to get there: Located in South Cornwall, Mousehole is a short distance from Penzance which is the last stop on the Great Western train line. You can walk between the two, or get a short bus journey on a bus called the Mousehole. 
Distance: 5.4 miles
Time: 2h
Elevation: Highest point is 115m. With the ups and downs, total elevation gain is around 325m
Difficulty: Medium
Option to shorten the walk: Kind of. From Lamorna you can catch the 347 bus back to Penzance, journey time just under 30min. The bus stop is about 10min walk along the road from the beach in Larmona. BUT, from what I can see, there is just one a day at 9:30, so this would only work if you did a sunrise hike. Alternatively, if you walk further to reach the bigger main road, you can catch the Lands End Coaster back to Penzance. It's roughly a 20min walk to reach the road from Lamorna Cove. 
Terrain: Dirt trail, lots of rocks, grass, maybe some mud, steps, a small bit of road. 
Amenities: In Lamorna there are public toilets, a cafe at the beach, and a short walk up the road is a pub called Lamorna Wink. In Mousehole you have a lot of foodie choice. Cafes/tea rooms, pubs, restaurants and ice cream shops. The is also car parking at Mousehole. 
Time of year: Spring
Tips for the walk from Mousehole to Lamorna
Hiking boots/shoes. You will thank me when you get to the rocky bits.
I mentioned you can walk from Penzance to Mousehole, and it doesn't look too far on the map, but I would actually recommend getting the bus. That walk is quite uneventful, and you want your energy for the main walk. 
Think about your skin. There are a few stinging nettles in those overgrown bits. I was being carful, and made it out with just one sting. You could bring some loose trousers to wack on for those bits.
If you like adventure and a challenges, then walk back to Mousehole from Lamorna along the coast path. If you want a chilled return, then do the circular like me. 
If you plan to get the Mousehole bus, just be aware that the last one back to Penzance is (at the time of writing) at 4:20pm. 
Map for the circular walk from Mousehole to Lamorna
More walk ideas near Mousehole and Lamorna will be at the end
A Guide To The Circular Walk From Mousehole To Lamorna
Starting from the harbour in Mousehole, walk to the far side, and up the road. Go past The Ark building (which has a sign pointing to Lamorna), where you now have a chunky uphill walk. A little way up, you will see a trail off the road to the left. Ignore that and stick to the road.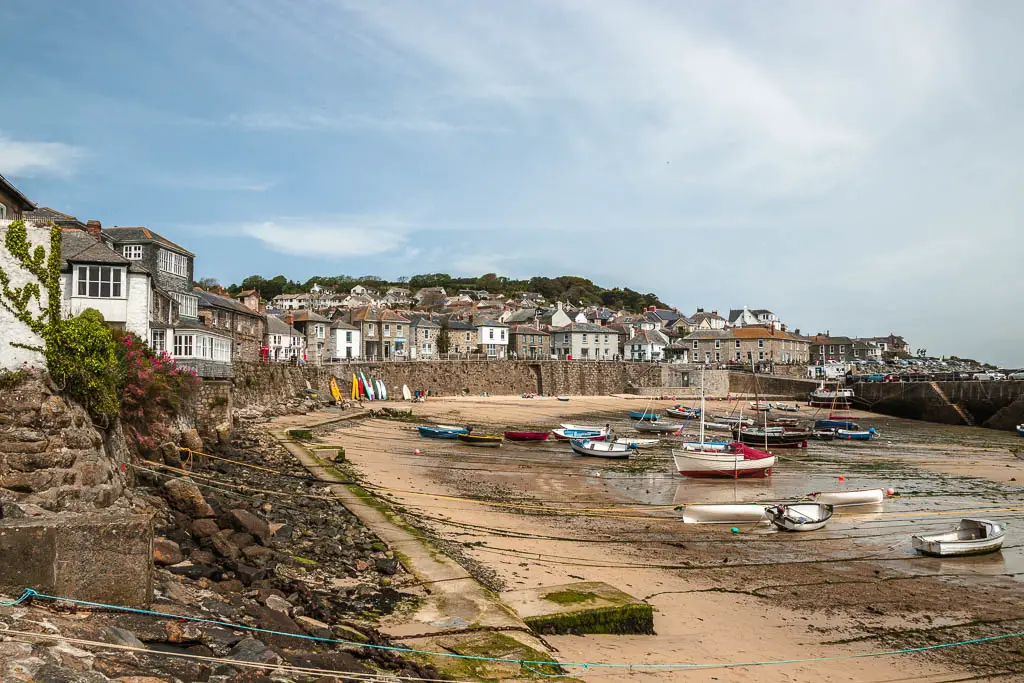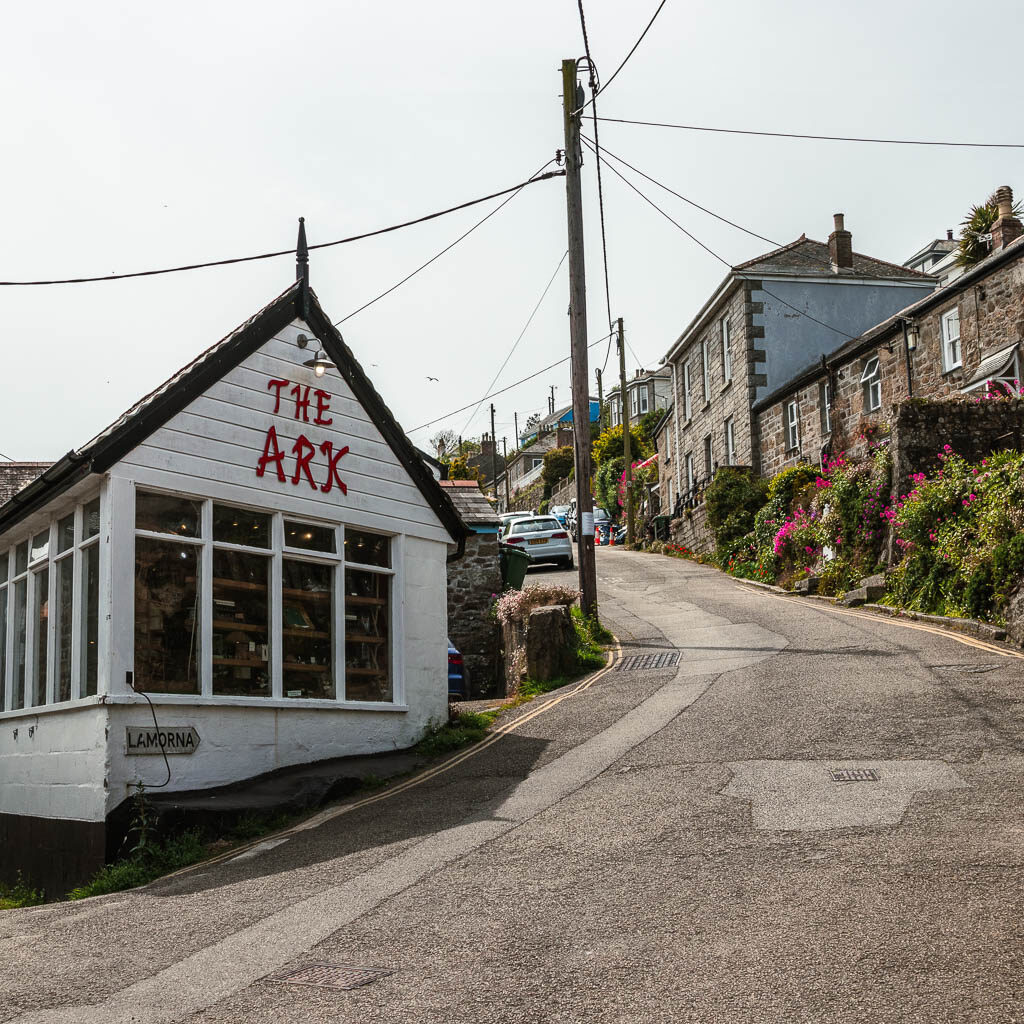 First you will be walking past the houses, and then the green bushes. When you reach a junction with a left turn, take the left and go up a gravelly path with more bushes and a palm tree looking thing. Follow this path as it takes you to the right.
The bush attack
It will all start out simple with bushes along the side of the trail. Then the trail will get narrower and narrower, and the bushes will start to take over. I don't have any photos of the serious bushy bits, as I was focusing on making it through alive. At one point in a bush tunnel, you will walk past a sort of ruin. It was a little creepy. 
Things will then start to open up a little to give you a break from the bush. Just for now though. They come back later
It was around here I stopped dead in my track because I though I saw a snake. This looks like a snake right? 
It wasn't, it was a pipe or something coming from the ground. I wonder what that is for.
As you turn the corner, you will get a view to the coastline on the other side, with a lovely viewpoint bench. This point sort of marks the beginning of the next chapter of the Mousehole to Lamorna walk.  The trail up until now had been fairly level, on a relatively easy path. Everything is about to change. 
The rocks, steps and undulations 
Straight past the bench, you will head downhill. First amongst some more overgrown stuff, and then the rock steps. The trail will become steeper as you make your way down in a zigzag sort of fashion. 
When you reach the bottom, you will then make your way along the side of this hill. Some level bits, but mostly short ups and downs. Lots more rocks, and some areas that look like potential mud fests. Keep making your way along and you will then reach the woods.
The woods and the easy bit
The woods is a pretty easy and short section. It was nice to have a moment of not needing to look down at where I was stepping. 
When you leave the woods, the trail will become narrow again, but it's a very easy non rocky bit. Everything is more open, with a small bit of bush. The trail undulates a little, but nothing aggressive. You will also see some very interesting rock formations.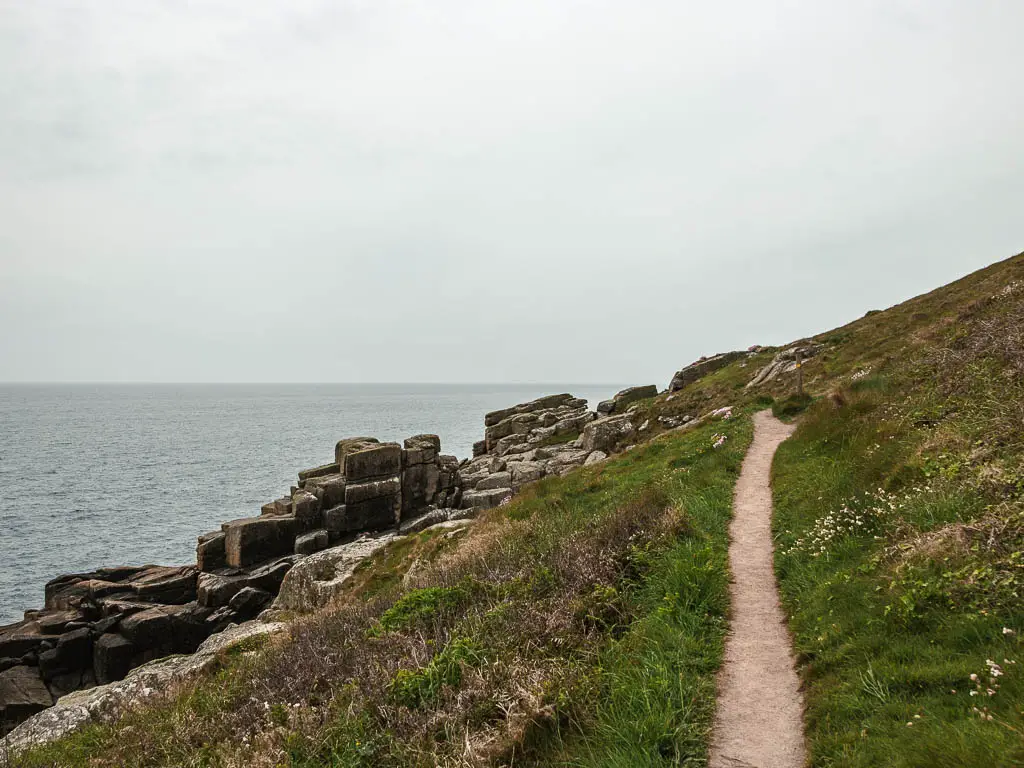 Someway further along, you will have a steep but short uphill with rock steps. At the top you will have some more big impressive rocks and your first view over to Lamorna.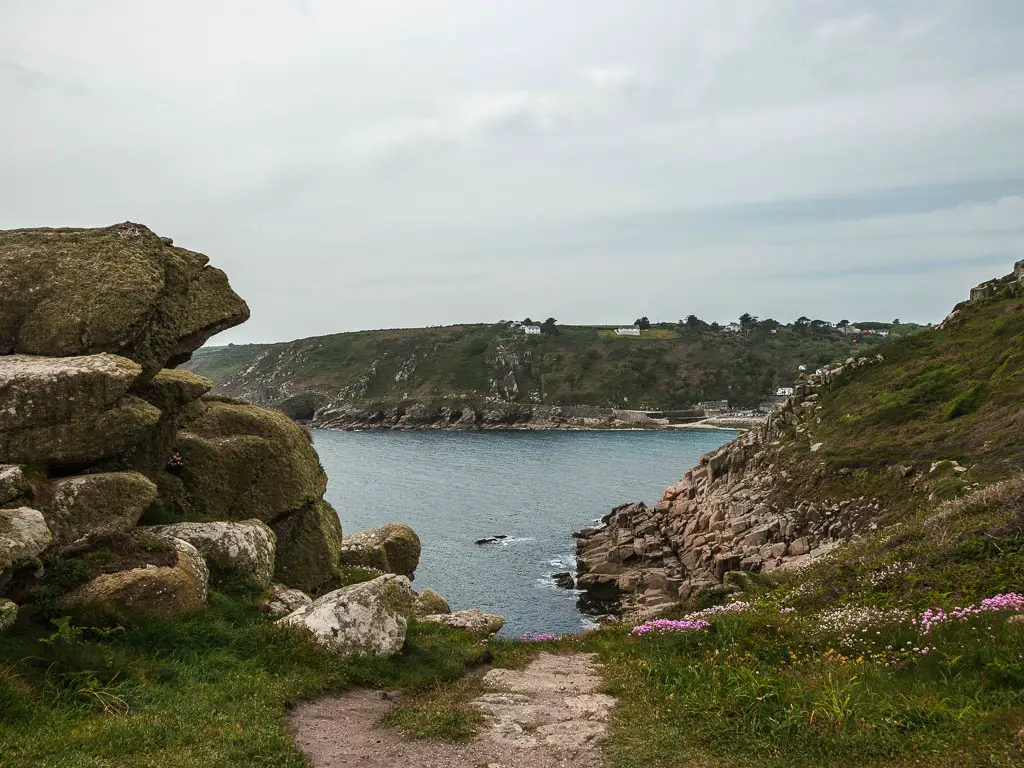 Walk to Lamorna – The half way point in the walk from Mousehole 
The trail will then gradually take you downhill (with some small short ups) as you make your way to Lamorna. It is a mix of narrow trail, rocks and slabs of rock. Some scrambling will be needed along here. 
As you get nearer to Lamorna, you will be surrounded by green again, and will walk past the rubble of rocks. 
What the hell are all these rocks about? Seriously, I'm interested to know. 
You will then reach the bottom where you can go over to Lamorna Beach.
I had fully planned to take my snack break here, although, there were children noises. I also knew I had a big uphill next to get out of the Lamorna Bay area. I reasoned that if I tackle the hill now, I will get it out of the way, then at the top, I can enjoy my snack in peace with a nice view down. Little did I know that this plan was flawed….
Start the walk back to Mousehole from Lamorna 
To leave Lamorna, make you way back the way you came, and just past the toilet block, you should see this trail split. To go back along the coast path, go right. To do a circular back along the top, go left. Now it's a slow and steady uphill through the woodland. This bit is quite pretty with lots of flowers and bluebells.
You will reach an opening with a view of rocks, hills homes, and a big rock cliff face. Keep going up, and at the top you will reach a wooden trail signpost in front of a house. Follow the trail to the right.
I had hoped that at this point, I could take my break. But there wasn't really much here to look at. No views. No benches. I thought if I kept going, something would pop up. 
Walk past the houses and through the fields
Following the sign to the right, it will lead you onto a road and past the houses. This definitely wasn't a suitable snack break spot, I would have to either sit on the road or on someones wall. So I kept going. 
Look out for the footpath sign on the right of the road, which takes you over slabs of rock and into the field. You will now walk through a few fields which look like farm fields. As I made my way through them, I didn't want to stop for my break, as I wasn't sure what might appear. There was no livestock, but they might be let out soon. So I kept going.
At the end, you you will exit over a stile with more rock slabs, and just ahead you will reach the road again. Follow the road, and look out for the footpath sign to take you off it into another field on the right.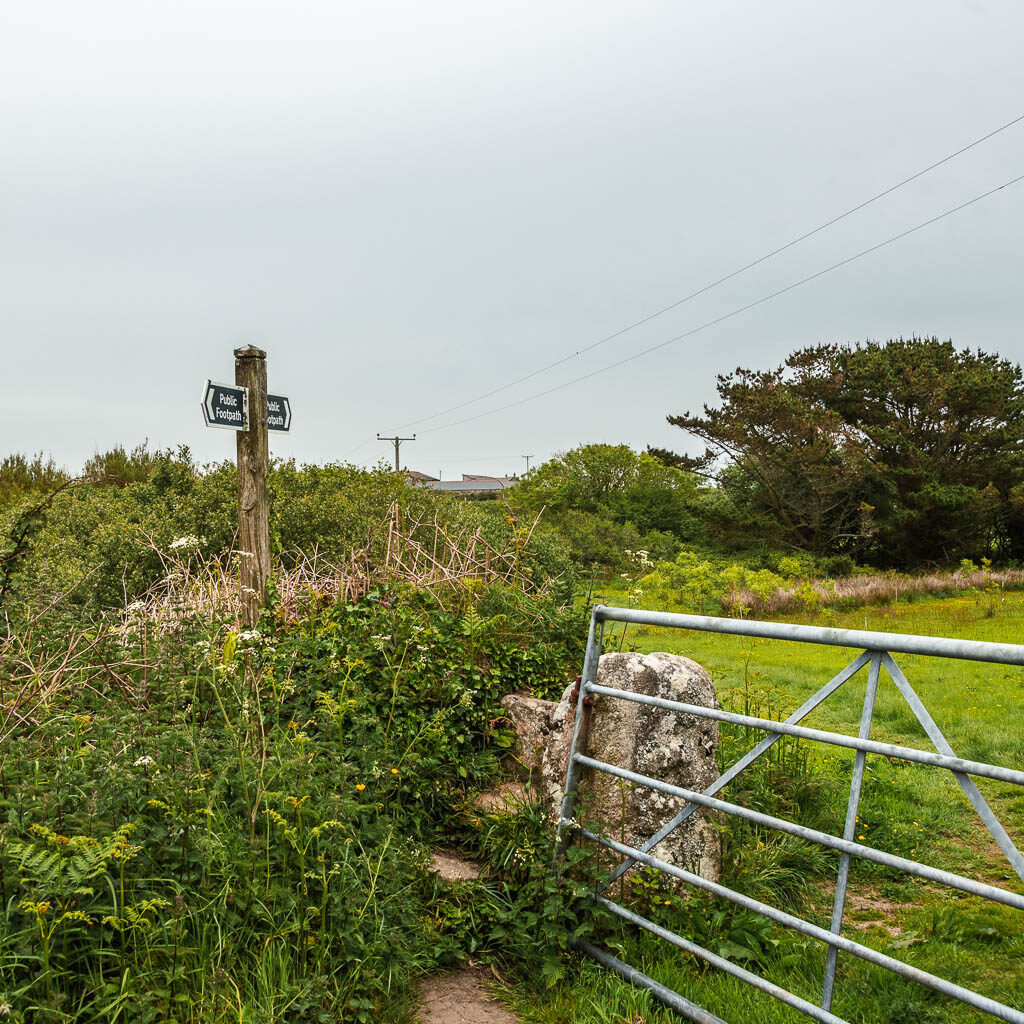 Follow the grassy trail, which will lead you into some bushes on the left. 
The next little bit is quite bushy and a little rocky. Reminiscent of the earlier part of the Mousehole to Lamorna walk. As you leave the bush, you will be lead towards some houses. There is a trail split coming up. Take the left one which will lead you to a wonky footpath sign pointing down the back of the farm buildings.
Walk through the farm
The next bit is quite interesting. You will go over the rock steps, between the farm buildings, and through a series of gates (the photo above). Through the last gate, walk along the edge of the field with the stone wall to your right, and then over the stone steps and stile at the end. 
Keep going, keeping to the edge of the field. This leads you into another field which looks to be used for crops. Continue following the edge of it and into the next field, and then another. There are lots of fields. 
I was very hungry by this point, but I was also aware of the fact that I had yet to see any livestock. I had walked through so many fields by this point, I was worried my luck would run out. What if I took a break, and in that time, they were let out to roam. No. I needed to get through these fields as quick as possible just incase. 
The first cows
Well, my luck did run out. I was met with a large field with lots of cows. There were younger ones. Maybe teenagers. Does this mean they are safer and more friendly? I stood there looking at them. There were just so many, all chomping at the grass. I mean, I could hear them. The chomping.
I started to make my way into the field carefully, thinking maybe they were too busy eating to notice me. But no. A few of them looked up and started walking in my direction. Maybe they were friendly curious, but I didn't want to find out. So I turned back and found a way into the field next to it. The field next to it did eventually lead me into this cow field, but over on the other side, past the mass of cows. 
I quickly entered, stuck to the edge and kept my head down, hoping they didn't see me. I only looked back once I had safely exited on the other side. 
The final stretch of the Mousehole to Lamorna circular walk
Now there are three options to walk back to Mousehole from here. I know because I tried all of them. The easy way is to turn right and follow the road down. This will lead you all the way back.
I wanted to take the trail, so instead I walked along the road which took me between the houses. It's the left one off the main road. If you go this way, it will feel like you are doing it wrong and you are walking in a private area, but don't worry, this is correct. 
As you walk along this road path, at the house at the end, walk to the right of it, and a little way further along, the road path will lead you onto a grassy trail, and then to some rock steps on the right and into a field.
The second cows
This is where I was met with the second cows. These were the big grown up cows. All across my path. 
There was no way I was walking through that, so I check my map to find an alternate route. If I walked to the left, I could get onto another trail which would lead me back to Mousehole. It was a longer route, but I was ok with that if it meant no cows. So off I went. I didn't make it very far before I was forced to turn back by impassable overgrowth. 
So I went back to the cow field to regroup. 
I was very very hungry by this point. Almost a little faint, which was clouding my judgement. So I sat on the the rock steps to eat with the smell of cow poo in the air. 
Once I felt my blood sugar was more normal, and my decision making more clear, I decided I wasn't going to let these cows obstruct my walk. So I went over the steps and into the field. Some cows stood up and looked at me, so I hopped myself out of there and walked back to that road to make my way to Mousehole from there. 
More walk ideas near Mousehole and Lamorna
St Ives to Zennor – This is also a super rocky walk, although I think the Mousehole to Lamorna route still wins. It's much more challenging as it's twice the length. Still gorgeous though.
Penzance to Mousehole – If you fancy walking to Mousehole instead of getting the bus, you can see what it's like here. 
Rinsey mines walk – Slightly further along the coast, you could try this walk featuring the tin and copper mines. It's a very short walk but pretty mind-blowing seeing the old engine houses along the coastline. 
More walks in Cornwall that I love and have to mention
Tintagel walk – Over in North Cornwall, this one I found by accident. A happy accident you might say. It has a sort of Game of Thrones Jurassic Park vibe.
Looe to Polperro – Over on the north part of east Cornwall. Any walk that finishes in Polperro will always win. It's so magical the way it opens up at the end.
Fowey to Polperro – This walk has two of the most beautiful bays I have ever seen. It also finishes at Polperro which as I already mentioned, is a win.
Bendruthan steps – The walk itself isn't as amazing as some of the ones I have previously mentioned, but Bedruthan Steps is one of the most beautiful beaches I have seen.
For more ideas of things to do in Moushole, you can check out the Visit Cornwall website.
Pin it for later: Circular walk from Mousehole to Lamorna