Today I moved to Plymouth, and as soon as I dropped my stuff at my new home, I headed out to do a circular walk around Rame Head.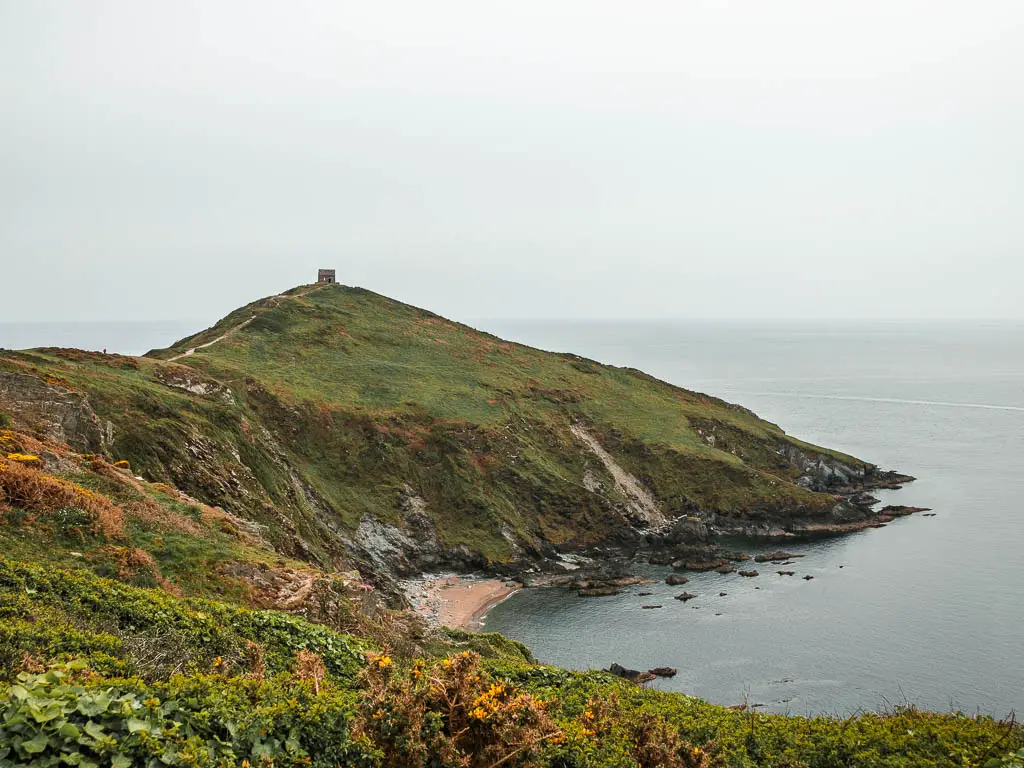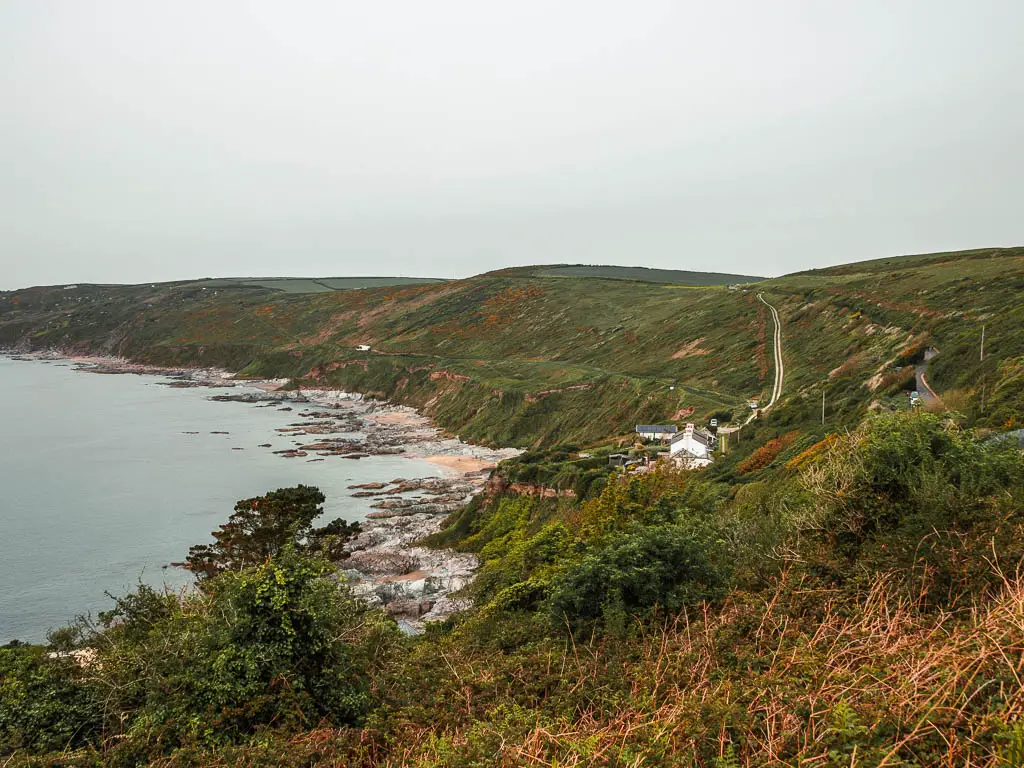 If you don't already know, I spent the last month living in Totnes. Why would I move from Totnes to Plymouth you may be wondering? Leaving a cute quaint town to move to a bigger city. Well, Totnes was only temporary. I was due to go back to London after one month. However, I didn't want to go back yet, so spent a couple of weeks trying to find somewhere else to stay. 
I searched everywhere between Plymouth and Penzance. My criteria was somewhere on a train line, so I could easily explore far and wide, but also somewhere with nice places to go walking nearby. 
Plymouth was a good fit. Near to Dartmouth, the Tamer Valley and easy access to Cornwall. Plenty to keep me occupied for another month. 
What was the circular walk around the Rame Head Peninsular like?
This is a lovely walk, starting from the cute village of Kingsand, and then around the peninsular of Rame Head, and to the remains of a chapel where you will have a panoramic view.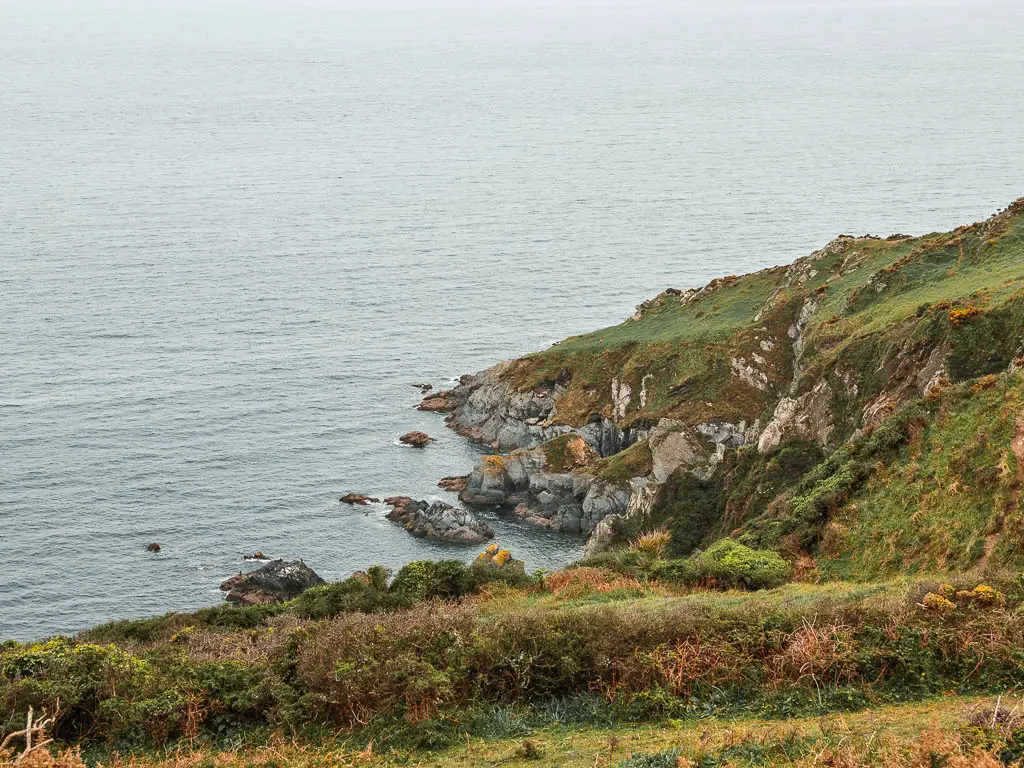 You will probably also see some 'wild' ponies grazing about. Apparently these ponies were brought over from Dartmoor to keep vegetation down.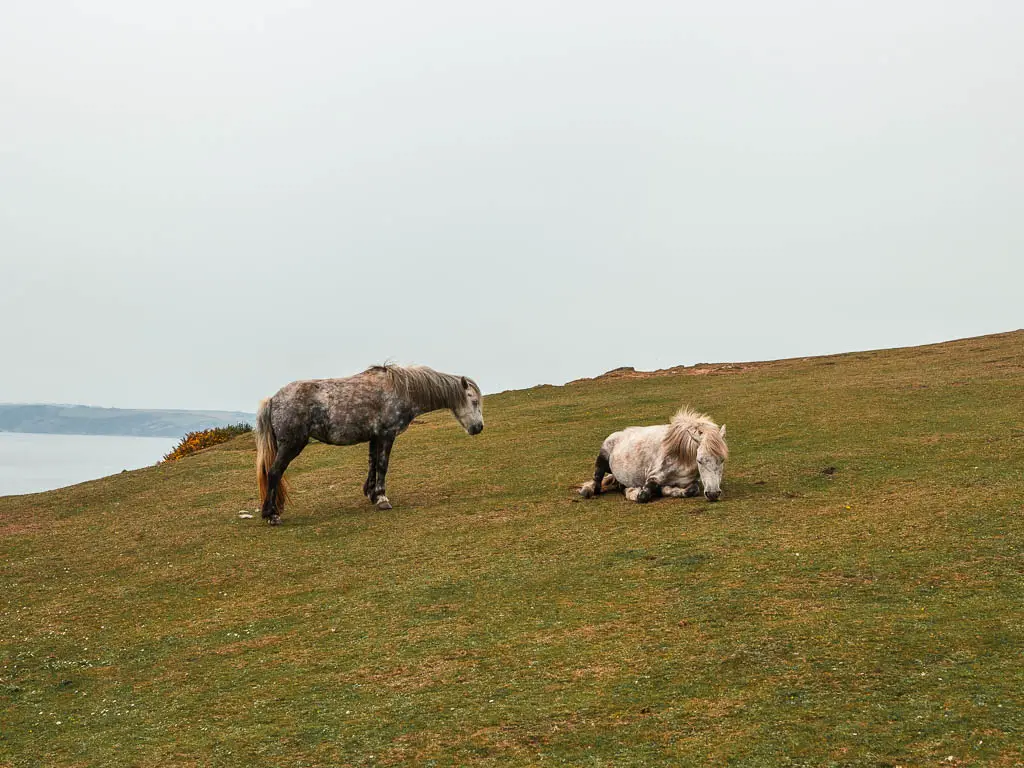 The walk is pretty easy, with the only a few noticeable uphills. One at the beginning out of Kingsand, then the final bit up to the tip of Rame Head, and the last one when you walk away from the coast path. They are perfectly doable hills though.
Logistics for the circular Rame Head Peninsular walk
Start/Finish: Kingsand – East Cornwall, just on the border of South Devon.
How to get there: From Plymouth you can catch the number 70 bus. Journey time is about 1h. An alternate way to get there would be to catch a ferry from Plymouth across to Cremyll. From there it's either a short bus ride over to Kingsand, or you can walk. 
Distance: 6 miles
Options to shorten the walk: Yes. See tips for details.
Time: 2-ish hours
Difficulty: Easy
Terrain: Some road, dirt trail, grass, steps.
Elevation: Highest point is 111m in Wiggle. Yes, Wiggle. Total elevation gain is about 311m.
Dog friendly: No stiles, but you will be walking amongst free roaming ponies. 
Amenities: Kingsand has a couple of pubs, a bakery and car park. From Kingsand you will walk though Cawsand, which also has some eating places.
Time of year: I did this in spring
Tips for the walk around the Rame Head Peninsular 
To shorten the walk, once you have walked around the main peninsular of Rame Head, you will pass over a road. You can catch a bus from there (from this point it's 1.5 miles to walk back to Kingsand through fields, if you choose to walk back). 
If you do want to catch the bus, there is no visible bus stop. You just wait by the road and stick your arm out when it comes. I will show you the place to stand when I describe the walk below.
If you want to make the walk longer (and you are coming from Plymouth), then start from Cremyll and walk along to Kingsand (3.5miles) and then around the Rame Head peninsular. This little section is gorgeous. I walked it after Rame Head, more so because I didn't want to wait for a bus, so thought I would catch a boat back to Plymouth. I loved it so much that I went back to properly track it with photos, to write up for the website. 
If you want to do some watersports, Cawsand has a little place for that.
Map for the circular Rame Head Peninsular walk
More walk ideas near Rame Head and Plymouth will be at the end
A Guide To The Circular Rame Head Peninsular Walk
From Kingsand, you need to walk along Garret Street uphill. It's opposite the post office/next to the Halfway House Inn. This will lead you to Cawsand. Along the way, you will get a gorgeous view across the sea, back to Kingsand.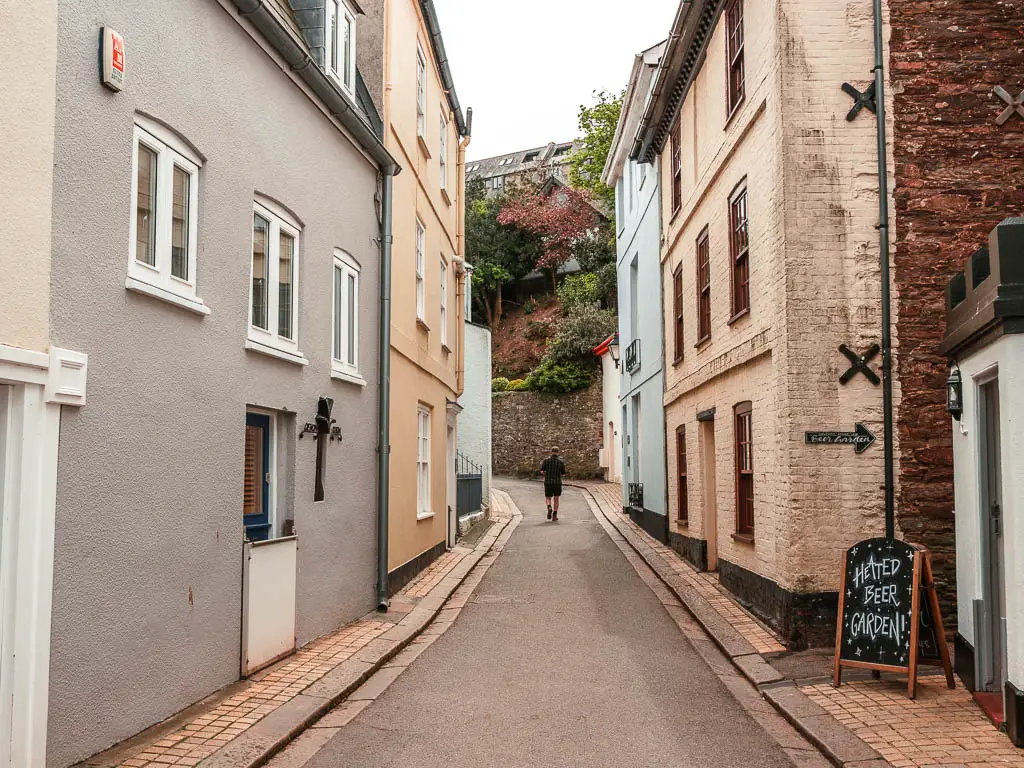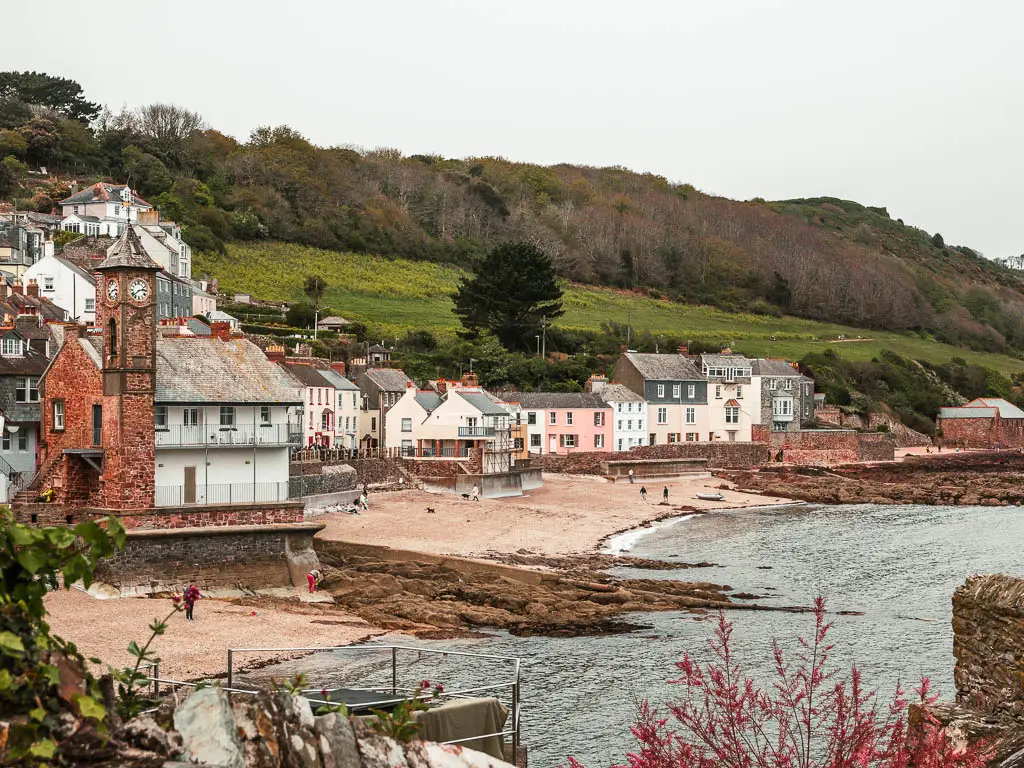 Walk around Cawsand Bay and turn left onto Pier Lane for some more uphill. This will lead you onto the trail. When you reach the junction with the steps going up to the right, ignore that and keep going straight. 
Next you will walk through a residents car park area, and straight onto the woodland trail on the other side. 
When you reach the road again, keep going straight, past a house on the right. Then at the junction where it says Bayfield Cottage, walk up the middle path to walk along another woodland trail. 
Wonderful nature
This trail leads you back onto a road, where, if the time of year is right, you will find lots of bluebells. See the photo below, those people are looking up at the bluebells. It was like a large carpet hill of them. 
Further along you will find the most interesting wavy trees. Like fairytale trees. I'm not sure I have ever seen trees like this in person. 
The mistake
A bit further along, there is a wooden sign on the left saying 'The Old Signal House' with steps leading down. I wondered what this was, maybe some interesting ruins? I obviously walked down to explore. 
Do not go down. I repeat, do not go down!
This leads you to the back of someones house. A complete waste of steps. I was a little bit annoyed to have wasted steps on this. 
Walk to the Rame Head Peninsular viewpoint
Continue to walk along the road, and you will exit the wooded area on a corner, where you will get a view across to the Rame Head Peninsular. The destination.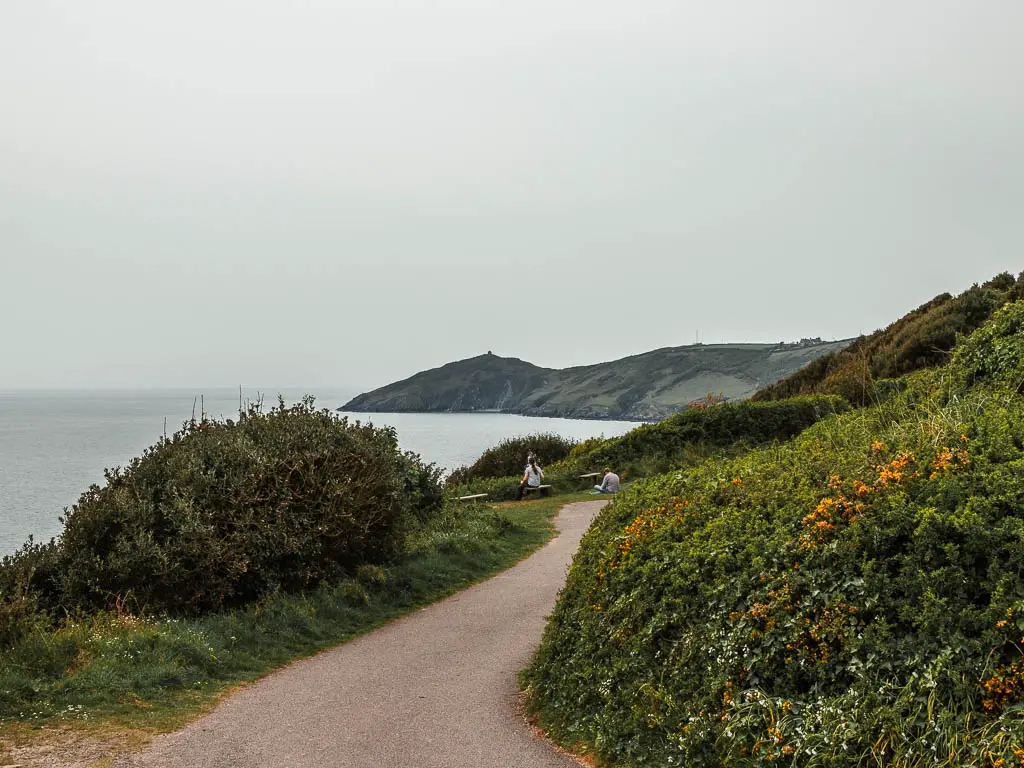 Follow the path around, through the woody tree tunnel area, to reach the gate entrance for the Rame Head Peninsular trail. I don't know if it's called this, I made it up, but this trail pretty much leads you to it, so it seems fitting. 
Walk to St Michael's Chapel on Rame Head
Now you just follow this trail all the way to the big hill and chapel you can see in the distance. It's a nice trail, with a few small ups and downs. Nothing aggressive. There was a sign on the gate warning of the wild ponies in here. I was yet to see them. There were some pony poos around, but no pony sightings yet.
As you get nearer to the big hill, you will notice the steps to take you up the top. I also noticed it was quite congested with people over there. I guess I should have expected that. 
Views from the top
At the top you, will get views all around along the coastline you have just walked, and ahead at what is to come. It was pretty cool up here, I felt like I was on top of the the world. 
At this point I was wondering if there really were any ponies around…and then I saw them. Down below in the field I would be walking to next. 
Walk along the other side of the Rame Head Peninsular 
After you have finished at the top, walk back down following the other coastline, keeping to the left trail through the field with the ponies.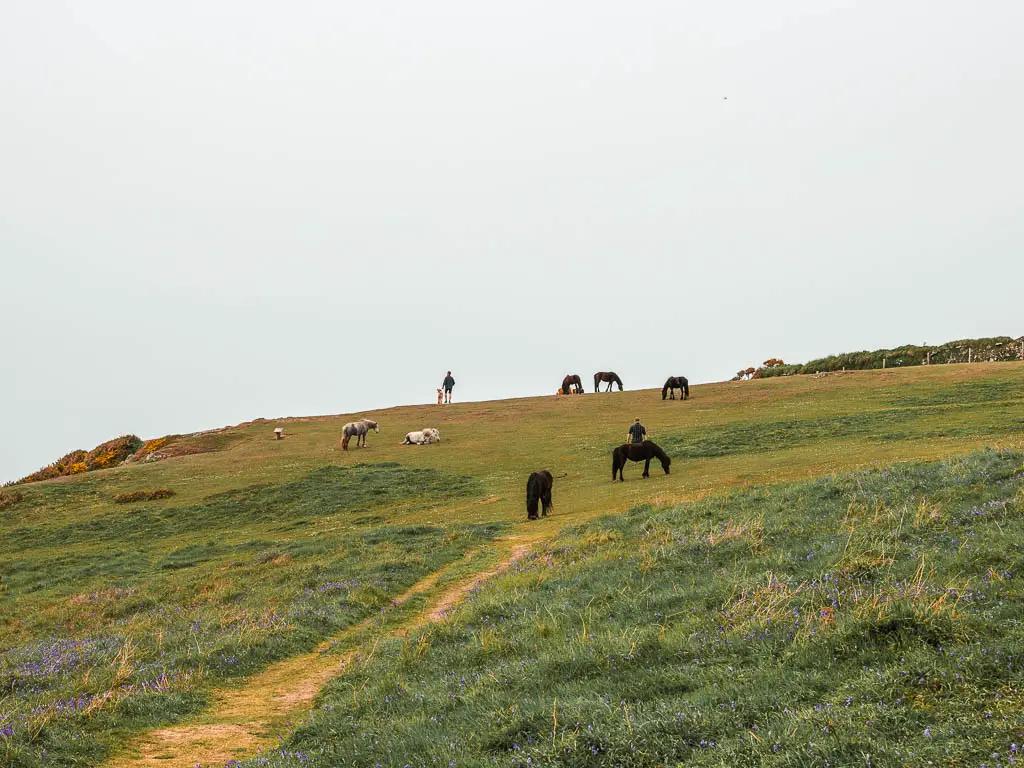 Nb. Ponies might have moved elsewhere when you are here. 
The trail will then take you over a little wooden bridge thing, and around the other side of the peninsular. 
Top Tip: Make sure to look back at the view.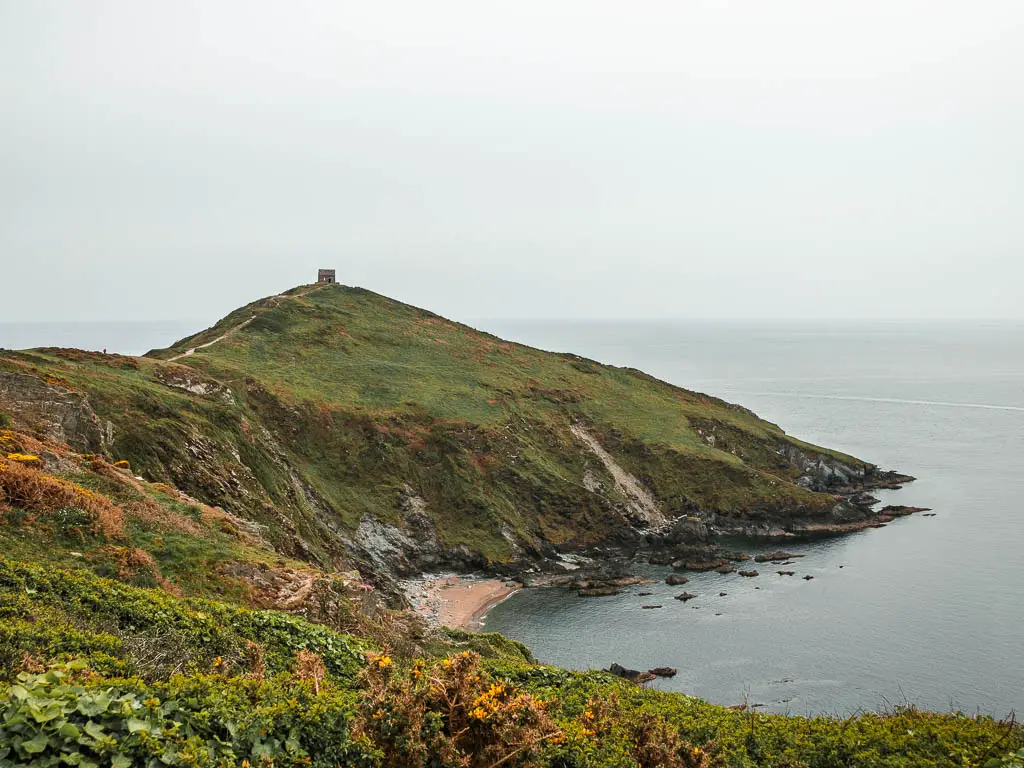 Stalking
There was a guy in front of me for this bit. Pretty close. And I was taking lots of photos. I started to wonder if he through I was stalking him. Right up behind, with the noise of my camera shutter constantly going. 
A bit further along he stopped, and I passed. He probably did think I was taking photos of him. My camera roll features him a lot.
Walk along the coastline of Whitsands Bay
Further along, you will reach a trail junction with the yellow arrow. Take the left trail to go down to the road.
At the road, there is a little zebra crossing. Go straight across it to the trail on the other side. You will first walking surrounded by bushes, and will walk past the cute Polhawn Cottage gate. 
When you reach the open area, there should be a sign pointing to the beach coast path. This directs you onto the uphill path. 
The trail will then level out, and take you through a gate and along a grassy area. Then when you reach the next junction with a gate on the left, go through that.
The trail will be level for a bit, and then it will take you all the way uphill. At the information board and bench near the top, take the trail on the right which goes onto the road.
Catch the bus or keep going to walk back to Kingsand?
This is where you can wait for the bus, a few meters to the right, near the car park across the road.
I know this because this is what I did. I know, I'm a fraud. You see, I knew that a bus would be coming past here in a few minutes. It was now late afternoon. I knew that if I kept going, and then waited for another bus in Kingsand, by the time I got home it would be evening. I was quite anxious to get back and settle myself in my new home. I needed to go food shopping etc. I knew I could come back tomorrow, and be dropped off by bus in this exact spot to finish the Rame Head circular walk. I would also then have lots of time to do more exploring in the area. 
Walk back to Kingsand via Wiggle
So, the next day I came back. The problem is, it was now raining. I knew I should have finished the walk yesterday, but oh well. Hindsight. 
Anyway, from this bit of the road, there is a road just opposite, with the car park on the right. Go along it and to the left. It was quite nice along here, with views around of the surrounding fields. Although it's a road, I didn't find it particularly busy. Actually, not a single car passed by me. 
When you reach the Wiggle old farm house, you should see a grassy trail to the right of it. Go along there. 
This next bit is nice, along dirt trail, surrounded by hedges and some flowers. You will go past a junction of sorts. I think left is private. You want to continue on the right trail. There should be a footpath sign on the tree. You will also walk past a WWII pillbox. There is actually get a view of it further back. I didn't take a photo back there as I thought the view would be better closer. It wasn't. 
The trail will lead you into a big field where you walk straight across and though a gate on the other side. 
The last bit of the walk into Cawsand and Kingsand
The next bit of trail is really lovely through an overgrown jungle like area. This is also my last photo.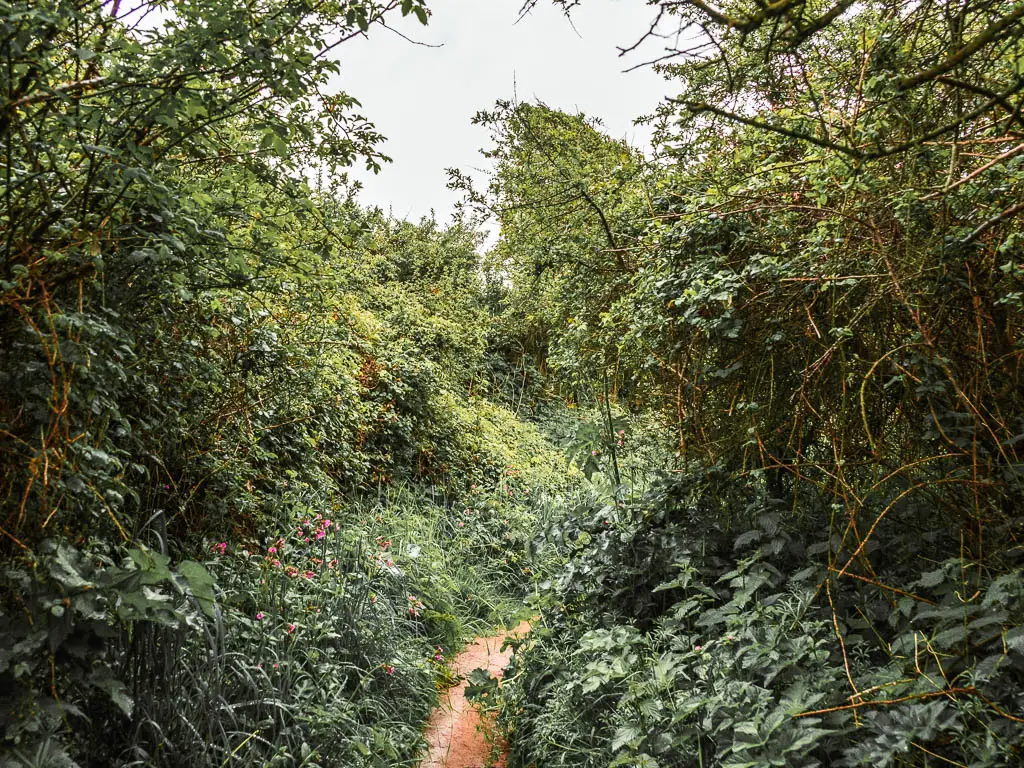 By this point, it was raining quite a bit, and I was worried for my camera. I'm a bit bummed though, as there are some nice views coming up I wish I could show you.
When you reach the road bit, with what I think is a farm house, or something of the like, go straight across the road and through the gate on the other side. 
Now walk straight through another field where you will start to get a view to Cawsand below. At the end, go through the gate, and then there will be a wooden gate on the left and a trail on the right. Take the right trail. This will lead you down to Cawsand where you get another lovely view across all the rooftops
When you reach the road, take the other one that runs parallel to it downhill. At the end of that one, if you go left, this will lead you straight back to Kingsand.
More walk ideas near Rame Head and Kingsand or similar walks
If you are staying in Plymouth, then I have guide one the best walks you can get to from there. Alternatively, see below for a few I recommend.
Cremyll to Kingsand circular walk follows the coast path along the edge of the Mount Edgcumbe Country Park, with lots of green and pretty flowers, some rugged bits, and wonderful views.
Jennycliff to Bovisand, located just across the water in South Devon. It is a lovely one through cliffside woodland, and around the peninsular to Bovisand beach.
Noss Mayo walk, located over in South Devon, a bit further along the coast from Jennycliff. This is a gorgeous one, and fairly easy. You can actually see Rame Head and Kingsand from this walk, way off in the distance.
Kingswear to Brixham isn't local, but I wanted to mention it because it also features 'wild' ponies. It's also a very long and challenging walk so not actually similar in any way except for the ponies. Wild Ponies are a big deal though, so that makes up for it. You will find this walk over in East Devon. 
Looe to Polperro walk, bit further along the coast in Cornwall. This is a stunning coastal walk between a cute village and town. A firm favourite of mine now.
Pin it for later: A Guide To The Rame Head Peninsular Walk