Wow. This coastal walk from Torquay to Babbacombe is insanely good. Way better than I was expecting. Having a look on the map, I knew I wanted to include Thatcher Point and Hope's Nose in the walk. However, to include these areas, I would need to walk on a fair bit of road. That on top of other bits of road I would need to walk on anyway. I was really hoping they would be worth it, and I can confirm, they were.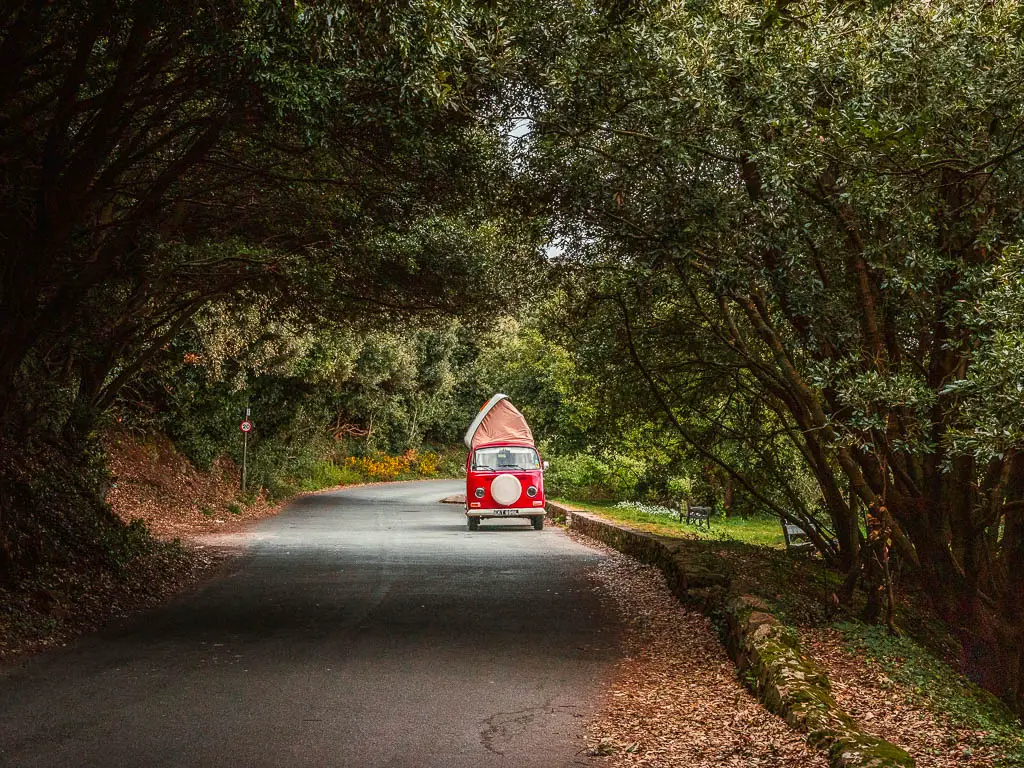 What will you see on the Torquay to Babbacombe coastal walk?
So so much. London Bridge Arch, Thatcher Rock, many other rocks, lots of little beach coves, and some lonely trees. You will walk around Thatcher Point, Hope's Nose, Long Quarry Point and Walls Hill. The trail is a mix of gravel, dirt, rocky bits, grass and open green areas, and a tonne of steps. With all those steps, you can bet the coastal path between Torquay and Babbacombe is a very hilly route to walk, classic for the South West Coast Path.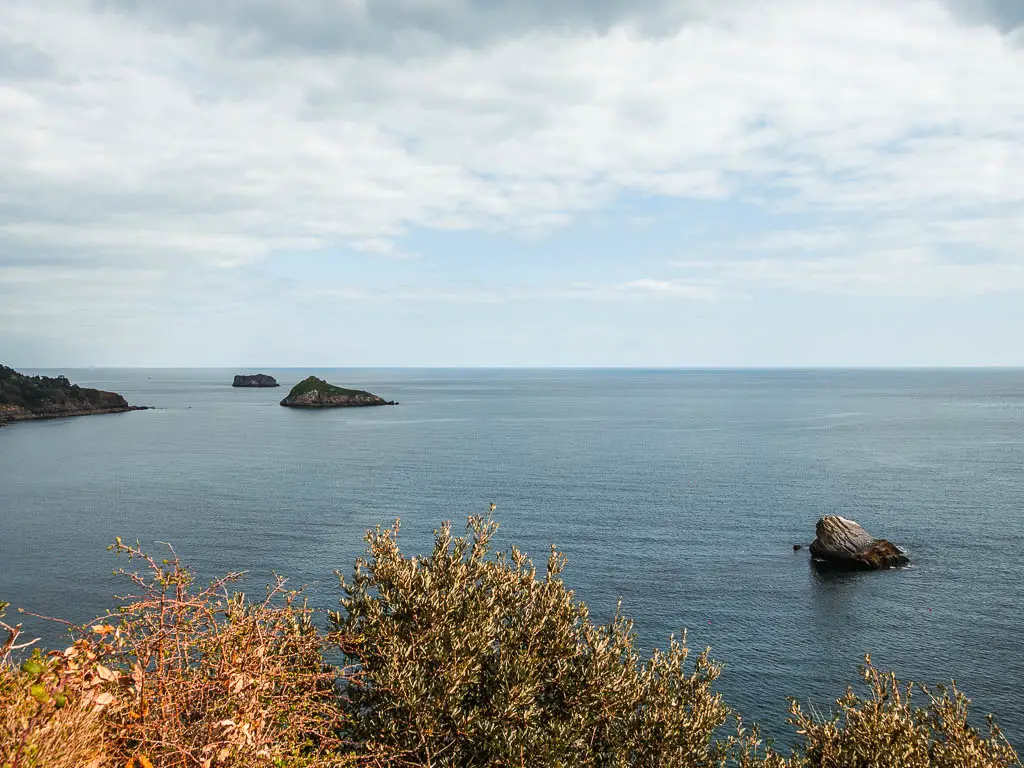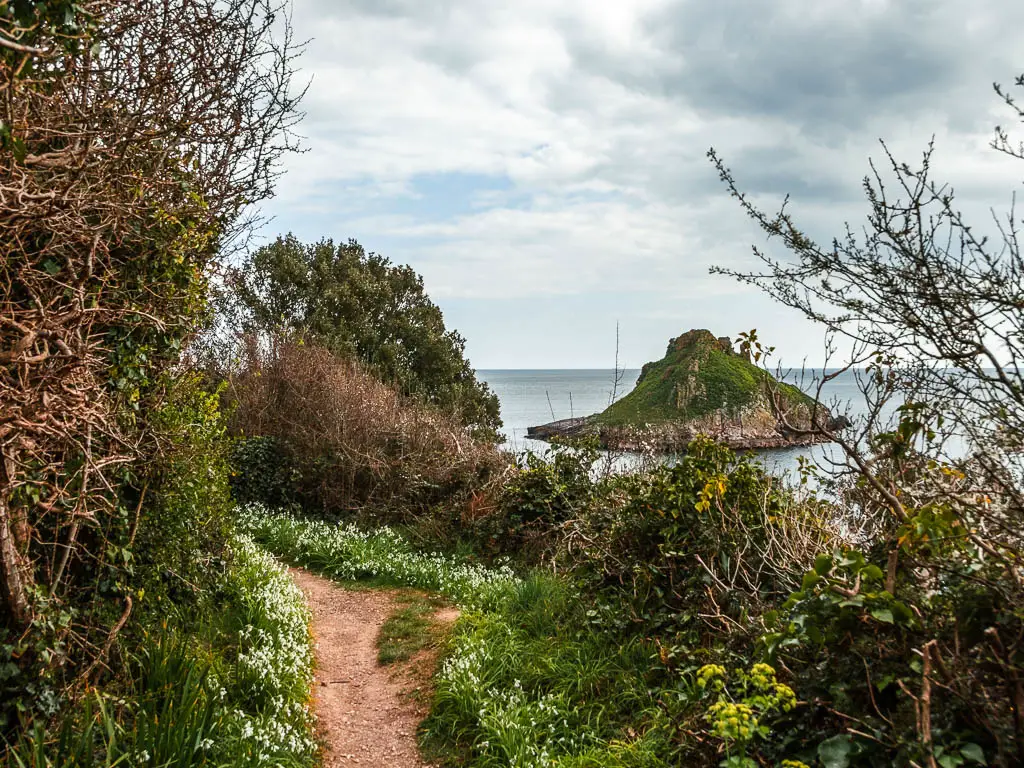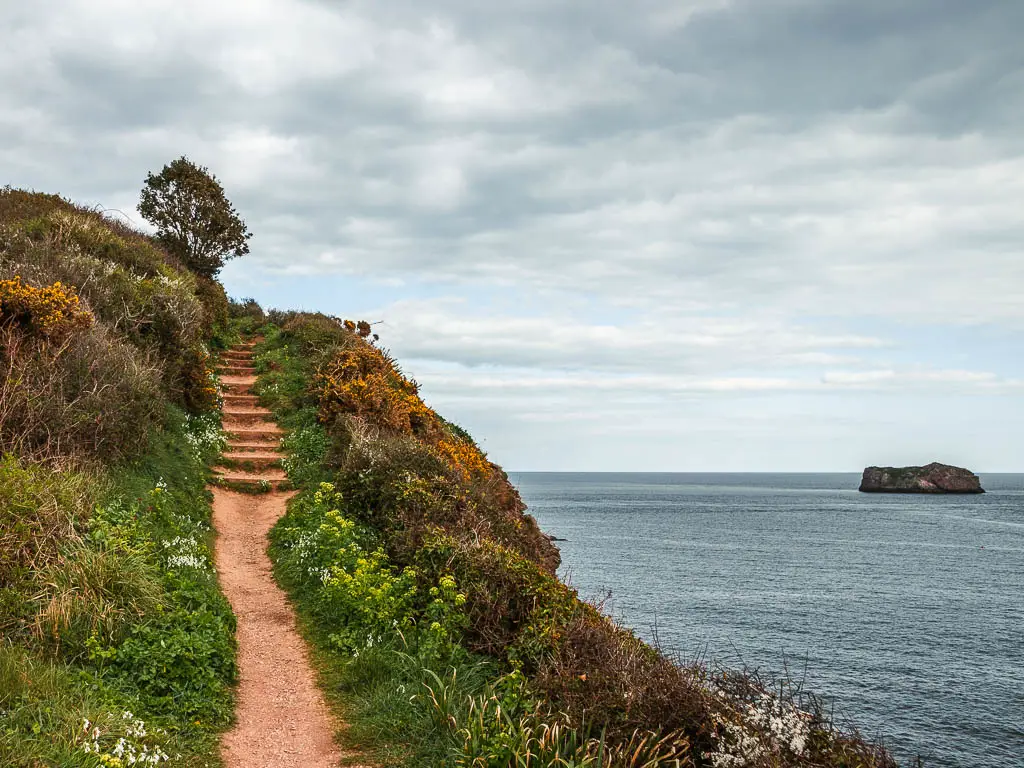 At 7 miles, it's not that long but it felt it. A mix of the hills and the fact that you will want to stop a lot to admire the views, makes it feel much longer. 
Leg update
I have now done three walks in three days since moving to Devon, and this walk in particular from Torquay to Babbacombe really pushed it. I knew when coming here, that I would need to start wearing my hiking boots again, so I went and bought some orthotics from Boots and hoped for the best. So far, I can say this is the best £20 I have spent in a while. My leg is doing good. After this walk, it was a bit twingy, but considering how much I have put it through over these three days, I'm not mad at all. 
I now have to work for the next 3 days, so that will give it some deserved rest. We will have to wait and see what happens next.
Logistics for the Torquay to Babbacombe coastal walk
Start: Torquay Harbour
Finish: Babbacombe
How to get there: Babbacombe and Torquay are connected by the number 22 bus (which also goes to Paignton). Torquay is very well connect with buses all around the Torbay area, and has a train station served by the Great Western Railway. 
Distance: 7 miles
Time: 3hours
Elevation: Highest point is 89m. With the ups and downs you will walk uphill about 507m
Difficulty: Medium/Challenging
Terrain: Dirt trail, gravel, grass, some road, lots of steps.
Time of year: Early spring
Amenities: Torquay has everything, Babbacombe has a number of cafes and restaurants, a couple of miles in you have Meadfoot Beach which has a cafe.
Dog Friendly: Some of it. There are no stiles or livestock. See tips for more details. 
Tips for the Torquay to Babbacombe coastal walk
Wear good grip shoes/hiking boots. Some parts a super rocky and steep.
There is a bit of road walking, some of which has no pavement, so you need to be careful of cars and stick right to the edge. I did this walk on a weekend, and there weren't actually that many cars passing by. 
If you have a car, and don't want to do the full walk from Torquay to Babbacombe in one go, or if you are coming with a dog, then each of the peninsula's are nice enough on their own, and you can park on the road near them. The bits I recommend are Thatcher's Green, Hope's Nose and Walls Hill. I will show you the different sections when I describe the walk below.
If you want to minimise sun in the face and eyes, walk in the same direction I did, from Torquay to Babbacombe. 
Buses run hourly on Sunday and twice hourly on the other days. Bare this in mind when you decide which day to walk on. You can check the bus times here.
Map for the coastal walk from Torquay to Babbacombe 
More walk ideas near Torquay and Babbacombe will be at the end
A Guide To The Coastal Walk From Torquay To Babbacombe 
The first stop in the walk from Torquay, is Beacon Cove. So, starting from Torquay Harbour, you need to walk around it in the direction of east, so the sea will be on you right. Keep walking right to the end, as far as you can go, then you should see some wide steps to the left. Go up these.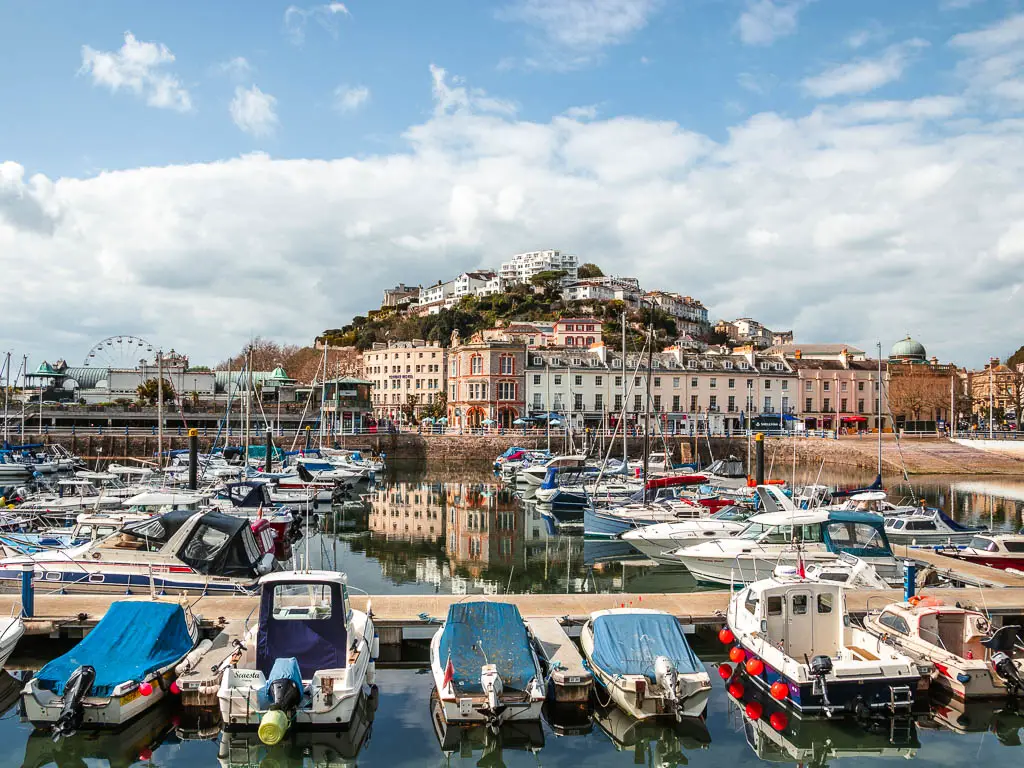 When you reach the road, there is an option just next to it to follow a path down to Beacon Cove. 
Fun Fact: In 1857, there were medical baths here for salt water immersion. By the 1900's it was known as the Ladies Bathing Cove. It was apparently a favourite spot for Agatha Christie, and she nearly drowned here aged 13.
Walk from Torquay to London Bridge Arch
Back up on the road, turn right to walk up it. A short way up, you should see a coast path sign which directs you past the Imperial Hotel. Follow the sign directing to the beach between the stone walls, and when you reach an opening in the wall on the left to go up some steps, keep going straight instead. This will lead you to the perfect viewpoint for London Bridge Arch.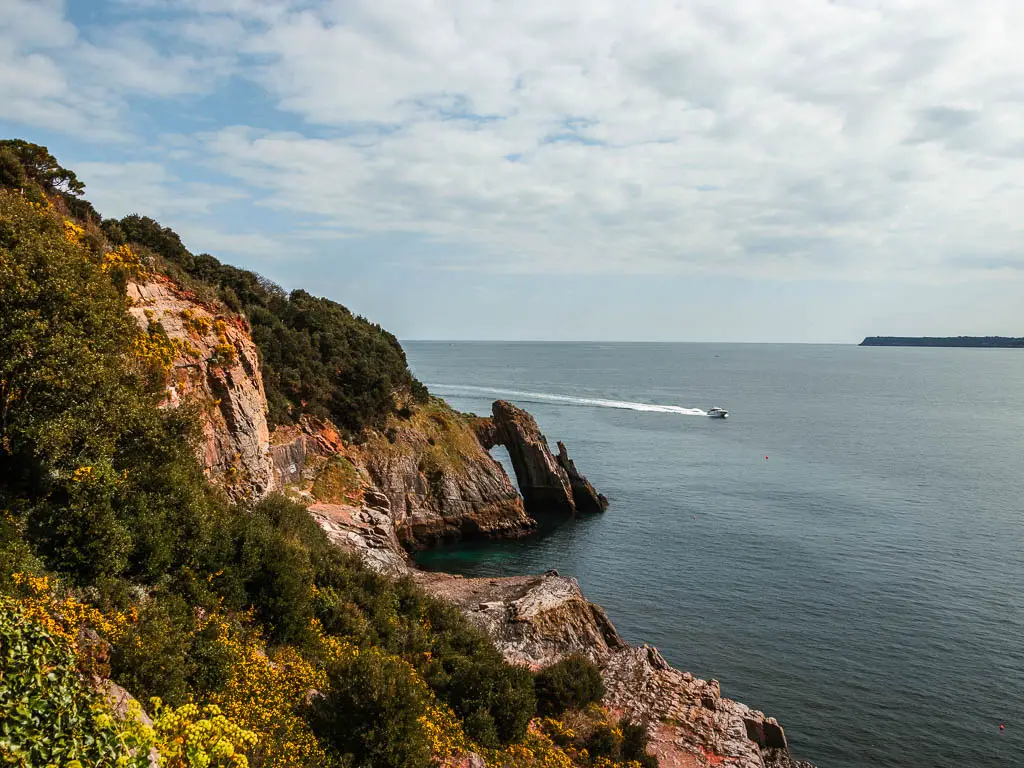 Fun fact: London Bridge Arch has been depicted in numerous works of art.
The steps
After London Bridge Arch, go back to walk up those steps through the wall. It's a short steep way up, before the path levels off with views back to Torquay. That's not the end of the steps, there are more. Lots more. Keep going and you will find them.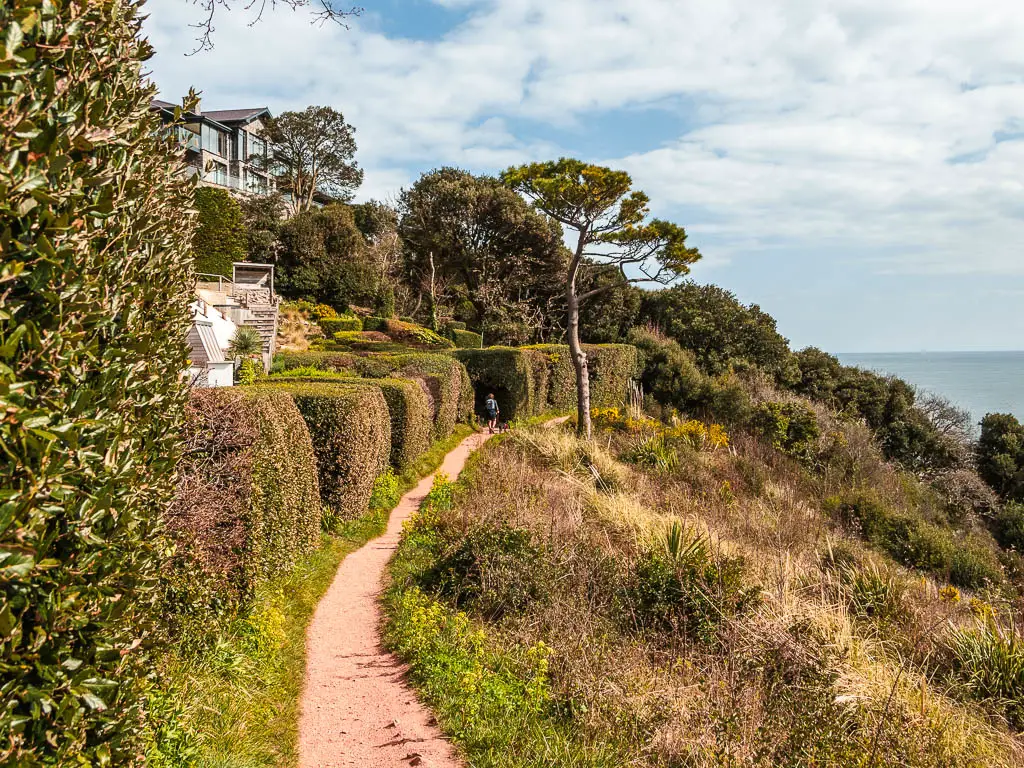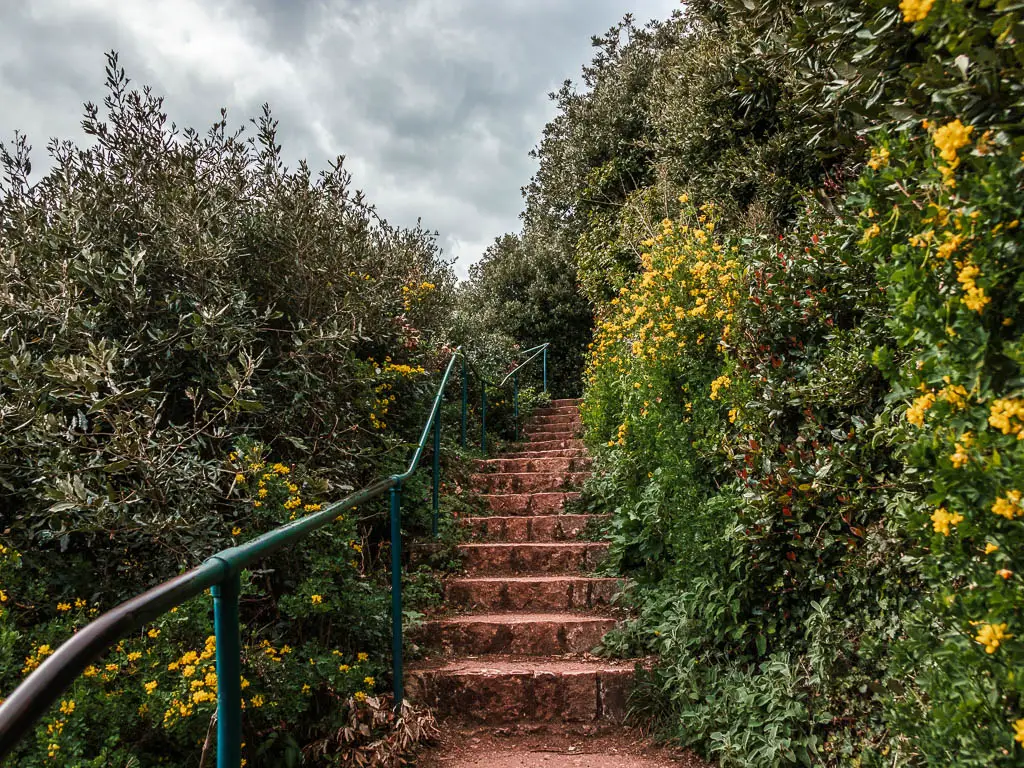 After the steps, things level off again as you walk through the lookout castle thing. I'm not sure what you call these. After the lookout castle thing, you will see a lovely lonely bonsai looking tree.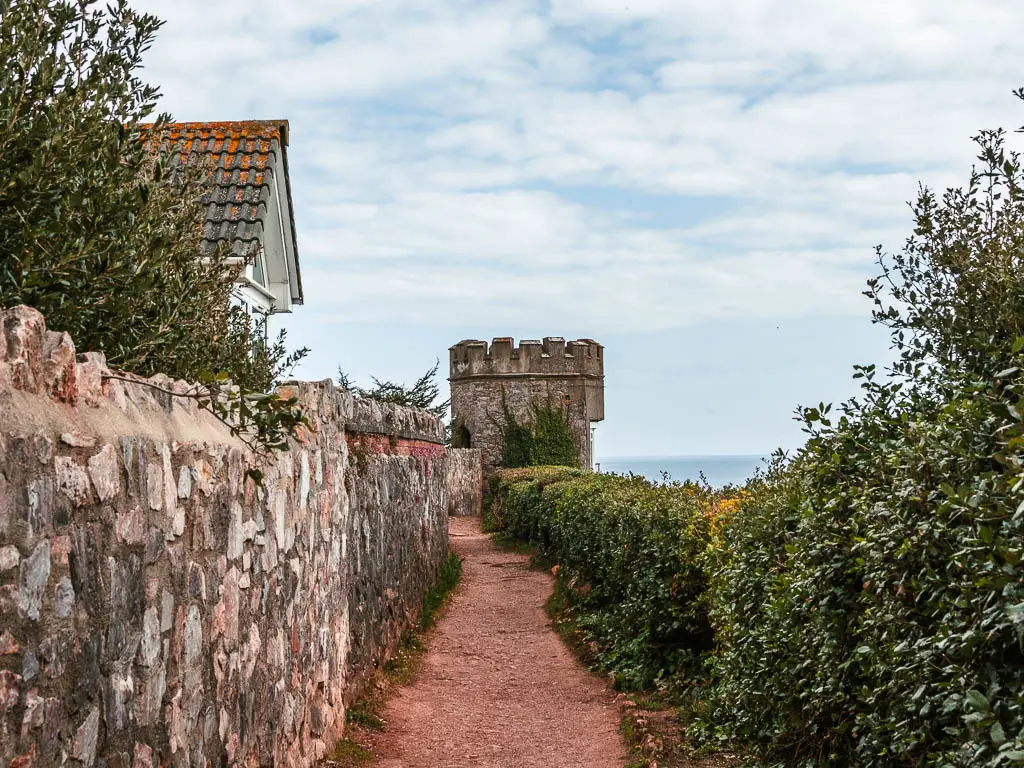 After the tree, the path will take you uphill some more, and through an archway to an open green area with views out to the rocks. West Shag and East Shag rock.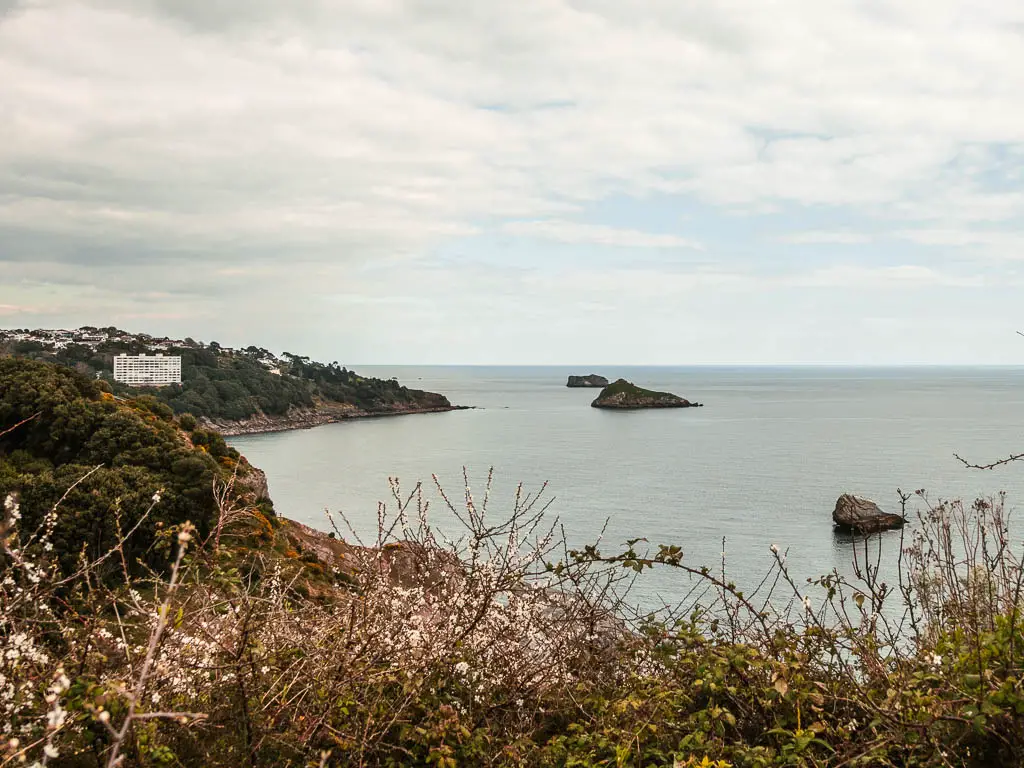 Walk to Meadfoot Beach
Keep to the edge of the green, and then through the car park, and down the steps on the other side. 
At the bottom, there is a small dirt trail to the right of the road. Take this trail. Along here, the trail gets rocky and steep (which is why I recommend hiking boots) and you get a gorgeous view back to the cliffside. The last little bit to reach the top is super narrow and steep, but when you get up there, you will get a lovely view down to Meadfoot Beach.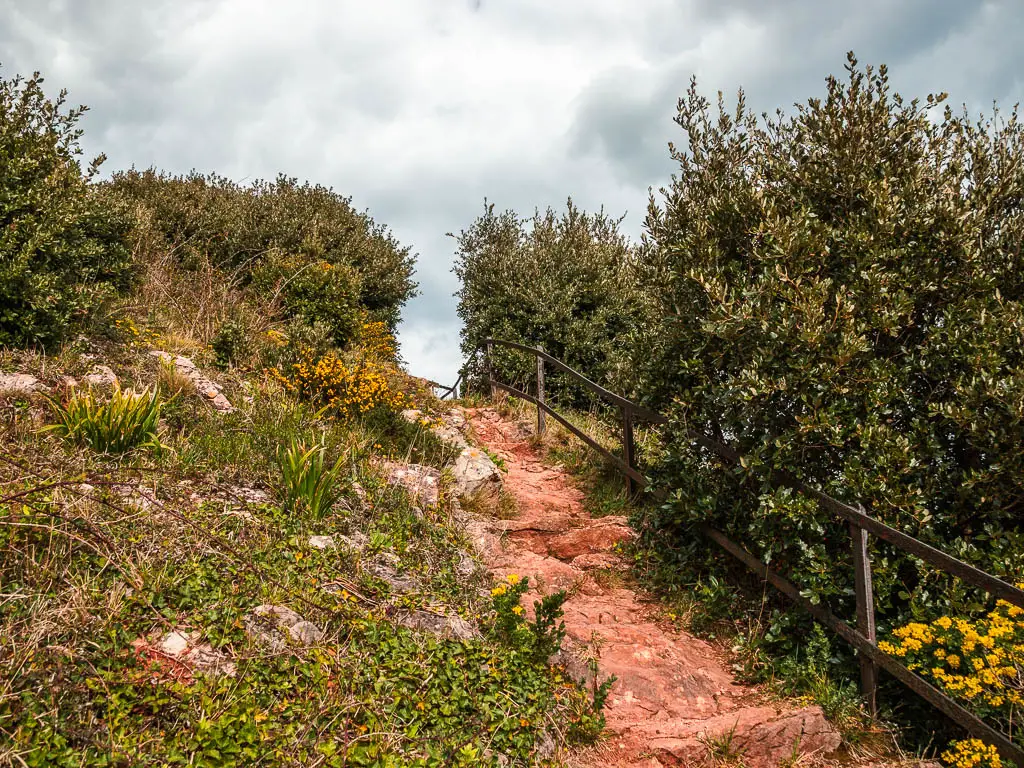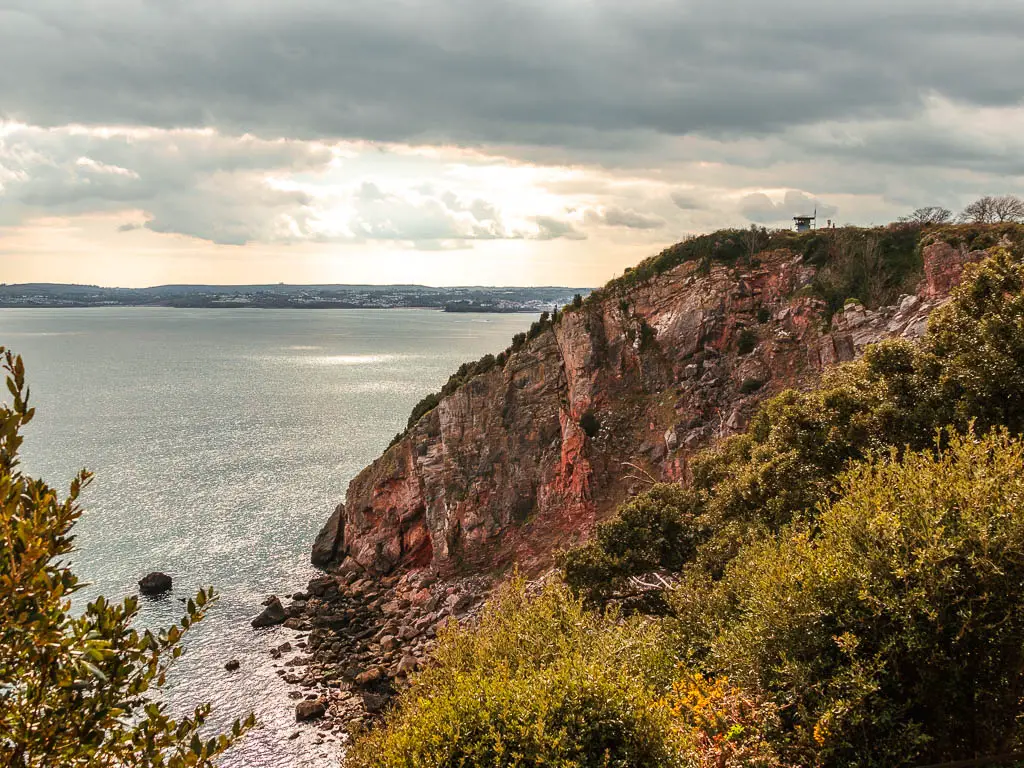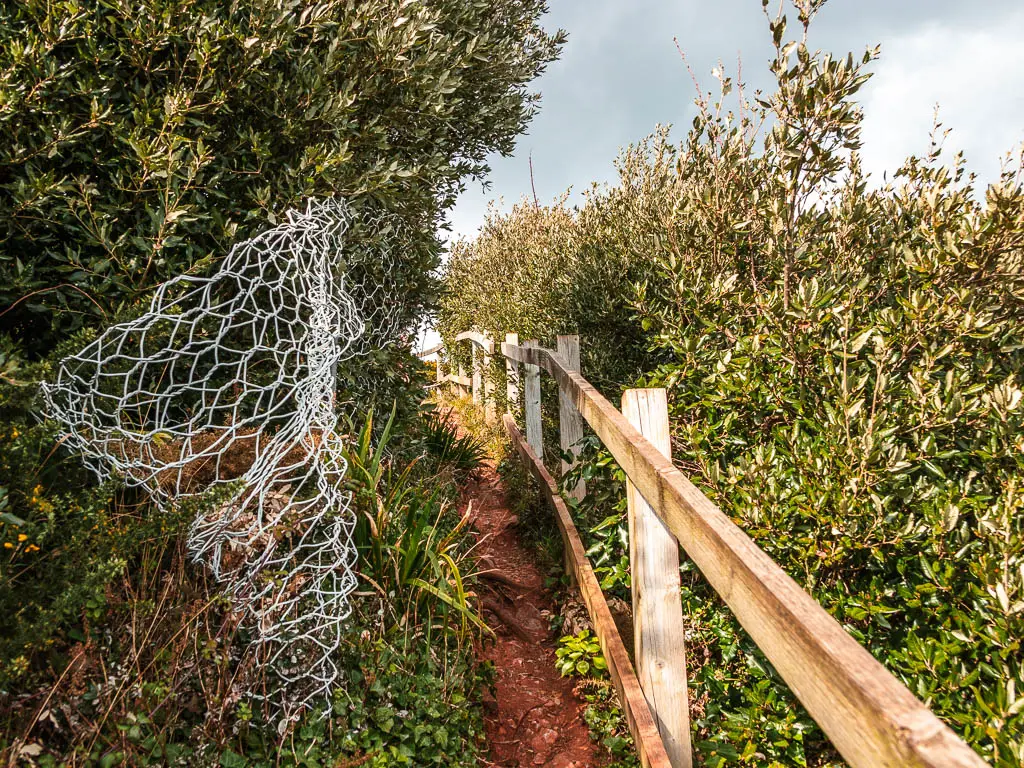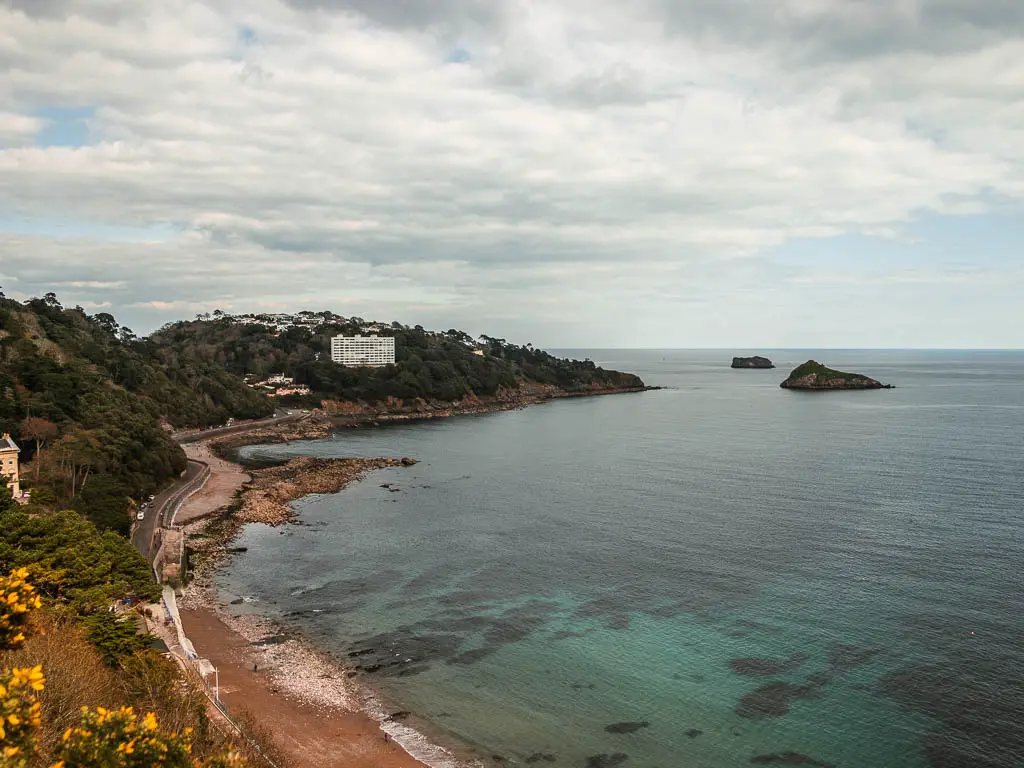 The path continues down a steep rocky bit to take you to the road, where you turn right. A short way down, you should see a viewpoint sign on the right. It's a dead end, but worth a look. 
From the viewpoint, the view down to Meadfoot Beach isn't as good as higher up, but the view to to cliff face looking back is great. There were a few climbers when I was there. That was a sight to see. 
After the viewpoint, go back to the road, and keep going down, then at the big road curve, go straight ahead and through the arch. This will lead you down some steps to the road again and Meadfoot Beach. 
Walk from Meadfoot Beach up the hill
There is a walkway down at beach level if you want to get off the roadside. Whichever you choose, keep going straight. Keep an eye out for the trail which is very well hidden. It's on the left of the road, and you can only really see it if you look back. 
When you find it, go up it. This bit is quite steep as you zigzag your way up the hill. Everything will be under tree cover for a bit, with the occasional peak through the trees to Thatcher Rock out in the sea. I was concerned about this bit when looking on the map, as it runs next to what looks to be a big road, but it wasn't bad at all. I didn't notice the road much, and the occasional tree framed view of Thatcher rock was quite impressive. 
There are a few junctions up here. The first one is a T-junction. Left takes you along a wall. You go right. 
The next one is a fork. I didn't know which one to take at the time, as there was only one trail on my map. I picked right. This turned out to be correct.
I think there is one more fork a bit after. Take the right one again. Basically always go right. You will eventually come out of the trees onto a green.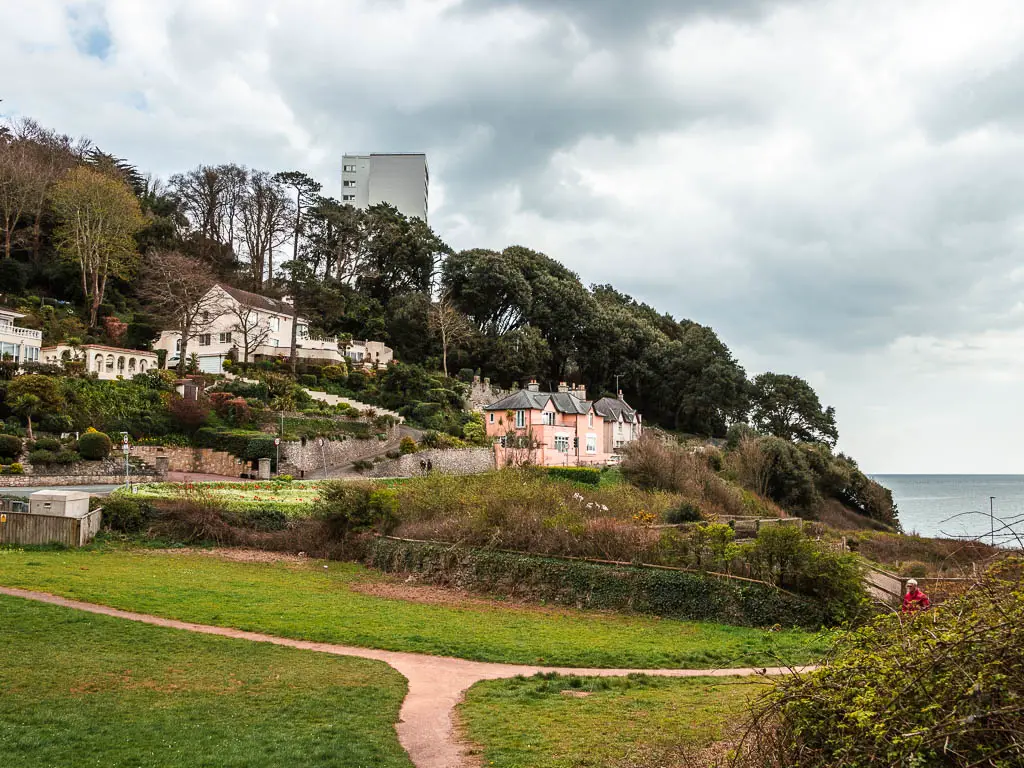 Walk to Thatcher point 
This next bit is one of the sections I recommend coming to if you have a car and don't want to do all the walk. There is a car park at the bottom of the trail that leads you to it (Kind of. There is some road to walk on). You might be able to park closer to Thatcher Green, but you will have to have a look, I can't recall seeing parking. Alternatively, park at Hope's Nose (see Hope's Nose section below for more details).
For the walkers, from the green, turn right to walk on the trail which will lead you to the road and car park (don't worry if you missed the trail, if you go to the road, it will lead you down to the car park).
Through the car park, there is tiny little trail behind the bench, where you will be faced with more steps. Don't worry, it's only a short way up. At the top, you will reach the road where you turn right. This is one of the bits of road without a pavement, so be careful. You do get a fantastic view back down to Meadfoot Beach from here though.
Keep walking along the road to reach the green where you will get a lovely framed view of Thatcher Rock. I was blown away when I saw this, and didn't yet realise it was about to get even better. 
Walk around Thatcher Point
There is a trail sign post here pointing to Hope's Nose, but that actually comes later. It's confusing. The first bit is Thatcher Point. Follow this trail along a super pretty path, with more peaks at Thatcher Rock through the bushes and trees. The flowers were just starting to show, so I think it will be even better further into spring/summer.
When you reach the junction, turn right for the grand reveal. 
If you look left, you will see where you get to go next.
After Thatcher Point, go back along the trail to that junction, this time go right. You will now be walking on a nice bit of hillside trail with a lovely view ahead and back, before more steps. The dreaded steps. 
Take the steps up to reach the road.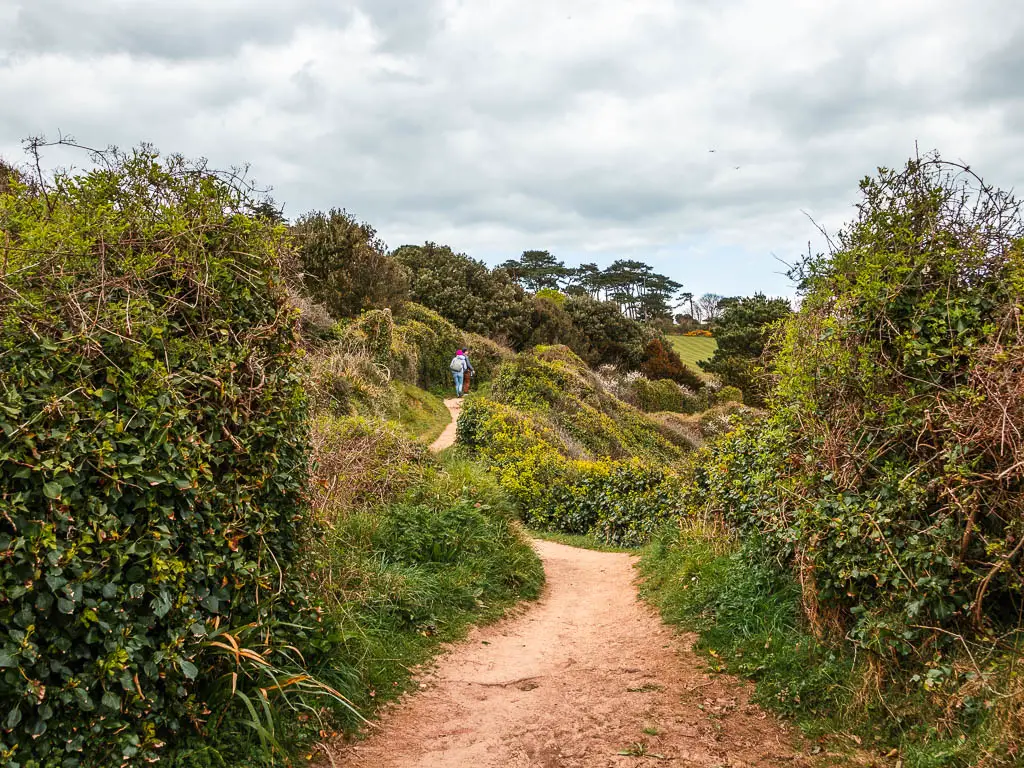 Walk to Hope's Nose – The halfway point on the coastal walk from Torquay to Babbacombe
At the road, turn right. I noticed people walking down the edge of the road, but this isn't necessary. There is a trail on the green on the other side. 
Keep going up, and you will see the entrance way to Hope's Nose on the right.
At the start of the trail, there were a bunch of cars parked on the side of the road. I figure this is a place you can park if you want to walk to Hope's Nose, or back to Thatcher Point.
Walk around Hope's Nose
For Hope's Nose, there is one way in and out. So try not to think about that when you make your way down the steep trail. You can pretty much explore whichever way you want when down there. It's a big open green. I decided to keep to the right, and work my way around. 
If going the same way as me, first you will have a lovely grand view of the cliffs and beach coves to the right, then as you keep going down it will seem as if the trail will take you right over the edge ahead. 
It doesn't. But it feels like it could. 
Next, the walk along the bottom is an undulating path to lead you to the viewpoint on the other side, where you can see all along the coastline and to Babbacombe, the end bit of the walk.
When you have finished at Hope's Nose, make you way back up that very steep trail. Good luck. 
Hope's Nose to Bishops Walk
When you reach the road again, you should see some steps to the path on the other side. Go and walk along it. Although this is another bit of trail right next to the road, it wasn't any bother at all. It seems not many cars drive along these roads. Or I just got lucky. 
It's a nice bit of trail, with more views, and leads you down towards a residential area with Tudor houses. 
When the trail reaches the road, straight across, there is a sign pointing you to Bishop's Walk. Follow it.  A short way along, there are actually 2 trails. To the right and left of the white wall. Take the left one for the start of Bishop's Walk. 
First the trail takes you alongside a stone wall, and then a wooded area with a sort of mystical fairytale vibe. You will then start to get slithers of view to the pointy rocks. I was excited about these rocks. They are just so pointy. 
Take a detour?
Along the trail, there will be an option to turn right to go downhill (it's signposted, so you shouldn't miss it). I thought about going down there. Then I thought about how time was getting on. It would be sunset soon. I also knew that from Babbacombe, I needed to get 2 buses to get me home. I started to think more deeply now. Each bus runs once an hour (it's a Sunday). Total bus journey time between the two is 1h30min. If I was really unlucky with timings it could take me 3.5 hours to get home, plus a big hill to walk up back in Totnes. This was the first time I had calculated it. I was filled with dread. I decided to not go down and have look. Plus, my leg was doing good, and I didn't want to push it any more than I needed to.
I kind of regretted it though. I feel like there would be a great view of the pointy rocks. If you decided to go have a look, then let me know what it's like!
Walk to Reigate Beach and Anstey's Cove (and the pointy rocks)
On the main trail, it will lead you back to the road again. Just before the road, to the right, there is a trail which will take you down to Reigate Beach, Anstey's Cove and a great view of the pointy rocks. I almost didn't go down, but after missing out the previous detour, I decided I wouldn't miss this one.
Just a note, Reigate Beach was actually closed at the time. Something about rockfall.  But the rest down there is nice. Also, just to warn you, it's a steep downhill…which you will need to walk back up again. 
The final stretch of the coastal walk from Torquay to Babbacombe
The end is near. If you took the detour, go back up to the road and continue the walk right down it, and just before the bridge, you should see a sign on the right pointing to Babbacombe. Follow this, towards some more steps. The last steps. This will lead you up to Walls Hill, which is a lovely big green area. 
This is another place you can park nearby, if you just want to do a small section of the walk.
If you keep to the edge, you will walk by some nice viewpoints, and it will lead you to the Babbacombe Coastal Path sign post on the other side. 
Views…..
Past the signpost, on a clear day you will get an insanely far reaching view along the coastline as it curves around. I wondered what bit of coast I was looking at. Maybe Exmouth? I stood facing the farthest point I could see and opened my map. I kid you not, I was looking at Weymouth. If you don't know Weymouth, look on Google Maps and see where it is relative to Babbacombe.
Walk to Babbacombe Beach
You should see a trail along here somewhere. It looks like this: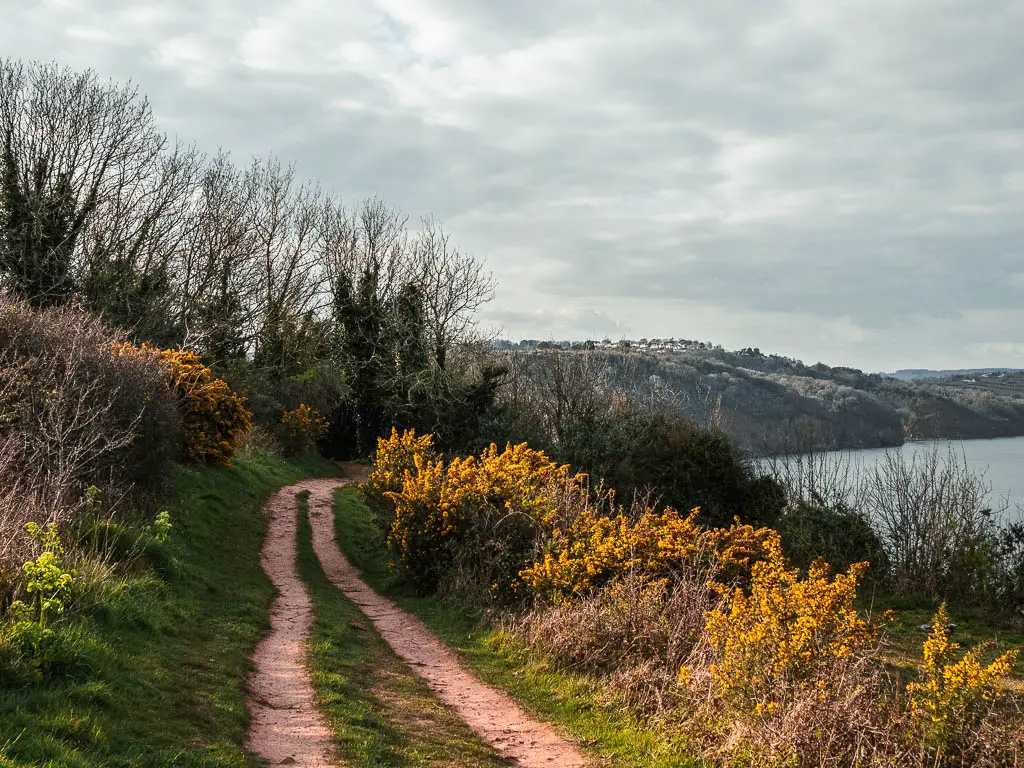 This leads you into the woods and downhill some more. I think there is a road coming up. I can't recall exactly. But if there is, turn right on it, and then further down there should be another trail. Basically, just keep going downhill.
If you want to walk down to Babbacombe Beach, then just before the archway through the trees, turn right and follow the trail all the way down. 
Or not…
I didn't walk to Babbacombe Beach. I looked at the bus timetable, at the two buses I needed to get and what times they were at. The next bus from Babbacombe back to Torquay and Paignton was in 15min. Remember they are hourly. Then my connecting bus would be 30min after my arrival in Paignton. If I didn't make this bus, then I wouldn't get home until 9ish. 
I was getting that bus.
I wasn't too sad about not going down to Babbacombe Beach, as the walk so far from Torquay had satisfied me enough.  Soon I would be back for another walk I have planned. 
Just a warning. The way up to the main road is probably the steepest bit of the walk so far.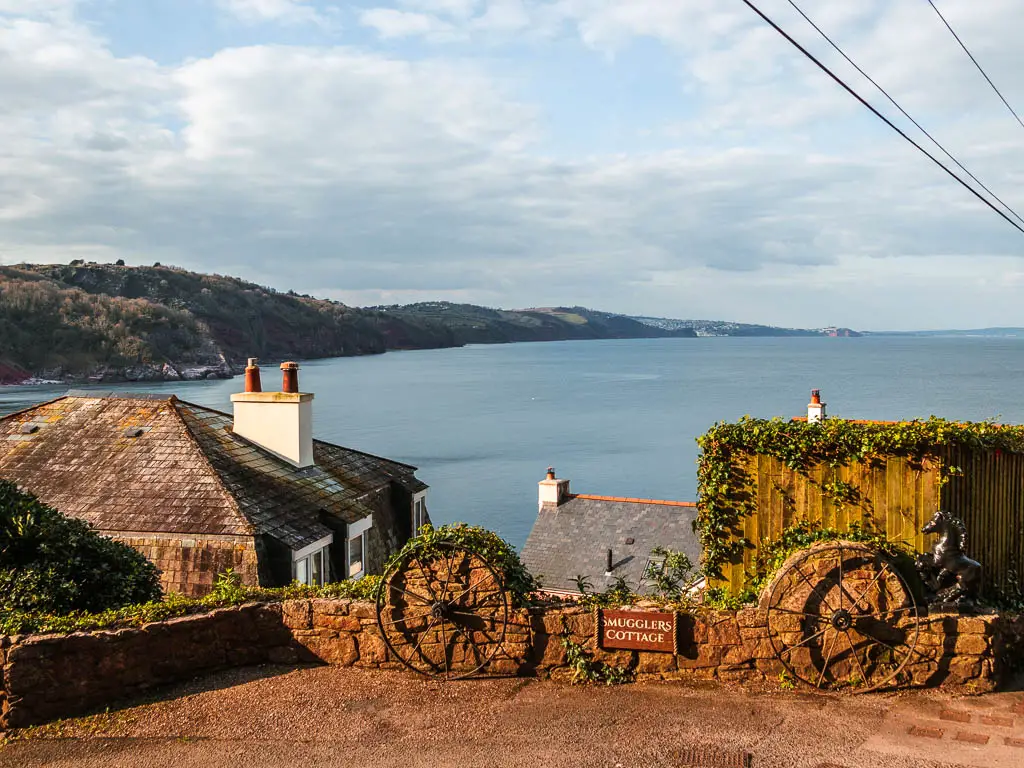 More walk ideas near Babbacombe and Torquay
You can read my guide on the best walks around Torquay, or for a quick look, see below.
Babbacombe to Teignmouth via Shaldon walk – The section I came back for. It's very very hilly, with a lot more woodland than you would think. This one has a few secluded beach coves you can venture onto.
Paignton to Brixham walk – A lovely bit of coast path between two popular tourist towns. Some of it is right next to the railway, and if you time it right, you will see the steam train pass by.  
Torquay to Cockington walk – This is a short and easy walk inland to a cute, quaint, chocolate box village and around the lovely country park.
Teignmouth to Dawlish Warren walk – Teignmouth is a short train journey up the coast from Torquay, which will get you to this great walk. It's pretty easy, and takes you an a path right alongside the railway track with a backdrop of dramatic red cliffs. You can also wave at the trains passing by.
Pin it for later: A guide to the Torquay to Babbacombe Coastal walk