The coastal walk from Paignton to Brixham takes you past a mix of big beaches and small hidden coves. There are flat sections, hilly sections, some woodland and steps. For a good chunk of the walk, you will be walking alongside the railway track, and if the time is just right, you will see the steam train pass by.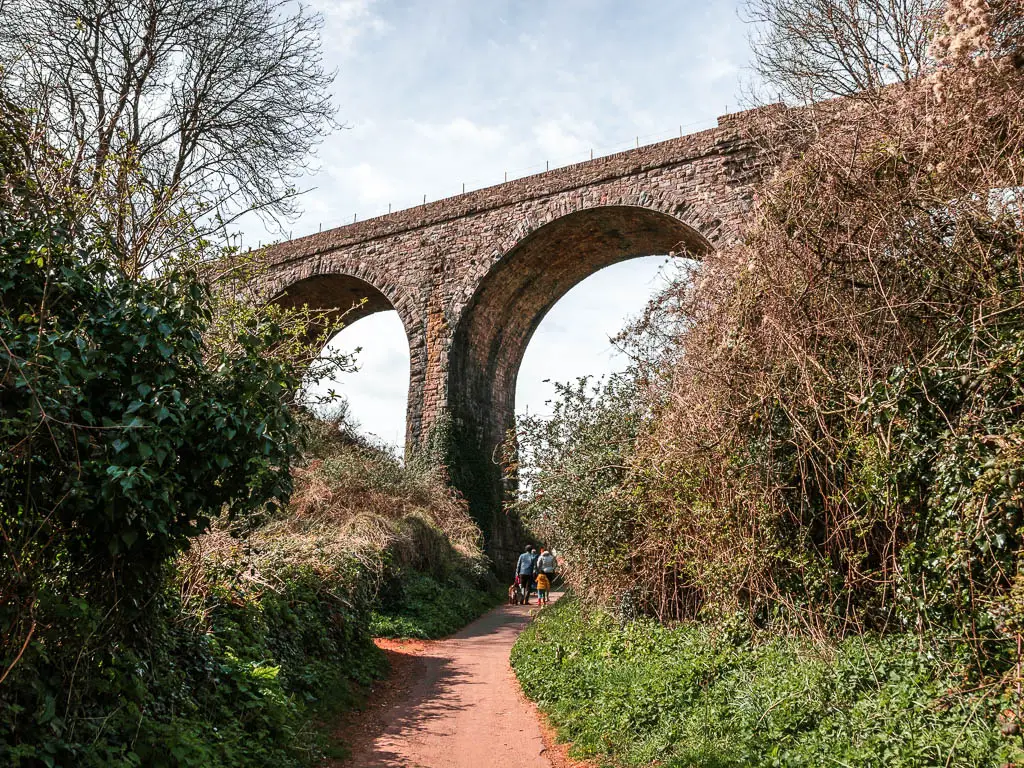 Another thing you will notice, is the colour red. From the soil to the cliffs to the sand.  This is due to the presence of iron chemicals which are found in deserts only. But where is the desert? Well, it used to be one. Going back to the triassic period over 200 million years ago. 
What was the coastal walk like from Paignton to Brixham?
I really enjoyed this walk. It's a while since I have walked by cliffs, so that was always going to make me happy. Overall, the route is quite mixed. Some sections are a bit more crowded, other sections calm and peaceful. Although sunny, it was a very cold day and we are not quite in high season yet. So I suspect the coastal walk between Paignton and Brixham could get quite busy at more popular times of year. You are essentially walking between two popular tourist towns, and there are some holiday parks en route.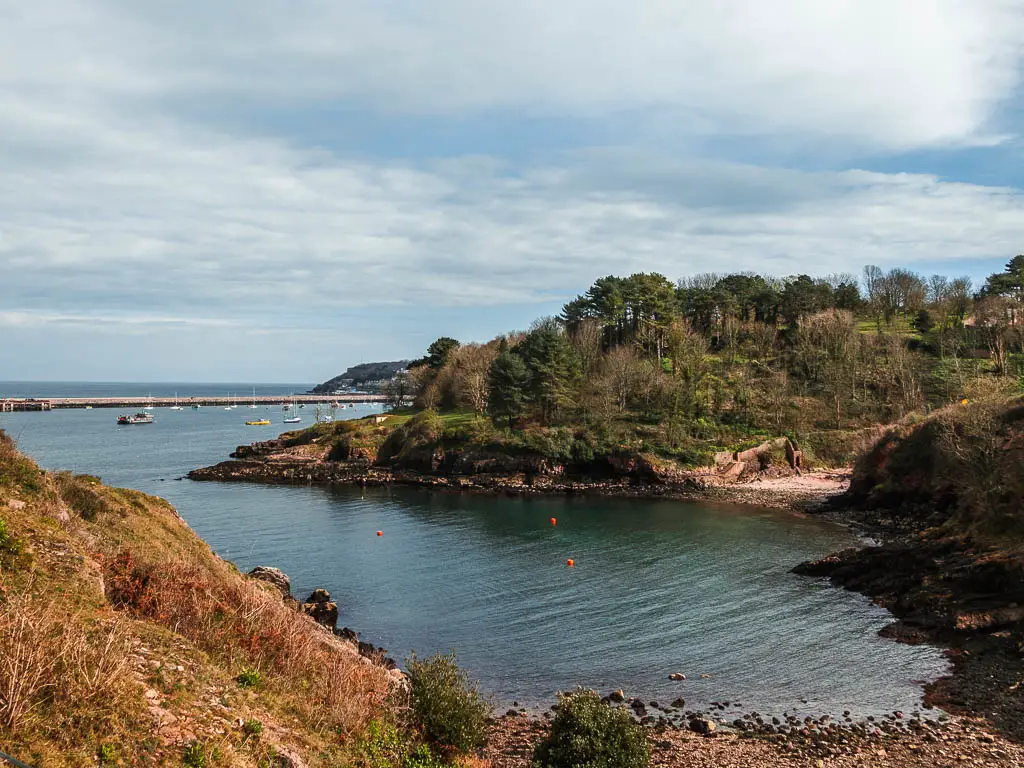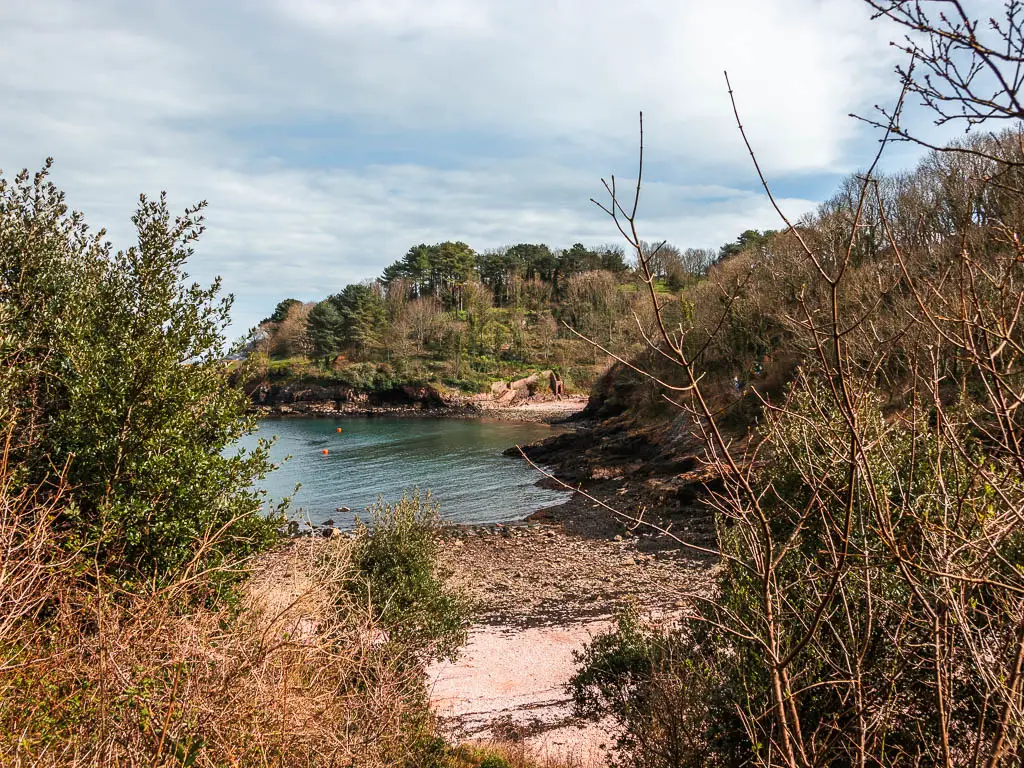 It's a short walk, but feels longer due to the hills. I also stopped quite a lot to enjoy my surroundings, which probably made it feel longer. My legs were unusually tired at the end, which surprised me due to the short distance. 
Logistics for the Paignton to Brixham coastal walk
Start: Paignton sea front
Finish: Brixham
How to get there: You can get to Paignton by bus from Torquay, Totnes (Gold), Newton Abbot. Brixham and Paignton are connect by the number 12 bus (which also runs to Torquay and Newton Abbot). 
Distance: 5.8 miles
Time: 2h30m
Elevation: Highest point is about 60m. You will walk uphill a total of about 190m
Difficulty: Easy/Medium 
Terrain: Asphalt, dirt trail, some road, sand, pebbles. 
Dog friendly: Yes – No stiles, a few long stretches of beach, a few open green spaces, no livestock. 
Amenities: Anything you need in Paignton and Brixham. Cafes also at Goodrington Sands and Broadsands Beach along the way. Lots of viewpoint benches. 
Time of year: Early spring
Tips for the Paignton to Brixham coastal walk
If you aren't already staying in Paignton or Brixham and plan to get a bus in, a day bus ticket might be cheaper than buying 2 singles (it depends how far you are travelling from, and it covers you for as many bus journeys as you want all day in the Tobay area. You can ask on the bus the coast of a single vs a day pass.
If it's sunny and you don't want the sun in your face, then walk the other way from Brixham to Paignton. Saying that, finishing at Brixham is nicer.
If you prefer less people, then try not do to this on a sunny weekend summers day. 
There are less buses on Sundays, so bare this in mind when planning the walk.
Map for the Paignton to Brixham coastal walk
More walk ideas, and links to guides, near Paignton and Brixham will be at the end
A Guide To The Paignton To Brixham Coastal Walk
Starting from Paignton sea front, turn to walk south (sea to your left) and keep going to the other side of the beach and through the Harbour Light building, where you will pass by Paignton Harbour.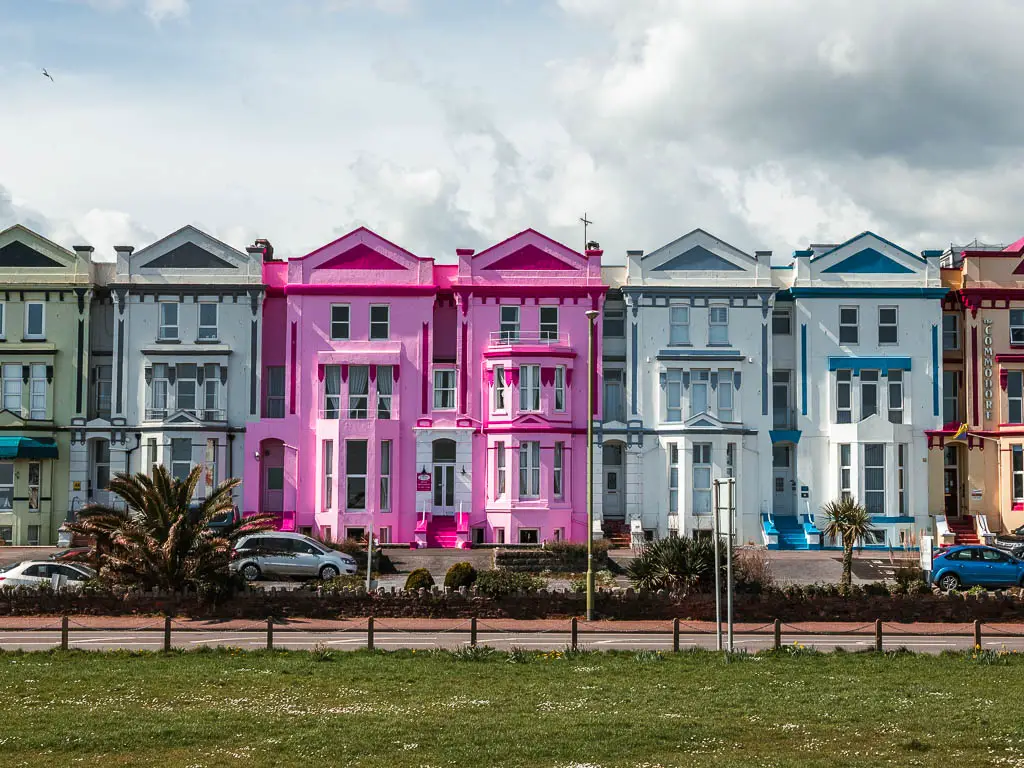 Next, go up to the road, and continue following the harbour around where you will reach the first beach cove, Fairy Cove. You can go down to it, and a short way along the beach there are steps back up, or you can stay up top. Whichever you prefer. 
Leave Paignton to walk towards Brixham
So far, the walk out of Paignton had felt a little chaotic. If you have been to Paignton before, you will know. Right up until Fairy Cove, it was all quite busy and I didn't yet feel at one with nature. 
After Fairy Cove, the coast path will then take you through a small garden area, then when back on the road, look out for a trail on the left which will take you into another garden area. 
It was around here that things started to calm down. Less people, no car noise, and nice views back down to Paignton and all across the coastline as far as Torquay. 
Walk to Goodrington Sands
Following the path around the garden, you will have choice to make. There are basically three trails all in the same direction, but at different levels. Any of them will do. I picked the middle. This bit is pretty, along a well kept trail with lots of flowers, and soon a view down to Goodrington Sands. 
At some point before then end, you will need to make you way onto the bottom trail. There should be some steps somewhere to get you down there. The bottom trail will take you right down to the beach. 
At Goodrington Sands, you can walk on the beach, or the path next to it which will be lined with beach huts. 
This looked like a place that will be very busy during summer. Apart from the lovely long stretch of sandy beach, there is a waterpark and lake with bumper boats.
Walk along the steam train railway tracks
At the other side of the beach, you will go onto road briefly, but look out for the trail on the left off the road. Follow this, where you will now be walking alongside the railway track for a while. I willed a steam train to come by. It didn't. 
Over the hill, you will reach a trail signpost where you can continue straight to continue the walk to Brixham, or go left to see some more coves. I decided to go look at the coves…to see what there were about. 
Saltern Cove and Waterside Cove
Over the railway bridge is a lovely green area, again with nice views back towards Goodrington Sands. If you walk to the bottom, of the green you will find Saltern Cove and Waterside Cove.
Fun Fact: 280 million years ago, this whole area used to be desert as far as the eye can see. The rocks and cliffs are up to 450million years old.
Walk back to the coast path and the steps 
Back on over the railway bridge and back on the coast path, the trail then goes down lots of steps.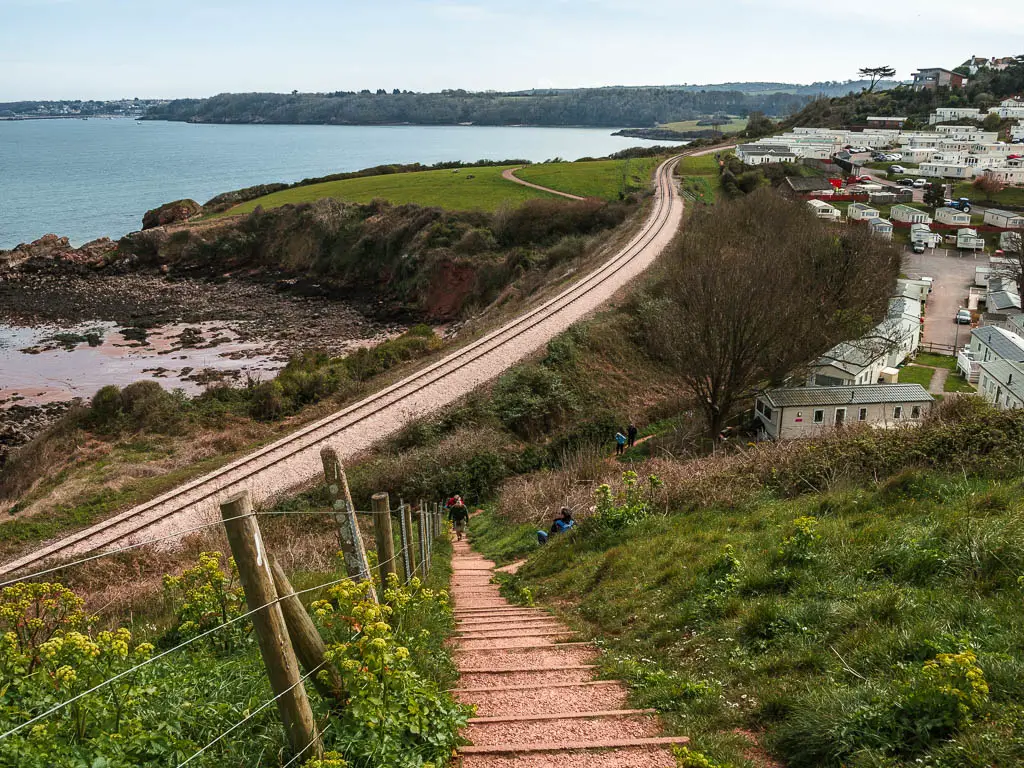 My original plan was to walk from Paignton to Brixham and back again. Seeing as it's a relatively short walk. However, after seeing these steps and the people labouring up them, I decided that I would probably instead get the bus back. I was quite chuffed at myself for deciding to do the walk in this direction from Paignton to Brixham. I didn't have to walk up those steps….I didn't know yet that my time would come. 
Walk to Shell Cove and maybe Broadsands Beach 
At the bottom and along a bit more trail, you will pass an underpass for the railways line. You can either continue on this main trail, or go under the bridge. Under the bridge will lead you to another nice green area and a trail down to Shell Cove and maybe Broadsands Beach.
I say maybe Broadbands Beach because I got confused. I went and had a look at Shell Cove thinking it was Broadbands Beach, and couldn't see a way off it. Now that I look on my map, there was another trail somewhere to take you to Broadsands Beach. If you find it, you could avoid the steps which are about to come.
Walk to Broadsands Beach the other way
Going back under the railway bridge to the other coast path, you will be presented with the first lot of steps, warming you up for the big steps which are to come. 
At the top, and along a bit more trail, you will get a view down to Broadsands Beach.
Fun Fact: Did you know that Devon has two beaches called Broadsands Beach. One in south Devon (this one) and one in North Devon. The North Devon one is a little less known and completely secluded. If I had to pick, I would pick the North Devon one. 
Getting down to Broadsands Beach was interesting. First a nice stretch of dirt trail surrounded by grass, then the Hogweed, not in full bloom yet, but close.
(Hogweed is a toxic plant that can cause burns when touched).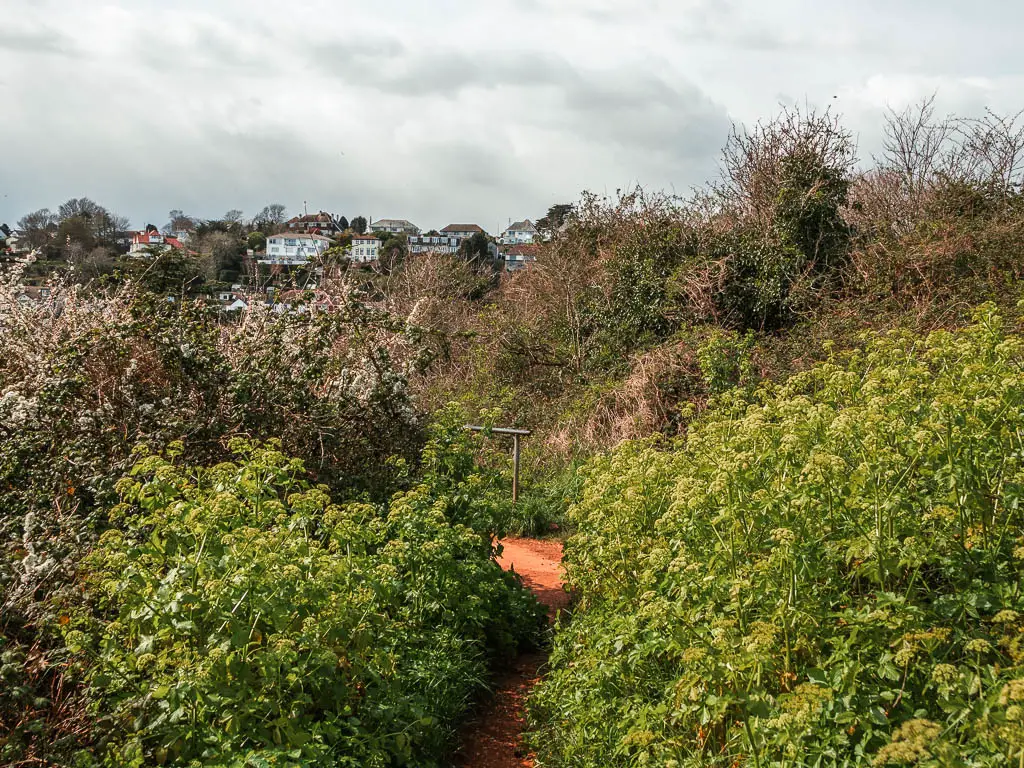 Then you get to walk under the railway viaduct.
Broadsands Beach – The Halfway point on the coastal walk from Paignton to Brixham 
I think I prefer this beach to Goodrington sands. It also has the nice red sand and cliffs, but felt a little less congested. There is a cafe here and car park, so does have the potential to be quite crowded. It made me quite glad I was here in 1 degree weather.
Past Broadsands Beach, it's an uphill onto a nice stretch of green with a few secluded coves and plenty of viewpoint benches. Being that this was the halfway point in the coastal walk from Paignton to Brixham (and I was hungry) this felt like the perfect spot for a little snack break. 
Whilst here, I heard it. The steam train. I had been waiting for this, too bad I wasn't on the railway track any more, but it's better than nothing.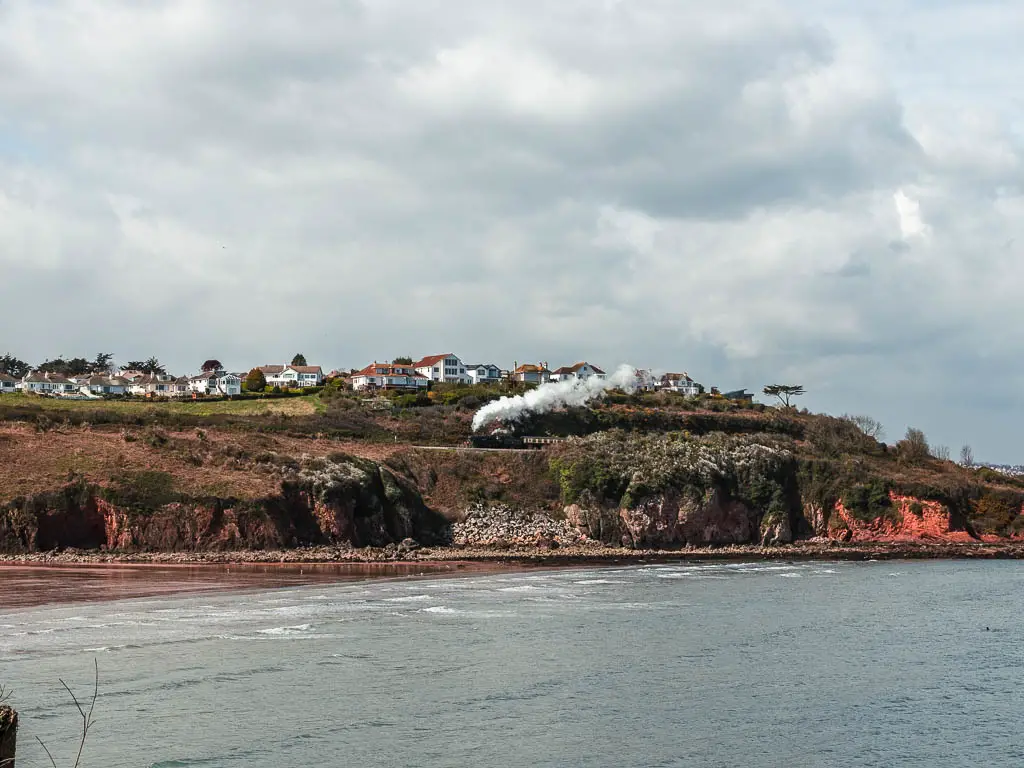 Walk from Broadsands Beach to Brixham
Keeping to the bottom edge of the green, the trail will then lead you down and towards Elberry Cove, where you will find a cute little ruin.
Elberry Cove was different from the other beaches on the walk so far. It was all shingle. It's only a short one though, so not too much tough walking. On the other side of the beach, the coast path takes you up some steps and into the woods. A good chunk of the walk for the rest of the way to Brixham is now woods. 
Walk through the woods to reach Brixham Harbour viewpoint 
As I said, this bit of the walk goes on for quite some time. It's mostly one path, but when you reach a trail spilt, take the left one keeping to the coastline. 
Then quite suddenly, when not expecting it, things will open up ahead for a gorgeous view to some secluded beach coves and the boats of Brixham Harbour. 
Walk past Churston Cove and Fishcombe Cove
The coast path first takes you across Churston Cove, and onto a nice rugged bit of trail and up some more steps.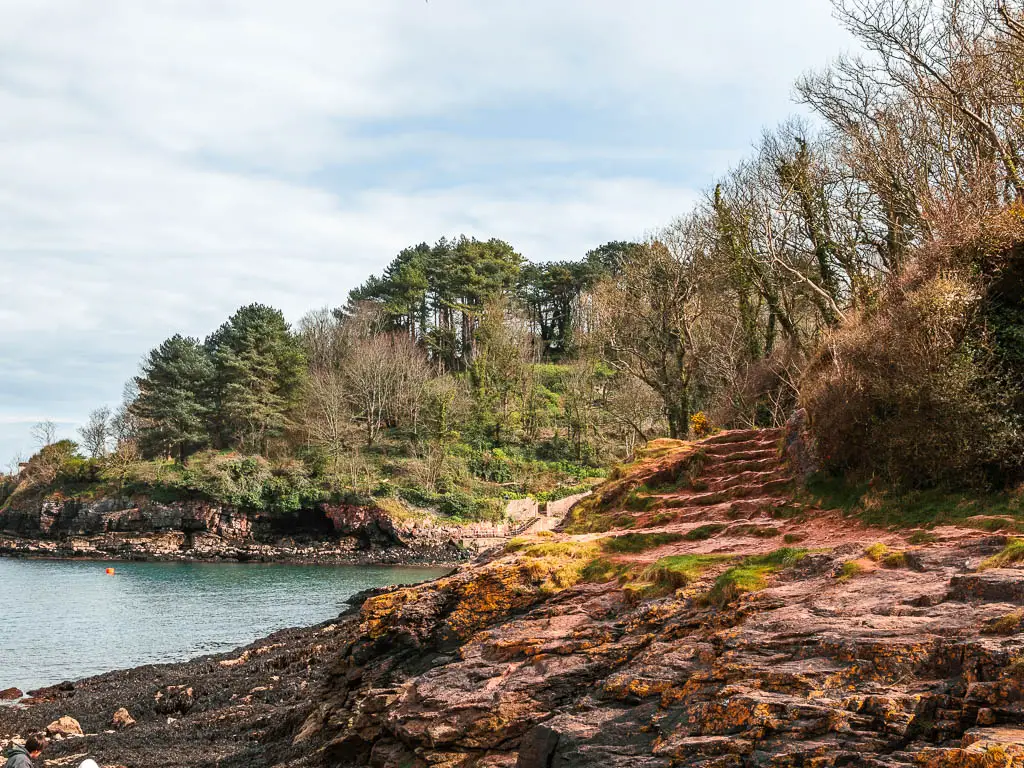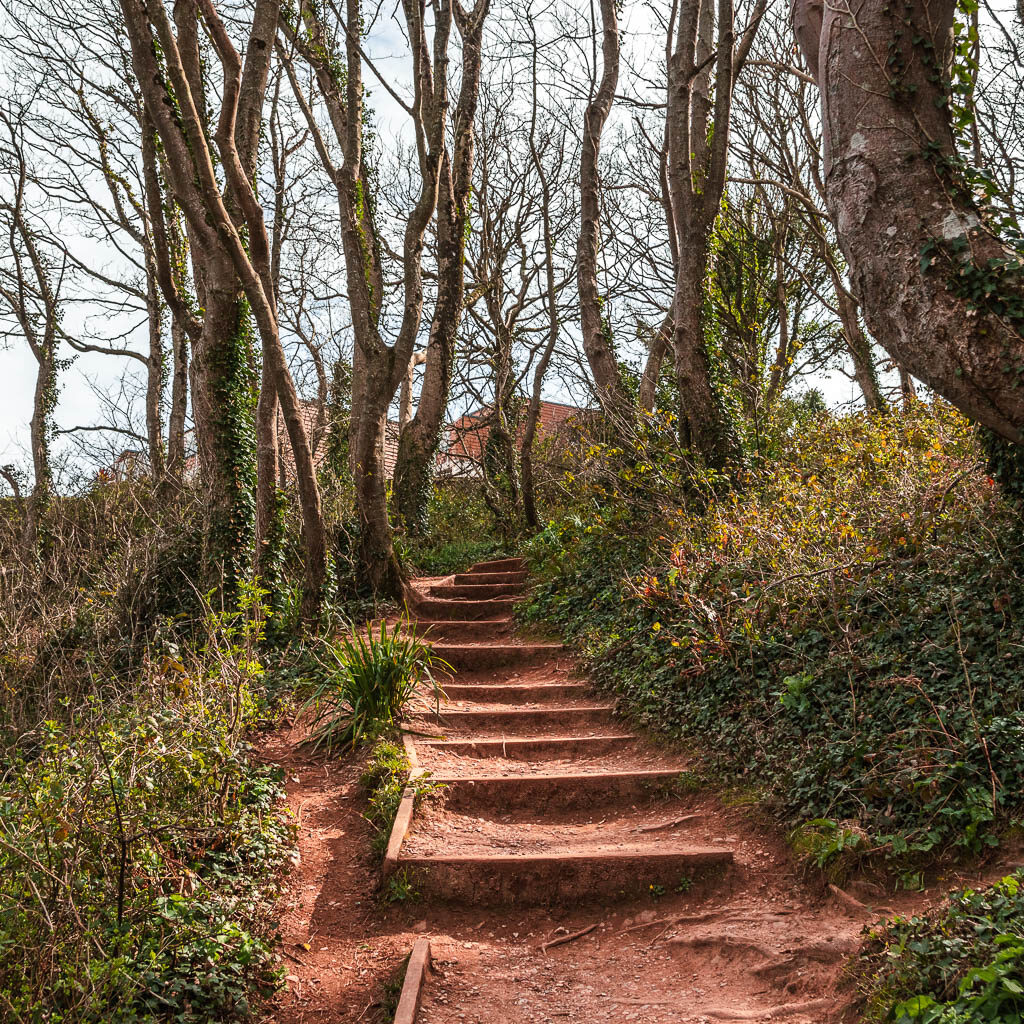 At the junction, take the left which goes down a path towards some houses, then take the left at the army looking building with a canon (you will know when you see it). This takes you down to Fishcombe Cove.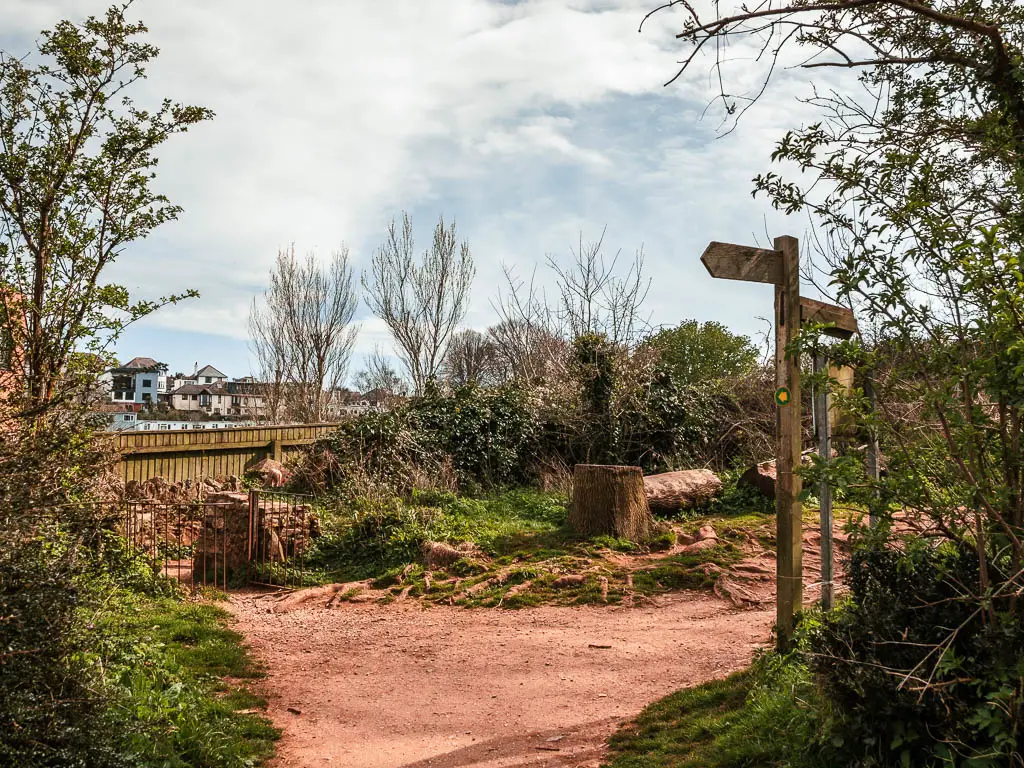 At Fishcombe cove, walk to the right of it through the brick wall to pick up the trail.
The final stretch of the coastal walk from Paignton to Brixham
At this point, the vibe completely changes. The trail feels very civilised and pretty with plants. You get a cool view across the whole of the English Riviera including Brixham a bit further along. As I got to Brixham Harbour, I even saw some swans floating.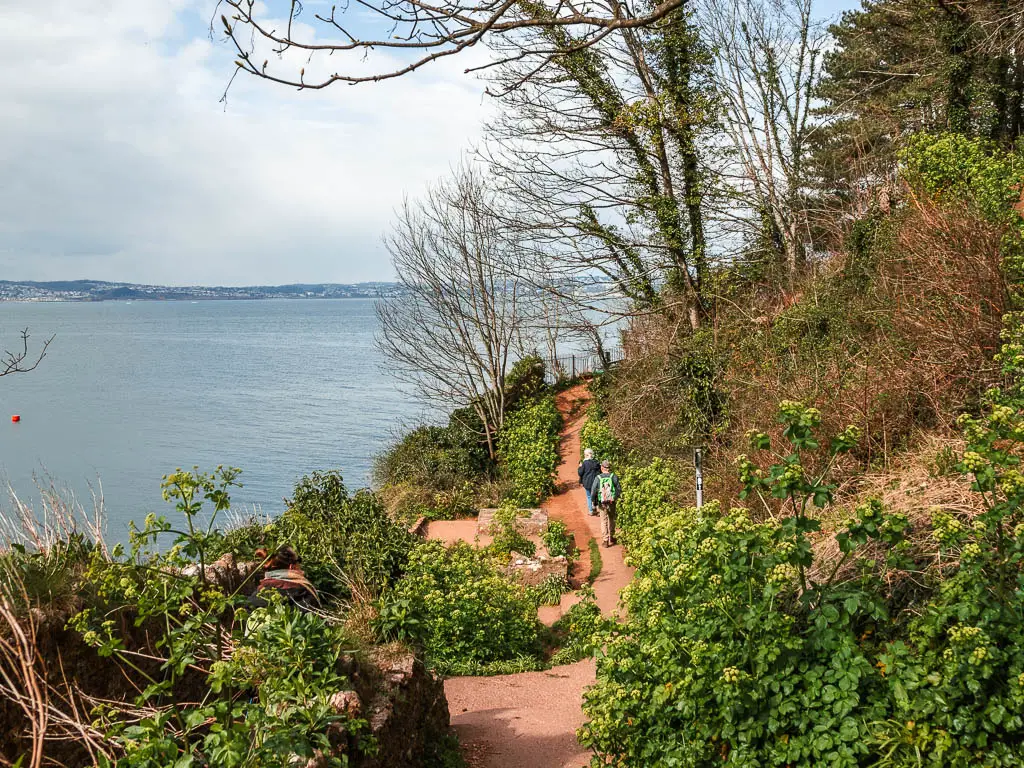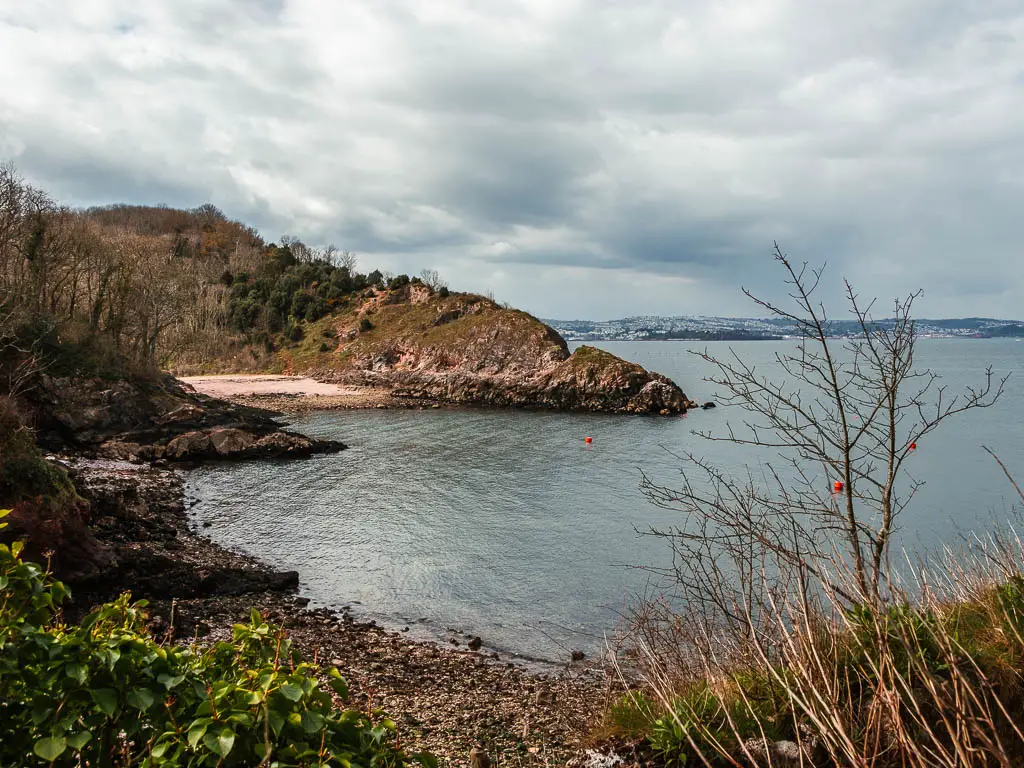 When arriving in Brixham, walk down to the harbour walkway, and you should see the colourful buildings of Brixham up ahead. Walk towards them to reach the town centre.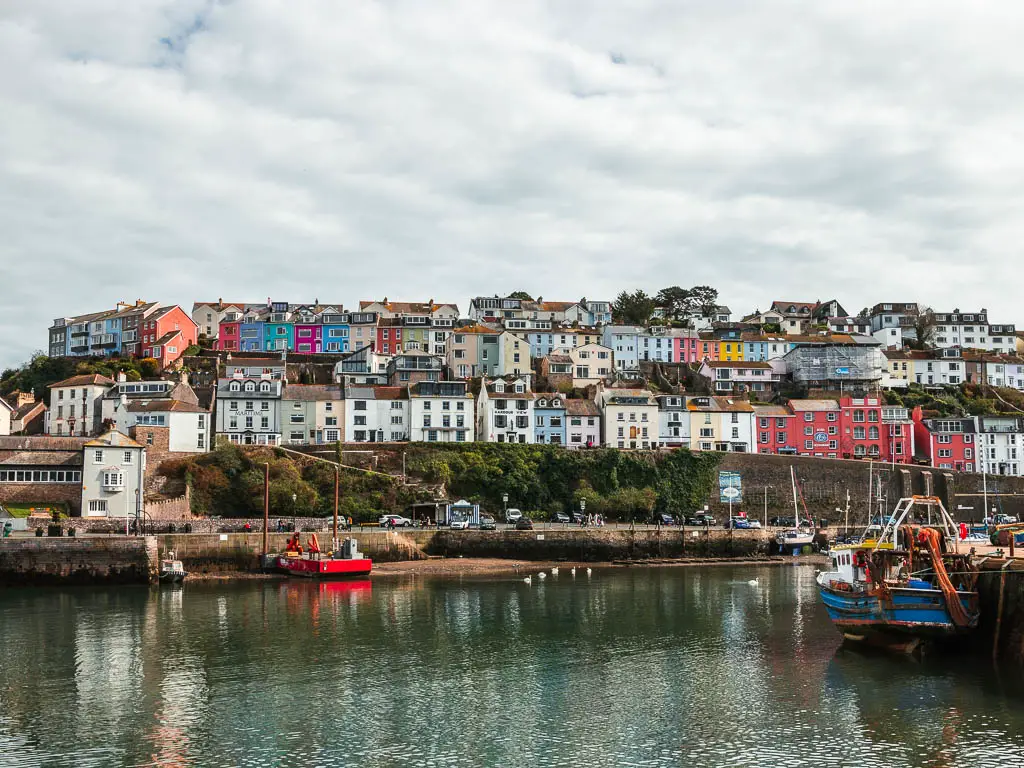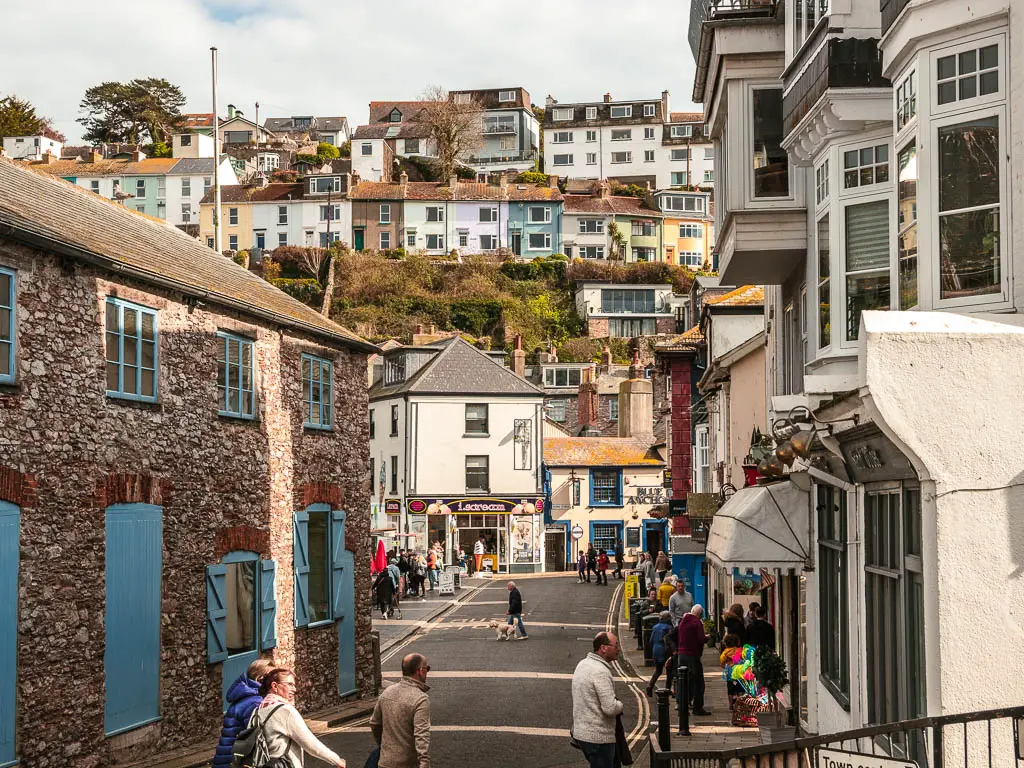 More coastal walk ideas near Paignton
For a detailed side by side, you can read about the best walks around Torquay or the best walks from Brixham. Below is a quick look at a few of them.
Brixham to Berry head circular is a relatively short one, which takes you up to Berry Head peninsular, which has the highest but also shortest lighthouse in Britain. There are also a few nice cliffy views thrown in for good measure.
Torquay to Babbacombe, I did this walk the next day, and was pleasantly surprised. Some truly stunning views and headland walking.
Teignmouth to Dawlish walk is one which follows the railway line for the majority of the route, with a dramatic backdrop of the big red cliffs.
Kingswear to Brixham is officially one of the hardest walks I have done. Maybe even the hardest. It's a constant up and down with no in between, but you are very well rewarded with gorgeous cliffy coastline views and a few hidden beach coves.
Little Dartmouth Circular is over in Dartmouth, and is one of the first walks I did on my first visit to the area. It's a lovely coastal walk with gentle hills.
Daymark coastal hike is along the coast path near Kingswear (south of Brixham). It's a short walk, but quite hilly with great rugged coastline views.
For more walking ideas in Devon, you could check out the National Trust website.
Pin it for later: A guide to the Paignton to Brixham coastal walk