This circular walk in Devon takes you from Brixham Harbour, along the coast path and up to Berry Head for gorgeous views up and down the coastline, with the optional walk to Brixham lighthouse. 
Now, when you get to Berry Head, it's a big open green area so feel free to walk around at will. What this guide will do is show you how to get there from Brixham, what the walk is like, and what it looks like from up top. I will include my map and show you my walk route around Berry Head for guidance though.
What was the circular walk from Brixham to Berry Head like?
The walk starts with a gorgeous view across the harbour to the colourful houses of Brixham. Then there is a little road walking, before heading uphill through some woodland to reach Berry Head. When you walk around Berry Head, you will have views in both directions along the coastline. One side across the more built up Torbay area, the other side along the cliffy, rocky coastline. 
Berry Head is a popular place to walk to for people staying in Brixham, so expect there to be people around. But it's popular for good reason. 
Although there is a bit of a hill early on. Overall, it's easy to walk to from Brixham and offers gorgeous coastline views.  I also threw in a walk to Brixham Lighthouse at the end for good measure.
What is Berry Head?
Berry Head is a headland with a lighthouse and Napoleonic Fort. It is a National Nature Reserve, site of Special Scientific Interest, a Scheduled Ancient Monument and Special Area of Conservation. Phew. That's a mouthful. Basically it's a beautiful place to visit. 
Fun Fact: Berry Head Lighthouse is both the shortest and highest lighthouse in Brixham.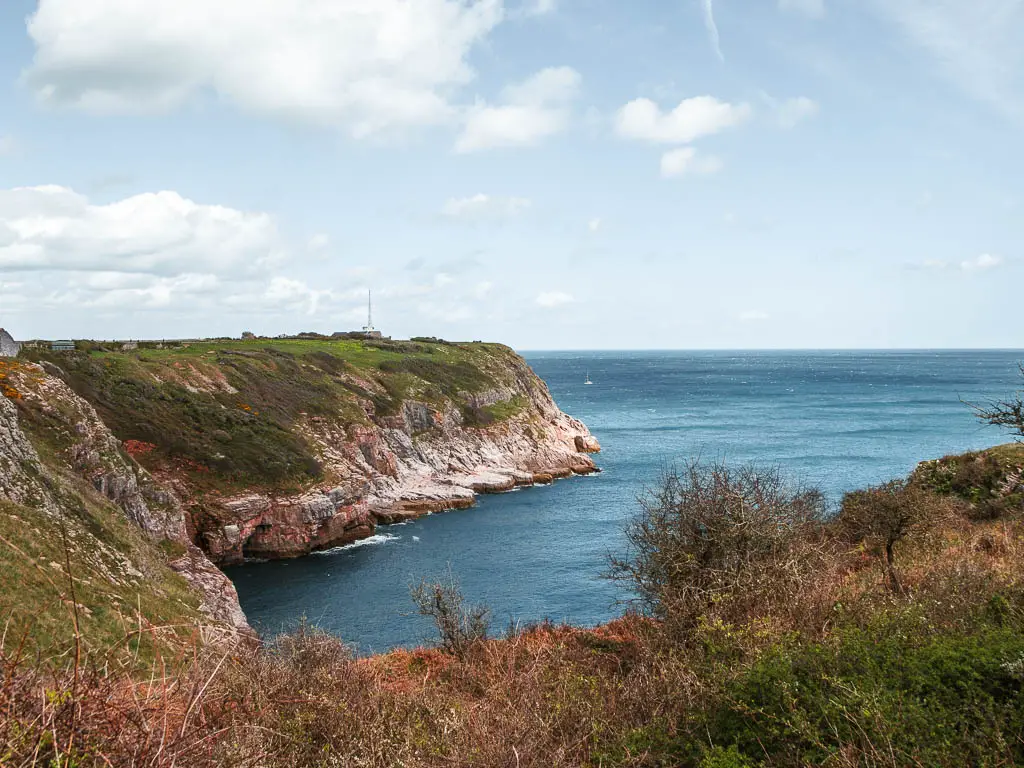 Logistics for the coastal walk from Brixham to Berry Head
Start/Finish: Brixham Harbour
How to get there: Brixham is located in South Devon in the Torbay area. Bus number 12 gets you to Brixham from Newton Abbot, Torquay and Paignton. All of which have a train station serviced by Great Western Railway. If you are down in Kingswear or Dartmouth, you can get bus number 18 from Kingswear, journey time 15min.
Distance: It's just over 1mile to walk to Berry Head from Brixham. Then the rest is up to you. I walked a total of 5.5 miles.
Time: My walk was just under 2 hours
Elevation: Highest point I walked to was 60m
Difficulty: Easy
Terrain: Grass, dirt trail, a few steps, some concrete and a bit of road. 
Amenities: Everything in Brixham, then a cafe with toilets at Berry Head. There is also car parking at Berry Head.
Dog friendly: Yes. Some areas sometime have livestock, which will be noted on relevant gates.
Accessibility: Up at Berry Head, some of the trails are wheelchair friendly.  
Time of year: Spring
Tips for the circular walk from Brixham Harbour to Berry Head
If it's a sunny day, take sunglasses. When looking south along the coastline from Berry Head, the sun can be quite harsh.
It's quite an exposed area, so can be pretty windy. I would suggest taking a windproof jacket. 
If you prefer it less busy, go on a weekday.
Normal trainers will be fine for this walk.
If you want to include Brixham Lighthouse, I recommend leaving it to the end, so that you don't use up too much energy before the main event which is Berry Head.
You can read more info about Berry Head here.
Map for the circular walk from Brixham Harbour to Berry Head
Note: This map is to show you my walk and where I went on Berry Head. It is just for guidance, as when up there, you can roam around at your own structure. 
More walk ideas near Brixham and Berry Head will be at the end, with a link to the full guides.
A Guide To The Circular Walk From Brixham Harbour To Berry Head
Starting from Brixham Harbour, walk along it, so the water is on your left, and keep going as far as you can go, all the way around the the other side. The first beach you come to is Breakwater Beach. From here, walk across it and up the steps on the other side, which will lead you to the road. Turn left on the road. 
Walk from Brixham to the start of Berry Head Nature Reserve 
Slightly further along the road, look out for the coast path sign on a lamppost, which points you left and back along the coastline. 
You will soon get a lovely view back towards Brixham, before passing by a natural swimming pool. 
Note: Along here there is a trail split. Either one is fine. 
When you reach the end, go up the steps and through the car park to reach the road again. At the road, walk left and follow it as it curves its way uphill, until you reach the big unmissable Berry Head sign. 
Walk up to Berry Head
For the rest of the walk to Berry Head, it's well signposted. First you will walk up some steps, then through the woodland, before things open up for views back down towards Brixham and the Torbay coastline. 
Keep following the Berry Head signs which will take you along a bit of road, and then to the big open green with a view to the fort wall, where you can now start your freestyle walk. 
Walk to the lighthouse and peninsular 
When I reached Berry Head, wanted to keep the walk circular and follow the coastline. I started off by walking through the fort wall. Through here you will see the canon and cafe. 
There is a long straight path here which will take you all the way to the peninsula, lighthouse and some ruins. It is also along this bit that the wind will show up.
When I reached the end, the first place I looked was left, along the Torbay coastline. It was nice, but I wasn't blown away. Then I looked right….
Wow. Now this blew my mind. The sun was right in the face, so the photos are a bit funny looking and really don't reflect the beauty of it. 
Walk along the coastline
My plan for today was actually to walk from Brixham Harbour, to Berry Head and then along along the coastline down to Kingswear and Dartmouth. However, the wind was pretty aggressive by this point. It was impossible. That walk would have to be another day. 
update: The other day came. You can read about the walk between Kingswear and Brixham here.
It was so windy, I daren't get my windproof jacket out of my bag as I'm pretty sure the wind would have ripped it right of of my hands. So I made my way over to the cafe and stood behind it for some shelter to get my jacket on. 
More views, more cliffs
Once suitably wind proofed, I made my way back through the fort wall and turned left to walk along a nice sheltered trail to reach an opening for more gorgeous coastline views.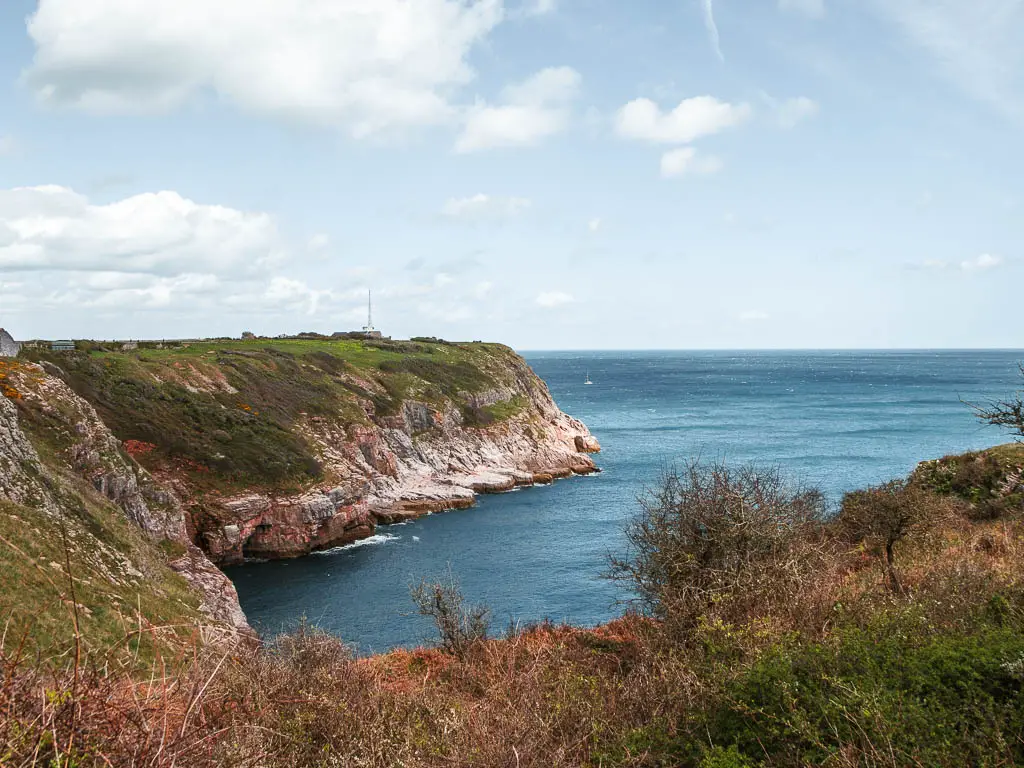 The rotting bridge 
Up here, there is a little bridge to take you across and through another fort wall. At the time of writing, it was closed due to rotting timber. What I didn't see was the trail to the right which takes you around it another way. This is the way you should go if the bridge is closed. 
I only discovered it later, which is why you may see on my map I walked down and around the car park. 
Cliffs and views again
When you make it to the other side, (wether you go this way or the car park way), there will be a bit of trail walking before reaching the open, for more dramatic views along the coastline. 
The fields
As I started to make my way back from Berry Head to Brixham, at the main signpost, instead of going back onto the trail I got here on, I decided to go have a look through the gate to the left. This takes you to a big open field area.
There were a few dogs running around with their owners here. This must be a dog play place. It also looked like a field that might sometimes have livestock. I can't say for sure, but if you have a dog, you can check when there. Otherwise, the other coastline areas looked dog friendly (as long as your dog isn't the kind that would jump off the edge).
Walk from Berry Head back to Brixham Harbour Lighthouse
When you have finished at Berry Head, basically walk back to Brixham the way you came. I don't usually like walking back on myself, but coastlines I don't mind so much, as it's nice seeing things from a different perspective. 
When you get back to Brixham, if the wind didn't exhaust you, then you might like to walk along to the lighthouse. 
I must say though. This bit of walk went on forever. I had headwind. It was aggressive. I had to lean forwards to walk it. 
The good thing about the headwind though, is it worked with me for the walk back.  This is when I really got to take in the lovely surroundings. A view across to the beach coves I walked along last week, across the harbour to the colourful houses of Brixham, and all the way back to Berry Head. 
---
More local walks
---
For a detailed side by side look, you can read about the best walks around Brixham, or the best walks from Dartmouth which is nearby. For a quick look at a few of them, see below.
Paignton to Brixham is a walk I highly recommend. It's along a lovely bit of coastline passing by lots of little hidden beach coves along the way. You might even get to see the steam train pass on by. 
Kingswear to Brixham….Oh my good god. This has got to be the hilliest walk I have done. Ever. For the majority of the walk you will either be walking up or down. There is no in between. It's a fantastic walk, and one I highly recommend. Just make sure you are ready for the challenge.
Daymark circular walk allows you to see a good bit of the coastline between Kingswear and Brixham, without having to do the full slog.
Dartmouth Dittisham circular walk is one you can reach if you catch the bus down to Kingswear. Starting from Kingswear, you follow the river to Greenway where you ring the bell. A boat will come along and pick you up to take you to the other side of the river, where you can then walk back around to Dartmouth. You can then catch a boat across to get back to Kingswear. 
Start Point Lighthouse walk isn't actually that near, it's slightly farther south along the coast. I wanted to mention it though, because if you like lighthouses, then this is a goody.
Pin it for later: A guide to the circular walk from Brixham Harbour to Berry Head