I would describe the coastal walk from Whitstable to Herne Bay as very pleasant. It doesn't have the grand breathtaking views as some other coastal walks, but it was still rather lovely. If you are after a challenge, then this walk isn't for you. If you want a relaxing, easy seaside stroll, then this is the one. 
It covers roughly 5 miles of coastline and is also a section of the Saxon Shore Way. One of the many trails I am working on completing. 
On this day, it was just what I needed. I had originally planned to do a long hike in the North Downs, but upon waking this Saturday, I had the urge to go spinning. I reasoned with myself that after the spinning class my legs might not be too happy with me dragging them over hills, so a last minute change ended up in me heading to the north Kent coast. 
The sound of nature
I brought my headphones along with me to listen to a podcast whilst I walked, however, at no point did I actually feel the desire to listen to it. I rather enjoyed the seaside sounds. 
The sea was actually pretty calm, so it was quiet, but the sound of the seagulls, and occasional light blowing of the wind. The bird bush (I will explain later).The sound of people walking by, owners and their dogs, and shingle under their feet.
I avoided walking on shingle, or as I like to call it, shingle of death. If you have ever had to walk on it for a long period of time, then you will know.   
There was something about this walk which made it unique from some of the others I have done….
Beach huts
Beach huts aren't uncommon along the British coastline, and I have seen plenty in my time, but never in such high concentration as this. In this 5mile stretch between Whitstable and Herne Bay, I  walked passed 4 separate groups of beach huts. Like little beach hut villages.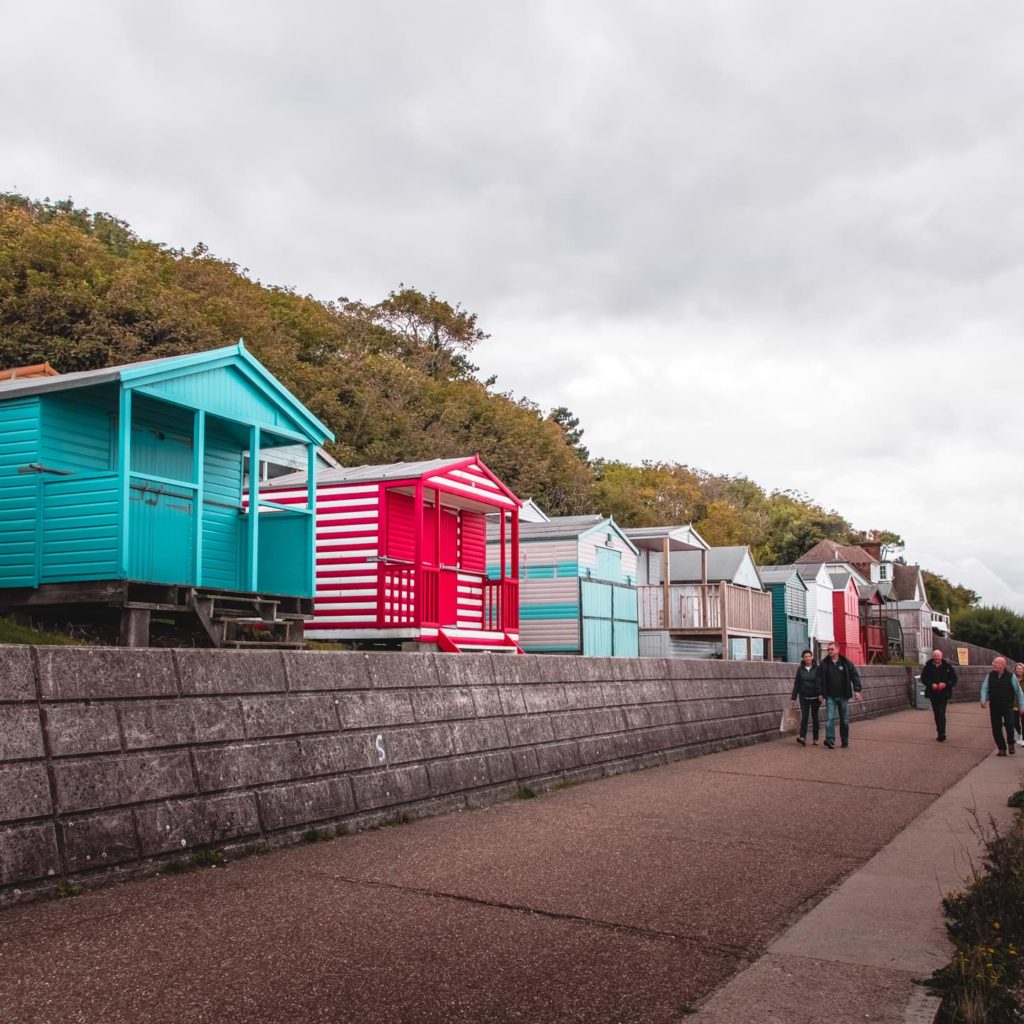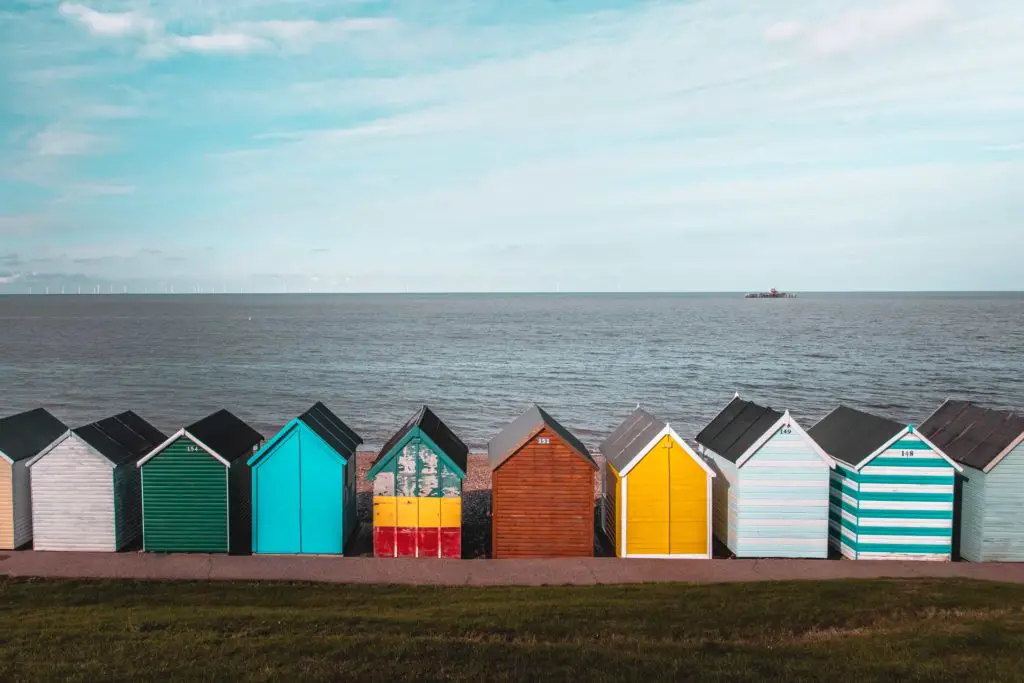 Now I have way too many photos of beach huts. 
Logistics for walking from Whitstable to Herne Bay
Start: Whitstable
Finish: Herne Bay
How to get there: There are direct trains from both London Victoria (1h 30min) and St Pancras (1h 20min). Buy a return ticket to Herne Bay and jump off a stop early at Whitstable.  
Just a note, there are different train routes. Be sure to pick the one which stops at Whitstable before Herne Bay (it's the slower trains which go the other way around).
Distance: 4.8 miles
Time: I meandered and stopped a lot for photos. This took me just under two hours, however, it can definitely be walked much quicker. 
Difficulty: Easy peasy
Map
Click on the little box in the corner to follow the trail.
More coastal walk ideas will be at the end
Whitstable To Herne Bay Walk Guide
Whitstable is a pretty, seaside fishing village, which in itself is worth spending time in. Famous for oysters, with traditional oyster shacks (too bad I don't like oysters), vintage shops, galleries. There is a very charming, old fashioned feel to the place.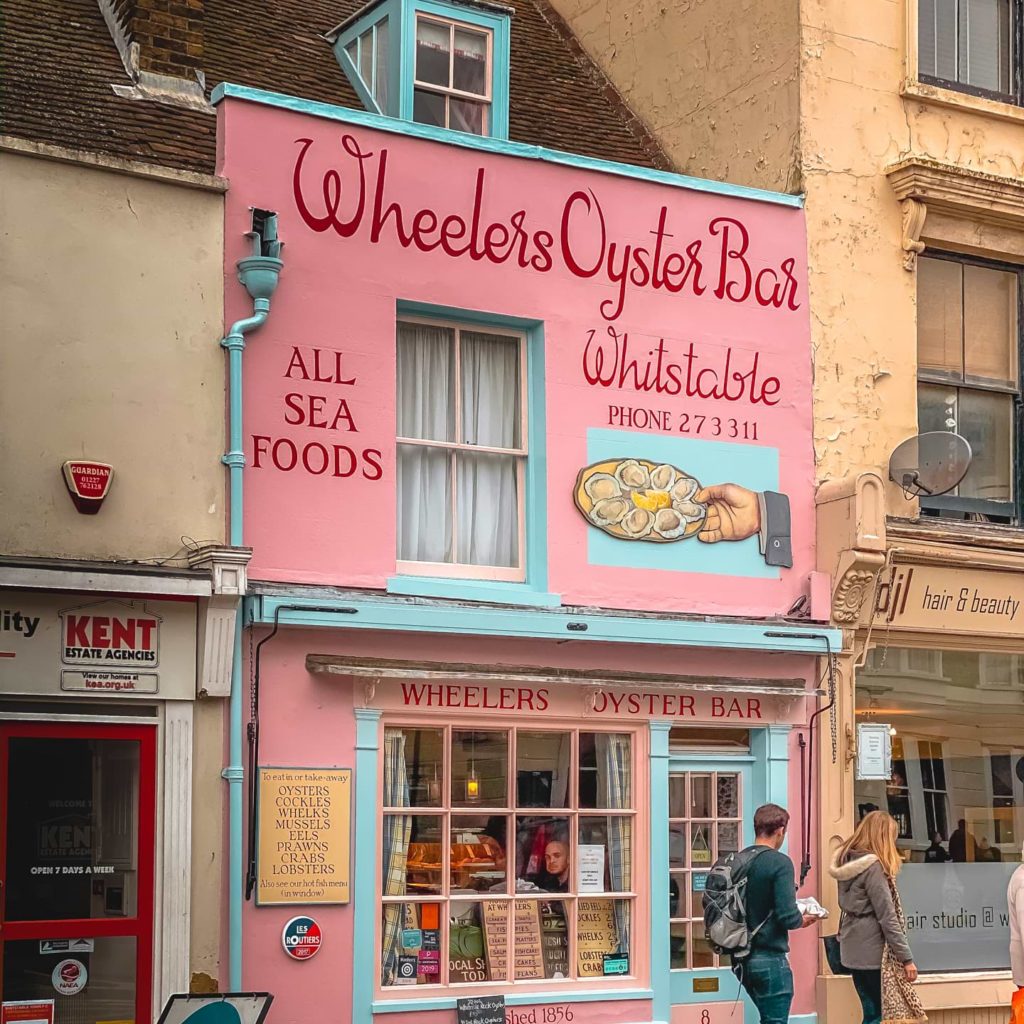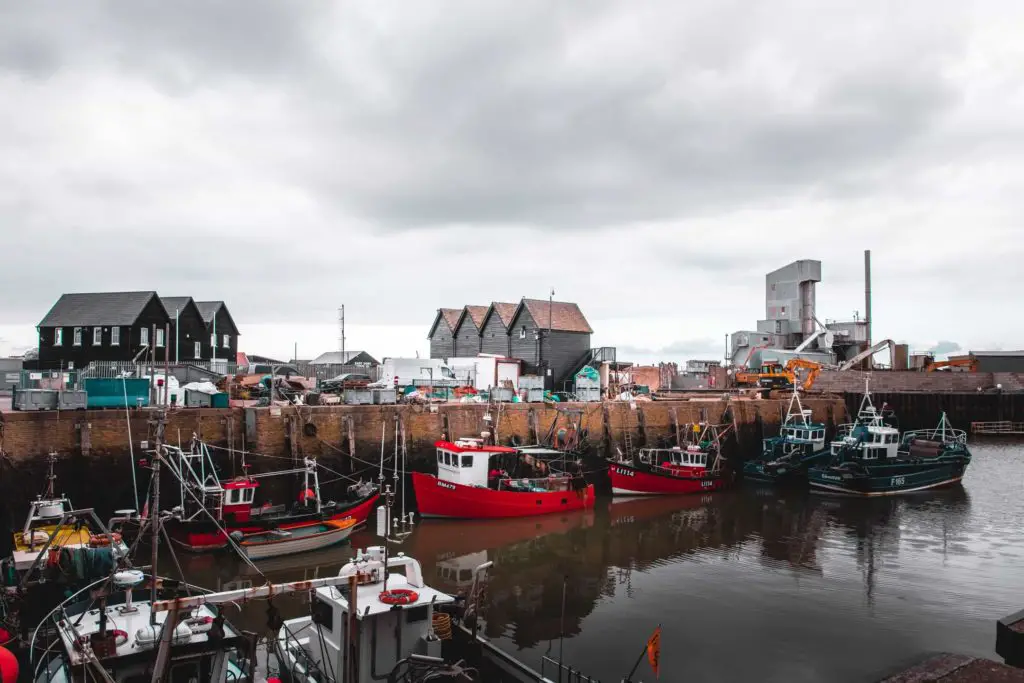 As this walk is quite short, I would highly recommend spending some time meandering around Whitstable first. 
Leaving Whitstable to head towards Herne Bay
This isn't my first time to Whitstable, and won't be my last, so I only had a mini meander before heading off along the coast. Starting from Whitstable harbour, and heading right, there is a brief walk along the main road before turning left at beach street.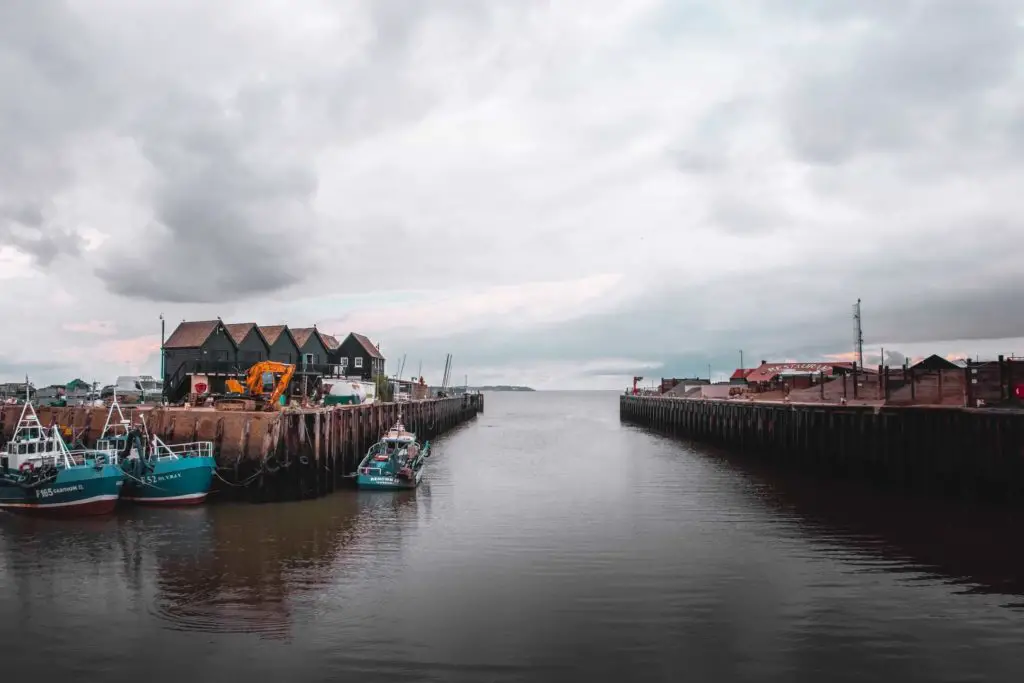 In no time at all, I reached the shingle beach and coastal path, which would be my walking terrain for about 95% off the walk. 
Ah, shingle.
I'm not a big fan of walking on shingle. Luckily, there was no need to walk on it, except to get a different vantage point when taking photos.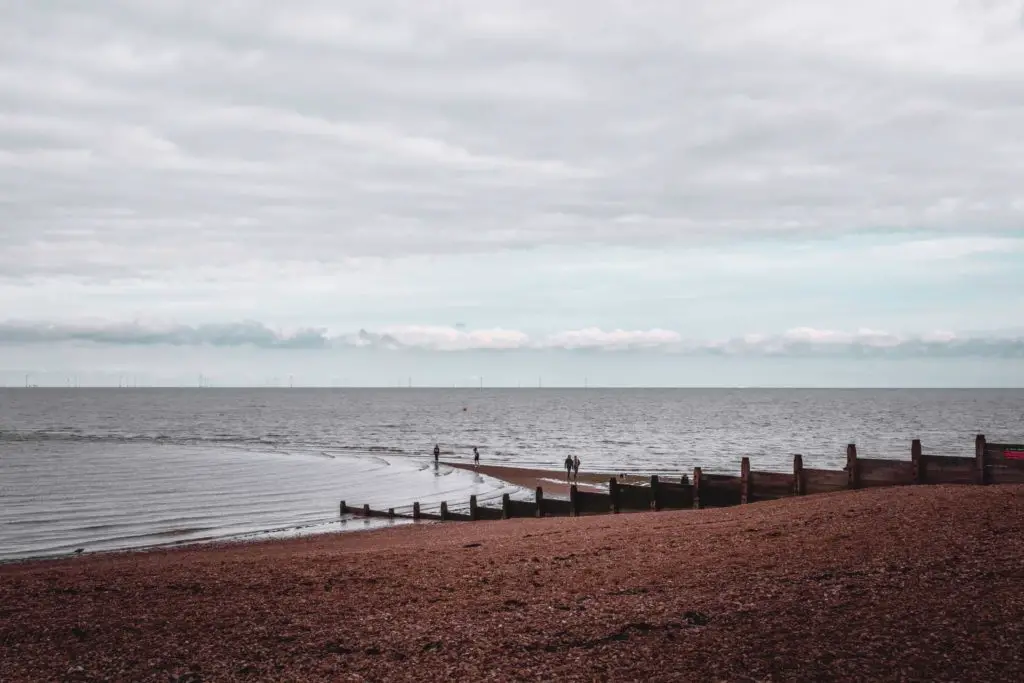 Quite soon into the walk, there was a pretty cool view of Herne Bay in the distance. Tiny little buildings on the peninsula, forming a little hill. It reminded me a little of the hillside hamlets in Tenerife.
(From here, it didn't photograph well so you will have to imagine it)
Beach huts
Also, pretty soon into the walk, I passed the first group of beach huts. I didn't know at the time that there were more to come.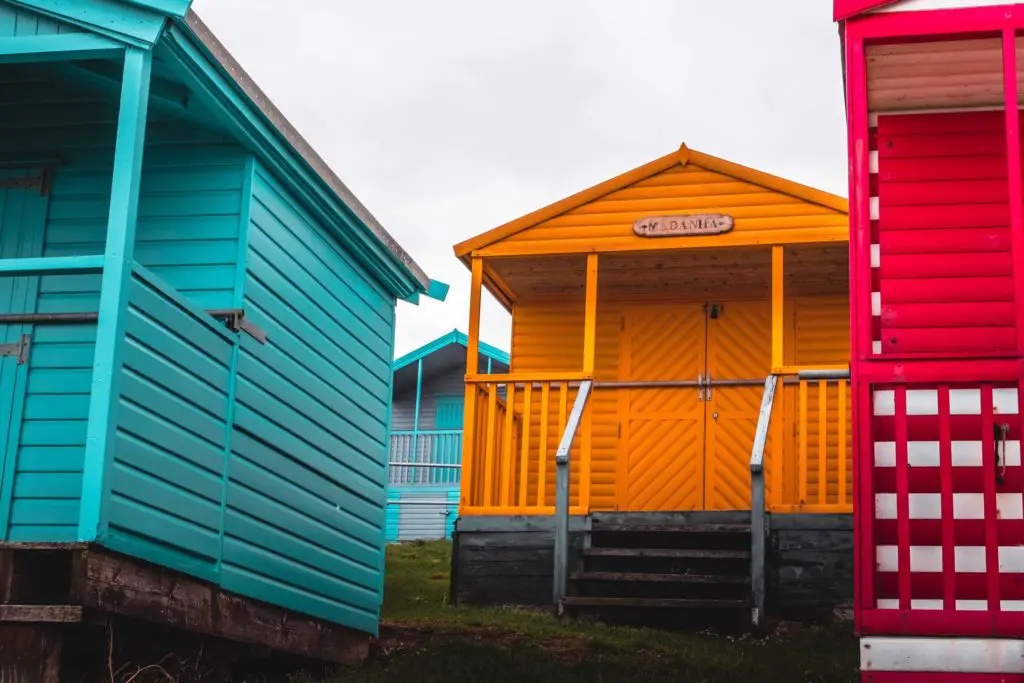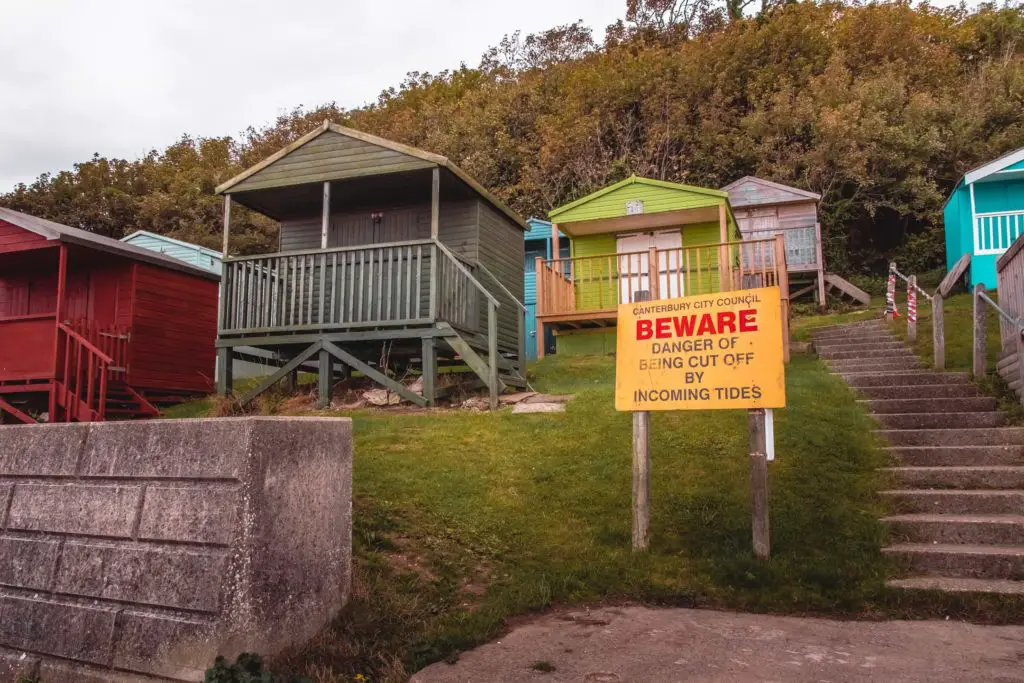 There is something about seeing beach huts that gets me excited. In all their mixture of pastel and bright coloured cuteness. With some shabby ones in between.
Beach huts in England are very very expensive btw, and will easily set you back 10's of thousands of pounds.
More beach huts
Saying goodbye to the beach huts and continuing along my walk, passing by other walkers and the occasional dog, I notice more beach huts up ahead. My excitement returns as I head towards more beach hut goodness.  
I wonder to myself, which row would be considered prime location? I don't know the answer to that, but I decided that if I was to own a beach hut, I would not go for the ones in front, but instead, the ones behind. Up on the hill, giving you that high up view of the sea but also, importantly, you would be able to sit on your balcony and stare at the cute little beach huts in front of you.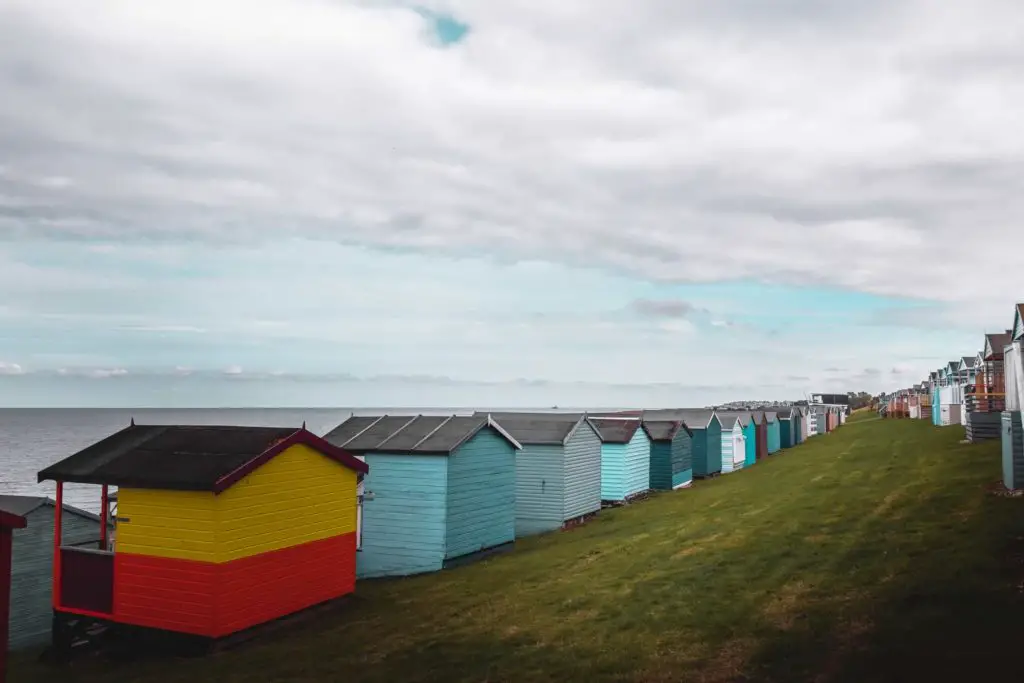 Even more beach huts
After getting my fill of beach hut, I continued along the walk towards Herne Bay. By this point, as I got further away from Whitstable, there were noticeably less people walking on the path. 
And then I saw it. 
Up ahead, more beach huts. You'd think by now I would be bored of beach huts, but no. I could never get bored of beach huts. The more beach huts the better.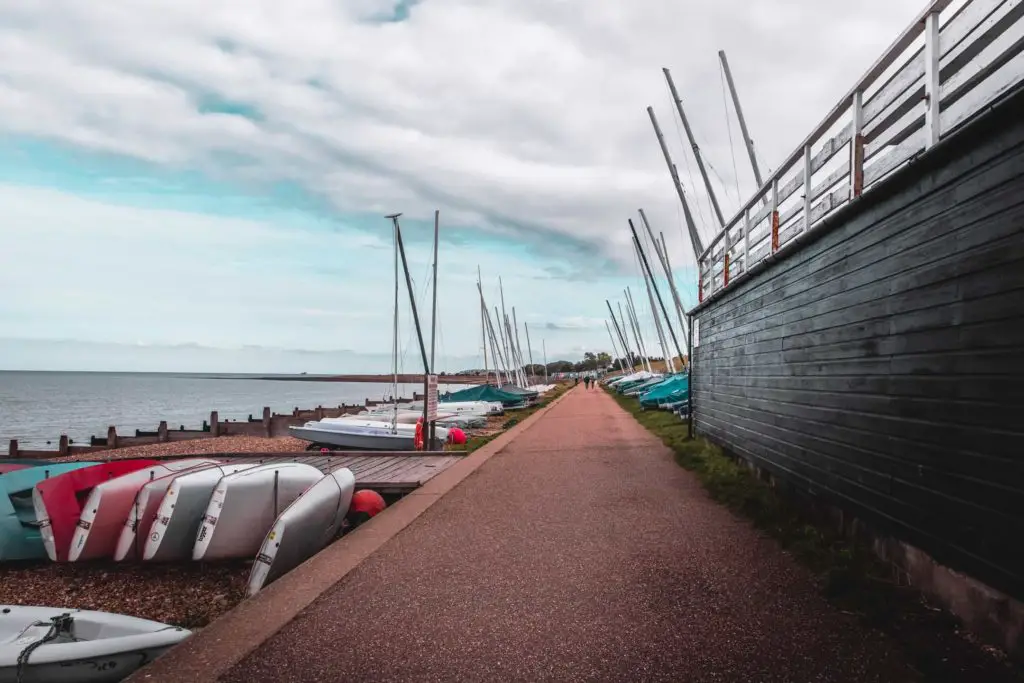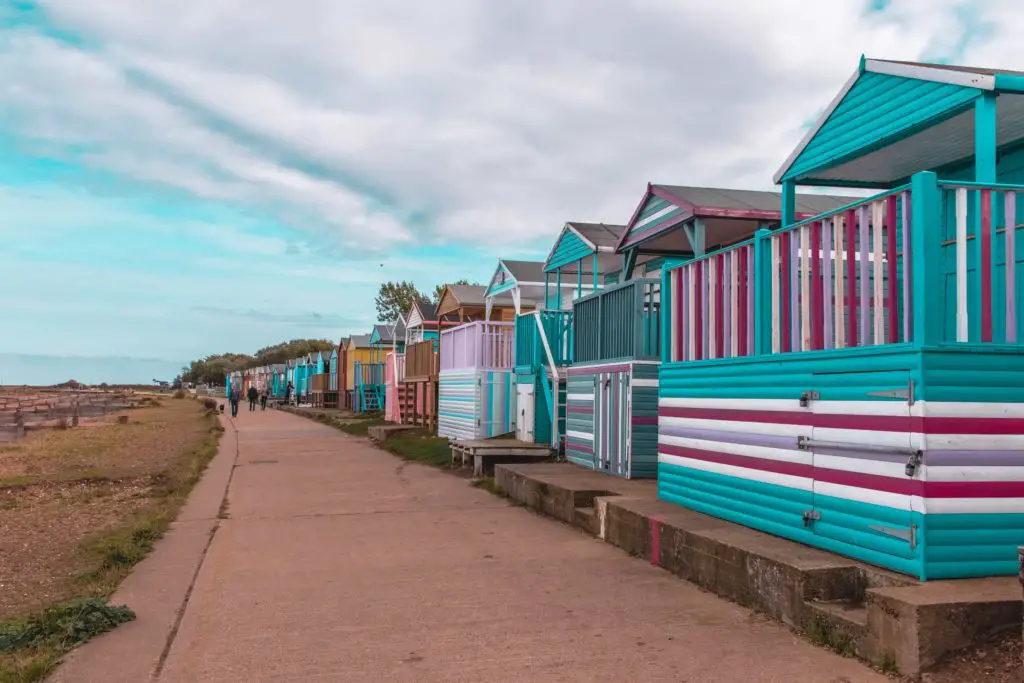 Beachgoers
Leaving the beach huts for what I was sure had to be the last time, I continued on my now very merry way. There were few people on the path, but actually slightly more than that down by the water. Someone was even in the water. 
This significance of this is the water here is very very cold, and there is a definite chill in the air. I thought about that time I decided I was going to swim the English Channel (for about 2 weeks I had a moment of madness and was convinced I would do it. But that's another story). I admired that person in the water, but I was also very very happy that I wasn't that person right now. 
I didn't take a photo of the swimmer, but here is a photo of someone fishing.
Bird bush
Next on my walk from Whitstable to Herne Bay, I heard it before I saw it. 
The birds.
The sound of the birds and their screechy chirpiness, all gathered by this one large bush. As I got closer, it was so loud, it was all you could hear. I think this might just be the largest concentration of birds I have ever seen. 
After leaving the birds, the terrain changed and became more nature reserve like. Only for a short while unfortunately, before picking up on the coastal path.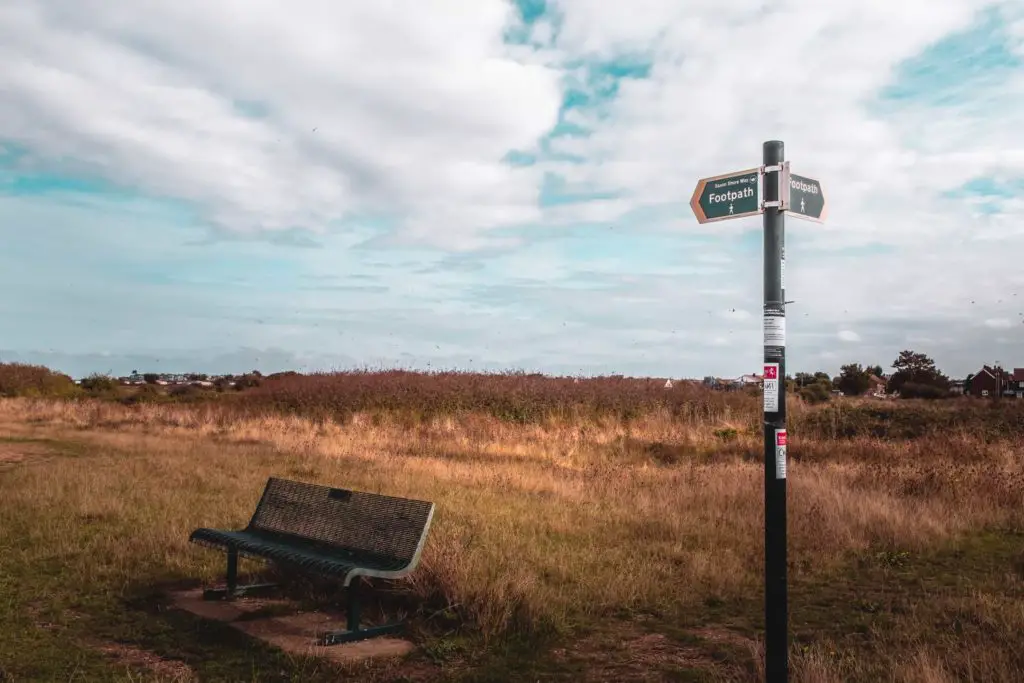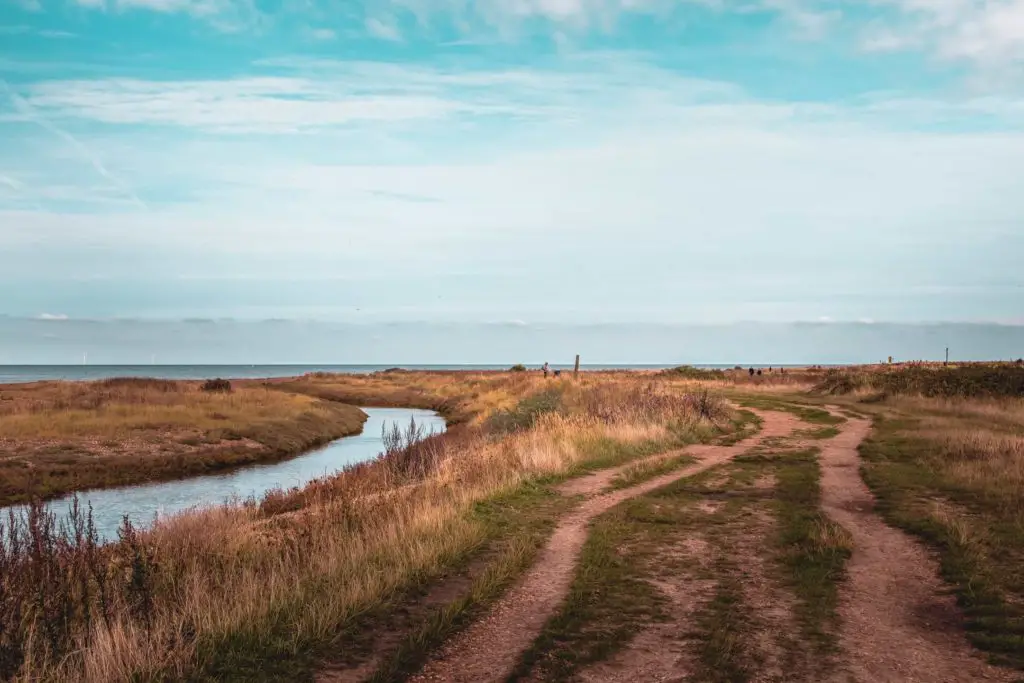 Reaching Herne Bay
That little group of houses of Herne Bay had disappeared a while back, but suddenly it came into view again. I also passed by these very interesting looking camping pods.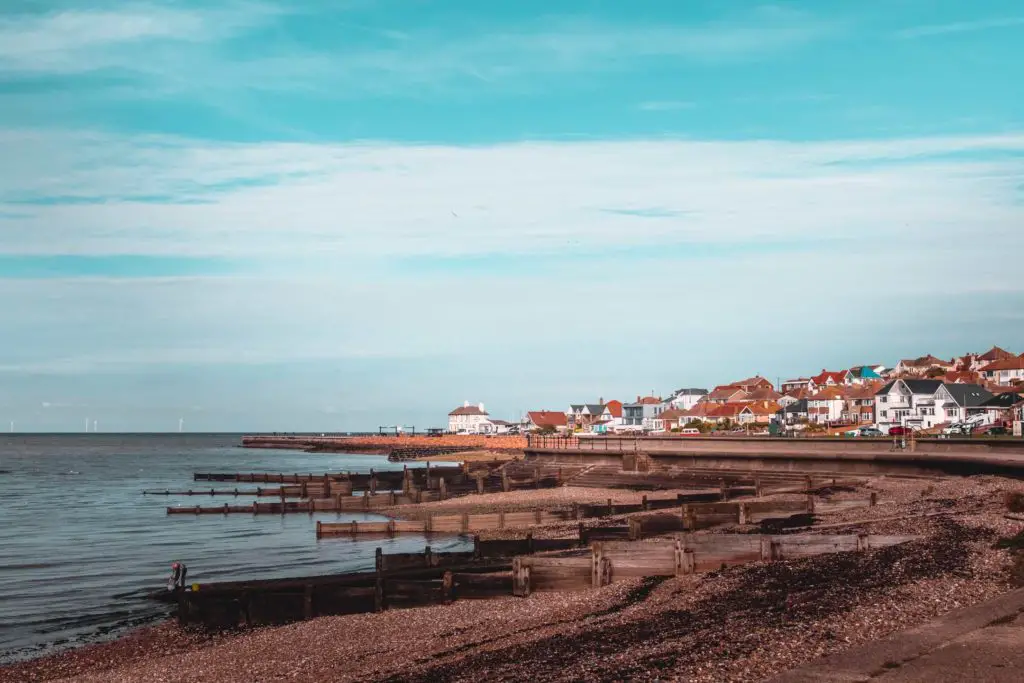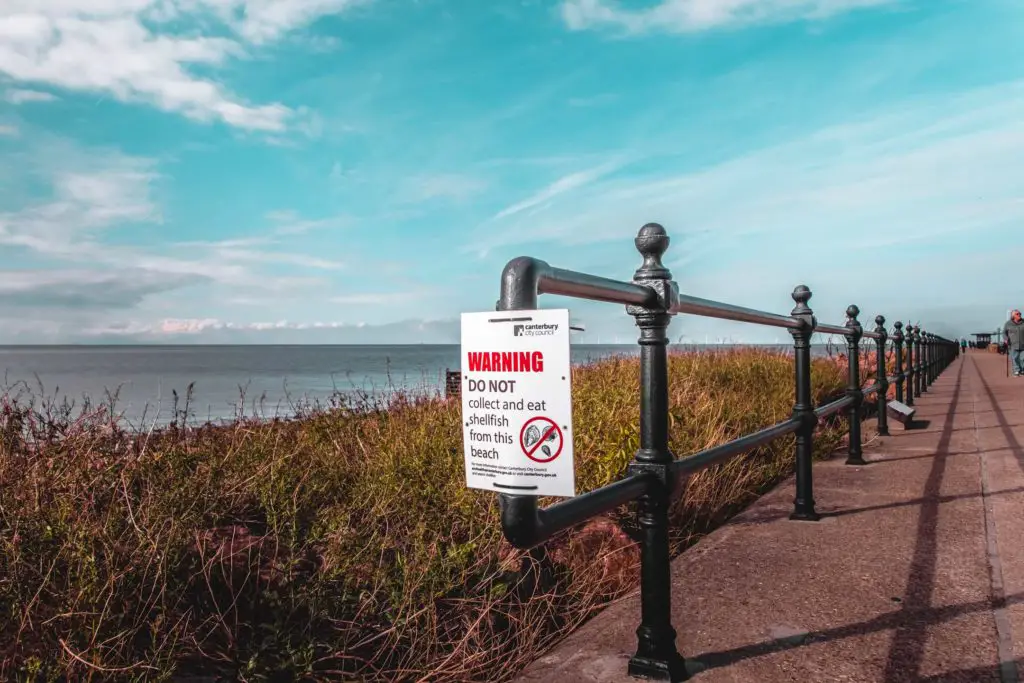 At this point, I also realised my face was burning. I had made a fatal error in that I did a coastal walk without wearing sunscreen. There was a chill in the air, but still very sunny.
Sunny + sea = prime burning territory. 
I have made this mistake before, and thought I had learnt my lesson. Turns out I hadn't. Maybe this time will teach me.
So, I actually wasn't planning on stopping my walk at Herne Bay, the plan was to walk all the way to Margate. With my face feeling a bit tingly I sat down for a moment on a bench to plan my next move.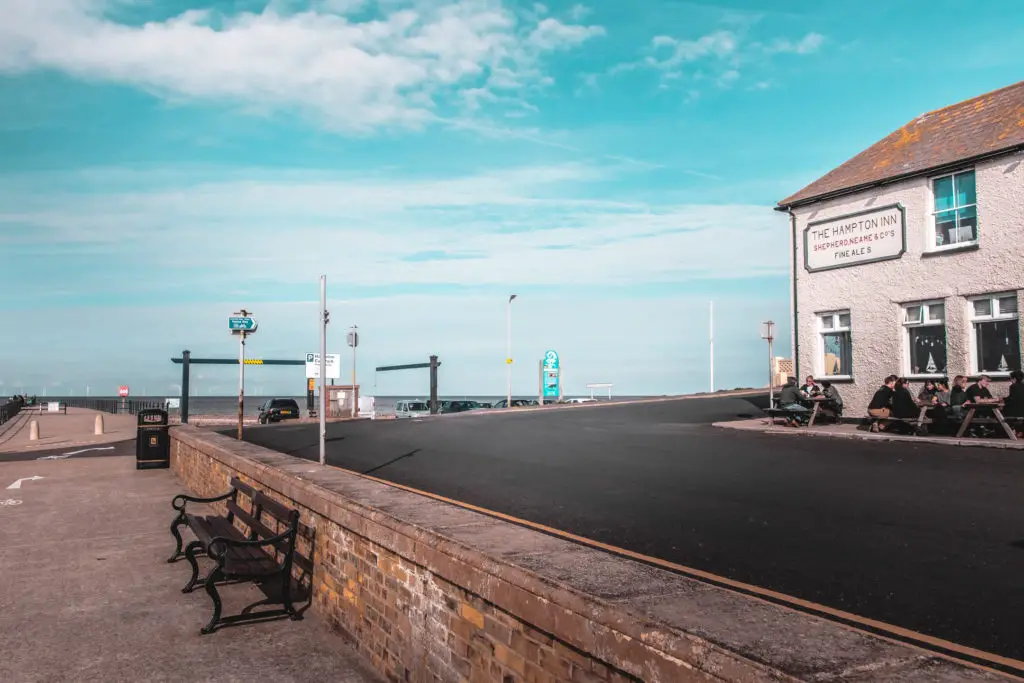 Looking at the map, I realised I was less than a third of the way to Margate. I knew my face would not make it that far so decided to to call it a day. 
The final beach huts
As I made my way into Herne Bay, passing the Hampton Pier yacht club,  I was surprised to find beach huts yet again. The day of never ending beach huts. Well, I can confirm this was the last of the beach huts on this day of beach hut abundance.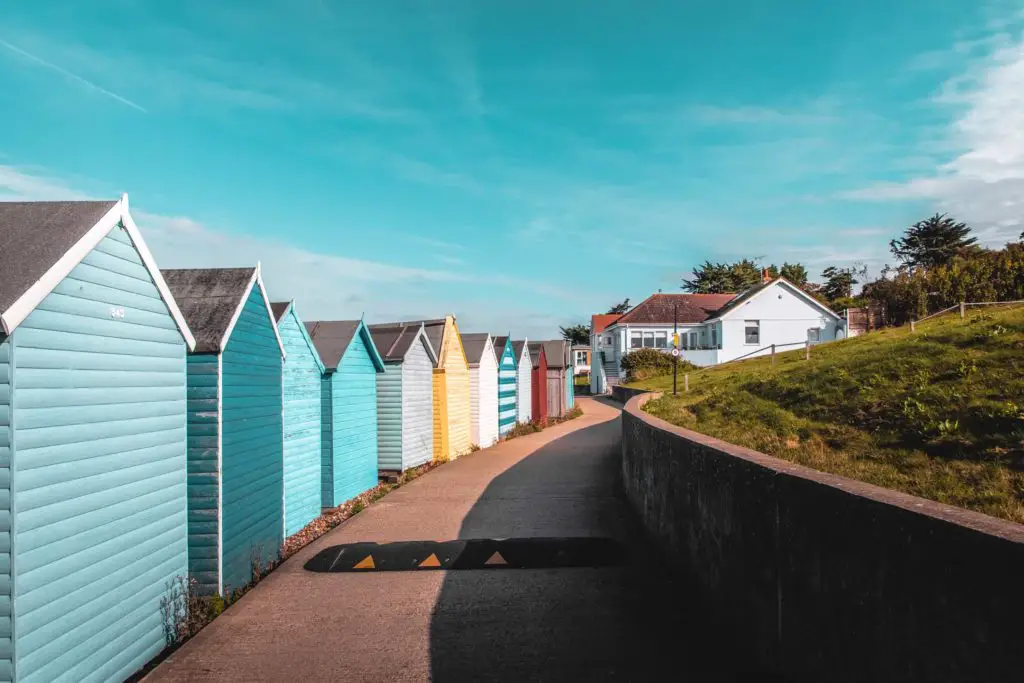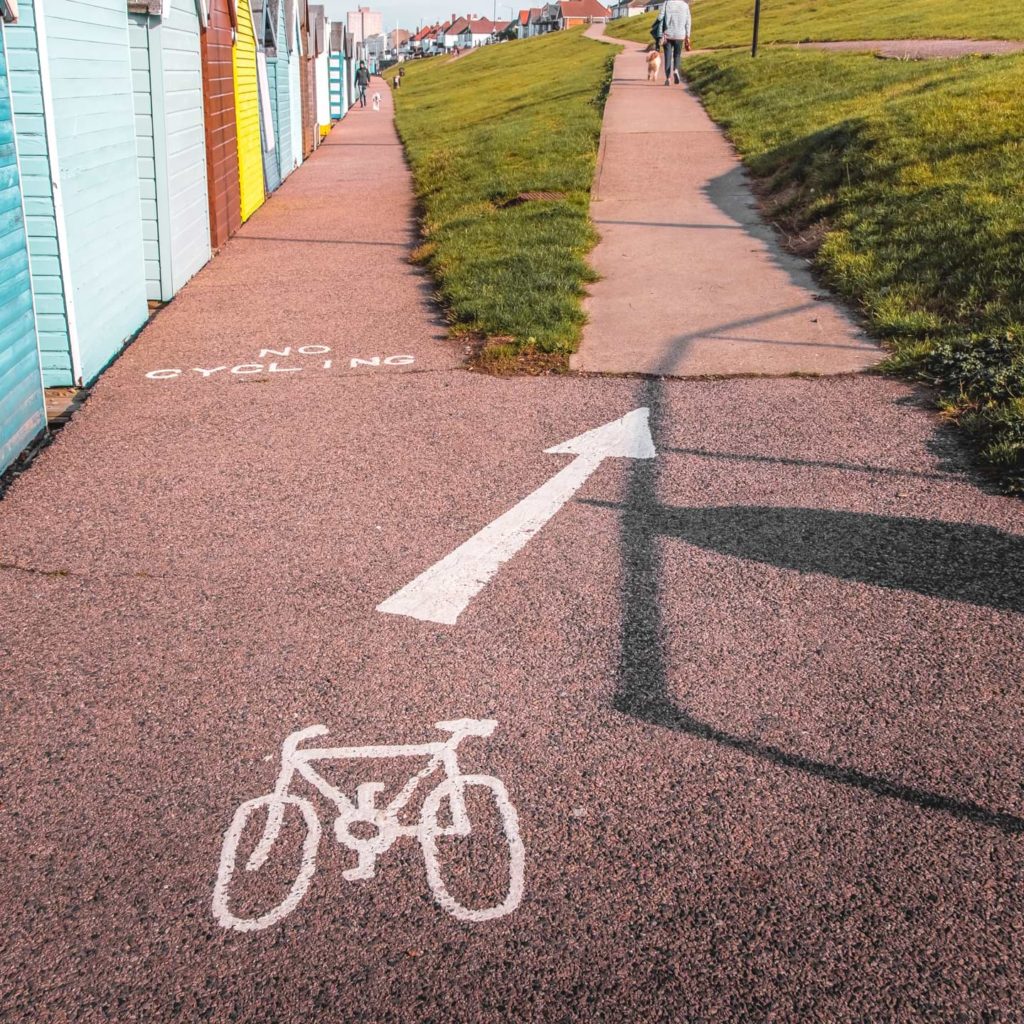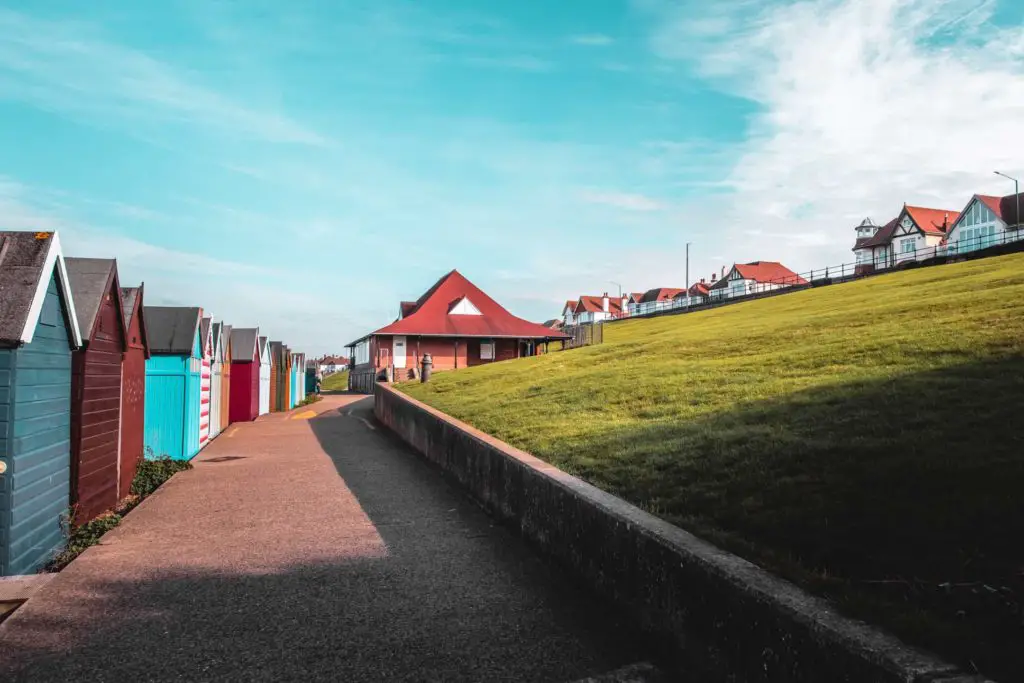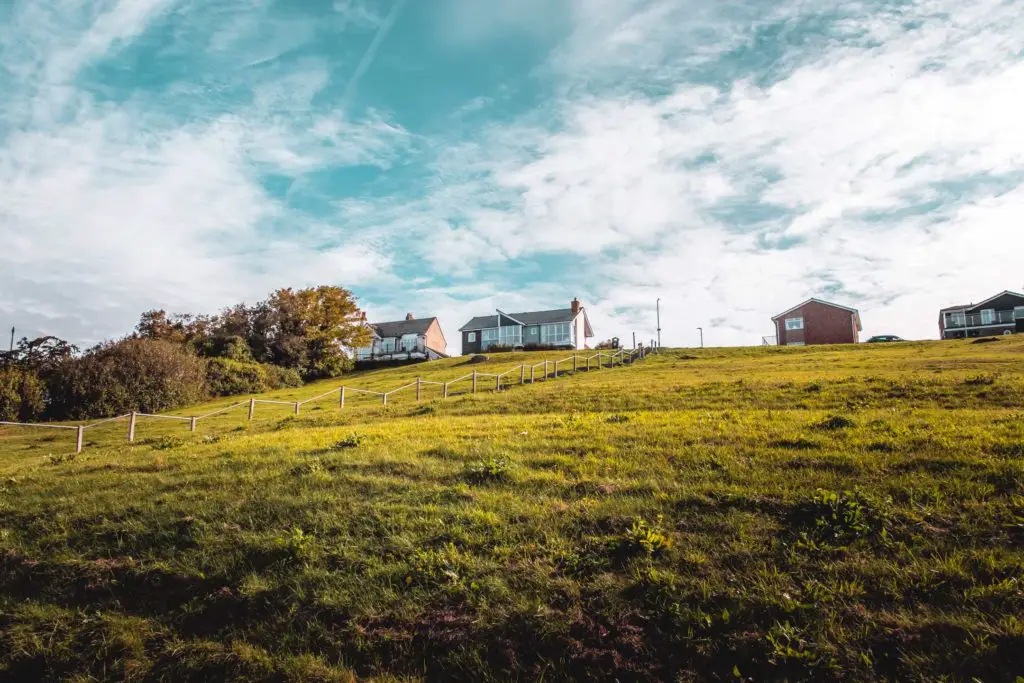 Herne Bay
There was a sort of quiet tackiness as I entered Herne Bay. I don't mean this in a bad way. Tacky is one of the charms of some English seaside towns. An amusement arcade strip with flashing garish lights. Not unlike other English seaside towns, except this one was pretty quiet. Maybe Herne Bay isn't frequented by the masses, who instead opt for its larger neighbours of Whitstable and Margate.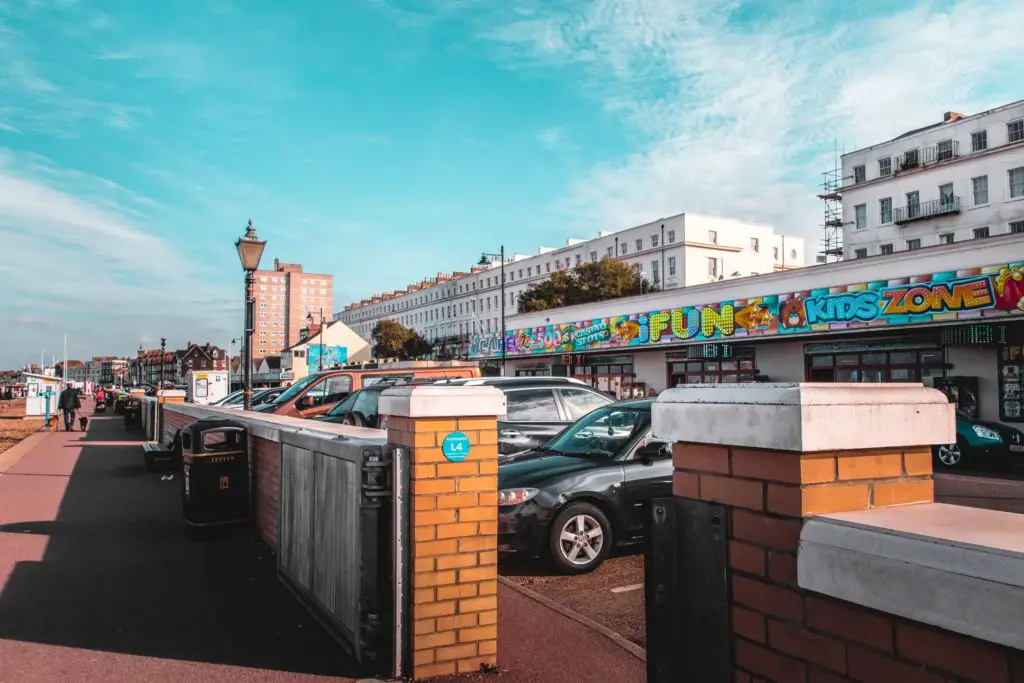 I had finished my walk from Whitstable to Herne Bay, but I wasn't ready to go to the station yet. So I milled around and people watched for a bit, with the familiar seaside smell of fish and chips in the air.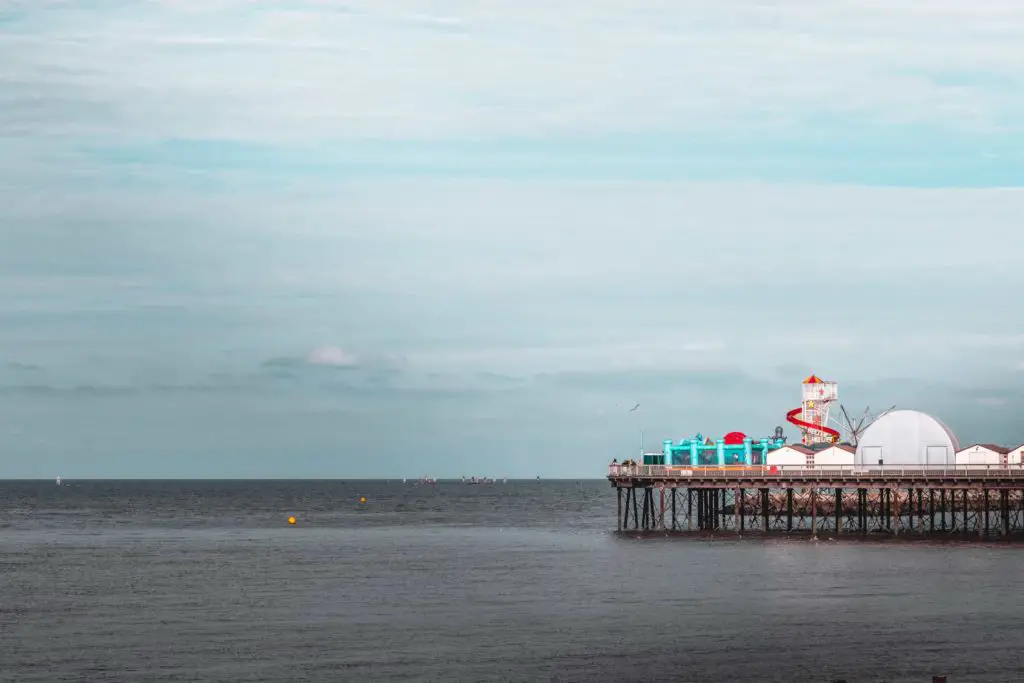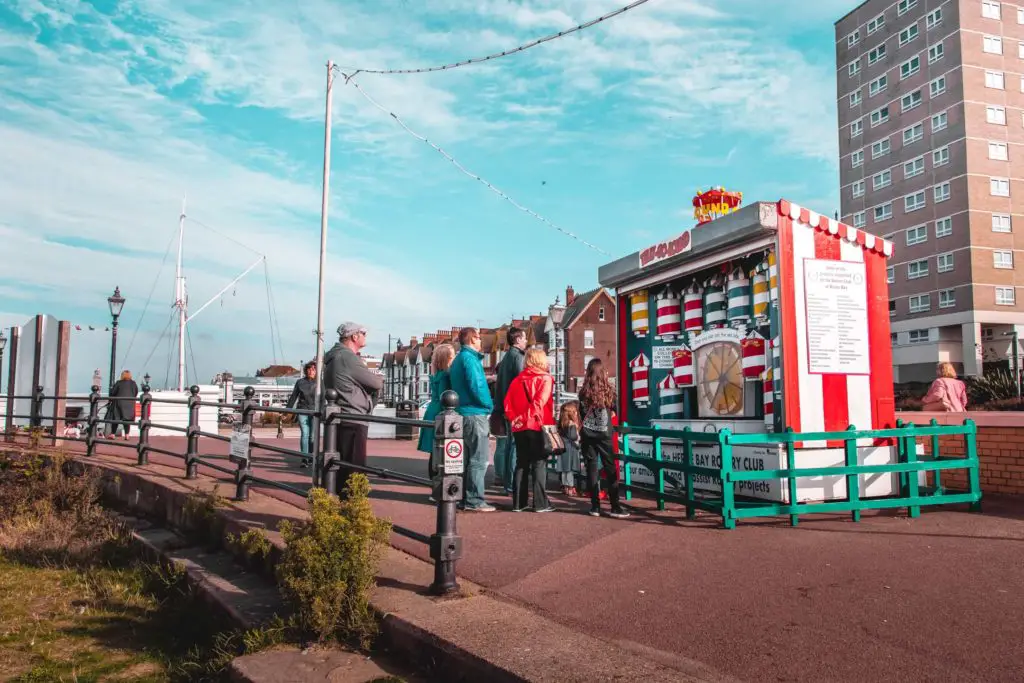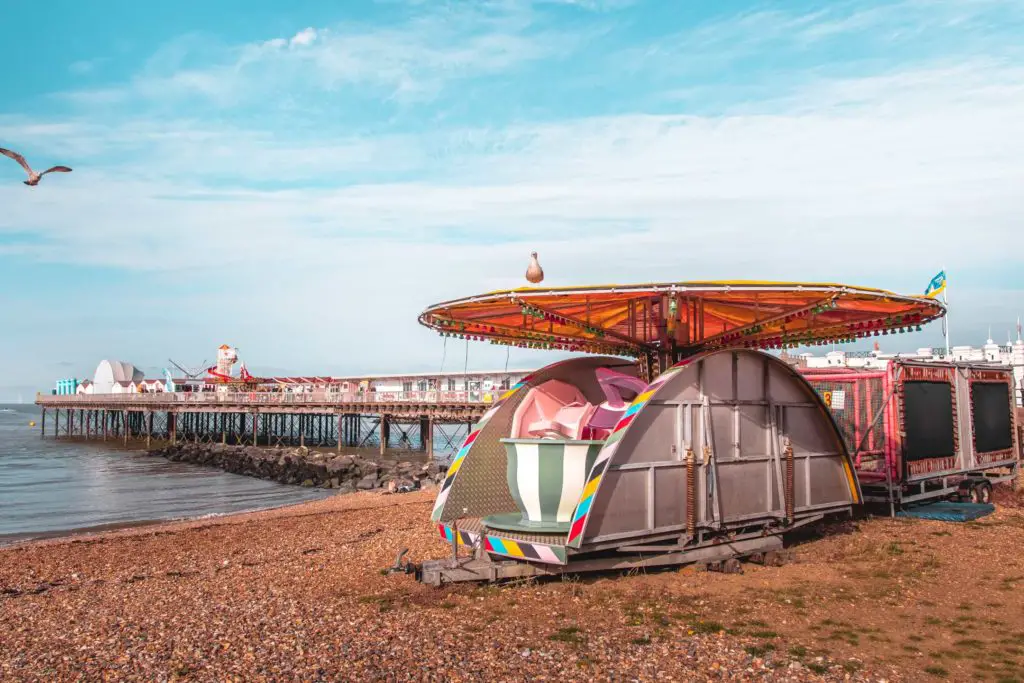 After a while, I looked at the time and realised I should have already have left for the station. A good 10 min walk away, I power walked hard and made it to my train back to London with a minute to spare.
Other Kent Coastal walks
So far, I walked a bunch of the Kent coast. Not quite all of it, but that is the ongoing plan. Here are my recommendations so far:
Faversham to Whitstable covers 9.5 miles just west of here. It's an easy walk, which features a boat yard, oysters and overgrown weeds. Not sure if the weeds are a year round thing, but when I was there those weeds were on steroids. A quietly beautiful walk though, and part of the Saxon Shore Way trail. 
Herne Bay to Margate is the next section of the coast path if you continue east. 12 miles featuring the Amy Johnson bronze and Reculver Towers. You also start to get the cliffs on this section.
Margate to Ramsgate, slightly east of here, is a stunning 8 mile cliffside walk with long stretches of sandy beach, linking three historic towns.
Ramsgate to Sandwich takes you through a nature reserve then a few miles of boring road, but the finish line of the medieval town of Sandwich makes up for it.
Dover to Deal, further south along the Kent coastline, is 11 miles featuring grand white cliffs and secluded bays. If you are lucky, you might even get a glimpse of France across the channel.
Folkestone to Dover is another one featuring the grand white cliffs. About 7 miles in length, and also a chance to spot France.
For more from the coast path, you can read about the best coastal walks near London.
If you would like other walking ideas in Kent, then you can find some on the National Trust website.
Pin it for Later: Coastal walk from Whitstable to Herne Bay