This walk links 3 historic towns, Margate, Broadstairs and Ramsgate on the Isle of Thanet, the far east peninsular of Kent.  It's an 8ish mile section of the England Coast path and is also part of the Viking coast trail. It's a pretty easy walk and each town has a train station so you can easily shorten it if you don't have the time….or just don't want to do all of it. The walk from Margate to Broadstairs is much longer than Ramsgate to Broadstairs. Both those sections are also very different, well, the way I walked them they were anyway… 
The whole walk can be done at sea level or on the clifftop, or a bit of both. For most of the way from Margate to Broadstairs, I stayed at sea level, then moved to clifftop for the last bit from Broadstairs to Ramsgate. 
Whether you choose to walk from Margate to Ramsgate (clockwise) or Ramsgate to Margate (anti-clockwise) should be determined by the tide. I mean, it doesn't have to be, but I recommend it. A lot of the sea level walk from Margate to Broadstairs is only accessible at low tide. Walking on ground that is under the sea for half of the day was quite interesting….and deserted. 
The tide was due to be half way out when I would be arriving in the area, so I choose to start at Margate. 
Detailed logistical information including an interactive map, and more walking ideas will be at the end.
Well, let's get into it shall we.
Margate – The Start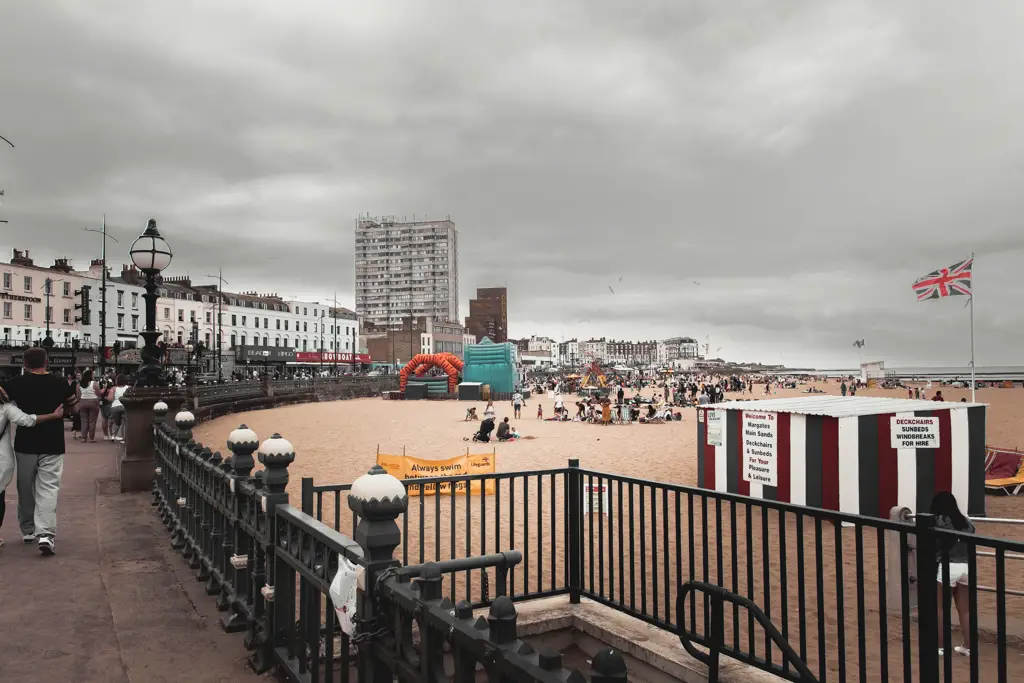 Arriving in Margate I felt a sort of nostalgia for my childhood. I realised that this was the first time in a long time that I had been somewhere like this. I mean, I have been to many seaside towns as an adult but this one was different. As far back as I can clearly remember, the majority of the English coastline I have walked along has been mostly shingle and rocks, with a touch of sand. I have been to many beaches abroad, but the climate is different. 
The air smelt salty, and was heavy with English humidity. There was a lot of noise, of people talking, kids playing, music coming from different directions. The sky was gloomy, but that never stops the British flocking to the beach in the summer. 
Margate had a sort of retro feel to it, as I walked to the beach passing by a place called Dreamland, an old amusement park….something I will be coming back for.
I spent a lot of my childhood in Essex with my grandmother, playing on the beach a few minutes walk from her home. Here, today, the air, the smell, the sounds all transported me back to that time. 
Margate to Broadstairs walk – just under 6 Miles
As I left Margate, I left all the craziness and noise with it. Cliffs to my right, ocean to my left, uncovering the rocks and seaweed as the tide was pulling out with views ahead of me of the same, and dark cloud looming above. I was struck by how still the air was. Heavy and still. The only sounds were the gentle waves of the ocean and the occasional seagull. There weren't many people around but when someone did come round the corner their footsteps were magnified.
Then I saw this and was momentarily freaked out.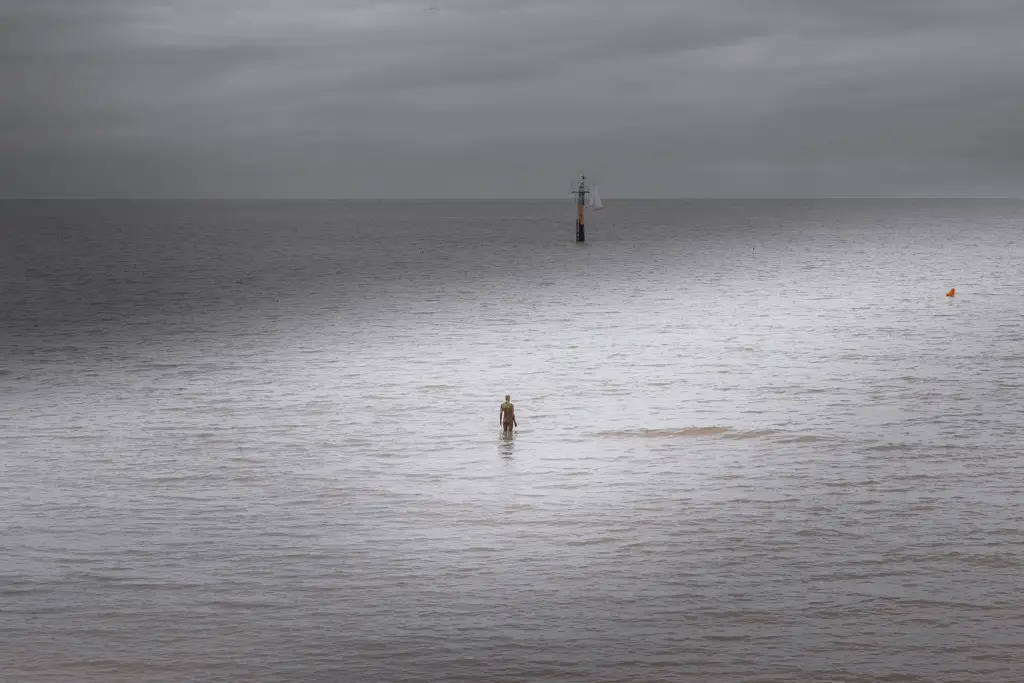 I felt a little bit like I was at the end of no where.
This section of the walk is along a promenade, which reminded me a little of the undercliff path on the walk from Newhaven to Brighton. Except this one was almost deserted and had a sort of gloomy feel to it. So when the option came to walk up onto the clifftop I took it.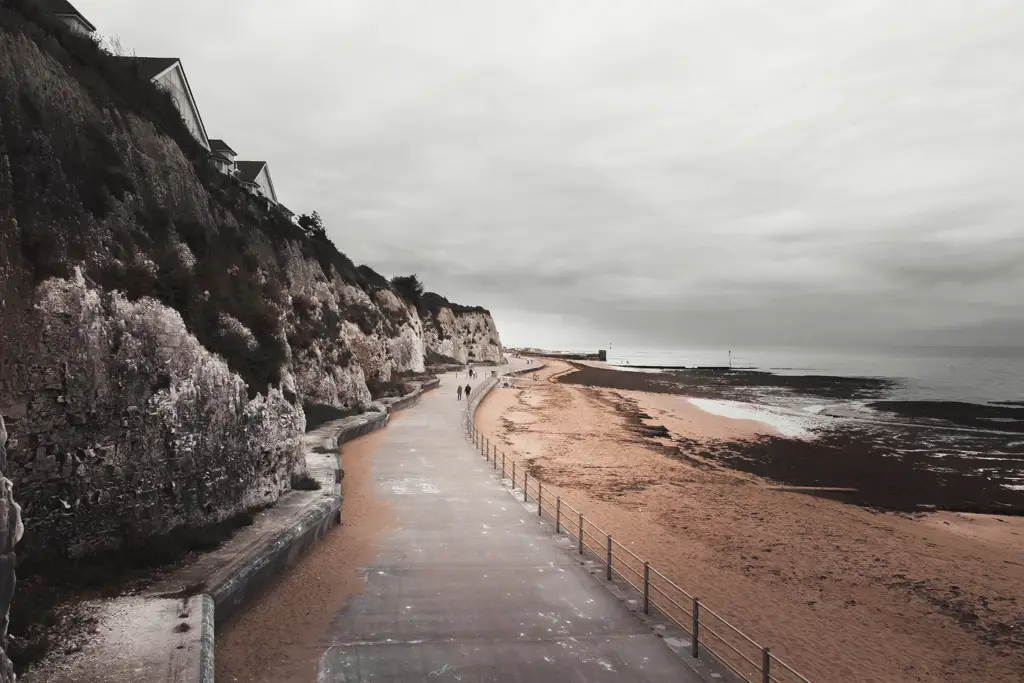 Not far along, I got a nice little view of standup paddle boarders below.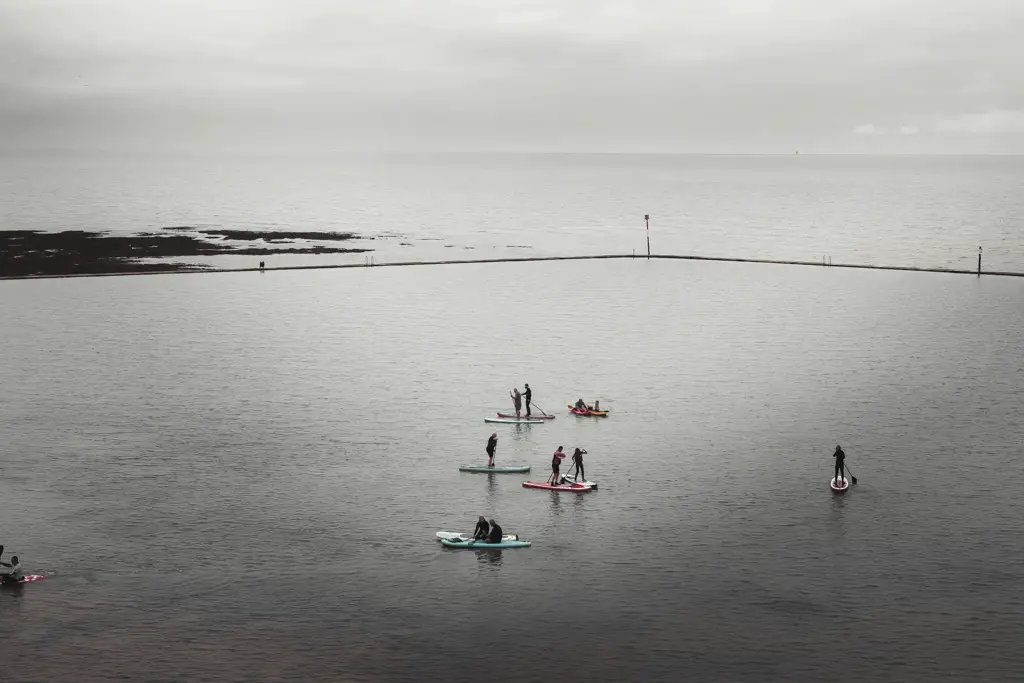 Then decided to head back down and embrace the gloom. I found myself kind of drawn to the bleakness.
As I continued along on my walk from Margate to Ramsgate, with each cliff corner I walked around, I would find myself at another sandy beach cove.
Here is Botany Bay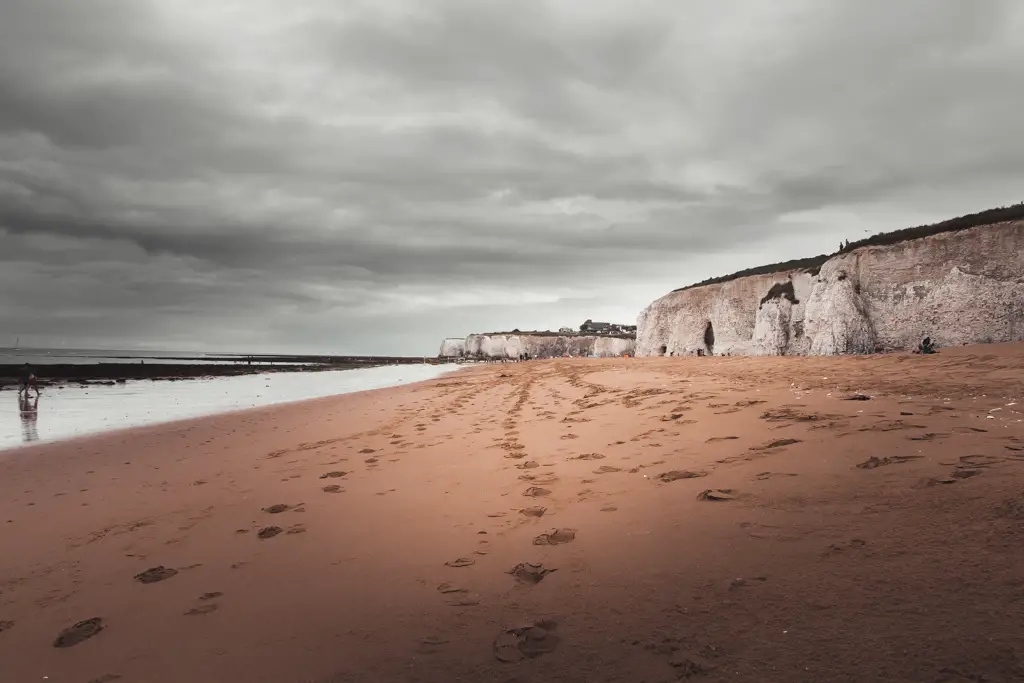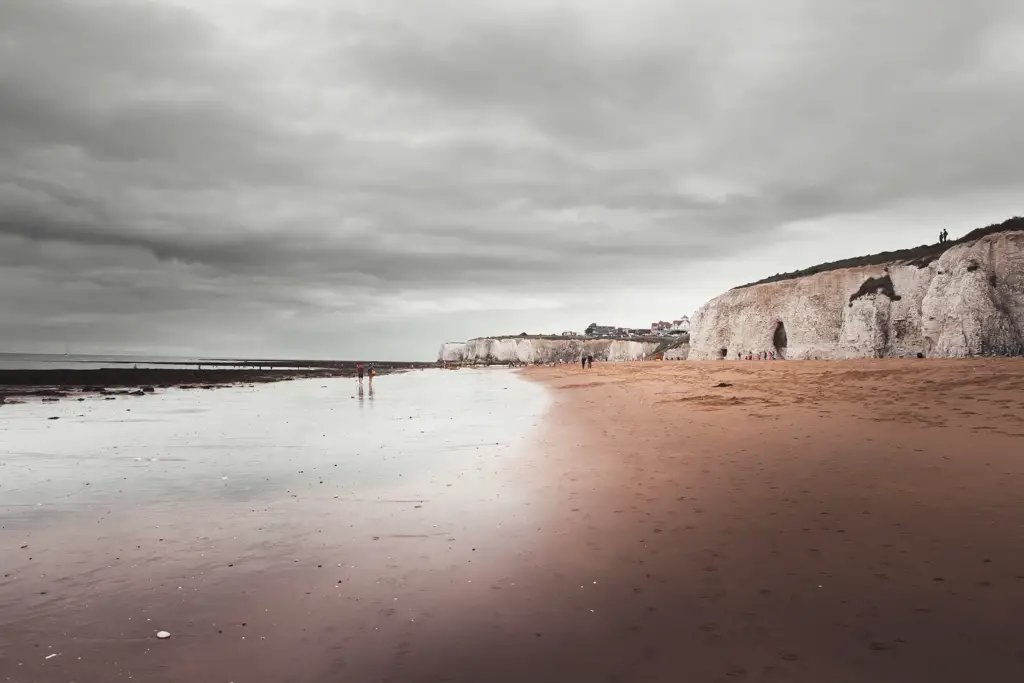 At times, particularly when walking around cliff corners, the terrain became a bit….tricky. Trying to walk over rocks, shingle and seaweed. I decided to mix it up and head back up to the clifftop.
I was pleasantly surprised when I walked back up after Botany Bay to find a folly and a castle.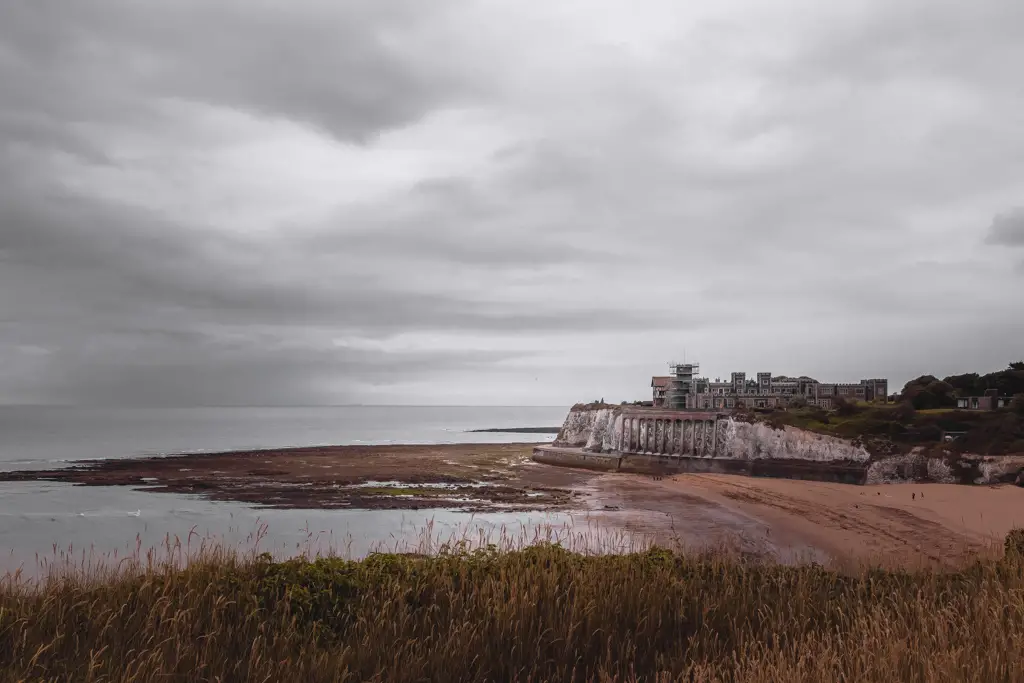 Then I headed back down to Kingsgate bay….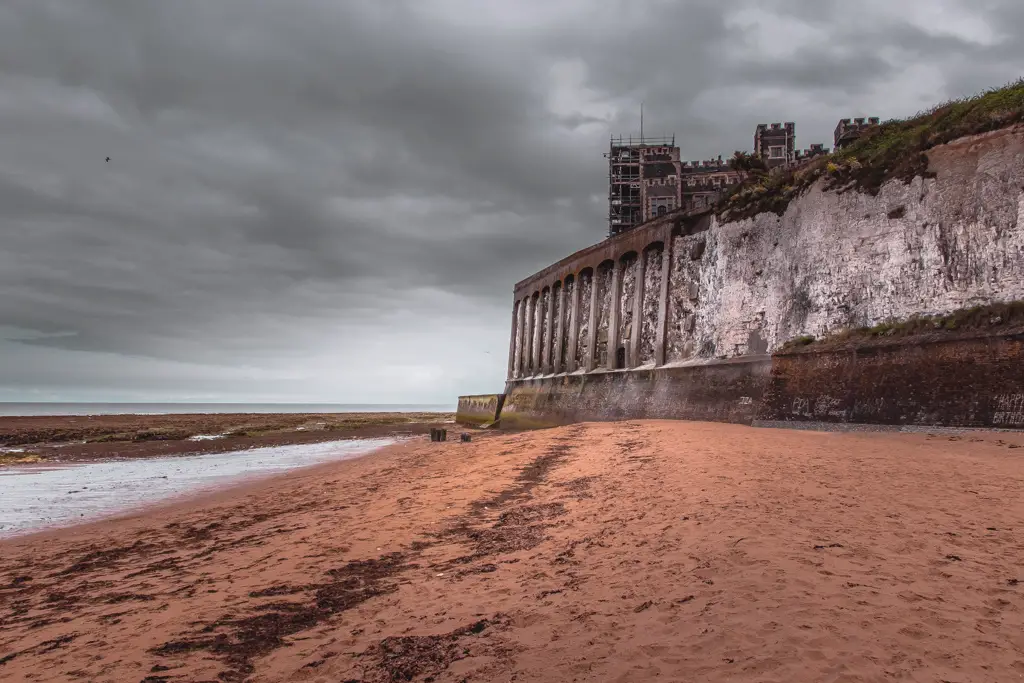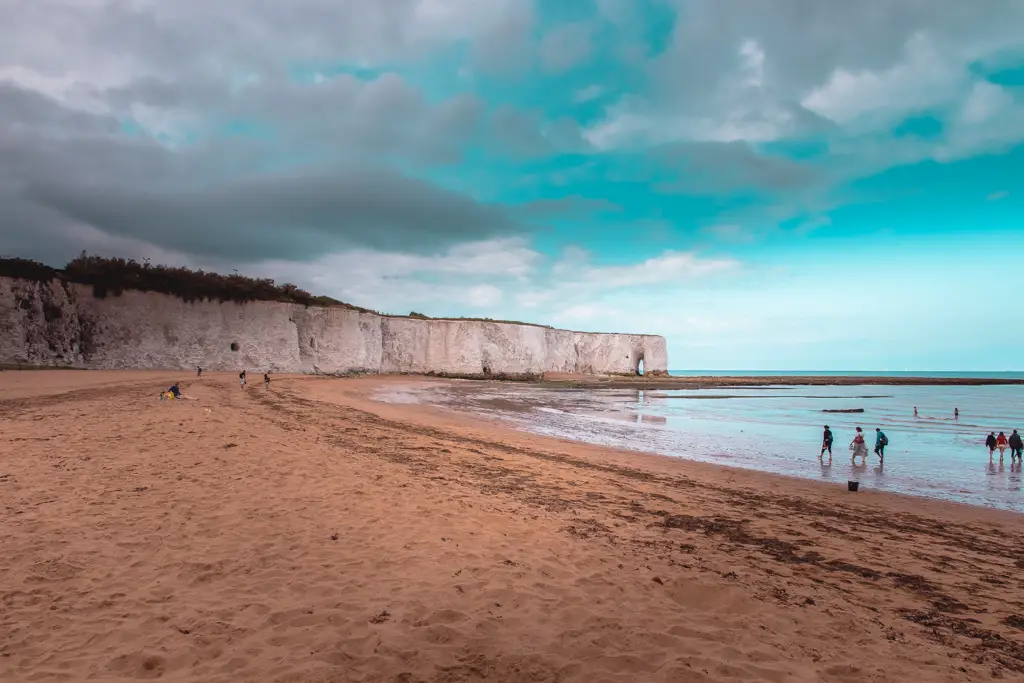 Walking around the next cliff corner I found myself at Joss bay.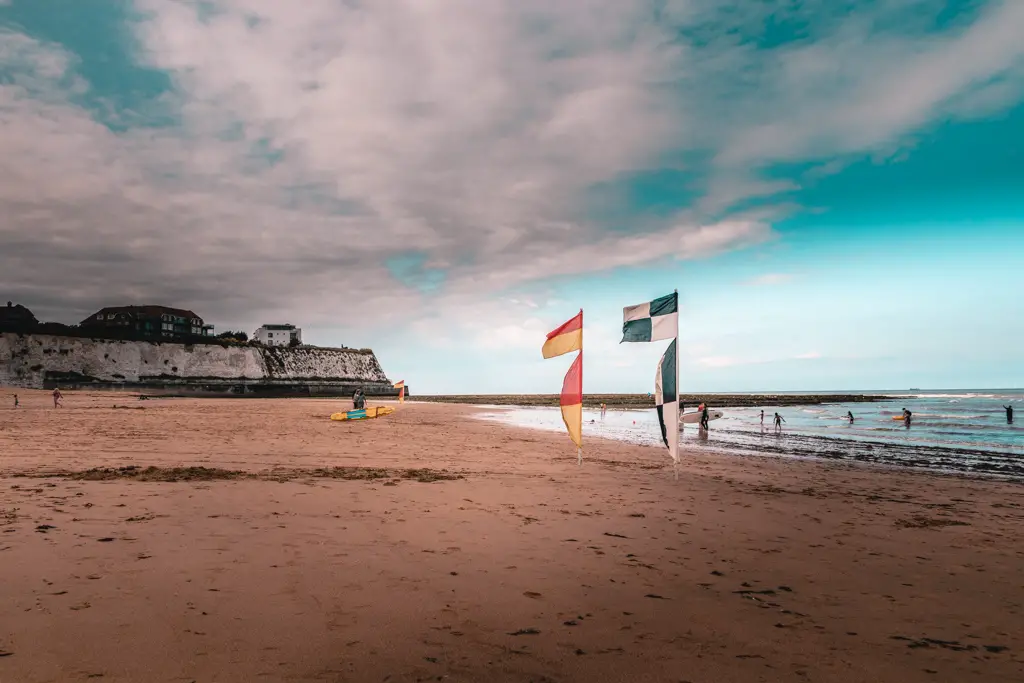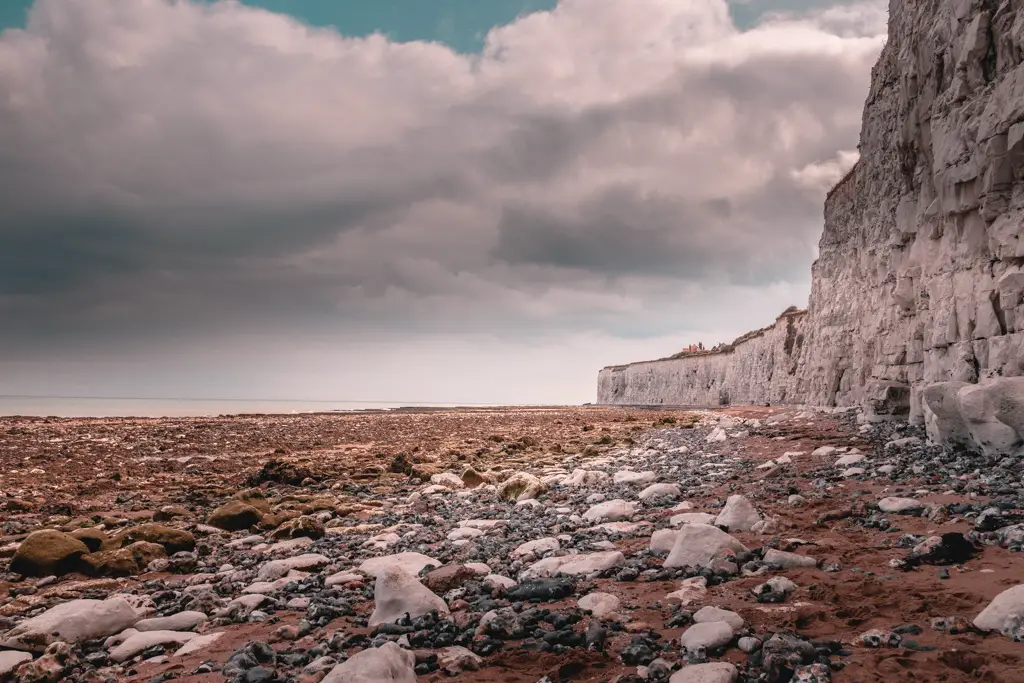 A lot of the walk was on terrain like this. Not the easiest to walk on, but I rather enjoyed knowing I was walking somewhere that is only accessible for part of the day (when the tide is out).
Arriving at Broadstairs
Someone had told me that there are lots of cute beach huts at Margate. Well, I didn't see them. However, as I turned around the cliff corner I was greeted by what looked like hundreds. This must be what they were talking about. All painted different colours, lining the beach at the bottom of the cliffs. 
This is Stone Bay, in case you were wondering.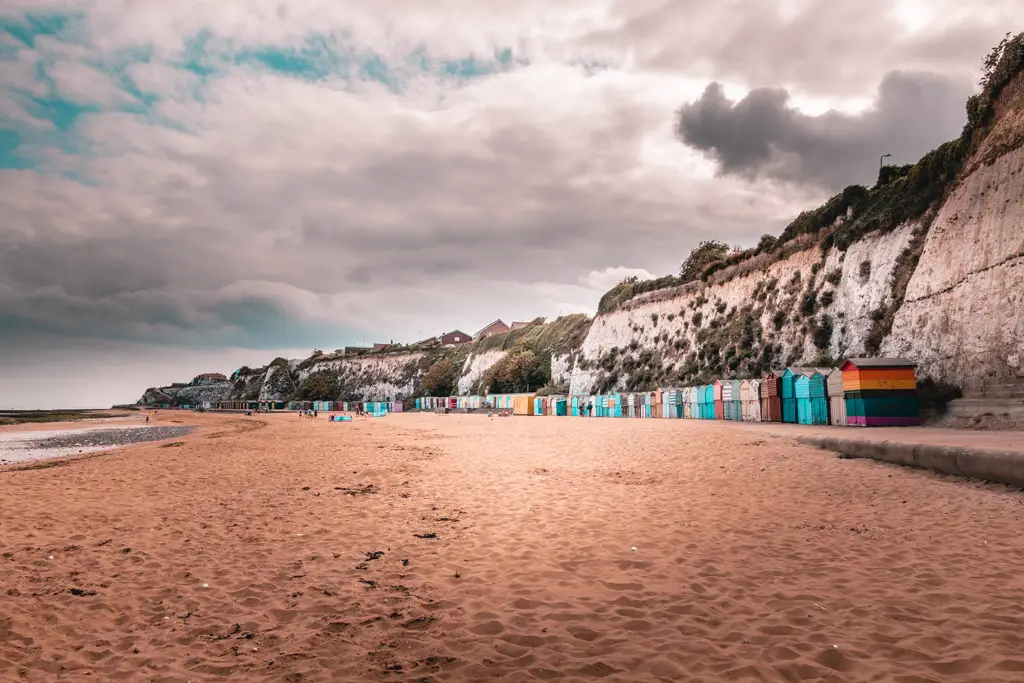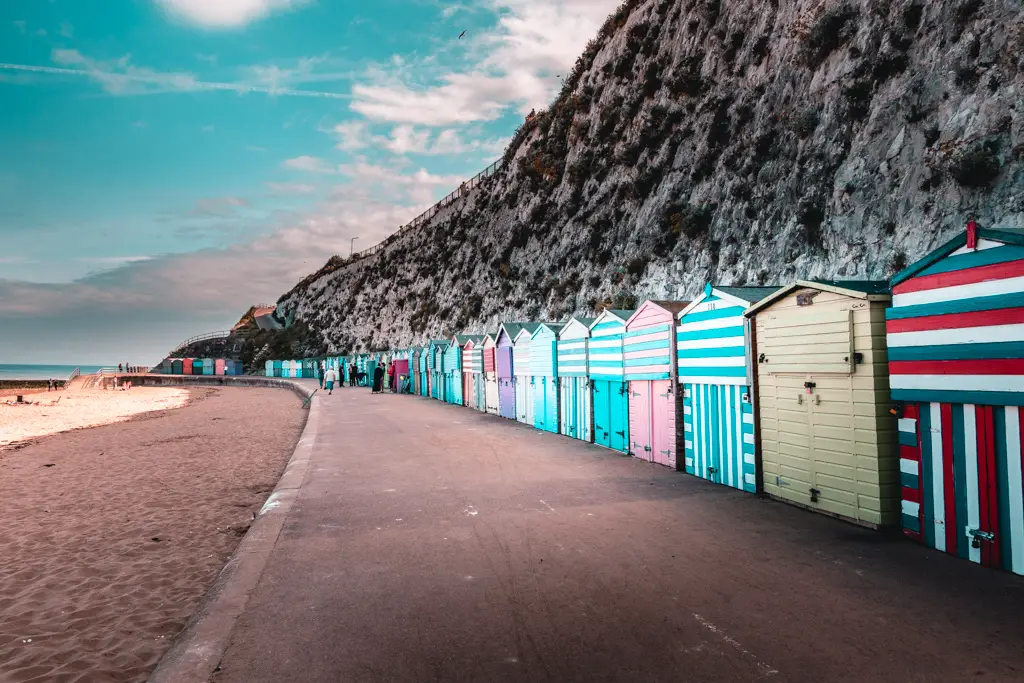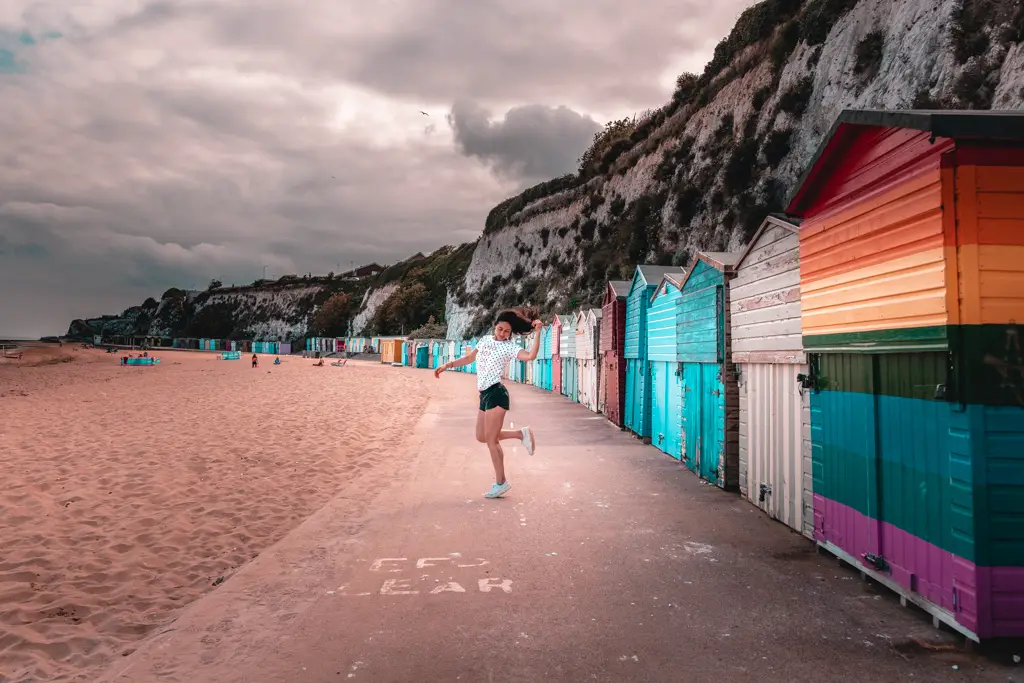 Continuing on past the huts I reached the town of Broadstairs. A charming seaside village with an interesting interjection of modern into old world. Narrow lanes, historic architecture, cute cafes, modern restaurants,1950's ice cream parlours. The place was bustling with people, but not in a 'too crowded' way. I didn't stay here long because I was on a walking mission, but my interest was peaked. I will be back here very very soon.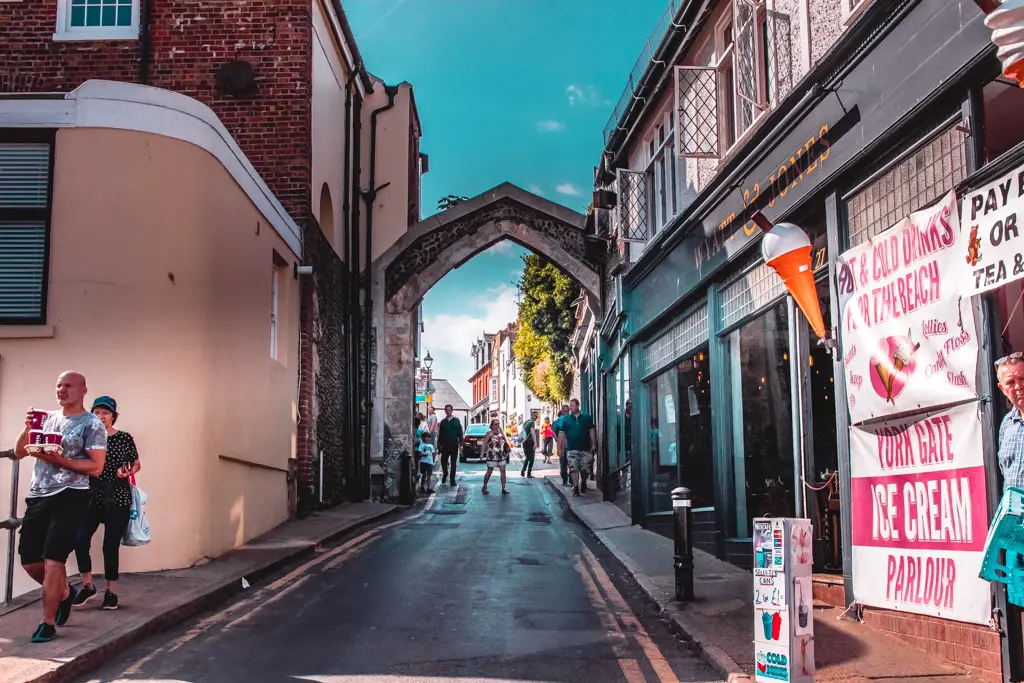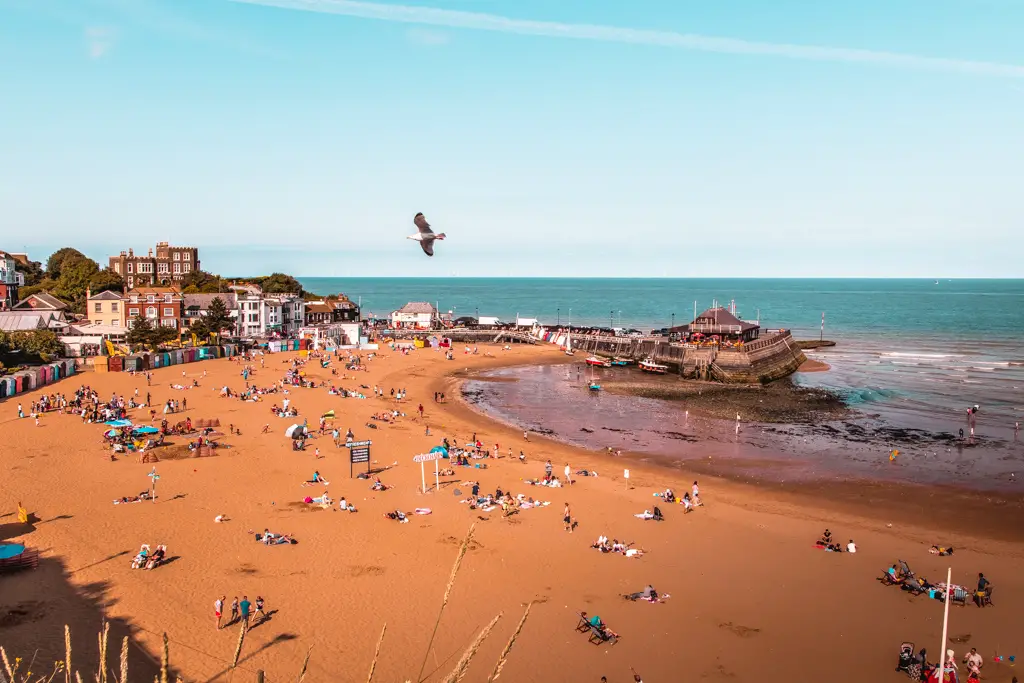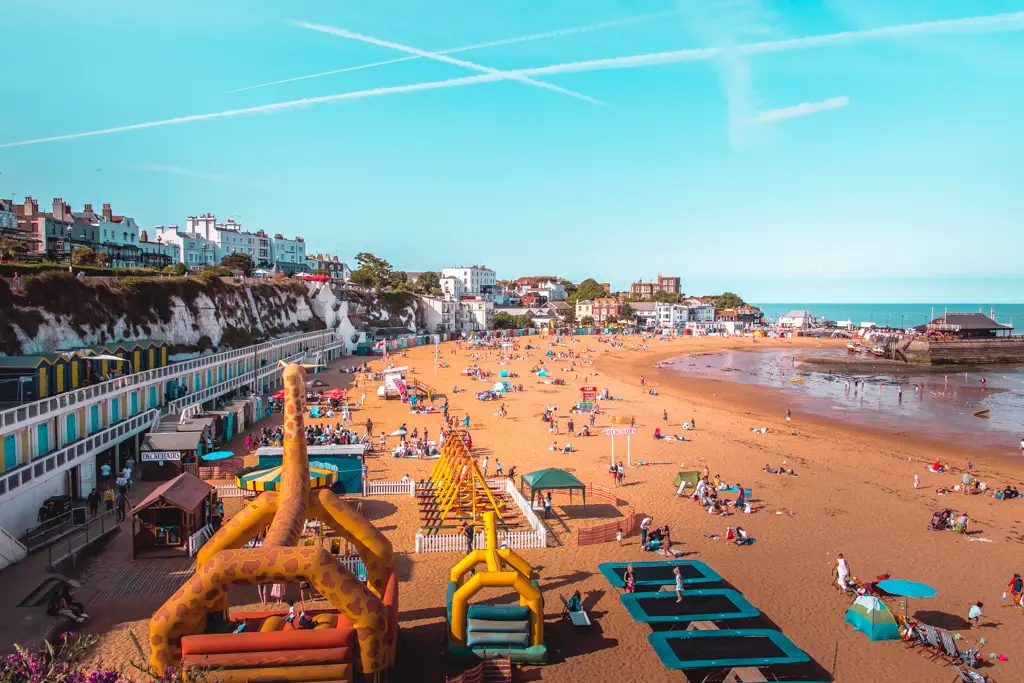 Fun fact: Broadstairs was a favourite holiday spot for Charles Dickens
Broadstairs to Ramsgate walk – 2.5 miles
This section of the walk from Broadstairs to Ramsgate, on the cliff top, was a lot prettier. I'm not saying better, as it depends on what you are looking for in a walk. The first section from Margate to Broadstairs, at sea level, was quite bleak and I had that feeling of disconnect from the world. The grey sky might have also had something to do with it. Now as I made my way from Broadstairs to Ramsgate the sun was out, and walking on the clifftop I was surrounded by lush greenery.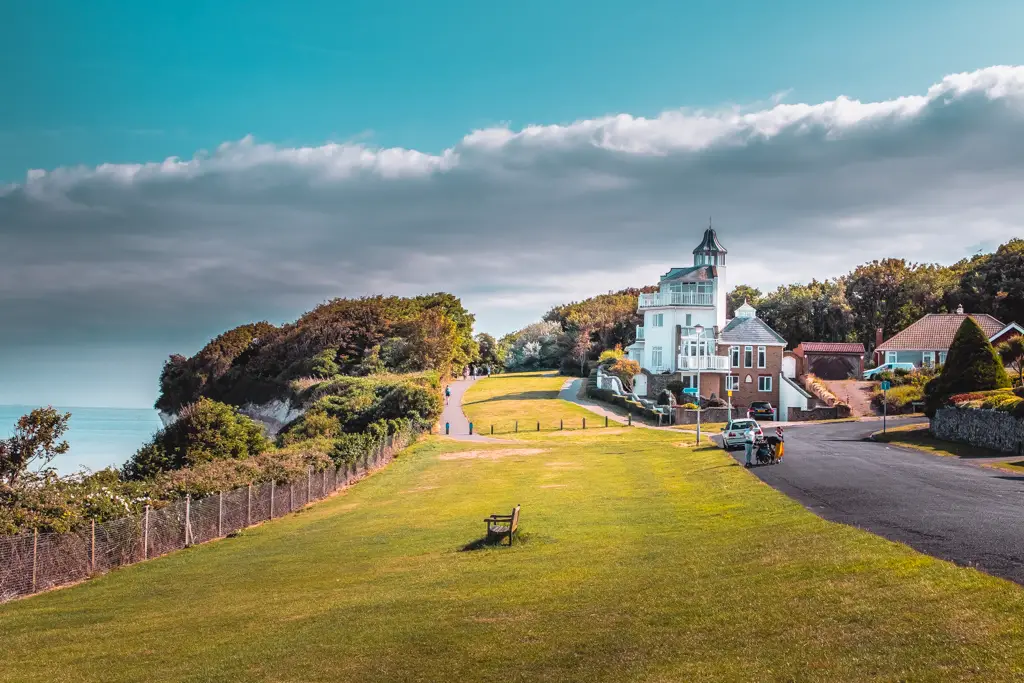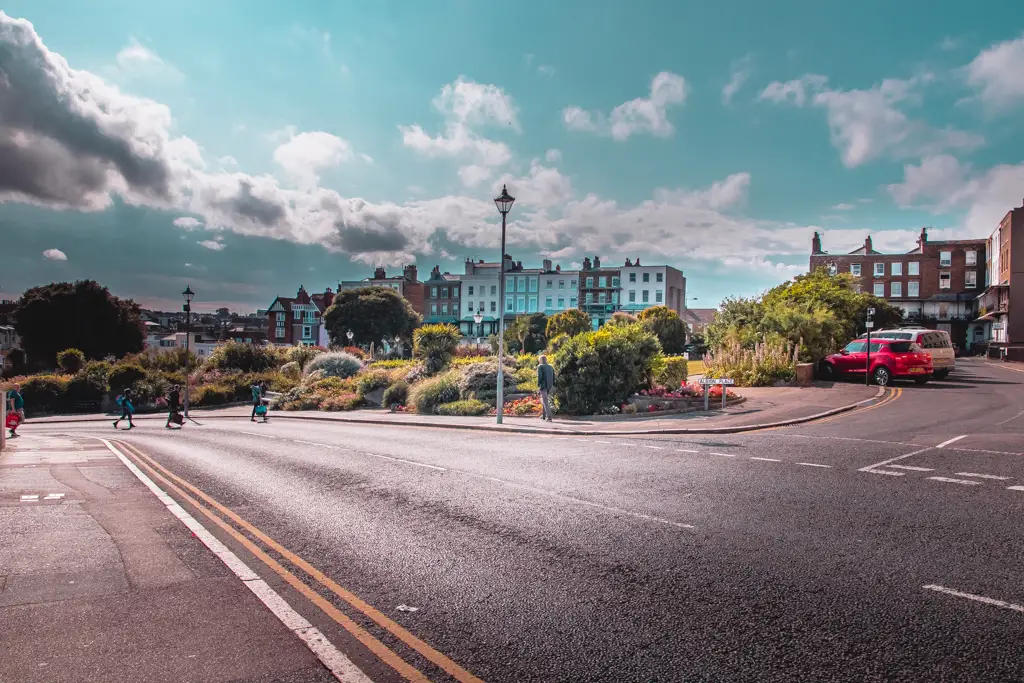 Ramsgate 
Arriving at Ramsgate with its Regency and Victorian architecture, I was greeted by a yacht packed marina lending to a more continental vibe.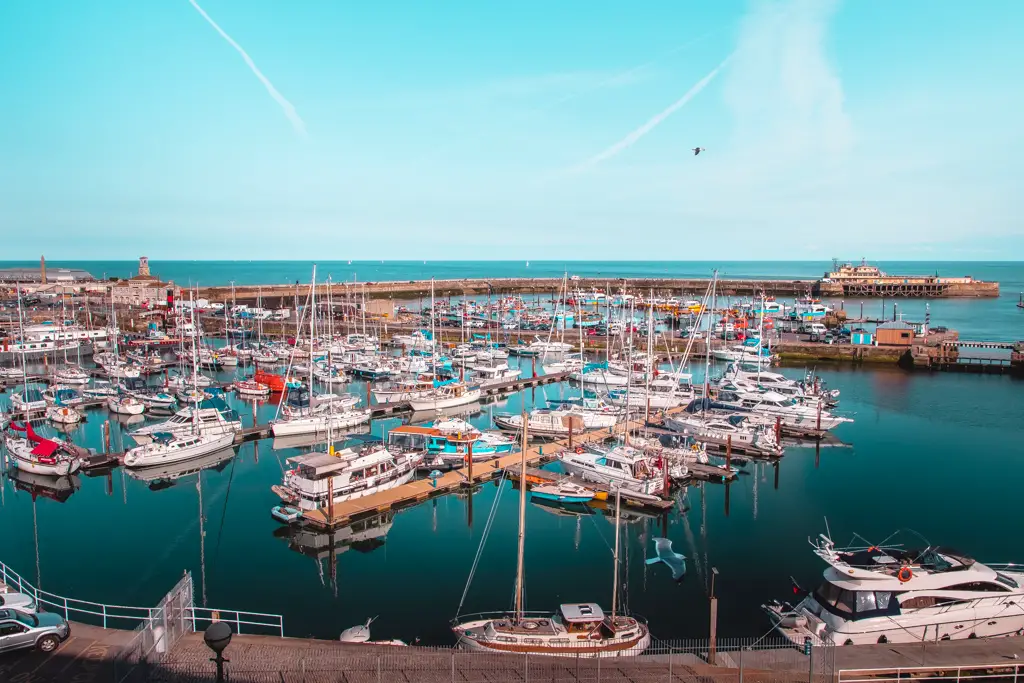 Fun fact: It is Englands only Royal Harbour.
Even more fun fact: Ramsgate has its own meridian line. 5min 41s ahead of GMT.
By the end of my walk from Margate to Ramsgate, what struck me was how similar but different each place was. All had that old world feeling but in their own very unique way. I'm going to go back sometime soon and properly explore all of them. 
Logistics for the walk from Margate to Ramsgate: 
Start/finish: Margate or Ramsgate station.
Getting there: There are direct trains from both London St Pancras and London Victoria stopping at Margate, Broadstairs and Ramsgate. The fast train from St Pancras will get you to Margate in 1.5 hours, or to Ramsgate in 1.25 hours. From Victoria, it is slightly longer.
Distance: 8.3 miles (on my tracker. The exact distance will depend on where you start and stop it)
Time: 3 hours
Elevation gain: 1079 ft (If you go up to the cliff top)
Tips: Check tide times and do the Margate to Broadstairs section of the walk at low tide.
Margate to Ramsgate walk Map
Click on the little box in the corner to follow the trail.
More of the South East Coast path:
If you continue south, you will walk the Ramsgate to Sandwich section of the coast, and then after that you have Deal to Sandwich. If you do this walk in the other direction you could continue on to walk the section, Herne Bay to Margate (but in reverse). Or nearby on the Kent coast, you could do Faversham to Whitstable, or Whitstable to Herne Bay. If you continue heading south, you could walk from Deal to Dover and the famous white cliffs of Dover (technically I walked from Dover to Deal). You can get there by train from Margate/Broadstairs/Ramsgate in 18min, or alternatively straight from London.
If you want more cliffy type walks, you could try walking from Newhaven to Brighton which also has an under cliff path. Or if you want cliffy with more of a challenge, I would recommend the Seven Sisters walk, or the walk from Folkestone to Dover.
If you want a really hilly walk, I would recommend the route from Hastings to Rye (which is also a personal favourite of mine.)
If you fancy something which also features a sandy beach and Medieval town then I recommend Rye to Camber Sands.
For more, you could read my post about the best coastal walks near London.
If you would like more info about the English Coast Path then check out the National trail's website.

Pin it for later – The walk from Margate to Ramsgate via Broadstairs