This England Coast Path walk links the busy seaside town of Ramsgate to the Pegwell Bay National Nature Reserve and the quaint historic town of Sandwich. How long is it? Hmmm, well that depends on how much you detour in the Pegwell bay area. My tracker tells me I walked 9miles, but I did have to walk back on myself a few times, so the official trail is most likely shorter. I will explain more later in the post. 
I will tell you now, this was not my favourite coastline walk (due to the last 3miles walking next to the road), but it has definitely been the most dramatic….
My first attempt to walk it was two weeks prior. I got on the train from London to Ramsgate only to discover a few stops in that this train was not going to Ramsgate. 
I got off and switched to the Ramsgate train. 
About 20min into that journey I realised this train wasn't going to Ramsgate either. It was going to Dover. How I managed to get on the wrong train twice I don't know. 
After a long wait in Dover I finally got on the correct train to Ramsgate, but at that point decided to scrap the walk and just go straight to Sandwich. After walking around Sandwich for 20min, I realised someone was following me.
Yes. A man was following me.
No effing way. I do not accept this.
So I tried to lose him, then got on a train back to London. 
Oh, but the story doesn't end there. Once in London, I made my way to Victoria overground station, when the alarms decided to go off. Everyone had to evacuate the station. Never in my life has this happened. It's quite funny that this day, of all days is when it had to happen (it was a false alarm btw).
Two weeks later I returned to do this walk. No stalker this time, but I did run into 2 bulls (they weren't really bulls…I just thought they were, so the fear was REAL) on the trail. In case you don't know, bulls are not allowed to be kept where there are walking trails. I will tell you more about this later in the post (spoiler alert: they were friendly cattle). 
More nearby walking ideas and full logistical info, including interactive map, will be at the end
Well, without further ado, let's get into it.
Ramsgate To Sandwich Walk Via Pegwell Bay
From Ramsgate station it is a bit of a walk to the coast. I didn't time how long it took, but the signposts say 20min so let's go with that. So yes, follow the signposts to the coast and turn right.
You will walk past the Royal Marina and then past the arches with thrift stores and cafes.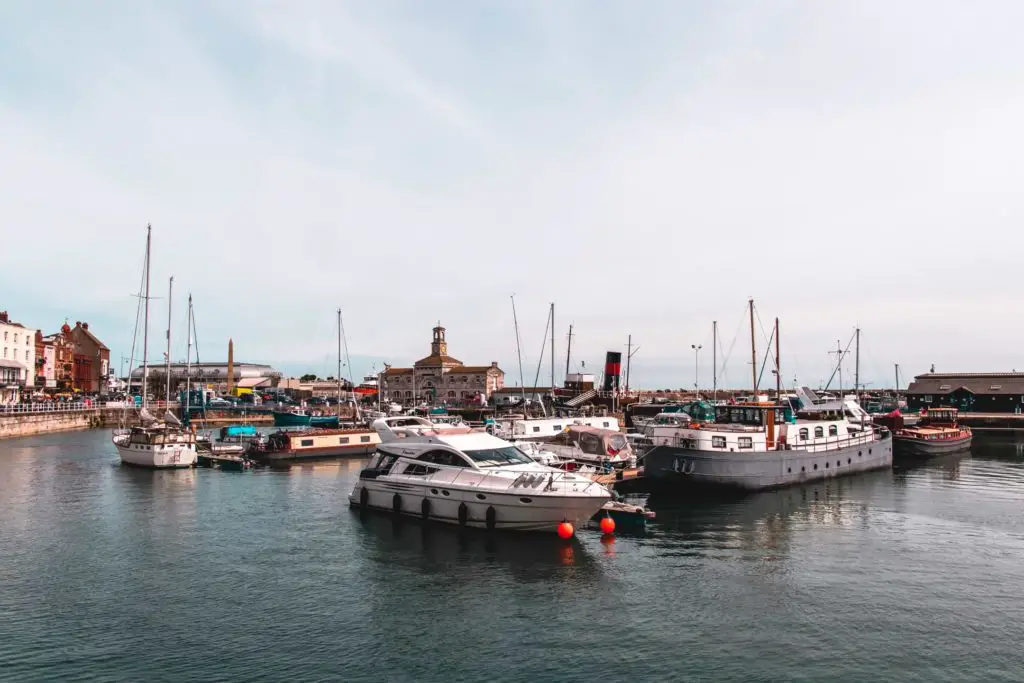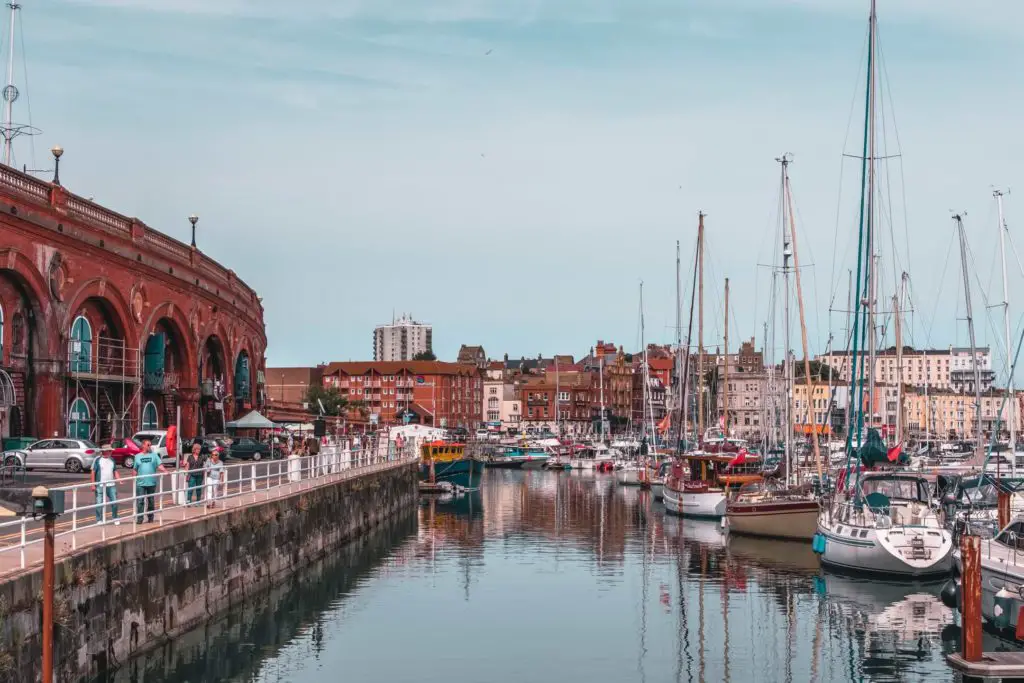 The next section is a bit boring. Walking along the pavement with not much to look at before reaching the beach area. Here you will walk past some very large bins. Might just be the largest street bins I have ever seen.
With the cliffs on your right you will see paths leading up. At some point take one of them.
The views are a bit better from up top.
Once you reach the end, follow the path right and take the first left into a park. Walk to the other side of the park bearing right, then once you reach the main road, turn left. 
You will come to this wall running alongside the road. If you are short like me, stand on your toes and look over to see some cuteness. 
A bit past the hotel take an opening to the left and you will be on a trail again.
Pegwell Bay Nature Reserve
You will now get a view of the Pegwell Bay National Nature Reserve area. I don't know much about wildlife, but apparently, this area is of international importance for its bird population. The area is made up of mudflats, salt marshes, sand dunes, ancient dune pastures, shingle beach, coastal scrubland and chalk cliffs. This isn't really my area of knowledge, but you can read more on the Kent wildlife trust website.
You will soon reach metal barriers. Just to the right is the trail, however, If you want to explore down by the water head through the gate and explore. 
It's a little bit smelly down here, but you get great view of the cliffs of.
Interesting fact: Pegwell Bay is said to be the location of 3 of the 5 Invasions of Britain.
You have to go back to the metal barrier to reach the trail, there is no through way from down here. Trust me, I looked. I've never been a fan of going back on myself.
When back on the main trail you will pass a Viking ship then reach a boring bit of road again, then the trail turns in just before the petrol station (that's gas station if you are American…or anywhere else that calls it gas station).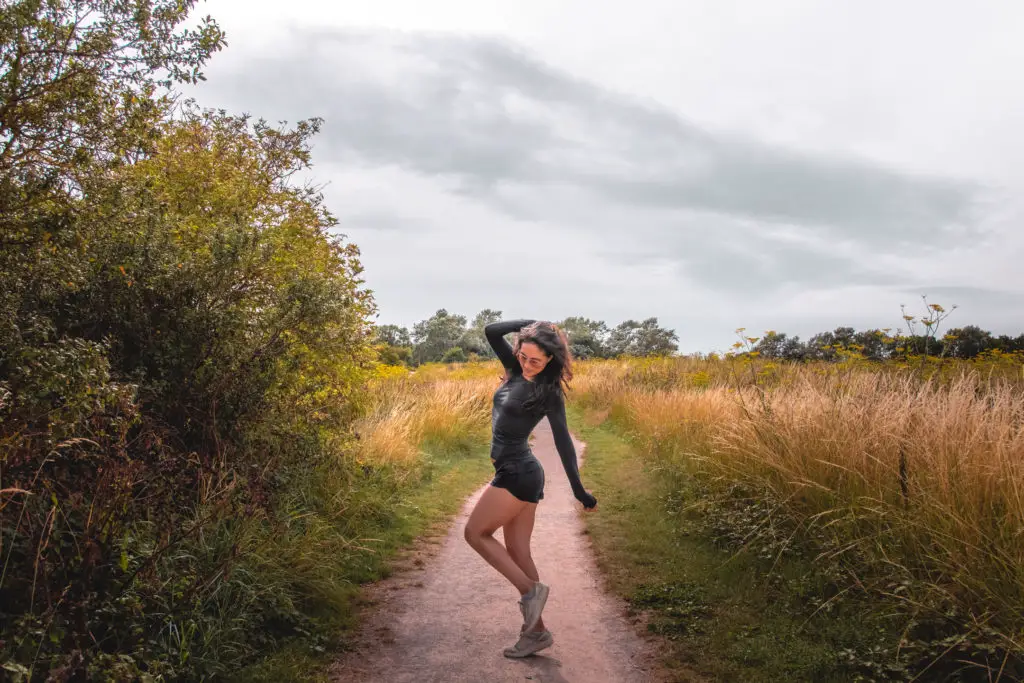 Stonelees Nature Reserve
You will now be walking in Stonelees Nature Reserve.
There are numerous trails, but I think they all lead to the same place so you could take any really. I continued along the one that looked the most official. After climbing over a stile, I continued along the path and rounded a corner to find……
The (not really) bulls
I came face to face with what appeared to be 2 bulls. The picture doesn't do them justice. They were beasts. I froze in my tracks. This was not something I wasn't expecting. I stepped to the side to get out of their view, poked round to get a photo, then legged it back the other way and back over the stile.
I later realised these are highland cattle. Highland cattle are chill and don't chase you like in the movies.
Now, this Is actually a long term phobia of mine. Since I was a child and we would run through fields during cross-country running. I always have a fear that there will be a bull who will chase me. Every single time I go into a field, the first thing I do is scan it to see what animals are there. I always knew that the fear of running into a bull was irrational. There would never be one because it's not allowed.
This was my phobia come to life (or as it turns out these weren't the scary ones. In that moment, the fear was real).
The long road
So I backtrack out of the area and reach the main road again. This is the boring, monotonous part of the walk. Just under 3 miles along a main road. But don't worry. It will be worth it for what you see next.
Sandwich
A very small historic town, full of perfectly preserved medieval buildings. It is actually one of the best preserved medieval towns in England. What also struck me is how quiet it is, twice I've been there on a weekend and I can tell you, the crowds don't flock here. I think it might just be one of those hidden gems that not many people know about.
(fyi. The next photos were taken the first time I went to Sandwich which is why the sky is totally different from the rest)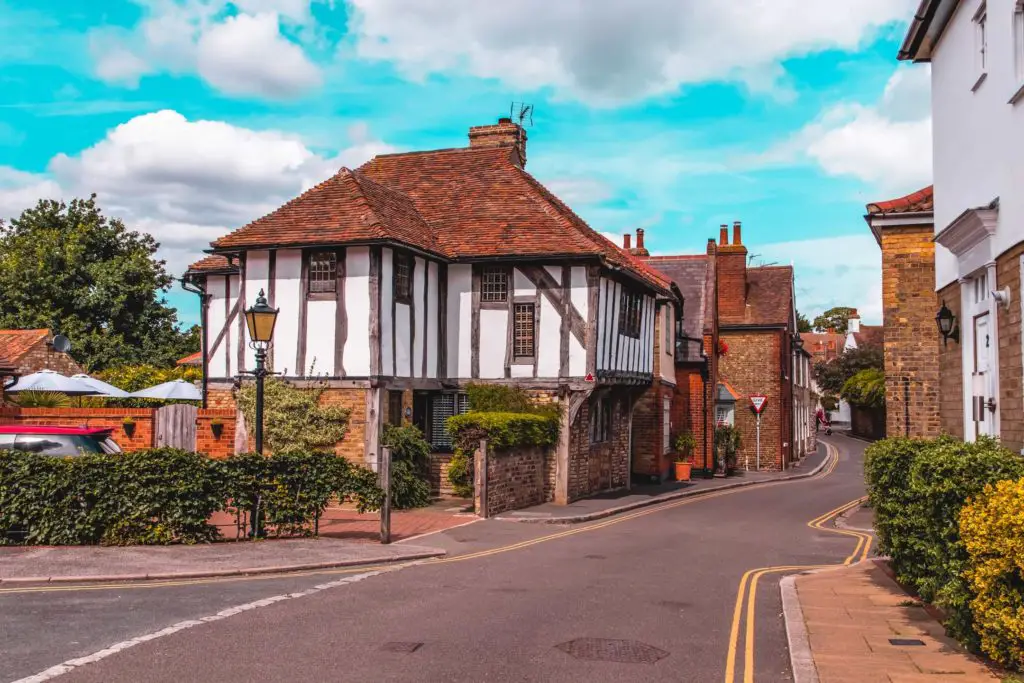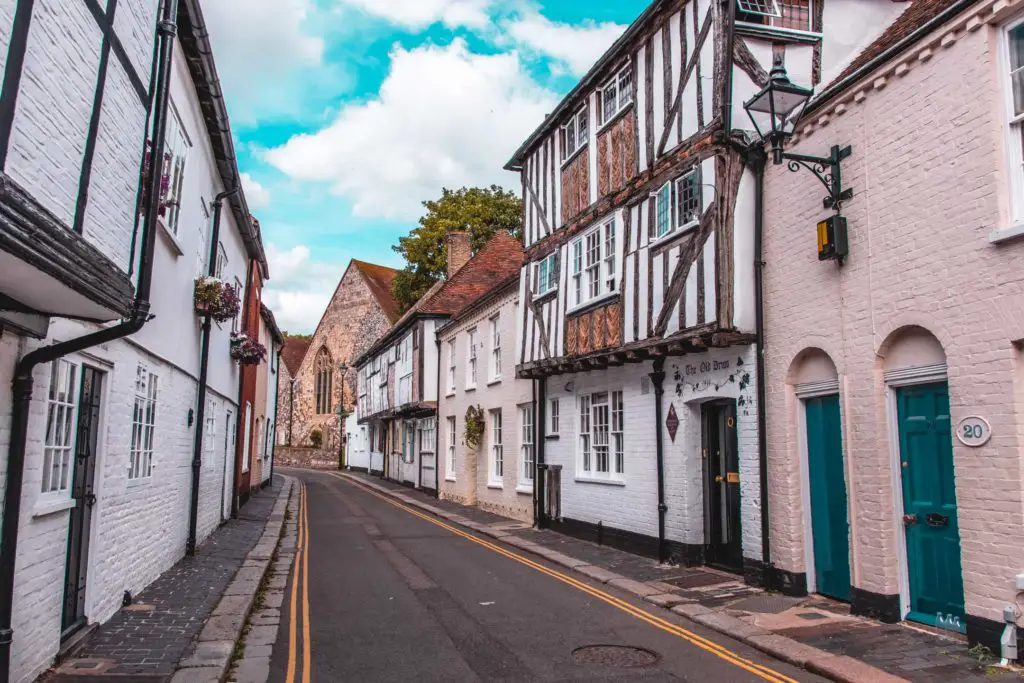 You are probably wondering what came first, the food or the town. Well, I can tell you (from what I have read online) that the food sandwich was named after the 4th Earl of Sandwich. Rumour has he didn't have time to sit down for a meal whilst gambling so would consume meat tucked between two pieces of bread.
Logistics
Start: Ramsgate 
Finish: Sandwich
Getting there: You can get a direct train from London St Pancras to Ramsgate in 1h15min, then direct return from Sandwich to St Pancras in 1h30min. Buy a return ticket to Ramsgate which will cover your return from Sandwich. Check the train times as there are other much slower trains that do the journey, and obviously, you don't want to get those.
Distance: My tracker says 8.7 miles, but I did detour a little bit in Pegwell Bay. Also, I didn't start my tracker from Ramsgate station, but rather from the coast. So let's say its 8 ish miles.
Time: 2h 45min. This includes stops top take photos and I did walk back on myself twice, so it is possible to do it in a shorter time.
Elevation gain: 801ft. You only walk uphill once, to get to the top of the cliff.
Difficulty: Easy. The whole way (apart from a short uphill at the beginning) is flat. You will walk on a mix of asphalt and walking trails.
Map – Walk from Ramsgate to Sandwich
Click on the little box in the corner to follow the trail (the little detour you can see is where I found the cows).
Final thoughts on the Ramsgate to Sandwich walk
The walk from Ramsgate to Sandwich is quite mixed. There is a small section at the beginning which is a bit boring. Then those few miles at the end which is super boring. Buuuut, the Pegwell Bay Area is lovely (although a bit smelly). And when you reach the gorgeous quaint town of Sandwich you will forget all about the boring road to get there.
Other England Coast Path walks
You could try the sections before and after this one, Margate to Ramsgate, and Deal to Sandwich. Slightly further north there is Faversham to Whitstable, and Whitstable to Herne Bay. Or head slightly further south (still in Kent) to the grand white cliffs of Dover for a lovely cliffy walk from Dover to Deal. Here are a few others in the South East area:
For a bigger list and side by side comparison, you can read about the best coastal walks near London.
Pin for later – The Walk from Ramsgate to Sandwich via Pegwell Bay