Ok, this walk to the Wainstones is now officially my favourite up here in Yorkshire. You will walk surrounded by so much heather, skirt across the highest moor in the North York Moors, with breathtaking views down into the valley, and across to the pointy peak of Roseberry Topping. You will have some solid uphill climbs, and a bit of a scramble to top it off.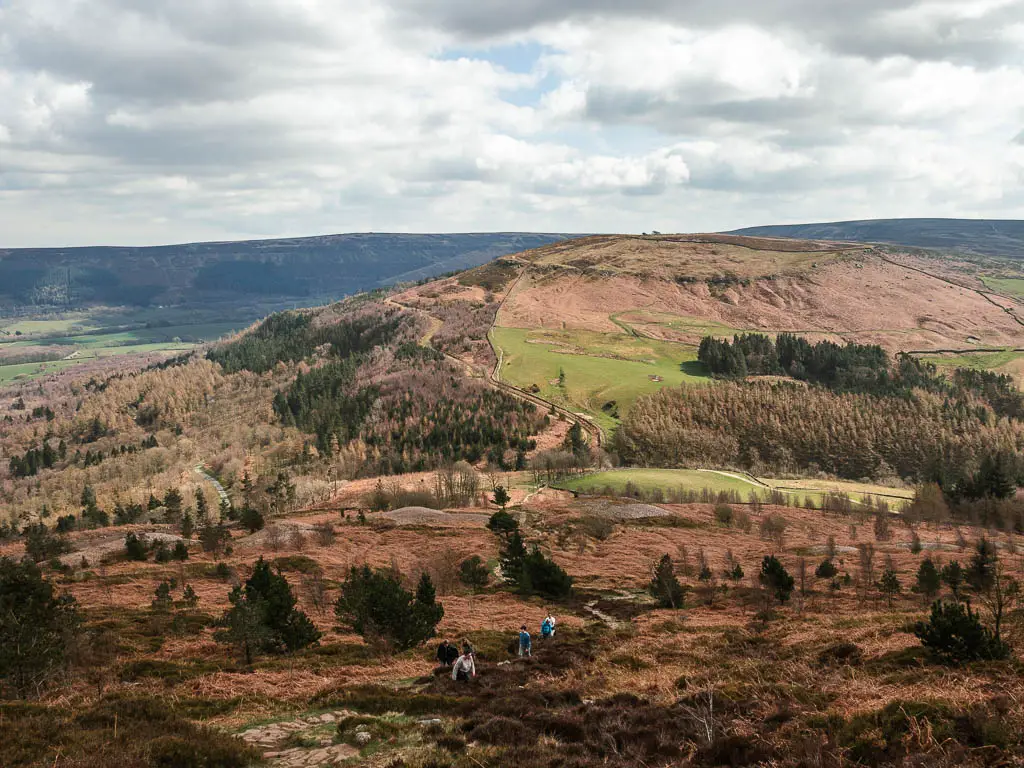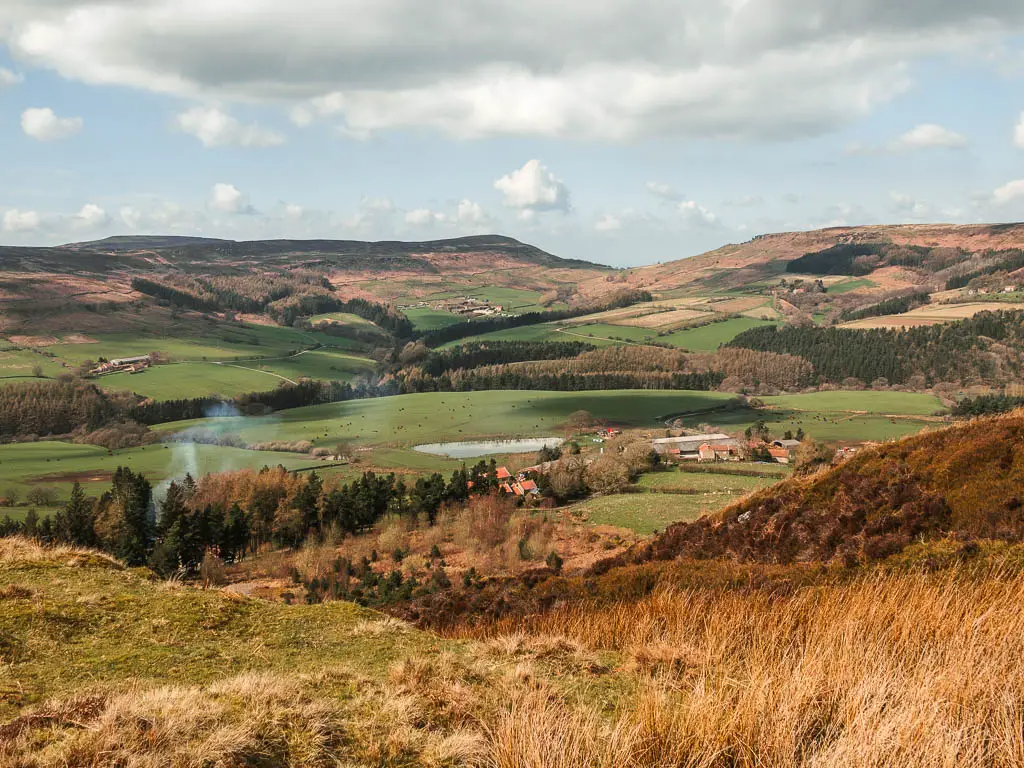 Basically, if you want a good old stomp across the moors, with a bit of adventure, and to die for views, then this is the one.
Want to give Roseberry Topping a go? Find out more about how to do it here.
I have since tried a route from Osmotherley, not too far from the Wainstones, which also gives you a good bit of moorland walking, also with a view to Roseberry Topping. You can read about that one here.
I did this walk on a gloriously sunny Easter bank holiday weekend, and was expecting there to be a lot of people about. However, for most of the route, there was barely anyone else. It was a little busier around the Wainstones, but not too bad considering it was Easter. I also saw lots of lambs.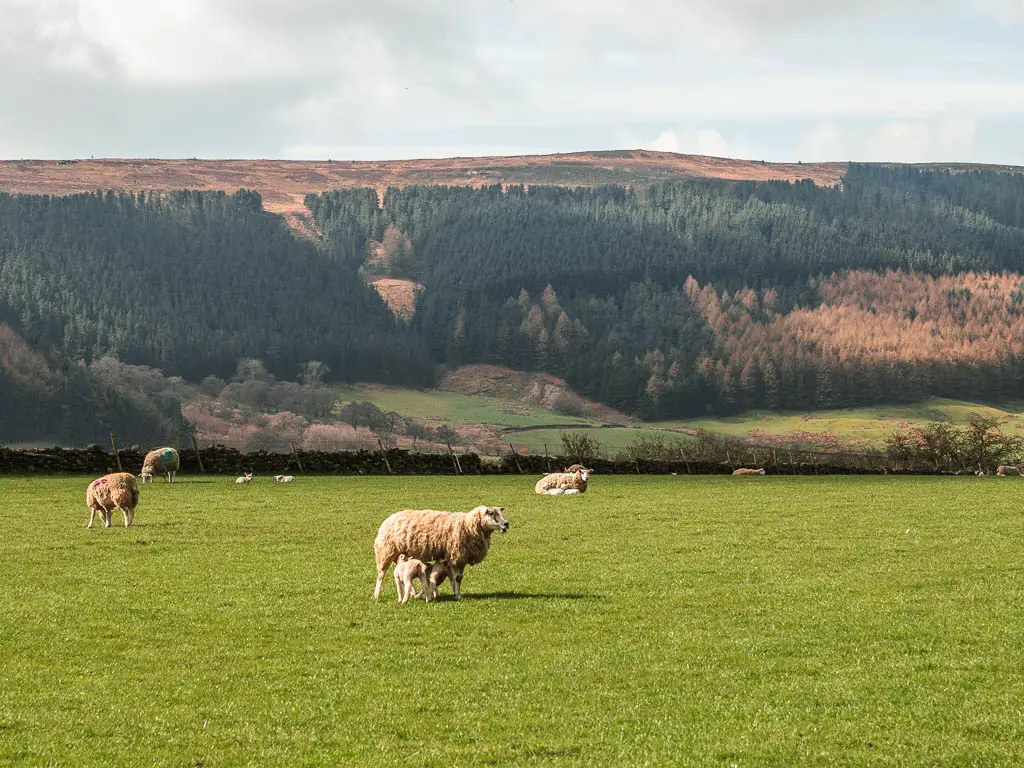 What I'm going to do in this guide, is first give a you a bit of an overview of what to expect when doing the full circular Wainstones walking route, with logistics, a map, and some useful tips. I will then go on to describe the route step by step with lots of photos.
What are the Wainstones?
They are a dramatic rocky outcrop of sandstone. The largest group in the North York Moors. You can see the Wainstones in the distance, during the first part of the walk, however, it's not until you are right in them that you realise the magnitude of them.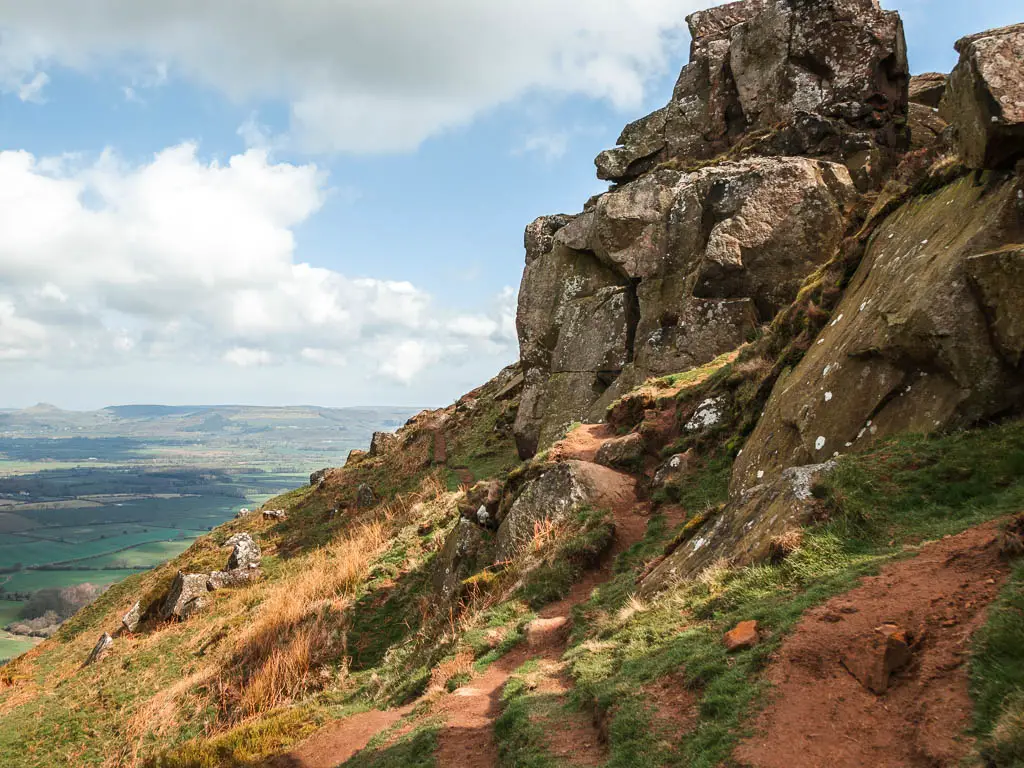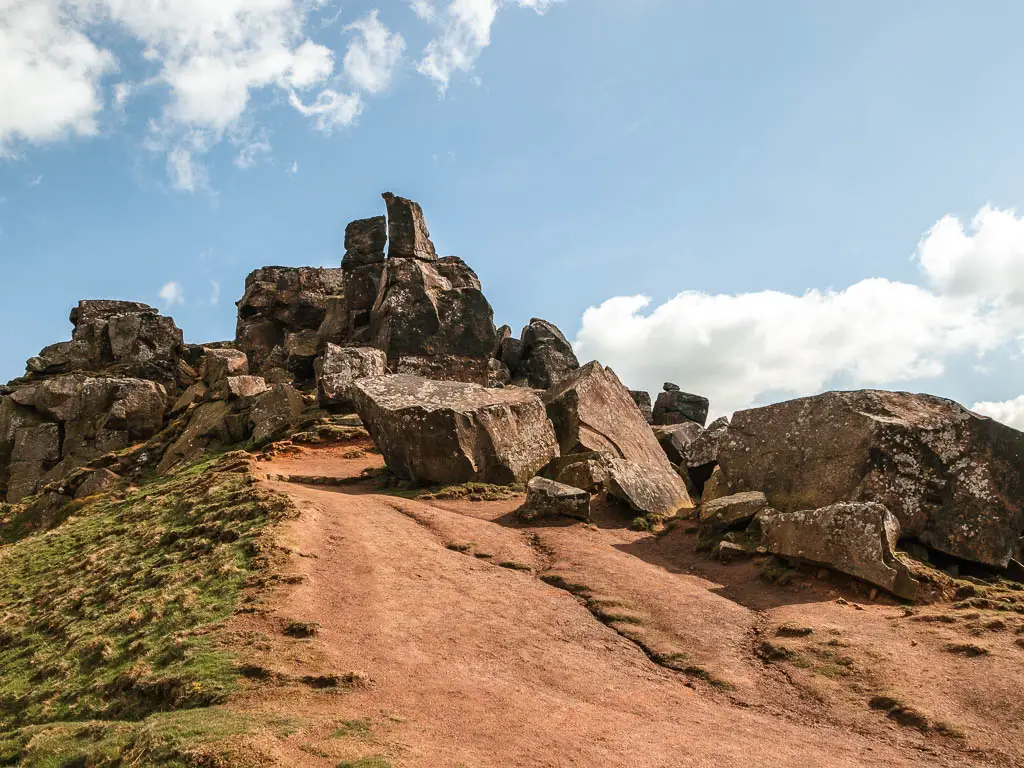 Have you heard of the Hole of Horcum? It's a massive crater type formation in the North York Moors. If you like dramatic, then you might like this walk that takes you through it and along the top of it.
How long is the Wainstones walk?
This circular walk to the Wainstones is just over 8 miles long. There is a much shorter route to walk to the Wainstones, however, you would miss out on so much if you took that. Before heading out, I was toying up which one to take, and I'm so glad I picked this one. 
The two moors you will walk across are the Cold Moor and Urra Moor. Both are filled with heather. 
Fun Fact: Urra more contains one of the largest areas of heather moorland in England and Wales.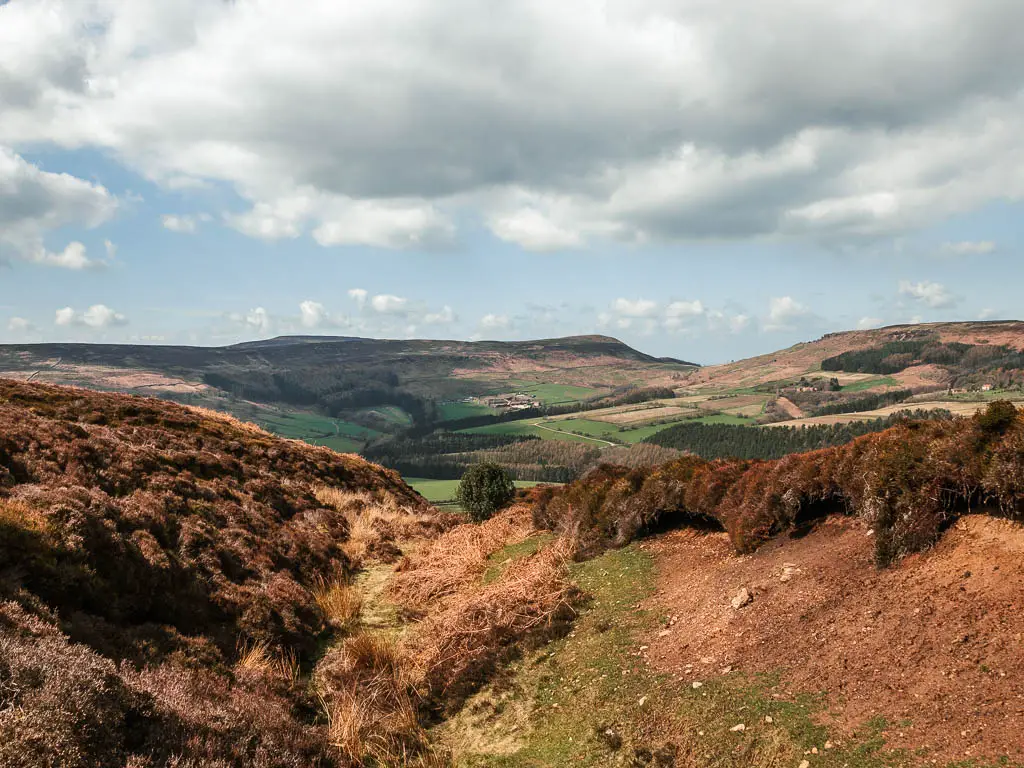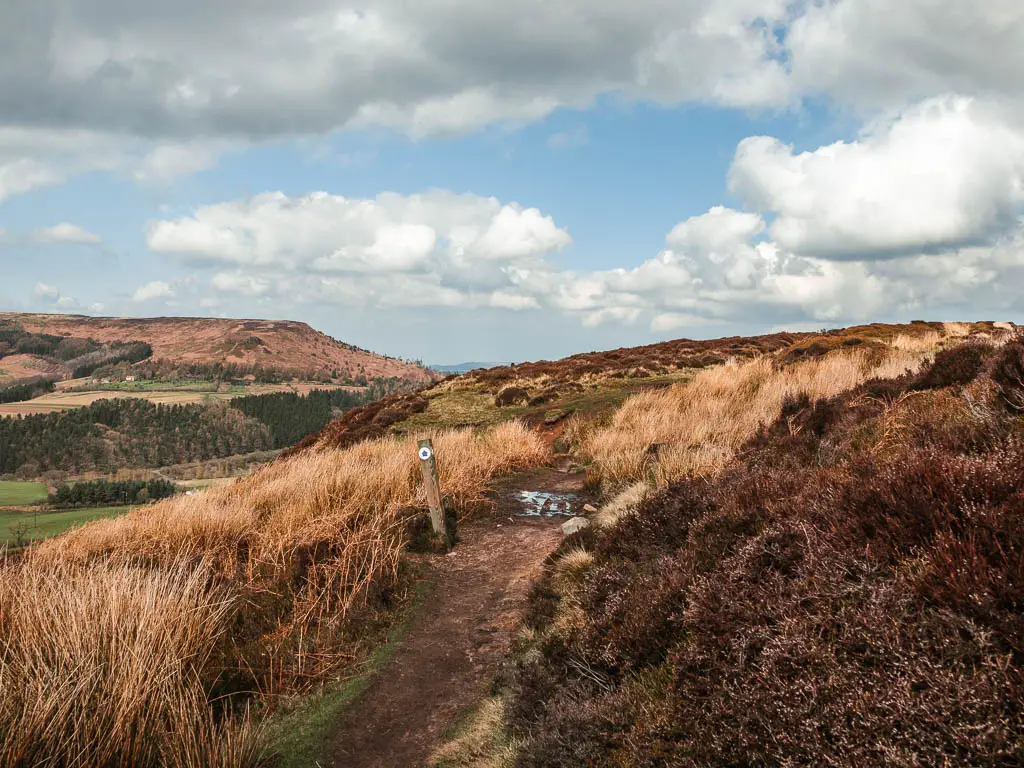 How hard is the Wainstones walk?
I would class this circular walk to the Wainstones as mostly moderate, verging on challenging. You will have a few hill climbs leading up to, and just past the Wainstones, however, for the rest of the walk back, it's pretty level and easy.
There is a lot of mud near the start, and it's a bit boggy on the way back. It hadn't rained for a bit (about a week) when I did the walk, so I can only imagine how bad it would be after lot's of rainfall.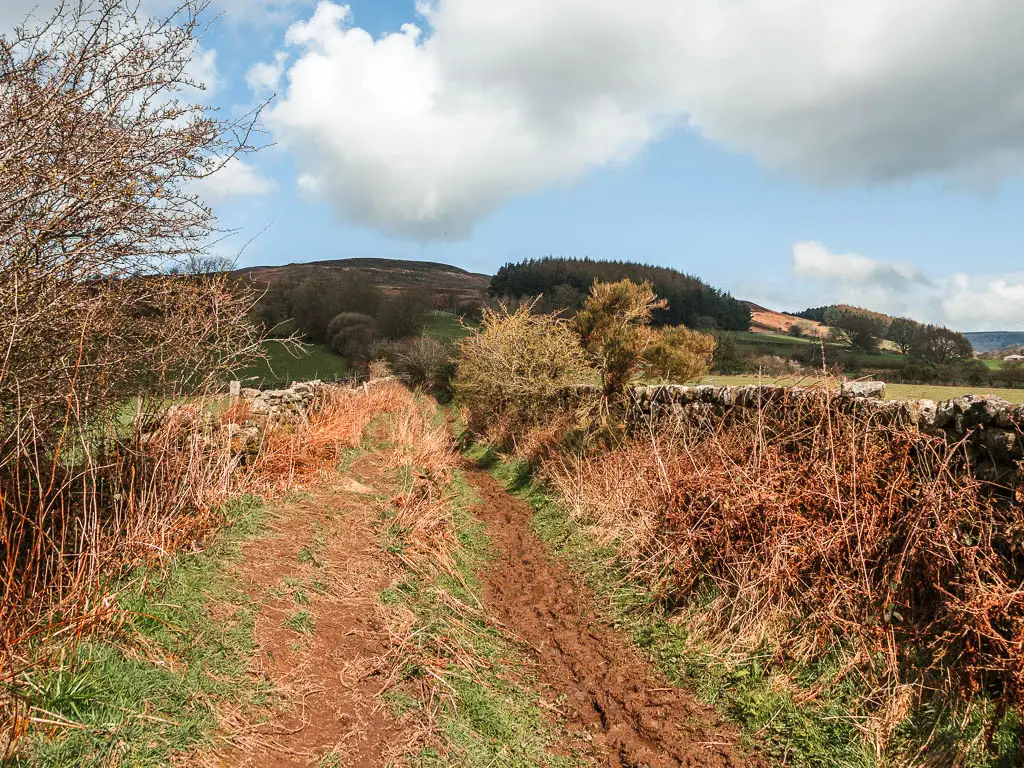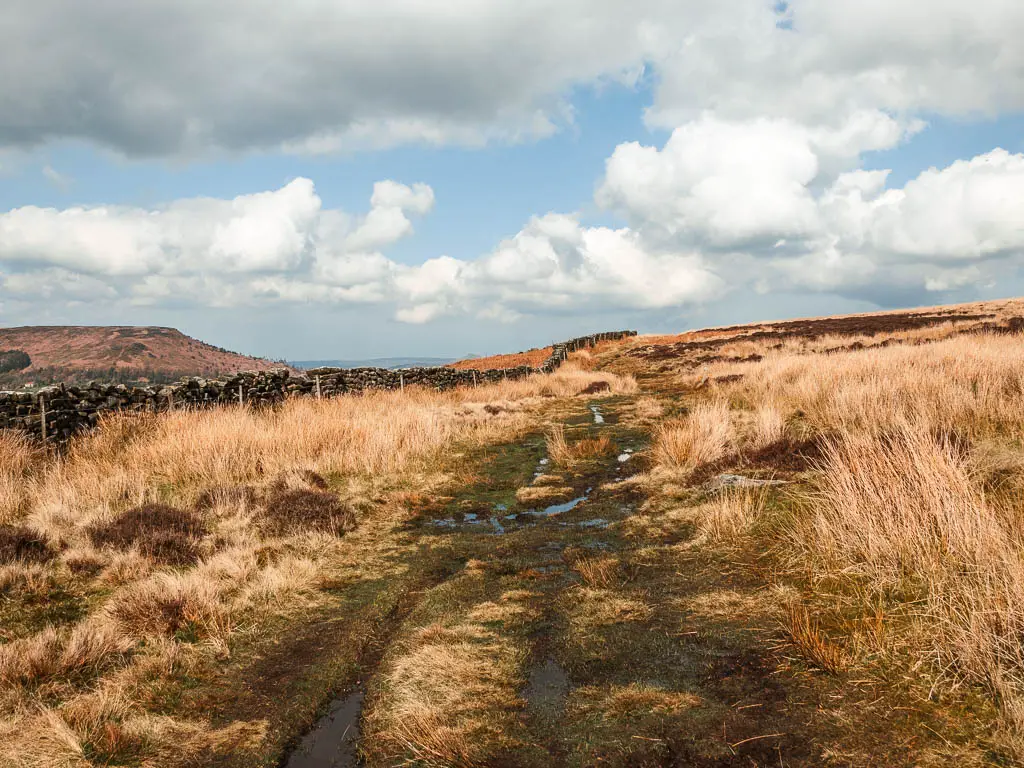 Is the walk dog friendly?
With a few guidelines, this Wainstones circular walk is suitable for dogs. I saw a bunch of them about. 
There are two stiles at the very end, which can be avoided (I explain how in the route description further down). There are sheep on the moors after the Wainstones, on the walk back. Dogs must be on lead for this bit. Between 1st March and 31st July, dogs must be on lead at all times due to ground nesting birds. They must be under close control the other times.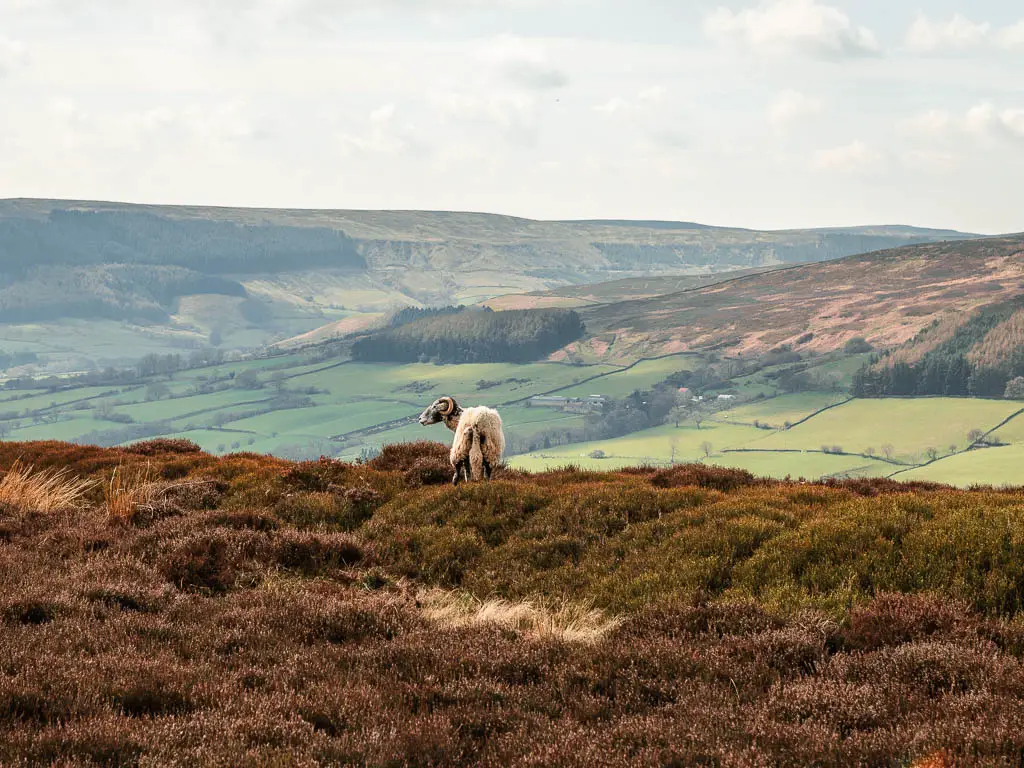 For the scramble up the Wainstones, if this is too difficult, there are other trails around them that take you in the direction you want to go.
Tips
Wear hiking boots due to the mud, bog and rocks. 
Due to the mud/bog, I would suggest not doing this route if it's been raining recently.
There is a lot of heather, so if you want to see a mass of purple, then come do this walk in Autumn. 
There is no phone signal anywhere, so look up what you need to look up, or load up your online map before you get there.
At the Wainstones, you need to scramble up to the top of the rocks to find the path. I did this but didn't quite find the correct path, but sort of went with it, which I then regretted. I will explain more when I describe the route below. My tip is to find the correct path. I think it's an obvious paved path. I will show you when I describe the route below.
Logistics
Start/finish: Chop Gate
Where is it: The Wainstones are located in the North York Moors. Post code for Chop Gate is TS9 7JL.
Distance: 8.3 miles
Time: 3h (without stops)
Difficulty: Moderate/challenging 
Terrain: Dirt trail, grass, mud, bog, rocks, big rocks (some scrambling is involved), stone steps.
Dog friendly: Yes, with a few guidelines (see further back for details).
Amenities: Chop Gate has a pub (The Buck Inn), and cafe. Nothing else for the rest of the route.
Time of year: I did the walk in early spring
Parking to walk to the Wainstones
In Chop Gate there is the village hall car park which is part owned by the North Yorkshire National Park Authority. I did not know this when I got there, and it wasn't obvious in anyway where you could park. It is not marked on Google Maps either. The village hall is further down the road from the pub.
The pub has parking which is for customers, so you might be able to park there if you eat at the pub after (don't quote me on this).
Usually I just copy everyone else, but there was no one around when I was there. I found a little marked roadside parking on the side street in front of some houses (it's small, and can fit maybe three cars). It looked like it might belong to the houses, but there were no signs saying I couldn't park there. So I quickly dumped my car and left before anyone had a chance to see me and make me move. Sorry if this is your house and you read this.
Alternate parking
If you have any problems parking, you can park near to the Wainstones at Clay Bank Car park (TS9 7HX), and start the walk from there. If you do this, still to the walk clockwise if you want to finish at the Wainstones.
Map for the Wainstones Circular walk
You can find my more detailed route map for the Wainstones circular walk on AllTrails.
---
A guide to the Wainstones Circular walk
---
Starting from Chop Gate, the trail start is behind some houses on a side road (Rosedale road). Conveniently, it was right by where I parked (but we know that I was a bit sneaky and maybe shouldn't have parked there).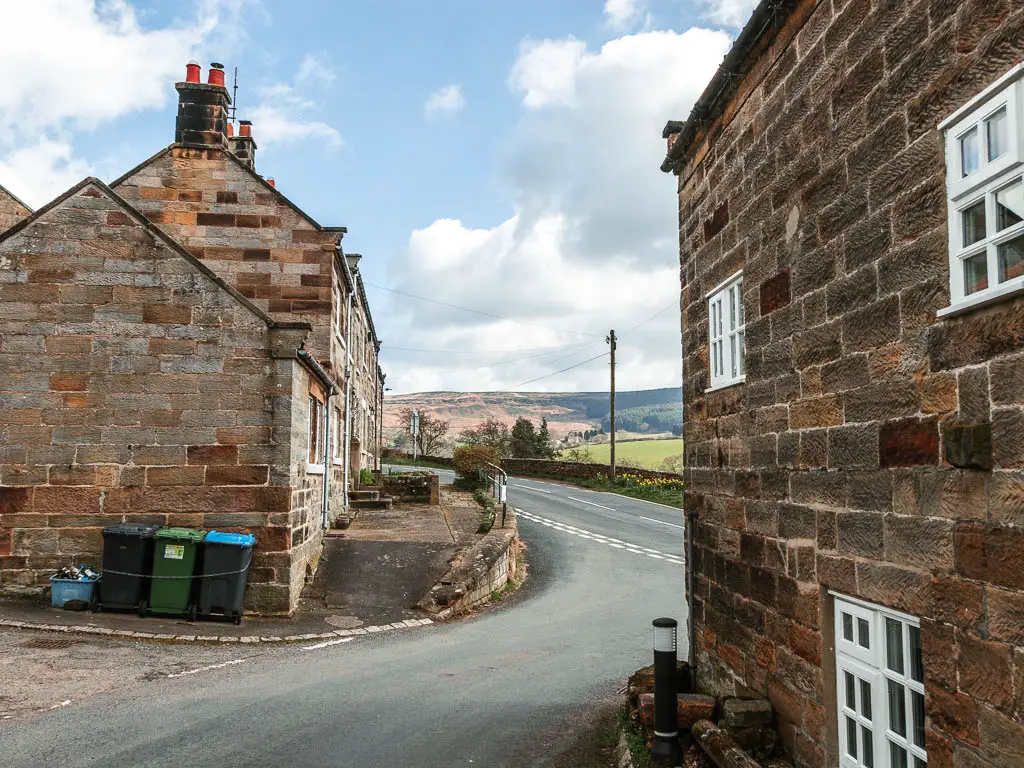 There is a very small, almost missable footpath sign. Once you have found it, the rest of the walk up until you are quite near the Wainstones, is in a straight(ish) line. You basically stay on this trail until you reach the big drop.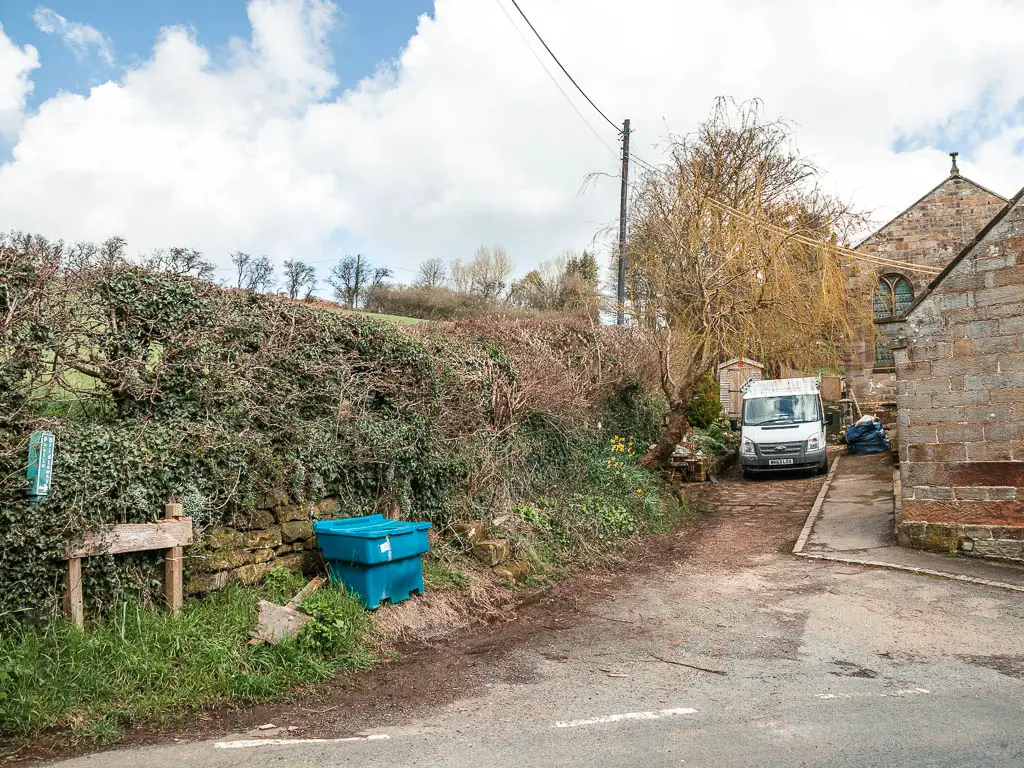 The muddy trail
For this first part of the walk, the trail is uphill, a bit under trees, and a bit out of them. With lots of mud. Once I started to see some of the views, I had a feeling this was going to be a great day. But these views are nothing compared to what is to come.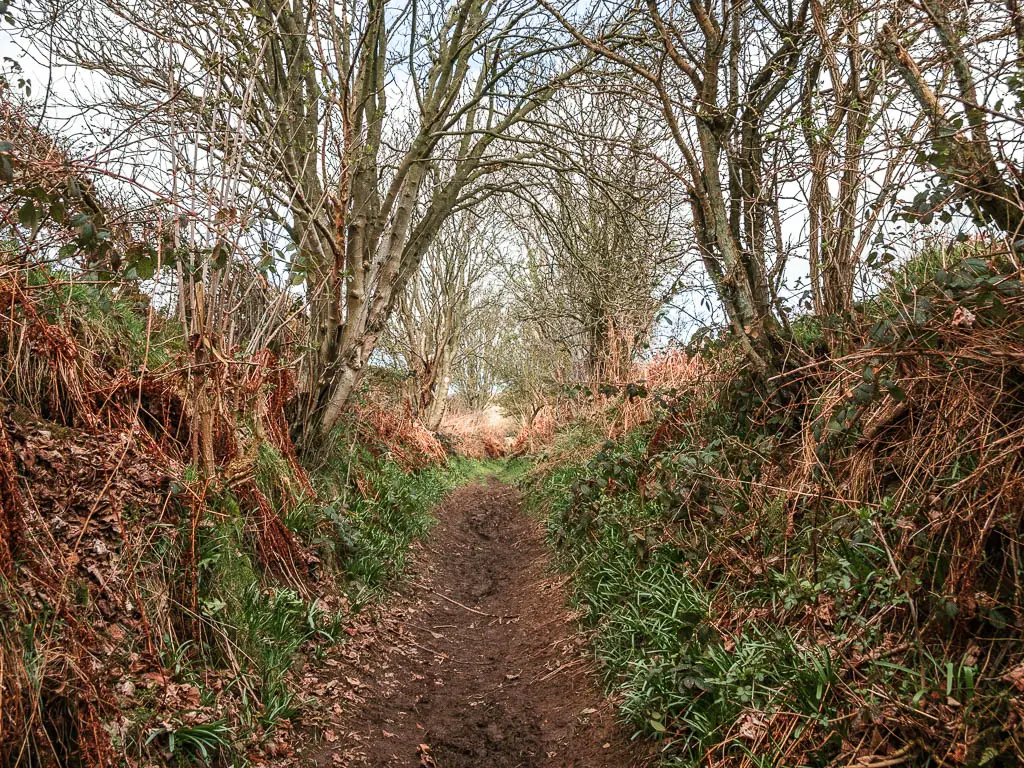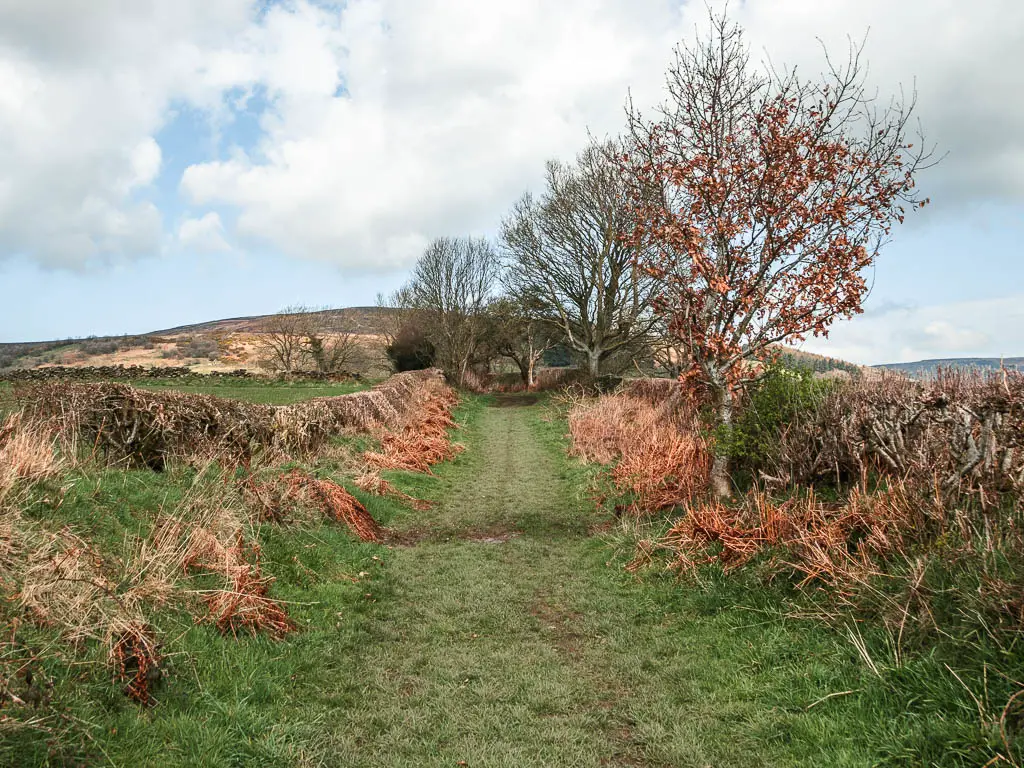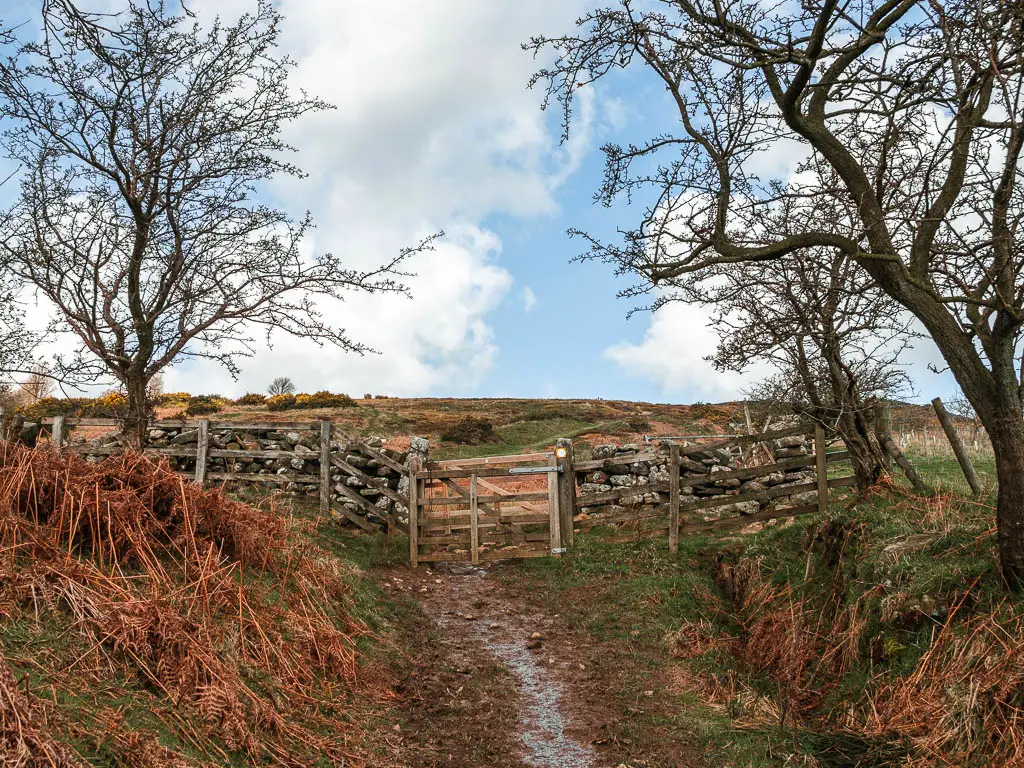 After going through a few gates, you will be on the moor.
Walk up the moor
The trail will continue to take you uphill, first alongside the stone wall, and then away from it. Although it's a lot of uphill, I didn't find it too taxing….Maybe because I stopped a lot to take in the views. The only thing that would make this better, would be the heather in bloom.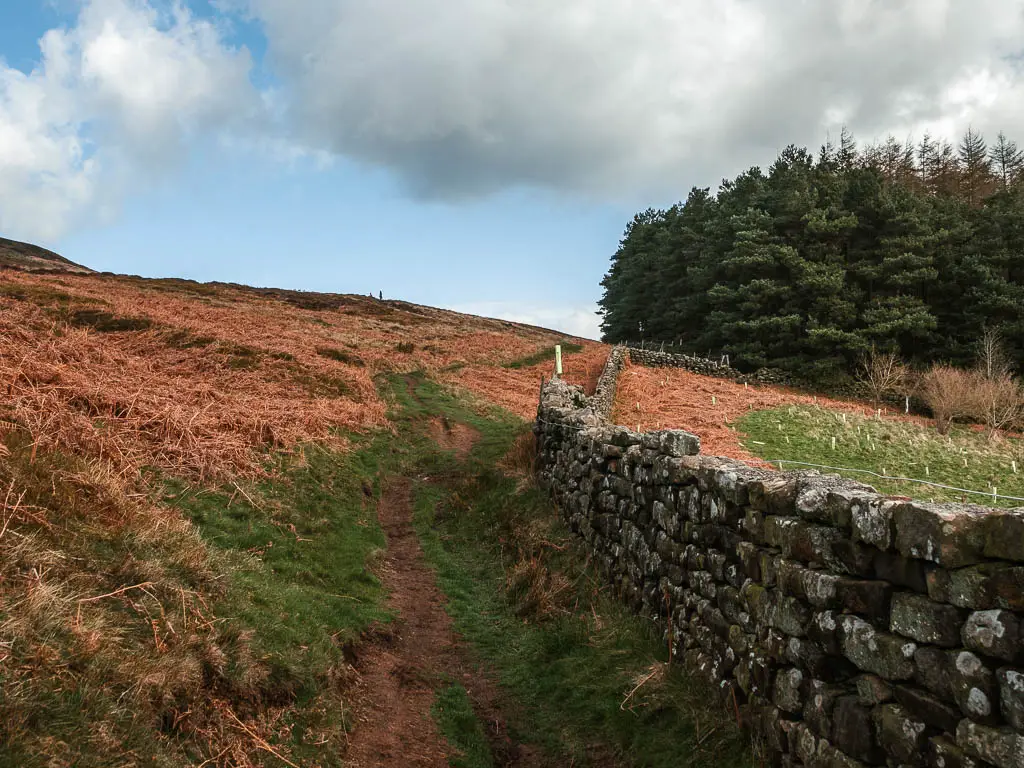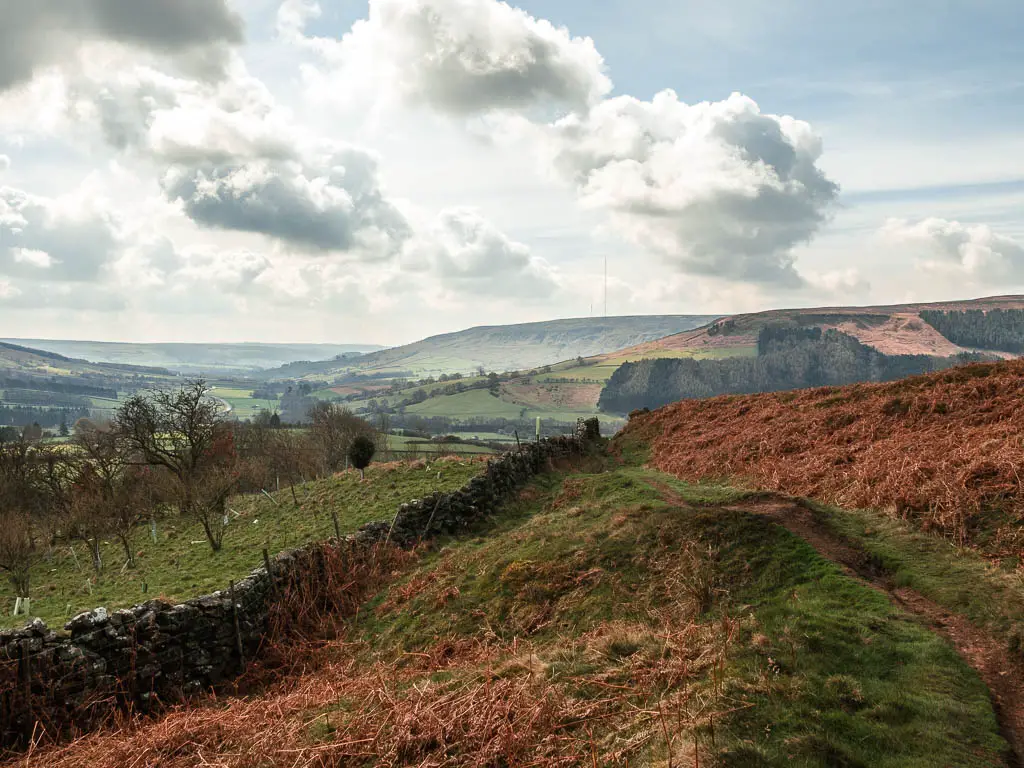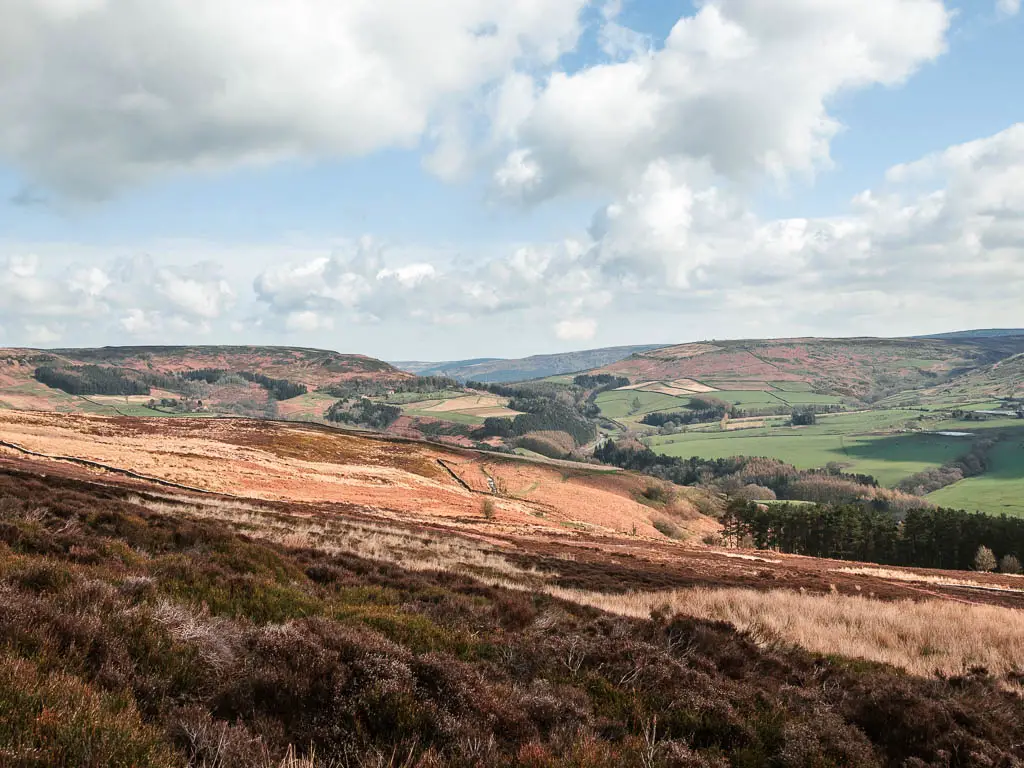 The trail is fairly rugged, a little muddy in places, with the occasional rocky bits.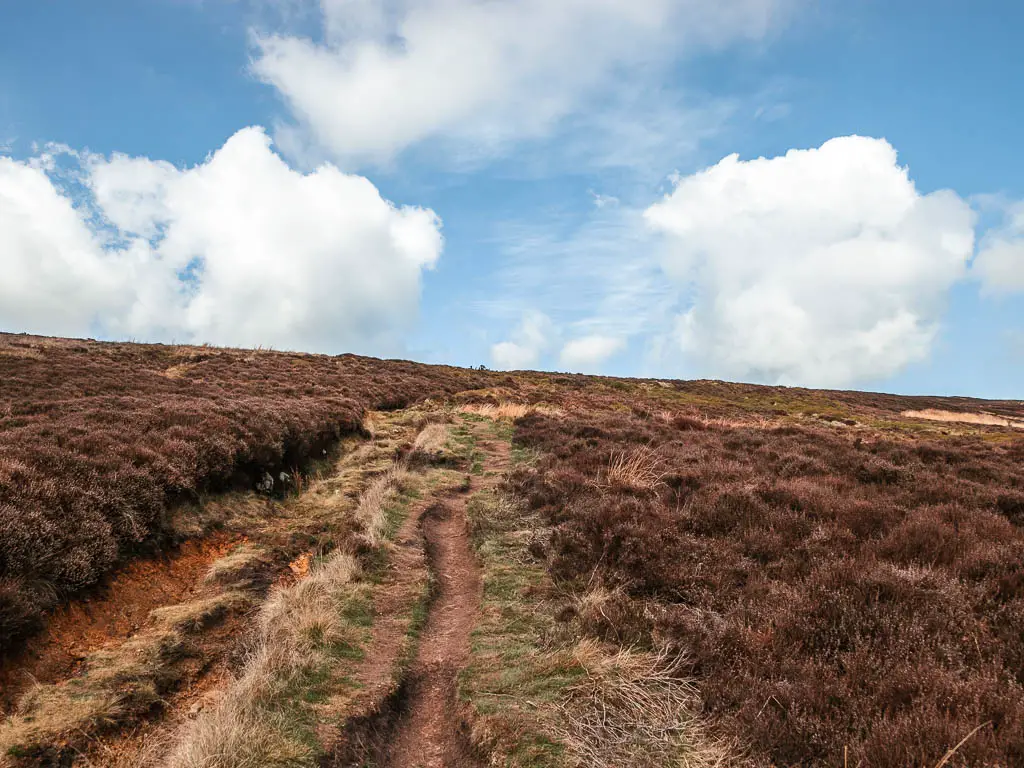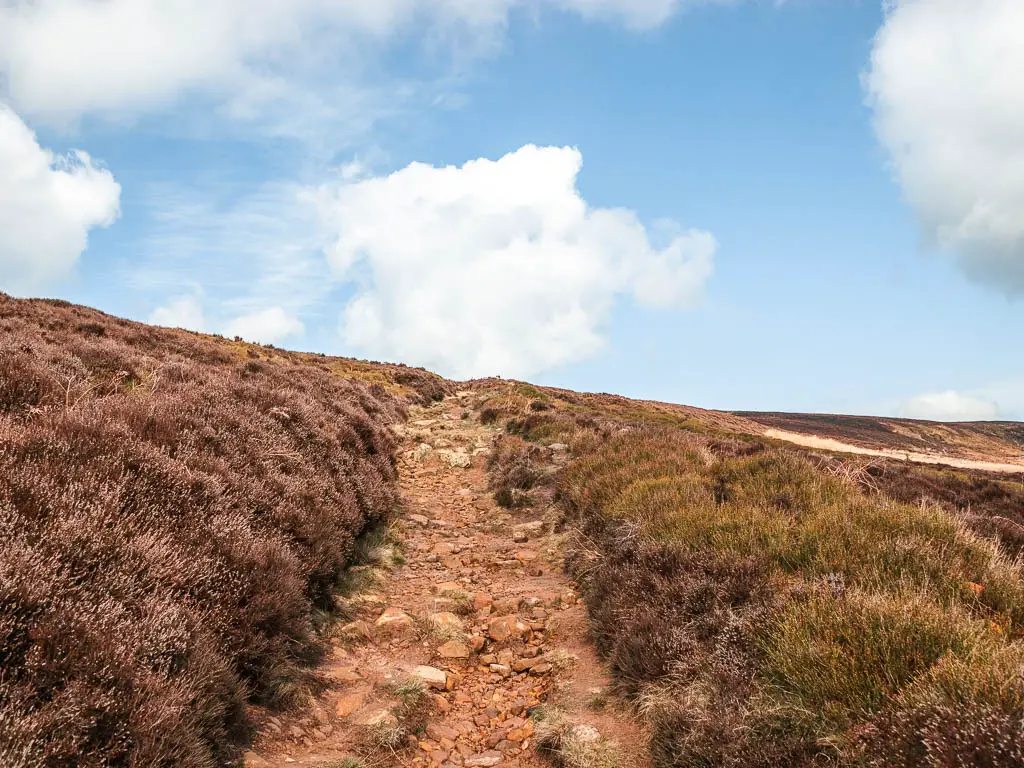 Once you reach the top, the trail will level out, and you will have a good old stretch on easy path, surrounded by so much beauty. You will get your first view to Roseberry Topping way way in the distance.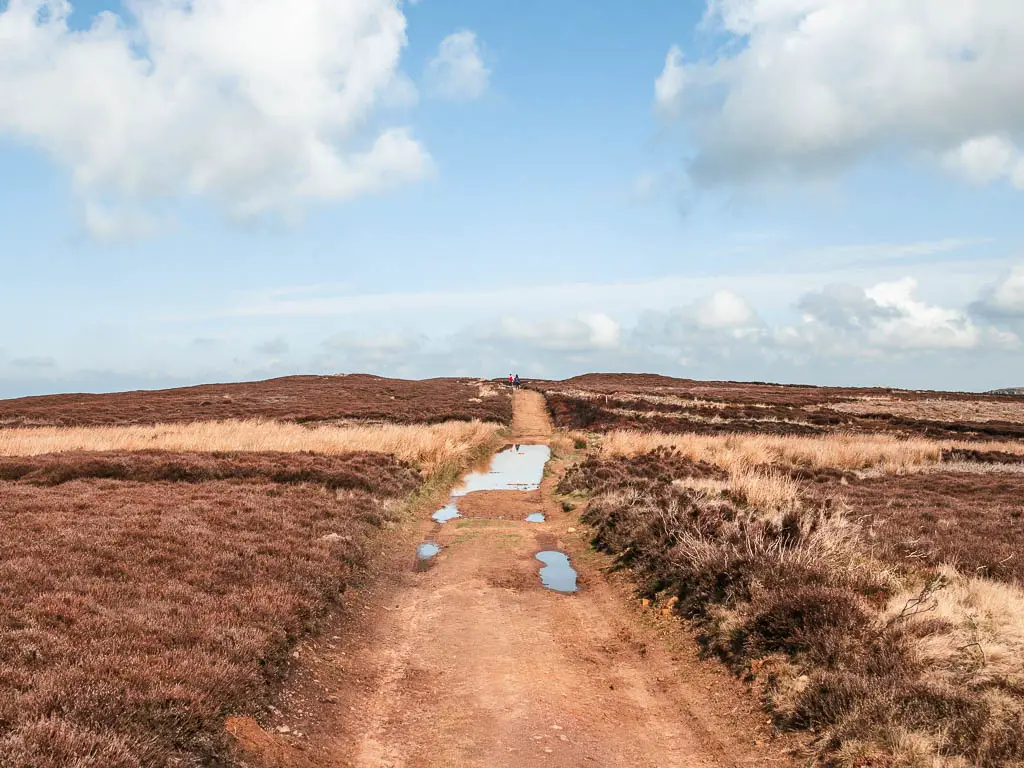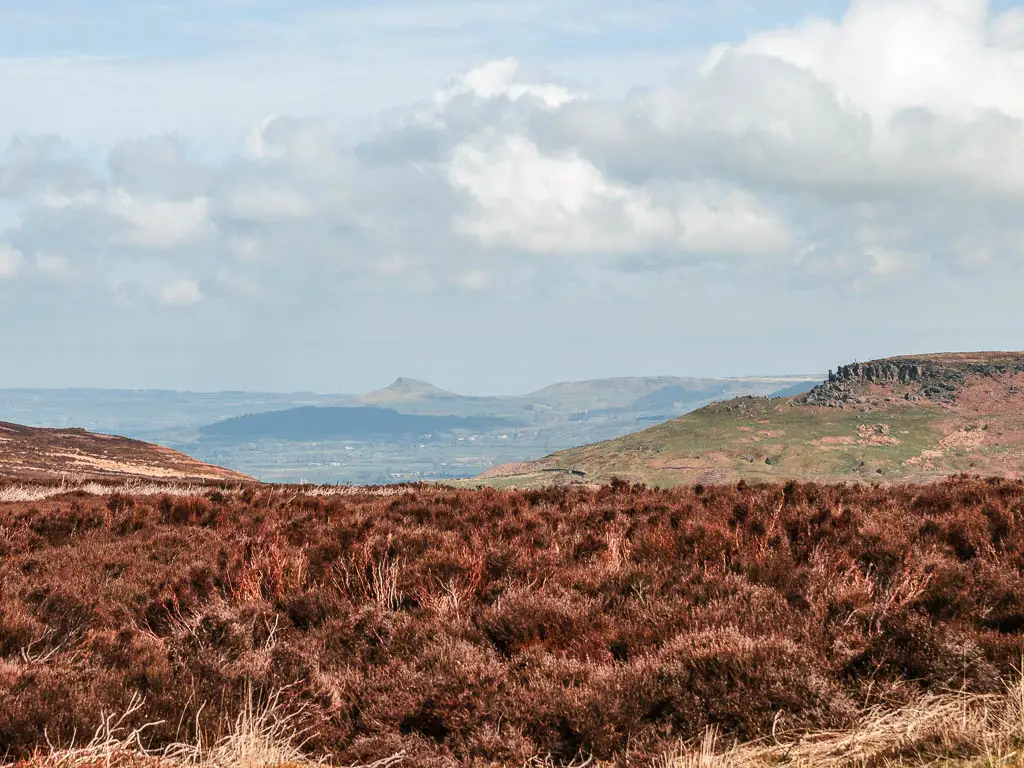 When walking along here, I could see some rocks far ahead, and wondered if those were the Wainstones (they were). What I can say now, is that what you can see from here, is nothing like what it's like to walk amongst them. They are way way more grand than you realise, which you don't see until you are in them.
Keep going, past the pile of rocks, until you reach the very end with a steep drop and a view of green as far as the eye can see.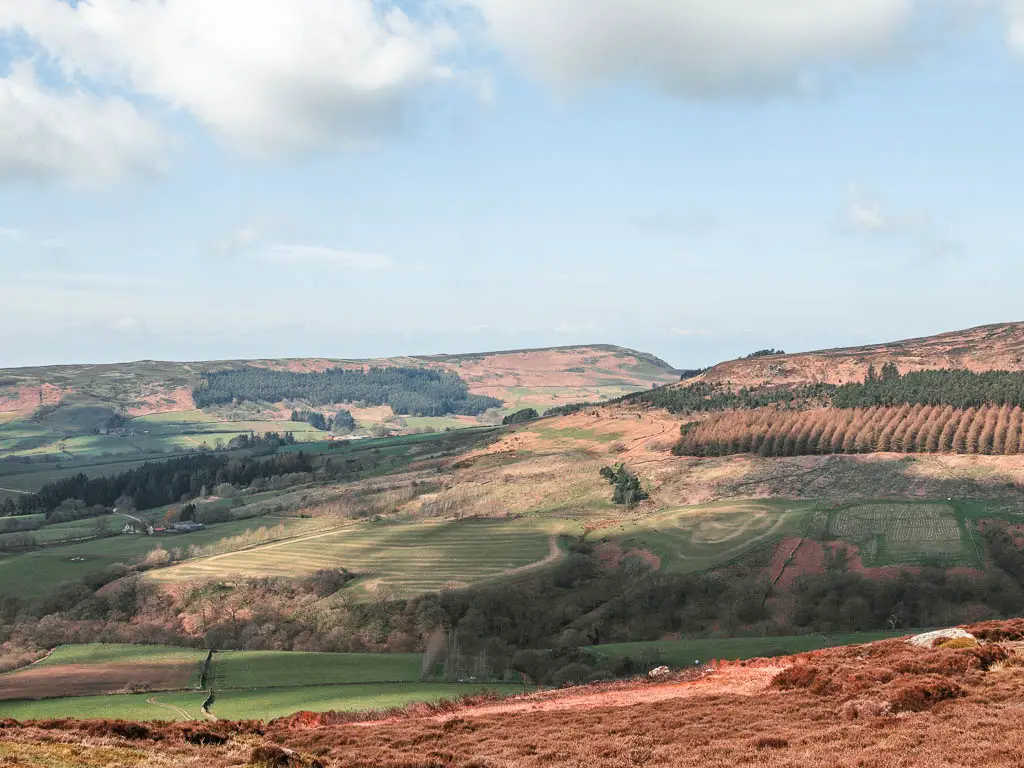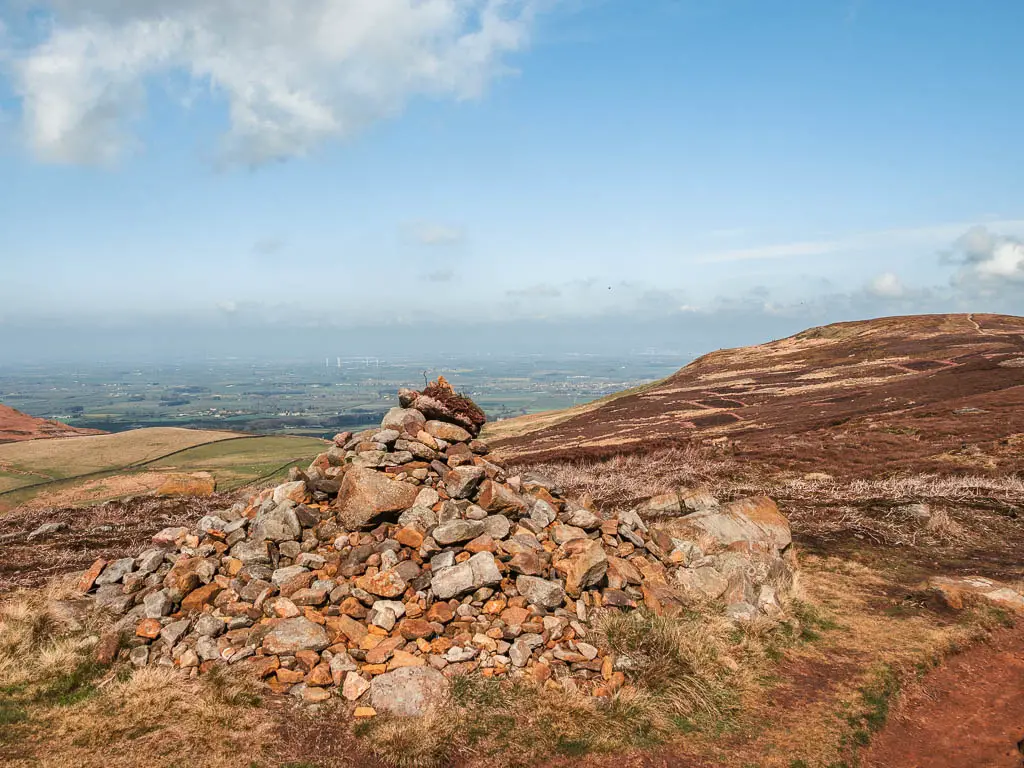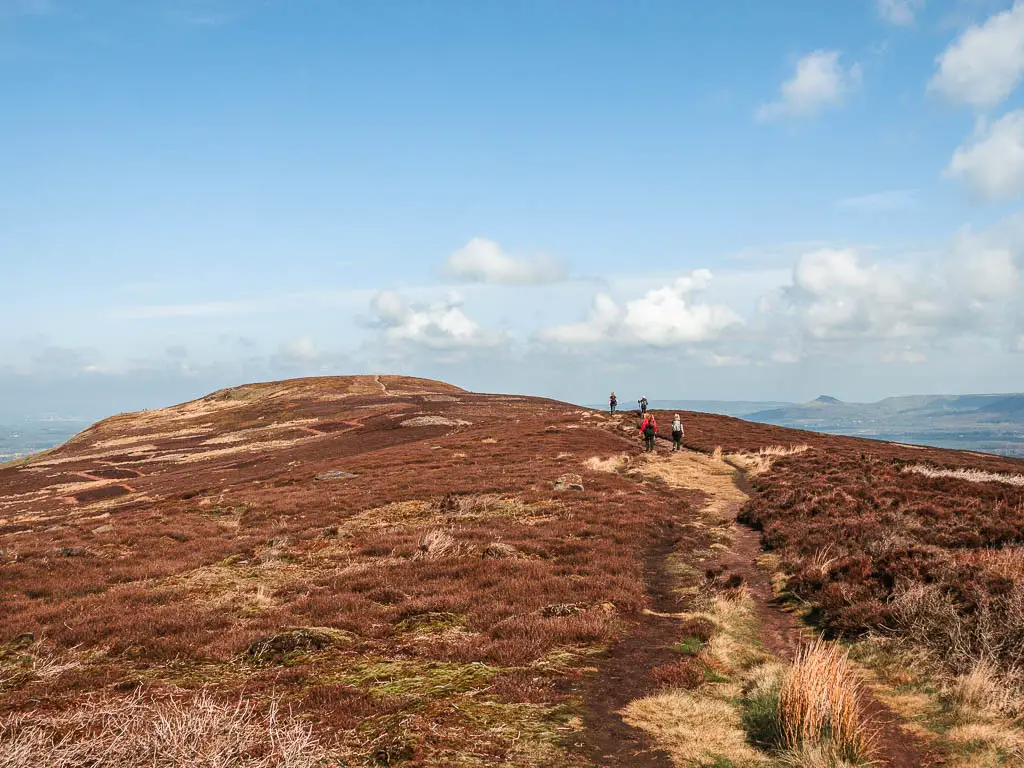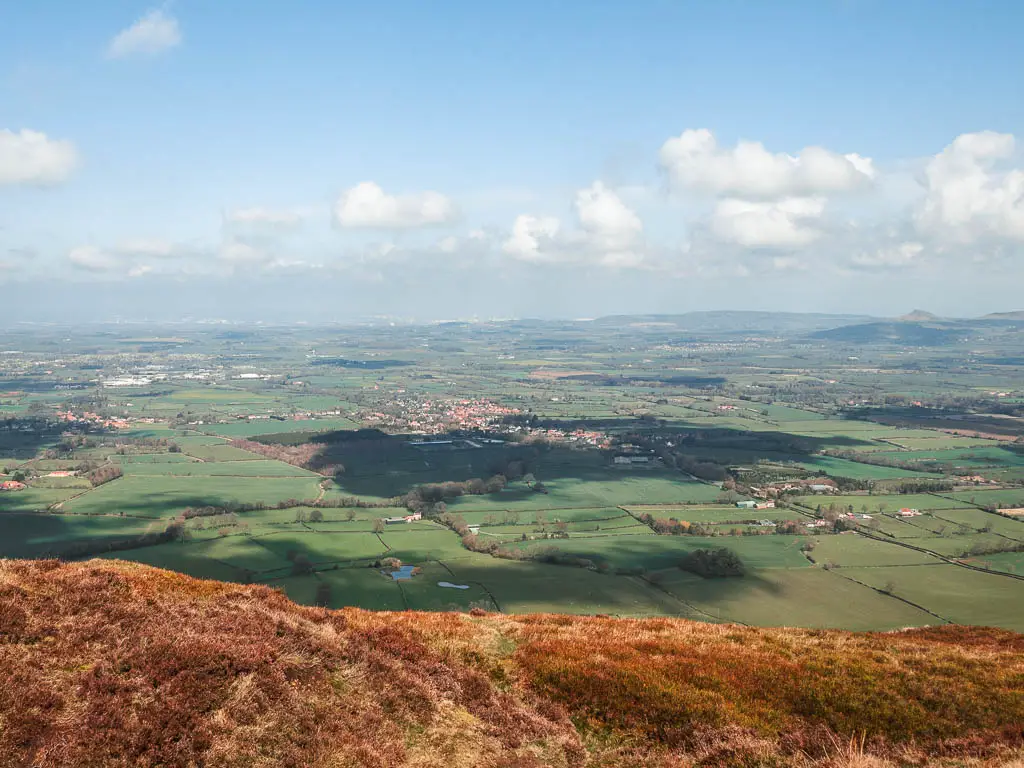 Walk towards the Wainstones
From here, turn right onto the paved trail, and make your way downhill. Looking straight ahead, you can see the Wainstones on the next hill, which is where you will walk to next.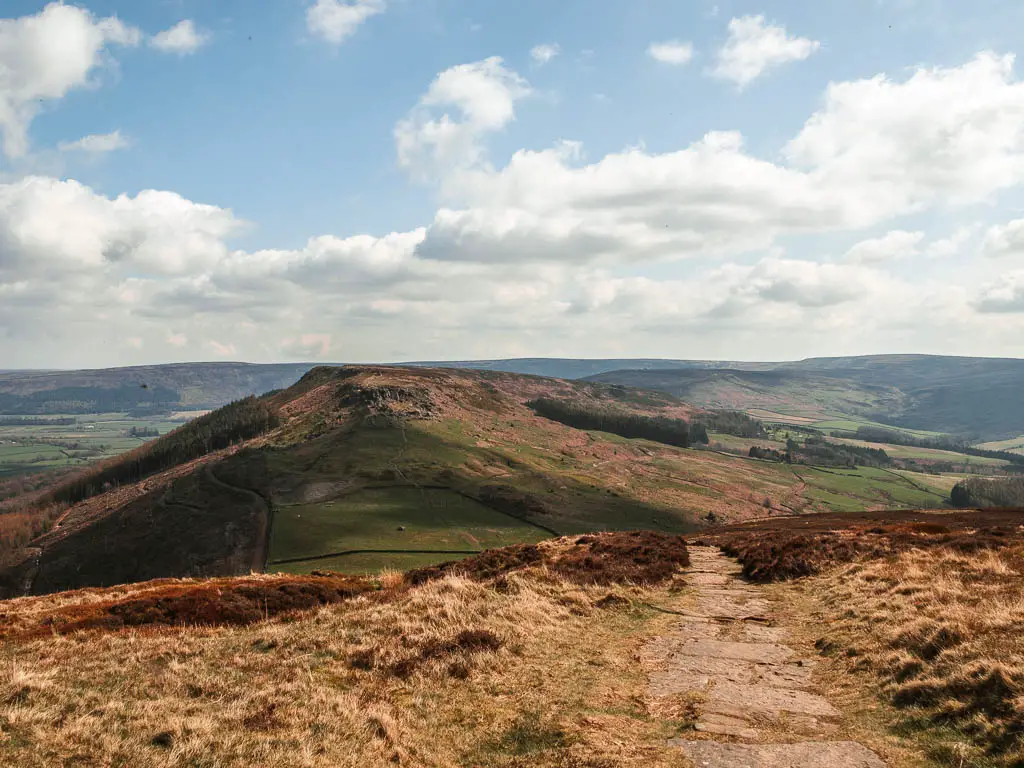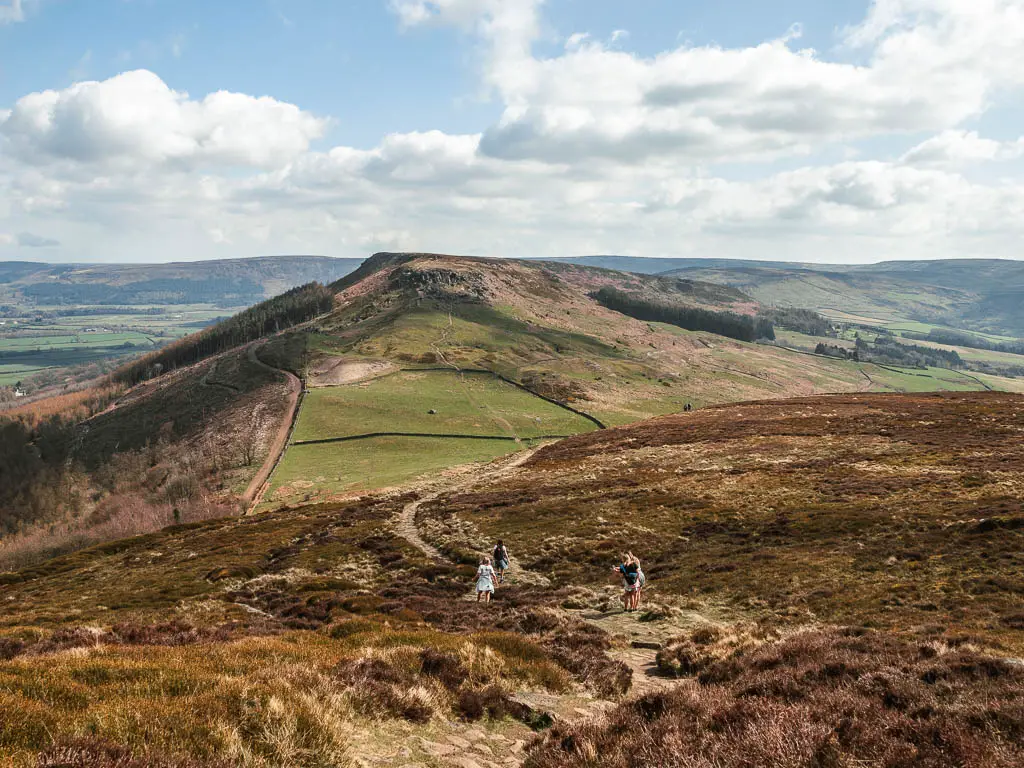 The trail becomes a bit more dirt and rocky to reach the bottom of this hill. Then you walk across the grass to reach the stone steps and then paved trail, to take you up the next hill.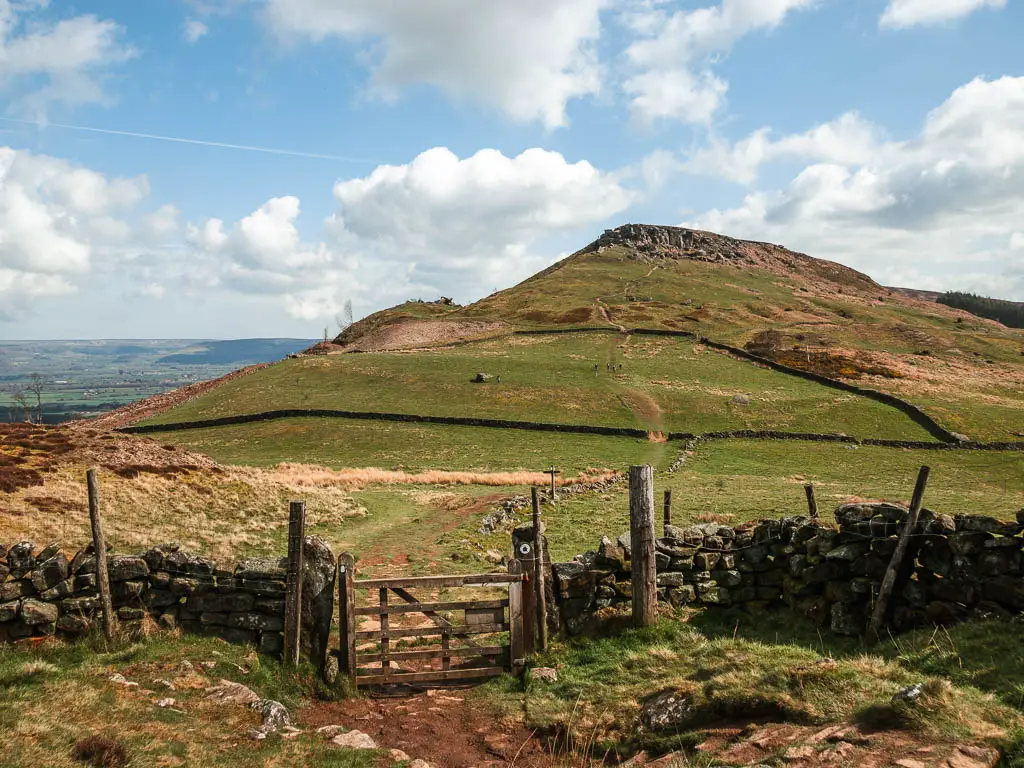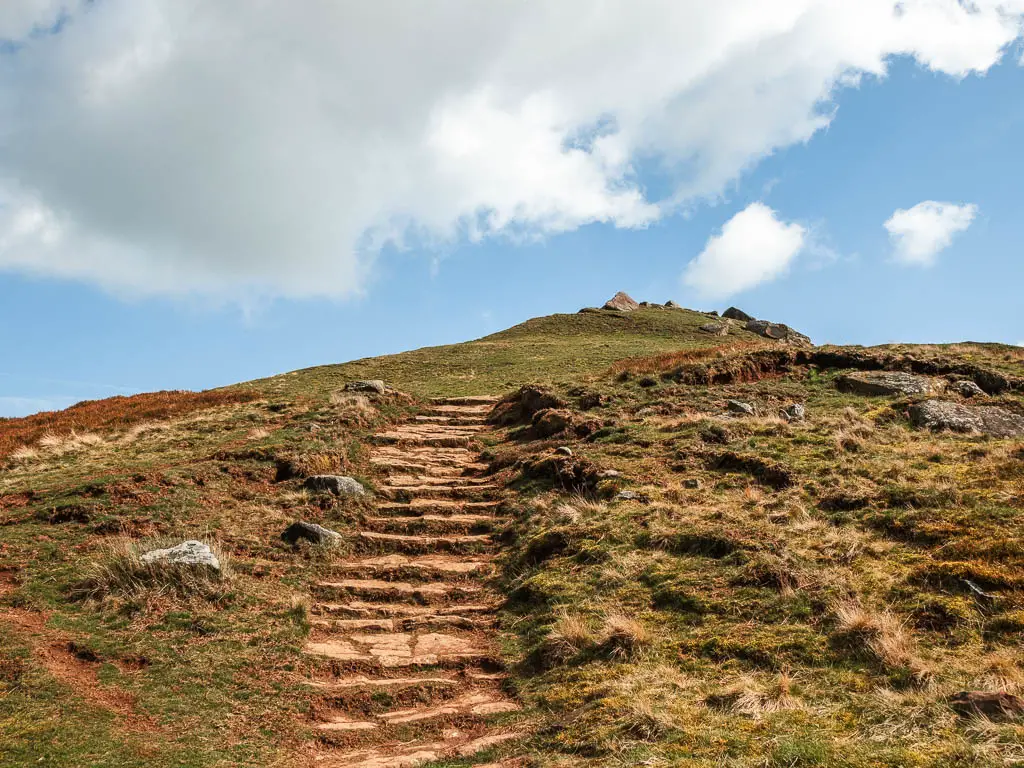 Keep walking up and you will soon find yourself amongst a mass of rocks which are the Wainstones.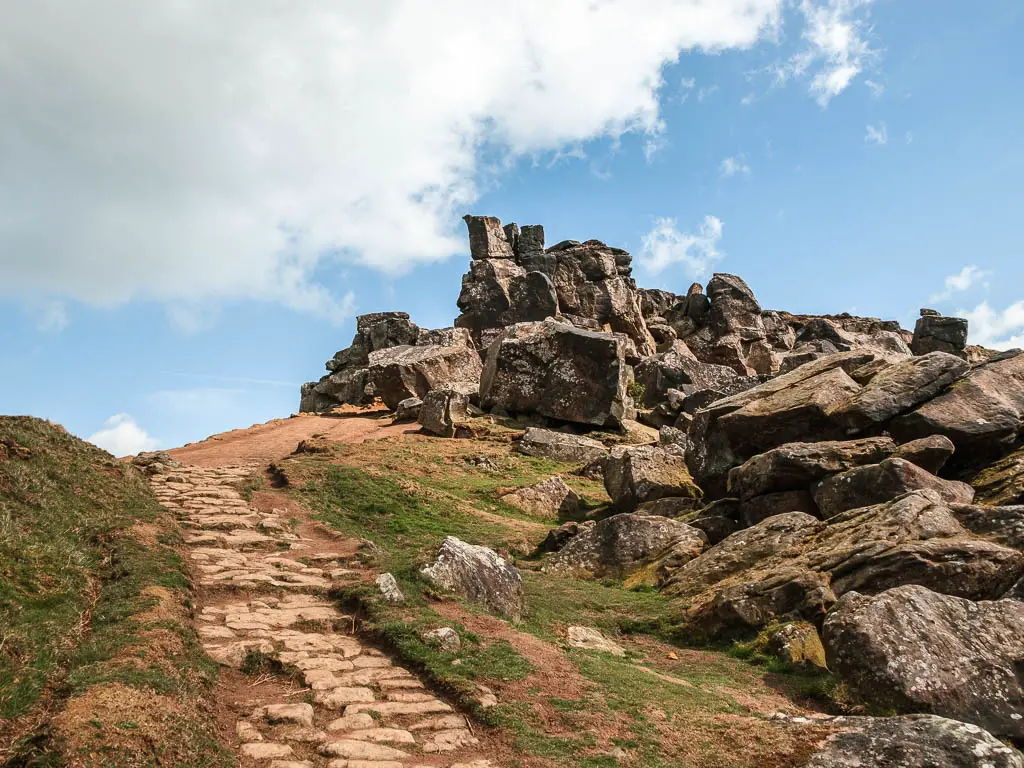 They reminded me a little of the big rocks at Simon's Seat, over in the Yorkshire Dales. Funny enough, that's my favourite walk over in that area. I must like big rocks.
Scramble up the Wainstones
I didn't realise I would have to scramble up at first, so started to make my way along a trail on the left side of the stones. When I check my map, I realised I was too far left, so went back, walked across the Wainstones, and along the other side.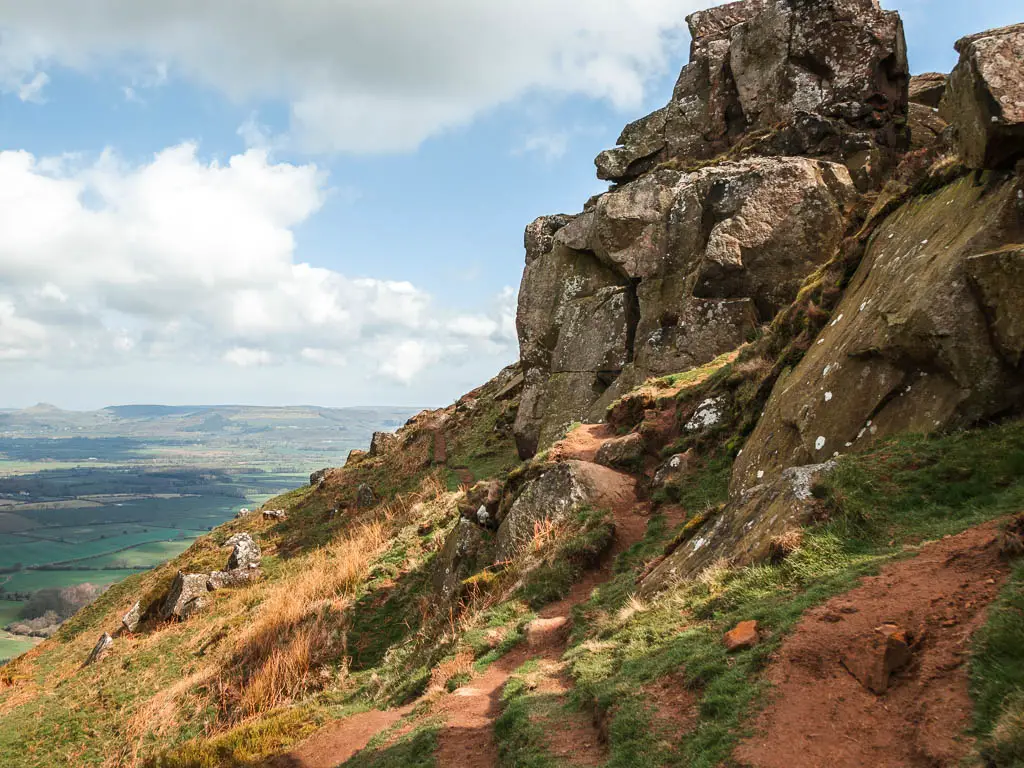 Checking my map again, I was now too far right. That's when it hit me I needed to climb up them. 
This is where you need to use your imagination and figure out a way up. 
Once I reached the top and found a trail, I could see I was still too far right, but I decided to go with it and follow this one, hoping it would take me where I wanted (it didn't).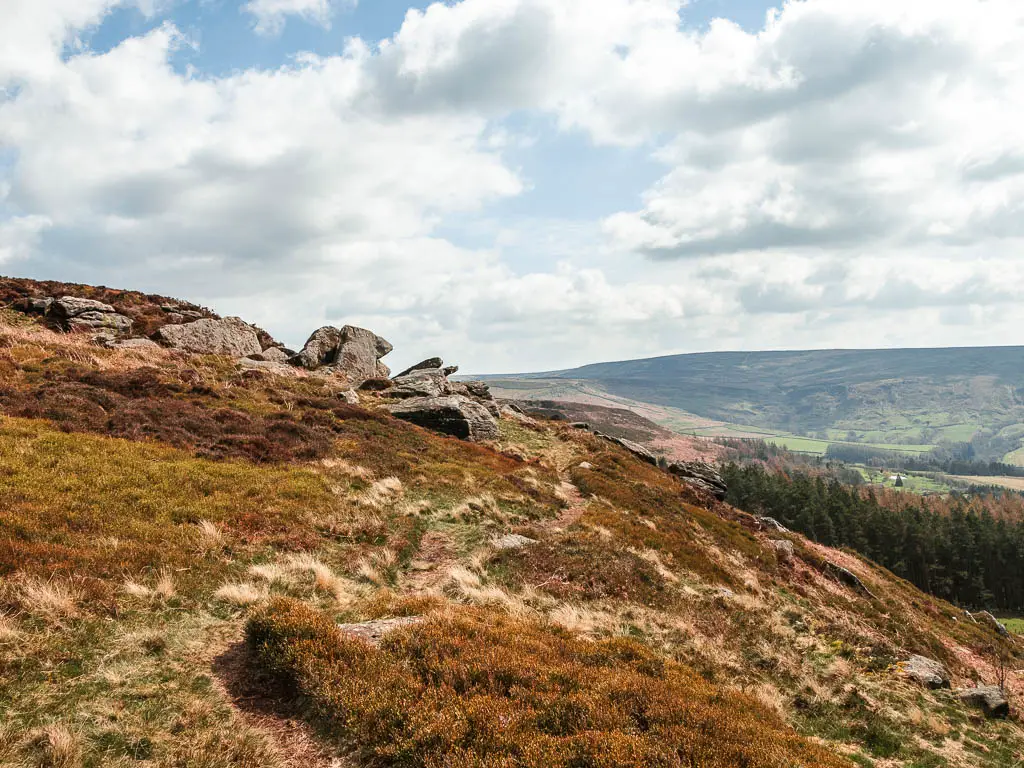 This is where I recommend finding the main path. I think I missed out on some cool views by not finding it.
If you like hikes with scrambles, then you might like Pen-y-Ghent over in the Dales. 
Walking along the top
As I said, I took this little dirt trail, hoping it would take me where I wanted, however, it seemed to be taking me further and further away. I couldn't cut across, because there was a mass of heather in between. So once I came across a massive strip of bog, I took my chance and stomped through it to get me to the other side, where I discovered a very obvious stone paved path.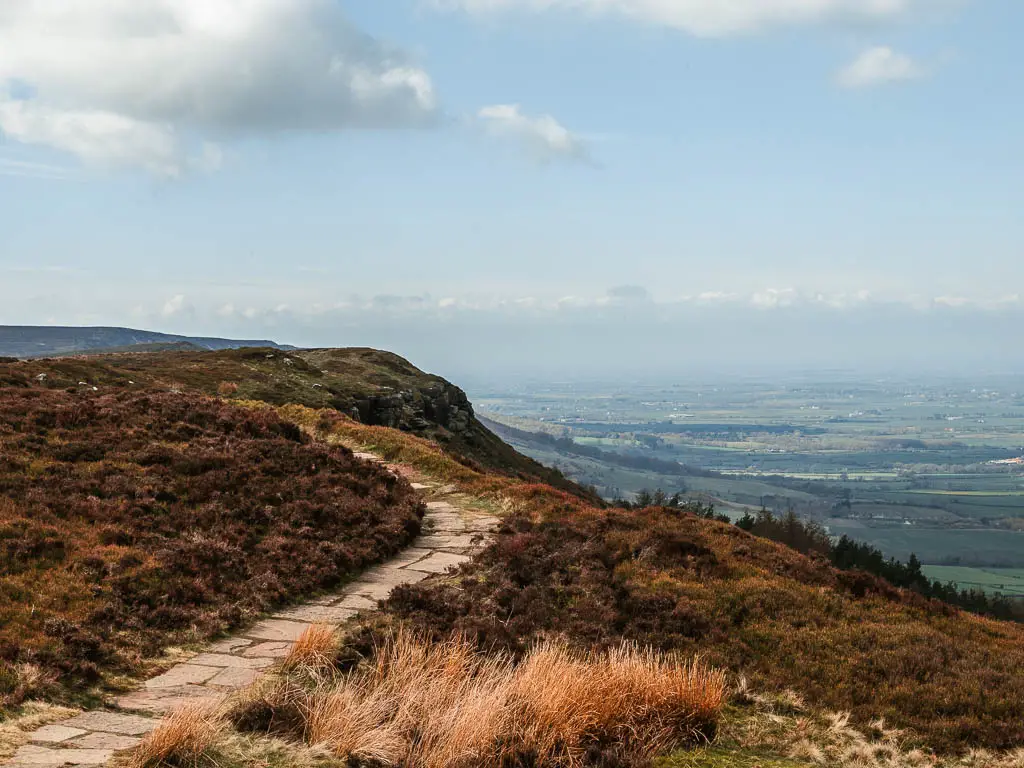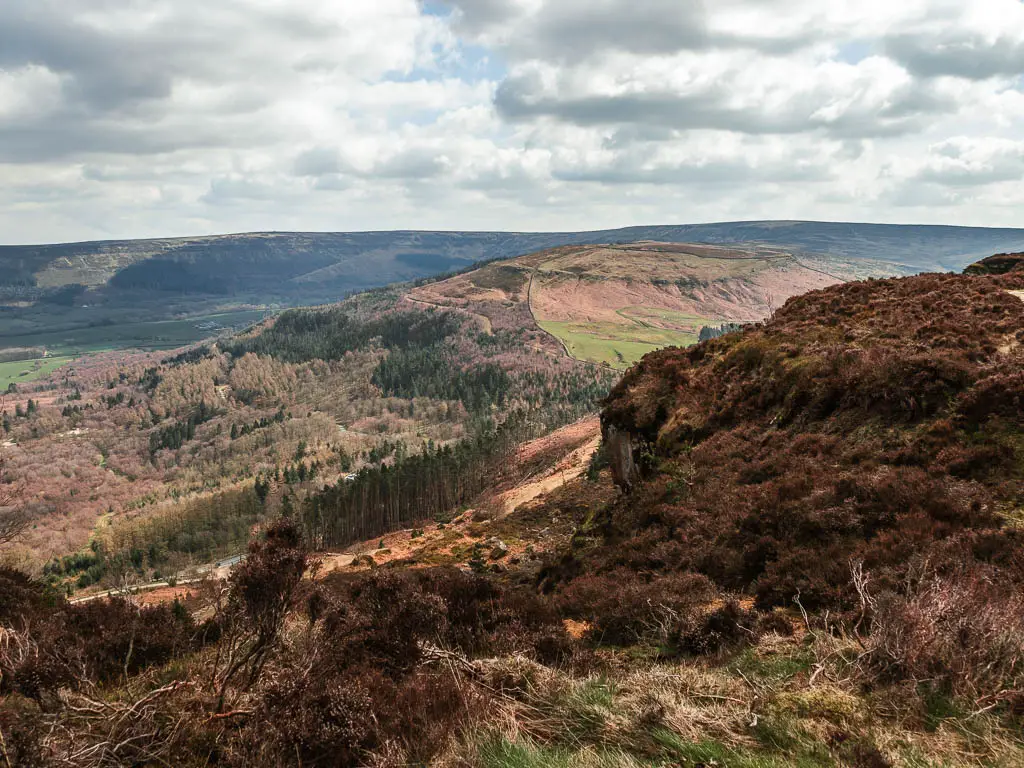 I walked back a little to see what I had missed, and saw that it was all rugged and cliffy. You know I love cliffy. 
Continuing along the paved trail, it will lead you to the downhill with a view ahead to another hill. That's the next one (don't worry, it's also the last one you have to go up).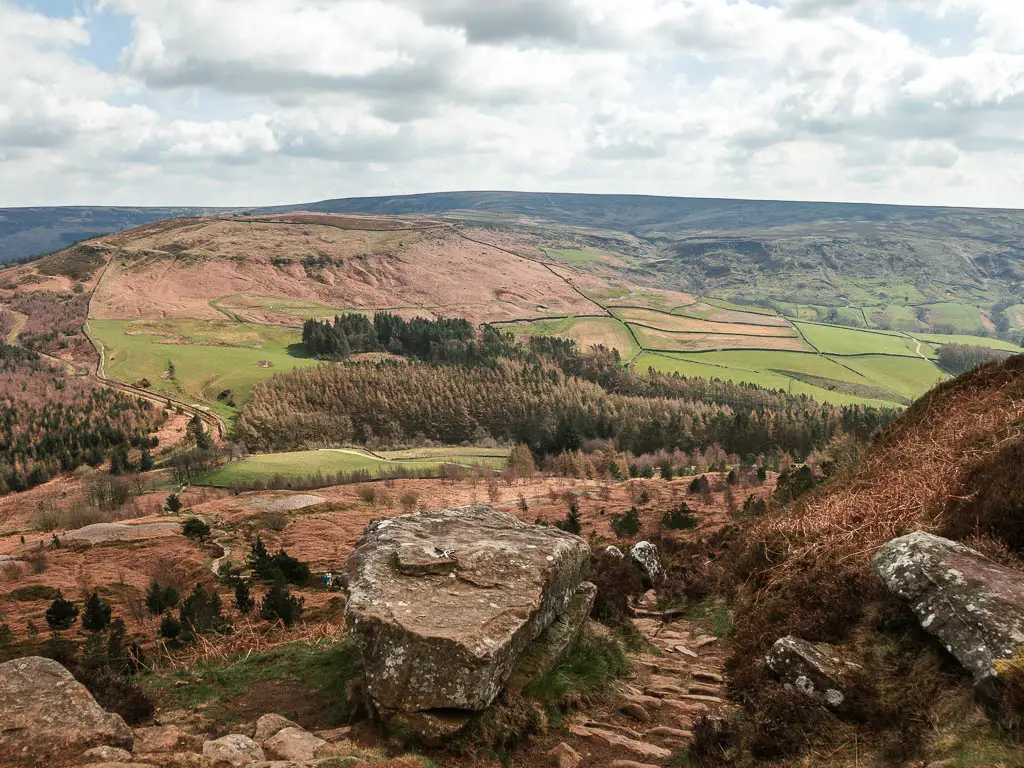 Go down then back up
This downhill is fairly rugged, and steep in parts, with a mix of dirt and paved stones. Then when you reach the wooden gate and trail signpost, go through the gate, and continue downhill on the path next to the stone wall. 
This will lead you down to the road, where you go straight across to pick up the trail on the other side.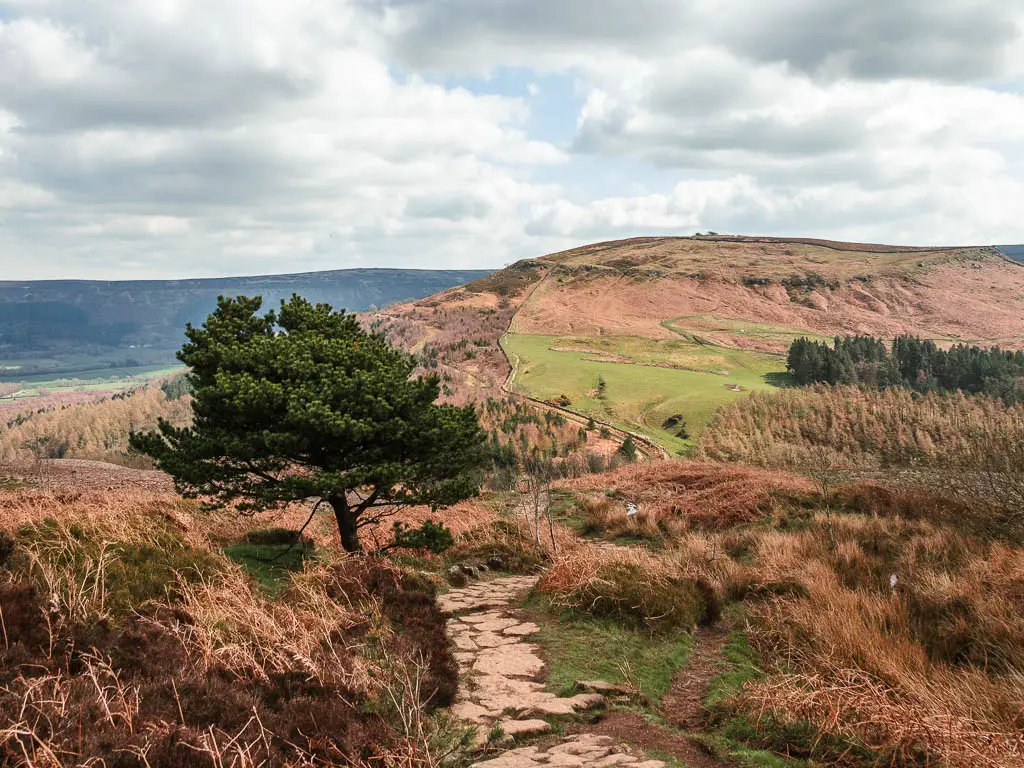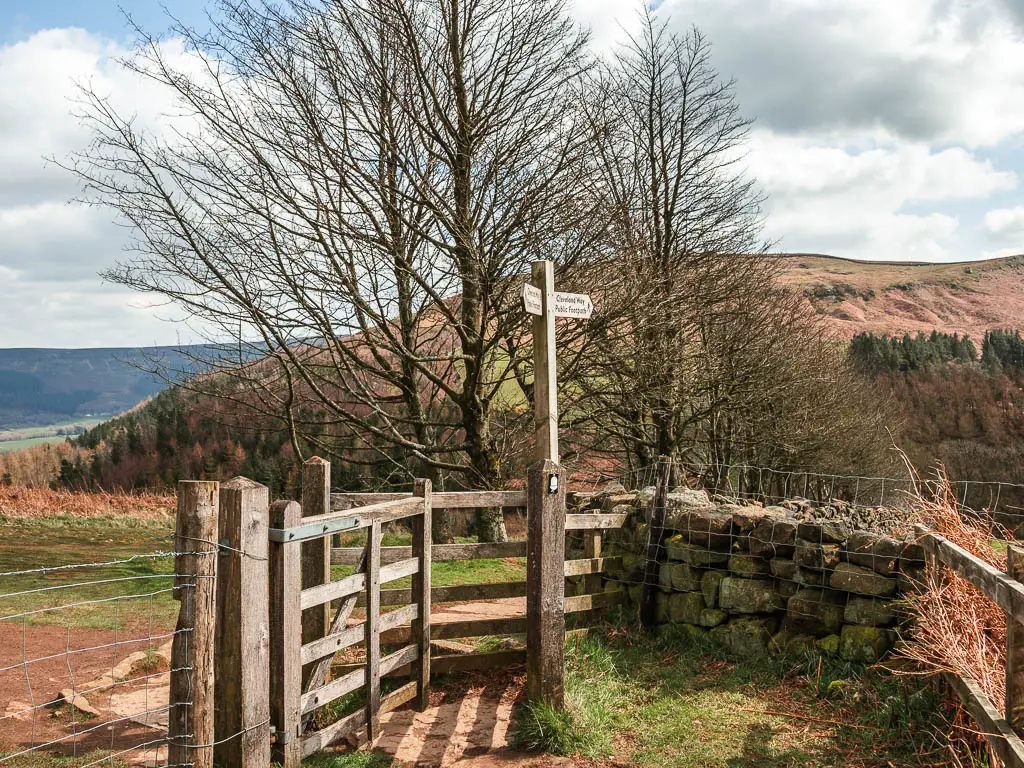 You will now head straight back uphill. First on stone paved trail, then on grass, then a bit more stone path, through a stone wall, to reach the junction.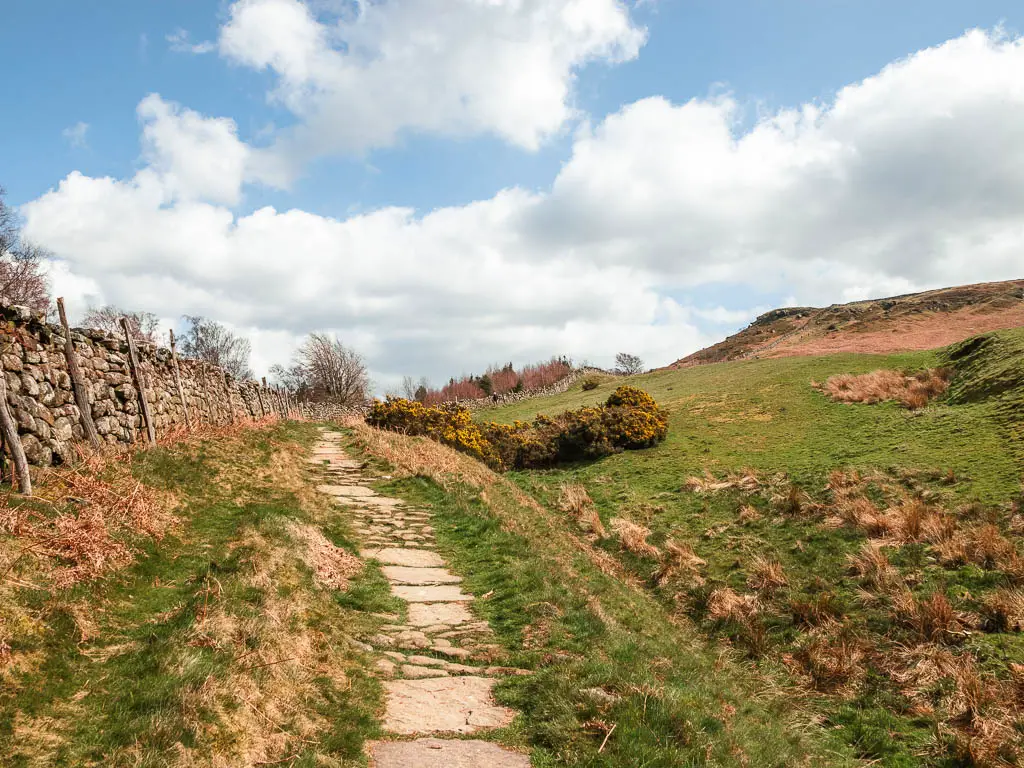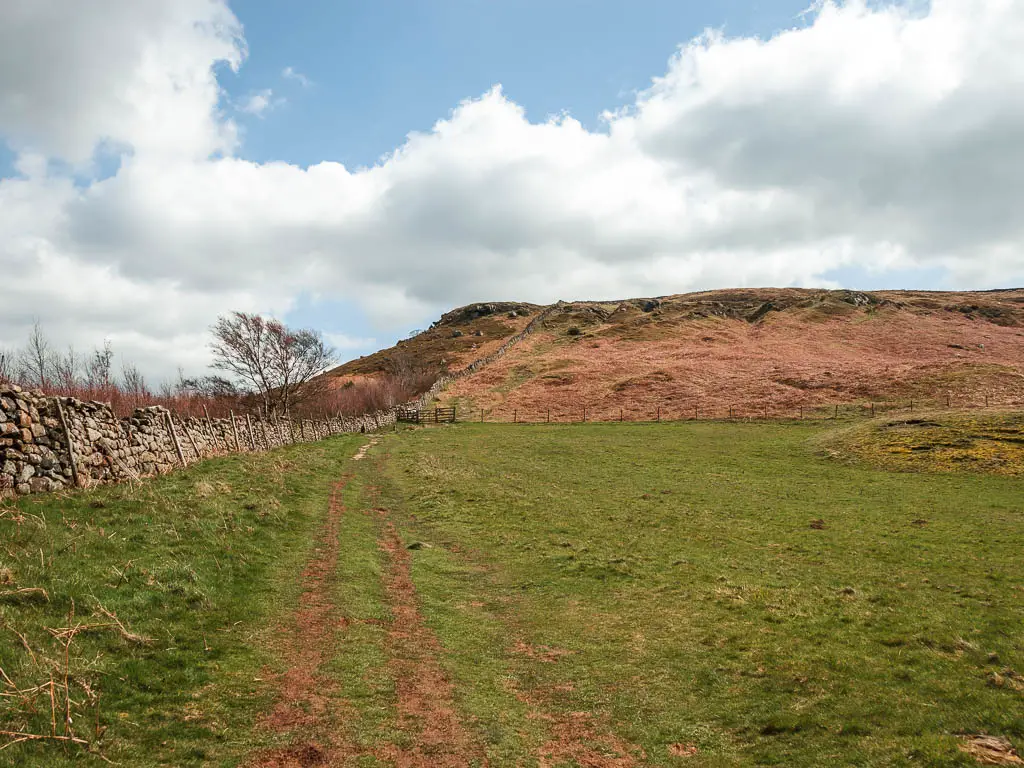 Make sure to look back at the views on the way up….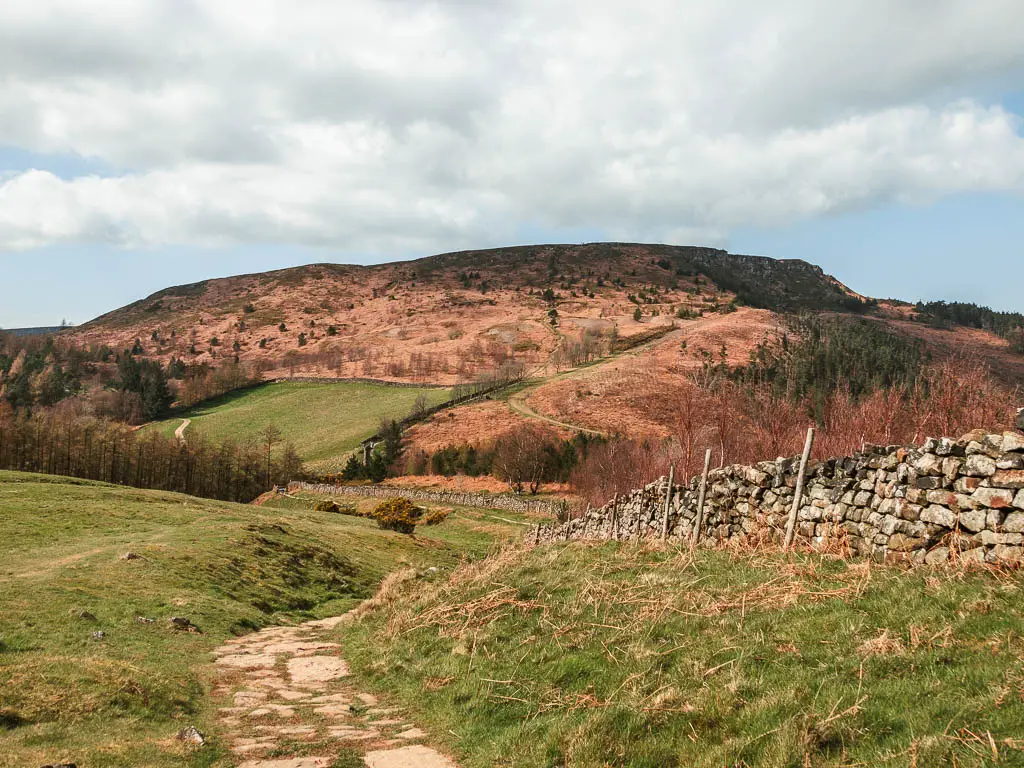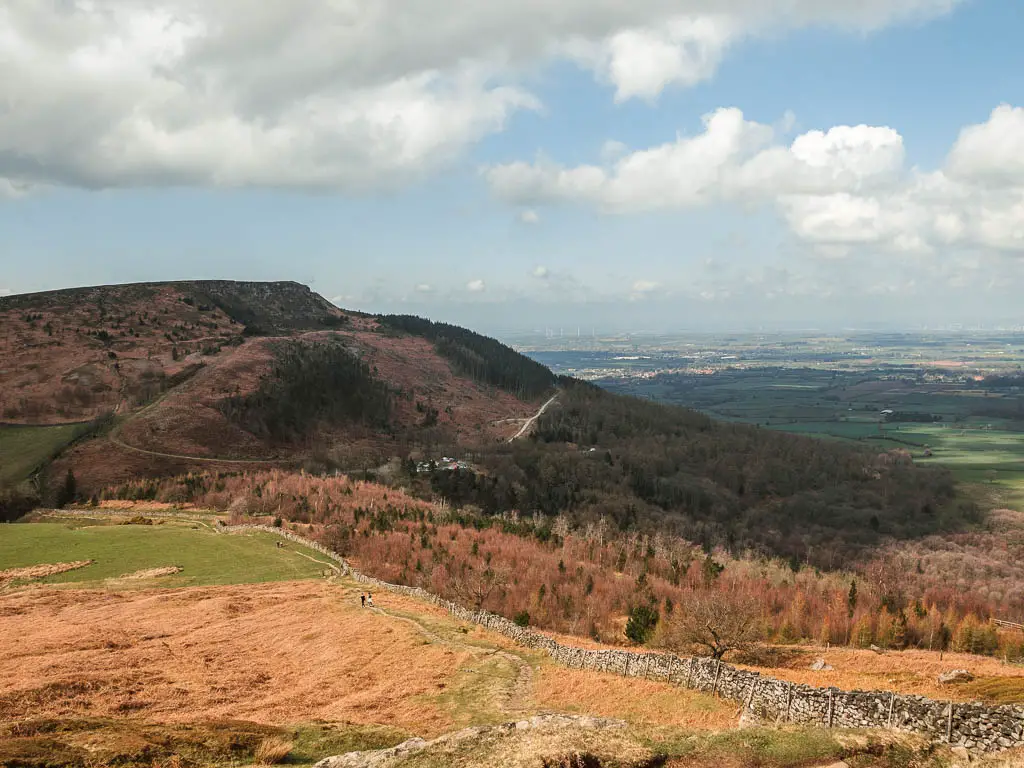 Walk across the moor
At the junction, don't take the obvious Cleveland Way trail, but instead take the right bridleway trail. 
This bit of the trail is quite rugged and whilst it was dry for me, I can see it getting a bit messy during wetter days…but the real mess is about to come.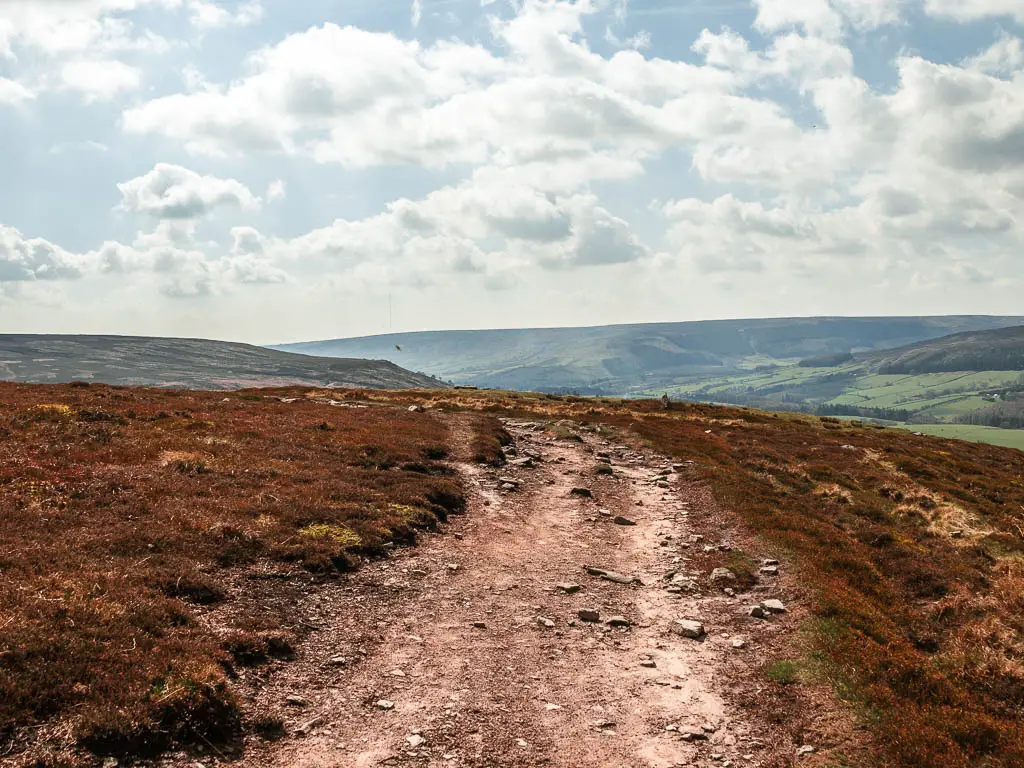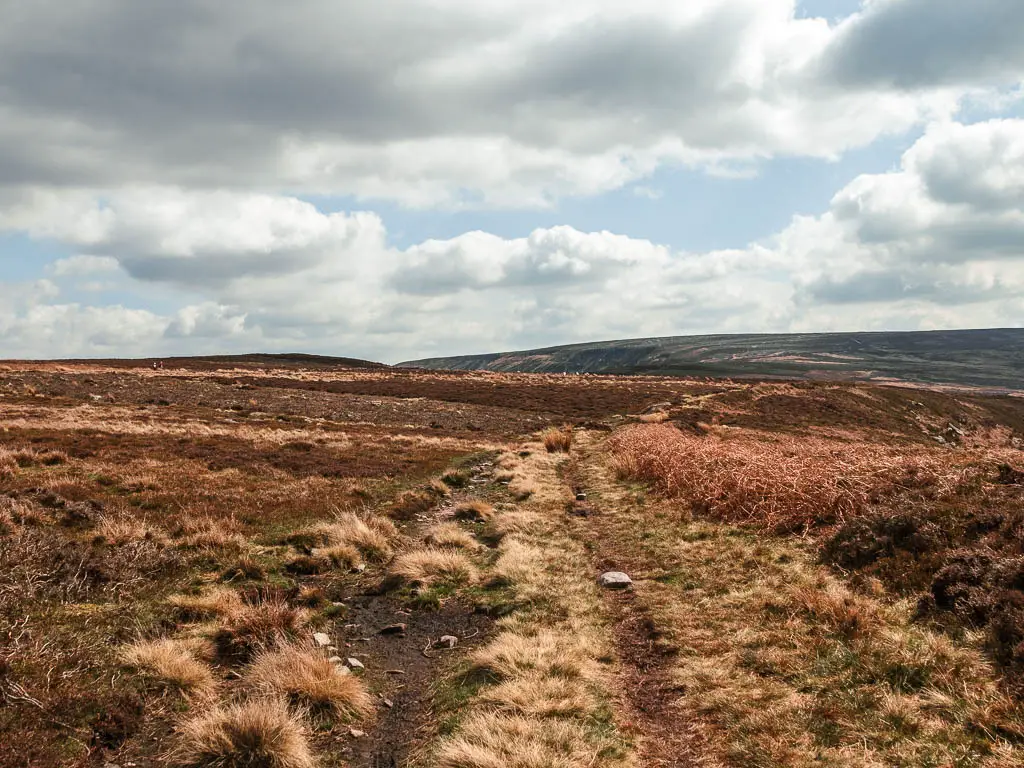 Further along, there are a few trail signpost with arrows, letting you know you are going the correct way.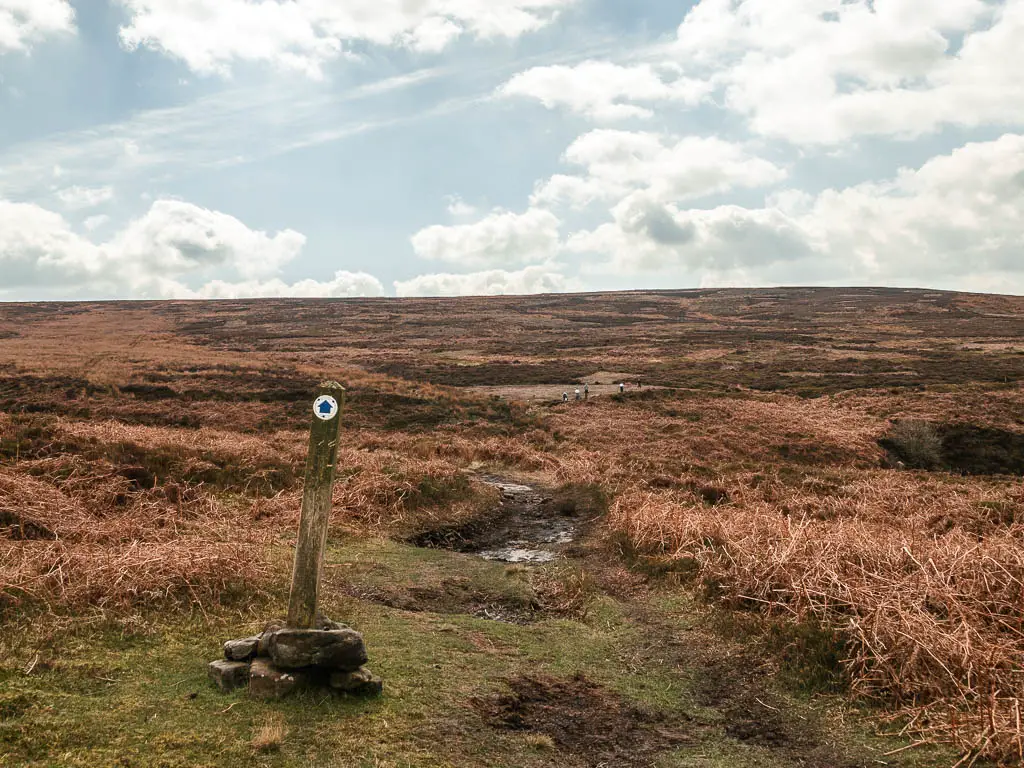 The bog
You will see a massive ditch coming up, and the arrows direct you around it to get over to the other side. This is where things started to get wet. Whilst the trail is pretty obvious, as there is no where else to turn, there were an unusual amount of trail arrows. I felt like they were there to tell me to keep going and not be deterred by all the bog.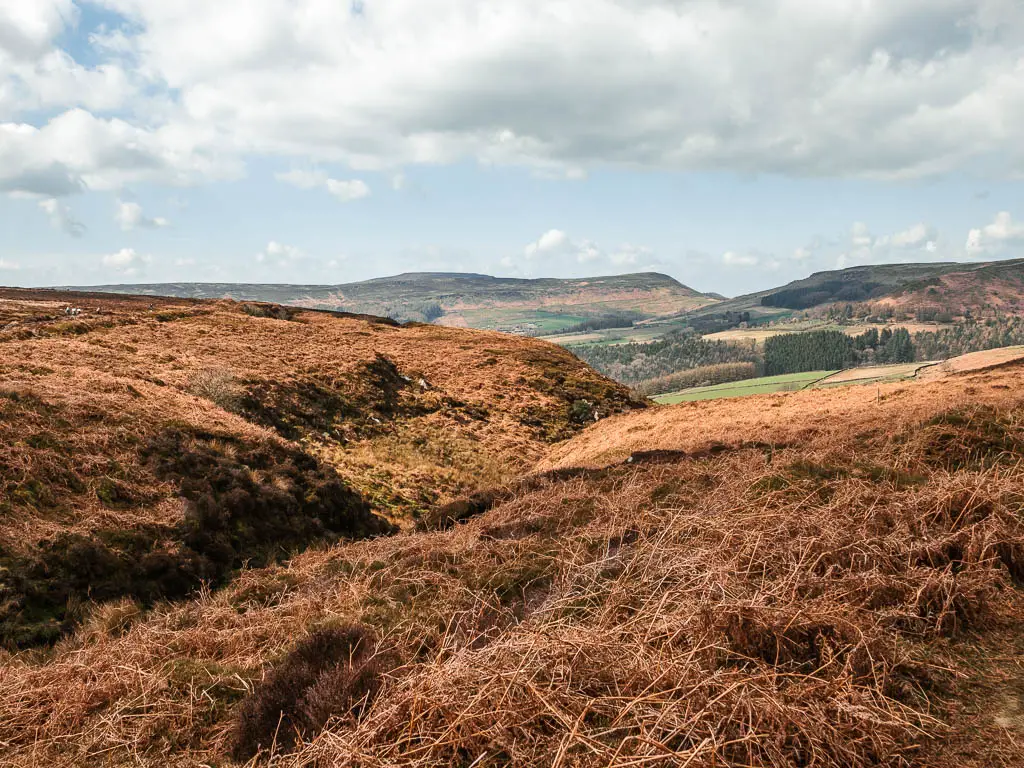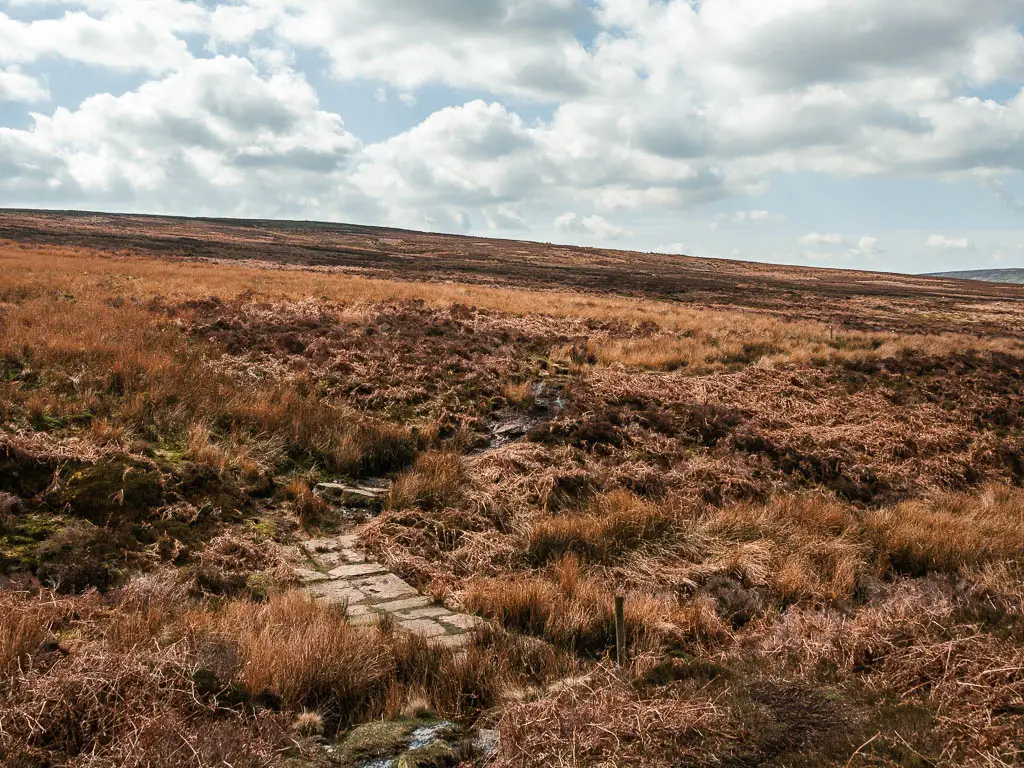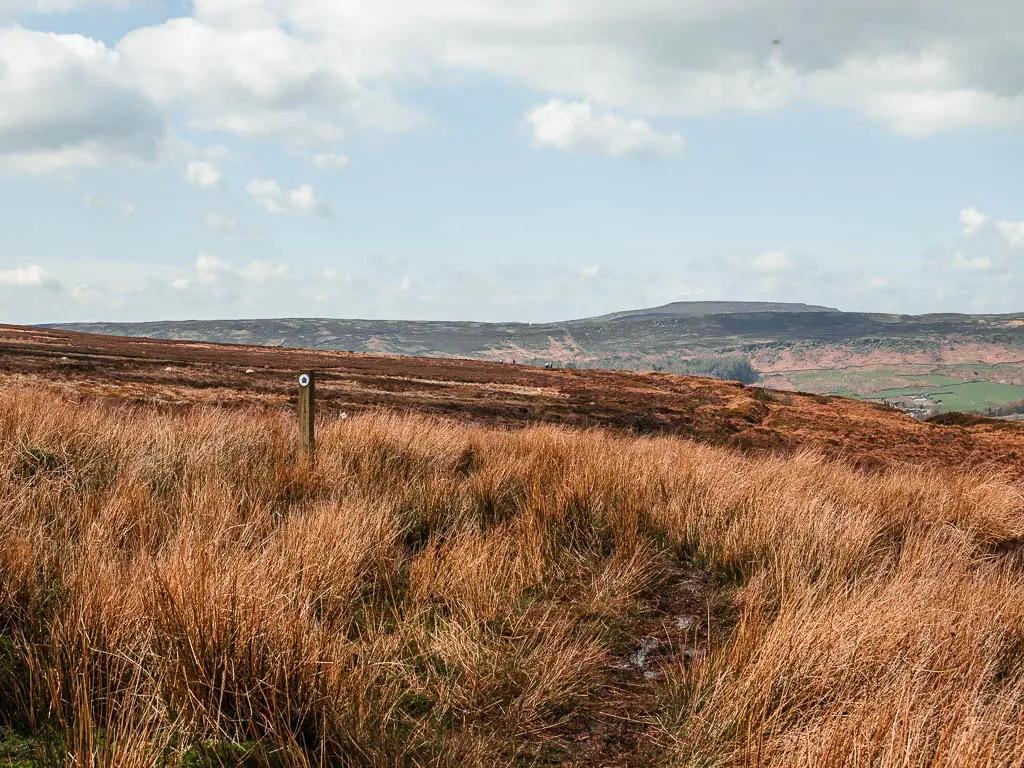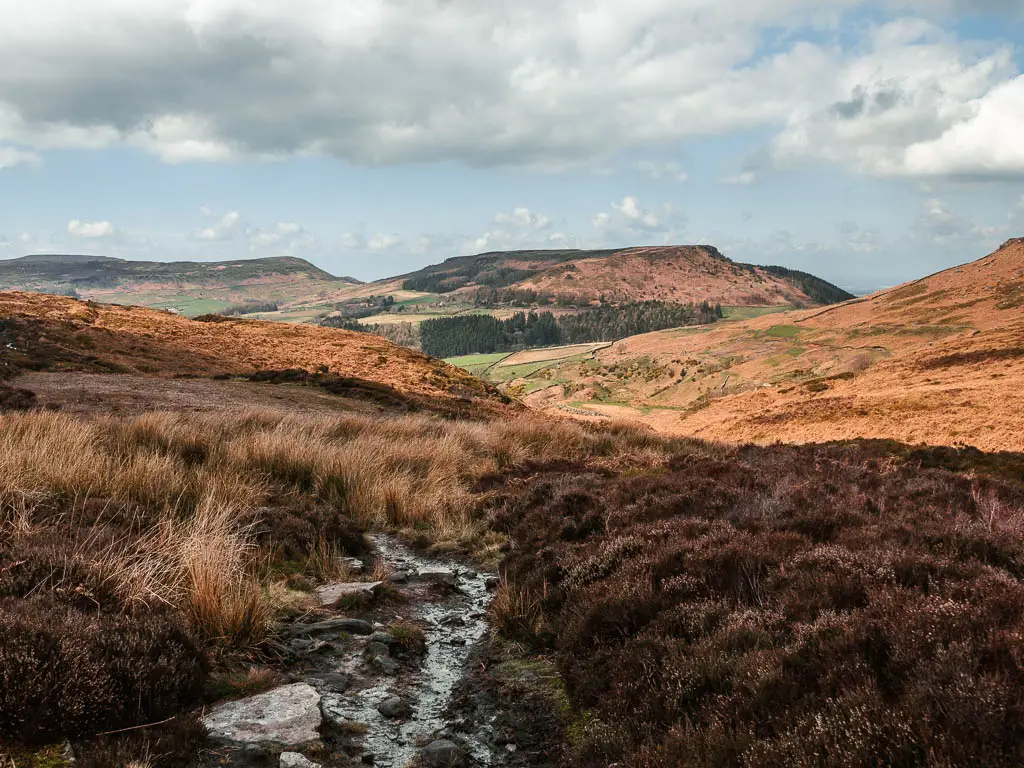 Once out of the bog mess, the trail curves you around so that you are walking along the edge of the hill, with the most marvellous views down across the valley.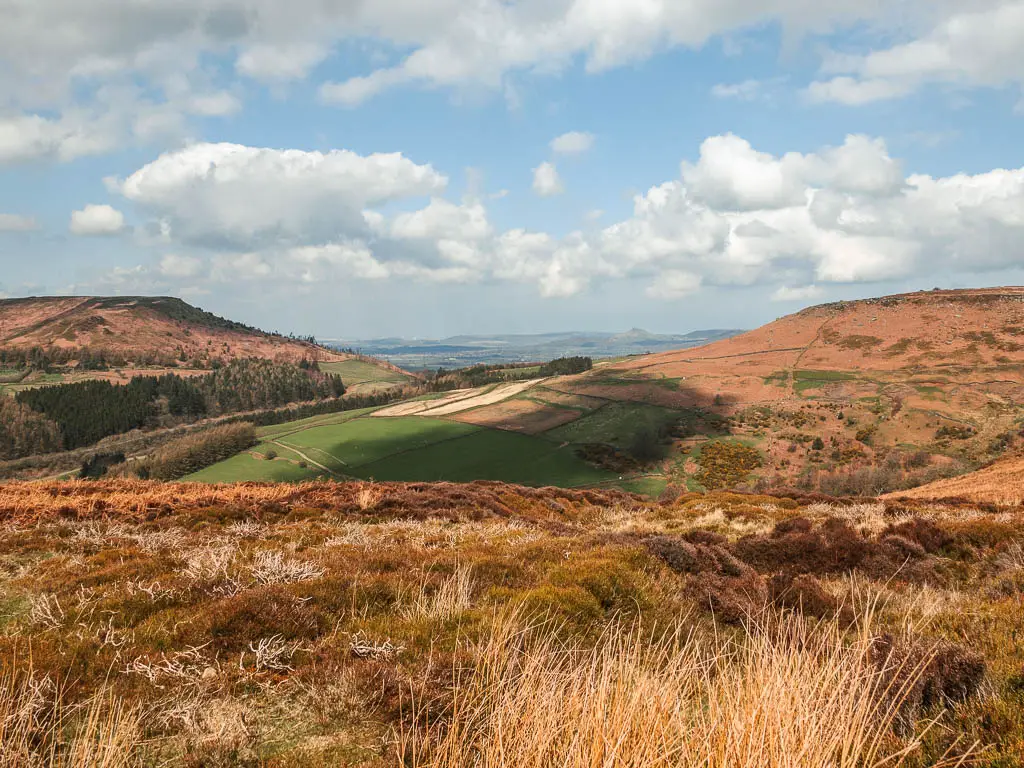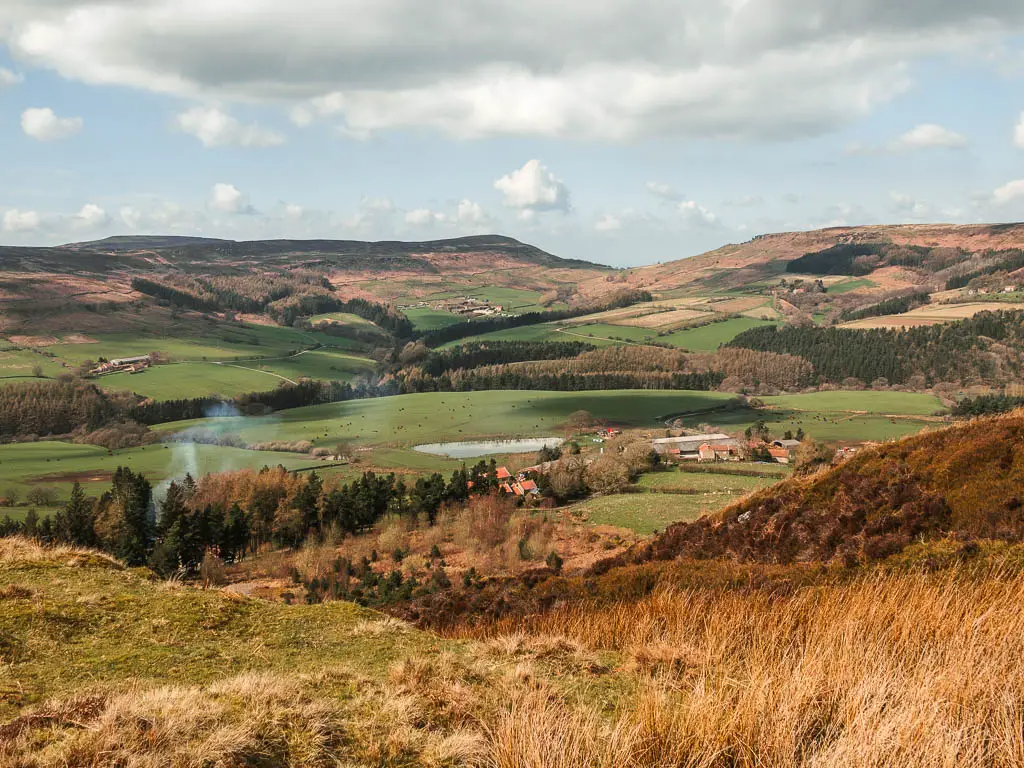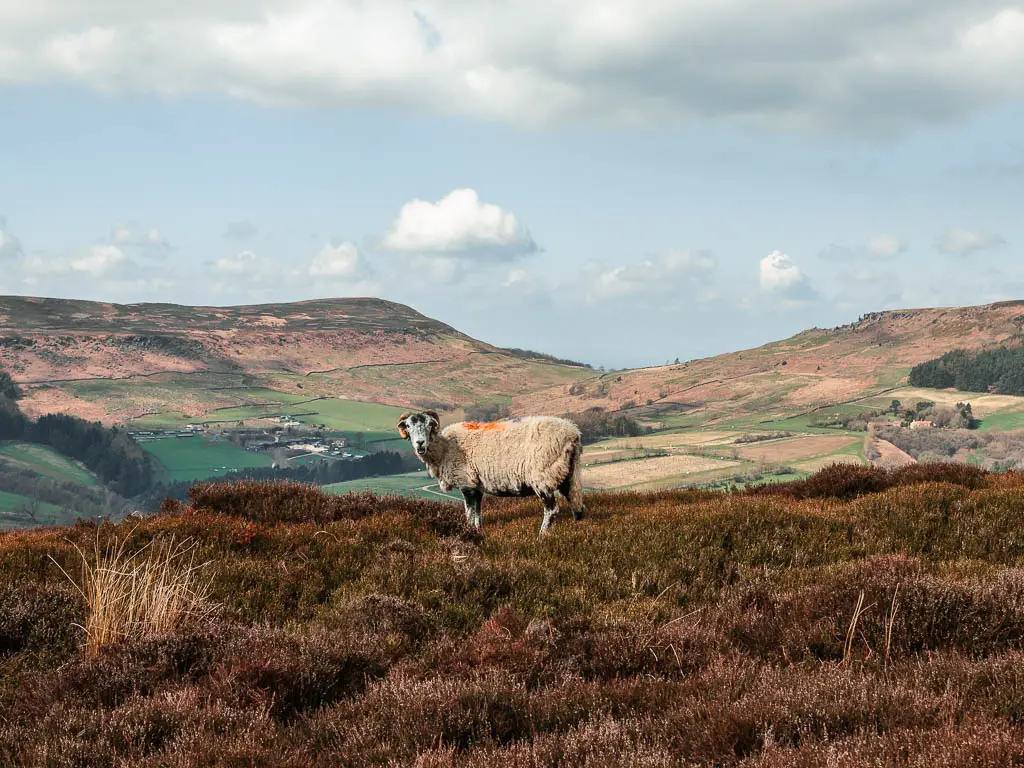 Don't let your guard down yet though, as there are some more messy bits to come. One has a nice ladder crossing, another has a ladder crossing which has been partially claimed by the bog.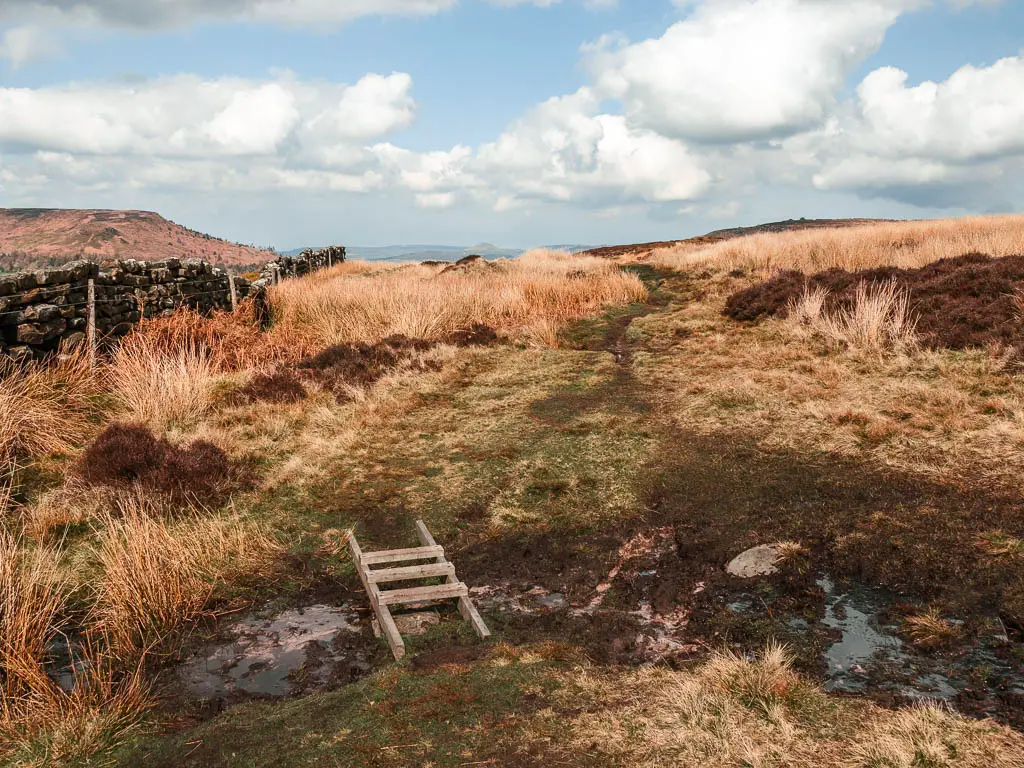 Apart from the bog and mud, I found this section of the walk to be quite lovely. After all the hills, it was nice way to finish, along level(ish) ground. A chance to take in the beauty of my surroundings, and think about everything I had seen before, on the walk to and past the Wainstones.
If you like grand views and lots of heather, then you should check out this route around the Hole of Horcum. It's my second favourite walk in the North York Moors.
Walk down off the hill
Some way along, keep an eye out for a grass trail leading down the hill to the right. It's quite obvious, but don't worry if you miss it, as just past here is another option to turn right at the trail junction, with a signpost.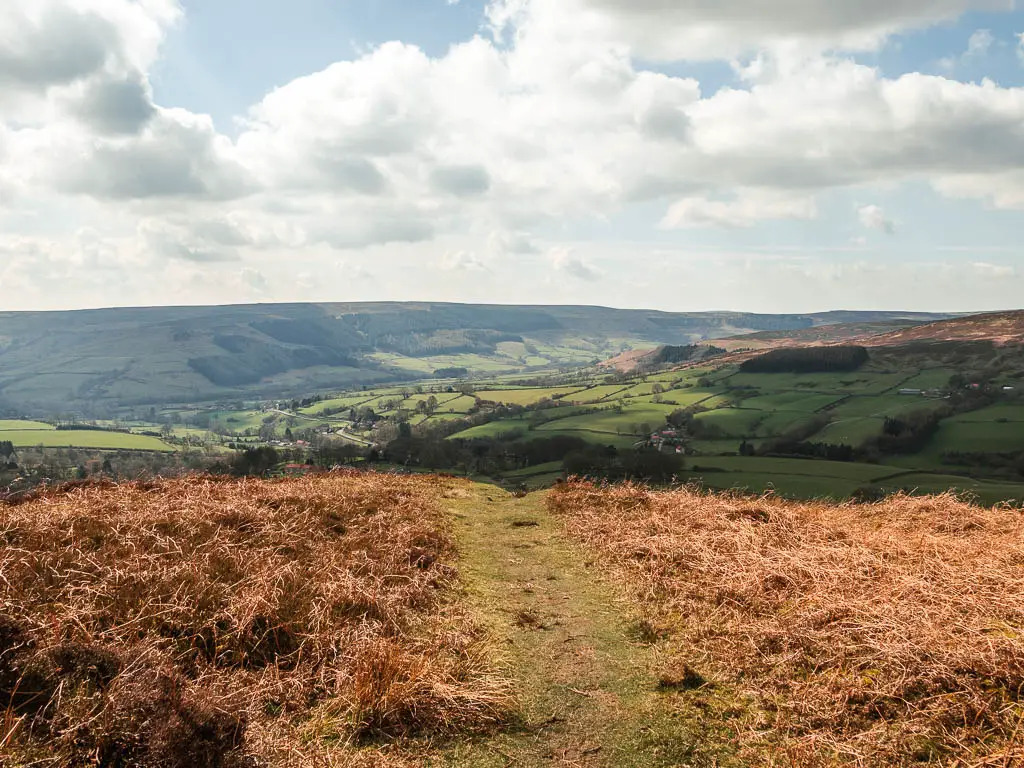 Down the hill, you will be led through a wooden gate, then down some more grass and then dirt, and through another gate. Keep going down the grass hill to reach the dirt track trail.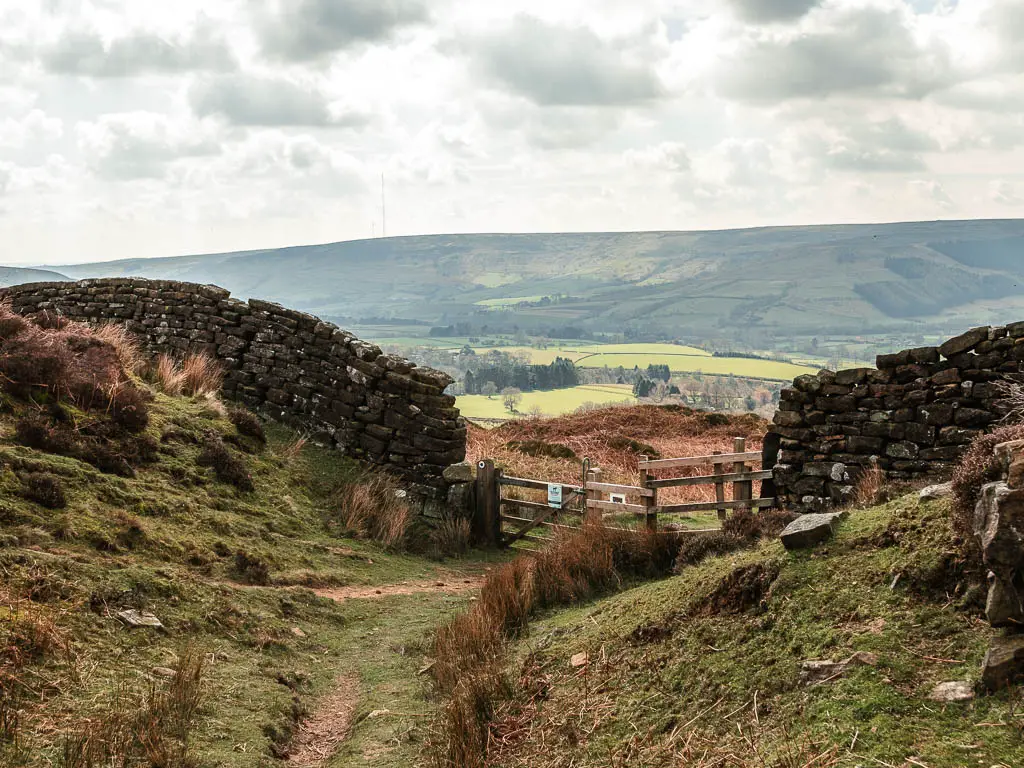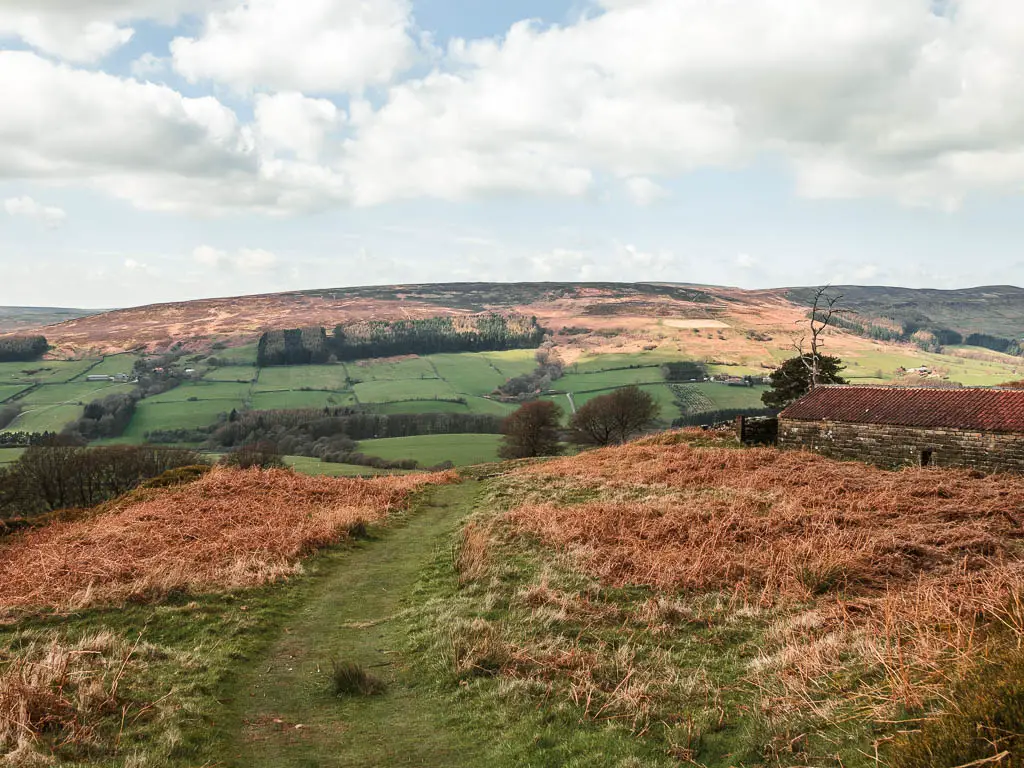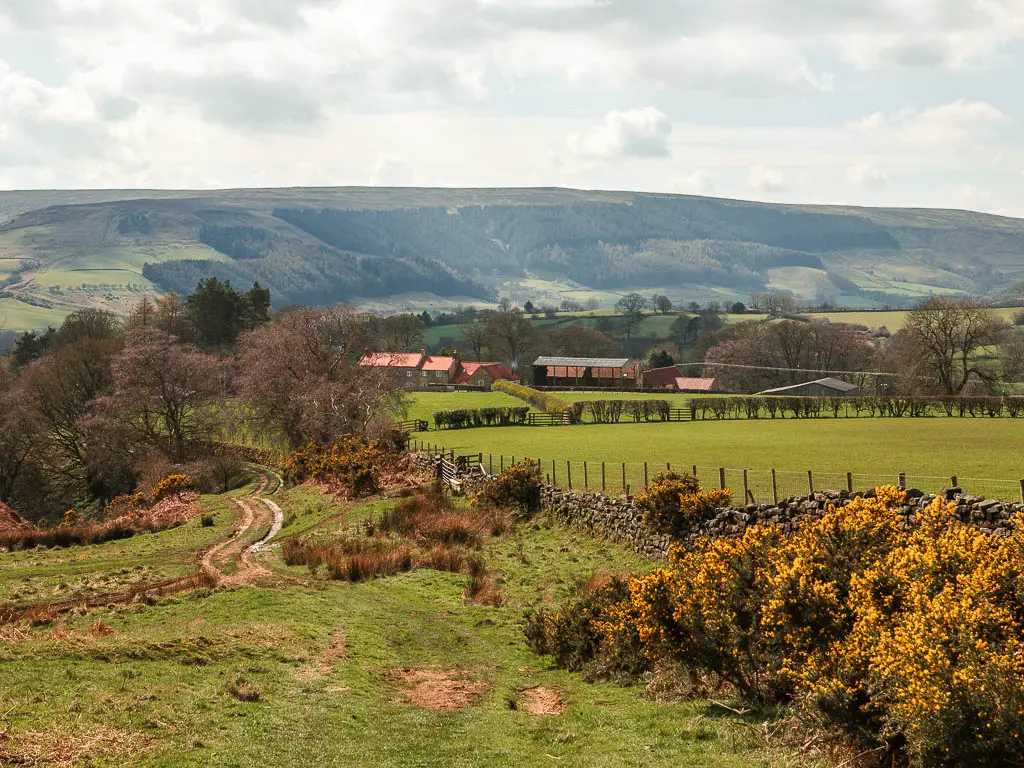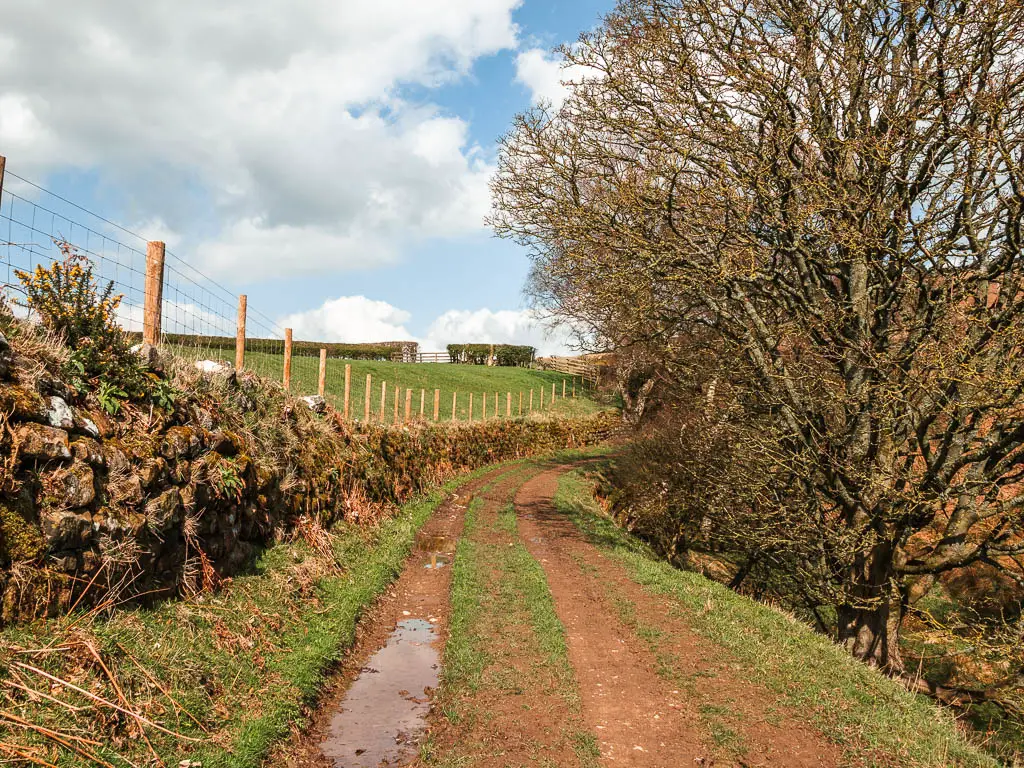 This will lead you under woodland trees briefly to reach the road, where you turn left.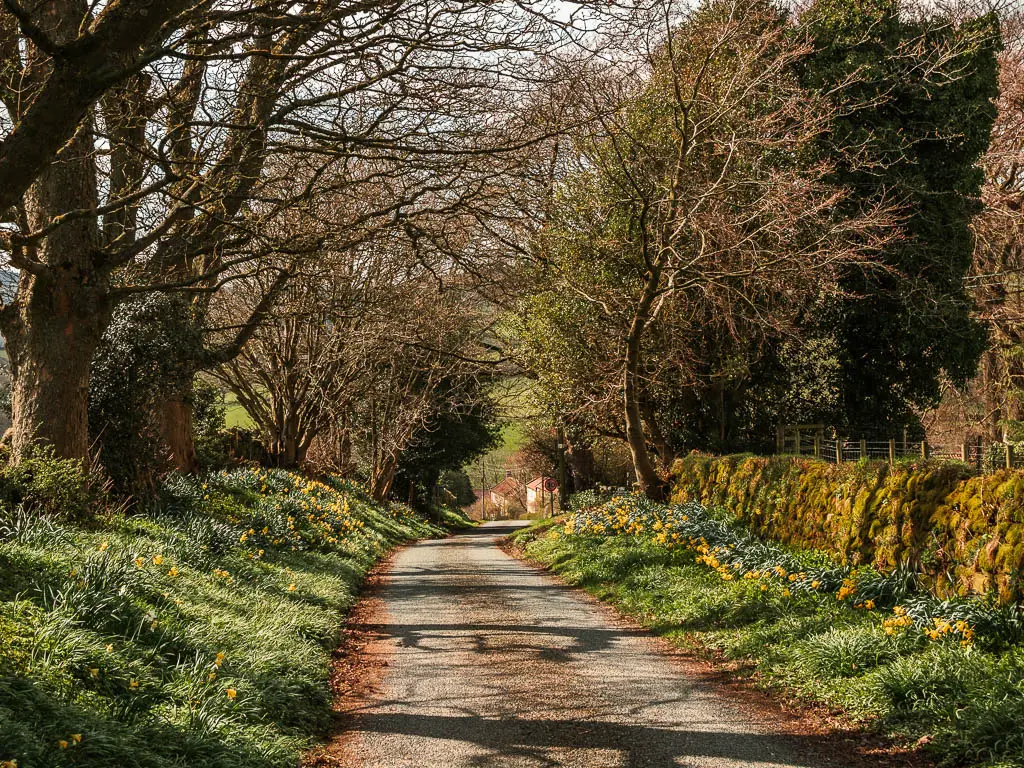 This is a very pretty bit of road, only tainted by the sound of the main road at the bottom. As I walked past the quaint houses, I thought about how lovely it would be to live here, if it wasn't for noise.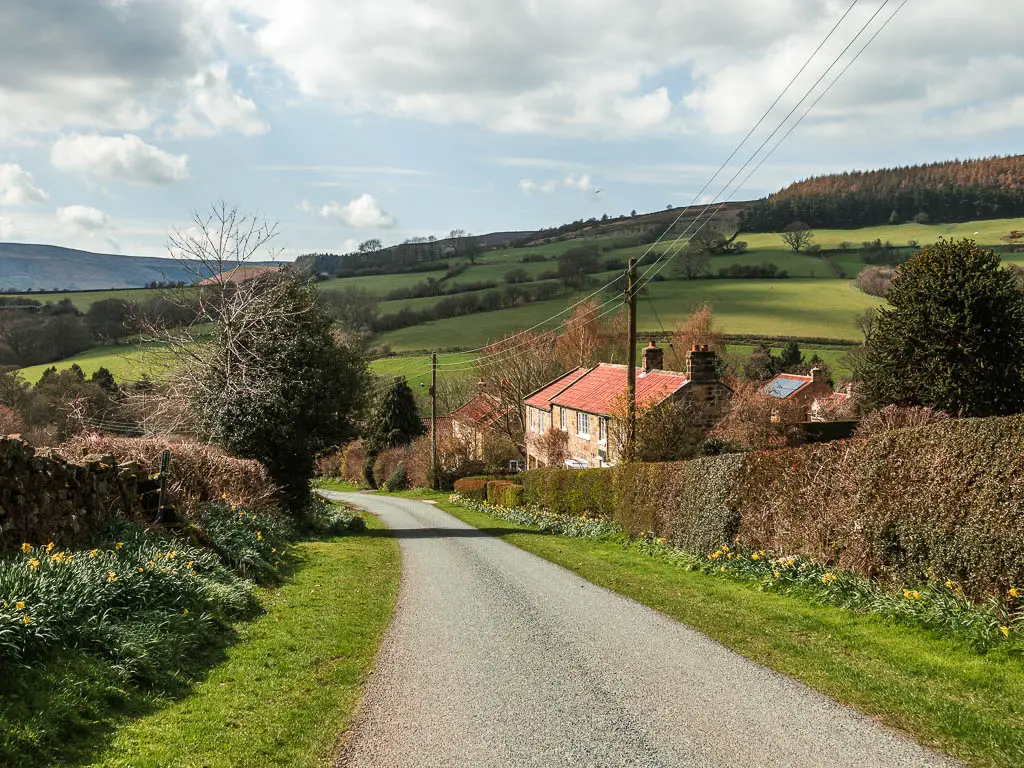 The final stretch of the Wainstones circular walk
When you reach the main road, go straight across it to pick up the trail on the other side
Note: If you have come with a dog, the stiles are coming up. You can instead get back to Chop Gate by turning left on this road. It's only a short way back.
Staying on the trail, it's a short uphill under the trees on the mud, then out in the open on the grass.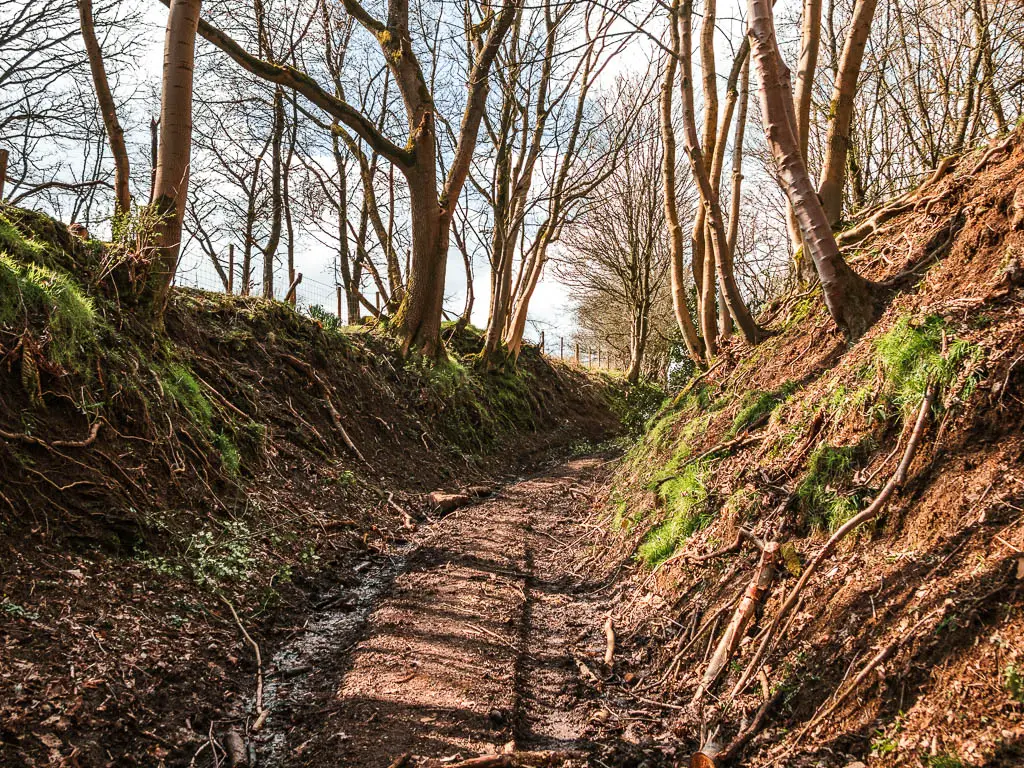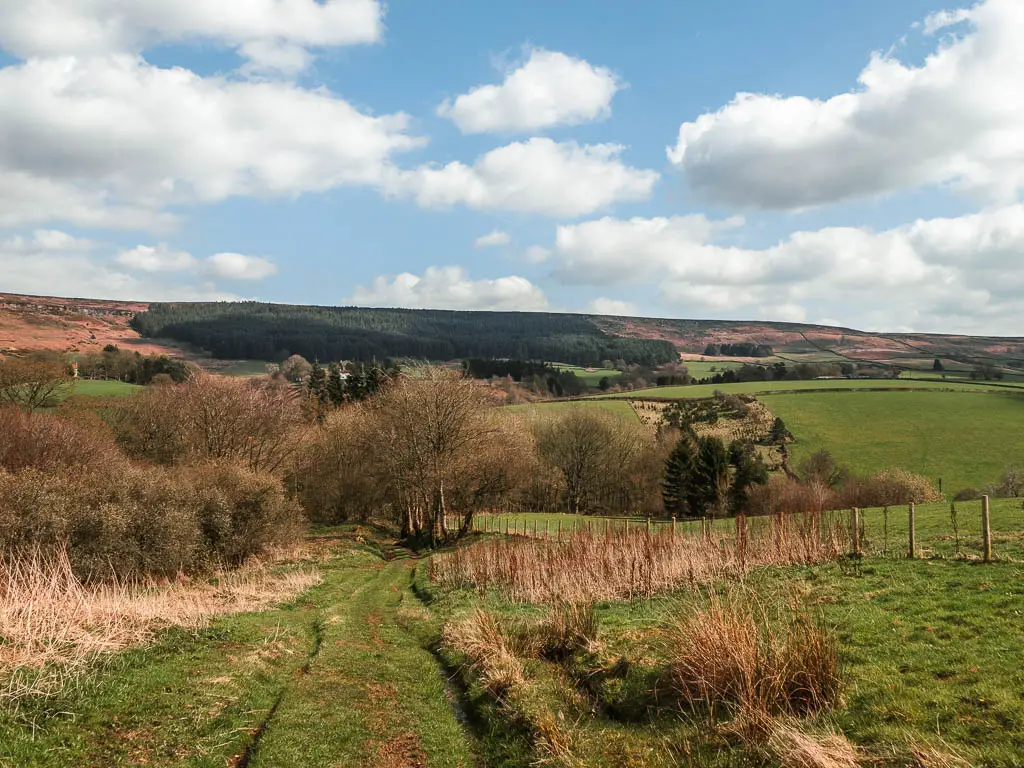 As you get higher up, you will see a farm type roof shelter ahead. As I got closer to it, I started to feel a little uneasy, like I shouldn't be here. I started to fear a dog might come and start chasing me (I am forever scarred by the dog chase on the Sutton Bank walk). So I check my map and realised my instinct was correct, so rushed back before a dog appeared. 
I found the correct way which is very well hidden. It's a little stile next to the gate.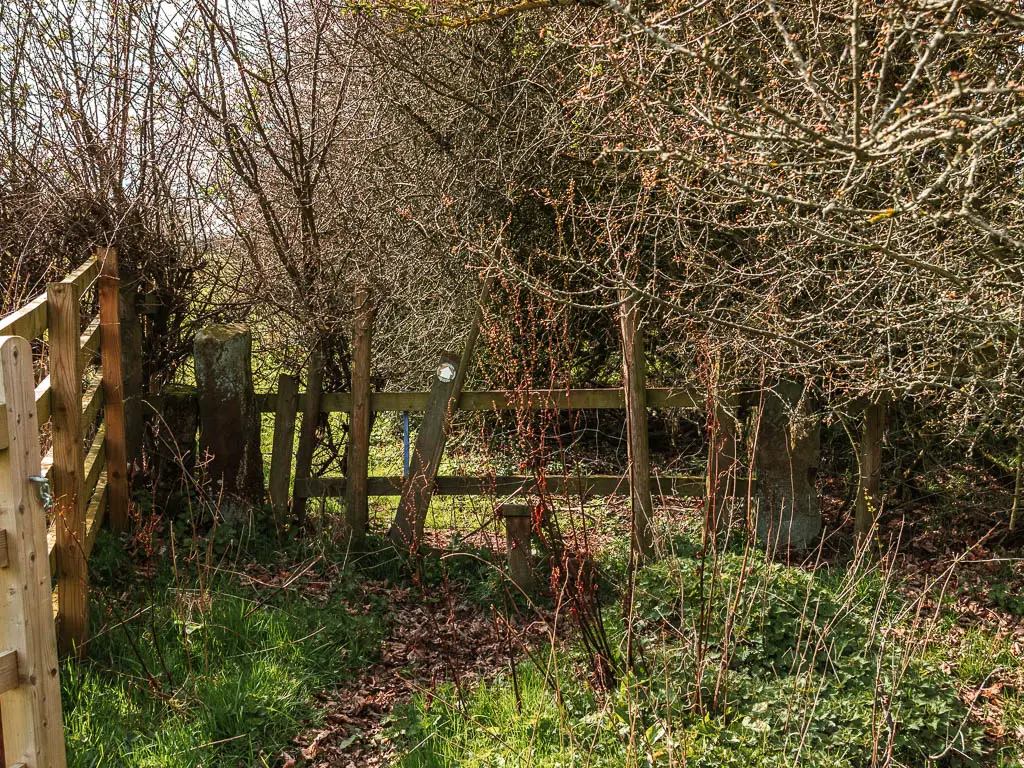 Over this stile, you need to continue straight across the edge of the field. I was still on edge. The dog fear had set itself on me.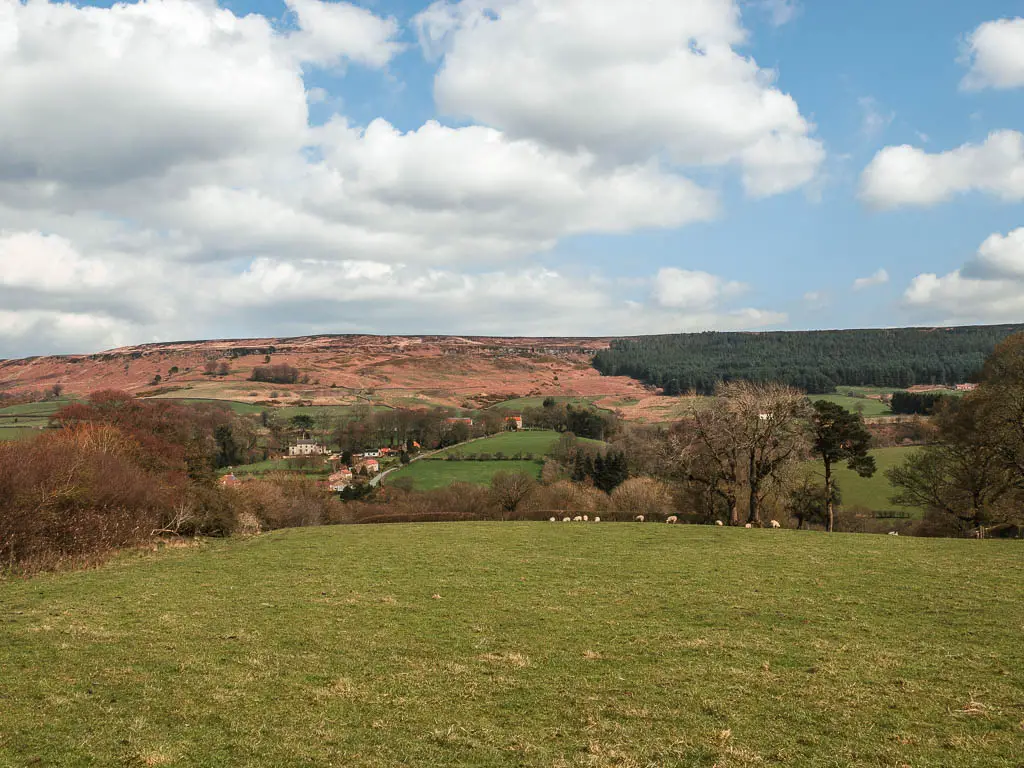 Sticking to the edge, you will be led onto a sheltered strip, which I found to be the boggiest, wettest bit of the whole Wainstones walk route. There was no fighting this bit. The only way is to stomp right through it. Feet half submerged.
Over the stile at the end, turn left, and you will be on the trail from the start. Follow it down and you will reach Chop Gate.
Pin it for later: Wainstones circular walk guide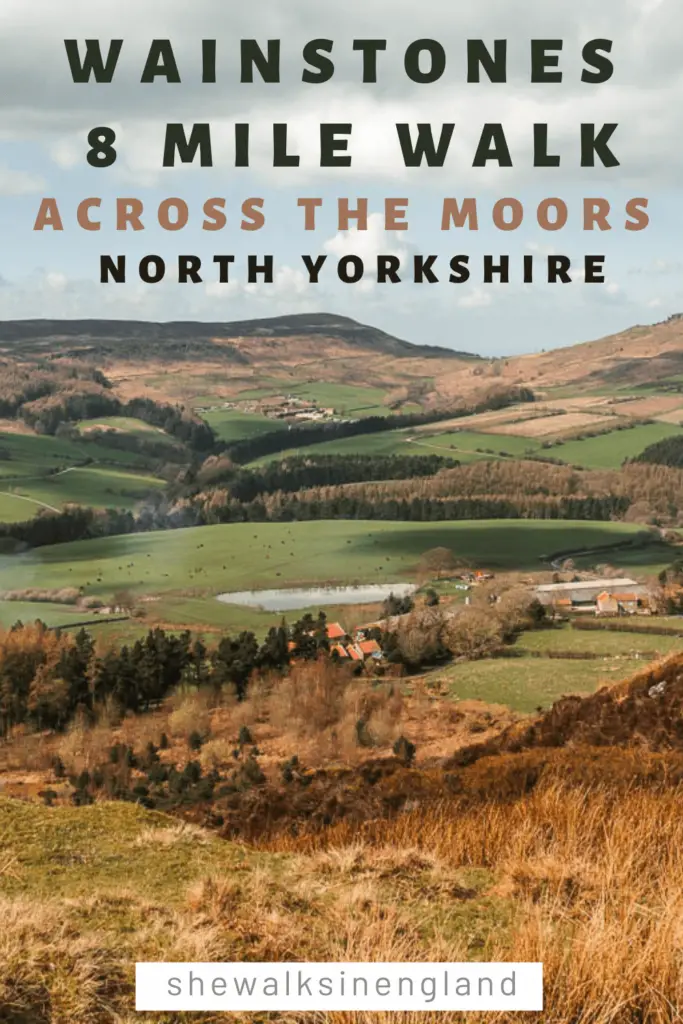 For more things to do in the area, you can check out the National Parks website.