If you haven't been to Brixham before, then you are in for a treat. Located in the Tobay area of South Devon, part of the English Riviera, it's well known for having lots of colourful harbour side buildings. It also has one of the busiest fishing ports in Britain. Being me, my first visit to Brixham had to be on a walk….and things went from there.
With Brixham having direct access to the South West Coast Path, you have got plenty of options for walks, ranging from easy to very very challenging.
This post uses affiliate links. You can read the privacy policy or disclaimer for more info.
Best walks around Brixham:
Here is a list of the walks around Brixham I will be talking about:
Brixham to Berry Head walk: 2+ miles
Brixham to Kingswear walk: 11+ miles
Brixham to Paignton walk: 5.8 miles
Torquay to Babbacombe: 7 miles
Dartmouth to Dittisham: 9 miles
Agatha Christie walking tour: Varied length
Torquay to Cockington: 2+ miles
I have personally done all of these walks from/near Brixham on the list. Scroll further down to see the description for each one. For all of them (except the tour) I have written a full guide with more detailed logistics, a map, and full route description with photos, which you can find by clicking on the links provided below. 
Do I need a car to get to the walks?
No. The first three of these walks start from Brixham. The others are a short bus ride away. If you aren't staying in Brixham, then you can still get there using public transport, which I detail more on the relevant walk guide.
---
A Guide To The Best Walks From Brixham
---
1) Brixham to Berry Head walk
Start/Finish: Brixham Harbour  Distance: 2 miles there and back. 5.5miles for this walk  Time: 2h  Difficulty: Easy  Type: Linear/freestyle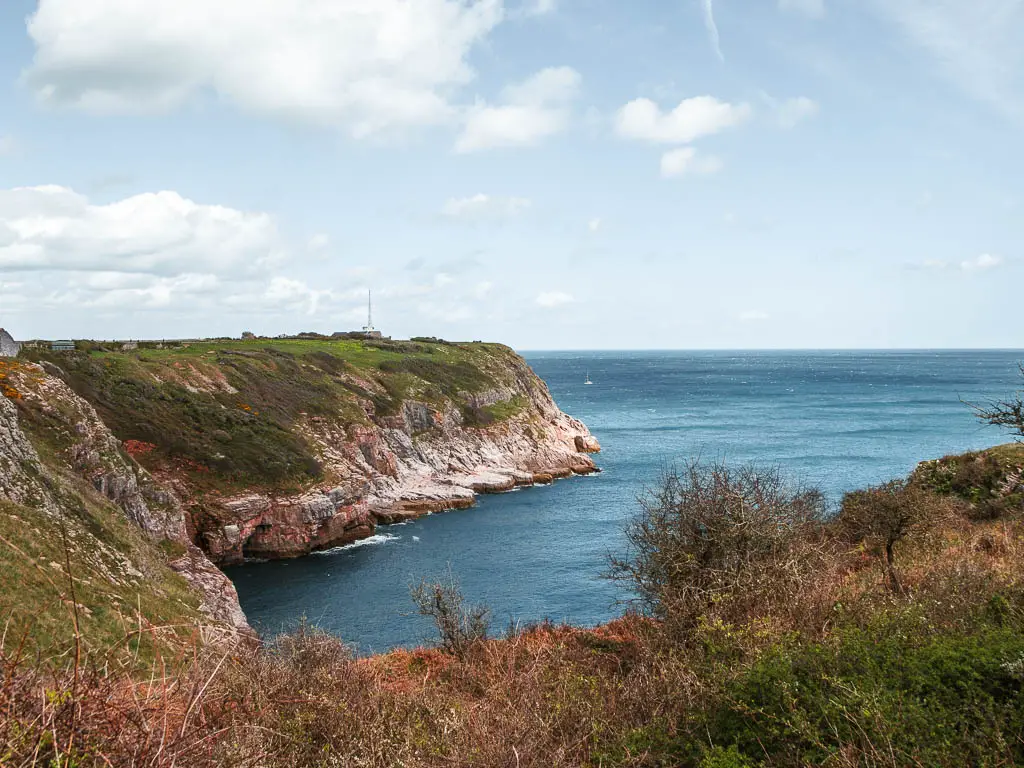 This is the shortest and easiest of the walks from Brixham on the list. It would make a perfect little excursion if you are staying in Brixham, and want to be a bit active, but aren't into the bigger hikes. You do need to walk uphill to get to Berry Head, but it's not that far or that steep.
Up there you will be on headland, with the highest, but also shortest lighthouse in Britain. The area is also quite special with its Napolionic Fort, and is an area of Special Scientific Interest and Conservation. You also get a view along the whole of the English Riviera to Torquay, and in the other direction, a fantastic dramatic view heading towards Kingswear.
Read more: Berry Head – Full walk guide
You could also look into doing a guided tour for this one.
2) Brixham to Kingswear walk
Start/Finish: Brixham/Kingswear  Distance: 11+ miles  Time: 5h  Difficulty: Very challenging  Type: Linear
This is by far the most challenging of the walks from Brixham. I actually did it the other way, from Kingswear to Brixham. But either works. If you are already staying in Brixham, then it might be quite nice to get a bus over to Kingswear and make your way back, walking along the coastline. 
Now, I use the word walking loosely. This is a full on, what have I got myself into kind of hike. Hill after hill with no breaks in between. Now,iIf you are a newbie hilker, with 'average' fitness levels, I would approach this one with caution. If you are not that fit, then maybe stay away. If you are an avid hiker and army level fit, then good luck. 
Read more: Walk to Kingswear – Full guide
3) Brixham to Paignton walk
Start/Finish: Brixham/Paignton  Distance: 5.8 miles Time: 2.5h  Difficulty: Easy/Moderate  Type: Linear
I also did this walk the other way around, from Paignton to Brixham. But it's all along the coast path, so either works fine. There are a few hills and steps,  but the in-between is relatively flat. You will walk by long stretches of red sand beach, and alongside the steam train railway line. There are also a few hidden beach coves along the route.
Read more: Walk to/from Paignton – Full guide
---
Best Walks Near Brixham
---
The following walks involve a short bus ride from Brixham. I have narrowed it down to my 4 favourites that don't involve a long bus ride to get to.  However, if you have a car (or don't mind travelling a little further) and would like more options, each one of these guides lists other walks nearby.
4) Torquay to Babbacombe  
Start: Torquay Harbour  Finish: Babbacombe   Distance: 7miles  Time: 3h  Difficulty: Moderate/Challenging  Type: Linear  Option to shorten the walk: Yes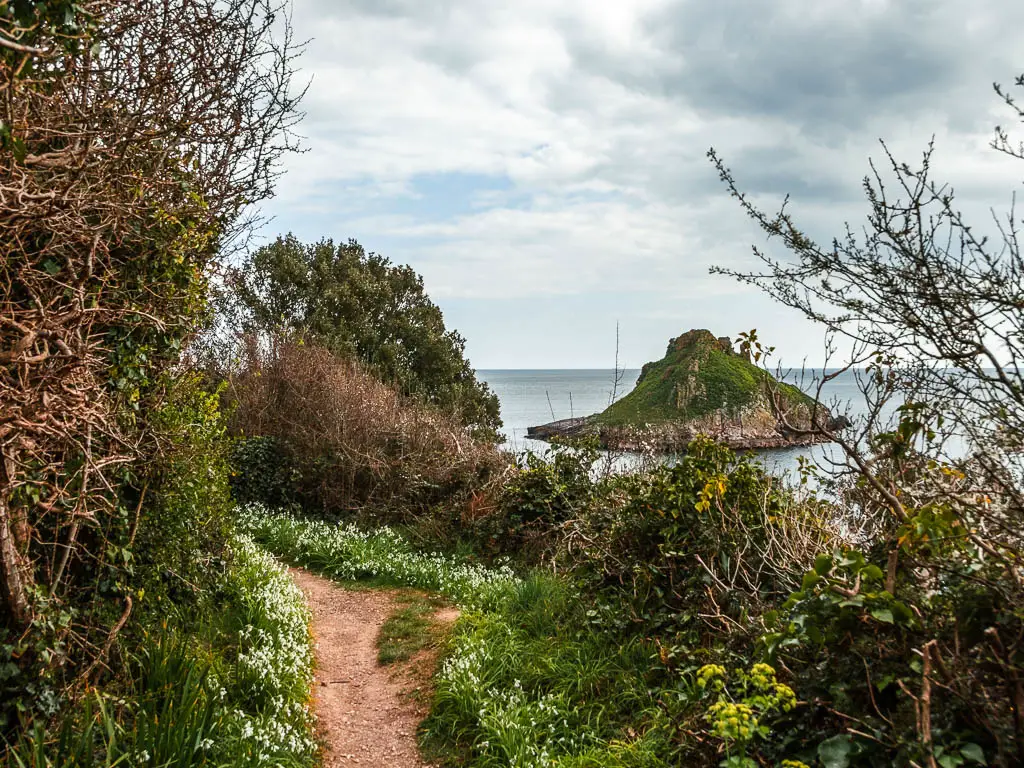 This is one of my favourite walks in the area. It's quite hilly, and some steps are involved, but you also have such wonderful views. There are a bunch of sea rocks, including the impressive Thatcher Rock. There is a little bit of road walking, which did concern me at first, however, it's not too bad, and is worth it for what the roads lead you to. 
Read more: Torquay to Babbacombe
5) Dartmouth to Dittisham  
Start/Finish: Dartmouth or Kingswear  Distance: 9miles Time: A bit over 3 hours  Type: Circular  Difficulty: Challenging
This is another one of my favourite walks, and is only a short bus ride from Brixham. You have some woodland walking, big hills, crazy good views, a steam train, two river crossings on a boat, one of the prettiest villages in South Devon, and you get to ring a big bell.
Read more: Dartmouth Dittisham walk – Full guide
6) Agatha Christie Walking Tour –  The guided one
Start/Finish: Torquay  Time: A few hours/no set time.  Type: Guided walking tour  Difficulty: Easy
This very different to my usual walks, in that it is guided. Let me tell you, it was money well spent. I didn't know much about Agatha Christie before doing the tour, I hadn't even read any of her books. By the end of it, I was converted. The tour is over in Torquay, which is where she is from. If this is up your alley, then I would also suggest making a trip down to Greenway, where you can visit her holiday home. You walk via Greenway on the Dartmouth Dittisham walk, which I mentioned above. 
You can get more information and book the walking tour here.
7) Torquay to Cockington  
Start/Finish: Torquay Railway Station  Distance: 1mile one way. Add extra for exploring  Time: Under 1h there and back  Difficulty: Easy  Type: Linear and freestyle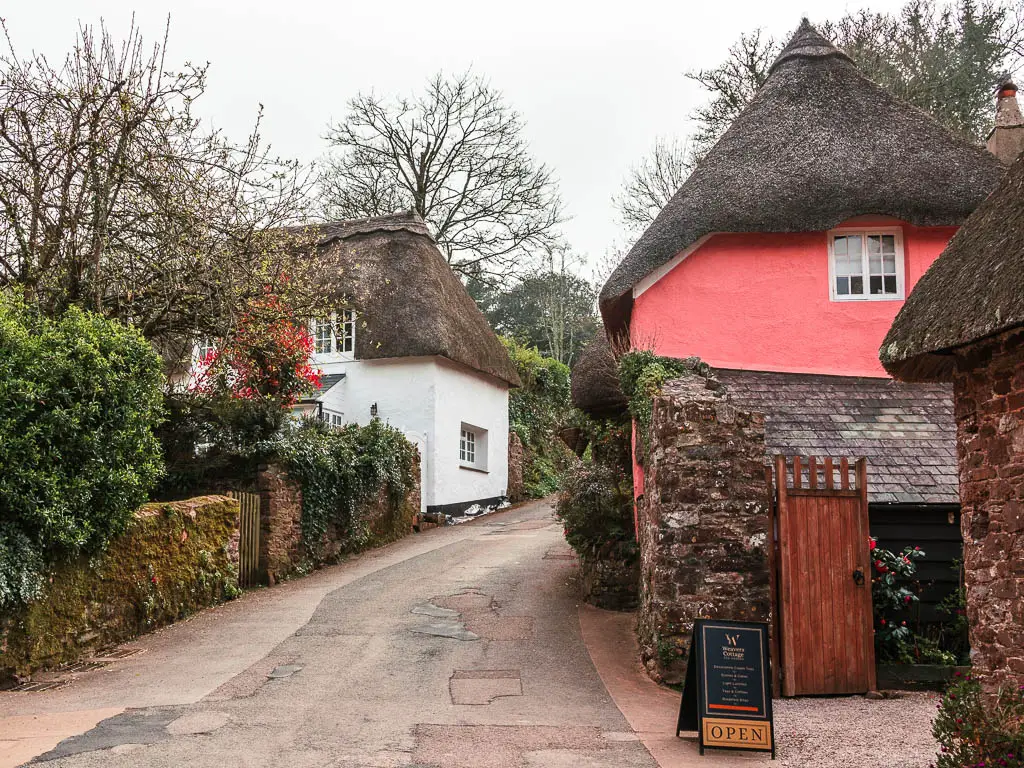 This is a wonderful little walk along a path and wooden walkway, through green lush surroundings. To reach a cute chocolate box type village where you can enjoy traditional cream tea. From there, you can wander around the Cockington country park, and enjoy the various arts, crafts and flower gardens at Cockington Court.
Read more: Walk to Cockington – Full guide
---
Final thoughts on these walks from Brixham
---
There is a lot to choose from here, so let me summarise for you. 
If you prefer shorter walks that take you somewhere, then I would suggest the walk from Brixham to Berry Head, and Torquay to Cockington. 
If you do head over to Torquay, to do the Cockington walk, then I would recommend also doing the Agatha Christie Tour whilst you are there. Both are gentle walks, and would make a nice day out from Brixham. 
If you like a challenge and views, then it has to be the Brixham Kingswear or Dartmouth to Dittisham walks. 
For something in between, as in, not too challenging, but something to stretch your legs and get your heart rate up, then the Brixham Paignton walk should be good for you. 
Another one which I haven't mentioned is this walking tour around Brixham. I haven't done it, so can't comment on what its like. But you could have a look and see if it's something you would be into.
For more info about things to do in Brixham, other than walking, you can check out the English Riviera website.
Pin it for later: Best Walks From Brixham