Hollands Wood is a small area of woodland and the location of one of the largest campsites in the New forest. Located just a short walk from Brockenhurst village, Hollands Wood is an easy place to come for a walk if you want the forest feel without going too far. It also acts as a sort of gateway to reach other walking trails further out.
Seeing as it's a campsite, I suspect during season (April to September) it can be quite a busy area, however, if you are staying in Brockenhurst outside of these dates, then it is quite pleasant to walk around. 
I was in Brockenhurst in December, and I found myself in Hollands Wood as a walk through on my way to Lyndhurst, however, once there I decided to do a little circular to see what this place was about.
Full logistical details, a map and more walking ideas for the New Forest will be at the end
The walk around Hollands Wood
I entered Hollands Wood with the intention of sticking to the road (I explain why in my post about walking from Brockenhurst to Lyndhurst). However, once there I noticed a trail leading to the right. It was a very easy looking trail, no mud or marsh, so I decided to take it.
Immediately to the right, past some trees, was a large opening. A large green field with wild horses dotted about.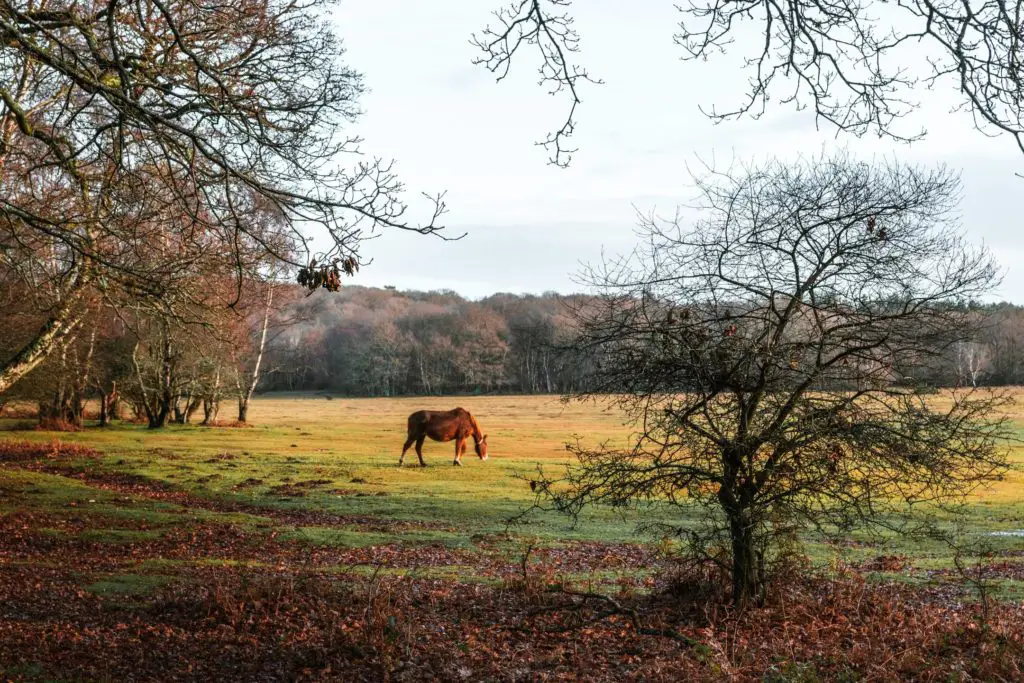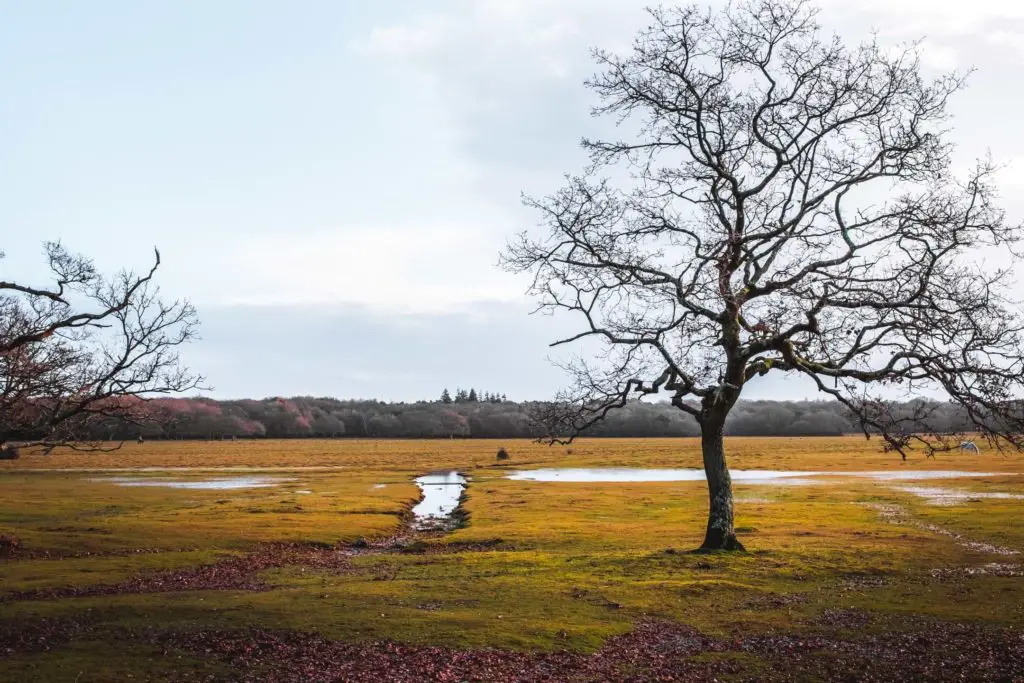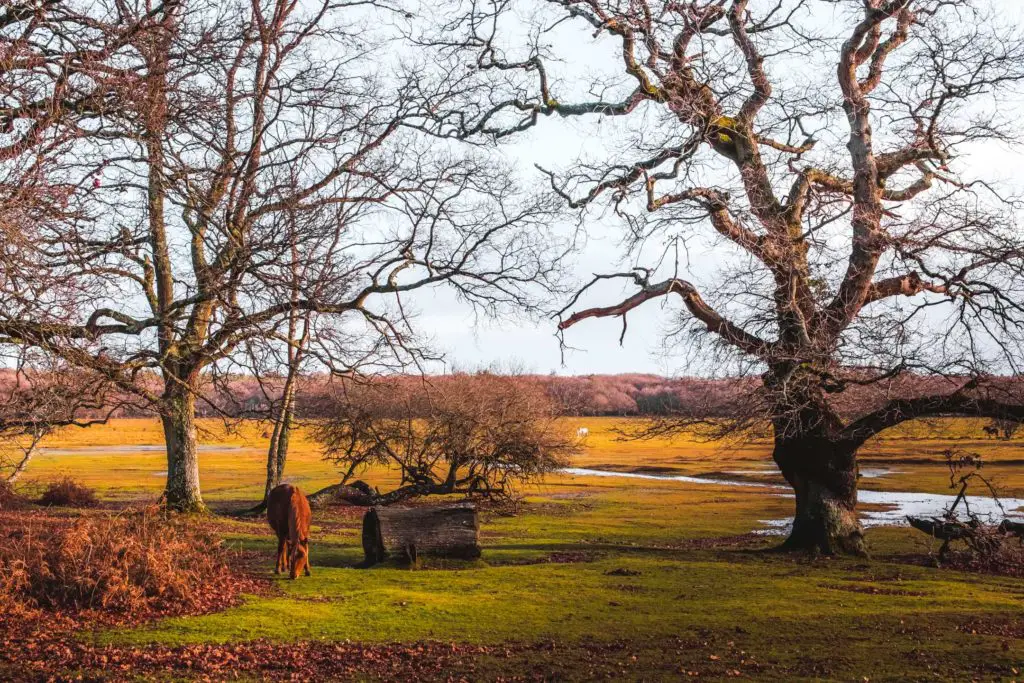 It was quite beautiful, standing under the trees, looking through them to the big green field. The grass was a bright green with puddles of water and there was a sort of glow, the way the sun was shining down on it. The horses where individual, each on their own, far away from each other. 
The outside fire exit
As I was walking along, I noticed a few wooden signs on the edge of the woods which said fire exit. At this point, I didn't know I was walking through a campsite. I thought it was odd. Fire exit?
I concluded the only explanation would be if the woods were on fire, and to escape the fire you leave to woods to the field. Even so, it was still odd. I have never seen a sign post for a fire exit on the outside. When you are outside, it's not like you are surrounded by walls and doors. Why would you need a sign for a fire exit? You are already exited.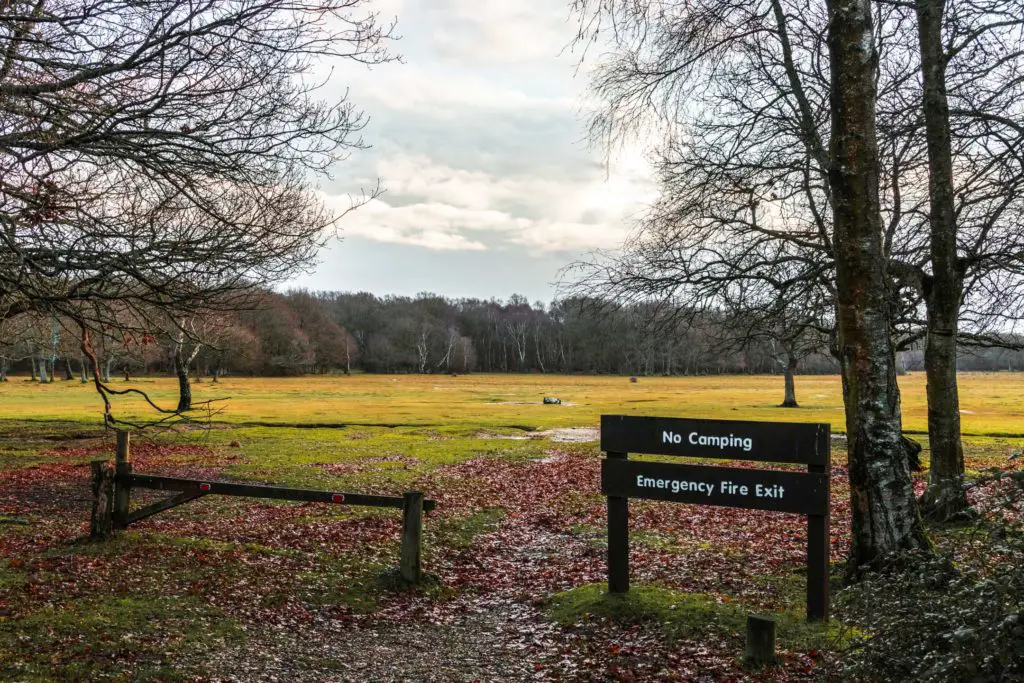 Since discovering that this is a campsite, it does make a little more sense. But I still find it odd. This is a very small area of woodland. You can see the way out from wherever you are. Is this a common thing to have fire exit signs at a campsite? I am actually asking you. Is this common? 
Walking through the middle of Hollands Wood
Anyway, I followed the trail to the end and then to the left as it curved around. There are lots of trails you can follow from here. Right will take you out of Hollands Wood and into the rest of the New Forest, left will lead you back to the entrance. There are multiple trails going left, so I decided to stick more central, as I didn't want to walk close to the main road and lose the forest vibe.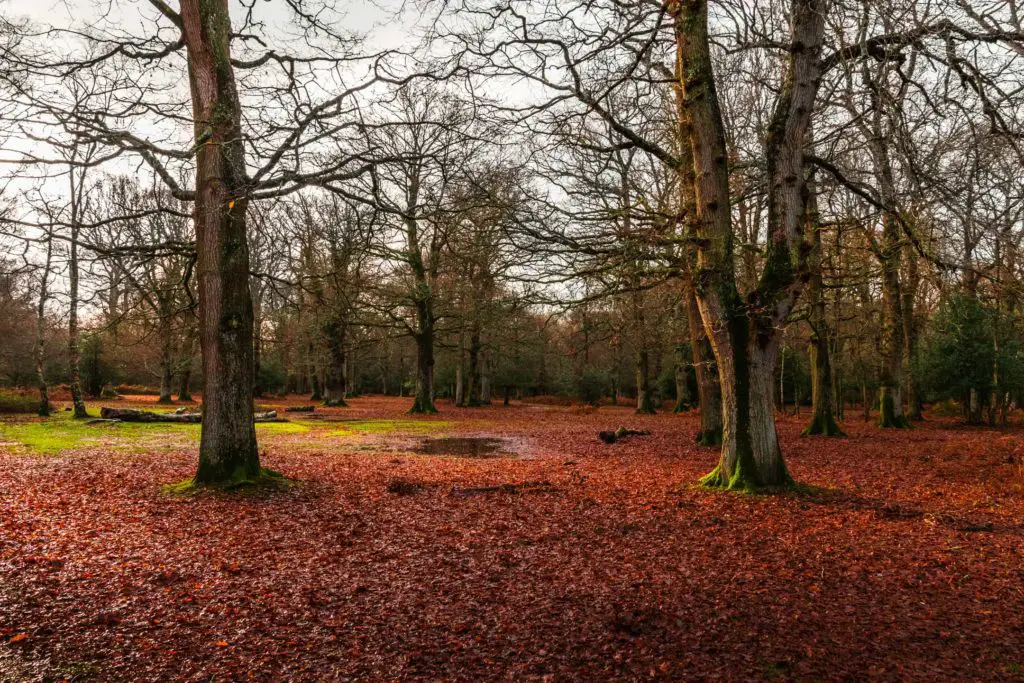 This is when I realised I was in a campsite, as I walked past pitches, each one wet and muddy. These trails going through the middle were a little wetter, covered on soggy fallen leaves. I was doing my best to keep my shoes dry (again, I will explain why in my Brockenhurst to Lyndhurst walk blog post). I almost succeeded. Just a bit of my right toes got wet.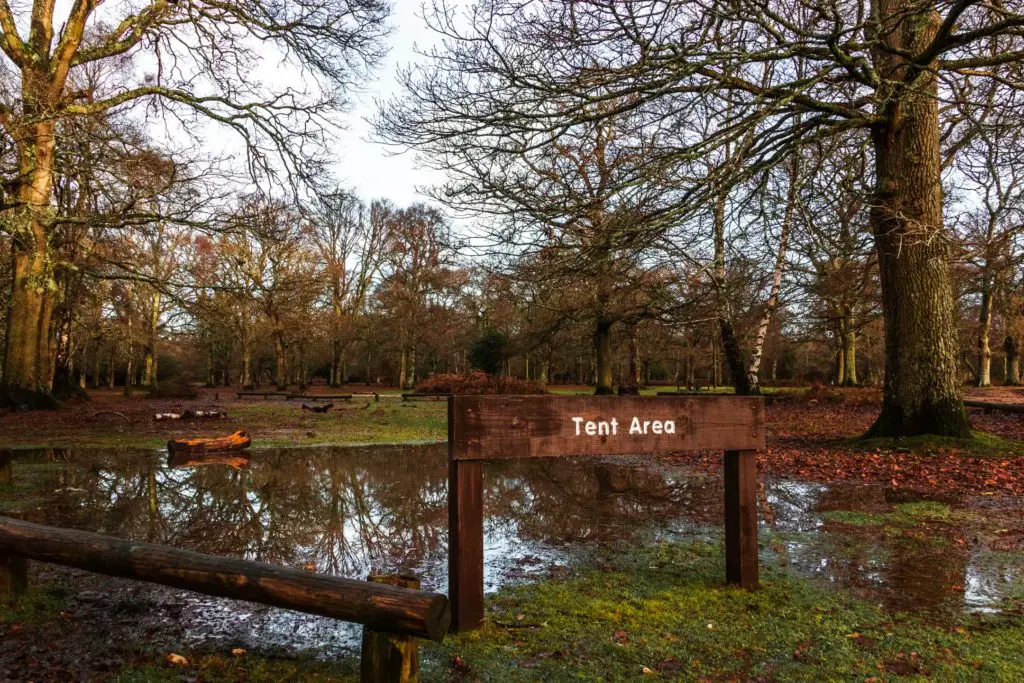 Walking through the middle wasn't as nice as the edge. As I was nearer to the road, the car noises became more apparent. Being more under tree cover, everything was a bit more gloomy, and the ground was wetter as it was covered in soggy leaves. The edge though, that was beautiful. 
My recommendation would be to walk along the edge, then walk back on yourself when you head back. For some double edge goodness. 
Logistics For the Hollands Wood walk
Start/Finish: Hollands Wood entrance 
How to get there: Head north out of Brockenhurst along Lyndhurst road. About 10 min along from the station, you will reach Hollands Wood on the right.
Distance: 1.5 miles
Time: 35min
Terrain: Easy trail, which can be wet with leaves during autumn/winter 
Tips: Walk around it during off season, when the campsite is empty.
Map
Click on the little box in the right corner to open in your Google maps.
More walks in the New Forest
If you want to make the walk longer, instead of doing a circular in the woods, you could continue north to walk to Lyndhurst. If in Lyndhurst you could try a 4.5 mile walk to Ashurst. Or a 9ish mile circular walk around Lyndhurst.
If you fancy something mega long, you could follow a circular trail to Beaulieu.
If you would like to see the tallest trees in England, you could do the tall trees trail. The trail itself short like this one, but there are opportunities to make it longer.
If you would like to stick to the Brockenhurst area, you could try the Brockenhurst village walk.
If you are not sure, then you can read a little summary of walks near Brockenhurst here.
Or a summary of the best walks in the New Forest here.
For other New forest walking ideas, you can check out the New Forest website.
Pin it for later: