I decided to do the Brockenhurst village walk because, well, I was staying in Brockenhurst, and it seemed like a quick circular walk I could fit in. I say quick, it was about 5 miles, but most other walks I have done in the New Forest were much longer. So comparatively it was a little one.
As it was my last day in the New Forest, I wanted to fit in as much as possible. So my plan was to walk to Lymington, a 7 mile walk, and if I started with the circular walk around Brockenhurst village, that would total around 12 miles. A solid day of walking. 
What was the Brockenhurst Village walk circular like?
Quite a simple walk actually. A large amount of it is on gravel or dirt trail. Not all of it though, there was still a lot of muddy areas, which is what I have come to expect from walking in the New Forest. Although saying that, I have only walked around the New Forest during winter, I wonder what the terrain is like during summer. Less muddy perhaps? I will have to come back to see.
Read more: Tips for keeping warm when hiking in winter
Read more: Tips for hiking in the rain
Just like the Lyndhurst Parish walk which I did the day before, this walk is a specific route. I think I did it correctly. It's not signposted (as far as I could tell), so I had a good study of the map before going out to try to memorise the route.
---
Logistics for the Brockenhurst village walk circular
---
Start/Finish: Brockenhurst train station
How to get there: You can get there on a direct train in 1.5h from London Waterloo, or from Paddington with a change over. 15 min from Southhampton, 7min from Lymington.
Distance: 5 miles
Time: 1h 45min
Terrain: Dirt/gravel/mud trails. A bit of Asphalt. 
Difficulty: Easy
Season: I did this one during winter
Map for the Brockenhurst village walk 
To use the map, click on the little box in the corner of Google Maps. For a more detailed route map, you can find that on my AllTrails.
Read More: Best walks in the New Forest
---
The start of the walk in Brockenhurst village
---
This walk starts at Brockenhurst train station and along the high street, Brookley road. It's a very small high street, just a few shops, made up of mostly independent local stores, and of course, a Tesco.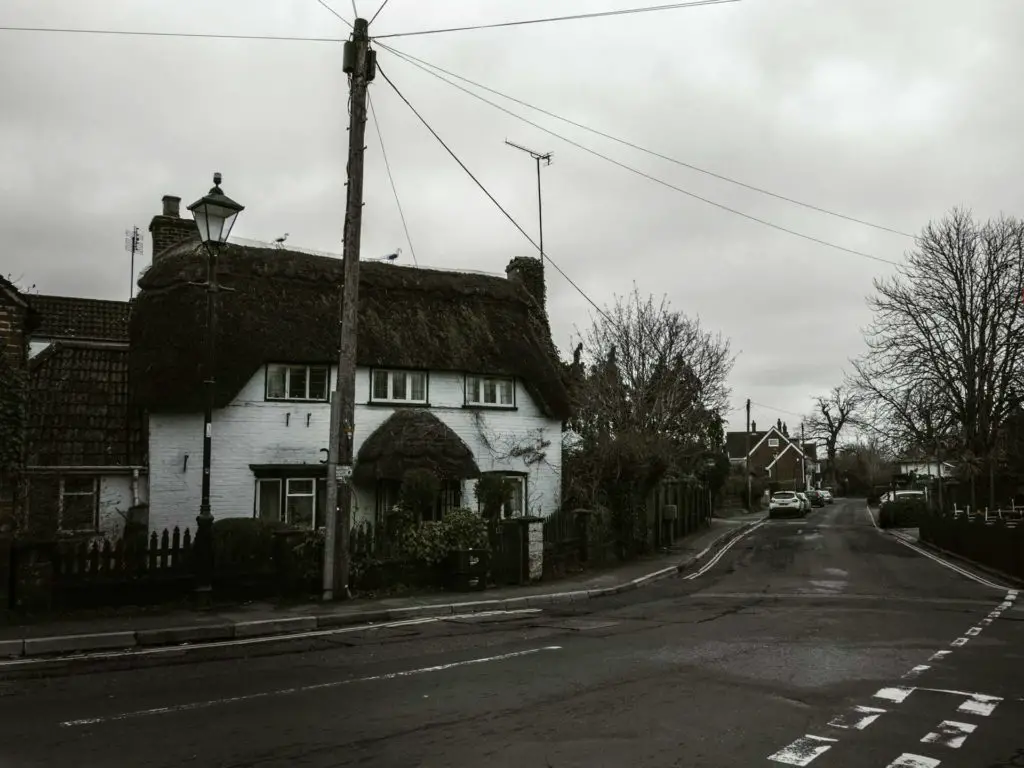 At the end of the high street you will be able to witness what is known as the waterspalsh ford. It's where the road runs slightly below water level, and where the North and South Weirs streams meet.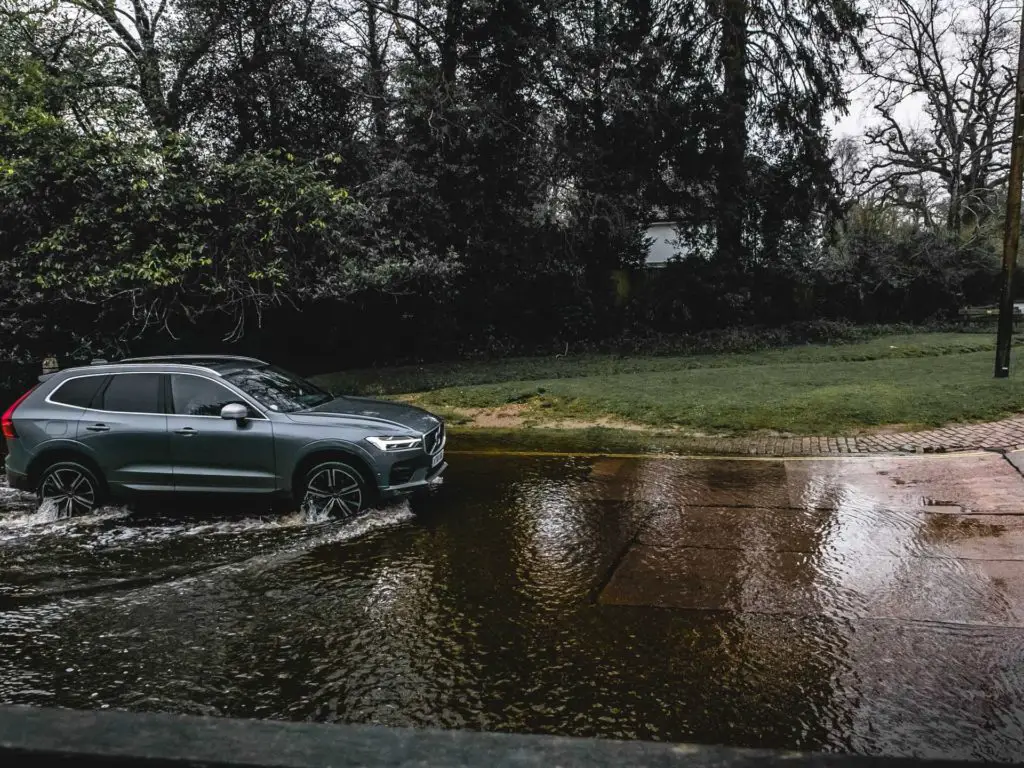 As I stood there, I watched as some cars went through without hesitation, and some decided it wasn't for them and turned around. 
Black Knowl
Taking a right at the watersplash, the road will lead you around to Black Knowl, a big open green area.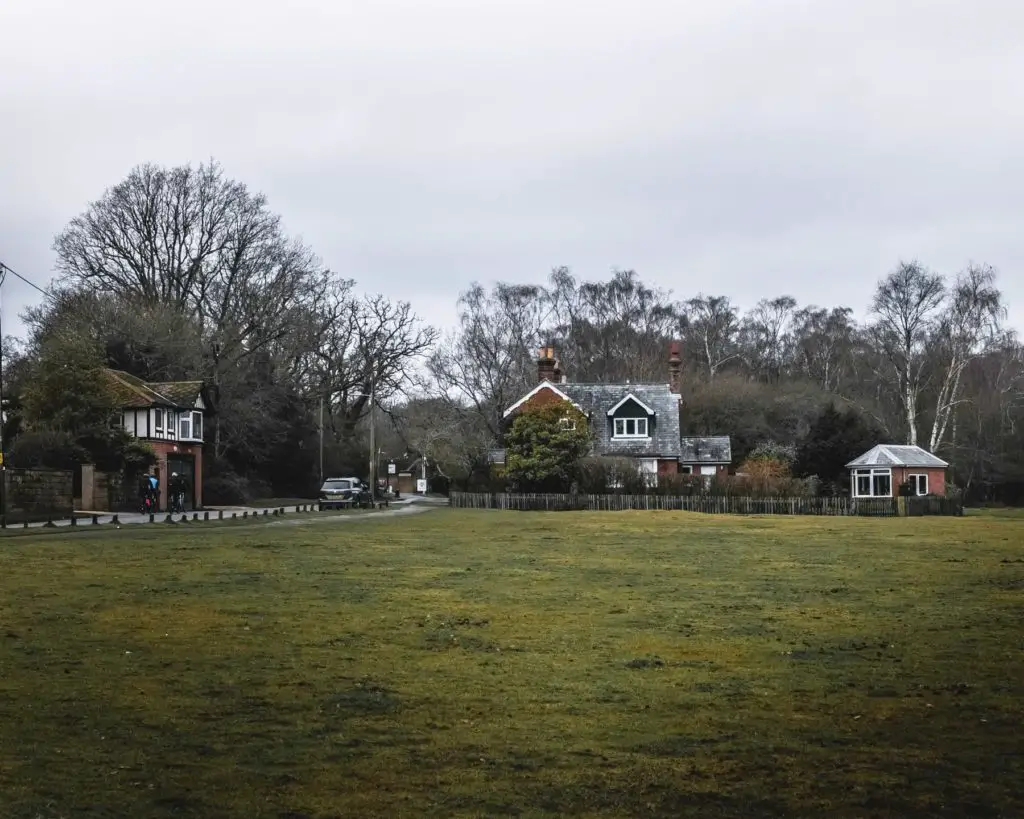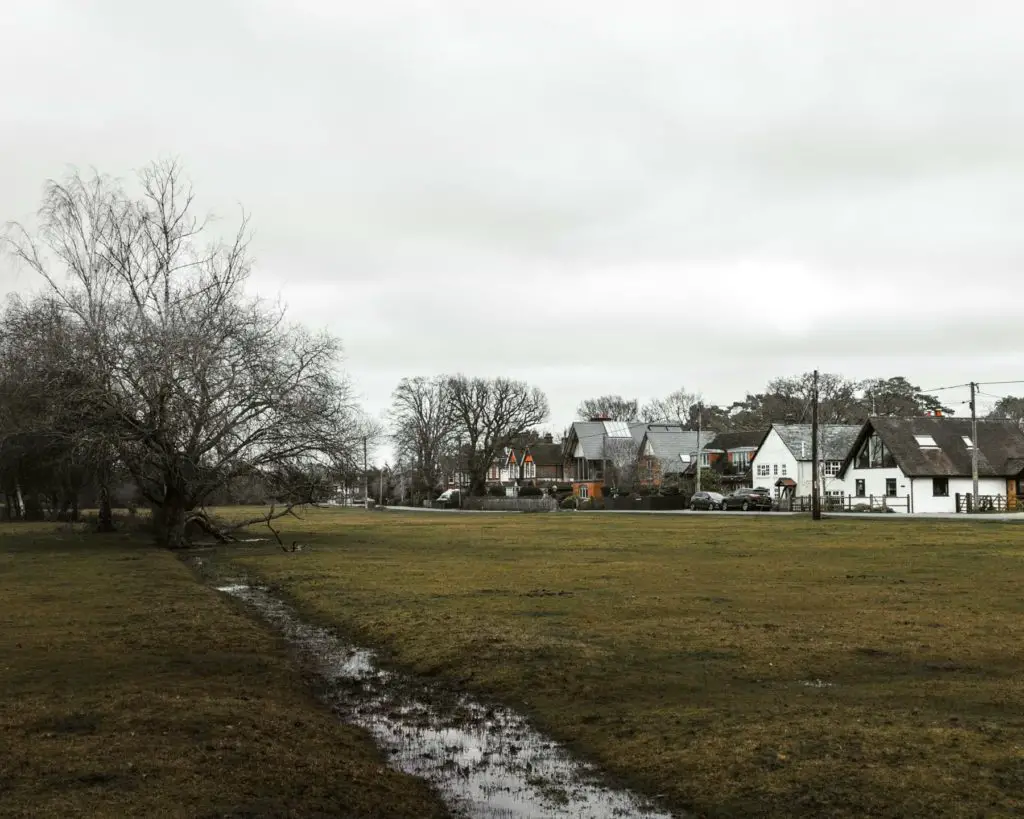 The trail then takes you diagonally through Black Knowl along a long straight dirt path. It may be a nicely laid out path, but that doesn't stop it getting a little bit wet. Water can collect to form puddles and mud patches.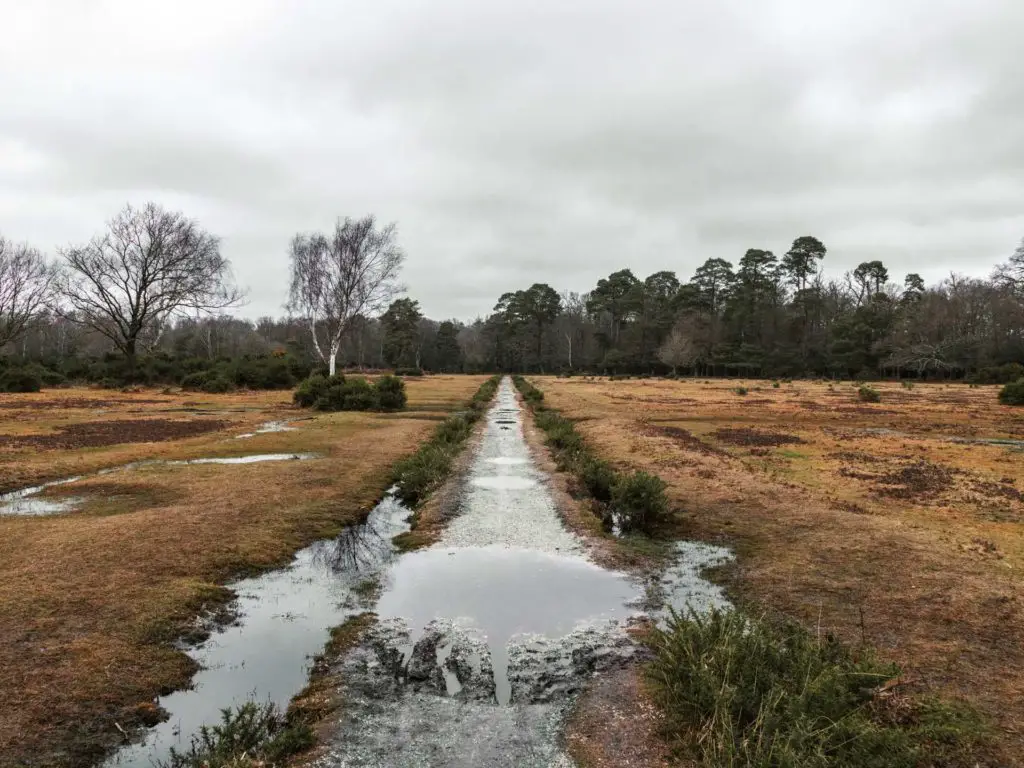 I had walked along here a couple of days ago, but today it felt slightly different. It was a lot more…gloomy. That first time there were quite a number of people walking along this path, the day was a little brighter. 
Today there was almost no one. In fact, I passed just one other person on this part of the trail, or rather, they passed me. It was a woman on a morning run, and as she passed on by said 'thank you'. She said this because she assumed I had moved out of her way so as not to disturb her run. But in reality, I had moved to the side to avoid a massive puddle.
This morning, everything felt grey and deserted. Dotted around were the ubiquitous ponies. Each one standing alone.
The first junction
The dirt trail then turned to grass and marsh, before reaching the gravel trail again. Making a left turn at the junction, now on a very wide gravel path, I thought about how I had now taken all the trails at this junction.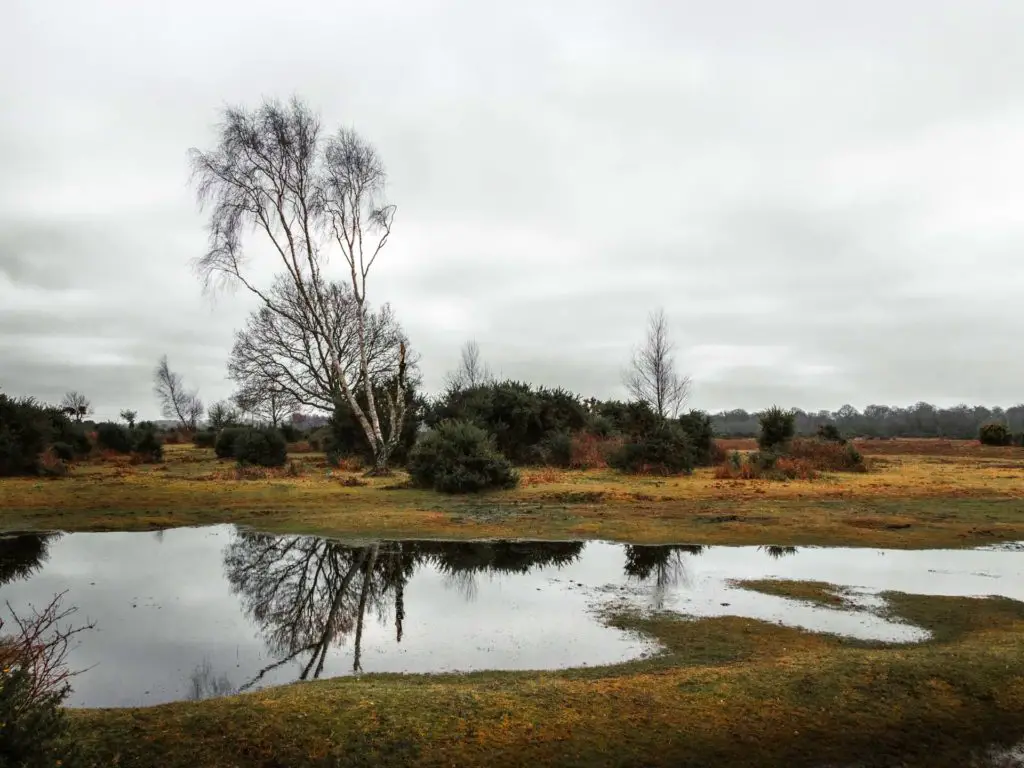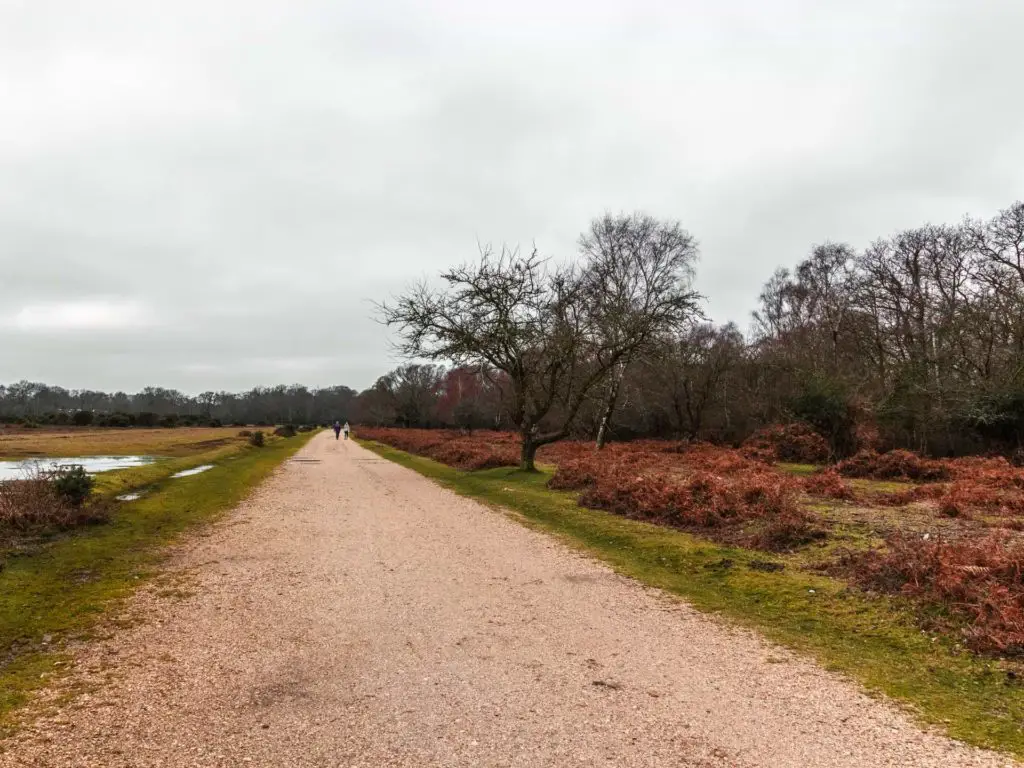 A couple of days ago I had gone straight across on my walk to the tall trees, and a few weeks ago I had taken the trail on the right down the tree tunnel on my walk back from Lyndhurst which ended in very very wet feet. In fact, both those walks had turned out to be very wet and muddy.
So far this walk has been mostly on gravel path. So I predicted that this walk would be quite simple terrain. I have made this prediction on other walks and ended up being completely wrong. Well, this walk ended up being no different. 
It gets muddy.
Continuing along, I passed a few families on their morning walk. This section of the trail starts off quite open, then nearer the end, there is a little more woodland either side of the path as the road then turned from gravel to asphalt.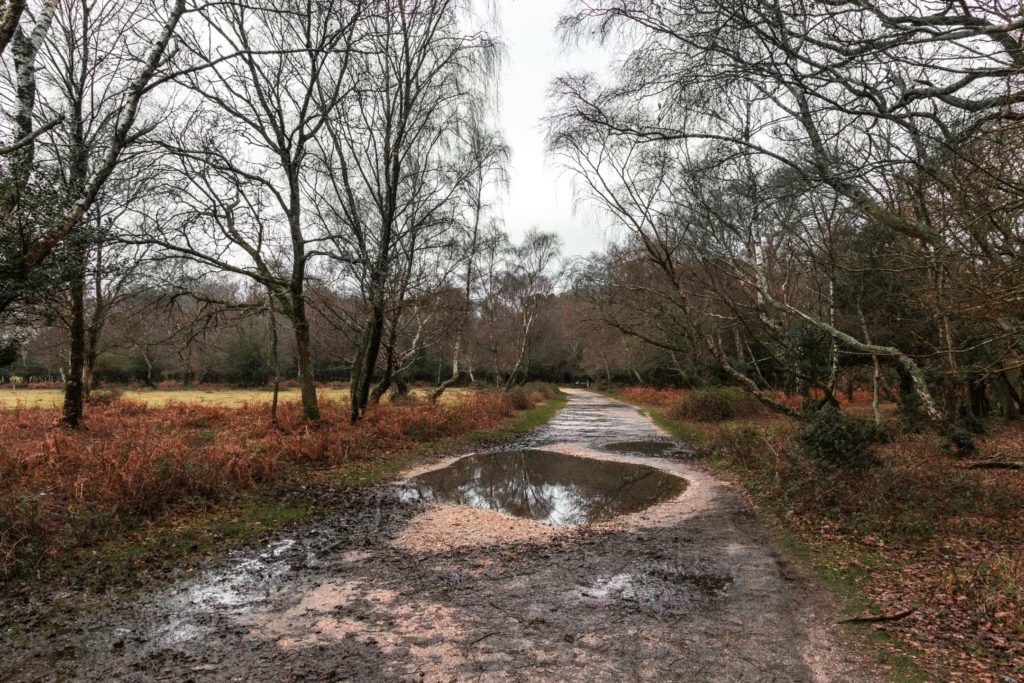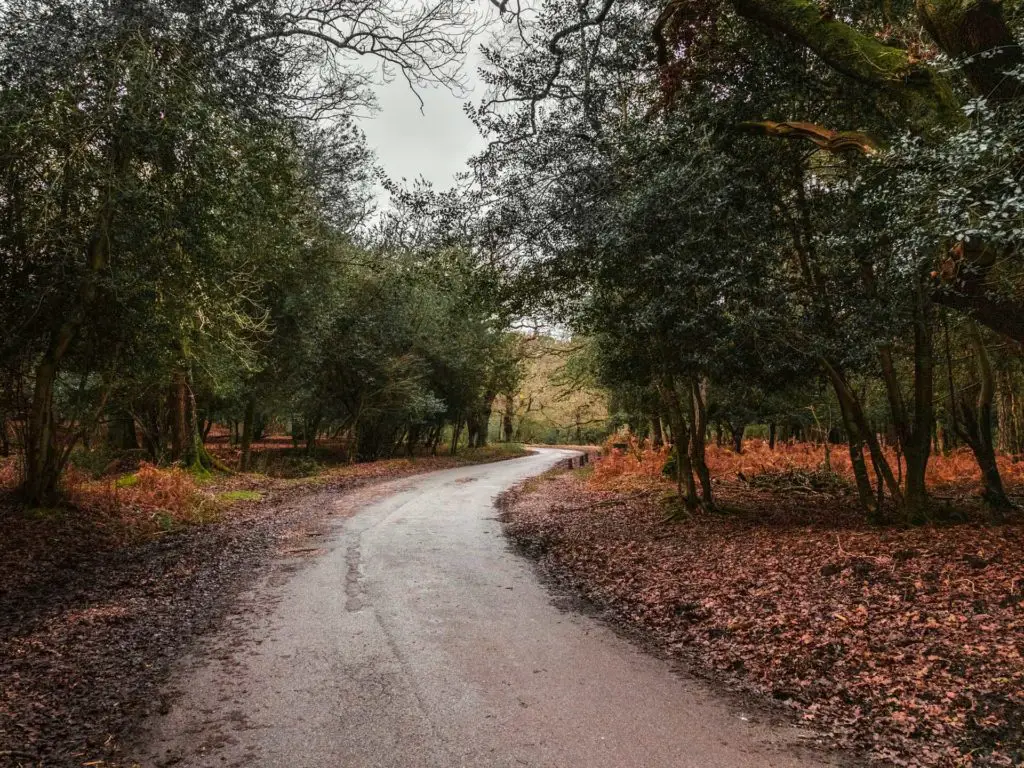 Aldridge Hill inclosure
The trail then turns right and over a bridge into the Aldridge Hill inclosure. You will see a sign for the campsite at the turning. Rather than walking to the campsite, just follow the road around to the end as it becomes walking trail again, where you take the right fork.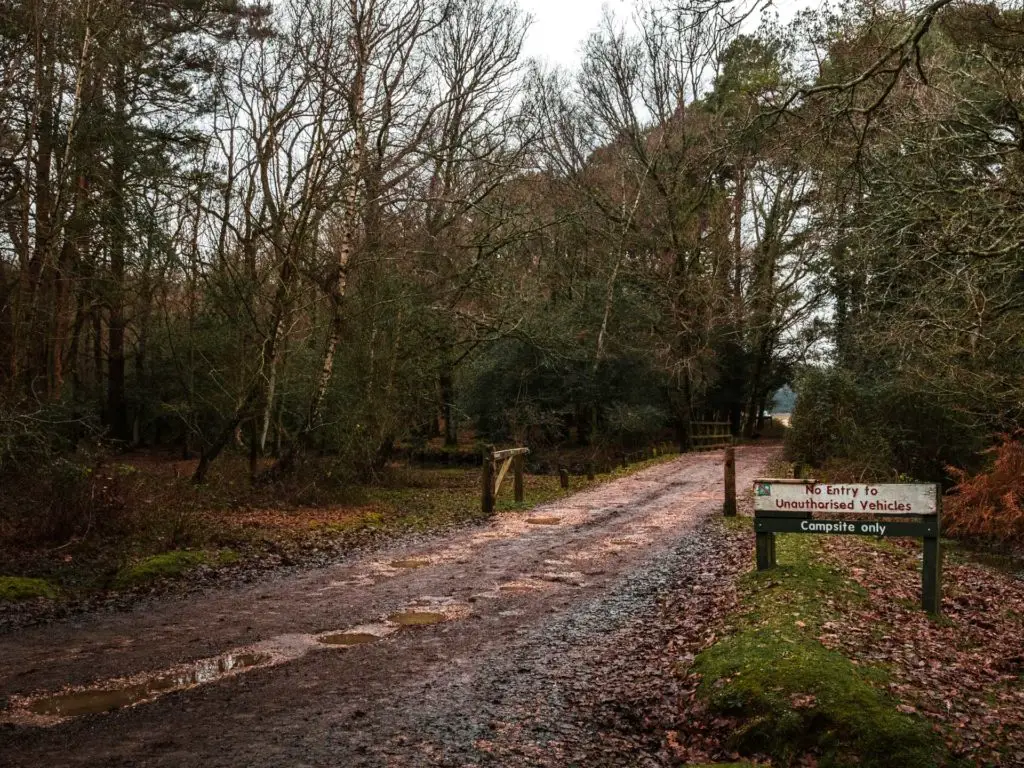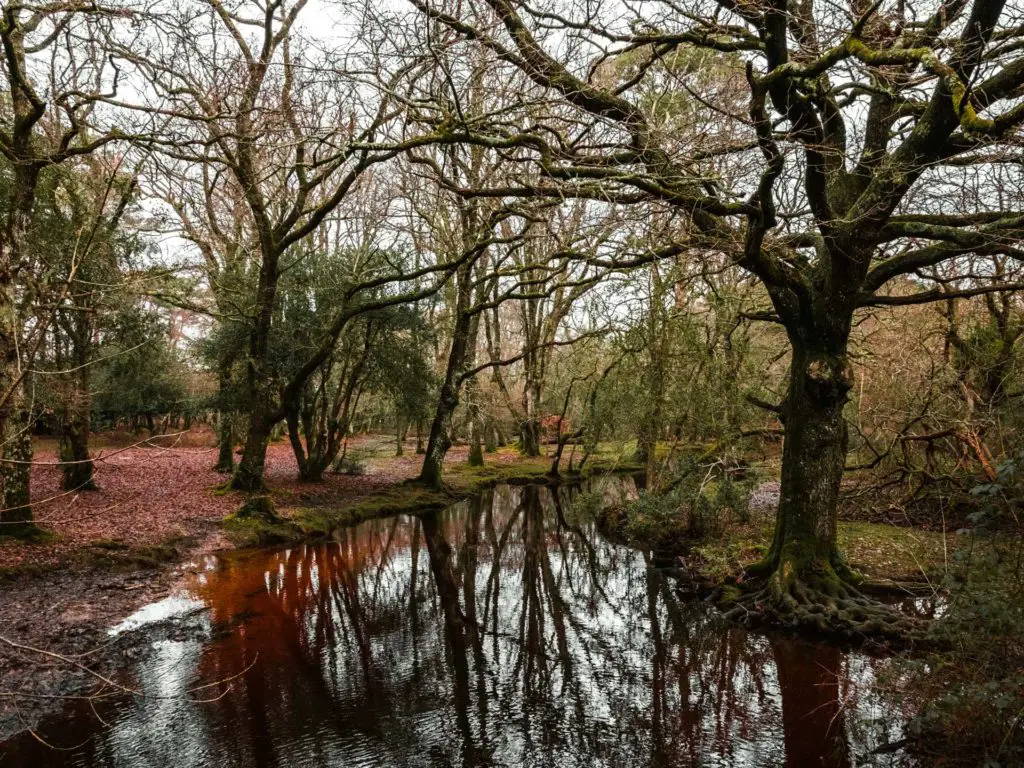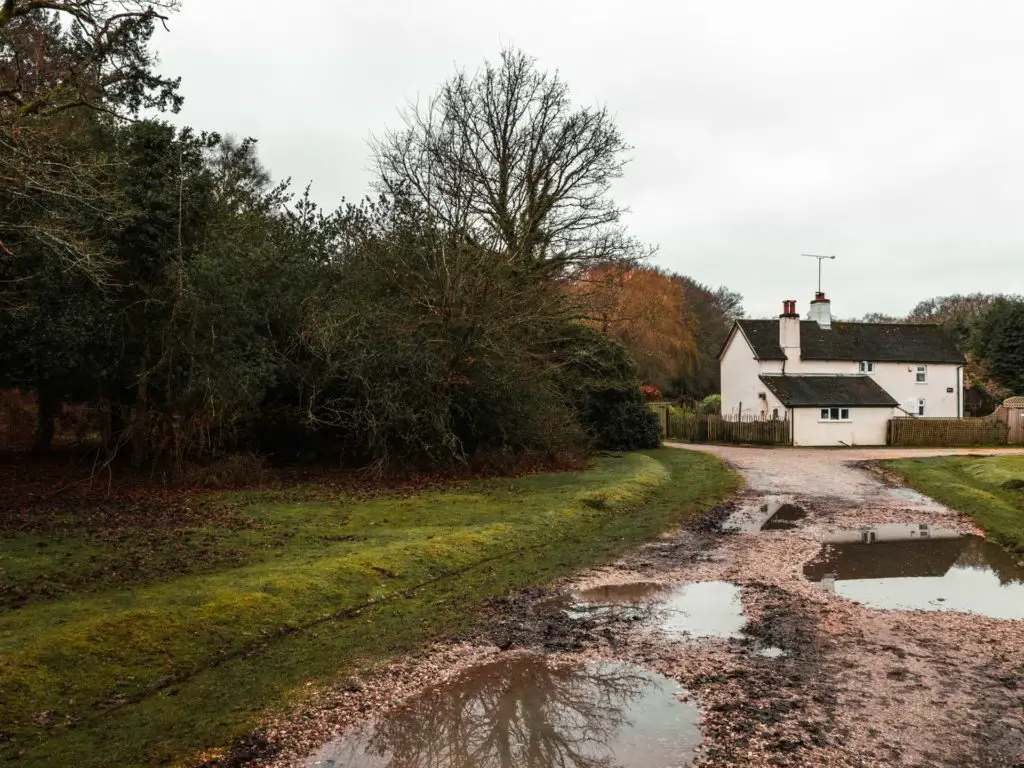 The friendly dog
As I turned a corner I saw a dog up ahead (I don't know if it was a male or female dog, so I will call the dog 'it'). I couldn't see its owner. I wasn't sure whether this was a dangerous dog so I stopped still. 
Watching the dog, I started to back away. 
It started walking towards me…then it full on ran over. 
The whole thing ended up being quite sweet actually. As it reached me it picked up a stick and pointed its face at me. Not just any stick. A twig. 
After the very friendly dog incident, I continued along the dirt trail as it led uphill and through woodland, and turned left and over a bridge and out of the woods.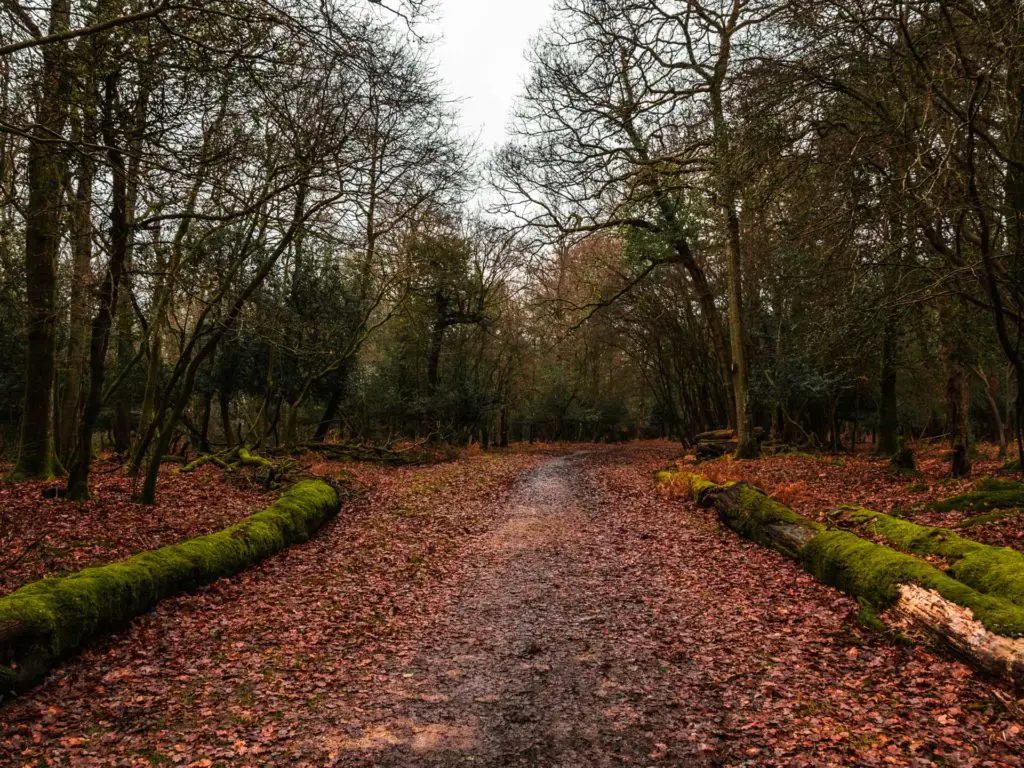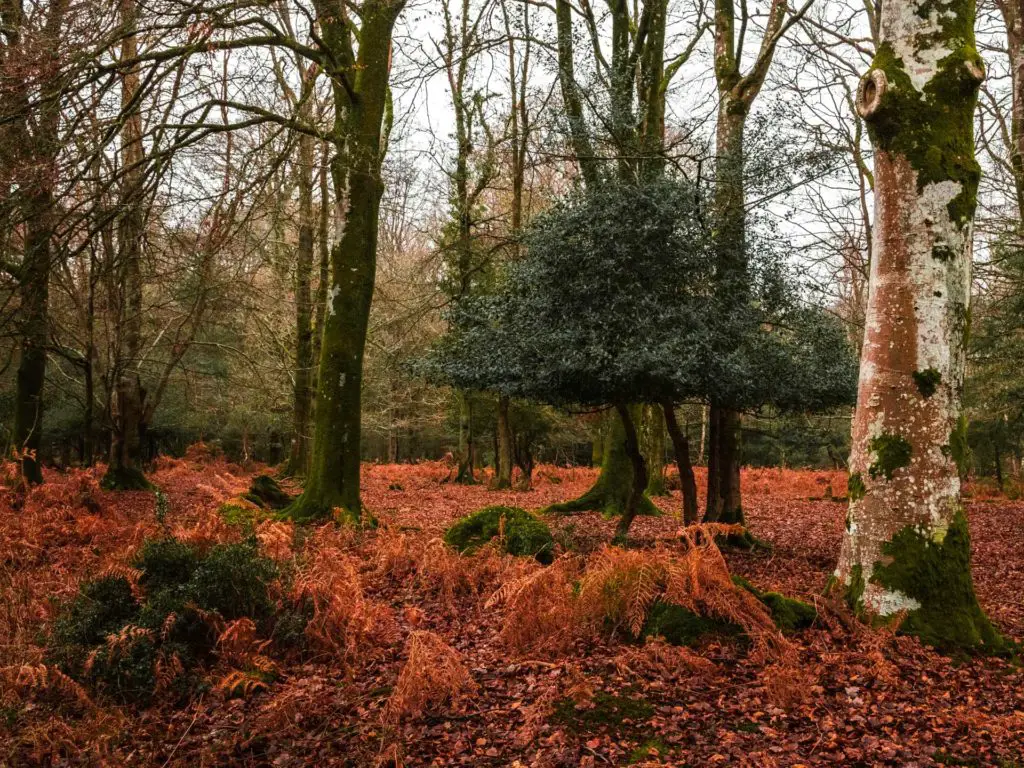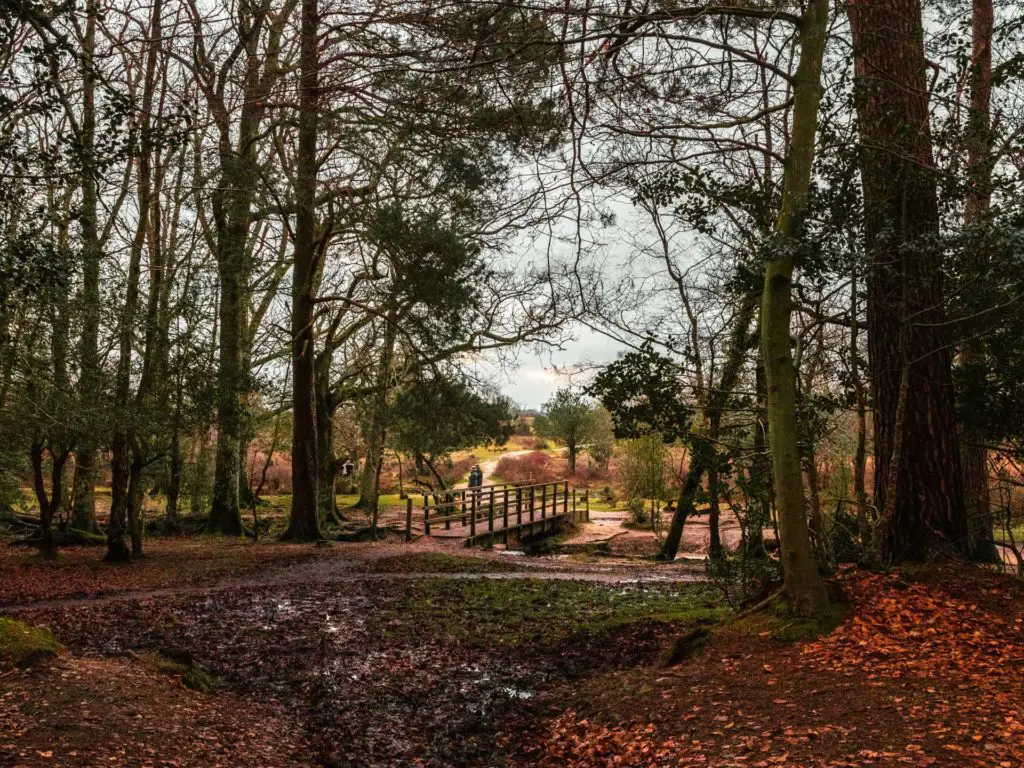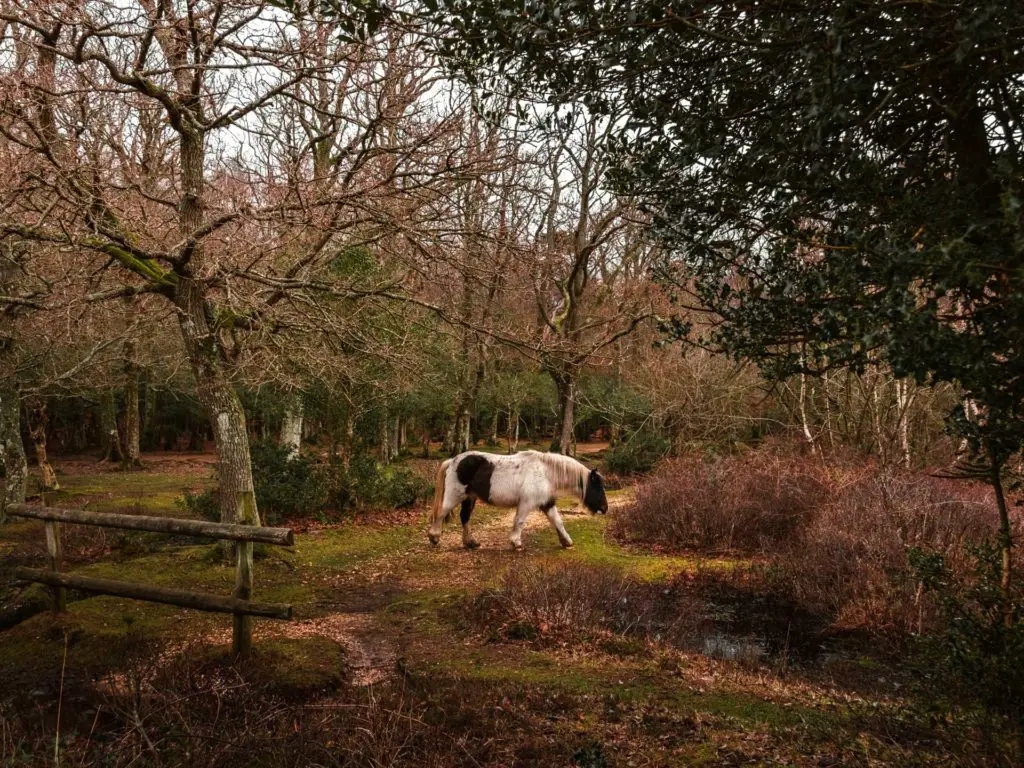 Whitefield Moor and the familiar tree
The next section of the walk is across open moorland. The trail here isn't very visible, but if you are following my map, it will guide you as the trail turns around to the left to meet an obvious trail t-junction.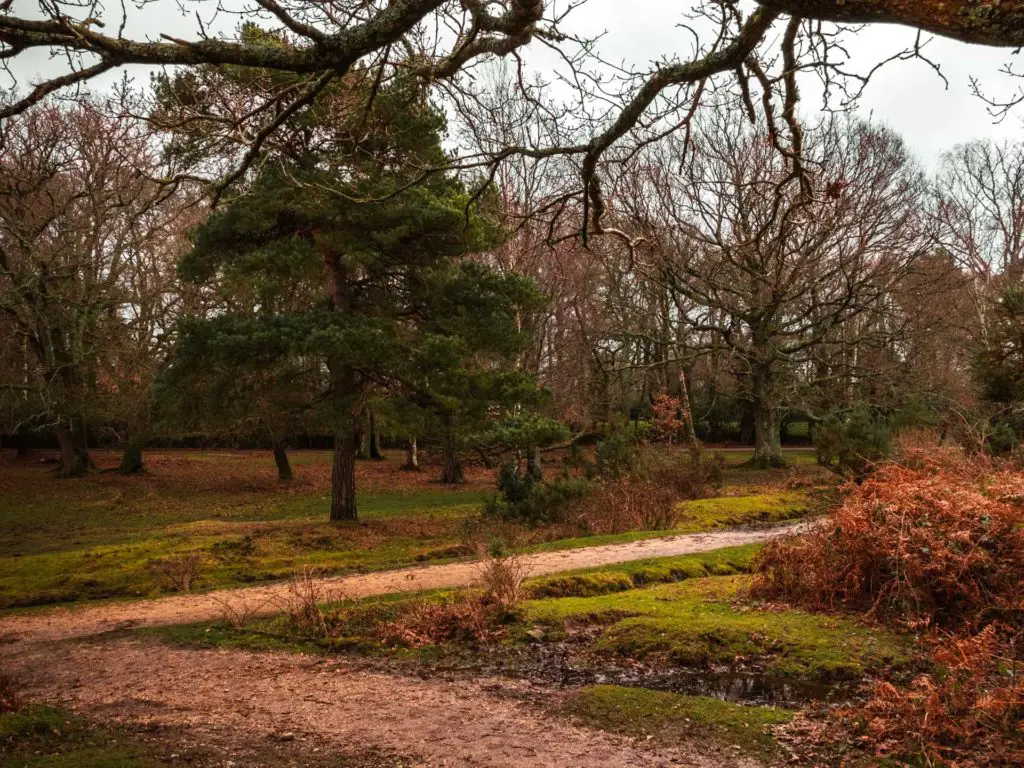 As I turned right onto the gravel trail I recognised one of the trees up ahead, I have seen this tree before. Does this make me at one with nature? Recognising a single tree after lots of tree encounters. 
Let's say it does.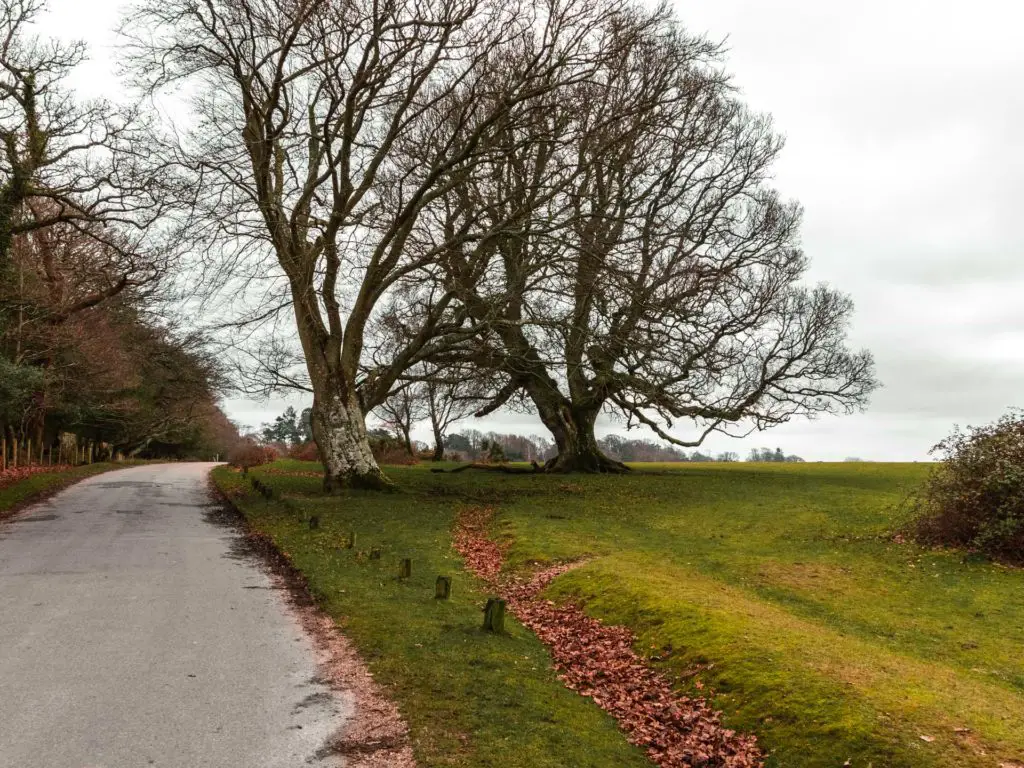 If you are following the map, there is one trail along here, but you can walk anywhere really in this field. Just aim to walk to the other side to meet the walking trail on the other side of the main road.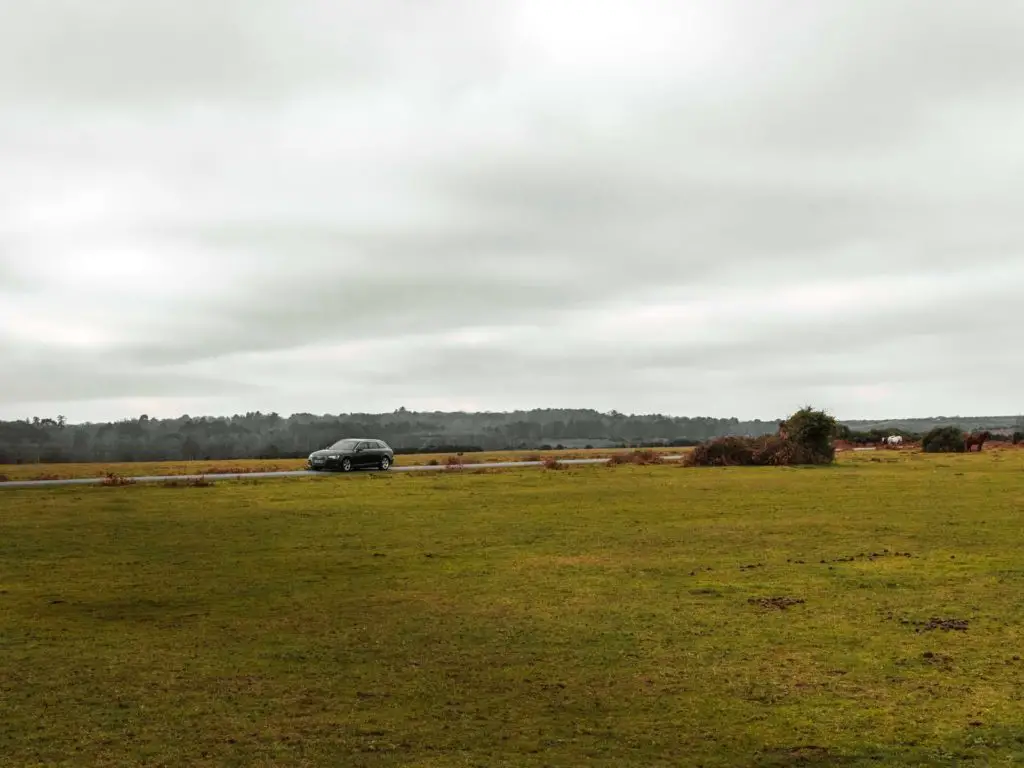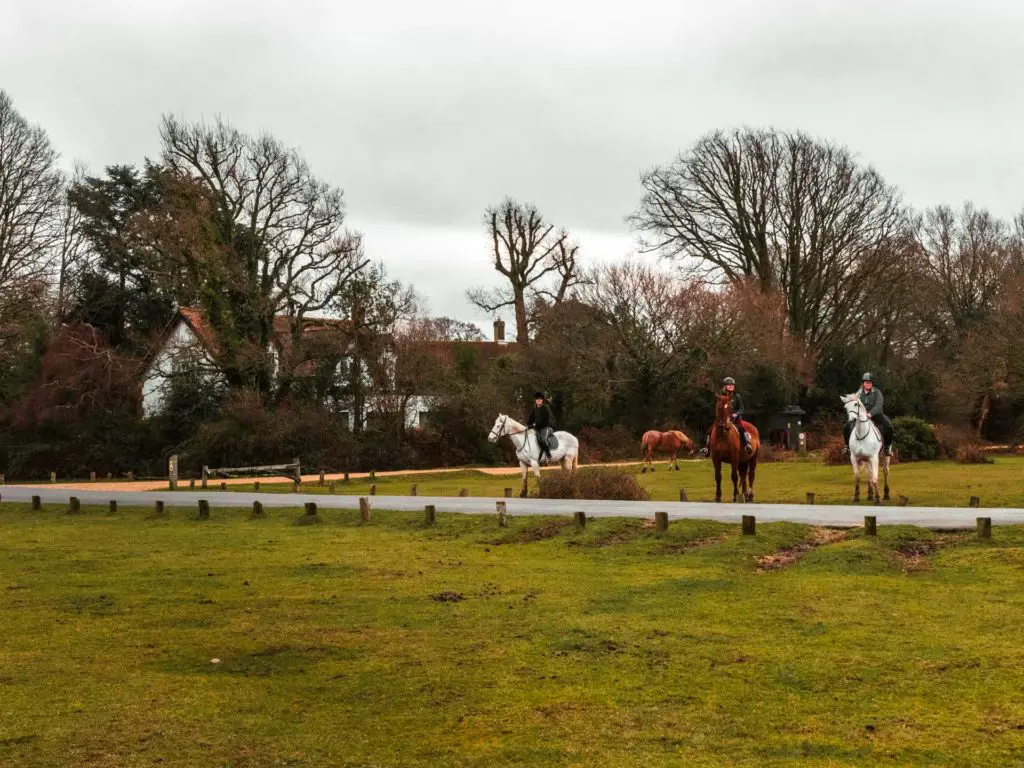 Horse/pony party
At the other end of the field and onto the gravel trail I found a group of horses/ponies (I haven't quite figured out the difference yet) gathered outside the houses. These horses/ponies were also here when I walked past a couple of days earlier. Must be their hangout spot…or maybe their owners live in those houses.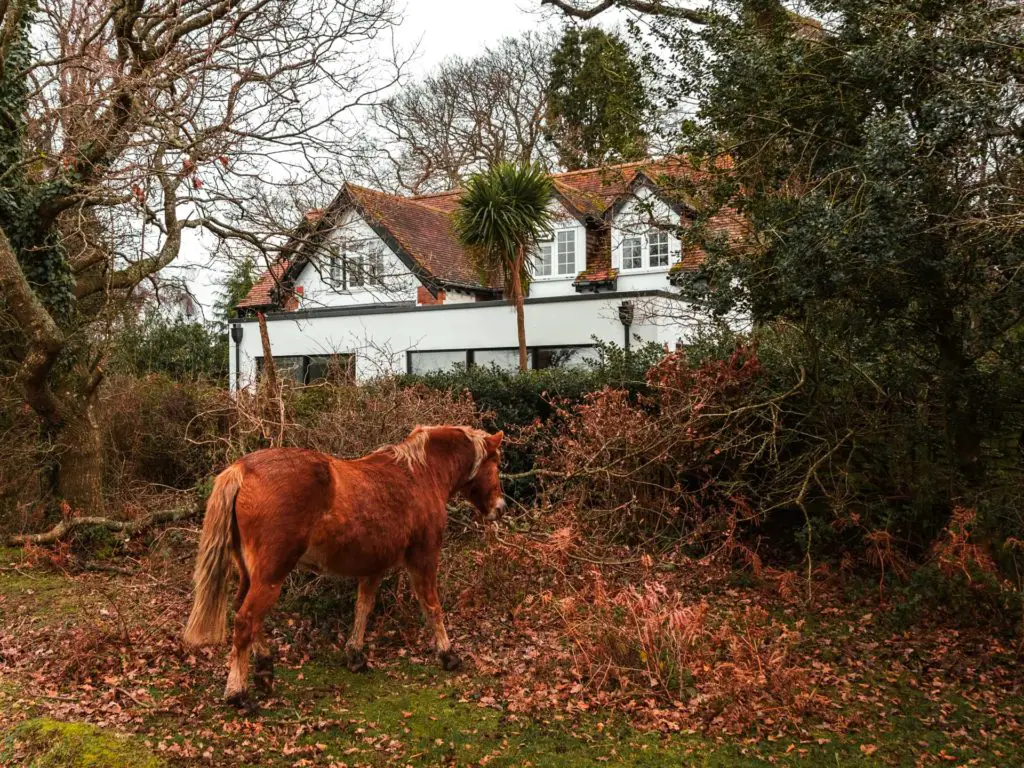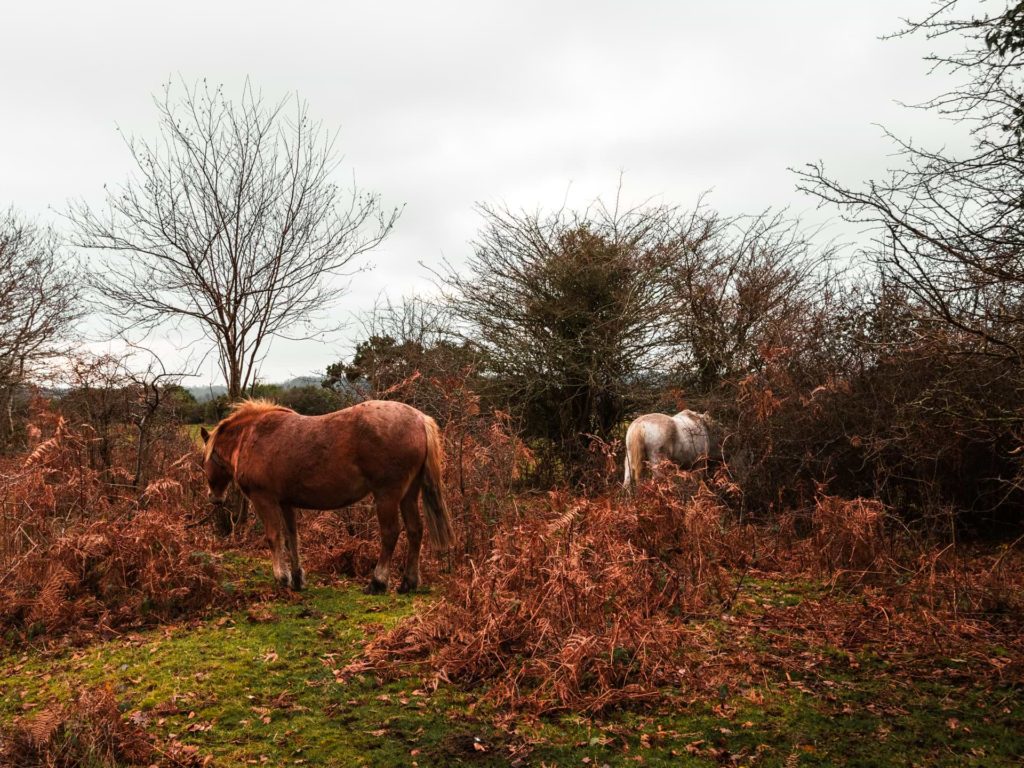 The path then curves its way around, first surrounded by trees and then open field to the right and houses to the left.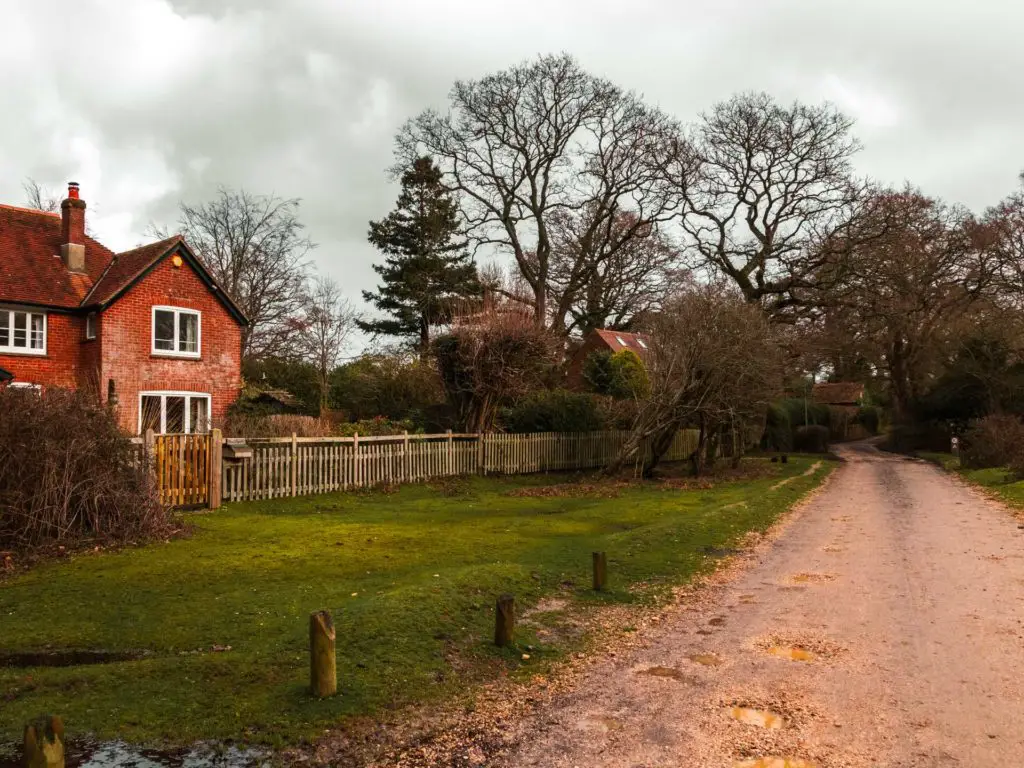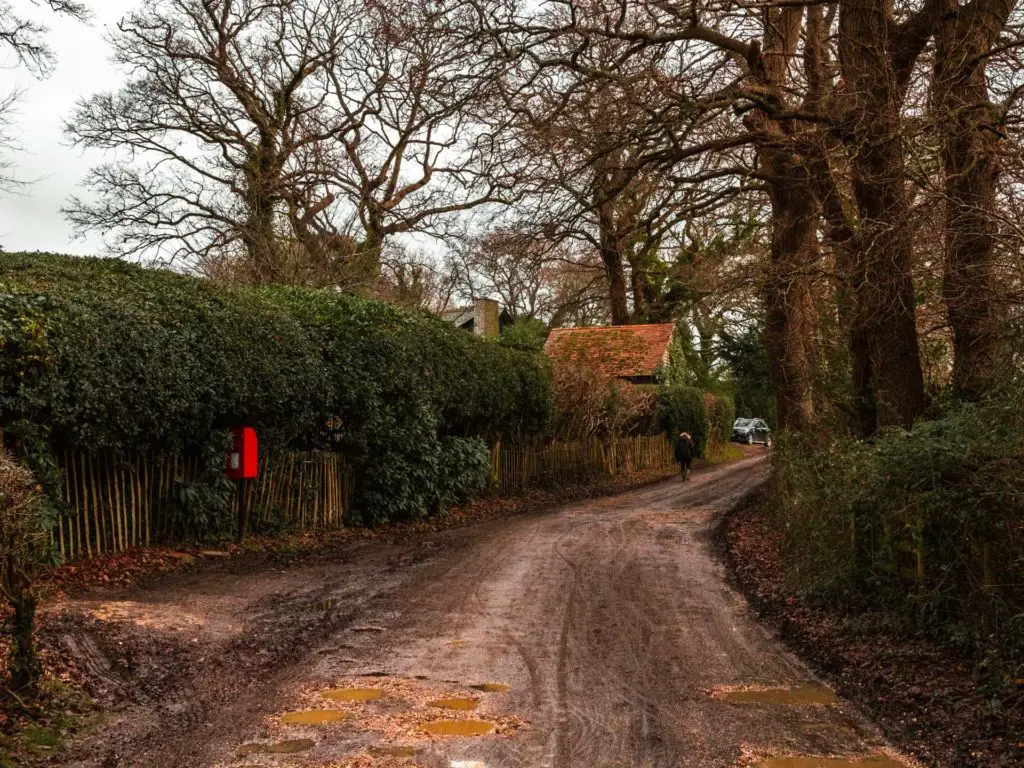 Once you hit the main road, you will follow it left briefly before crossing it to take the right turn onto trail and through another field.
The end of the Brockenhurst village walk 
At the next road, things got interesting. Lots of ponies and what I think might be donkeys. Or are these ponies too?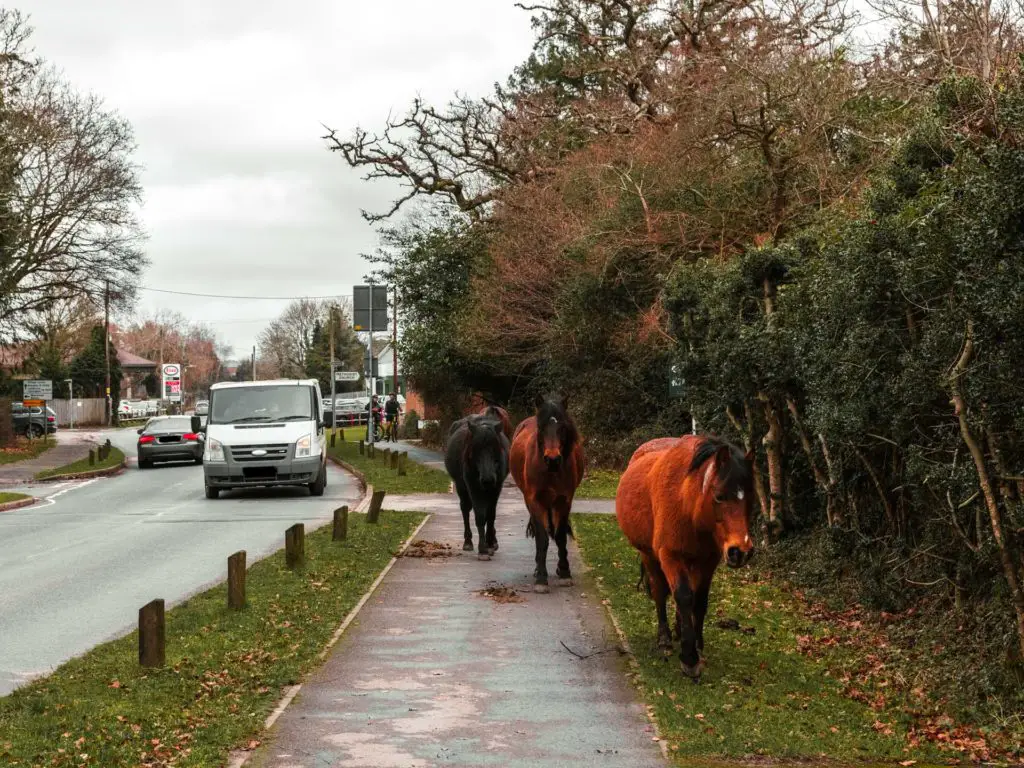 The donkey ponies proceeded to just casually walk down the middle of the street not caring one bit about the cars trying to get passed.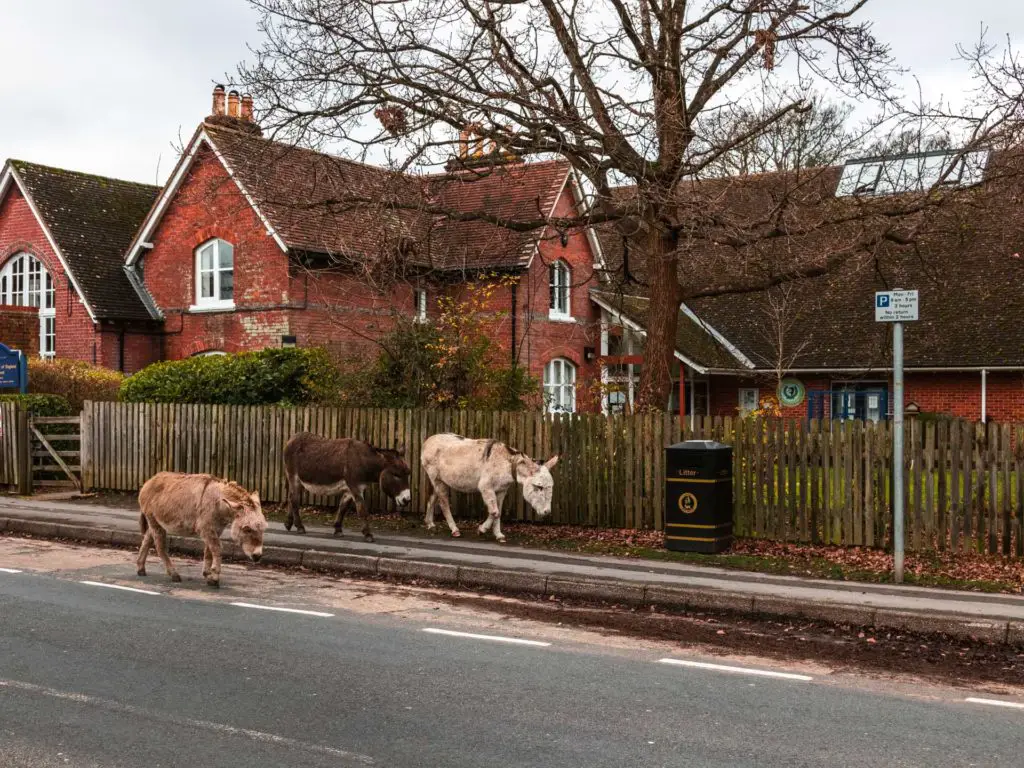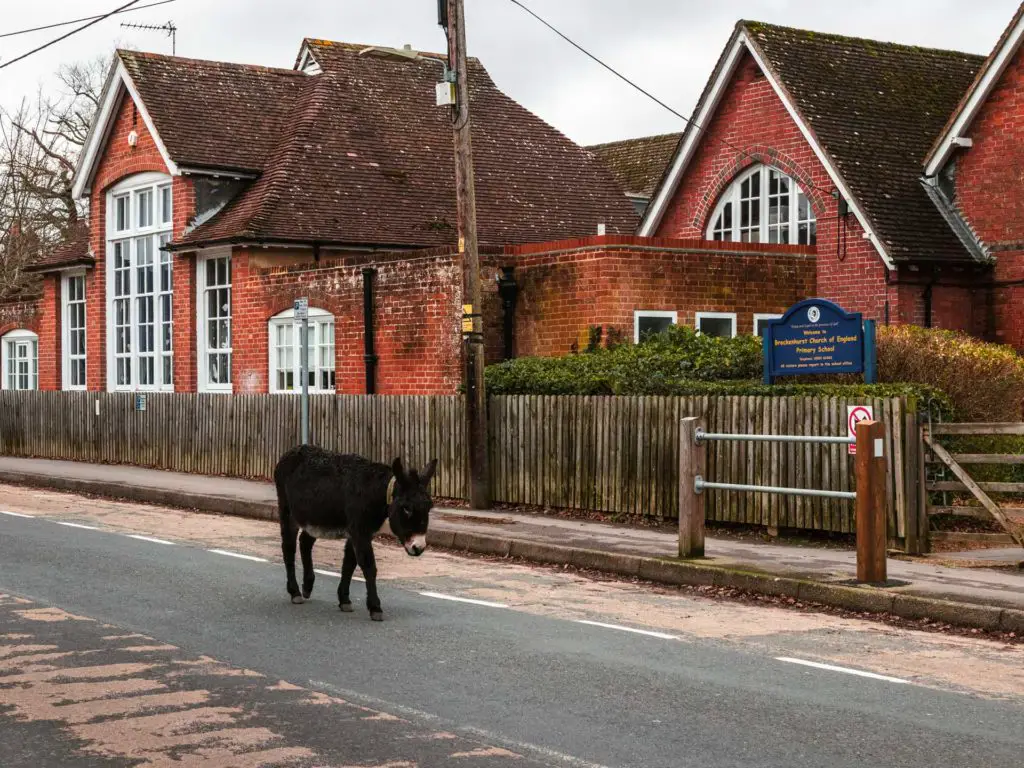 I was so fascinated (and distracted) by the animals that I missed my next turn. It's actually quite well hidden. It's this little opening on the right.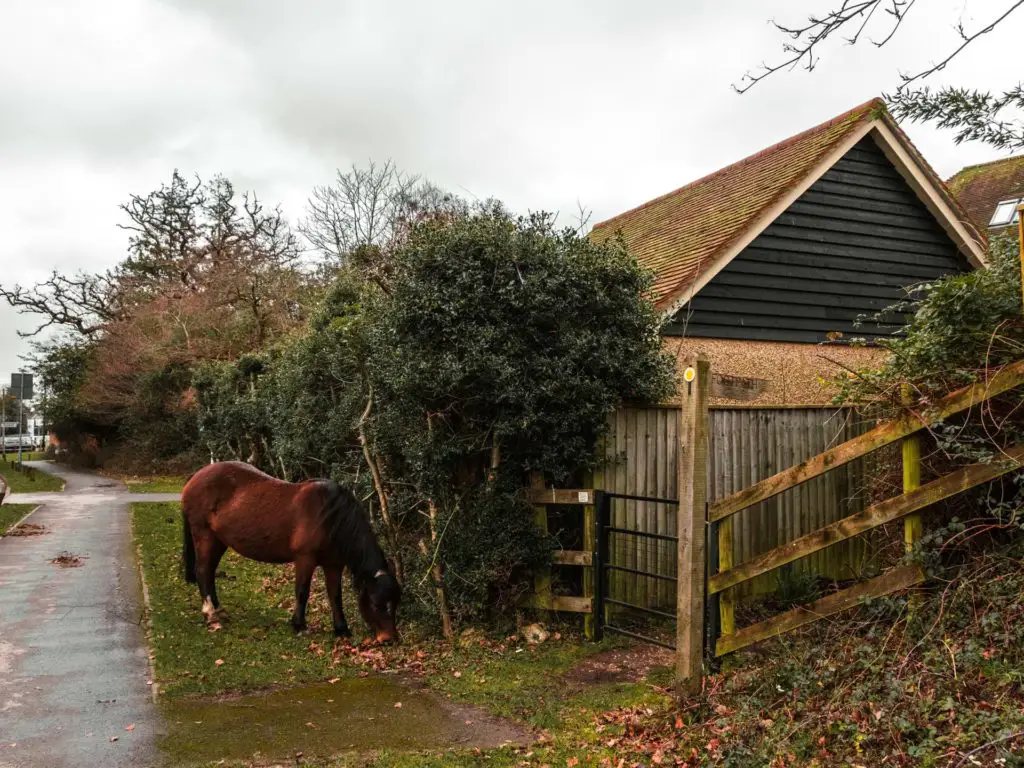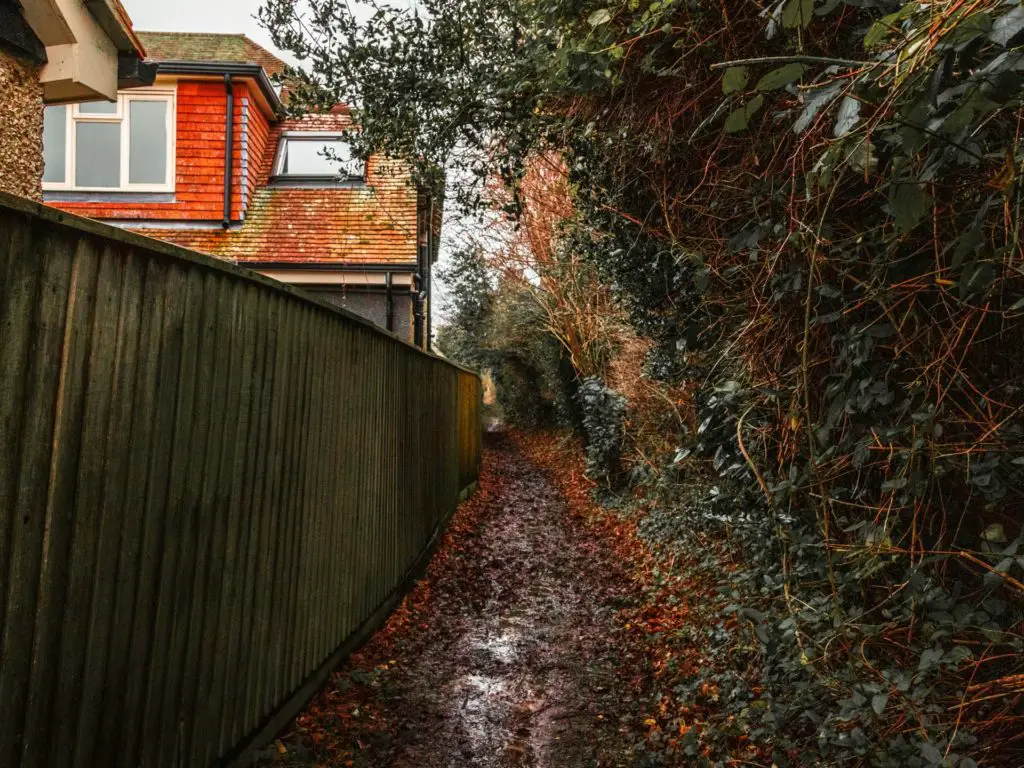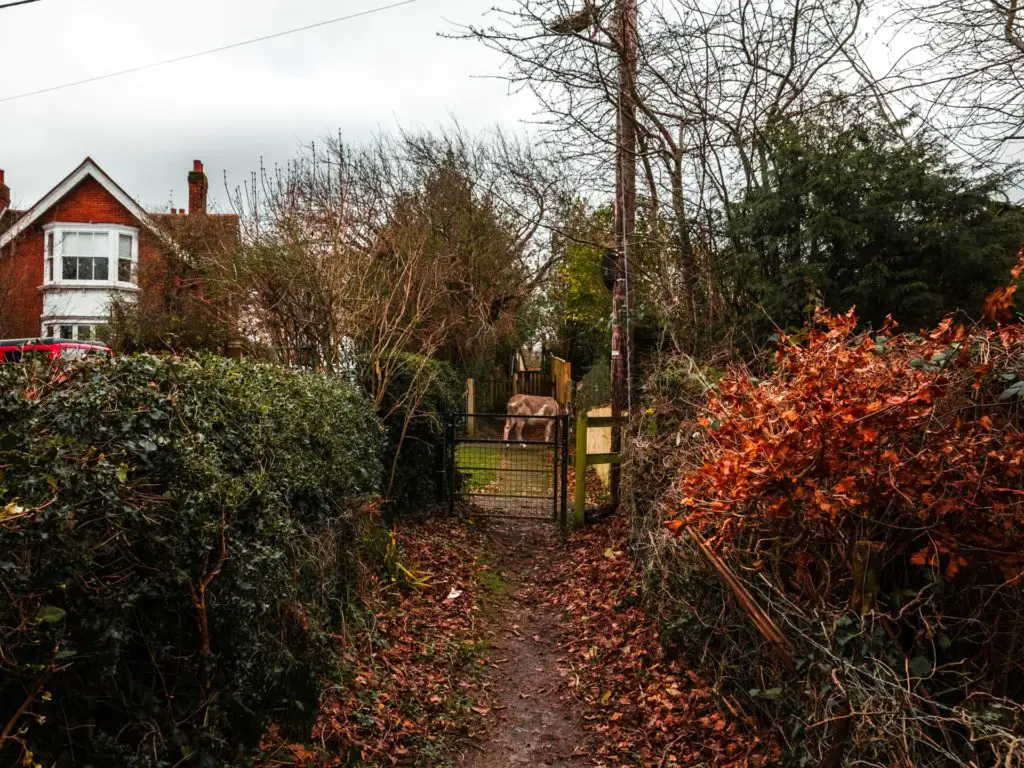 Then once at the end of the hidden trail, if you take a left you will arrive back at Brockenhurst station. 
---
Other walks in the New Forest
---
There are quite a number of walks you can do from Brockenhurst Village. If you would like something shorter than this but with a forest vibe, you could head over to walk around Hollands Wood.
On the other end of the scale, if you would like something very long you could try a circular 17mile walk from Brockenhurst to Beaulieu.
For more walking ideas in the New Forest, you could check out the New Forest website.
Pin it for later: A guide to the circular Brockenhurst Village walk