In Blackwater, you will find the largest trees in the New Forest including the Giant Sequoia, which can grow to be the largest trees on earth. Not exactly native to here, they were planted in the 1850s alongside the Rhinefield Ornamental Drive. The tall trees trail walk in the New Forest takes you along either side of the Drive. 
Fun Fact: The tallest one in the world isn't here, now that would be something, but the New Forest has got some of the tallest trees in England. 
What I am going to do is give you 2 ways to walk the New Forest Tall Trees trail. The long way and the short way. The short way being the 1.5 mile loop which makes up the tall trees trail, and a 10 mile circular walk from Brockenhurst to the Blackwater and the tall trees.
Although the New Forest has quite good public transport for a National Park, the tall trees trail doesn't. So you have 3 ways to access it, car, bike or on foot.
I did this walk to the tall trees trail from Brockenhurst, a very well connected village in the New Forest, so that's what I will be talking to you about. If you are driving, then there is a car park right next to the start of the trail. I have provided logistics below for both the walks, and if you are planning to only walk the tall trees trail (not the long trail) then you will find detailed information about that section of the walk further down the page. 
What was the walk along Tall Trees trail in the New Forest like?
This was my first walk on my second visit to the New Forest. The first time around, I discovered how muddy, marshy and wet the place is. It turns out I didn't really know what wet was until this walk. 
It had been raining for the whole week prior, getting the ground nice and ready for my arrival. There were sections of the trail that were completely flooded over, impossible to pass. As such, I had to make slight variations to my planned route.
NB: The tall trees trail was actually the driest section of the walk. So you will be safe there.
Interestingly, the tall trees trail section was my least favourite part of the walk. Not saying it was bad, just my least favourite part. I will explain all further down.
Tall Trees trail logistics (the short version)
Start/Finish: Blackwater car park
How to get there: The car park is on Rhinefield Ornamental Drive. If you take the A35 from Lyndhurst, there will be a turning on the left onto the drive. From Brockenhurst, you can follow the Rhinefield road which leads onto Rhinefield Ornamental Drive. You can see the exact location on the map below.
Distance: 1.5 miles
Time: 30min(ish)
Terrain: Dirt and gravel
Difficulty: Easy
Map for the Tall Trees trail in the New Forest
The Tall trees trail is the section in the little box.
Tall Trees trail logistics (Long version – Brockenhurst to Blackwater walk)
Start/Finish: Brockenhurst 
How to get there: Brockenhurst has a train station. Direct trains go from London Waterloo to Brockenhurst in just over 1.5h (or from London Paddington with 1 change), Lymington in 8 min and Southampton in 15min give or take a few minutes. (NB. The journey time from London Waterloo can vary, and some trains take just over 2 hours. So make sure to pick the fast train). 
Distance: 10 miles
Time: 4h
Terrain: Lots of big puddles, dirt trail, gravel trail, marshy trails.
Elevation: Highest point 242ft. Total gain 850ft. It doesn't feel too hilly though
Difficulty: Easy/medium (medium because of the terrain)
Season: I walked this during winter after lots of rain.
Map for the the Tall Trees trail (Long version – Brockenhurst to Blackwater walk)
Click on the box in the corner to open in your Google maps. If using AllTrails, click on the trail name. You will need to download the app to use it.
More walking ideas near the Tall Trees trail and in New Forest will be at the end, with a link to the full guides.
How To Walk To The Tall Trees Trail From Brockenhurst To Blackwater In The New Forest
I had read about the tall trees trail in the New Forest, and without a car, my plan was to walk there. It didn't look too far from where I was staying (Brockenhurst), so I planned out a circular walk to get to the tall trees and back. The start of the walk would be diagonal across a marshy field. This same field which had destroyed my shoes on the walk I did from Brockenhurst to Lyndhurst. 
This time I had my hiking boots on, although, I haven't quite figured them out. They are supposed to be waterproof, but from my experience, that isn't always the case. It's a bit odd actually. I have walked through puddles of water in them without getting my feet wet, yet there are times when there is only a small amount of wet on a walk, and water somehow gets in. 
So I went into the start of the walk fully expecting to get wet feet. What I was actually met with was a big surprise. There is a diagonal trail through the field, which is actually a proper dirt trail. 
I had to laugh. If only I had known this was here the last time I walked across this field, I could have saved myself a lot of bother.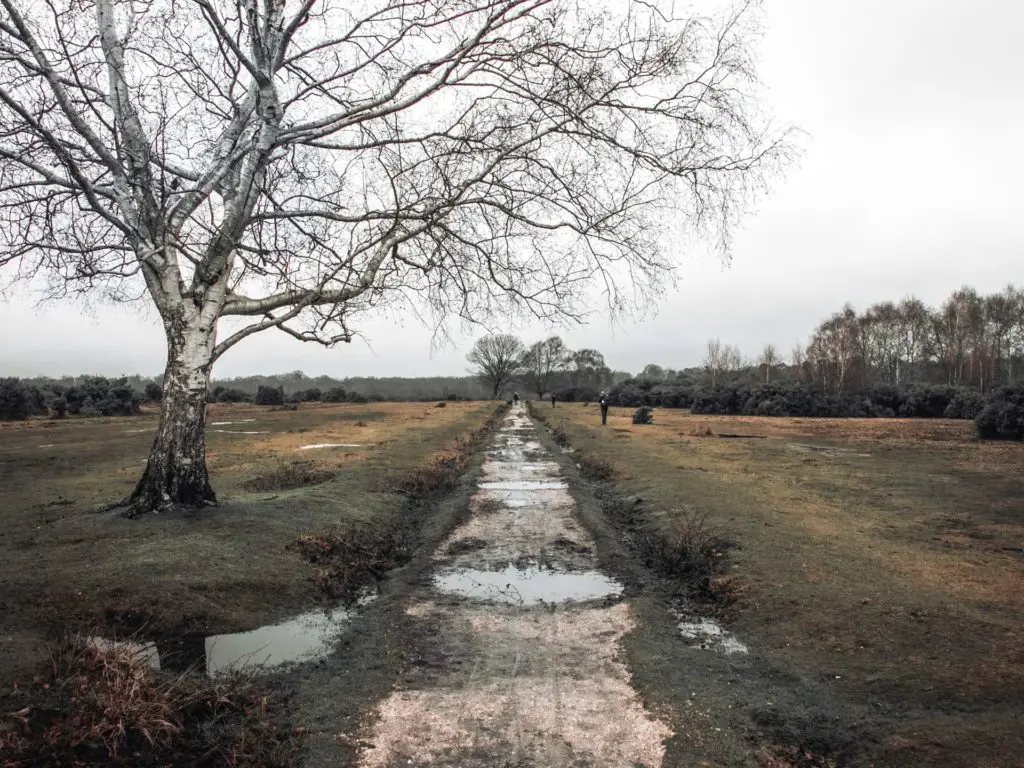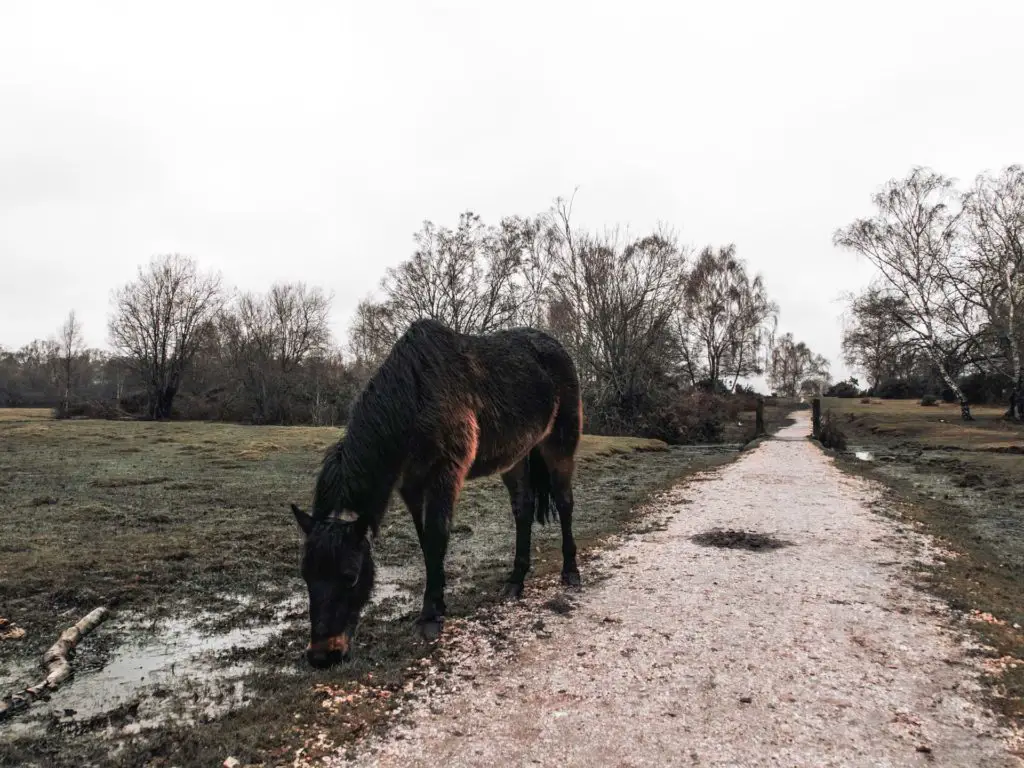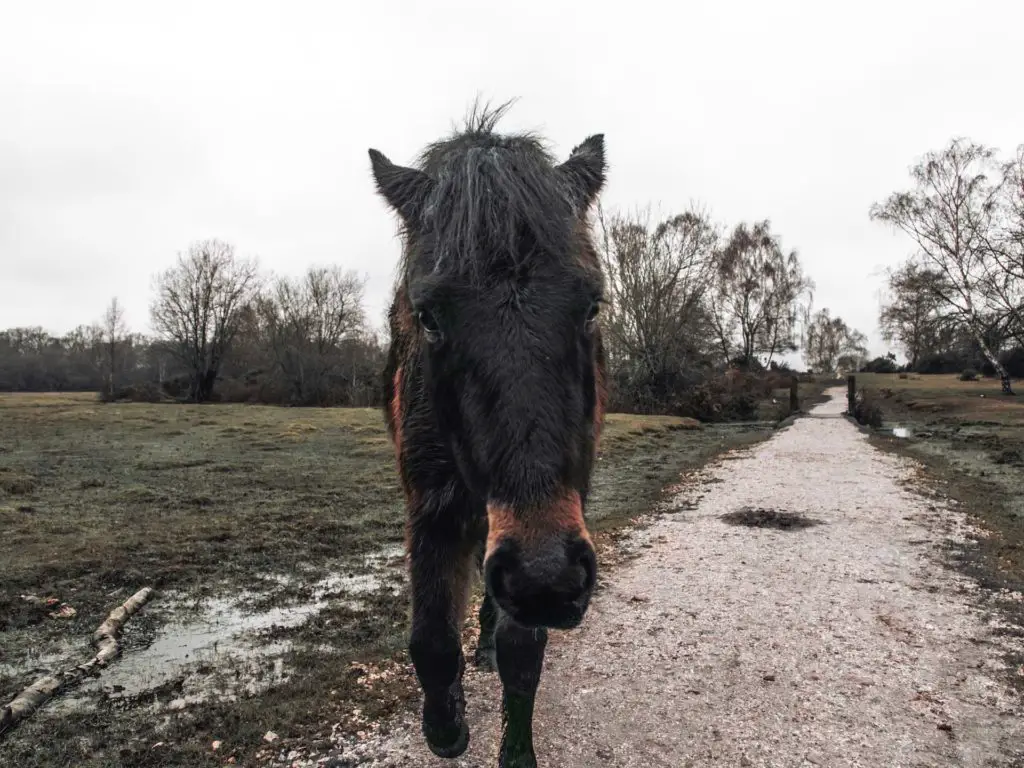 I was photographing this pony when he (or she) clocked me and came over to say hi.
Anyway, I made my way along this lovely dry(ish) trail. There were a few sections with puddles of water, but they were easily avoidable. I thought about how I might just come out of this walk with dry feet.
Well, this section of the walk was lulling me into a false sense of security. 
The puddles
At the end of this trail, the ground turned to marsh and a bit of manoeuvring was required to find the shortest section of puddle to jump across.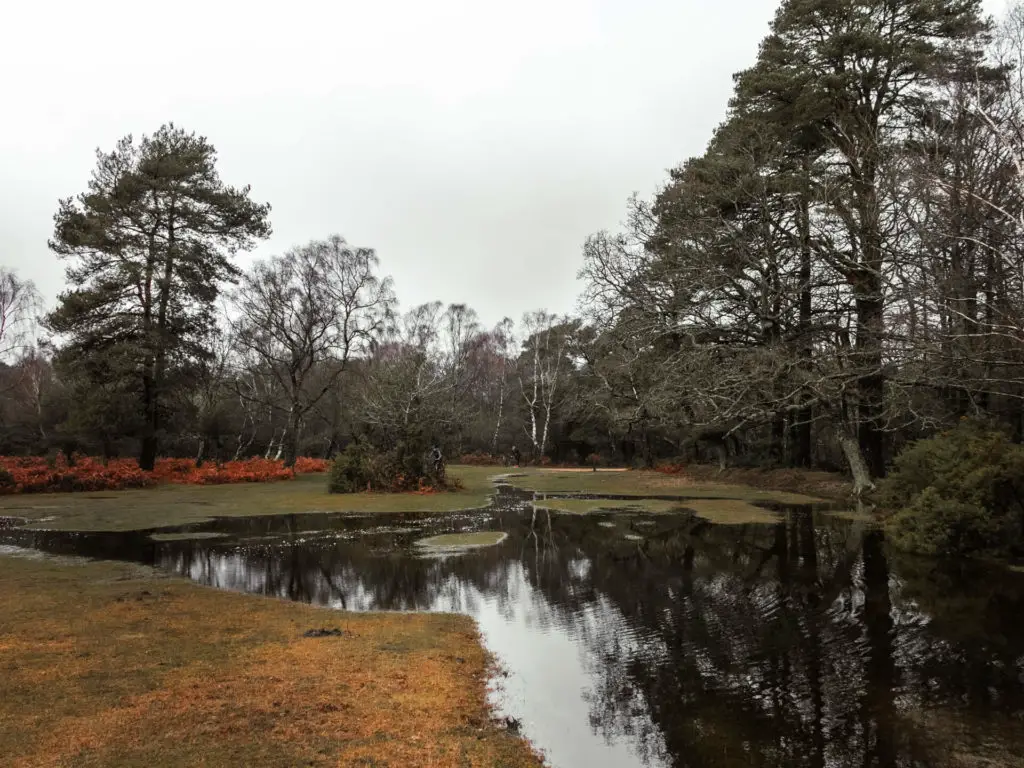 Once back on the trail, I got a sense of deja vu. I was at a junction that I had been at before. That junction where I made the mistake of walking down a tree tunnel which would lead to being trapped by water and marsh. 
Well, I wouldn't be making that mistake today.
Walking straight on, where a few weeks ago the ground was dry, I was now faced with a giant puddle of water. The only way to cross (without walking straight through) was an unstable looking log. I teased the log a bit with my foot before making my move. There was no time to dawdle with this one. In quick succession, I put all my weight through it and leapt across to the other side before the log had a chance to roll under me.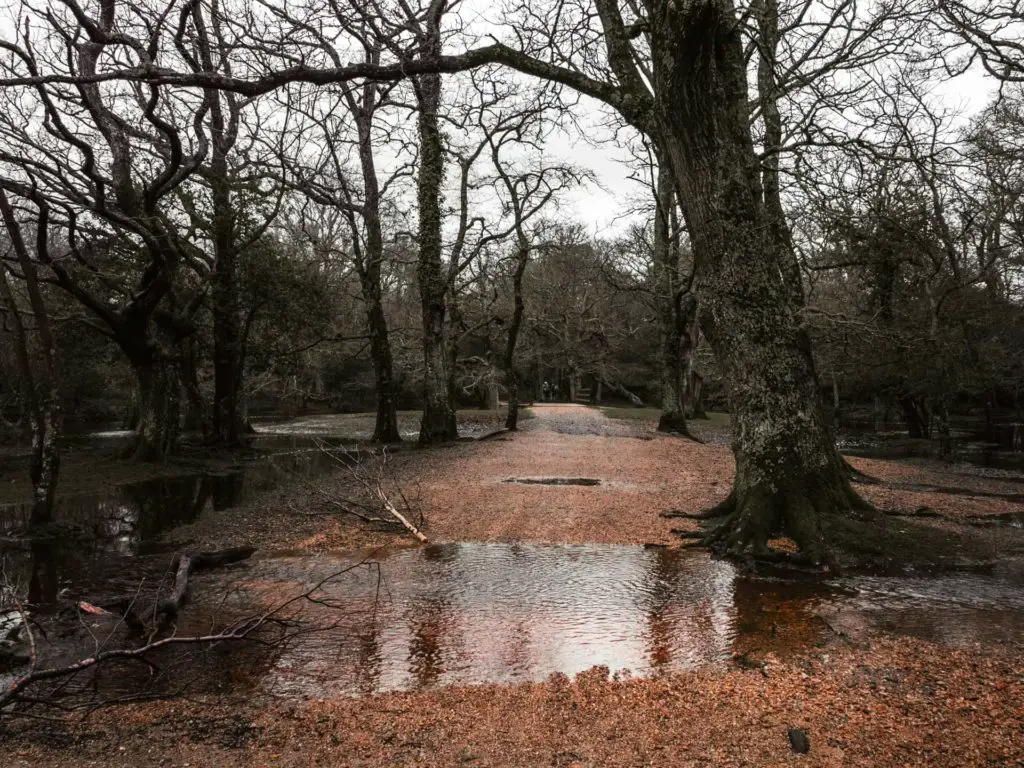 Safely across I thought that would be the end of it…it wasn't.
The unexpected lake
The next section of the walk towards the tall trees trail started off dry with a bit of muddiness here and there, with lots of wet leaves.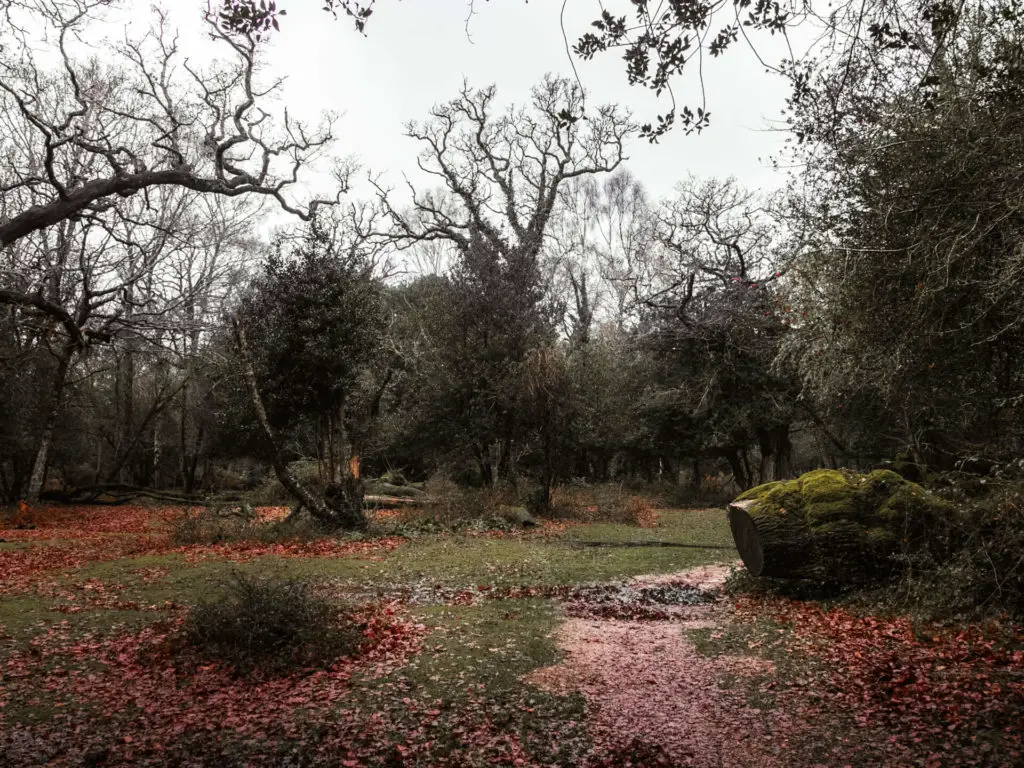 Nothing too aggressive….and then I was met with a stream of water.  I let my guard down a bit for this one, and carelessly placed my foot on a log to cross over. Turns out this log was floating, and my foot went straight down and in the water.
As I continued on, I waited for the feeling of wet to seep into my shoe. However, to my surprise, it did not. My foot was still dry. 
So far so good. 
Although, I wasn't about to go walking through water freely, I mean, these shoes can't always be trusted to keep my feet dry.
Things were now a lot muddier. On the occasional step, my foot would sink into and be fully submerged by the mud.
And then this happened…
A full on lake was now in my path. Over there in the left corner is the trail I needed to get to.
There were a few other people in their wellies walking through. I have noticed that quite a lot of people walk around the New Forest in wellies. Smart. Oh the freedom you would have. But alas, I didn't have wellies, I had suspiciously 'waterproof' hiking boots. 
After some careful inspection of the area, I did manage to find a narrow bit with a log to get myself across.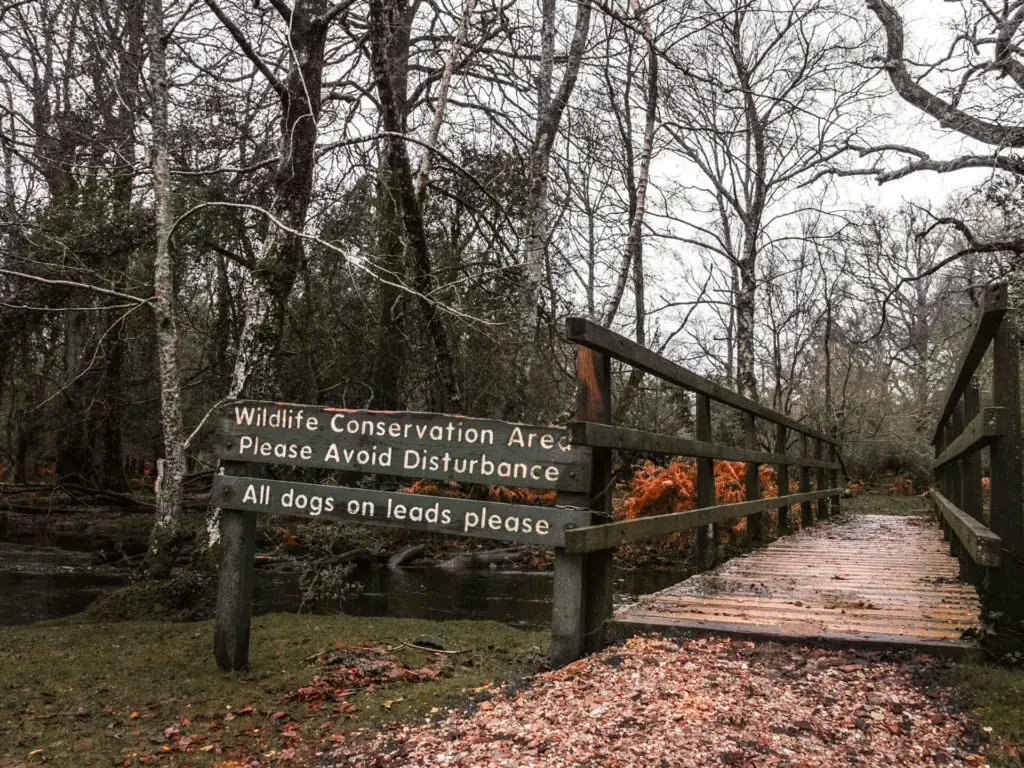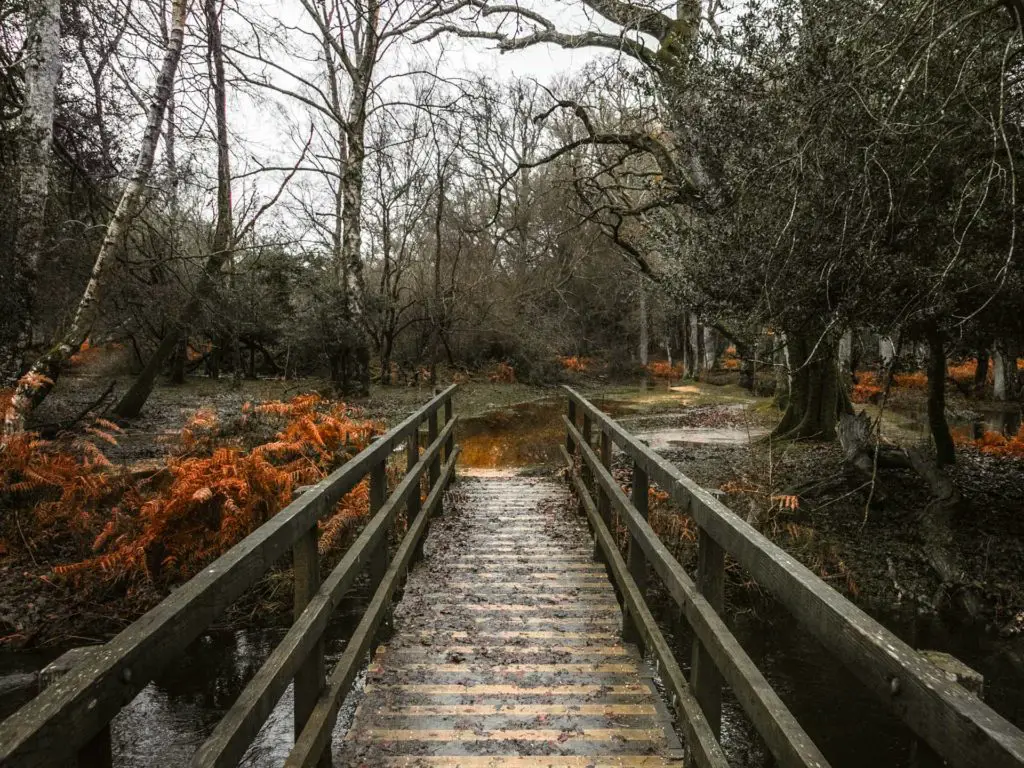 At this point, I was feeling very proud of myself and my shoes which had decided to actually be waterproof today. I had navigated lots of mud and sections of flooded path and managed to stay lovely and dry.
Poundhill Inclosure – The dry bit and start of the tall trees.
Things then started to calm down, and muddy trail turned into grass trail, and then into gravel trail as I found myself on the bike track.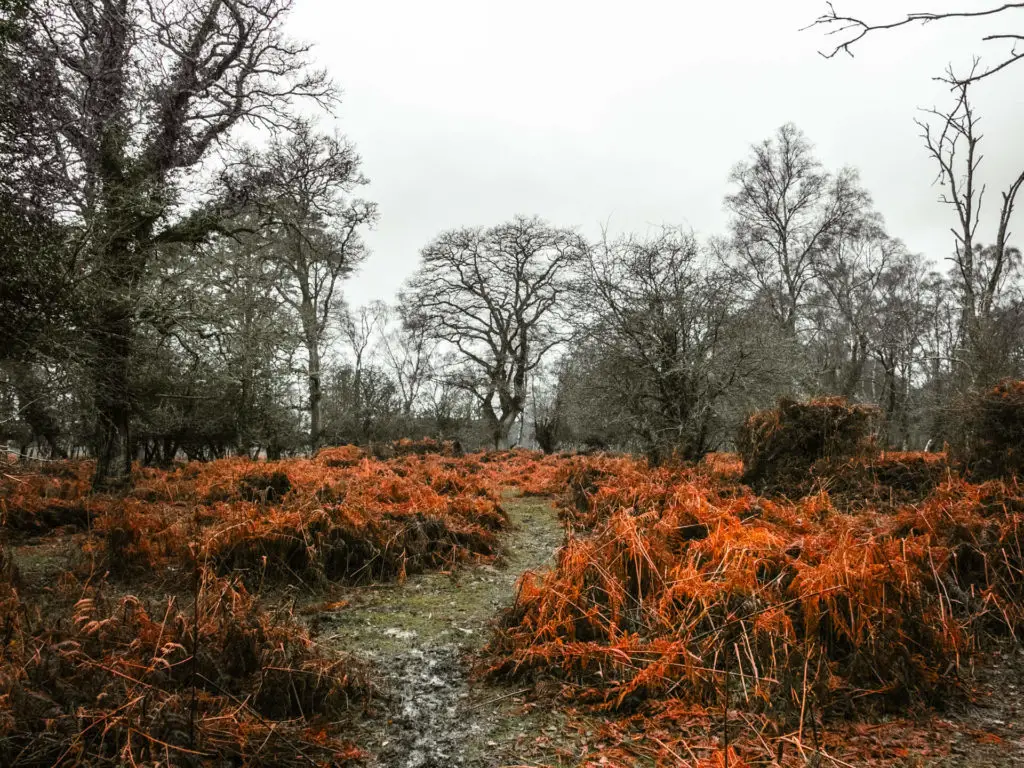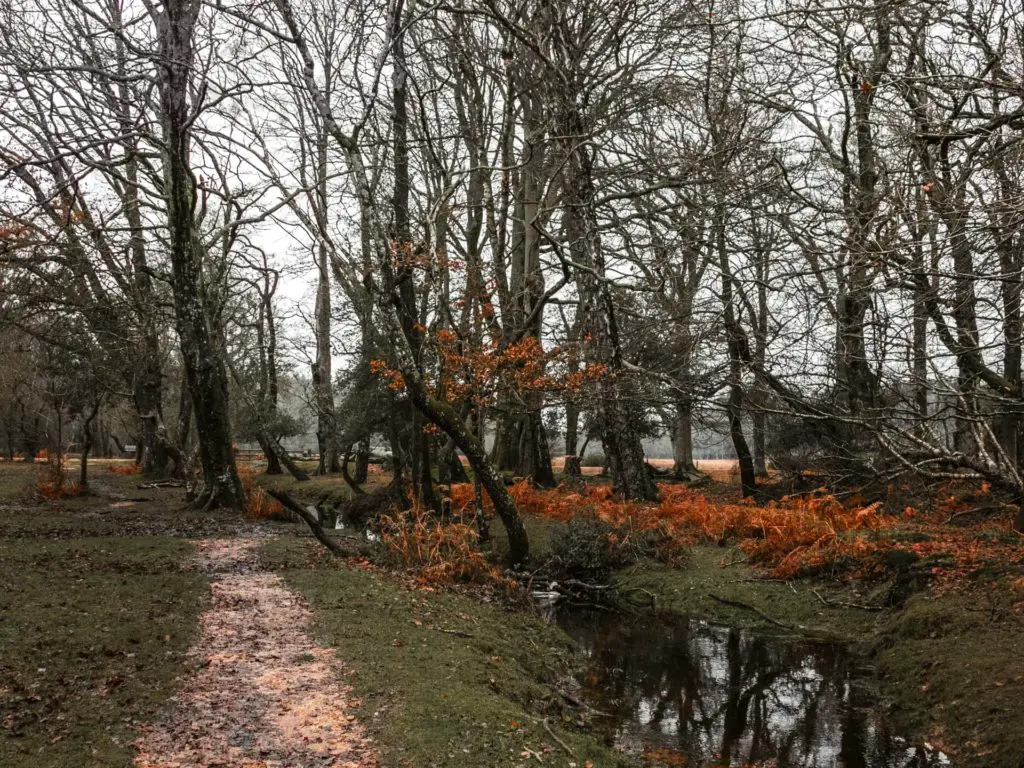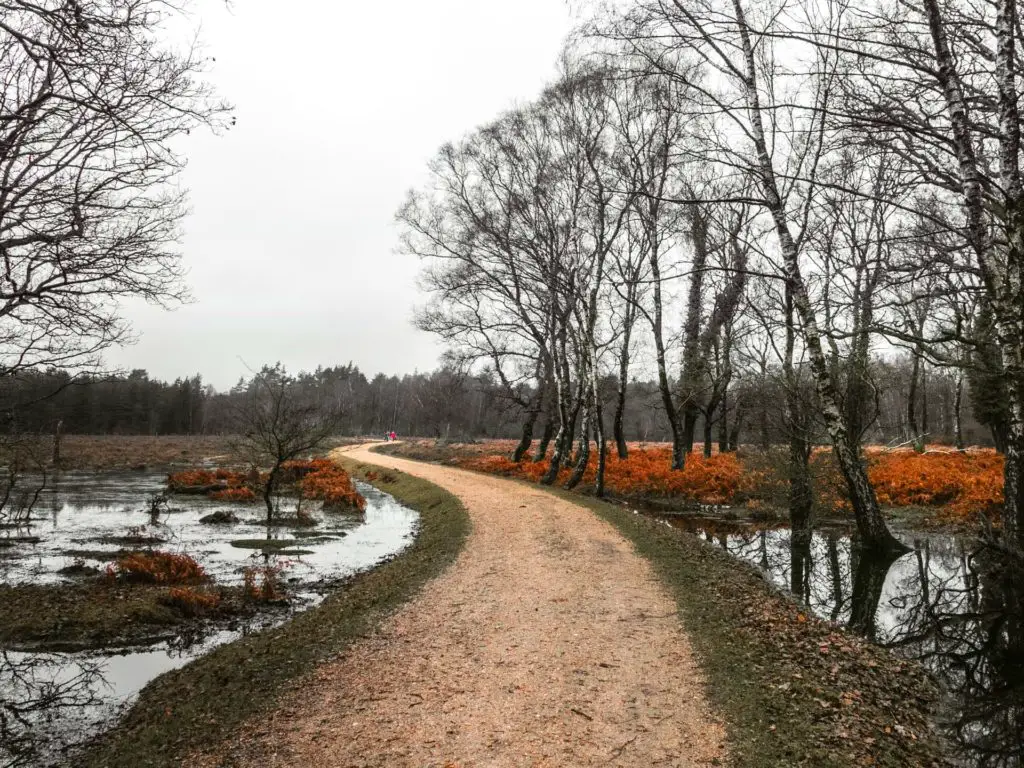 At this point I had forgotten I was on a walk to the tall trees trail. My mind had been preoccupied with trying to navigate the water. Then as the path I was on took me under some very tall trees, I thought to myself how tall these trees are.
Then I remembered. That was the whole point of this walk, to see the tall trees. I wasn't expecting to see these trees yet, so this was a lovely surprise. A taste of what was to come.
(This isn't the official tall trees trail yet. These are just a taster)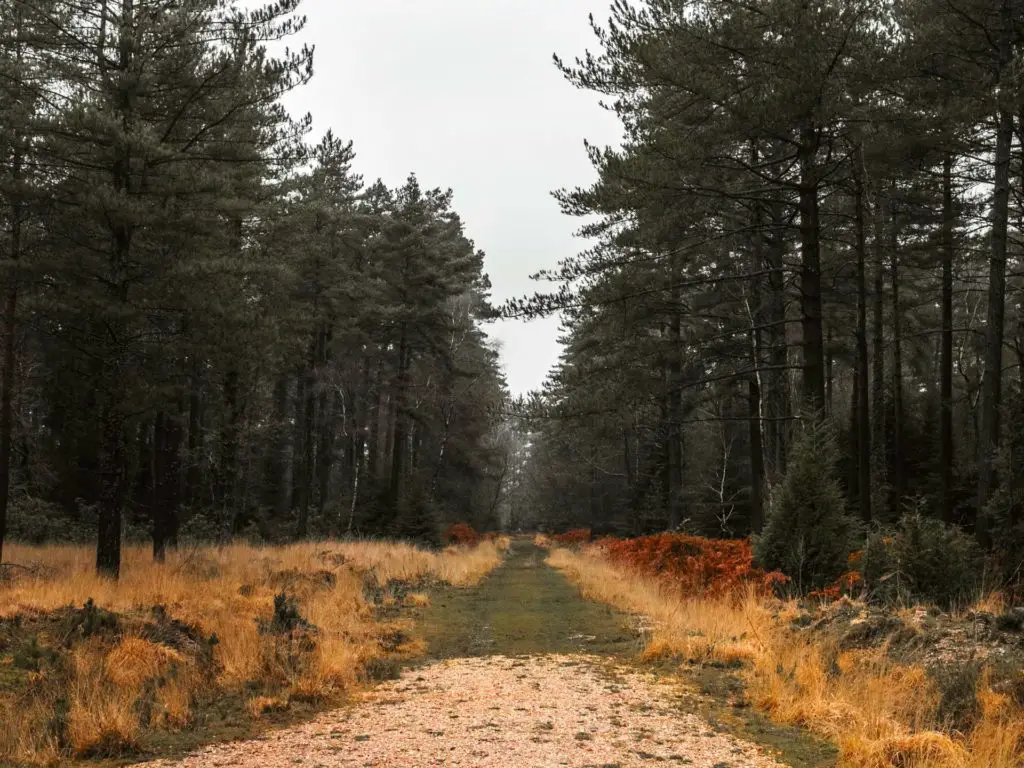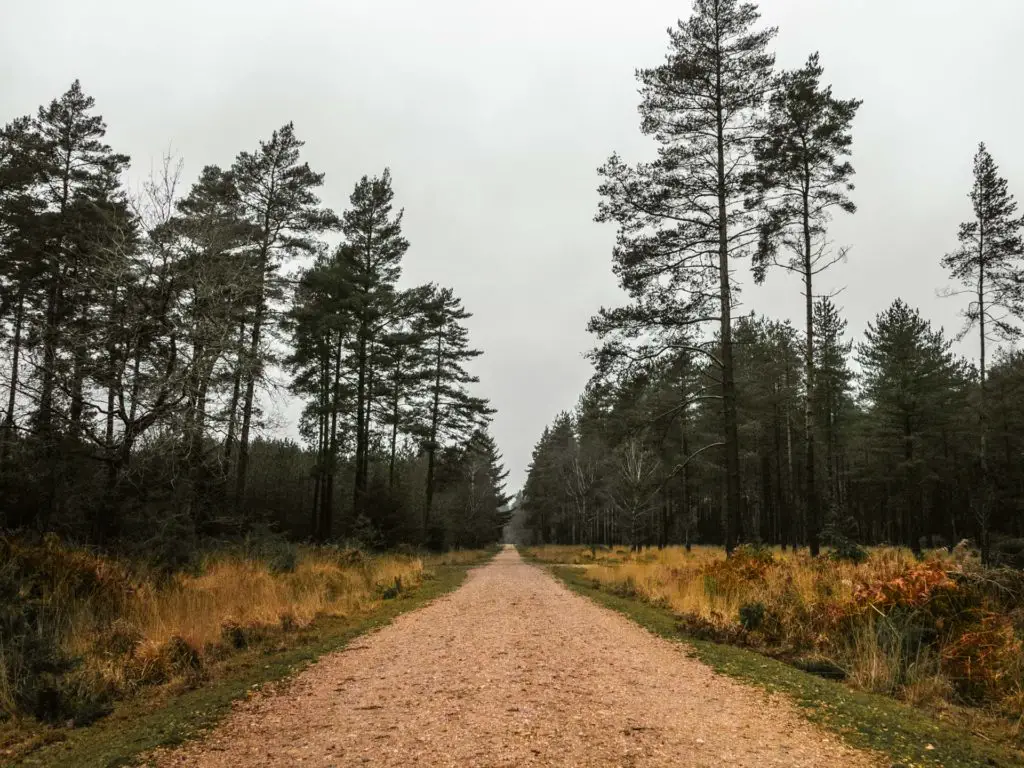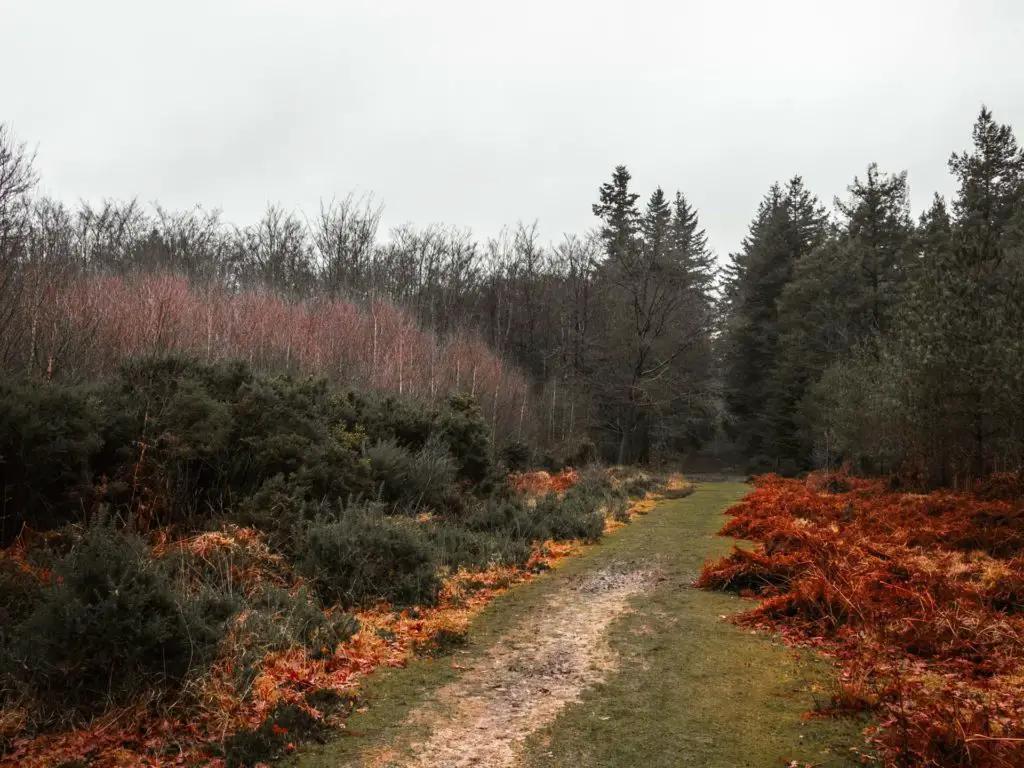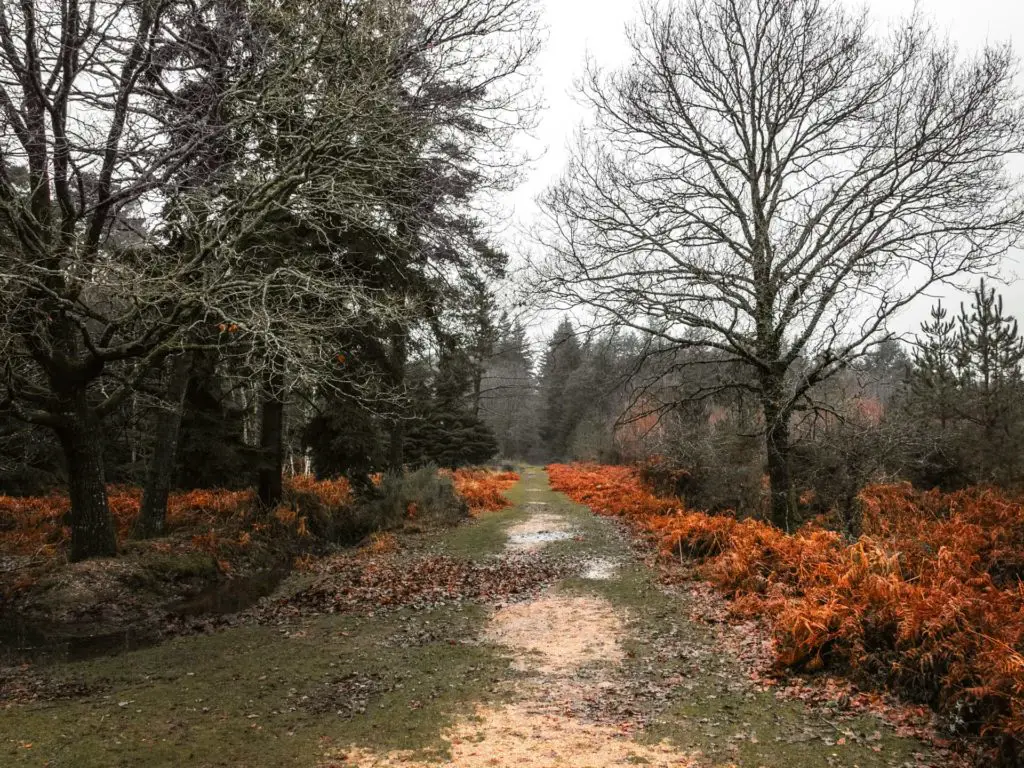 I passed by a signage warning of flooding. Well, I wasn't going that way so I knew I was safe (I wasn't. But I didn't know that yet).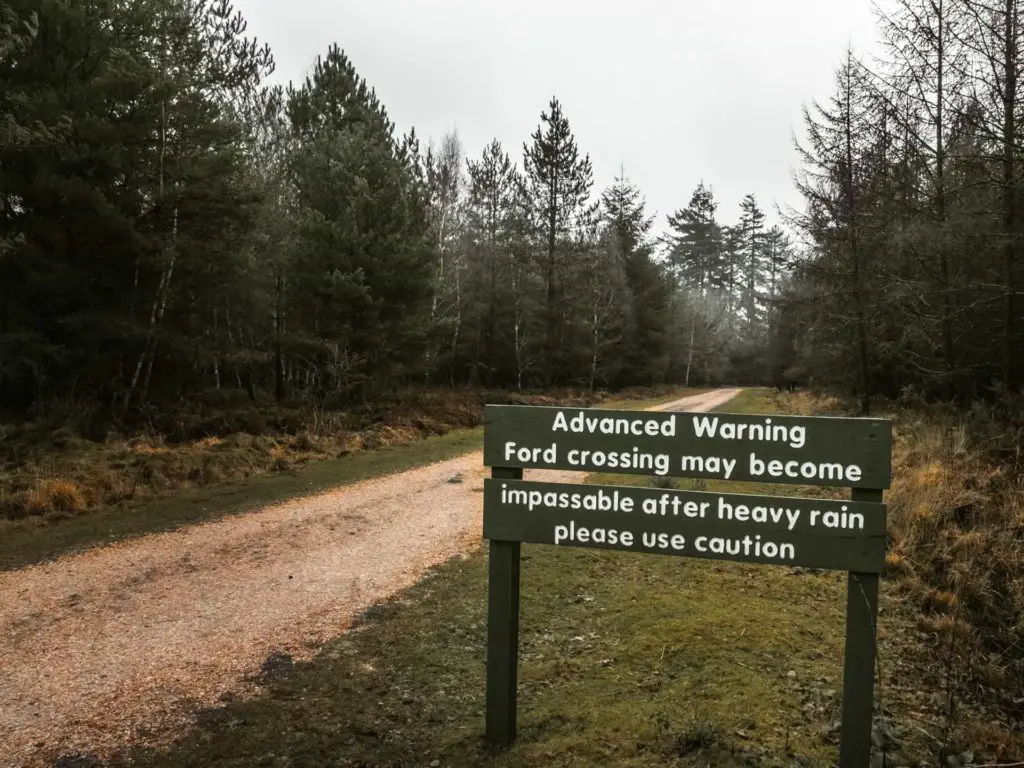 The trail I was on was now one straight line, heading straight to the tall trees. What started out as gravel trail, turned into grass trail and the biggest trees I have seen here so far.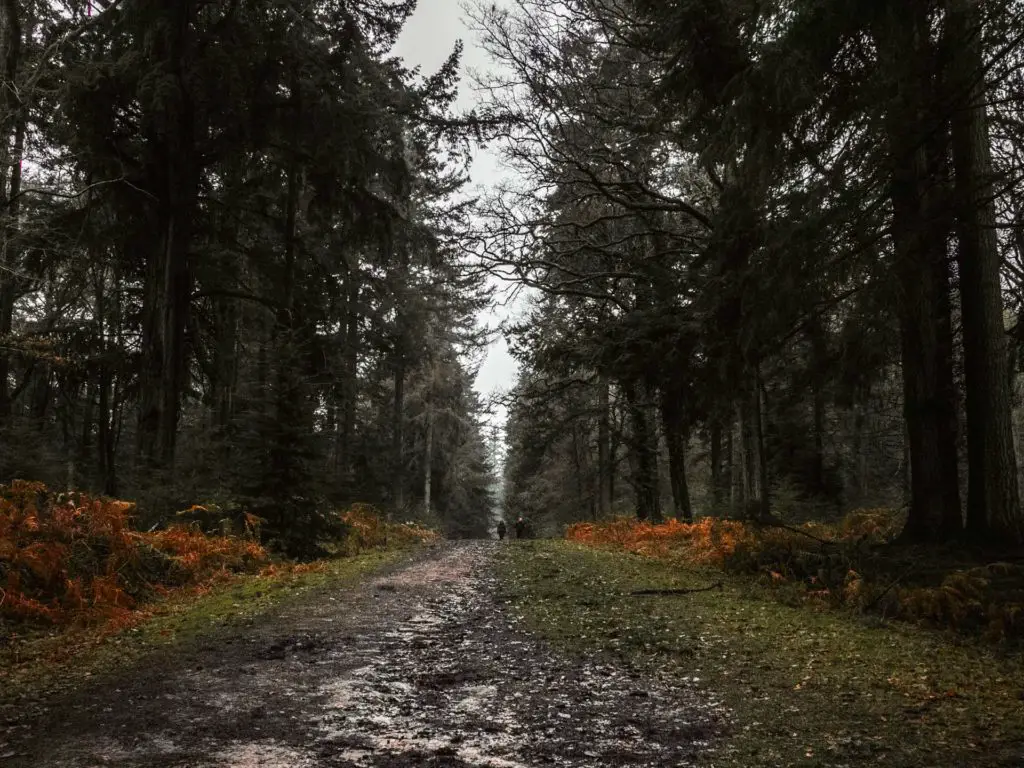 Walking under these giants, the air felt a bit muggier, and the smell more tree like. I felt this sort of vibe like I was in a rainforest. 
The walk along the tall trees trail in the New Forest
At the end, I reached the car park. It was a lot more noisy here. Groups of people having barbecues, cars coming and going.
To get to the start of the main tall trees trail, you walk past the information board and cross over the road past an oak arch.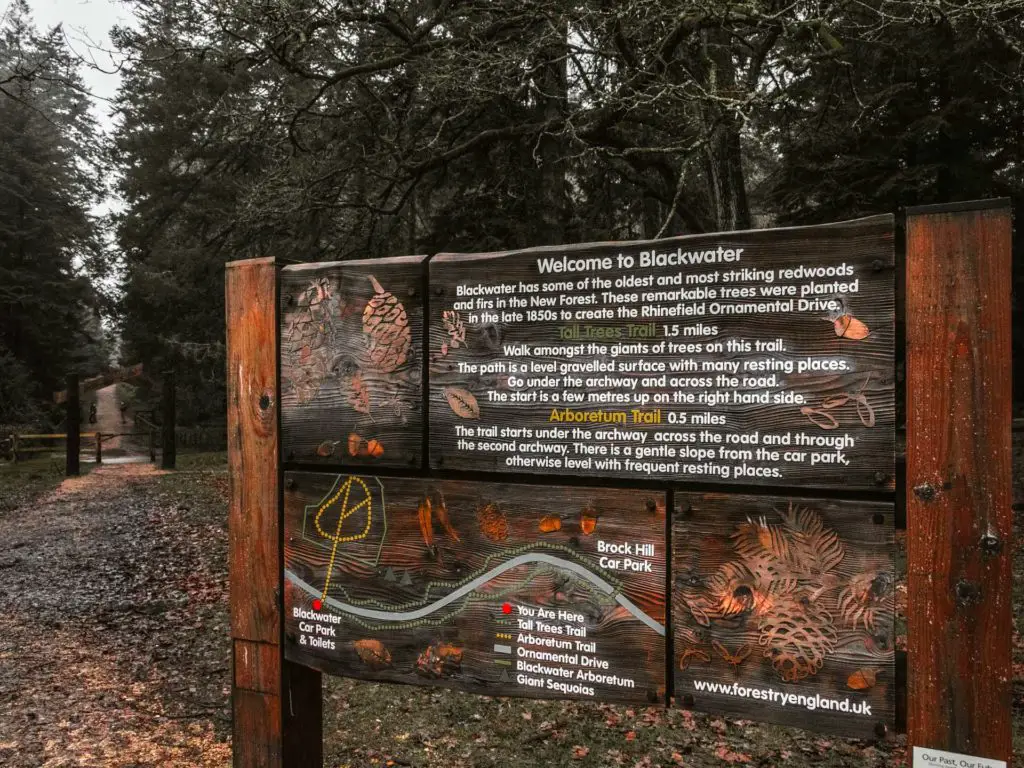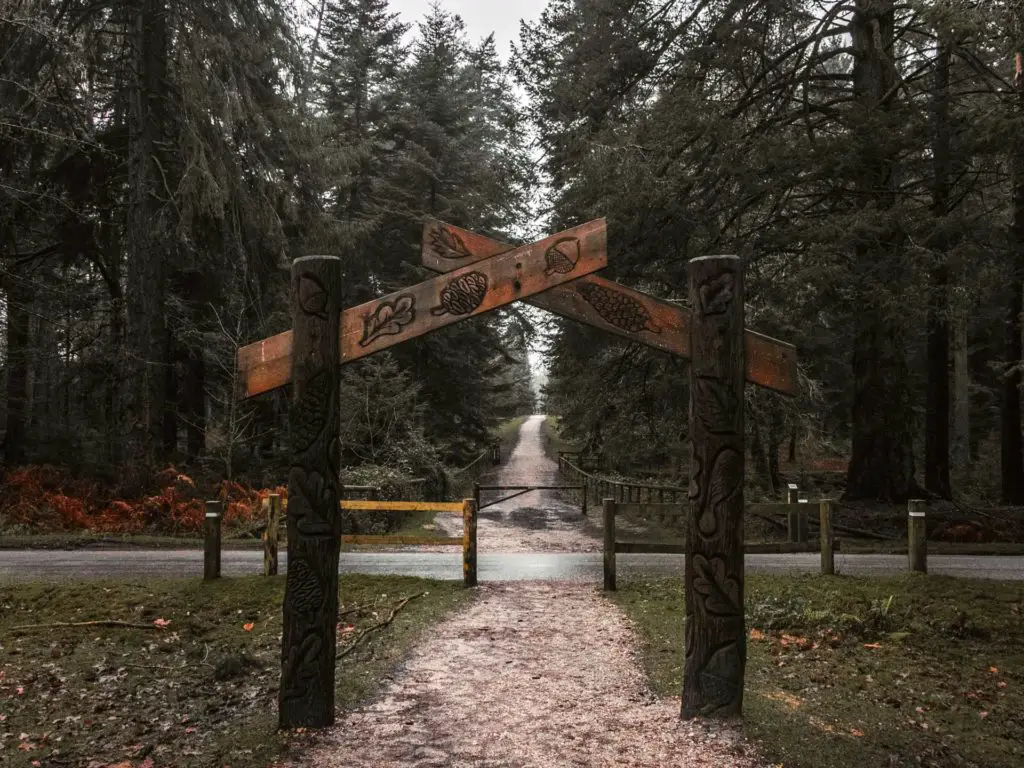 There are actually two trails here. The Arboretum trail which goes straight ahead, and the tall trees trail which is the first right. At this point, there are signposts guiding the way.
This tall trees trail was a lot busier than anywhere I have walked so far in the New Forest. It definitely felt more tourist like (I have just realised that in my photos it looks deserted. In reality, this was not the case).
The trail was simple, there were a few benches around, and signage telling you about the trees. The whole walk around and back is just a few meters away from the main road, so you don't really get the feeling of being in the middle of the woods.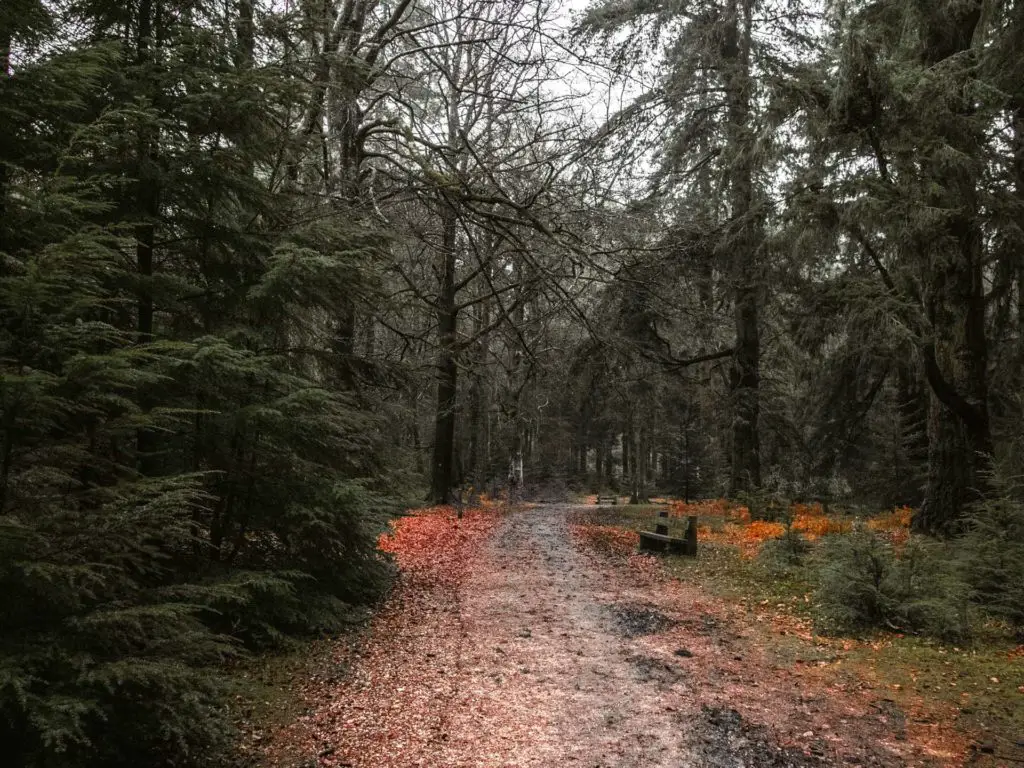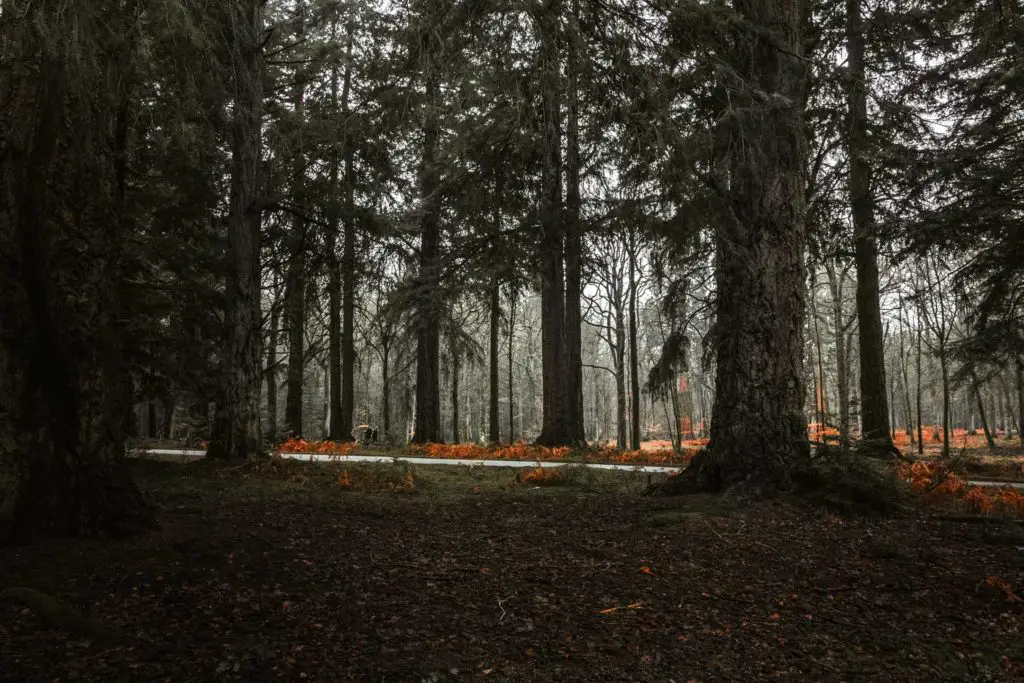 The tallest trees seemed to be the ones lining the road, so actually, my favourite part of the tall trees trail was when crossing over it. Giant trees on either side of the black tarmac winding road.
Sticking to the trail, I didn't get that tall tree vibe quite as much because of all the smaller trees.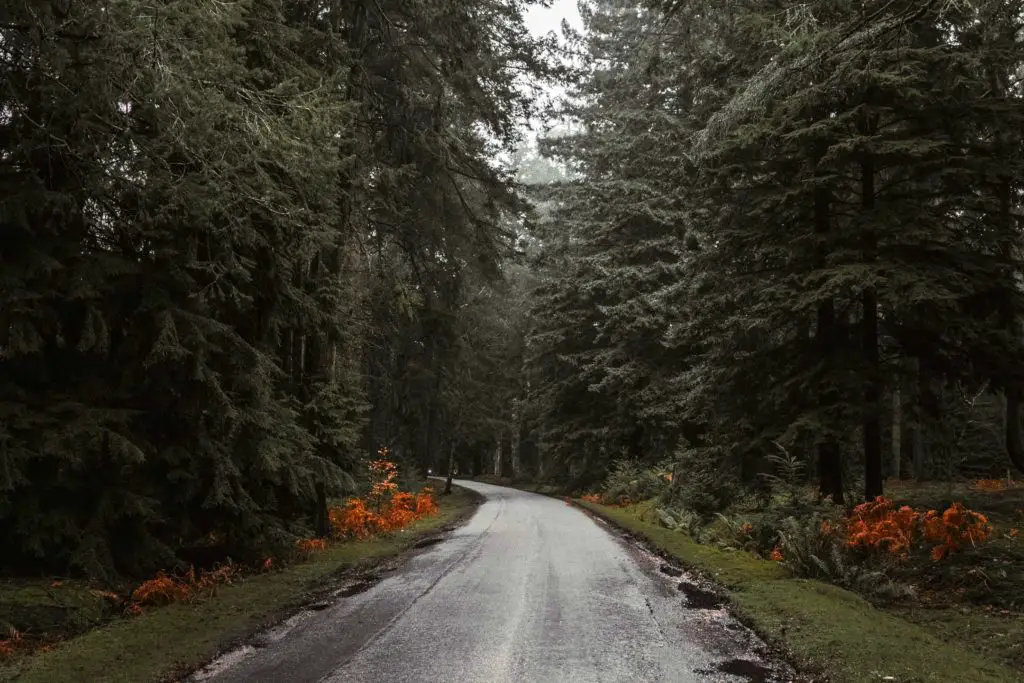 What was super pretty though, were these little trees with peach coloured leaves.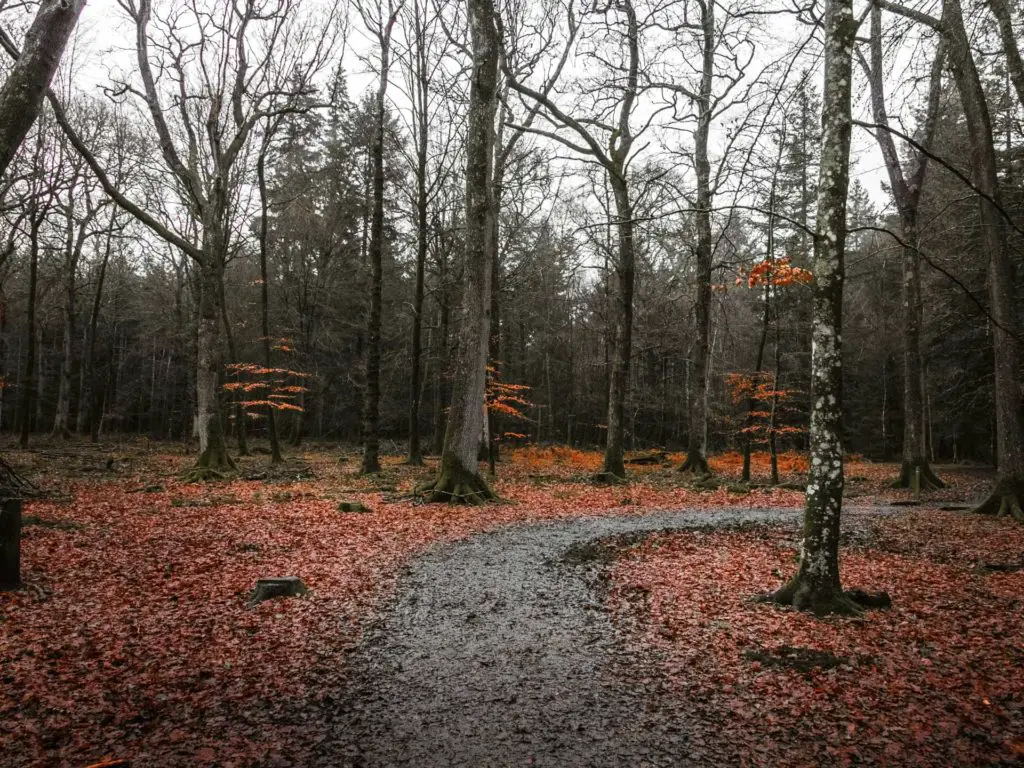 If you come here by car, then I would highly recommend also taking a walk down the grass trail I arrived here on. If you look at my map for the whole route you will see where it is. There you will walk right under some nice big trees, and you are slightly further away from the car park and other people. 
(Saying that, I was here in winter. I can't comment on what it's like during high season).
I also noticed some grass trails leading off the tall trees trail. As I was on a mission to track this walk only, I didn't take them. I suspect it would be nice to have an explore though.
Leaving the tall trees trail
I left the area and the tall trees trail taking a different route back, starting on bike trail, before turning off onto the walking trail.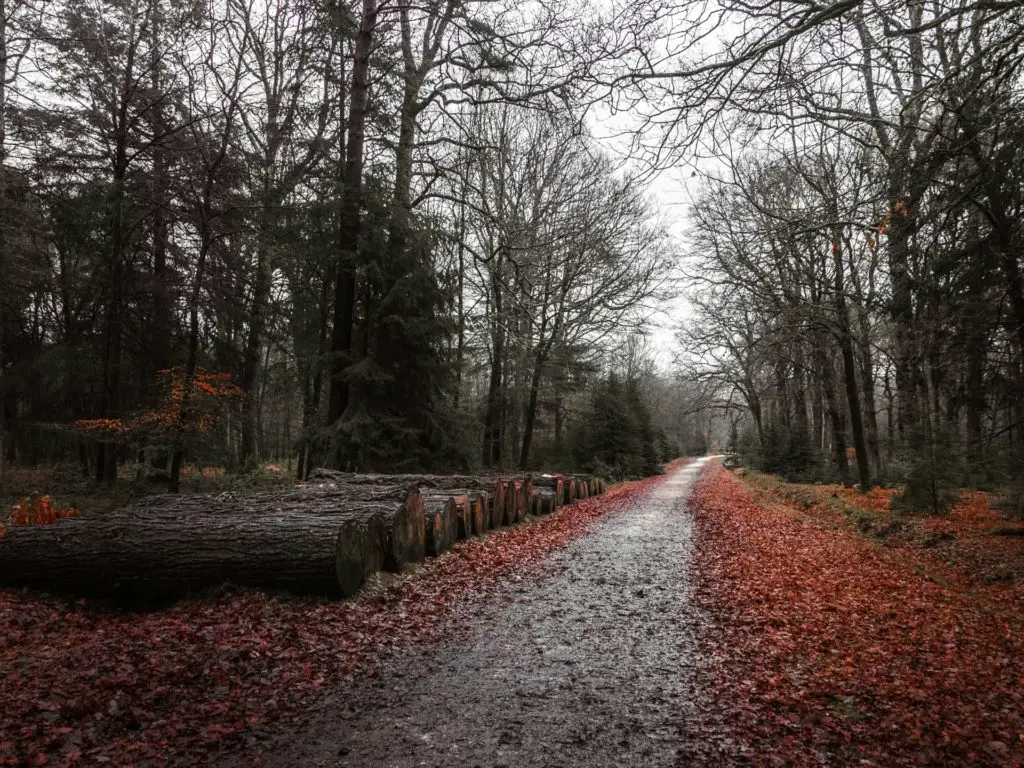 Ober Heath
I reached a gate with the king of puddle traps, so instead of going through it, I climbed over the fence and over into the marshy field. I should have taken this as a warning.
Passing by some of the horses/ponies, I came across these lumps in the ground. Not sure what these are, but they were rather interesting. If you know what they are, then please let me know.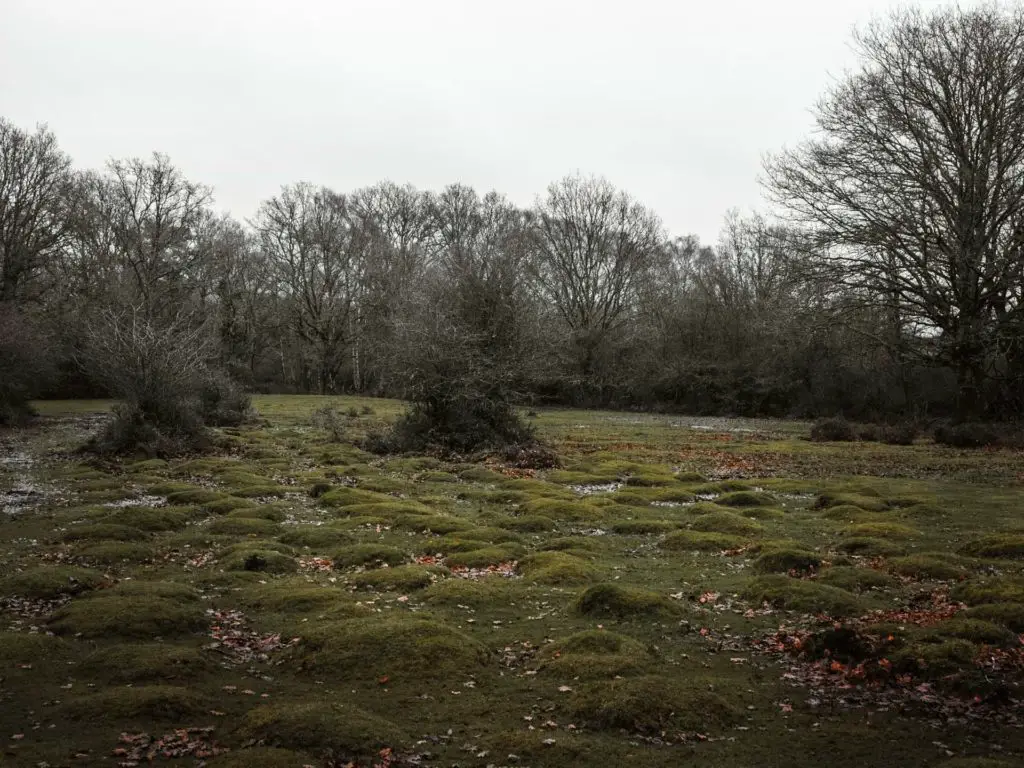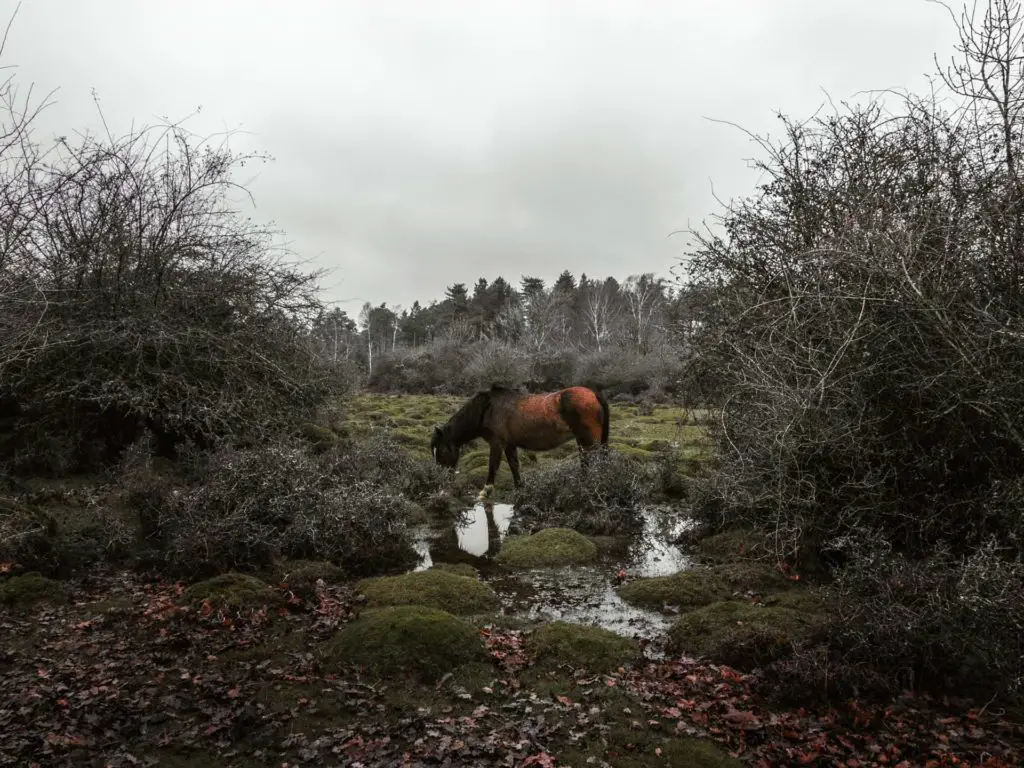 Then I hit the impassable newly formed lake.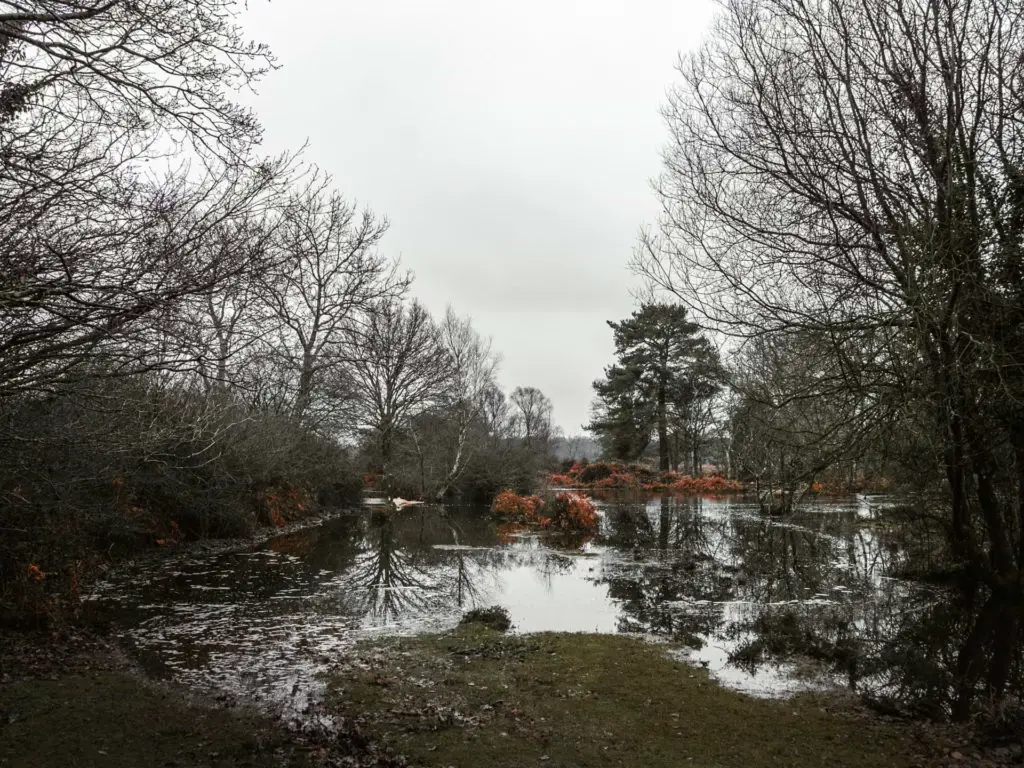 I thought back to that flooding signage I saw earlier. Could this be it? 
I could see where my trail continued on the other side, but now I had to figure out how to get to it. I was determined to not have to walk back on myself. To the right as far as I could see was all water, so I wandered off to the left. All I was met with was more water and dense foliage. 
What to do….
After some investigating, I knew it wasn't passable. So my next options were to take the trail heading slightly east or walk back on myself to take a trail around. I didn't fancy the east trail as that would take me back to the trail I had walked out here on and I wanted to try something different. 
If I took the trail back and around, I would risk being cut off by water again and end up having to take an even bigger loop to get back to Brockenhurst.
Walking back on myself 
I decided to take the risk and walked back on myself to take the trail around.
I walked on bike trail for a bit with a plan to turn onto walking trail to meet the trail I should have been on. The whole time praying that I wouldn't get cut off.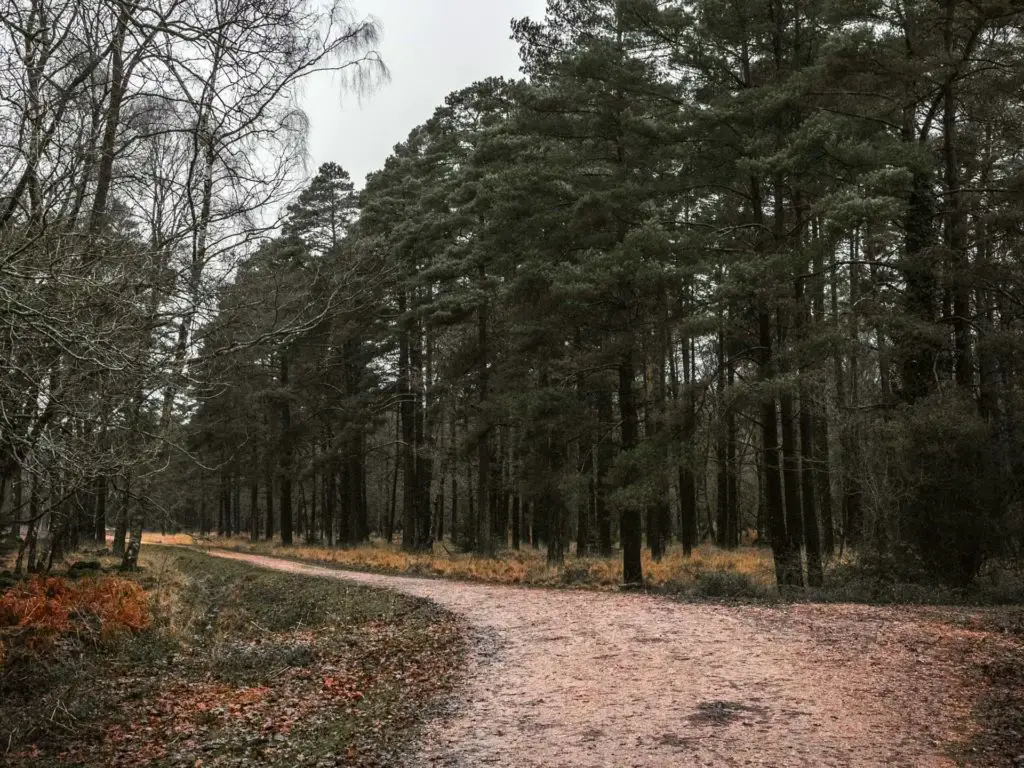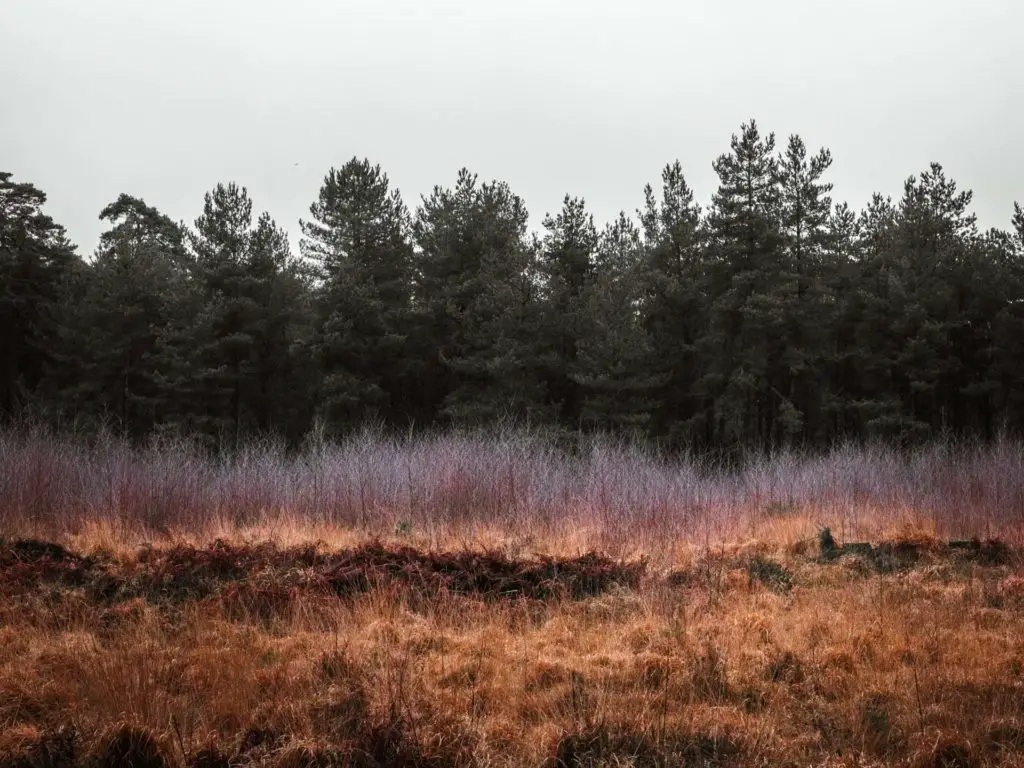 Once I reached the turning, the trail I wanted to get on was now just water. Well, that's that. I was now going to be heading on the long loop around to get back to Brockenhurst.
I took the risk and unfortunately it didn't pay off…..
But I did walk past this impressive looking hotel. Then I got hotel envy. This is the Rhinefield House Hotel in case you are wondering.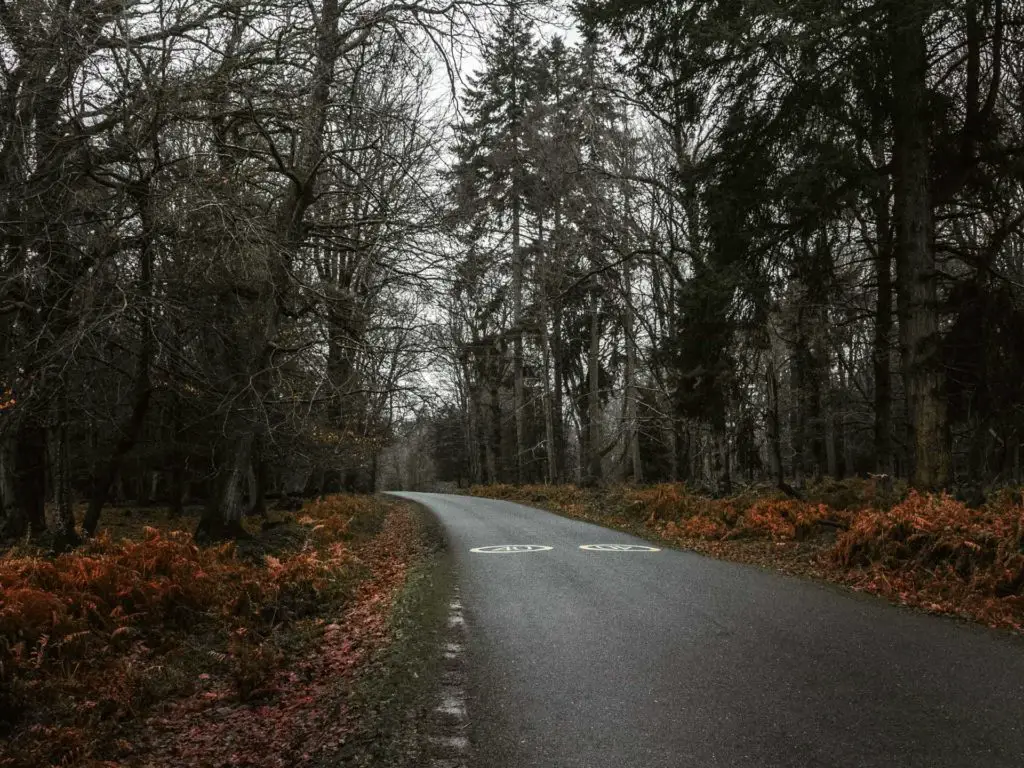 Aldridgehill Enclosure and the fog
As time was getting on, things were starting to get a bit darker and fog was setting it. The air felt wet. I noticed my camera lens was misted up. I tried to clean it but only made it worse. On the bright side, my photos would now be blurry which actually highlights the situation.
It was quite eery, but beautiful at the same time, walking through woods in the low light and fog.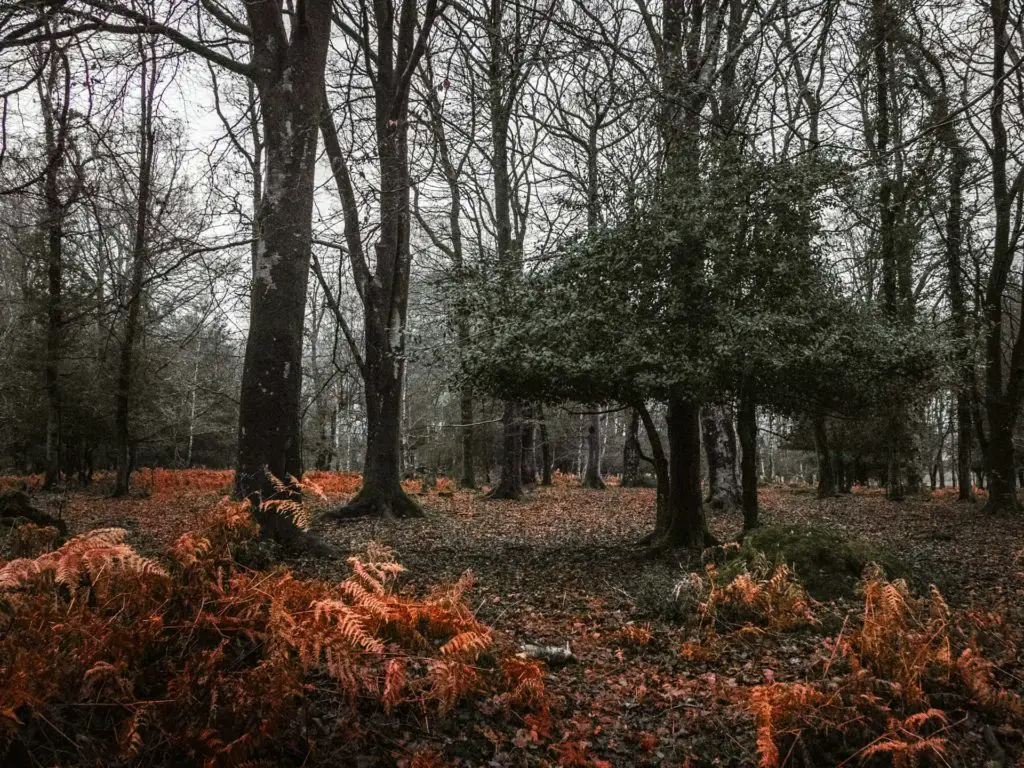 The next photos are when my camera lens misted up.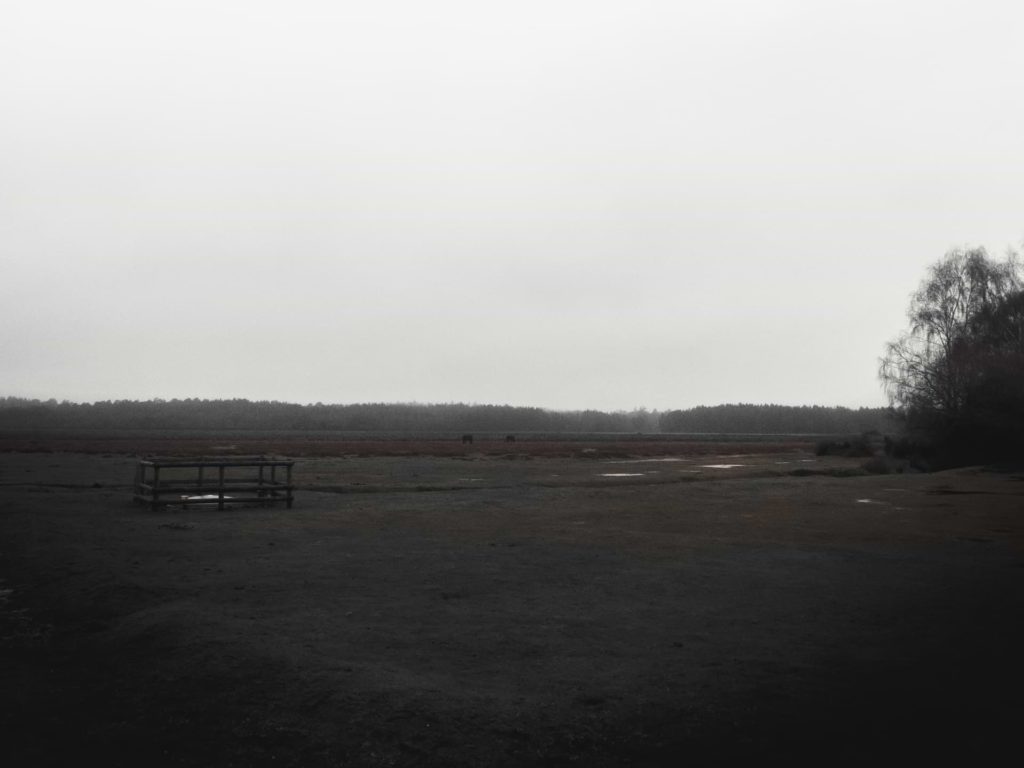 The walk back into Brockenhurst
I actually missed the turning I was supposed to take, and found myself on the main road.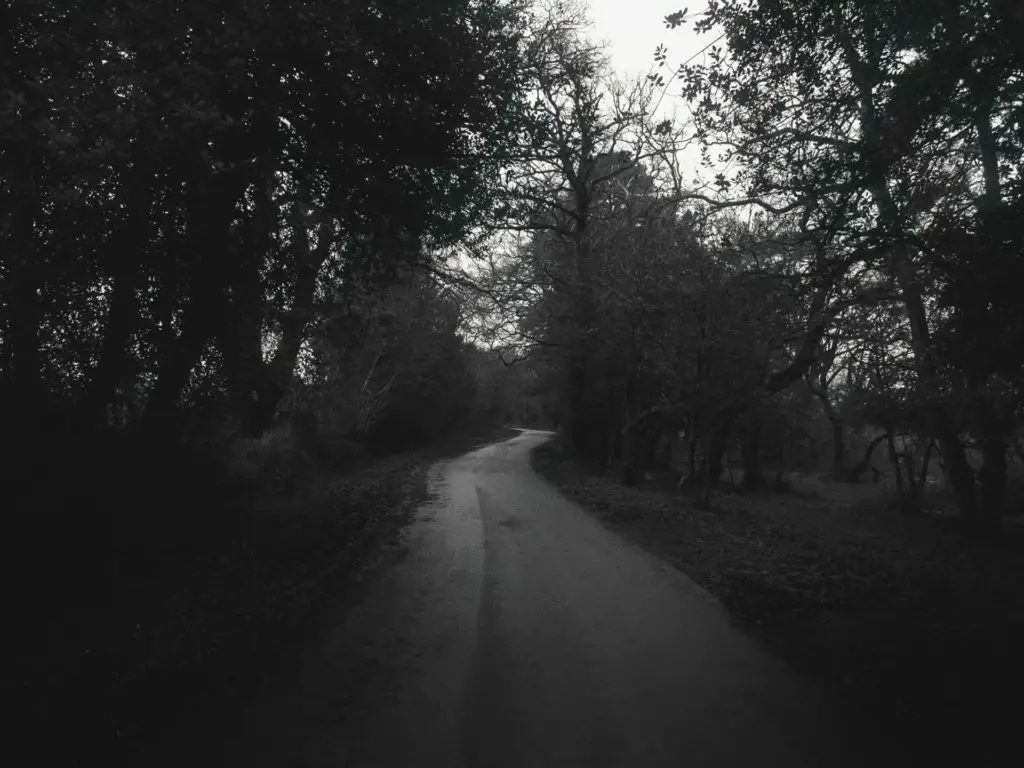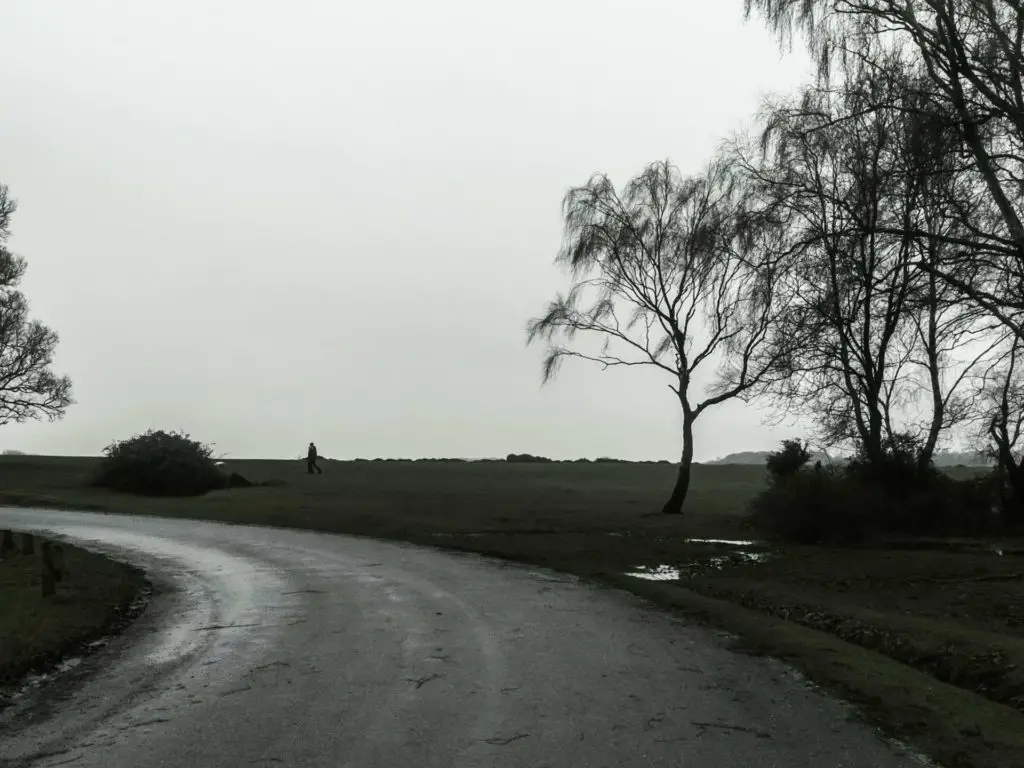 Although, this road was quiet. It was quite pleasant to walk along as it snaked around to reach an opening and a green field, then a bit further along I met a bike trail again, which led me all the way back to Brockenhurst.
Final thoughts on the tall trees trail in the New Forest
So, I mentioned at the beginning that the walk along the tall trees trail was my least favourite part of the walk. That is 100% because it's just a little touristy for my liking. That's not to say it's bad. The way things are set up makes it quite accessible for a lot of people so everyone gets to experience it. 
The walk from Brockenhurst to the tall trees trail I really enjoyed. Yes some sections were super muddy and at times the trail was flooded, but I felt rather adventure woman like trying to navigate across it, and very accomplished whenever I managed it.
Another thing I noticed about this walk, was the roads weren't that busy. Not compared to the last time I was walking in the New Forest where every road was very difficult to cross because of the volume of cars. 
Other walks in the New Forest
There are so many walking options in the New Forest. On this trip, I walked from Brockenhurst to Lymington, Ashurst to Lyndhurst, a circular walk around Brockenhurst village and the Lyndhurst parish walk.
Other walks I have done are Brockenhurst to Lyndhurst, which is fairly easy, Brockenhurst to Beaulieu which is very long, and a very short walk around Hollands Wood.
If you aren't sure which one to do, then you can see a little summary of all the walks near Brockenhurst. Or for a bigger look, you could read about the 9 best walks in the New Forest.
For more walking ideas you could check out the New Forest website.
Pin it for later: How to walk the tall trees trail in the New Forest