I hadn't planned any of my walks before arriving in the New Forest, but instead, waited until I got there and opened my map. I was staying in Brockenhurst, right in the middle, and not surprisingly it is surrounded by walking trails. After a little browse I decided that I would walk to Lymington, Lyndhurst, Beaulieu and throw in a couple of smaller walks around Brockenhurst for good measure. 
I was there for two days.
Yes, I had now planned out 5 different walks to do in just two days. Ambitious? Yes, as it turns out it was. I didn't make all 5. The walk from Brockenhurst to Beaulieu turned out to be a lot longer than I had thought. 
For day one, my plan was a circular walk from Brockenhurst to Beaulieu, then after my return, do two small walks around Brockenhurst. 
I had decided that the Brockenhurst – Beaulieu circular walk would be about 10 miles. I don't know how I came to that conclusion. I pretty much just made it up.
It turned out to be 17.5 miles. Yes, as it turns out this was a very very long walk in the New Forest, and it turned dark before I got back. 
update: I did manage to return and complete more walks that I couldn't do on this trip. You can read a summary of all the walks near Brockenhurst here.
What was it like?
The walk out, from Brockenhurst to Beaulieu was characterised by woodland and a spot of marshiness. The walk back was more open and a lot more marshy. 
Apart from the section around Hatchet pond (I explain this later), I really enjoyed this walk. The way the sun shone through the trees created a sort of magical fairytale like scene. With deer running across the trail and wild horses grazing thrown in for good measure. 
Logistics for the walk from Brockenhurst to Beaulieu (and back again)
Start/finish: Brockenhurst train station
How to get there: Brockenhurst is on the South Western train line. You can get a direct train from London Waterloo in 1.5 hours.
Distance: 17.6 miles
Time: 7 hours
Elevation: Total gain 1470 ft (429m). This number surprised me. It didn't feel hilly at all. It was mostly flat with little ups and downs. The highest point was only 225ft (68m). I mean, if I hadnt seen these numbers, I would have insisted it was very flat.
Terrain: Lots of marsh, grass trails, dirt trails, gravel trails, a bit of road. 
Difficulty: Medium (due to the terrain and long distance). 
Tips: Set off early whilst the sun is low in the sky. It's quite beautiful the way it shines through the trees. Wear waterproof hiking boots/trail shoes.
Map – Brockenhurst to Beaulieu walk route
Click on the trail name to take you to my map on Alltrails. You will need to download the app.
More walking ideas for the New Forest will be at the end
The circular walk from Brockenhurst to Beaulieu
I started this walk from Brockenhurst train station, and headed down Mill lane across the street. According to the map, the trail I wanted was just up ahead.
The thing is, when I got there I couldn't figure out how to actually get onto it. The entrance to the trail had been closed up. 
After debating with myself what to do, I decided to abandon that trail and continue along the road to get to the next trail.
So, I continued along the road with no pavement for just under a mile, with the trail I should be on just on the other side of the hedge, following me the whole way.
The sewage water
At the end of the road, I had a few trail options. So I picked the trail that runs along the sewer water.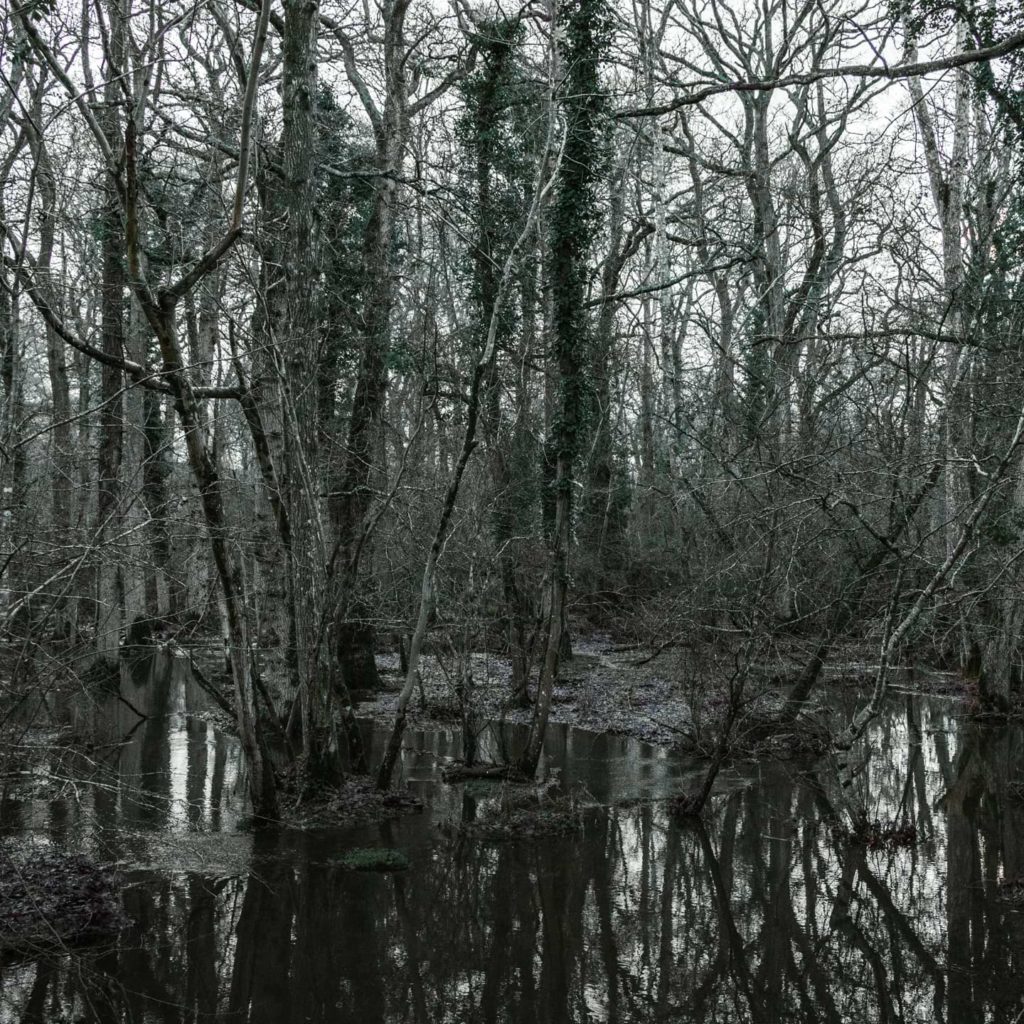 I'm not sure why I picked this one. There wasn't much of a thought process going on. It just happened.
Walking along, I think about the fact that I am walking alongside sewage water but mostly pleased that I can't smell it. 
The ground is covered with fallen leaves. I mean, you literally cannot see the ground as it's covered in leaves. 
Like a leaf carpet. 
The leafy carpet then turns in to leafy marsh and mud. I start zigzagging around, trying to avoid my feet getting sucked in. 
I failed. My foot got sucked. My shoe got stollen. My foot got very wet.
After retrieving my shoe I decided to walk back to the road and pick up a different trail. The marsh won this time. 
The bike trail
So, once back on the road, I could see on the map that there was a trail up ahead to the left.  But it happened again. There was no access to it. 
I wondered whether I was just unlucky with the trails I was picking, or if walking in the New Forest really is this complicated. 
So back to the map, I could see another trail a bit further along. A bike trail. 
On reaching the bike trail, I felt like I had finally found the way. A nice easy trail to follow. With a wet foot, I was over the whole walking through marsh thing. From looking at the map, I knew I could walk the whole distance on this trail.
Now, usually I like to go off piste, but actually, this I thought would be rather lovely. Lots of trees on either side of the trail. I could have that forest feeling and enjoy my surroundings without having to focus on my foot placement and most likely getting my shoe sucked off again. 
The green carpet trail
My plan to stick to the bike trail didn't last long, as I approached a right turn which led into the woodland on grassy (and muddy) terrain. I stood there for a moment and decided what to do. The grassy trail was calling me. Do I play it safe and continue straight, or should I be more adventurous?
Well, adventurous won and I went right.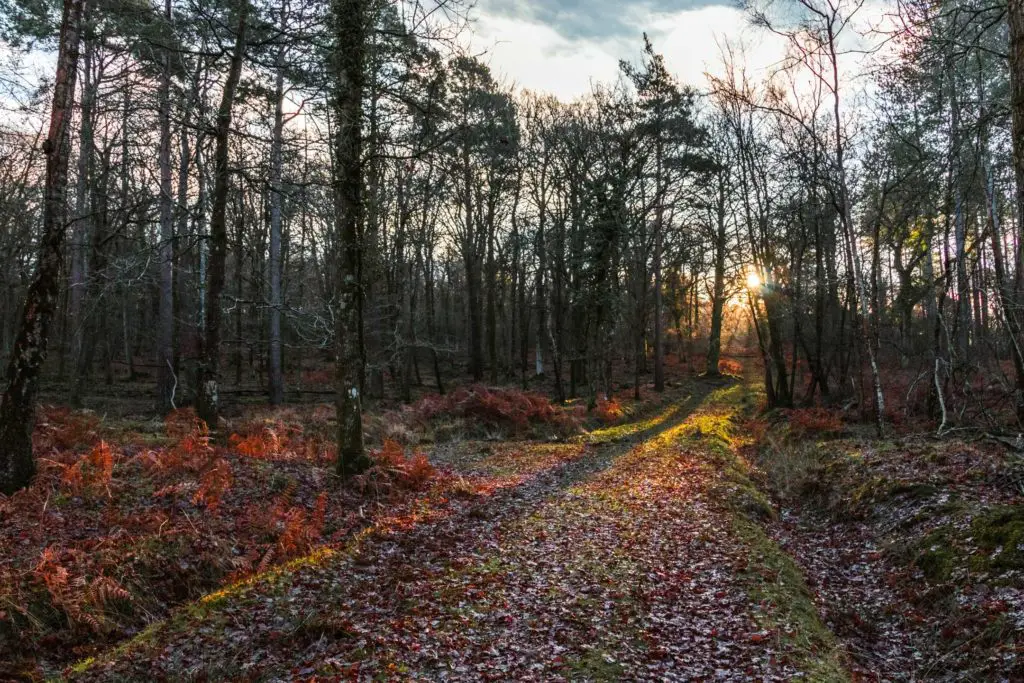 Up ahead the sun was shining through the trees creating these rays of light on the ground. This was my first taste of magical woodland fairytale. I felt this draw to head towards the light, but was met with a left turn not far ahead. According to the map, if I continued following the light, I would hit the road again. So, unfortunately, I had to turn away from the fairytale scene.
Continuing along the quite pleasant grassy and actually not too muddy trail, I soon reached the bike trail again. I walked on it briefly before turning back onto a grass trail.
Going off trail
I made my way deep under forest cover. It started out easy, but soon I find myself leaping across mud and marsh, and ducking under low branches.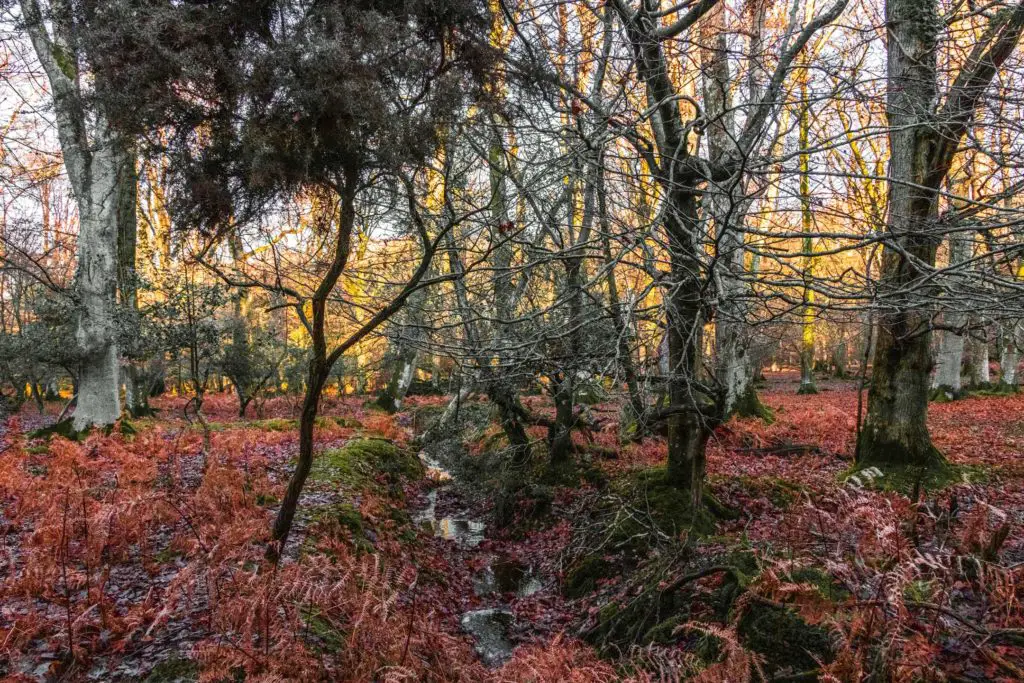 And then I checked my map.
Turns out I had gone very far off trail. No wonder. 
The main trail was not too far ahead, so I continued straight which led me to an opening with a cute little house ahead. 
Going off trail again
Back on the trail and through the woods, with the ground covered in a leaf carpet, the sun was again shining through. Creating those magical fairytale forest light rays.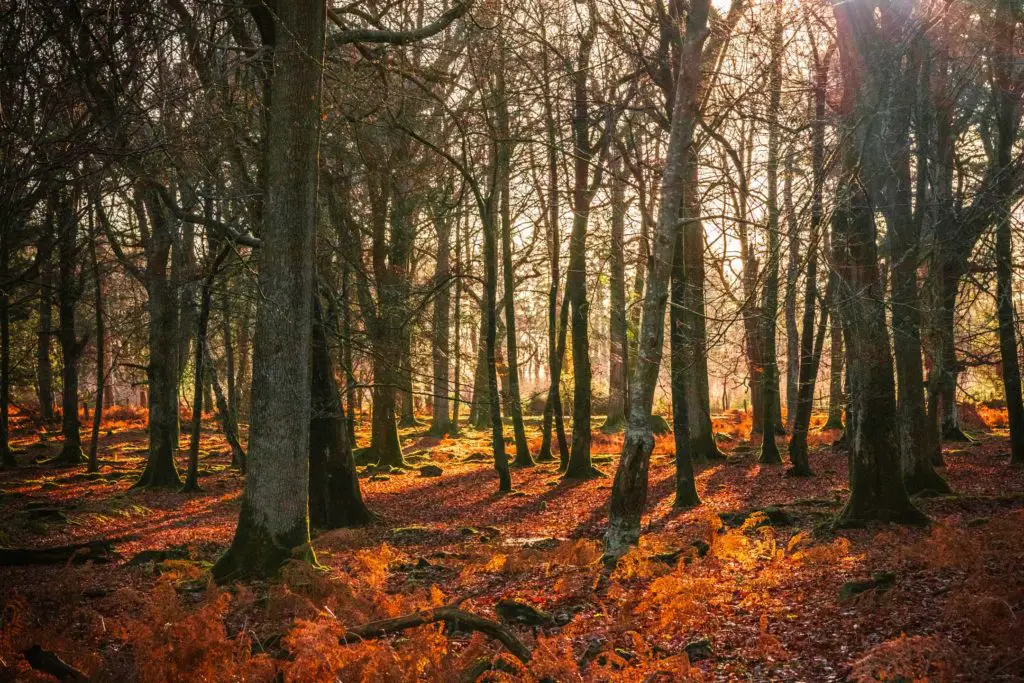 As I made my way through the woods, things start off easy. There is the occasional bit of mud, but nothing too dramatic. But what starts as a bit of mud, turns into a lot. 
Soon I am zigzagging my way around marsh and mud. Trying to find ways to cross it. My shoe gets sucked off my foot again, and I'm starting to think that the mud is winning. That's when I looked at my map and realised I had veered waaaaay off course. 
There seemed to be a pattern emerging. A bit of marsh and mud is normal. When it gets to a point where it takes over, that means I have lost the trail.
Once I made it back to the main trail, I realised how easy thing would have been if I had managed to stick to it. The main trail is a lovely carpet of green all laid out. I make a note to myself to check my map more regularly. I could save myself a lot of bother.
New Forest goodness
As I made my way along the easy walking trail and then onto the bike trail, it turns from grass to gravel and I realised I had not passed a single other person yet. Then, out of nowhere, a bunch of deer (well, I think they were deer) ran across the trail in front of me. 
Ahhh, here I am in the middle of woodland, deer leaping across the trail, with not a single other person around. 
Continuing along the forest trail, I see a weird branch formation up ahead. Almost sculpture like. As I get nearer I wonder what it is and how it came to be. It wasn't until I was right up next to it that I realise it was the roots of a fallen tree.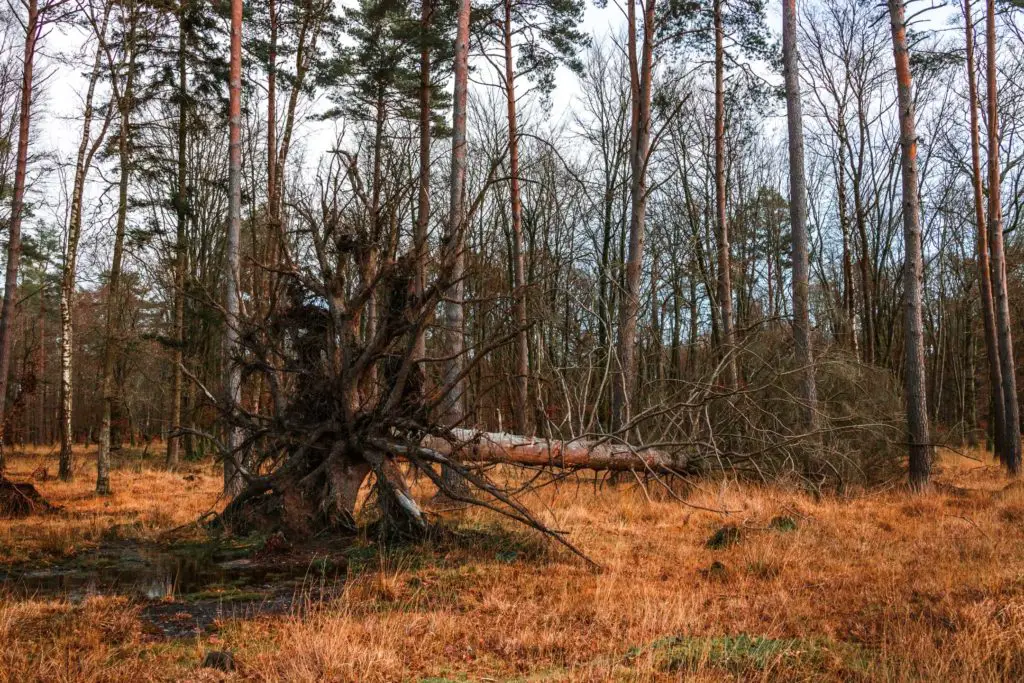 I have literally never seen this before in my life. The whole tree is lying on its side with the roots ripped out of the ground. 
It really was quite fascinating.
I then continue along the easy bike trail with forest goodness either side of me. Exchanging hellos with a group of cyclists going by…..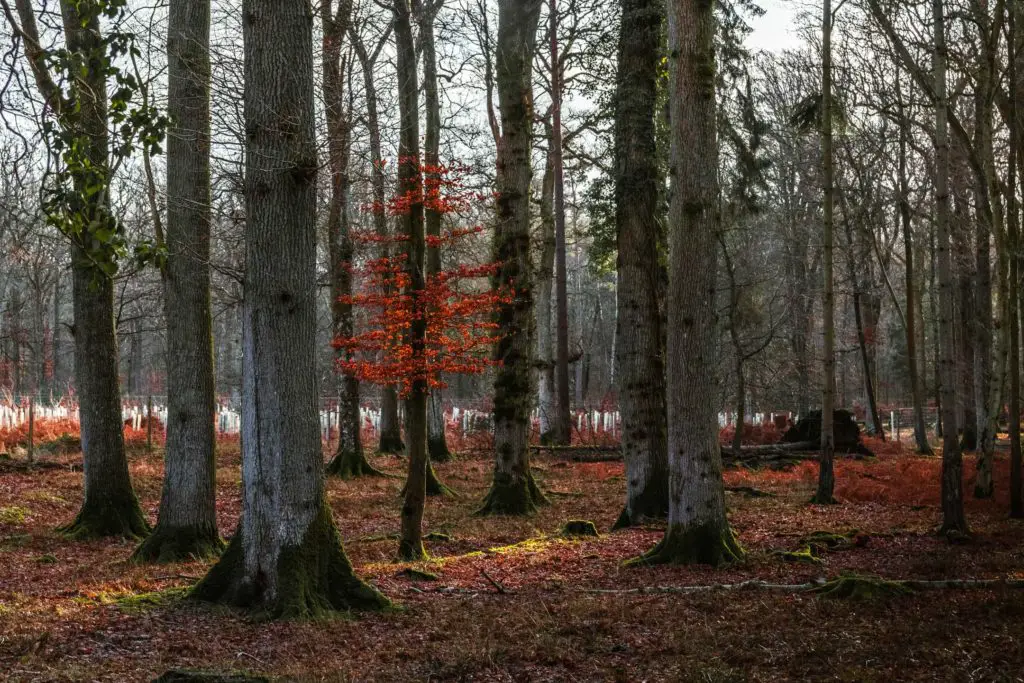 ….and then I saw a green grassy trail turning right.
Looking ahead at this trail, it looked so perfect. A green carpet.
I thought about my plan to stick to the bike trail, but the perfect green grassy carpet like trail was calling my name.
A fairytale scene
So, once again I left the safety of the bike trail to walk along the green carpet. Soon finding myself completely under tree cover. 
This little section was really lovely. Completely surrounded and engulfed by trees, but still with a lovely green carpet like trail leading the way. I thought about how much more lovely this would be during spring time. With everything in full bloom.
I made a mental note to come back to this exact spot in spring.
To add to the fairytaleness, I came across my first wild horses of the trip (apart from that one horse I saw walking down the street last night….That was odd).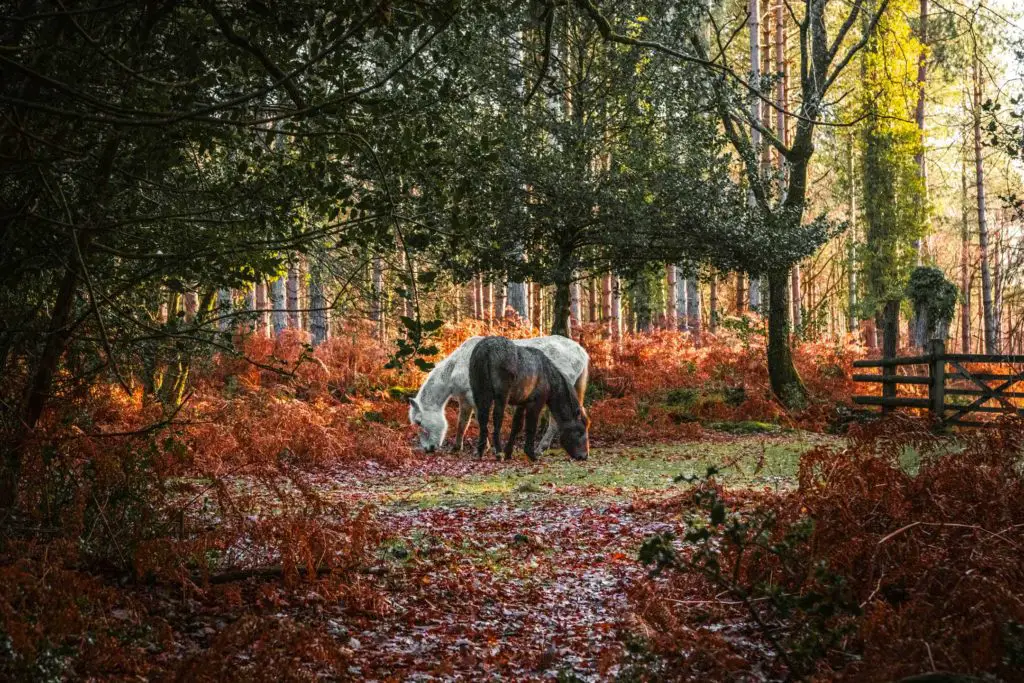 Continuing along, the grass trail turns to gravel trail and more and more people start to appear as I reach a car park and road.
Hatchet Pond
As I approached Hatchet pond, I was struck by how busy the roads were. It's not a very built up area, but there were a lot of cars.
Then the wind hit. 
I had fully planned to walk around Hatchet pond to the right, but instead decided to take the much shorter route to the left. I wanted to get away from this area as soon as possible.
The wind was so aggressive, I felt like I was in a wind trap. The cars were there in mass, moving fast and so so loud. My senses felt like they were being attacked. The sound of the cars became deafening, the wind was beating me from all angles. 
I did not enjoy this bit at all.
Crossing over another couple of roads to reach the open green with interesting looking bushes, the wind wasn't letting up, but at least the cars were getting a bit quieter as I got further away.
After turning down a side road, then through a small bit of woodland and a couple more fields, I reached another road. 
The walk into Beaulieu
After crossing the road, I came across some fancy signage leading the way to Beaulieu.
As the sign was quite fancy, I figured the rest of the way would be very easy. You know, for tourists. 
And then just through the gates this happened:
Actually, looking at the photo it doesn't look that bad. It was worse in real life…I promise I'm not being dramatic.
It was not possible to pass along the edge without falling in, so I had to do that thing where you walk with one foot either side (basically do the splits) and hope for the best. 
After this, the rest of the way was simple, following the signs to reach Beaulieu.
Reaching Beaulieu 
First thing I see as I walk into Beaulieu is a beautiful pond, then the wild horse and then lots of swans. 
What a perfect scene to arrive to.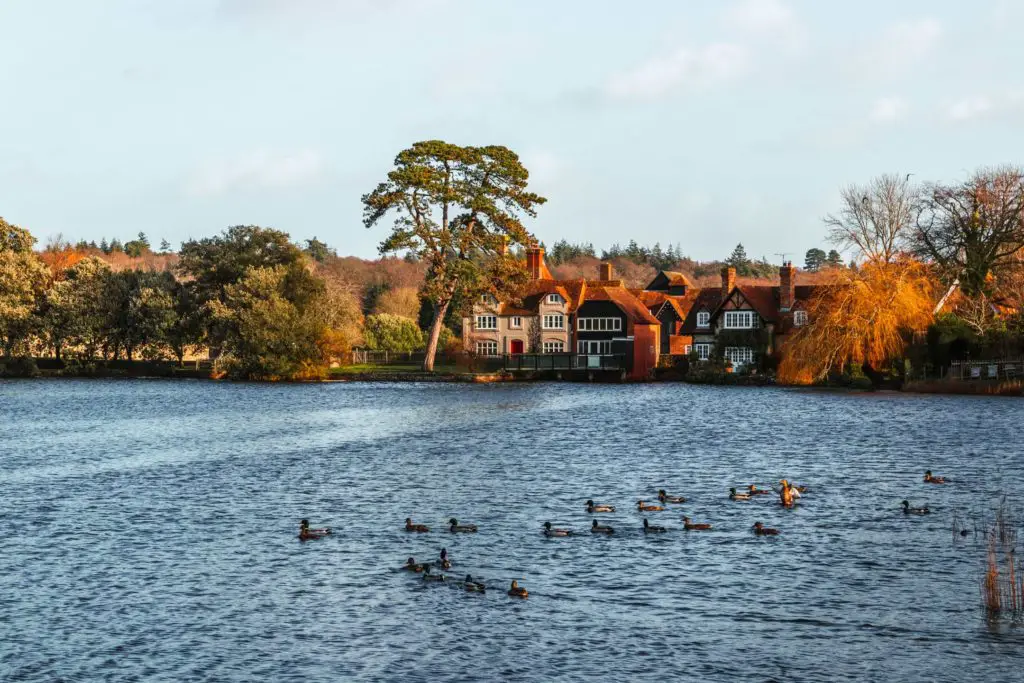 I thought about the name Beaulieu. Did it originate from the word beautiful? It would make sense, because it is. It is beautiful. 
As I wondered around, I realised how tired I was. The walk to Beaulieu had taken 9 miles, and I didn't really fancy walking back to Brockenhurst. I thought about my options, and checked the bus timetables. 
There were no buses going to Brockenhurst.
Well, that settled that. I was walking back.
At this point the wind picked up again, my legs felt weak. I was looking at the map, trying to figure out my route back, but the wind was attacking me from all angles. I needed to get out of the elements.  
Taking a break
I popped into a cafe and realised I had not eaton. No wonder I felt so weak. So I sat myself down in this cute and warm little cafe and got myself a nice creamy latte and had some food.
What a difference this made. I had a good look at the map, planned my walk back to Beaulieu, and with my new found energy, set off on my walk back.
The walk from Beaulieu to Brockenhurst
I generally don't like to go back on myself, but having a good study of the map realised that unless I wanted to take a massive detour, I would have to walk back the same way until I reached that green area by Hatchet pond. 
So, I walked back the way I came until I reached the big green. From this point, I could see a few trails leading across it. What I mean by this is, I could see the trails on the map. I could not see the trails on the ground. 
So I basically just walked in a straight line and hoped for the best. My earlier plan to check the map regularly wasn't an option anymore. You see, my map was on my phone and I was running dangerously low on battery. I no longer had the luxury of checking it regularly, not if I didn't want to run out. 
Walking across marsh
As usual, things started off nice and simple. Nice and dry. But soon I was starting to zigzag around to avoid the very wet bits. The little bit of marsh eventually turned to lots. 
I knew what this meant.
So I did have a quick check on the map, and sure enough, I was way off trail and heading off in the wrong direction.  
I followed the direction back to where the trail should be and this is when I had a revelation.
I can't believe I didn't realise this before.
You see, often a trail will be a slightly sunken bit on the ground. If it rains, this is where water might collect. You see this line of water:
That's the trail! Of course it is. Now all I had to do was follow the lines of water. I felt a little smug having figured this out, but also a little silly that it took me this long.
(Just to clarify, you don't walk in the water itself. But following alongside it means the ground is not as tricky as other areas where there is no trail).
The wild horses
On this marshy bit of green, I passed by lots of grazing horses. I have now seen lots of horses, and at this point I have sort of become oblivious to them. There are so many that you almost don't notice them. Part of the furniture. 
The water trail dissipates as I approach nearer the road. Now, of all the roads I have come across, this was the worst. It took me a good 5 minutes to get across. Cars were coming fast from both directions, finding a gap to cross was not easy. 
A good old leg stretch
A bit further along, I reached a junction. I knew that if I went right, I would stick to the bike trail. Left is the walking trail. After a moment of thinking, I decided to take the walking trail as it is slightly shorter. 
This section was really simple. I was able to walk without having to watch my footing. You can only realise how nice this is when you have spent hours navigating through tricky terrain. Not going anywhere fast because every foot placement has to be exact. 
I'm a pretty fast walker, so it was nice to be able to have a good stretch where I could let loose.
More mud and the king of puddles
Well, it could only last so long, and once I left this trail was greeted with more muddiness.
And then this happened…
It was too wide to do the leg splits thing. On one side was a barbed wire fence, and on the other, a very very spiky bush.
I was not about to put my feet in there, so I body barged by way onto the right side, and into the spiky bush. As it turned out, a barbed wire fence was hidden within the bush. So I carefully put my hand through the spiky bush to grab hold of the wire, taking care not to grab the spiky bit.
Pulling myself across, holding the wire so I didn't fall in, the spikes of the bush were poking through my leggings. I winced a little, not because of that, but because of the ripping sound as the spikes pulled across my very expensive jacket. 
Once out the other end, I pulled a few spiky bits out of me and inspected the situation. 
My jacket (the important thing) was safe, not a single hole. By the sound it was making, I thought it had been ripped to shreds. Well, you really do get what you pay for. It really is outdoor proof. 
I made a mental note to not come this way ever again….A few weeks later I forgot and found myself here when walking from Brockenhurst to Lymington.
The giant puddle was still there.
Walking back into Brockenhurst in the darkness
I continued following the trail, and gradually, things were getting darker. The sun was setting. I was very aware of the fact I was walking through forest in the dark. Like in those horror movies.
And then just before I reached Brockenhurst, I passed a church and graveyard. Of course I did.
On arriving back in Brockenhurst I felt quite content. I had walked a solid amount today, been through some beautiful woodland, and now it was time to eat.
Final note on the walk from Brockenhurst to Beaulieu
When I went and had a shower, I discovered my legs were a bit cut up from the spiky bush. But that's ok. My jacket wasn't harmed, and that's the important thing. Skin will heal. My jacket won't.
More walks in the New Forest
The day after this I did a couple of walks. A short 1.5 mile one around Hollands Wood, which is super simple. A good one if you want a mini forest walk without going too far. I also walked from Brockenhurst to Lyndhurst and back again. I followed the bicycle route, so you could also follow it on a bike. Next time I would like to try that.
When I returned a few weeks later to the New forest I did a bunch more walks. I did a nice 4.5 mile linear walk from Ashurst to Lyndhurst, which I definitely would recommend. If you want to make it longer you could add on a 9ish mile circular walk around Lyndhurst.
Or if you would like to see some of the tallest trees in England, I would recommend you could do the tall tree trail.
If you would like to stick to Brockenhurst then you could try the Brockenhurst village walk.
If you would like to read a summary of lots more walks, you could check out the best walks in the New Forest.
For more walking ideas, you could check out this New Forest website.
Pin it for later: Walk from Brockenhurst to Beaulieu. A long walk in the New Forest