My plan for today was not to walk from Ashurst to Lyndhurst. My plan was to head straight to Lyndhurst and do a couple of walks around there. The thing is, I was staying in Brockenhurst. To get to Lyndhurst I would have to catch a bus. It's not too far, the bus journey is maybe 10 min. However, once I was ready to leave, I checked the bus times and saw I had just missed one and would now have to wait an hour for the next one. 
Seeing as it's winter, and the days are much shorter, I did not want to waste an hour of precious daylight time. So I did a bit of research and saw that there would be a train heading to Ashurst in 20min. I also saw that there are a lot of walking trails connecting Ashurst and Lyndhurst. 
Well, that settled it. I was now going to walk from Ashurst to Lyndhurst. In case you are wondering why I don't just walk to Lyndhurst from Brockenhurst, well, I already did that, so I wanted to try something different. 
What was the walk from Ashurst to Lyndhurst like?
Very very muddy. I would say that a stretch of one of the trails might just be the longest stretch of mud I have walked on so far here in the New Forest. I'm not saying this in a negative way at all because I really enjoyed this walk. A mix of woodland, long grass trails, open marshy fields, the puddle traps I have come to expect from the New Forest, and I even saw a group of deer with huge antlers.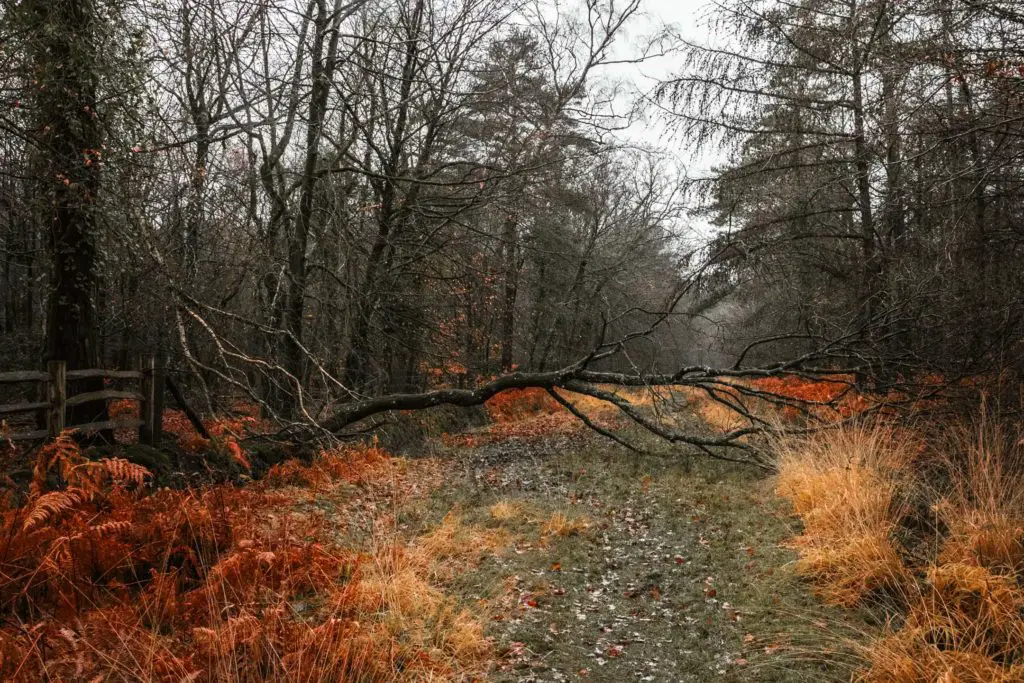 At 4.6 miles, it is one of the shorter walks I have done in the New Forest, and the timing worked out perfectly. I arrived in Lyndhurst around midday, which gave me time to stop for lunch and then head off on another walk (the Lyndhurst Parish walk to be exact).
Logistics for the walk from Ashurst to Lyndhurst
Start: Ashurst train station
Finish: Lyndhurst
How to get there: Ashurst train station can be reached from Brockenhurst station in 7-9 min, or from the other direction it's 10min from Southhampton, and 1h 30min from London Waterloo. If you are already staying in Ashurst or Lyndhurst, bus number 6 connects to two, with a journey time of 6 min.
Distance: 4.6 miles
Terrain: Muddy, muddy and muddy.
Difficulty: Easy
Tips: Wear waterproof footwear 
Map route for the Ashurst to Lyndhurst walk
For Google maps, click on the box in the corner to open in your map app. For AllTrails, click on the trail name. You will need to download the app to follow it.
More walking ideas for the New Forest will be at the end
Arriving at Ashurst
Arriving at Ashurst station from Brockenhurst, the way out is actually over the bridge on the other side. In my laziness, I didn't want to go that way, as to reach my trail I would have to cross back over the tracks anyway.
I decided that there must be a way out on this side. However, after a good hunt along the platform, couldn't find it and had to admit there was only one way out of here. 
If you arrive from the other direction, then you are good. You don't need to go over the bridge.
The way to the trail is actually slightly long winded. Once on the correct platform, you walk along a long path and through a very yellow gate just to get out of the station. Then keep going straight to reach the main road. At the main road, you cross over and walk back in the direction you came in.
Finally you will see New Forest signage where you take a right, to officially begin the walk from Ashurst to Lyndhurst.
The Start of the walk from Ashurst to Lyndhurst
After taking a right down the road, the trail is actually on the green area to the left and very easily missable. If you are following this, then don't worry too much, you can stick to the road.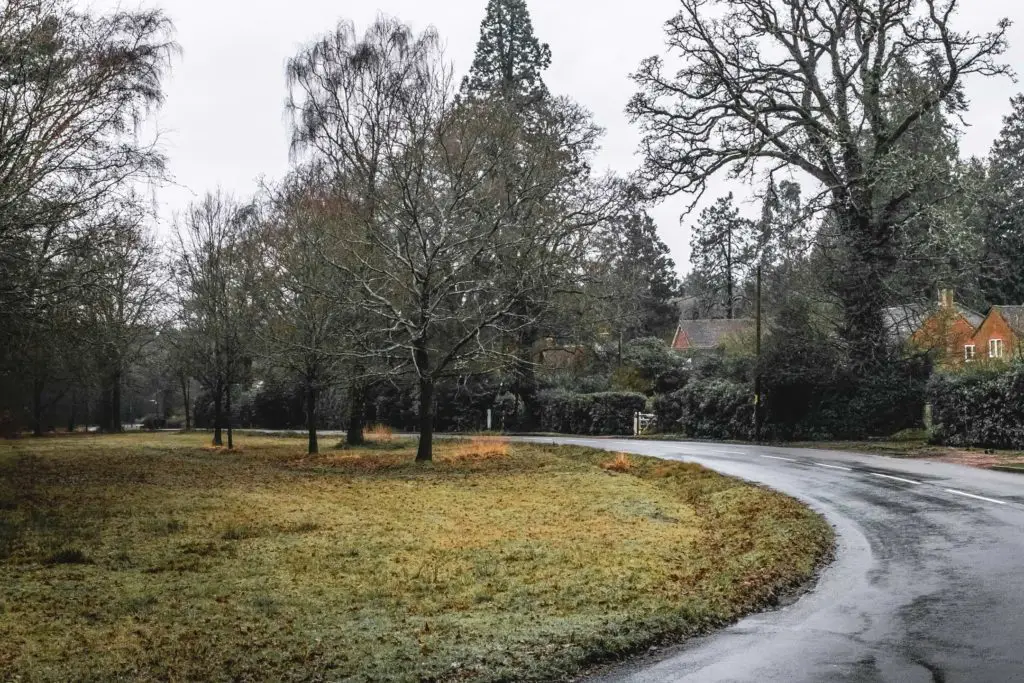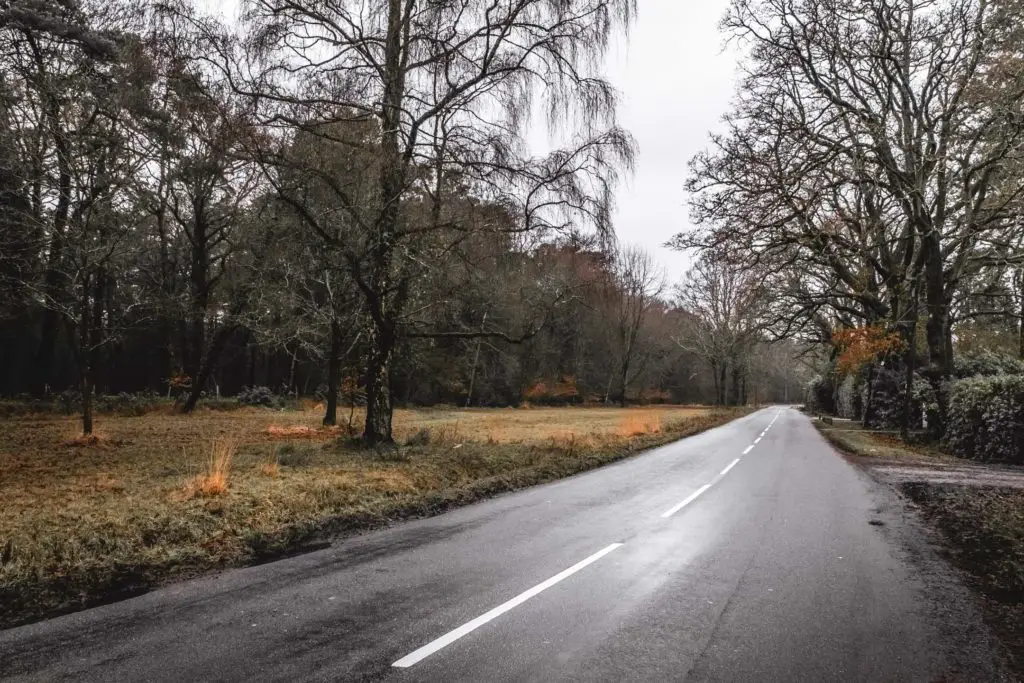 However, make sure to look out for the gate across the green.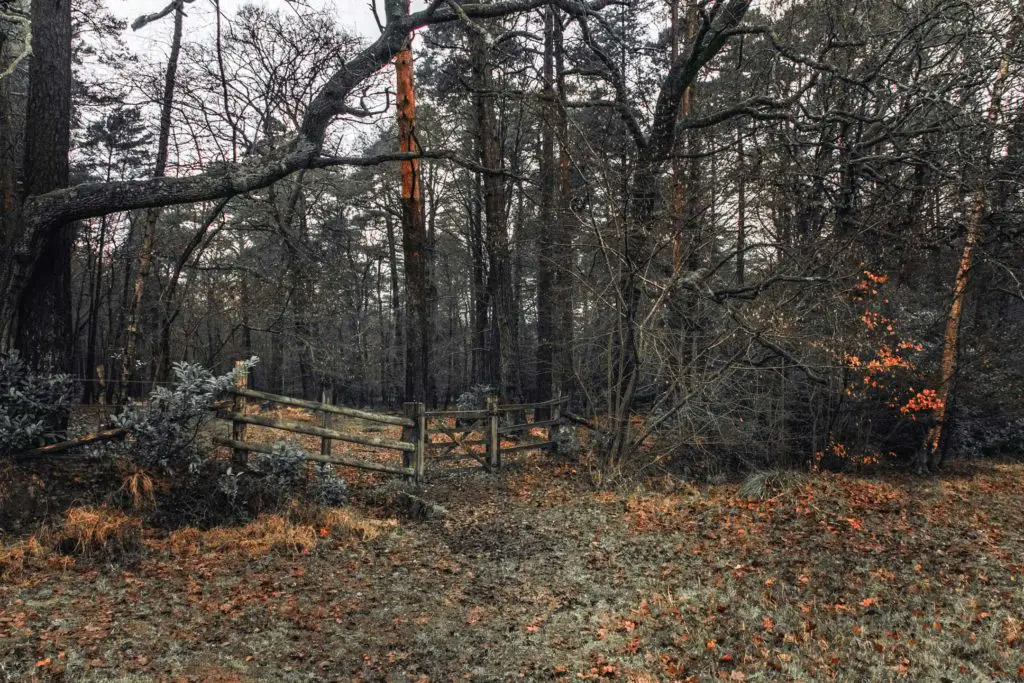 Then go through it.
The walk starts off through woodland, and if you are here during winter, a ground covered in wet leaves and a small amount of mud. To prepare you for what's coming.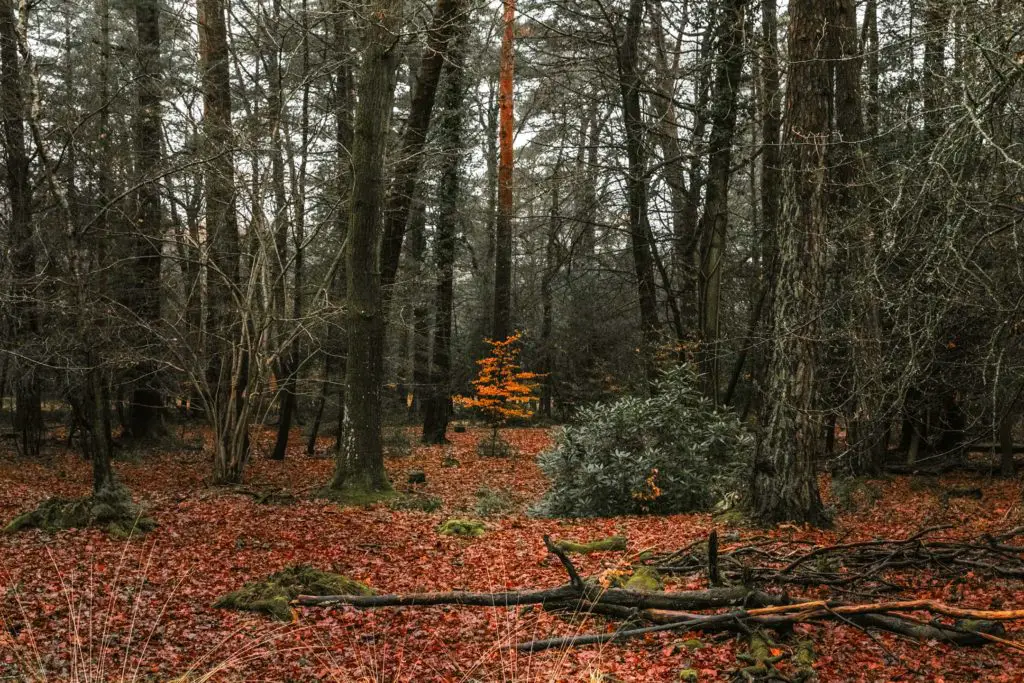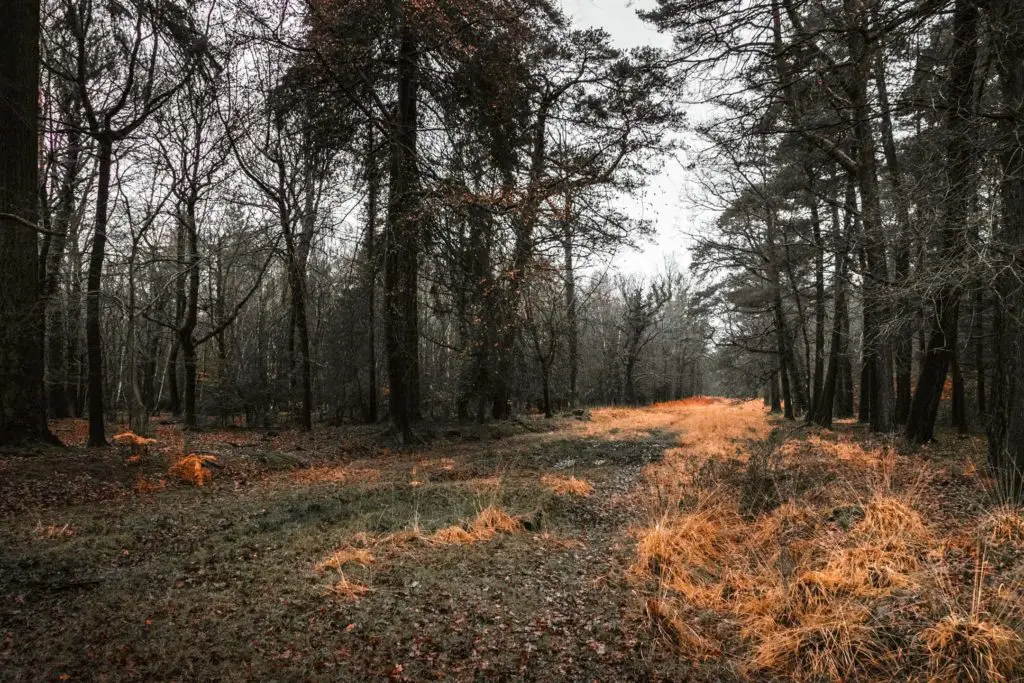 When you see a big trail turning off to the right, go down it. You will now be on a long straight trail with trees either side of it.
Mud, mud and more mud
This is where the mud happens. When I did this walk, things started off light and then before I knew it, my feet were getting sucked right into the stuff. I would hop around trying to find the less deep bits but every so often got it wrong, and my foot would go so deep that the mud was so close to going over the top of my boots.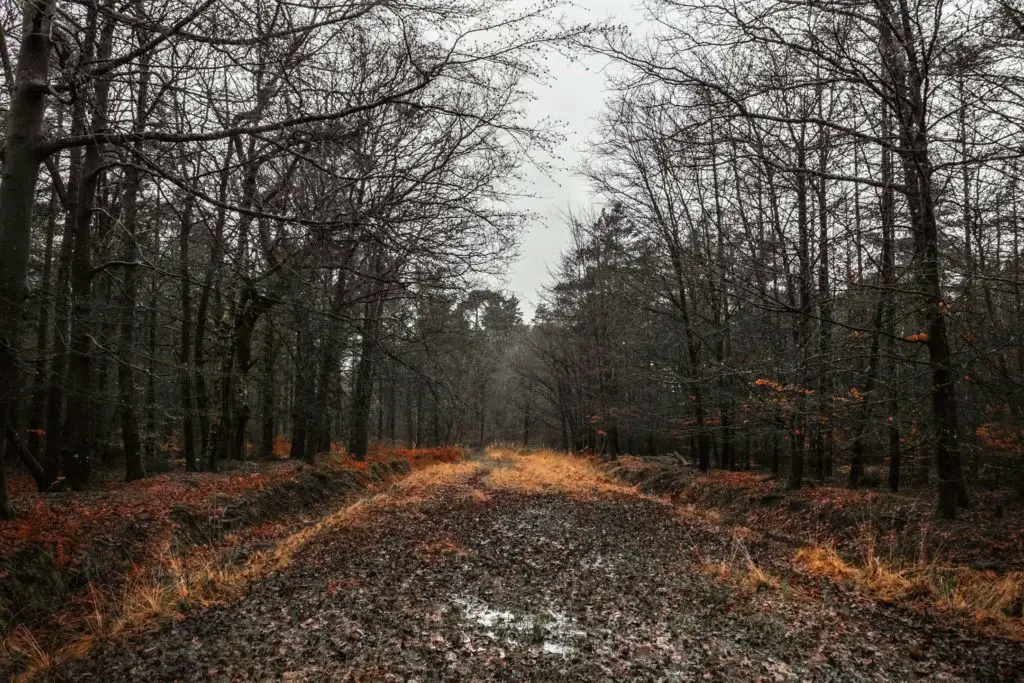 If you come and walk here in trainers….good luck.
Trying to stick to the edges also meant walking through long wet grass. I had decided to wear shorts on this walk, and as the long wet grass was brushing against my legs, I suddenly remembered something.
A thought about ticks
The New Forest is well known as a tick haven. Not just any ticks. The ones which carry Lime disease. I made a mental note to check my legs thoroughly when I got back that night. To make sure I hadn't been ticked, or if I had, to remove them before Lime disease happens.
Somewhere along the mud track, there is a gate leading to a trail running parallel to this one. I'm not sure where it goes, or if it is possible to take it as an alternative to the mud land. I couldn't actually see this trail on my map. The mystery trail. I did consider it for a moment, but couldn't be sure I wouldn't go completely wrong, so I decided to pretend it wasn't there.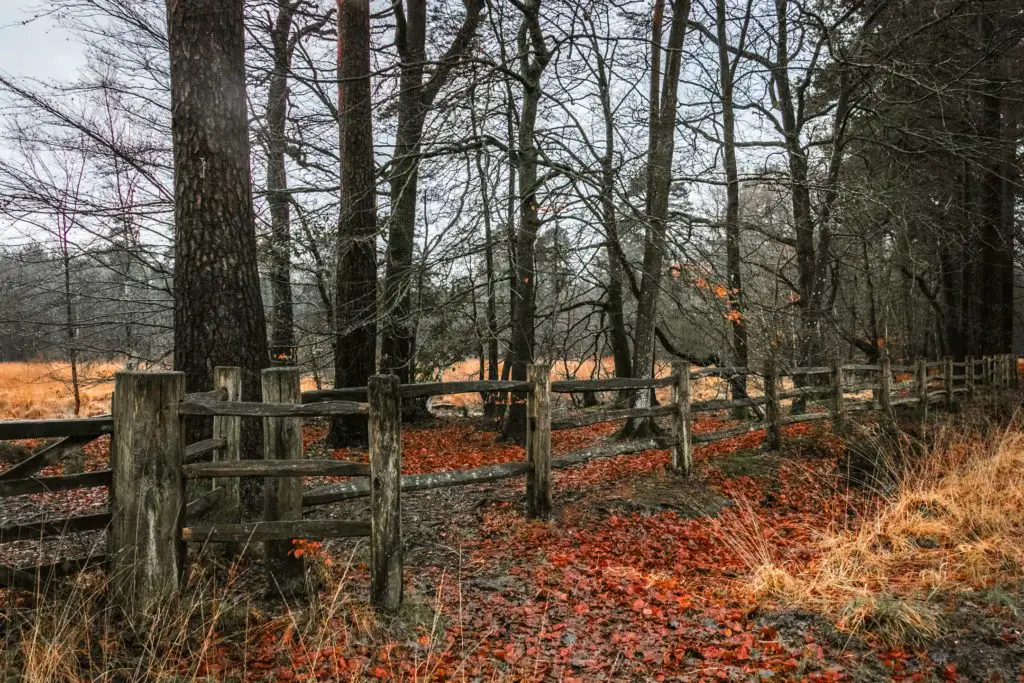 My hiking boots were holding up pretty well. The waterproof boots which I have discovered on other walks are selectively waterproof. So far my feet were still dry. After yesterday, where they kept my feet dry from large amounts of water, and now today, I was slowly starting to trust them. I began to trust them so much that as I made my way along the mud trail of all mud trails, I stopped trying to be careful and by the end of it was stomping my way through (well, sort of).
The grass trail
At the end of the mud trail you will have a couple of options. Turn left onto a bike trail. A nice dry bike trail. Or cross over back onto the walking trail and possibly more wet and mud.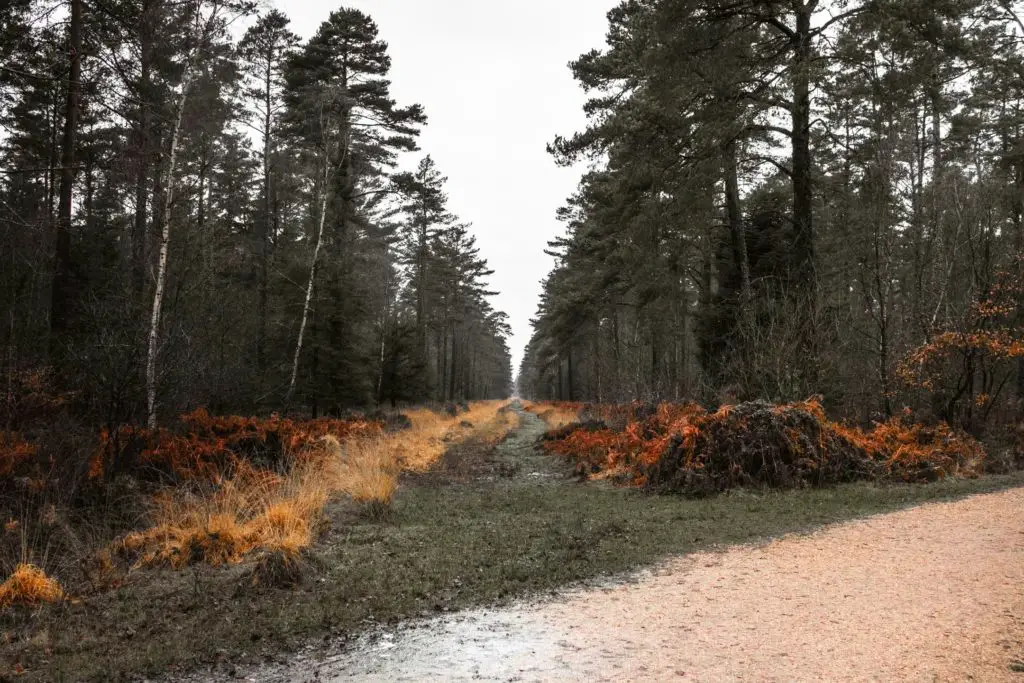 Well, as I was now trusting my boots I decided to stick with the walking trail. It looked so lovely, one long straight grass trail with trees neatly on either side. 
This section turned out to be pretty dry, and as there were no people around, I decided it was time for a photo shoot. Need some proof that I was there (……. Instagram).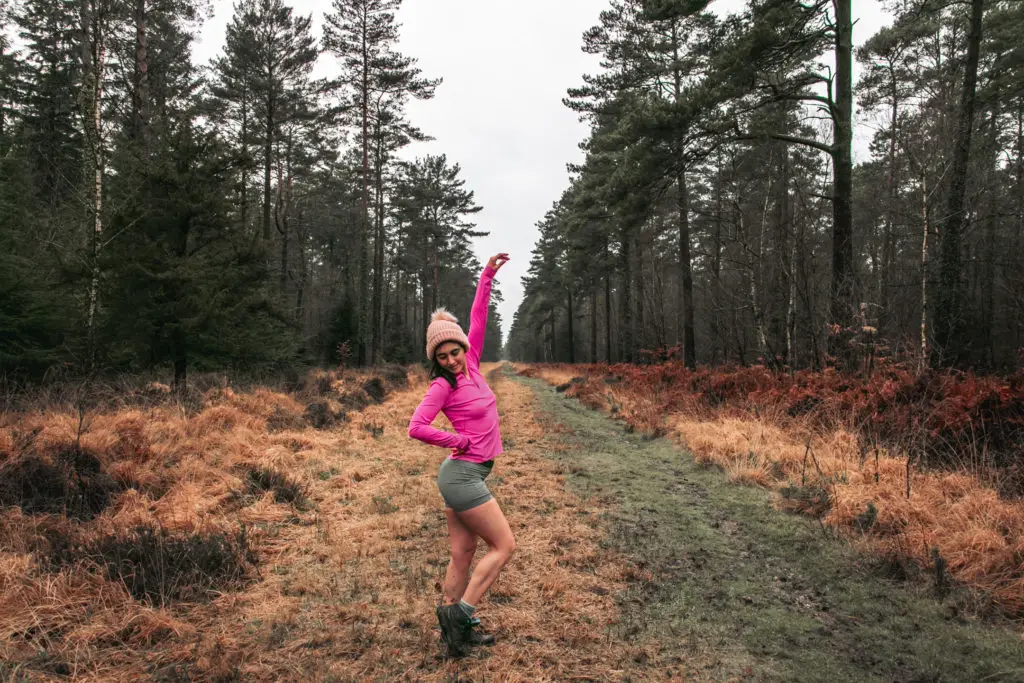 Apart from the short section at the beginning, I had found this walk to be so easy to navigate. One straight line trail after another. Not in a boring way. The terrain made sure it wasn't boring. It was really nice not having to check my map regularly and be able to just enjoy my surroundings.
The marshy field and the half way point between Ashurst and Lyndhurst
This trail continues straight for a while as it crosses over a few gravel trails until it reaches a gate leading to a marshy field. From here there are a few trail options, but I decided to continue on straight. I had been walking surrounded by trees for a while and now fancied some openness.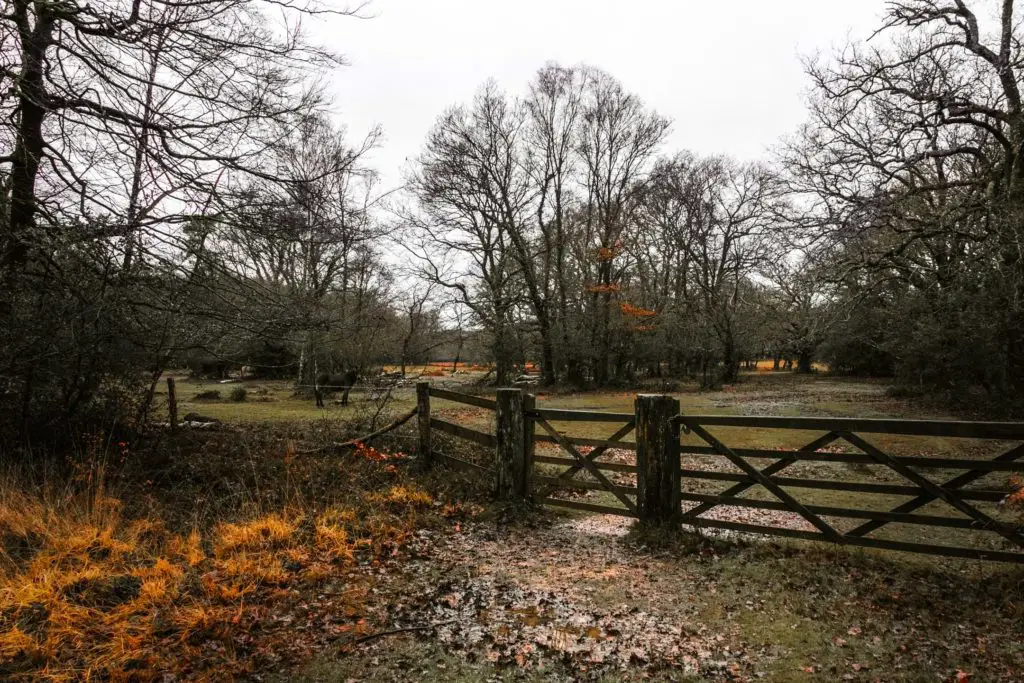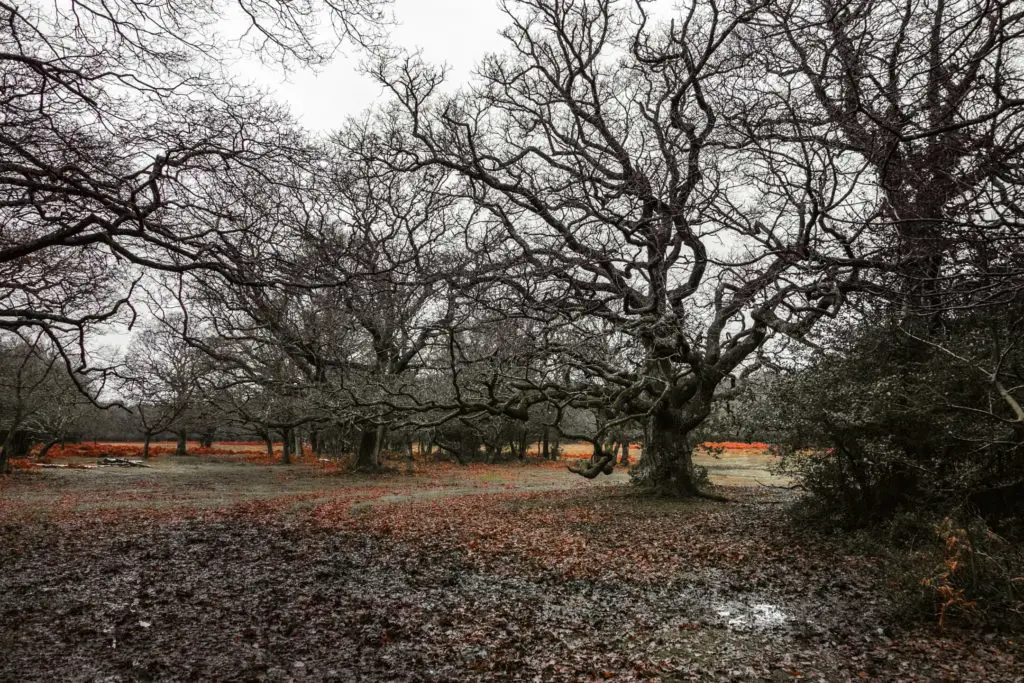 As usual, this field was very wet and marshy. Although it turned out to be a blessing in disguise. The water was doing a good job of cleaning the mud off my boots.
The scary deer with big antlers
Then I suddenly saw a group of deer up ahead. With antlers. I realised that I had never seen deer with antlers before. I've seen lots of deer. But not the ones with antlers. Actually I lie. I have seen deer antlers but I was always with other people so there was never any fear. Now, all alone, with the scary looking deer, I suddenly became a little nervous. This was new territory for me. I knew nothing about these animals except that those big antlers could do some damage. 
(If you know me, you know I have a fear of animals in fields (except sheep. Sheep are ok). Stems from a childhood experience)
They then proceeded as a group to walk in the other direction. Looking away from me. I felt a little safer now that they couldn't see me, so I continued to make my way along. 
But my guard was up. 
I had been doing a lot of walking in the forest alone, but for the first time I was hearing things. Noises coming from the woods. I started to think about wild beasts that might appear and hunt me. I remembered as a child living in Somerset and the rumours of the beast of Exmoor. Google it and you will see.
We lived in a house with lots of land, and I was always scared to be out in it at night…
Incase the beast came for me. 
I knew I was being irrational, we really don't have any big man eating animals here in England, so I tried to block out these thoughts.
Then I noticed up ahead, the deer had stopped. The ones with the big antlers. There was a group of them standing right in my path and I wasn't sure how near was safe to get.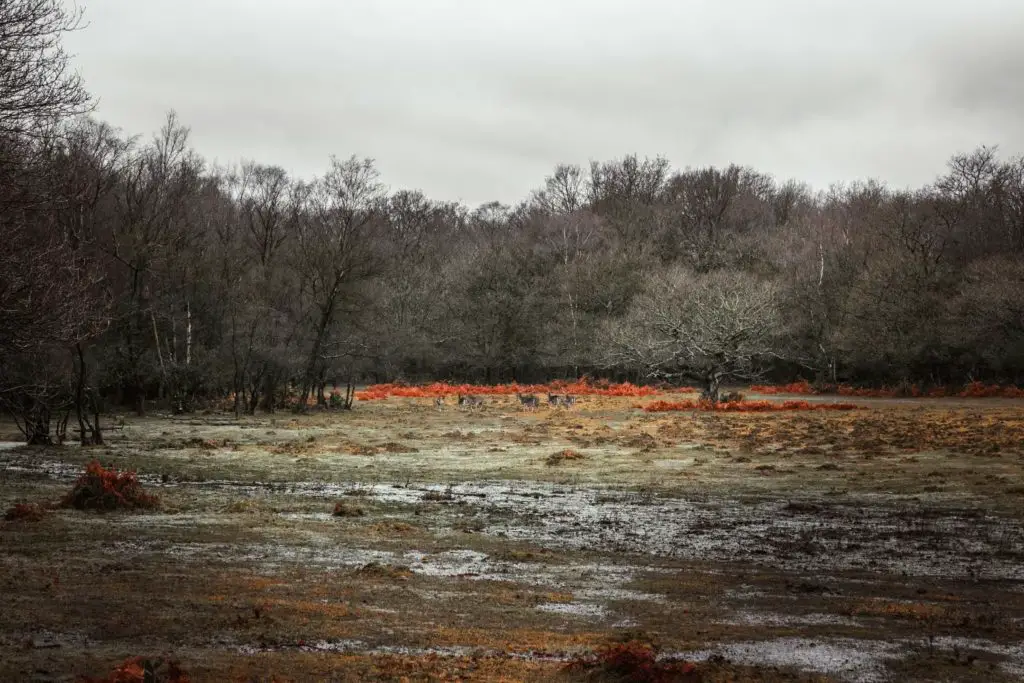 So I whipped out my phone to do some google research on deer with antlers. I discovered that they can be very aggressive during mating season which is in Autumn. Well, its winter now, but what if they haven't finished mating?
I decided I didn't want to go near them just in case. I could see on my map there was another trail going through the woods, however, in reality, I couldn't see anything. The woods seemed to be just lots of trees with no clear way through. In another situation, I might have just walked through them, but my thoughts returned to the (imaginary) beast. What if the beast was lurking in there. 
I couldn't bring myself to enter the woods, and the deer were not moving.
So I waited. 
I was waiting far enough back that the deer were almost out of site, but I could swear they were looking at me. 
After a bit of a wait, they slowly one by one walked off in the other direction. 
Panic over.
I continued to walk ahead, keeping my eyes on them to make sure they didn't change their minds and come after me.
The water trap
The thing is, I had been so focused the deer and the 'beast' that I hadn't realised I was walking on the wrong side of a stream of water. I found a spot that I might be able to jump, but it wasn't a guarantee that I would make it, so I made my way back to try and find a crossing. It only got wider the further back I went.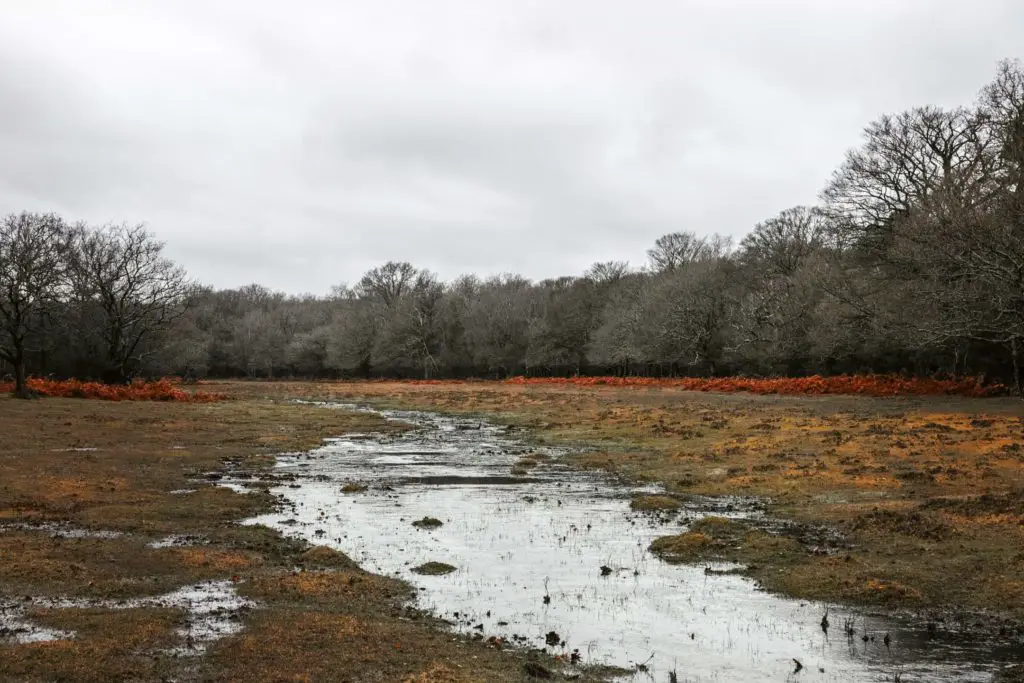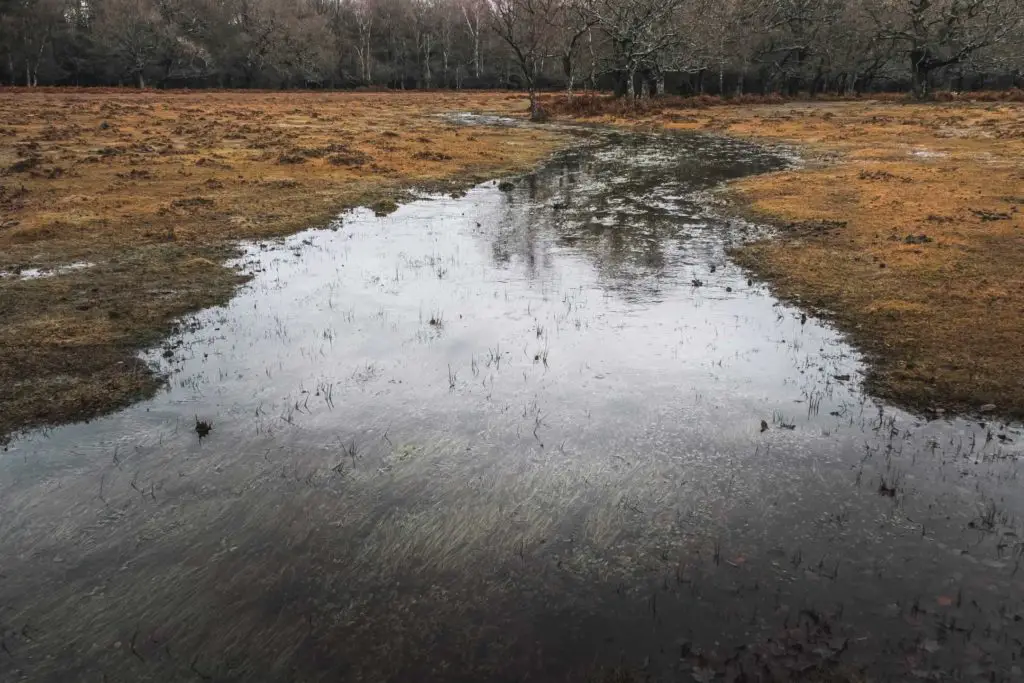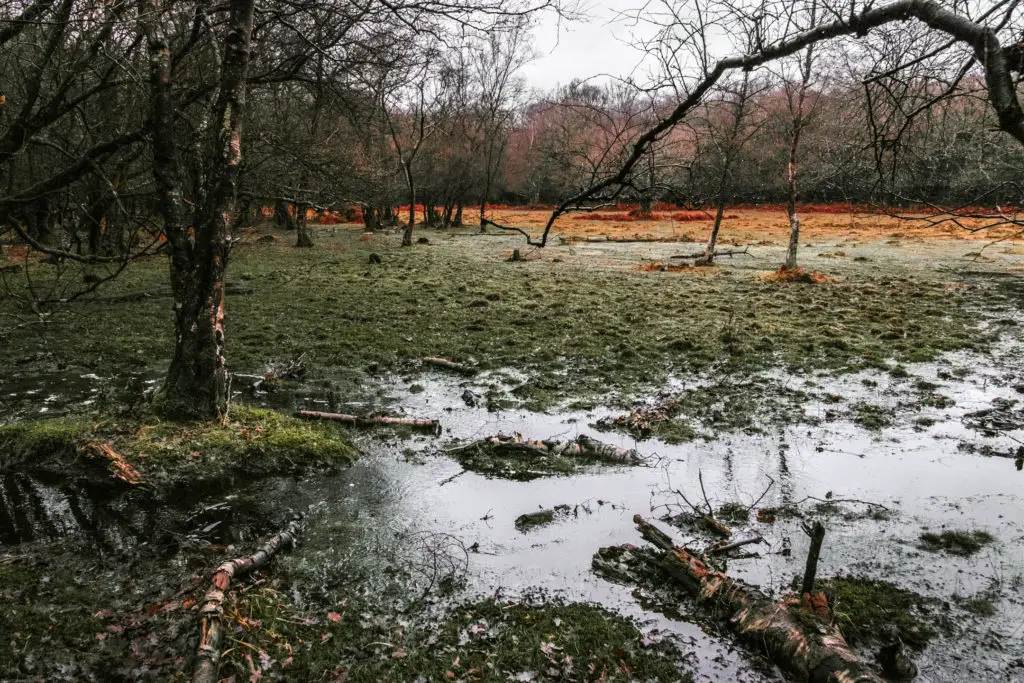 It was becoming apparent that that first spot I found was my best option (other than walking way back to where I entered the field).
So I went went back, said a prayer, and jumped. I'm pleased to say I made it across without landing in the water.
The mystery white thing
The field then merges into woodland and I noticed up ahead, through the trees, a white structure. Looked like a house. The trail was heading in that direction and I wondered who might live there.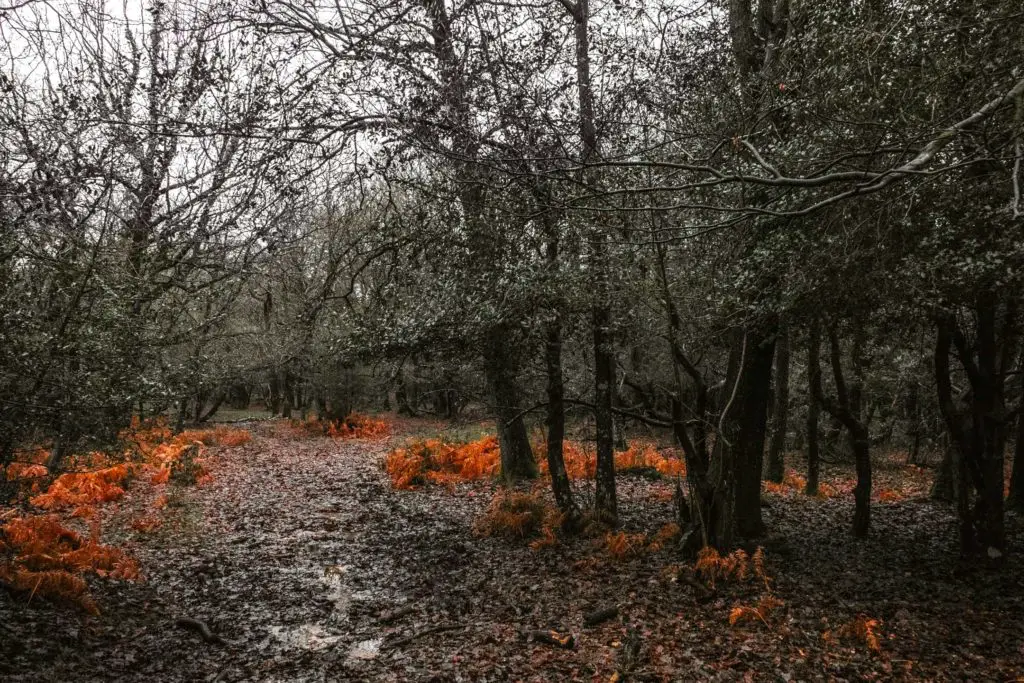 As I got closer, the white structure looked quite big, so I decided it wasn't a house and some sort of large tent or marquee. 
I continued to think about what it might be.
Then as the trees upended up more, I realise it wasn't any of those things.
It was the sky.
In my defence, it was just so white.
The field
The next field is very large with an easy trail to follow, and only a little bit muddy. Keeping to the trail you will reach a crossroads with a tree.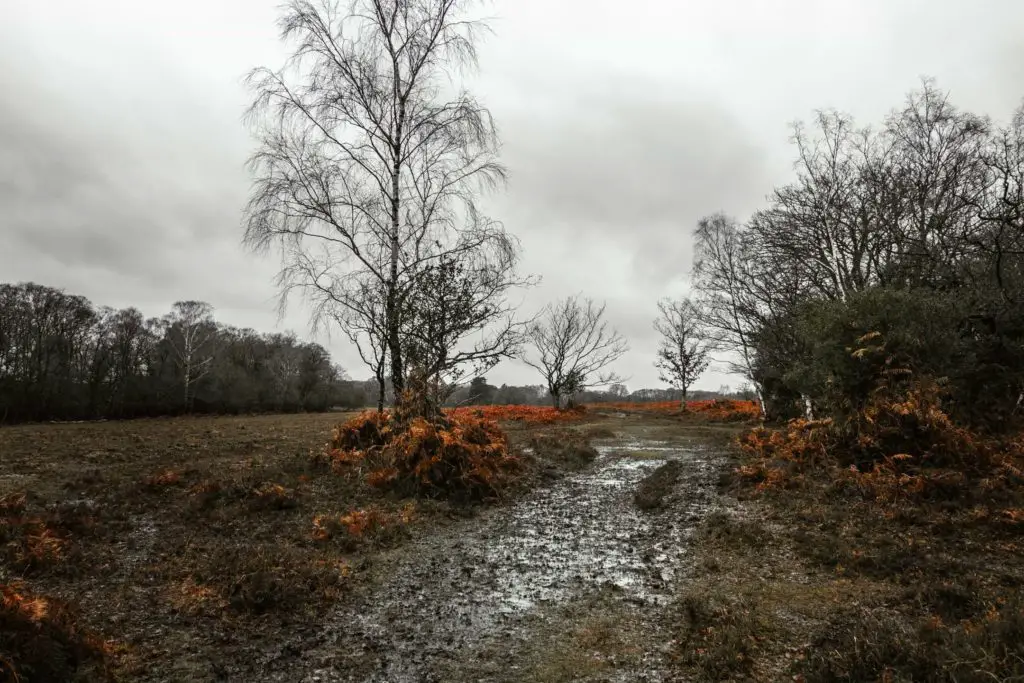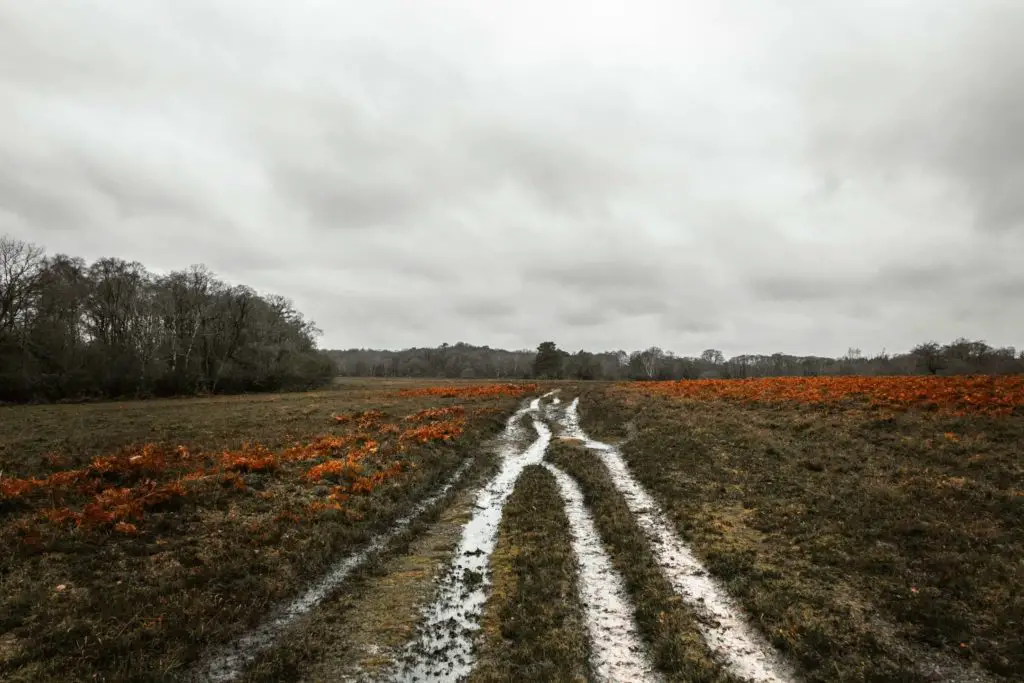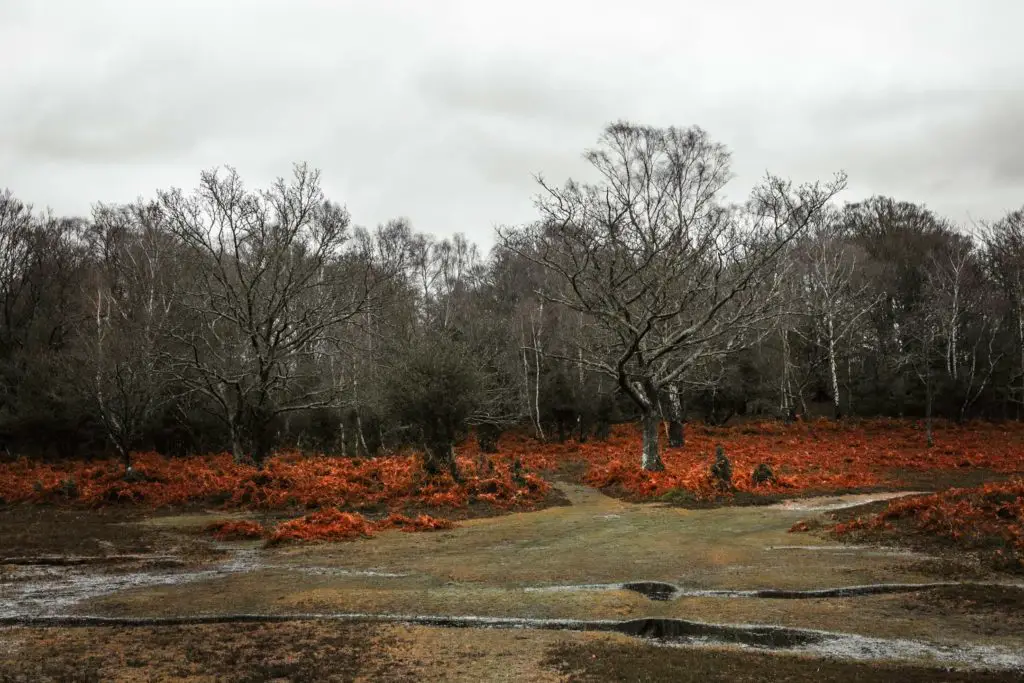 Take a right at the tree and it will lead you into some more woodland for a brief moment before opening up onto a golf course.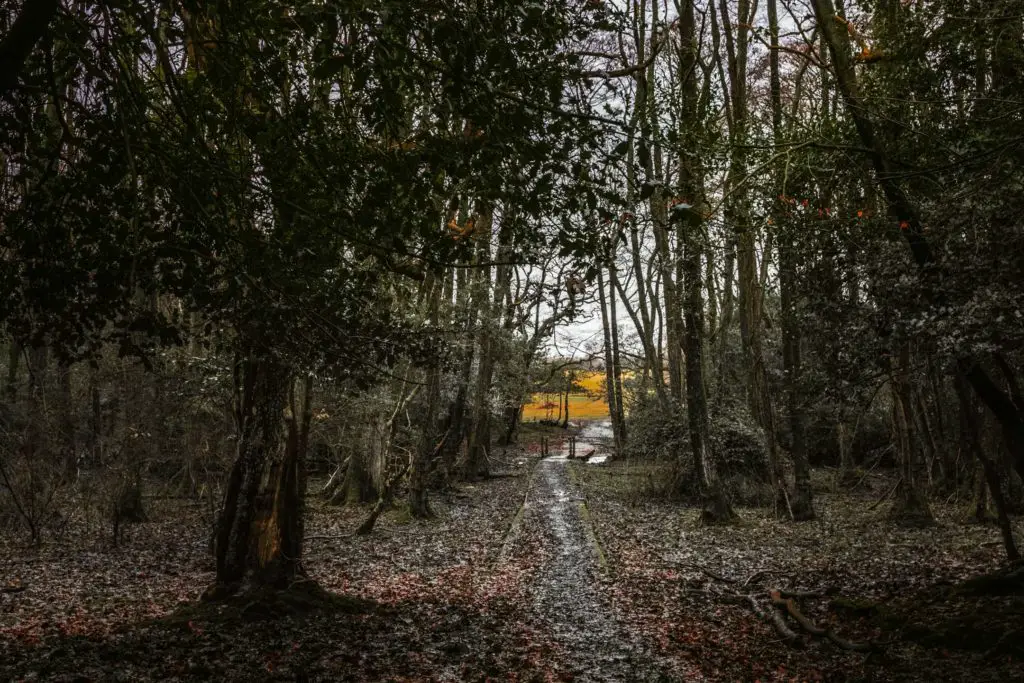 Once you reach the golf course you will no longer be alone, so maybe take this last opportunity to go fo a bush wee. Well, I did anyway. 
The golf course
Golf courses are commonplace on walking trails in England. I have always wondered about this. The fact that walking trails often take you through golf courses. What if you get hit in the head?
Walking through this golf course there isn't really a visible trail, so it's easy to veer off track (you can see I did if you are following my map). 
Every so often I would hear the sound of a ball being struck and just hoped the ball wasn't heading to my head.
The end of the walk from Ashurst to Lyndhurst
Once safely through the golf course, and most likely past a few more horses/ponies, you will reach the village of Lyndhurst, your destination.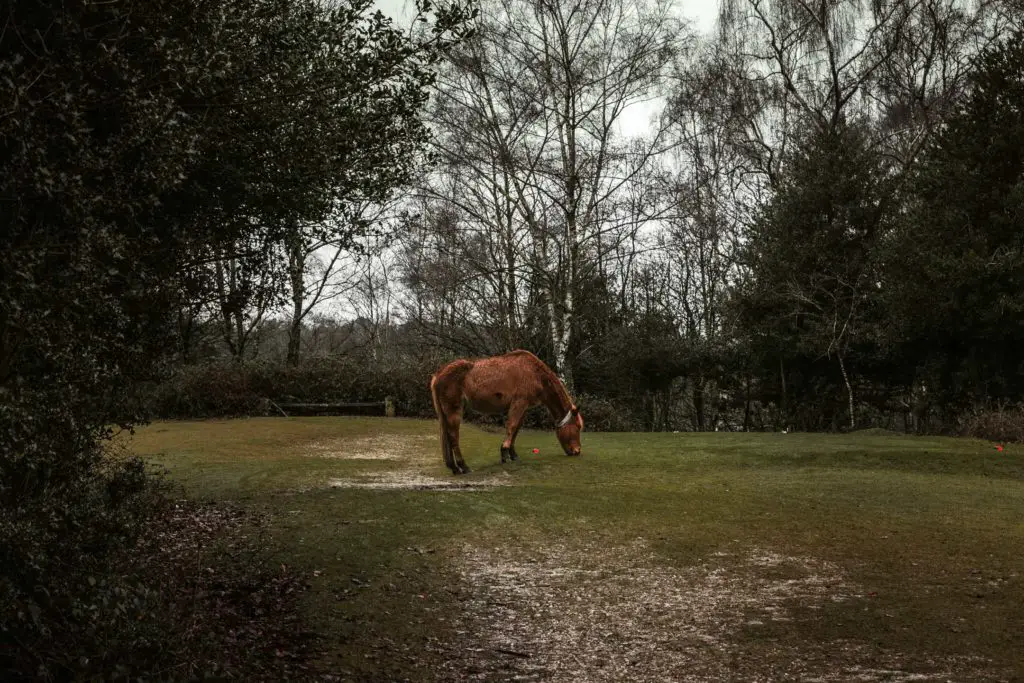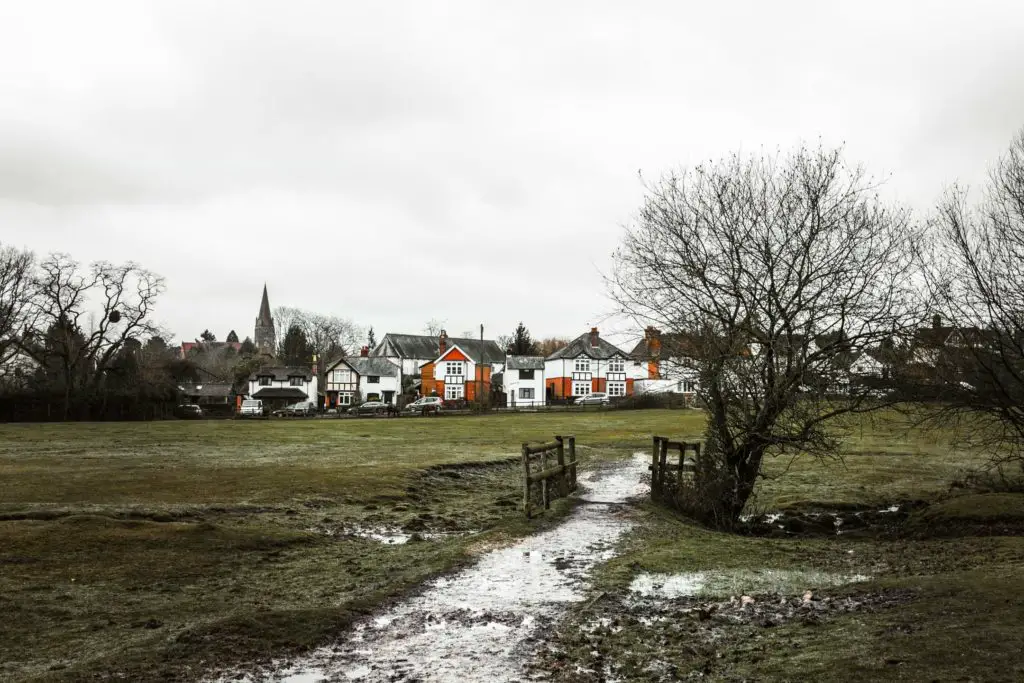 The walk from Ashurst to Lyndhurst doesn't take too long to complete making it perfect as a morning walk, getting you back in time for a good lunch.
More local walks
If staying in Lyndhurst then you could do the Lyndhurst Parish walk. A 10mile circular around Lyndhurst. Or you could try a circular Lyndhurst Brockenhurst walk. I did this one starting from Brockenhurst, but as its a circular, it doesn't matter where you start.
I have also written a little summary of all the walks from Lyndhurst here.
If you are in Brockenhurst, then you could try the Brockenhurst village walk which is similar in length. For something a bit longer, I would recommend the walk to the tall trees trail which is home to some of the tallest trees in England. Or if you want to do something super long, you could try this 17mile Brockenhurst, Beaulieu circular walk.
If you aren't sure which one to pick, check out the 9 best walks in the New Forest. This summarises a bunch of them which should make it easier to choose.
For more walking ideas you could check out the New Forest website.
Pin it for later: How to walk from Ashurst to Lyndhurst in the New Forest