This walk takes you along the cliffy coastal path from Dartmouth, past some gorgeous beach coves before looping back around through Little Dartmouth.
We had actually first attempted this walk 2 days prior and set off from Dartmouth along the coastal path before I came down in sudden unbearable cramping pain. I couldn't go on. We had managed to make it to Sugary Cove at least, but I knew there was no way I was leaving Dartmouth before getting to do this walk.
Which brings us today.
Walk to Dartmouth Castle?
This walk first takes you past/or in the vicinity of Dartmouth Castle. As we had already walked to the Castle the day before, we decided to switch it up a bit. So, this exact trail doesn't take you to the castle itself. If you would like to include the castle in your walk however, have a look at the route I marked for the Dartmouth Sugary Cove walk. Then you can join this trail after leaving the castle.
Logistics for the Little Dartmouth Coastal walk
Start/Finish: Dartmouth town. We started from the main road leading south out of Dartmouth. Newcomen road. As it's a circular, you can also start from Little Dartmouth car park (see below).
How to get there: Dartmouth is a tricky one. Trains don't come here (see tips if you don't have a car). If coming by car then you can park in the main car park in town, or if that's full, there is parking in Little Dartmouth car park out of town. You just pick up the trail from there instead. Parking or in fact driving in Dartmouth is very tight. You will know what I mean when you go there.
Distance: 5.3miles/8.6km
Other options: I will let you know of two places where you can shorten the walk.
Time: 2-3 hours depending on how much you stop and if you sit down to eat.
Difficulty: Medium. For the most part I wouldn't say this one is too difficult, however, there are a few steep hills. In between it's pretty easy.
Terrain: Road, grass, dirt trail (sometimes very narrow), gravel.
Total elevation gain gain: 278m 
Highest point: 120m
Amenities: Car park in Dartmouth, at Dartmouth Castle and Little Dartmouth. Everything a town provides (food/shops/toilets) in Dartmouth. Along the Little Dartmouth walk there are plenty of benches to sit on.
Tips for the Little Dartmouth coastal walk
As it's along the coastline, wear sunscreen, even if it's overcast. Trust me.
Hiking boots aren't a necessity, but I would recommend them anyway. Don't worry if you don't have any.
If you don't have a car, the number 92 bus will get you here from Totnes which has a train station on the Great Western Railway line. Journey time is about 40min. Alternatively, if you are in the Brixham(no.18)/Paignton(no.120)/Torquay area, you can get a bus to Kingswear, where you can catch a boat across the water.
Map for the Little Dartmouth Coastal walk
Click on the top box to open in your Google Maps.
For more, you can read my guide on the best walks around Dartmouth. Alternatively, you can see a quick look for walks from Dartmouth, with guide links at the end of the post.
The start of the walk to Dartmouth Castle(ish)
We started this walk around lunch time, so grabbed some food from town and set off. Our plan was to stop at some point along the walk to Little Dartmouth to eat. We didn't know where exactly, but knew that the right moment would present itself to us.
Our walk to Little Dartmouth started off past the beautiful and colourful houses to our right with the Dart River to our left. This was now our fifth time walking along here and the view across the water wasn't any less impressive. 
Following the road as it curved around the cute beach cove which I still don't know the name of (someone help me out here), we made our way up hill. 
At the split in the road, we took the middle bit. You should see a dirt trail leading through the split. Up here we had more of that gorgeous river view. 
NEVER GETS OLD.
Once this bit of trail ended and we reached the road again, we took the next dirt trail directly ahead to the right, which took us uphill under a sort of magical feeling tree tunnel.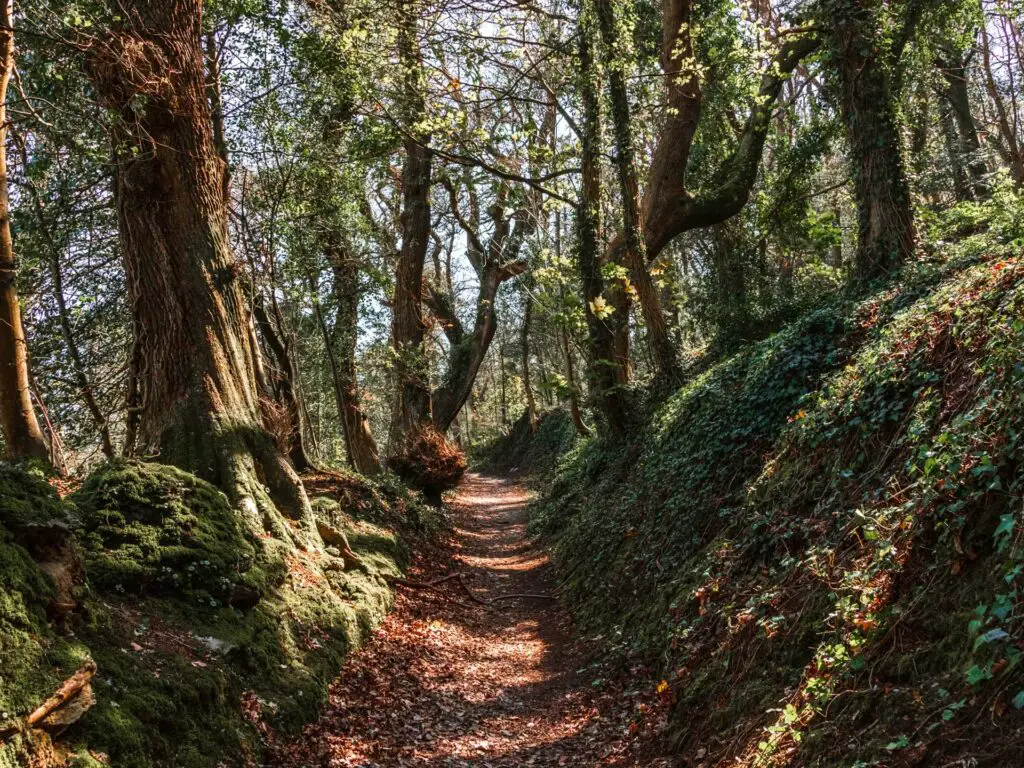 At the top, taking a left, we got a glimpse down to Dartmouth Castle before walking through the open gate. This is where you would join the walk if you took the other route to Dartmouth Castle.
Walk from Dartmouth Castle past Sugary Cove
From here we decided to take the immediate dirt trail to the right which took us semi-steeply uphill past what looked like some abandoned sheds.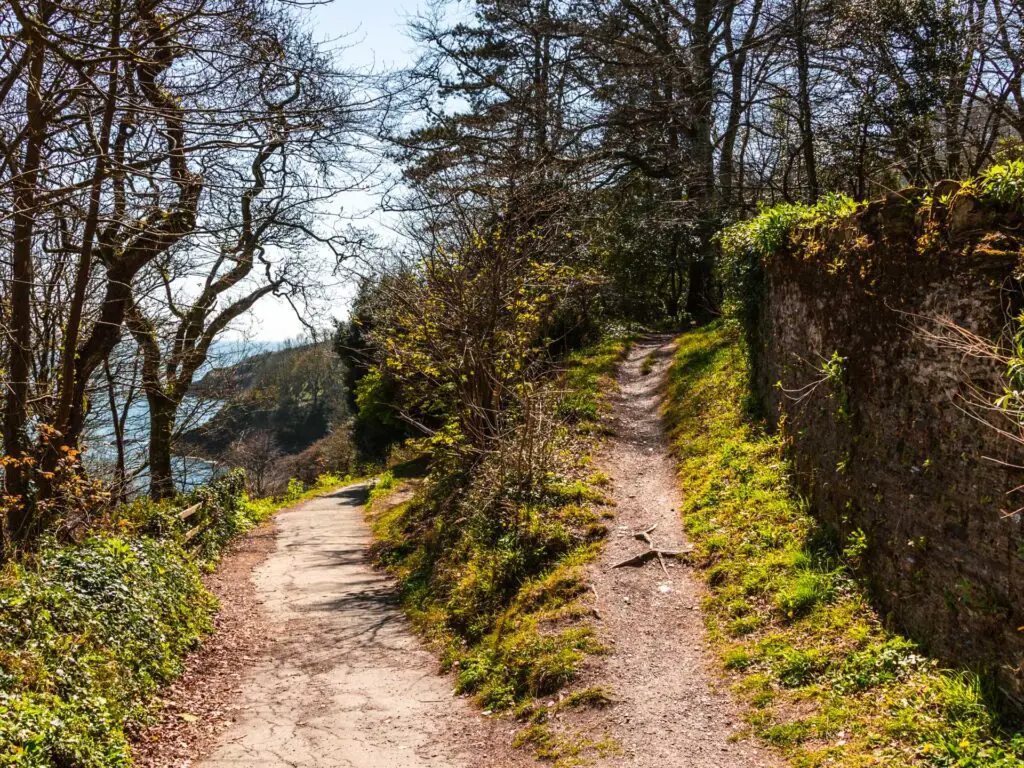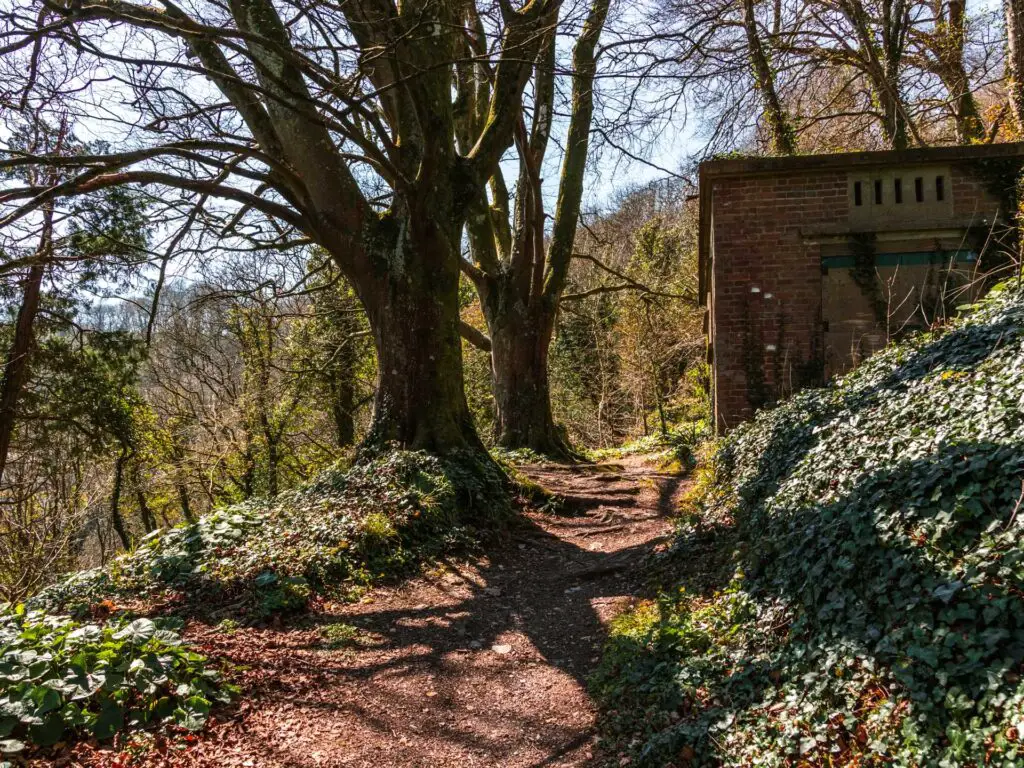 At the next trail split, if you go left, you can get down to Sugary Cove. As we had already been there, we took the right which took us very steeply uphill and back onto the road.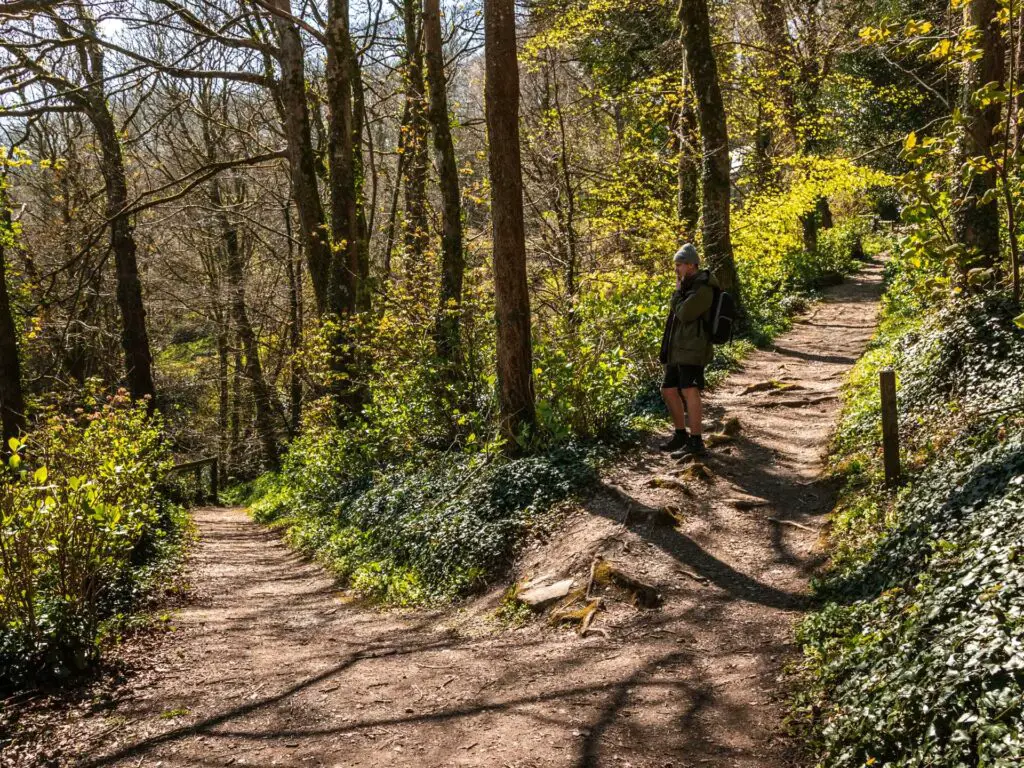 You will then walk left on the road and reach a building at the road split with coast past signage. It will point up the road to Little Dartmouth, and down the trail, also to Little Dartmouth. This is basically where the loop begins so you can go either way. I told Ollie we will walk to Little Dartmouth on the left trail to get us straight onto the coast path. He wasn't so convinced and wanted to go right….along the easy road.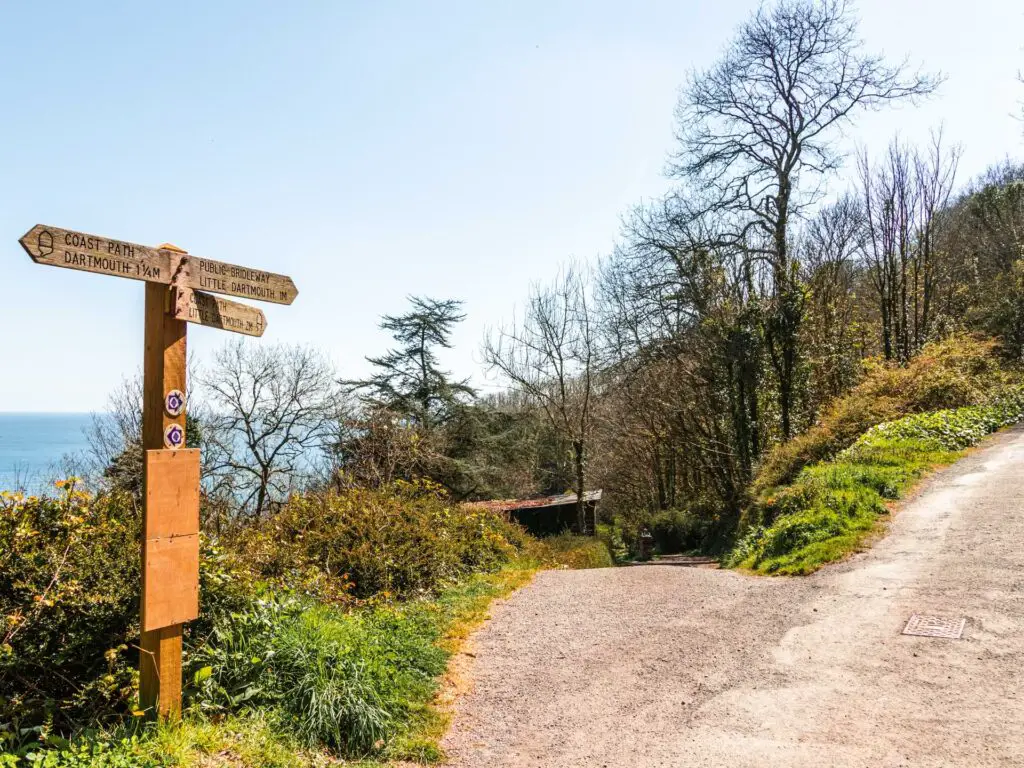 I always win, so we went left.
From here we walked downhill. Very downhill. I told Ollie it would be OK, also knowing we would be going up and down a lot. Thats just how coast paths go.
Along this path we got lovely views to our left of the peninsular across the water….and the Daymark. Oh the Daymark. Ollie had wanted to go there to shoot the milky way, but with limited time here it would have been tricky. Seeing it there across the water started to make him reconsider. The view of the Daymark would continue to taunt him for much of this walk.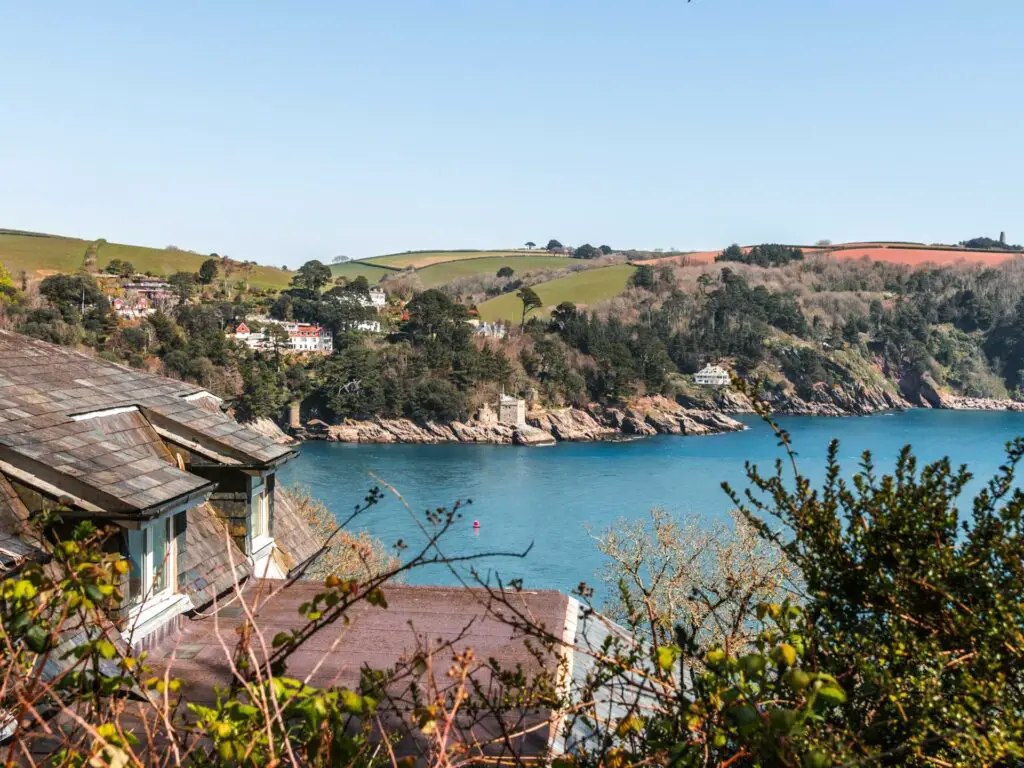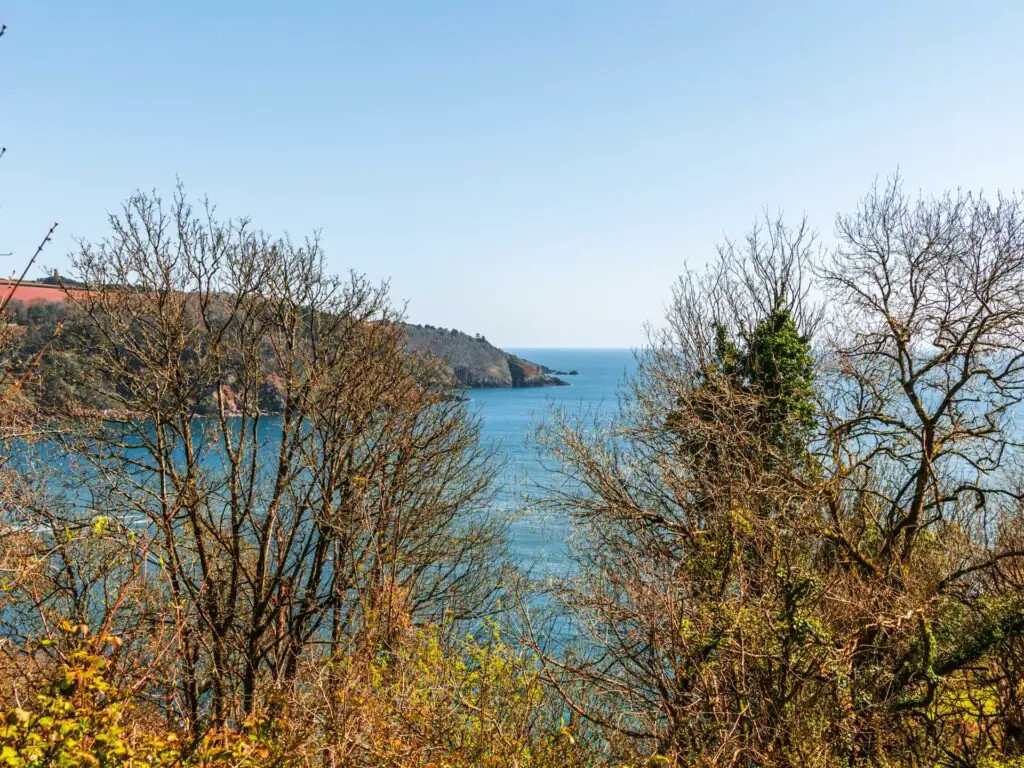 We continued the walk along the winding dirt trail, under trees and into the open until we reached a split.
The right trail split wasn't in our plan. It wasn't even marked on the map. So we decided to take it.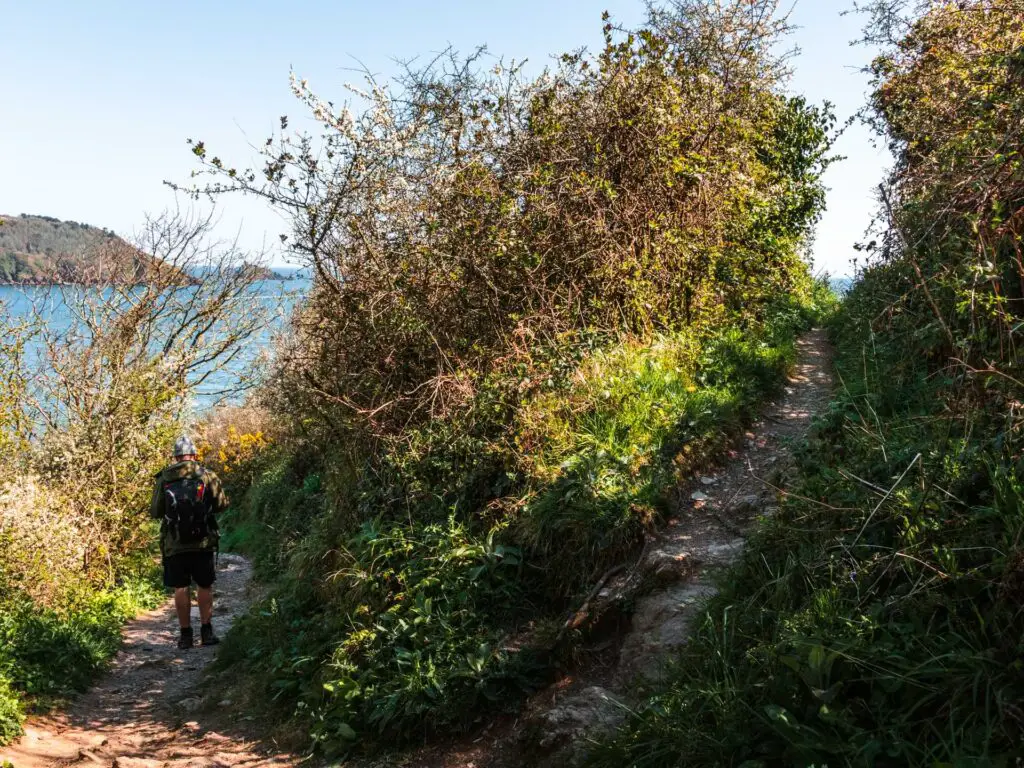 This led us to a little spot with a bench and views across the water.  This was it. This was the lunch spot we knew would come.
Walk back onto the coast path
After enjoying the view (and the food) we walked back onto the coastal path and continued heading on to Little Dartmouth. This bit straight after our lunch spot was pretty cool. The coast path trail became sort of rocky as it lead downhill, to a great viewpoint back towards Dartmouth.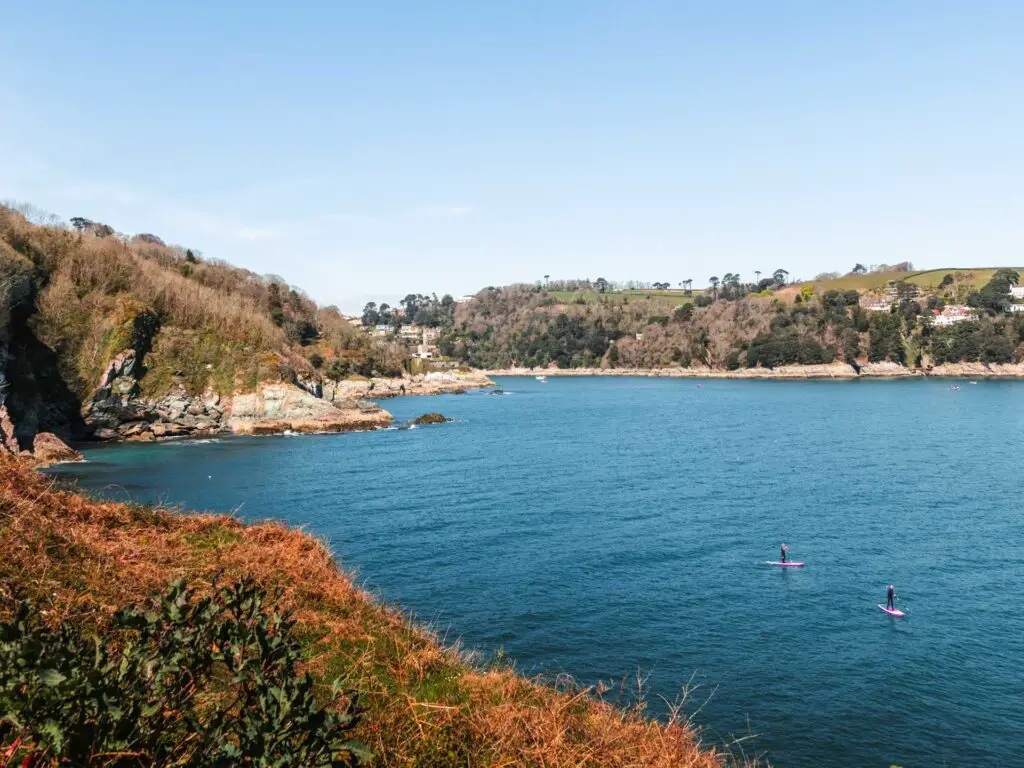 From here, the trail narrowed a little as it took us around the corner where we got views ahead to the rocky, cliffy coastline and a glimpse of Compass Cove up ahead.
Walk towards Compass Cove and the first big uphill
There is the option to walk down to Compass Cove. When you reach the coast path signpost, there will be a trail that takes you down to it. We decided not to go down as we were pretty happy with the view from up here. Plus, going down would mean an even bigger uphill. 
Yes. The uphill. From this point it's up. 
Continue the walk along the coastal path to Little Dartmouth or loop back
When you walk along this uphill trail, you do have the option to loop back if you have had enough. Just keep going straight up until you hit the road, then turn right to walk back into Dartmouth. If you want more, then read on.
We took the trail that lead us up and to the left which became a mix of openness and trees with fantastic views back along the coast path we just came from.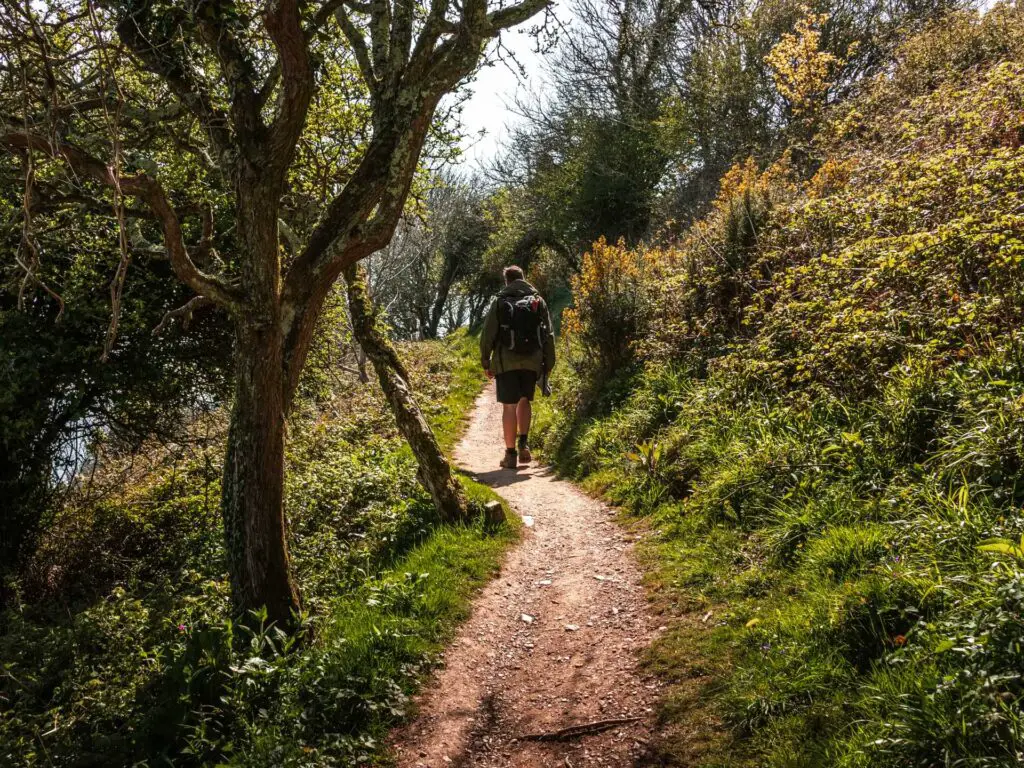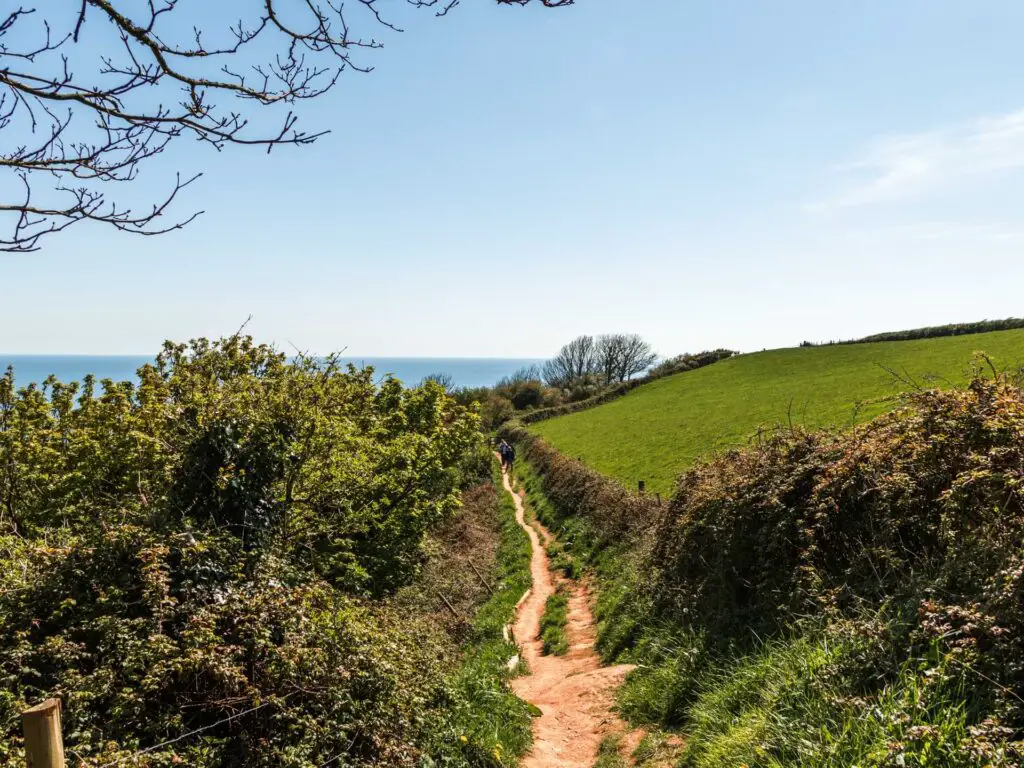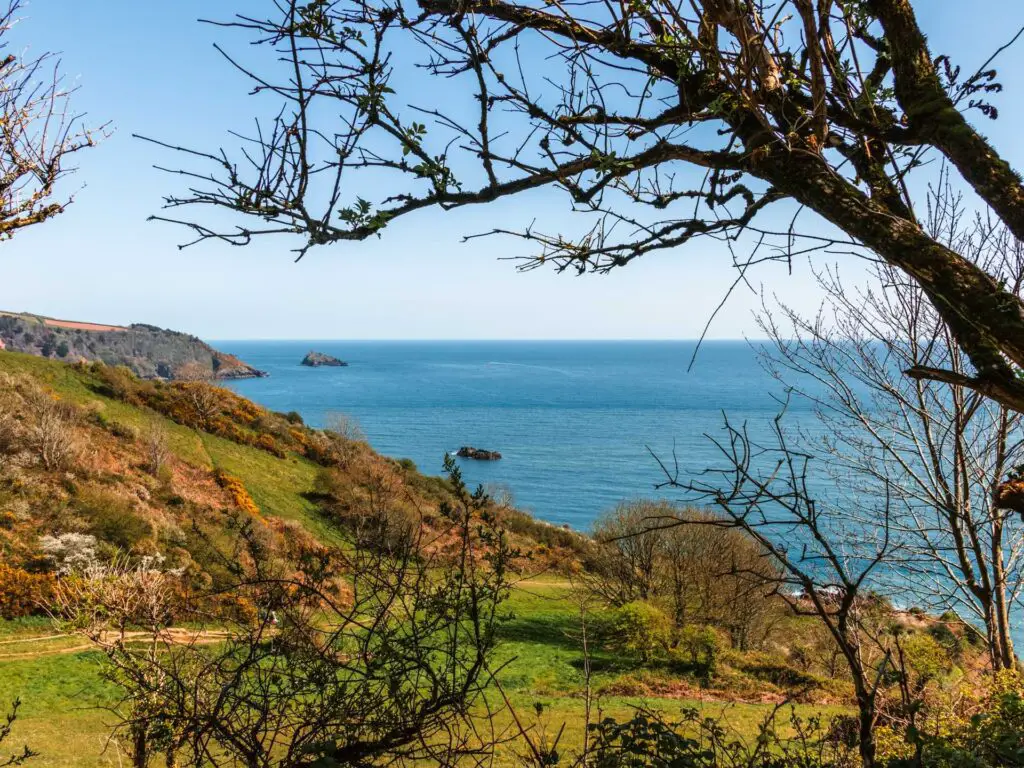 Views off Willow Cove and Shinglehill cove 
Continuing along, we got a view up ahead of another bit of gorgeous rocky cliffyness. This bit of rock belongs to Willow Cove and Shinglehill Cove. You will get a much better view once you reach the windblown tree.
We stopped for a bit at the windblown tree for Ollie….photographers and their lonely windblown trees.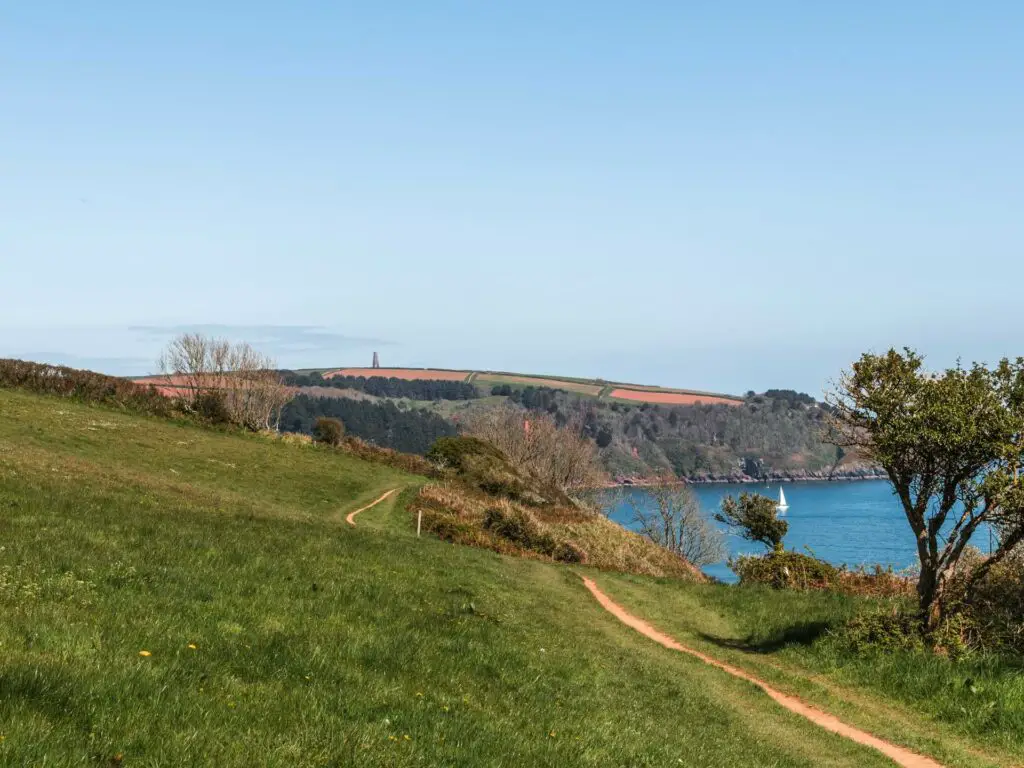 Another option to shorten the walk to little Dartmouth, or keep going
Further along there is another coast path signpost. Take the right if you want to loop back, or take the left to continue the coast path walk. At this point I highly recommend the left. After coming this far, you might as well finish it. Plus the next bit of trail is quite pretty.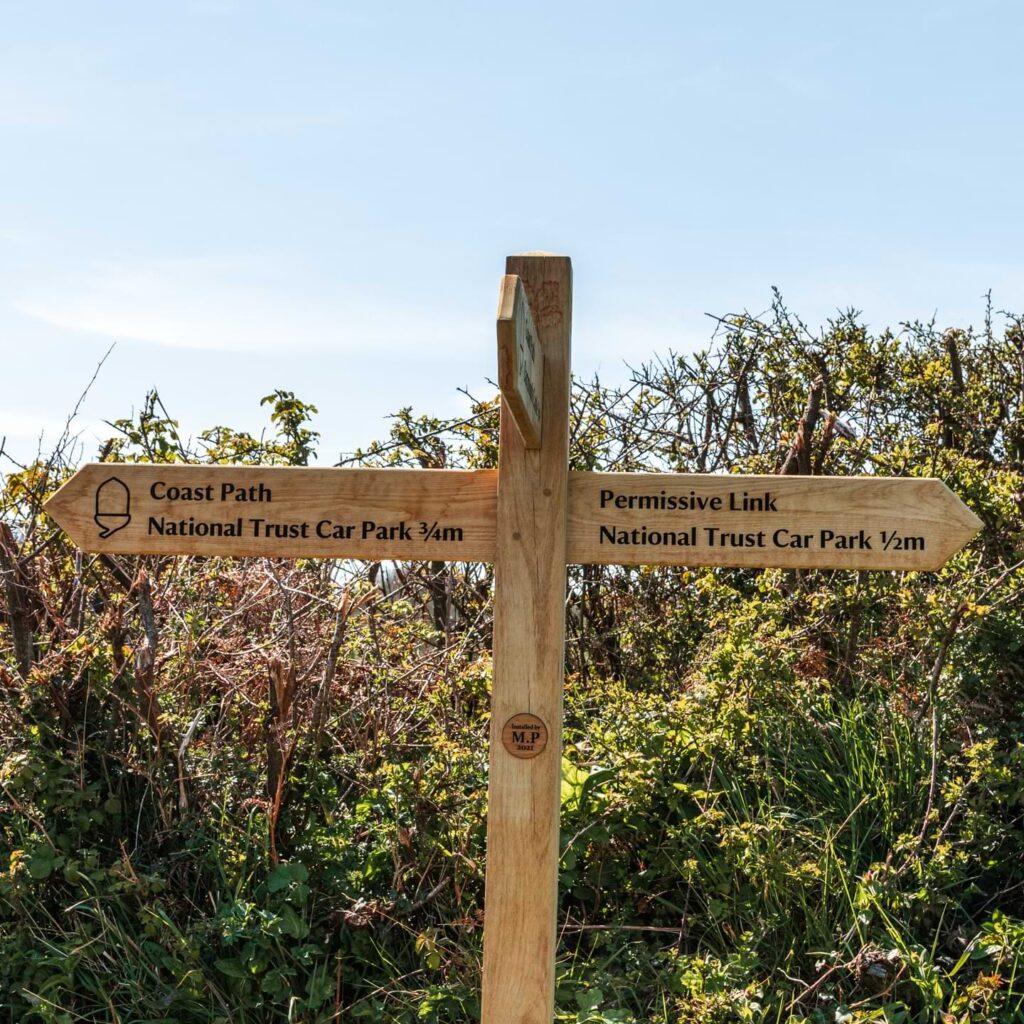 Anyway, taking the left trail, it sort of snaked its way downhill a little and split into little branches all following the same direction, with a view to the left of the rocky coastline. 
Walk the next big uphill to Little Dartmouth
At the end through the gate, I was sort of expecting some grand coastline reveal. Instead it was a giant bit of green.
As we walked a bit further along, the coastline did appear. It was alright.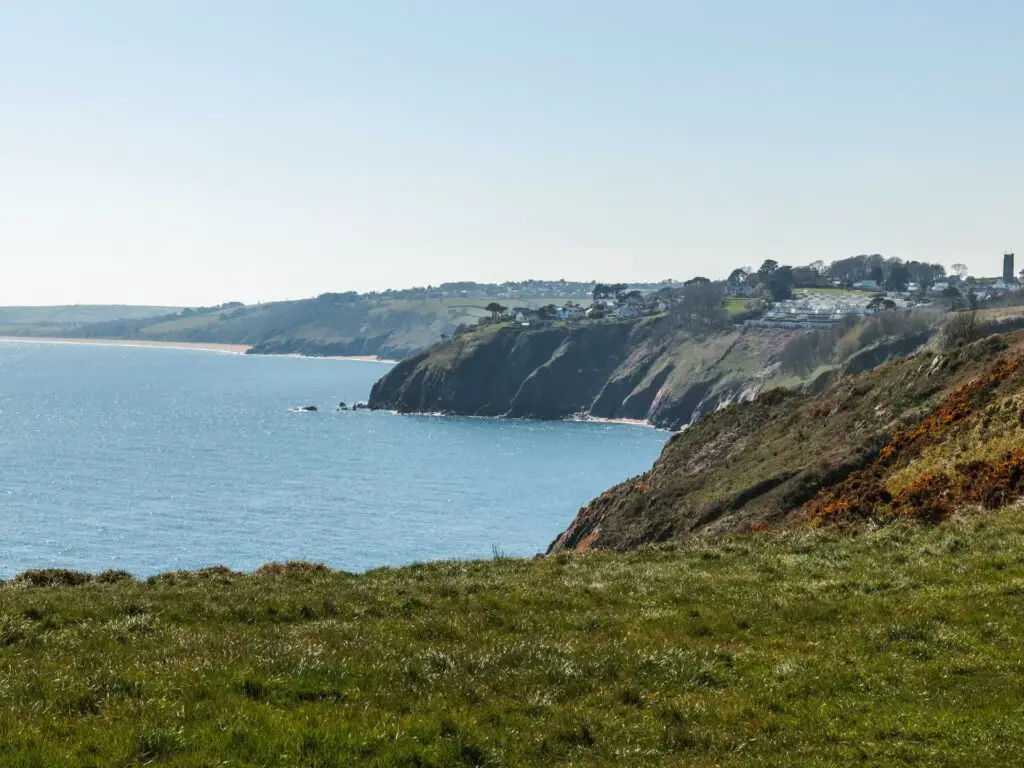 Then there is a sharp uphill following along with the fence to our right. I assured Ollie this was the last uphill. 
At the top we got a cool view to Stoke Flemming, the next town along. There is also a well placed bench here to sit and admire the view. I made Ollie sit here so I could video it.
At the top of this hill, the trail turns left, and past the bench, turns right where it became more of a gravel road leading uphill and into Little Dartmouth car Park.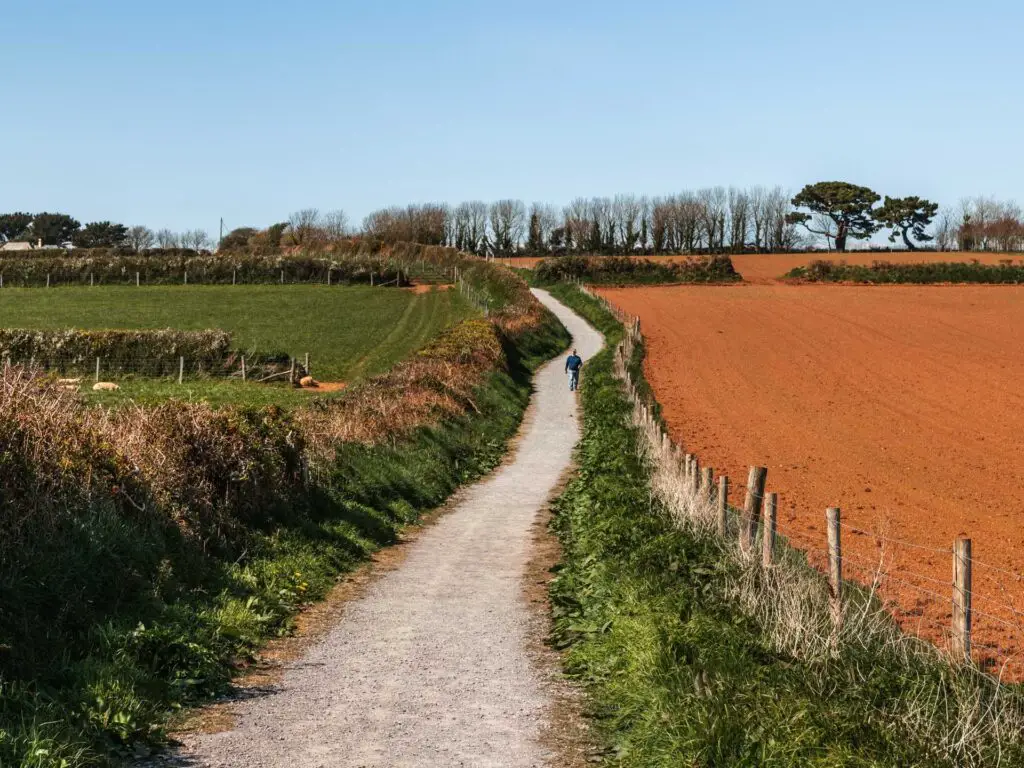 The walk back to Dartmouth
Through the car park, we turned right at the signpost pointing to Dartmouth where the trail become….easy. It wasn't quite as exciting as what we had got here on. Not necessarily bad, just not the same as walking right along the coast path with its ups and downs and ruggedness and far reaching cliffy views. There were views though. Ahead in the distance we got the Daymark which continued to taunt Ollie (it was enough that he did end up going there to shoot the milky way). And to the right, peaking through the bushes and sometimes gates, views down to the sea and coastline.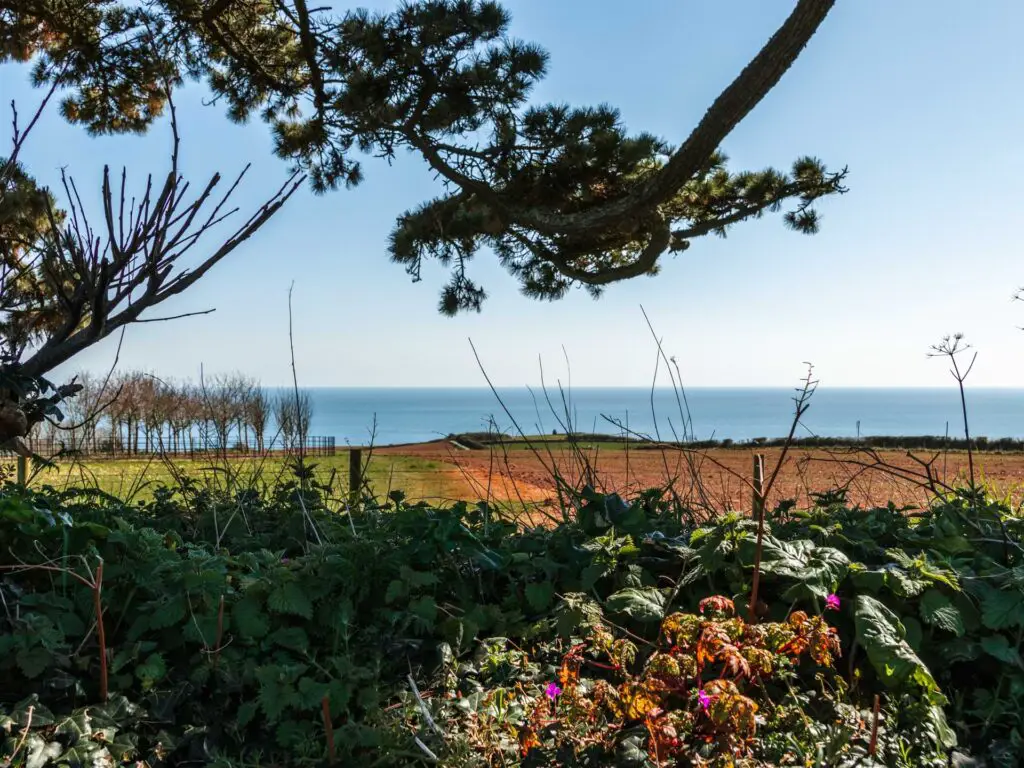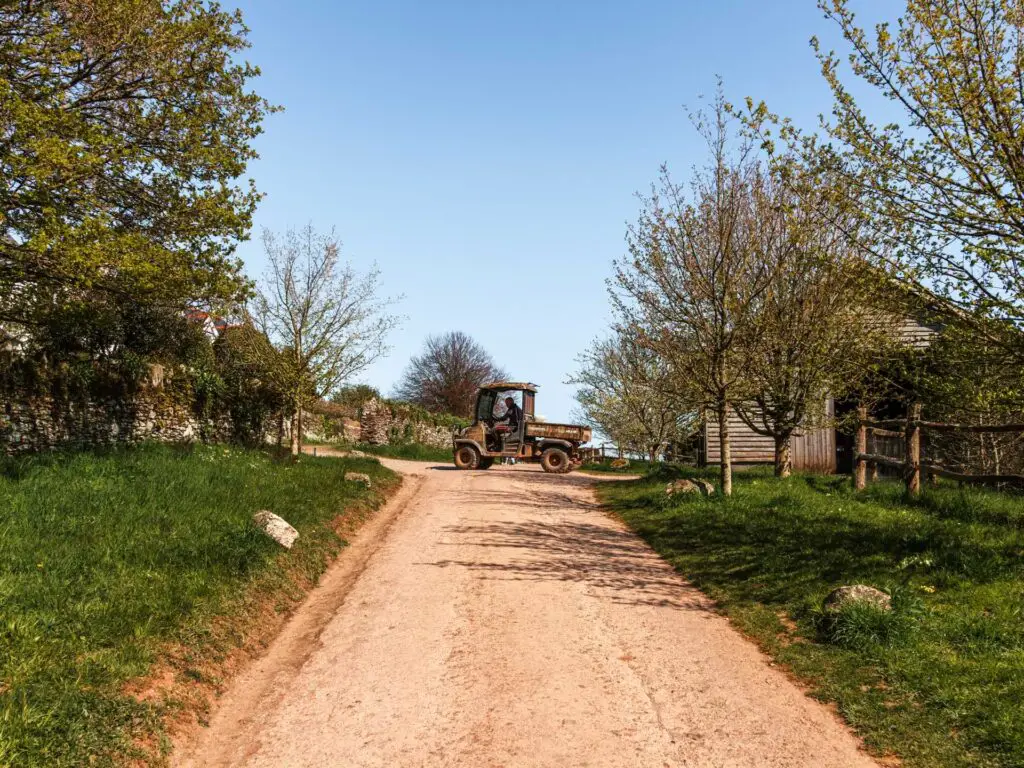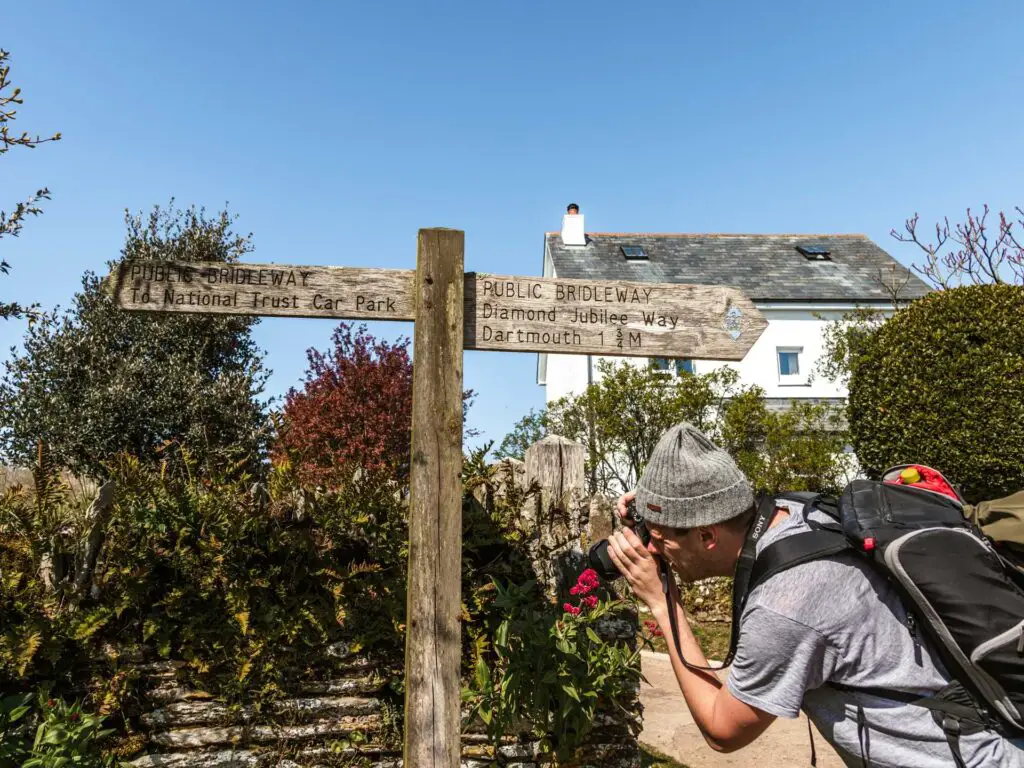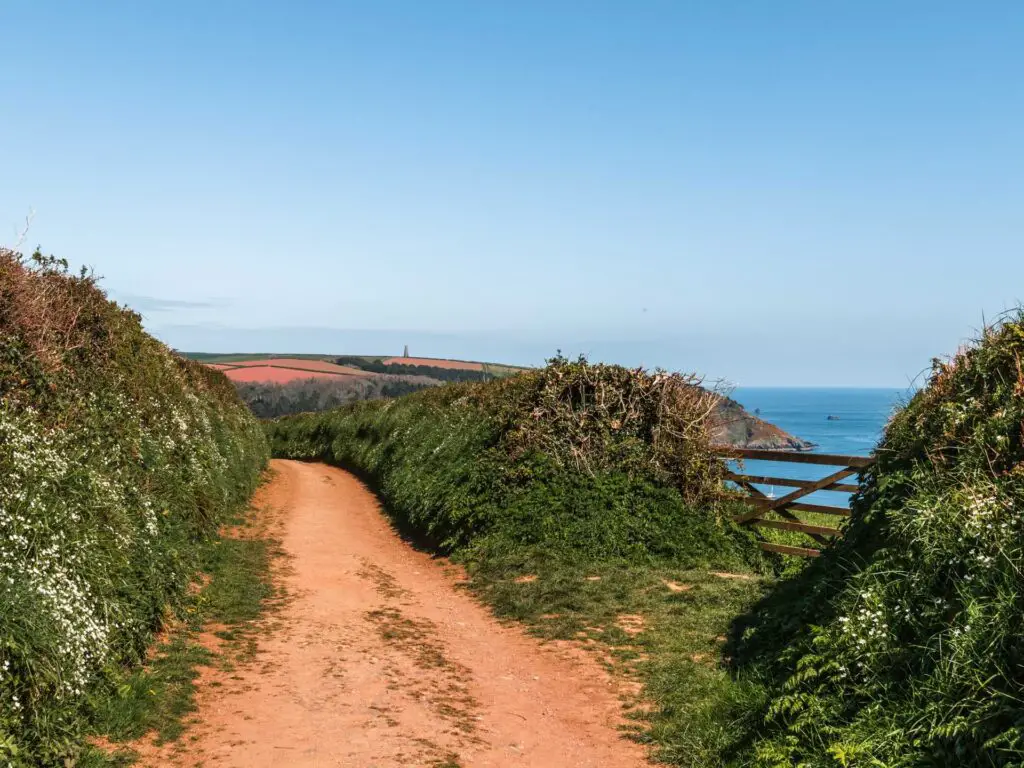 Once you reach the point where this loop started (by the white house with the signpost pointing two ways to Little Dartmouth), you can make the final bit of walk back taking either of the trails ahead. They both lead back to Dartmouth. We took the right (the way we got here on) because it was pretty and we like pretty.
More walk ideas in and around Dartmouth
I mentioned earlier, the Dartmouth Castle Sugary Cove walk. It's a couple of miles there and back into town. 
If you catch a boat across the river, you could do the Daymark coastal hike. It's pretty short but quite hilly with great views. Or you could take this one further and walk the full stretch from Kingswear to Brixham. I warn you now, is a tough one.
Another one I highly recommend is the Dartmouth Dittisham walk. The first time I did it, I couldn't put it on the website. I took a massive detour which was a little dangerous, and if someone copies me and hurts themselves, I could get in trouble. Well, guess what? Just under a year later, I came back and did it…the safe way. I had read a lot about how it's one of the best walks in the area, and after doing it, I can see why.
If you continue the walk along the coastline, instead of turning back at Little Dartmouth, you can walk to Blackpool Sands (not to be confused with Blackpool)
If you have a car, then I also recommend the Start Point Lighthouse walk. It's about 30min drive south of Dartmouth.
For more ideas, you could check out the Visit South Devon website.
Pin it for later: Little Dartmouth coastal walk