This walk takes you from Dartmouth harbour, past the cute and colourful houses, to Dartmouth Castle and down to the little secret (but not so secret) hidden away Sugary Cove.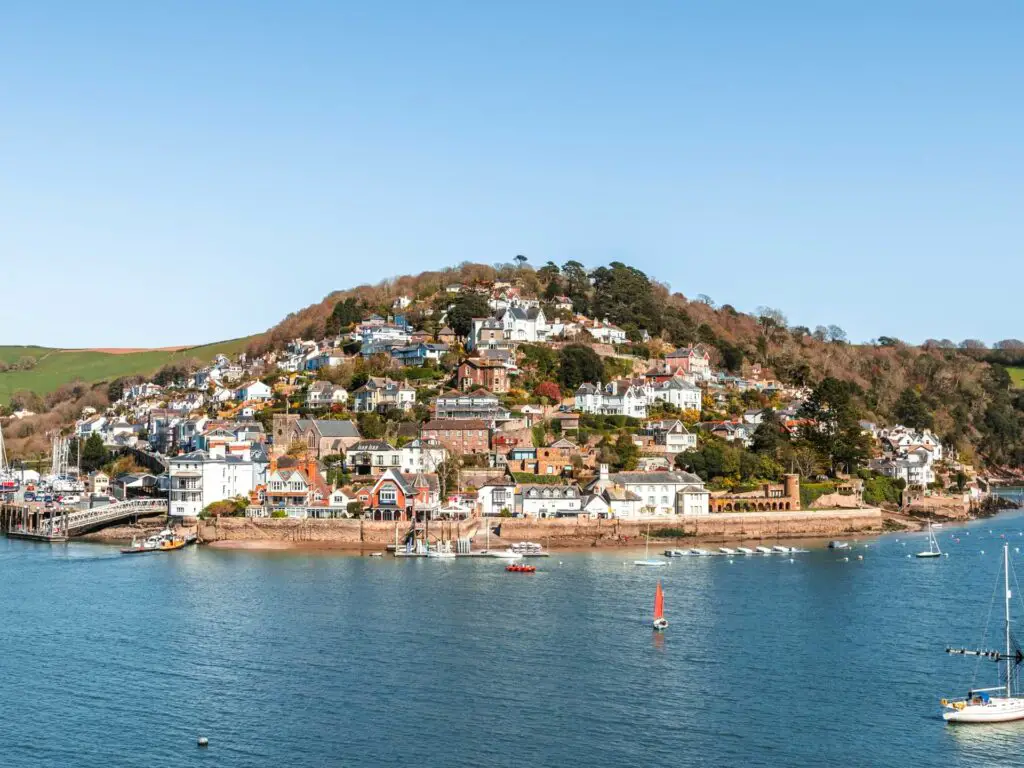 Now, this walk wasn't suppose to happen. In fact, we had planned to walk a much longer trail along the coastline to little Dartmouth and back. However, due to illness (I will explain later) we had to cut this one short. It just so happens that the little walk we did do was lovely enough that I think it deserves a mention. 
Something else…
You might get to see cars trying to manoeuvre themselves along these tiny narrow roads. Maybe some 10 point turns, and a little game of who will reverse. The big cars always win this one. I'm not saying this because it deters from the walk, but rather, can be amusing and also make you glad you aren't the one driving. 
Also, there isn't really a right or wrong way to walk to Dartmouth Castle and Sugary Cove (so long as you walk away from town with the River to your left. What I mean by this is that there are a few trail and road options. I'm going to tell you about the way that we did it, but feel free to freestyle a little.
Logistics for the walk to Dartmouth Castle and Sugary Cove
Start/Finish: Bayards Cove
How to get there: If you walk along the harbour in Dartmouth, in the direction of the sea, you will get there.
Distance: 1mile one way (so 2 miles)
Time: 40min (this is how long it took me walking in pain)
Difficulty: Easy
Terrain: Some road, a bit of grass, dirt trail, steep steps.
Time of year: We walked this in Spring
Amenities: Dartmouth has food/toilets/shops. 
Map for the walk to Dartmouth Castle and Sugary Cove
Click on the top box to open in your Google Maps.
More walk ideas in Dartmouth, with a link to the full guide, will be at the end
A Guide To The Walk To Dartmouth Castle And Sugary Cove
Bayard's Cove Fort
So this walk starts on the south side of Dartmouth town by Bayards Cove. Stand with the water to your left and off you go.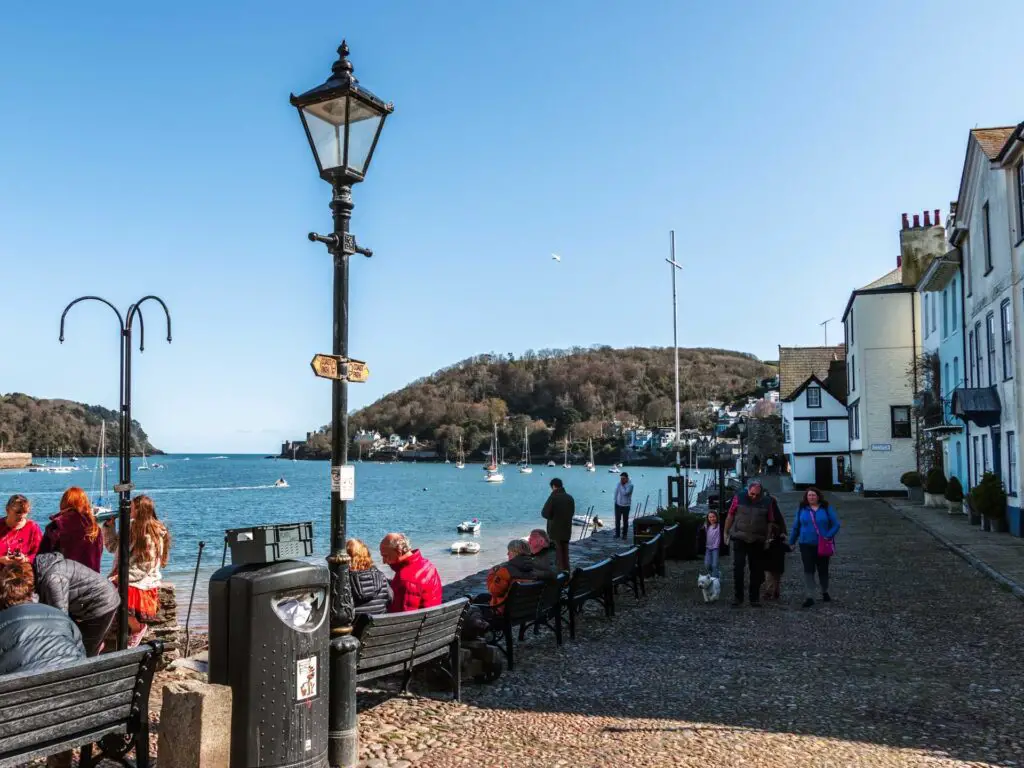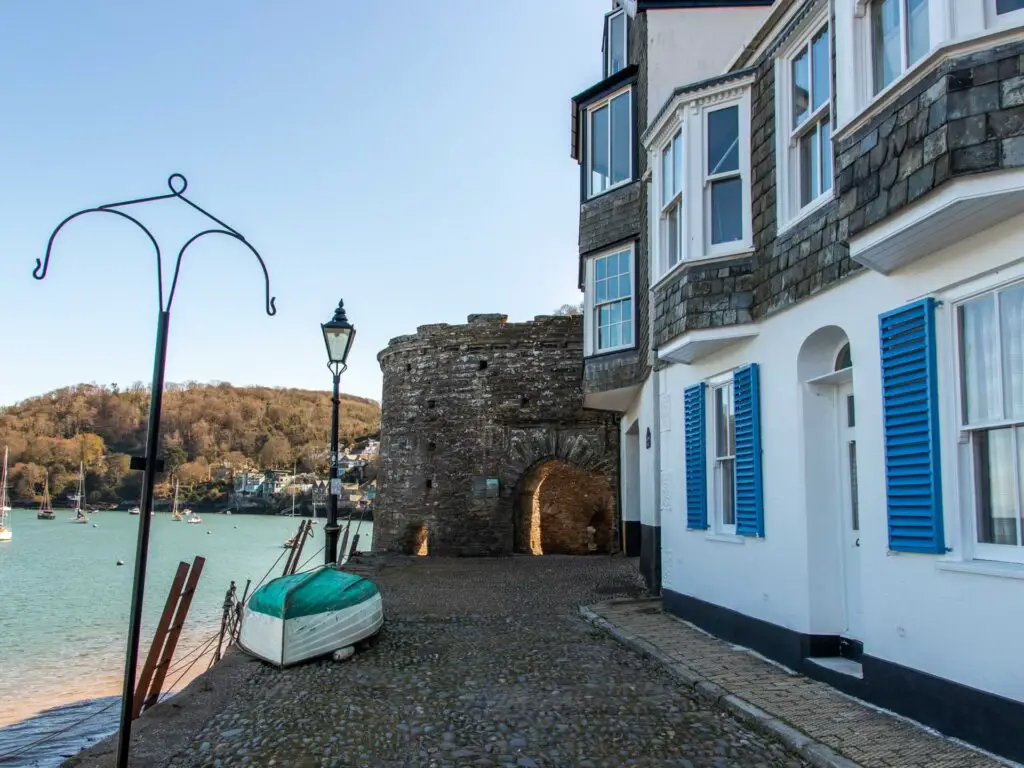 If you walk along here, you will head straight into Bayard's Cove Fort. It's a small little thing with cool little window type holes with views over the water and the little boats.
To exit, you can walk out the other side and up the steep narrow steps.
Once at the top of the steps, take a left and continue walking along.
The road walking bit 
You will walk past cute and colourful buildings and may witness the car thing I told you about. Where the road splits, keep left (on the main road) and keep going. You will get a lovely view from up here.
When you round the corner you will see lots of green and more homes. The way the sun was shining today created a sort of glow over everything. 
As you walk along, follow the road as it curves left and past a little beachy cove. I think you can walk down to this (we didn't). 
There were a lot of cars parked along this bit. I think parking is quite limited in Dartmouth so I guess you take wherever you can get.
Walk up onto the dirt trail
Where the road splits (see below), take the left. There is a trail that runs alongside the right of the left bit. Make sure to walk up onto it. It gets you off the road and offers lovely views back to Dartmouth.
Now, this bit of trail is short, and when you come off it back onto the road, take the bottom road. I think you should understand what I mean when you get there. 
Walk to a gorgeous viewpoint of Dartmouth Castle
There isn't much happening on this little bit of road, but not too far along you should see a trail going down to the left. Ollie didn't think it would lead anywhere but I wanted to check it out, and boy I'm glad that I did. As I reached the bottom I immediately called to Ollie to come down. What you will see is a stunning view across to Dartmouth Castle.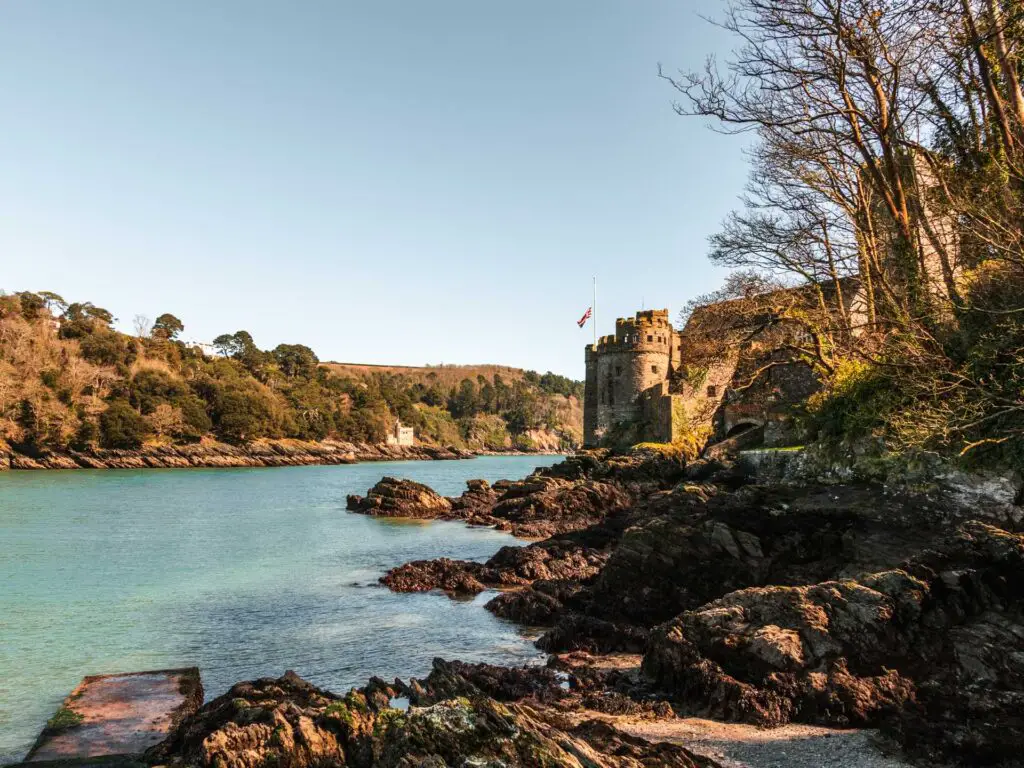 If you would like more info on the Castle and visiting information, you can find that here on the English Heritage website.
Now walk to Dartmouth Castle
After exploring down here, go back up to the road and continue along for a short way before taking a dirt trail going uphill on the right. Following it up until you reach the road again and ahead will be Dartmouth Castle.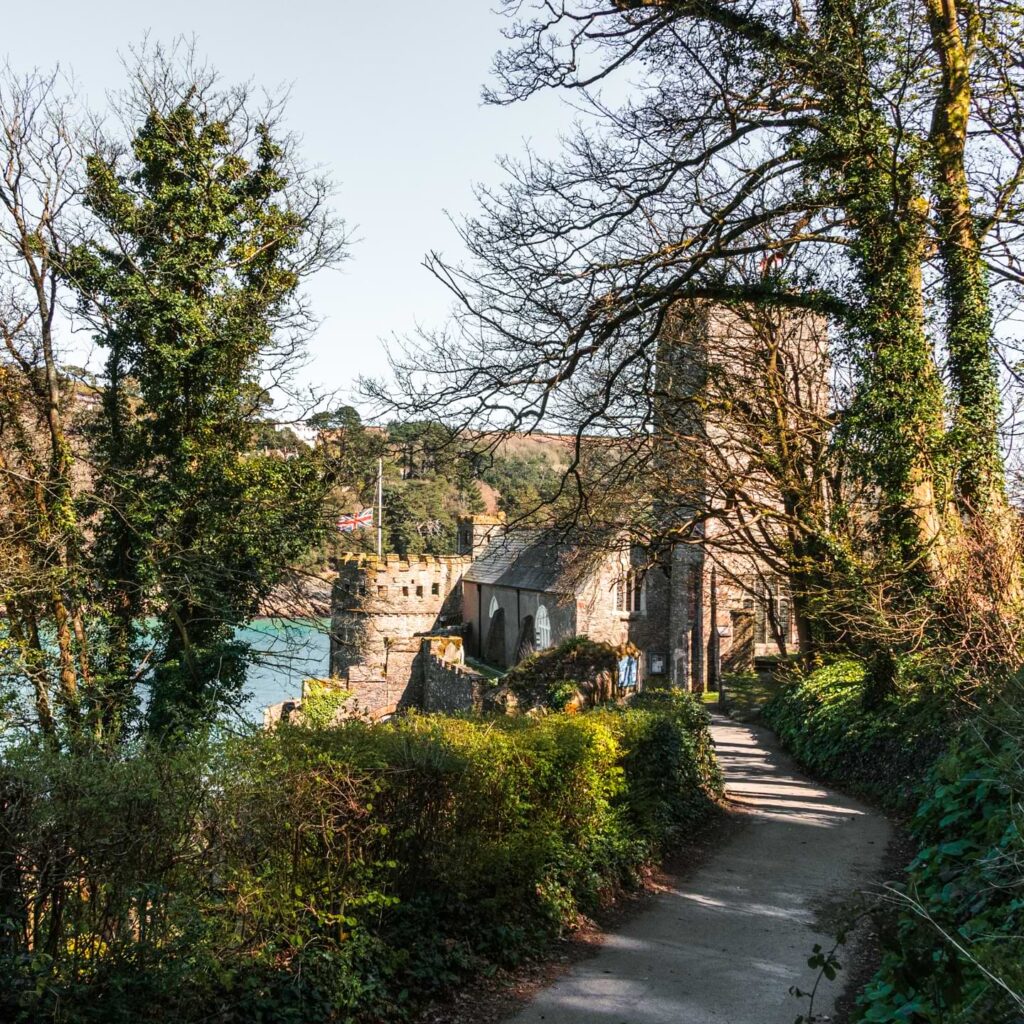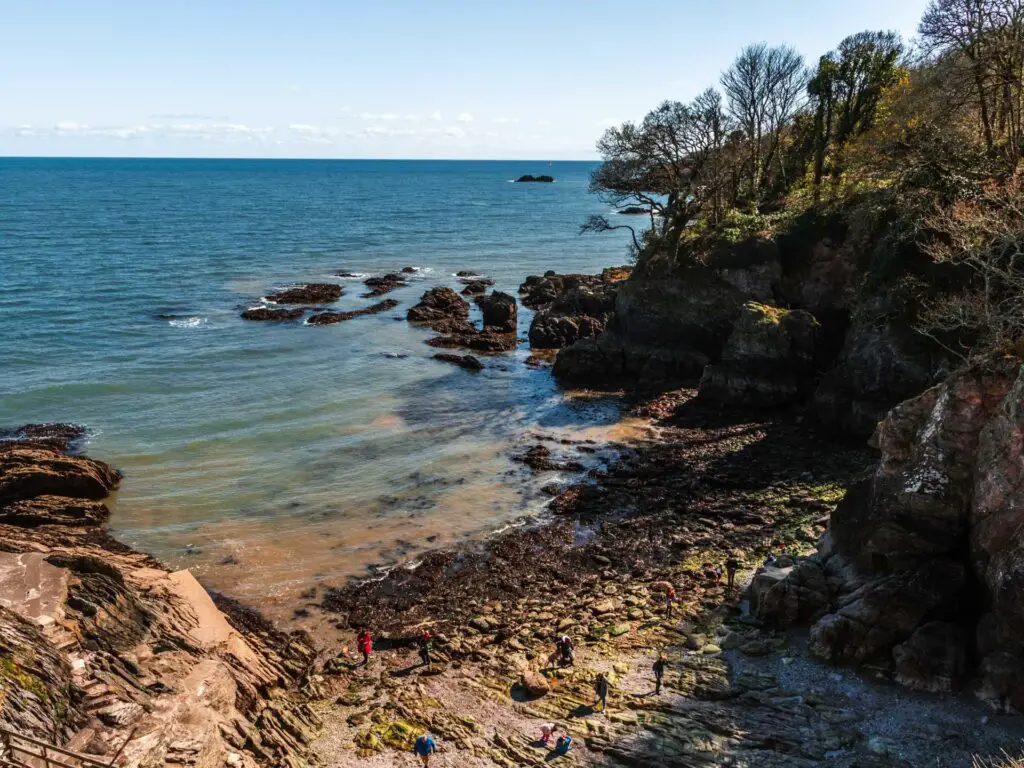 If you look down to the side of the castle, you will see a lovely little beach cove (Castle Cove). There will be steps here to go down if you want (again, we didn't).
Walk from Dartmouth Castle to Sugary Cove
Where the signage is, follow it uphill (with Castle Cove to your left), and when you reach the road again, turn left.
When you walk through the gate entrance, you will be on a nice easy path. You can stick to this if you want, or take the more rugged trail (you will get a couple of options to take a rugged trail). See photos below.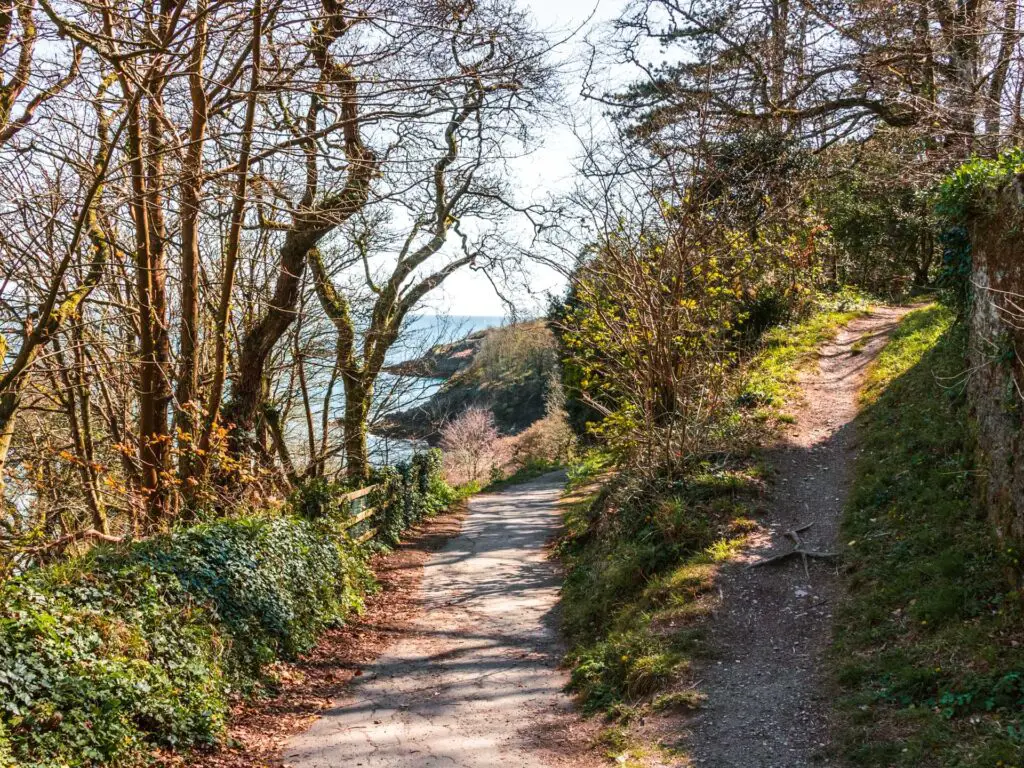 You should see an inviting open green area down ahead to the left. If you took one of the upper dirt trails, you will reach some steps. Go down them if you want to go to the green area.
Where I got ill
So, here is the story. A bit earlier on in the walk I had come down with a sudden cramping type pain in my left side. By the time we had reached this point, it was so bad I was struggling to walk. 
After sitting down, then lying down, then doing a bit of googling and deciding I must have a ruptured ovary, I decided I couldn't walk any further.
As we were basically at Sugary Cove, I decided we would walk down to it, then head back. 
The final bit of the walk to Sugary Cove
Exit the green area (if you went there) and continue along the trail on the left and it will guide you downhill to Sugary Cove. Where the trail splits, take the left to walk the last bit down. This bit is made up of trail and steps and gets pretty steep.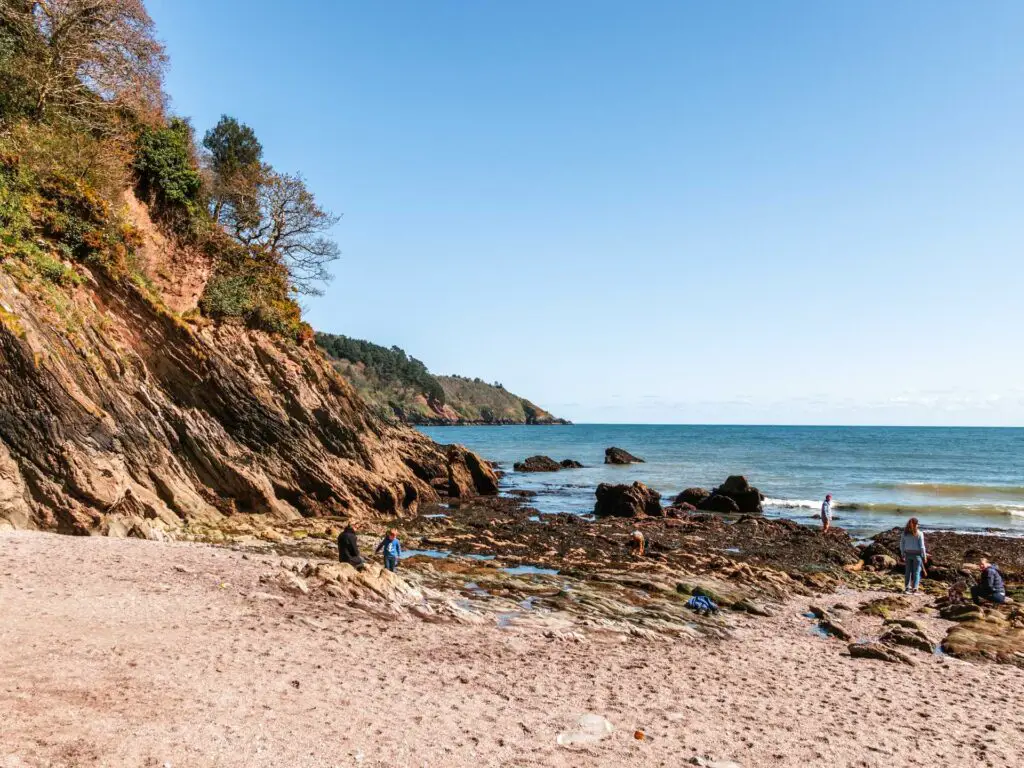 Walk back to Dartmouth
So, to get back you could follow the same route…..or try something else. I noticed on the walk down here from town, that there were lots of trail options and it was sort of a guess as to which trail would be the better one to take. So it might be fun to explore and try out different ones. Just make sure you are heading in the general direction of Dartmouth Harbour….or not, depends how adventurous you are feeling.
Update on the 'ruptured ovary' 
By the time we got back to the town centre, my pain had significantly reduced. Kind off annoying that it had prevented us from doing the walk, but I also decided that maybe something bad was going to happen on the walk and my body saved me from doing it. 
The day wasn't completely lost though as we then headed off to Start Point Lighthouse for Ollie. By the time we got there, the pain had completely gone, so we did a really lovely walk around the lighthouse and coastline.
More walks around Dartmouth
The following day we did actually manage to do the full Little Dartmouth walk….it was worth the wait. Oh, and a year later I came back and did the walk from Dartmouth to Blackpool Sands. It's starts off the same as the Little Dartmouth walk, but instead of turning back, you keep going along the coastline.
If you head across the river Dart (you can catch a quick boat) then you could try out the Daymark coastal hike. It's also super short, but well worth the trip over. You could easily make that one longer. We kept it short because I had just come off a mammoth hike which involved scrambling across river side rocks and facing death (not really, but it was intense). I was tired.
One of the best I have done in the area is the Dartmouth Dittisham walk. Think steam train, woodland, insane views, a big bell, and cute boat river crossing.
I mentioned earlier the Start Point Lighthouse walk. Technically not in Dartmouth, but if you have a car, then it's worth the 30 min drive down south.
For more, you can read my guide on the best walks around Dartmouth.
Pin it for later: A short walk to Dartmouth Castle and Sugary Cove