Dartmouth is a wonderful harbour town in South Devon, with plenty of walks and walking trails you can follow along the coast path, and River Dart. The first time I visited, I was honestly blown away. It definitely didn't feel like I was still in England, but rather along the southern French coast.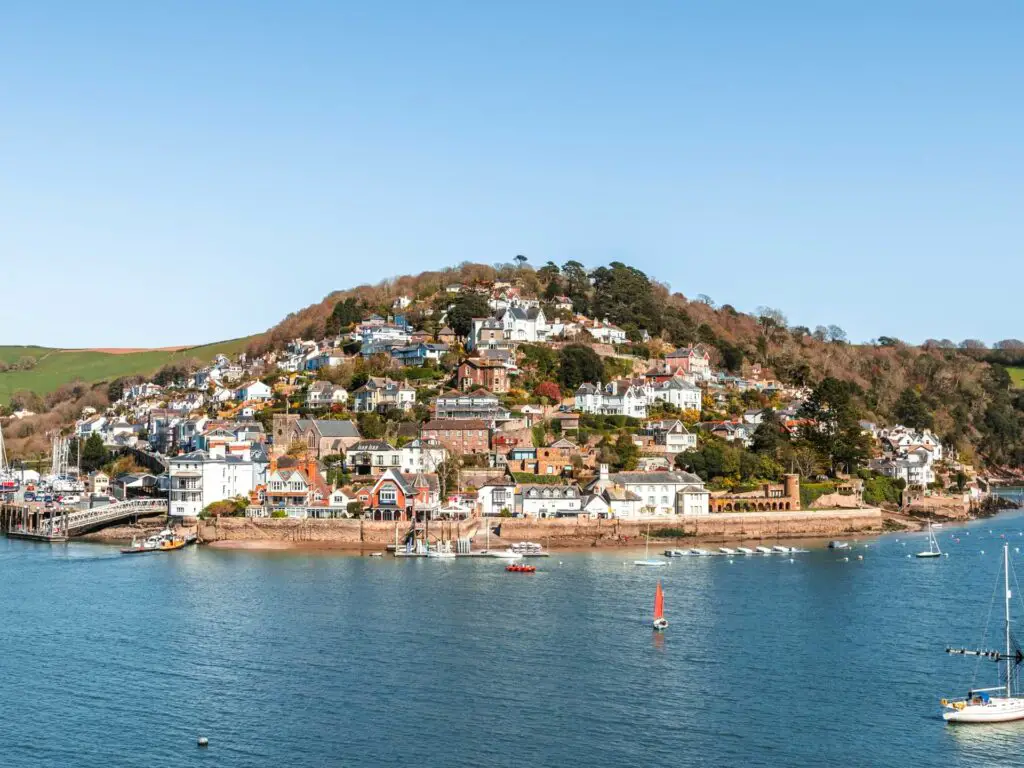 Interestingly, it isn't part of the English Riviera. I see this a lot, people referring to Dartmouth as the English Rivera, when in fact, it is not. It may feel like it should be, but the official English Riviera is the Torquay, Paignton, Brixham bit of coastline, which is nearby. I describe a bit more of the history of this in my post about best Torquay walks.
Anyway, I have been to all these towns, and I have to say, Dartmouth is my favourite. With direct access to rugged coastline and a river, and then there is the enchanting view to Kingswear across the harbour. 
Kingswear
You will see that some of these walks from Dartmouth, I have said start from Kingswear. Kingswear is actually just across the harbour from Dartmouth, and there are regular boats that get you between the two. Honestly, they are more regular than buses. It's a very short and cheap journey across. If you don't end up doing any of these walks, then you should at least do this.
Do these walks all start from Dartmouth or do I need a car?
I have decided to include 10 walks on this list. The first five of these walks start from Dartmouth itself. I have ordered them from the easiest to the big boys. 
If you don't mind travelling a little (by either car or bus), then I have included some walks near Dartmouth that I recommend. In fact, I only used a car for two of these walks. The rest were via public transport.
Some of these walks from Dartmouth are circular, and some are linear. The linear ones all finish somewhere you can catch a boat or bus from.
Best walks around Dartmouth:
Here is a list of the walks, then further down the page I go into more detail about each one:
Dartmouth Castle and Sugary Cove walk
Little Dartmouth walk
Dartmouth to Blackpool Sands walk
Dartmouth to Dittisham walk
Kingswear to Brixham walk
Start Point Lighthouse walk
Dart Valley Trail
Brixham to Berry Head walk
Brixham to Paignton walk
Daymark Coastal walk
All of these walks around Dartmouth I did myself, and I have a full guide for each of them which includes detailed logistics, a map, tips, and a step by step route description with photos. I will provide a link to each of the guides below.
---
10 Best Walks and Walking Trails Around Dartmouth
---
1) Dartmouth Castle and Surgery Cove – The Sunday stroll after a pub lunch
Start/Finish: Bayard's Cove, Dartmouth  Distance:  2 miles there and back Time: under 1h  Type: Circular/there and back  Difficulty: Easy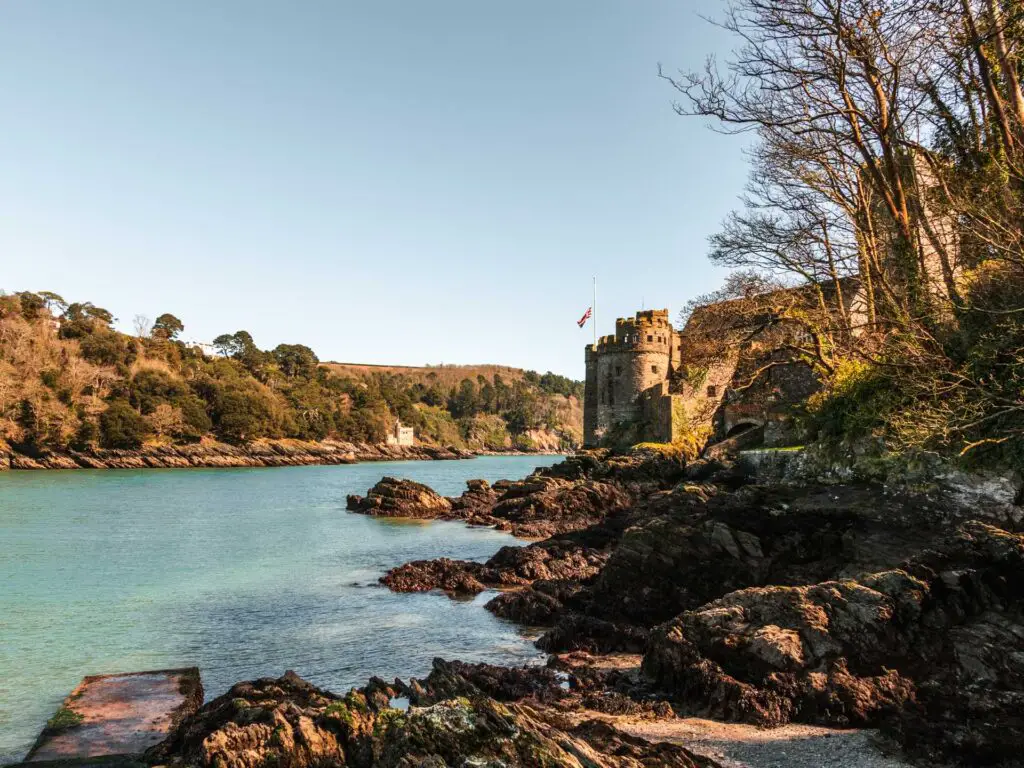 This walk is short and sweet. It's one of the walks you do if you are staying in Dartmouth and aren't really into big hikes, but want to get a bit of activity in. It features views across to Kingswear, a little castle and a hidden away beach cove.
Read more: Dartmouth Castle and Sugary Cove
2) Little Dartmouth walk – Nice views and some hills mixed with easy path
Start/Finish: Dartmouth  Distance: 5miles  Time: 2-3h  Type: Circular  Difficulty: Easy-Moderate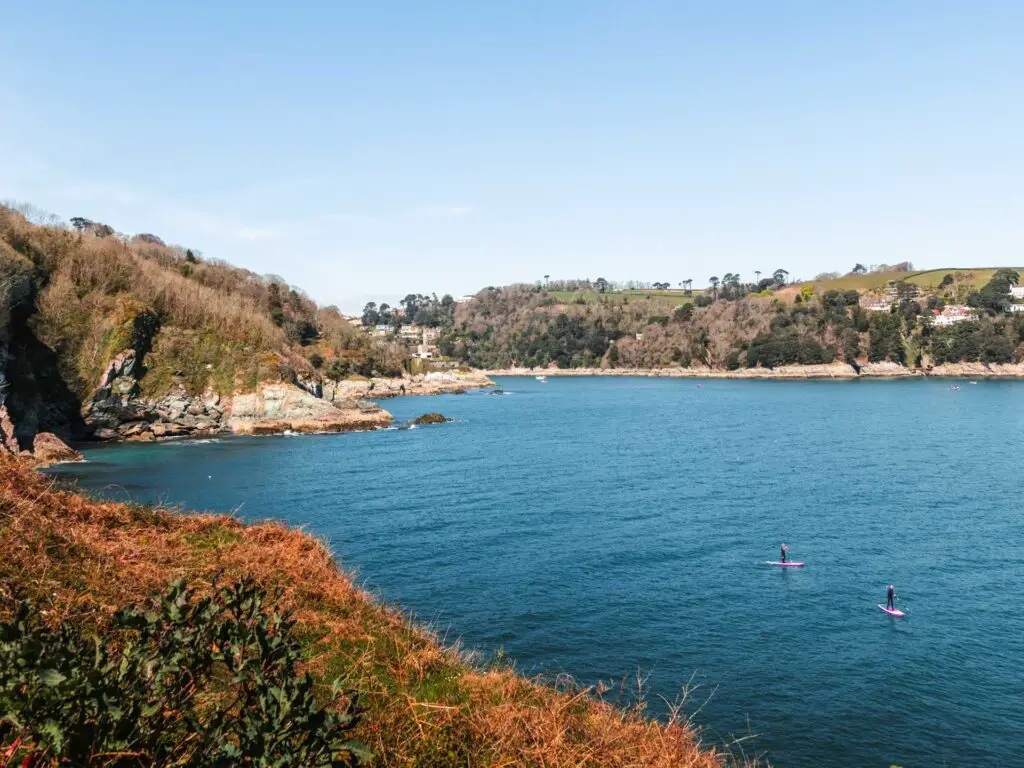 This walk follows the harbour out of Dartmouth, past the castle, then along the coast path trail. It's a little hilly, but not a crazy amount. You will get a view to the Daymark on the other peninsular, and views down to little coves, with the option to walk down to some of the beach coves. Once you reach Little Dartmouth, the walk back is along an easy path.
Read more: Little Dartmouth guide
3) Dartmouth to Blackpool Sands – The one with the post box
Start: Dartmouth  Finish: Blackpool Sands  Distance: 5miles  Time: 2h  Type: Linear  Difficulty: Easy (with a few moderate bits)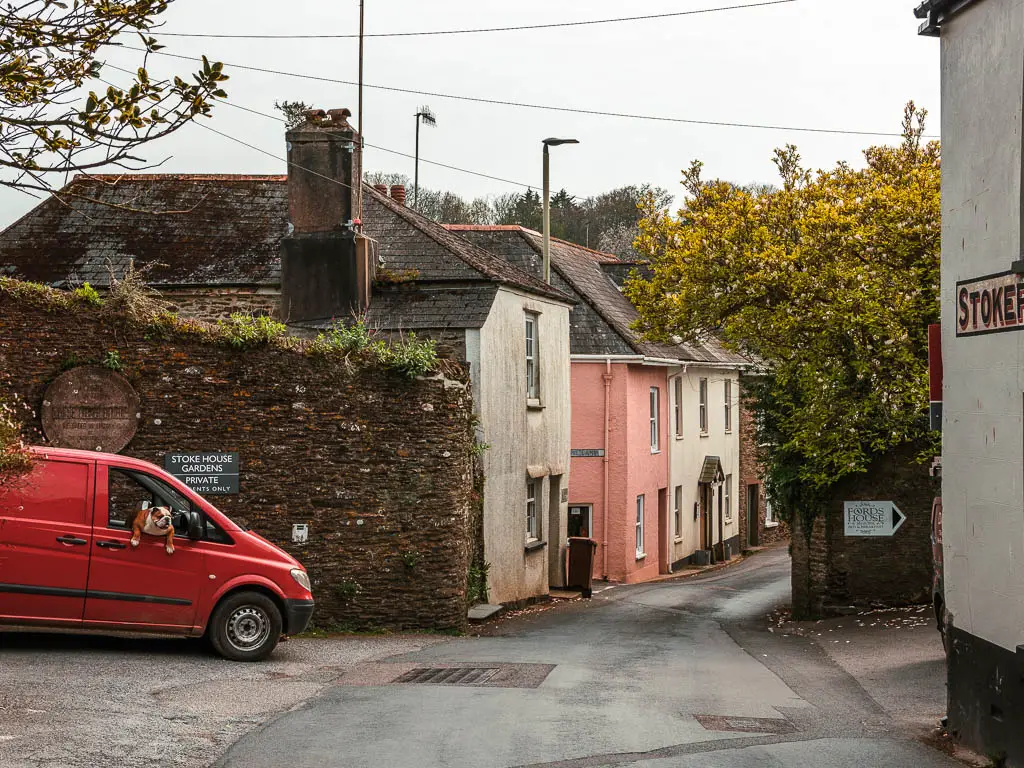 I enjoyed this walk more than I thought I would. Along the trail, there is a fair bit of road walking out of Dartmouth and then later on through Stoke Flemming, but it's mostly very pretty and quiet road. 
It starts off the same as the Little Dartmouth walk, but instead of turning back, you keep going, following the coastline. Then towards the end, you get a lovely view along the coastline and the massive beaches. Just be aware that Blackpool Sands is a shingle beach. Once there, there are buses that will take you straight back to Dartmouth.
Oh, and a real highlight for me was the post box….when you see it, you will know. 
Read more: Coastal walk to Blackpool Sands
4) Dartmouth to Dittisham – The one with the steam train and big bell
Start/Finish: Dartmouth or Kingswear  Distance: 9miles Time: A bit over 3 hours  Type: Circular  Difficulty: Challenging
This is probably my favourite of the walks from Dartmouth on the list. You start off getting a boat across the water to Kingswear. From there you walk alongside the harbour and railway track, where you may get to see a steam train pass by. Next it's woodland walking for a bit, before you get to the hill fields with gorgeous views across the River Dart in both directions. Once at Greenway, you have the option to visit Agatha Christies home, before heading down to the river. 
Now the best bit…you ring a big bell, and a little boat comes to pick you up to take you across the river, to the adorable little village of Dittisham, with its colourful houses. 
From this point on, the walk becomes challenging as you leave Dittisham to circle back around to Dartmouth. You will have a seemingly never ending uphill slog. The views are fantastic though. If you aren't up to the challenge, you could always just get a boat back to Dartmouth from Dittisham. 
Read more: Dittisham circular walk 
5) Kingswear to Brixham – The soul breaker
Start: Dartmouth/Kingswear  Finish: Brixham  Distance: 11+ miles  Time: 5h Type: Linear Difficulty: Very Challenging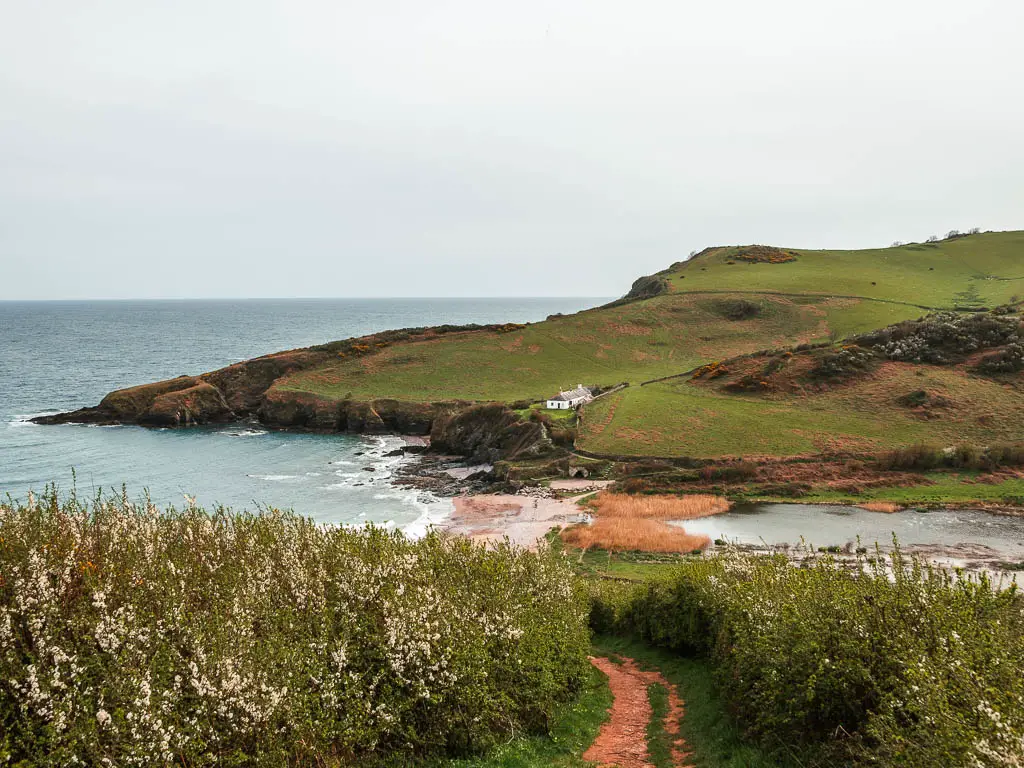 This is by far the most challenging of the walks from Dartmouth on the list. It's probably the most challenging walk I have done ever. The first part isn't too bad, as you follow the road, passing by lots of enviable homes, imagining what it would be like to live there. 
Once you leave the road though, everything changes. From that moment on, it's up, down, up, down. With nothing in between. It's a very cruel walk. If you go read my post, I have put a photo of the elevation graph so you can see. 
Challenge aside, it's a fantastic coastal walk, with those cliffy, rugged coastline views. Lots of secluded beach coves. You may even get to see some 'wild' ponies.
Once at Brixham, you can get a bus back to Kingswear, then a boat back over to Dartmouth.
Read more: Kingswear to Brixham Coastal walk
Best Walks Near Dartmouth
If you don't mind catching a bus, or have a car, then these are the walks I recommend near Dartmouth.  
6) Start Point Lighthouse
Start/Finish: Start Point car park Distance: 2.5 -5.5 miles miles Type: Circular Difficulty: Easy with one precarious bit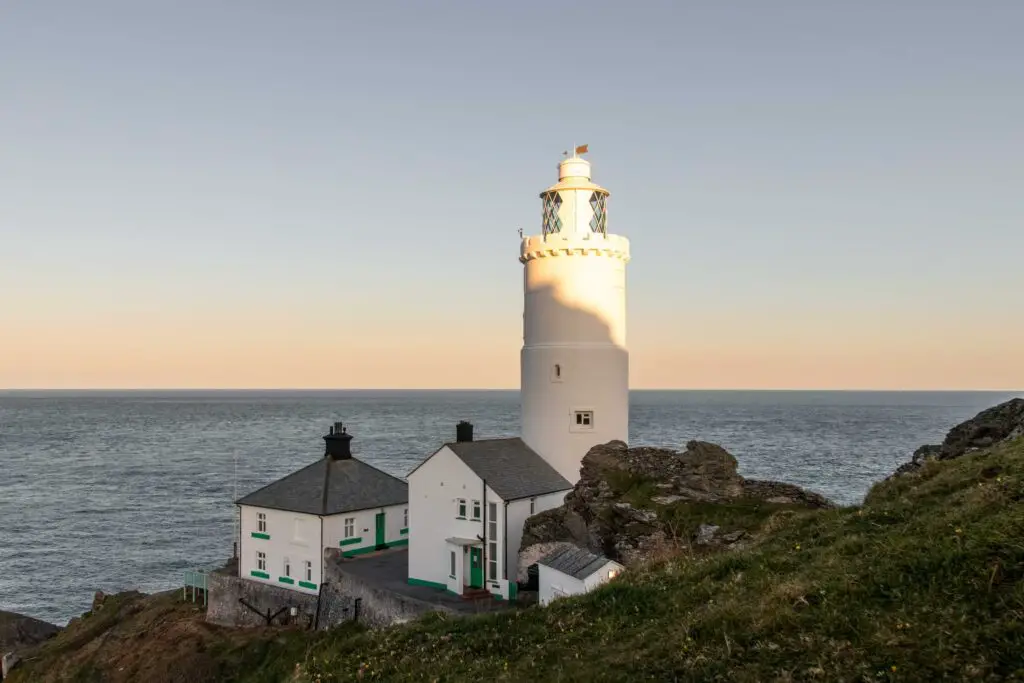 If you drive south along the coast from Dartmouth, you will reach Start Point Lighthouse. There is a big car park, and plenty of coastline with secluded sandy beaches to explore.
The Start Point Lighthouse section is nice and rugged and a little precarious at times. The rest of the route is easy
Read more: Start Point Lighthouse walk
7) Dart Valley Trail
Start: Totnes Finish: Dartmouth Distance: 17-18 miles Difficulty: Medium/Challenging Time: Split into 2 walks
This is a walking trail between Dartmouth and Totnes. Made up of the Dartmouth Dittisham trail, and the Totnes to Dittisham trail. The full route has a mix of woodland, meadows, lots of hills, little villages, and pubs. There are some truly wonderful views along the trail, with some boat river crossings thrown in.
Whilst 17/18 miles seems doable in one day, I would recommend splitting it in two. Unless you are super hardcore and want to give it a go
Totnes is super easy to get to from Darmouth. You can get the number 92 bus which is direct, or if you are fancy, you could get a boat.
Read more: Dart Valley Trail
8) Brixham to Berry Head
Start/Finish: Brixham Distance: 5.5 miles or less Time: Under 2 hours Difficulty: Easy Type: Circular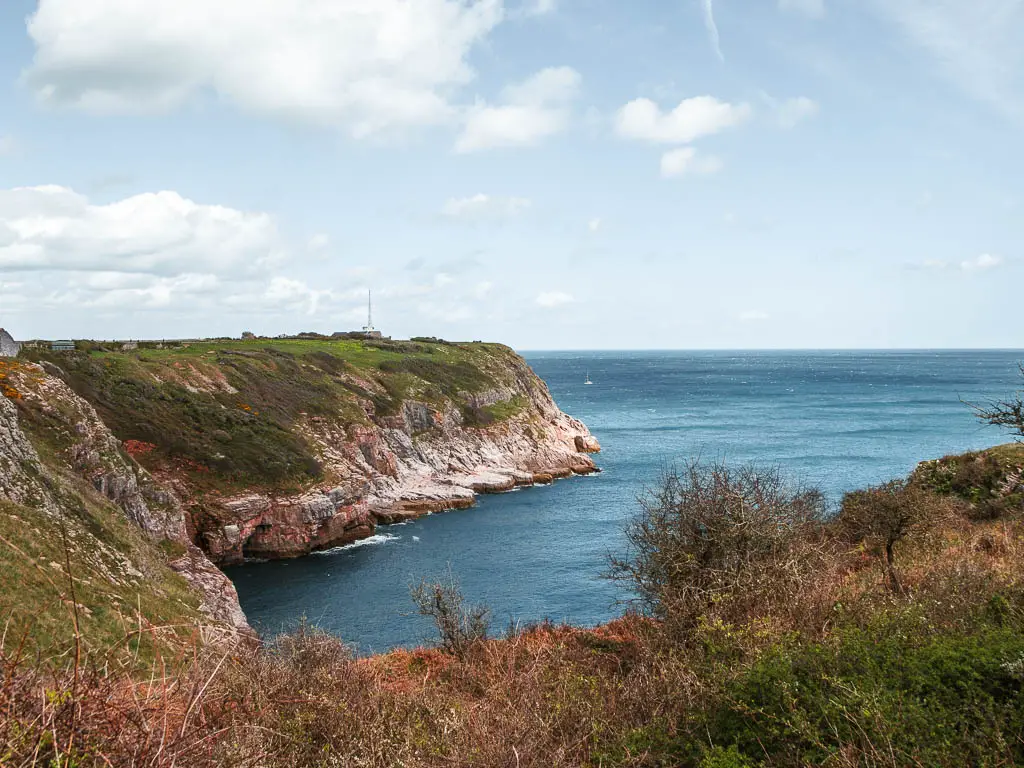 If you are staying in Dartmouth, then I highly recommend a day trip visit to Brixham. Part of the English Riviera, it's well known for all its cute colourful harbour side houses, as well as being the busiest fishing port in the UK.
Whilst there, you could easily fit in this short easy one to Berry Head, where you will find the UK's highest but also shortest lighthouse…confused?
The number 18 bus will get you between Kingswear and Brixham.
Read more: Brixham Berry Head Walk
9) Brixham to Paignton
Start/Finish: Brixham/Paignton Distance: 5.8 miles Time: 2h30min Difficulty: Easy/Medium Type: Linear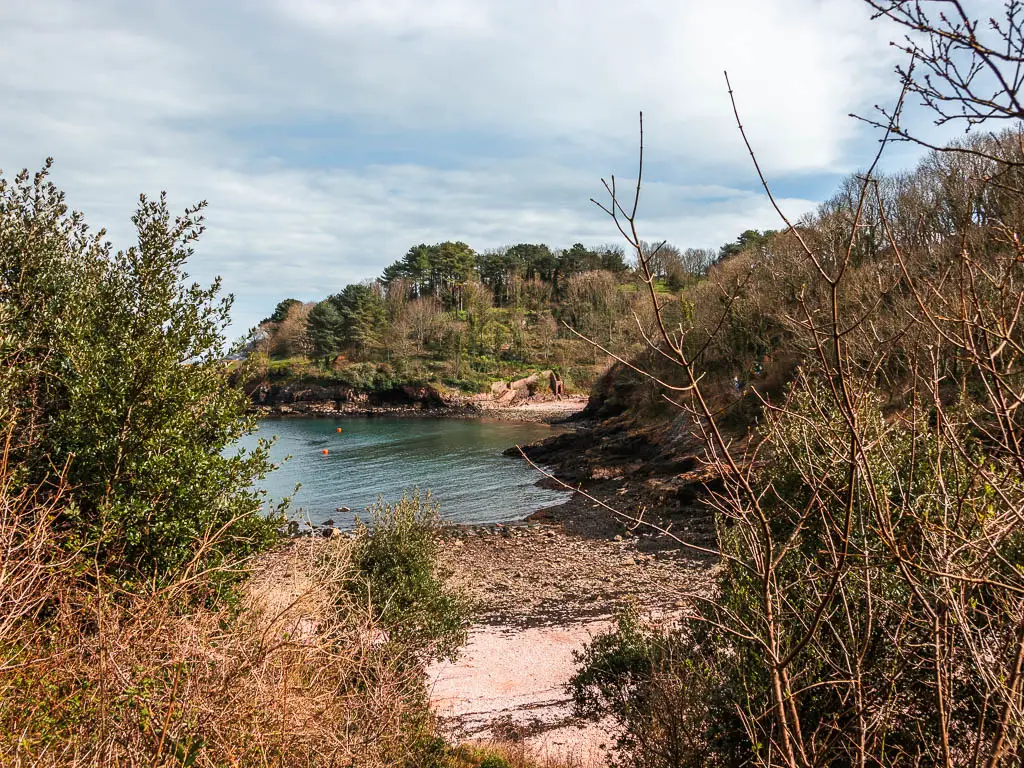 I walked this one in the other direction, but either works. It's a lovely little walk along the coastline, with potential steam train sightings, and some little beach coves. I think the best half of the walk is nearer Brixham, so you could easily walk partway, then turn back. That way you don't have to get a bus back from Paignton.
Read more: Brixham to Paignton
10) Daymark Coastal Hike
Start/Finish: Brownstone Car Park Distance: 2.7 miles Difficulty: Moderate Type: Circular
This one covers the same bit of coastline as the Kingswear to Brixham walk. But much less. It's a good little taster for the big walk. So you can try this one out first, to get an idea of what you will be in for if you decide to go for the big one.
The walk starts from a car park, just a short way from Kingswear. It's close enough, that you could adapt the walk and not use a car at all. Just follow the coastline from Kingswear.
Read more: Daymark Coastal Hike
Pin it for later: The Best Walks And Walking Trails Around Dartmouth