The circular walk to Malham Cove is a real classic up here in Yorkshire. It takes you via the beautiful Janet's Foss waterfall, and then the impressive gorge of Gordale Scar and waterfall. This walk had been on my radar for a while, but I had been holding off for two reasons….
First, I knew I wanted to walk Malham Cove on a weekday, as I had heard how busy it can get. Up until this point, every Monday (my day off from work) had been raining. One of my patients at work had also told me to wait until spring to do it, to see all the wild garlic….
What I'm going to do in this guide, is first give you an overview of the Malham Cove circular walk, with a little bit of information about each stop. Then I will provide full logistics for the route, including a map, and some useful tips. I will then go on to describe the full route step by step with photos. 
Malham Cove
Malham Cove is a huge, 70 meters high, curved limestone cliff. It has been formed over the last one and a half million years. The landscape along the top is quite unique, with large cracks in the rock you will need to navigate over.
Fun fact: It was featured in Harry Potter
Janet's Foss
Janet's Foss is a small but powerful waterfall, near the village of Malham, and is completely free to visit. It pains me that you have to pay to see some of the waterfalls up here in Yorkshire. But not this one. You can also swim in the pool it drops into.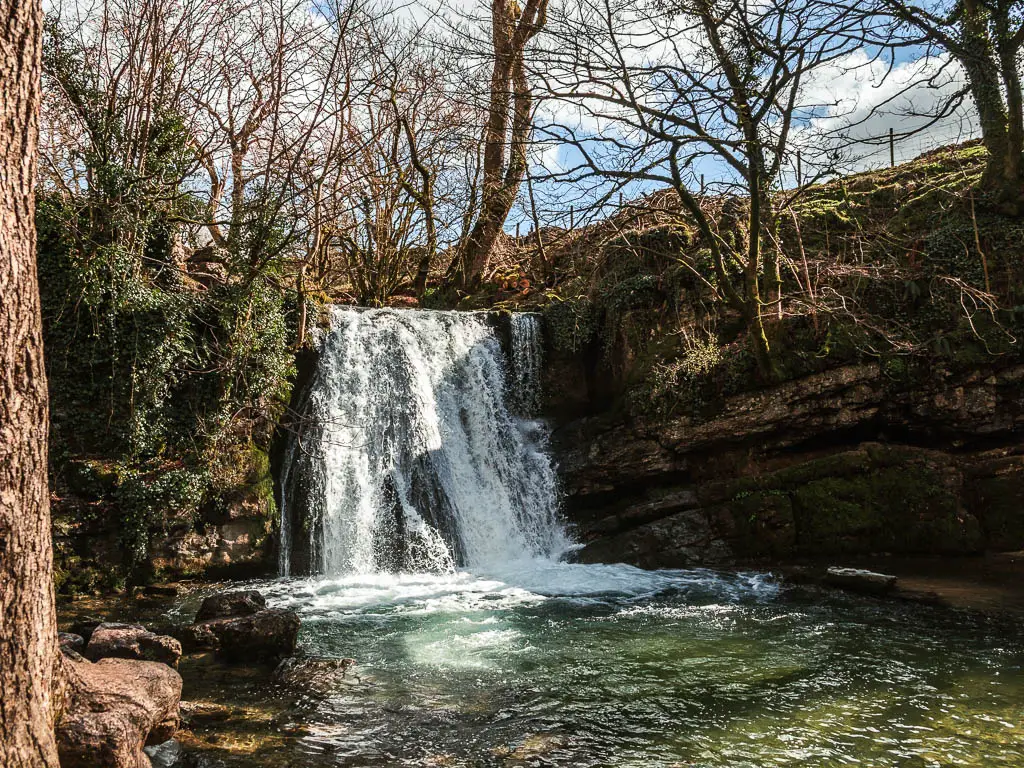 Fun fact: The pool was traditionally used for sheep dipping, which was a social occasion for the locals.
Top Tip: If you walk through the woods to reach Janet's Foss in spring, you will be surrounded by wild garlic. 
If you like waterfalls, one of my favourites here in Yorkshire, is the one in The Valley of Desolation. That one is also free to visit. 
Gordale Scar
Gordale Scar is a huge limestone ravine, formed over thousands of years by melting ice water. It also features a cool waterfall flowing down through it.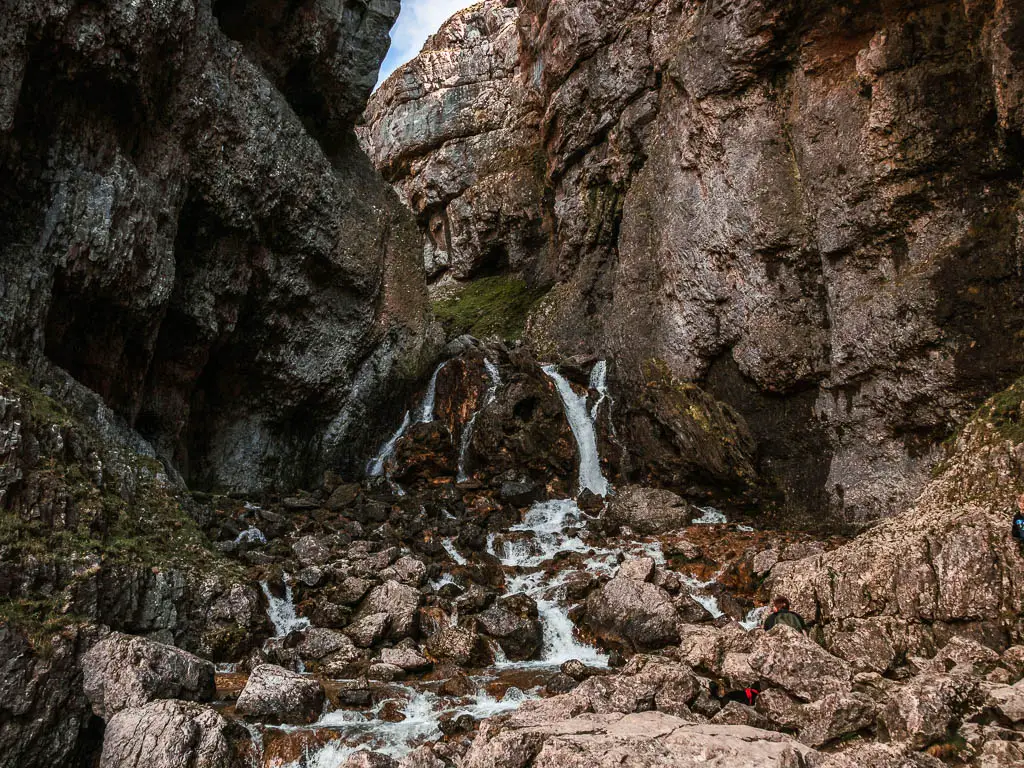 For this walk, you will turn back when you get to Gordale Scar, to walk over to Malham Cove. 
The alternate route some people take, is to climb up the waterfall rocks, to head over to Malham Tarn first, before walking to Malham Cove. There is no footpath up Gordale Scar. You literally have to climb up the waterfall. The Yorkshire Dales website does recommend against doing this though, to avoid causing damage (not to you mind you, but to the soft tufa on the rocks).
How long is the Malham Cove circular walk?
The full circular walk to Malham Cove via Janet's Foss and Gordale Scar is about 5 miles. If you do the walk anticlockwise, you will reach Janet's Foss first which is 1.5 miles in. Gordale Scar is the next stop, which is 2 miles into the walk.
How hard is the Malham Cove walk?
Personally, I found the full circular Malham Cove walk easy. From Malham to Janet's Foss and Gordale Scar, there is an easy maintained footpath the whole way, on level ground. To walk up to Malham cove, it's a bit more rugged and hilly. But I wouldn't label it as challenging. 
One thing I will say, is that there are a lot of steps leading up one side of Malham Cove. As such, I highly recommend you do this walk anticlockwise. That way you will walk down the steps. I think the walk up them would be quite tough. 
Fancy another easy, but impressive walk in Yorkshire? Check out the Bolton Abbey trail. This one takes you via the Strid, which is apparently the deadliest strip of river in the world.
If you are more of the challenging hike type, then you should try out Pen-y-Ghent. That one involves a proper bit of scrambling to get to the top.
Is the walk dog Friendly?
The full circular walk to Janet's Foss, Gordale Scar, and Malham Cove is somewhat dog friendly, however, there are a few obstacles you need to be aware of. First of all, when walking across the top of Malham Cove, there is a large area with deep gaps in the rocks you need to navigate over. There is one ladder to climb over. There is also livestock about. Specifically sheep, and maybe baby sheep in spring.  
Where to park to walk Malham Cove
There is one car park at the Malham National Park Visitor centre (Chapel Gate parking). It cost £5 for the day. There is free street side parking leading up to the car park. 
If there is no space, then over by Gordale Scar, there is also some free street side parking. This is very limited though.
Tips
If you just plan to walk to Gordale Scar and Janet's Foss, trainers will be fine. To walk all the way including Malham Cove, I would suggest hiking boots. That section has some rocky bits and can get a little muddy.
Do the walk anticlockwise, that way you can walk down the steps at Malham Cove, instead of up.
Go very early, and if possible, on a weekday. I got there on a weekday morning and it was already packed. The car park was almost full, and the street side was lined with parked cars.
For the wild garlic, come in the spring.
If you don't want rugged, then there is a way to see everything, by just following a proper path. After Janet's Foss and Gordale Scar, if you go back to Malham, there is a path from there which will take you to Malham Cove. It would mean walking up lots of steps though.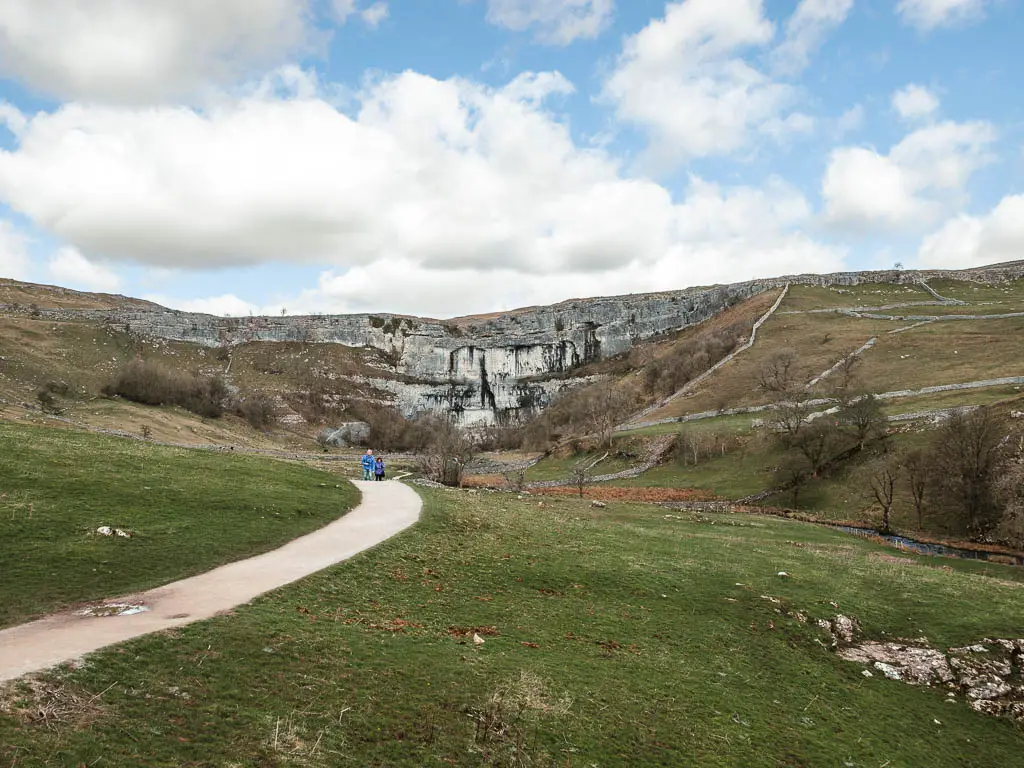 Logistics
Start/Finish: Malham National Park Visitors Centre
Where is it: Located in the Yorkshire Dales National Park
Public transport: Yes. the Craven Connection 75 bus comes here from Skipton (about 40min) via Gargrave. Both of which are on a train line. They don't seem to be that regular though. I checked on a weekend, and there were only 3 all day.
Distance: 5 miles
Time: 1h 45 min without stops
Difficulty: Easy
Terrain: Easy path, dirt trail, rocks, grass, a little bit of mud, steps, one ladder, some road.
Amenities: The Old Barn tearoom in Malham looked like the place to be. I didn't stop at it, but everyone else did. The Lister Arms pub in Malham. There is a food truck near Gordale Scar. The visitors centre at Malham has public toilets.
Time of year: I did the walk in early spring
Map for the circular Malham Cove walk via Gordale Scar and Janet's Foss
You can see my more detailed route map for the Malham Cove circular walk on AllTrails here.
---
Full guide to the Malham Cove walk via Gordale Scar and Janet's Foss
---
When I arrived in Malham, the first thing I passed was a long long line of parked cars. My first though was, 'oh no, does this mean the car park is full? Did I come all this way to not be able to park?' My second thought was 'Oooh, free parking'. 
As I drove passed the parked cars, looking for a gap, I did pass one very small gap. It looked too small though, so I cut my losses and headed to the car park. The car park was almost full, which shocked me. It was Monday. I have been enjoying my Monday hikes as everyone else is at work. Who are all these people and why aren't they at work? I nabbed one of the last spaces and went over to pay. When I saw it cost £5, I promptly left and made myself fit into that small free space on the street.
Part 1: Walk from Malham to Janet's Foss – 1.5 miles
From the car park in Malham, there are signs pointing the way to walk to get to Janet's Foss. There is a little stream to cross (if we are being technical, it's actually a Beck). If you walk along it a little, you should see a bridge.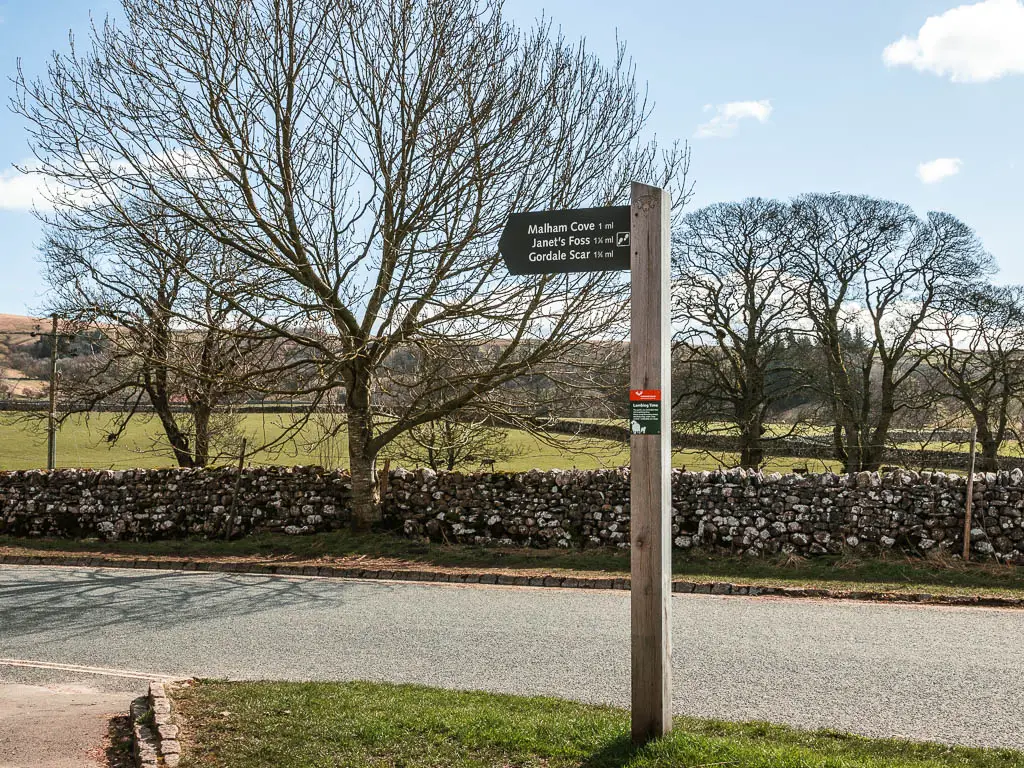 It's now as simple as just following the path…or just follow everyone else. This would be the theme of the day. Follow everyone else.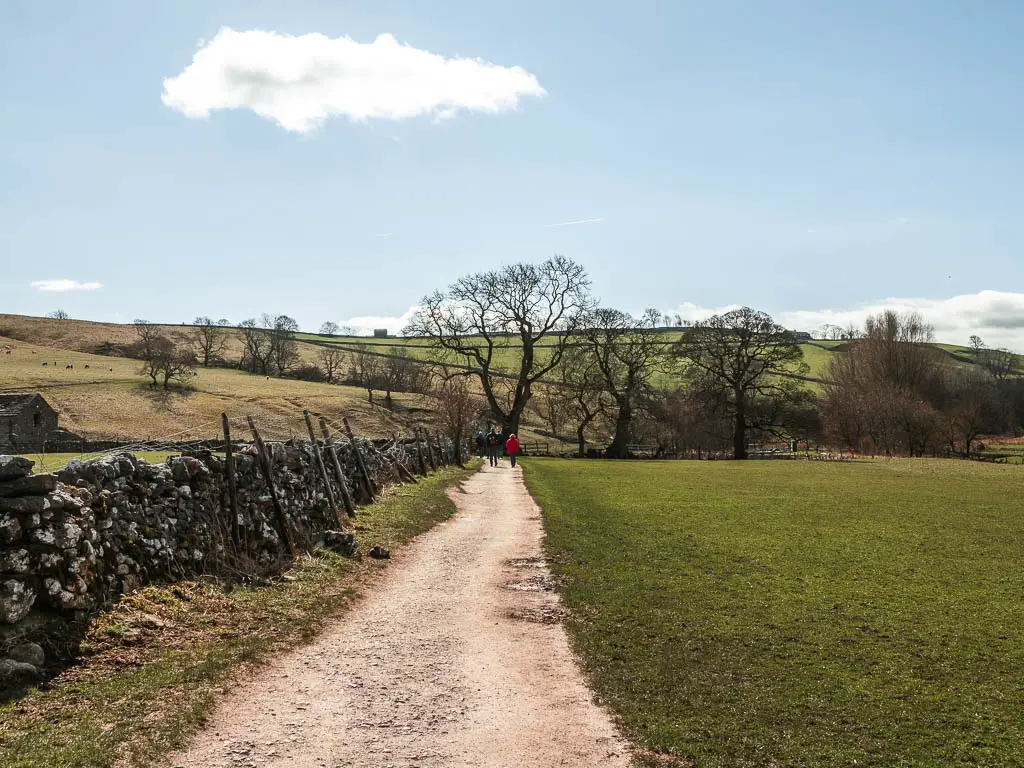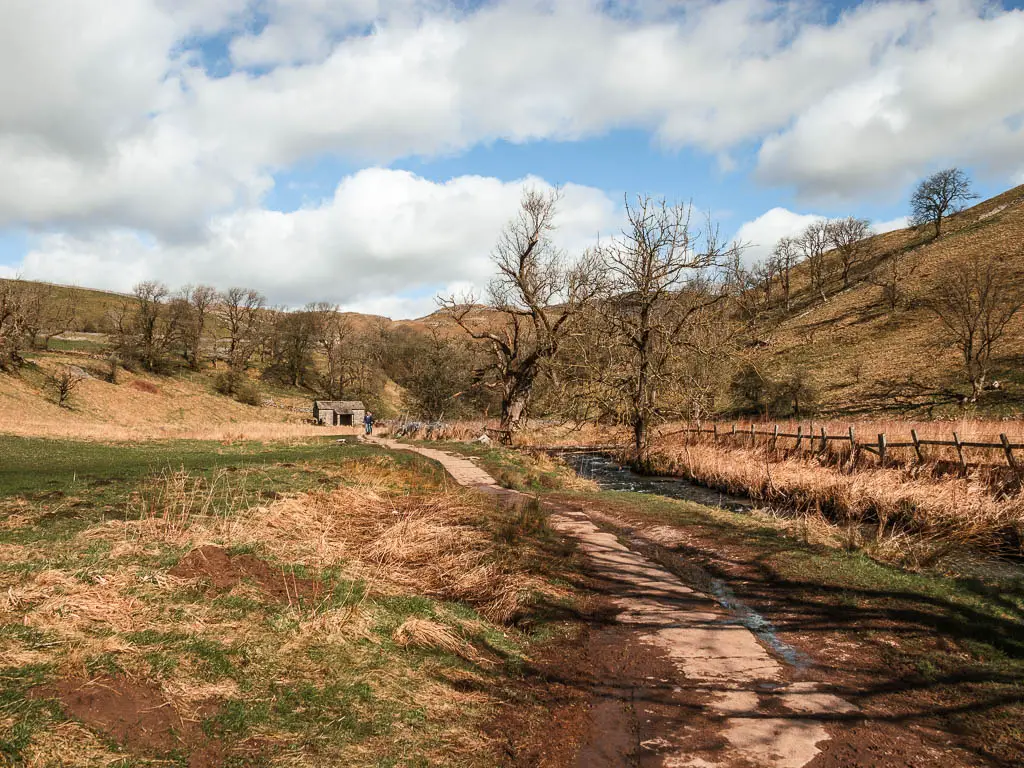 The landscape is quite lovely on this bit, with a view straight ahead to the hills. I had mixed feelings though. On the one hand, I was really excited about where I was heading, on the other, I was not excited about the amount of people about. It didn't feel very peaceful. I left London to get away from the crowds. 
The wild garlic
I mentioned one of my patients had told me to wait for the wild garlic. Well, I actually thought I might be too early for it. I had been planning to hold off a little longer to do this walk, but it was such a lovely day and I didn't want to wait anymore.
As I approached the woods, I could see a mass of green. It all felt very lush. Then as I made my way along the woodland path, I smelt it. This was it. The wild garlic. I had only ever experienced wild garlic when it was further along, and flowering.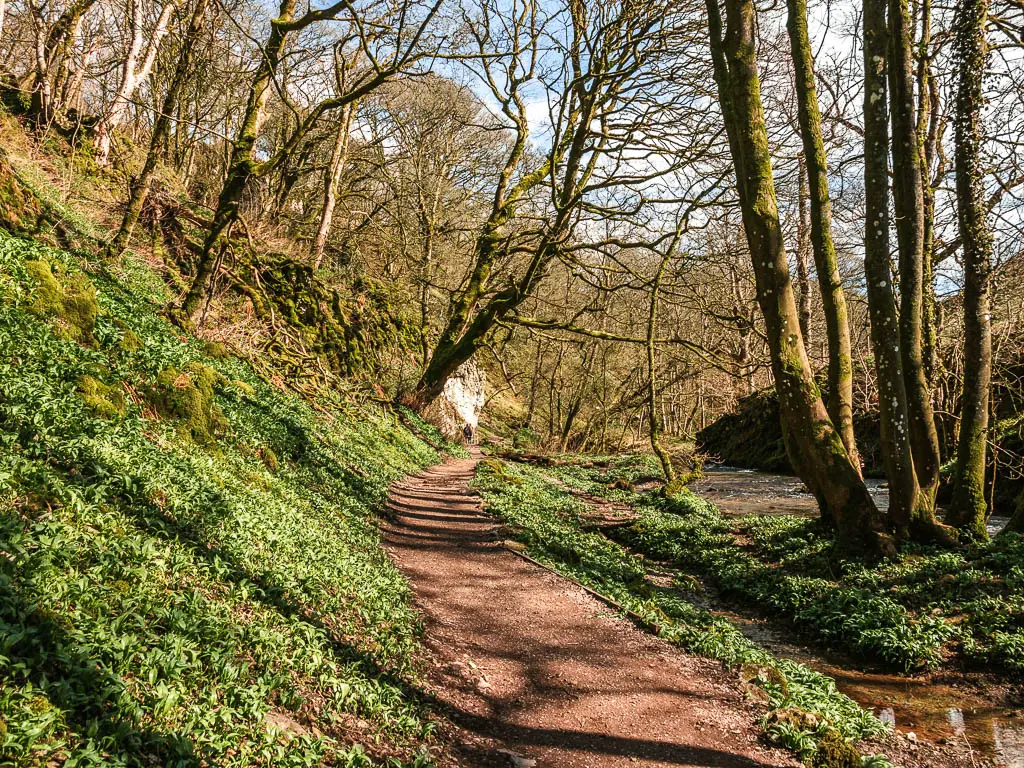 I felt quite pleased with myself, having timed the Malham Cove walk just right. Then wondered if I could pick any of it….I thought best not, and kept on going.
Arriving at Janet's Foss
It's only a short walk though the woods to reach Janet's Foss waterfall. This is where the crowd got serious. There was a mass of people hanging around it when I got there.
First of all, the waterfall was very cool. Very powerful, and I had a strong urge to jump into the water below it. Second, I looked and left very quickly. There was just too many people for my liking.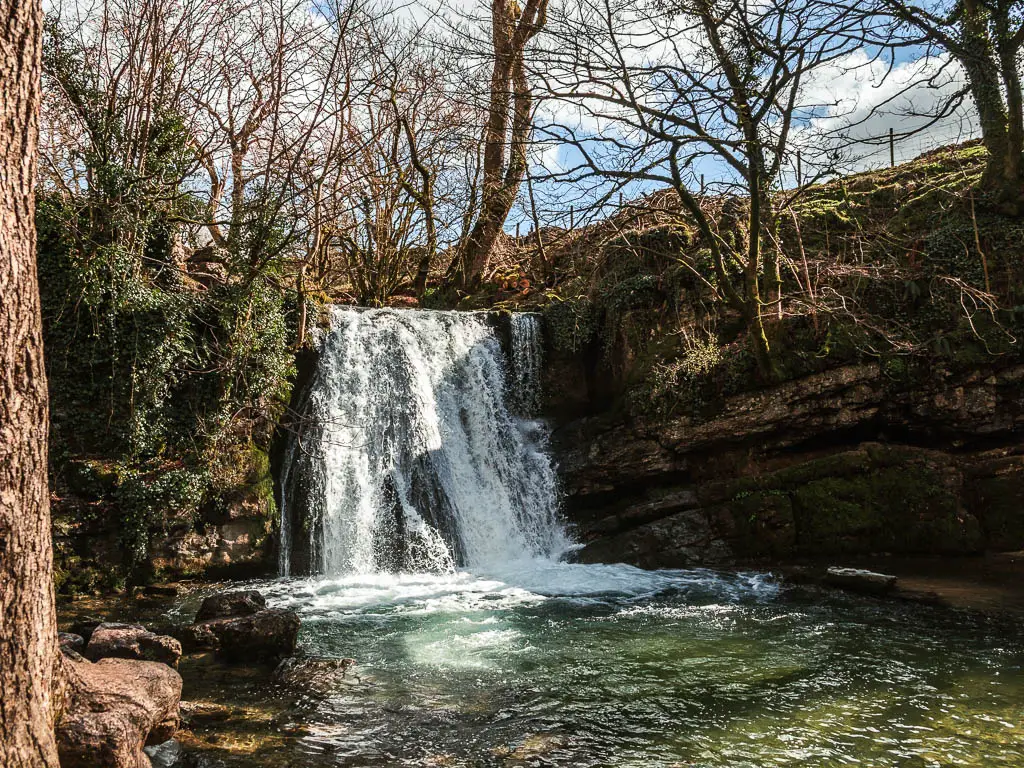 To leave Janet's Foss, you have to walk up a very rocky section. There was a bunch of people slowly and precariously making their way down. I had no time for this, so hopped my way up the rocks just like the mountain goat I am.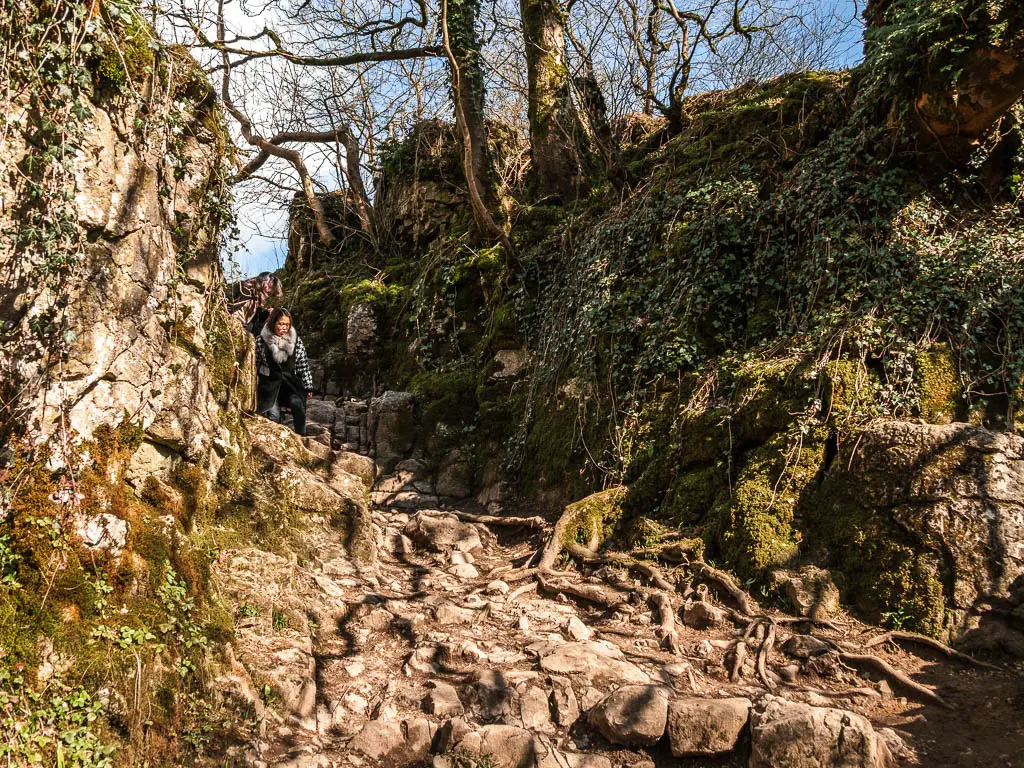 Fancy another easy waterfall walk? The Aysgarth Falls are all accessible along an easy path. You have the option to extend this walk, to get away from the crowds, and will cross over some cool stepping stones. Local to Aysgarth, you could visit Hardraw Force. This one you have to pay for. It does have claim to being the largest single drop waterfall in England though.
Part 2: Walk from Janet's Foss to Gordale Scar – 1/2 mile
After you get up the rocks, you will see a sign at the gate, pointing the way to walk to Gordale Scar. Through there, you will be walking on the road now.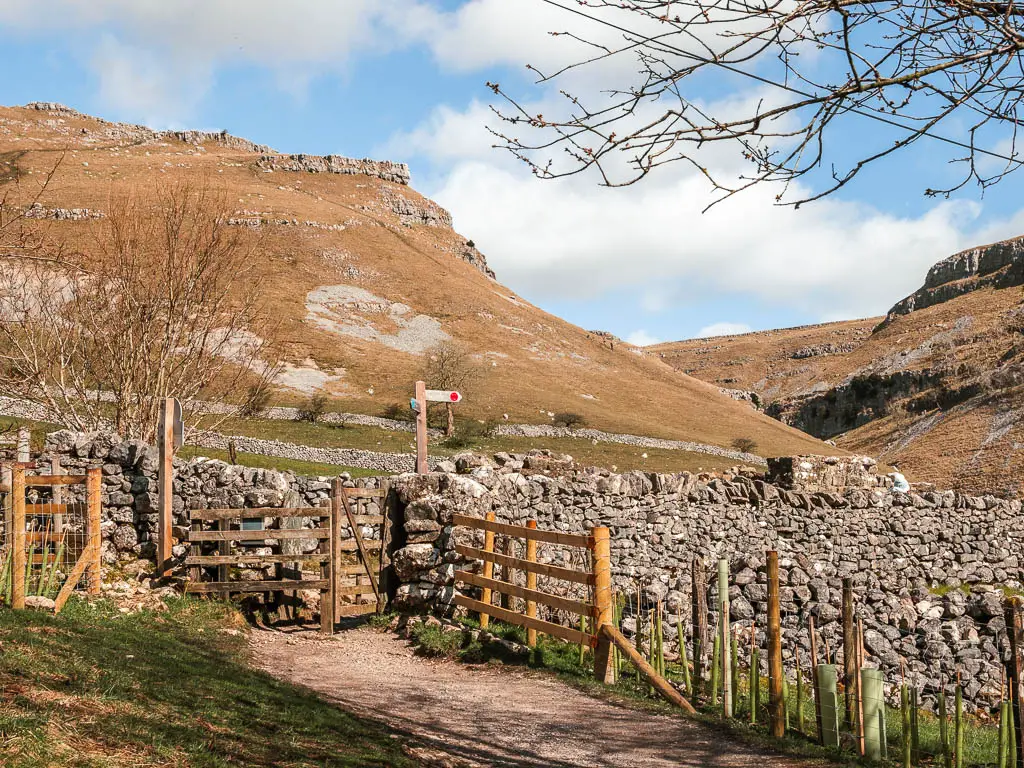 The field on the left of the road, is where you will go when you walk to Malham Cove in a little bit. The trail entrance is next to the food truck (I'm assuming the food truck is always there as it is marked on Google Maps). 
For Gordale Scar though, you need to continue walking along the road, past the food truck, to a gate entrance at the curve in the road.
Just like earlier when walking to Janet's Foss, you will be on an easy well maintained path. Also, just like earlier, the landscape is really lovely, as you head towards the impressive cliffs…with lots of other people.
Arriving at Gordale Scar
It all happens very quickly, as once you enter the gap in the cliffs, you are there, with the waterfall straight in front of you.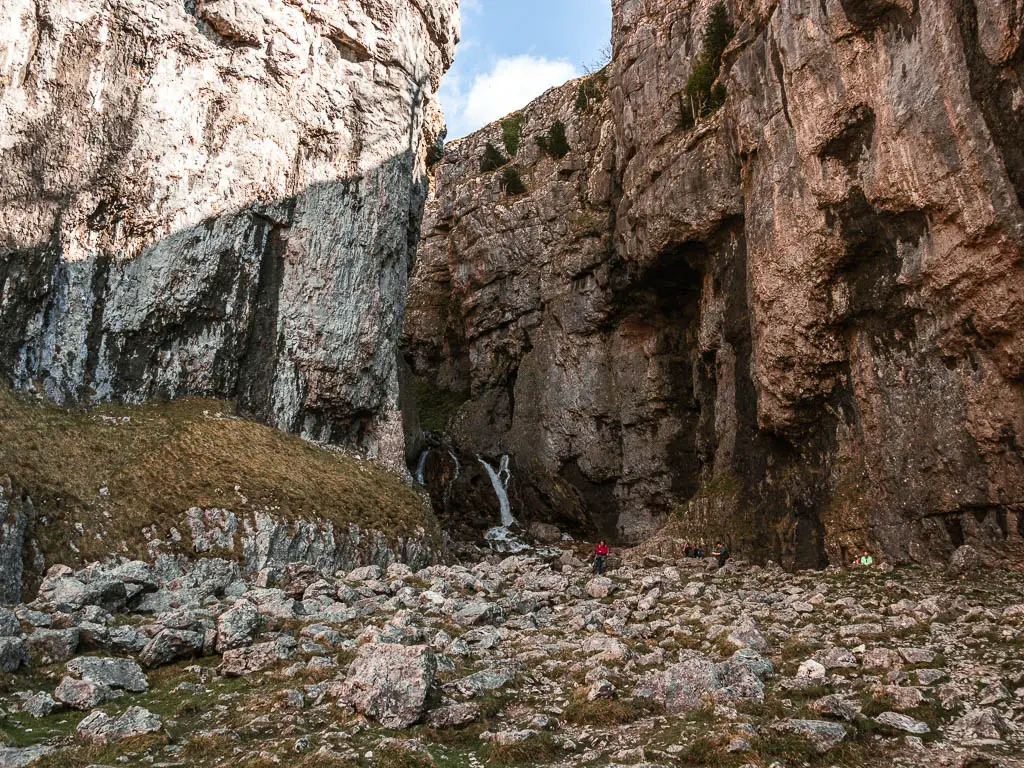 Before heading out on this walk, I had planned to go up the waterfall if I could (this is also before I knew that the Yorkshire Dales people don't like you to do it). When I saw the waterfall and what I was up against, I didn't consider it for another second. There was no way I was going up there. 
After Gordale Scar, it's now time to walk to Malham Cove. For this, you turn back the way you came, to get back to the food truck. 
Part 3: Walk from Gordale Scar to Malham Cove – 1.5 miles
To walk to Malhma Cove, there is a gate entrance to the field, just behind the food truck (if the food truck isn't there, there is probably a sign. I can't remember exactly, as I wasn't paying that much attention, but rather, just following everyone else).
One thing to note, as you enter the field, this section can be very muddy (it was a mud fest for me). 
Past the muddy bit, you need to follow the wall to go uphill. It's now uphill for the rest of the walk to reach Malham Cove.
It's grassy to start, then you will be on a dirt trail. You will go through some gates, and there are a couple of slightly rockier sections.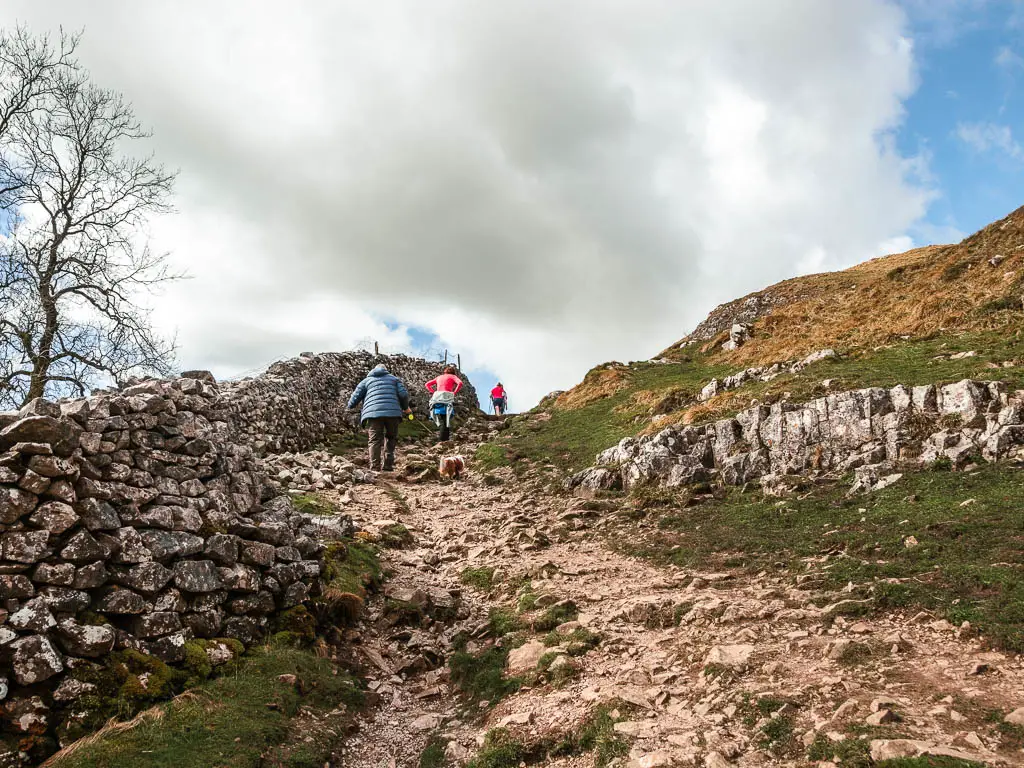 When you reach the road, you need to go over the ladder on the other side, and then continue along the grass trail.
Walk to Malham Cove
You will reach a signpost directing you straight to Malham Tarn and left to Malham Cove. This is where I went wrong. I had really zoned out by this point. I hadn't looked at my map once. Without thinking about what the sign told me, I just continued straight. 
After a bit, I suddenly realised there wasn't anyone else about. Where had everyone gone? Something wasn't right, so I looked at my map and realised I had gone too far. 
After walking back a little, I got a view to a mass of people below to the right on the rocks. Ah, that must be Malham Cove…
Arriving at Malham Cove
Malham Cove is quite impressive, and I particularly liked the view along the river below. The next bit is also quite fun, as you navigate the gaps in the rocks to walk across it.
Again, I didn't stay long, due to too many people.
Part 4: Malham Cove back to the start –1.5 miles
From up here, you will see the path below that you will walk along next. To get to it, you need to find the steps down.
Across the gappy rocks, look out for the way down on the left. There is a gap in the stone wall just next to the stone wall steps. You need to go through this gap.
As I made my way down, passing other people coming up, I felt a bit bad for them, but also a little smug.
At the bottom, you now just follow the well laid out path, through the fields, to reach the road. At the road, turn left and this will lead you back into the village.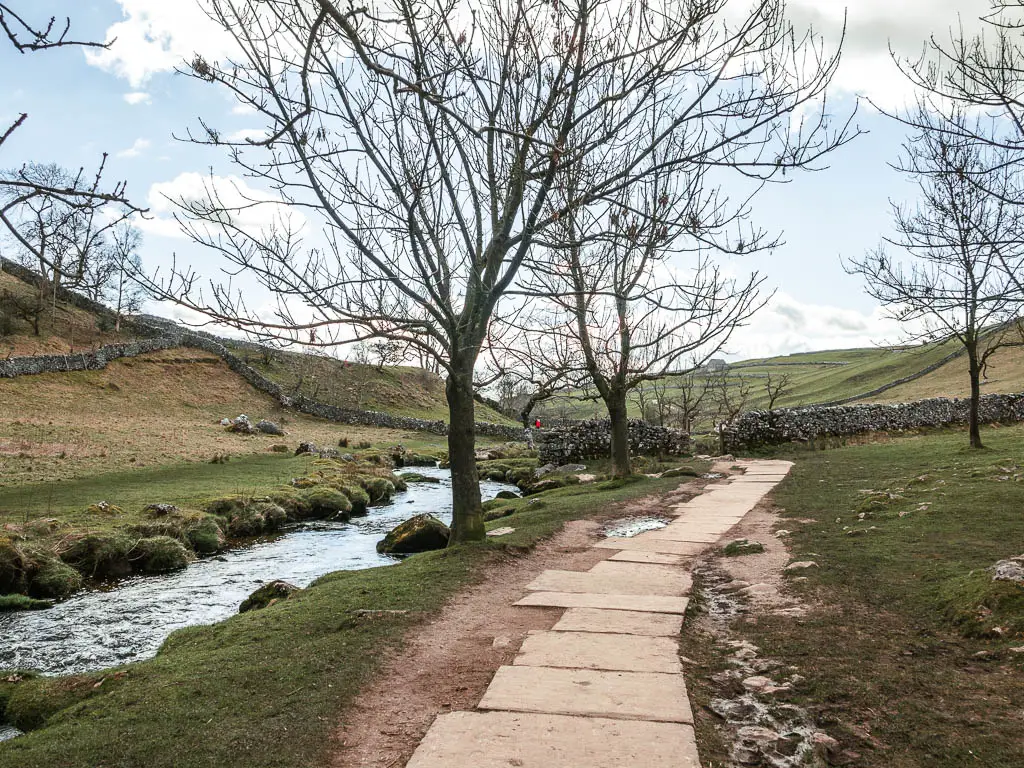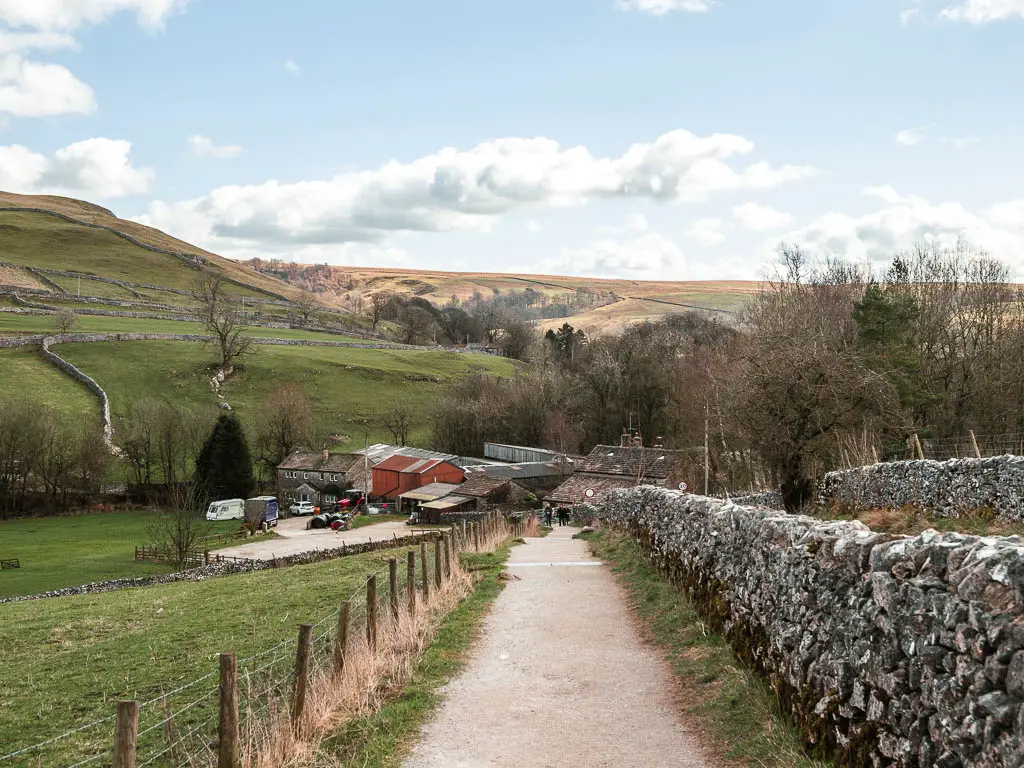 When I got back, I noticed a sign saying the little woodland green in the village was for sale. I wonder how much it is….
Pin it for later: Malham Cove via Gordale Scar and Janet's Foss walk guide
For more info about things to do locally, you can check out the Visit Yorkshire Dales website here.