What a walk, or should I say scramble, this one is. I have done it before, many many years ago. I can't say I remember much about it though. You see, I had walked up Pen-y-Ghent as part of the Yorkshire three peaks challenge. That wasn't fun, so of course I had to come back and walk Pen-y-Ghent again, without the pressure and competition. Plus, I threw in a detour to Hull Pot for good measure.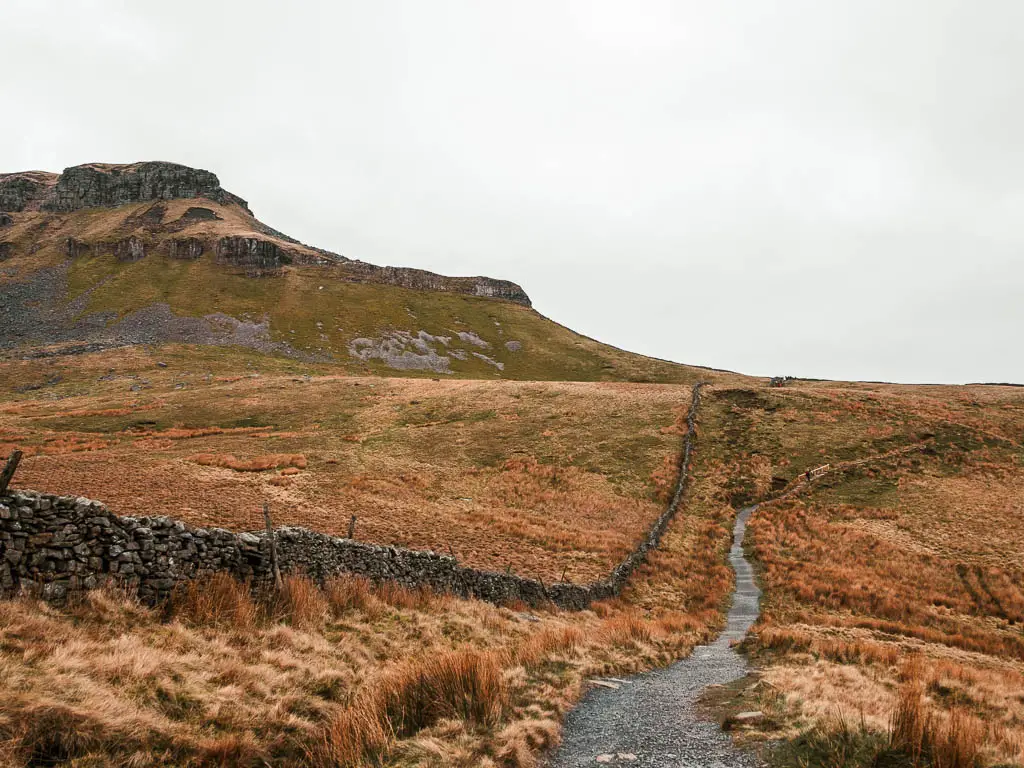 What is Pen-y-Ghent?
Pen-y-Ghent is a 694m high summit in the Yorkshire Dales. It's the smallest of the peaks in the three peaks challenge. The other (bigger ones) being Ingleborough and Whernside.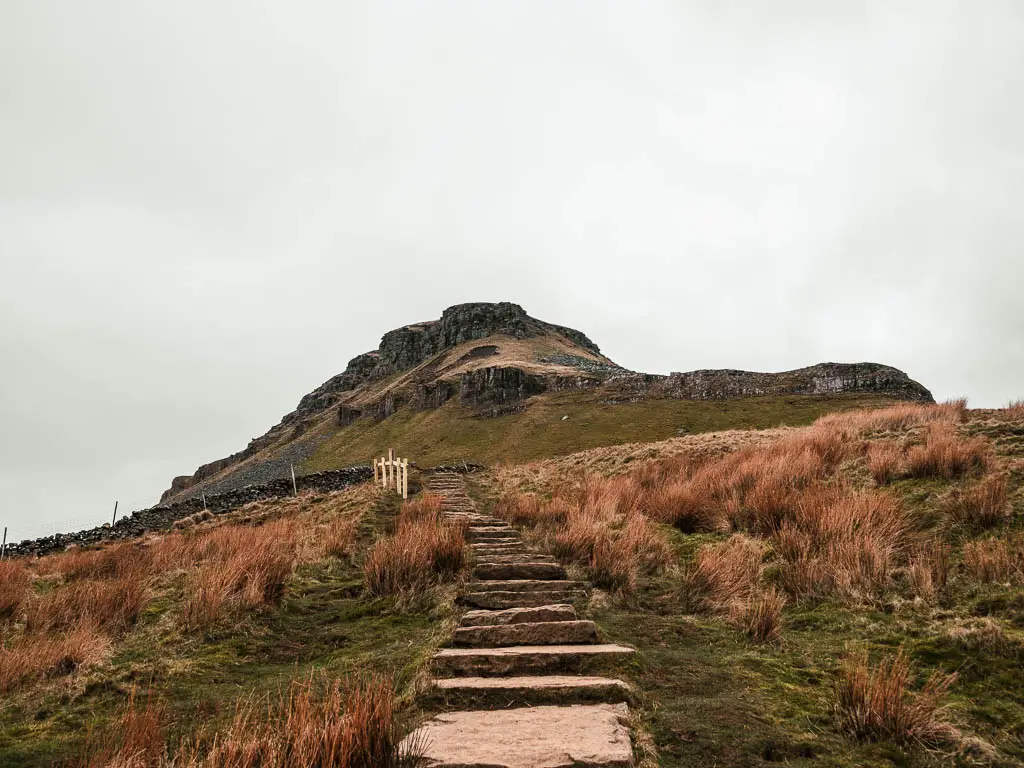 What is Hull Pot?
It's basically an 18m deep collapsed cavern, with a waterfall. In dry weather it's a small waterfall. In wet weather, a big stream flows into it, creating a big big waterfall.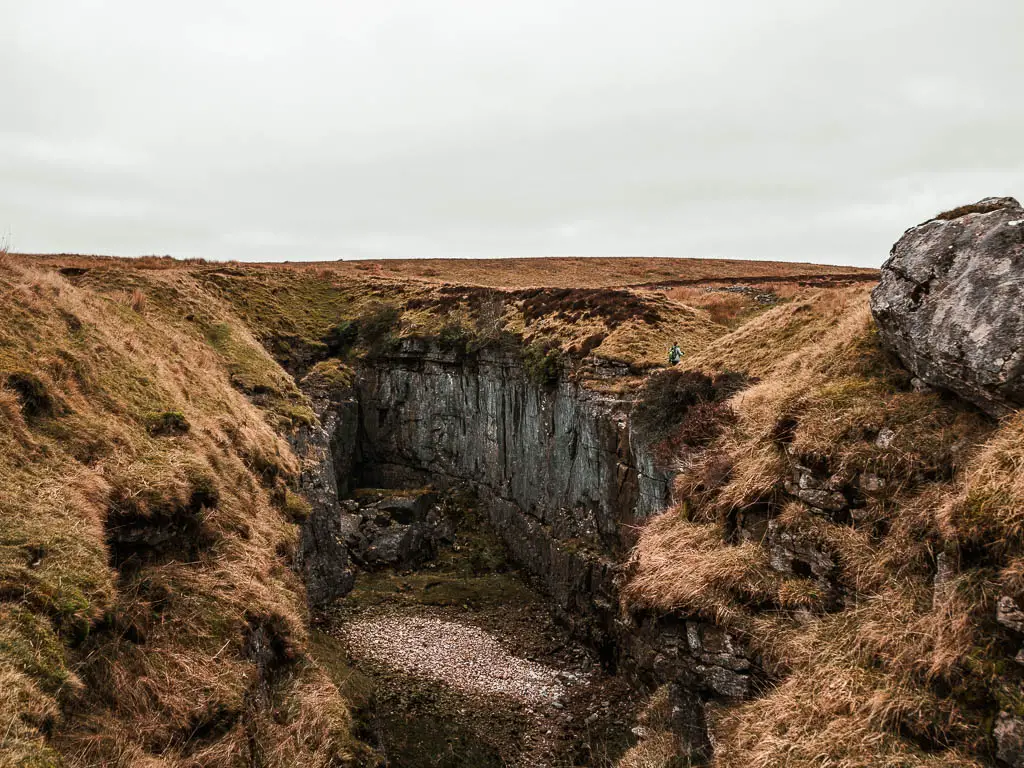 (When I did this walk, I couldn't remember what Hull Pot was, so it was all a surprise)
In this guide, I'm going to go through the full logistics for the circular Pen-y-Ghent walk via Hull Pot, along with a map, and some useful tips. Then I will give a detailed step by step route description, with lots of photos. 
How hard is it to walk Pen-y-Ghent?
It's a fairly challenging walk, with there being a lot of scrambling near the summit, and steep sections with slippy gravel rock. If you tackle the scramble on the way up Pen-y-Ghent (as opposed to down), it will make your life a lot easier.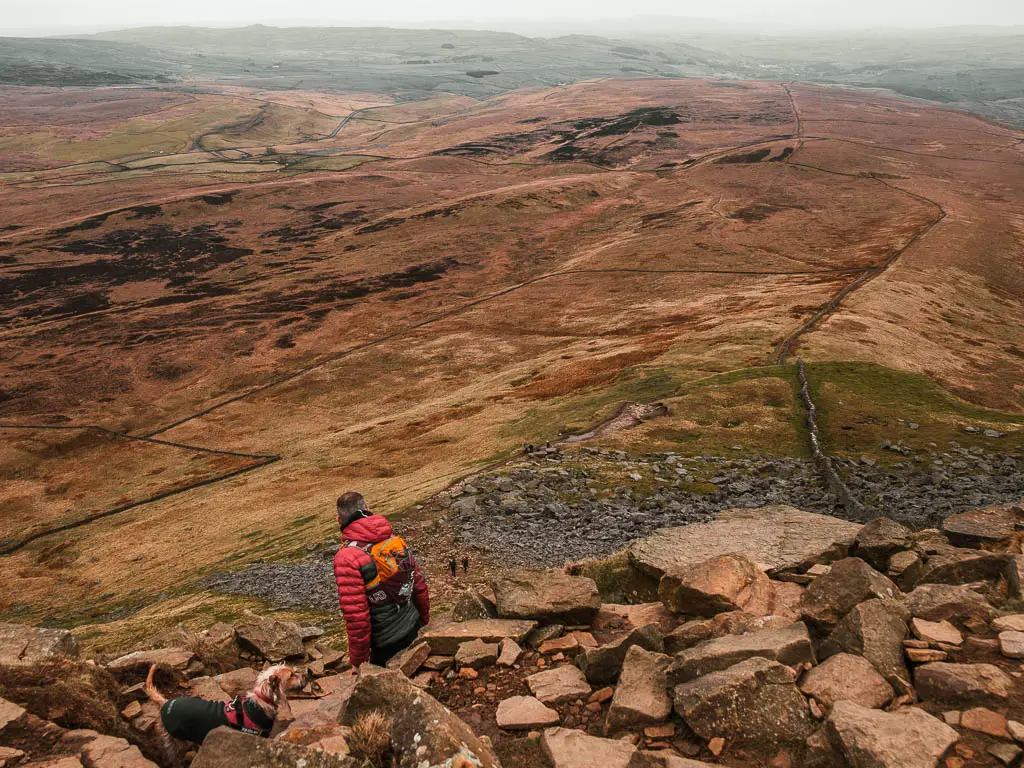 Then for the way down on the other side, it's a long old plod along a rocky gravel trail, which your knees might not like, and your quads will feel the next day. 
If you like peaks, then you might like this route up Roseberry Topping. It's over in the North York Moors. It looks like it would be tough, especially the way the peak rises and droops in the sky, but it's actually much easier than this one. Alternatively, if you want more scrambling, near to Roseberry Topping are the Wainstones. This route is one of my favourites, taking you across some impressive moors.
How long is the Pen-y-Ghent circular walk?
The classic circular Pen-y-Ghent walk route is about 6 miles. To include the detour to Hull Pot (which I recommend), add about 1/2 a mile or so.
Read more: Things you should pack on a day hike and checklist
Is it easy to follow?
The route up Pen-y-Ghent is very easy to follow. There are some signposts, and the main trail is quite obvious. Plus there will probably be lots of other people doing it, so you can just follow them. I didn't have to look at my map the whole way up, as I just went with the crowd.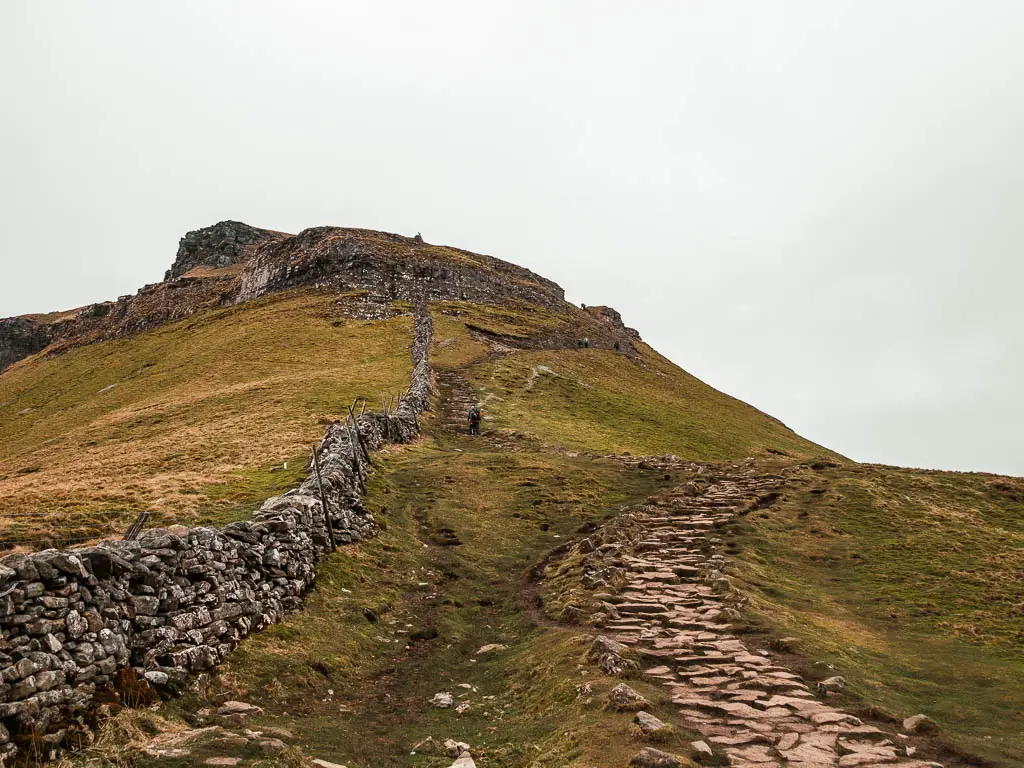 Once up the top, there are a few trail options, but once you get on the right one, again, it's a very obvious way down. 
---
Tips for walking up Pen-y-Ghent 
---
Do it anti-clockwise. That way you can scramble up. Trust me, you will hate your life if you try to do it the other way.
Wear hiking boots. 
I wouldn't do it in the rain. The scramble side has a lot of steep bits with slippy gravel rocks. It will be quite dangerous trying to do it when it's wet. 
If doing it on a weekend, I suggest you go early. I was there at about 10am on the weekend in winter, and struggled to find parking. 
On the walk down off Pen-y-Ghent, take the detour to Hull Pot. It's only a short way off trail, and a nice way to break up the journey down.
Take layers. You will get sweaty climbing up Pen-y-Ghent, but at the top you will cool down very quickly. It was about 6 degrees colder up there.
Read more: What to wear for hiking in winter
Logistics
Start/Finish: Horton-in-Ribblesdale
How to get there: Located in the Yorkshire Dales National Park, in the middle west side. You can see exact location on my map below.
Public transport: There is a train station (Horton-in-Ribblesdale) which you can get to direct from Leeds in about 1h10min. They are not that regular, so check the times before you head out.
Distance: 6.3 miles (including Hull Pot)
Time: I walked up and down Pen-y-Ghent (via Hull pot) in 2h10min. If you are less experienced, then add a bit more. I overtook a lot of people on the scramble up. 
Elevation: Highest point is 694m. You are already starting from above sea level, so you won't walk quite as much as that. Roughly 100m less.
Difficulty: Challenging
Terrain: Rocks, more rocks, dirt, grass, gravel, rocks again, a bit of road.
Dog friendly: Yes. If they can manoeuvre the scramble. There were lots of dogs up there doing it.
Amenities: Public toilets in the main car park. A few pubs/Inns. A small shop which apparently sells outrageously good coffee….according to them.
Time of year: I walked it in winter
Parking for Pen-y-Ghent
There are a few places you can park to walk up Pen-y-Ghent.
Yorkshire Dales National Park car park
The Golden Lion Inn offers parking for £4 (from what I have read, it's cash only).
Limited on street parking for free
When I arrived, I was on the hunt for free parking. However, all the street parking in the village was full. There was no space left in the main car park, and I didn't have cash for the other one. I didn't come all this way not to be able to find parking, so I drove out of the village and found some space out there. This was about 10am. 
When I got back a couple of hours later, there were about 20 more cars parked there. 
Pen-y-Ghent circular walk route map
You can find my more detailed route map for the Pen-y-Ghent circular walk on Alltrails here.
– More local walking ideas will be listed at the end –
---
A guide to the circular walk up Pen-y-Ghent 
---
To walk the anti-clockwise route up Pen-y-Ghent (which you should), the side road you want to find is directly opposite the lay-by type parking. It's located near the church. If you have parked in the main car park, you need to walk to the other end of the village.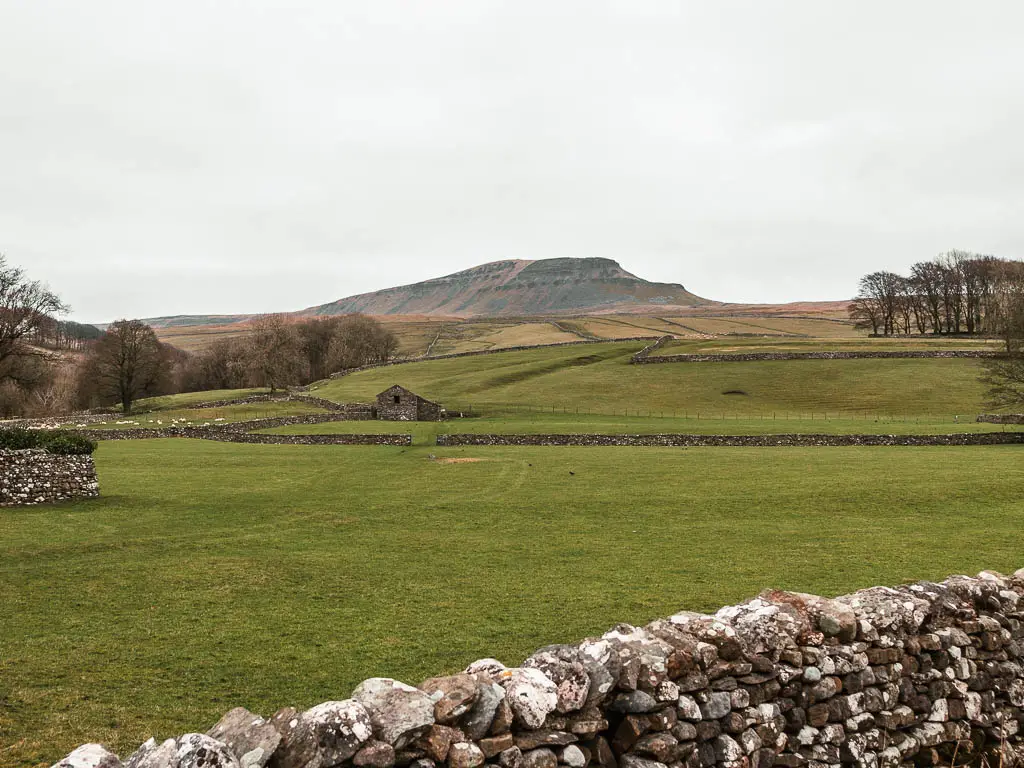 When on the side road, you should be walking with the river stream to your left. 
It's a bit of a walk now on this road, as it curves around, then when you exit the wooded section, you will get a view to Pen-y-Ghent looming ahead in the distance.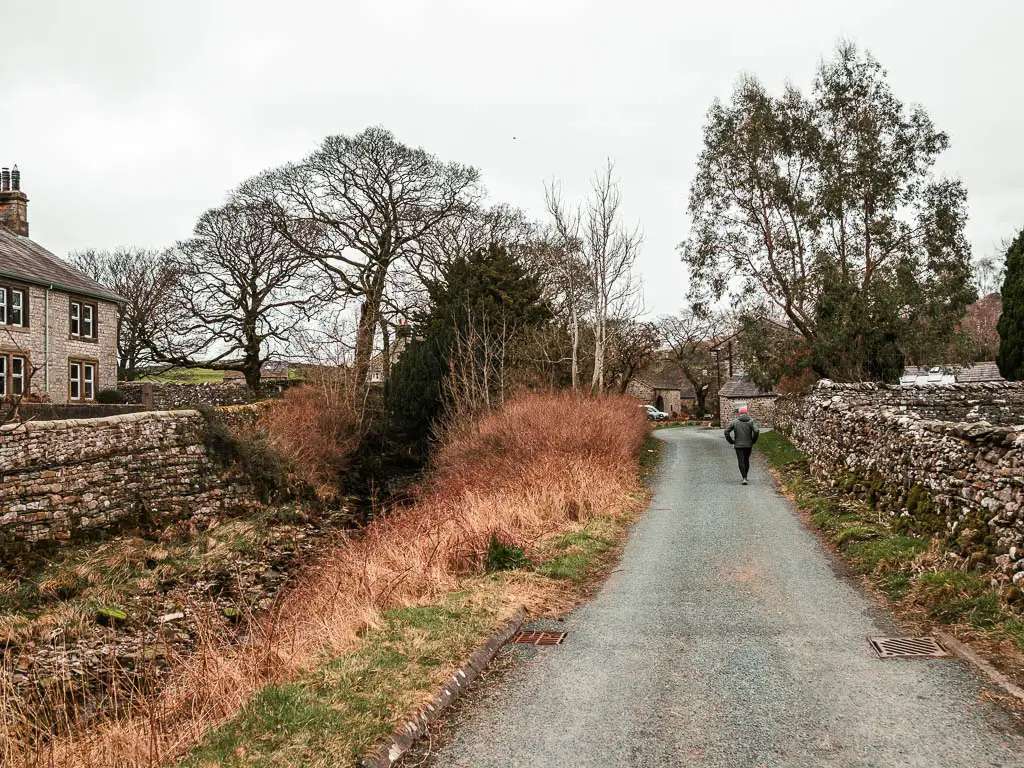 Get onto the trail
Along here, next to the stone shed building, you should see a signpost pointing the way to Pen-y-Ghent. Follow it.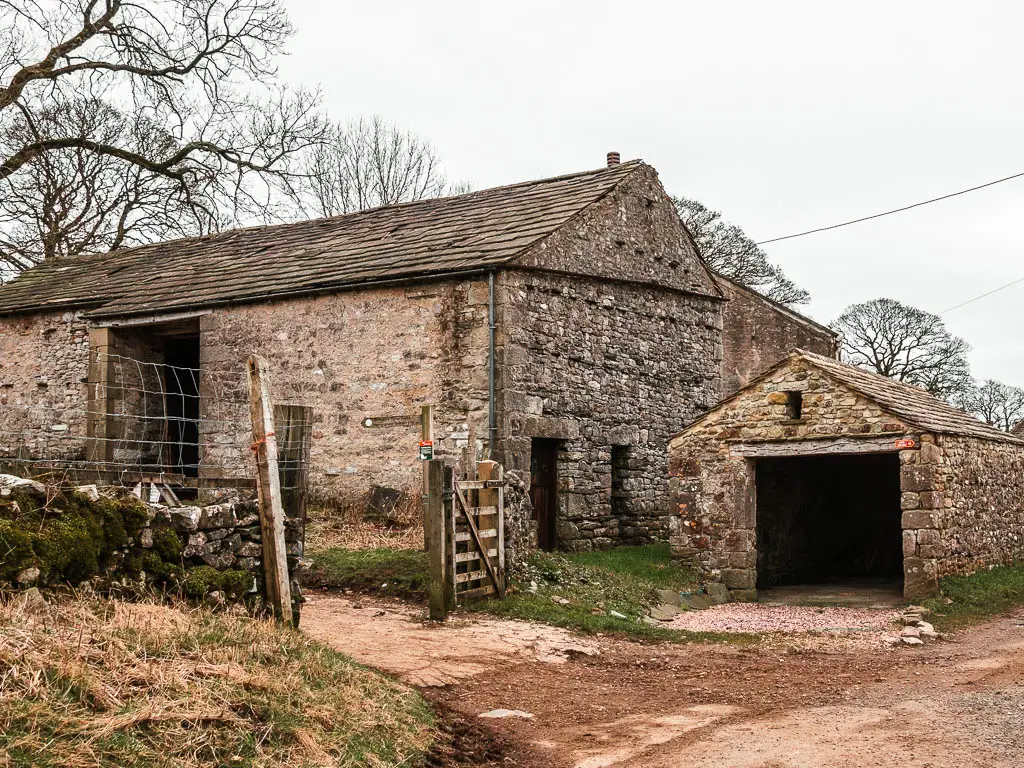 If in doubt, follow everyone else. 
Walk up the hill with Pen-y-Ghent ahead
It's now a solid uphill walk, all the way to the top. Some parts on grass, other parts on dirt, with a few rocky sections thrown in, to warm you up for what's to come later.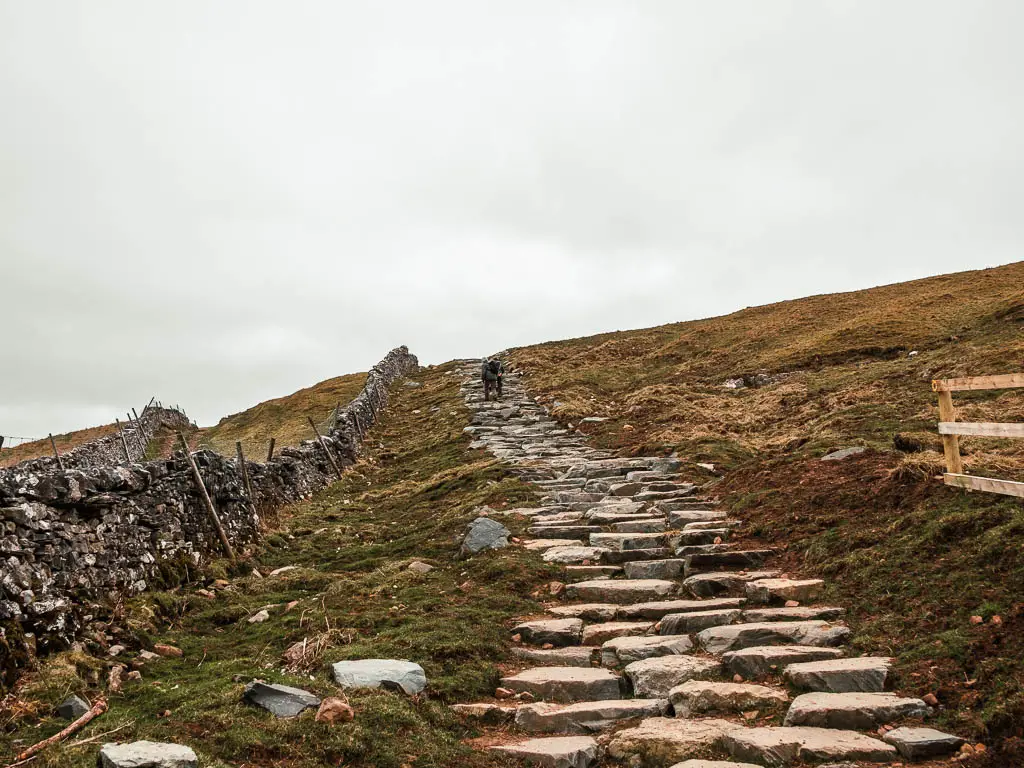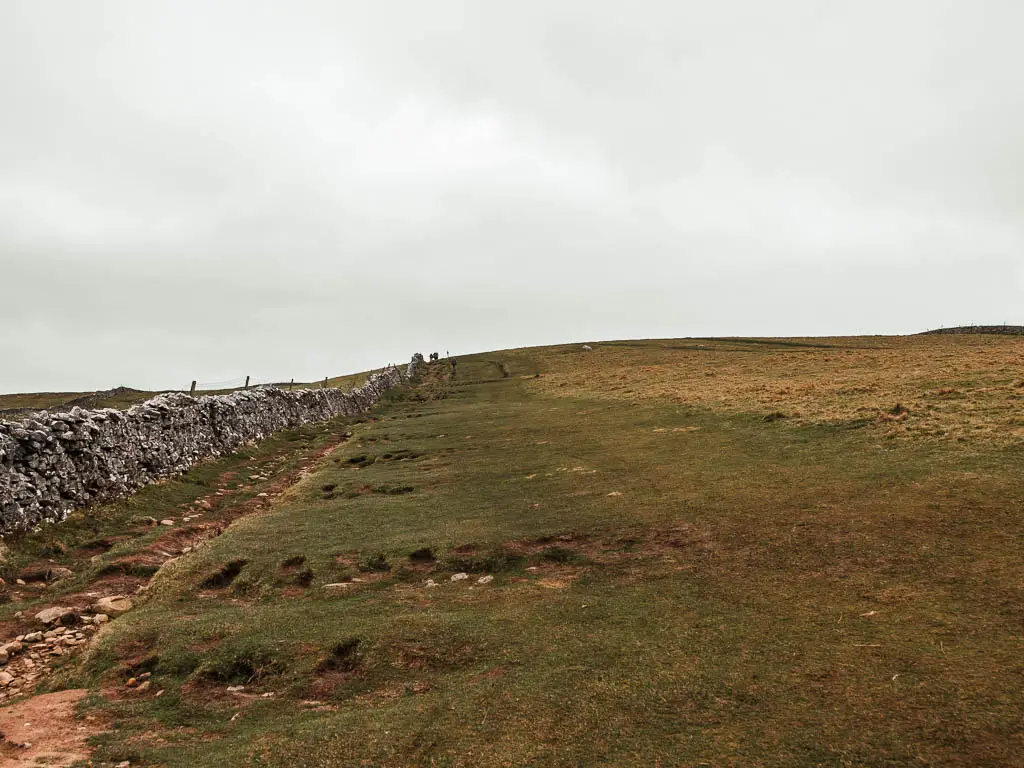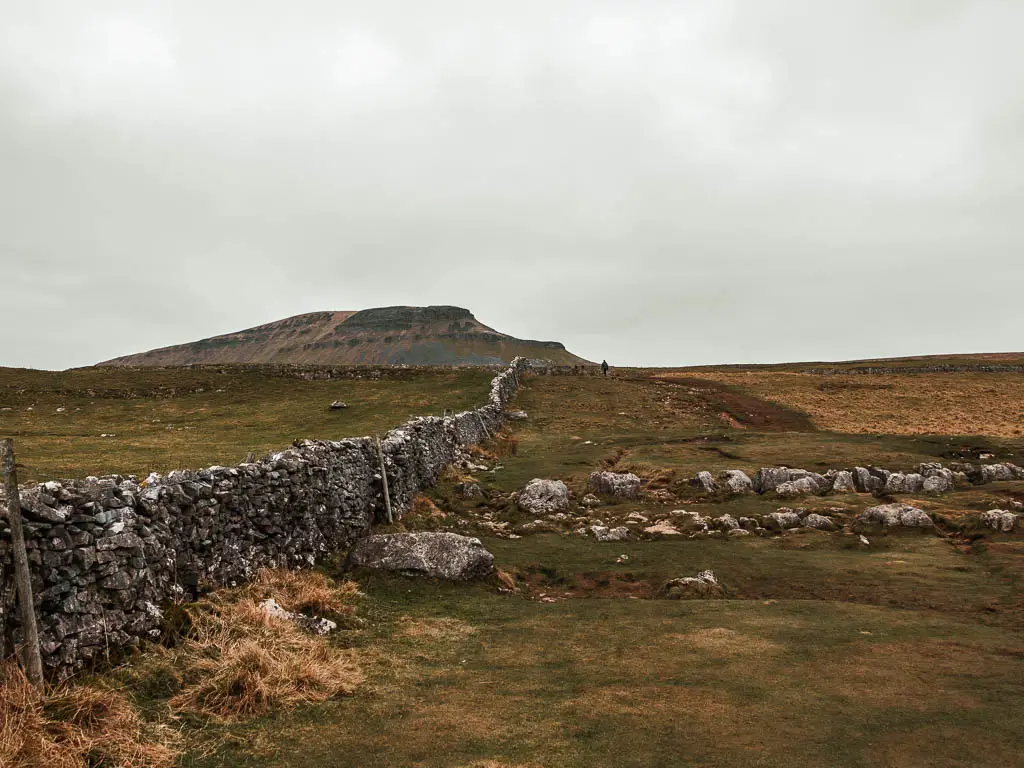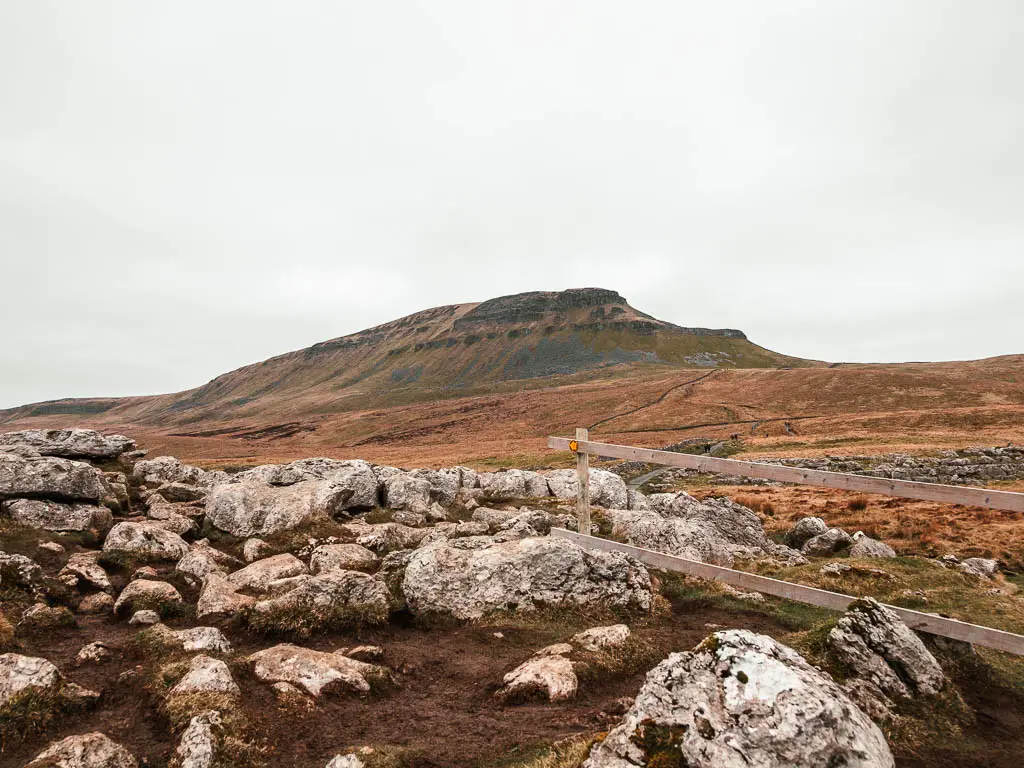 I found as I got closer, Pen-y-Ghent looked scarier. Looking at that steep bit waiting for me, I was wondering how that would work out. 
As you get higher up, some steps will be thrown into the mix. Also, make sure to look back at the views.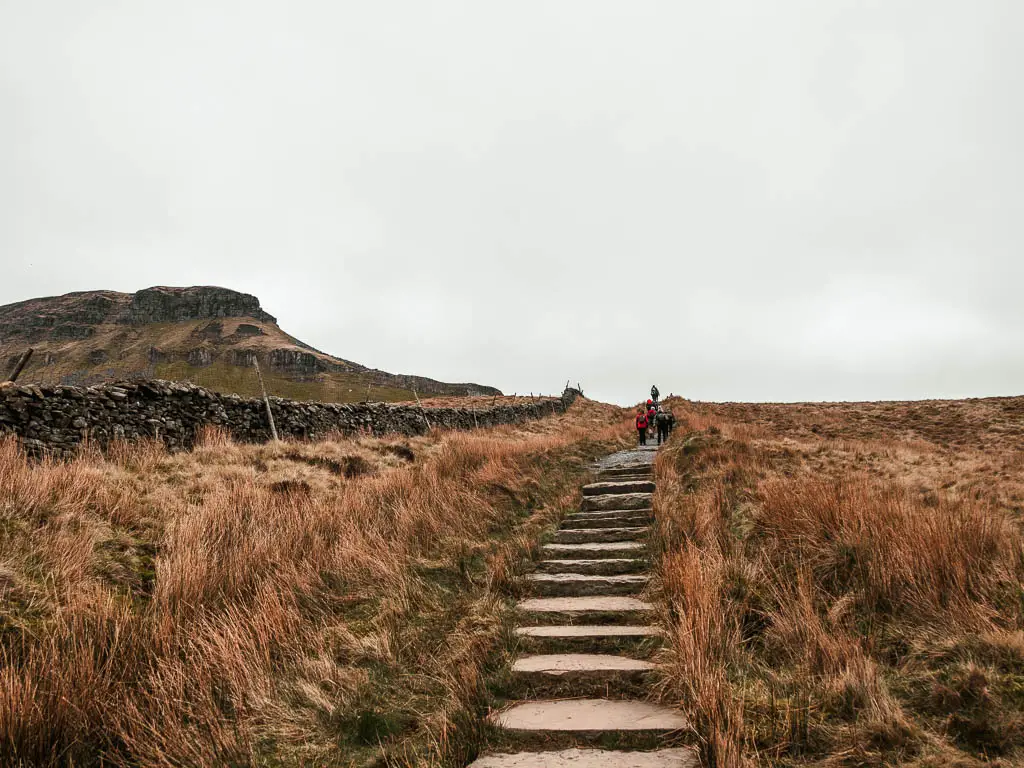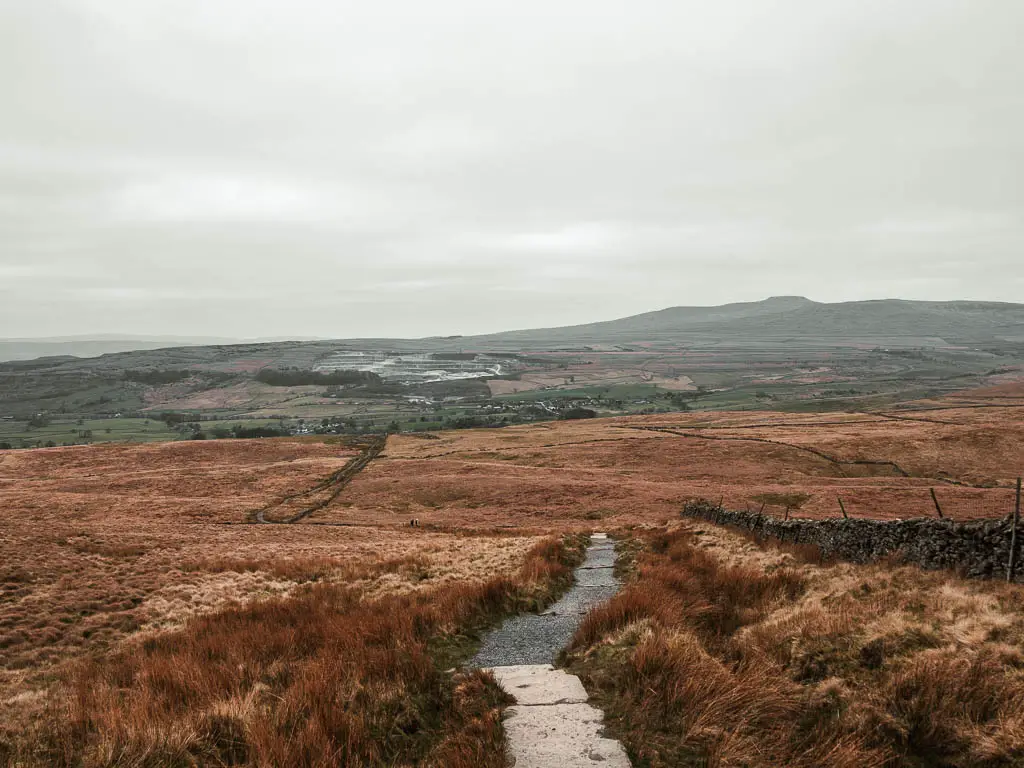 The scramble 
Through the final gate, turn left at the sign. This is where the adventure begins.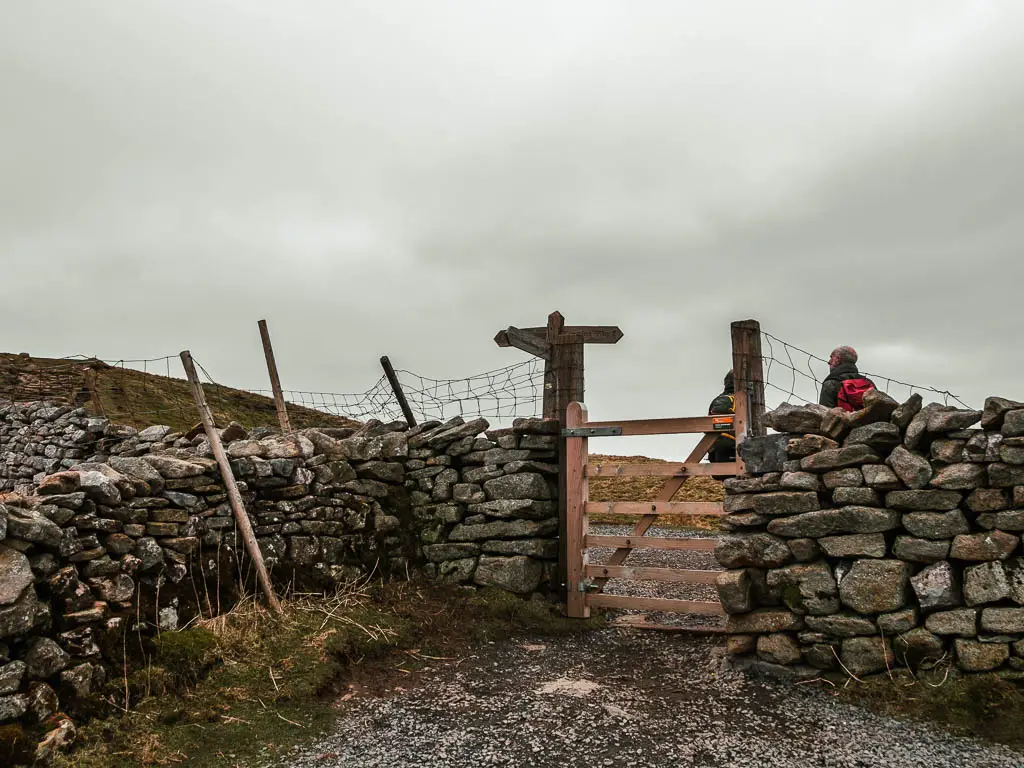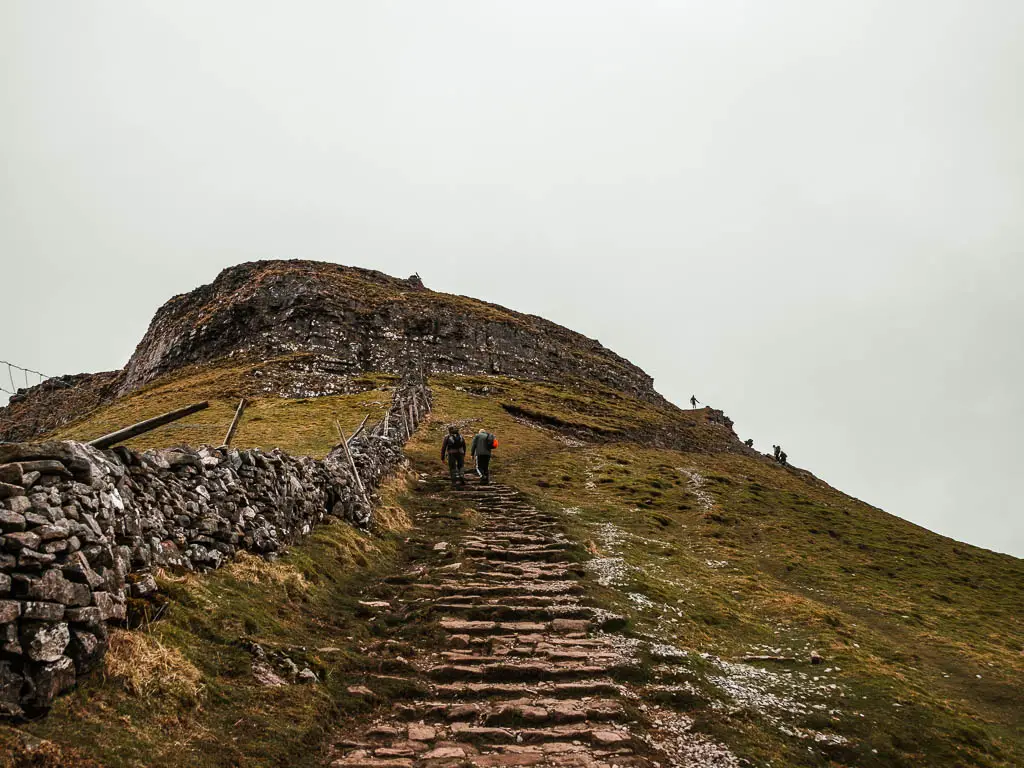 Interestingly, once I got to this bit, it now seemed less scary. Maybe because I had now walked most of the way up, and now it was just a short way to go. Maybe because I like to think of myself as a mountain goat. This is my kind of vibe. 
Firstly, you will walk on a rocky paved trail, some rugged steps, and gravel.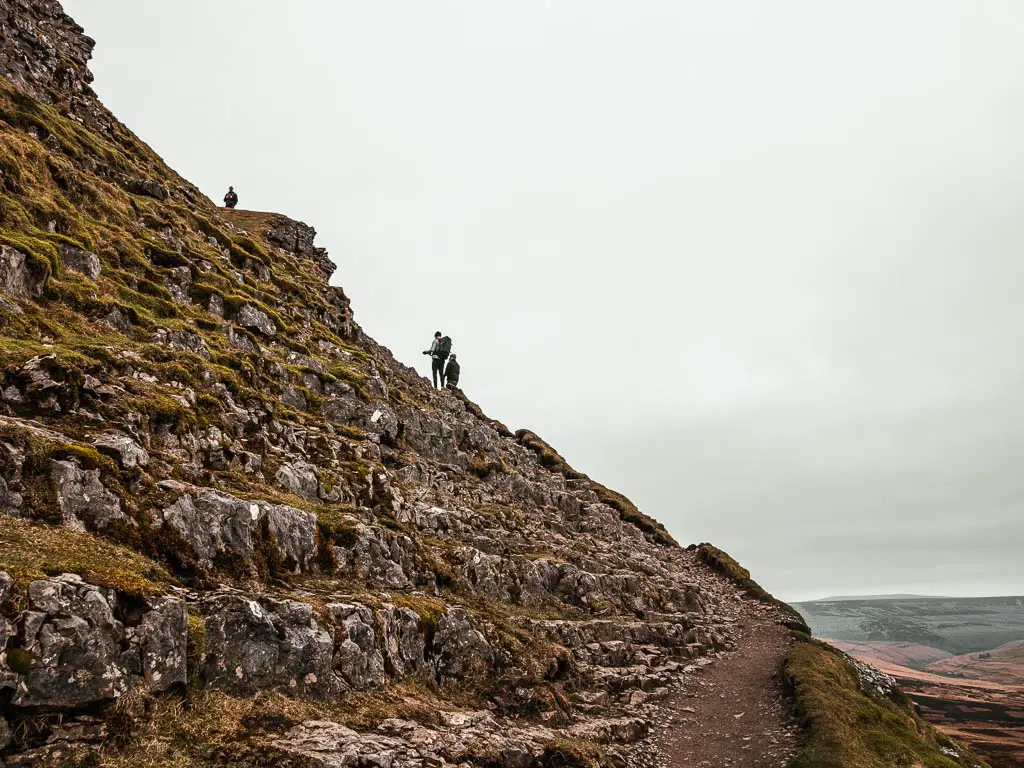 Then your hands will have to get involved, as you start the scrambling section. I don't have too many photos of this bit, because I was too busy trying not to fall and die.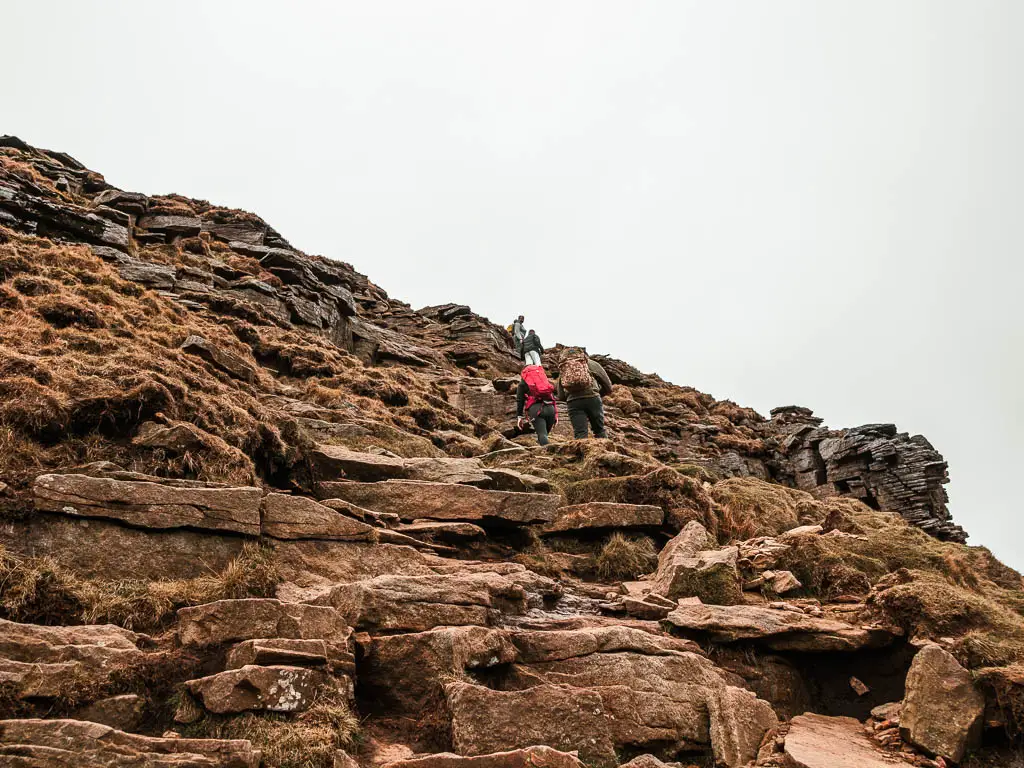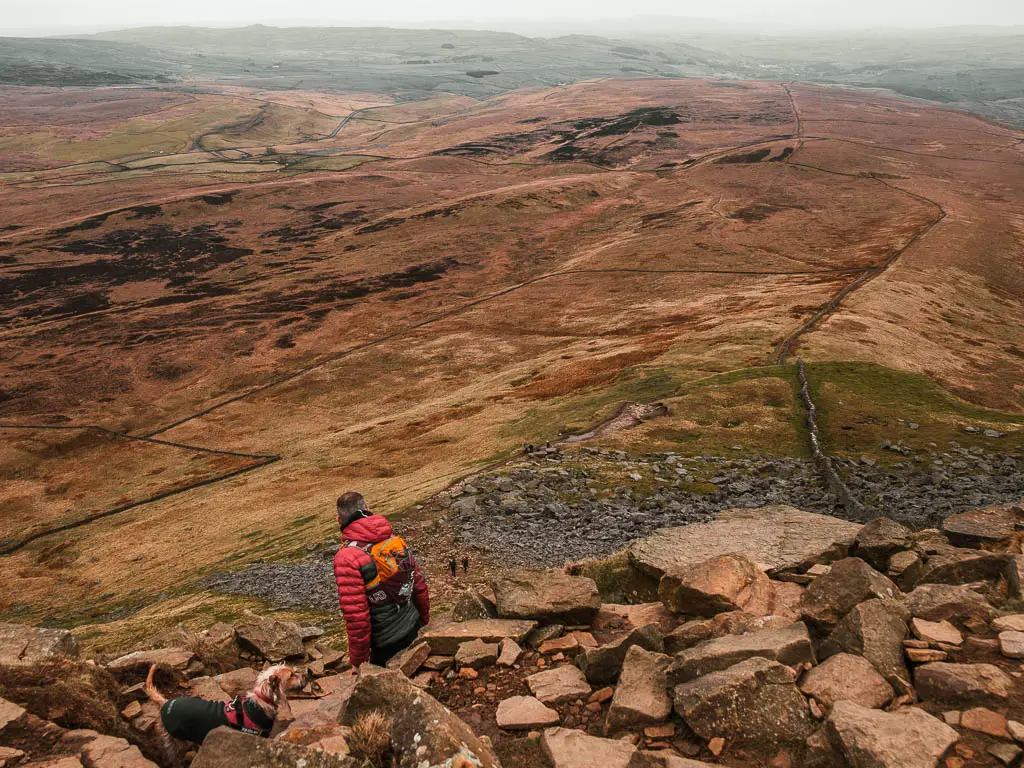 Walk to the summit of Pen-y-Ghent
Once up all the rocks, the final stretch to reach the top of Pen-y-Ghent is on a nice paved trail.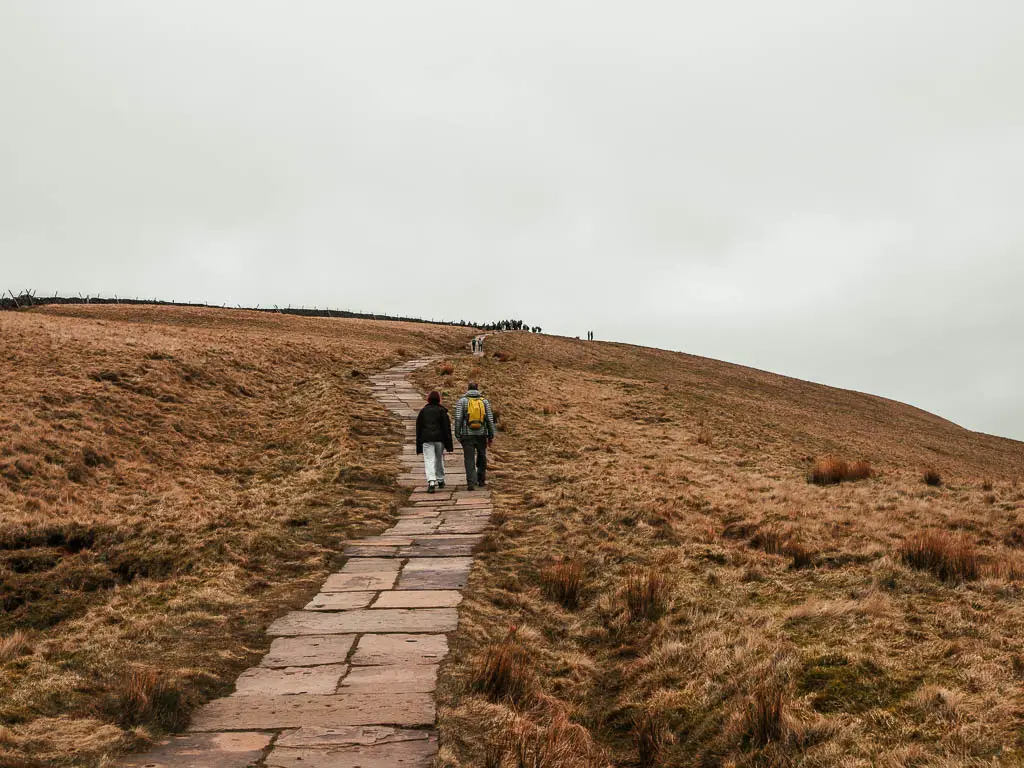 On my way up, I could hear them before I could see them….
The children.
Once the summit came into view, I could see a mass of people up on it. Lots of people and lots of children. Loud screechy children. I thought about how all that hard work had led me to this. 
Once I got there, I left immediately.
Start the walk down off Pen-y-Ghent
To walk down off Pen-y-Ghent, go through the gate, and follow the wide grass trail straight ahead (not the one next to the wall).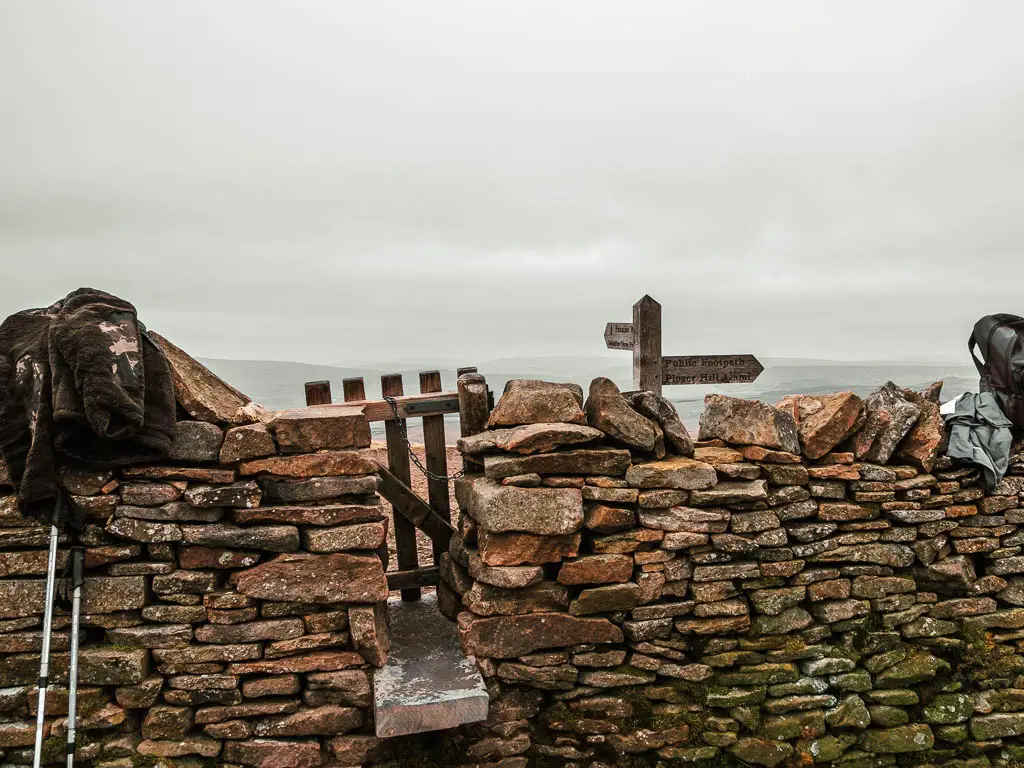 This will then turn to dirt, and then steps. Awkward steps, where you need to adjust your stride length to make it work (unless you have long legs).
Past the steps, the trail will turn to dirt again, and you will have a cool view to the hillside cliff ahead. 
If you look down to the left, you will see the long long path, leading further than you can see into the distance. This is what you have in store next. 
Hull Pot
I knew I wanted to go to Hull Pot, but I couldn't actually remember what it was. I had looked up so many things in the Yorkshire Dales, that it gets a bit confusing. Was it a waterfall? There are a lot of them out here. 
I looked on my map, in the direction of where Hull Pot was, and it pointed straight to that circle of water. Was that Hull Pot? I tried to google it, but had no signal. 
That didn't look interesting so I decided I would skip it.
Take the long trail down
At the corner with the trail signpost, turn left to get onto the long trail. You now have a long old downhill on gravel rocks.
Some time later on, at the main junction, I checked my map again. I was now past that circle of water, and Hull Point was pointing to something else. 
Well, my curiosity got the better of me, so I decided to take a look. Plus, anything to break up the monotony of the long trail. 
If you want to just head back down, then go through the left gate at the main junction. To walk to Hull Pot, turn right instead.
Walk to Hull Pot
It's only a short way to reach Hull Pot, along an obvious trail. Again, if in doubt, follow everyone else.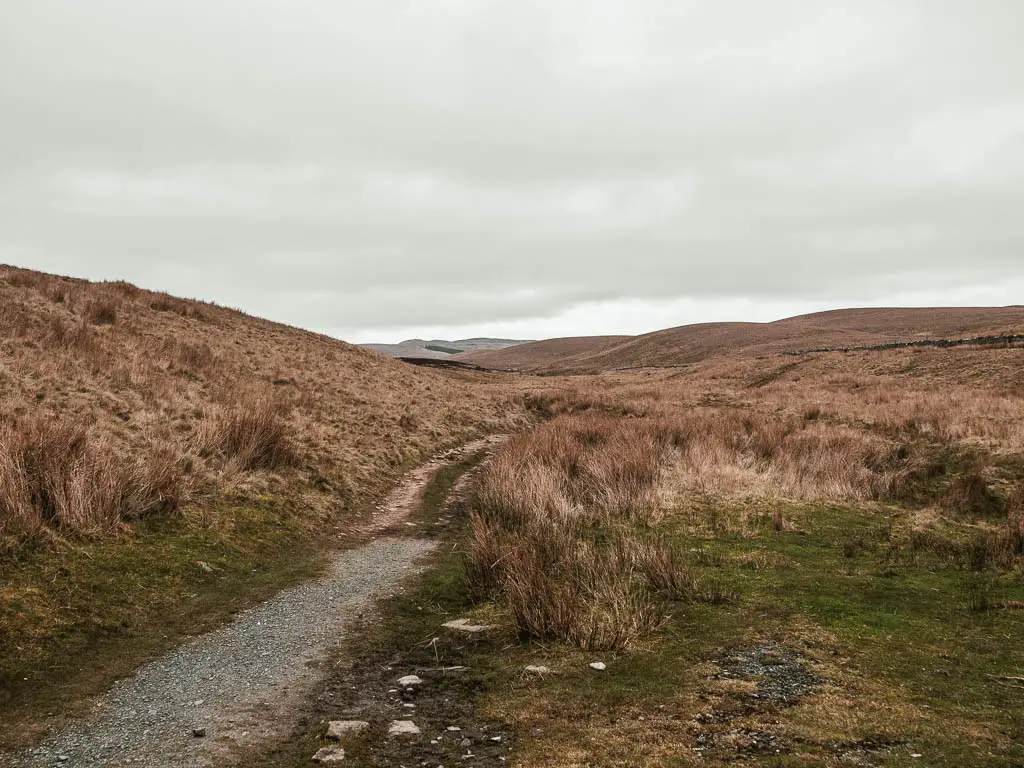 When I arrived, I was blown away by this cool gorge style thing. Hidden away, until you are right up on the edge. There was a bit of water flowing. A token waterfall.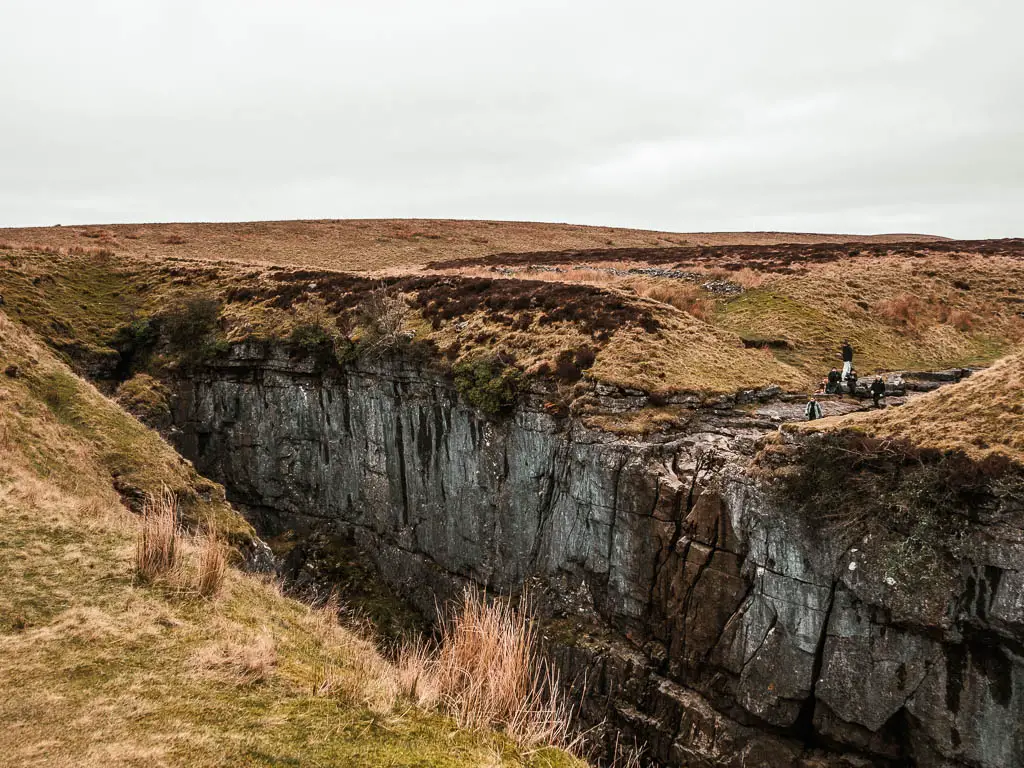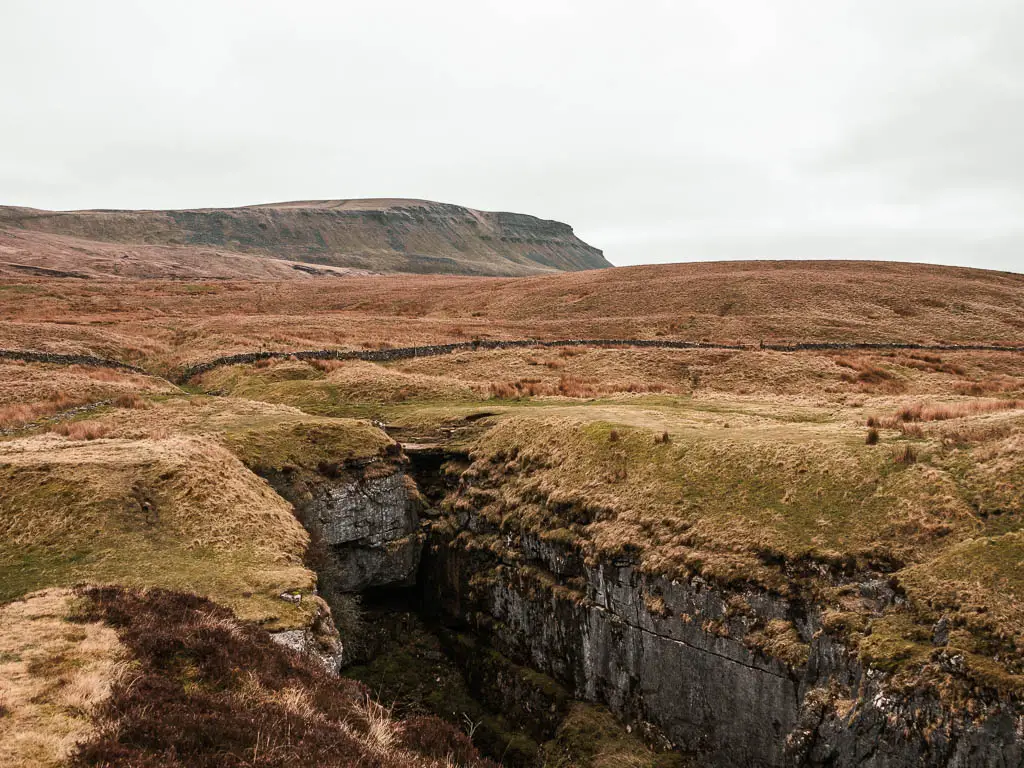 I walked all the way around, and it looked like a river should be flowing into it. But it wasn't. 
Anyway, I was glad I made this little detour. The big hole was cool enough. 
Walk back down to Horton-in-Ribblesdale
Head back to the junction, and through the gate. You will now walk downhill some more on a long gravel, dirt, and rock type trail, with a view to Pen-y-Ghent to your left.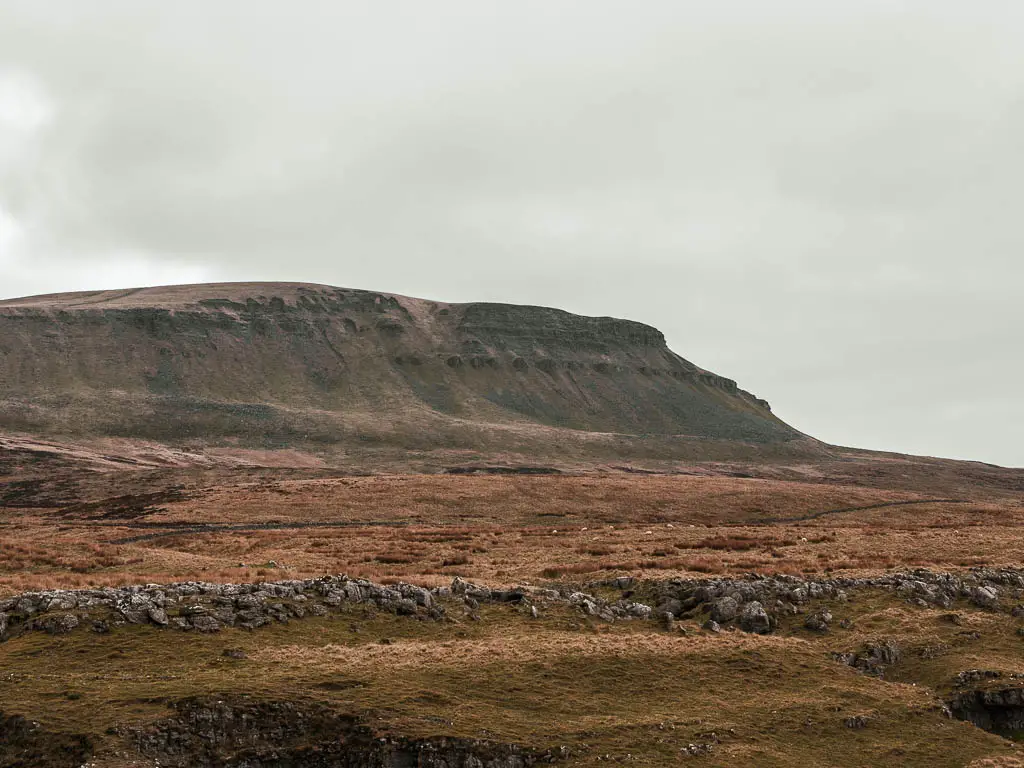 I must say, this section of the route down was very different. The landscape and views ahead had changed. Higher up, is was vast nothingness. Now it was more of a countryside feel. With the stone walls, trees ahead, and interesting rock formations.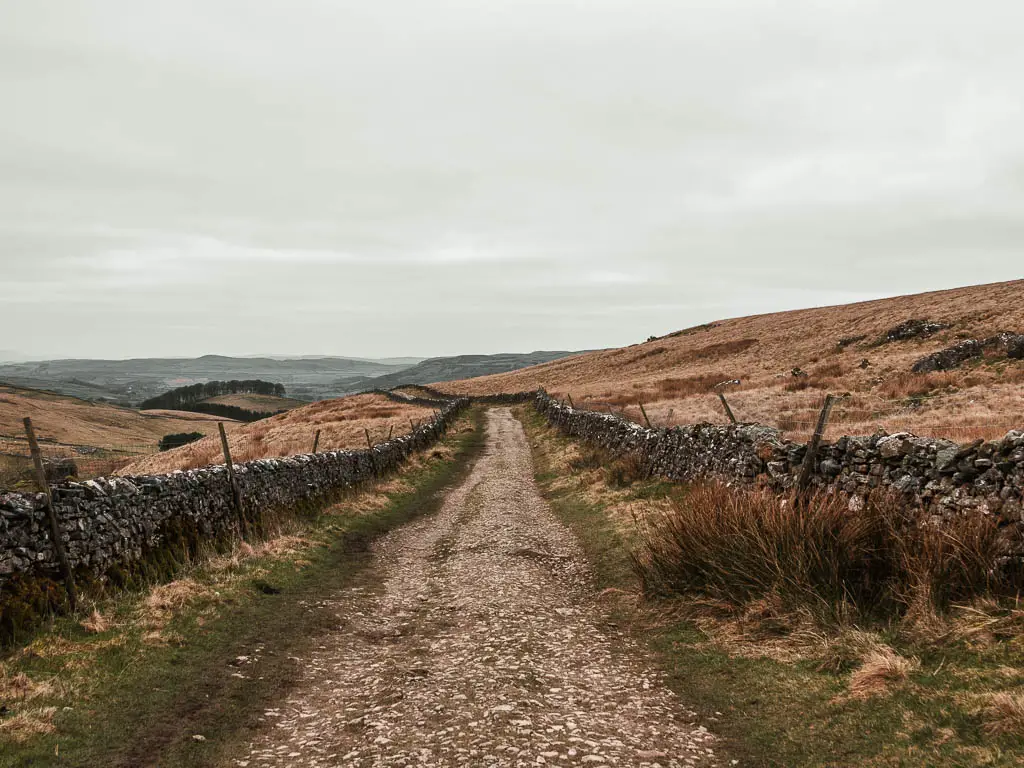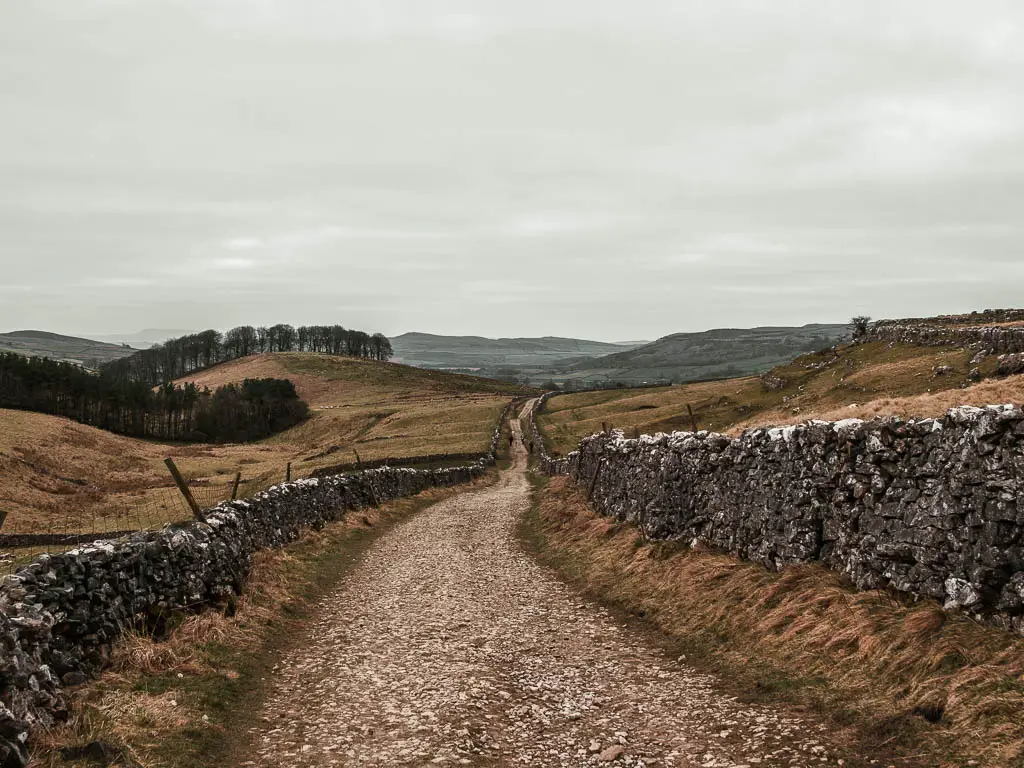 Some way down, you will get a view to Horton-in-Ribblesdale. Keep following the path and it will lead you straight to it.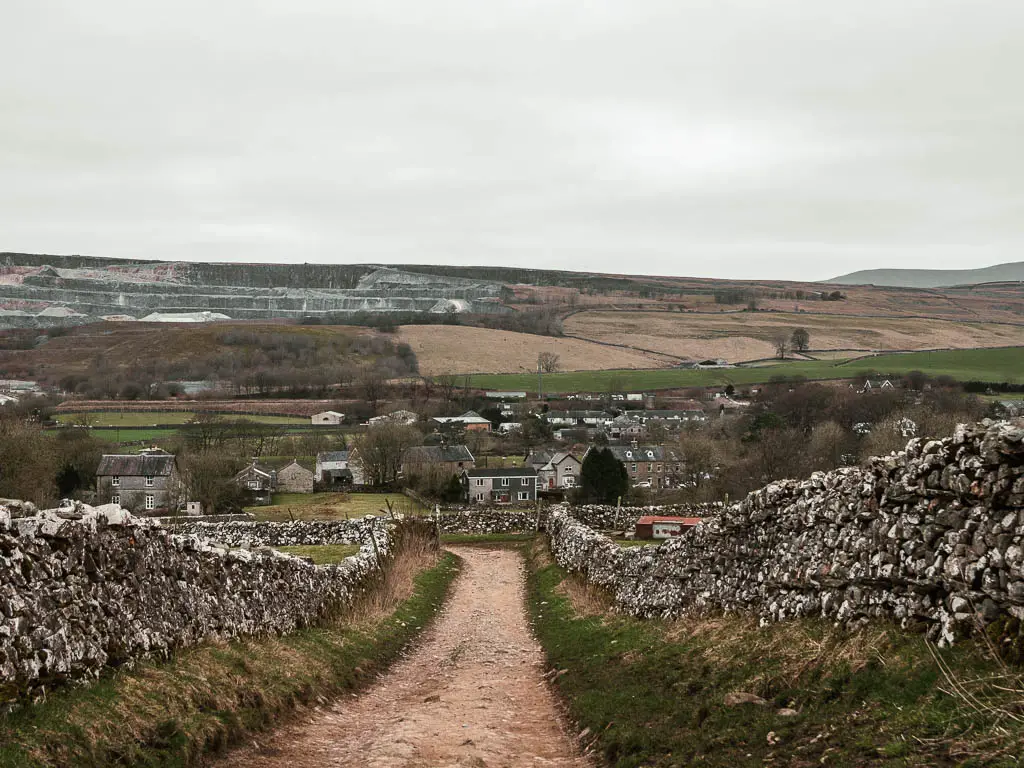 More local walks
If you like views, this this one up Simon's Seat is a must. You will also be treated with a very beautiful waterfall on this one. So far, this is my favourite walk out here. This is a little further south in the Yorkshire Dales.
Next to Simon's Seat, is Bolton Abbey, where you can do this wonderful walk along the river, via the impressive (and deadly) Strid.
If you like waterfalls, then some famous ones out here are Hardraw Force, and the Aysgarth Falls. These are much much easier walks. More the family friendly type. These are just slightly further north of Pen-y-Ghent.
If you would like a pretty walk, to a quaint market town, then you should try the route from Burnsall to Grassington. It's the second walk I did out here, and I really enjoyed it.
I have done many walks up here, which you can see a full list of on my guide on the best walks in the Yorkshire Dales here.
Pin it for later: Pen-y-Ghent walk guide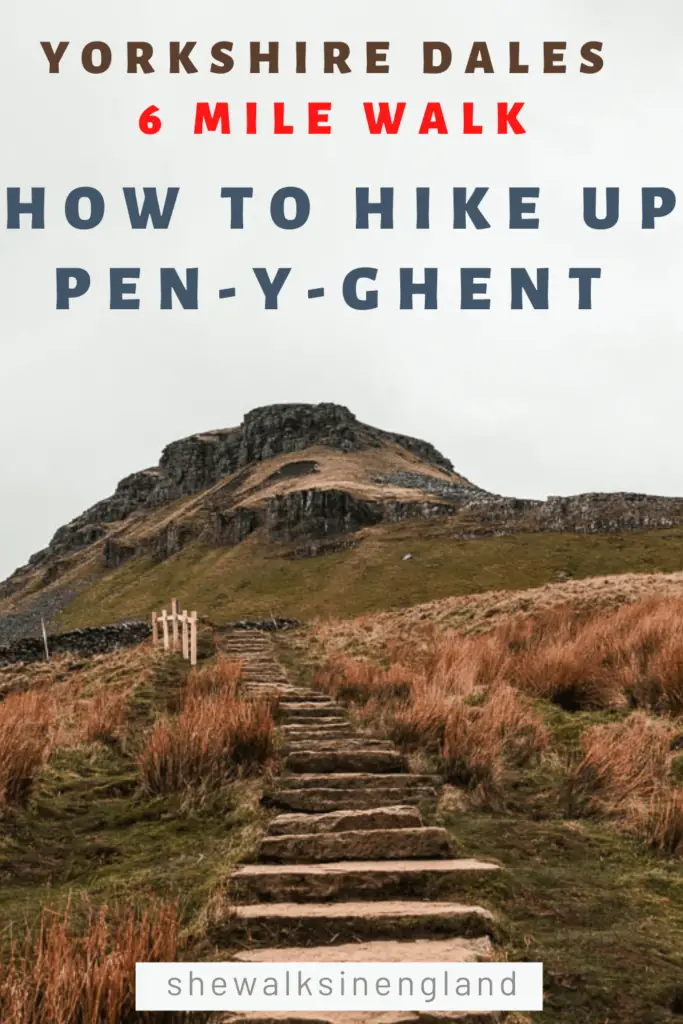 For more ideas of thing to do in the Dales, then check out the Yorkshire Dales website.