This is an easy walk that takes you along the old tramway and railway line from Princetown, to King's Tor, and then two quarries, before returning back to Princetown.
What to expect on the Princetown Railway walk 
It's basically a long gravel path. I personally found it a bit tedious and couldn't wait to get off it. But that's me. When you reach King's Tor, you have the option of staying on the railway track to loop around it, or you can walk up to it on the grass. It's a very short and easy uphill though, so don't worry about that. King's Tor is an impressive one, and way bigger than you expect from seeing it from below.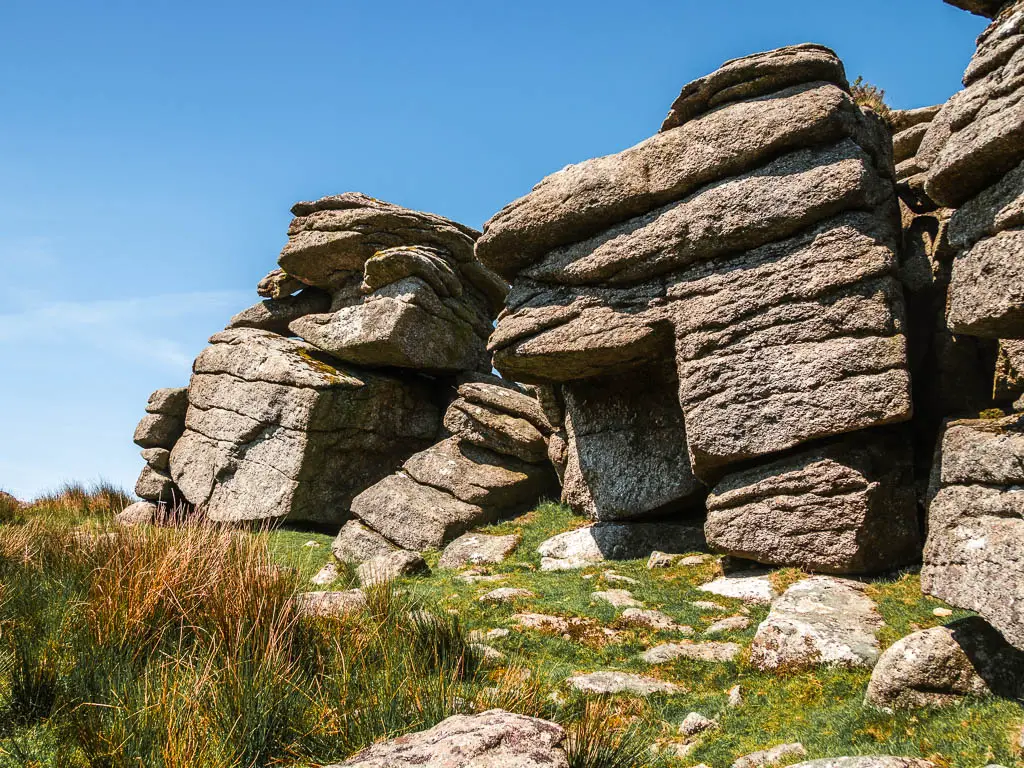 After King's Tor, you will loop back, and can either stay on the railway path to walk to Foggintor Quarry and then Princetown, or you can stay on the grass to walk up to a surprise quarry. I say surprise, because it surprised me. I didn't realise it was there. All I was doing was walking up a hill, and then was suddenly met with a deep crater in the ground. 
After that it's on to Foggintor Quarry, which I left until the end because it's so impressive and magical…save the best until last right.
And of course, you will probably* get some Dartmoor Pony sightings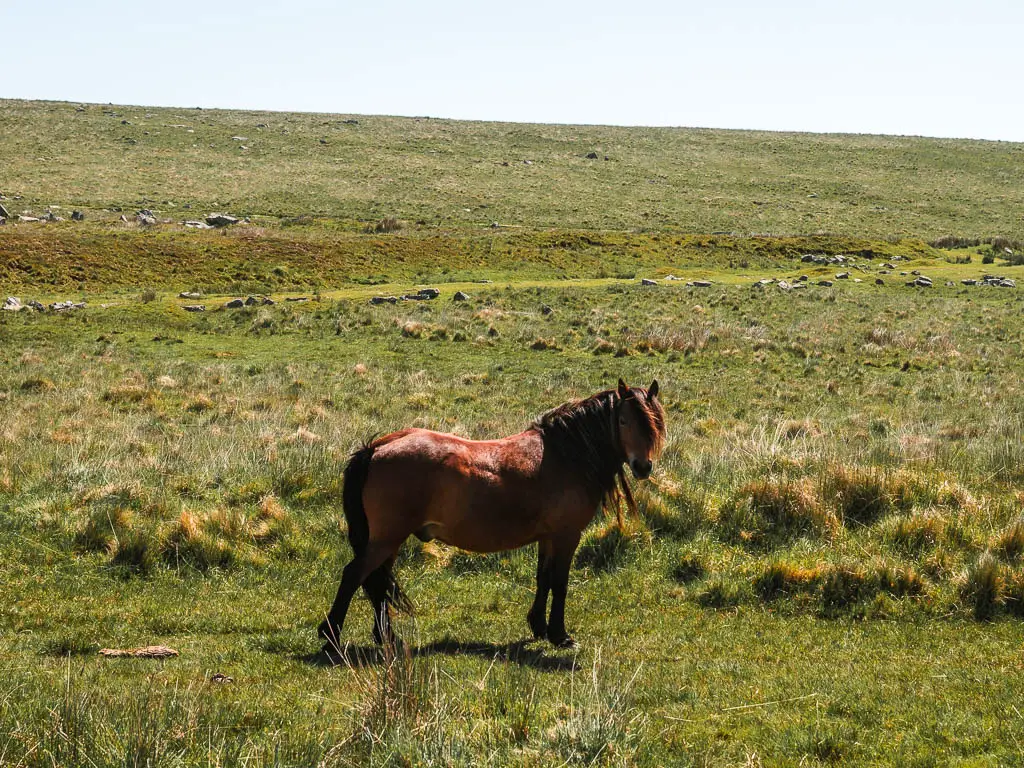 *Not a guarantee.
Option to shorten the Princetown Railway walk
If you want, you can just walk along the railway trail from Princetown to Foggintor Quarry and back. I will show you how to do this when I describe the walk below.
One more thing…
Although this was an easy walk, it was anything but easy getting here….It should in theory be easy, but times have changed. You see, I am relying on public transport right now, so would be getting the Dartmoor Explorer in and out. Due to sickness and staff shortages, the Dartmoor Explorer was frequently cancelled. Today was my 3rd attempt, and I finally got here. You can read a bit more about my troubles on the Drakes Trail walk. See tips for more details on how to plan better than I did. 
Logistics for the Princetown railway walk to King's Tor and Foggintor Quarry
Start/Finish: Princetown
How to get there: By public transport, the Dartmoor Explorer runs through here, between Tavistock and Exeter (see tips). You can get to Tavistock from Plymouth on the number 1 bus. Both Plymouth and Exeter are on the Great Western Railway line.
Distance: 5.5 miles
Time: Under 2 hours
Difficulty: Easy
Terrain: Rocky, gravelly path. Grass, maybe mud/bog. 
Type: Circular
Amenities: Princetown has a mini shop, a couple of cafes, a pub, and the Dartmoor Visitors Centre. 
Dog friendly: No stiles, but there is livestock about.
Time of year: I did this in spring
Tips for the Princetown Railway walk
I mentioned my troubles with the Dartmoor Explorer. What I discovered (too late) is that they post updates of the schedule on their Facebook Page. Be sure to check this before you head out. You can find the link to the FB page on their website. 
If there are no disruptions, the Dartmoor Explorer runs a few times a day, 7 days a week. The last one out of Princetown, back to Tavistock or Exeter is at about 3:30ish (double check the times though). Bare this in mind when you plan your trip out there. 
All the above drama can be avoided if you have a car 🙂
As mentioned, the walk can be quite tedious on the railway path, but there are options to mix it up which I will show you when I describe the walk below. 
If you want to do the off-piste bits, then the ground could be wet and boggy if its been raining. 
Whilst trainers would be fine to walk along the railway path from Princetown, due to the gravel, it could get uncomfortable under foot, so hiking boots/shoes would be better. 
Map for the Princetown railway walk to King's Tor and Foggintor Quarry
More walk ideas, with a link to the full guide, near the Princetown and around Dartmoor will be at the end
A Guide To The Princetown Railway Walk
If you stand outside the Londis, looking towards to red post box, take the road straight ahead to walk past the Old Police Station cafe on your right.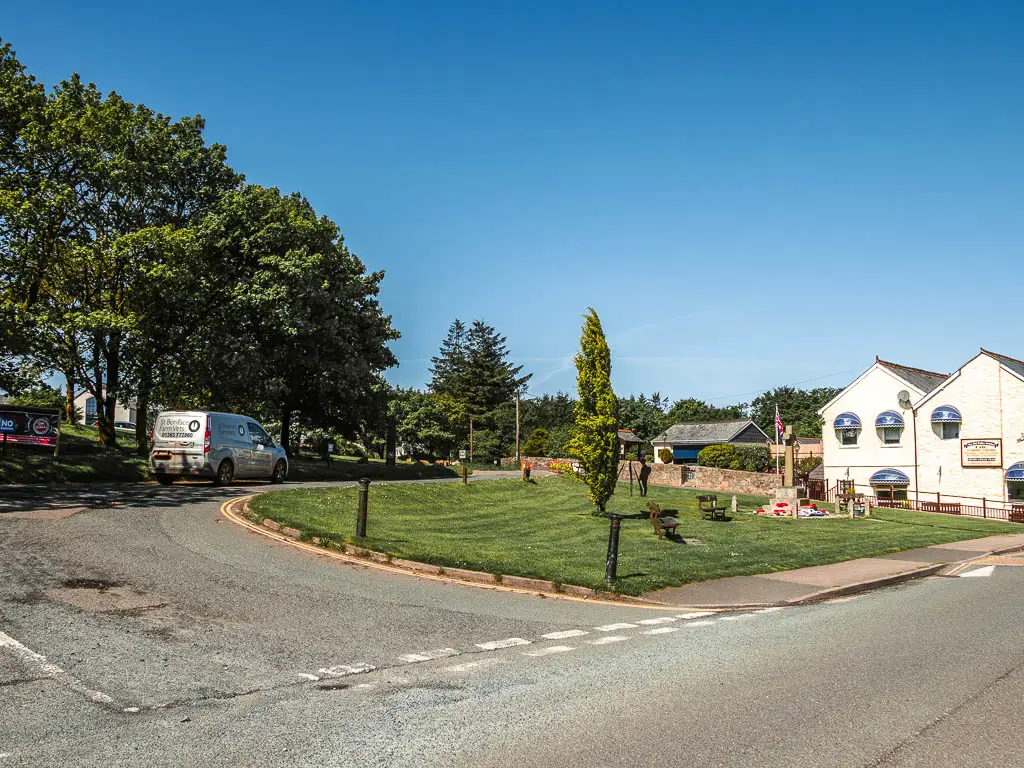 Keep going, and take the path that turns left next to the shed thing, and follow the trail towards the trees.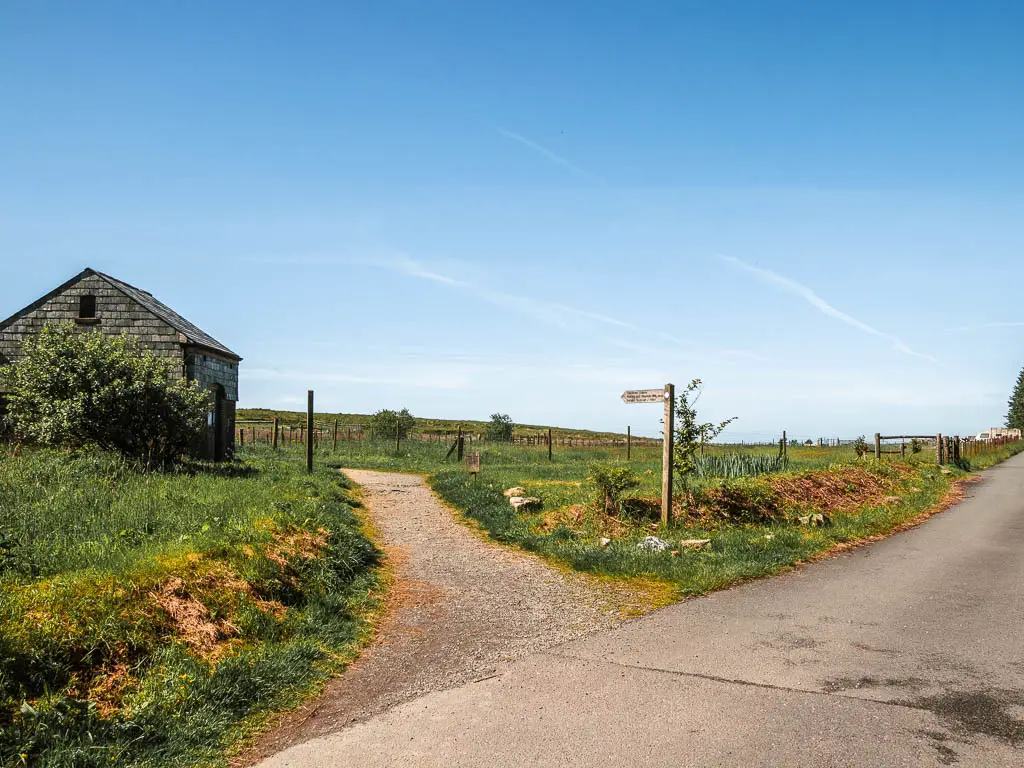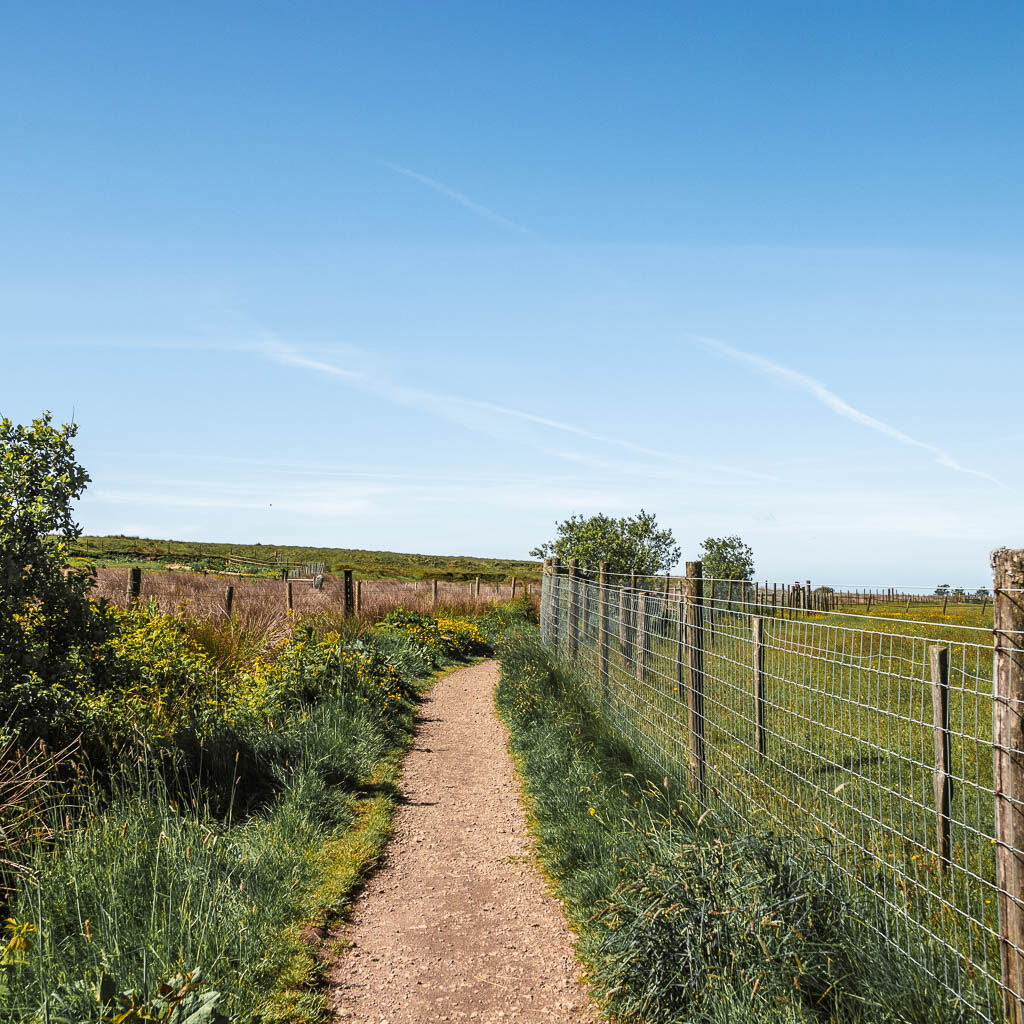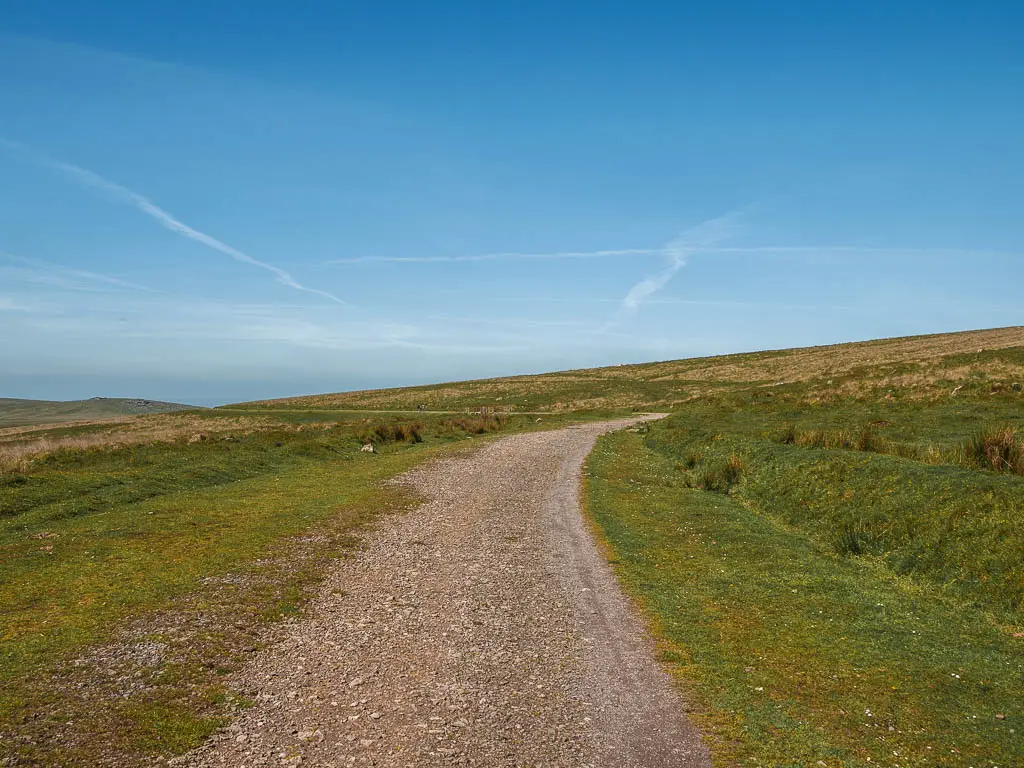 Leave the Princetown railway path to walk off piste?
Just past the trees, you should see a trail going up the hill to the right. If you take that, I think it will lead you all the way to Foggintor Quarry. To stay on the railway path, continue straight.
Walk along the Princetown Railway path
So, the trail is pretty much like this for a good chunk of walk now. You will have views across the vast landscape, with some tors in the distance. Maybe you will pass some sheep. You will also walk over a couple of bridge tunnel things (for the walk back to Princetown, you will see one of these from down below).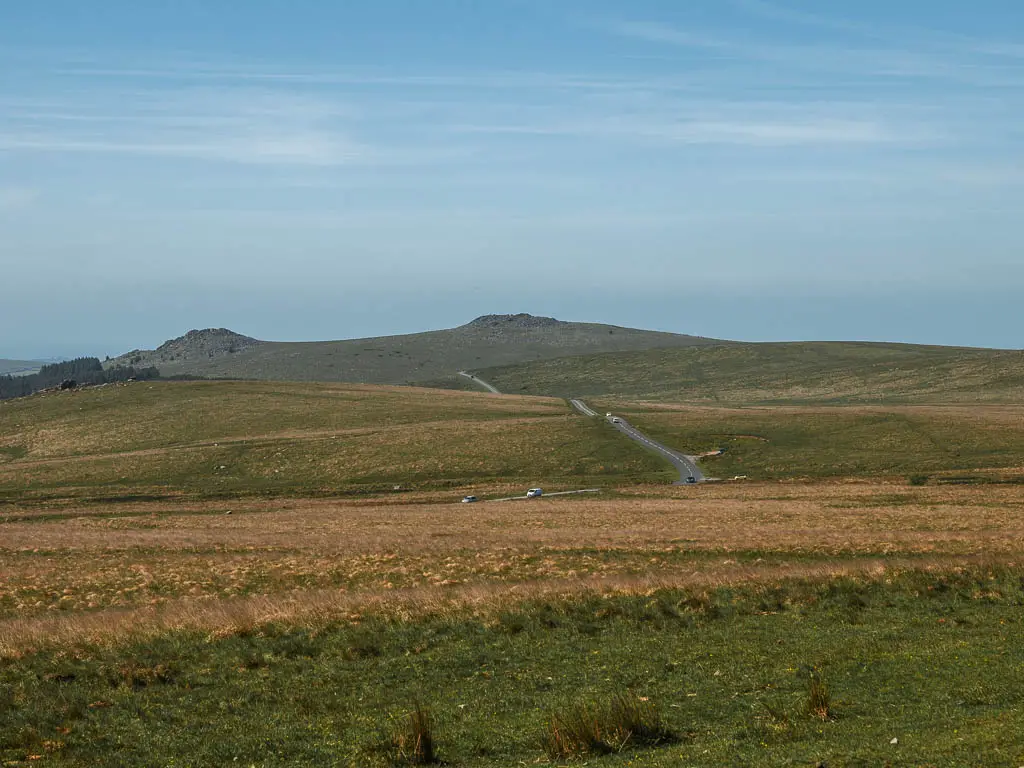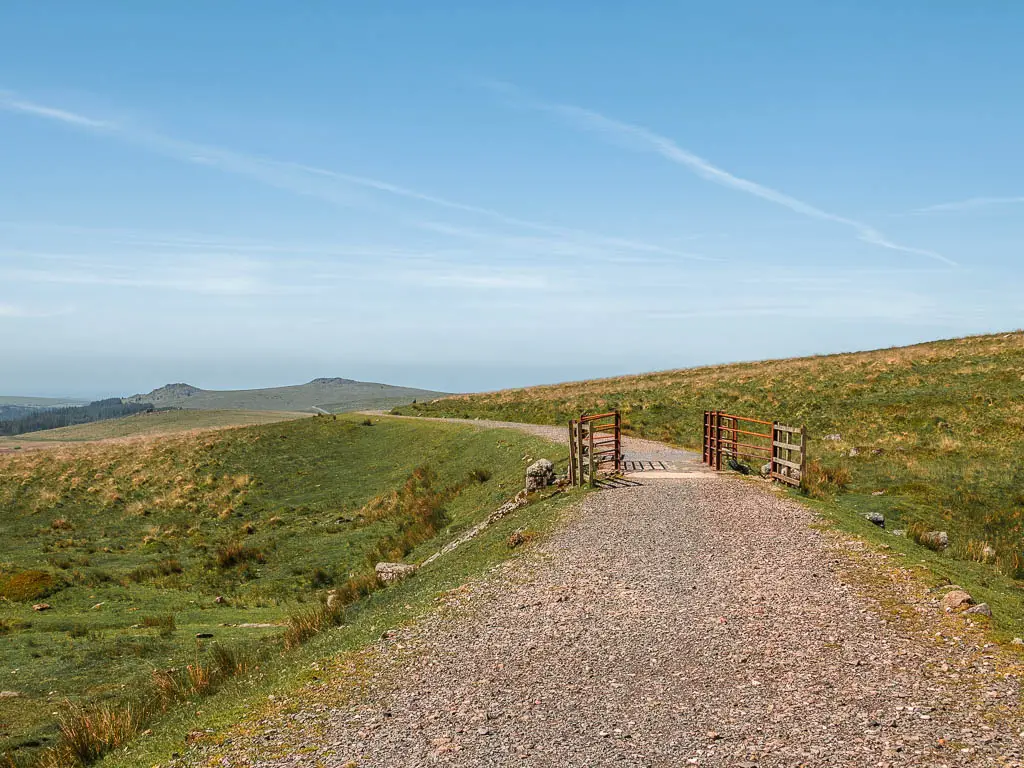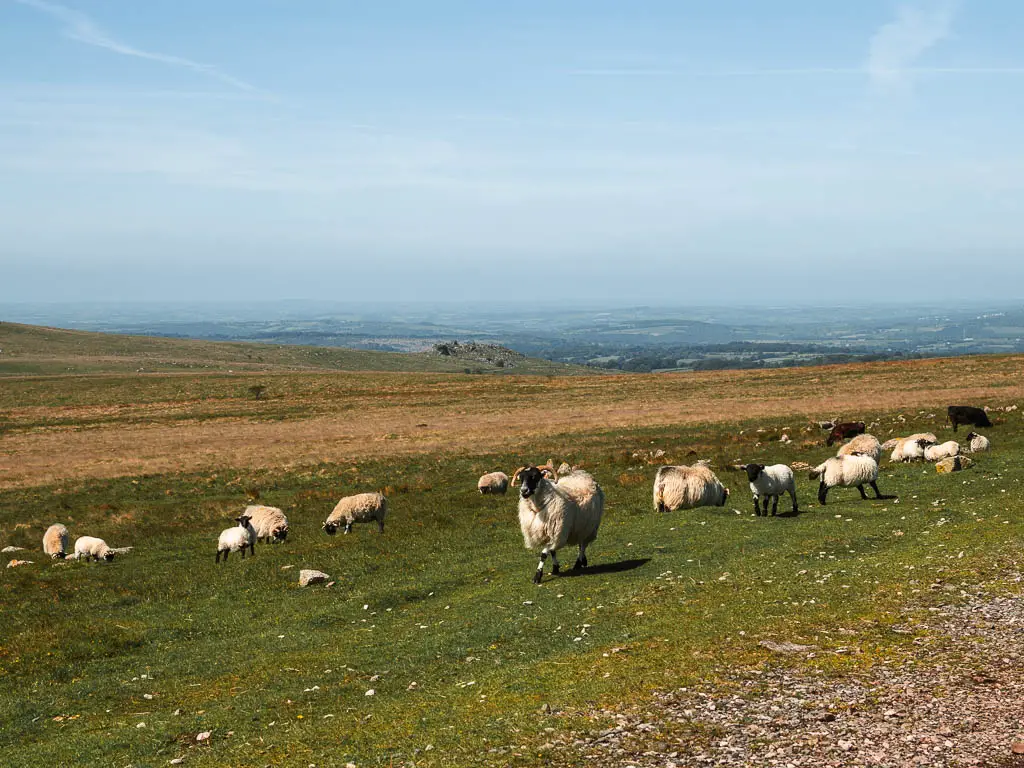 As I said, this path goes on for some time. Sometimes I got right on the edge to get some grass under foot. 
Option 1: Turn in to go to Fogging Quarry 
If you want to just do the quarry, when you reach a junction, turn right. I didn't photo the junction as there was a large group of army people sat down at it…..Or people dressed in army clothes. I didn't want them to think I was photographing them. I did get a photo of the right turn path though. You can see some army in the corner of the photo.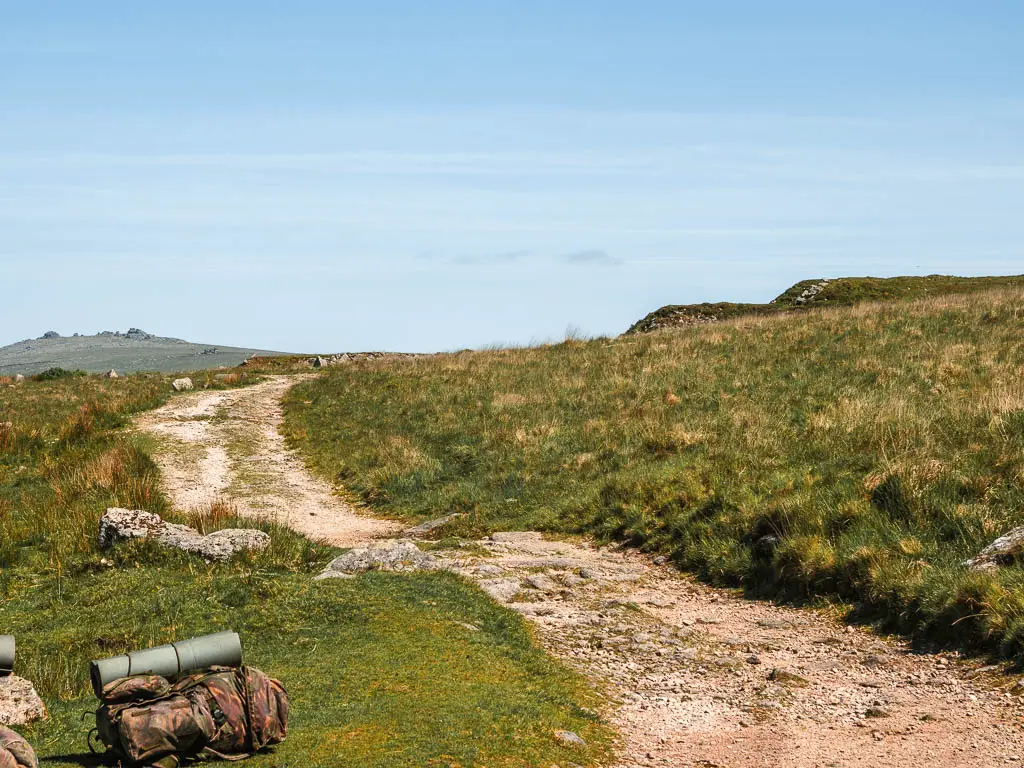 Option 2: Walk along the Railway path to reach King's Tor
To continue on to King's Tor, stay straight. The path narrows up a bit before becoming wider and a mix of grass and rocky. Straight ahead, you should see King's Tor. It doesn't look that impressive from down here, compared to some of the other Tors in Dartmoor. It gets much better when up top though.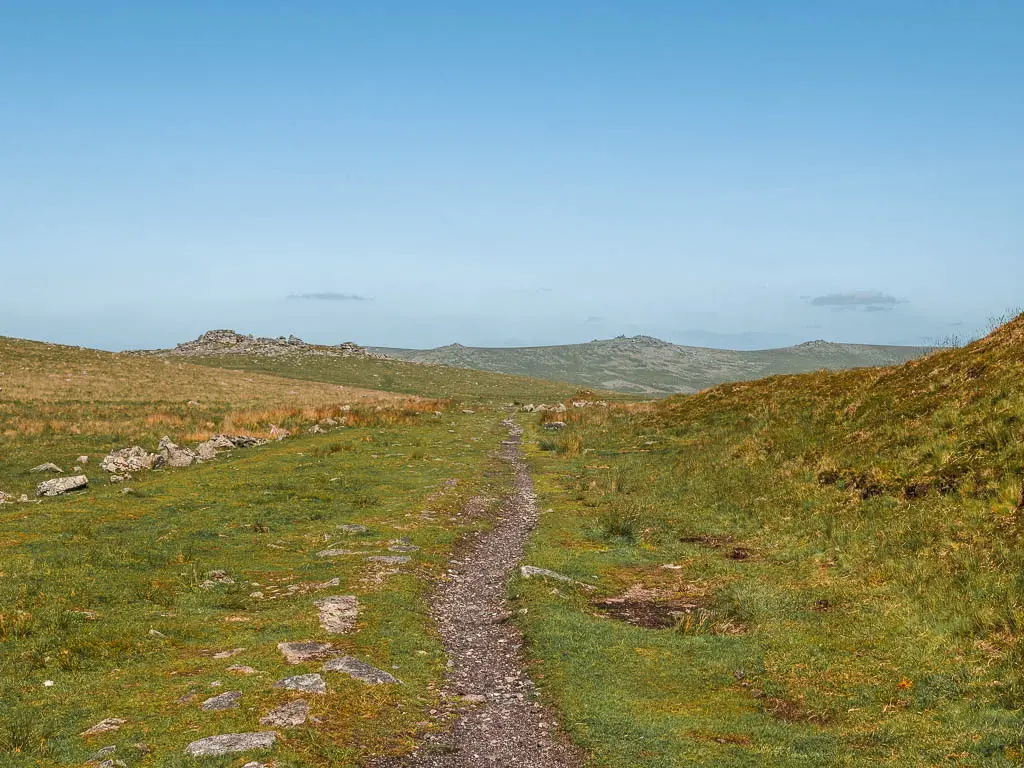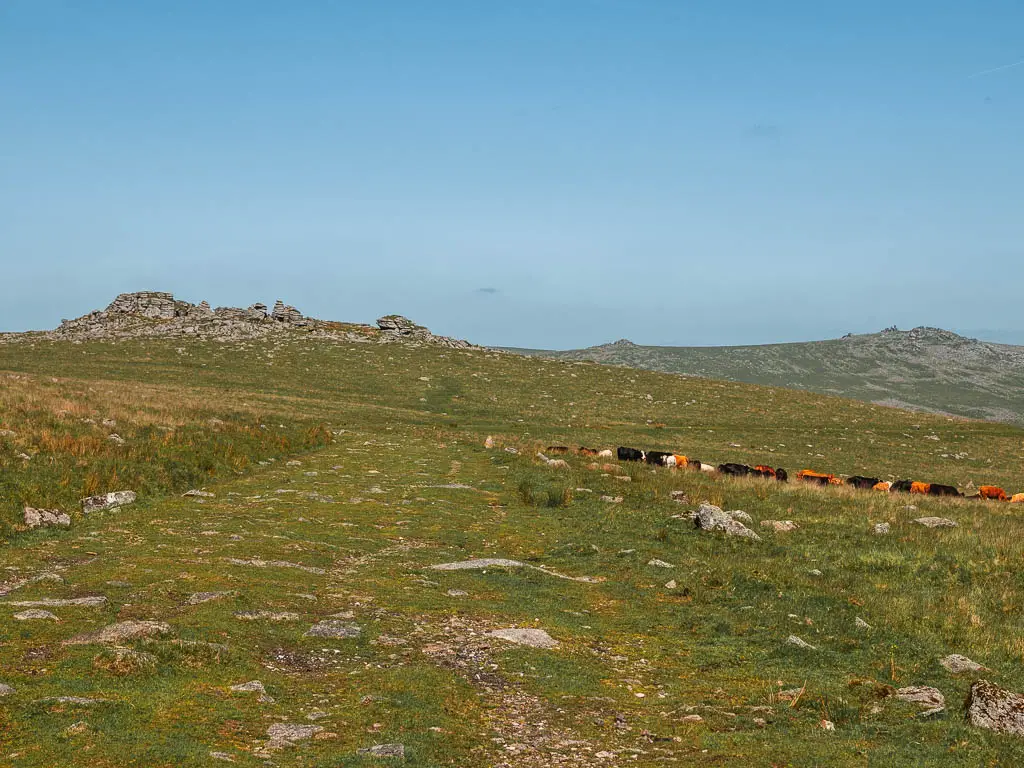 As I was getting nearer, I saw a large group of cows next to the trail. I stopped and stared at what I was getting myself into. I could see horns. I could see calfs. So that's bulls and protective mother cows. 
No thank you.
As I was thinking about which way to turn to avoid them, I saw some more army people coming over a hill and down towards the railway path. So I waited, and timed my passing of the cows for when the army people passed. I figured I would be safer that way. Although these weren't big strong army people. They were kids. Must be in training or something. 
Walk up to, or around King's Tor
Now, you can stay on the railway path to walk all the way around King's Tor. It should lead you back to that junction, where you can continue on to Foggintor Quarry. That's not my style, so I instead walked straight up to it. As I said earlier, it's not a big hill or anything. When up there and across the other side, I was super impressed. There is a lot more to King's Tor than meets the eye. You also get a view over to Merrivale Quarry from up here.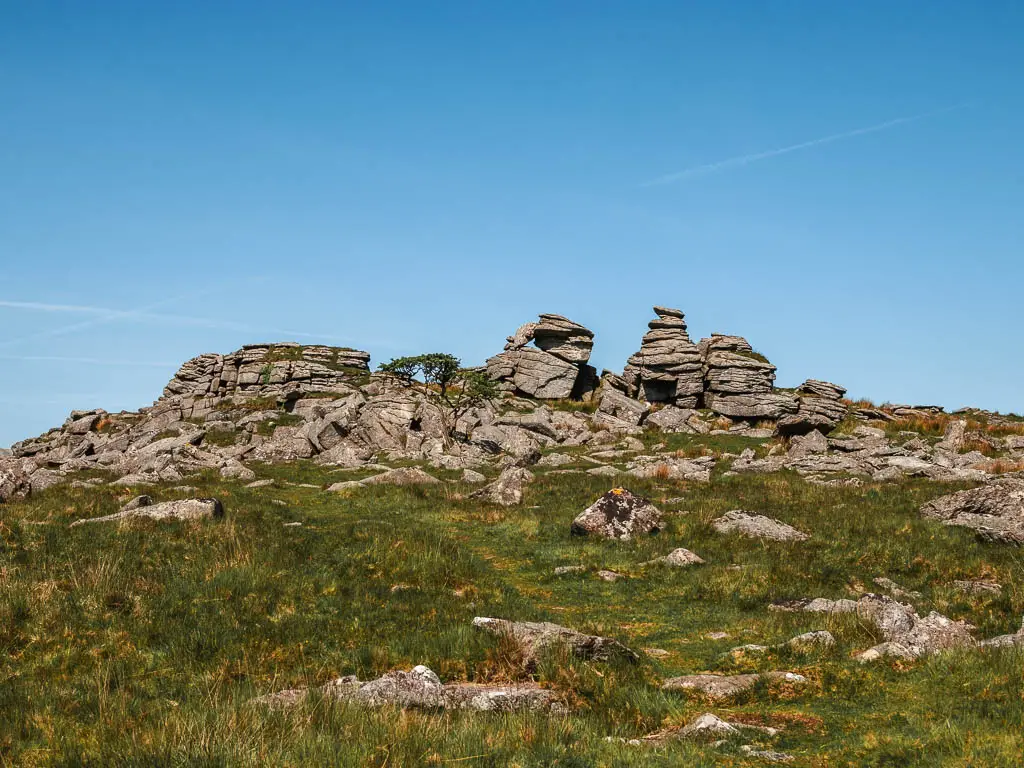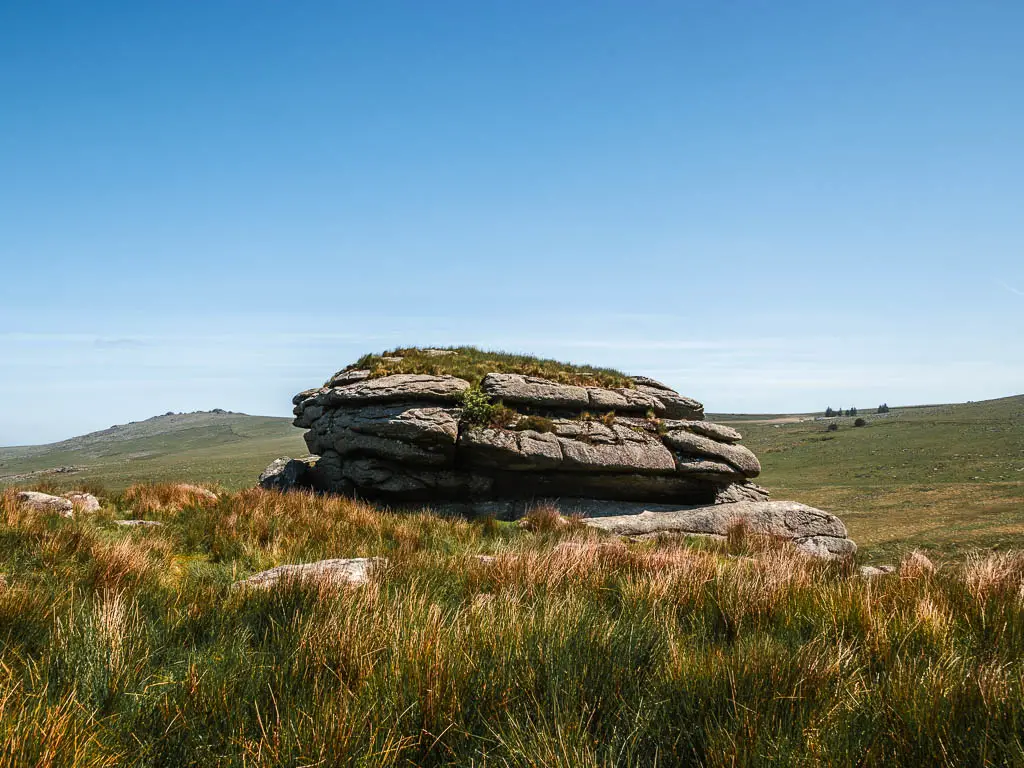 Walk to the surprise quarry (Sweltor Quarry)
If you stand up at King's Tor, looking straight back in the direction you came in, you should see a hill ahead. Go ahead and walk to it. You should be able to make out a faint grass trail leading up it.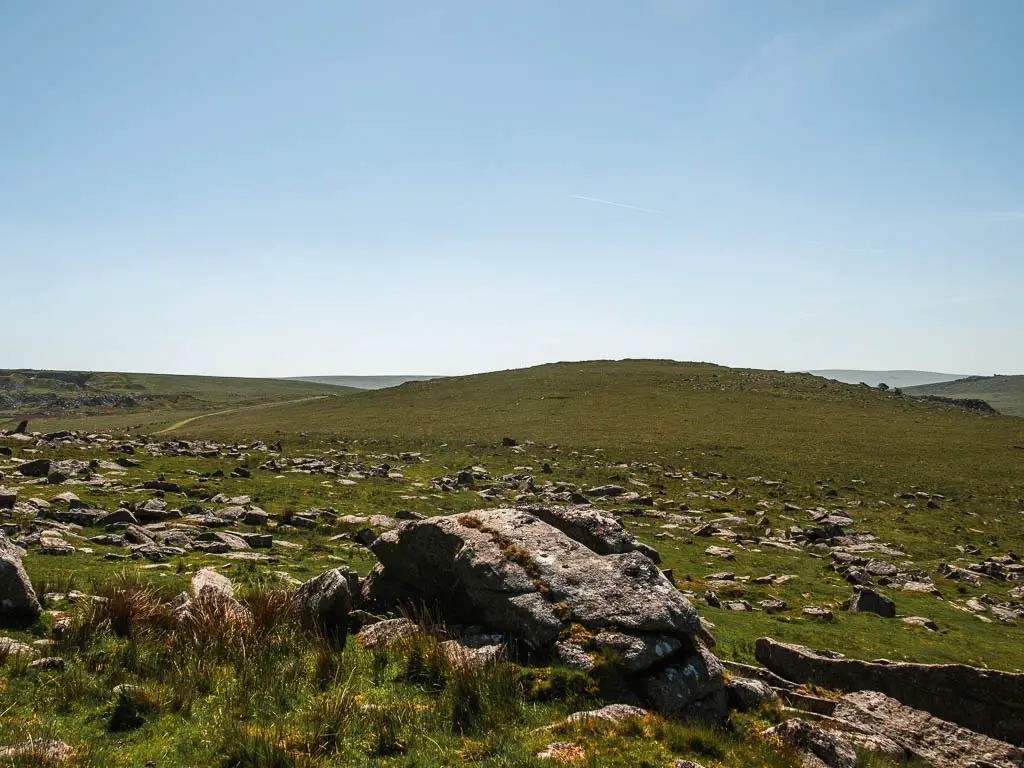 As I did it, I honestly though I was just walking up a hill, and I did it purely to avoid going back onto the Princetown Railway Path. 
As you make your way up, you will start to see these bumpy bits, then when you reach the top, you will quite suddenly be met with the Quarry.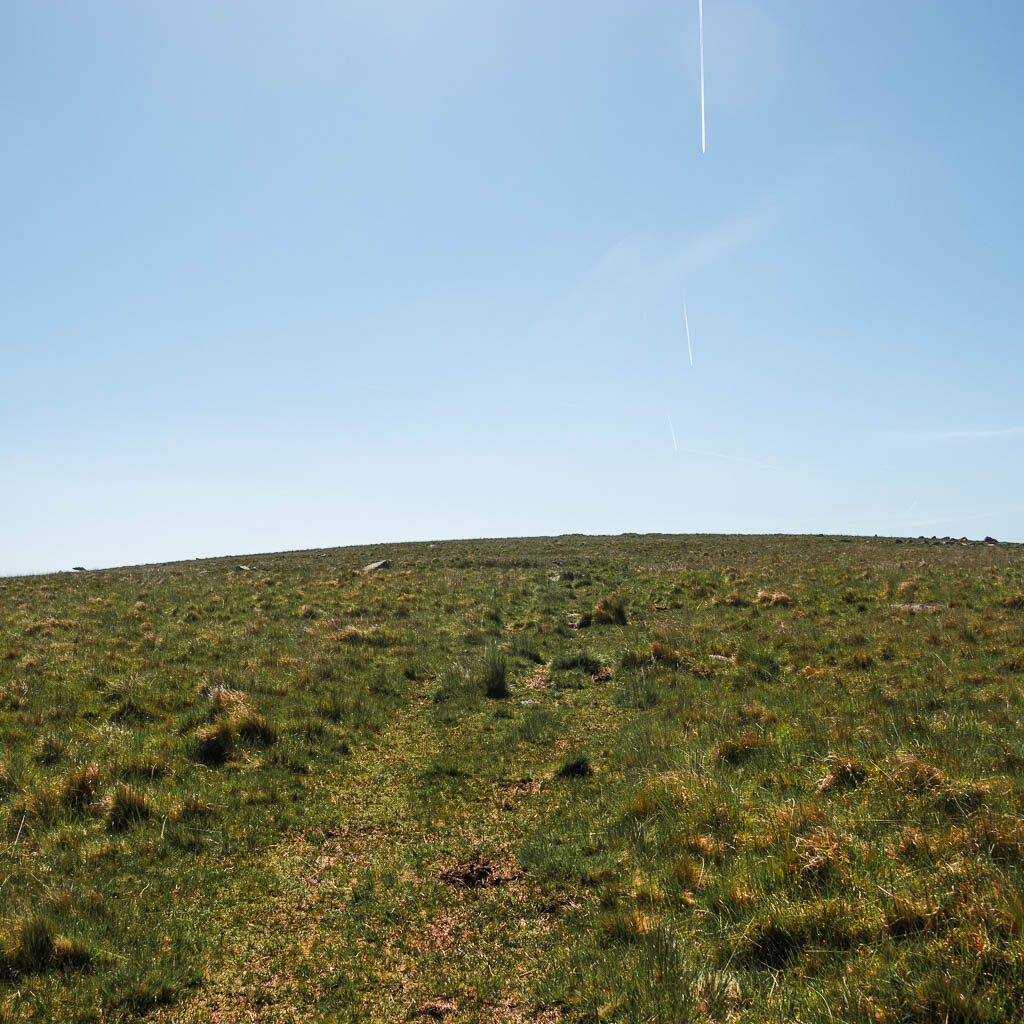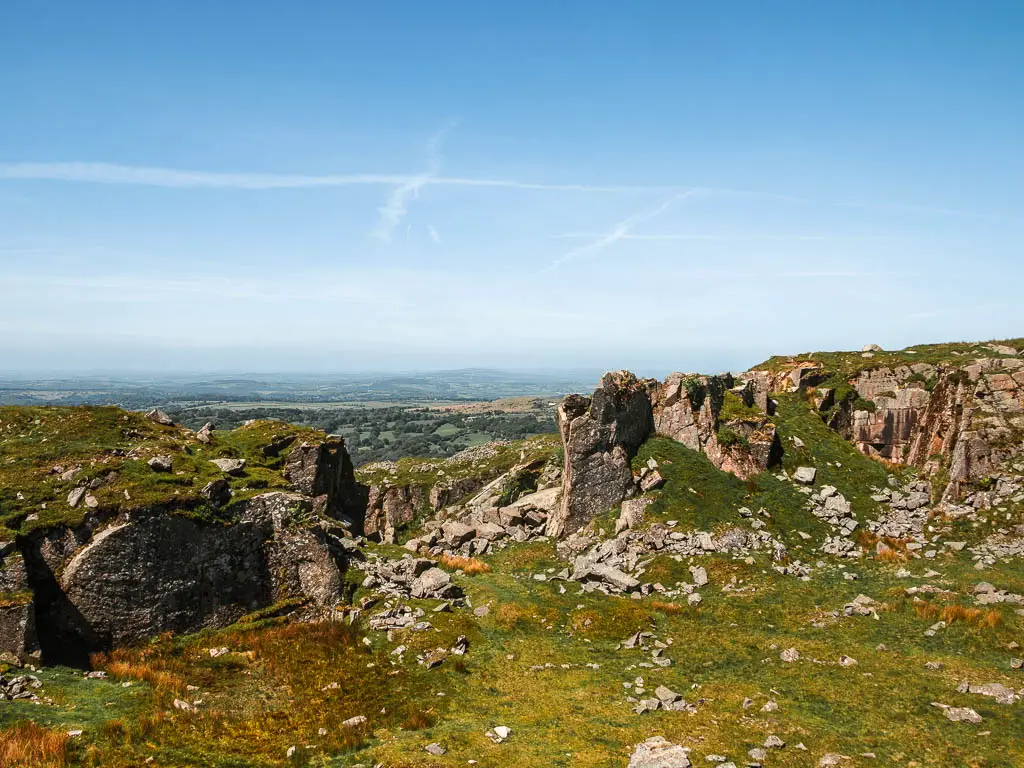 It really did take me by surprise, coming across a sudden opening in the ground. 
Walk to Foggintor Quarry 
If you look straight ahead and to the left, you will see Foggintor Quarry. What you can't see, is the secret it's hiding. I had been before, so knew what was over there, and from the look of the outside, you have no clue what you are in for.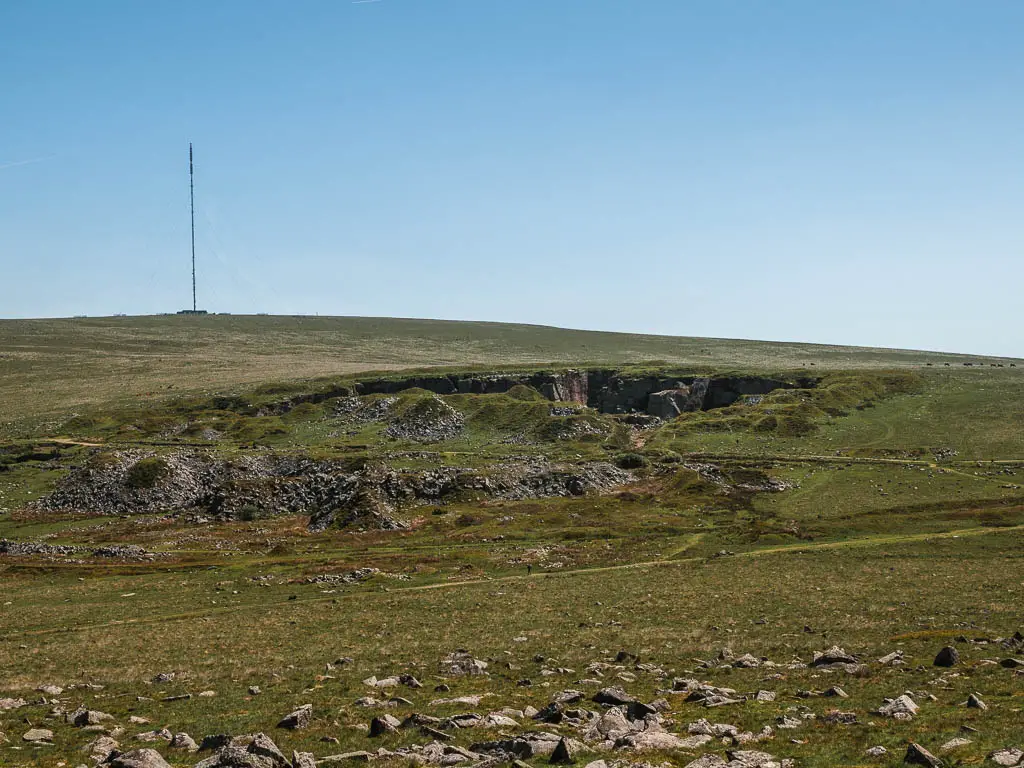 Now, walk to the other side of Sweltor Quarry, and if you look straight and down to the left, you should see the markings of a trail heading to the Foggintor Quarry direction. Go over to that trail. I could see from up here, some ponies on it. I had been wondering when the ponies would make an appearance.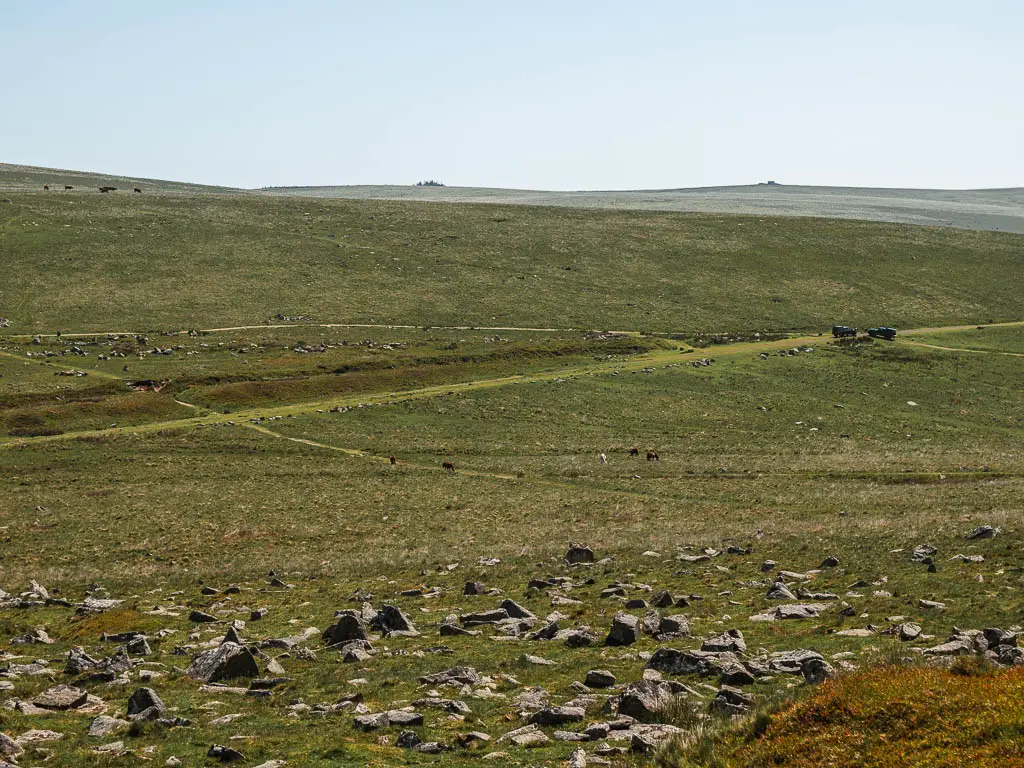 When you are on that trail, keep going straight and over the railway path to reach another branch of the railway path, where you turn left.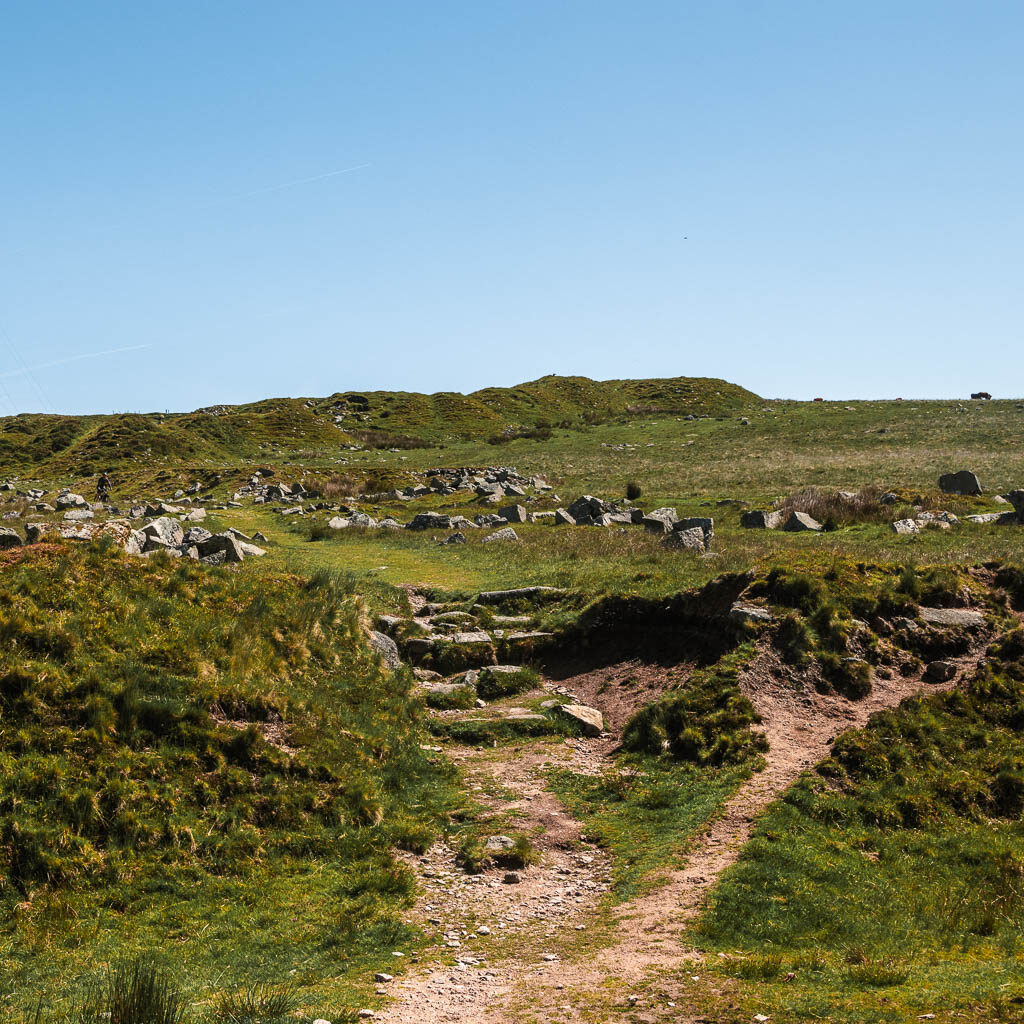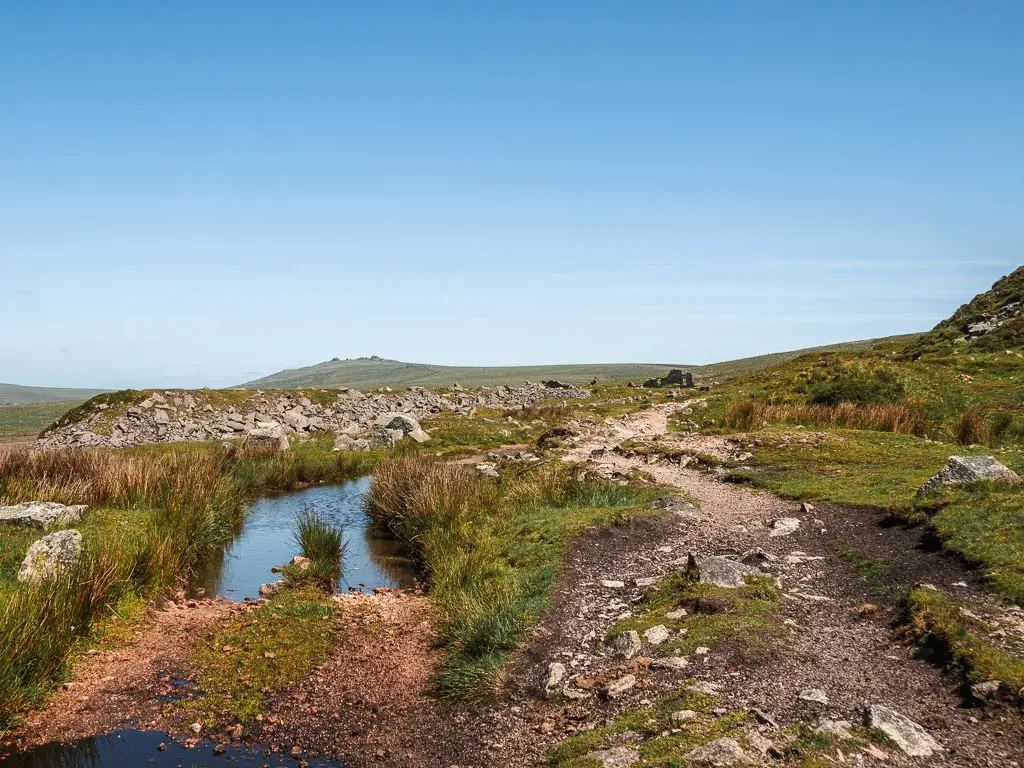 As you walk along here, you will pass a couple of entrances into the quarry. Don't go in them, just wait a little longer. Trust me. If you keep going, you will also pass some more obvious track bed sections.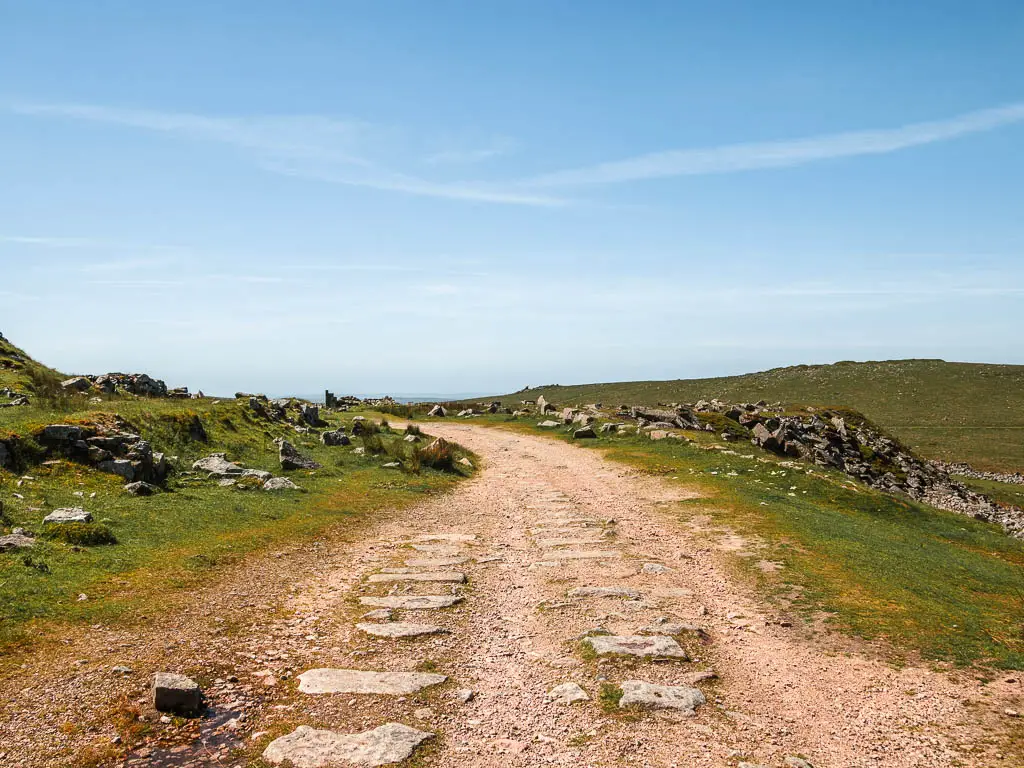 Walk towards the ruins which will be on the left, and go into the Foggintor Quarry entrance opposite that. 
The Quarry
I have been before, but that didn't make it any less impressive to see it again. This is the perfect spot for a break, so I sat down here for some snacks.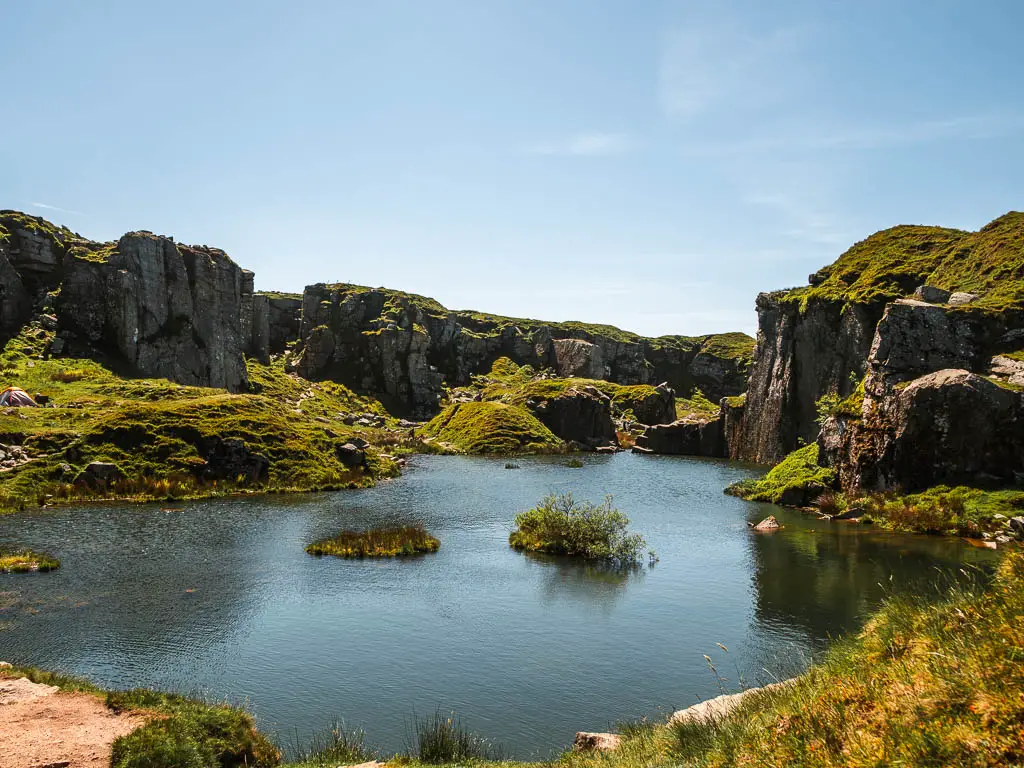 As I was enjoying my snacks, a wet dog came on over to me and shook. I couldn't help but laugh. Of all the places this dog could shake, he chose to come right next do it. I think he knew what he was doing. The owner was profusely apologetic, but he needn't be. It was too funny. 
Walk around the quarry 
Now you can explore at will. I will show you how to get back though, so you know. First you will want to go up to the top of the quarry. You don't have to to walk up, but I highly recommend it, as the views from up there are insane. I can't decided which view I like better, from up high or down low. Up high can get windy though. It wasn't too bad today, but last time I was here, it was quite aggressive.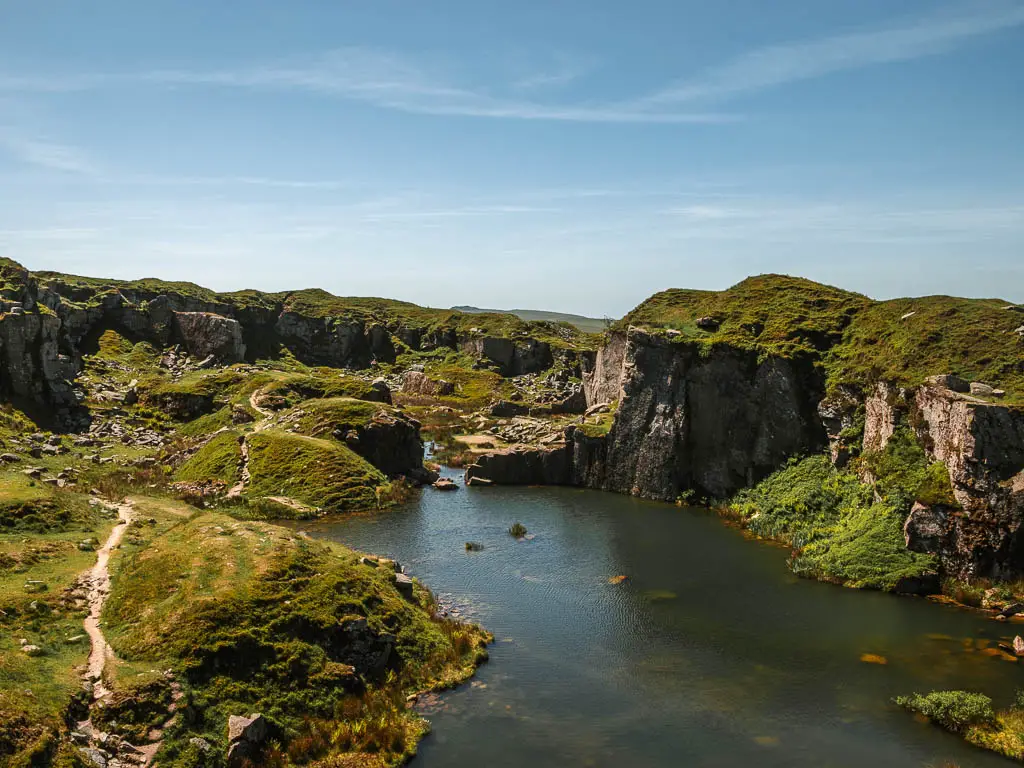 To get up, go a bit back out of the quarry, and walk up the ledge to the top. Then you can walk around the top of the quarry, to the other side. Head over to the opposite corner to where you first entered the quarry.
Walk back to Princetown on the railway path or off-piste 
To head back towards Princetown you will have two options….
Keep going until you reach the more obvious grass trail, then turn left onto it to walk away from the quarry.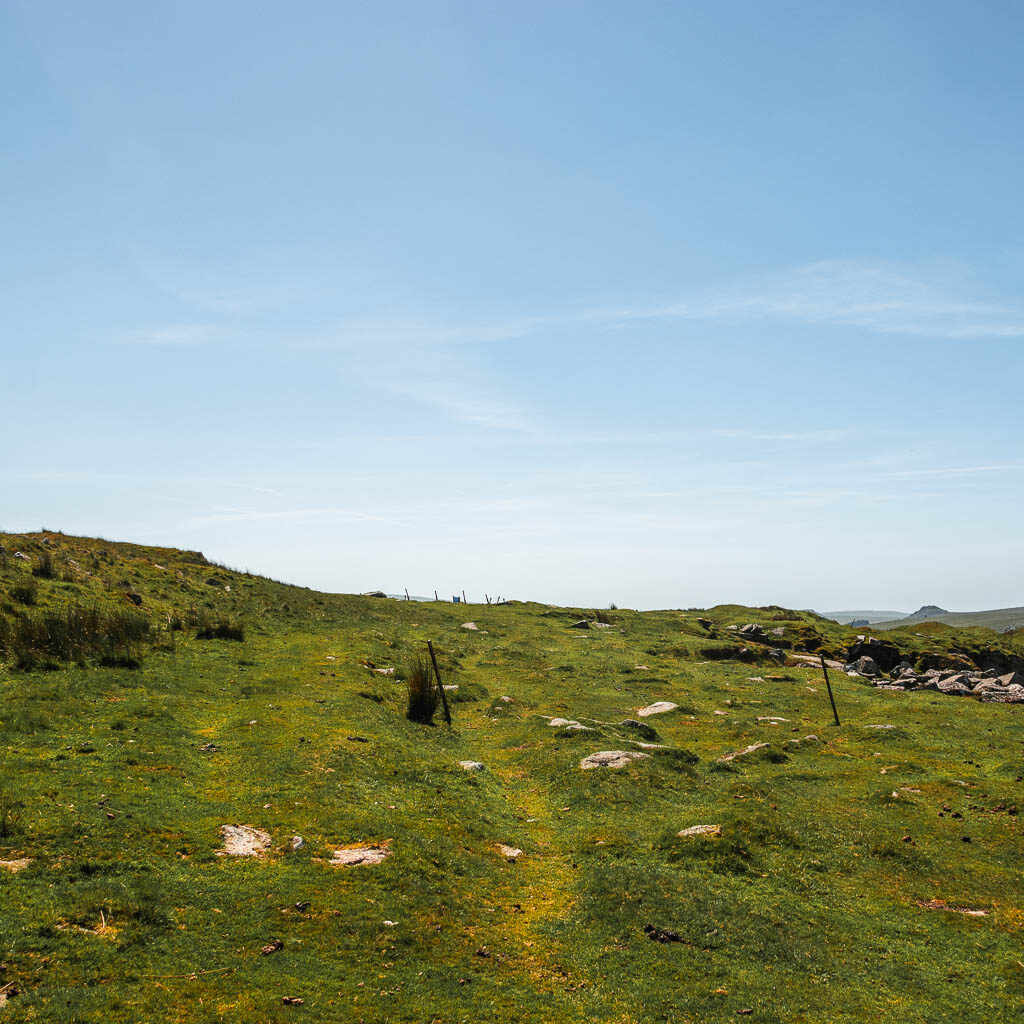 You should start to see the Princetown Railway Path from here. If you now look to the left, you should be able to make out a faint grass trail running over the hill. I think that will take you all the way back to Princetown. That is what I had planned to do…..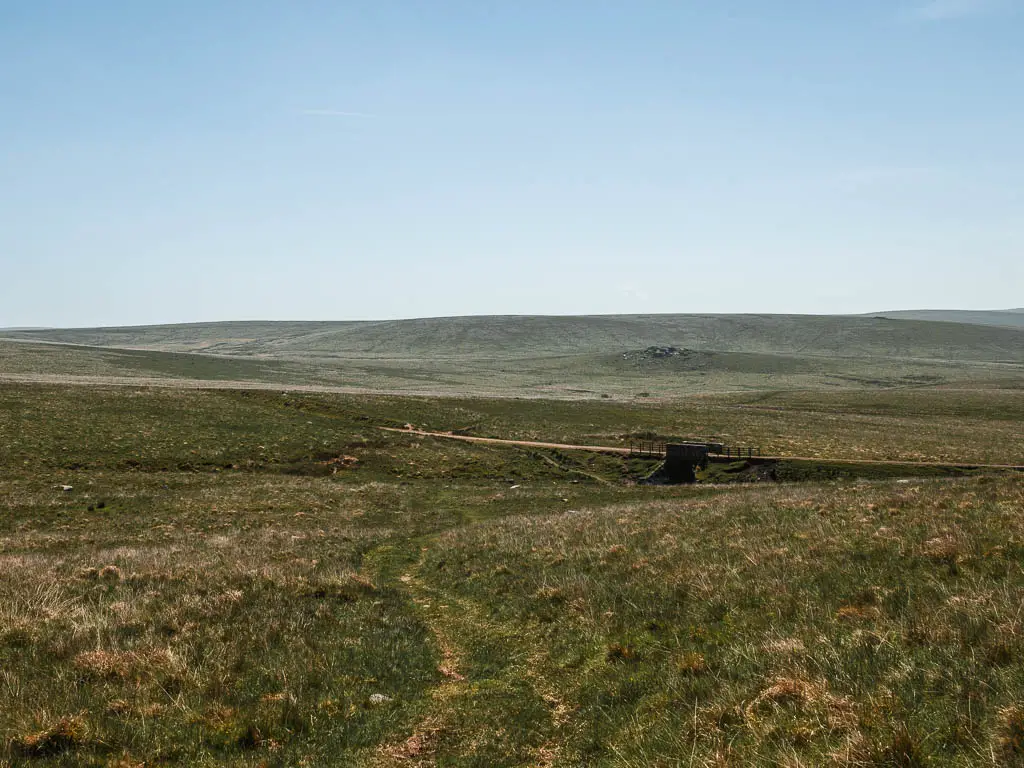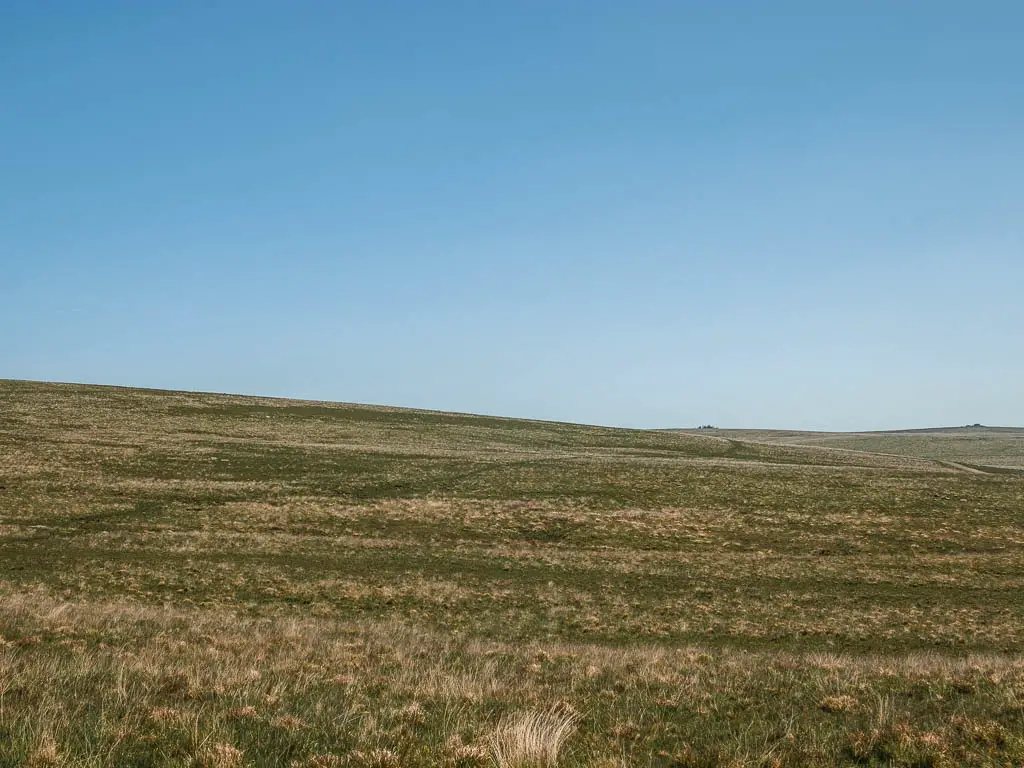 However, I could see that if I headed towards the railway path, I would get to see one of the bridge things I had walked over on the walk out of Princetown. I decided to go and check it out, then turn back to get onto the off-piste trail.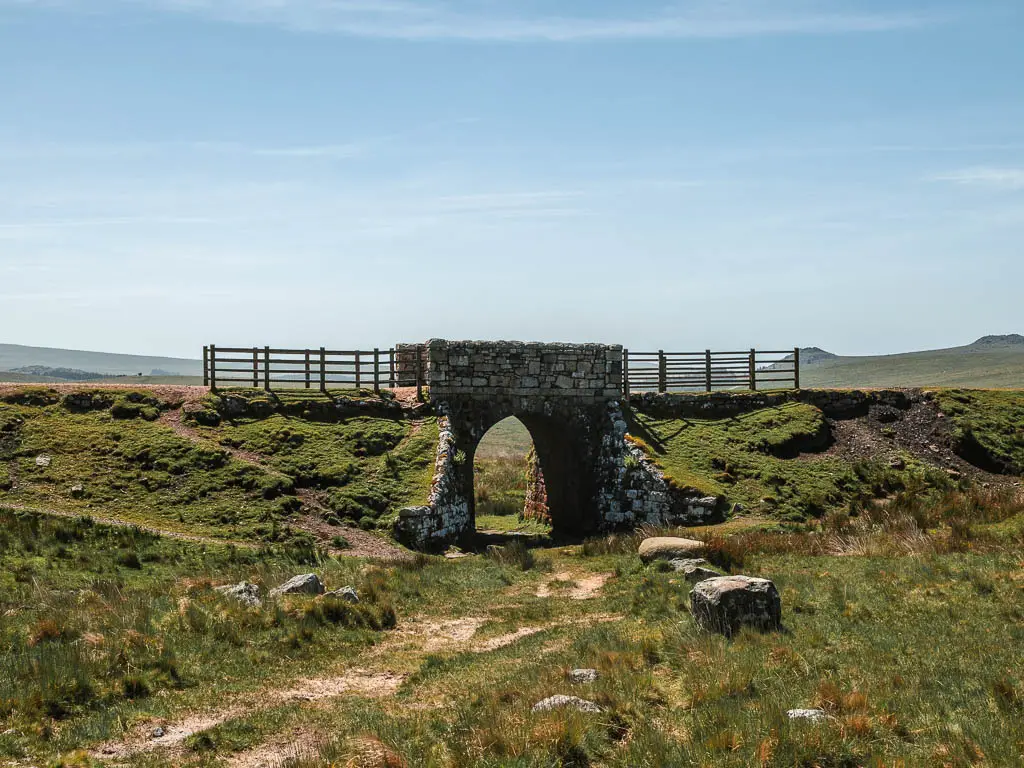 Once I was down there, next think I knew, I was back on the railway path, so I figured I may as well stay on here now for the rest of the walk back to Princetown.
It wasn't long though before I regretted that decision. I had forgotten how long this bit of the walk is.
More walk ideas near Princetown, including more railway walks
Foggintor Quarry walk – This is an alternate way to walk to the quarry. It involves a car though. You will walk on a much shorter section of the railway path though, so it's less tedious. This is a walk to do if you aren't crazy about long walks, but still want to see cool things. 
Wistman's Wood walk – A beautiful mystical magical woodland with moss covered boulders. I highly recommend this one. 
Ivybridge Western Beacon walk – This walk also takes you partly along an old railway track bed. It's a very exposed walk and involves two hills, with fantastic views across Dartmoor.
Sheepstor walk – This one takes you up to Sheepstor, with a cool view down to the Burrator Reservoir. Lots of variety on this walk. It can be done with or without a car. 
Burrator Reservoir walk – This takes you on the full loop around the reservoir. It's an easy walk, but surprisingly lovely. If the time of year is right, you will see lots of bluebells. 
Drakes Trail – This walk is just on the outskirts of Dartmoor, and follows a cycle route. There are two key things on the walk. An amazing treetop bridge, and a questionable, creepy tunnel.
For a more detailed look, you can read about the best walks in Dartmoor National Park.
For more walk ideas in Dartmoor, you can check out the Visit Dartmoor website.