When looking up areas to visit in Dartmoor, I came across photos of Wistman's Wood. One word. Wow. A densely packed woodland of oak trees with entangled branches and moss covered ground. There was no way I was going to Dartmoor without doing a walk around Wistman's Wood. 
Well, as it turns out, when I first visited Dartmoor, the Wistman's Wood walk didn't happen. Not that I didn't try. Unfortunately, too many other people wanted to see the mystical woods and as such there was nowhere to park. There is a car park right at the start of the trail, which is super small and gets filled up quickly. There are even more places to park in both directions along the main road, which were also filled up.
Welcome to the weekend in a National Park.
Probably for the best really, as big crowds on my walks aren't my thing. So a week later I came back, and this time tried a weekday. It worked. I found parking (sorry, I mean we found parking. Mustn't forget, my bf was there too). I do realise that weekday trips aren't an option for everyone, so my advice would be to head over there early if going on a weekend. You may even have better luck during the colder months when outdoor spaces tend to be less busy. 
But one thing I must advise is that you somehow make it to Dartmoor National Park and do a walk around Wistman's Wood. 
What is Wistman's Wood?
Wistmans's Wood is a small area of ancient woodland in Dartmoor National Park. Characterised by oak trees with branches all tangled about and moss covered boulders on the ground. It lies at about 400ish meters above sea level making it one of three high altitude oakwoods in Dartmoor.
I mentioned the woods are ancient. Well, they have been mentioned in writings for 100's of years and are said to be left over from the forest that covered Dartmoor circa 7000 BC. Pretty old. 
Being all mystical and fairytale like, Wistman's Wood has been inspiration for many artists, poets and photographers….and now me.  
Logistics for the circular Wistman's Wood walk
Start: Wistman's Wood car park (Dartmoor, Devon)
Finish: Wistman's Wood car park
How to get there: The trail is next to the car park located opposite the Two Bridges hotel. If you can't find parking there, then continue along the main road in either direction and you will come across some more parking bays. See my map below for exact location. You can also get here by public transport. The Dartmoor Explorer runs through Dartmoor from Tavistock to Exeter, and has a stop at Two Bridges, just next to the hotel.
Distance: 2km to get to the woods. We did 4.6km in total there, back, and in the woods.
Time: 1h 20min for our walk. This is very variable depending on how much time you spend exploring the woods.
Terrain: Gravel path, dirt trail, rocky trail, big rocks.
Time of year: I did this walk during summer.
Facilities: For toilet and food, the Two Bridges Hotel has a restaurant. I haven't tried it, but I see they do traditional Devon cream teas. Sounds yum.
Tips: The ground was dry when I went, however, I suspect during wetter weather it could get quite muddy. Best take hiking shoes/boots. Hiking boots with good grip will also make it easier when walking in Wistman's Wood as you will be walking on big rocks.
Map for the circular Wistman's Wood walk
Click on the box in the top right corner to open in your Google Maps.
More walk ideas (with a link to the full guide), near Wistman's Wood and in Dartmoor will be at the end
A Guide To The Wistman's Wood Walk in Dartmoor
The circular walk to Wistman's wood starts from the carpark opposite the Two Bridges Hotel. On google maps, it's labelled as 'car park for Wistman's Wood'. It's very small so can fill up quick. If there are no spaces there, then go back onto the main road and in either direction, if you drive a short way you will find a few other small spots on the side of the road where you can park. 
However, as I mentioned earlier, these can also get filled, and then you are out of luck. Sorry. 
All is not lost though, I have had a look on my trail app (AllTrails), and if you drive up the B3212 (the road leading North away from Two Bridges) you will find a couple of trails that also lead you to Wistman's Wood. 
The start of the walk to Wistman's Wood
Anyway, starting from Wistman's Wood car park, you will see a gate which marks the start of the walking trail. The first part of the walk, through the gate, is on an easy gravel road with a brick wall on the left and grass and shrubbery on the right. The gravel road leads you to and past a cute house, then a bit further along you will reach a point where the trail splits.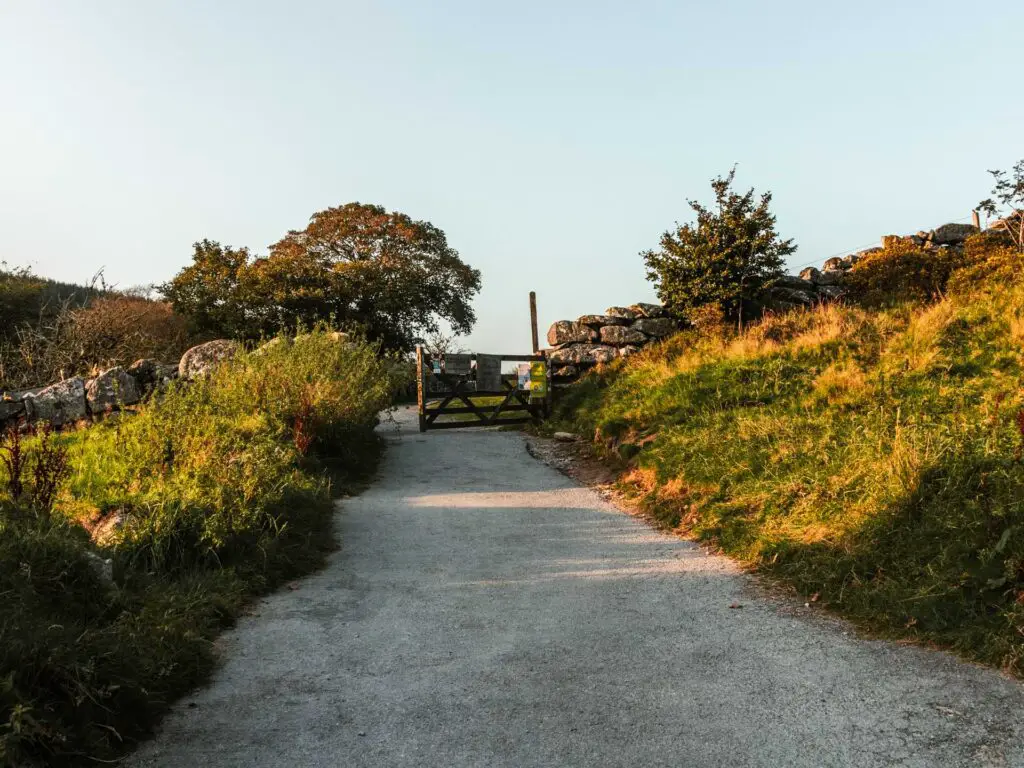 It's quite easily missable, so keep an eye out for a small dirt trail leading left of this trail. There should be a wooden stump marking it. You can follow the map above for guidance.
The grassy trail
When you take a left, you will be walking through open land. The trail here is mostly shorter grass and a bit of dirt. When you are there, you should be able to make out where the trail is. 
When you each the brick wall, climb over it and continue on the carpet like grassy trail.
The rocky trail
As you continue along, the trail will become slightly rocky. Nothing aggressive, but rather some rocks scattered about. Soon, the grassy trail will form a more narrow dirt trail with more rocks, and in some parts, just rocks.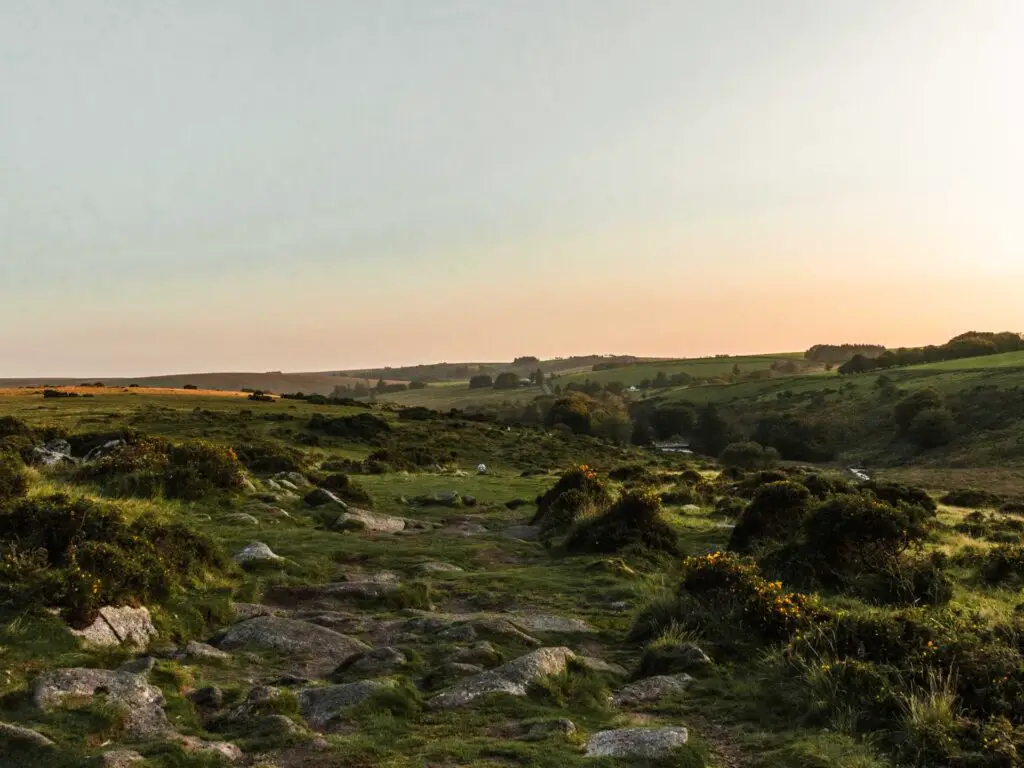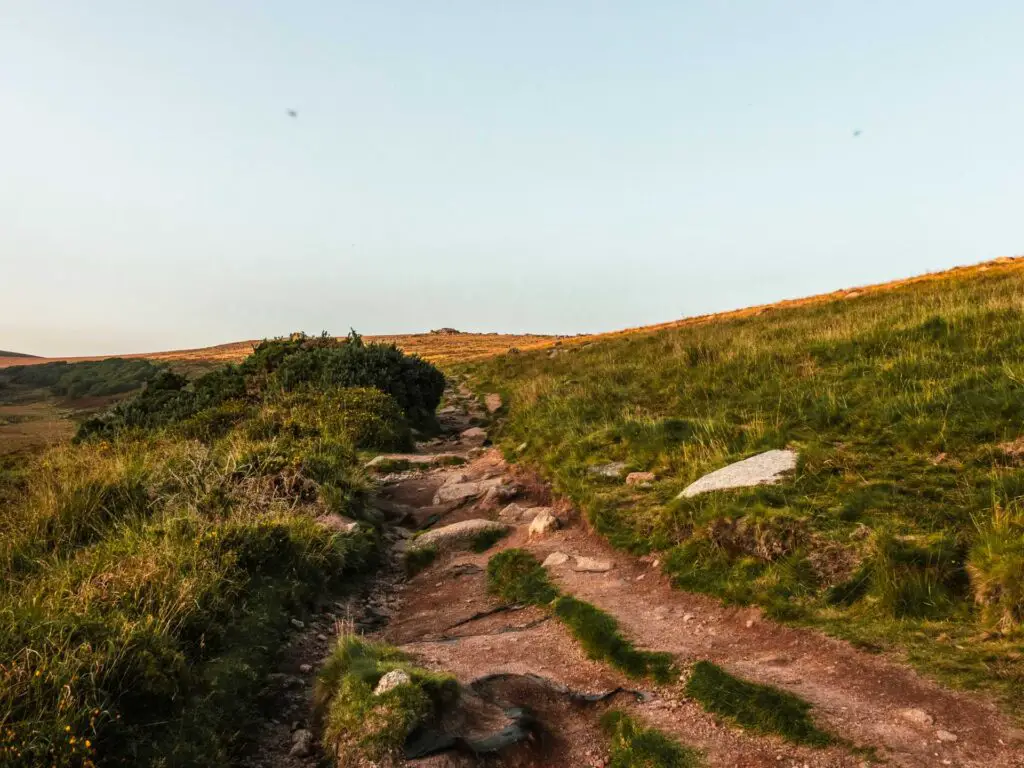 You should also at this point be able to see Wistman's Wood in the distance, so if you think you might have lost the trail, then don't worry, just walk towards those woods. 
I have to say, the woods looked a lot smaller than I was expecting. Although, I later realised that the view from here is quite deceptive. 
Then when you reach the next gate, climb over it and walk the final bit of the trail into Wistman's Wood.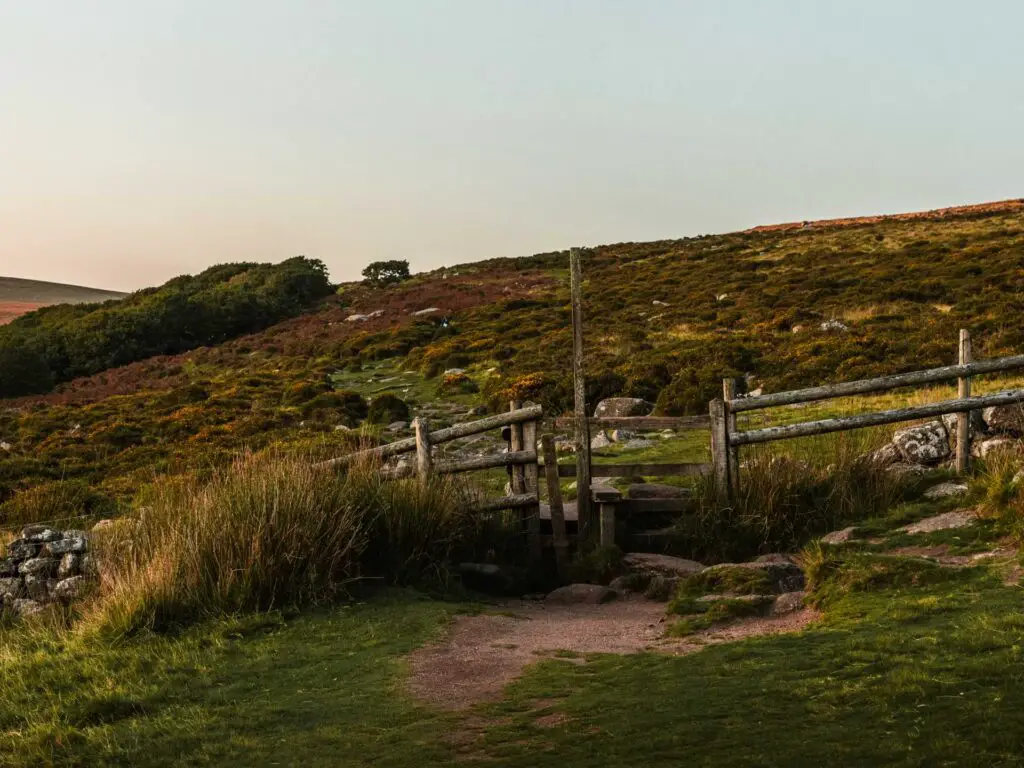 The walk around Wistman's Wood
Upon entering Wistman's Wood, you will be blown away. If you are not, then there is something wrong with you. Photos don't do it justice. A mass of eery looking trees all tangled together, with big rocks covered in moss. Kind of like you are stepping into a creepy forgotten land….or fairytale. Whichever floats your boat.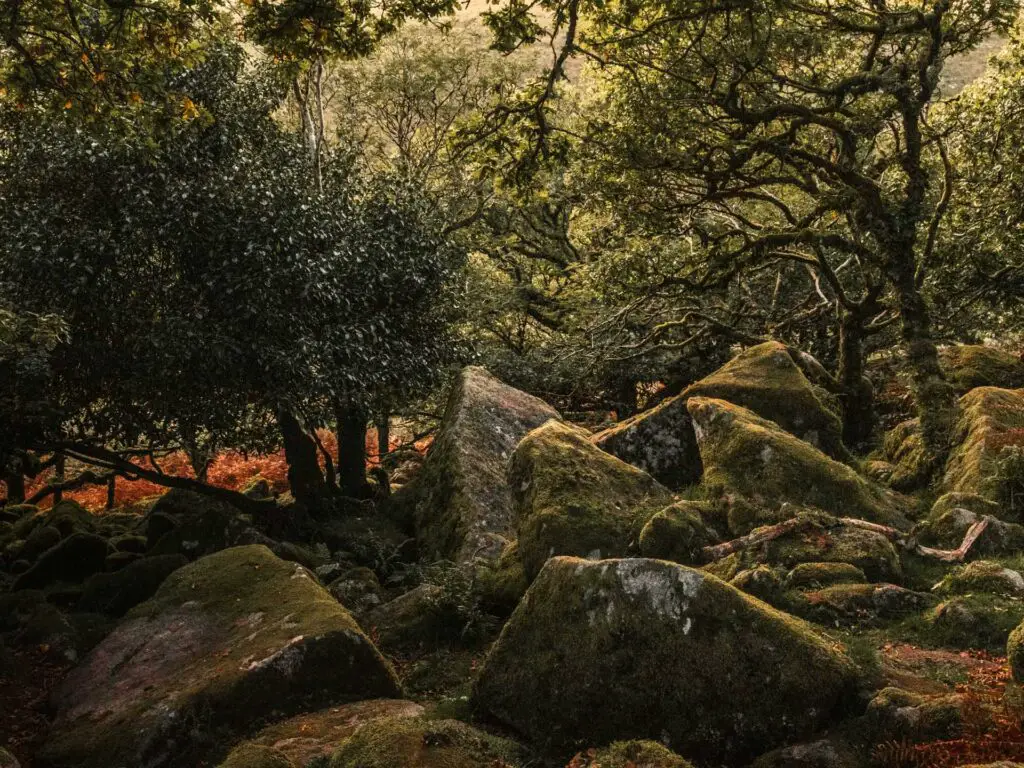 From here, you pretty much just walk through Wistman's Wood your own way. By this I mean there isn't a clear marked trail. That's what makes it kind of fun, navigating through the woods, under the branches, figuring out each step based on the rocks around you. 
If you continue in the direction of North, to the left, just out of the woods is the West Dart River.
Deeper into Wistman's Wood
Here is a tip when walking through Wistman's Wood….Keep going. The deeper you go, the cooler it gets. The woods are sort of on a hill, so if you are walking on the left side (nearer the river), you will be on the lower level. Walking on the lower level, in the direction of North, at some point make your way uphill a little to get really into the deep bit.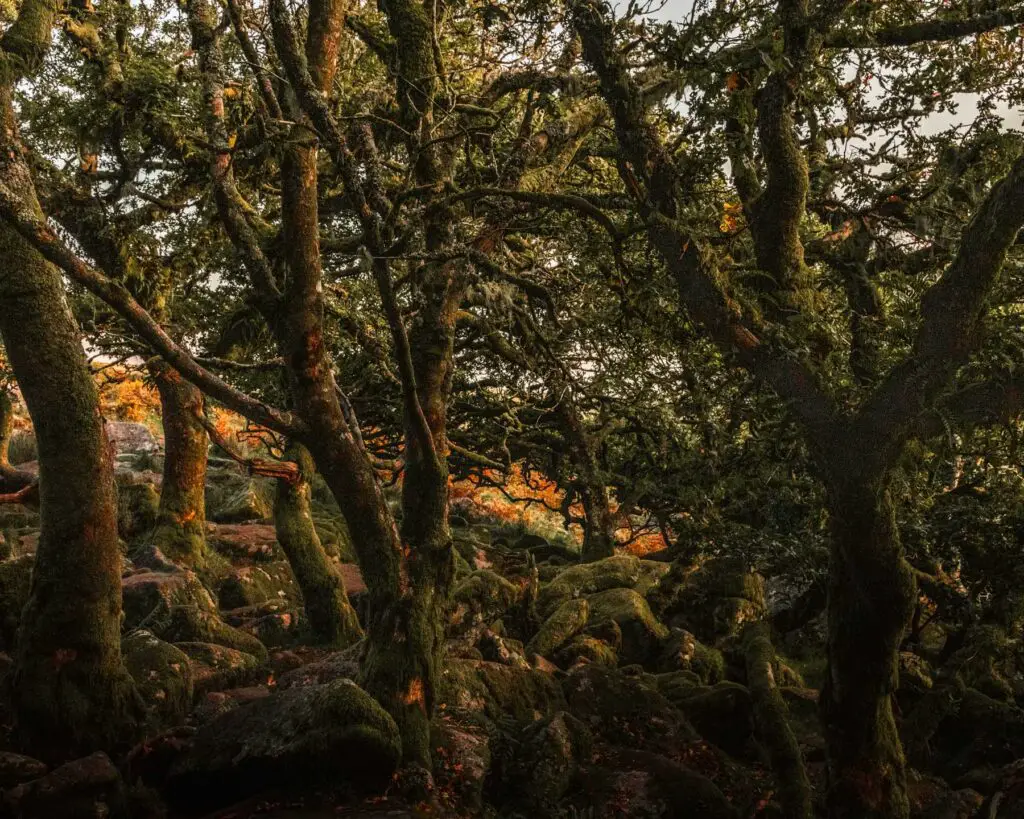 As I mentioned earlier, the woods were a lot bigger than they looked from the outside trail. We could have kept going but really had no idea how far they went on for. As it was starting to get dark, we decided to make our way back. I had read some spooky stuff about these woods and didn't fancy being there for that. 
The walk back
To leave the woods you can either walk back through them, or, if you would like easier terrain, you can get out of the woods by walking uphill (east direction).
Once out, you should see a bit of a trail running alongside the Woods. Walk along it, back in the direction you came, and you should soon meet the trail you were on upon entering the Woods.
You probably don't need me to tell you this, but just incase, you then walk back to the car park on the trail you got here on.
Final thoughts on the circular walk to Wistman's Wood in Dartmoor
Do it. As I said, parking could be an issue. But find a way. Even if you have to get a bus in, or park really far away, getting to walk in Wistman's Wood is totally worth it.
More walks in Dartmoor National Park
Foggintor Quarry – Not too far from here, this is one the most beautiful places I have seen. also a must see if you are in Dartmoor. This particular walk is super easy. You do need a car for this specific one I write about, however, there is another (also easy) way to get there via public transport. See King's Tor walk below.
Princetown King's Tor walk – This walk starts in Princetown and takes you up to Kings Tor and around Foggintor Quarry.
Sheepstor Walk – This walk is a bit longer and more challenging, but not that challenging. You will have a fantastic view all around Dartmoor and then walk a little around the Burrator Reservoir. You an access this one by public transport.
Burrator Reservoir walk – This one is fully around the reservoir, with a grand view up to Sheepstor. It's an easy going walk, and an easy route to follow.
Drakes Trail – This is more on the outskirts of Dartmoor, starting from Tavistock. You are definitely not in the wilderness, and it's not my favourite walk. However, there are two quite interesting thing on this walk. A really cool tree top bridge, and a very creepy tunnel that I never want to experience again. Although, some people might find it fun.
For a more detailed look, and some more walks, check out this guide to the best walks in Dartmoor National Park.
Alternatively, you can check out the Visit Dartmoor website for some more ideas.
Pin it for later: An enchanting walk around Wistman's Wood, Dartmoor