This walk in Dartmoor takes you alongside the Burrator Reservoir, before making your way up Sheepstor, and then back down to the reservoir, before finishing off with another viewpoint hill and surprise waterfall.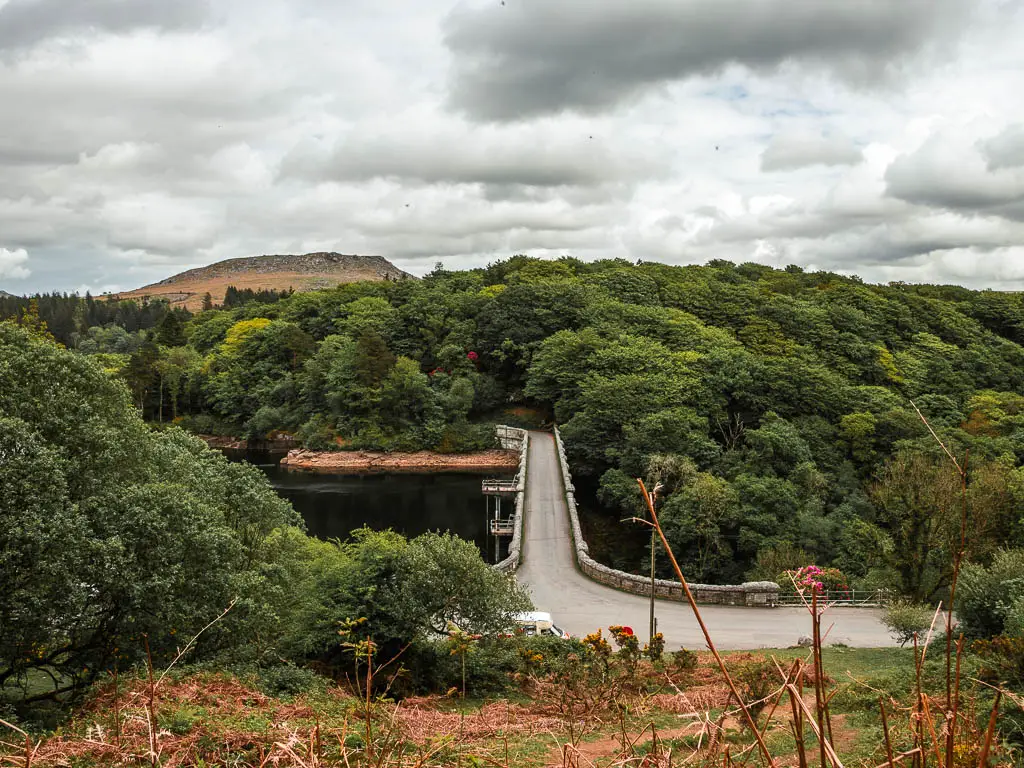 I started the walk towards Sheepstor from Yelverton, which is super convenient if you don't have a car (like me). However, to get to the Burrator reservoir and Sheepstor from Yelverton, does involve a bit of road walking (about 1.5 miles each way). I was surprised at how lovely the road walking was though. Not what I was expecting at all, and I wouldn't say it takes away from the walk. 
If you do have a car, you can of course park closer. There are various options around the tor and reservoir. 
Note: There is a bus option to get you near to Sheepstor. There are a few things you need to know about it though – See logistics and tips for more details
What to expect on the Sheepstor walk from Yelverton  
This walk has a bit of everything. Woodland, bluebells, a precarious river crossing, waterfalls, hill climbs, views, tors, reservoir, sheep, wild ponies, pretty roads. A nice bit of variety to keep things interesting.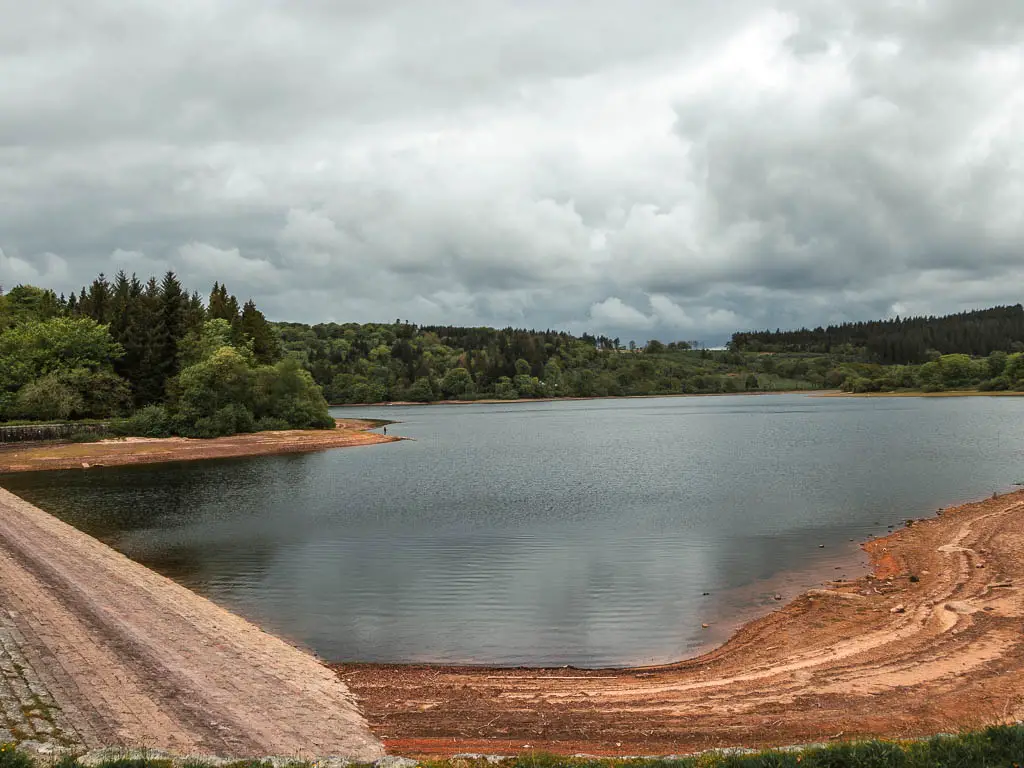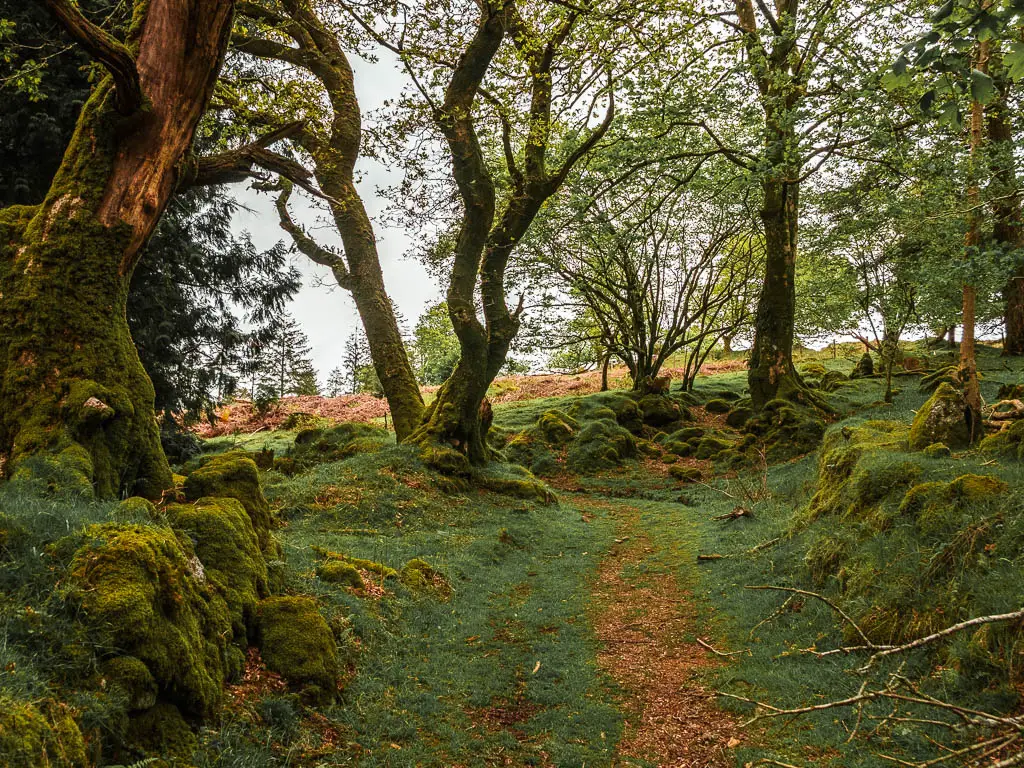 Although Sheepstor is high up, and looks pretty monstrous from below, I didn't find it that taxing to walk up. You also have the option to walk around the bottom of it, if you wish. The views are still great from lower down.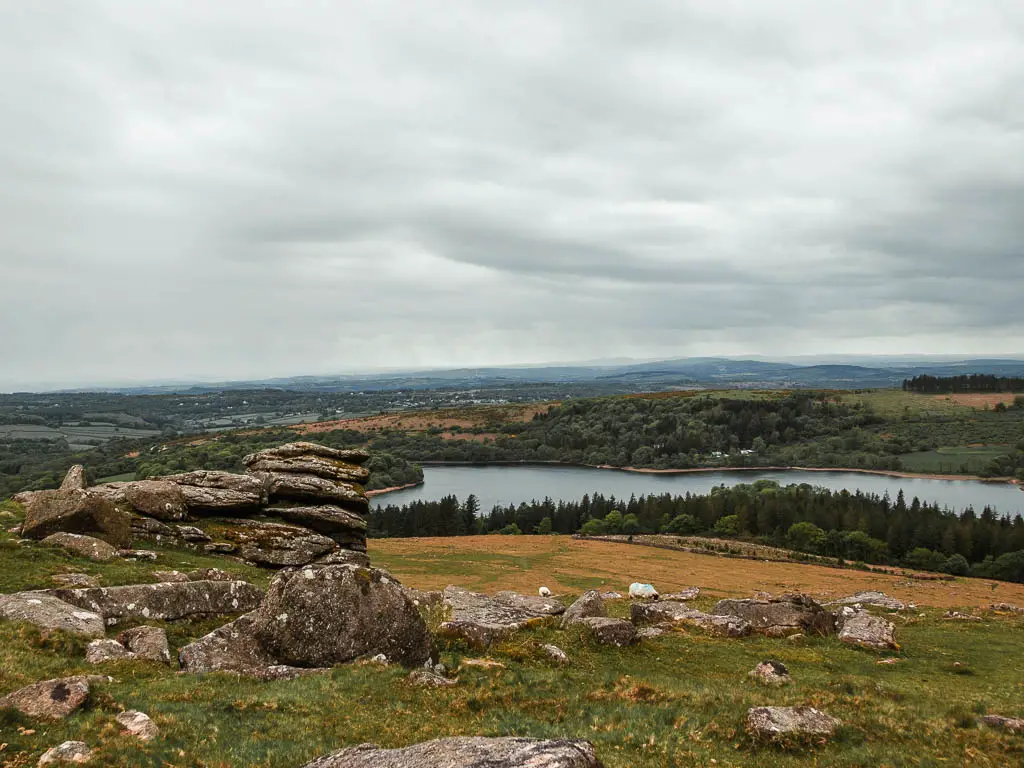 Now, that road. As I said, the road wasn't as bad as I thought it would be. I even quite enjoyed it. It's a country lane type road, which usually make me nervous, but I didn't feel that way at all on this walk. Very few cars passed by. In fact, I saw more cyclists and horse riders than cars.
Some bits of the road are very wide (for a country lane type road that is), with gorgeous views of the hills all around. Some are a bit more questionable, being super narrow with tall hedges. It was just so peaceful and quiet though, with only the sound of the birds chirping. This means that you can hear a car coming from a long way off. 
Logistics for the circular Sheepstor walk from Yelverton
Start/Finish: Yelverton 
Alternate start/finish: If you have a car, and want to park closer to walk up Sheepstor, there is car parking both at the north and south side of the reservoir. If you don't have a car but want to skip the road walking at the beginning and end, you can get a bus from Yelverton to Meavy. This walk goes through Meavy to get to Sheepstor. See below and tips. 
How to get there: The number 1 bus goes from Plymouth to Yelterton. Journey time 35 min. Bus number 56 connects Yelverton to Meavy. That one is a short journey, however, the buses are not very regular (see tips). If you have a car…google it. 
Distance: 9 miles
Time: 3h 30min
Options to shorten the walk: Yes. See tips.
Difficulty: Easy/Medium
Terrain: Dirt trail, grass, gravel, rocks, road, asphalt. Potentially mud. 
Elevation: Highest point is around 360m (depends how high you walk up Sheepstor). For this walk, total elevation gain is 470m
Amenities: At Yelverton, there is a co-op, a pub, a cafe a petrol station, and a butchers. Meavy has the Royal Oak Pub. I did this walk on a weekday, but I came back on a weekend and saw ice cream trucks at the bridge on the south side of the reservoir and one near Norsworthy Bridge at the north side. A few sitting benches around the reservoir. 
Dog friendly: Around the tor there are ponies and sheep. Burrator Reservoir has a section for dogs. They call it the dog exercise area.
Time of year: Spring
Tips for the Dartmoor Sheepstor walk
Looks like it could be muddy if it's been raining. So think about footwear in that case. 
It can be windy at the top of Sheepstor, so a windproof jacket would be useful. 
There are a few spots I recommend for your snack/lunch break. I will show you them when I describe the walk below. They are all located on the north/west side of the reservoir. 
Do the walk in spring to catch the bluebells. 
To shorten the walk, you can walk around the bottom of Sheepstor instead of going right up to the top. Now this doesn't make a huge difference to the length, but by missing out the hill climb up the tor, it will reduce the time it takes to do the walk…and makes it a little easier. But as I said, it's not that hard to get right to the top. 
Another way to shorten it would be if you have a car, then you can just park at Sheepstor or Burrator reservoir. 
You could skip the road walking sections at the beginning and end by catching a bus from Yelverton to Meavy (This walk goes through Meavy to reach Sheepstor – in the walk description, it's the second heading). The buses are not that frequent through, maybe every two hours. They also stop running around 4:30ish. 
Map for the circular Sheepstor walk from Yelverton
More walk ideas, with a link to the full guide, near Sheepstor or in Dartmoor will be at the end
A Guide To The Circular Sheepstor Walk From Yelverton
If you have come by bus like me, get off at the Yelverton roundabout stop. If you look to the right, you should see a church. Go down that road to the left of it. This bit of road has a pedestrian walkway. Keep going until you reach the house the below photo, where you turn left. 
The country lane
You now follow this road all the way to the end which will be the village of Meavy. This is where the road become more country lane type. A short way along it will be lined with hedges and pretty flowers, and lovely views to the surrounding hills. 
Someway further along, there is a section which becomes super narrow with tall hedges. This is the only bit I felt somewhat nervous along, but the nerves didn't last long when I realised only one car had passed by since the start of the walk, and the only sound was peace and birds. 
Walk through Meavy
As you approach the village of Meavy, you will start to see the top of a church and some rooftops over the hedge, and then pass by the Meavy sign.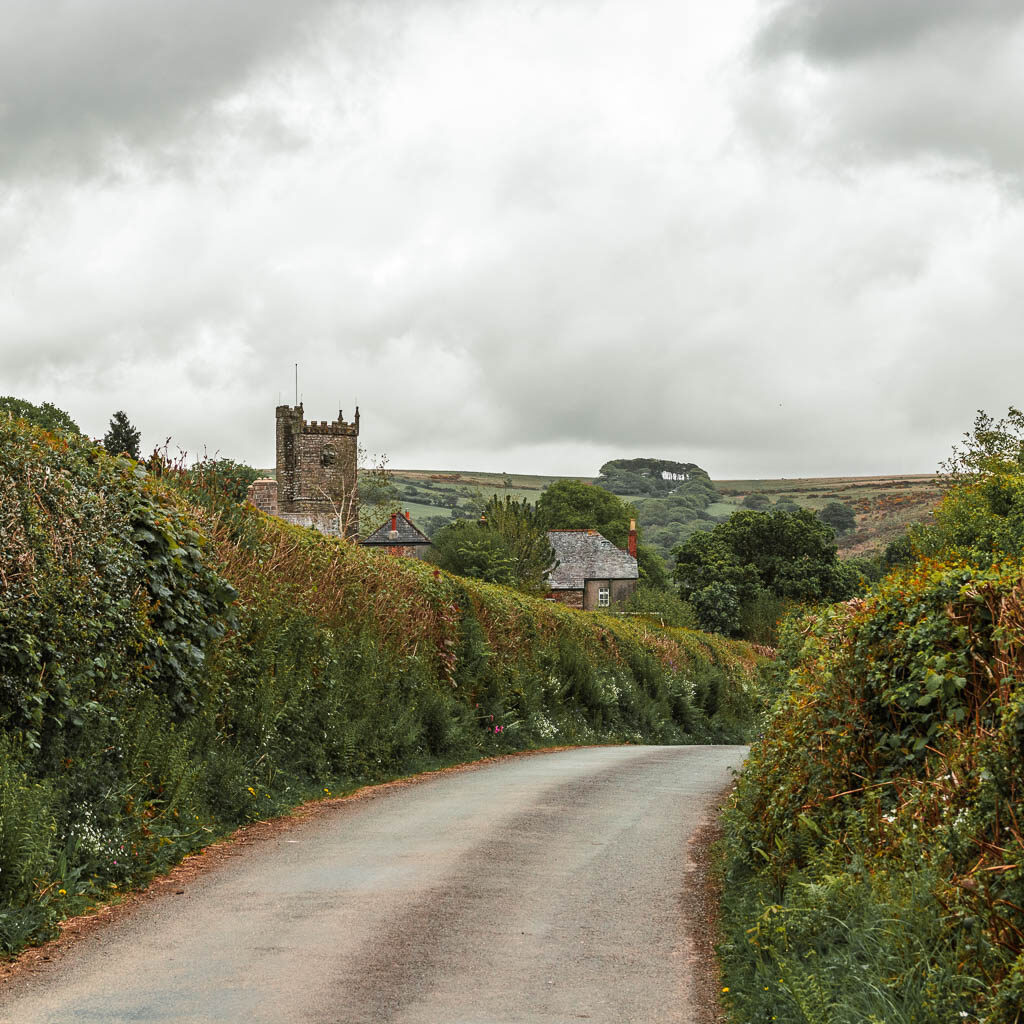 Continue to walk through the village to reach white building at the end. The trail is through the gate and field just to the left of it.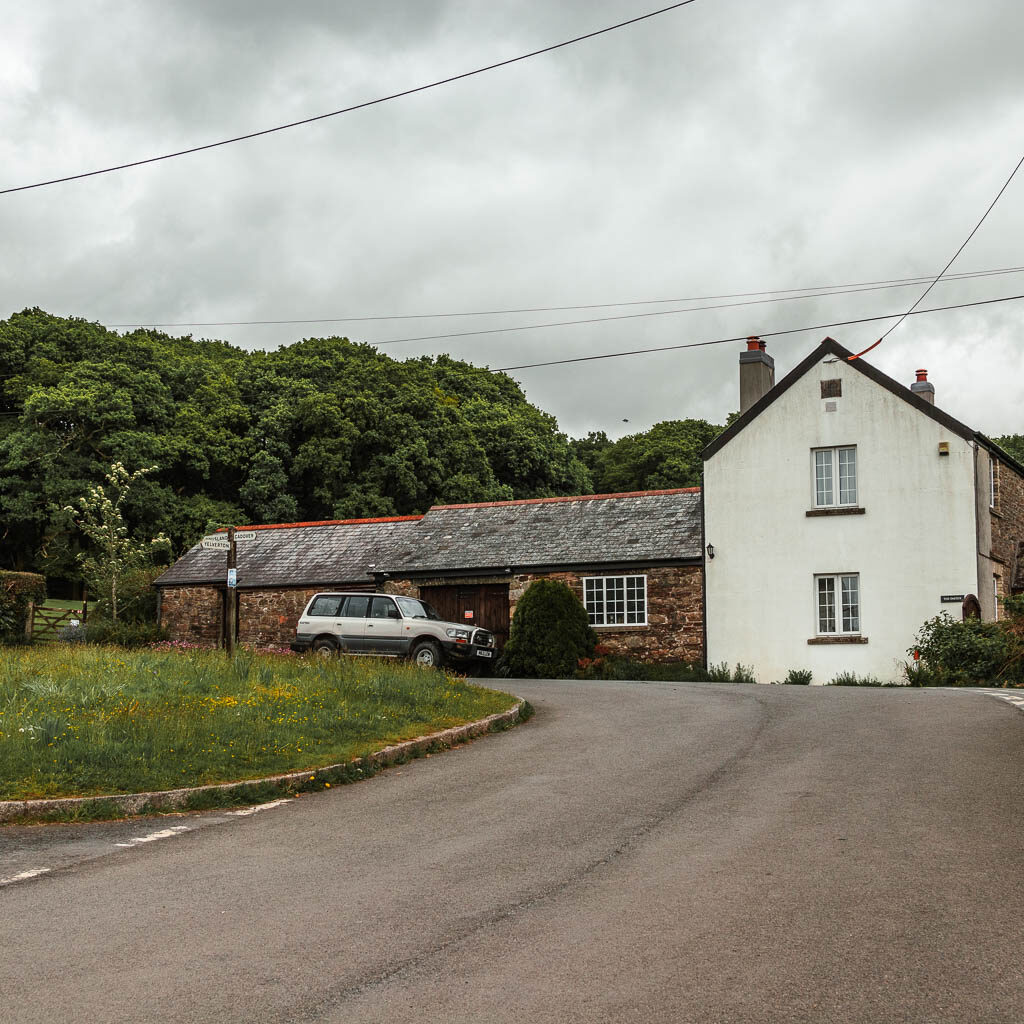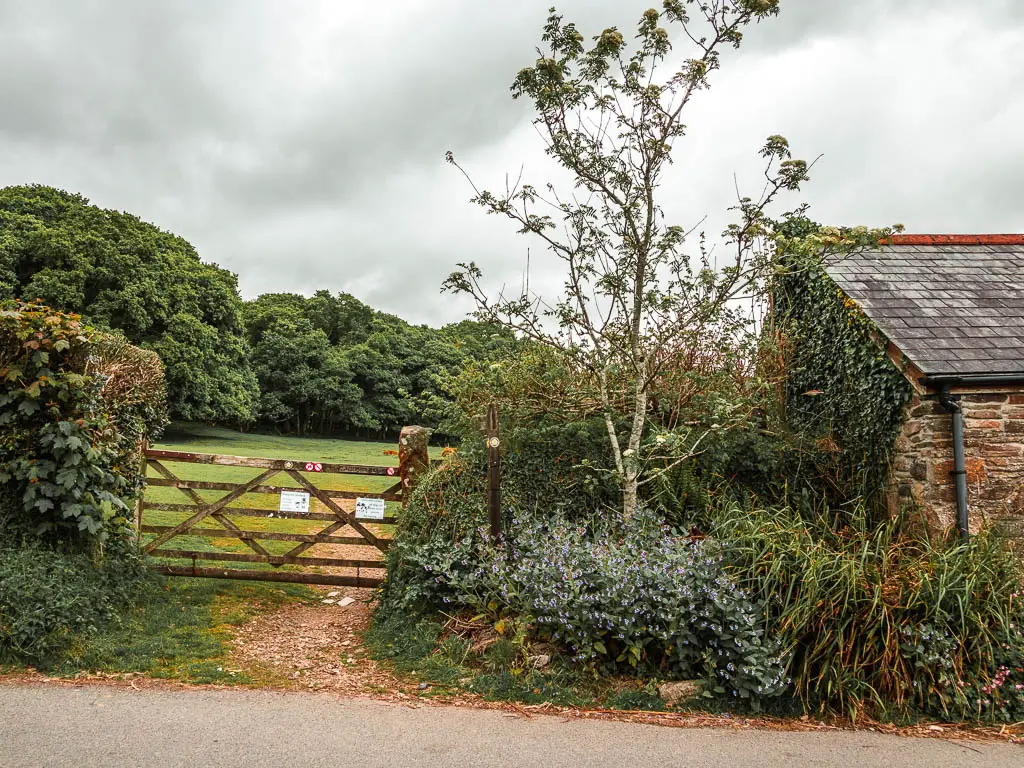 The cow and calfs
When I arrived at the field, I noticed some cows in there….then I saw the calfs. Absolutely not. I had a look on my map to figured out another way around. But there wasn't an easy way, without taking a massive detour on roads. I was not about to let the cows hinder my walk. So I entered the field and had a scan around. I could stick to the edge with the barbed wire fence. I'd rather the barbed wire than the cow attack.
I took a few steps, then chickened out and ran back behind the gate.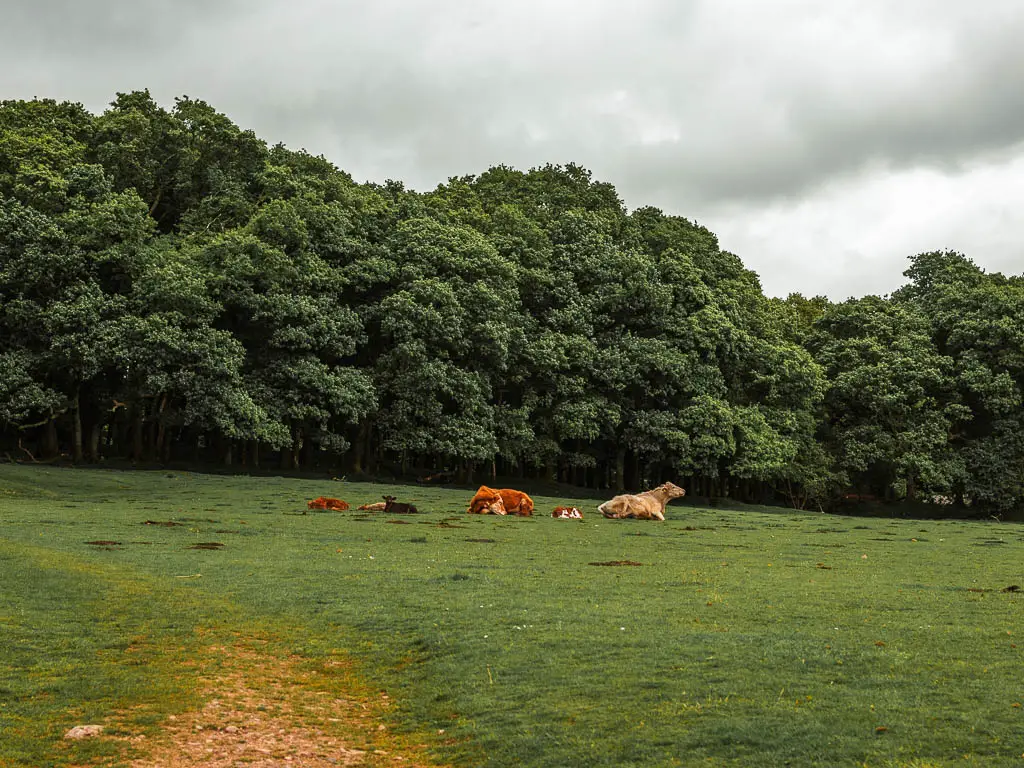 I spent about 15min here trying to figure out what to do. Trying to work up the courage to walk through. Having another look at my map to figure out another route. 
Then I heard some voices. I looked up to a group of people walking through the field coming this way. 
They had dogs. Even better. 
The cows would go for the people with dogs first. I quickly got back into the field and power walked my way through.
The trail itself goes straight through this field and then under the woodland trees on the other side to reach a gate. I didn't stop power walking until I made it through that gate.
Well, kind of. This gate leads into another field. I didn't know what was in this field and my adrenaline was still going, so I hurried on through the next gate just ahead, to get back onto the woodland trail.
The river
A short way through the second gate, there is a trail split. You can take either. The left one will take you to the road that runs alongside the Burrator Reservoir. I wanted to try to minimise the road walking so I took the right trail. This would still lead me to the road, but a bit further along. 
This leads onto a grassy trail. Between here and the river, there are one or two more fork junctions, where you should continue to take the right. There may also be a few tree obstacles along the way. 
As you get near to the river, you will start to see moss covered rocks. It reminded me a little of Wistman's Wood. I had a look at my map to check I was still on track, when I realised I needed to cross the river. But where? Where is the bridge? There is no bridge. 
I noticed a little ledge type thing I could walk across. I must warn you through, the water was running over it a little. I have a feeling that if it's been raining, this will be more tricky to cross. Just ahead of this bit though, are more big rocks across the water which could be a crossing point if needed.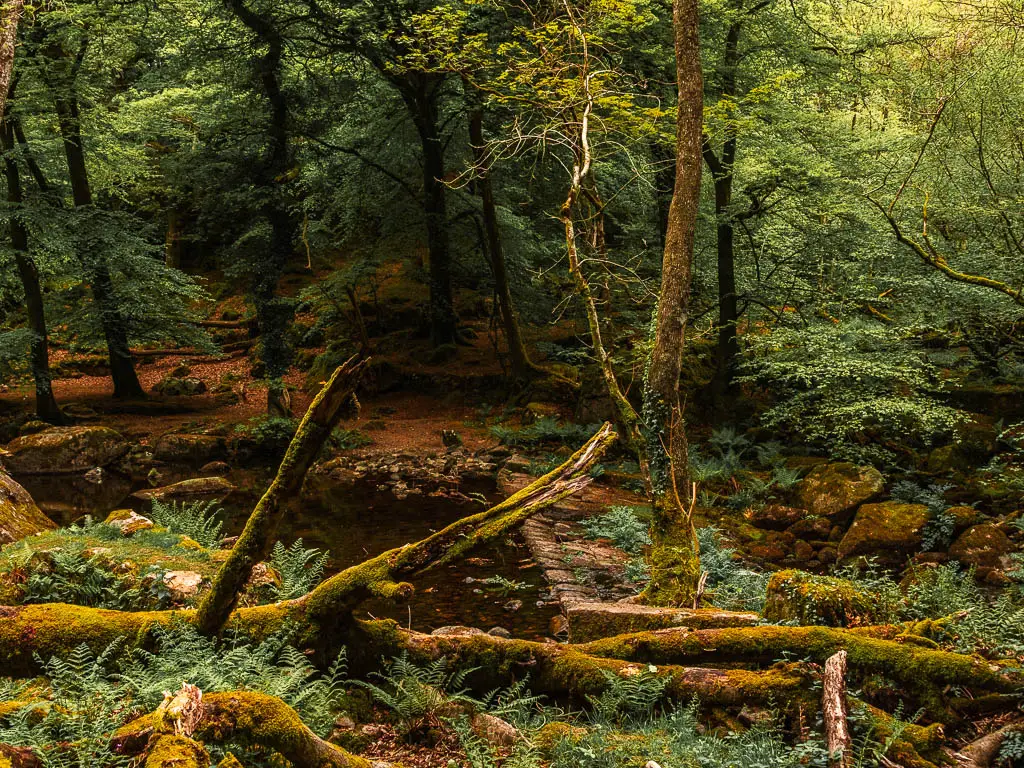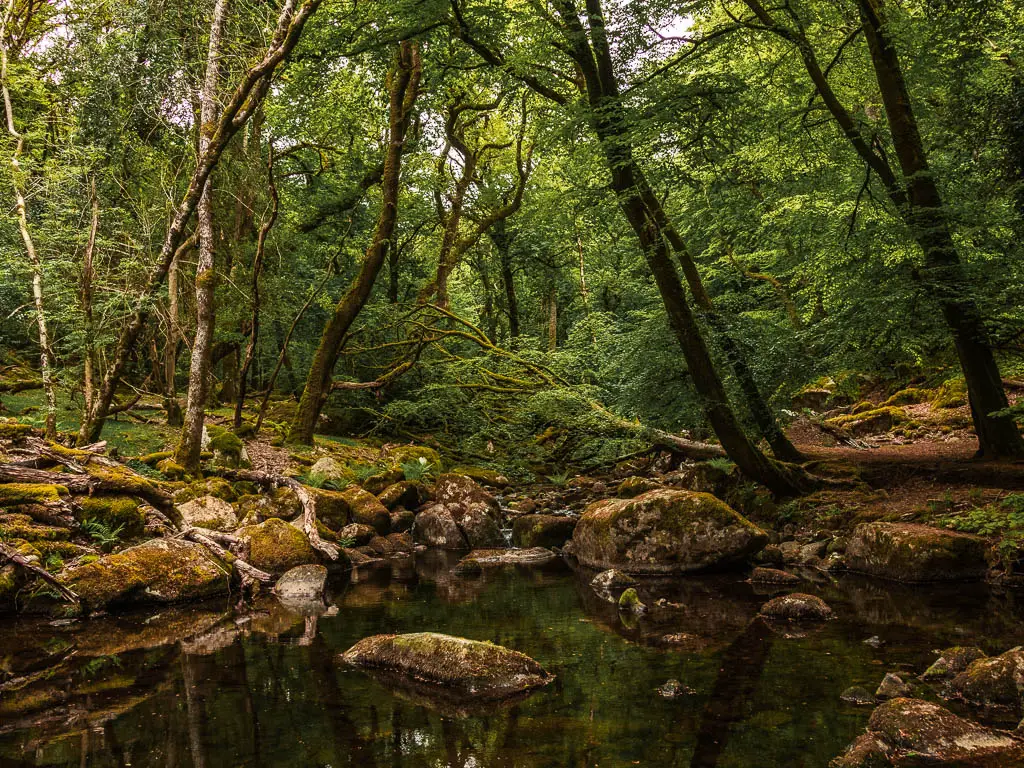 The woodland hill and bluebells
Once across I had a look around, but could see no trail. Where the hell was I? I got myself up the ledge (see photo below), and found it up there. It's not very obvious, but essentially, it runs along side the river, just higher up.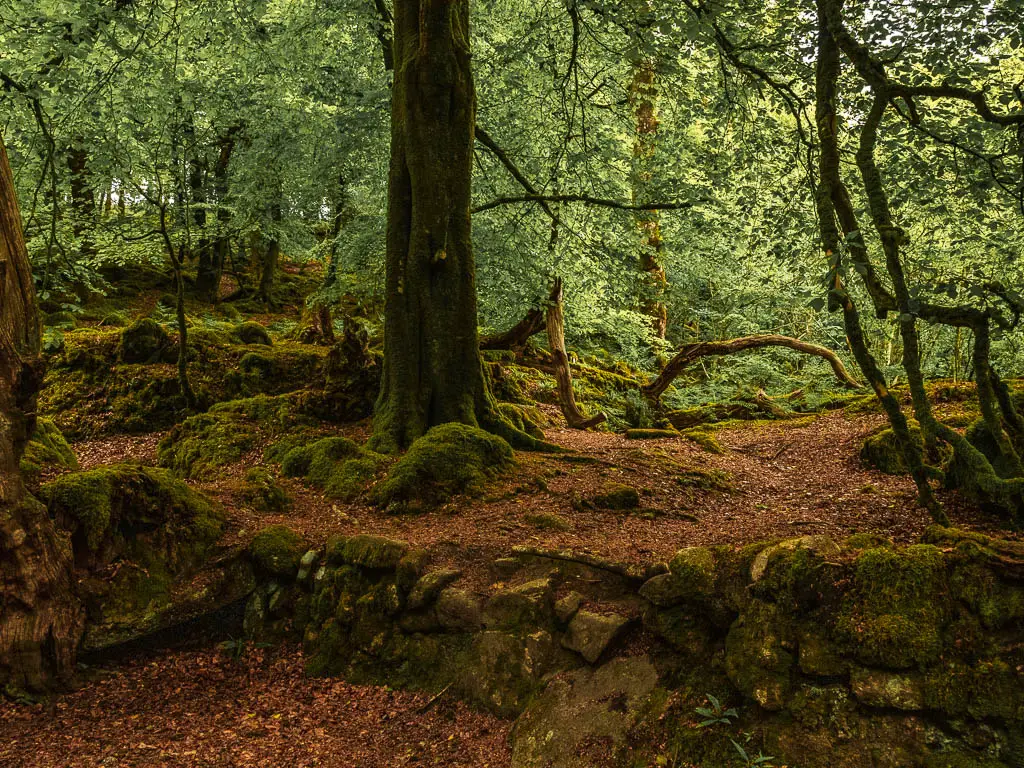 Keep following the barely visible trail, and then it will curve around a big tree to the right, where the trail now becomes more obvious. Oh, I didn't mentioned, you are walking uphill. 
Top Tip: Keep an eye our for a mini waterfall to the right. It's a bit obscured by trees which is why I don't have a photo to show you.
NB. This is not the main waterfall of the Sheeptsor circular walk. That one comes later.  
As you near the top, you will reach a gate with lots more moss covered boulders. Don't go through it. Instead, follow the trail back to the left. After which, you will be walking amongst all the bluebell goodness (time of year dependant). 
Walk to the Burrator Reservoir 
You will at some point hit a fork junction. Left will take you down to the road and reservoir. I decided to take the right, to meet the road later on. At the next fork it's right again. Then at the next junction, another right. Basically keep going right. This will then take you along a trail with a fence or hedge on your right. 
Keep going all the way to the end, where there will be a dead end drop down to the road. 
I actually spent a bit off time here, trying to figure out how to get down. Dead set on not walking back, even if it meant jumping down (note: I do not advise this). 
I then saw to the right, a gap with a steep slippy way down. 
Walk along the reservoir with a view to Sheepstor
The reservoir will be straight in front. There is a gate just to the left where you can get onto the reservoir path. From here you will get a view of Sheepstor ahead, the next stop in the walk.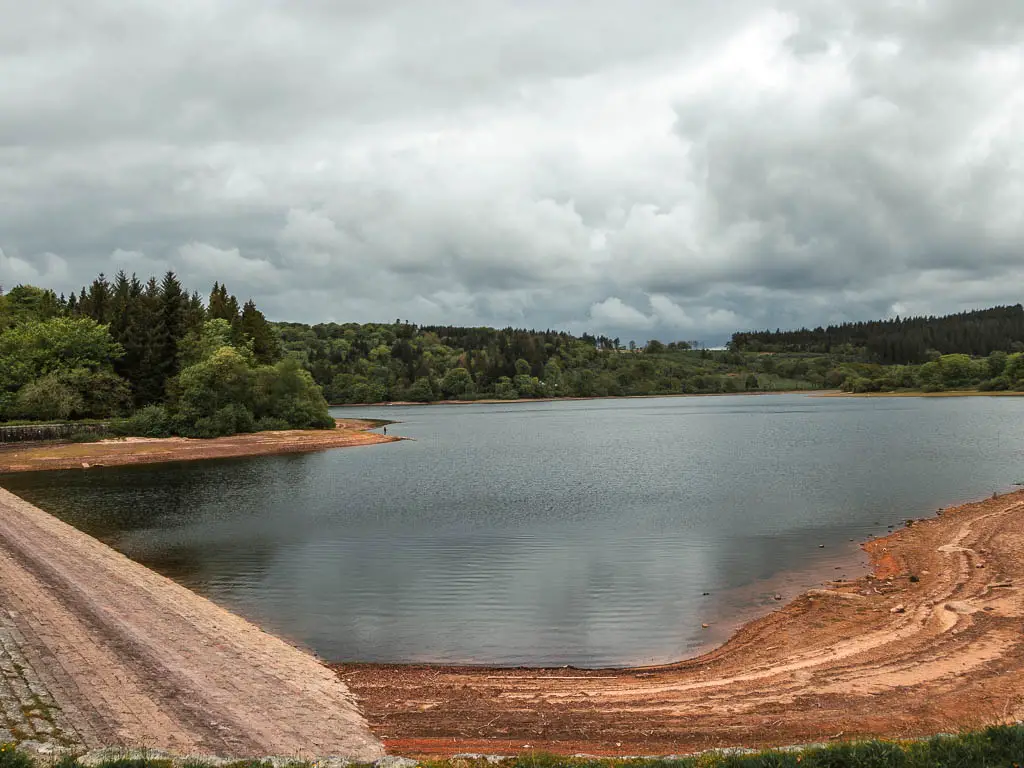 Now follow the path as it curves to the left and alongside the reservoir. When you reach a gate under the woods, go through it, and onto the road, and continue walking in the same direction.
Walk to Sheepstor – with an option to shorten the walk
A short way along, when the road curves left, you should see a grassy trail to the right. Go up that. Continue making your way up the grassy trail, passing by some more moss covered things, to reach a gate up the top.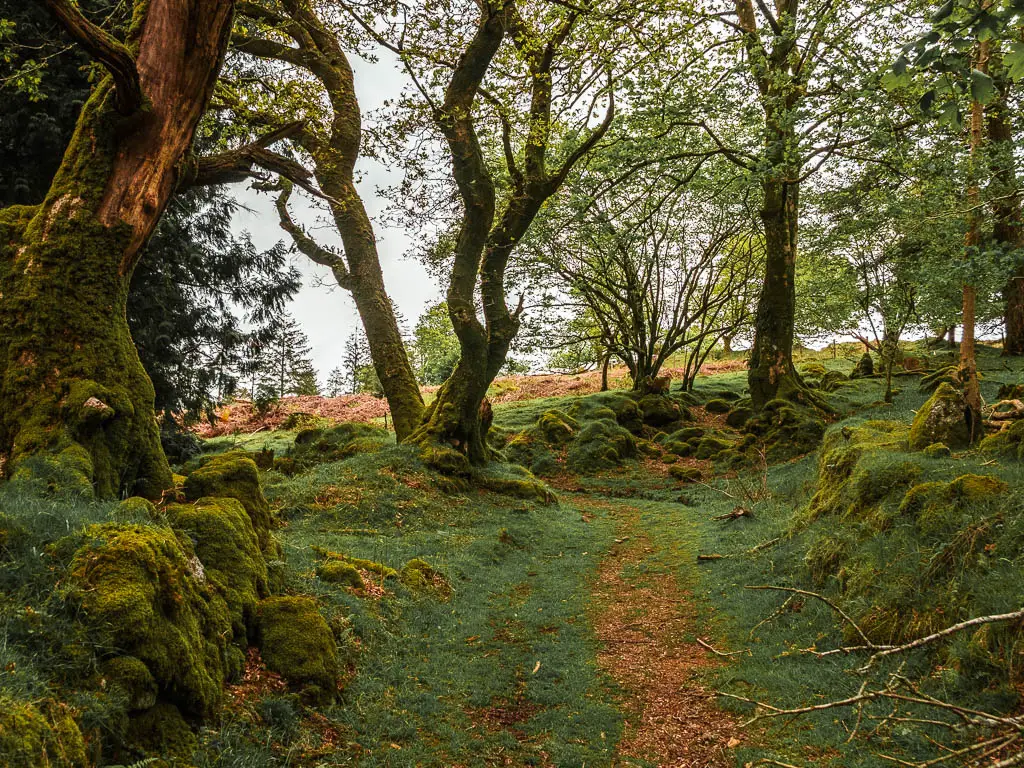 Through the gate, you now have some options. Straight up will lead you to Sheepstor, but if you don't want to walk up there, you can go left here. This will join the trail a bit past Sheepstor, to continue the walk. 
Now to walk to Sheepstor, just go up, and keep going up. Make sure to take looks back at the view behind of the Burrator Reservoir, and surrounding Dartmoor Hills.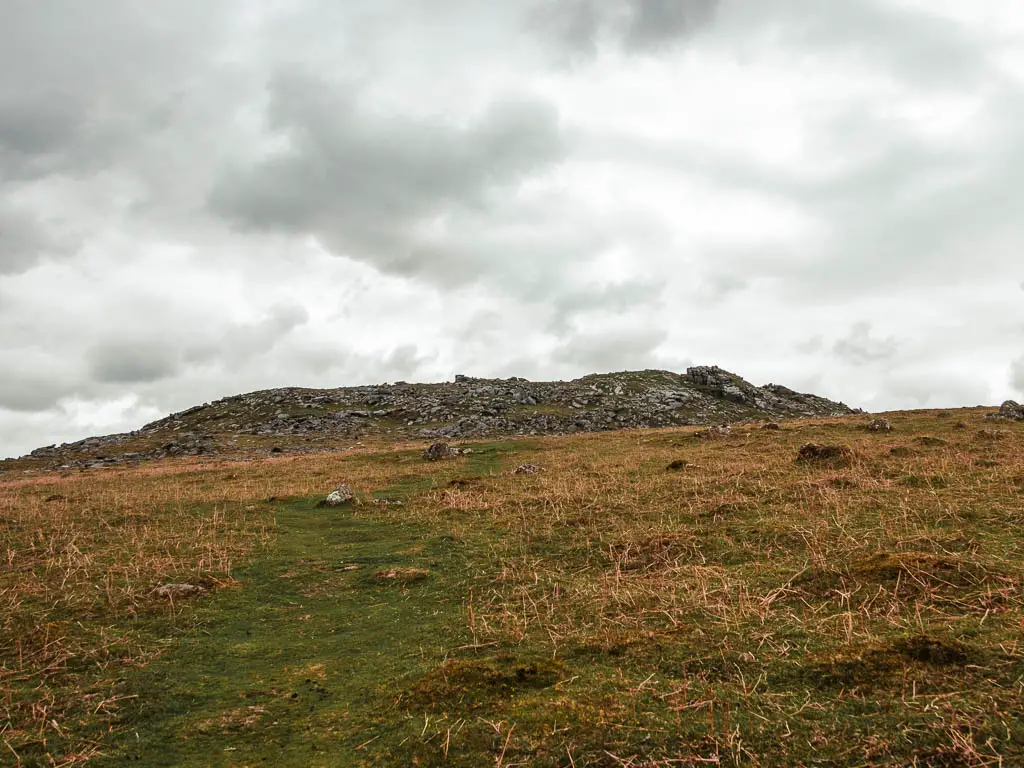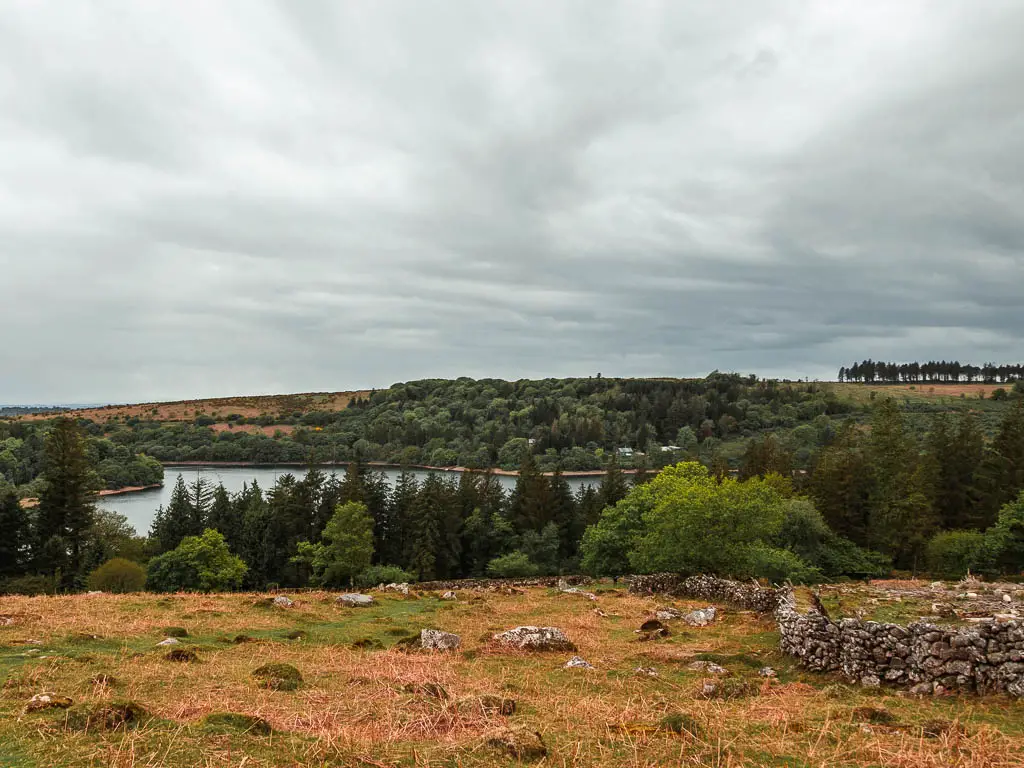 Walk to the top of Sheepstor
To get to the very top, might involve a bit of scrambling through and over the rocks. You will also notice it becomes a little windier up there. 
When I got up to the top, I had a walk to the other side. I was curious at what type of view I would see…
I must say, I was very shocked. The views on this side are lots of woodland and a body of water. Very lush vibes. The view on the other side was wildly different. The landscape was so barren, with a small cluster of trees. Although shocked, I quite liked the difference. 
Walk down off Sheepstor and back to the reservoir 
Wherever you are on Sheepstor, if you are facing the reservoir, you want to walk to the far right end of it. 
It was on my walk down that I got my first Dartmoor pony sighting of the day. I was wondering when they would make an appearance. 
When you reach the bottom (the the right corner), you should come across this trail – see below photo. (Also, if you stuck to the bottom of Sheepstor instead of walking up, this is where you should reach as well.)
Keep going along this trail, to reach the wooden trail signpost. Follow the direction for Burrator Reservoir through the gate.
Walk to Burrator Reservoir and Norsworthy Bridge
This trail will lead you to the road, where you go straight across and through the gate on the other side. Turn right here to walk along the bluebell trail (time of year dependant).
Now, there is a junction coming up where I had intended to go left. This would keep me from going back to the road. However, I saw I sign saying it's a dead end trail. 
I wondered for a moment wether it was lying.  Ultimately, I decided not to risk it and instead turned onto the road. I soon discovered why it was a dead end….
Following the road, at the second car park is the point where the trail should have lead to. I could see here that the trail is marked as private. That's why. Someone has this trail all to themselves. 
Anyway, you need to continue past the car park, over the stream, and then over Norsworthy Bridge.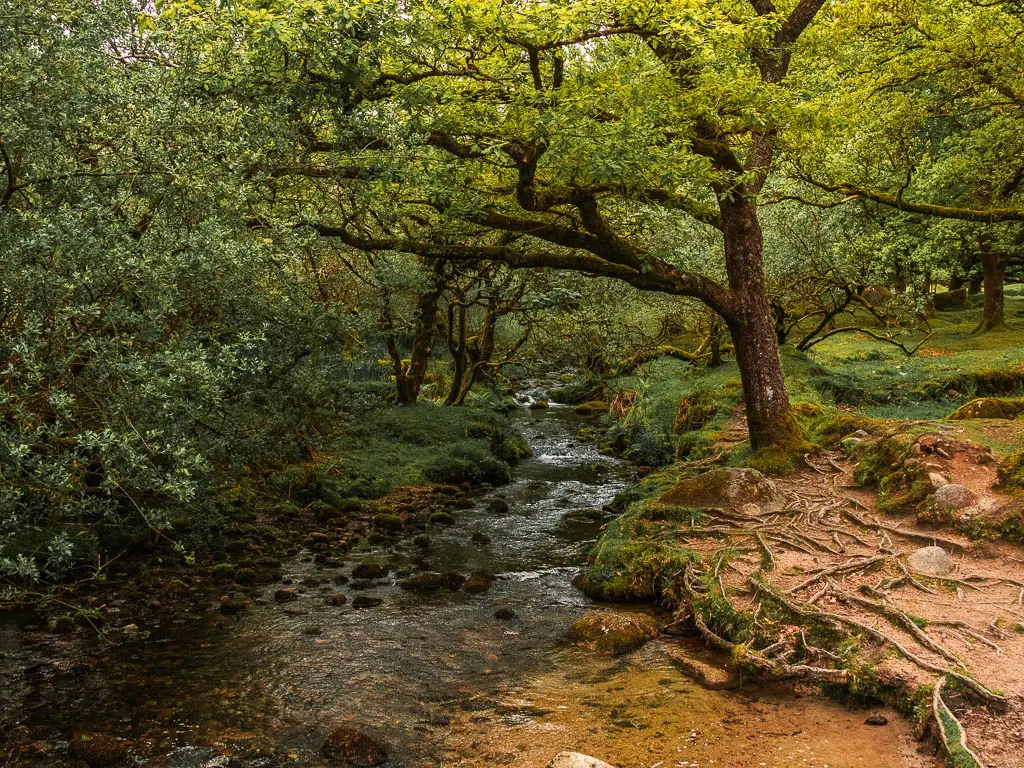 You should see a wooden gate to the left, which will take you back to the reservoir.
Walk around Burrator Reservoir with Sheepstor views
When you walk through the gate, follow the trail to the right to walk alongside a stream. Now it's as simple as just following the trail. You don't get much reservoir view for a while. It's basically trees for now. Along this bit of the walk, you do get some views back towards Sheepstor. It looked quite impressive actually. It was hard to believe I was only just up there. 
Also, there is a big section of tree route walking here.
When you reach a gate that says 'dog exercise area', go through it. The trail continues, still without much reservoirs sightings. As you make your way along, there is the occasional trail leading off it to the right. Ignore those and keep on this one.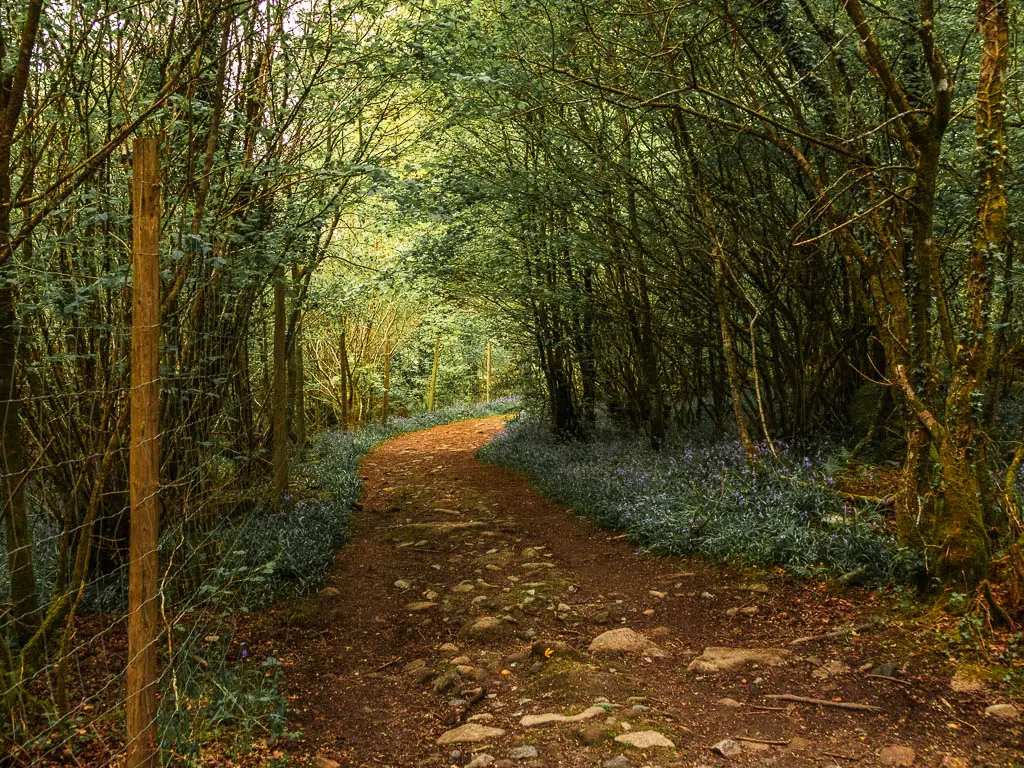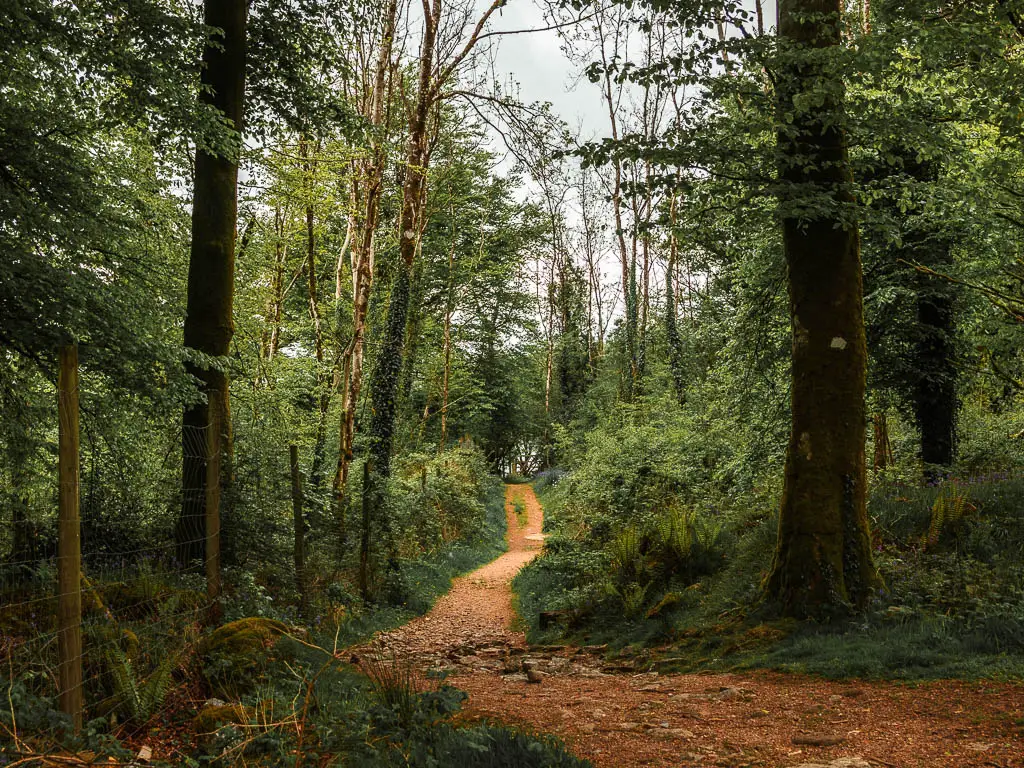 You will reach another gate which leads you to an area with a proper reservoir view. This is a detour off the trail, so come back onto it when you are done. 
This would also be a nice place to take a food break. There is another one of these coming up if you want to wait though. 
Keep going, under more trees, always keeping to the left trail when there is an offshoot to the right. Things will then start to properly open up, and you will have another opportunity to sit next to the reservoir. You also get a view over to the bridge from here.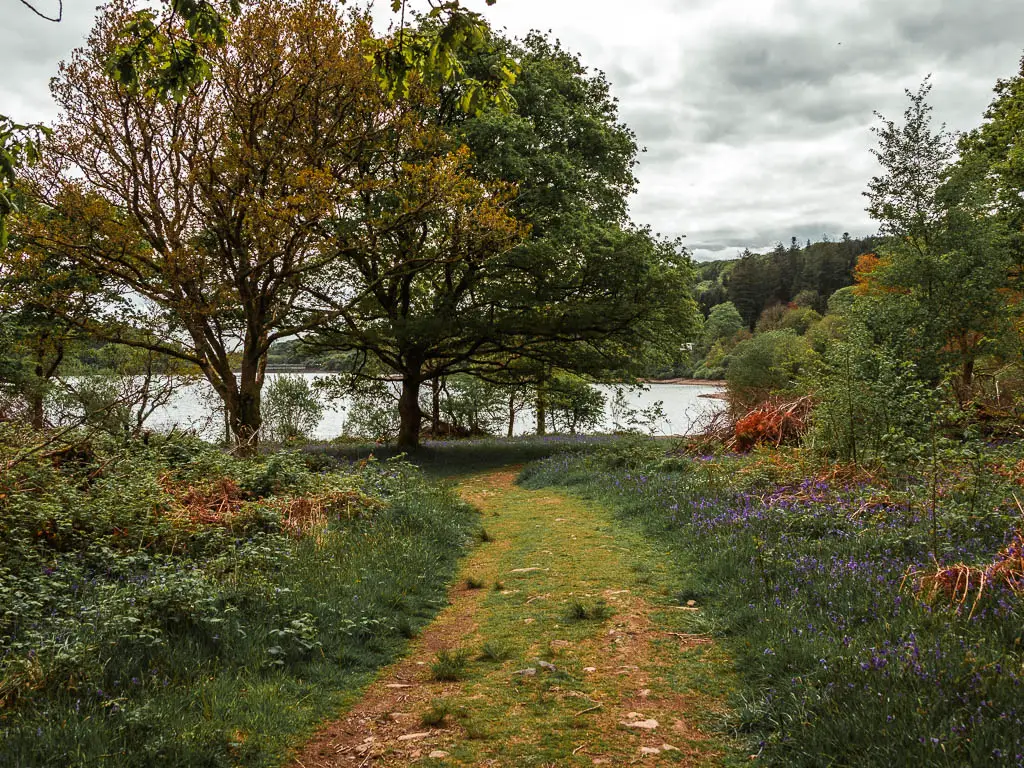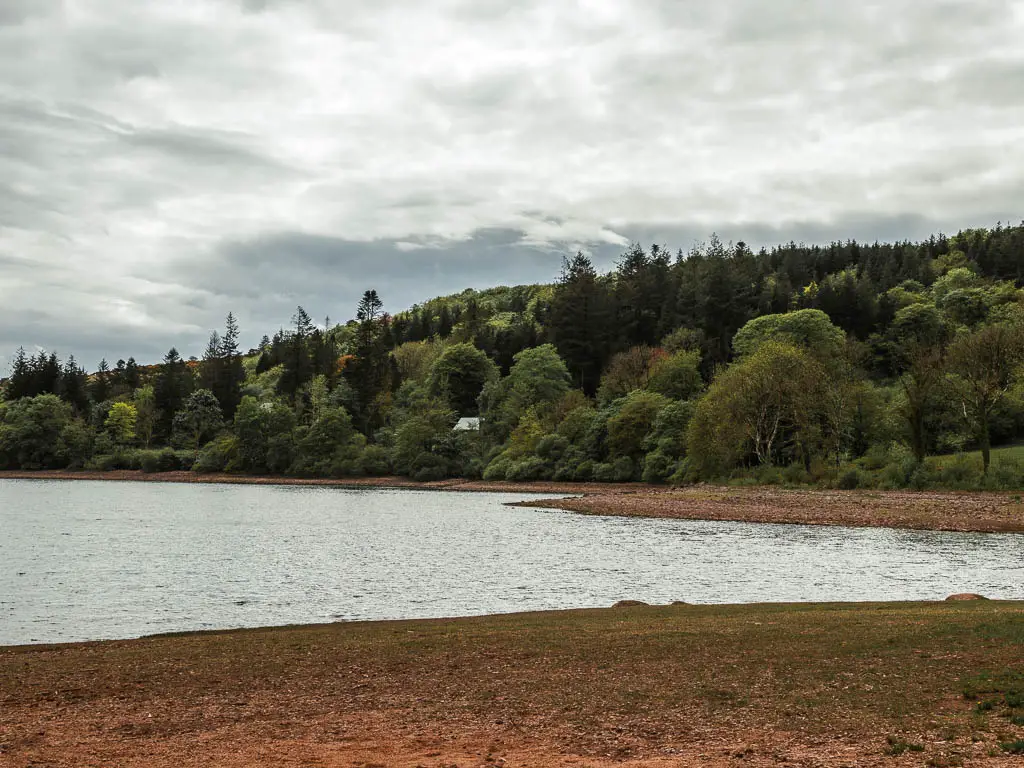 Leave the reservoir to walk to the waterfall
Back on the trail, and a bit further along in the walk, you will get another cool view of Sheepstor. I still couldn't believe I was up there not so long ago. 
Soon the trail will lead you up to the road. 
My intention when I had studied the map, was to take a side road off this road to find another trail. It looked like a big aggressive road on the map, however, I had been pleasantly surprised with the road walking so far, so decided to just stay on it (it's a left turn when you reach the road). It was only a short way along to reach the next trail anyway.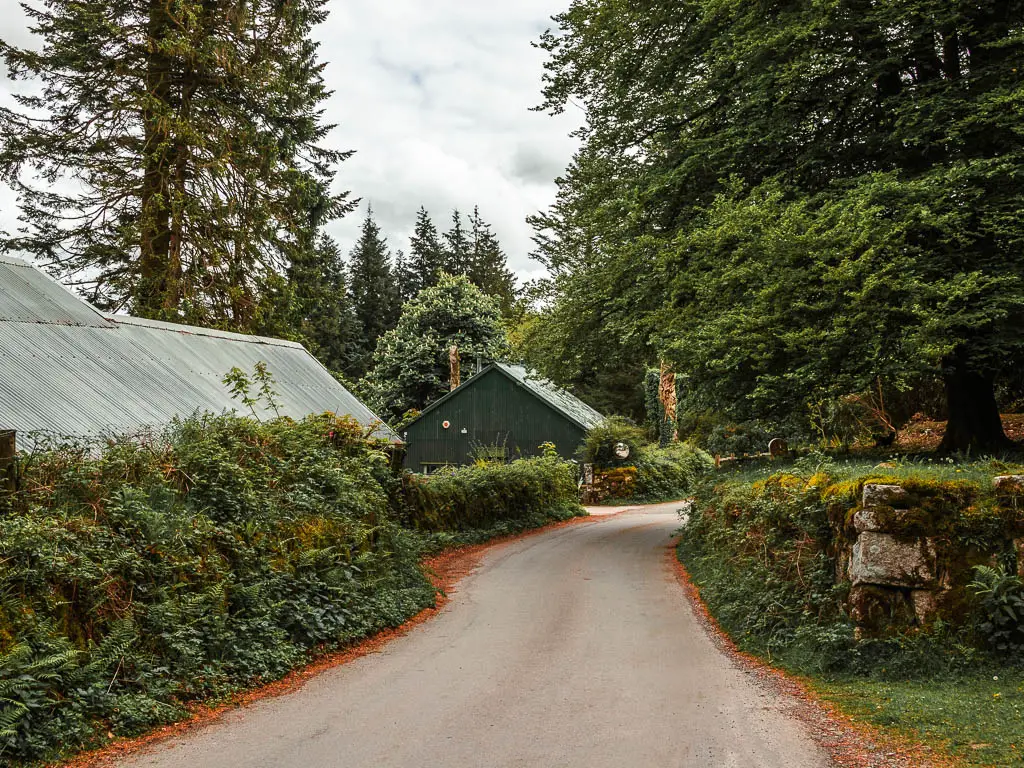 Oh boy, I'm so glad I stayed on the road, or I would have missed what was to come next….
The waterfall. I was not expecting this. It just appeared out of nowhere.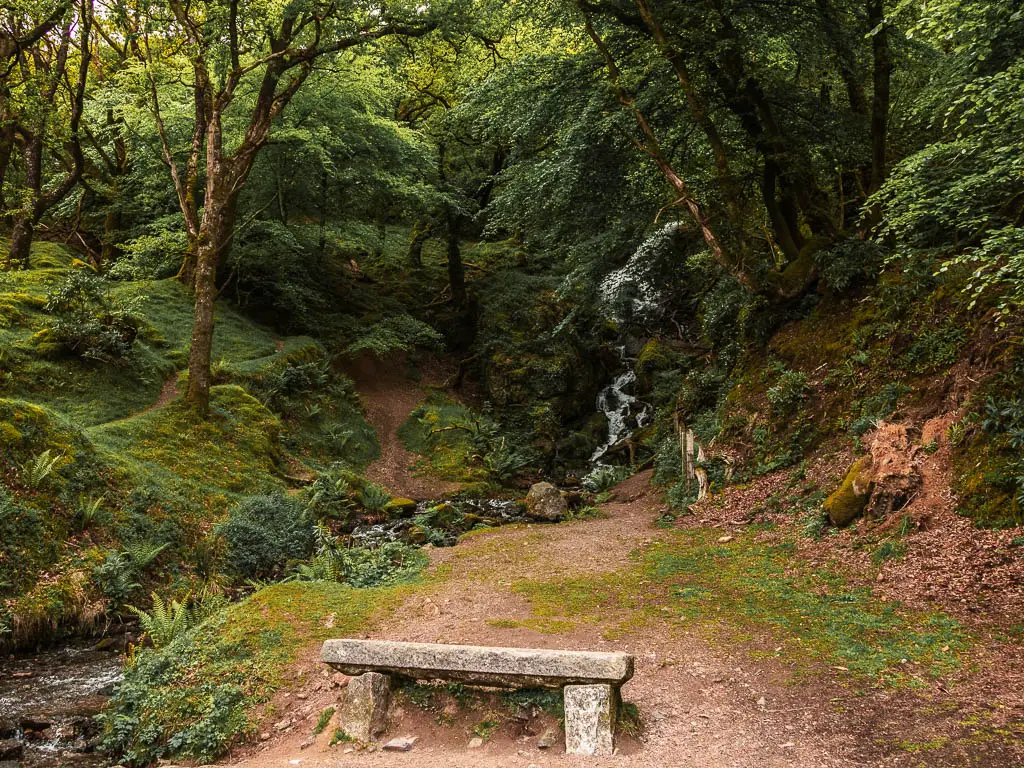 Nb. I came back a couple of days later, and only then did I discover it's not a real waterfall. It is water shooting out of a pipe. 
Walk up the hill for the best views
Just next to the 'waterfall', you should see a trail leading uphill parallel to the road. Go up that. 
A short way up you will get what is one of my favourite views of the walk, looking down to the reservoir bridge, with Sheepstor behind.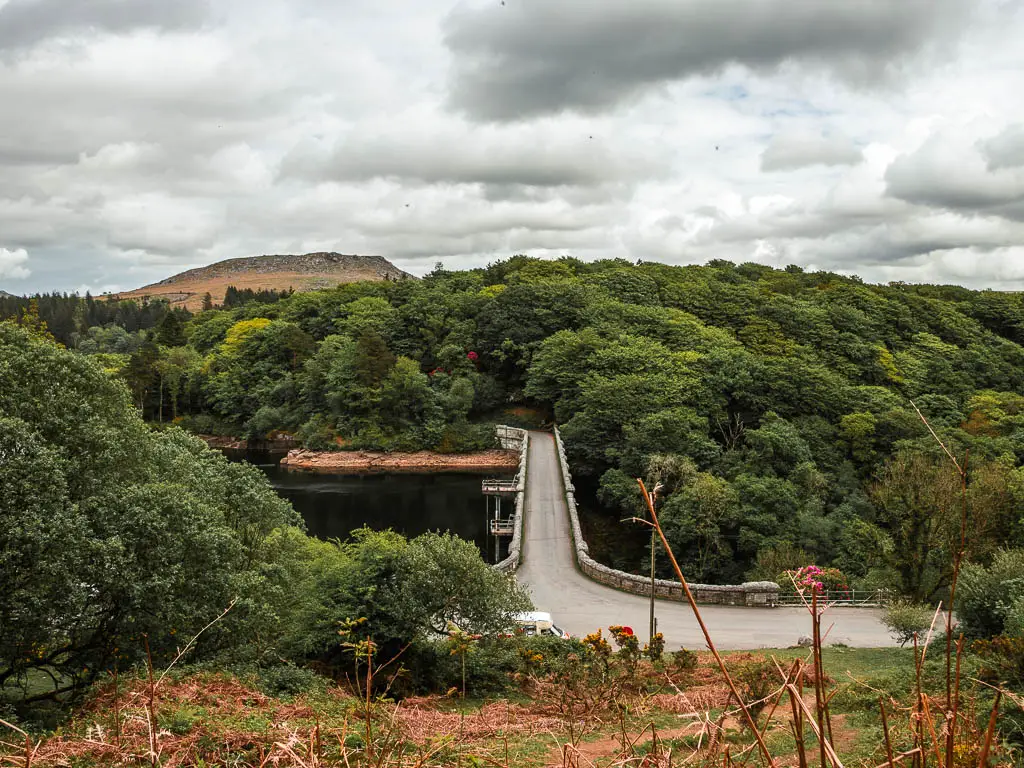 Keep going up the hill, and you will reach the next viewpoint area with a stone bench. 
The final stretch of the Sheepstor circular walk
Now, if you came by car and parked by the reservoir. After this viewpoint, take the left trail down to the road and turn left. That will get you back to the reservoir. To go back to Meavy, just before you reach the reservoir bridge, there is a gait to the right. Go through that, and there will be trails all the to Meavy. I walked on this trail a few days later when I came back to walk fully around the reservoir.
To do what I did and walk back to Yelverton, continue reading.
Walk to Yelverton
Just behind the viewpoint area, is a series of trails. Take the one going back on the right, and a short way along, take the left trail off this main one which leads uphill on the grass. Stay on this trail which will become wide and grassy, then narrow dirt through the gorse. Just past here is a grassy trail split. Take the left one.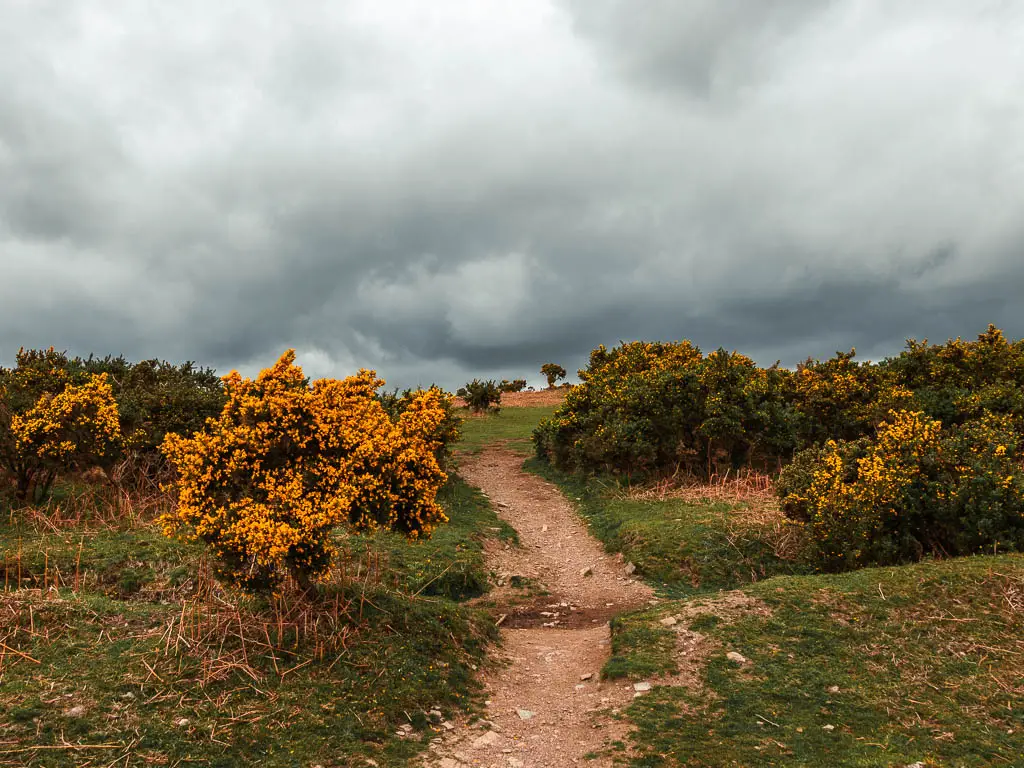 Now it's as simple as going straight. Make sure when you walk along here, you take a look back for another view to Sheepstor.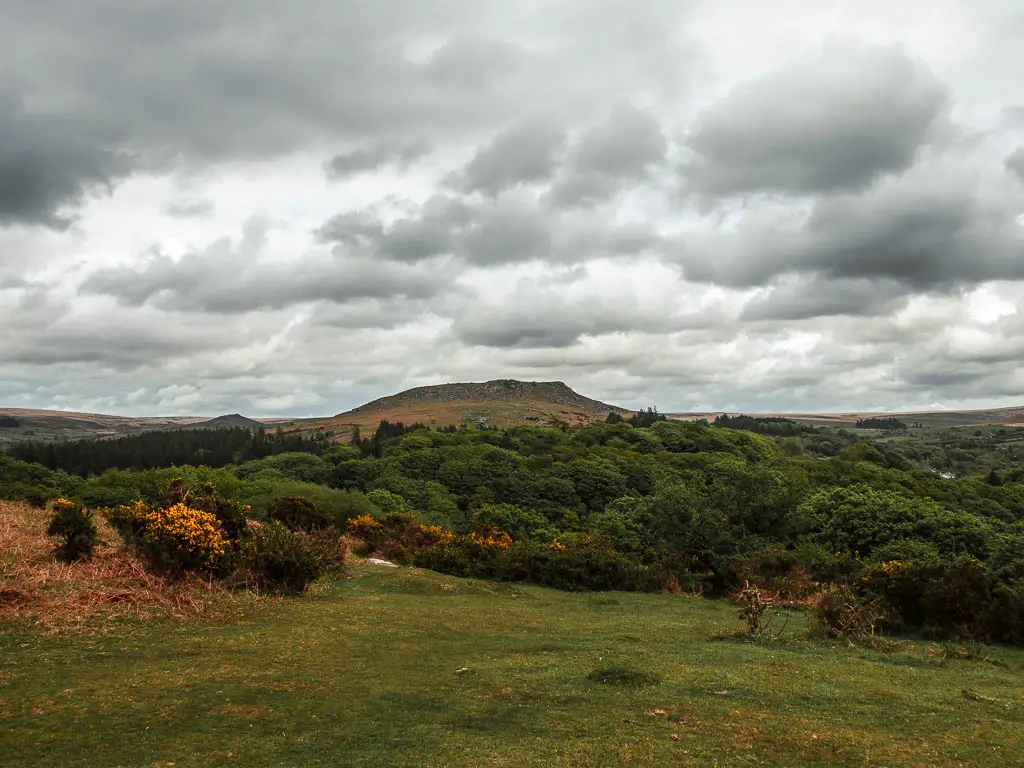 When walking along this trail, there may be some trails leading off it. Ignore those and stay on this one all the way to the end. It will be a mix of wide grassy, and narrow dirt, as you head towards the trees on the other side.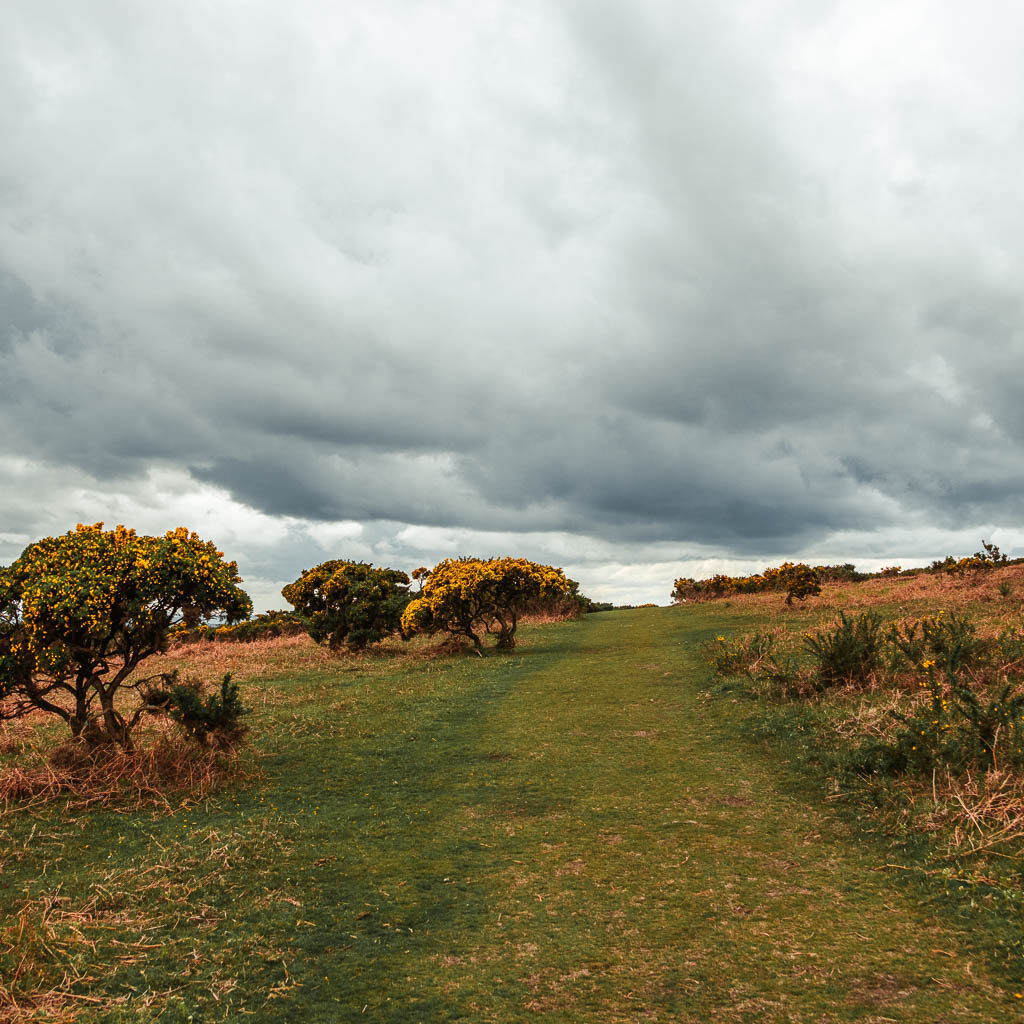 I also got some more Dartmoor Pony sightings along here. 
When you reach the end, you should find this trail here:
Follow it to the right, and you will reach the road. At the road, continue straight down (slightly to the right). It's now road walking for the rest of the walk back to Yelverton. It starts off as nice road though.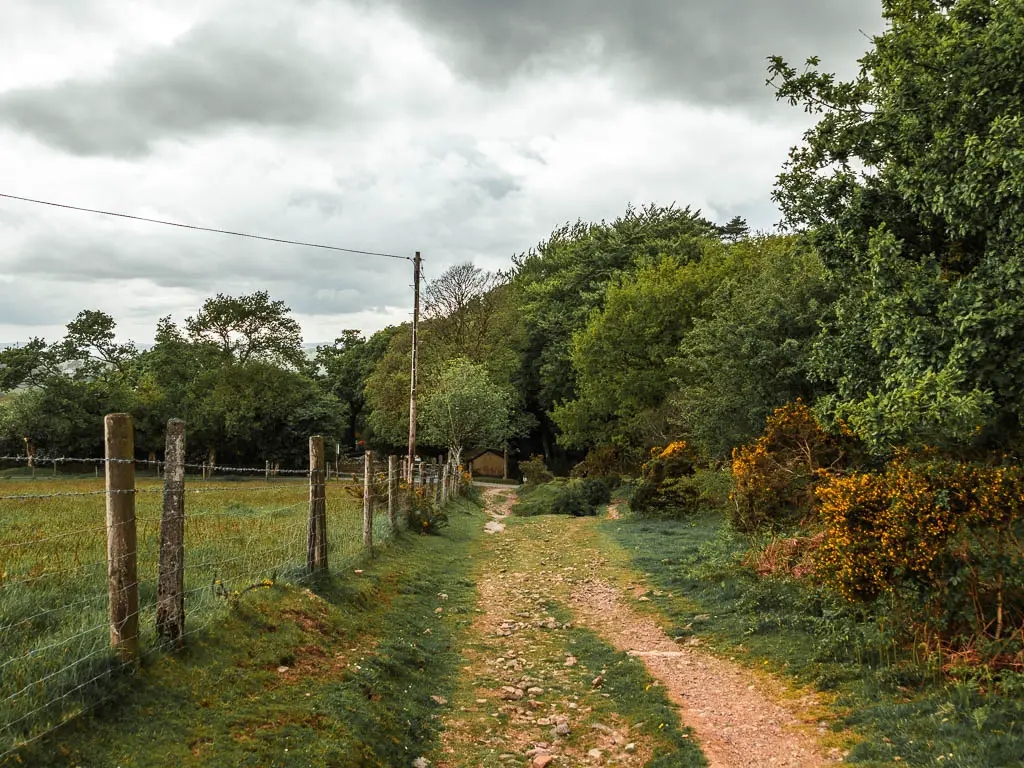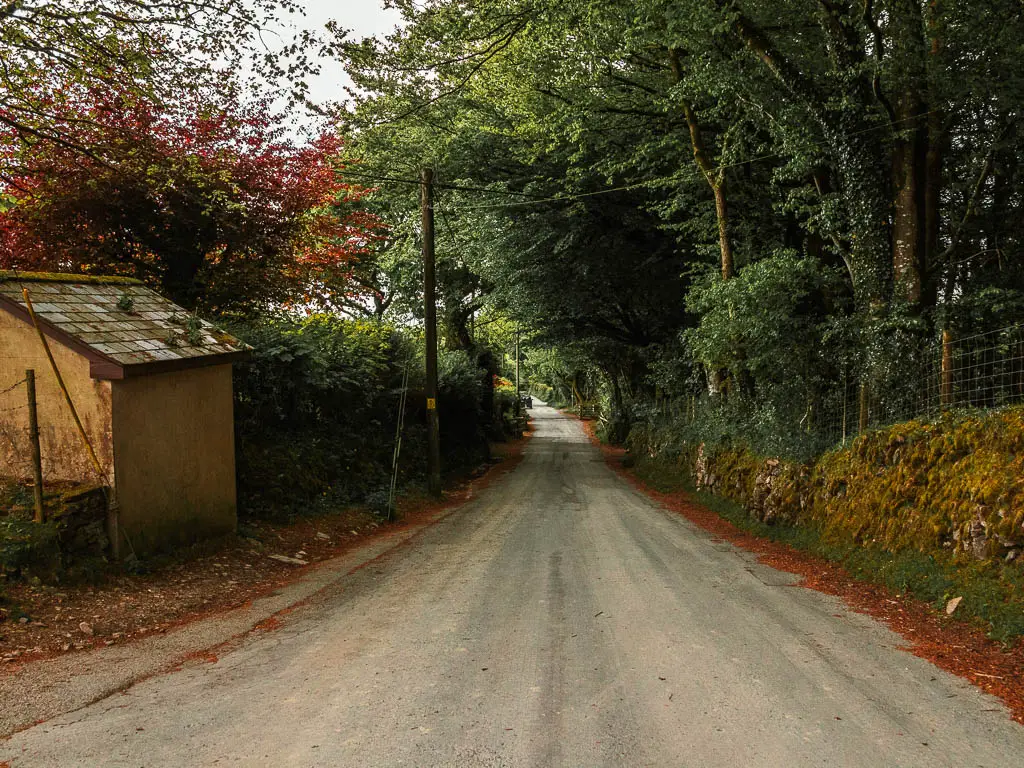 Basically keep going straight down, and straight across the main road. Keep going, then at the second main road, turn left. 
This is the less nice road. There is at least a pavement to walk on. Follow this, and it will lead you all the way back to Yelverton and the bus stop.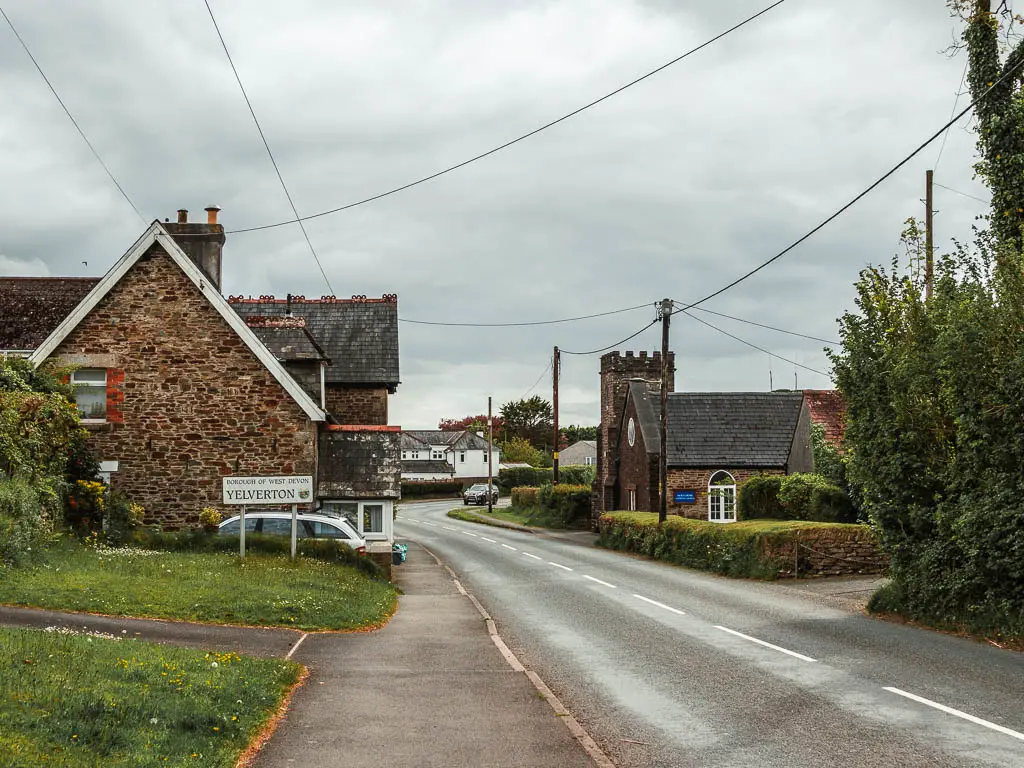 More walk ideas in Dartmoor and near Sheepstor
For a detailed side by side look, you can see my best walks in Dartmoor National Park. Below is a quick look at a few of them.
Burrator Reservoir circular walk – I came back a couple of days later to try the full path around the reservoir. It was much nicer than I was expecting. Apart from some rocks and tree roots, it's pretty easy walking. 
Foggintor Quarry walk – A short walk to a beautiful quarry. I highly recommend going to see this one. for this walk in particular you need a car, however, there is another way to see the quarry if you don't have a car – see King tor walk below. 
Drakes Trail – This walk connects Tavistock to Yelverton, and follows a bike trail. So it's super easy under foot. It's on the outskirts of Dartmoor, so not quite as rugged. But you do get a view to some Dartmoor Tors.
Princetown railway walk – This walk takes you to a tor and to Foggintor Quarry. Two for the price of one. Extra bonus, you don't need a car for it.
Wistmans Wood walk – A fairytale like mystical woodland. A must see place if you are in Dartmoor. This walk is super easy, for people who want to see nice things but don't like too much effort. 
Ivybridge circular walk – This is an easy walk with far reaching views across Dartmoor. It's also the easiest to get to if you don't have a car.
For more walk ideas, you can check out the Visit Dartmoor website.
Pin it for later: Sheepstor circular walk guide