As I was driving out to walk Roseberry Topping, I turned a corner and suddenly saw it. I was 20 miles away, and there it was poking up in the distance. I felt goosebumps. It was just so pointy.
I was trying to keep my eyes on the road, but I couldn't stop staring. I was mesmerised by this thing in front of me. Mesmerised and a little scared. I was going to walk up that?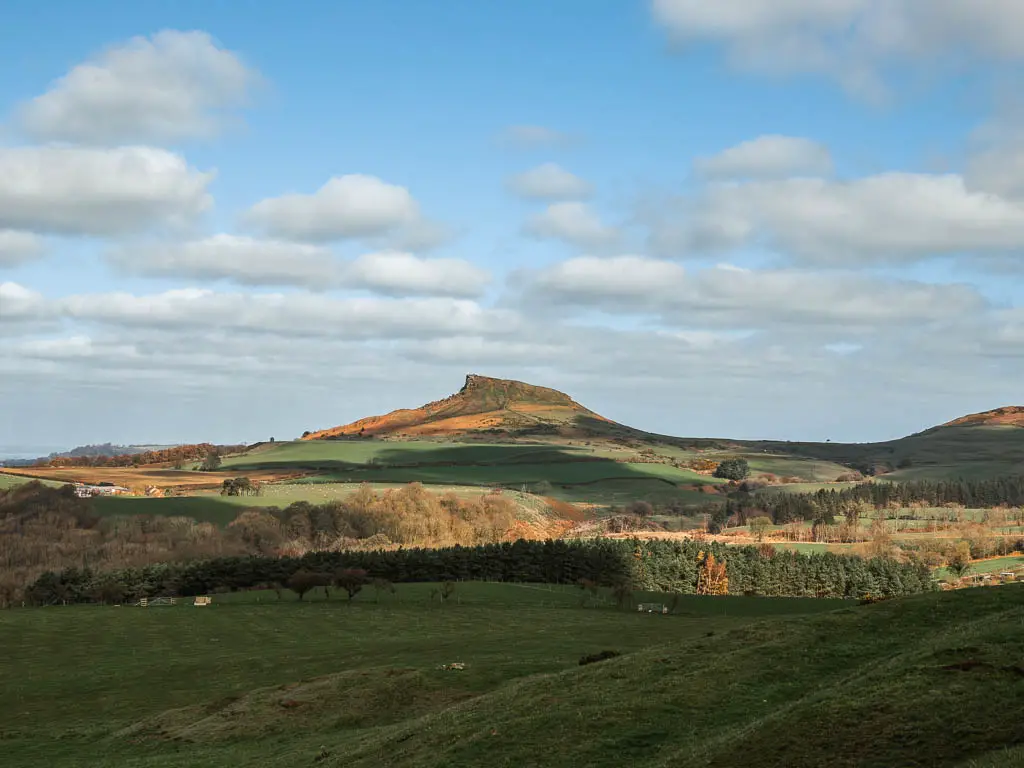 What I'm going to do in this guide, is give you a little overview of the walk and what you will see. Followed by logistics, a map, and useful tips for walking up Roseberry Topping. Then I will describe the full route step by step with lots of photos.
What to expect on the Roseberry Topping circular walk
You will first climb a short hill to see Captain Cook's Monument (more on that later), with panoramic views across the North York Moors, and across to Roseberry Topping. Then you will descend a steep long muddy hill, before circling around, past a pretty village, and through some fields, with Roseberry Topping rising high ahead. Waiting for you.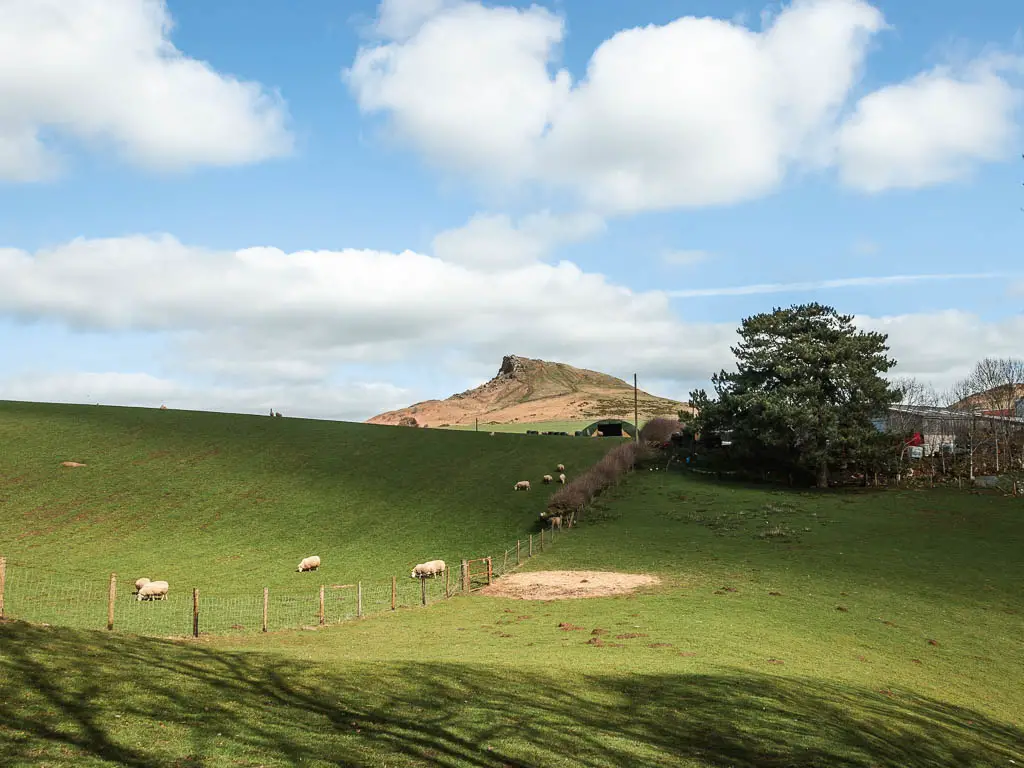 You will then make your way up to it. It looks scary, however, it's only the last little bit that gets steep.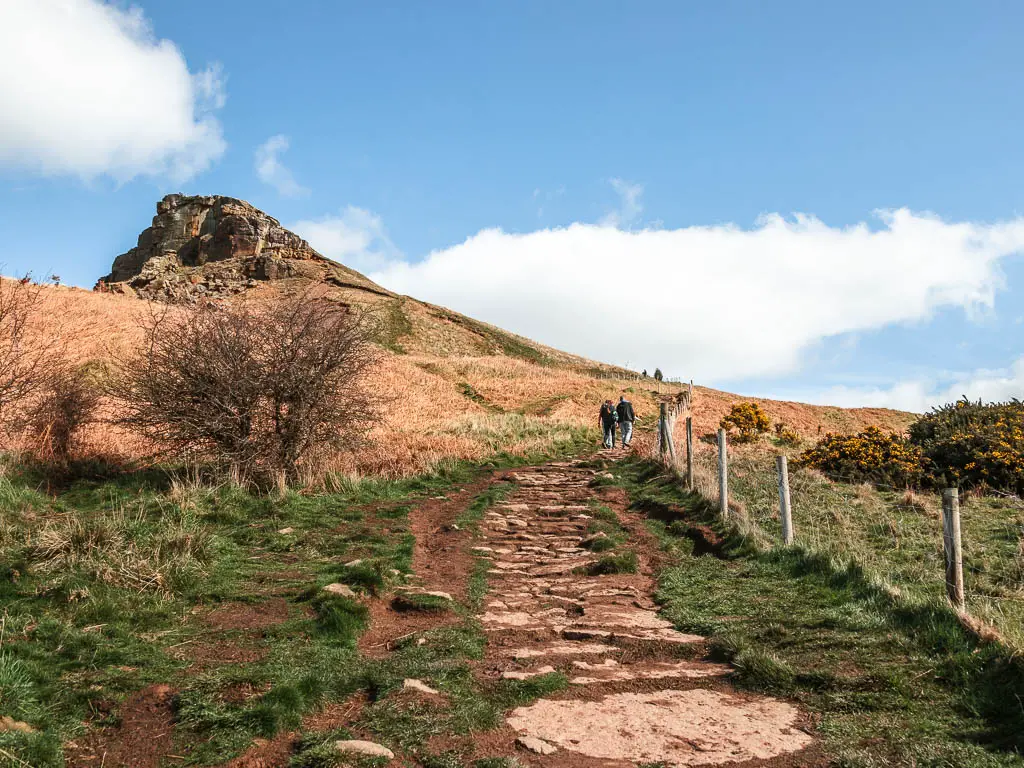 After Roseberry Topping, you will walk up one more small hill, before following a gentle path all the way back to the car park.
Fun Fact: Captain Cook is from this area. The monument was built in 1827 by a banker from Whitby.
Want to see another impressive formation from Mother Earth? You should check out the Hole of Horcum, which is a massive natural amphitheatre. 
How long does it take to walk up Roseberry Topping?
The full circular Roseberry Topping walk is 5 miles, and took me just under 2h to complete. If you just want to go to Roseberry Topping without the extras, the walk is just under 4 miles there and back to the car park.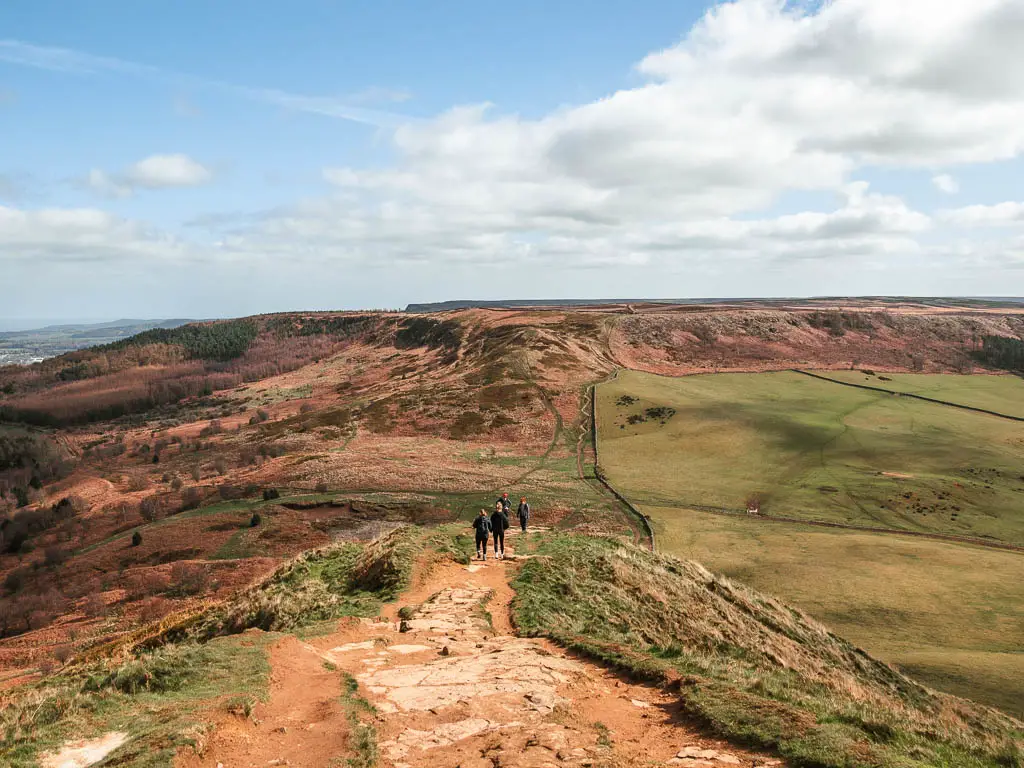 Is Roseberry Topping a difficult walk?
I would say Roseberry Topping is a moderate difficulty level walk. It wasn't anywhere near as challenging as I was expecting. 
There are two main hills to tackle. One is at the Captain Cook's Monument (which I would argue is the harder hill) and the other is Roseberry Topping. Although Roseberry Topping is 320m (1049ft) high, you won't be starting from 0.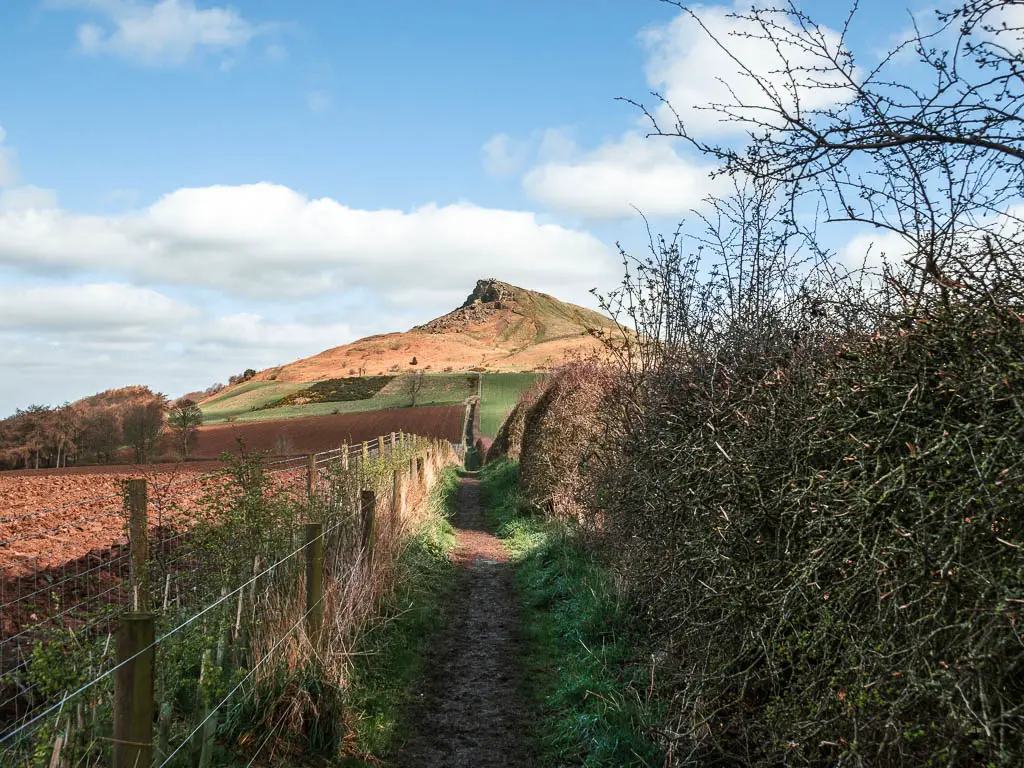 One challenge on the walk is the mud. There is a lot of it. Funny enough, the Roseberry Topping portion of the walk was actually the least muddy.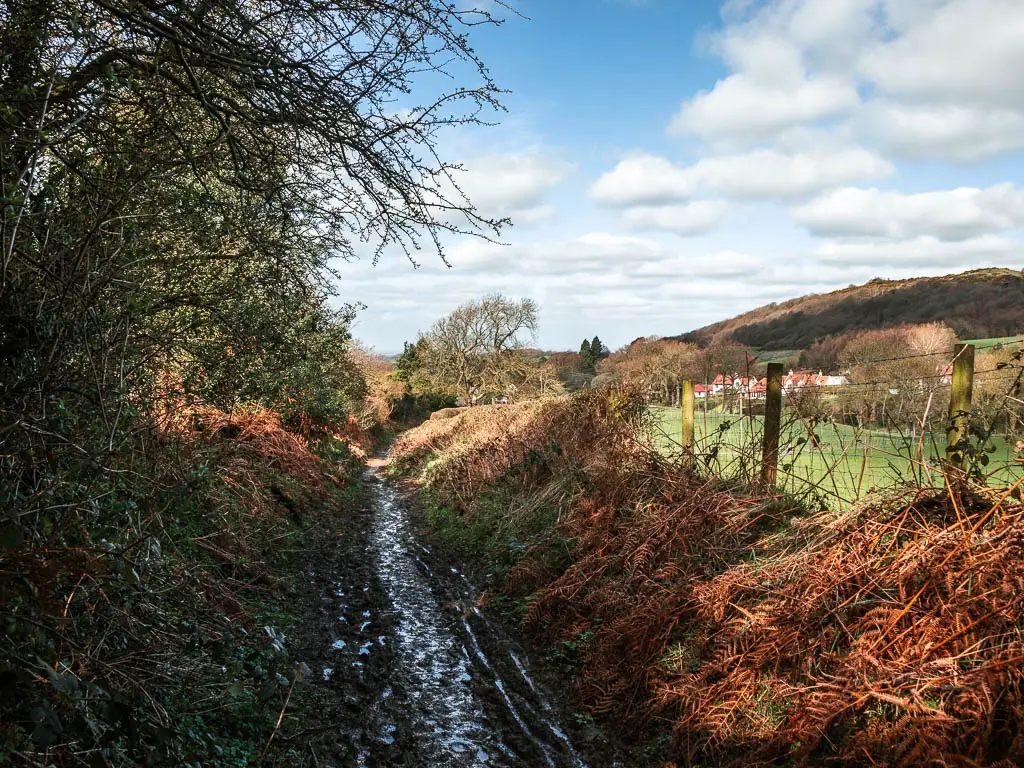 If you like walks with hills and views, then you might like this route along Sutton Bank. The road leading up to it is so steep and winding, that caravans are banned from going up it. It's not too far further south from here, and can see as far away as the Yorkshire Dales. 
Is the walk dog friendly?
Yes. I saw a lot of dogs off lead on the walk, including at the top of Roseberry Topping. There is some livestock to be aware of in some of the fields leading up to it. There is one road to walk along, though it's a very quiet road. No stiles.
Parking to walk Roseberry Topping
There are two main car parks to walk up Roseberry Topping. One is free and one isn't. Obviously I always go for the free option, which is the Gribdale Gate Capt Cook's car park. It's the perfect location, with a direct trail taking you to both Captain Cook's Monument and Roseberry Topping. So if you would prefer to skip the Captain Cook's monument, you could just follow the direct trail to walk to Roseberry Topping. 
---
Tips for the Roseberry Topping circular walk
---
I would suggest doing this walk clockwise, that way you walk down the hill from the Captain Cook's Monument. It looks painful to walk up. Plus, the hills are less drawn out going this way. I think the view of Roseberry Topping is much better when walking clockwise as well.
I mentioned earlier, that you can follow a direct trail to Roseberry Topping and skip out Captain Cook's Monument, however, I recommend not doing this. It would mean you approach Roseberry Topping from an anticlockwise direction, and the views are way way better walking to it clockwise. It's only a little bit extra in terms of milage to do the full circular. 
Following on from the above point, you do need to be quite able bodied to walk down the hill from Captain Cook's Monument, so if this doesn't work for you, then skip it and follow the trail direct to Roseberry topping.
Wear hiking boots, due to all the mud.
Take layers. I went through a cycle of being sweaty hot, and very cold, multiple times. 
Just like any popular place, you can expect it to be busy. I did this walk on a sunny Sunday, and the top of Roseberry Topping, and around the Captain Cook's Monument, where packed with people. However, there is lots of space in the car park, and I didn't have a problem parking. If you prefer less people, then best do this in the off season/on a weekday. I must add though, once away from the two main sights, I passed almost no one for the rest of the circular route.
I've seen photos of it with all the bluebells and it looks absolutely stunning, so if that's your thing, then time doing the walk in bluebell season. 
Logistics
Start/Finish: Gribdale Gate Capt Cook's car park
Where is it: Roseberry Topping is located in the North York Moors in Yorkshire. The car park post code is TS9 6HN
Distance: 5 miles
Time: 2h
Difficulty: Moderate
Terrain: Dirt trail, grass, lots of mud, steps
Amenities: Apart from the car park and some picnic benches, none.
Time of year: I walked Roseberry Topping in early spring
Map for the Roseberry Topping circular walk via Captain Cook's Monument
You can find my more detailed route map for the Roseberry Topping circular walk on AllTrails.
---
A guide to the Roseberry topping circular walk via Captain Cook's Monument
---
From the car park, you should see some steps. This is the way to walk directly to Roseberry Topping. Don't go this way, but instead take the main path through the woods in the opposite direction.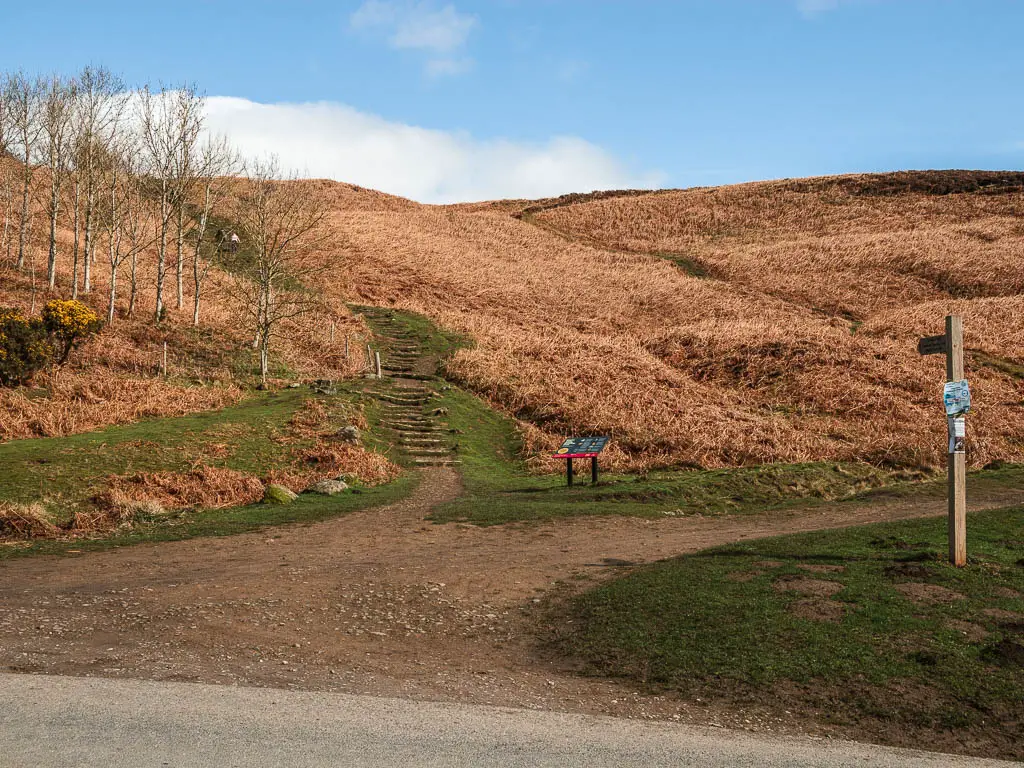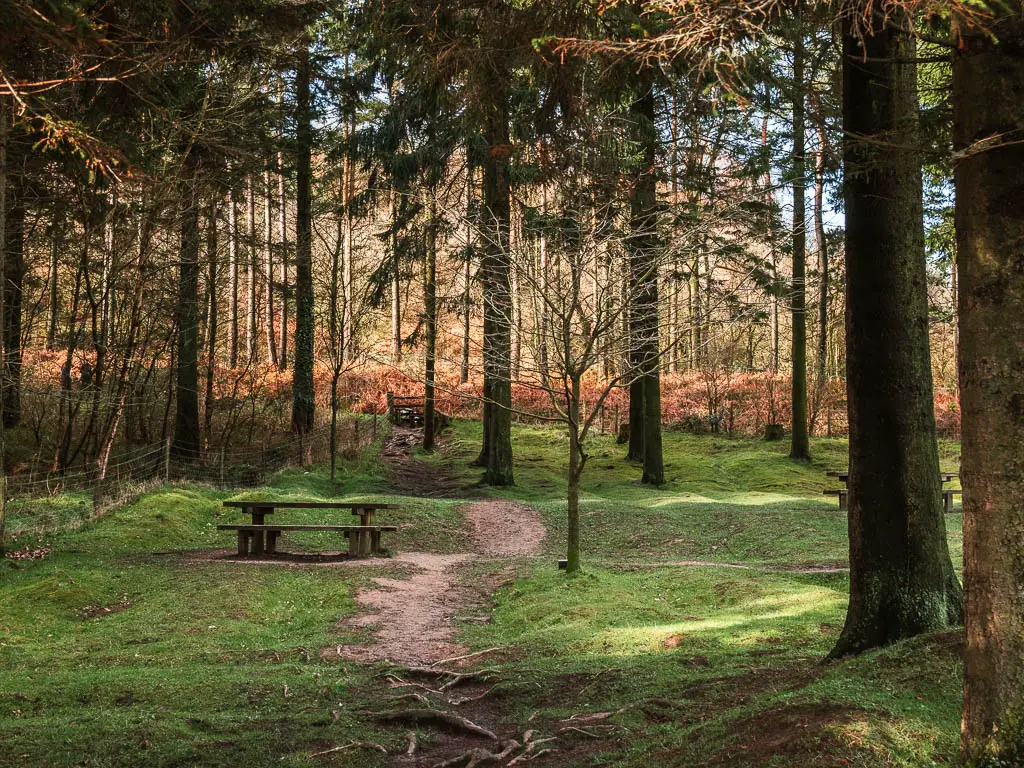 Walk to Captain Cook's Monument
It's a steady uphill climb, a bit on wide trail, a bit on narrower paved path. First under tree cover, and then out in the open, with a lovely view back to the pointy Roseberry Topping.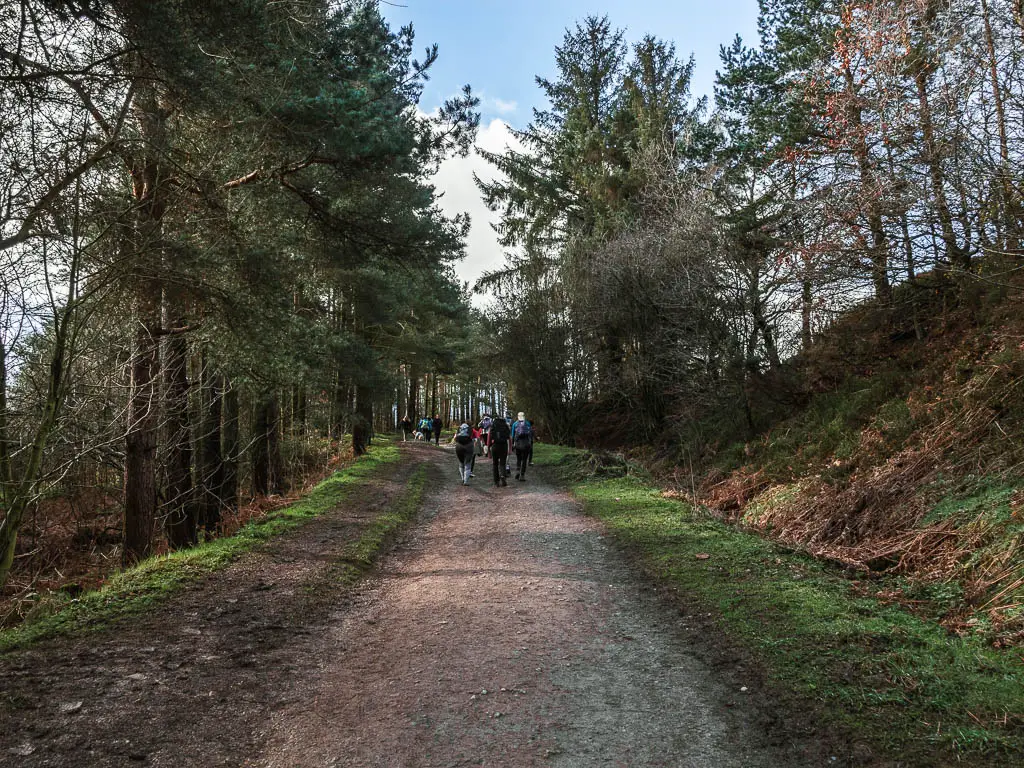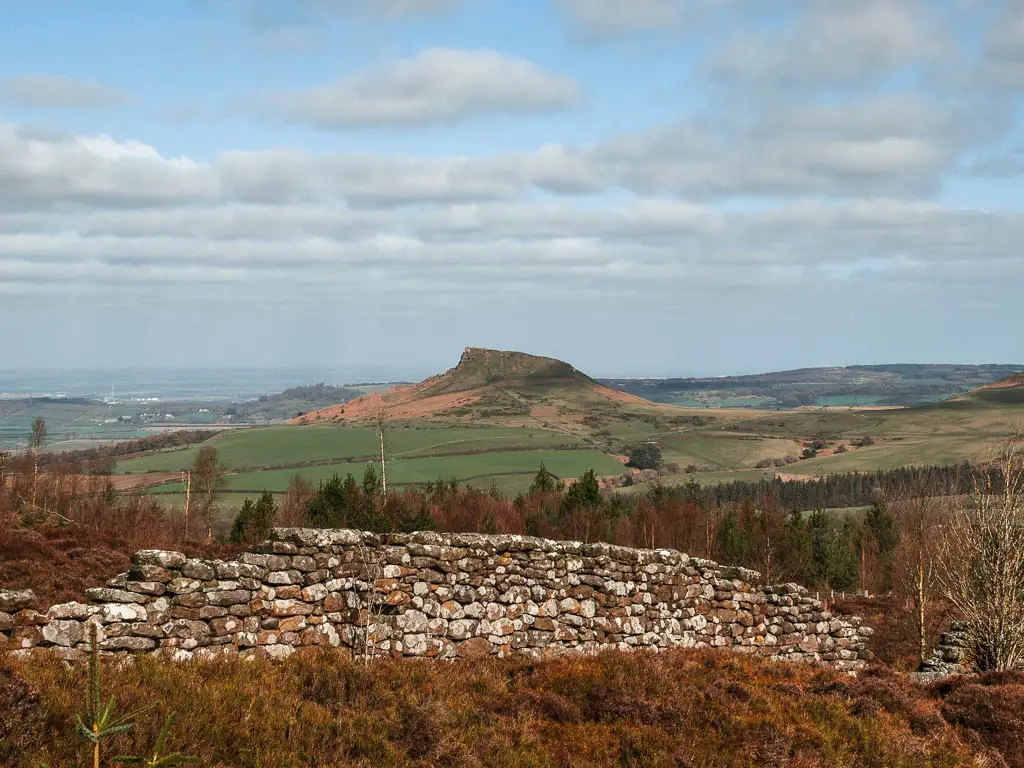 Keeping walking up this trail and you will soon reach the Captain Cook's Monument. It was incredibly busy with people, which I kind of expected with being here on a sunny weekend. Normally I plan the more popular hikes for a weekday, but today I had a strong urge to come and do this one.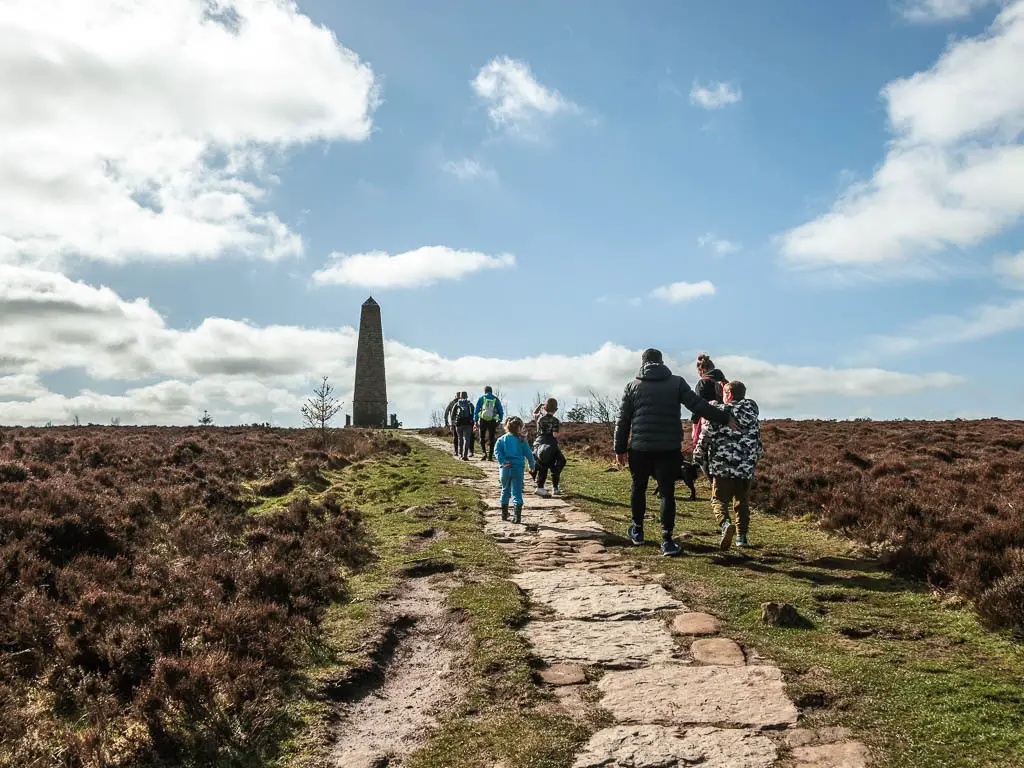 Walk down the steep hill from Captain Cook's Monument
If you stand at Captain Cook's Monument, looking towards Roseberry Topping, you should see the trail straight ahead. This is the one you want to follow.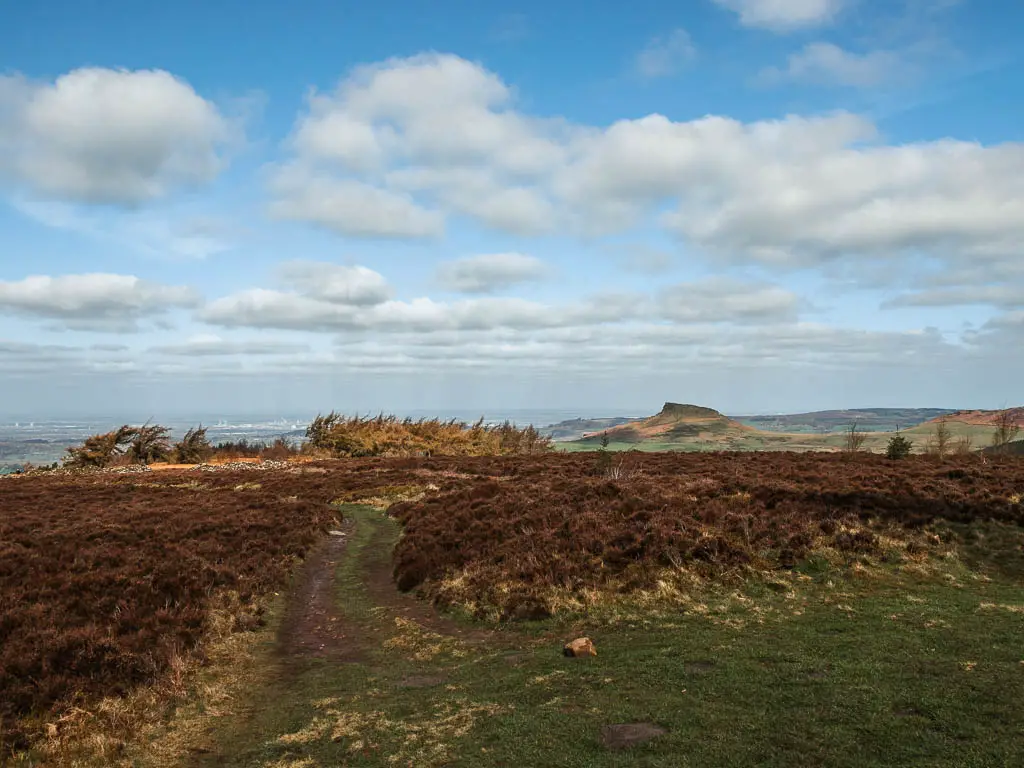 It starts off very gentle, along a dirt trail, with wonderful views across the North York Moors.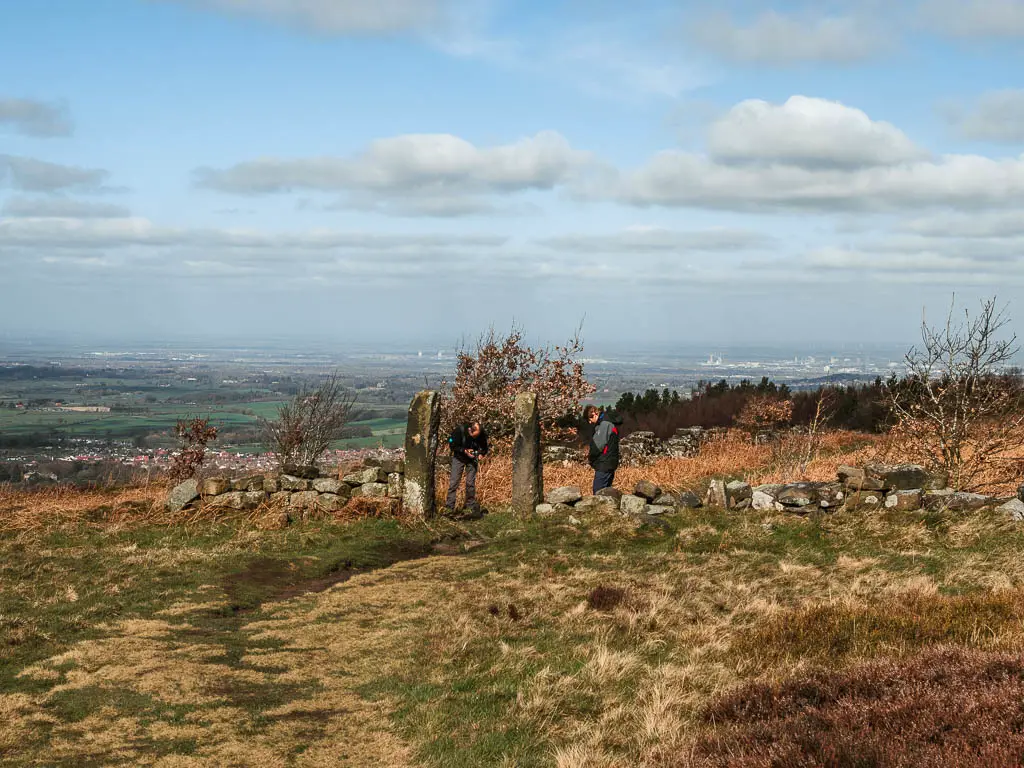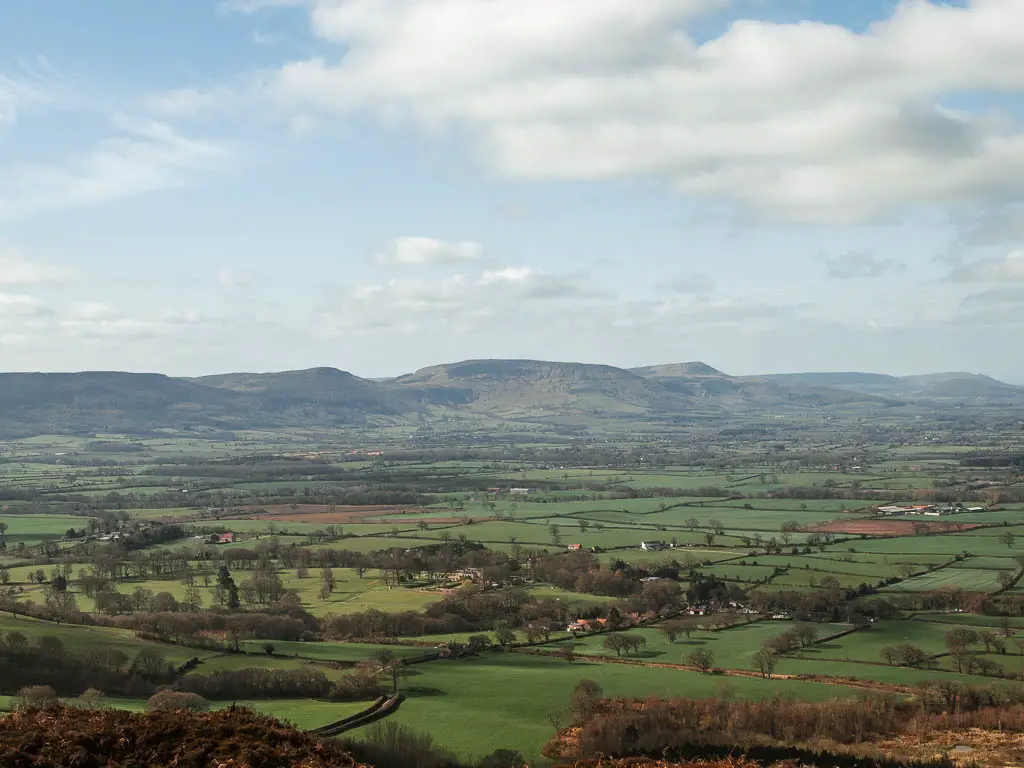 When you reach the junction (photo below), take the left. This will lead you down through the woods.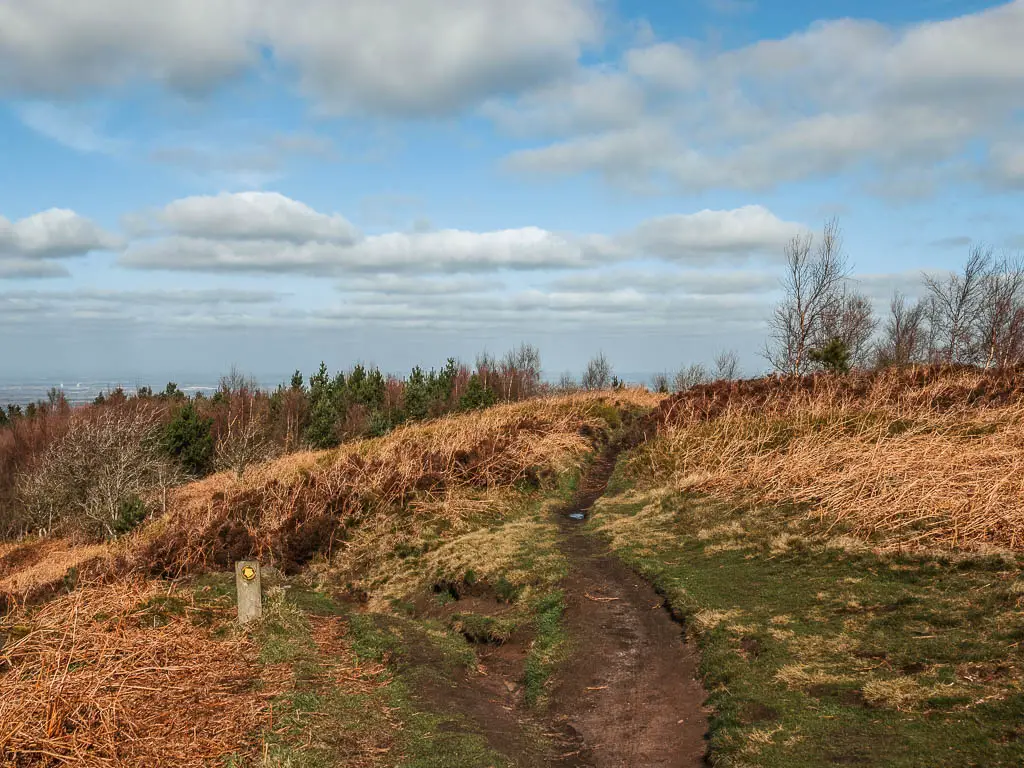 The next section of the walk is where it can get muddy. Some parts level, others very steep. You will need to focus on not slipping. As I made my way down, I past a couple of other people and felt bad for them coming up this.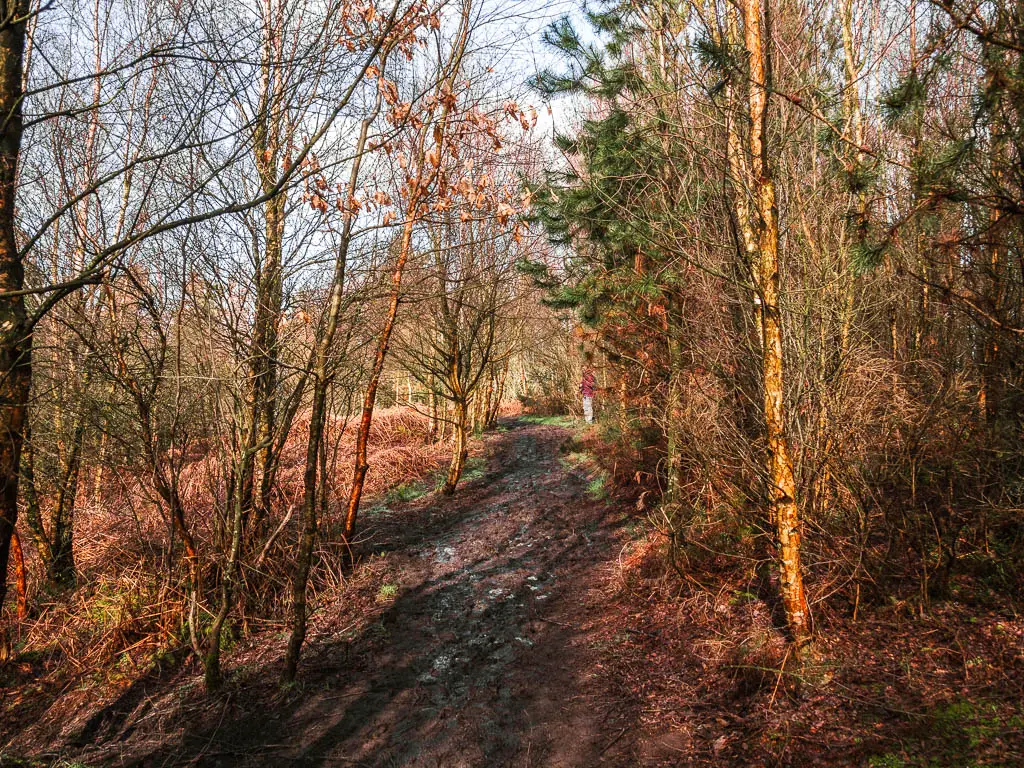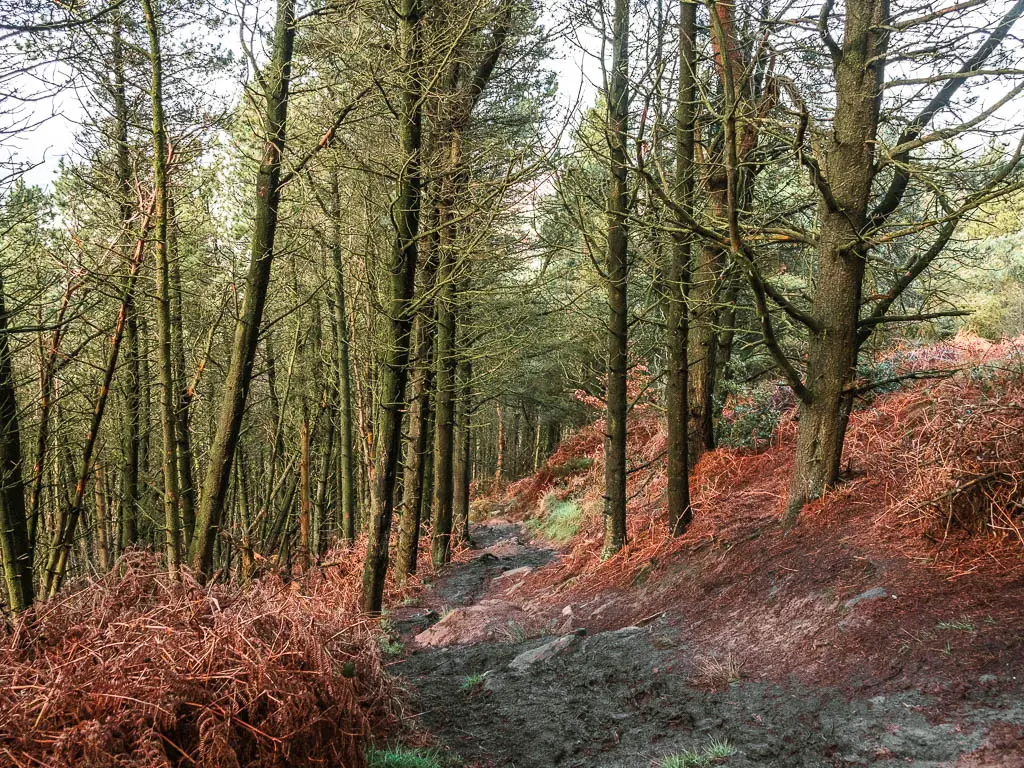 If you ever see a trail split, keep to this main one, all the way down, past the wide grass trail, until you exit the woods.
Once at the bottom, there was a family about to make their way up. I wished them luck.
Follow the mud trail
Out of the woods, you will have a wonderful view of Roseberry Topping to the right. For almost the rest of the way, it will be there staring at you. Waiting for your arrival.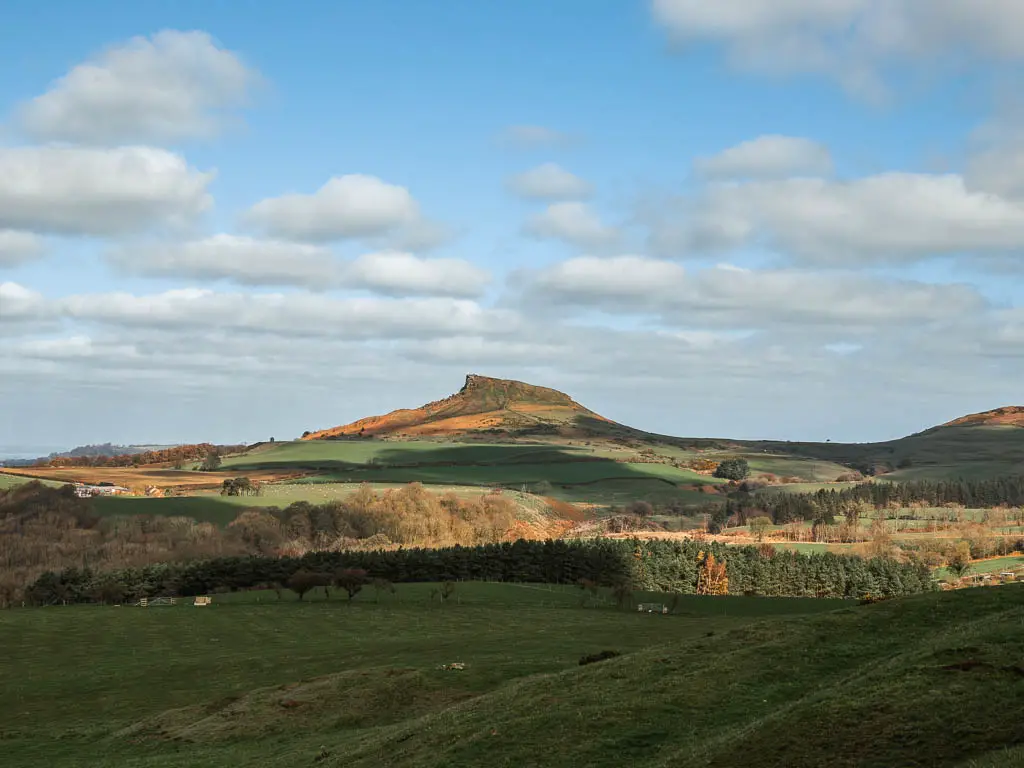 You also get a view to Roseberry Topping on the Wainstones circular, and along this route from Osmotherley. Both are fantastic routes up here in the North York Moors.
Keep going downhill, then at the junction, turn right. I would take the right just after the bush though, not the one next to the wall.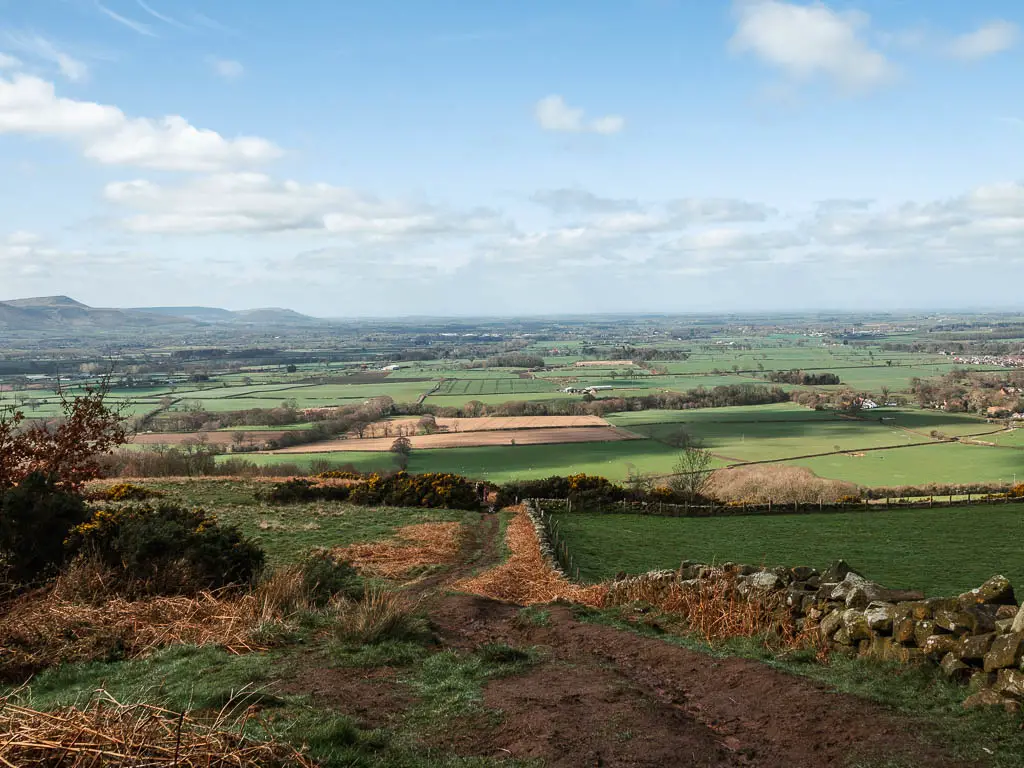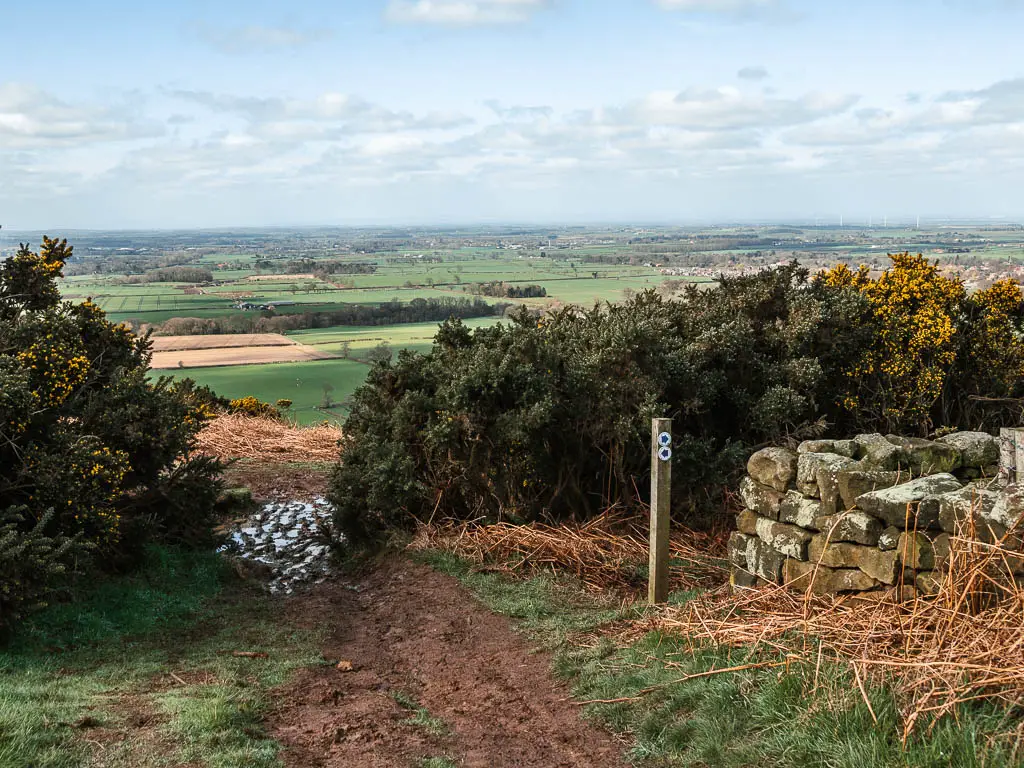 I did take the one next to the wall, and the trail became so overgrown it was impassable, so I had to squish my way through the bushes to get onto the other one.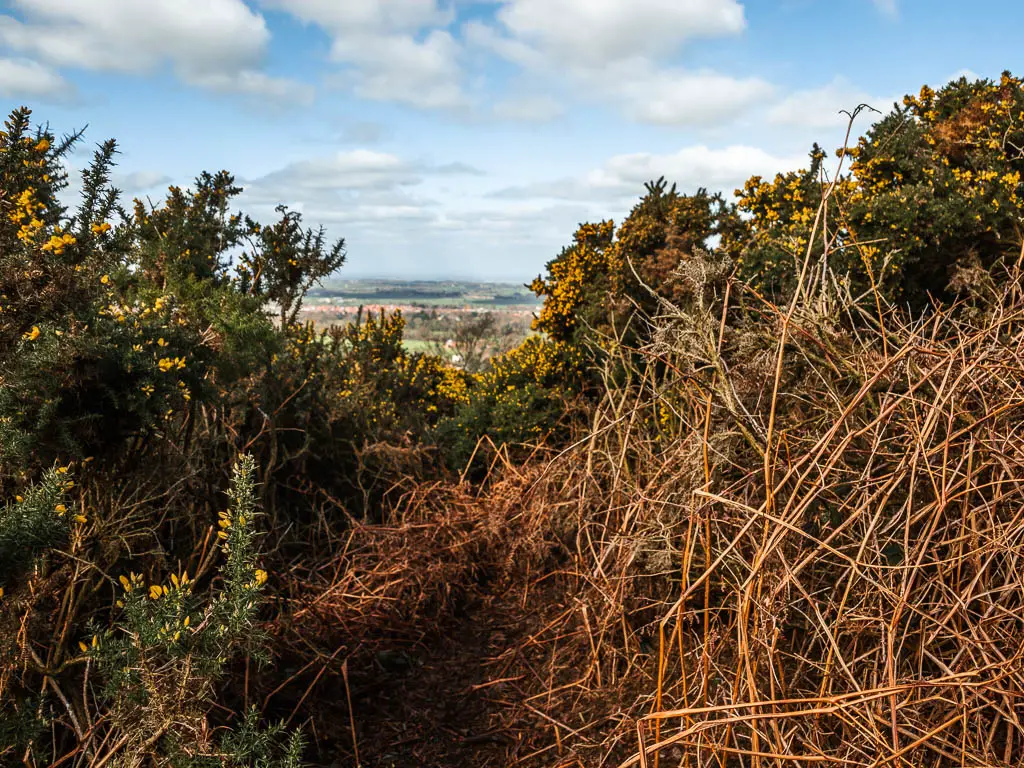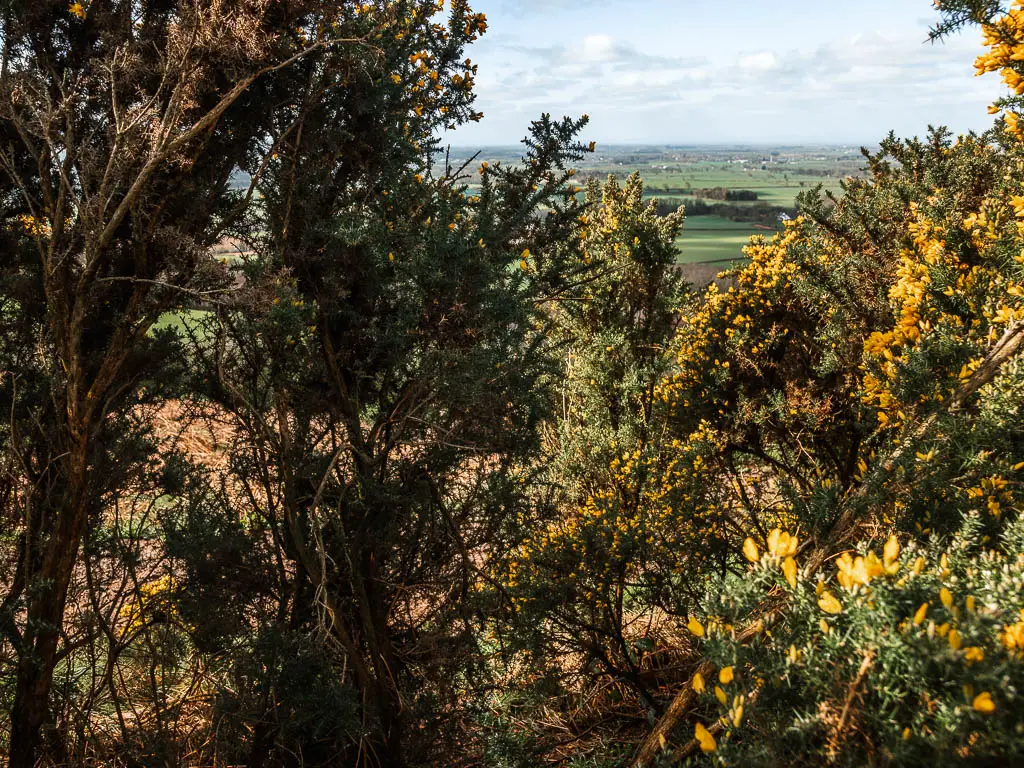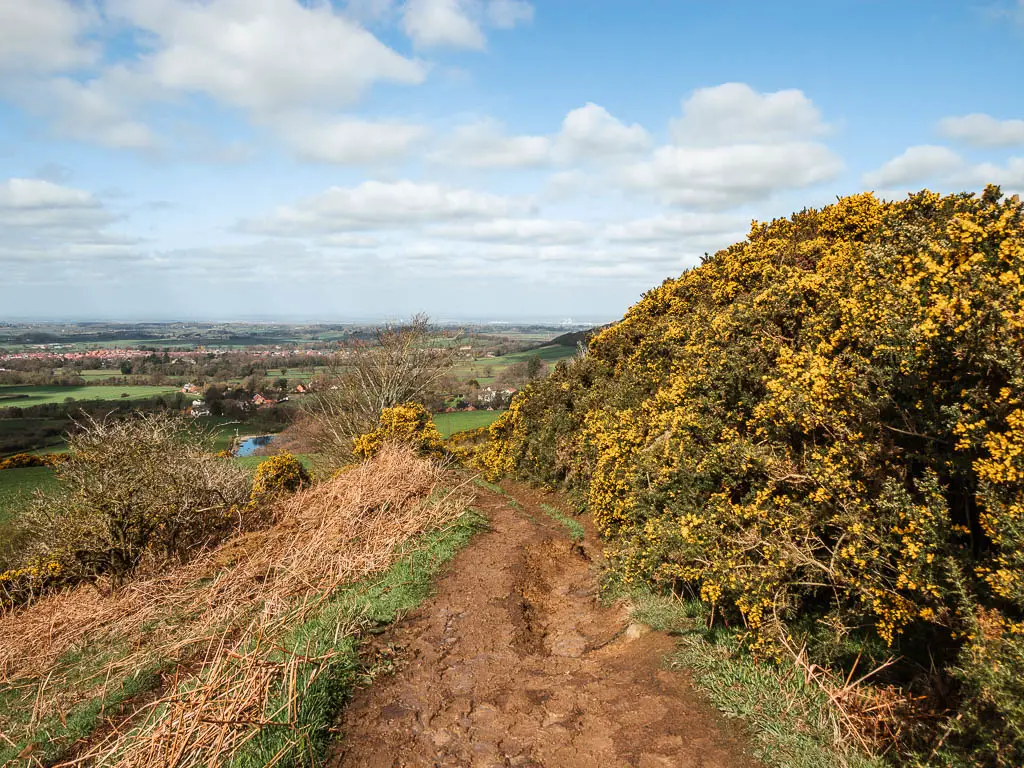 The whole of the next section is very very muddy (for me it was anyway. We had just come out of the wettest March ever, so it might not be so bad in summer). 
Wet muddy trail, muddy grass, muddy under the trees, then more mud. One whole long strip of mud until the road.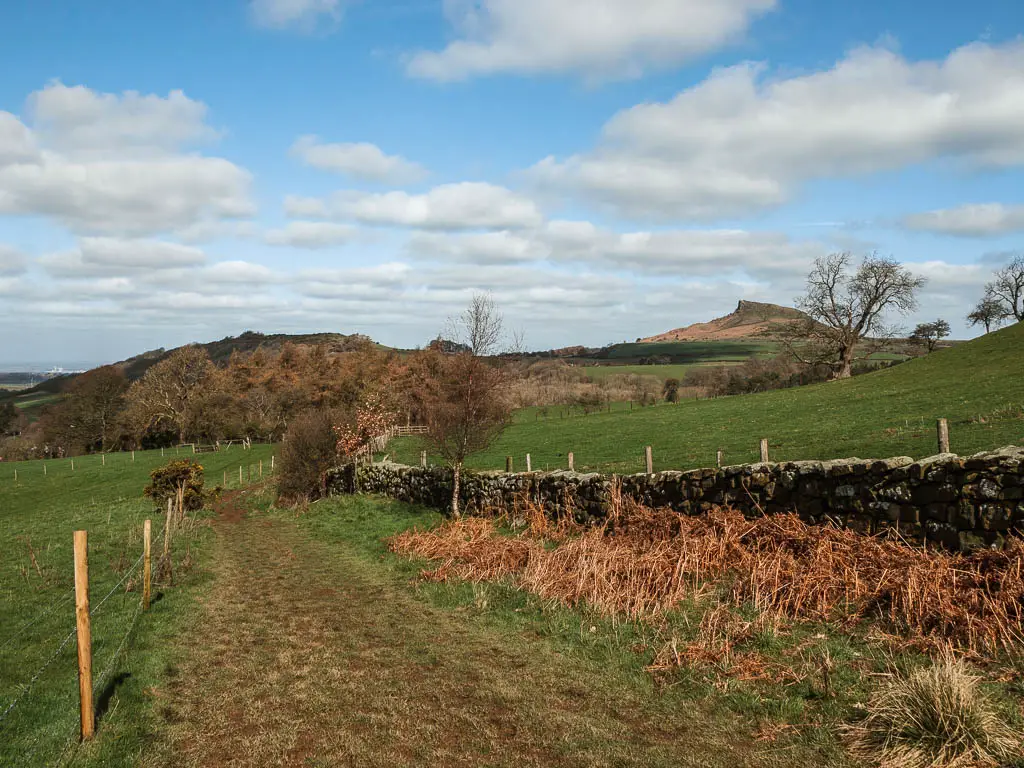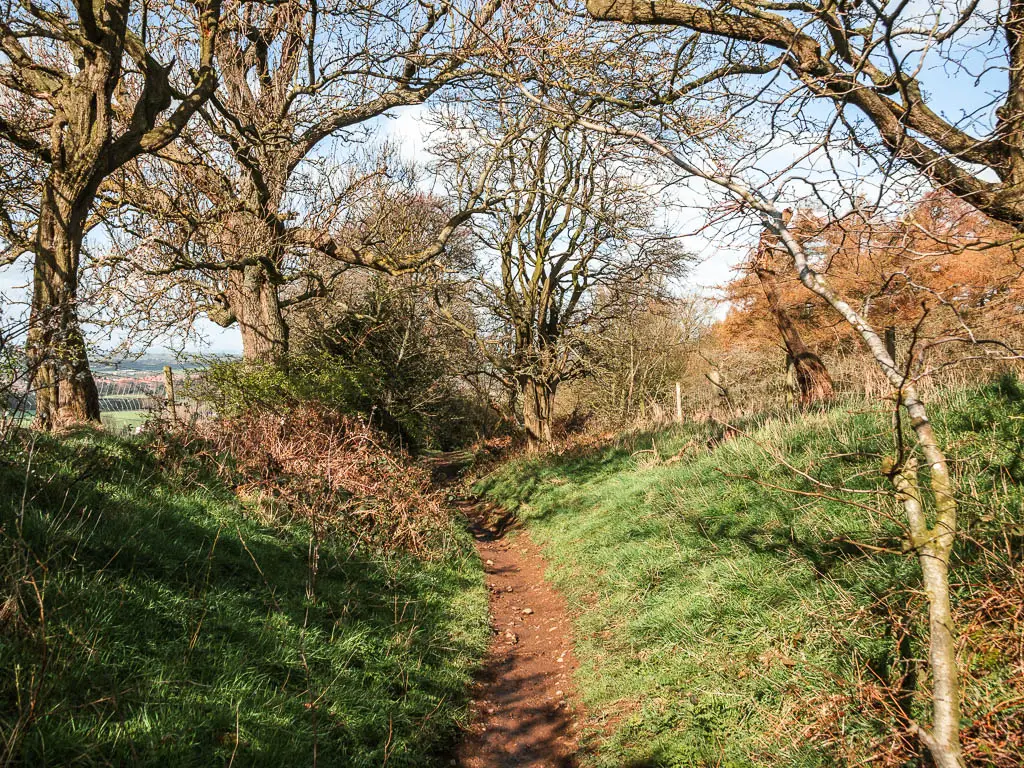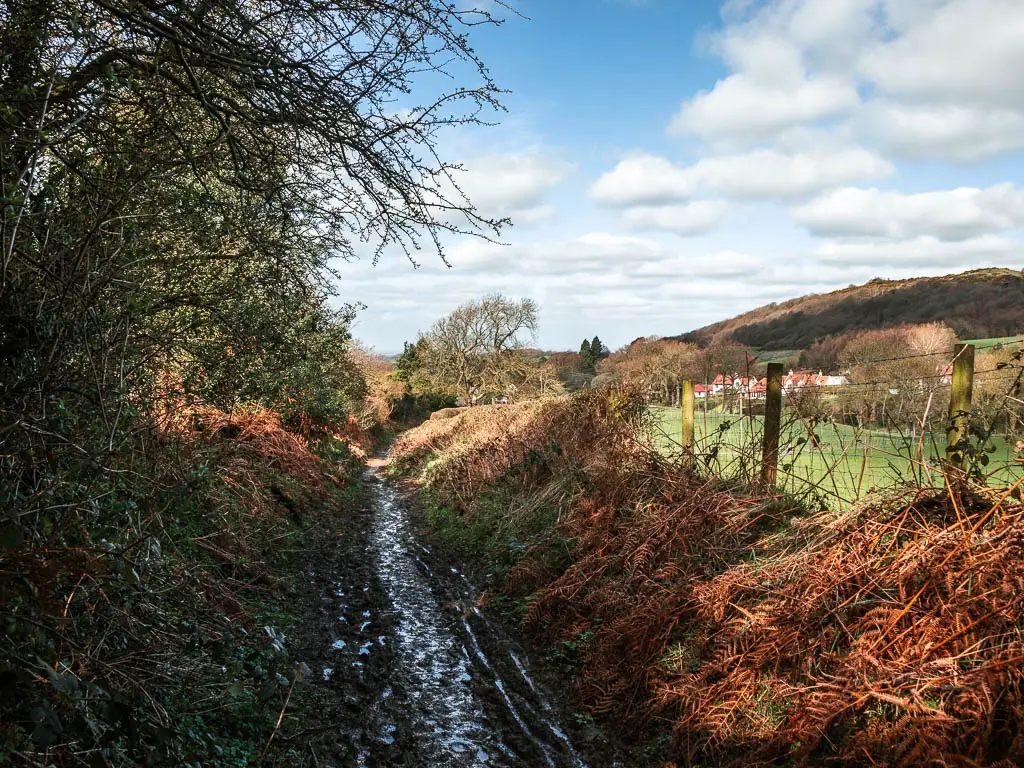 I was so glad when I got to the road.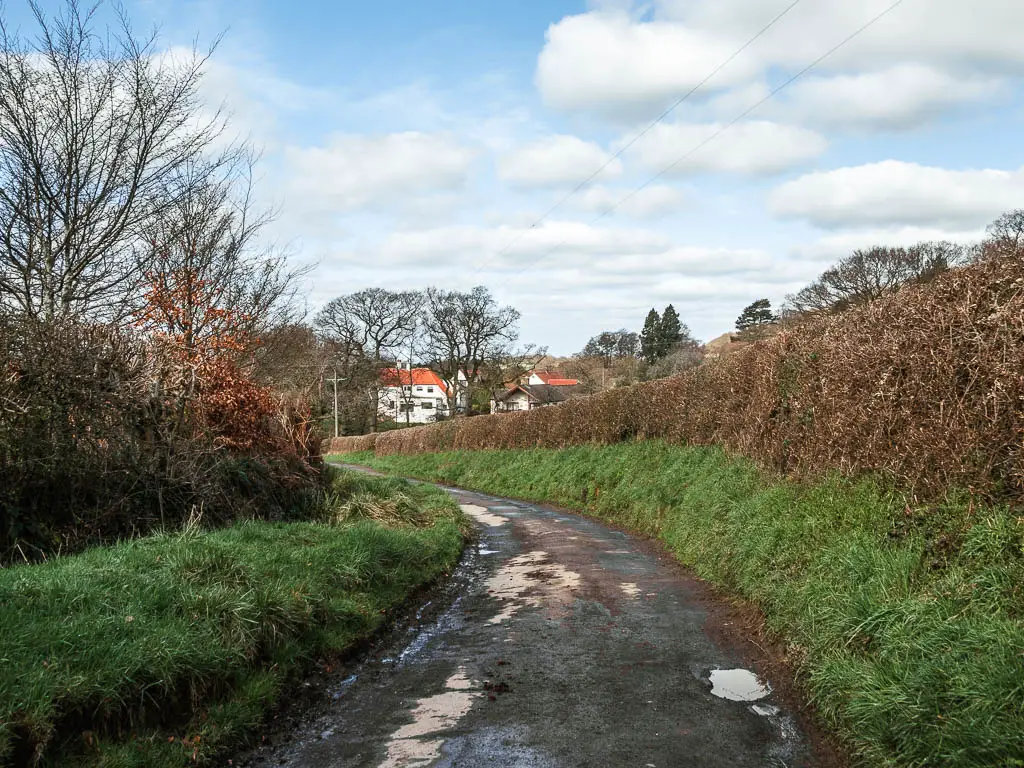 Walk through the village and up the road
A short way along the road, you will pass through a really pretty group of houses. I could hear the water of a steam below, mixed in with the birds chirping. It was all very picturesque.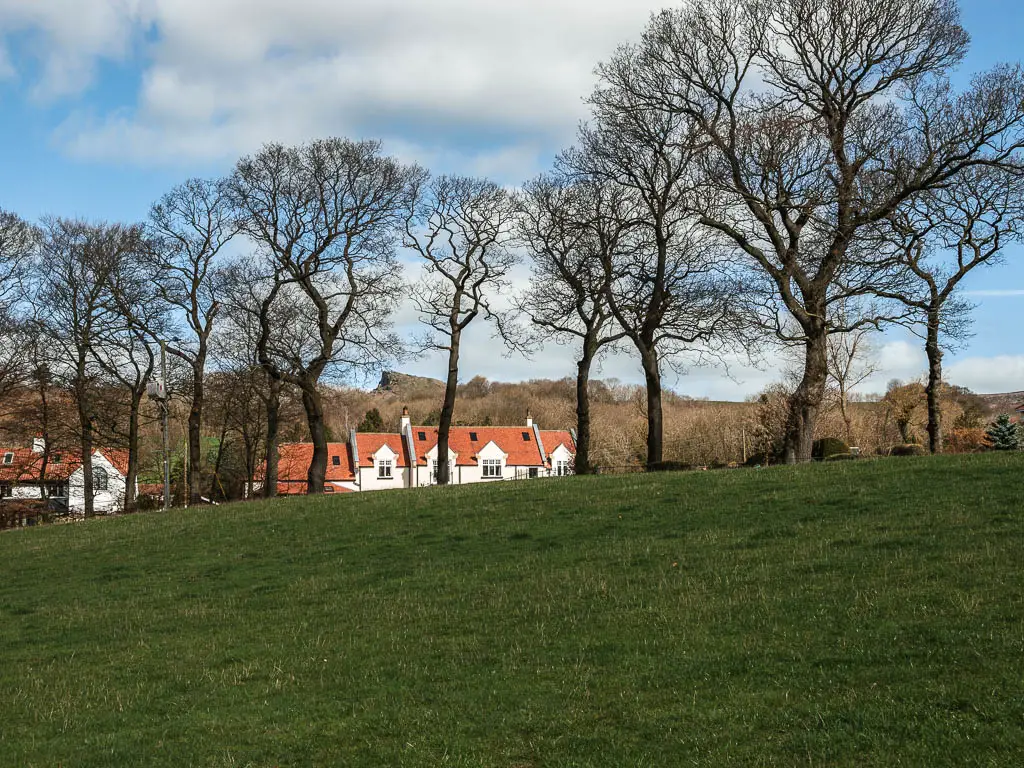 At the road junction, continue straight across, to continue up the road. This road does go on for a little bit, but as I mentioned earlier, it's not very busy. No cars passed when I was walking up it.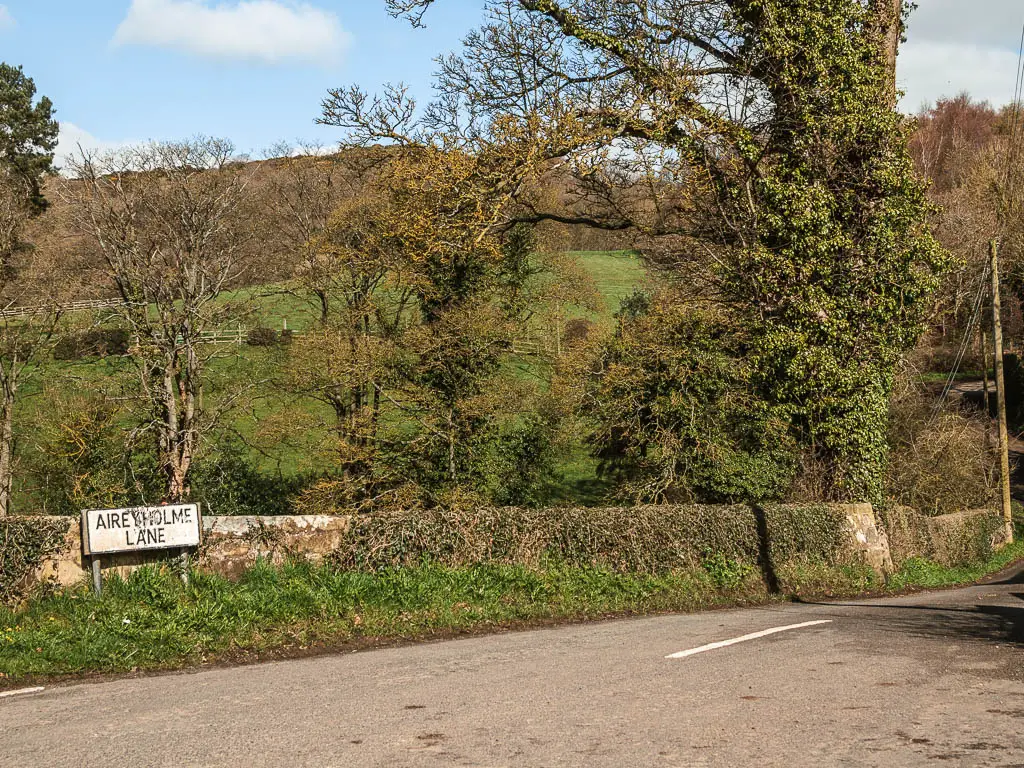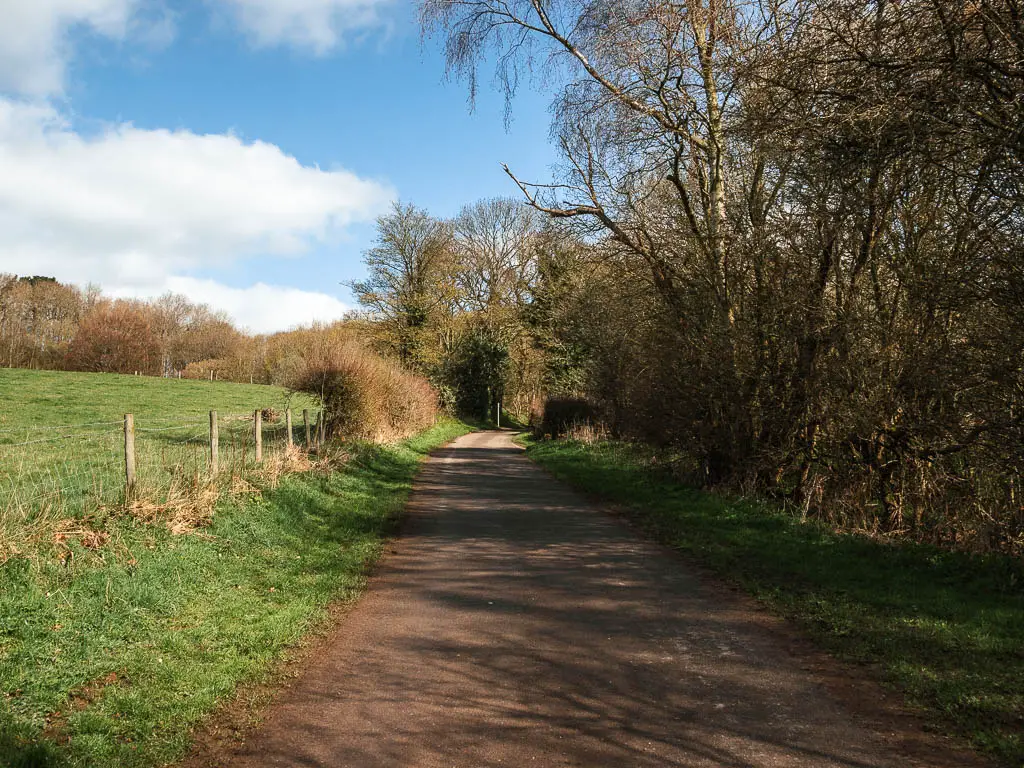 Follow the sign to walk to Roseberry Topping
Someway up the road, next to the farm, you should see a trail signpost telling you to walk left into the field to get to Roseberry Topping.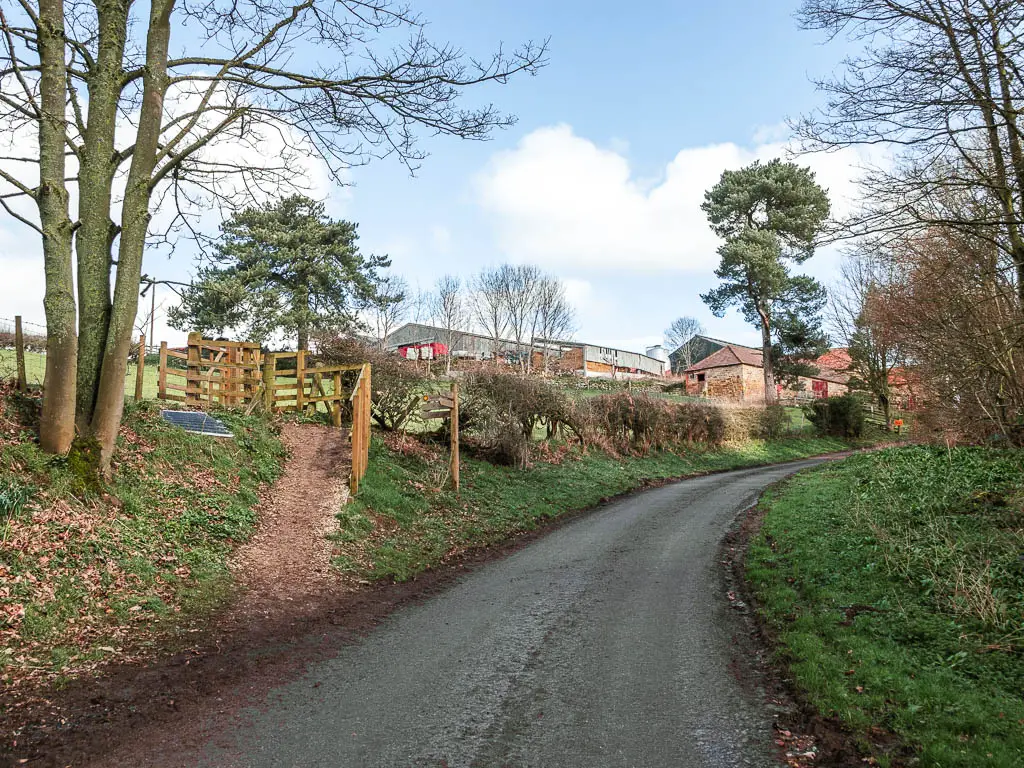 It also points to Elephant Hole. I was curious….I still am, as I can't find a whole lot of information about it online. 
When you go up into the field, keep to the left of it to reach the gate at the top. I kept very left. Right by the fence. Ready to jump over it if needed. Walking through a field by a farm made me very nervous, as I had recently been chased by an angry farm dog. You can read about that here.
It's a barbed wire fence, but I would have to take that if necessary. 
Once I was through the gate, and now on a trail separated from the fields, I was very happy and could now relax. I looked towards Roseberry Topping, and although it was still far away, I could see there was a mass of people walking on top. That shocked me. I knew it would be busy, but that was a lot.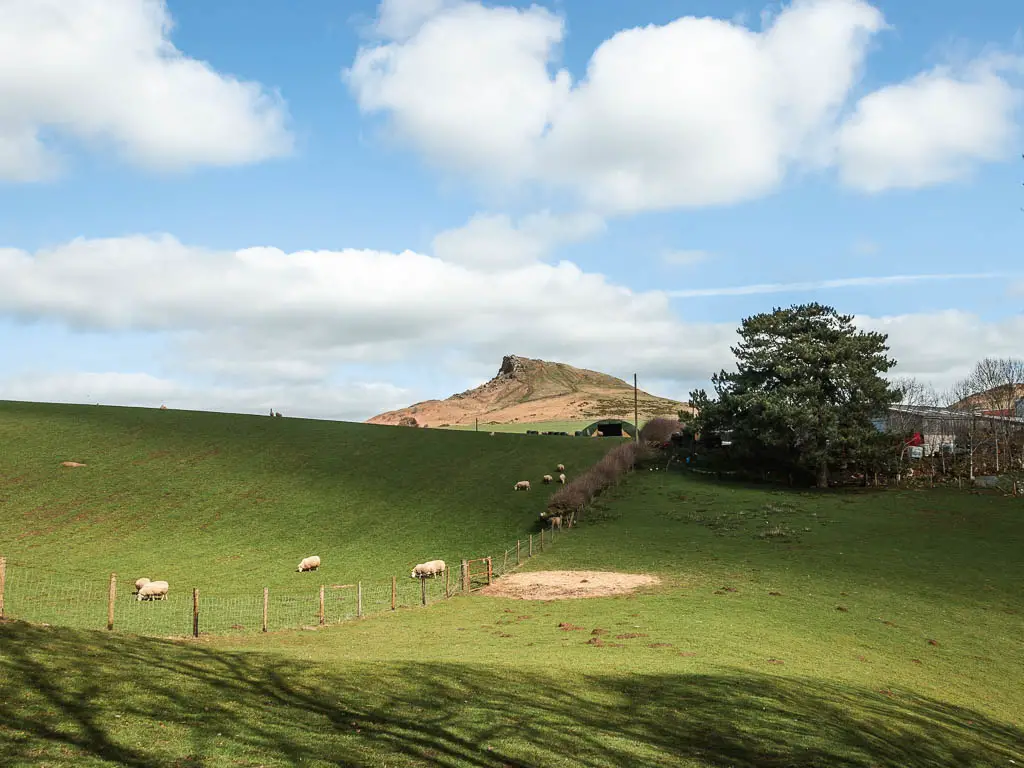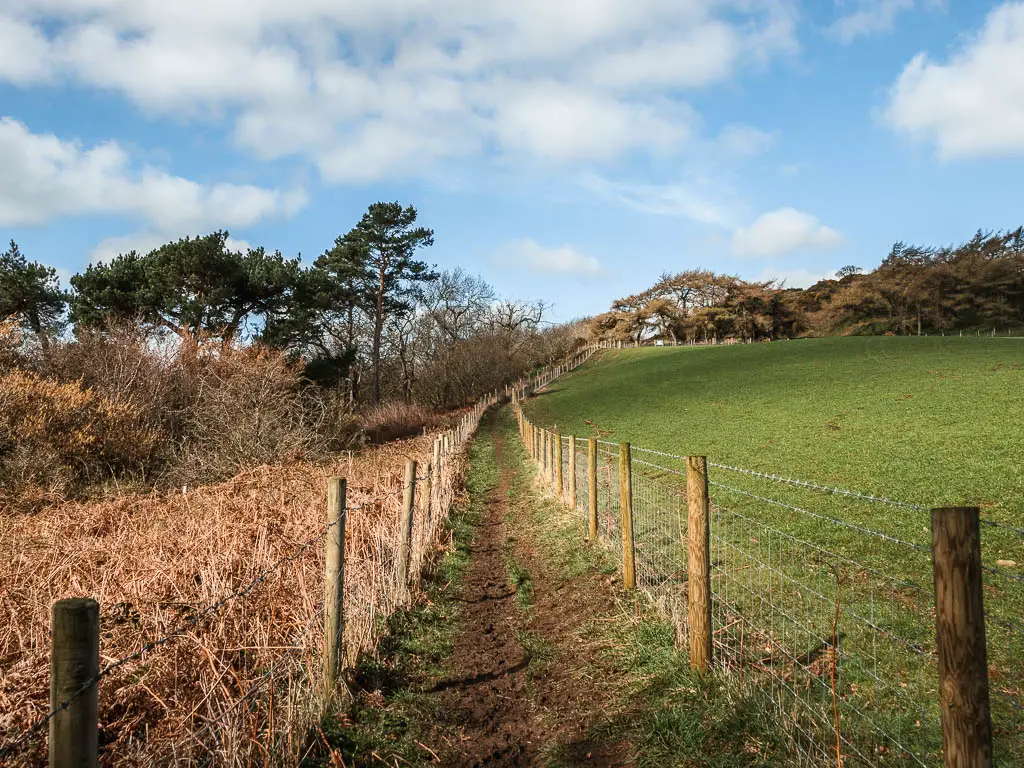 The field
Keep going uphill along the dirt trail, then turn right on the corner, so you are now looking straight towards the wonderful pointy hill in the distance.
Follow this trail, which will lead you into a field. This one has sheep in it. I noticed I was walking near the farm house again. I was feeling a little sick with nerves. What if there is a dog? Of course there is a dog, but where is it? Can it get to me? Is it around that corner?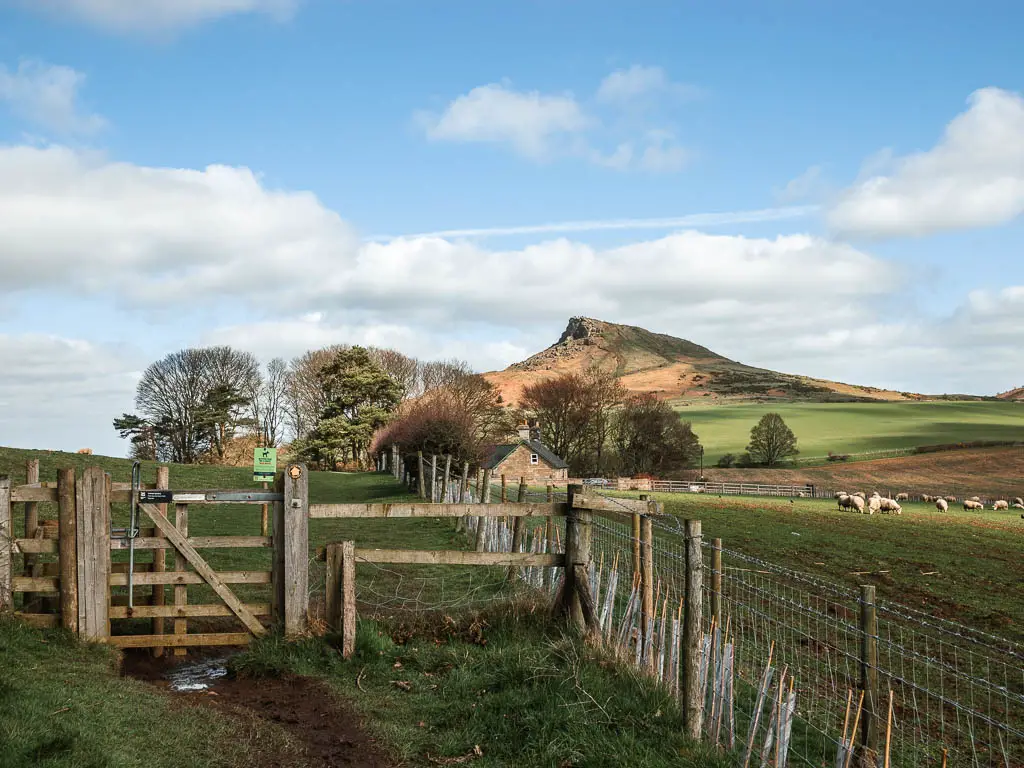 I could see the wooden trail signpost ahead to the left and hurried over there and through the gate, to get away from any dog that might be about, ready to pounce.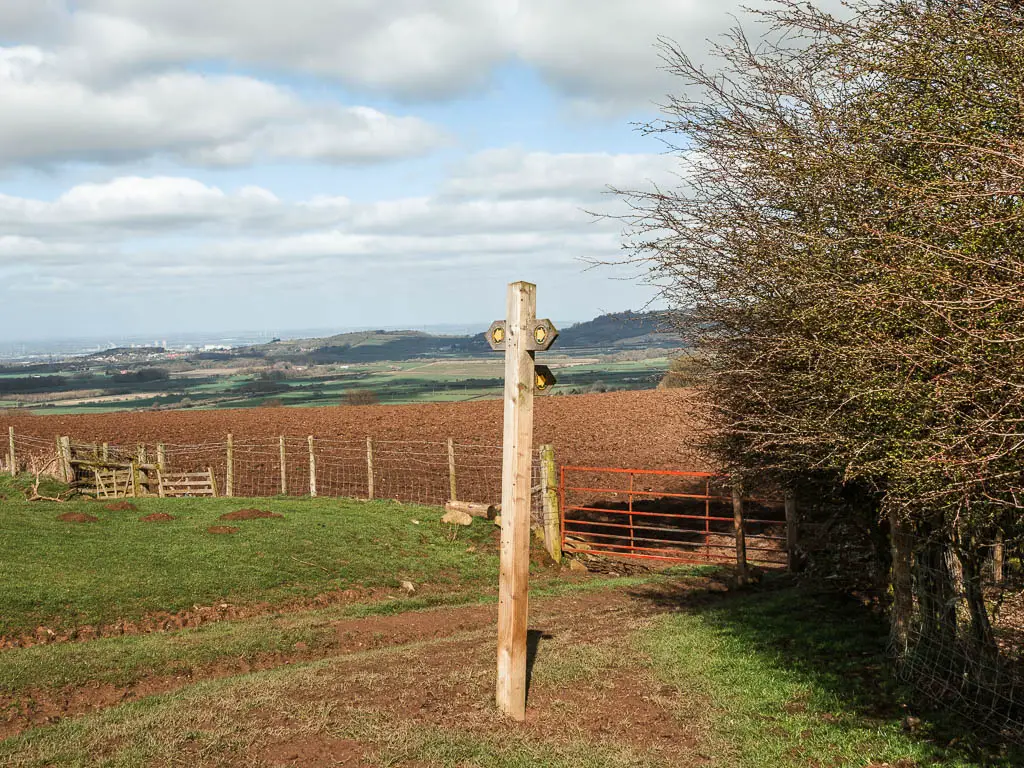 Walk straight towards Raspberry Topping
Now this is one of the reasons I said to walk clockwise. You won't get this view of Roseberry Topping when walking from the other direction. A dirt trail leading straight towards it, with its leaning pointy peak.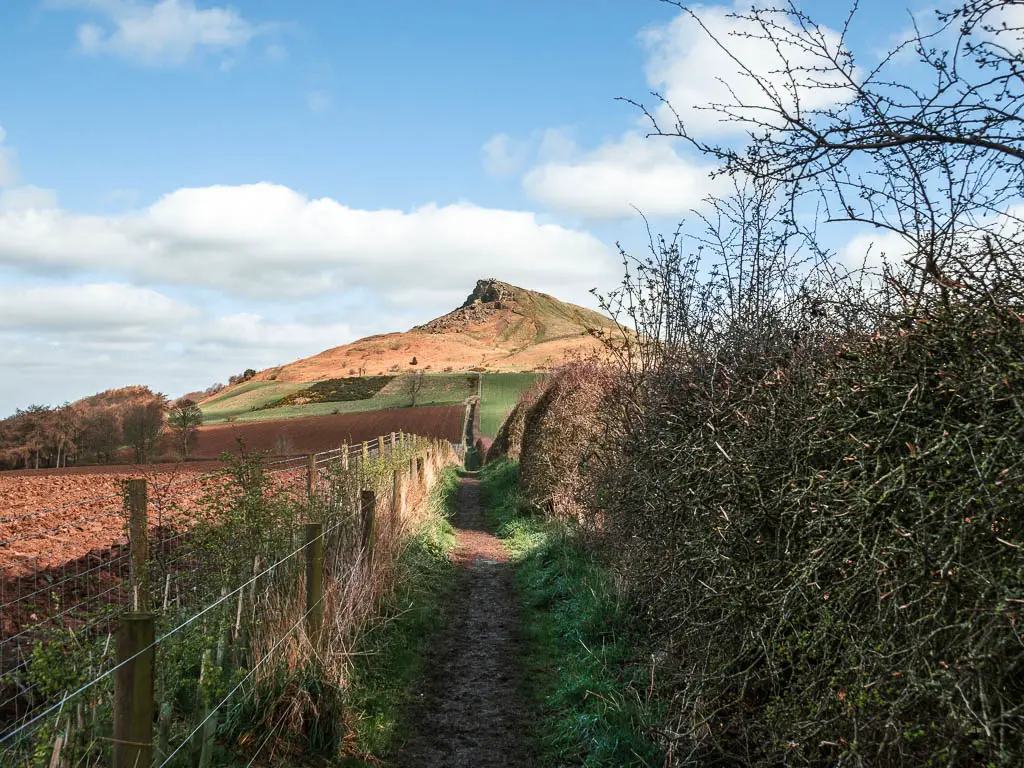 Now, you just walk straight. Straight along the dirt trail, then straight up the grassy hill, to reach the paved trail, to walk up to the summit.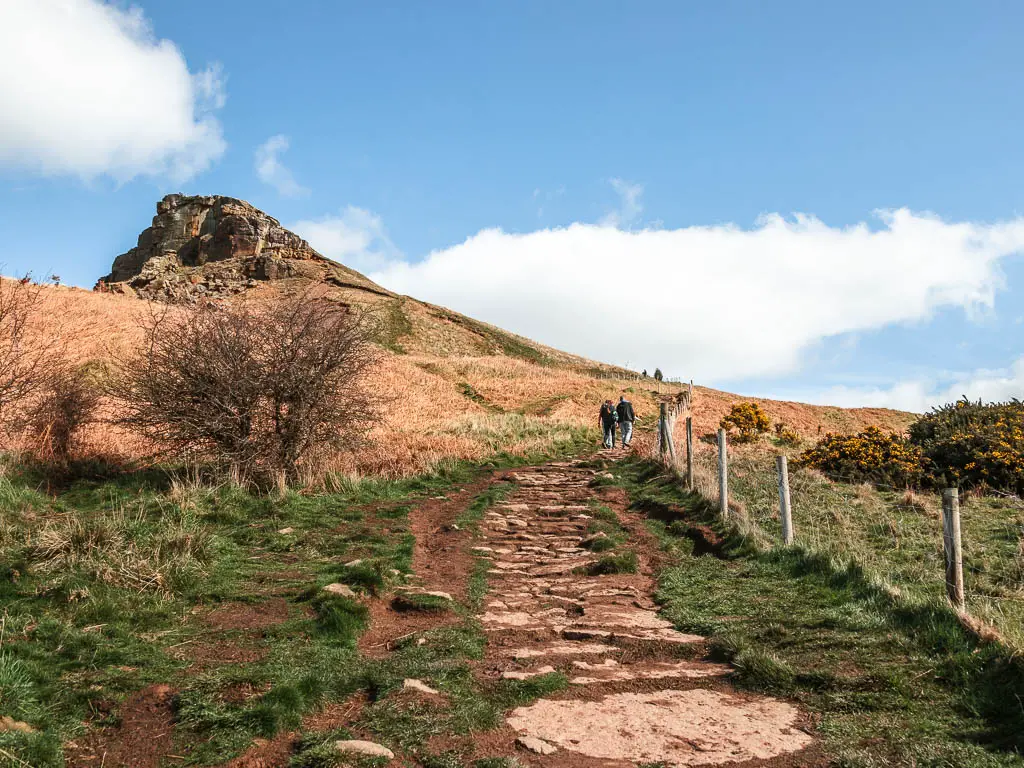 It was around here that it became busy with people again. I had left everyone when I walked away from Captain Cook's Monument. From then, up until now, apart from a handful of people, I had been on my own. 
For the final summit, the main trail curves you around a little, to even out the uphill, then you will have some steps to get to the very top.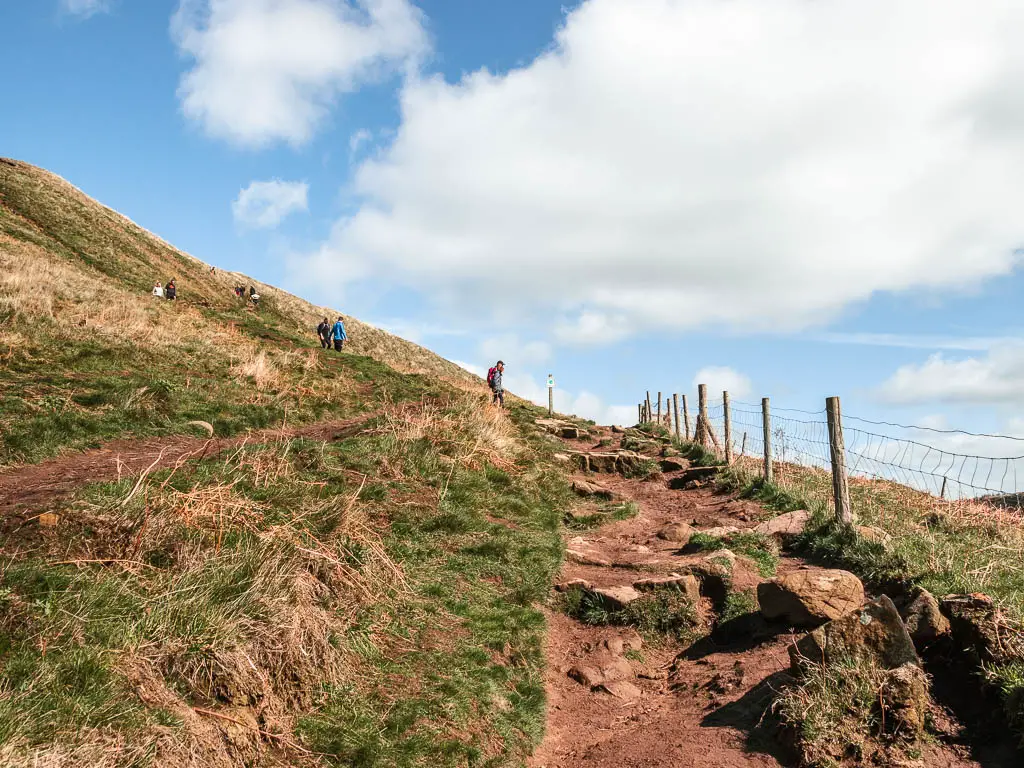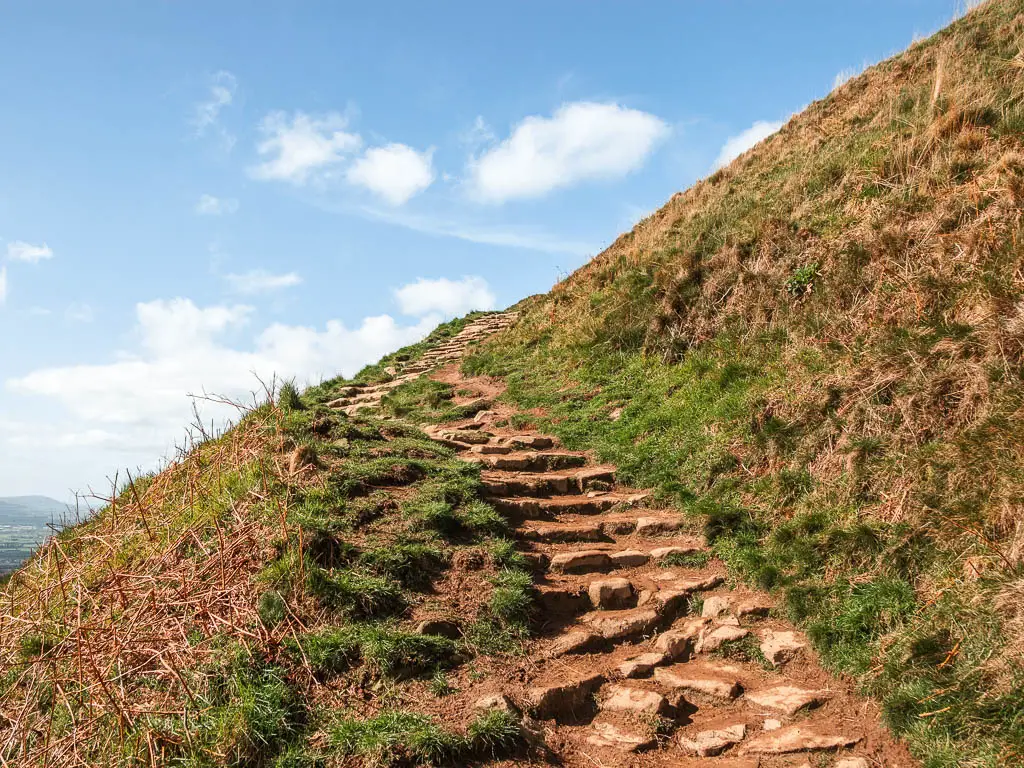 I knew it would be busy at there top, I could see the people from far away, but to actually be there and see it was another thing. It was like being in a park in London on a bank holiday. Except everyone was from Newcastle. The area was rammed. As such, I didn't stay, and once I reached the top, I went straight back down.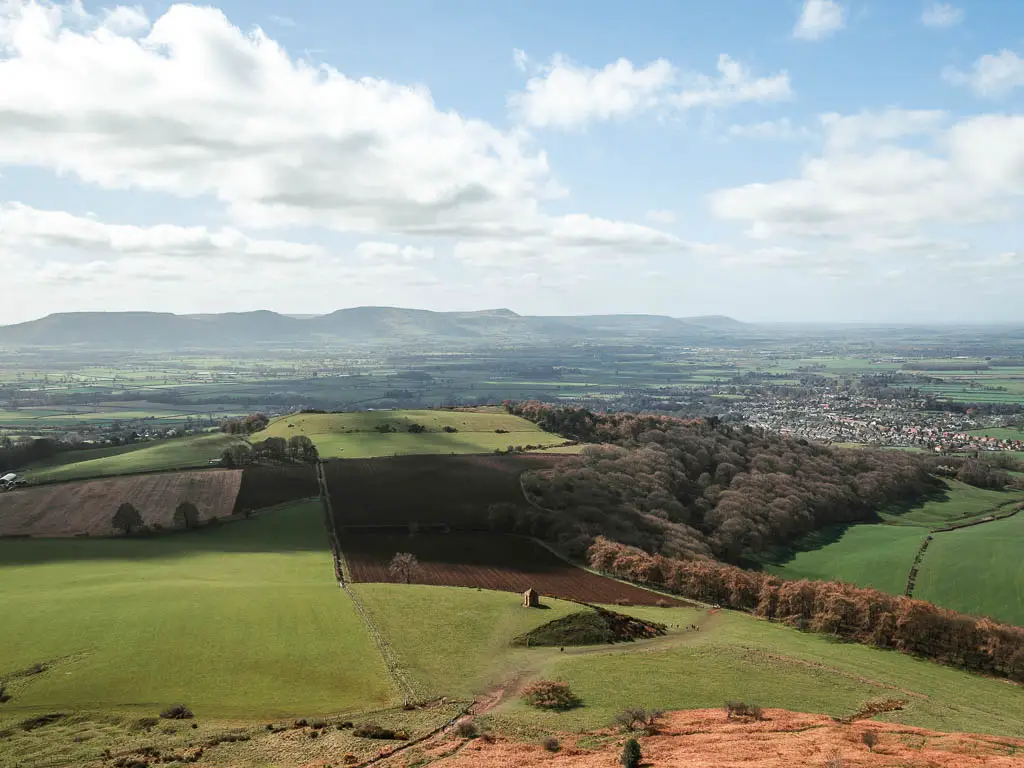 Walk down off Roseberry Topping towards the next hill
You will want to walk down off Roseberry Topping in the direction of the ridge. You will know what I mean when you are there.
There are more steps to go down than to go up (another reason to walk the route clockwise). At the bottom, continue on towards the next uphill. You will be able to see the zigzag path up it, which I though was quite cool.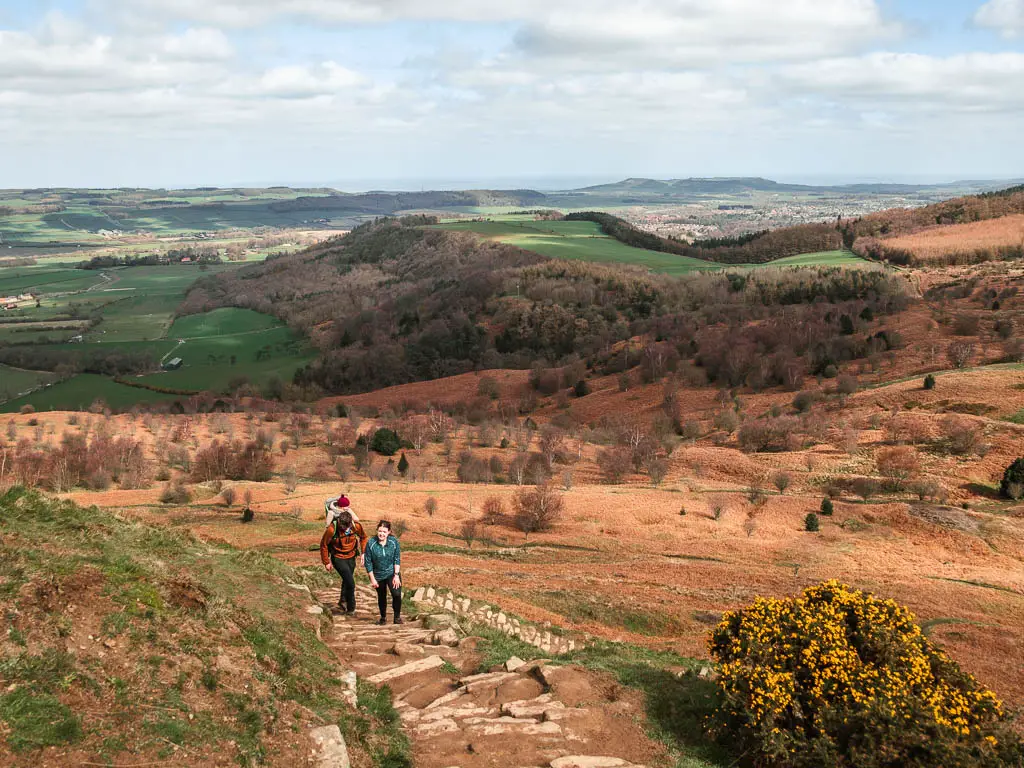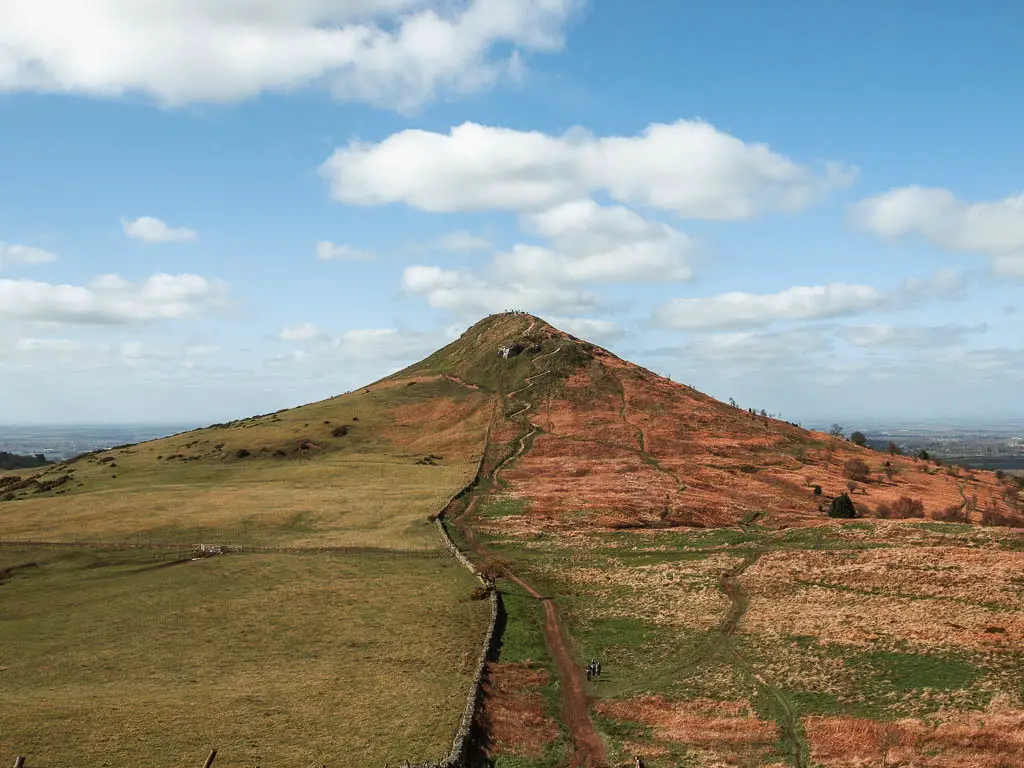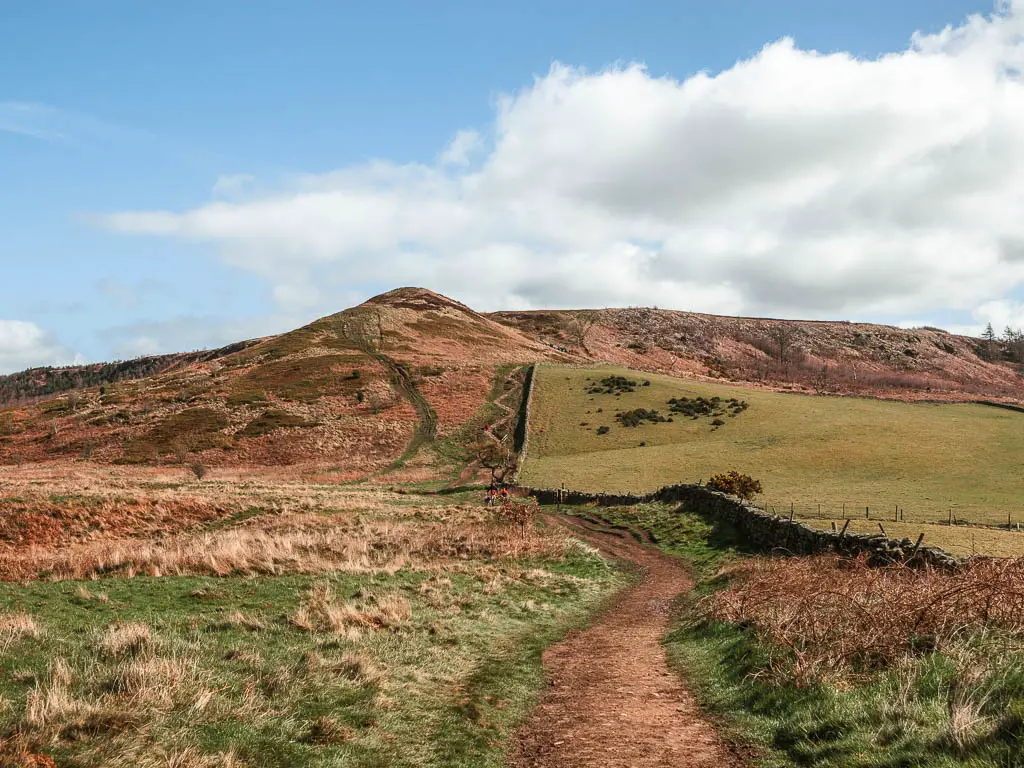 That ridge you can see leading right, that's where you are heading now. The path up this hill will lead you to the right and through a gate to walk along it.
Walk along the ridge back to the start
The rest of the walk I found a little underwhelming. I thought that walking along the ridge would be cool with great views. However, this is mostly what you see: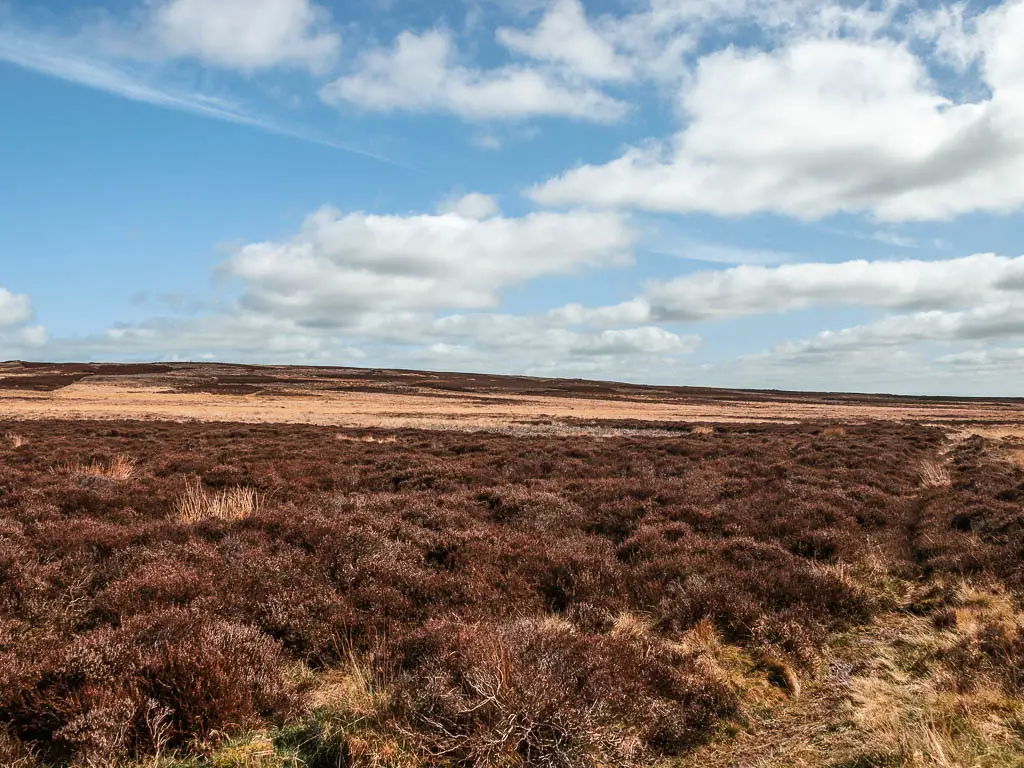 It's like this all the way to reach the steps down to the car park. You do get a view to the Captain Cook's Monument though.
I passed a lot of people on this bit, all walking the other way. I thought about what they were missing out on by not approaching Roseberry Topping from the other direction.
---
Similar walking route recommendations in Yorkshire
---
If you like walks to peaks, then over in the Yorkshire Dales you should try out Pen-y-Ghent. That one involves some scrambling to get to the top. Apart from that, it's not too tough. You will also get to see the largest natural hole in England.
Another big hill with great views that I recommend, is the Simon's Seat route. That one is also over in the Yorkshire Dales. It's one of my favourites out here.
Sticking with The North York Moors, this walk to Sutton Bank gives some fantastic views, and has a lake dating back to the ice age. 
Pin it for later: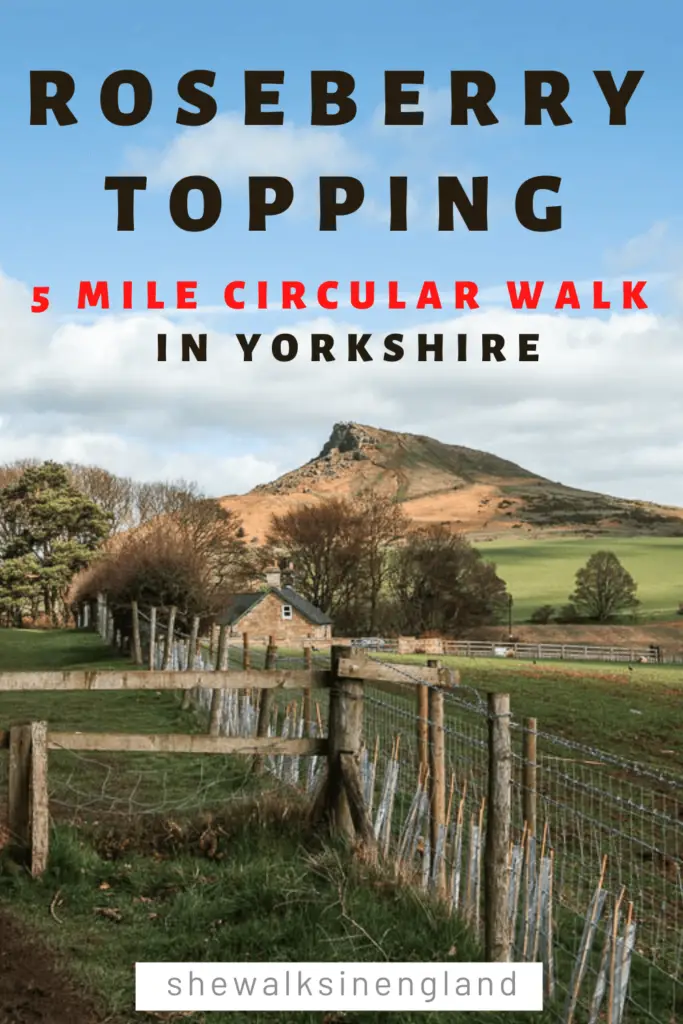 For more from the area, you can check out the North York Moors website.