The walk from Salcombe to Gara Rock in South Devon is a fantastic circular route, with a mix of coastline, beach coves and woodland. It's pretty easy and relatively short, so makes a perfect little excursion if you are staying in Salcombe and don't fancy something hard core, but still want to experience the rugged coastline the South West Coast Path is famous for.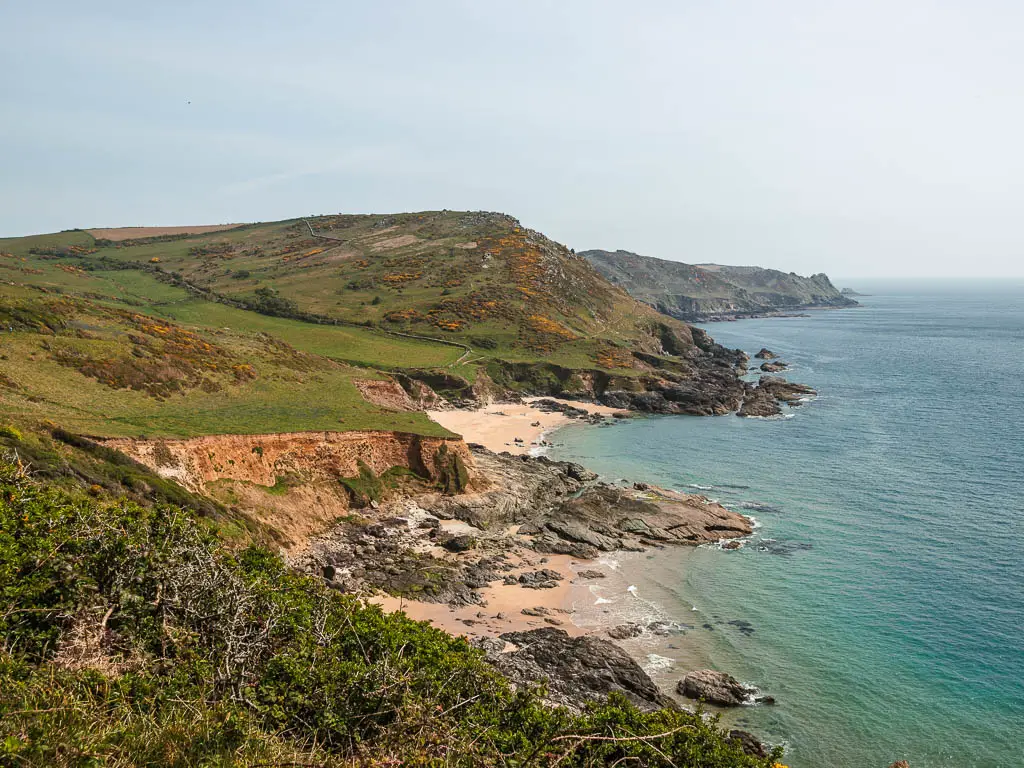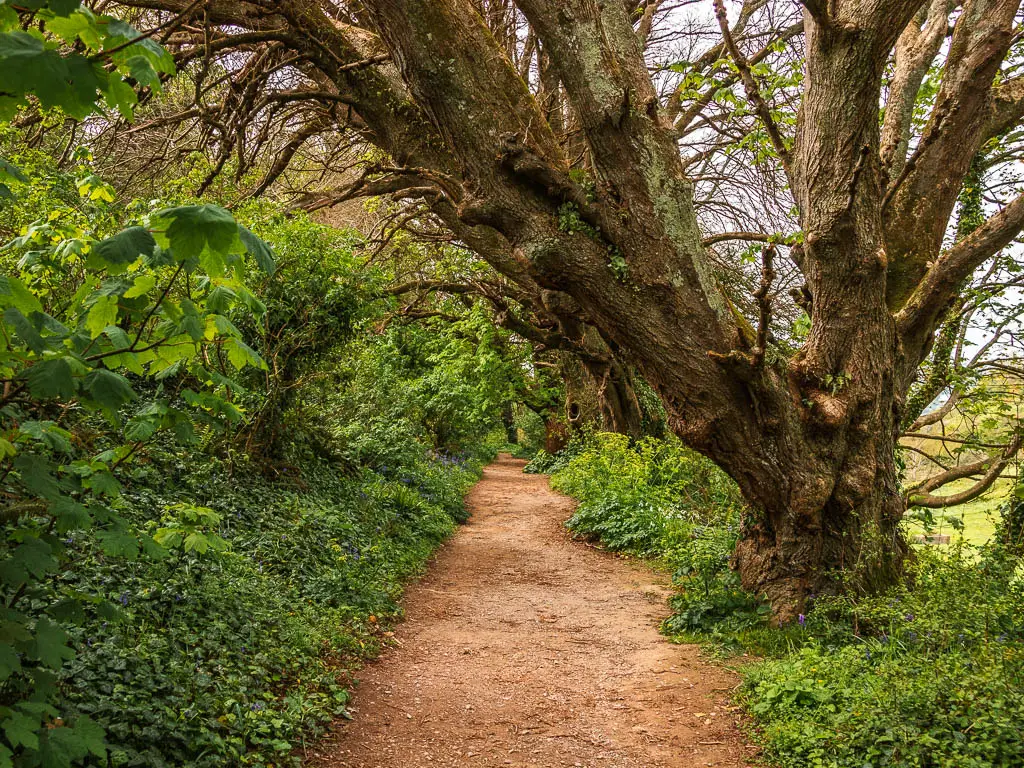 I say it's pretty easy, but I guess that depends on what you compare it to, and your level of fitness. The walk along the coast path section to Gara Rock is a bit hilly, and quite rocky in places. But the hills are short. Then there is an uphill when you leave Gara Rock, after which it's level or downhill through woodland for the walk back to East Portlemouth and Salcombe. 
Oh, and you also get to go on a little boat. How could I forget that.
The walk from Salcombe to Gara Rock is the shortened version of the walk to Prawle Point that I did the week before. So if you do want to go further and want a bit more of a challenge, then you could give that one a go. 
Logistics for the walk from Salcombe to Gara Rock
Start/Finish: Salcombe/East Portlemouth
How to get there: Located in South Devon, there are no train stations nearby. The nearest is in Totnes. From there you can catch the no 164 bus, which is roughly an hour journey. To get to the actually start of the walk, you need to go to the ferry pick up point (I will describe it further below).
Distance: 4.5miles
Time: 1h 40min
Elevation: Highest point is 105m. With the ups and downs, elevation gain is roughly 233m
Terrain: Some road, a bit of sand, dirt trail, grass.
Difficulty: Easy with a few medium sections
Dog friendly: No stiles. There is warning of livestock, I didn't see any though. I think the beaches are friendly. I didn't see any no dog signs.
Amenities: Everything in Salcombe. The Gara Rock hotel (which you will walk past) has a restaurant/cafe
Time of year: Spring
Tips for the walk from Salcombe to Gara Rock
I will recommend hiking boots, due to the rocky bits and the narrow trail with steep drops, however, trainers will do the job if that's all you have. 
Take swimmer for a dip in the water at Gara Rock beach, or even one of the other beach coves you will pass by. It was too cold for me.
Keep an eye on the time. At the moment, the last ferry to get you back across to Salcombe is at 6pm (check when you are there though). If you miss it, then you are stuck. Your only option will be to swim across the water, or get someone to drive 14 miles to come and get you. 
At the time of writing, the ferry cost is £2 one way for adults. They do accept contactless.
Map for the walk from Salcombe and East Portlemouth to Gara Rock
More walk ideas near Salcombe and Gara rock will be at the end, with a link to the full guide. There will also be suggestions for more walks, if you fancy exploring a bit further afield.
A Guide To the Walk From Salcombe And East Portlemouth To Gara Rock
First you need to get to the Salcombe Ferry. It sounds like it would be a big ship type thing. It is not. It's a little boat to take you for a 1 minute journey across the water.
To get to it, walk along the main high street road in the direction of the water being on your left. Keep going past the shops, and then a little up the hill you should see a ferry sign just next to The Ferry Inn.
The start of the walk from Salcombe/East Portlemouth to Gara Rock
When you get across the water, the walk to Gara Rock begins. Go up the steps, and then turn right along the road. There is going to be road walking for a little bit. It's not a very busy road, so don't worry about that. It's quite a pleasant road walk actually (with an uphill). Very quiet and peaceful and countryside like. 
The first beach view you will get is through the trees to Small's Cove, then later on you will reach Mill Bay.
Last time I walked by here it was busier. Today the was just one elderly couple sitting on their foldaway chairs with a table. Just sitting. I imagined myself in my old age. This is what I would want. 
Walk along the woodland trail to Sunny Cove
Just past Mill Bay, you will reach a proper dirt trail. Take the one to the right which will take you through the woods and uphill around the beach.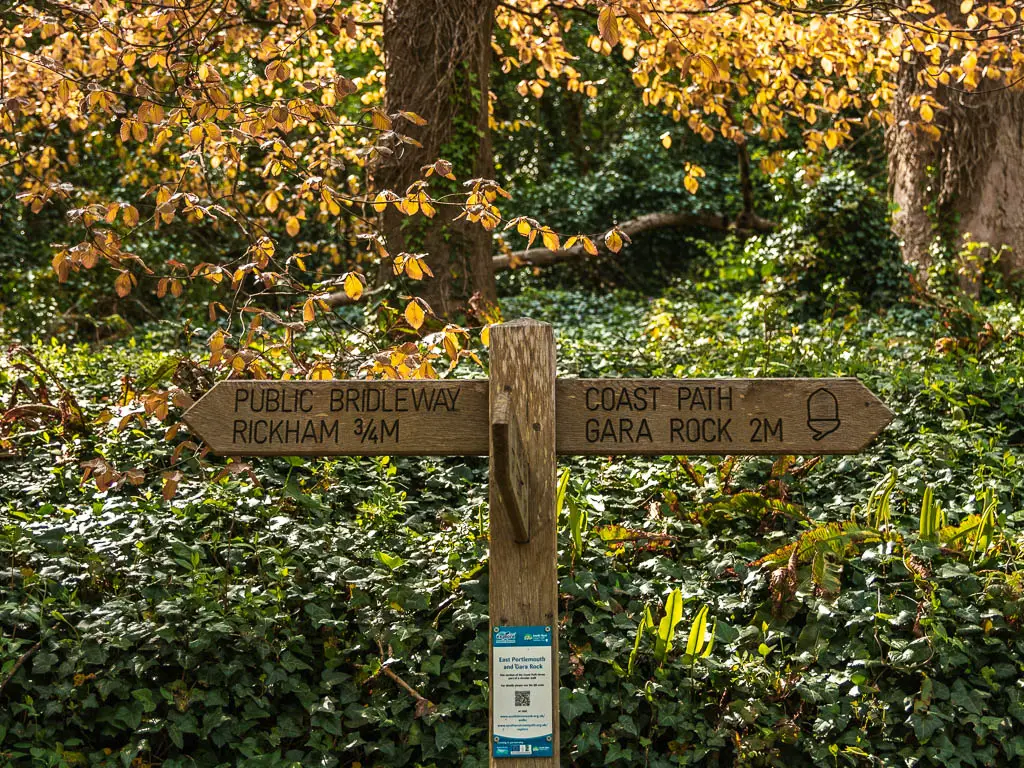 There is a signpost coming up pointing in two directions for Gara Rock. The coast path route and the alternate route. Go ahead and take the coast path route.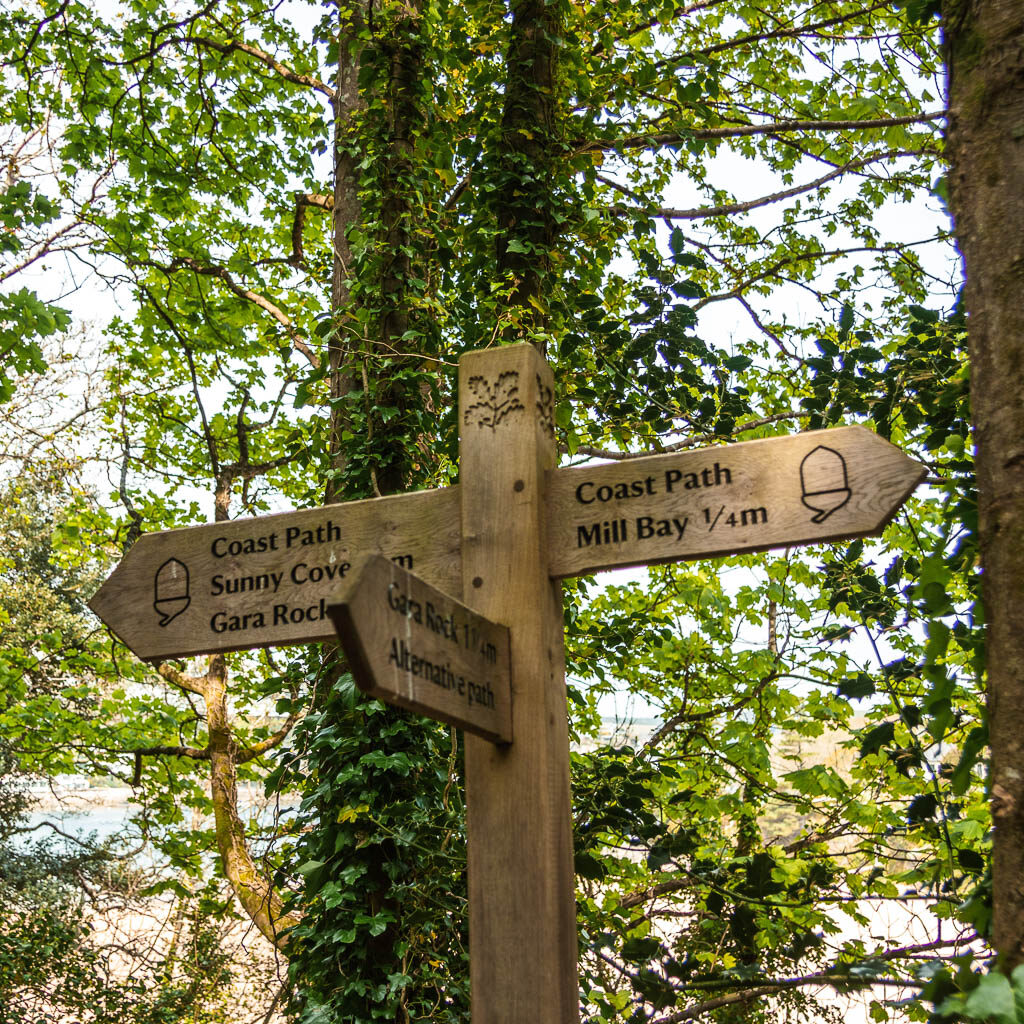 At the next signpost, you have the option to take a little detour to Sunny Cove. I highly recommend it. It's a lovely beach cove. Both times I have been here, it's been sunny. So the name is fitting. Although, today was a different kind of sunny. A bit more muted. The sky wasn't quite as bright blue, and there wasn't the same glow over the landscape. 
You can't walk to Gara Rock from the beach, so you will need to go back to that signpost, and take the other trail uphill some more. 
Walk to Gara Rock Beach
It's a little more woodland walking before things gradually open up fully. First you will have views to Bolt Head on the other side of the water, and then as you get around this peninsular, you will get views all along this coastline towards Prawle Point. 
It's also along this section that the trail becomes a bit more adventurous. Some very rocky bits, where you will need to scramble a little. Some very narrow bits with a drop to the right. Lots of ups and downs. The ups and downs are short, which is why I haven't called this a challenging walk.
At some point along here, you will start to get a view to Gara Rock beach in the distance.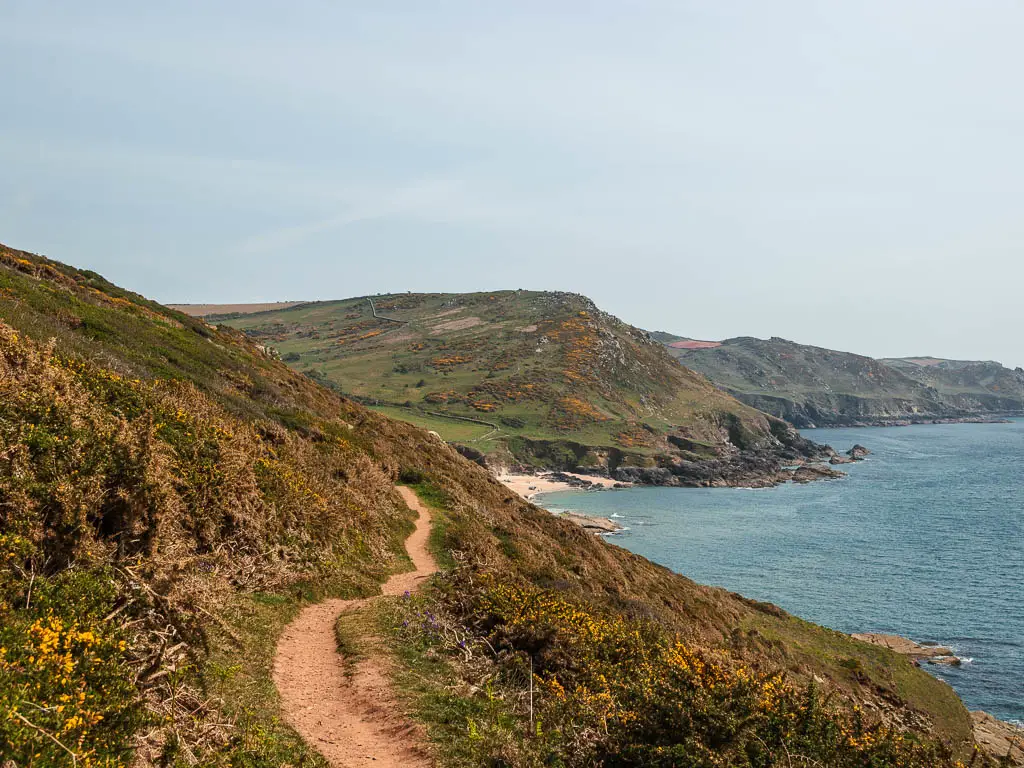 When you get to a junction with a cute little hut thing up the hill ahead, you will have two options. The left takes you straight up, to then walk back to Salcombe, and the right takes you down to Gara Rock beach. 
I suggest you go right.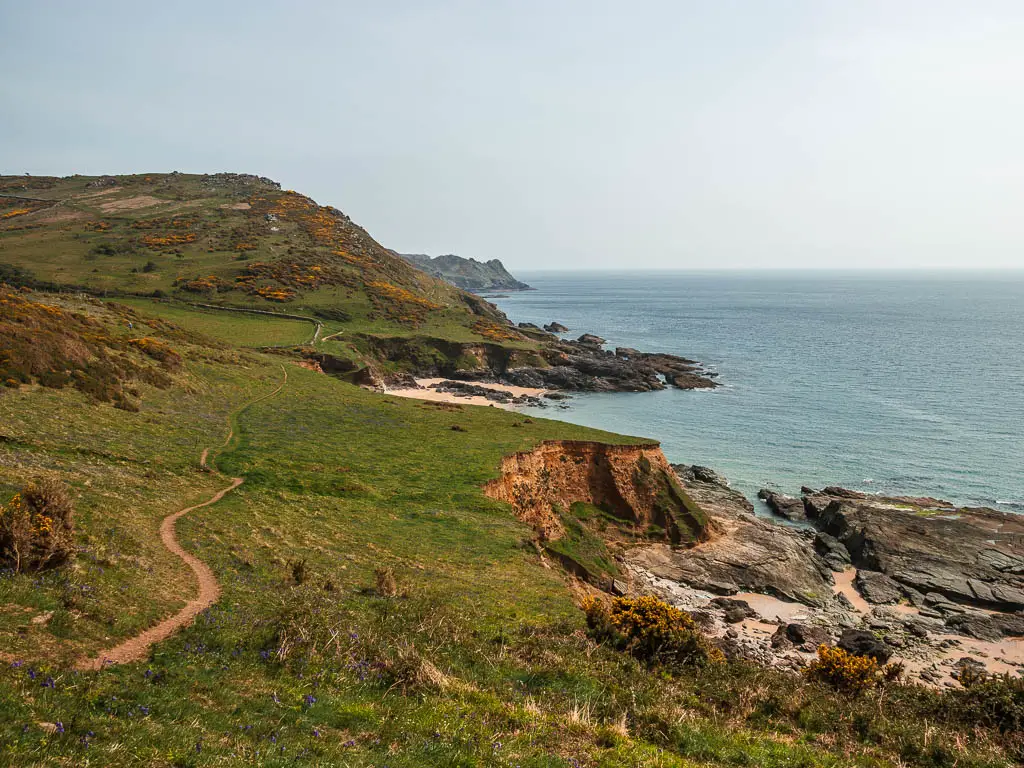 It's now a downhill walk for the rest of the way to Gara Rock beach. You can't see how to get onto the beach yet, but you will. A big opening will present itself to you. This bit could potentially be quite slippy. It's steep, a bit sandy, and right at the end there is a rope to help get you onto the beach without slipping.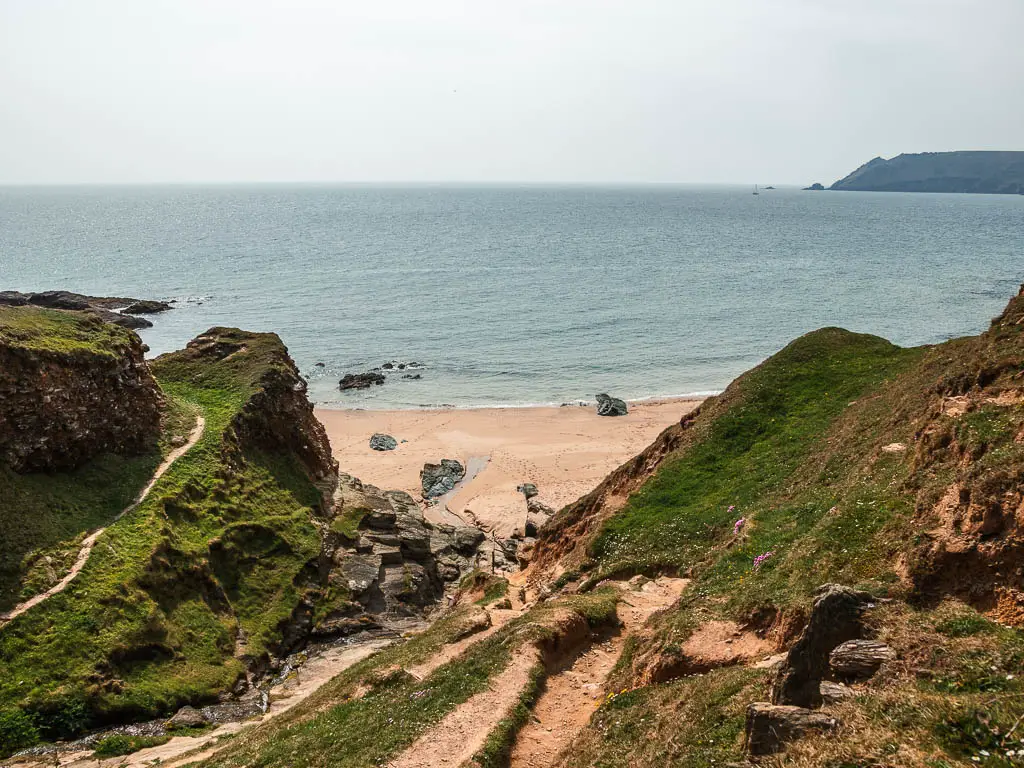 Walk back to East Portlemouth and Salcombe from Gara Rock
To get back from Gara Rock beach, walk back up the way you came, and go back on yourself for a short bit to reach the trail signpost. Take the right trail up what is probably the longest uphill section of the walk. I make it sound quite dramatic. It really isn't, it's just the other uphills were very short, so this one is long in comparison.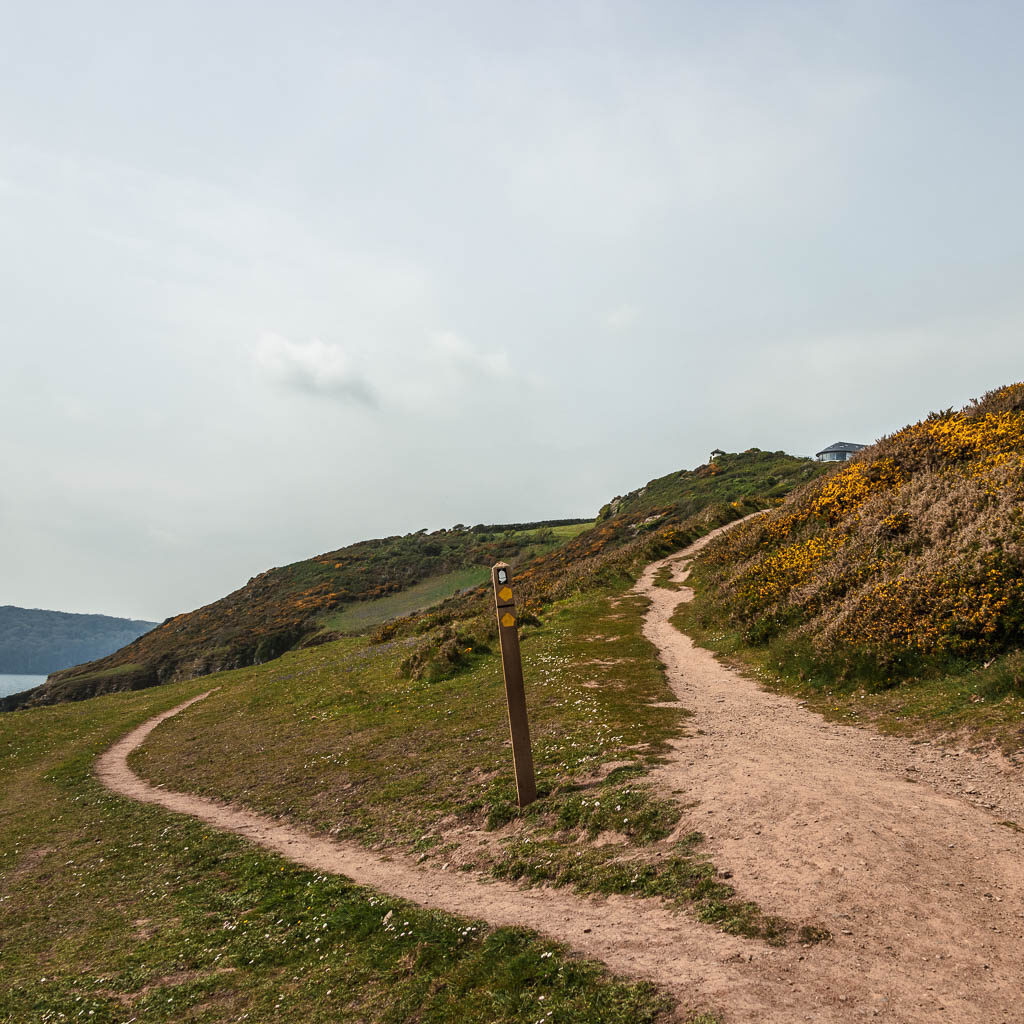 Keep going up, and you will walk past the Gara Rock Hotel. Walk around it to the right, and you will pass by the cafe/restaurant. Stop here if you wish, or keep going. 
Past the hotel, walk up the road for a short while, and there will be a trail signpost directing you to the left, through a car park area, and then onto the trail on the other side. The first bit of the trail is amongst the hogweed, and then you will enter the woodland.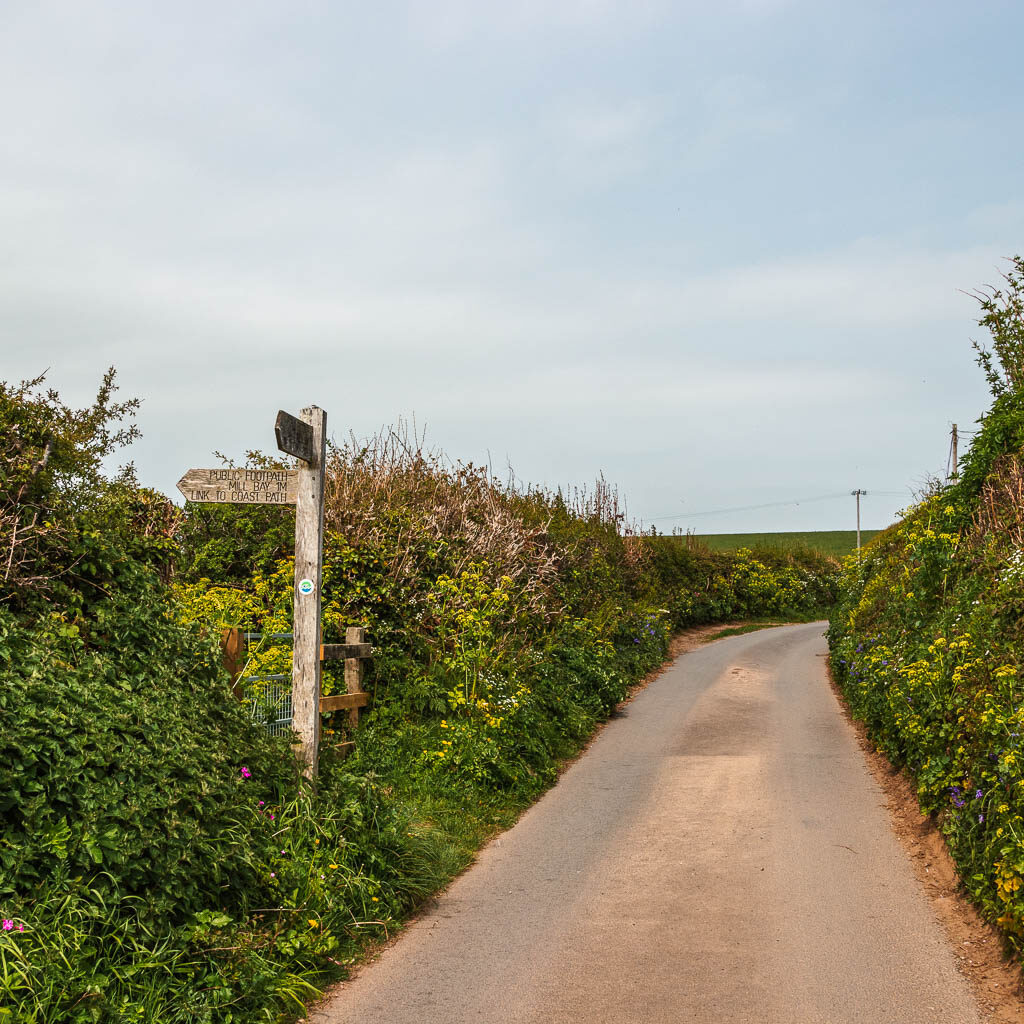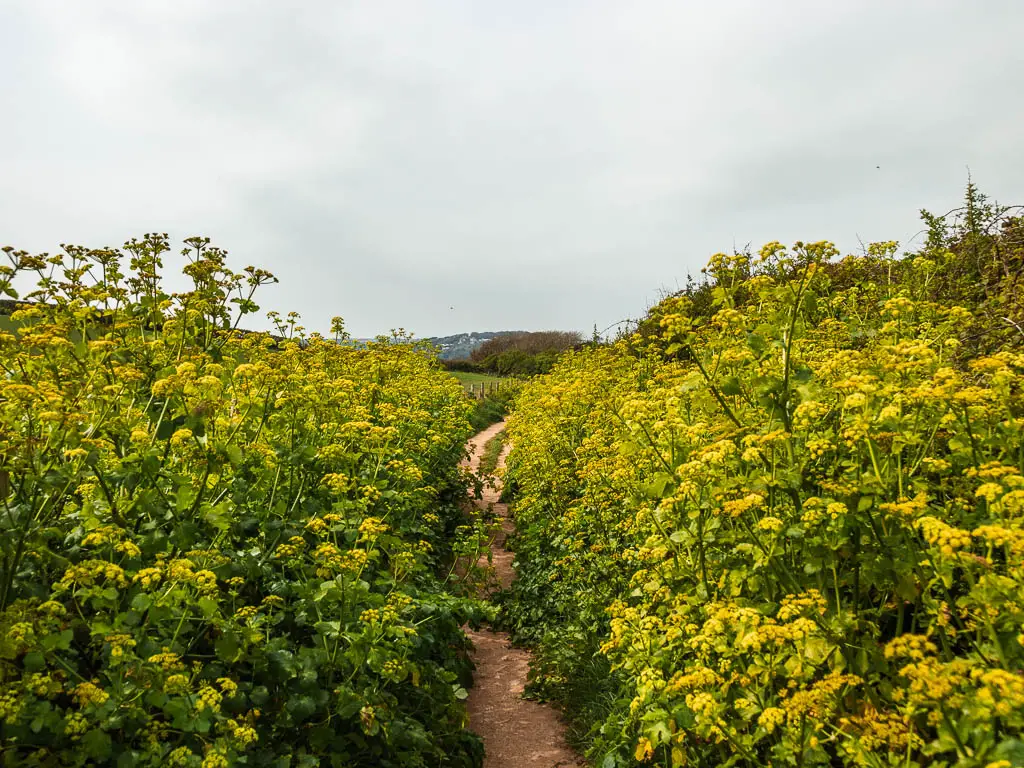 Walk through the woods
After a short bit of woods, you will reach junction. Turn right to walk through the gate and keep going downhill. These woods are quite lovely with some fantasy style trees leaning over the trail.
Keep going, through a car park near the end, and you will exit next to Mill Bay, the beach from the beginning. Turn right here to follow the road back to the ferry.
More walk ideas near Salcombe
Salcombe to Prawle Point walk – This is the longer version of the Gara Rock walk. This one takes you to the most southernly point in Devon. Expect more rugged cliffiness, and even better secluded beach coves.
Salcombe to Hope Cove walk – One of my favourite walks, not just in Salcombe, but in England. It's a fantastic bit of coastline, with tor outcrops, gorgeous coves and a fantastic wonderful view to Hope Cove at the end.
Salcombe to Snapes Point walk – I was pleasantly surprised with this walk, and would highly recommend it if you are staying in Salcombe. It's an easy one with really really lovely views back to Salcombe, and across the Kingsbridge Estuary.
Start Point Lighthouse walk – If you keep walking along the coastline from Gara Rock, past Prawle Point, you will reach Start Point Lighthouse. Now, it would be a hefty walk, but if you have a car you could pop on over there. It's a lovely lighthouse and really fun to walk along the rocky hillside to.
For a more detailed side by side look at all these walks, you can read my Salcombe guide.
Salcombe isn't too far from Dartmouth (if you have car). If you fancy heading over there, you could try out one of these walks around Dartmouth.
Pin it for later: Salcombe to Gara Rock Walk Guide