Located in South Devon, Salcombe is a true gem of a place, and a starter for some fantastic walks. Crystal clear, light blue and turquoise sea. Soft, light coloured sand. A little reminiscent of the Mediterranean, albeit a bit colder.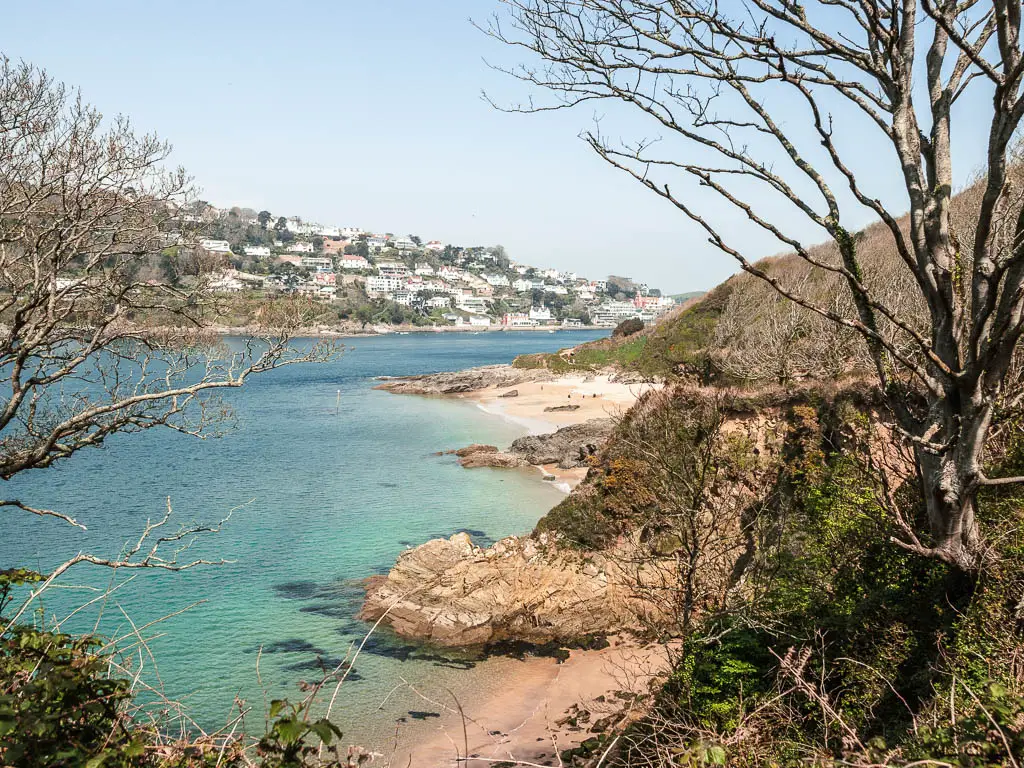 All these walks start in Salcombe itself and take you either along the coast path or the estuary, featuring cliffs, secluded beach coves, tor outcrops, insane views, highland cattle, and the most southernly point of Devon. There is a mix of easy and less easy walks, to suit your mood (and energy levels), and I'm here to guide you through all of them. 
3 of these walks are circular, one isn't, but can be made circular if you wish. For every one of these walks from Salcombe, I have linked to the full blog post with a step by step description, photos, and full logistical info, including a map. 
Let's do this….
---
4 Best Walks Around Salcombe
---
1) Salcombe To Hope Cove – My favourite walk
Start: Salcombe  Finish: Hope Cove  Distance: 8.5 miles  Time: 3h 15min  Difficulty: Medium/challanging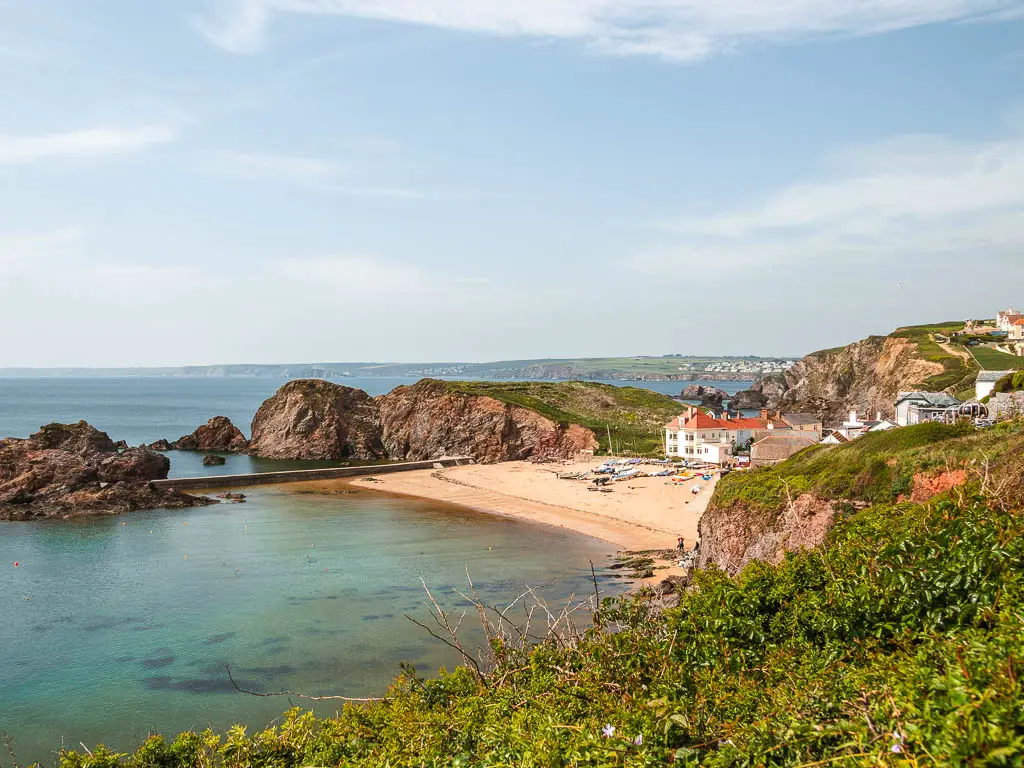 This is my favourite of all these walks from Salcombe. It's actually one of my favourite walks ever. Everything starts off pretty as you walk alongside Salcombe Harbour, and then a path lined with pretty flowers (time of year dependant). Then quite suddenly, and unexpectedly, you will be met with jagged pointy rocks as you walk around Bolt Head with a view down to a perfect secluded beach cove. 
The walk then takes you up and down some cliffside hills, and through the tors, before you reach a point with a truly stunning view along the coastline. Then it's down to Sour Mill Cove, which is up there with some of the best beach coves I have seen. This is where you might find yourself among the highland cattle. 
After another hill, it's easy level cliffside walking until near the end, where you will get your first view to the magical Hope Cove. At this point you could walk straight there, or you can walk a little further along the cliffside, to reach the rugged Bolt Tail with red coloured rocks.
After spending some time enjoying Hope Cove, you can get the bus back (some planning is needed here), or you have a choice between two walks to get back to Salcombe. The easy way, or the hard way. 
For more detailed information about one of my favourite walks, including a map and photos, you can read about the walk to Hope Cove.  
2) Salcombe to Prawle Point – The one to the most southern point of Devon
Start/Finish: Salcombe/East Portlemouth  Distance: 10 miles circular  Time: 3h 45min  Difficulty: Challenging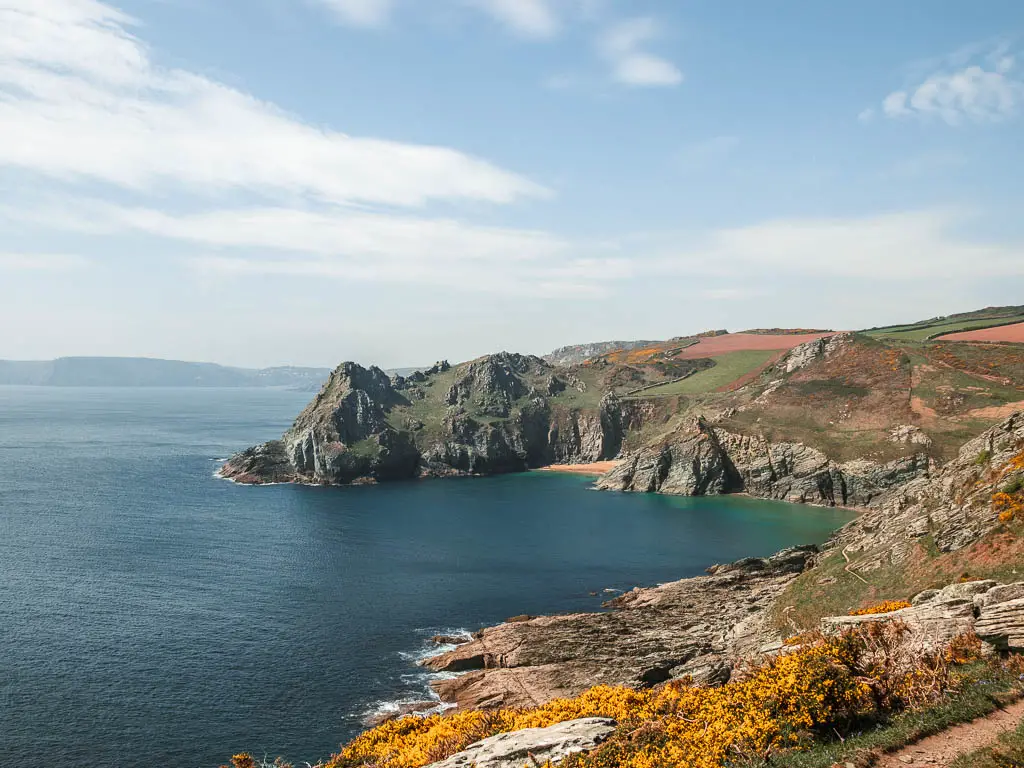 This is the first of these walks that I did from Salcombe. It was actually the first time I went to Salcombe, and what an introduction. If you like soft sandy beaches and crystal clear turquoise water, then this one is for you. 
First you need to cross the harbour from Salcombe to East Portlemouth. It's very easy, as there is a regular little boat that will take you over there. From the moment you step off the boat, you will be on beach. From there, it's a small bit of road walking to reach the next one, after which it's some woodland walking to take you to more. 
Once you walk around the peninsular, you will get a view all the way down the rugged coastline, which can be a little daunting. However, you will walk by so many hidden little beach coves to reach Prawle Point, that it distracts you a little from the challenge. I don't think I have seen so many accessible, gorgeous beaches coves before on one walk. 
From Prawle Point, it's a short walk to reach East Prawle Village, which will make a perfect rest stop with its cafe and pub. At this point, you have a choice of two walks to get back to Salcombe.
I describe everything in full including a map, photos, detailed instructions and different options to walk back in the walk to Prawle Point. 
3) Salcombe to Gara Rock – The easy, but still rugged one
Start/Finish: Salcombe  Distance: 4.5 miles  Time: 1h 30min  Difficulty: Easy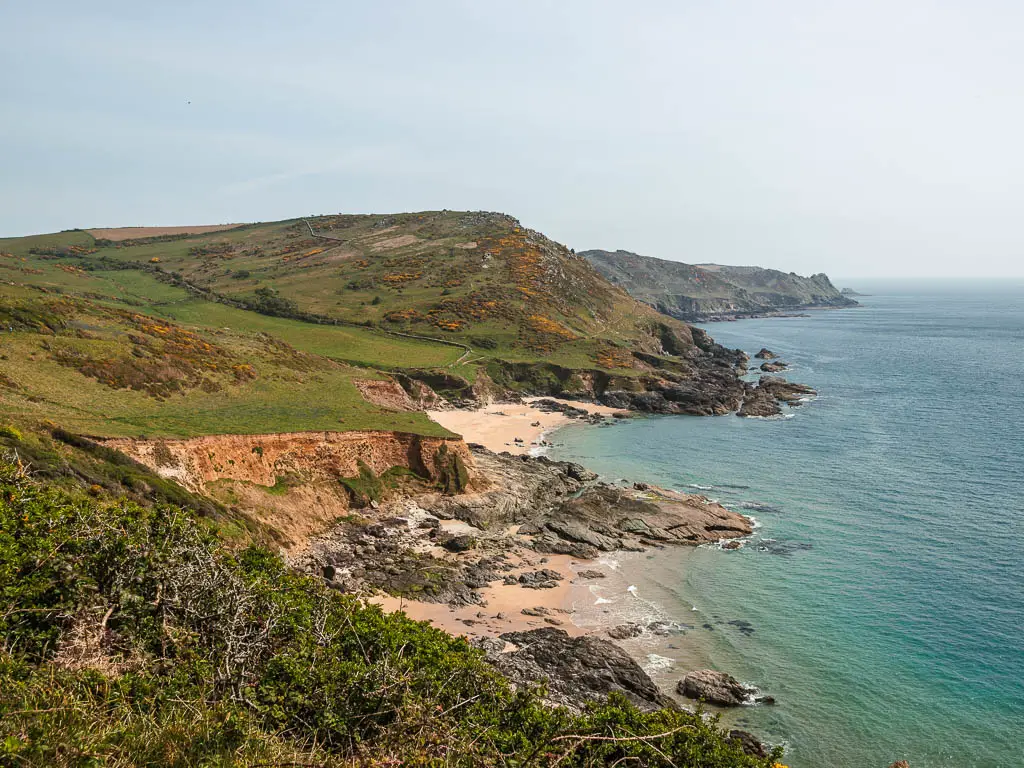 This is the shortened version of the walk from Salcombe to Prawle Point. It's the perfect walk to do if you want to experience some south west coast path ruggedness, without too much hard work. Well, you do have to work a bit, but not as much as the full route to Prawle Point.
There are some hills, but not too aggressive. You will also get to pass by (and sample) some secluded beach coves along the way. Then to make your way back to Salcombe, you will circle back along a lovely woodland trail with a few fairytale type trees. 
For more detailed information, including a map and photos, you can read about the walk to Gara Rock.   
4) Snapes Point – The one with the best view of Salcombe
Start/Finish: Snapes Point  Distance: 3.5 miles  Time: 1h 15min  Difficulty: Easy
Of all the walks on the list, this one gives the best view of Salcombe itself. You will start off walking around Batson's Creek, and past the cute Lower Batson. Then you will gradually make your way uphill along a dirt trail to reach the Snapes Point Viewpoint. From here, you will get a wonderful boat filled view down to Salcombe, out to sea, and along the Kingsbridge Estuary. 
Up at Snapes Point you can wander around at will, taking in the views. I would even recommend taking a picnic up there (weather permitting). After which you can circle around, to walk back down to Salcombe. 
For more detailed information, including a map, photos and full logistics, you can read about how to walk to Snapes Point.
---
Final thoughts on these walks from Salcombe 
---
All of these walks from Salcombe are wonderful, and I recommend all of them. However, if you don't have the time for all, then this is what I suggest:
If you like a challenge, then you should do the one to Hope Cove or Prawle Point. Hope Cove is my favourite, however, during high season, I suspect Hope Cove will be very crowded. So if you prefer seclusion, then Prawle Point might be more up your street. 
If you want to get a good hike in, but not sure you could handle one of these big ones, both can be made shorter. You could do the Salcombe to Gara Rock walk, which is a shortened version of the one to Prawle Point. Or instead of walking all the way to Hope Cove, you could go as far as Bolt Head, then return back to Salcombe. This in itself would make a fantastic walk. 
Whichever one of these walks you pick, I still recommend that you do the walk from Salcombe to Snapes Point regardless. It's super short and easy, and it would be a shame to come to Salcombe and not get to see the best view of it. 
Have you tried any of these walks around Salcombe?
For more information about the area, including accommodation, and things to do, you can read about that on the Salcombe website.
---
More walking ideas outside of Salcombe
---
If you fancy exploring a bit further afield, I've got you….
Not too far from Salcombe (if you have a car), you could do one of these walks around Dartmouth. It's the first town I ever visited in South Devon, and is still one of my favourites. Think colourful buildings, lots of boats, coast path and river walks. If you are staying in Salcombe and want to do a day trip, then this is where I would go.
A bit north of Salcombe you will find the wonderful eclectic town of Totnes. This is where I was staying during my trips to Salcombe, and you can get a direct bus between the two. It's a lovely place to have a wander about, and you could throw in one of these walks when you are there.
Slightly west of Salcombe, is Plymouth. It's one of the largest towns in South Devon. Now, if you are staying in Salcombe, I wouldn't bother going to Plymouth. This guide is more about the best walks you can get to if you are already staying there. It covers a bit of the South Devon Coast, the Tamar Valley and Cornwall.
Pin it for later: Best Walks Around Salcombe