The Old Man of Coniston is a fell in the Lake District, reaching a height of roughly 800m, and this circular walk takes you around and up it.
I have to say, I didn't know much about it before heading out. I had heard the name Old Man of Coniston, and that it's a must do walk out here in the lakes. So off I went and did it. 
When I go out on hikes with Ollie, I will mark the route out, know the distance, and the elevation involved. He likes to know this stuff. When I go it alone, I roughly look at the trail route, and that's it. So it's always a surprise. This walk up Old Man of Coniston, I did alone.
In this guide, I'm going to give you an overview of what to expect with full logistics, a map and tips, for walking the Old Man of Coniston. Then there will be a detailed route description with photos.
What to expect on the Old Man of Coniston walk
Wow, what a walk it is. For this route, the trail starts out fairly easy, with a gentle incline, to warm you up. Then things get rocky. The kind of rocky where you need to scramble. In some parts, you have to really pay attention to follow the trail.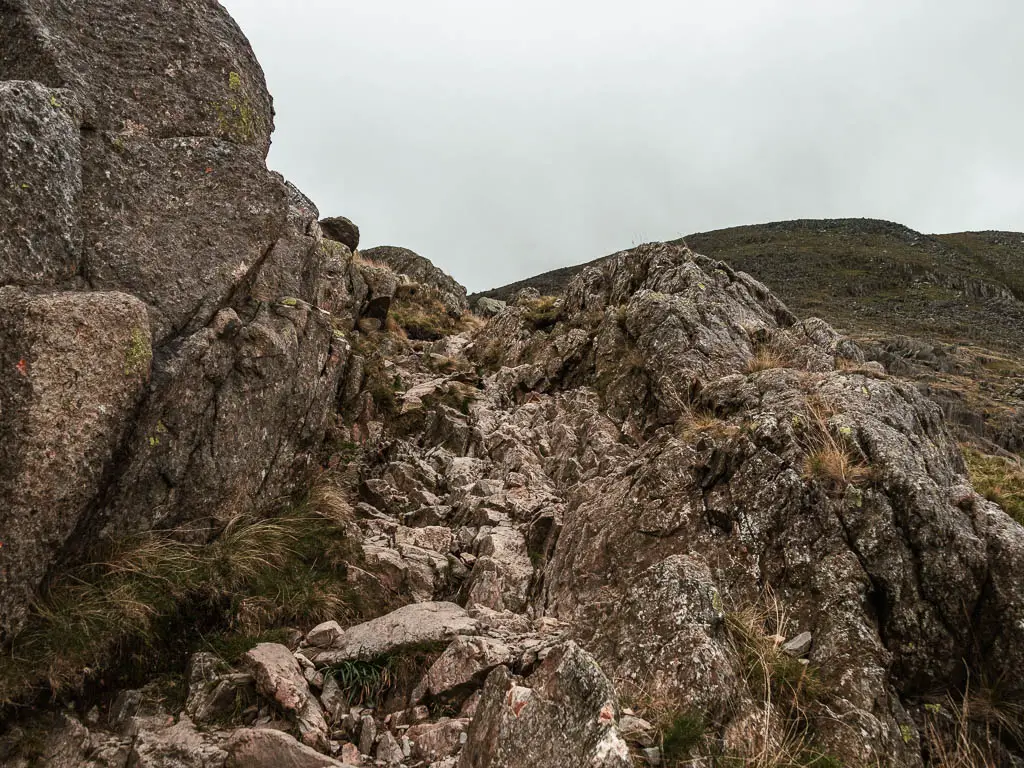 You will walk by Goat's Water, nestled between Dow Crag and the Old Man of Coniston, which has a sort of eeriness about it.
Then the steep uphill begins, and once out of the valley, you will have spectacular views to the fells in the distance.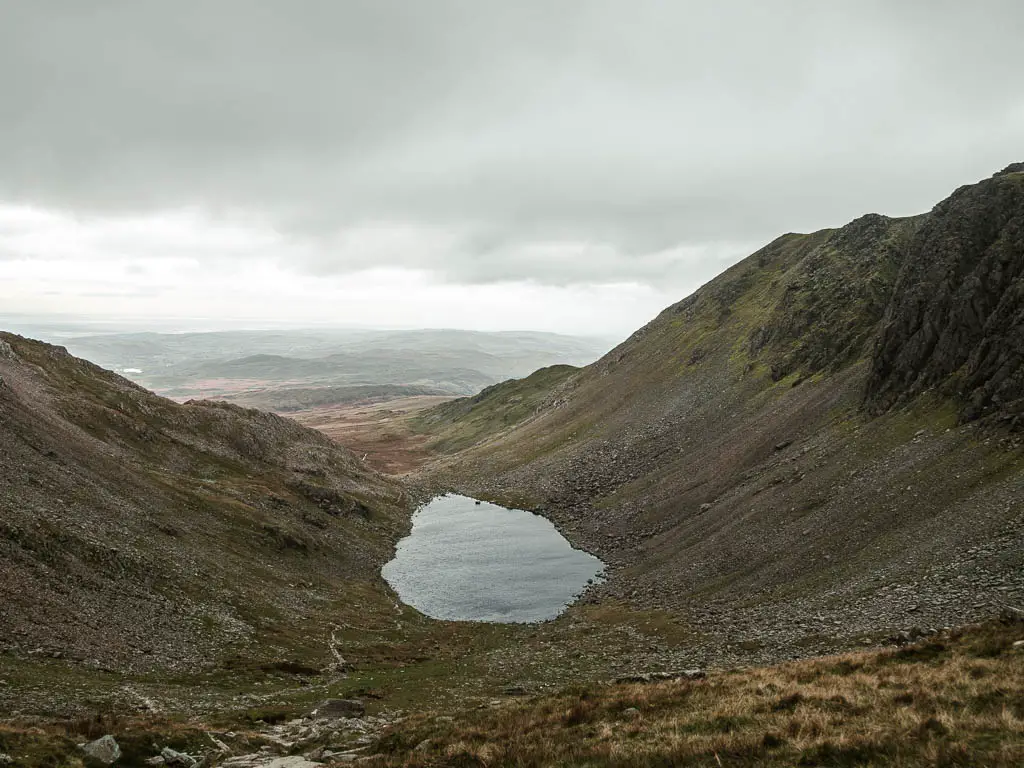 Once up the top, you will walk along a ridge to reach the summit of the Old Man of Coniston, where you should get good views. The weather had other plans for me this day. 
I did get those views, but only once I started the decent on the other side of the Old Man. Views that take your breath away. Views down to Low Water and Levers Water between the fells.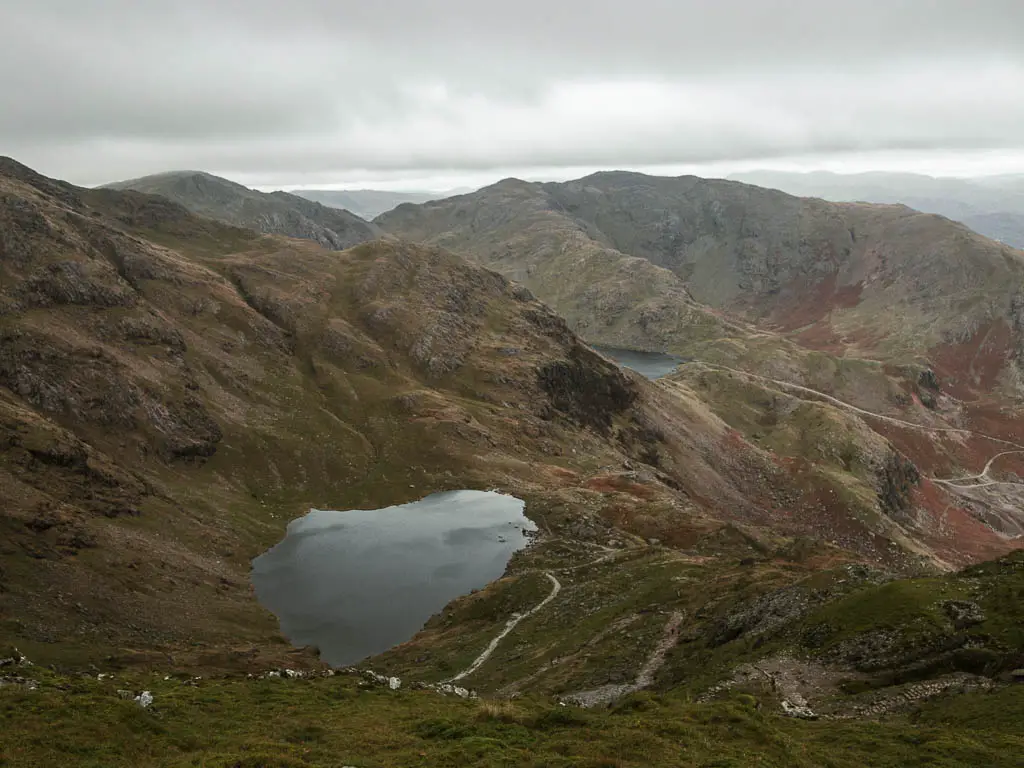 The descent off the Old Man of Coniston is a little hairy, as you walk down a steep, rocky, and potentially slippy trail, to reach Low Water.
After this, things get a little easier, but no less slippy, until you reach the bottom and have an easy path back to the start.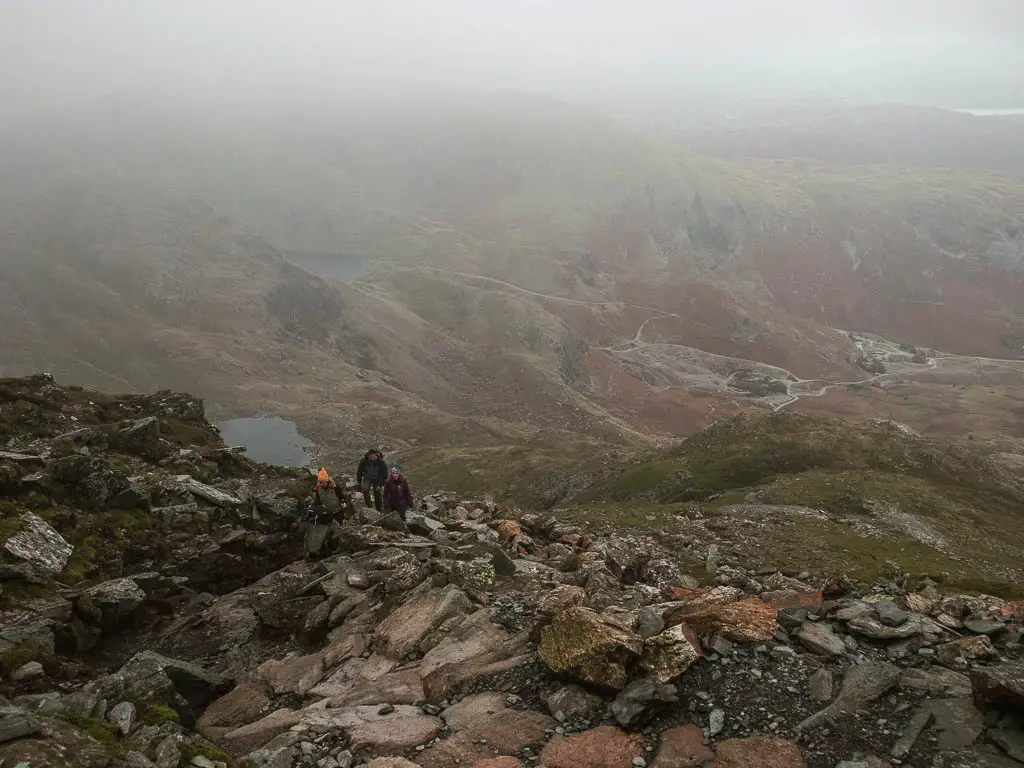 The ruins
Something quite unique about this walk, is the pylon and mining ruins.
During the decent off the Old Man of Coniston (or ascent if you took a different route), you will have to navigate over and under large cables strewn across the ground from the fallen pylons. All whilst walking on a ground covered in slippy slate rock.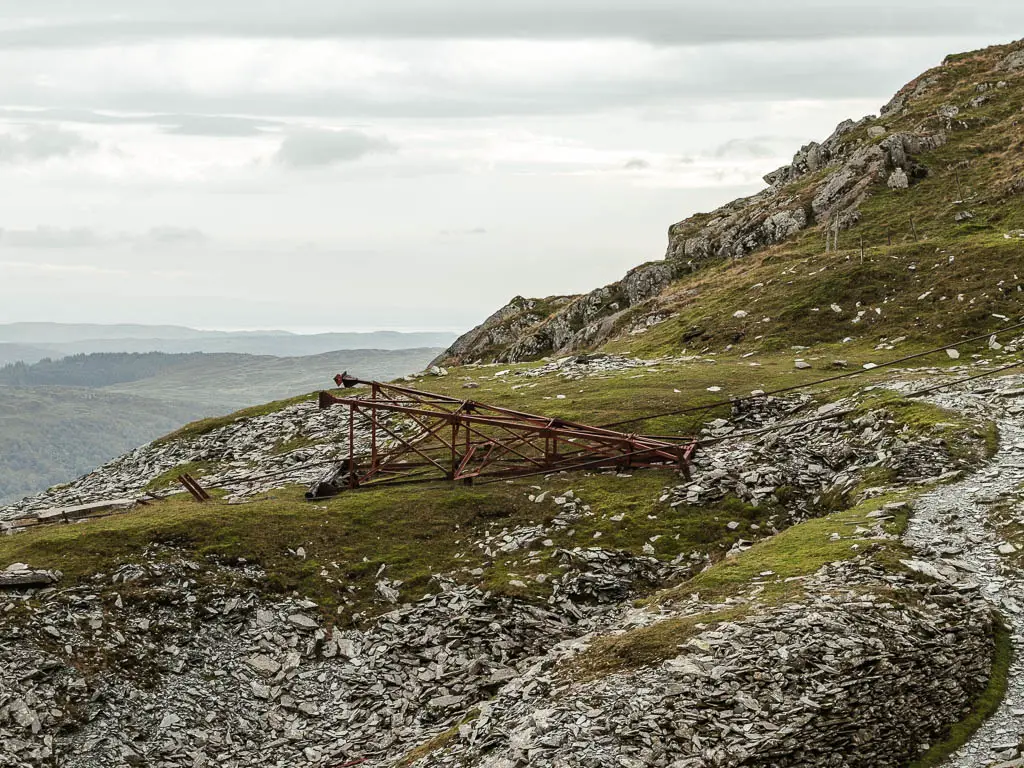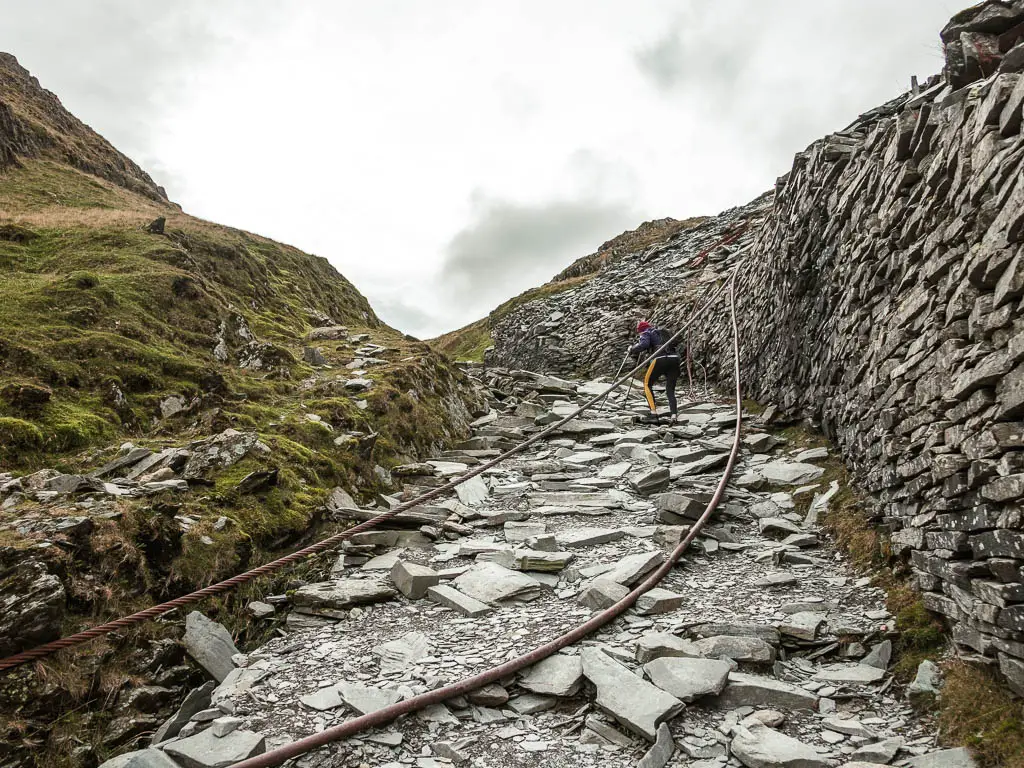 Old Man of Coniston Parking
A great start point is Walna Scar car park. It's where I started. You can pay in cash, contactless or using the RingGo App. More details of this are in the logistics and tips section below. 
There is another car park along the same road, called Coniston Old Man and Coppermine's car park, however, at the time of writing, it is closed. Looking on Google reviews, it looked like it has been closed for some time. 
Down in Coniston, you have the Old Station Car park where you can pay contactless. Bear in mind, you will have a big uphill walk from down there. 
---
Logistics for the circular Old Man of Coniston Walk via Goats Water
---
Start/Finish: Walna Scar car park
How to get there: From the village of Coniston, drive up Station road and keep going. This road is not for the faint hearted of drivers. It's very narrow, and so steep that I worried the van would topple over backwards. All I can say is, thank god know one was coming down in the other direction. The car park is at the very end of the road
Option to shorten the walk: Yes. I walked a bigger loop, but if you want something a bit shorter, from the car park, there is a very obvious trail that will take you straight up the Old Man of Coniston, which I hear is the more popular tourist route. It's the route I came down on. There are also some other trails, which I will show you when I describe the walk below.
Distance: 5.2miles circular
Time: 2h 40min (not including breaks). So allow more time. 
Elevation: Highest point roughly 800m, however, if starting from Walna Scar, then you have already driven up some of this.
Difficulty: Moderate/Challenging/technical in parts. The steep sections up and down the Old Man of Coniston are challenging, but the rest of the walk is easy.
Time of year: I did this in autumn, after lots of rain.
Dog Friendly: Some livestock about. No stiles. Lots of rock scrambling.
Amenities: There might be an ice cream van at Walna Scar car park. There is a dedicated space for it, however, the ice cream man wasn't there when I was there. Coniston Village is small, but has a Spa, CoOp, and a few food establishments. Along the Old Man of Coniston walk route, there is nothing. 
Tips for the Old Man of Coniston walk
Hiking boots definitely. You will need the grip and thick soles for all the rocks.
Windproof jacket. You will be high up, and it can get windy and very cold. 
Take snacks for energy.
If you are a nervous driver, then the route up to Walna Scar might not be for you, so you are better off starting from Coniston Village and walking up to Walna Scar.
If parking in Walna Scar car park, download and register on the RingGo App before you go. I spent too long trying to register and it not working. So I paid cash. Although, it does accept contactless as well. Parking costs £8 for the day, or £4 for 4 hours (at the time of writing).
Check the weather before heading out. For safety, I personally wouldn't do it if it's raining, due to the slippy rocks.
Old Man of Coniston circular walk route map
You can find my more detailed Old Man of Coniston route map on AllTrails.
More walking route ideas and guides near the Old Man of Coniston and in the Lake District will be at the end
---
A Guide To The Old Man Of Coniston Circular Walk via Goats Water
---
From the Walna Scar car park, you should see an obvious trail leading through the fells. This is the route straight up the Old Man of Coniston. For this walk, you take another route. See photos below.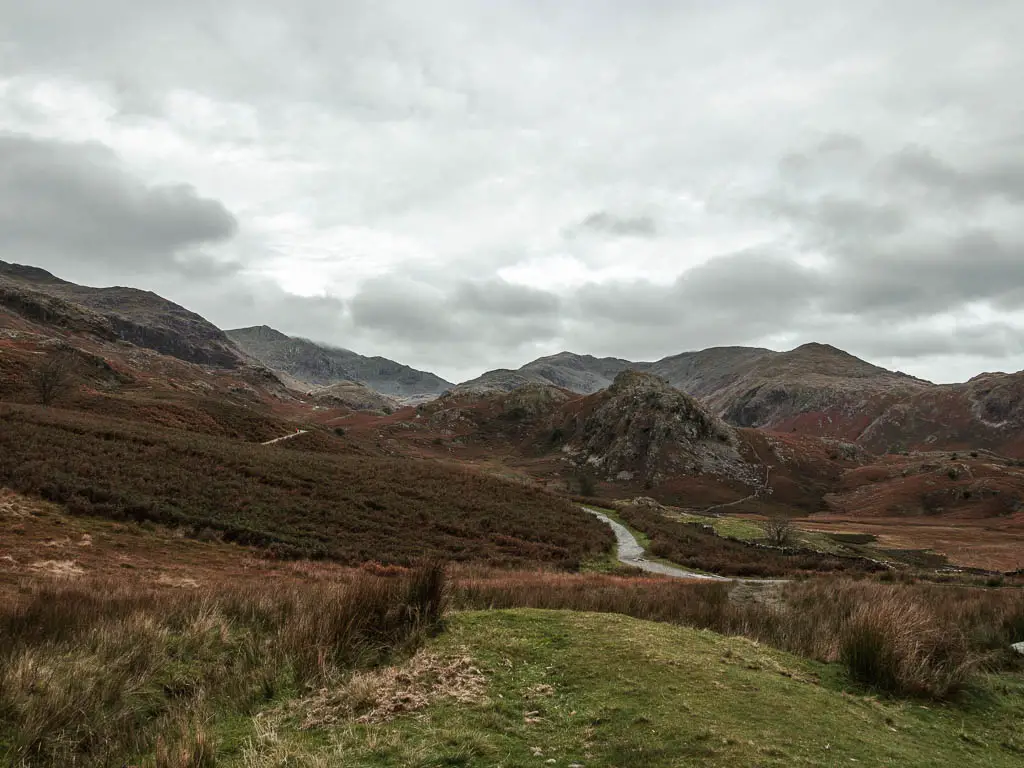 This is a gravel trail, on a gentle incline. Keep going for a while, and part way along you should see a sign on the right, pointing you to a trail to go up the Old Man. This is another way up, but again, for this walk, keep on this main trail.
You will walk through a rocky section, then a bit further along, at the junction in the third photo below, go right.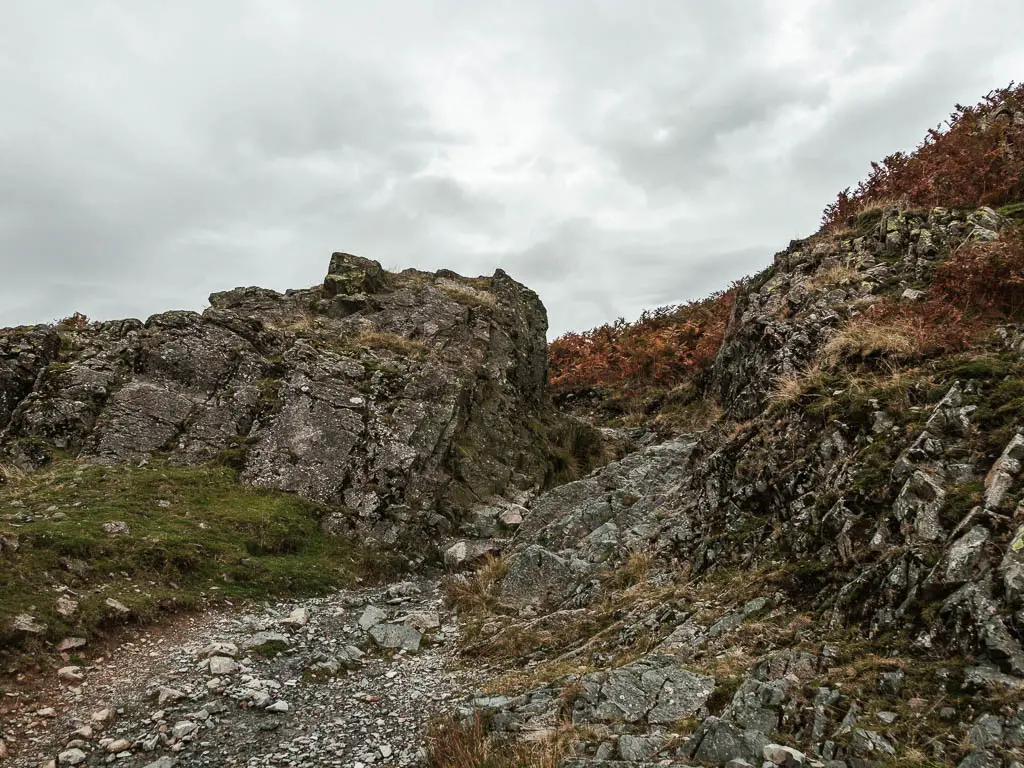 The trail will then mix up between gravel, grass, rocks, and rock slab steps. 
Goat's Water
Following the trail, you will start to see a hill ahead, and may wonder how you will be getting over it. Well, I did anyway. It's very difficult to make out the trail from here, however, it does make itself known once closer up.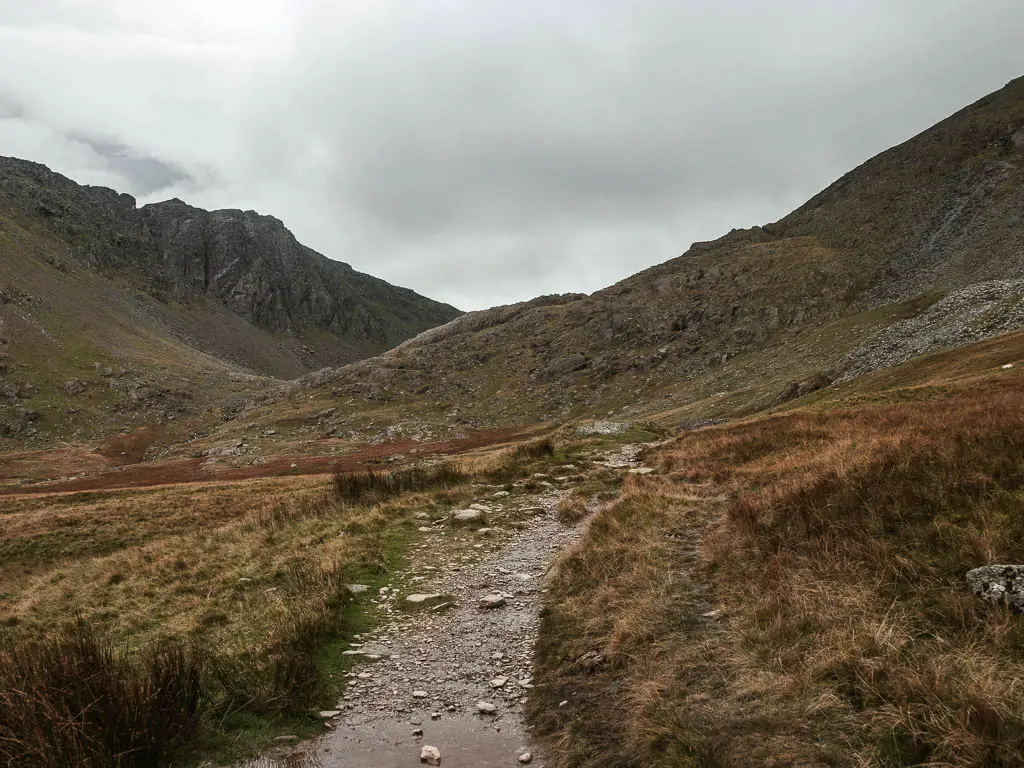 This is where things start to get rockier, and your first scramble will happen. Then once up the top, the trail levels out again…with more rocks thrown in.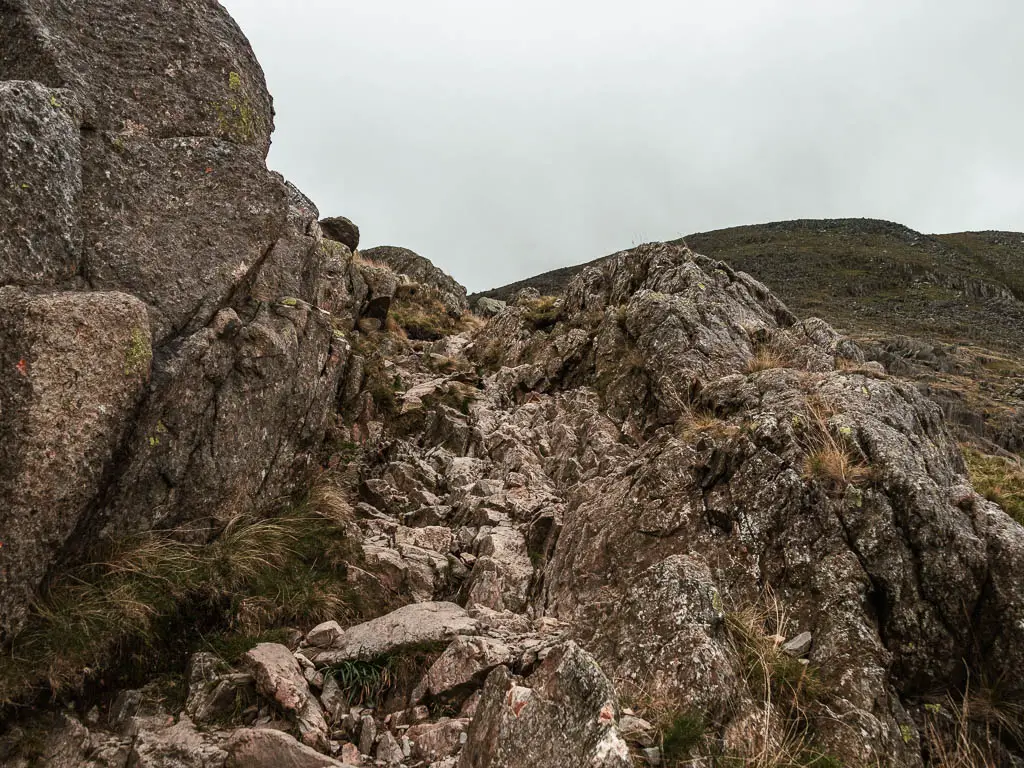 Stay on this trail, and you will start to see Goat's Water ahead.
You want to make your way right to the other side of Goat's Water, on the right side of it. At times, the trail is not obvious, and you may have to use your imagination. A lot of this part is over rocks. 
Walking passed Goat's Water, I realised I hadn't passed another sole yet on the walk. It was a moody day, with the threat of a storm looming. Down here, all alone in the valley, I did start to feel a little uneasy.
So I hurried along to try and get out of here as soon as possible.
Start to walk up to the Old Man of Coniston
Just like earlier, you will probably wonder how the hell you get out of here. With a wall of hill ahead of you. 
Once you reach the other side of Goat's Water, the trail becomes really obvious and much easier to navigate. Then it's a solid steep uphill climb. 
During the ascent, I didn't look back, as I was in a hurry to get out. Then as I neared the top, I had a peak behind me, and was almost mesmerised by what I saw. Where I had just come from.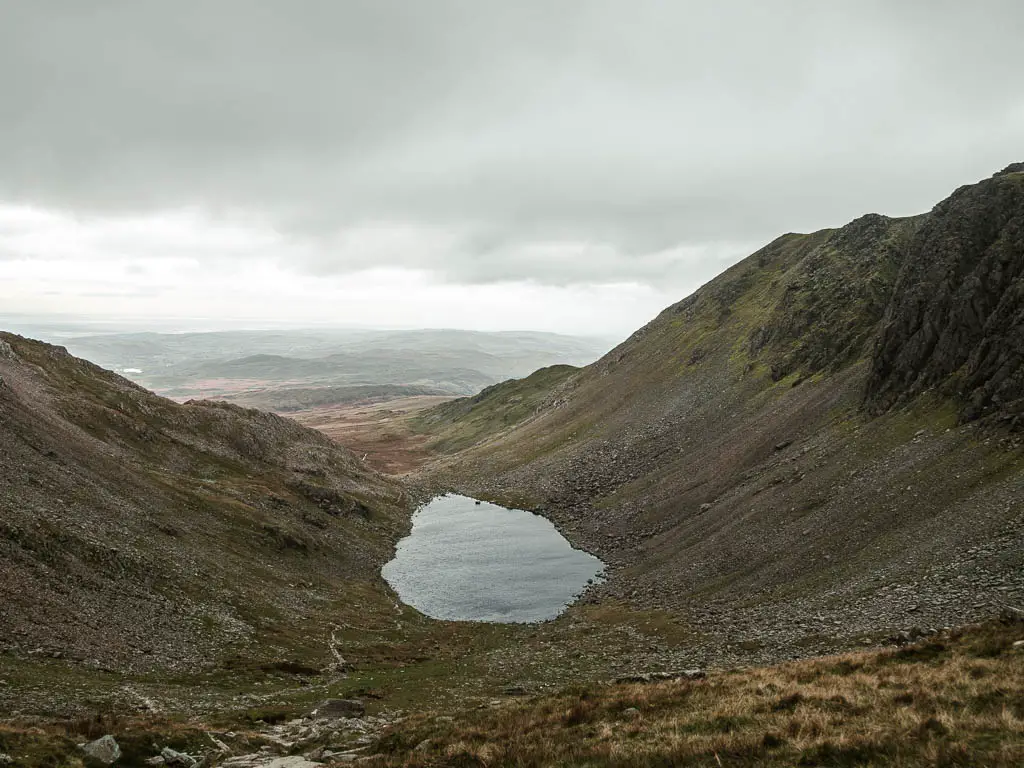 Once I reached the top, I was a little underwhelmed initially. I was expecting a big reveal of something ahead. A reward for the hard work. But what I got was just some flat section. 
Walk up a little more to reach the ridge
At the flat, turn right, then a little further along, go right again.
Now, when I say go right again, you will have to use your imagination a little. The trail is not obvious in anyway. So look out and maybe squint a little for something that looks like it might be a trail. It's almost all rocks. 
Here are photos for guidance. If you aren't sure, then just go right, and a bit further up, a more obvious trail will appear.
By the way, you will now get some great views. A pointy mountain or fell, back to the left. I'm not sure what this one is.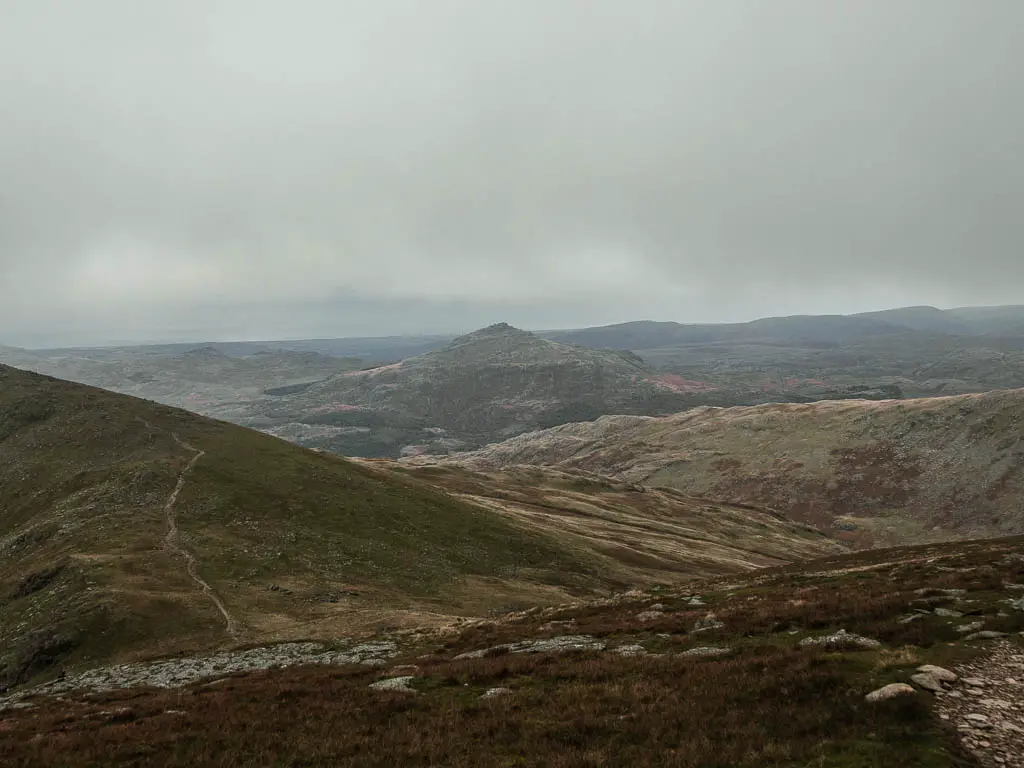 At the next junction, turn right to walk along the ridge.
Walk along the ridge to the summit of the Old Man of Coniston
As you can see from my photos, the fog and cloud had rolled in. Everything got that much colder and windier, and I could barely see ahead.
I felt all alone, and had this sense of impending doom.
Was I about to be caught in a storm? It had been stormy the night before, and another one was due later. I wondered if it had arrived early.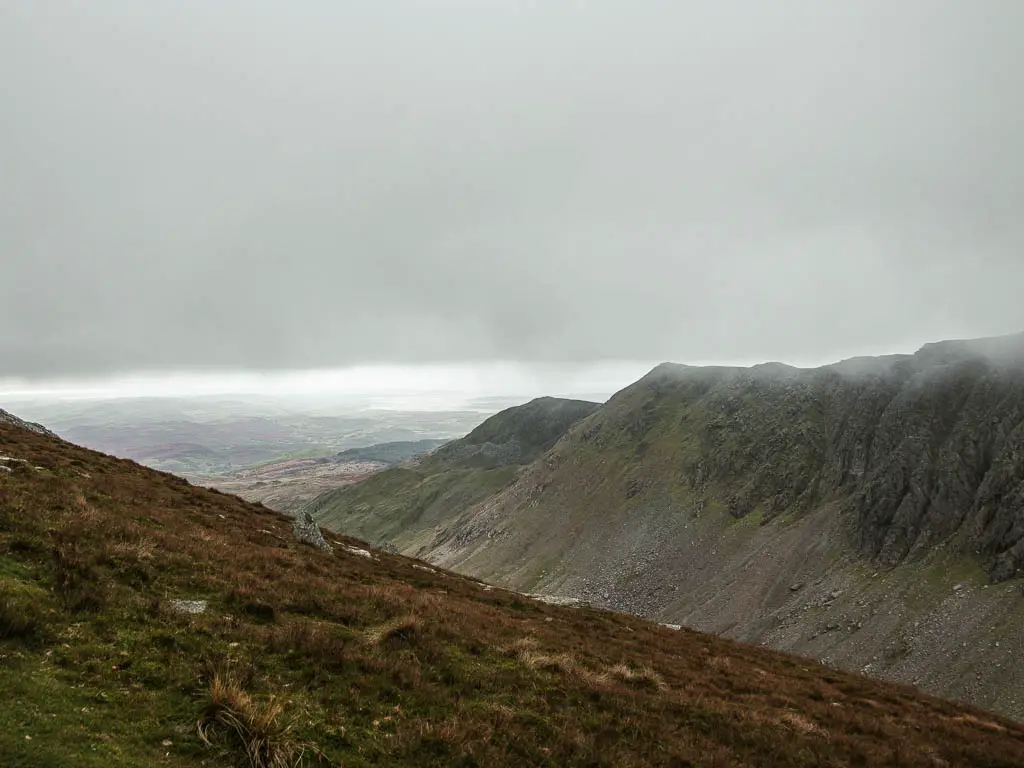 I could see some silhouettes of people the distance, walking down the hill. Like they were escaping something. Something I was heading to.
As I got nearer the summit, I could see a lot more people hanging out there. Although I usually like less people, I felt a real relief when I saw them. I no longer felt alone, and like I was heading to my doom. Or rather, we would all be doomed together. It's less scary when there are others involved.
As you can probably guess, I didn't stick around at the top. There were no views, and it was cold and windy. I was also a little bit annoyed. All that hard work for nothing. 
Walk down off the Old Man of Coniston
Good news. The rest of the walk is downhill. Bad news. It's very steep. 
To walk down, the main trail is on the other side, and to the left from where you arrived. It's very very rocky. Due to the rain from earlier, it was also very wet for my decent.
I did scoot down on my bum for some of it.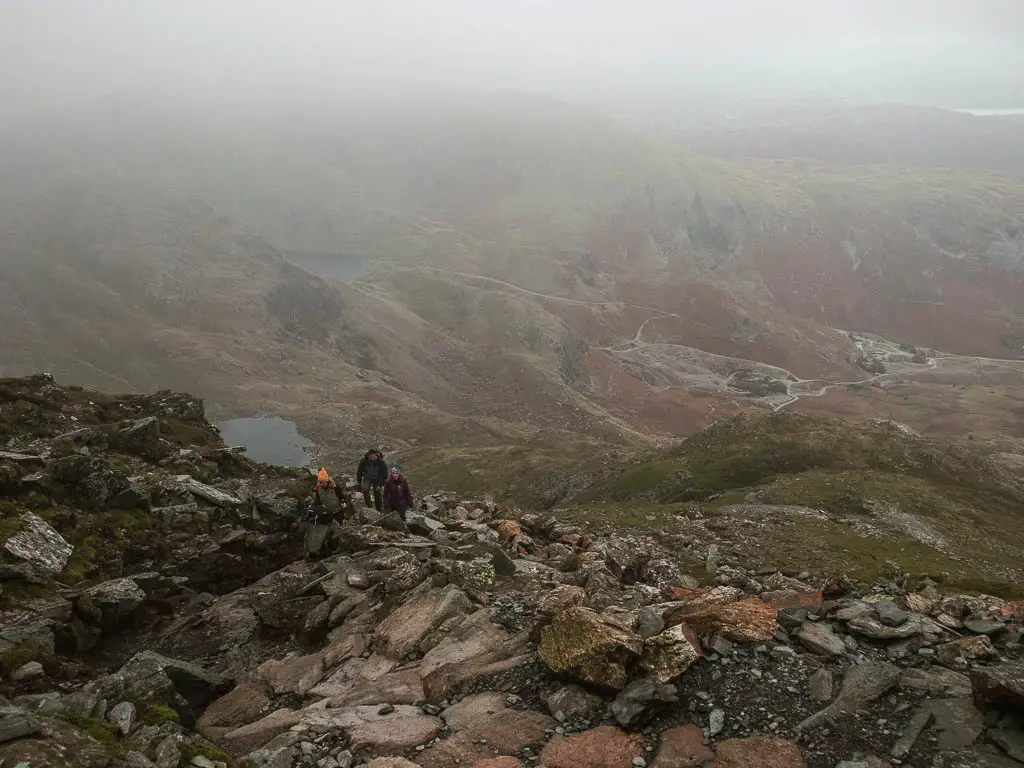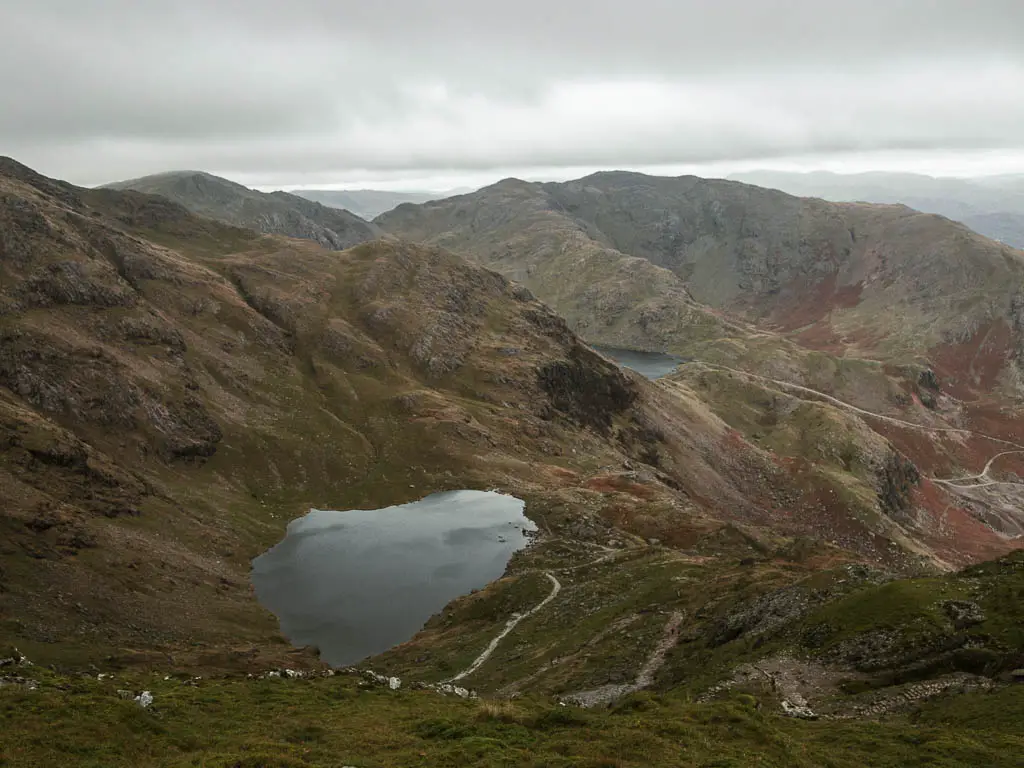 I didn't have to go down far though, before I got that magical view. The view I came here for. It was now all worth it.
The hardest part of the route down, is this first bit to reach Low Water.
Once at Low Water, I had a moment of relaxation. My first one of the walk. I looked up at where I had come from, engulfed in mist. Feeling glad it was now over.
Walk past the pylon ruins
The trail to continue, is back away from Low Water (the right turn, once you reach the bottom, with the left turn being Low Water.
You will be walking on lots of slate rock, as you continue to descend.
Not far along, you should see a fallen pylon ahead. It took me by surprise, and I was even more surprised when further down I saw I had to walk first over then under the thick cables, as I walked around the building ruins. 
Although logic told me these were not live wires, a part of me wasn't so sure. So I made sure not to make contact with them.
The final stretch
For a little while longer, you will still be walking on rocks and slate rock as you continue down hill. You should also be able to see the car park and trail leading to it from somewhere around here.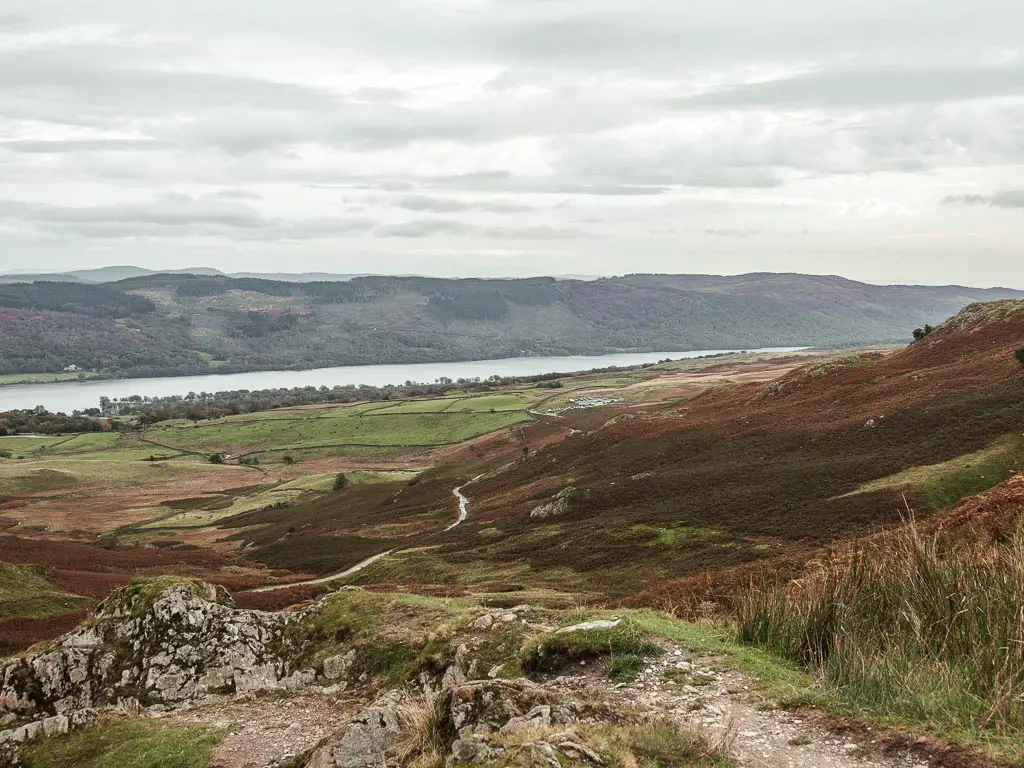 When you reach the bottom of this hill, the path levels off, and from now on, it's an easy walk back to the car park.
Make sure to follow the path when it curves to the right (as opposed to the left trail).
I started to hear the sound of water here, and noticed a little stream. It was such a beautiful sound. Not that treacherous unforgiving wind, from not so long ago.
It was at this point I realised I hadn't eaton anything. To be fair, it wasn't that long of a walk. It was definitely challenging though, and I now realised I was feeling a little weak.
I thought about stopping here for a snack, but the camper van and nice meal were calling out to me. Hot soup with pan warmed toasty bread.
I usually like my food cold, or rather, room temperature. Even soup. (Don't ask, I know it's strange). But today I needed the comfort. 
---
More walking ideas in the Lake District National Park
---
The day before, I did this walk up to Walla Crag. It's an 'easier' walk, but you do get some really impressive views down to Derwentwater and the surrounding fells. If you like views but don't want something as challenging as the Old Man of Coniston, then this will be ideal.
Another good little walk to a viewpoint is to Todd Crag. Although there is a small challenging element to it, getting to the top, it's much much shorter.
For something easy, then the Sweden Bridge and Stock Ghyll waterfall walks might suit you. Sweden Bridge does involve a long uphill, but it's a much gentler gradient.
If you want a longer walk, then you could try the Elterwater and Loughrigg Tarn route. This is an all rounder kind of walk, and mixes up between easy and challenging. It's the kind of walk that you will have a good sleep after.
For more ideas of things to do in the area, you can check out the Visit Lake District website.
Pin it for later: Old Man Of Coniston Walk Guide