This 2.6 mile circular walk from Ambleside takes you up one big hill (Todd Crag) to give you a stunning view of Lake Windermere, and then the village of Ambleside as you make your descent.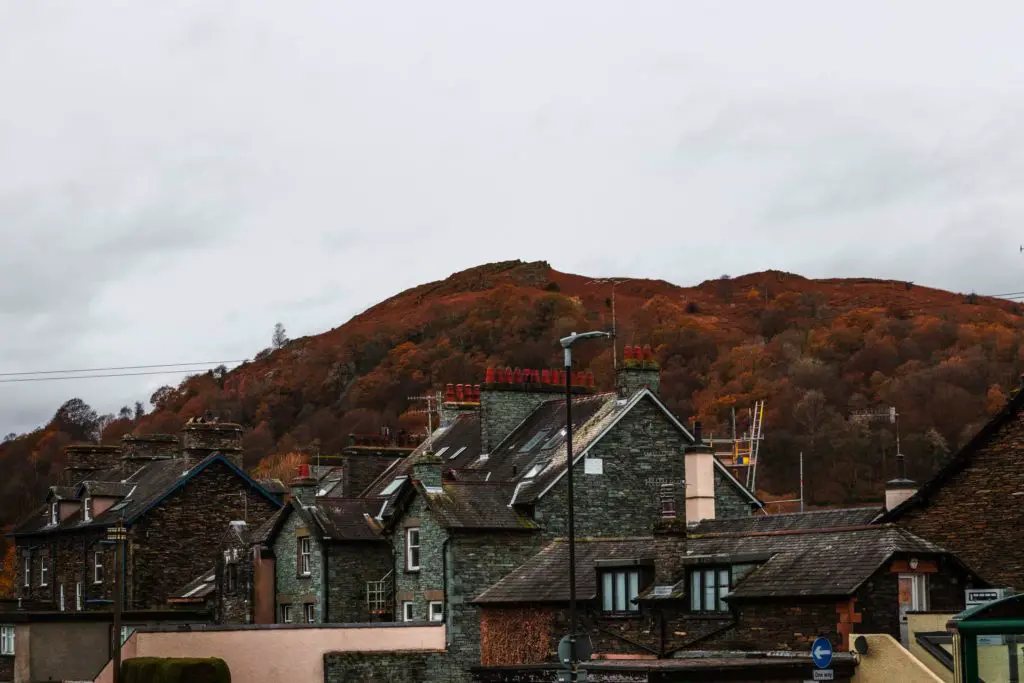 In the Lake District, you have plenty of big challenging hikes. Hikes that take the whole day and up the highest peaks. Now, this is the kind of stuff I love but I'm aware that this isn't for everyone. It can seem a bit daunting when maybe you don't hike very often, or maybe you are on your own and worry about safety. Maybe you just don't want to give a whole day to hiking, but rather want to enjoy other things the area has to offer.
That's what makes this little hike perfect. It's pretty short, challenging but not too challenging, and still gives you insane views.
Logistics for the Todd Crag walk
Start: Ambleside
Finish: Ambleside
Distance: 2.6 miles
Elevation: Total elevation 676 ft (206m)
Time: 1.5 hours (with photo stops)
Terrain: Dirt trails, grass trails, rocks, marsh, mud and road.
Difficulty: Medium
Tips: Good waterproof trail shoes or hiking boots.
Todd Crag walk Map
You can find my more detailed trail route on AllTrails.
-More local walking ideas will be at the end-
How to walk up Todd Crag from Ambleside 
This walk starts at the River Rothay. If you look at a map of Ambleside, you will see the river to the left of it. Basically, wherever you are in Ambleside, just head to the river and follow it down until you find a crossing. 
A nice way would be to walk through Rothay Park and meet the river on the other side of it. If you follow my map, you will see I started a little further south from the park, the reason being was because I was coming from Cotswold Outdoor….
A little story that nearly ended my walk up Todd Crag before it began…
That morning, I had put my hiking boots on and holy balls, I nearly cried out in pain. Now let's go back a little. The previous week I had been hiking in Dorset. I had worn my hiking boots for the first time in a while, and also (not on purpose) found myself walking on road for about 10 miles wearing them (that's a story for another day). This was to trigger the beginnings of an Achilles tendinitis. At first, I developed stiffness, which gradually led to pain AND a lump on the tendon. A very painful lump.
Now, it did hurt to walk, and I may have been limping a little, but I already had my Lake District trip booked, so my tendon was not going to stop me.
When I put those hiking boots back on, this was the first time I was wearing a shoe which touched that lump. 
Oh the pain. 
So my first stop in the lakes was to Cotswold Outdoor to try on all the trail shoes to find one pair which didn't touch the lump. 
Turns out there really was only one pair which didn't touch the lump, so they would be mine regardless of the cost. 
So, with my new trail shoes I headed off on this hike, a little south of the centre of Ambleside.
Clappersgate
After crossing over the river, and making a left turn, walk towards Clappersgate. You will be walking next to a road for a little bit, but not for too long so don't worry. There will be a turning on the right somewhere. It's very easily missable, so keep an eye out for it. It's basically just after a telephone box.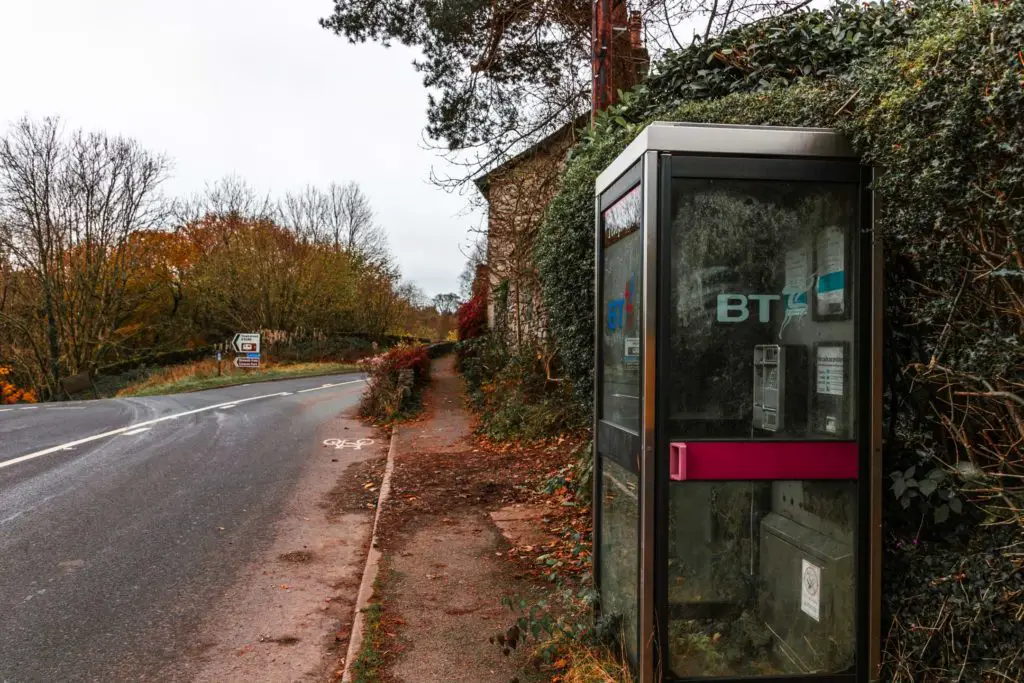 I actually missed the turning and had to double back to find it. This is where my first deja vu occurred. 
I have actually done this same walk before, a few years earlier. And yes, I also missed the turning that time.
The start of the walk up Todd Crag
Once you find it, you can leave the road behind and follow the trail uphill. It's a narrow and steep section of trail, going between homes, hedges, and under tree cover. The trail makes a few turns, then when you reach the wall, follow it around to the left.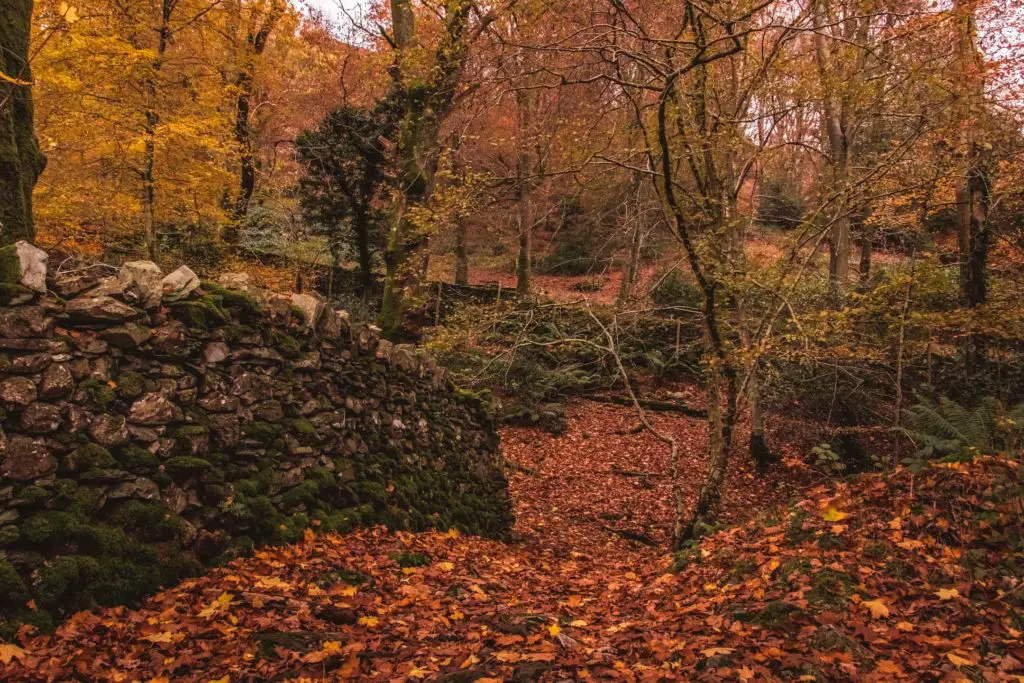 Be careful of slippage, as this part can be a little wet with the water trickling down the rocks. 
The first views of Lake Windermere 
As you leave the tree cover, keep going up just a little further to the strategically placed bench and your first great views of Lake Windermere.
From here you also get a view of the castle to the right of the lake. This will be your view for the rest of the way up. As you continue up, it will be tempting to stop at every moment to have a look, but don't worry, the view doesn't go anywhere and it only gets better the higher you go.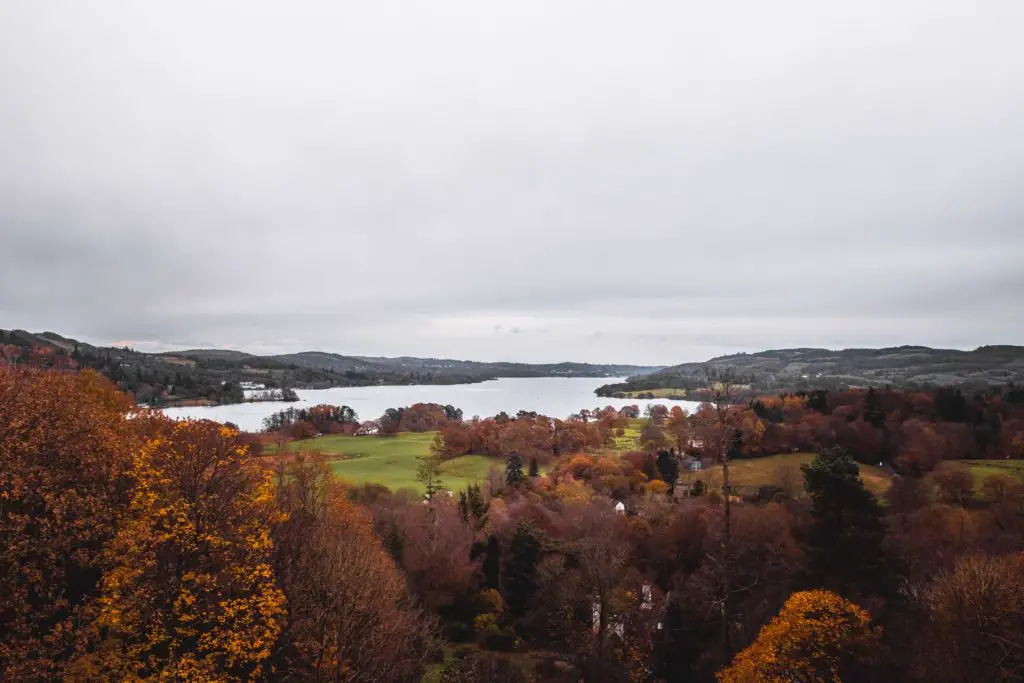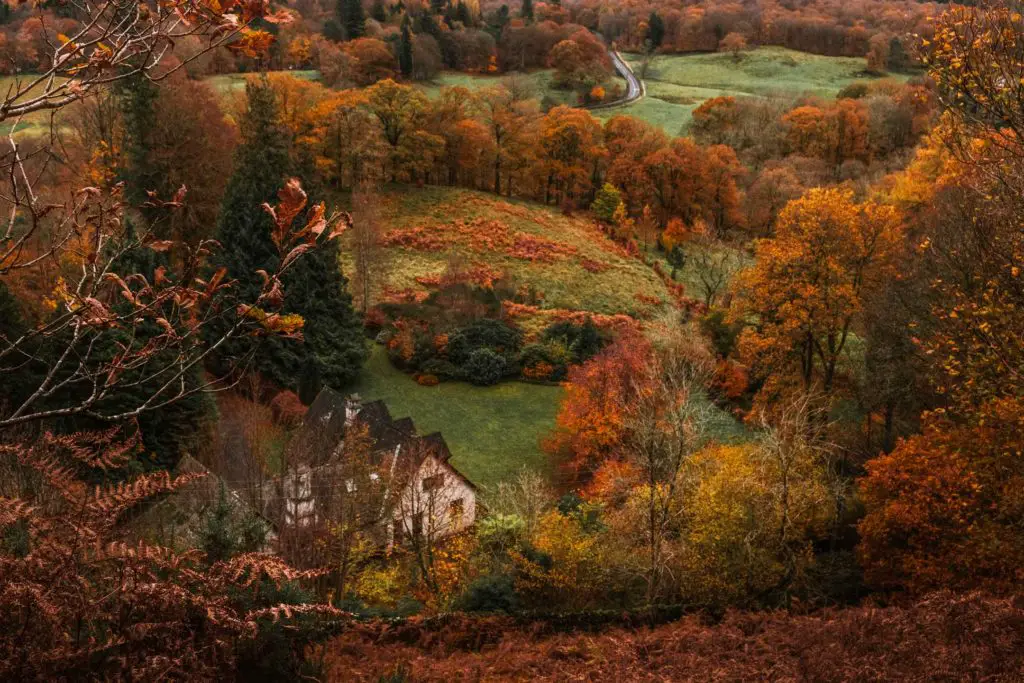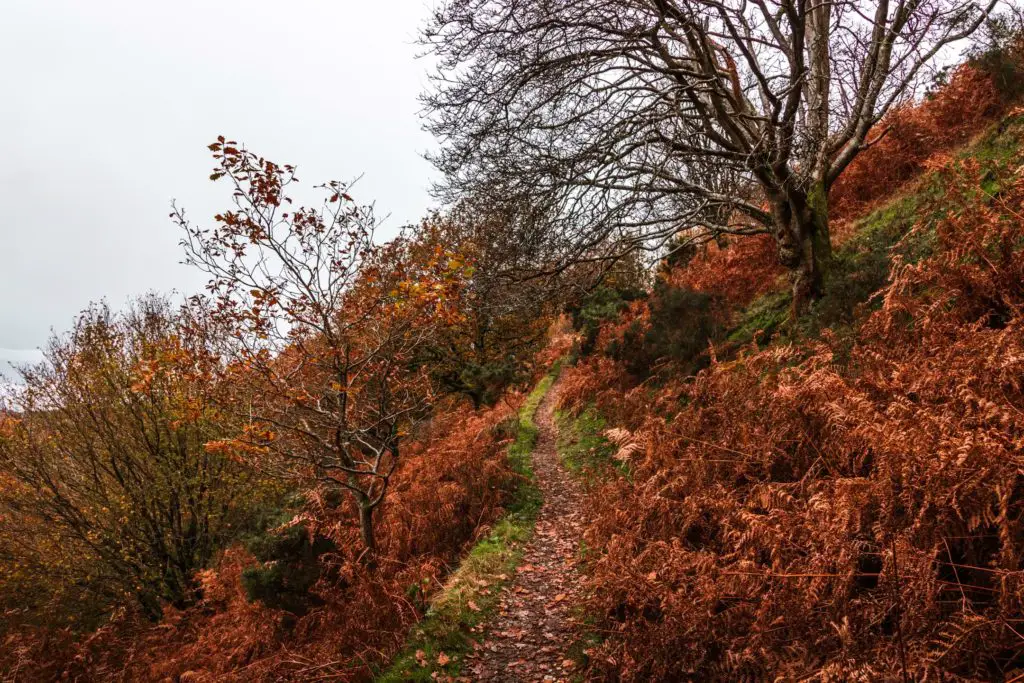 At some point you will reach a junction. Straight ahead is a gate, but you don't go that way. Instead, take the trail to the right.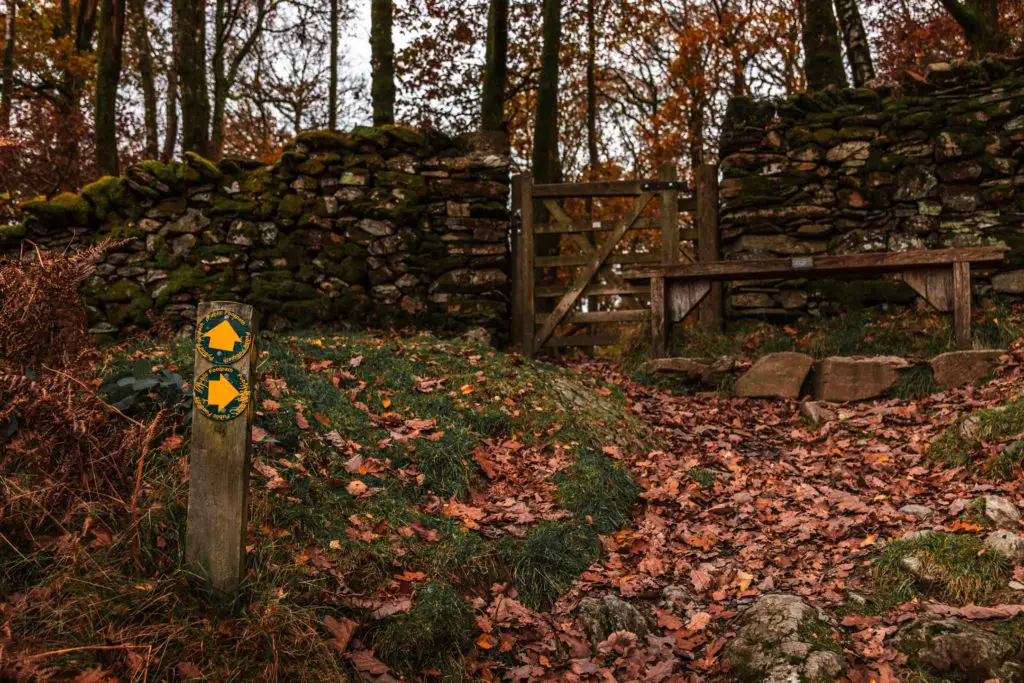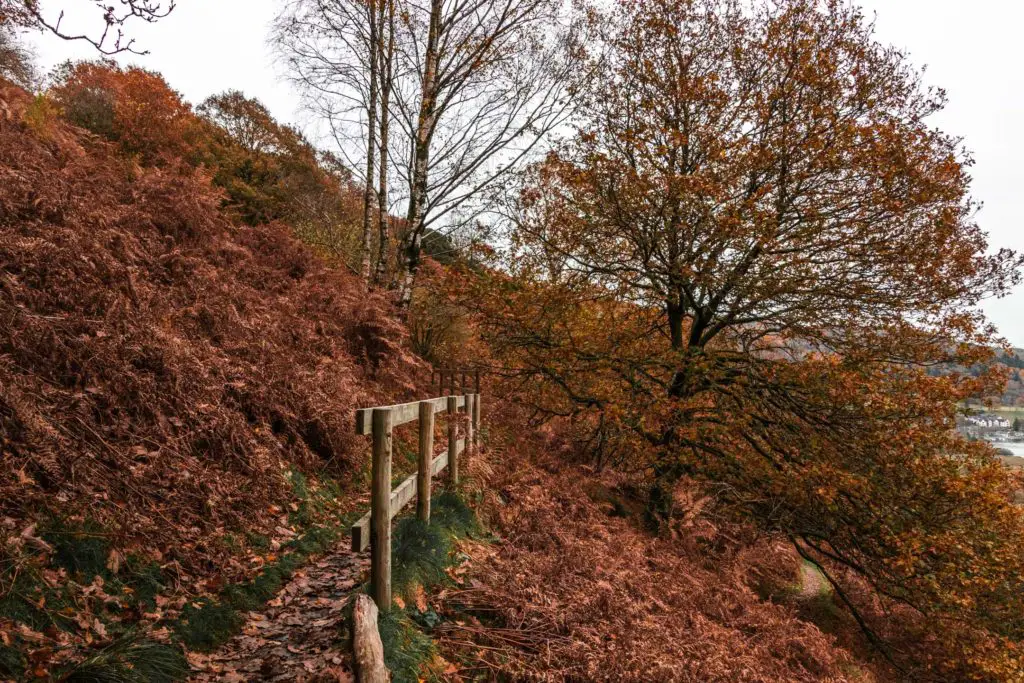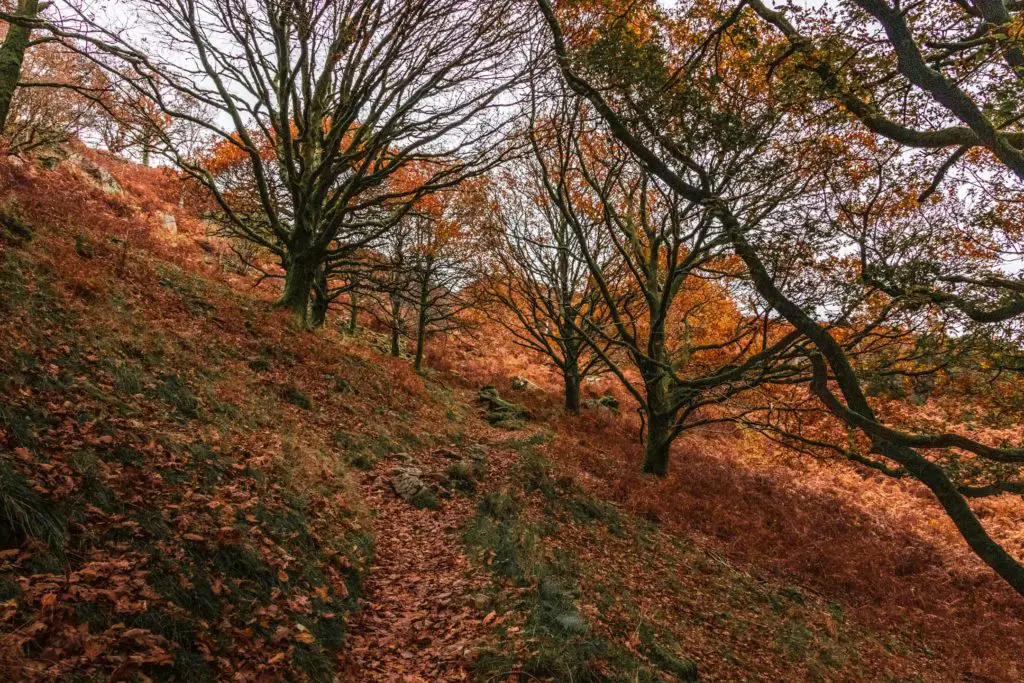 At the next junction, take the right turn to reach a levelling out where you can really admire the views and be proud of yourself for reaching the (almost) top.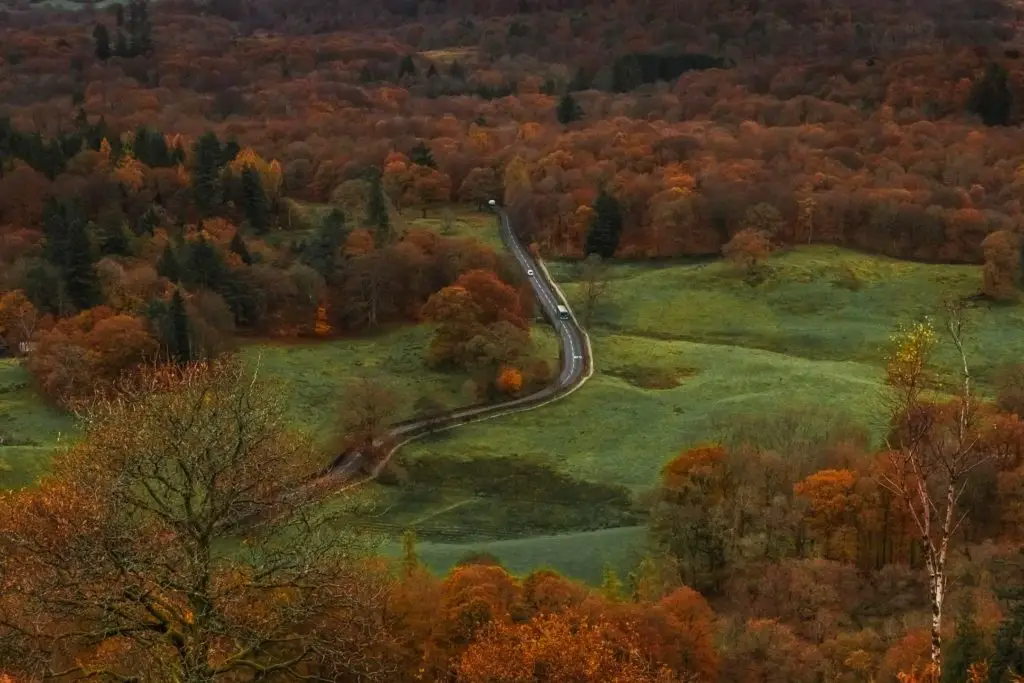 Reaching the top of Todd Crag
The next little bit involves a bit of a scramble up rocks. You don't have to do this bit, you can just take the trail going around it to the left, but if you want a little adventure and to be able to say you officially reached the top, then I say do it.
The little peak you will see just next to you, this is it. Head to it, and you will see where the trail takes you up it. Be careful here, as it can be quite slippy if wet.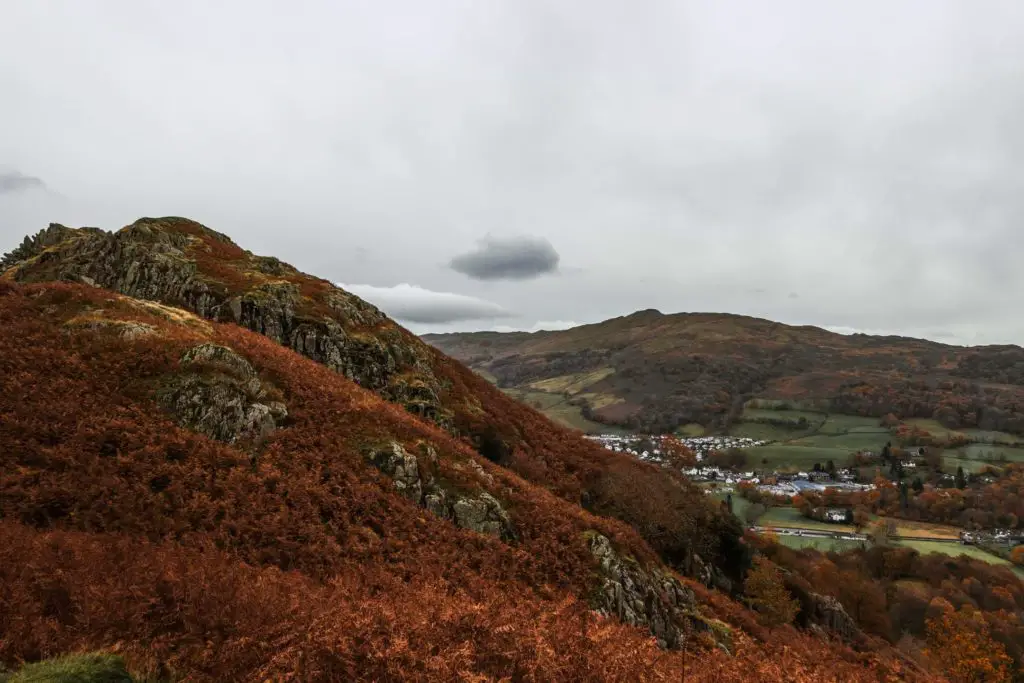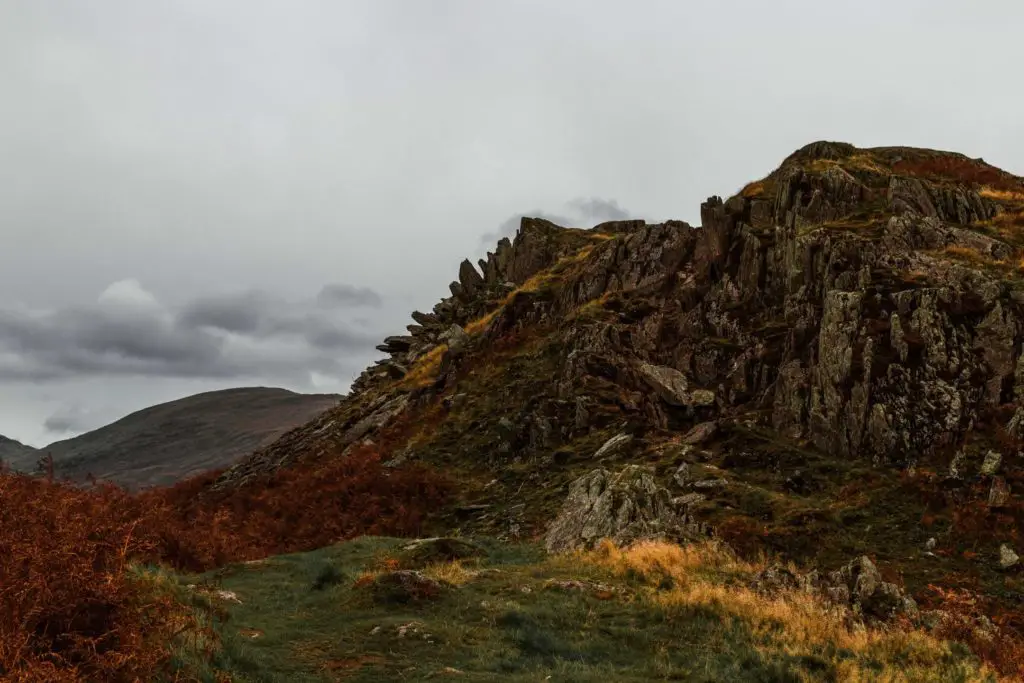 Once scrambled up, bear round to the right through an opening for more views of Windermere and the cluster of white building of Ambleside to the left. 
Well done, you have now made it to the top of Todd Crag.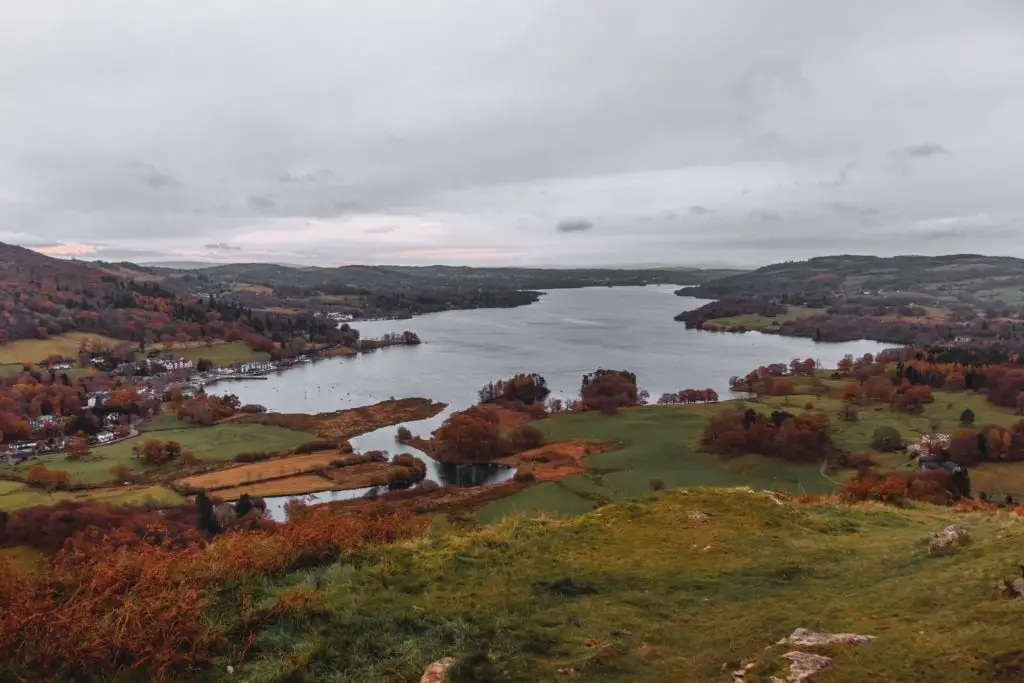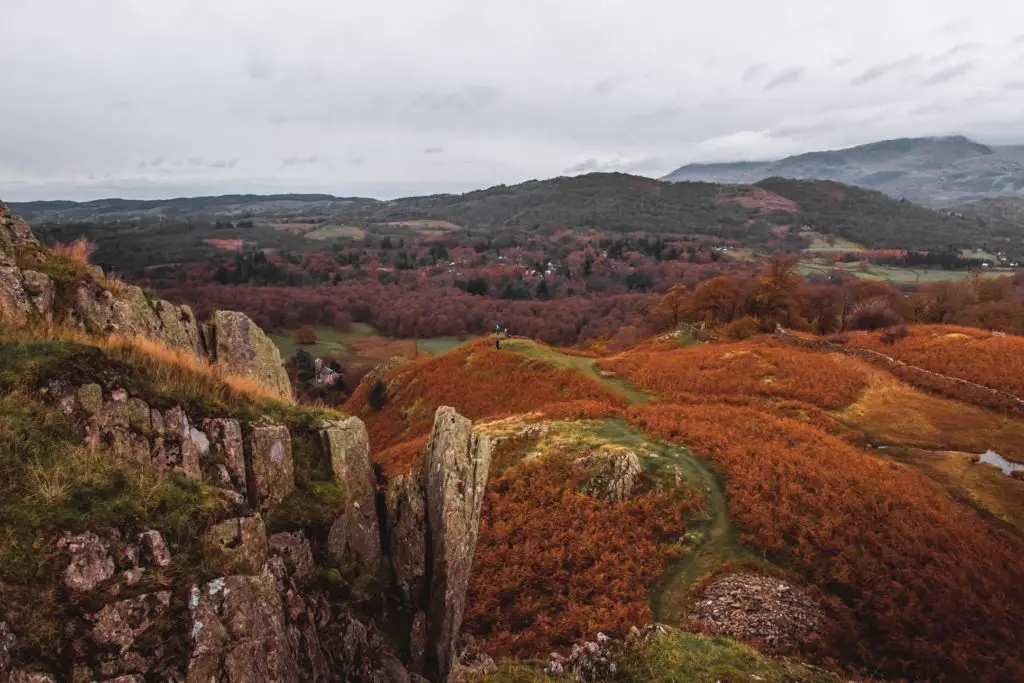 Because of the way the rocks form a funnel, the wind can be quite aggressive. I have dug out a video that I took when I was here a few years ago.
When you are ready to leave, you will see a number of different trails. Basically take the one which leads in the direction of Ambleside. Don't worry if you get confused. Some of them lead to the same place, and you can follow my map if you need some guidance. 
Descending off Todd Crag
When you hit the wall, follow it to the right and you will find the rock steps sticking out of it. Climb up these steps over to the other side of the wall and take a right. This is the start of your walk down off Todd Crag.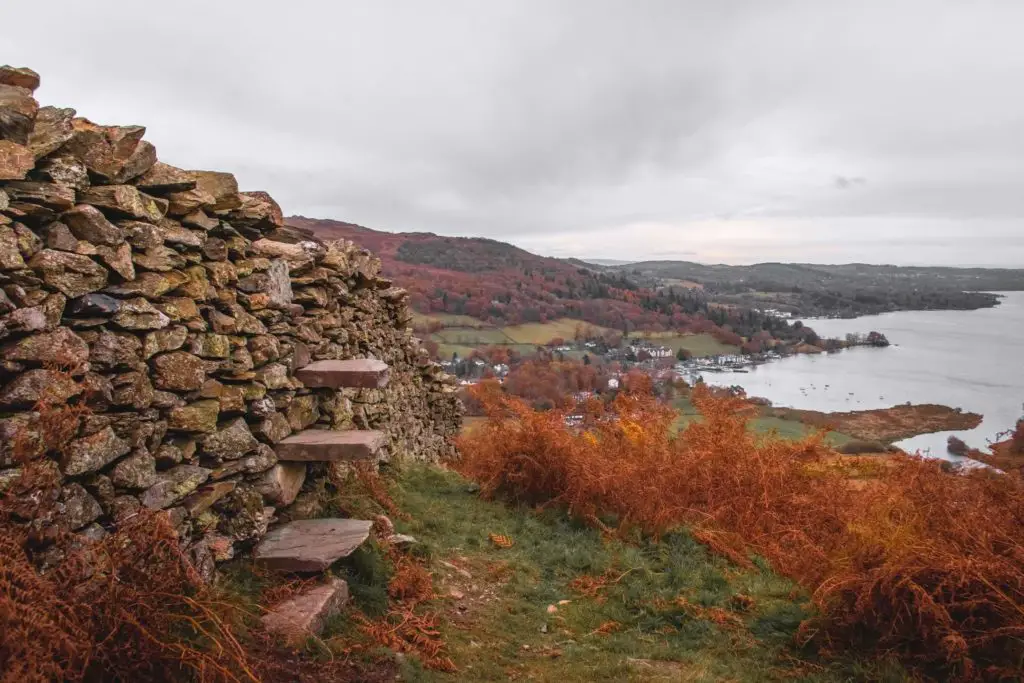 Follow the trail downhill as it hugs the wall, then left as it leaves the wall. There will be a few more trail splits, so just take the ones which head in the direction of down. 
The further down you go, the steeper it gets. I'm not sure if it's because of the time of year I was here or if this is an all the time thing, but the way down was a bit wet, muddy and little bit marshy at times. I was very happy that those new shoes I had just bought were waterproof.
At the bottom you will hit another wall. It seems like a dead end, but don't you worry. It's not. Walk to the left of it to find the trail which then hugs the side of the wall for a bit.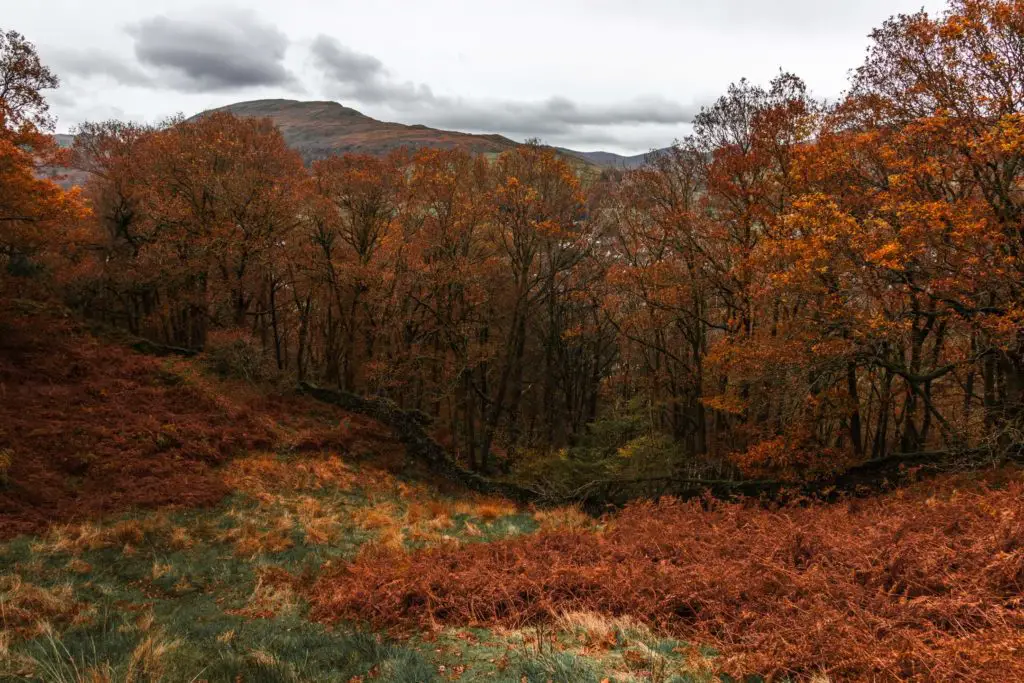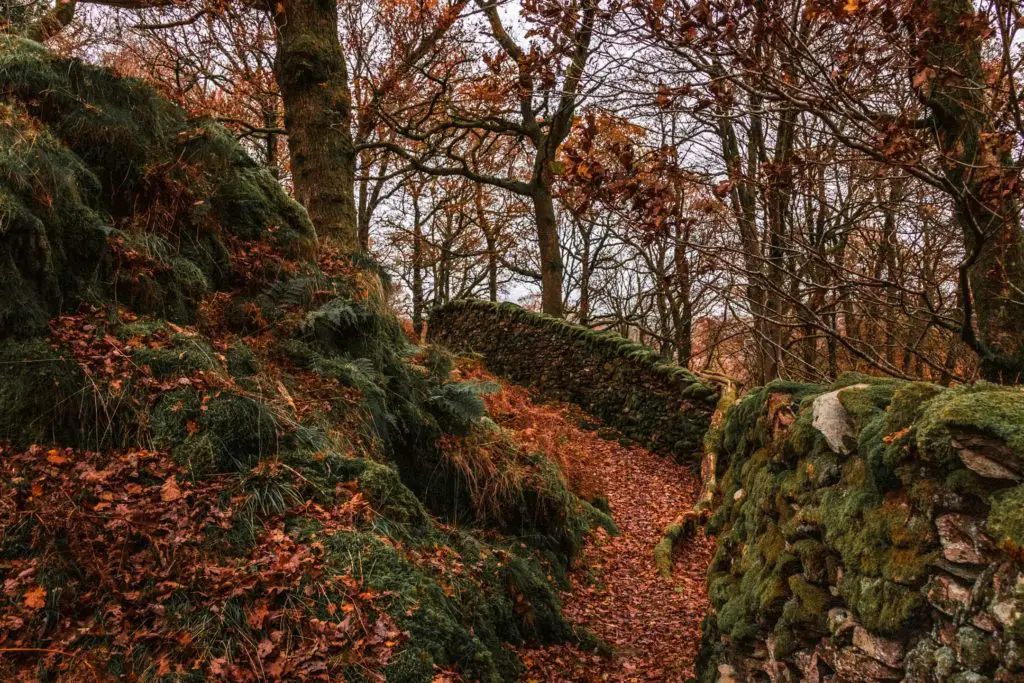 You will reach another point where the trail splits. Left goes uphill, right goes through a gate and over a mini bridge. 
For this hike, you have no more uphill, so go and take that bridge over the river.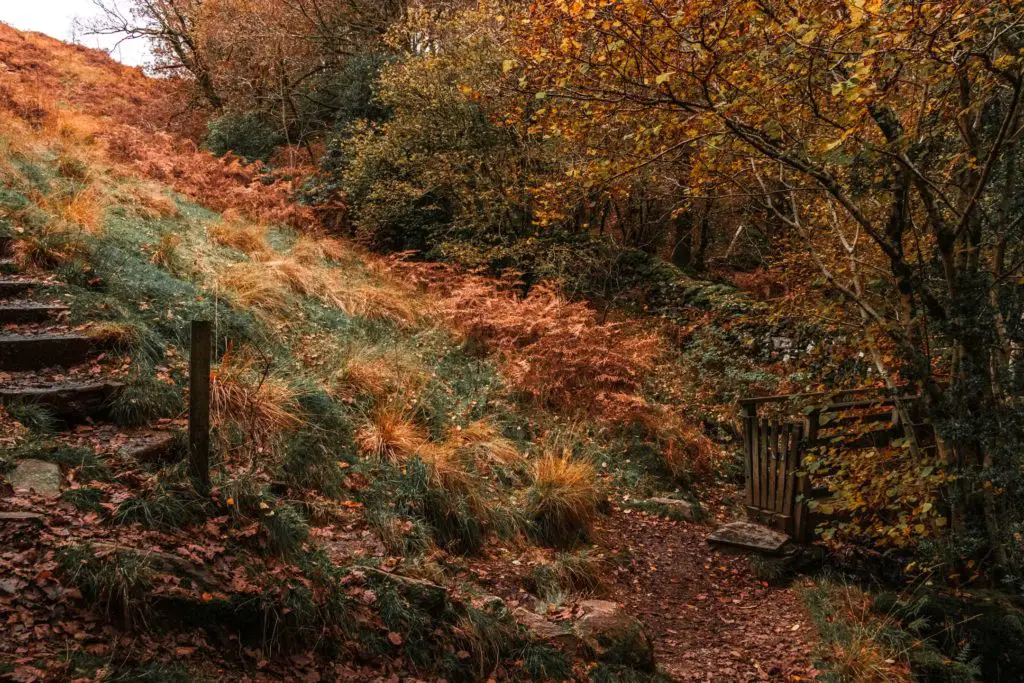 A bit further along, the trail will end and you will find yourself on a road. Turn right and right again, and continue on downhill. 
Reaching Ambleside 
At the T-junction, take a right and you will see a bridge just ahead to the left. Go over this bridge and continue straight and through the park to reach Ambleside town centre.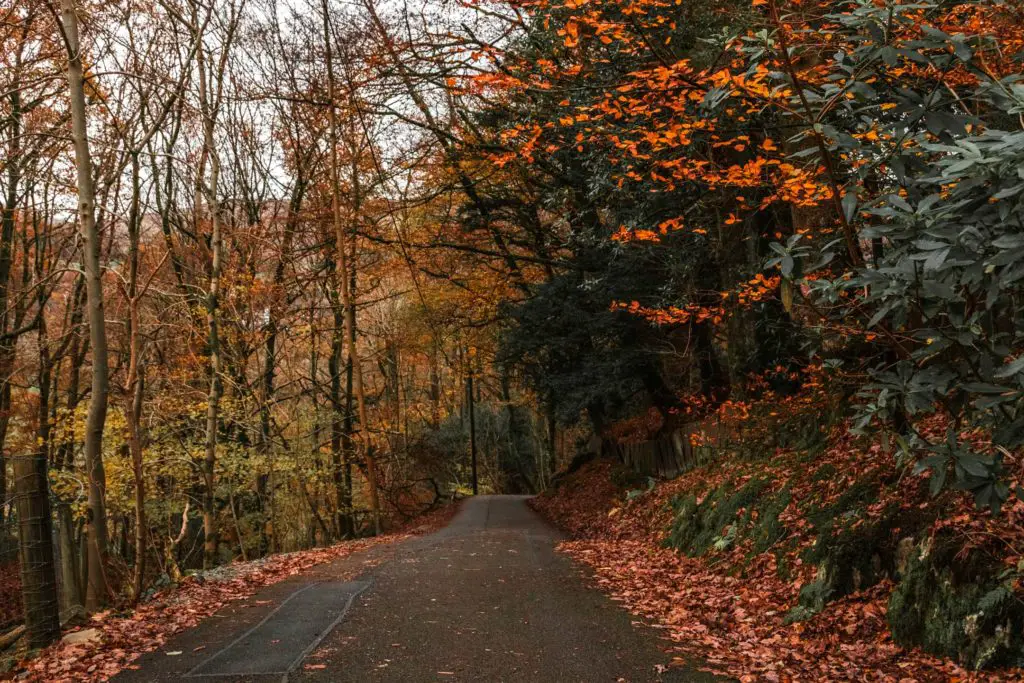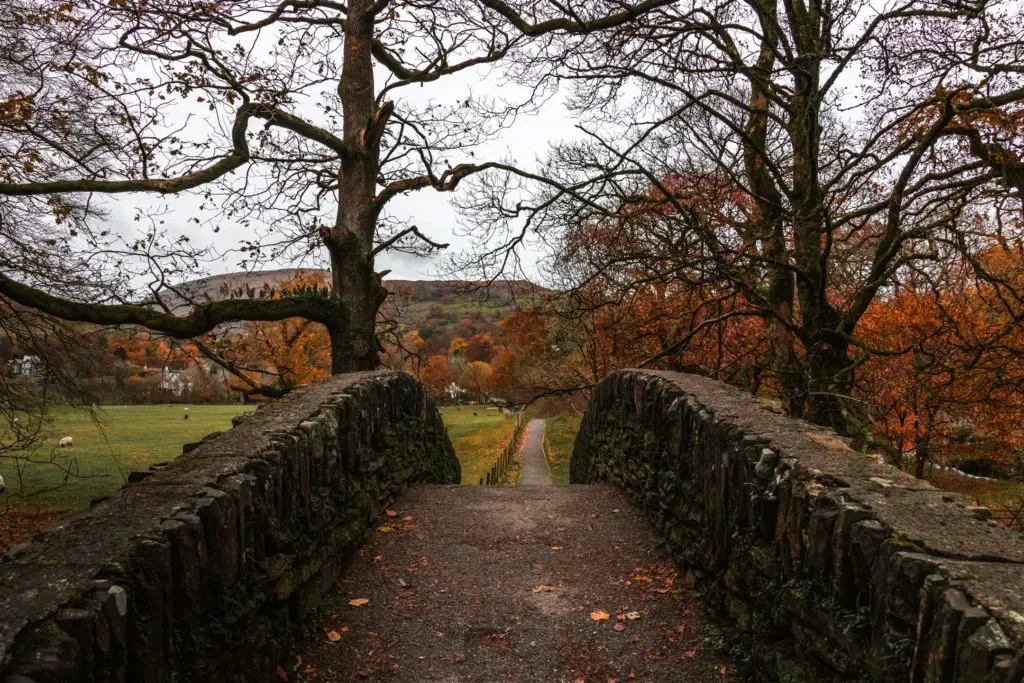 Well done. You have now completed your walk up Todd Crag. Now you can go find a nice little cafe for some cake and have the rest of the day to explore.
More walks in the Lake District
There is an abundance of trails in the Lake District. If you would like something a bit longer and more challenging, then you could follow the trail I did after this one, also a circular walk, taking you from Ambleside to Elterwater and Loughrigg Tarn.
For some more walking ideas and guidance, you can find that on the Lake District Government website.
I will be going back to the Lake District imminently. I'm literally watching the weather and waiting for the rain to stop…..I have been waiting for 1 month now.
It's been raining everyday.
Update: 2020 happened. I did make it back during the brief bit of freedom we had, and I have a couple of cute short walks for you.
Ambleside to Sweden Bridge circular – A 3 mile walk up a big hill to an ancient Bridge (I loved this one. Highly recommend).
Ambleside Waterfall walk – A bit more touristy, but it's very short and easy. Good if you are feeling a bit lazy.
Other walks I have done since:
Walla Crag circular – This one reminds me a little of Todds Crag. Its not that long, but you go up a steep hill for great views.
Old Man of Coniston – This is a goody. It's much more challenging, but the views are insane (if you aren't engulfed in fog and mist)
Rydal Water and Cave Circular walk – A nice slightly rugged but easy walk local to Ambleside.
Pin it for Later: