The walk from Herne Bay to Margate via Reculver is 12 miles in length, mostly on concrete. Don't be put off by this though, as it's a lot more scenic than it sounds. I was actually pleasantly surprised by this walk. Maybe in part because I went into it with low expectations, based on what I had read about it. If your expectations are low then you can only be impressed right? It could also be in part because it was the first sunny weekend day we have had in over a month and that in itself makes everything great. Or maybe because it was the first coastline walk I have done in over 3 months. Coastlines are my favourite, so it felt so good to be back again. 
What is the walk from Herne Bay to Margate like?
Ok, yes a lot of it is on concrete, but there are some grassy bits. If you time it for when the tide is out, you can walk some parts on the sand, which will be wet and hard, so not difficult at all. 
There are some lovely cliffs on the walk. OK, not those grand cliffs like you would see on the south coast, but still lovely. You have shingle beaches AND sandy beaches, lots of colourful beach huts, and shabby beach huts. Views out to sea off the wind farms, and most likely, some big ships.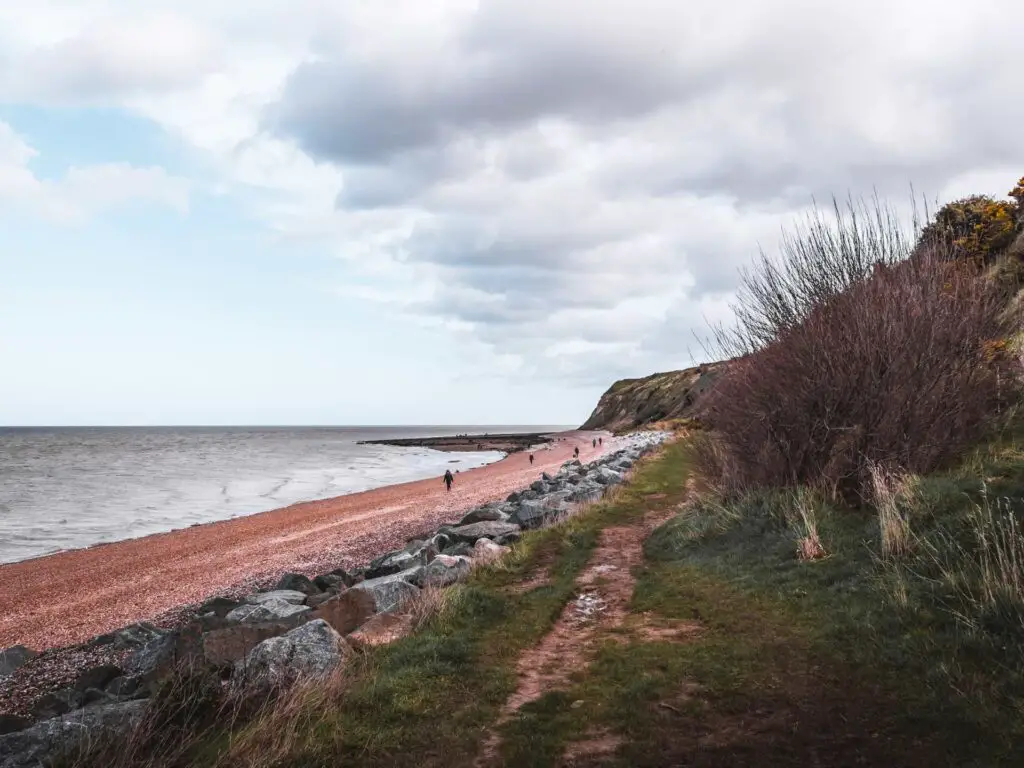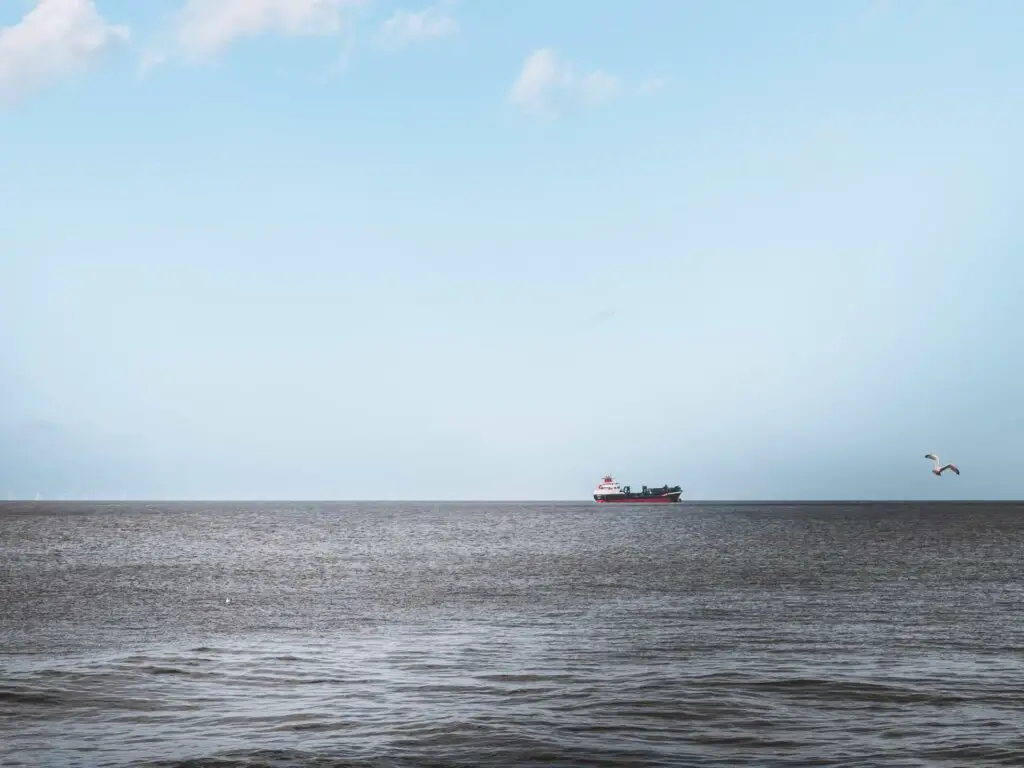 There will be other people walking this trail, but not too many, and most of them are with their dogs. I saw a LOT of dogs on this walk.
And of course, you have the Reculver Towers and Roman fort.
Logistics for the walk from Herne Bay to Margate
Start: Herne Bay
Finish: Margate
How to get there (train): Direct trains run from London St Pancras and London Victoria. Times vary from 1.5 hours and just under 2 hours depending on the route and day of the week. This route can be quite confusing as there are a few options for tickets which each have their own restrictions.
How to get there (car): If you are coming from London, make your way to the A2 (located south east). Follow that onto the M2 which then leads onto the A299. This takes you right past Herne Bay. I haven't driven this way, but there should be signs directing you into Herne Bay.
Distance: 12 miles. 
Time: 3h 50min
Options to shorten the walk: Once you have reached Reculver, you can turn back to Herne Bay making this a 7 mile circular walk. There is a train station at Birchington on Sea, 8 miles in. There is also one at Westgate-on-Sea, 10 miles in, however, if you have walked this far, you might as well keep going.
Difficulty: Easy (but could be a medium just due to the length)
Terrain: Concrete, shingle, sand, grass and possibly a bit of mud.
Map for the walk from Herne Bay to Margate
(Click on the box in the top right corner to open in your google maps)
More Kent coastline walk ideas will be at the end
How to get from London Herne Bay/Margate by train
Herne Bay and Margate are on the same train line, 2 stations apart. There are two approaches from London. One from the west and one from the south. The south approach goes through Margate first. The west approach goes through Herne Bay first.
From London Victoria: The London Victoria line runs through Herne Bay first, so you would need to buy a return ticket to Margate, then jump off a few stops earlier. If traveling from Victoria, you can only get on the Victoria train when coming back. Journey time 1h45min
From St Pancras west approach: Travels through Herne Bay first, so you would need to buy a return to Margate and jump off a few stops earlier. To return, you can only get on the train which travels via Herne Bay. Journey time 1h34min
From St Pancras south approach: Most flexible as you can return on any train. Also the most expensive. Travels through Margate first so you would need to buy a return to Herne Bay*. Journey time 1h50min. 
*If you buy this ticket, you can actually get on the faster train out (see west approach above), but having the return gives you flexibility to come back on either route. This is important because sometimes you might have to wait a while for your valid train to come. If you want to do this, then instead, buy a return to Margate (for this route which goes through Margate first). Get on the faster train which goes through Herne Bay first. That way your ticket will cover you to return on any train from Margate. 
VERY IMPORTANT: If you enter 'origin St Pancras' and 'destination Margate' it will also show you a fast train which terminates at Margate without going to Herne Bay. Be careful not to book this one.
Hope I haven't confused you too much….I'm a little confuse reading this. 
How To Walk From Herne Bay To Margate Via Reculver
Once you arrive at Herne Bay station, take a right and follow the road straight until you hit the coast. It is a little bit of a walk, roughly 10 minutes. At the coast, you will see the pier up ahead to the left. Here you go right and it's pretty much straight along the coastline for the rest of the walk from Herne Bay to Margate.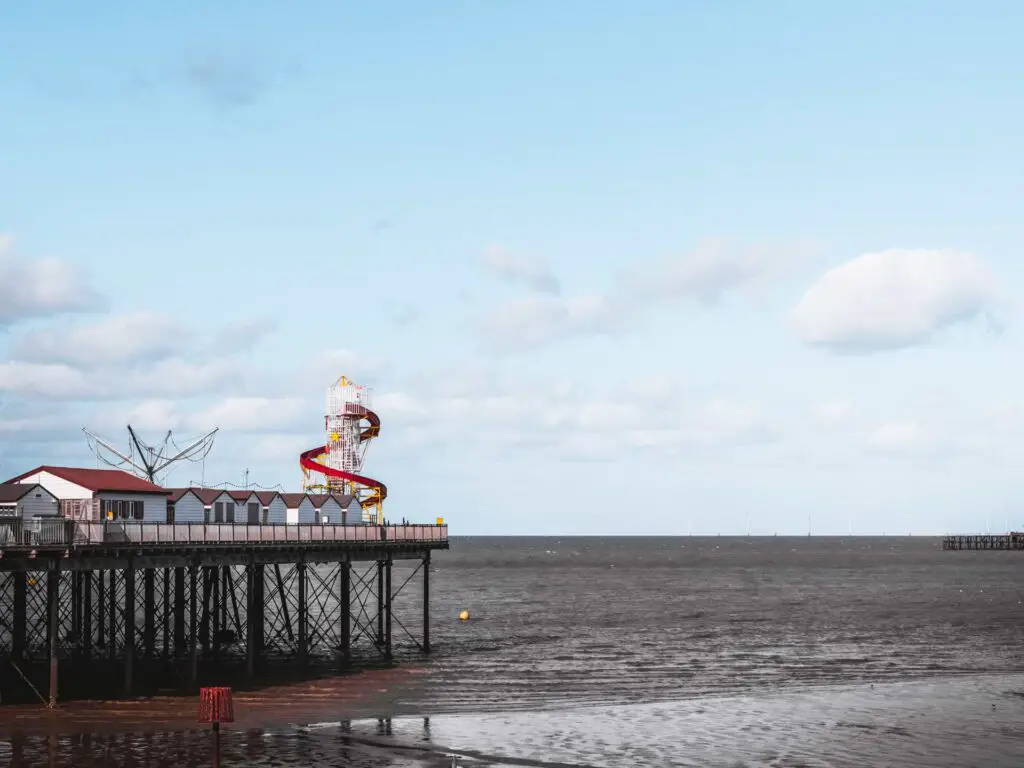 The first thing I noticed when I arrived at the coast was how busy it was. The last time I was here when I walked from Whitstable to Herne Bay, it was a lot less crowded. I suspect it had something to do with the fact that this is the first weekend day it hadn't rained in over a month. Of course, we brits need to take advantage of this.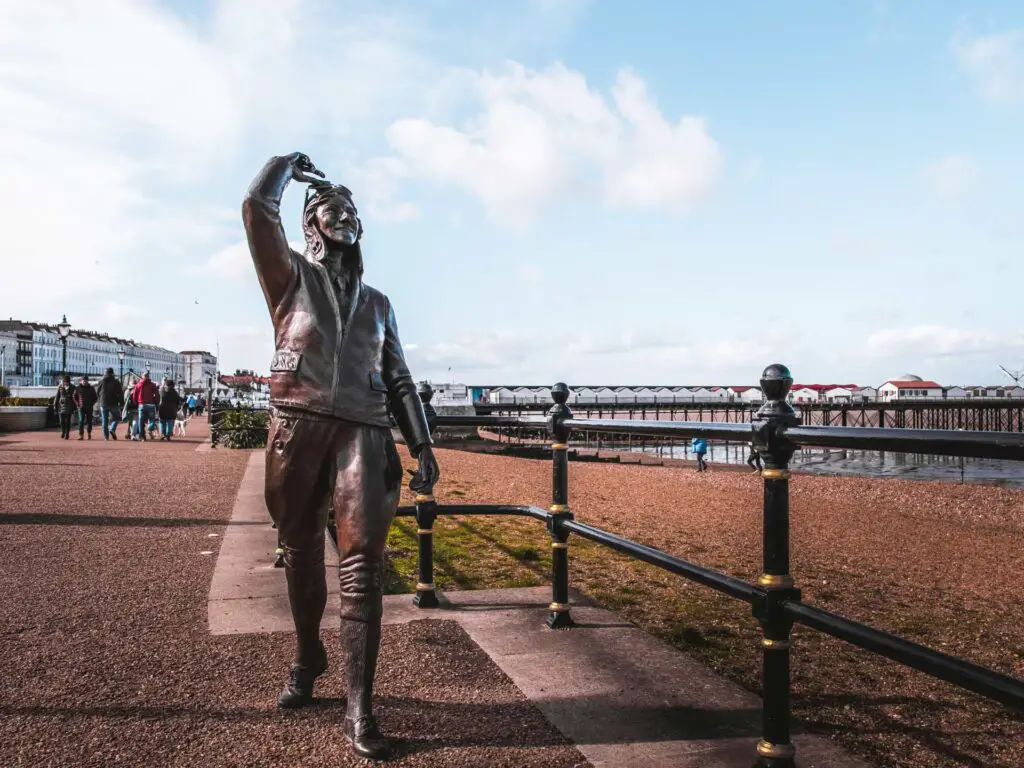 Fact: Amy Johnson was a record breaking pilot in the 1930s. A song was written about her, buildings have been named after her, and this statue has been listed as one of the best female statues in Britain. She served during the Second World War, and tragically died off the shores of Herne Bay at the age of 37, under mysterious circumstances. The full story, and her life, are very interesting, so I would encourage you to go have a little read.
Following the path it will narrow slightly as you walk with a wall to your right, then the path will narrow further until it's just a slither (that's if you want to avoid walking on the shingle. I always try to avoid the shingle. The shingle of death). Before then opening up again to a big wide mass of concrete.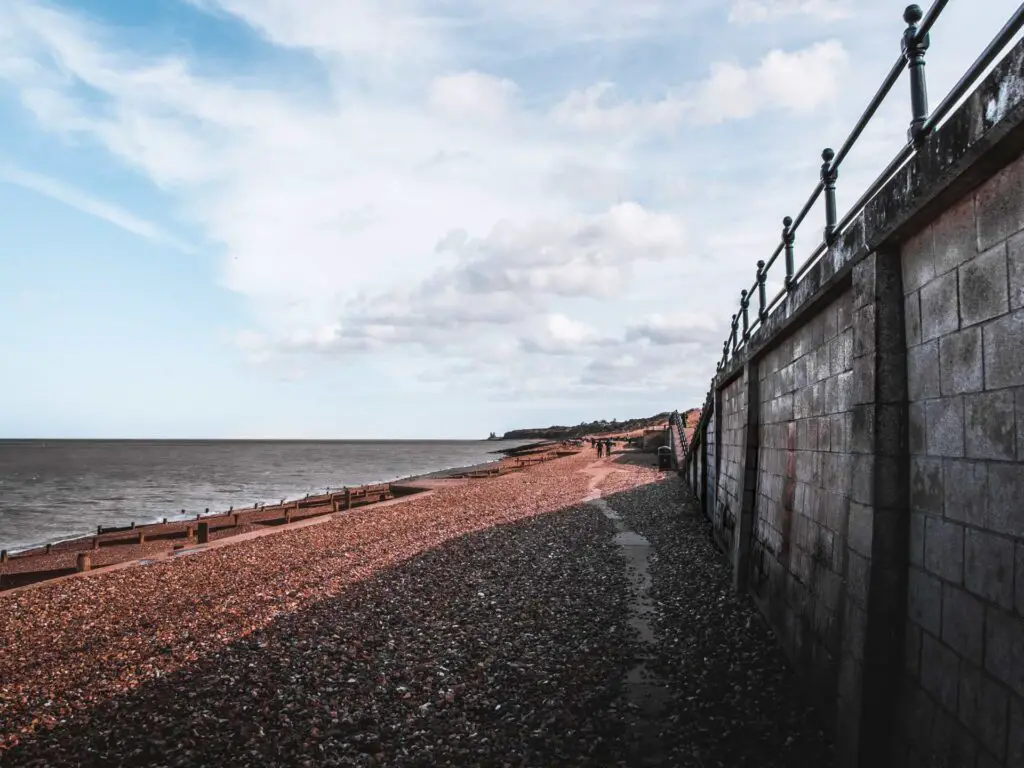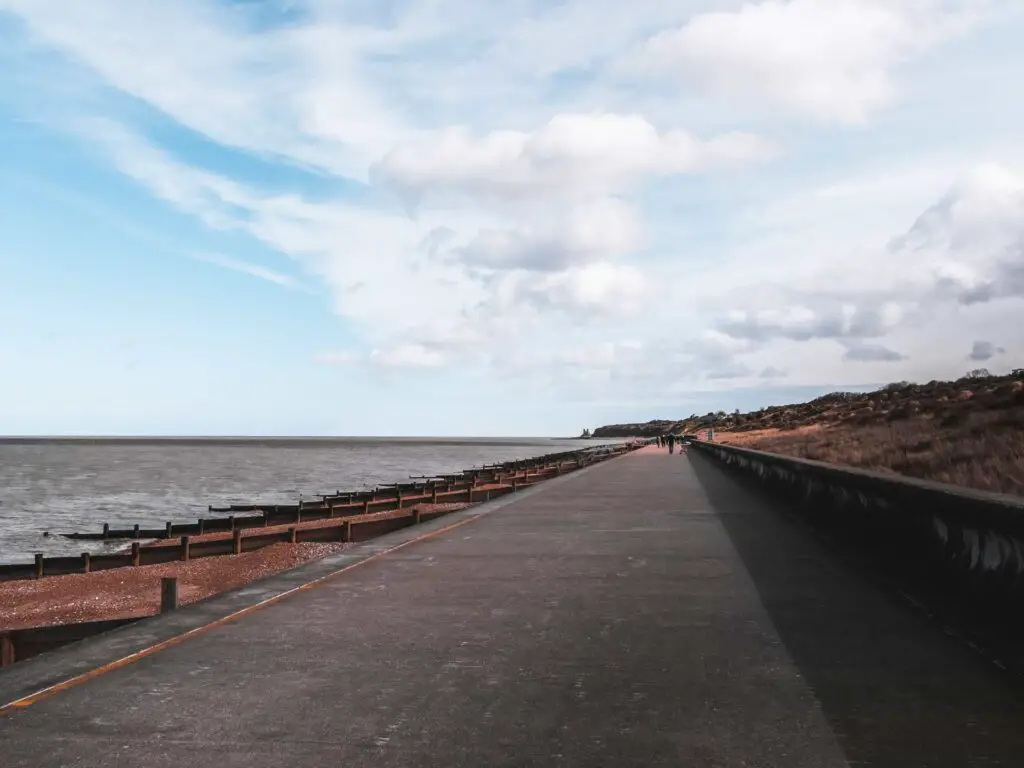 Views of Reculver Towers
From Herne Bay, you will have a view of the Reculver Towers up ahead, which surprised me as I wasn't expecting to get the view so early on in the walk. Not just that, it looked like there might be some ruggedness and cliffs. I felt a sort of joy and looked forward to where this walk was taking me. 
Dog walkers
As you get further away from Herne Bay, the crowds die down and it becomes quite pleasant. In fact, I realised that every single person walking along this bit was with a dog.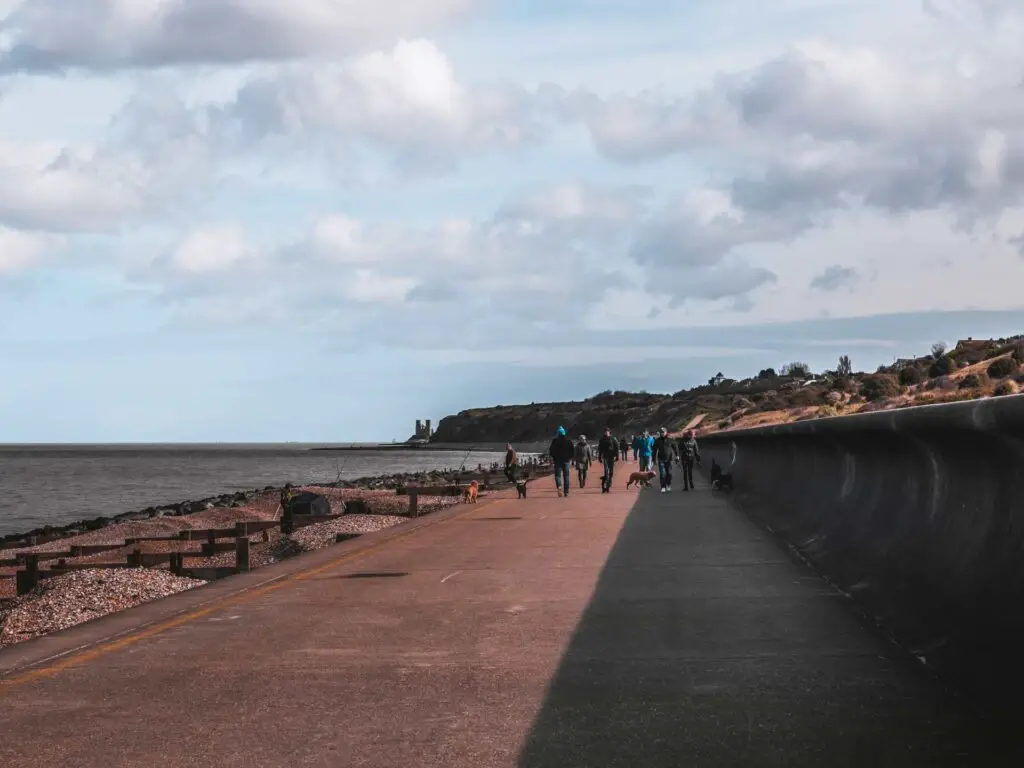 It seemed this was a popular place for dog walking. If I had a dog I would definitely walk him/her along here.
Reaching the cliffy hills
The trail then takes you alongside the grass covered cliffs on your right, with the trail turning to grass and possibly a bit of mud.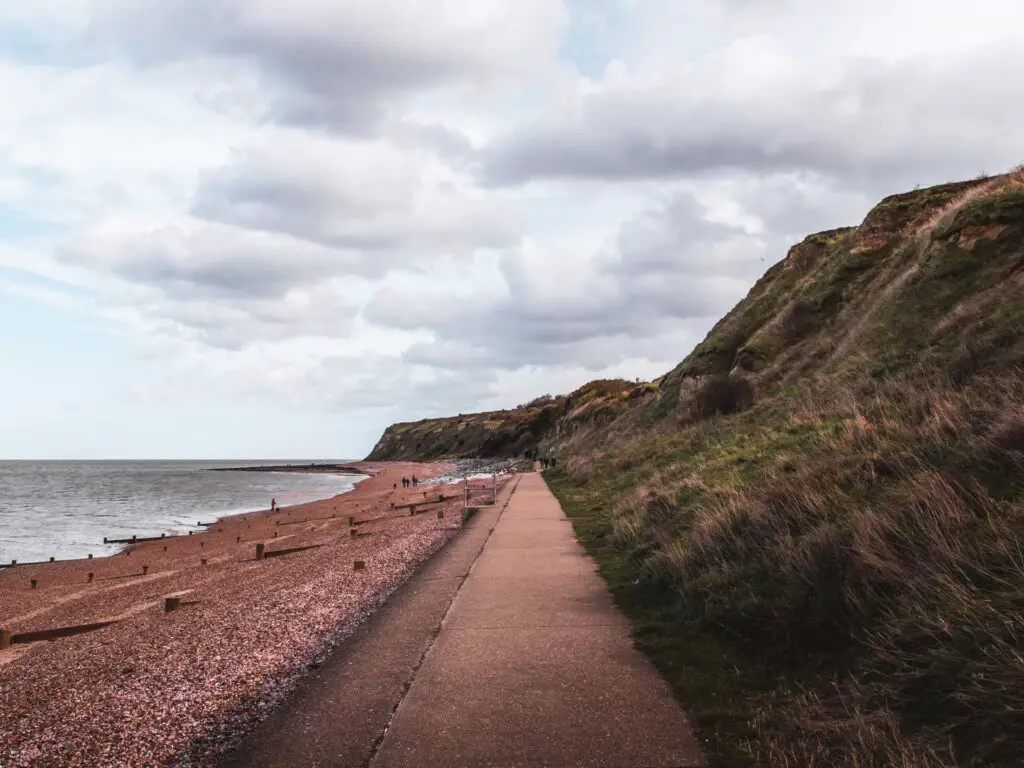 Definitely not what I was expecting when I had read that the route from Herne Bay to Margate was all just concrete and no views. 
The shingle 
Soon you will have no choice but to walk on the shingle (see below for other route). I tackled it for a bit before realising that the tide was out far enough that it had exposed the sand. Nice and wet and hard. Much nicer for walking on.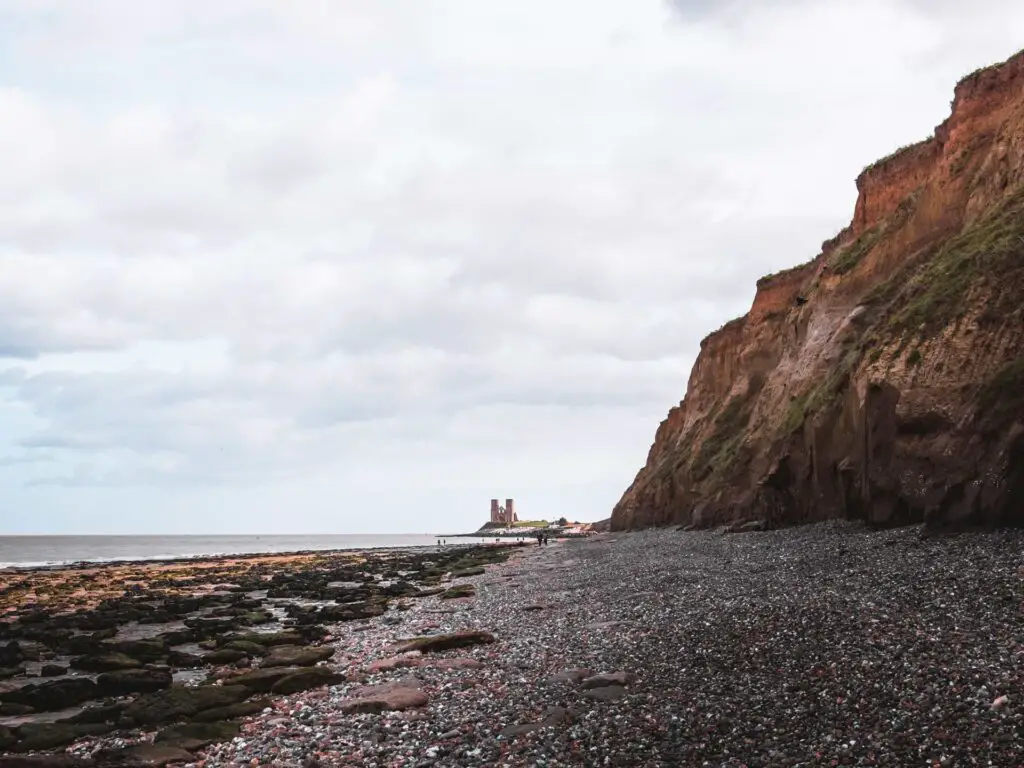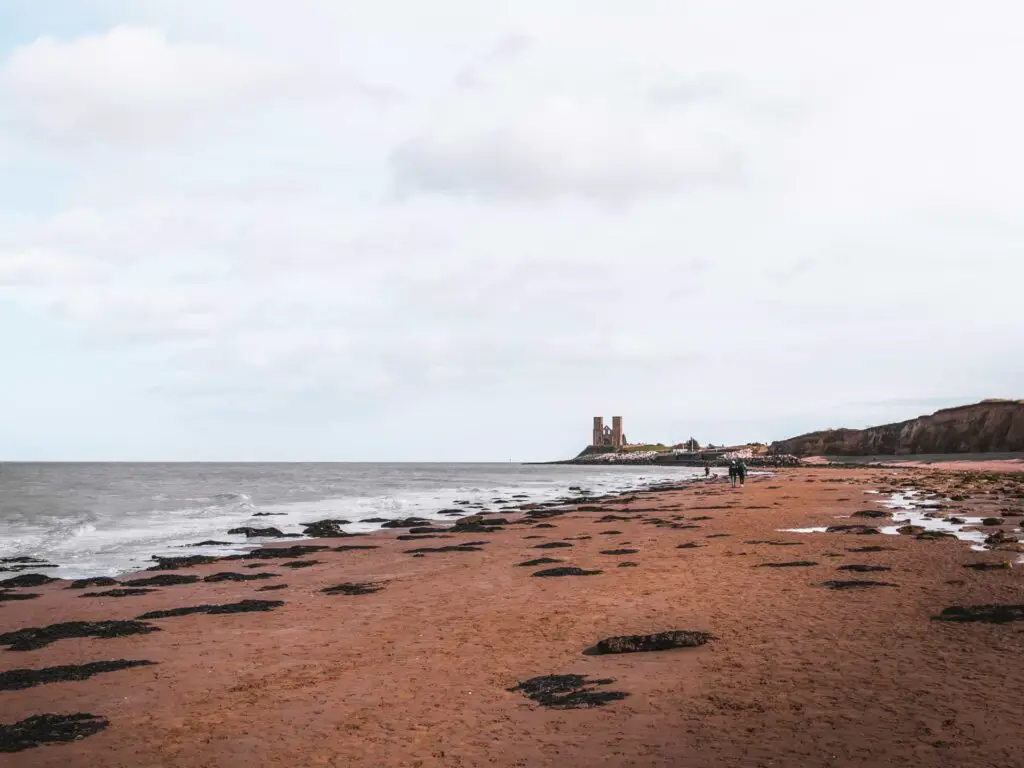 Now, I can't be sure how much of this section is covered when the tide is in*. How far up the shingle it goes. I had noticed a sign a bit further back warning of risk of being cut off by the tide. So for that reason, I would suggest making sure you time this walk for when the tide is out/heading out (google 'tide times Herne Bay' and it will tell you). If you have already done this walk during high tide, then I would love to know the answer.
*Update: Rachel has informed me that this section is indeed covered during high tide. There are some steps further back which will take you up to walk along the clifftop.
Reaching Reculver – 3.5 mile walk from Herne Bay
I was pretty surprised how quick it was to get to the Reculver Towers. I hadn't really studied the distance on the map but had just assumed it was further away.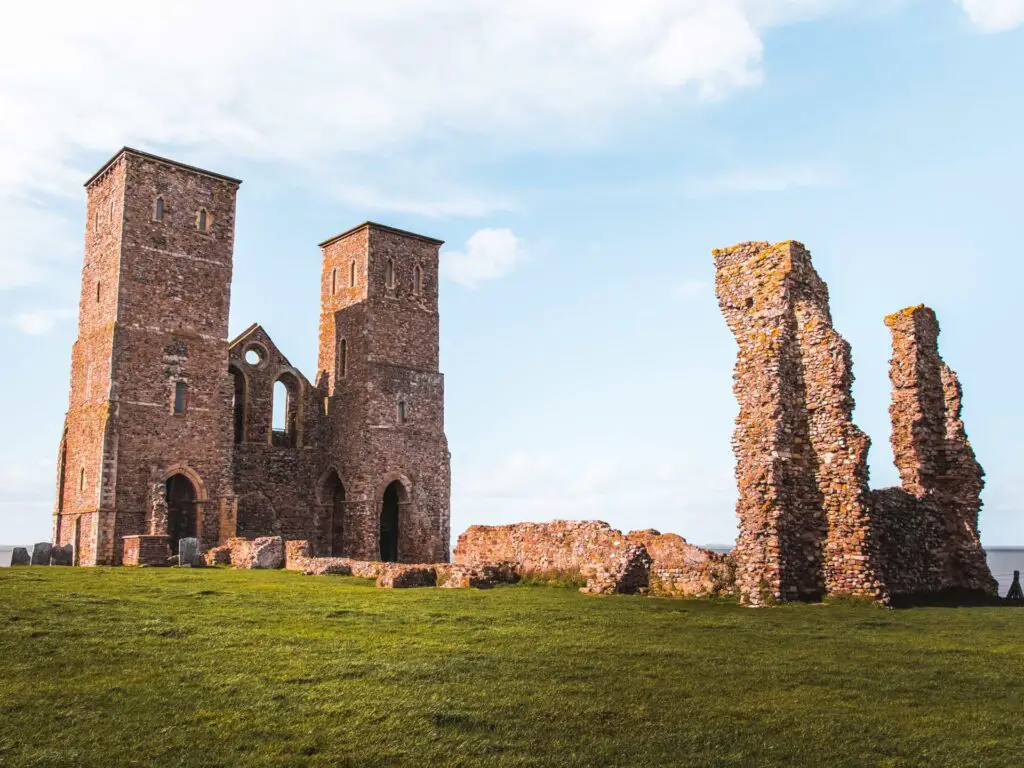 Fun Fact: The Reculver Towers are part of a medieval church, the church of St Mary. Originally built in the year 669, then in the 12th century was remodelled with the addition of the towers.
Another fun Fact: Besides the church is the remains of a Roman Fort. It is one of the first forts built against the Saxons raids.
At Reculver, the trail will take you off the beach where you will be greeted by a car park and cafe. And where there is a car park and refreshments there is lots of people. Don't worry. People have mostly come for the towers, not the full walk.
Once you have enjoyed the towers enough, just make your way past and continue along the trail where things die down again.
Once you have reached Reculver, if you decide you don't want to walk any further, you can just head back to Herne Bay. I do encourage you to go further though.
The long and interesting path
For a long while now, the trail will be on a concrete path. But it's a really interesting concrete path. All those straight lines and angles and curves.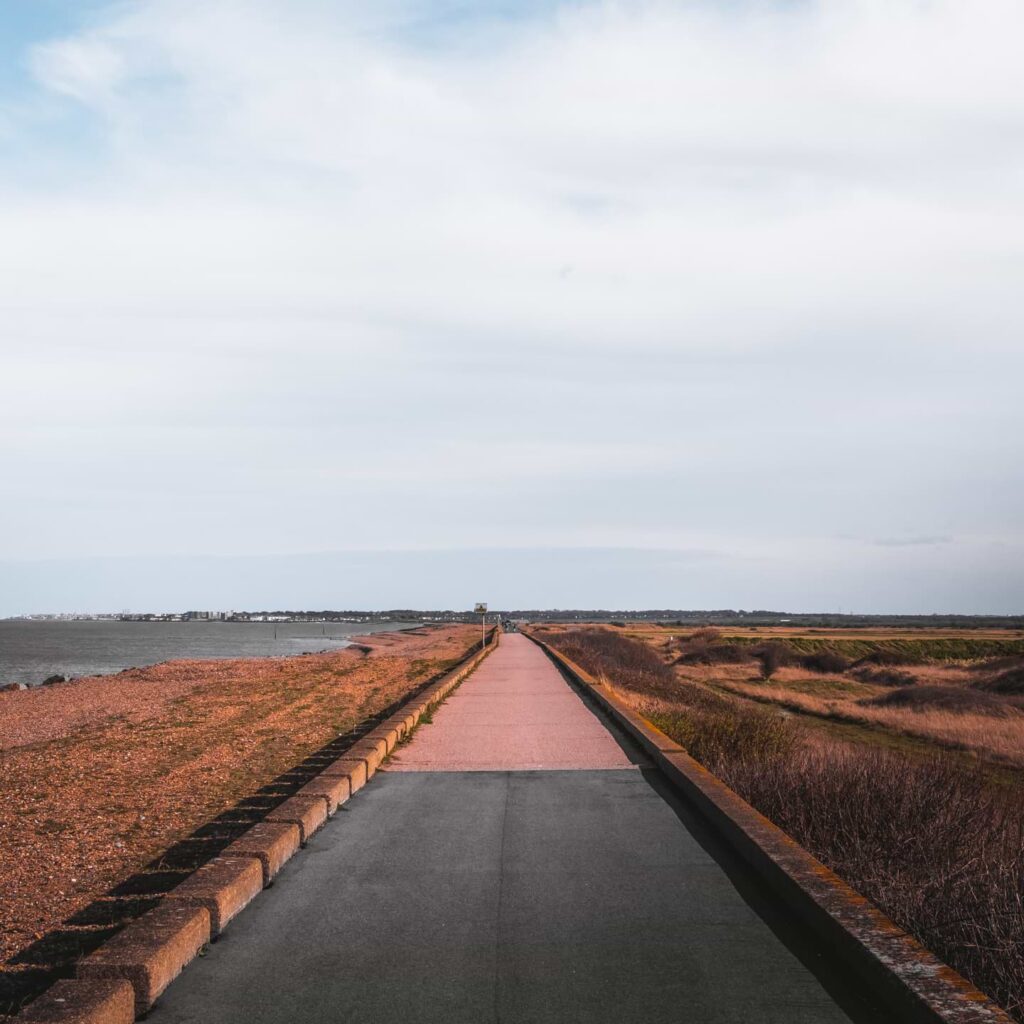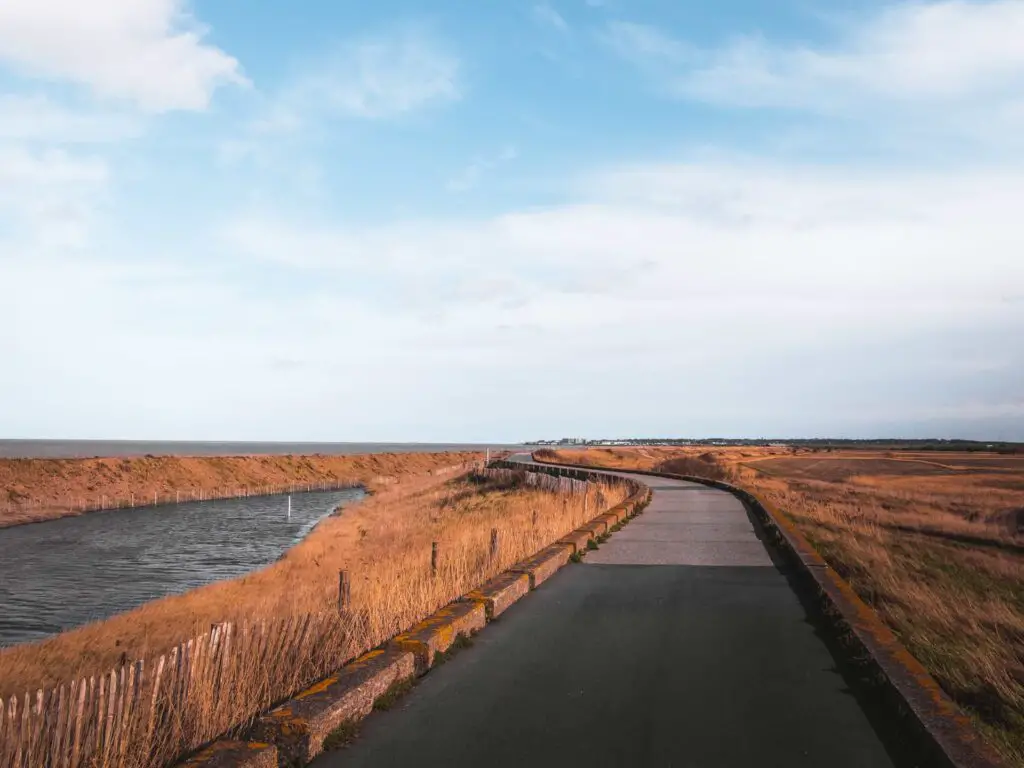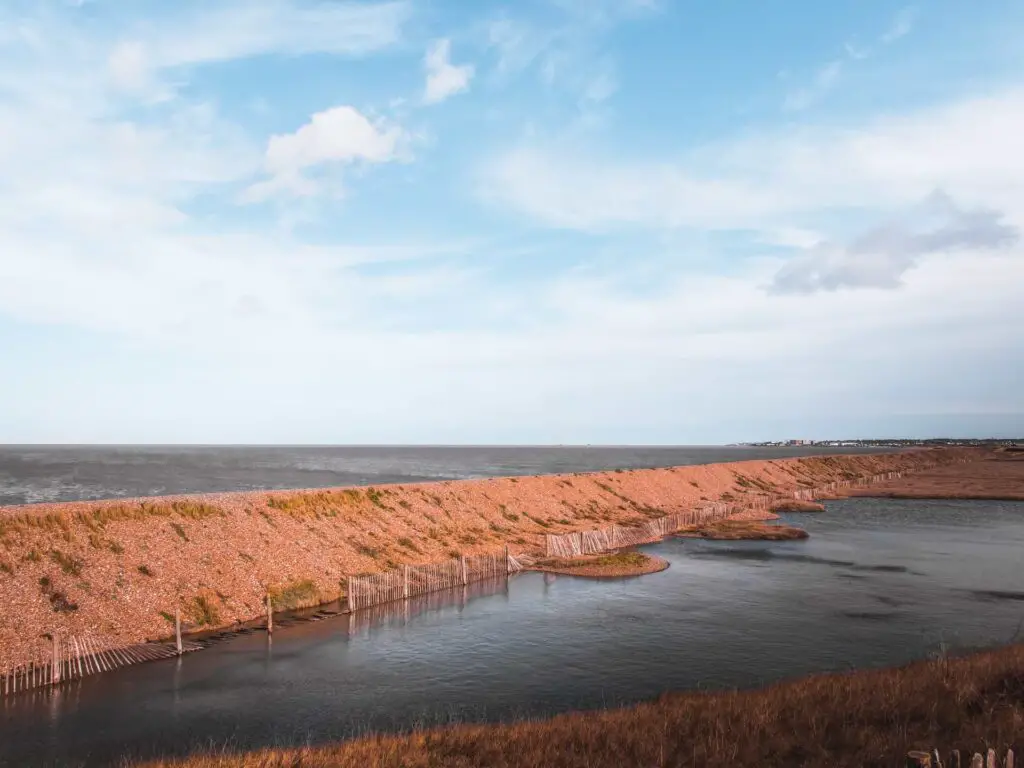 You know what is also interesting. Once I passed Reculver I started listening to a podcast. Now, as I came to reviewing and editing my photos, once I reached these ones (which is where I started listening to it) the podcast story started playing in my head. Quite vividly actually. I was even remembering the part of the podcast I was on based on which photos I was looking at.
Maybe that's also why I liked this section because I was really enjoying the podcast. It was a really good one (Serial, if you are interested).
Birchington on Sea – 8 mile mark
As you approach Birchington on Sea (the next town along), you pass by a bunch of well placed benches, a sandy beach, some lovely beach huts and colourful doors. I'm not sure what you call these, but I assume through the doors is little concrete spaces, like having a beach hut but built into concrete.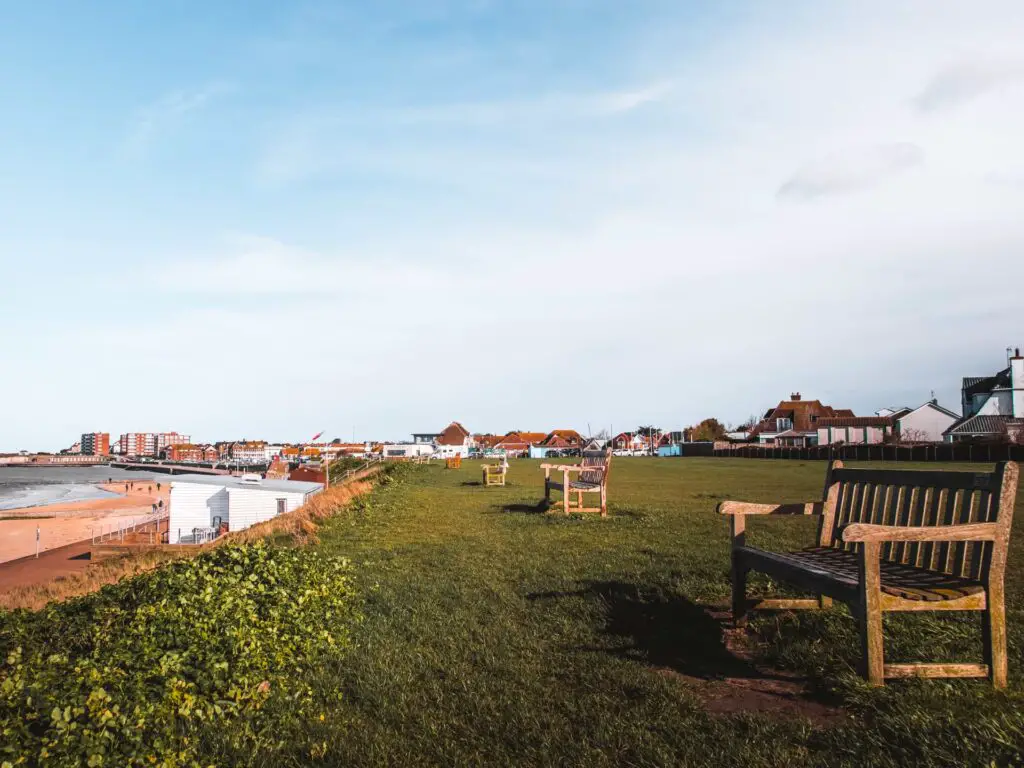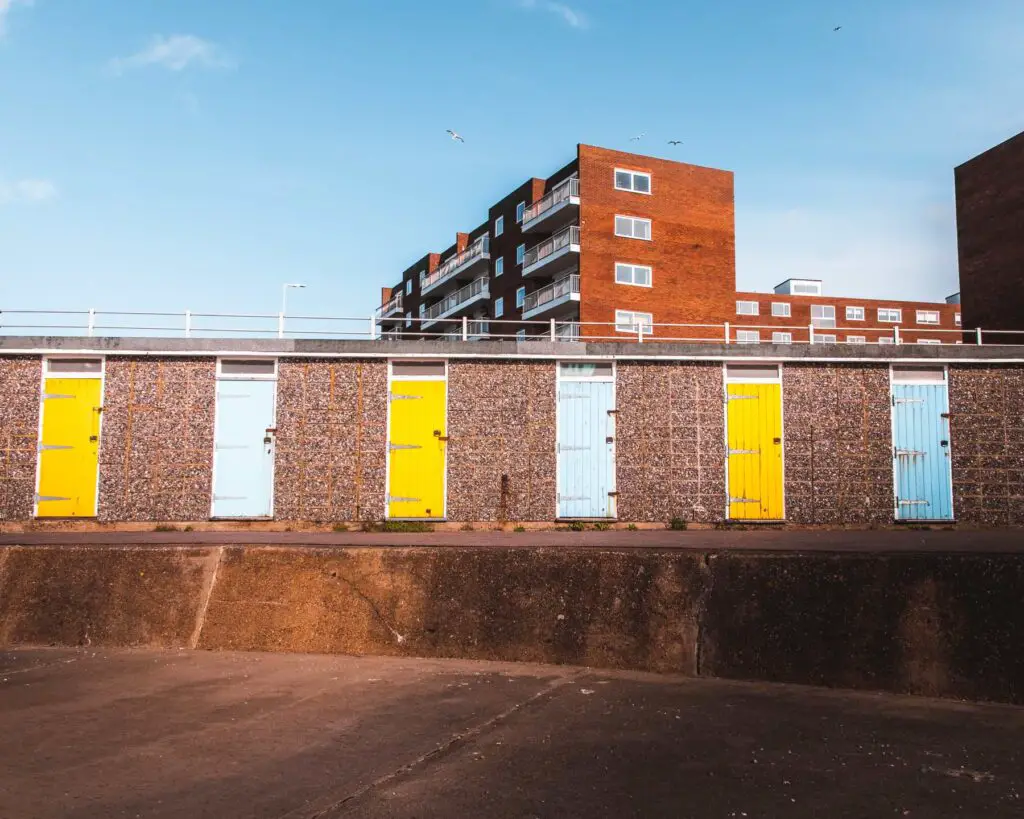 So, the next bit is odd….
Around the corner, you will suddenly be greeted by your first white cliff. However (at the time of writing) the path is closed for sea wall repair. The odd bit is there is a pedestrian sign which points to nowhere. Actually, it points to the cliff. Anyway, you can't go this way, so instead, when you reach those colourful doors, don't go around the corner, but take the steps up.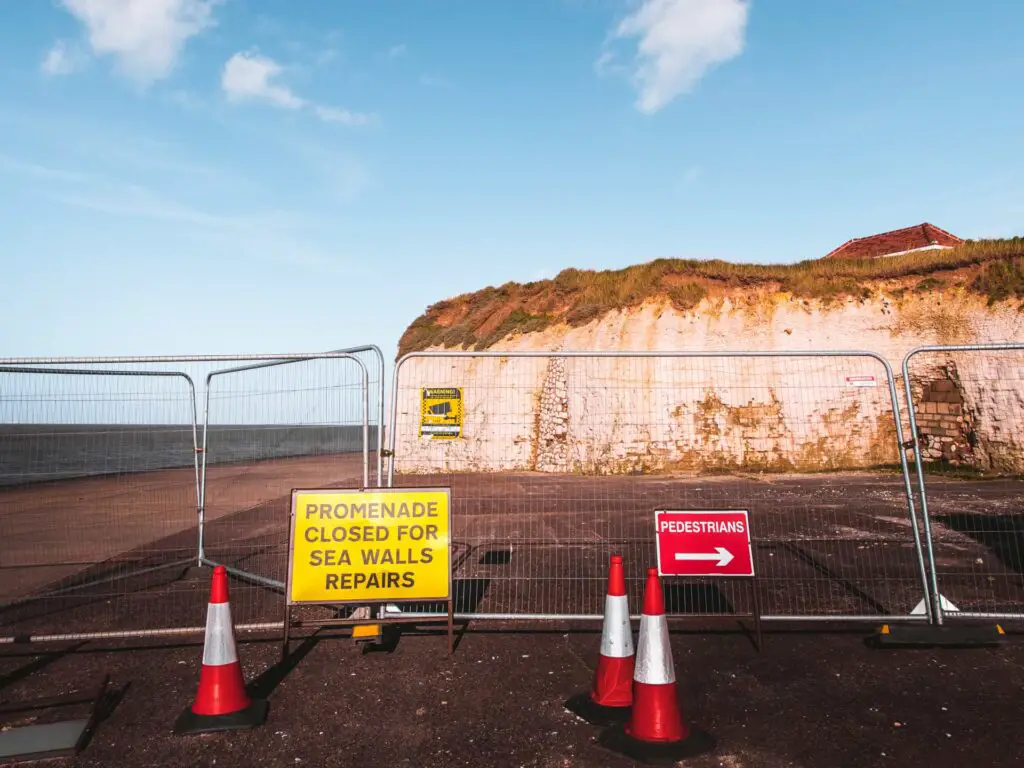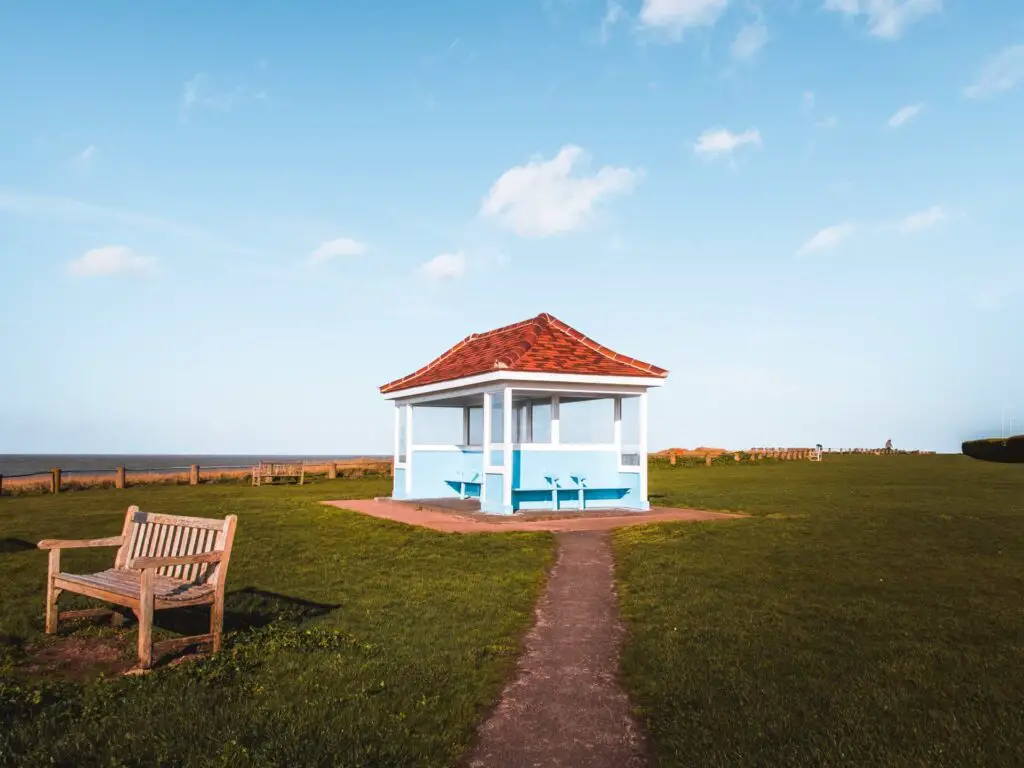 Birchington on Sea has a train station so you can stop here if you like. But I suggest not. The cliffy bits are about to come.
At the top, continue alongside the road for a bit until you see this sign, then head back down to the coast path.
The White cliffs
Now we are talking. The next section of the walk is under cliffside, with white cliff views up ahead.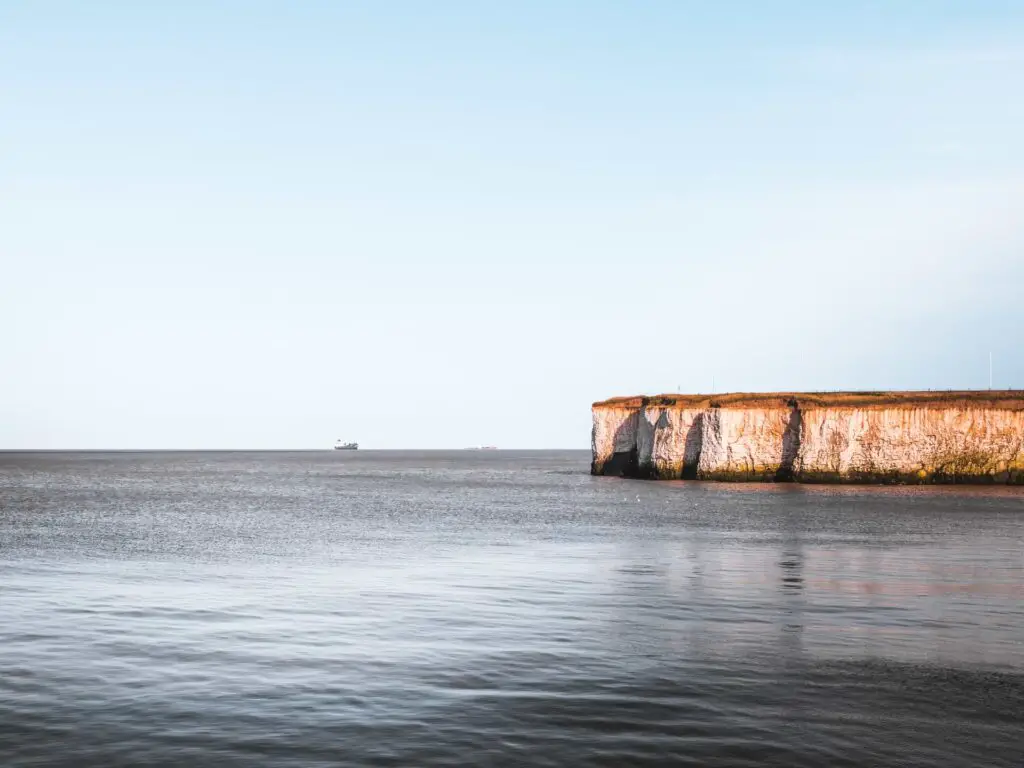 Every so often there are paths which can take you up again if you so wish. I also noticed in quite a few spots, someone had written in chalk 'clean up your dog poo'. That was the tamest one. Some were a lot more….aggressive.
The undercliff path will soon end, with steps taking you back up to cliff top.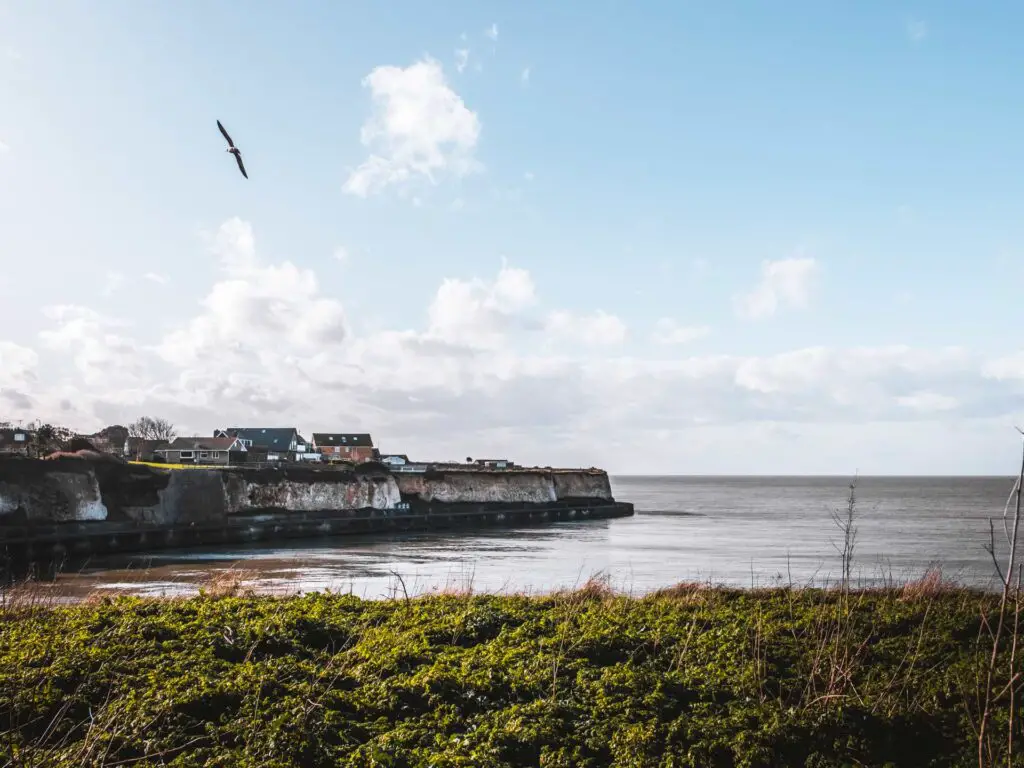 Westgate-on-Sea (Nearly finished)
You will follow a road for a short while before you can head back down to the coast path as you approach Westgate-on-Sea. The final village before reaching Margate.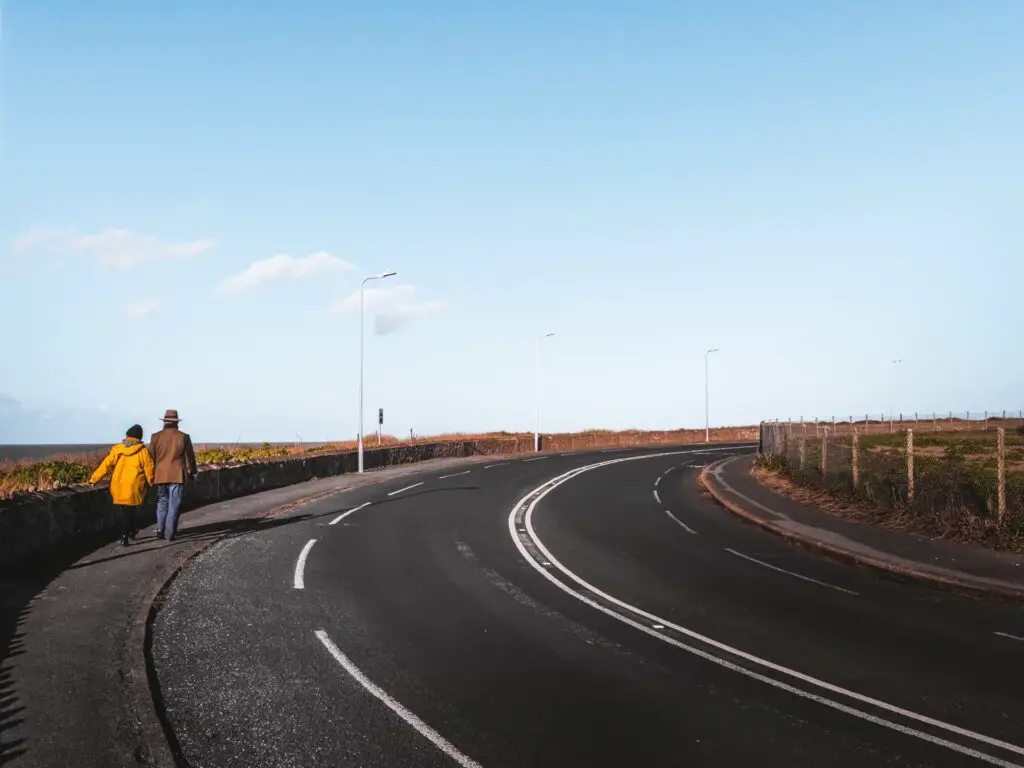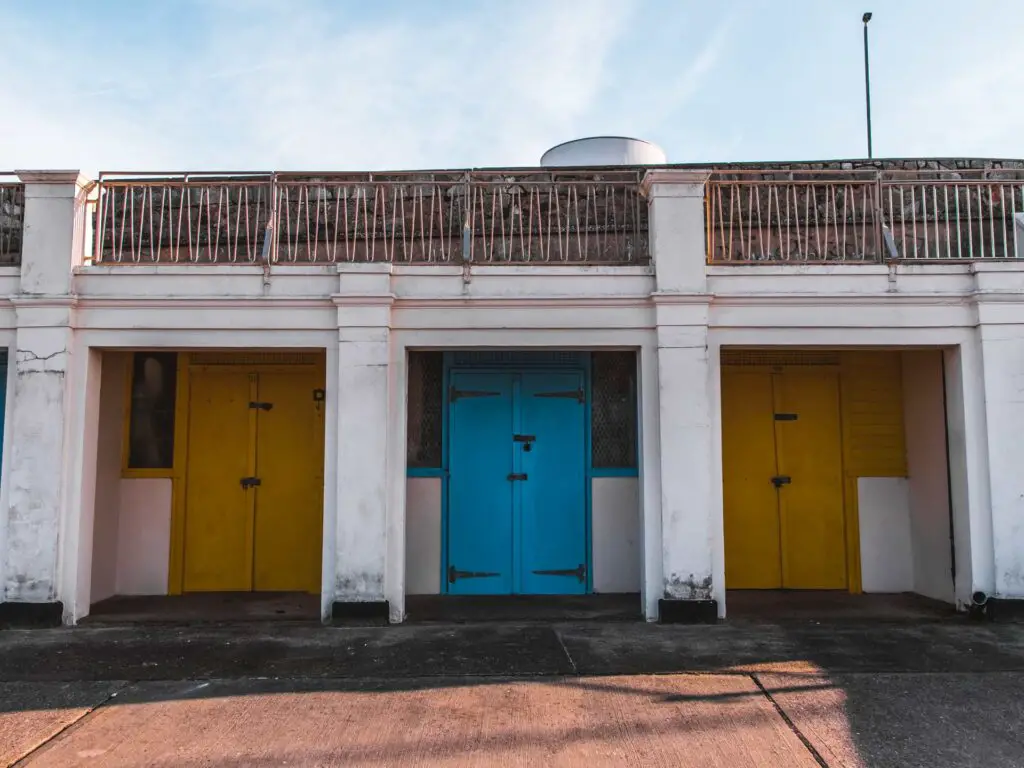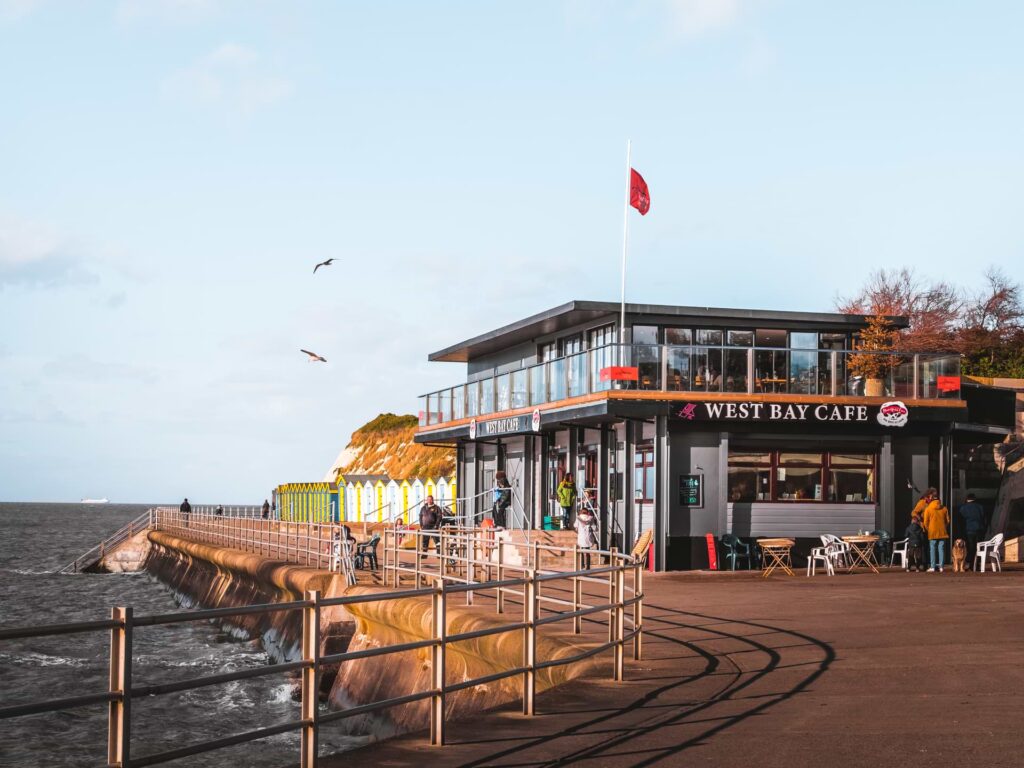 Also another chance to see some beach huts.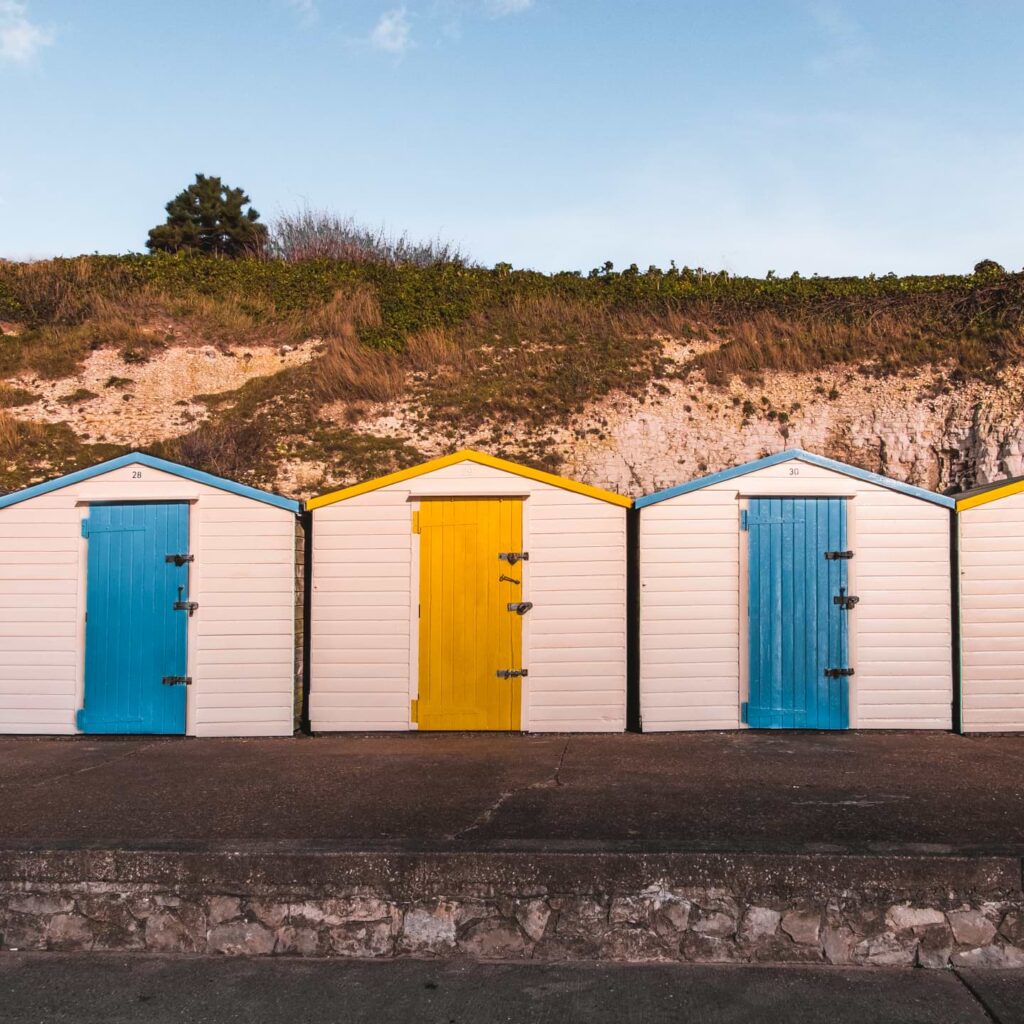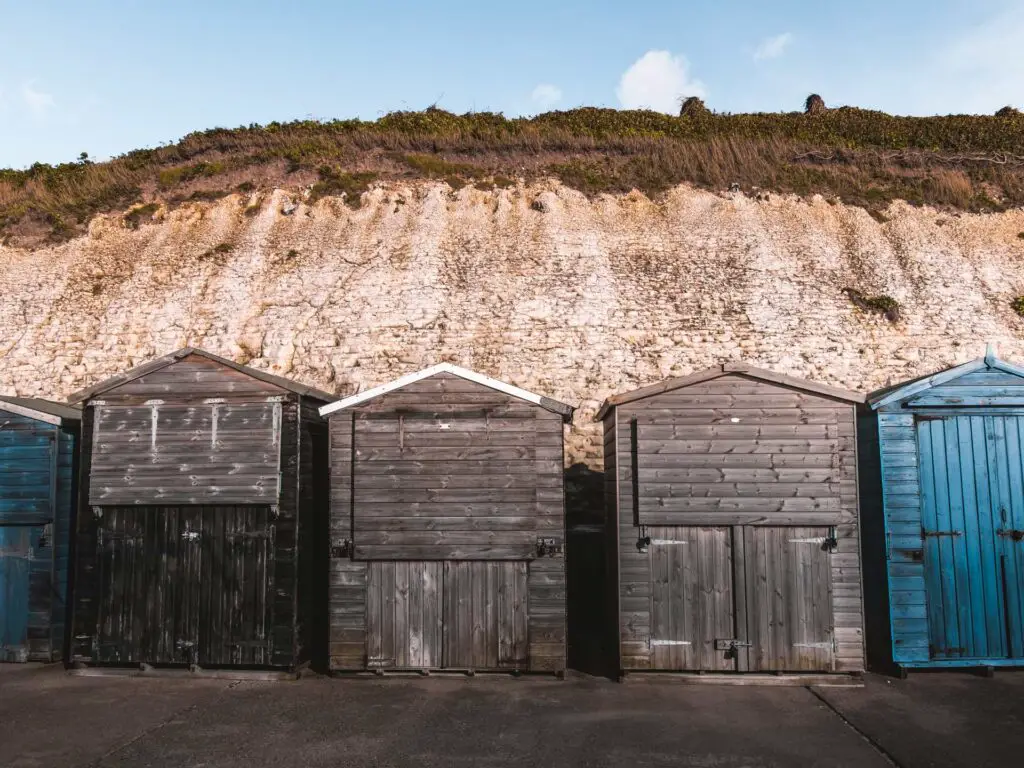 Reaching Margate – the end of the walk from Herne Bay
Once past Westgate-on-Sea you will get a view of your destination, Margate. From here, the route is mostly on undercliff path, with some little white cliffs, and something which I found very odd….
Beach huts not facing the beach, but on the edge of a car park. I wondered off this was a beach hut storage place or something. These can't actually be in use, can they?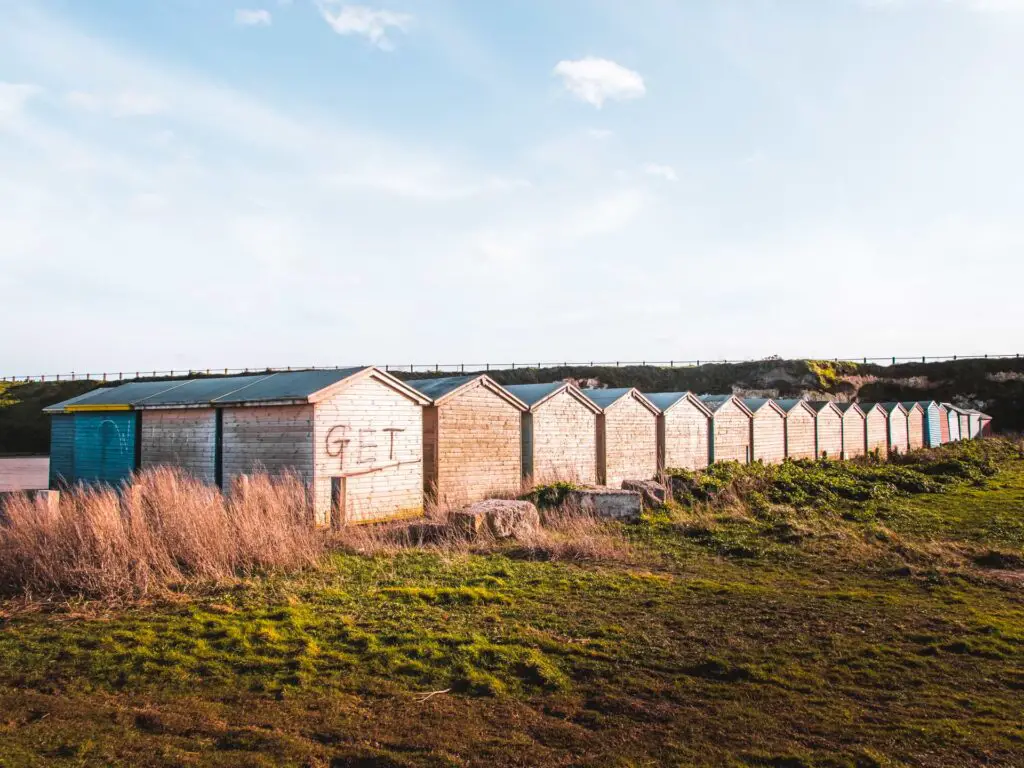 Anyway, as you continue on, Margate will be in view. As I approached, I thought about how satisfied I was with today. Views I wasn't expecting, a gorgeous sunny day. I had discovered a really good podcast. All in all the walk from Herne Bay to Margate made for a very good day.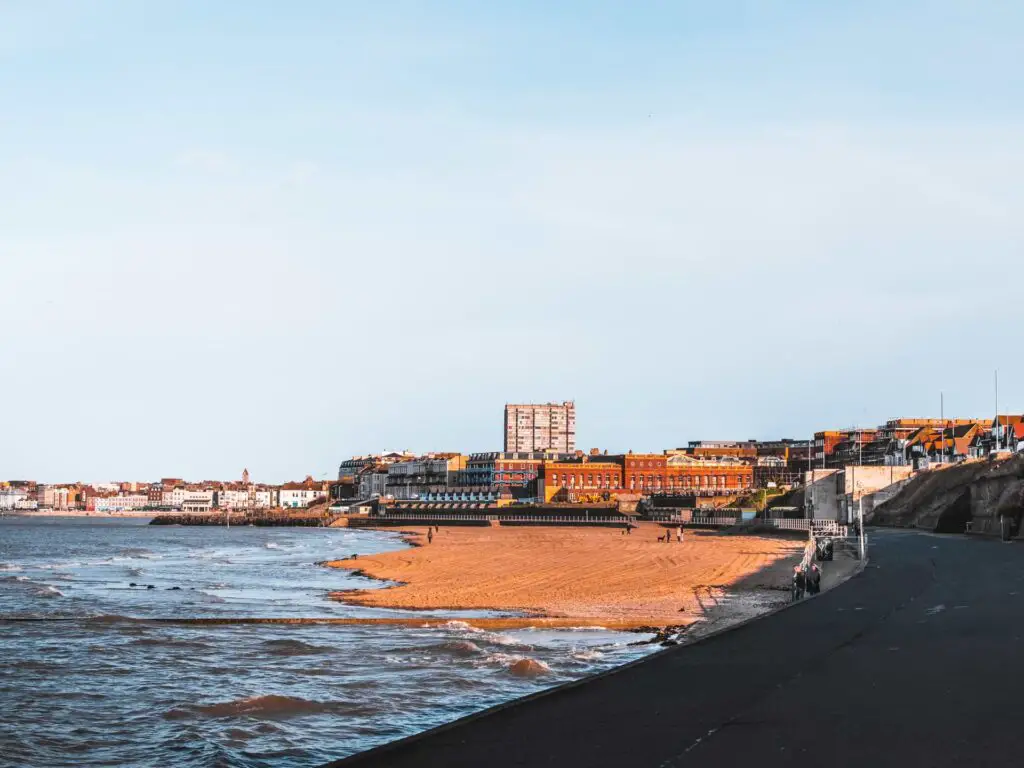 More walks along the Kent coast
You could try the coast path section before this, Whitstable to Herne Bay. It's much shorter and has the highest concentration of beach huts I have seen on a walk yet.
Or if you continue on, you could walk from Margate to Broadstairs and Ramsgate. This is a section of the coast I highly recommend. Lots of long stretches of sand and white cliffs.
Faversham to Whitstable is an interesting one. You have a creek with old boats, mudflats, nature reserve, beach huts and a place made famous for salt. Both areas are also known for their for Oysters.
Deal to Sandwich involves a long stretch of shingle beach, a wold famous golf course, a nature reserve, and a town where the sandwich was born. I didn't find this walk particularly interesting, but that's my taste.
All of the above walks are quite easy, and if you want something with a bit more bite, then you need to head to the south coast of Kent. Something like Dover to Deal which takes you along the famous white cliffs of Dover, or Folkestone to Dover. If I was to pick my favourite of the two, it would probably be Folkestone to Dover, but both are great.
for more coastal walks, you can read about the best coastal walks near London.
For more Kent walking ideas, you can check out the National Trust website.
Pin it for later: Walk from Herne Bay to Margate via Reculver