The walk from Ambleside to Stock Ghyll Force Waterfall is on the more touristy side of the walks that I have done. If I had known beforehand it was a tourist thing, I probably would have been a bit snobby and not have done it. However, that's not to deter you. It is actually a pretty little walk from Ambleside to a lovely waterfall.
I wouldn't travel all the way here just for this, however, if you are staying in Ambleside, it would actually make a perfect morning waterfall walk before breakfast (before it gets busy).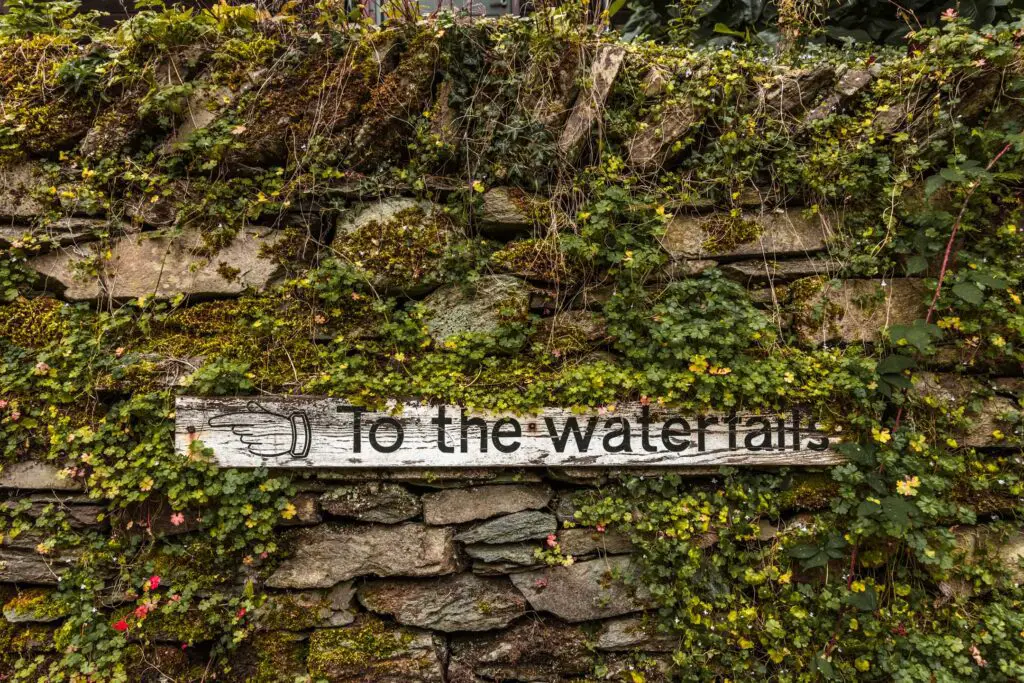 The walk from Ambleside to Stock Ghyll Force Waterfall is a short little one. So if you aren't into big walks, then this would suit you nicely. I say it's short, but that doesn't mean it's basic. The terrain can get quite muddy and there is some uphill.  I will give you full details below….
---
Logistics for the walk from Ambleside to Stock Ghyll Force Waterfall
---
Start/Finish: Ambleside (Lake District)
How to get there: The trail to Stock Ghyll Force waterfall leads off Stock Ghyll lane. Nice and simple. You can find the lane leading off Rydal road in Ambleside. If you are coming by car, you can park in Rydal road car park nearby (it's marked on Google Maps).
Distance: 2.2km/1.3miles circular
Time: 40min with photo stops. Can be done much quicker if you aren't walking with a photographer.
Terrain: A bit of road, dirt and mud trail. Some steps.
Elevation gain: 79m
Time of year: We did this one during Autumn. A gorgeous time to be in the Lake District with all those Autumn leaves.
Tips: Wear hiking boots….it gets muddy.
Amenities: There are a few scenic benches on the way up if you need to rest your legs. No toilets, but it's not a mega long walk, so you can hold it.
Map for the walk from Ambleside to Stock Ghyll Force Waterfall
You can find my more detailed route map for the Ambleside waterfall walk on AllTrails.
-More walking routes and ideas in the Lake District will be at the end-
---
A guide to the walk from Ambleside to Stock Ghyll Force Waterfall
---
From the main road in Ambleside, you need to turn onto Stock Ghyll lane. It's located at the curve where Rydal road meets Lake Road.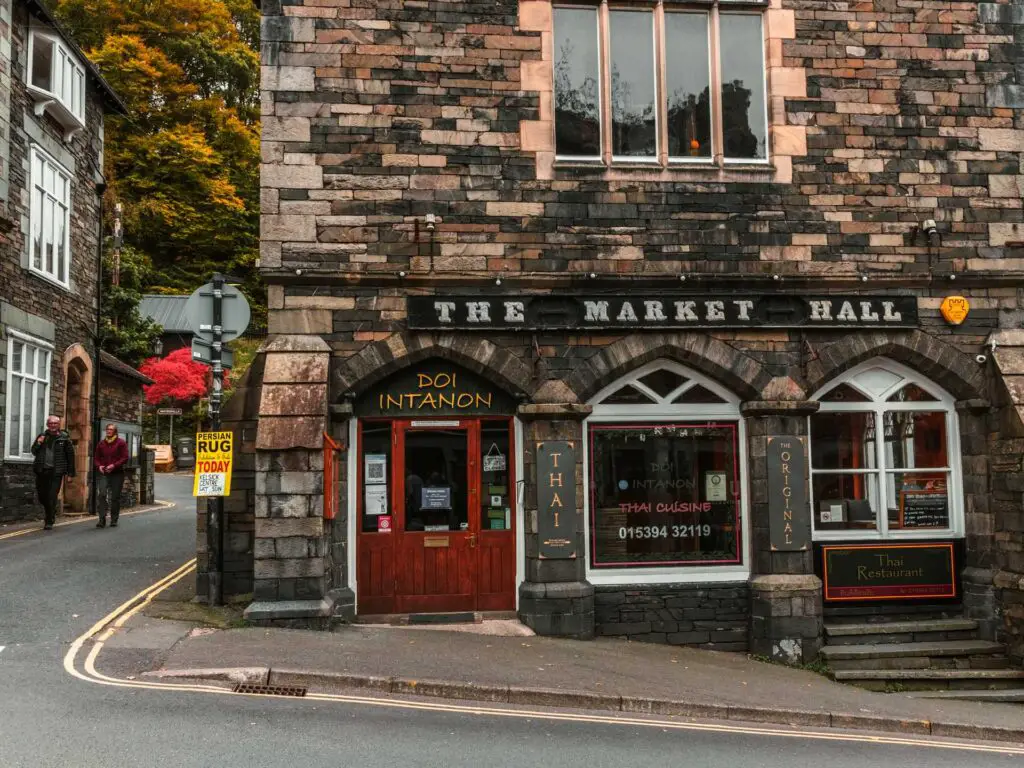 As you walk along the lane, follow it as it curves left. You will see a sign for the waterfall walk ahead of you. Don't take the right as I accidentally did.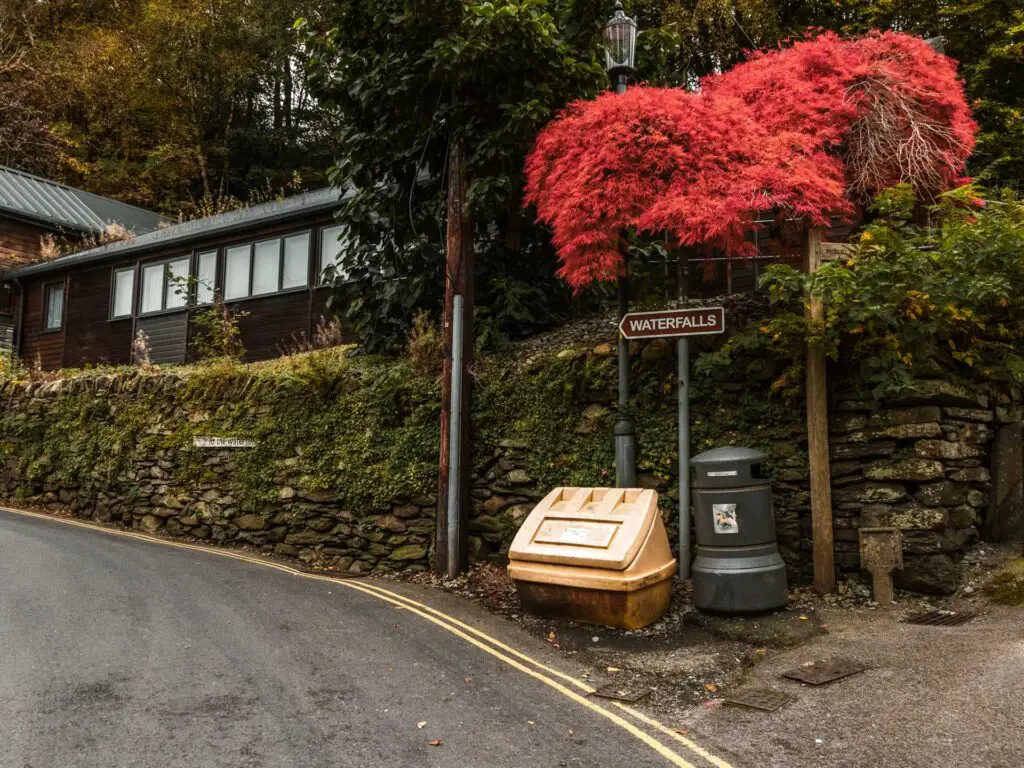 This bit of the walk takes you uphill along a road surrounded by trees. It's a car road although interestingly, no cars passed us on our walk up. There were other walkers though. I figured they must be doing the waterfall walk just like us. 
The start of the dirt trail
Walking along this road, you will reach a signpost on the left marking the waterfall trail. You know it must be touristy with signposts like this.
The first waterfall 
As you make your way along the dirt ground, you will hear the sound of water before reaching your first waterfall of the walk. Don't be fooled like I was. This is not the star waterfall. This is just a taster.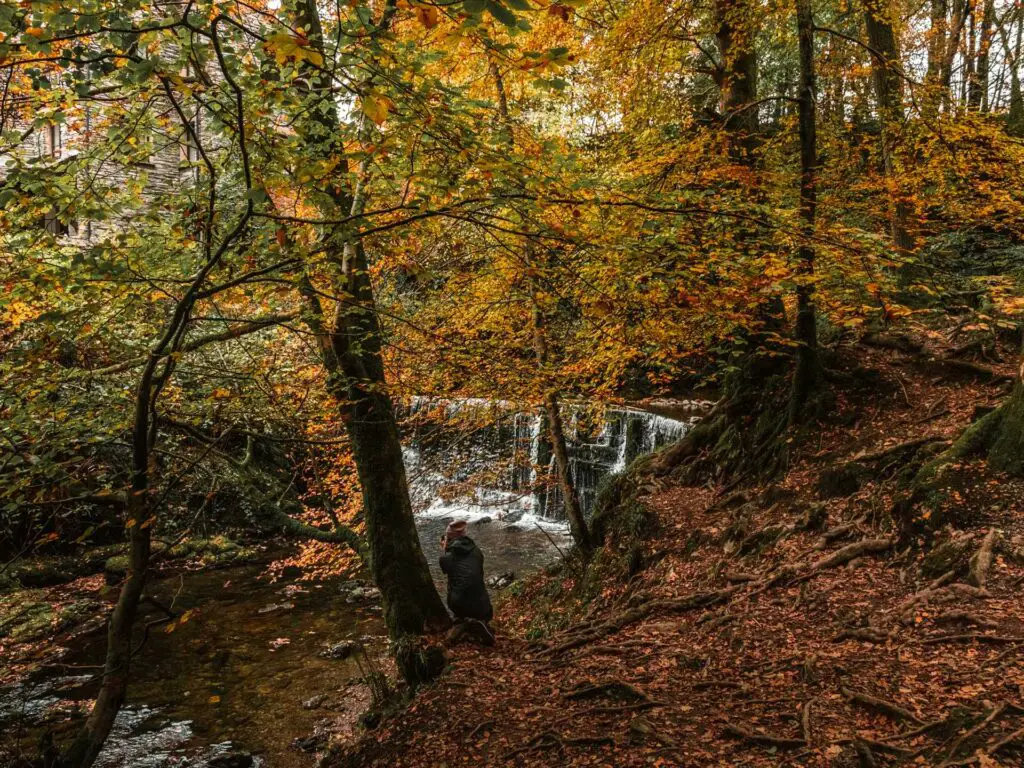 The arrows and steps
Along the way you will be guided by red arrows marking the route for the Stock Ghyll Force waterfall walk. You will make your way up some rugged nature steps and pass by some scenic benches.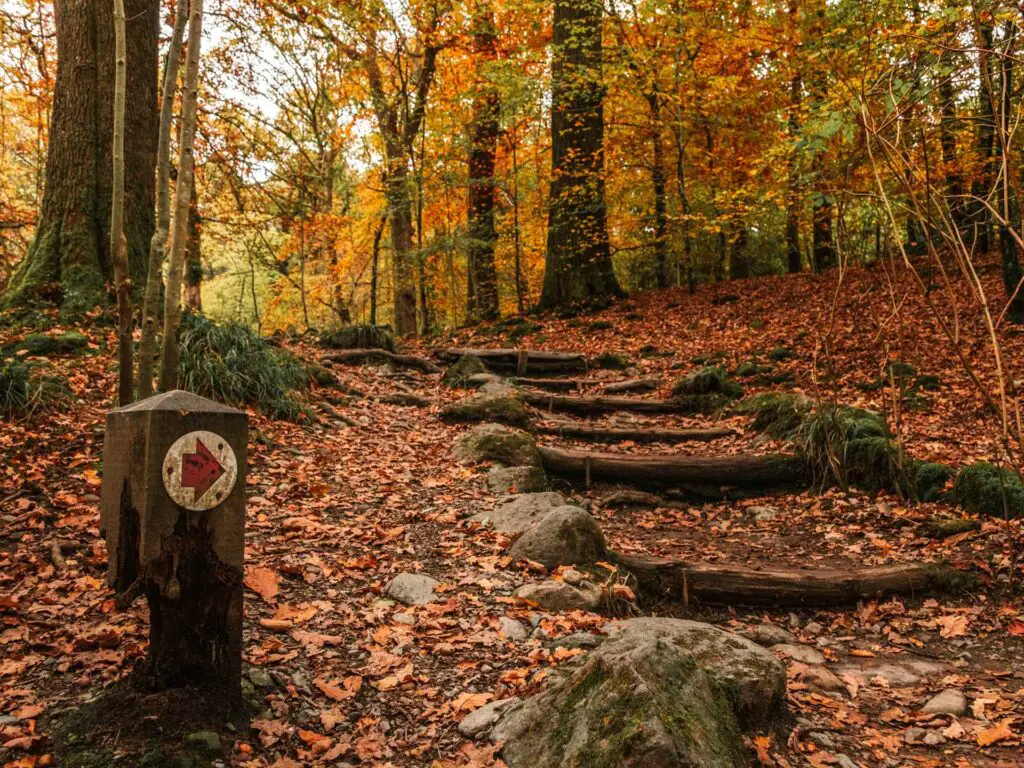 The loop to the Stock Ghyll Force waterfall
There comes a point where the trail goes left or right. You could go either way, however, the red arrows point you right. It turns out that these red arrows actually help to guide everyone in a sort of one way system. 
You could be rebellious and go left, although, it does make things a little easier if you all go the same way like sheep. 
If you take the right (we did), you simply just follow the trail as it continues uphill until you reach the big waterfall at the end. The rest of the way there looks something like this: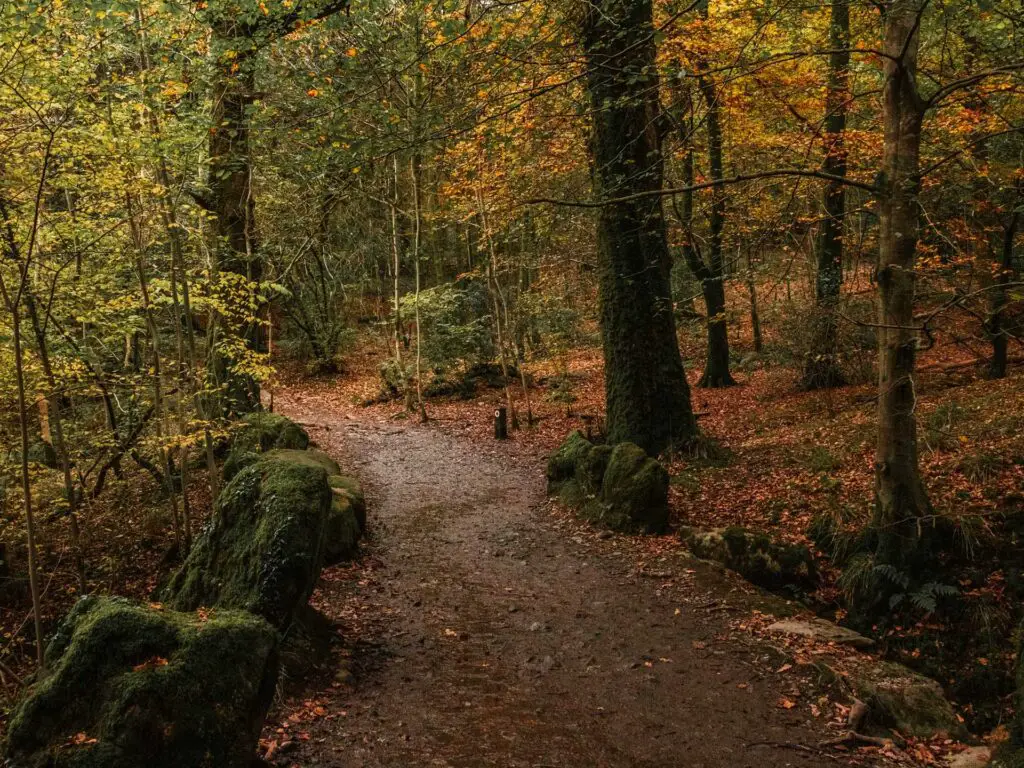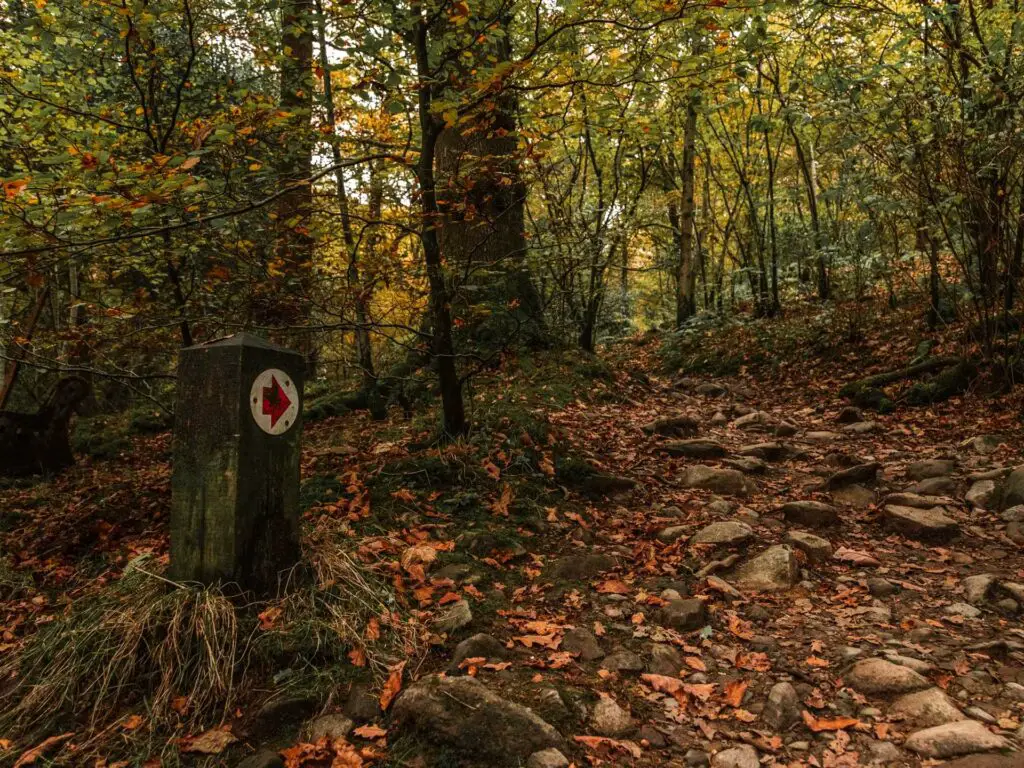 Reaching Stock Ghyll Force Waterfall
I have to say, I quite enjoyed the waterfall. Ok, it's not a giant one, and it's surrounded by those metal railings you get at touristy places, and there are lots of people around, BUT it was still pretty cool……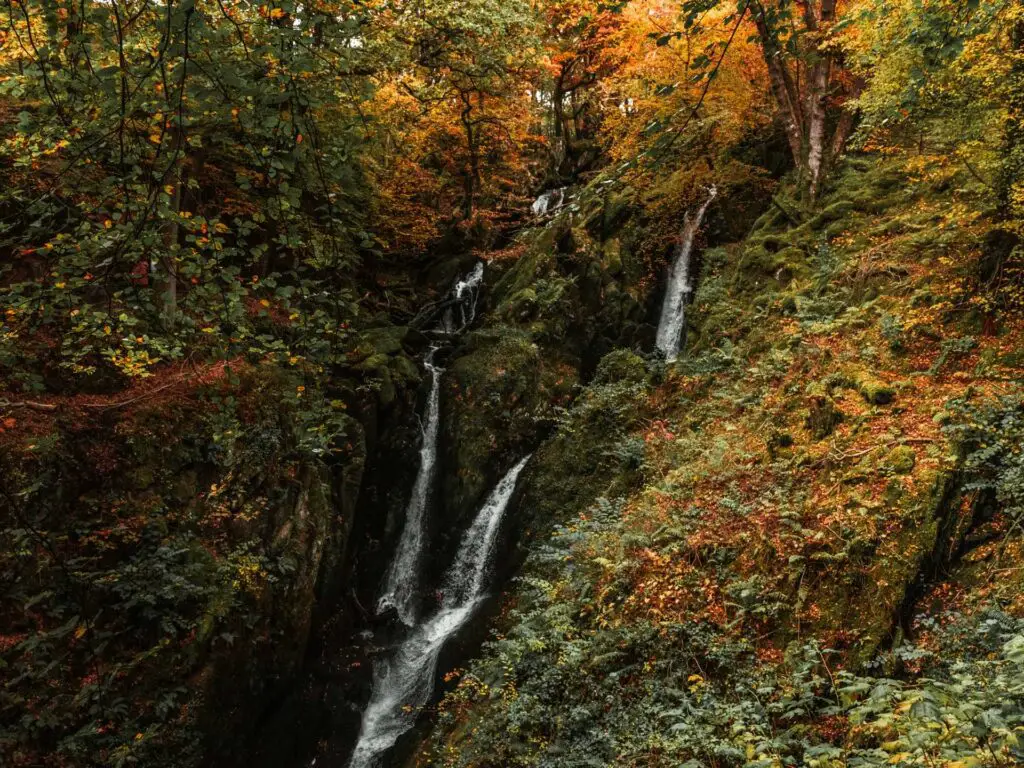 Although, I was quite happy with the first waterfall we passed, so my standards were pretty low.
The walk back to Ambleside from the waterfall
The trail will take you up and around the waterfall, and over some rocky bits, as it loops back around for the walk back to Ambleside.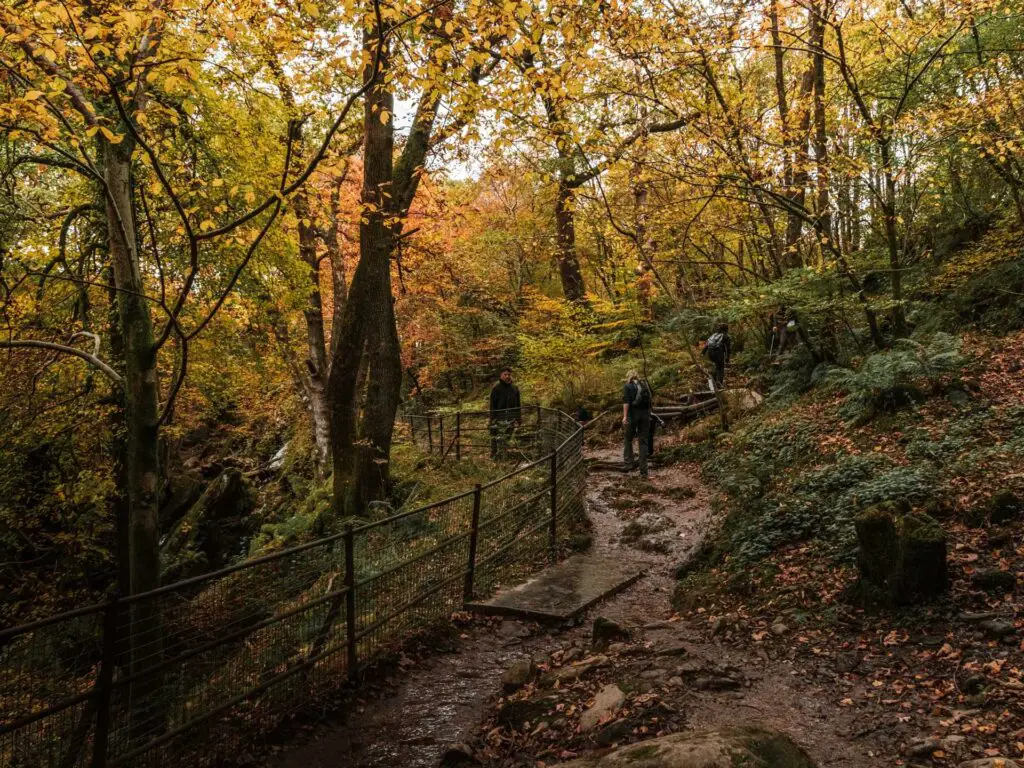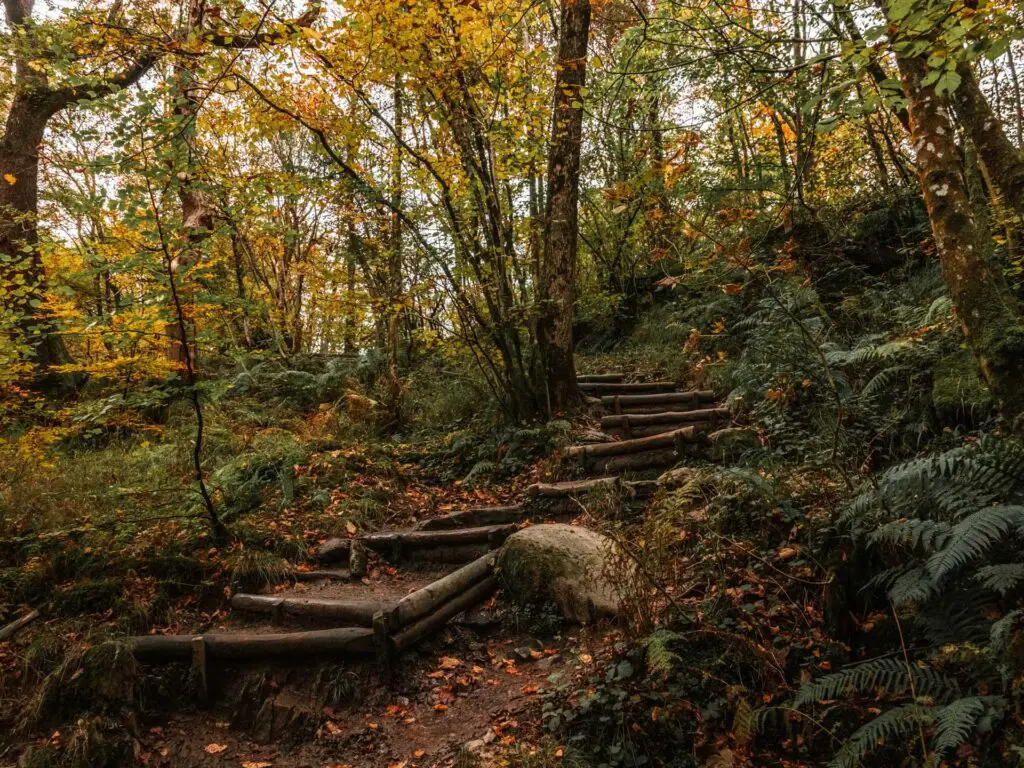 You will notice as you loop around that the trail splits. Either way is fine. Go left if you want to walk through mud, or go straight if you want your feet to stay relatively clean and dry.
The rest of the way is pretty much downhill (and muddier than the way up).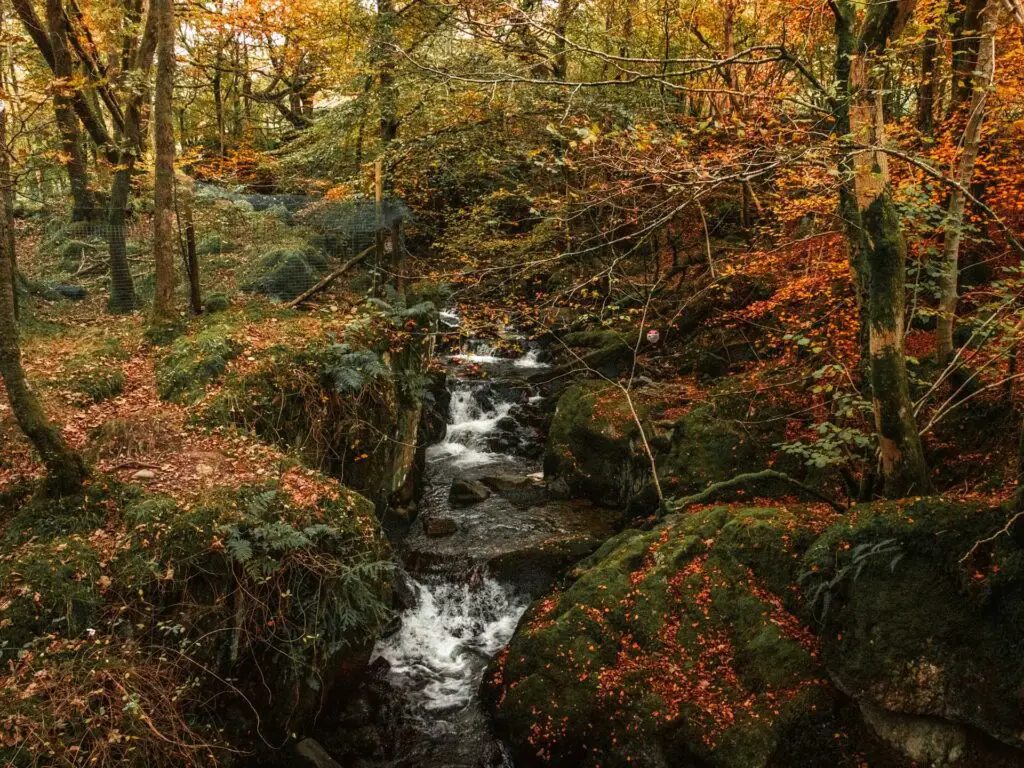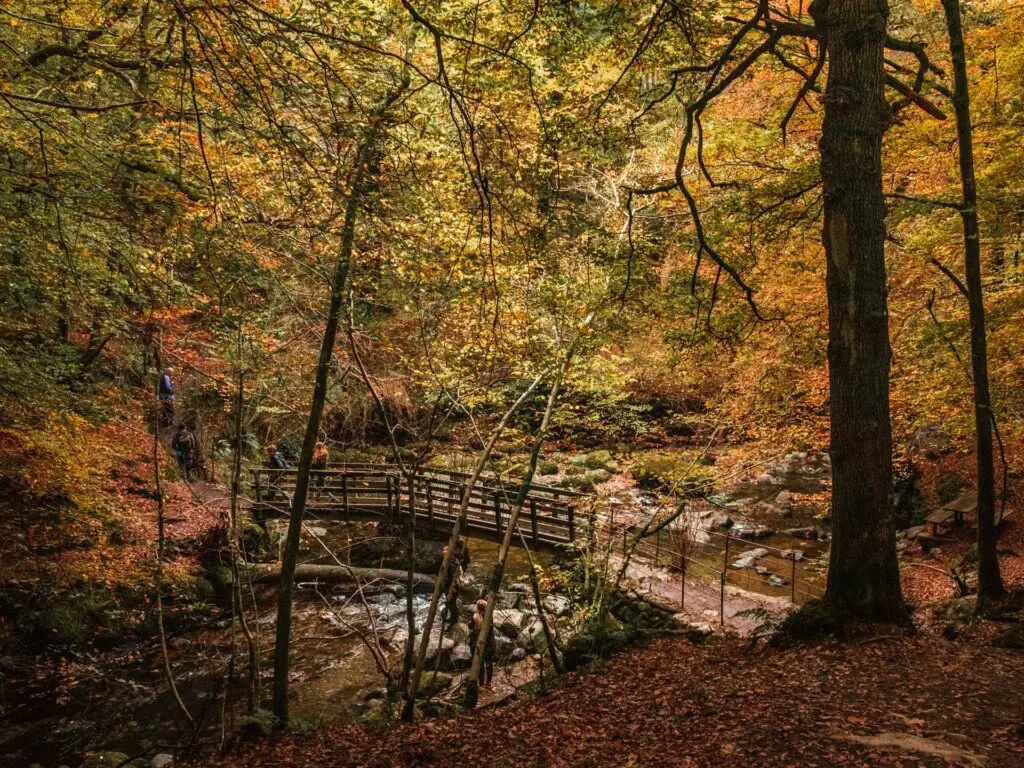 You will pass over a cute little bridge before reaching that point where the trail split on your way up. From here just walk back on the trail you started on and passed those mini waterfalls as you head back down to Ambleside.
---
More walks from Ambleside in the Lake District
---
If you would like another short walk, then I highly recommend the walk to Sweden Bridge. There is a bit more uphill for this one, however, it's only 3.5 miles long and gives you incredible views. If you would like to walk even higher up, then you could try the 2.6 mile loop from Ambleside to Todd Crag (it's that big hill you can see from Ambleside).
If you want to see something a bit different, you could try this walk around Rydal Water, which takes you to a cave.
The above walks are all on the shorter side, but if you want something much longer, you could try this 10.5 mile loop I did from Ambleside to Elterwater.
---
More walks in the Lake District
---
If you want a good challenge, then I recommend the Old Man of Coniston walk. It takes you up high for some incredible views.
If you want something that's not too challenging, but requires a little push, and gives good view rewards, then the Walla Crag walk is the one.
For more walking ideas, you could check out the National Trust website.
Pin it for later: A short walk from Ambleside to Stock Ghyll Force Waterfall