This 10.5 mile circular walk from Ambleside to Loughrigg Tarn and Elterwater then back again has a little bit of everything. Civilised paths, easy trails, dirt trails, mud, marsh and grassy trails. Gentle inclines, steep inclines, even steeper declines. Water views, mountain views and lots of cute village views. Sections with lots of people then sections with absolutely no people. Lots of sheep and a cave.
I have done a walk to Elterwater and Loughrigg Tarn before, but this time I followed some different trails which is where the surprises happened. Gorgeous views I hadn't seen before, and challenges which I wasn't expecting.
I have thought long and hard about how to rate this walk on a difficulty scale. A lot of it is very easy, but the are a few medium difficulty sections thrown in, then one very challenging bit. Overall, I think I will say it is a medium. That one challenging bit really is quite aggressive though. If you are an experienced hiker or just fancy an adventure, then I say go for. If it's not your thing, then don't worry, I will provide you with an option to skip it.
This walk destroyed me. It was a great walk, but I went into it with an injury and came out of it with another. The last couple of miles were pretty painful and I couldn't wait for it to end. 
Was this walk worth the pain? Without hesitation, YES. Some of the views were truly breathtaking, and I will tell you all about it…..
Logistics for the walk from Ambleside to Elterwater via Loughrigg Tarn
Start/finish: Ambleside
Distance: 10.4 miles
Time: 5 hours (although I was walking very slow at the end)
Elevation: Total gain 2641 ft (805m). Highest point 844ft (257m).
Difficulty: Medium with some challenges.
Terrain: Gravel path, dirt trails, marsh, mud, asphalt and optional scrambling.
Tips: Don't do it if you have injured feet
Map
You can find my more detailed route map on AllTrails.
-More walking ideas in the Lake District will be at the end-
Ambleside to Elterwater via Loughrigg Tarn walk guide
I started my walk towards Elterwater and Loughrigg Tarn from Rothay Park in Ambleside. I also started the walk with an Achilles injury, bad enough that I also had a lump on my tendon. It came on a week earlier after a hiking weekend in Dorset.
You may be thinking I shouldn't be out hiking on it. And you would be correct (that's the physiotherapist in me talking). But I like to follow my own rules.
So I head off on my merry way, knowing it would get worse…..but that's a problem for later. 
Through the park and over the bridge, I made my way up the steep and winding uphill road. Passing by the trail I had come off yesterday when walking up Todd Crag.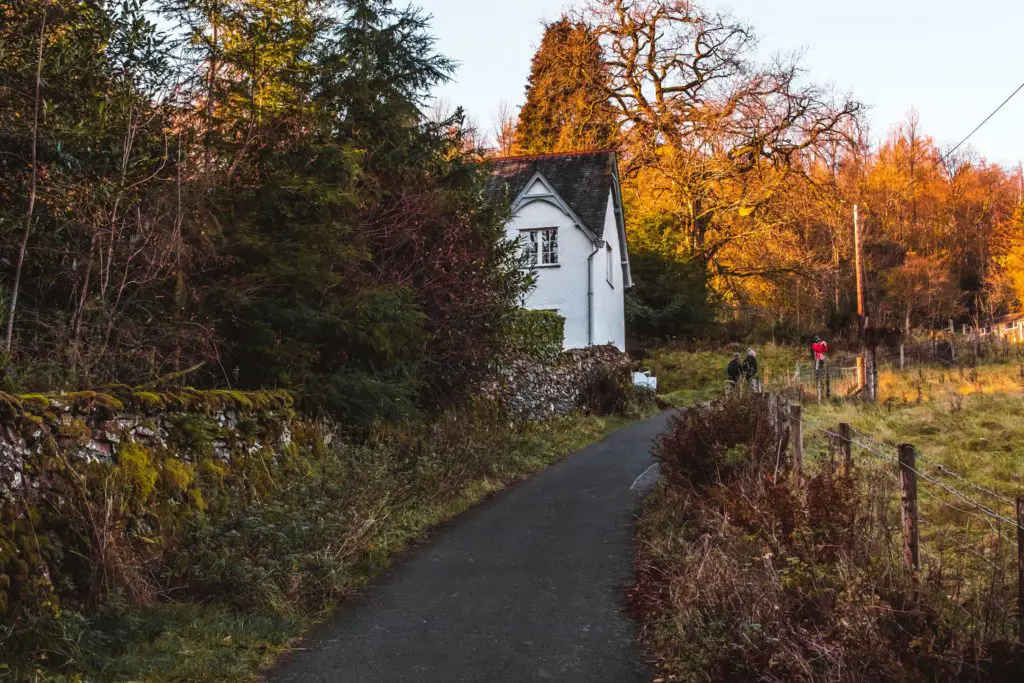 Yesterday's walk was mostly on dirt trail, so that's what I was expecting for today once off this road. However, I was surprised to find that the road led onto a wide and pleasant gravel path. Not a bad surprise. Just different. Things levelled out a bit, and the trail made gentle undulations up and down as I got further away from Ambleside.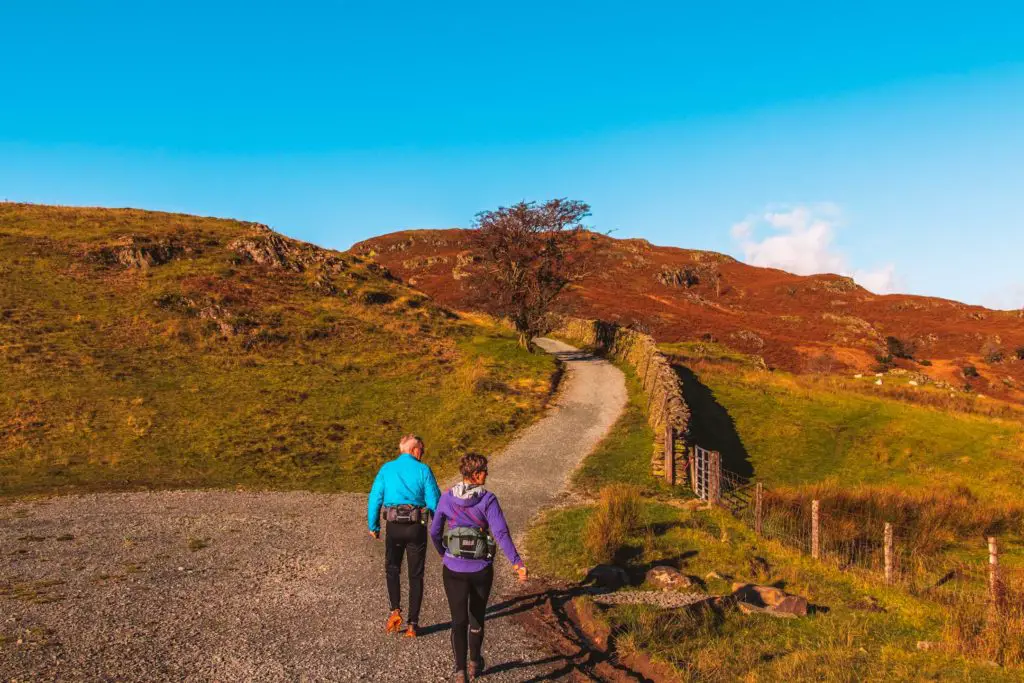 Given how simple the trail was, and that it was an unusually sunny day, I was sharing the trail with a few other walkers. Not too many though. 
Autumn was in full swing and all the colours were just so vivid. Bright blue sky, different shades of orange and green. It does like to rain a lot in the Lake District, so really lucked out with this one.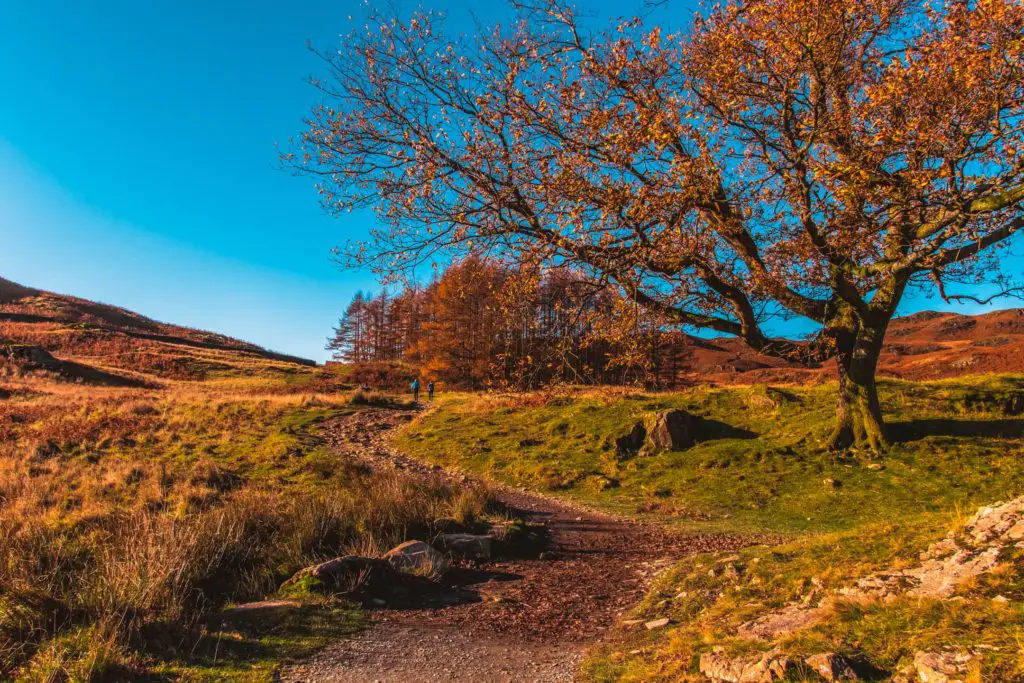 The first trail split
I reached a point where the trail split. Right goes up and over the hill, left goes around it. My instinct was to go up. I always like an up. My planned route was to go left. I had a look at the map to see if I could rejoin my trail if I took the right turn to go up, but alas I could not.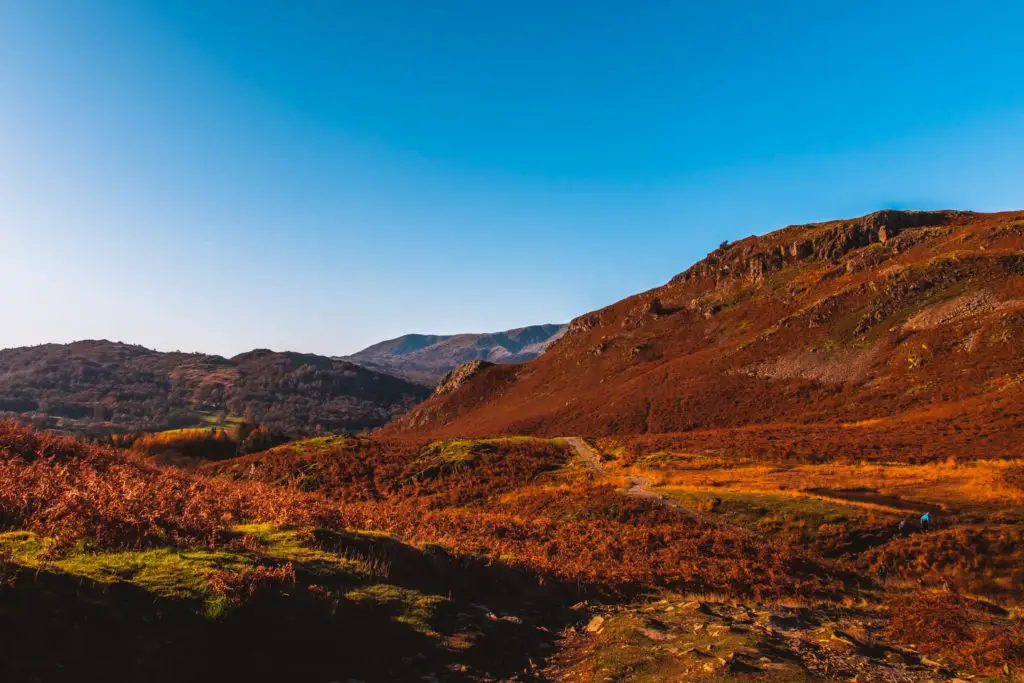 As I made my way to the left and around the base of the hill, my sadness for not going up soon went away as I saw the beauty of my surroundings. I also thought about how I do have a massive hill to climb towards the end. Probably a good thing I don't do too many hills yet. What with my injury and all.
The second trail split
The trail then splits again and I decide that both routes go the same way (they do). I took the right fork of the trail and found myself at a cute little bench. Nicely placed to admire the views. So yes, if you do this, take the right fork. It's better.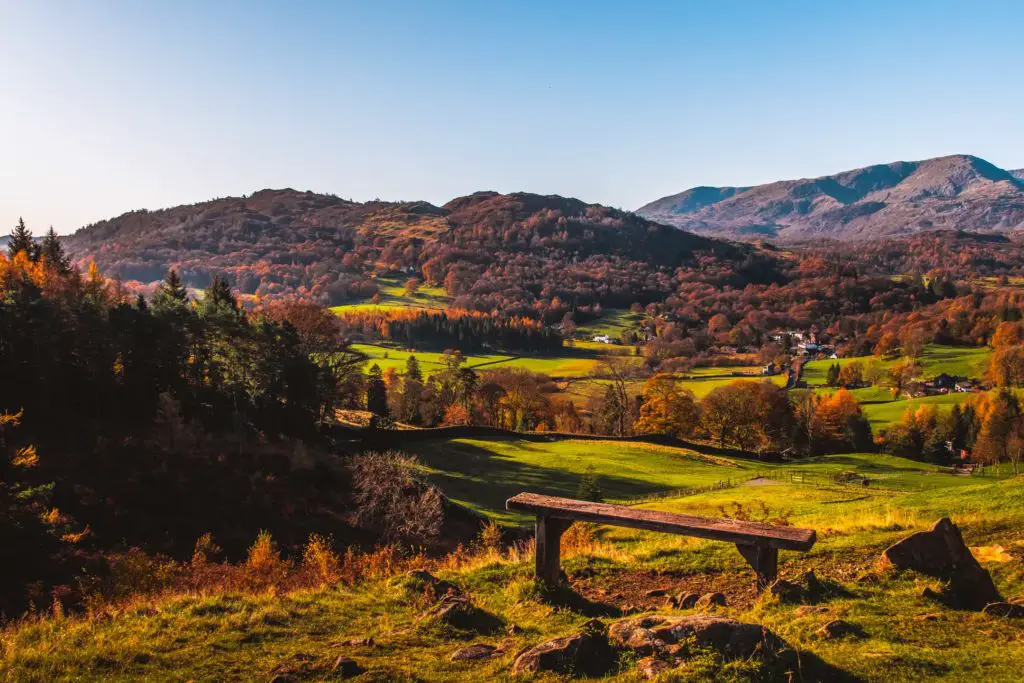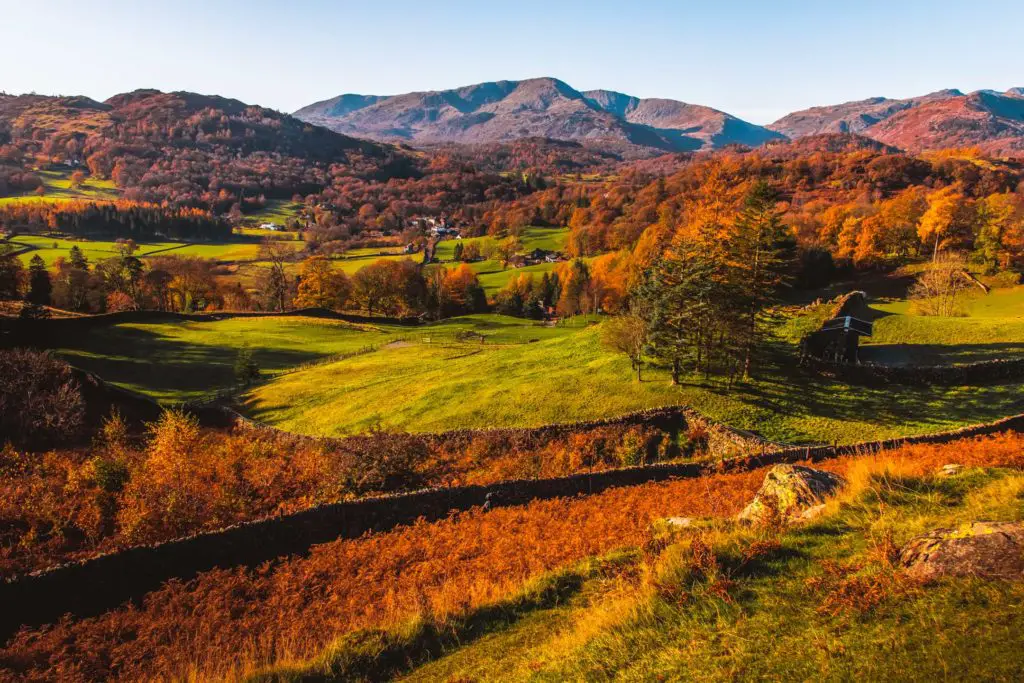 To then follow the trail down involves a little bit of scramble down some rocks. A nice mini adventurous bit. 
Actually, not everyone wants a scramble, so, if that's you, then you should go back and take the left fork in the trail. Both trails will take you to this wall on the left: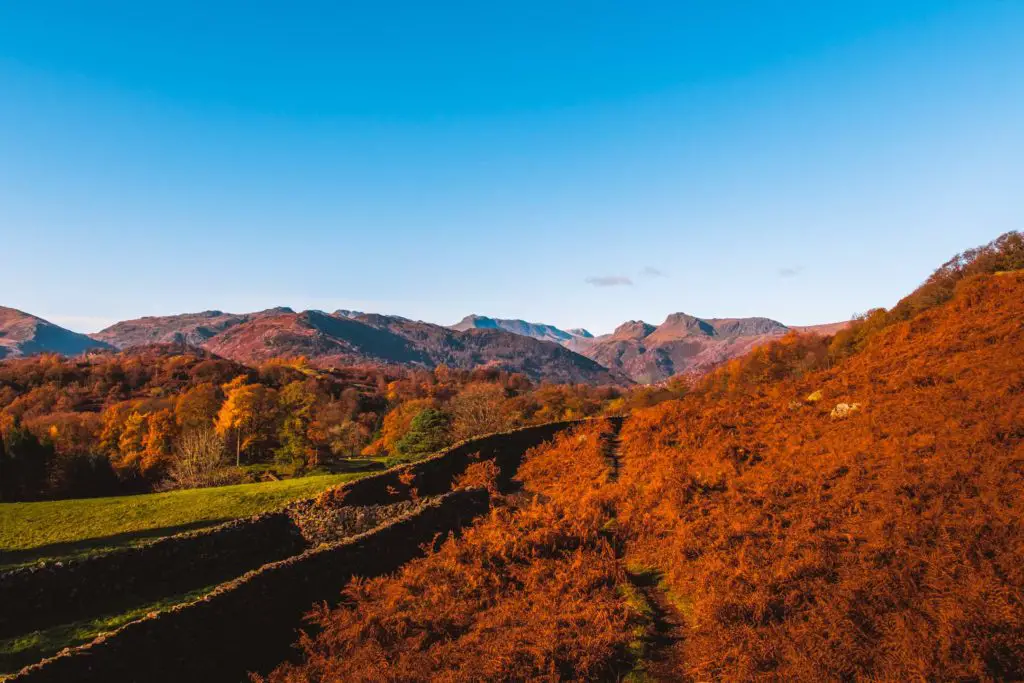 The missed turn
Taking the trail as it led downhill, through gates and under tree cover I thought to myself how easy this trail is to follow. I had been keeping a mental note of it so I could guide you but actually, not too much guidance is needed.
Then something felt wrong. 
I looked at my map and realised I had missed my turn. 
Scrap everything I just said. 
So, backstepping a bit, after the scramble down the rocks, you will walk through a gate and under trees with a wall to your left. There will be a point where the main trail turns left (the way that I went). But if you look to the right, you should see a gate. 
Go through it.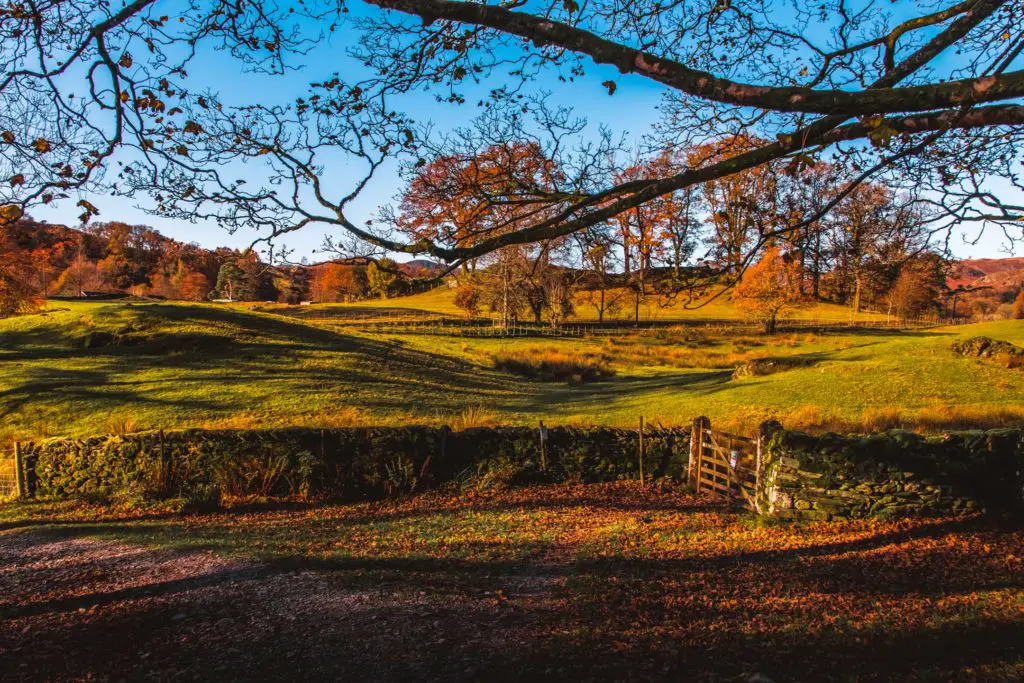 The walk towards Loughrigg Tarn
Walking on the now grassy/dirt trail you will go over a stile and should get a glimpse of Loughrigg Tarn up ahead. 
Basically, just head to it whichever way you want.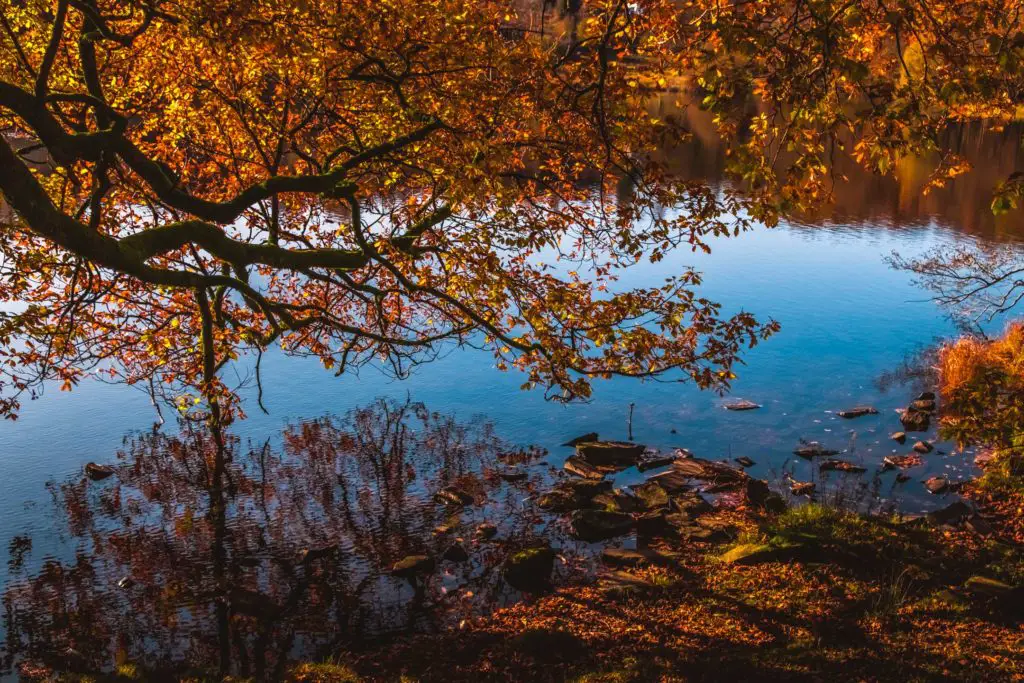 It was noticeably more busy at the tarn. Not surprising as it is super pretty. Not a bad place for a picnic actually. 
To continue on, I followed the tarn around to the other side and through another gate. 
Through the gate and straight across the field I hit my first bit of tarmac road. Taking a left turn on the road, then slightly further ahead I took the right fork leading uphill. After passing by someones home the road becomes trail again.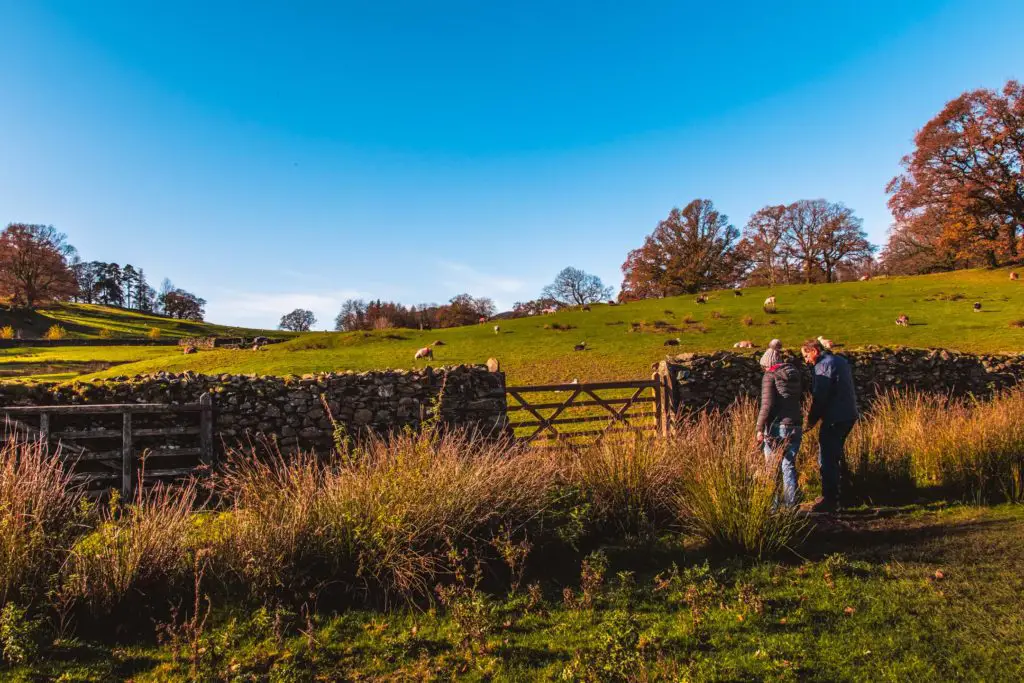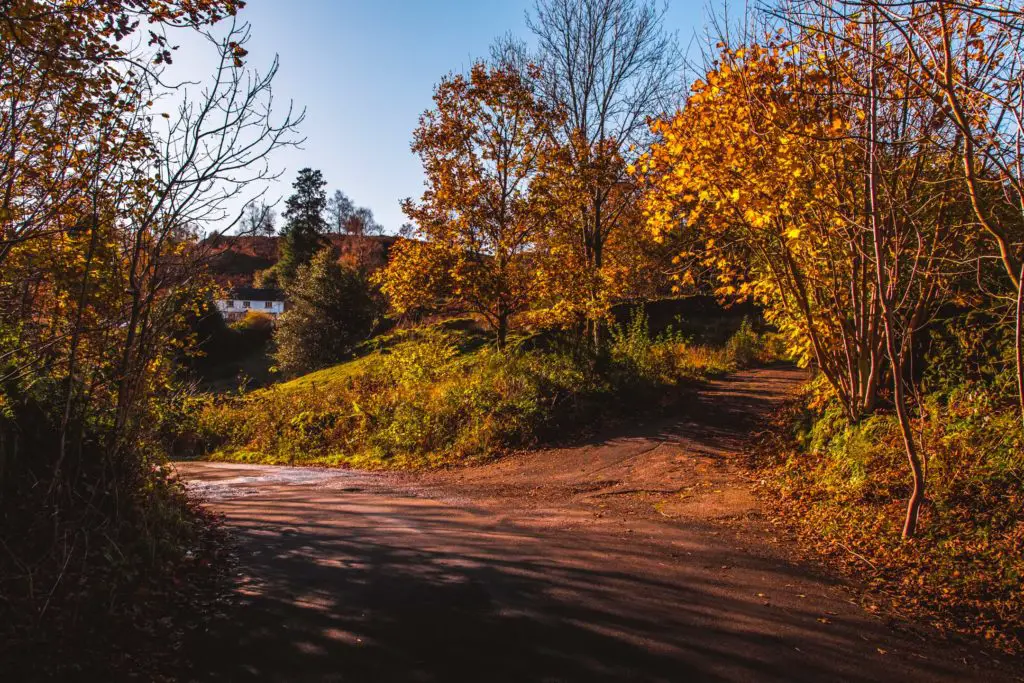 The best detour ever
My plan was to take the first right trail leading off this one. However, according to my map there was a peak up ahead. Something told me I needed to go to that peak.
So I stayed on this trail and walked through the open wall slightly further on. I noticed a sign saying private property and to keep to the main trail. 
I wasn't quite sure what to make of this. Is it talking about the gravel trail I am on right now? Can I take the dirt trail leading off this one to reach the peak? Is that dirt trail considered off the main trail? 
I thought about it for a moment then decided to abandon that idea and turned to walk back through the opening in the wall. That's when I noticed a trail leading up directly next to the wall (outside the private land). 
I took it.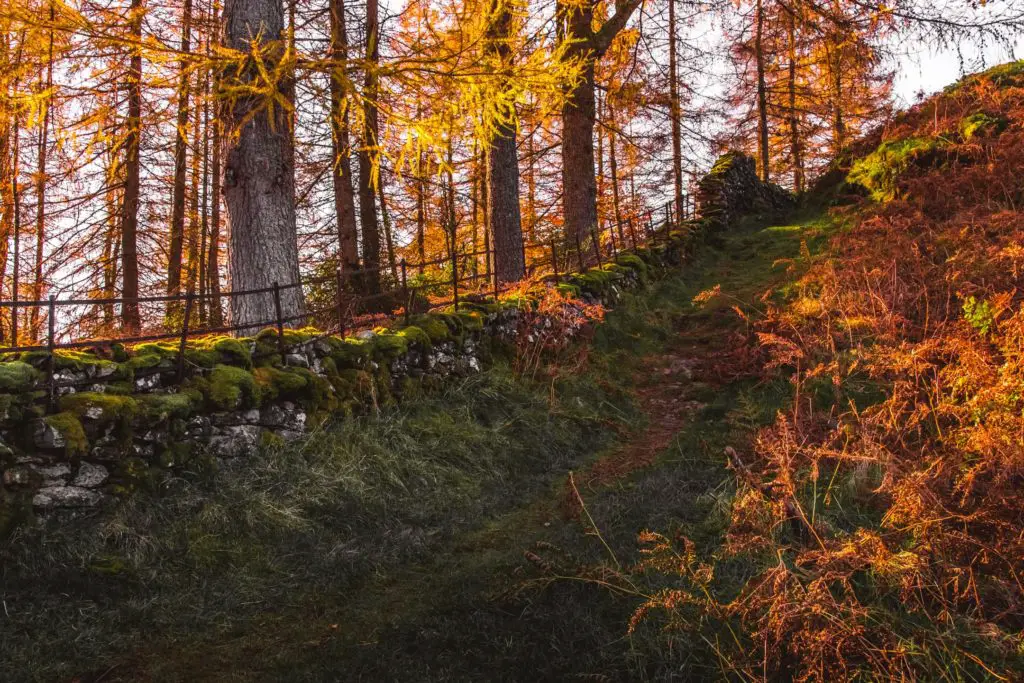 Oh. My. Wow. Best. Detour. EVER
At the top, I had views all around of the hills, snow capped mountains in the distance, Elterwater down one side (where I will walk to next) and Loughrigg Tarn the other. I could have ended the walk here and would be super happy.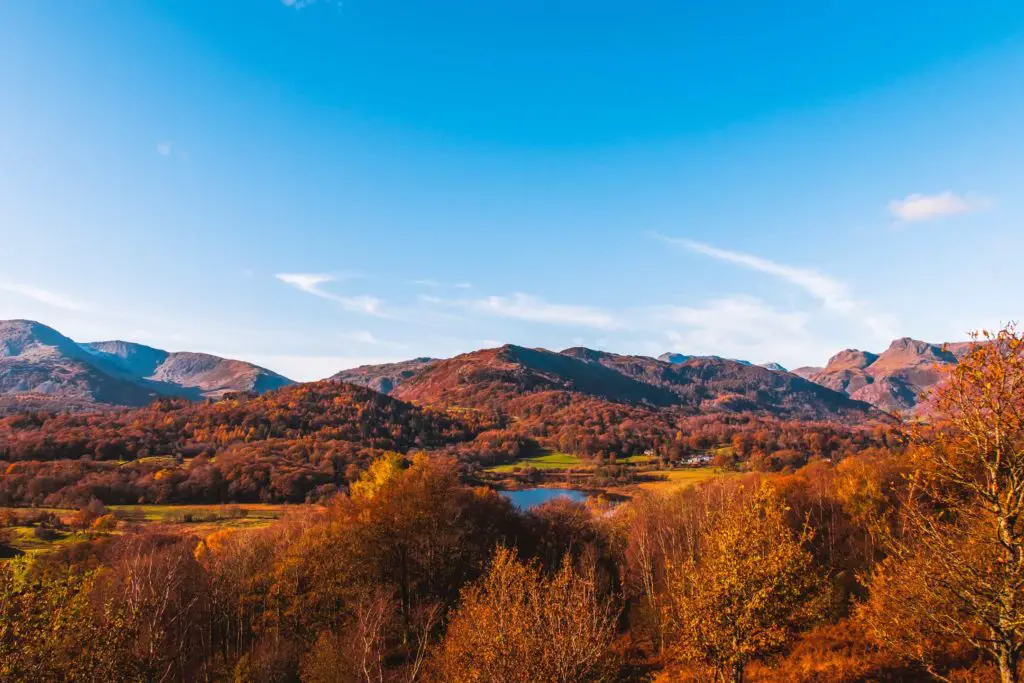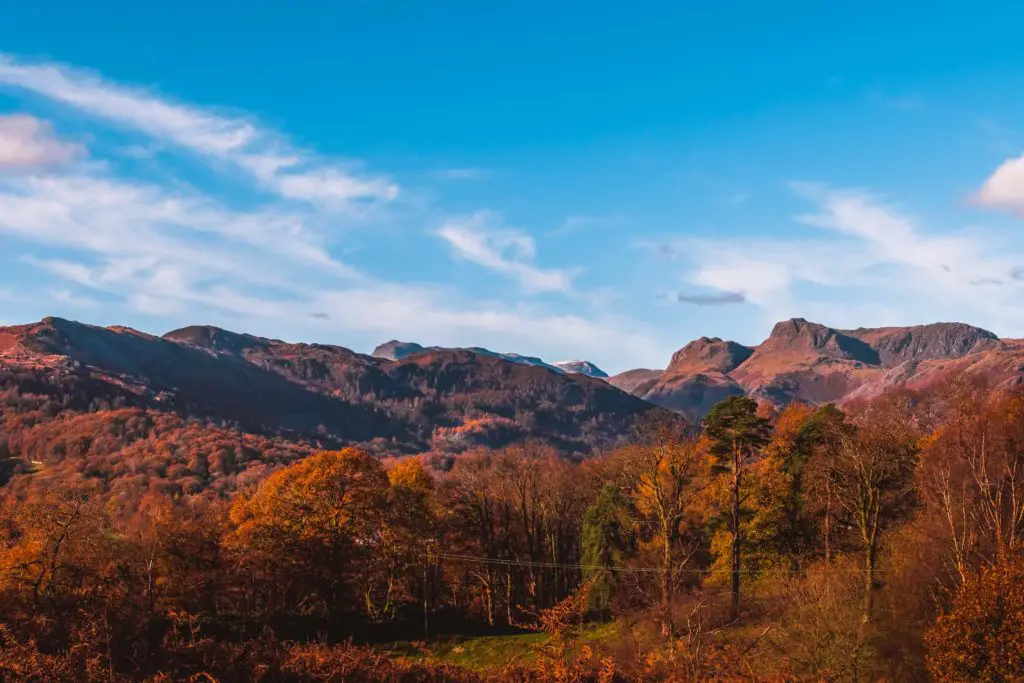 A women up there commented on how beautiful it was today (the weather), and how lucky I was. This is now the third person today who has told me how lucky I am with the weather.
The walk towards Elterwater
My next plan was to walk to Elterwater. So I descended off the hill in the direction of north, to meet the trail as it turned left. When I met a fork in the trail, I knew that the right trail was a more direct walking route to Elterwater, so I took it.
However my plan to get to the water quicker was derailed when I hit a big section of mud. The kind of mud that sucks your foot in and steals your shoe. 
I gave it a good go, trying to get across it, getting onto the sides. After many attempts, I concluded that it was impossible.
If I can't do it, it must be impossible.
So I headed back to take the other (longer) route.
I headed downhill along the dirt trail, though overgrown grassy bits and then under tree cover to reach the road. I crossed the road to continue on the trail on the other side, then through a gate to an open grassy area.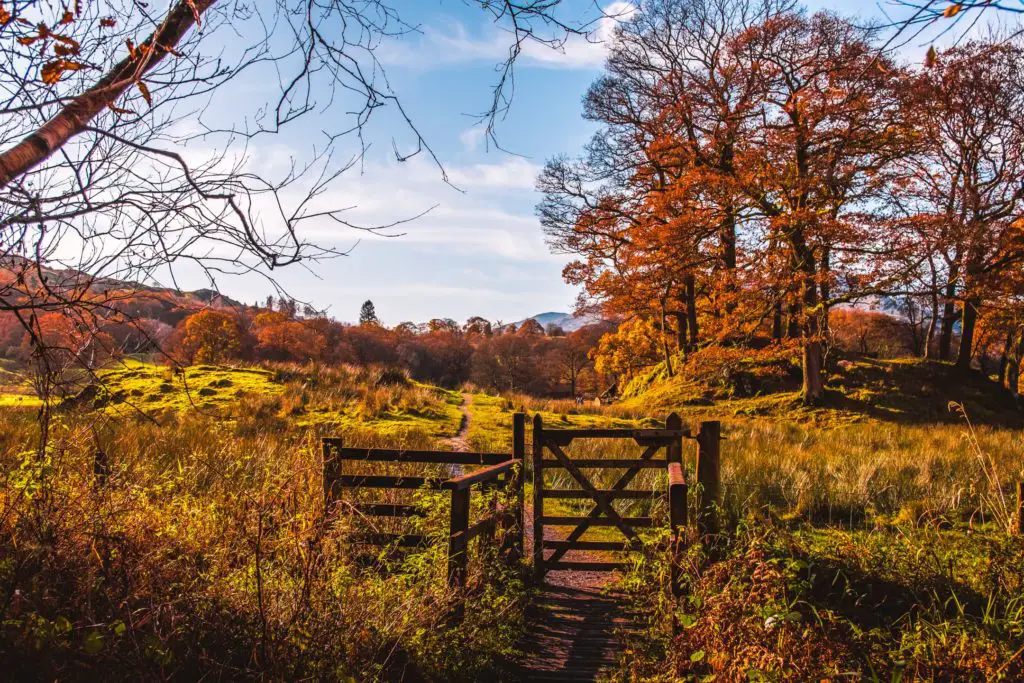 Just ahead I reached Elterwater.
Reaching Elterwater
I realised that this must be quite a popular area as there were quite a few people around. A lot more than at Loughrigg Tarn.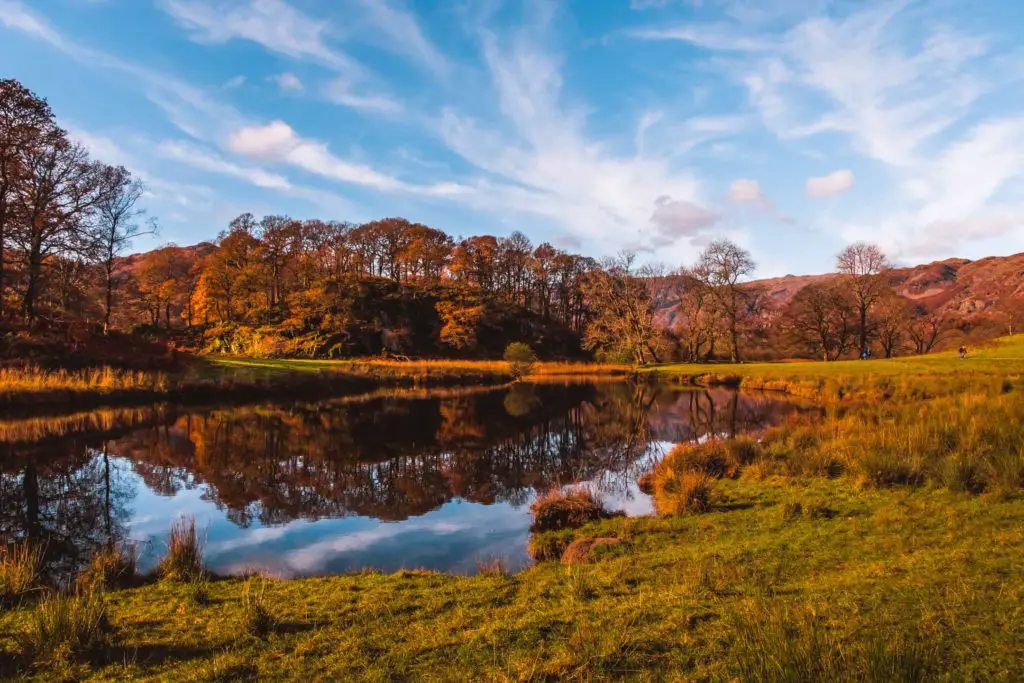 There is a very civilised path running along side the lake. It felt a little bit like I was in a park in London.
After having a little rest (and taking photos), I continued on my walk north on this very civilised path running alongside Elterwater…
…which went on for just a little bit longer than I would have liked.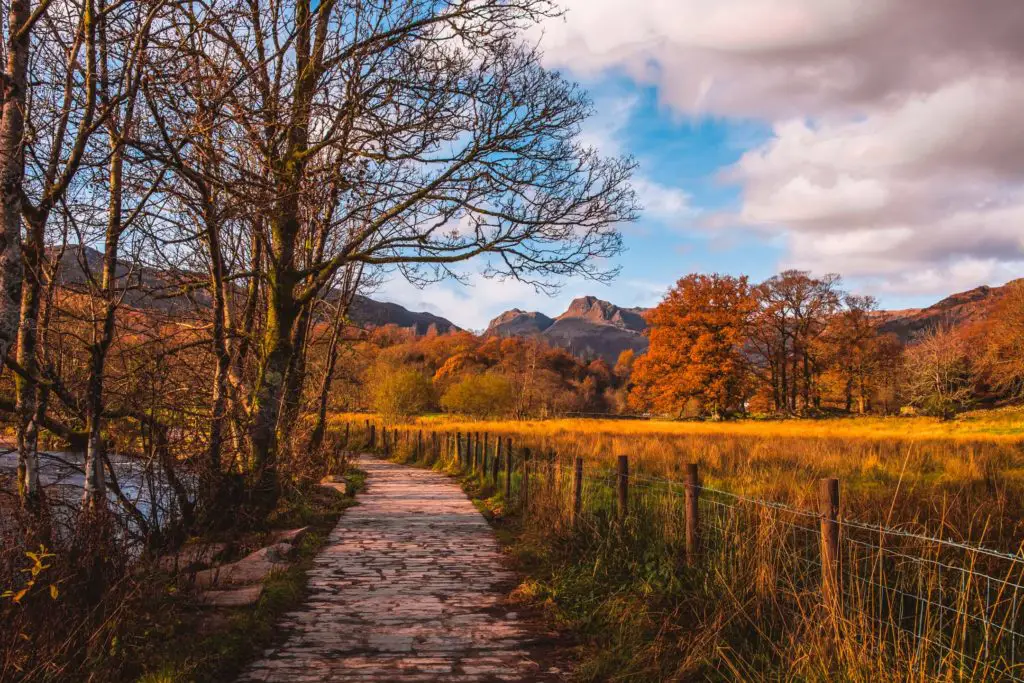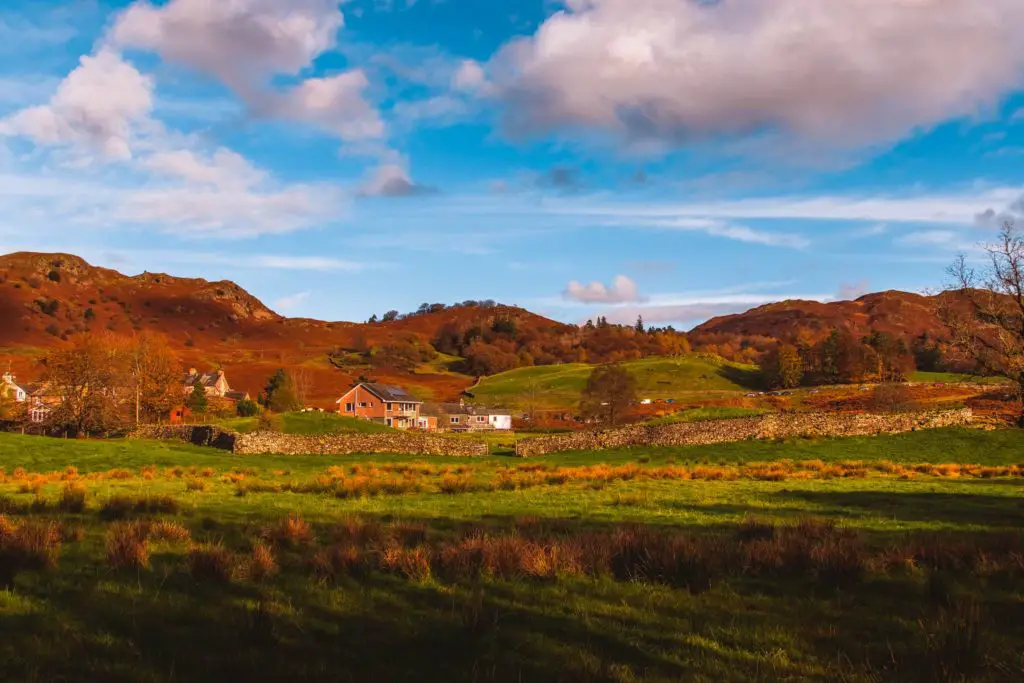 I mean, it was very pleasent, but I wasn't in the mood for pleasant. I wanted wild and rugged and secluded. So I checked my trail app to see how long until it ended and noticed I had missed a trail which runs alongside this path. 
Ah, next time.
It was about a mile walk to reach the village of Elterwater. At the crossroads, there was a pub, the Britannia Inn. On this gloriously sunny Sunday afternoon, the outside benches were packed with people. This would actually be a pretty good place to stop for a pub break if you tackle this walk.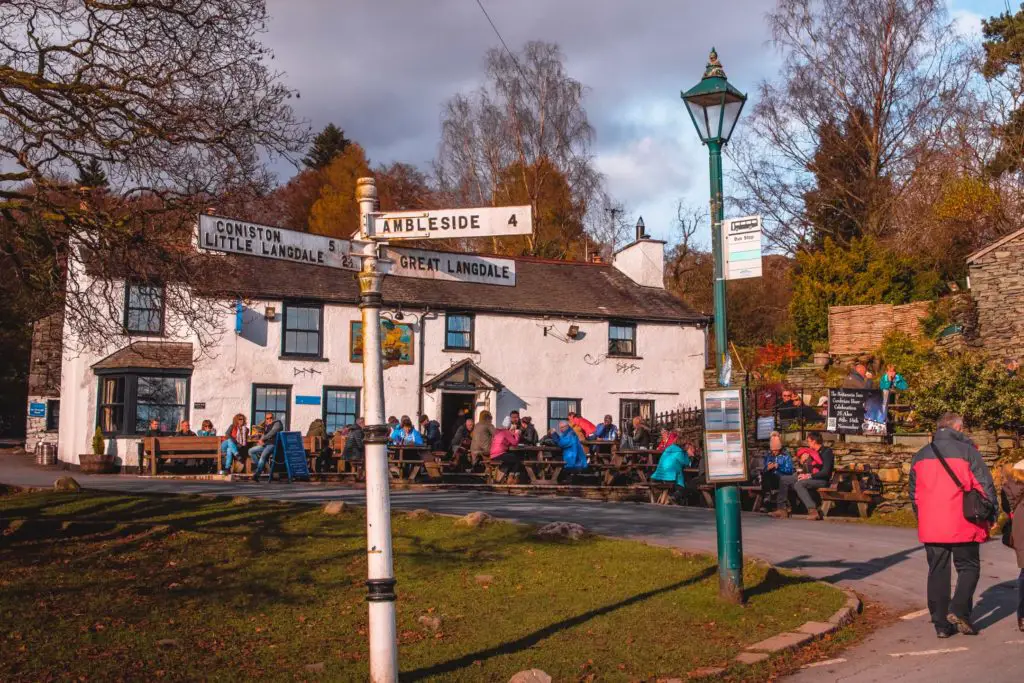 I tend not to stop for too long on my walks though, as when I sit for too long mid walk I get sleepy and too comfortable and can't be bothered to do anymore.
So today, I walked on by, following the road straight up. Following the signage for Great Langdale.
The walk out of Elterwater (the marshy bit)
The next little bit is a little bit tricky to navigate, the easiest way would be to follow this road uphill. But I needed to get off the road, so after the next crossing I took a right onto the grassy area. You will see the trail just by the little tree.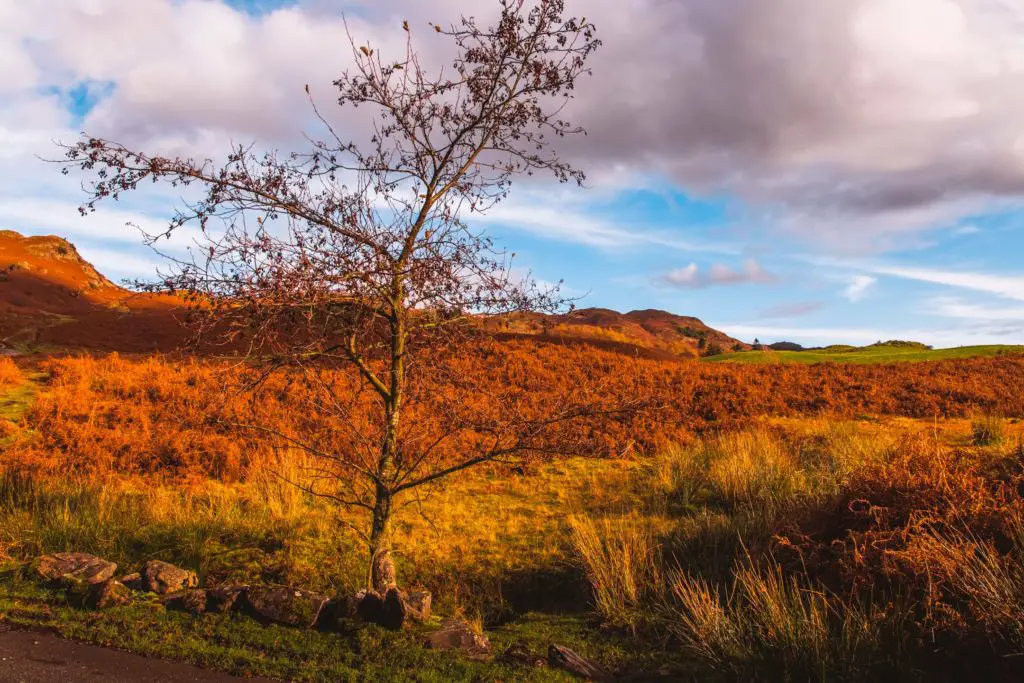 You basically need to head towards the big hills ahead following the direction of the road on your left. 
If you are following my map you will see I zigzagged a little bit, in an attempt to get across the marshy bits. 
Make sure to look back, because the views from here are incredible.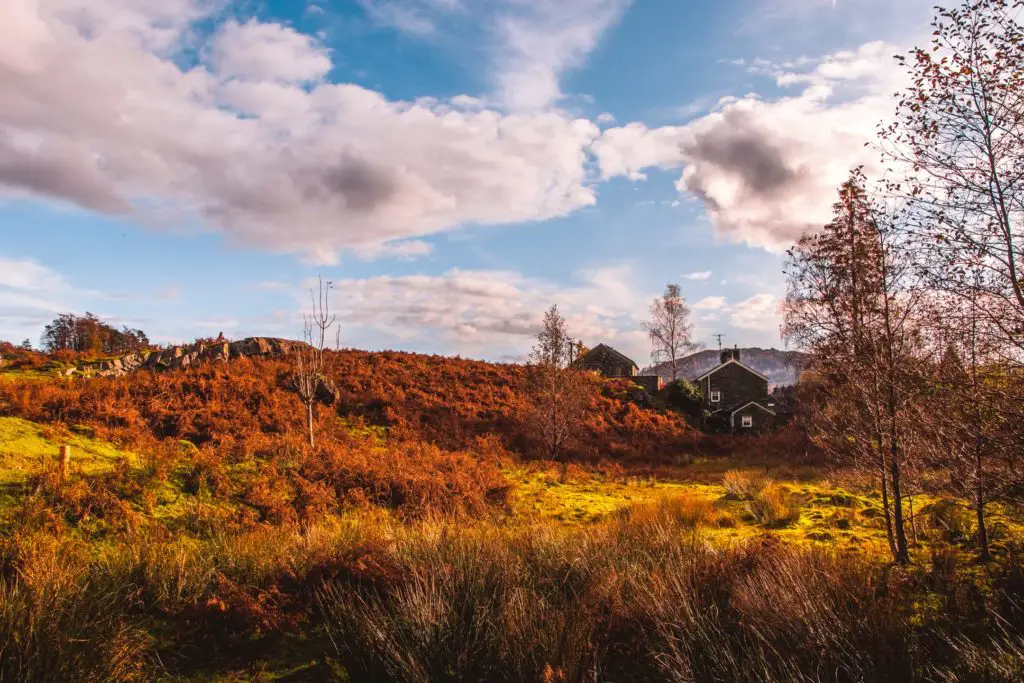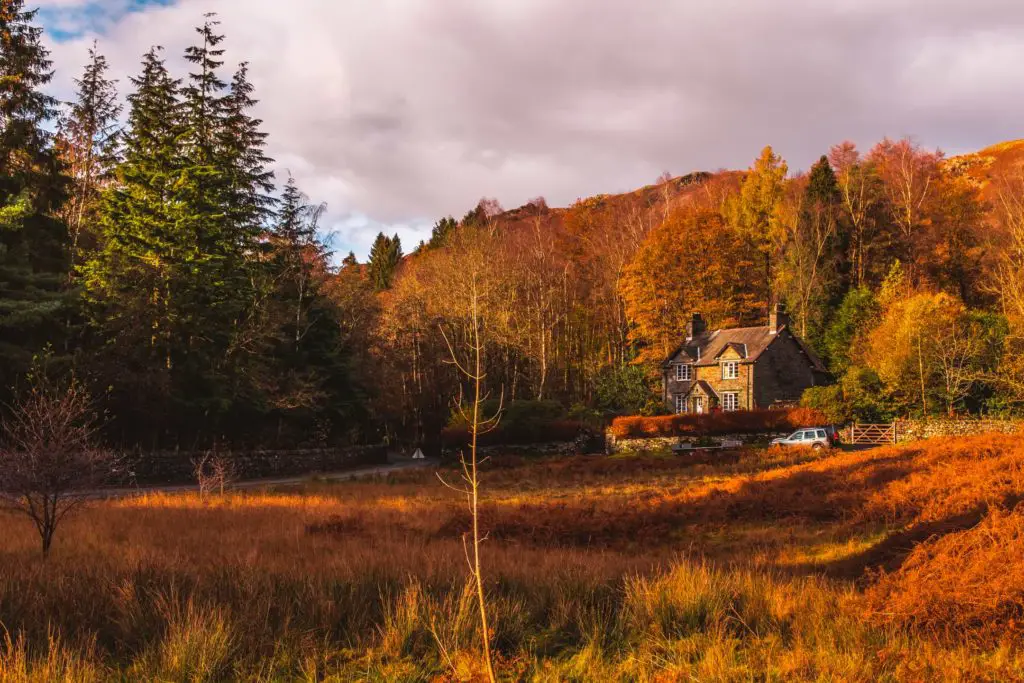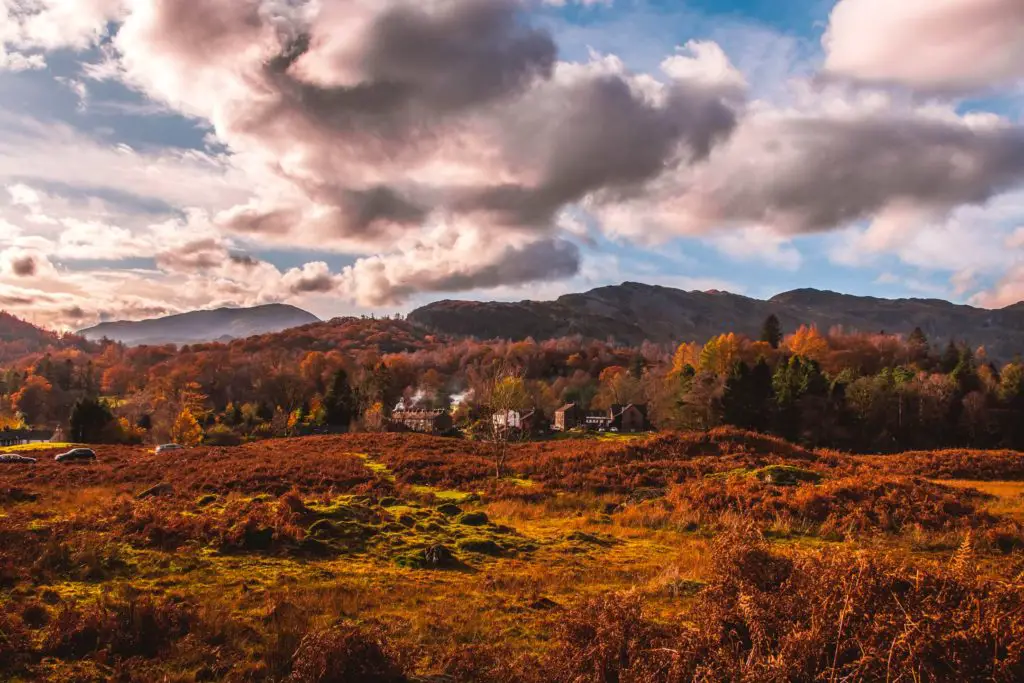 At some point up ahead the trail did lead me back onto the road, then just next to the sharp bend is a trail leading left off the road again.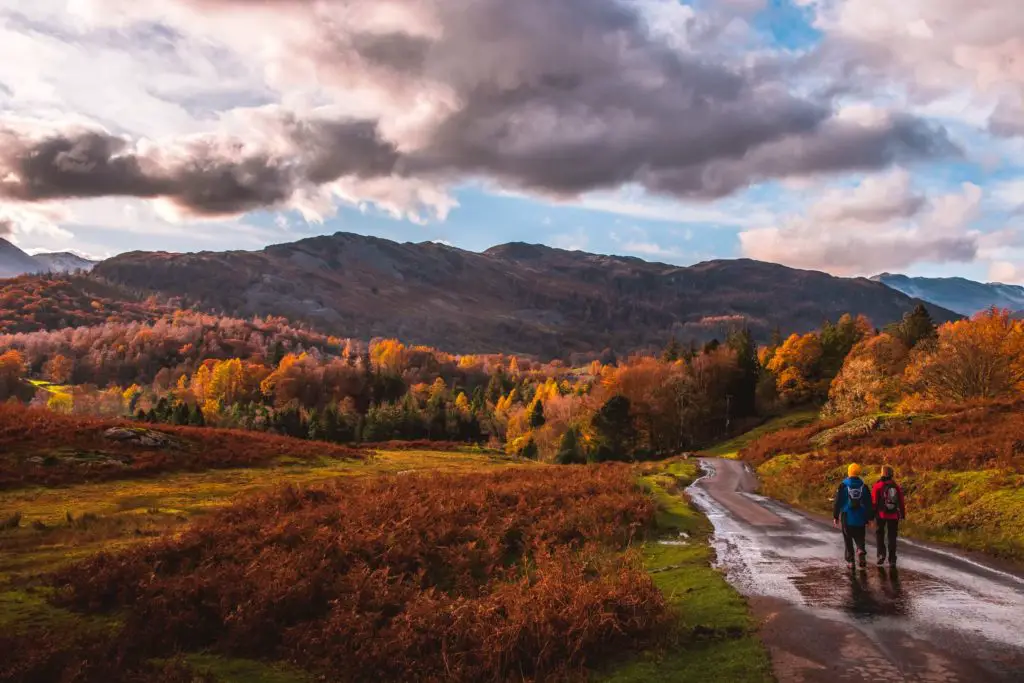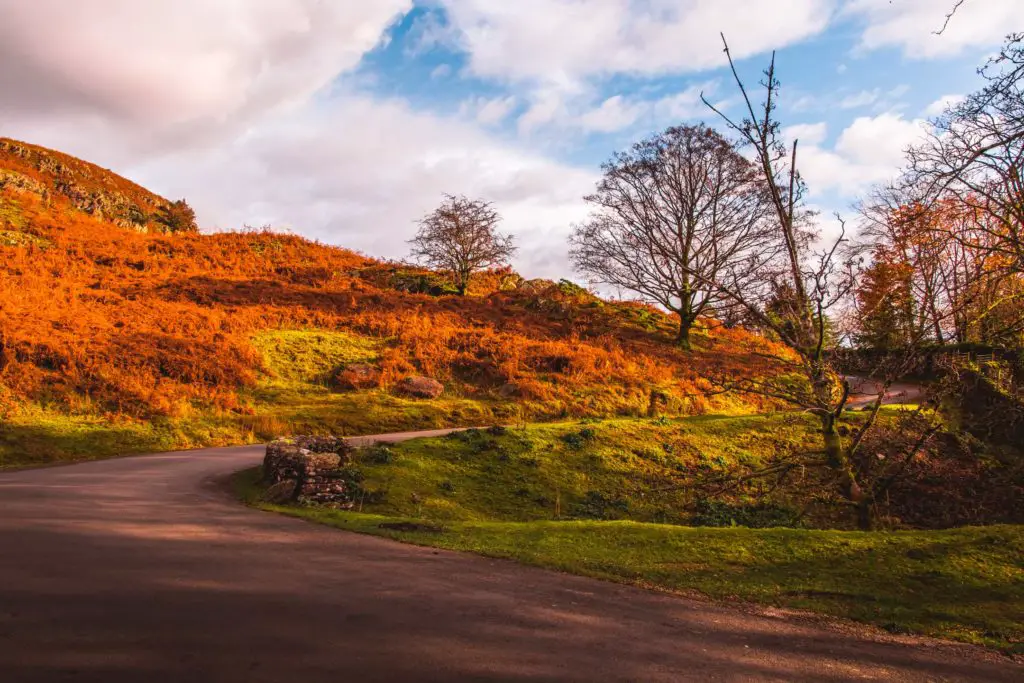 Seclusion
At the risk of sounding like a loner, I was very happy to be away from the crowds. Away from everyone and in the wild. I think it's because I live in London where you are always around other people. I do love living in London, but I also think that is why I love to be in places like this sometimes, to have an escape from all of that.
Up ahead I saw two hills which stuck out as they were so dark under the shade. Made me think of breasts.
I then noticed the sound of a helicopter and wondered whether it was a rescue helicopter. Rescues do happen in places like this. I started to think about what could have happened, who might need rescuing. 
I later found out that you can do helicopter rides over the Lake District, so it could have been that.
Views over Grasmere
Heading up and then walking alongside the wall, keeping it to my left and then through another gate, the views opened up down into the valley of Grasmere.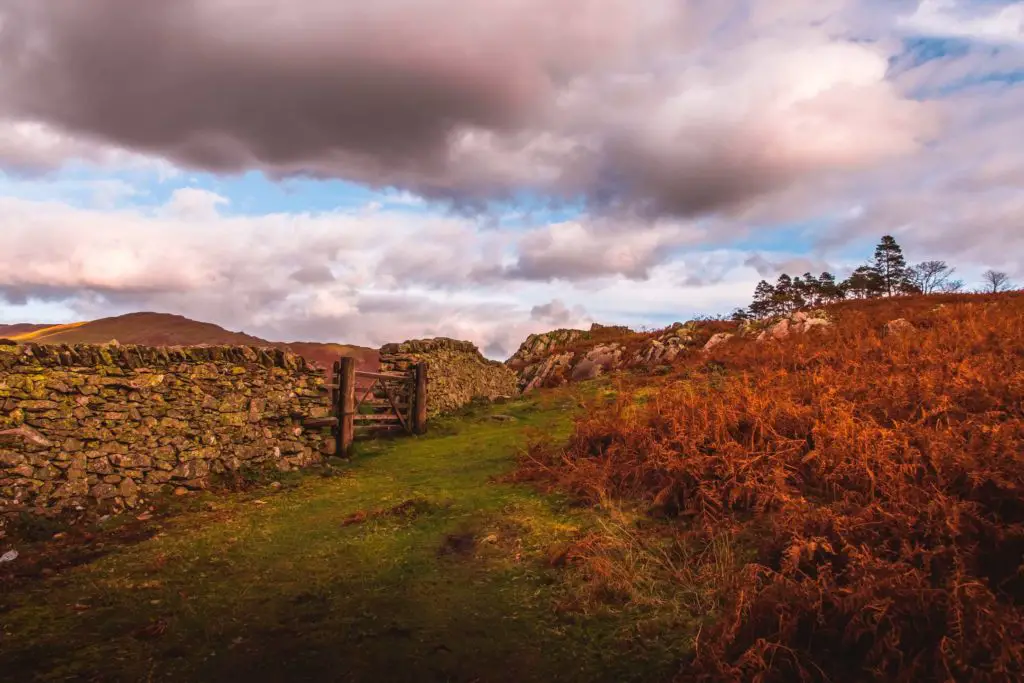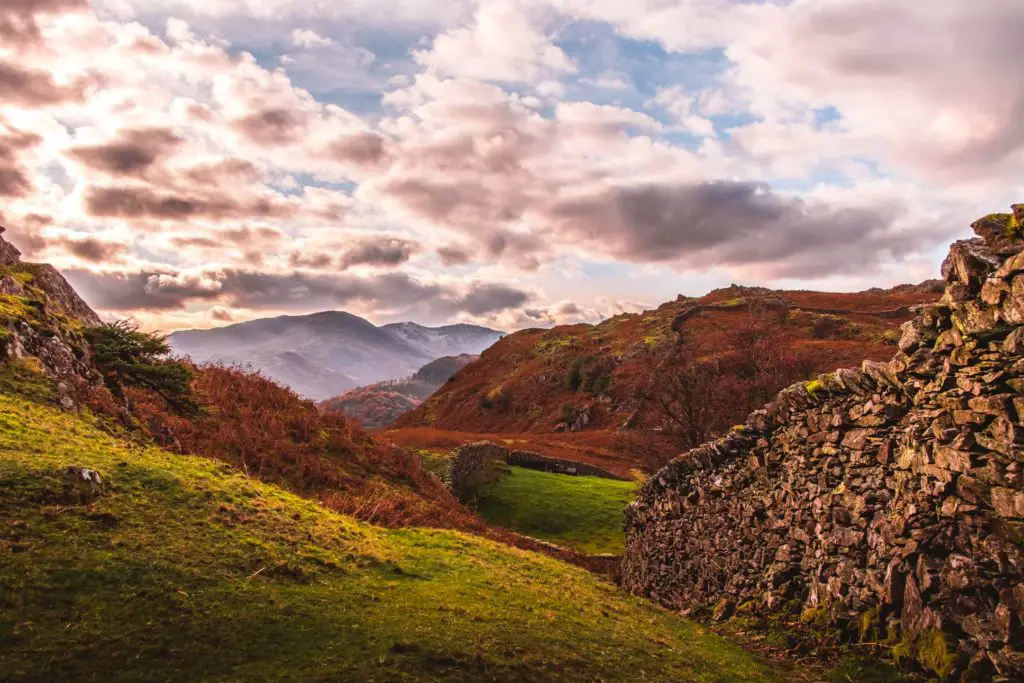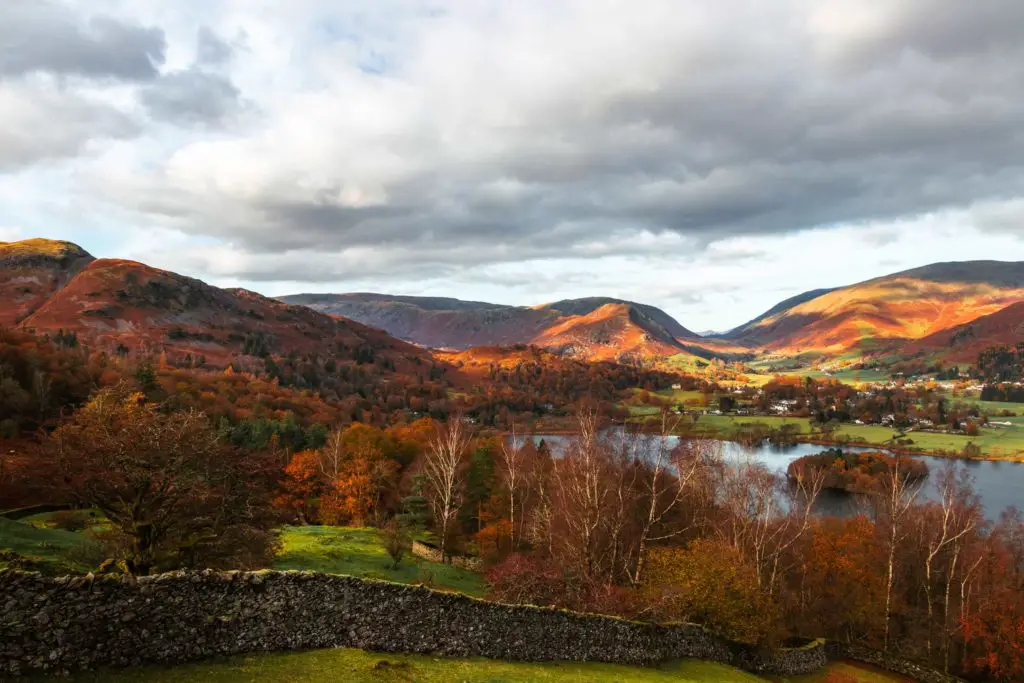 Walking downhill just a little, the trail curves to the right before continuing steeply down towards the trees.
At the bottom there were two gates. I wasn't quite sure which one to take. My instinct told me right, so I took a right. 
I knew I had to get to the road and it wasn't long before I realised that this one doesn't go to the road. 
Oops. My instinct was wrong. So back turn I go to take the other gate.
Taking a right at the road, a short distance ahead there is a trail leading off it to the left at the bend. There are actually two trails here, I took the right fork but both will lead the same way.
There are quite a few trails leading off this one, but I stayed on this one to reach and cross over the road.
The last big uphill
After the road I met a fork in the trail. Left goes gently alongside Grasmere, right goes up an aggressive hill.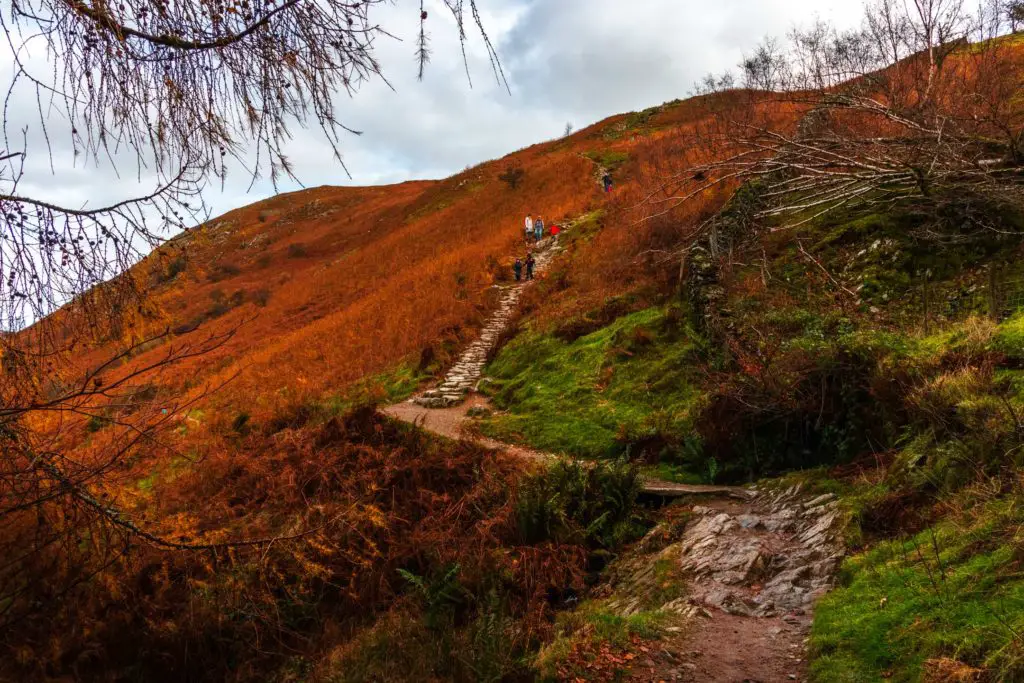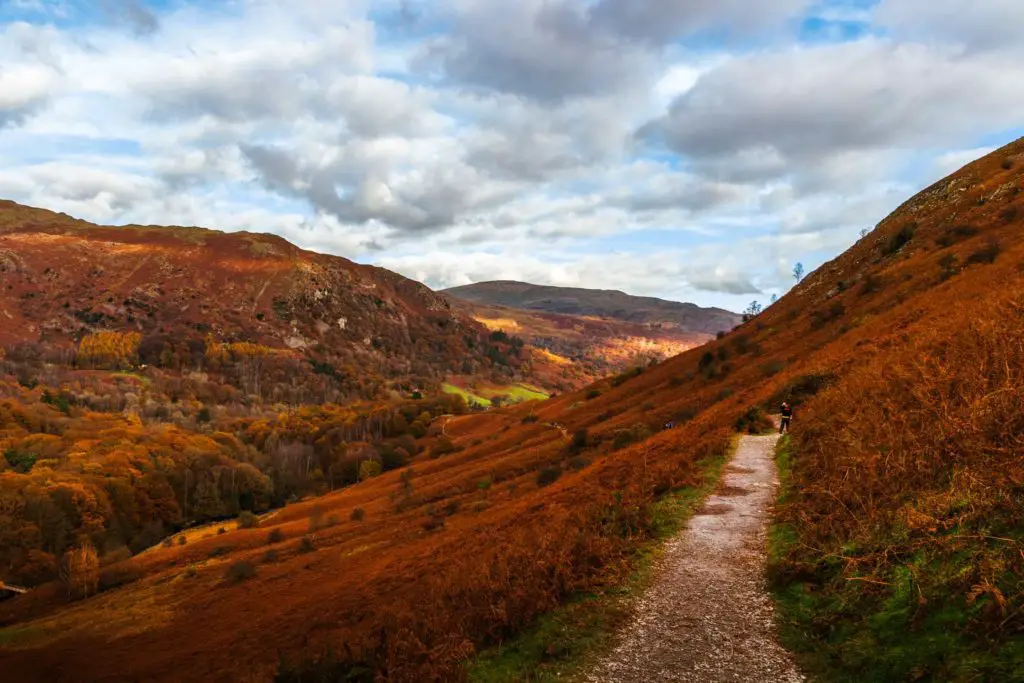 I stood there for a moment and thought about my plan of action. At this point my Achillies was not happy. My body wanted me to take the left trail. But knowing this was the last hill, the last push, the last grand view, I just had to take the right trail.
So I took a right.
I must tell you though, that this next bit is what destroyed me. And that challenging bit I mentioned at the beginning, this is only the start of it. It's the down that gets you. 
For safety reasons I must say that you should only do the down I did if you are an experienced hiker, or feeling very adventurous (just covering myself so I don't get sued). The alternative is to continue up and over the other side, or to stick to the trail at the bottom that runs alongside Grasmere.
So I headed up, still blissfully unaware of what was ahead of me. There are quite a few people walking along this section. Actually, this is the first human contact I have had since leaving Elterwater.
This bit is steep, the kind of steep that gets your heart pumping and quads burning. 
Then you look back.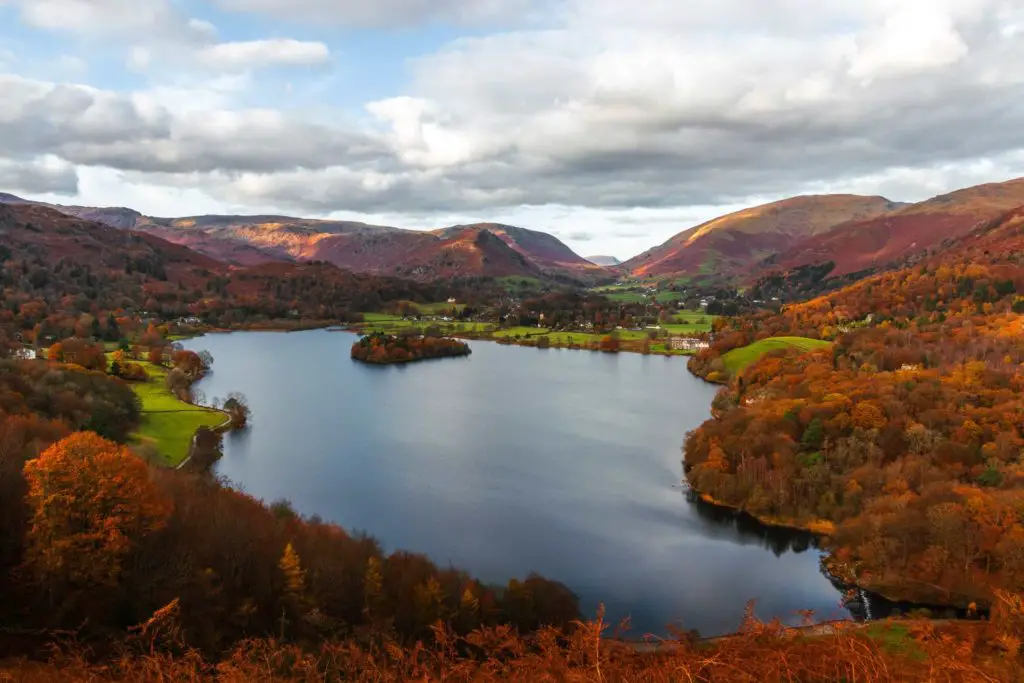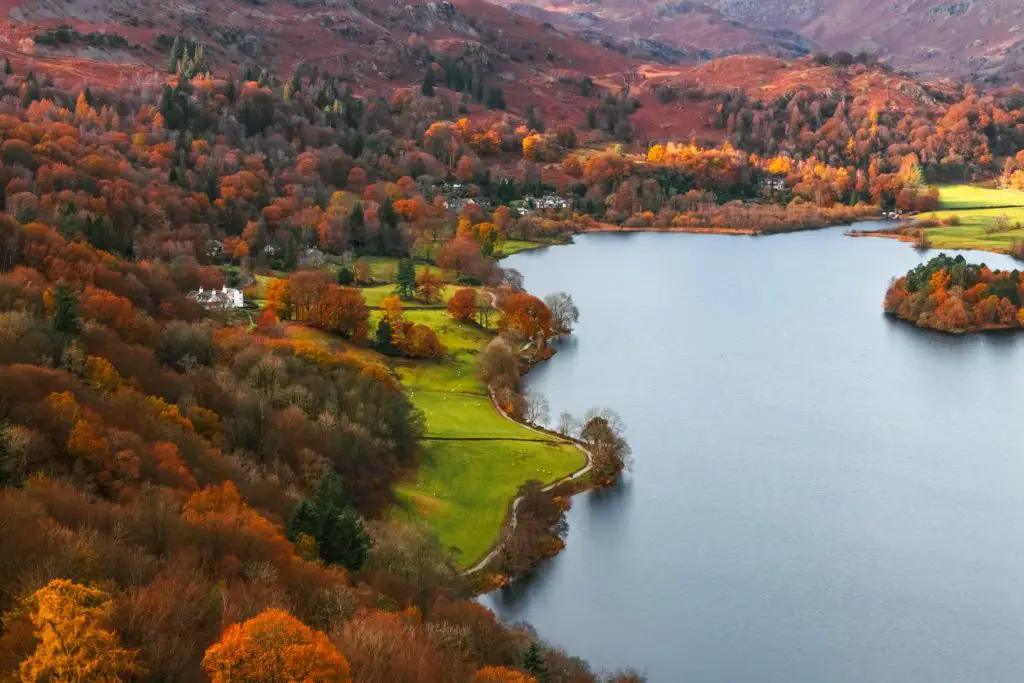 Wow. When you look back, you realise why this bit of trail is so popular. The higher you go the better it gets.
Then I got injured
Then I felt it. A small rip in my plantarfascia (the bit under the foot). Not in my already injured foot though. In my other one.
My good foot.
Every time I tried to push up on my toes, the pain underneath wouldn't let me. Every time I pushed up on my other foot, my Achillies wouldn't let me. 
How does one walk up a hill when they can't use their feet properly?
Well, I can tell you that with great difficulty, it is just about possible. I already knew that I wasn't going right to the top, but rather, I would be taking a trail down about halfway up. I just needed to make it there. 
The photogenic tree
I reached a levelling off and noticed someone photographing a small tree sticking out the side. Another photographer then approached and commented to me how it's a very beautiful tree.
Yes, it was a very lovely tree, with the way it sticks out the side. I might have stayed and photographed it, but now it seemed a queue was forming so I left it alone and continued on up…..
…..and got my own tree photo.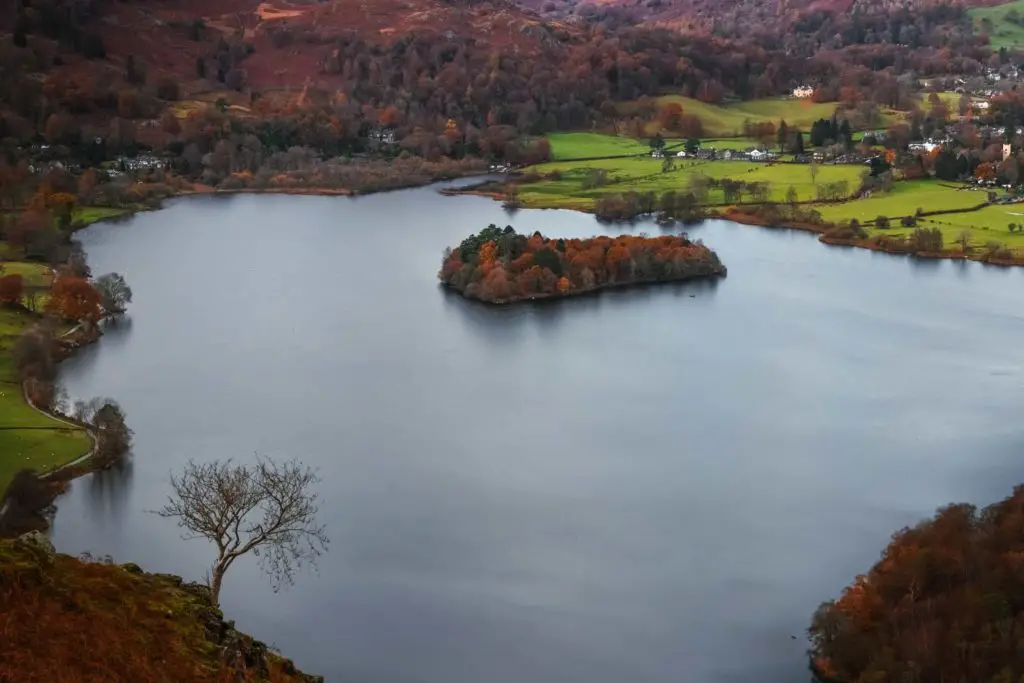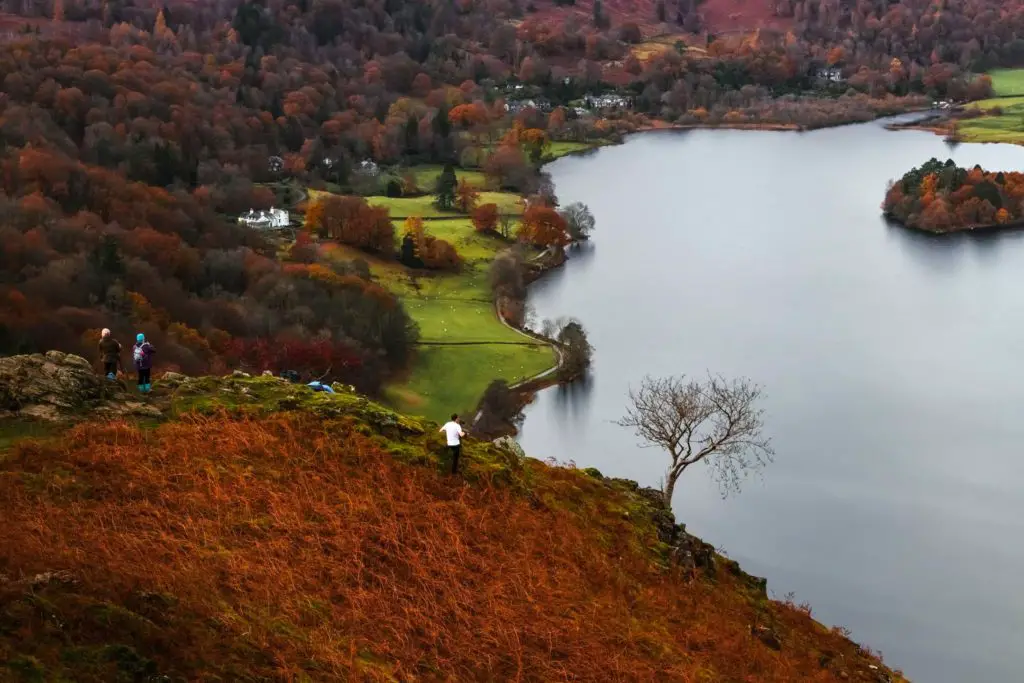 Just slightly further up, I reached the trail leading left and down. 
Going off piste
Now, I warn you again. Take this trail at your own risk. 
There is the possibility to continue to the top and from there you will find trails which take you back to Ambleside. There are lots of trails up there, so for guidance, once at the top, if you take the first trail leading left, it will take you down to Rydell Water to join this trail later on.
Now, back to it. Taking this trail, it soon became evident that not many people go this way. It's very off piste. There is a trail, but it's very well hidden, I could just about make it out. If you don't hike much you probably wouldn't be able to tell it's there.
Going into full on hike mode, I made my way down. Dirt path hidden under overgrown foliage, rocks to scramble down, and slabs of rock prime for slippage. 
I may or may not have slipped.
It starts off innocent: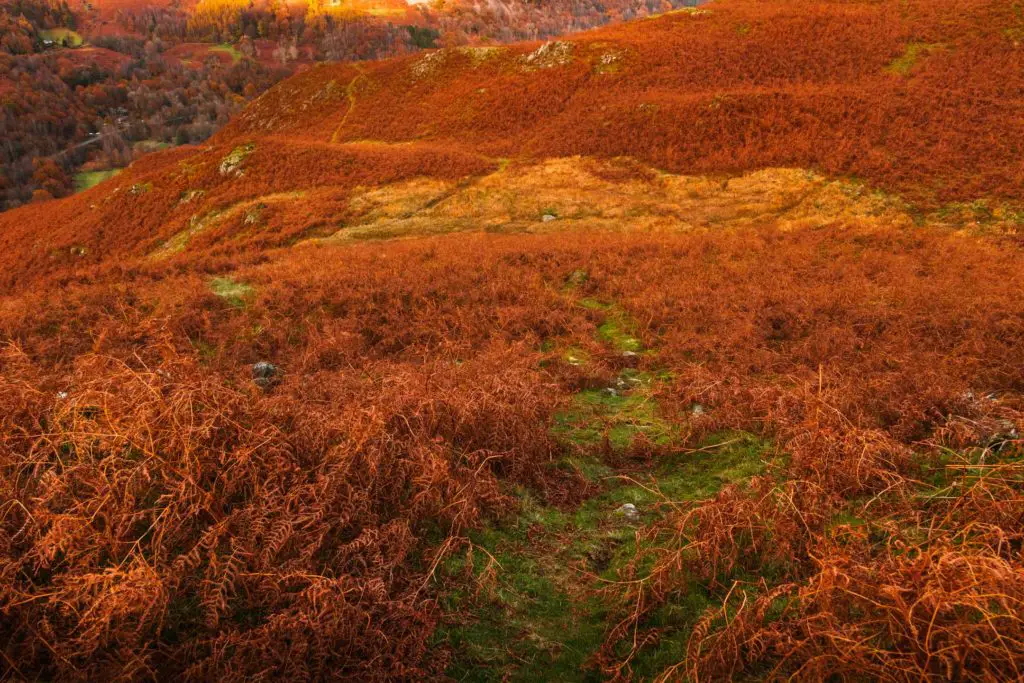 I got no photos in the middle bit as I was concentrating on not falling. Then as I neared the end things got sticky as I fought my way through: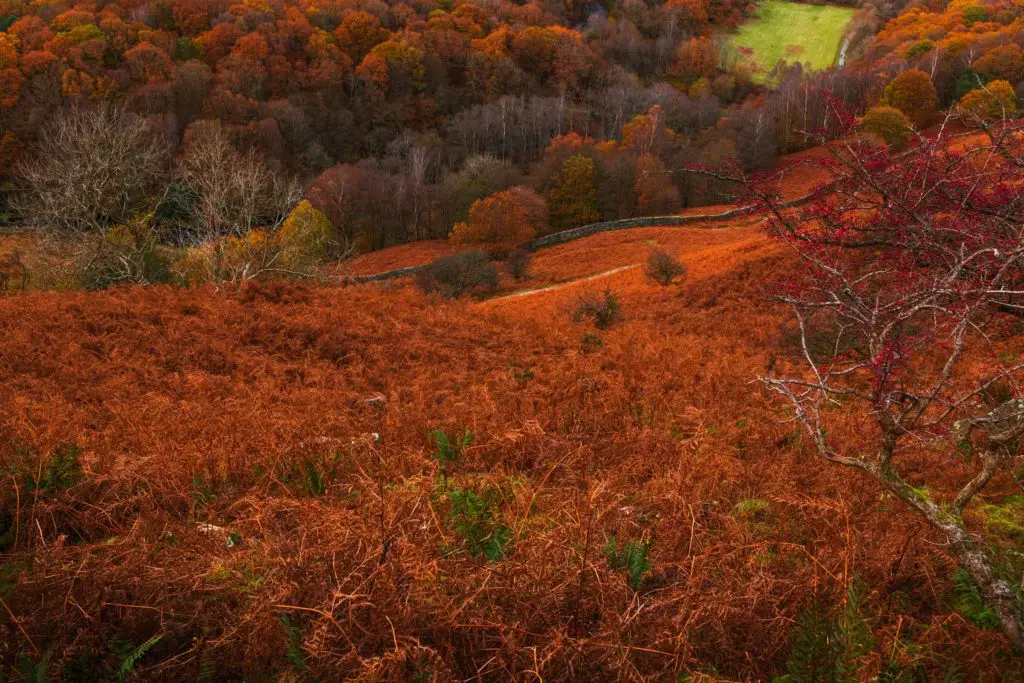 It was also very steep. The kind of steep where if you did lose your footing you could easily fall down the hill and do some real damage on the rocks. 
It was fun though 😉
Once at the bottom and back on the main trail I realised I had lots of spiky balls stuck to me. I'm not sure what they are but they were very sticky. They were too spikey to attempt to remove with bare hand, so I got my headband and tried to prize them off. Now they are permanently stuck to my headband. 
That headband had to go.
When I hit the nicely laid out trail, I headed right with Rydell water to my left. I contemplated getting a bus back to Ambleside, my feet were not very happy, but I was so close to the end that I decided to stick it out.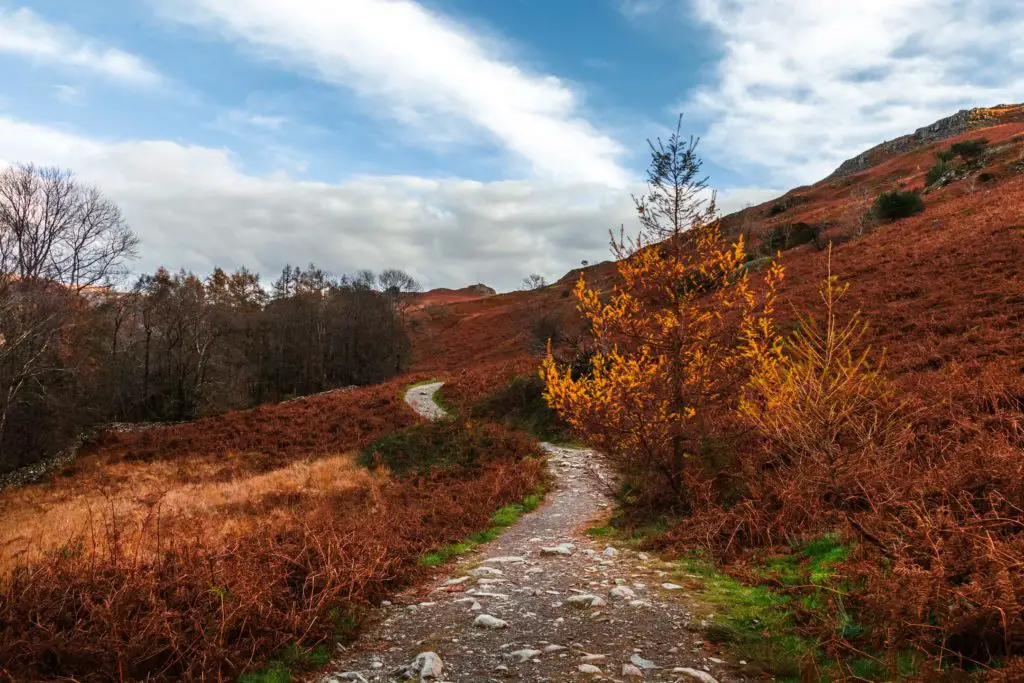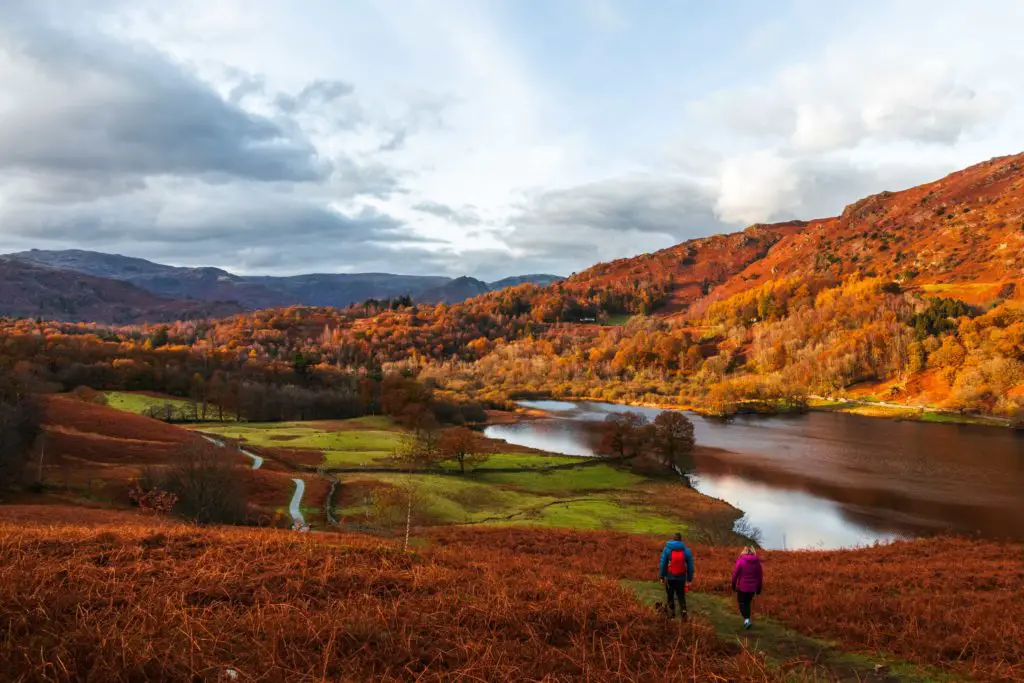 Rydal Cave
Good thing I did because I very unexpectedly came across a cave. It was pretty massive with stepping stones through the water leading into the darkness. Part of me wanted to have a little explore inside, but the other part of me (my feet) didn't want to walk any extra bits.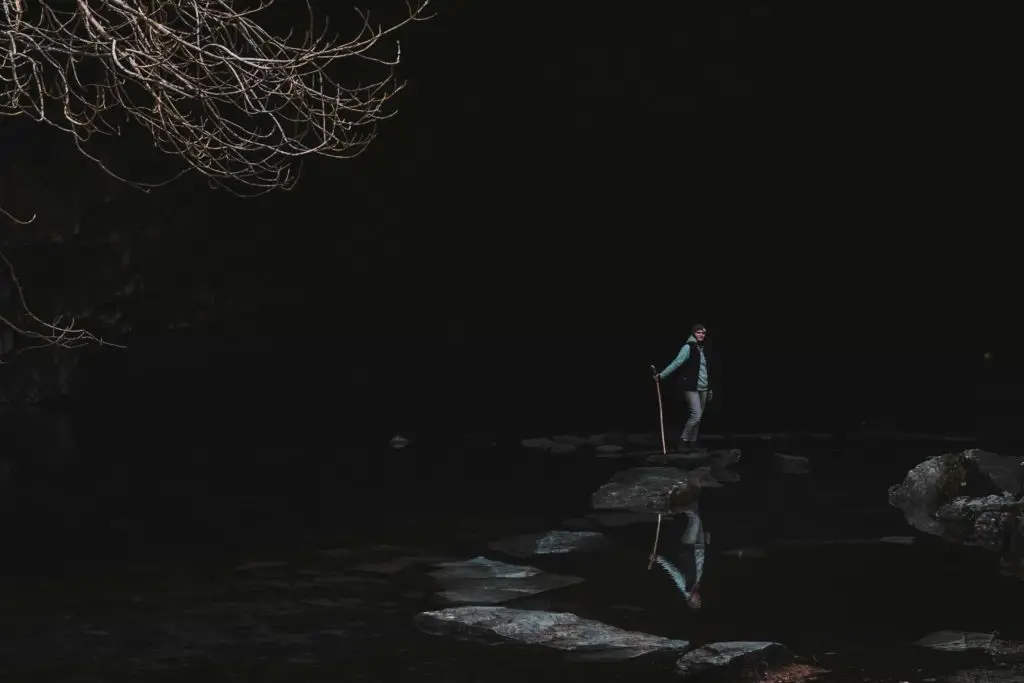 I instead took some photos of a girl standing on the stones.
The long walk back to Ambleside
I say long, but it's not really. It's just a couple of miles from here. But to me and my feet, it was never ending. I could not wait for this walk to end. Every step was excruciating. I couldn't push up in my toes, so was very gingerly walking flat footed. 
It is pretty though, this last bit, and if I wasn't injured I would have really enjoyed it.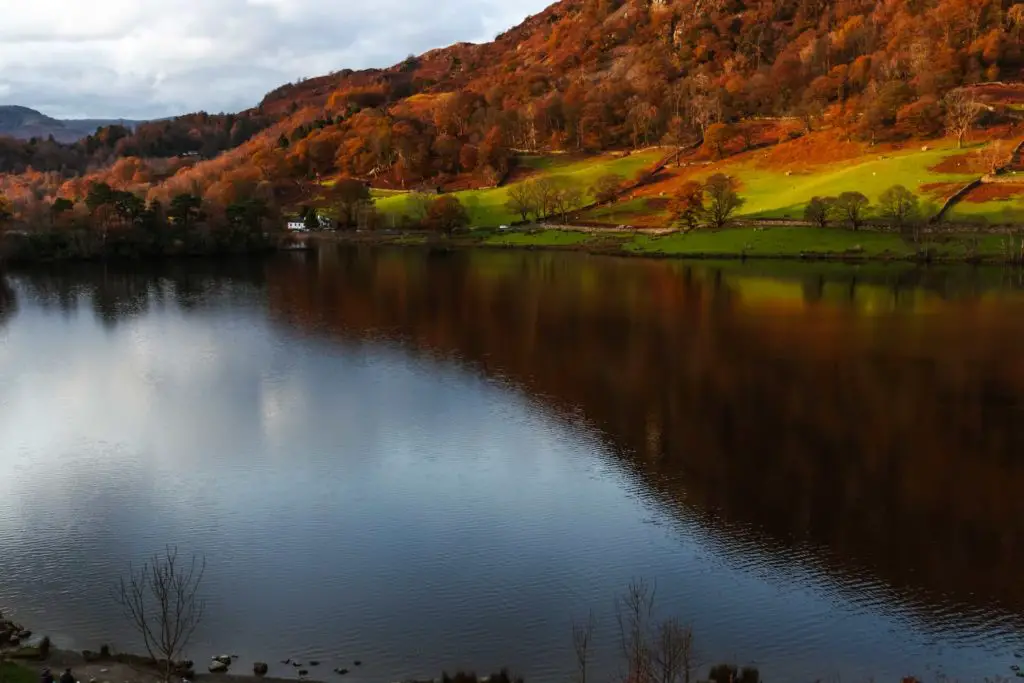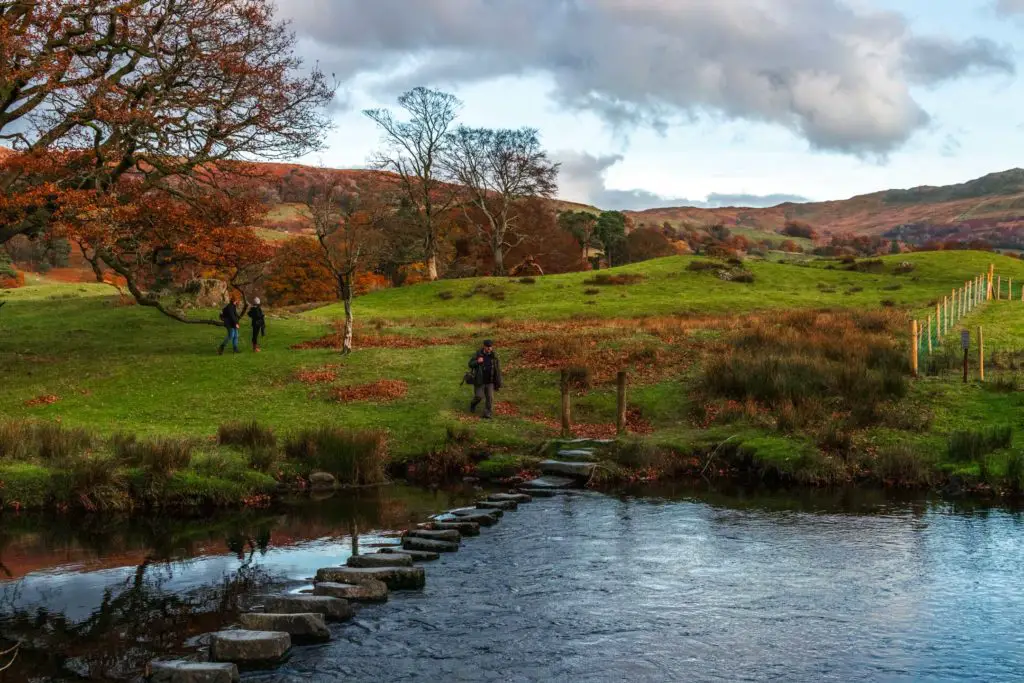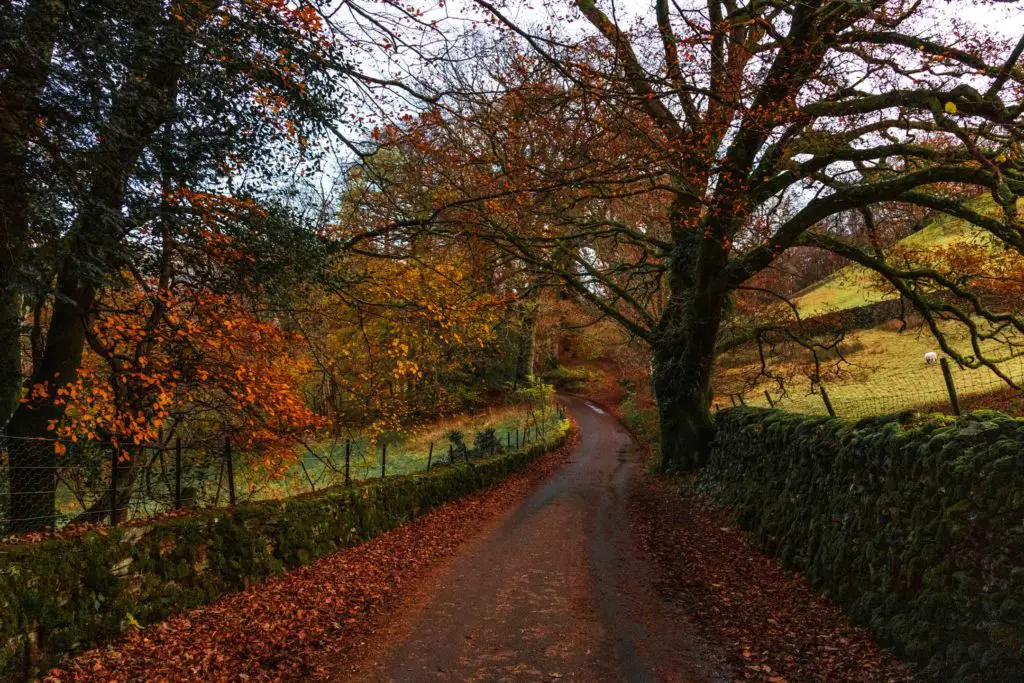 Final thoughts on the walk from Ambleside to Elterwater and Loughrigg Tarn
Apart from my injury, I really enjoyed this walk. I did mention that some bits were a bit too easy and populated for my liking, but on the other side of that, it made for a great variety. There were enough challenging and secluded bits to keep me happy.
Also, I really did luck out with the weather, and on top of that, it was Autumn. Autumn is my absolute favourite time to go on hikes. The air is crisp, the leaves on the ground are crunchy, and there are so many different shades of orange, red and green.
This was my last hike on my Lake District trip. I was a little sad to have to leave, but I'm on the lookout to come back as soon as possible. I'm literally watching the weather forecast, ready to head back as soon as I see it's not raining.
I have now been watching the weather for 1 month.
It hasn't stopped raining.
More walks in the Lake District
The Lake District really is a walkers paradise, and you will never find yourself short of trails to walk on. You will probably have more trouble narrowing it down.
You could check out the walk up Todd Crag, which I did the day previously. It's much shorter, but involves a big hill straight away. It's a great little one to fit in if you don't have much time, but want epic views. Once I get to the Lakes again, I will let you know all about it and the walks and hikes I do.
Update: I made it back and have a couple more Ambleside walks for you.
Ambleside to Sweden Bridge circular walk – A short one at 3miles, but it takes you very uphill to an ancient bridge and you are also rewarded with stunning views.
Ambleside Waterfall walk – Even shorter, and a little bit touristy. You get to see some waterfalls. I wouldn't go out of my way for this one, but its a good time filler if you are in the area.
More recent walks I have done are:
Walla Crag, which is a great walk if you dont have all day but want a little bit of hard work and great views. If you want a good challenge, then you could try out the Old Man of Coniston walk loop. The views on this one are some of my favourite.
If you want to see Rydal Cave without the massive slog, then you could try this Rydal Water circular walk. It's much shorter and easier.
Alternatively, if you would like more walking ideas and tips, then this Lake District website has lots of info.
Pin it for later: Circular walk from Ambleside to Elterwater via Loughrigg Tarn